15+ Boho Bedroom Ideas to Make You Feel Truly Relaxed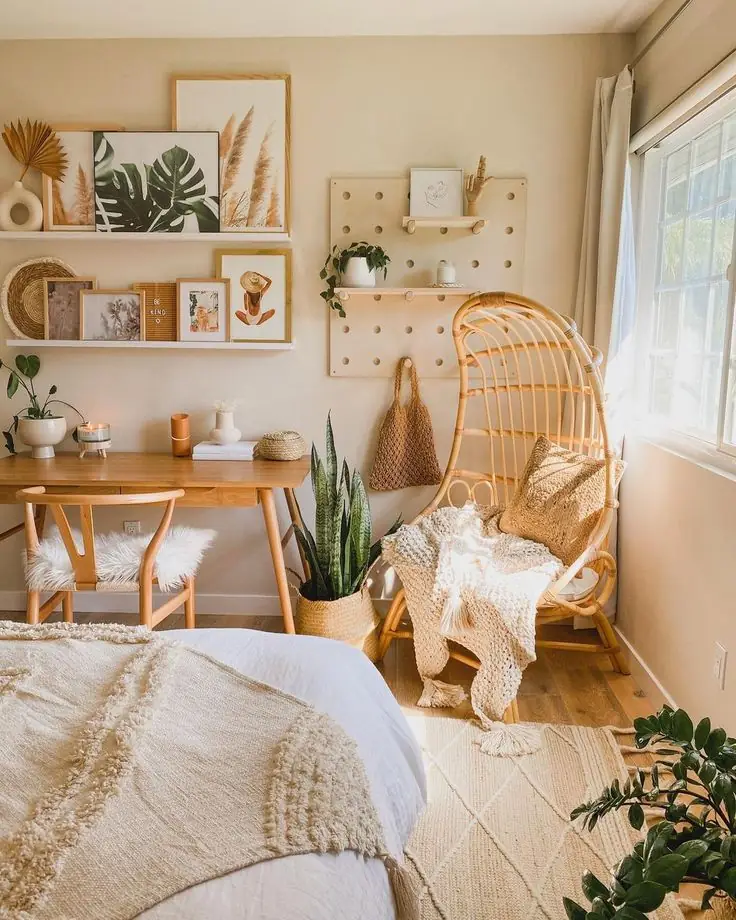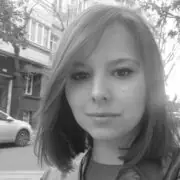 Boho bedroom ideas are popular all around the globe, and there are good reasons for that. This eclectic aesthetic, which draws inspiration from the 19th-century Parisian Bohemians' lifestyle, is associated with looking casual, comfortable, and natural — it's a style that gives the impression of being effortlessly cool. As we know, it takes quite an effort for something to look effortless — but it's worth it! So, let's dive in and choose some bohemian bedroom ideas to try and bring to life.
1. Declaration of Neutrality: Stylish but Understated
One of the coolest things about bohemian style is that it doesn't stick to one color scheme, so you can find some boho bedroom inspiration in almost any shade. This example is great if you like muted, neutral colors: tassels, throw pillows, ornamentation, and other elements of decor that already draw enough attention as they are.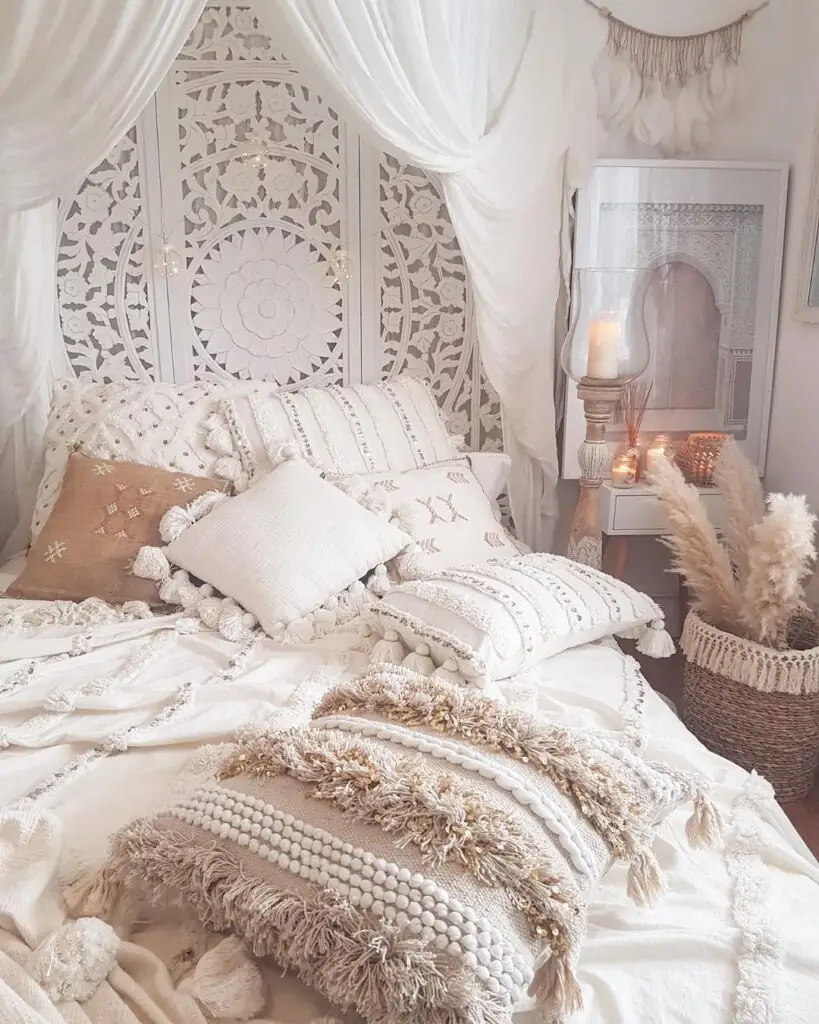 2. White Magic: There's Beauty in Simplicity
While fully white boho bedrooms are probably a rarity (as they would look too clinical, perhaps), many bohemian designs feature the white color quite prominently. And no wonder: surrounding yourself with this color creates an airy, relaxing environment — exactly what a bohemian would want.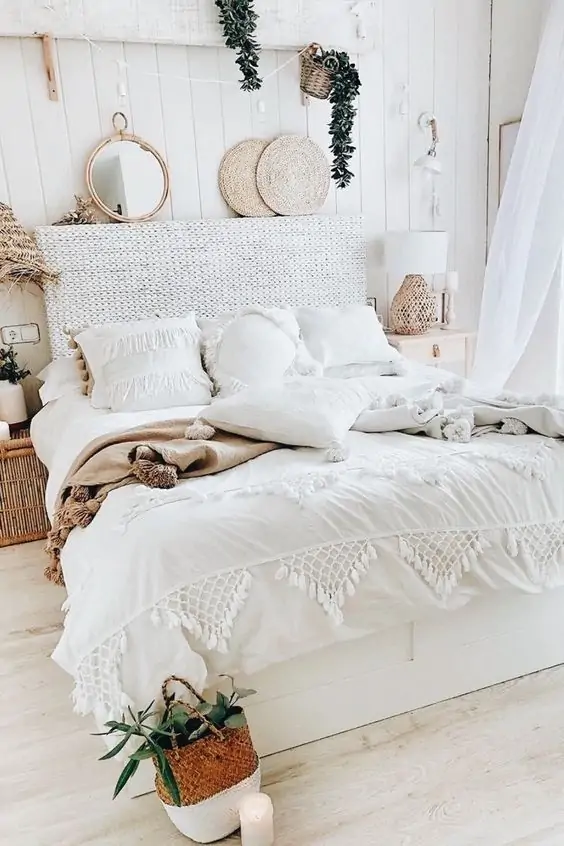 3. Life in a Greenhouse: A Place to Rest Your Eyes and Soul
Plants are one of the cornerstones of bedroom boho decor, contributing to its natural look. This example shows that adding plants to an already green room creates a synergy: the room looks amazing, and you can almost hear it calling out to you: come in and recharge your batteries!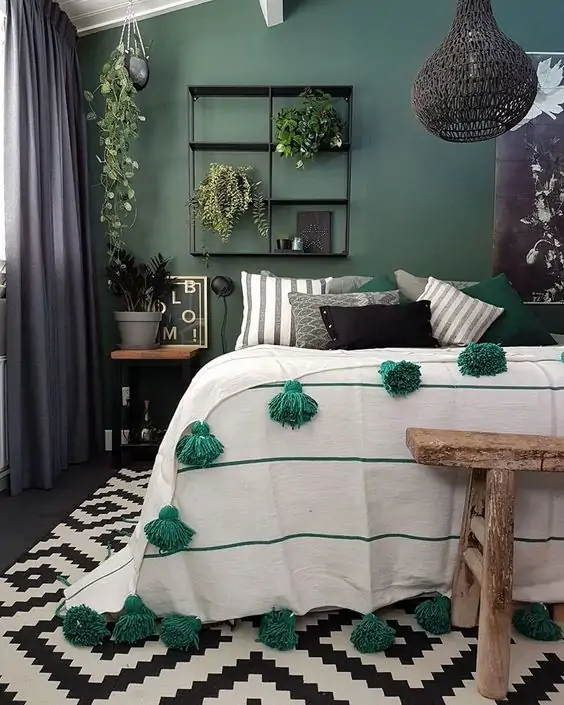 4. Memory of the Sun: Bask in the Color
Using burnt orange color to paint a wall is a way to instantly bring the warm feeling that's often associated with boho style bedroom ideas. Here, wall art creates additional playfulness, contributing to the general — artistic and bohemian — feel.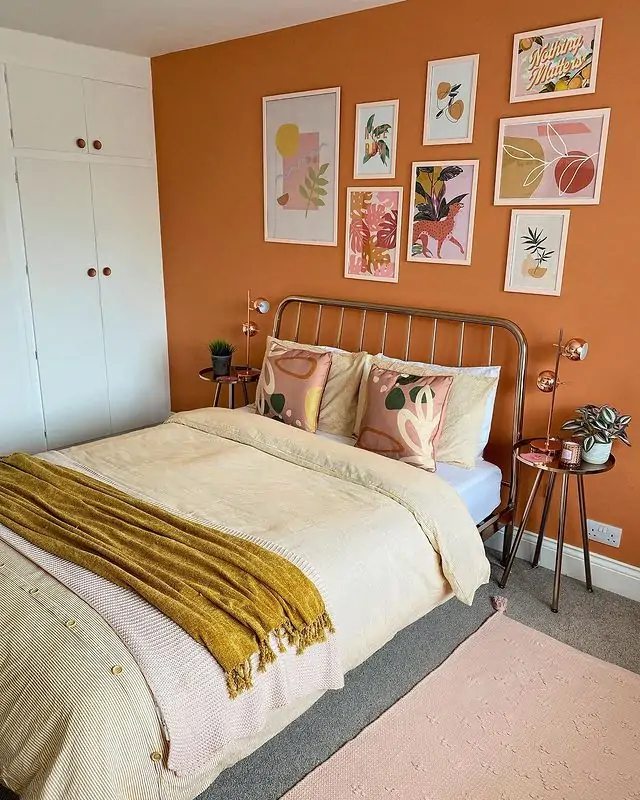 5. Dark and Handsome: Adding Some Contrast to Create Character
If you're a fan of darker designs, don't worry — there are black boho bedroom ideas out there! Just add some characteristic details like macrame and throw pillows — and the room will look quite bohemian, even if the wall color seems austere.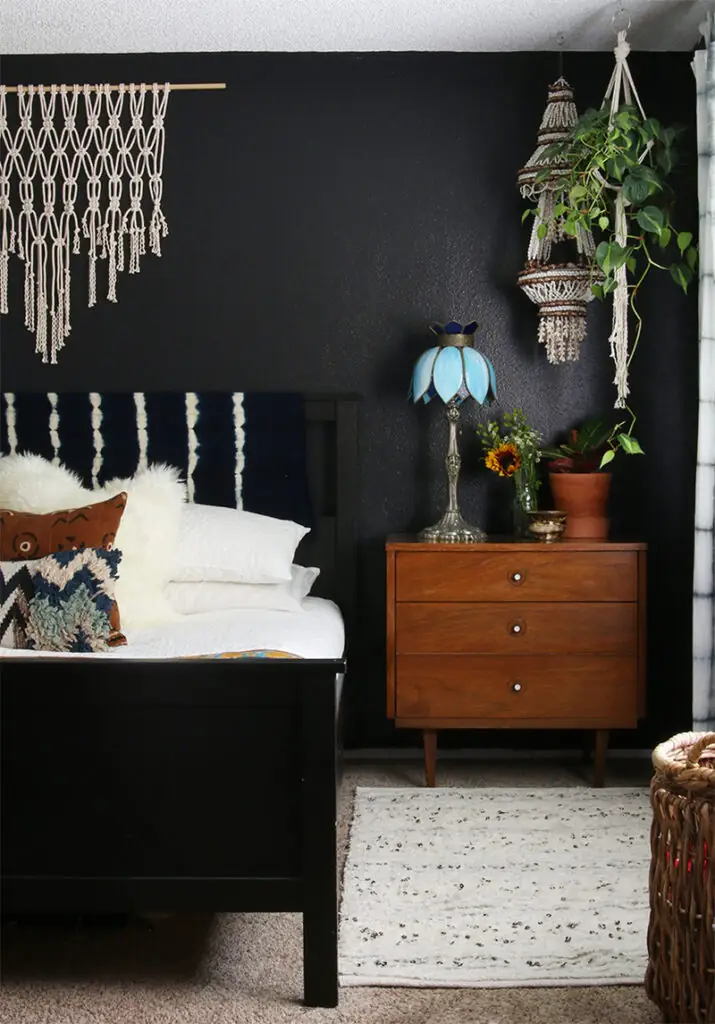 6. Hippie Chic: The More Colors, the Merrier
On the other hand, it's also quite easy to find colorful boho bedroom ideas like this one; what's more, it's not that hard to bring it to life, either. Note that the furniture here is quite simple — all the color is brought just by a few details like curtains, pillowcases, and bed covers. It's easy to change this style if you ever get bored with it!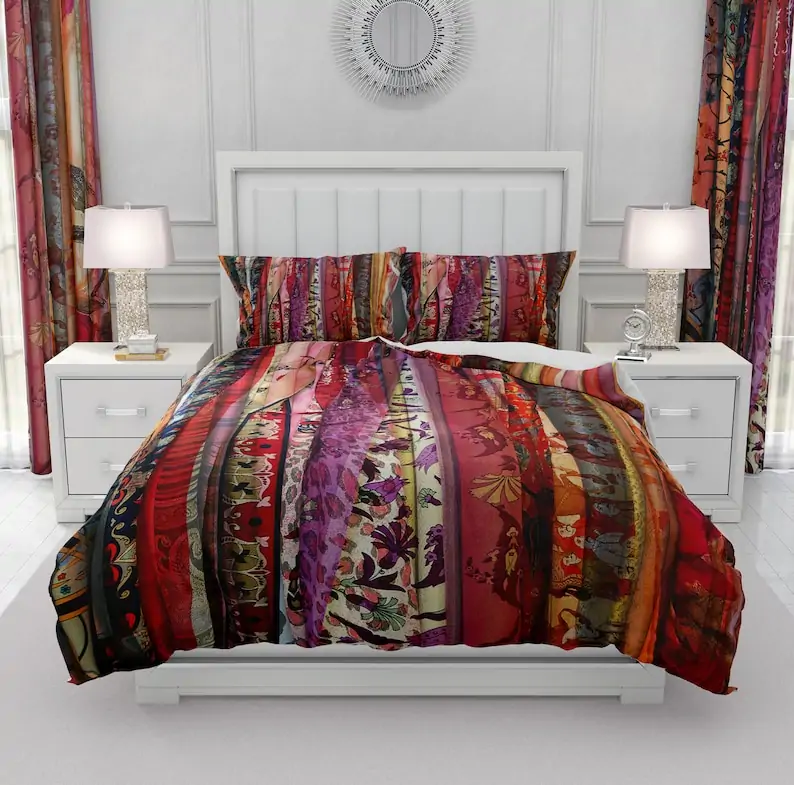 7. Serious Business: A Room to Live In
If you want to get inspired by some of the boho master bedroom ideas, here's the one you are bound to like. In the photo we can see a stylish chandelier that creates a focal point in this cozy room. The deep terracotta tones of the bed covers provide a warm accent.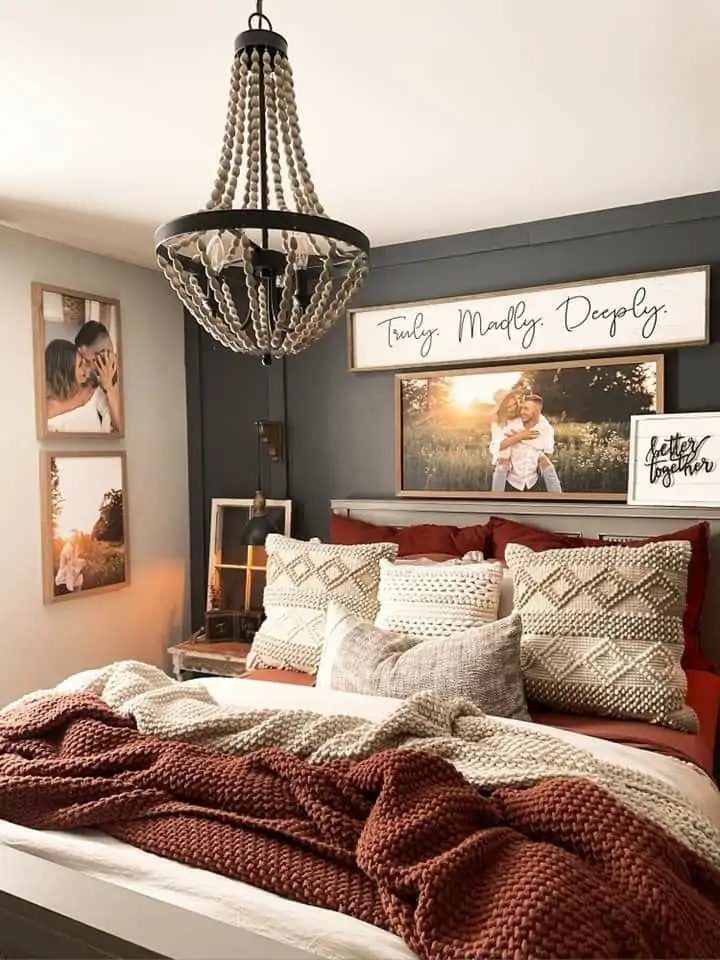 8. A Welcoming Sight: Do Not Overdo It
It's not really necessary to go all-in to create a bohemian appearance in the room. Sometimes some subtle hints can be enough, especially if we're talking about boho guest bedroom ideas — keeping it more or less neutral can be beneficial if your guests don't have a strong preference for this kind of style.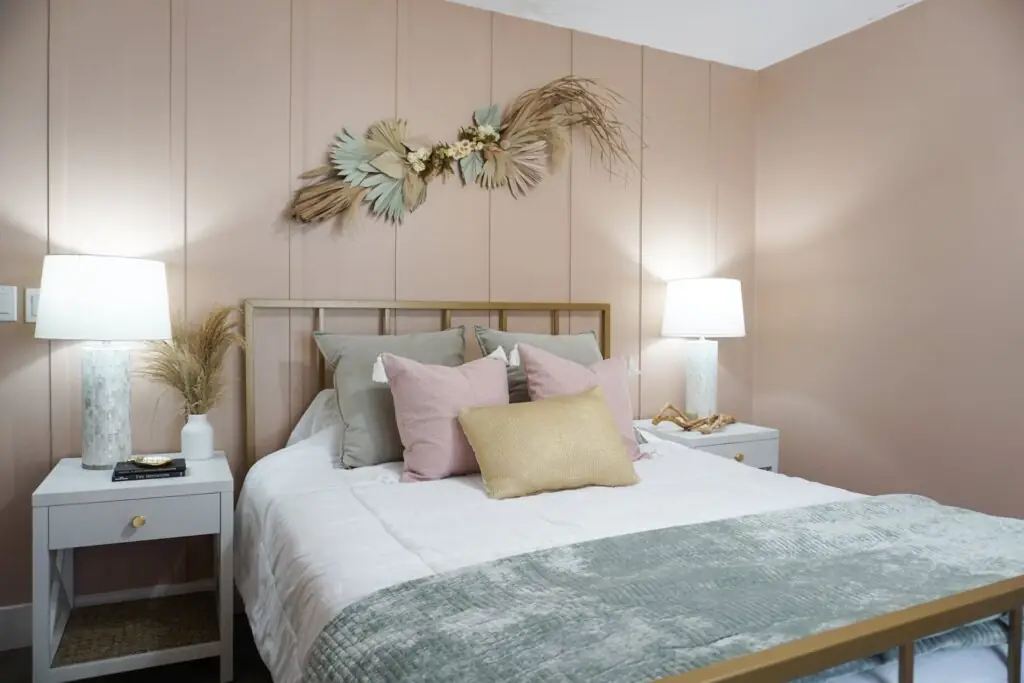 9. Hanging On, Hanging Out: Putting in a Statement
What if you're ready for a more serious remodel? There's a lot you can do to bring some bohemian vibes! For example, many modern boho bedroom ideas feature hammocks or hanging chairs — there are a lot of ways to get this furniture nowadays. It's such a nice place to create, dream, and feel inspired by!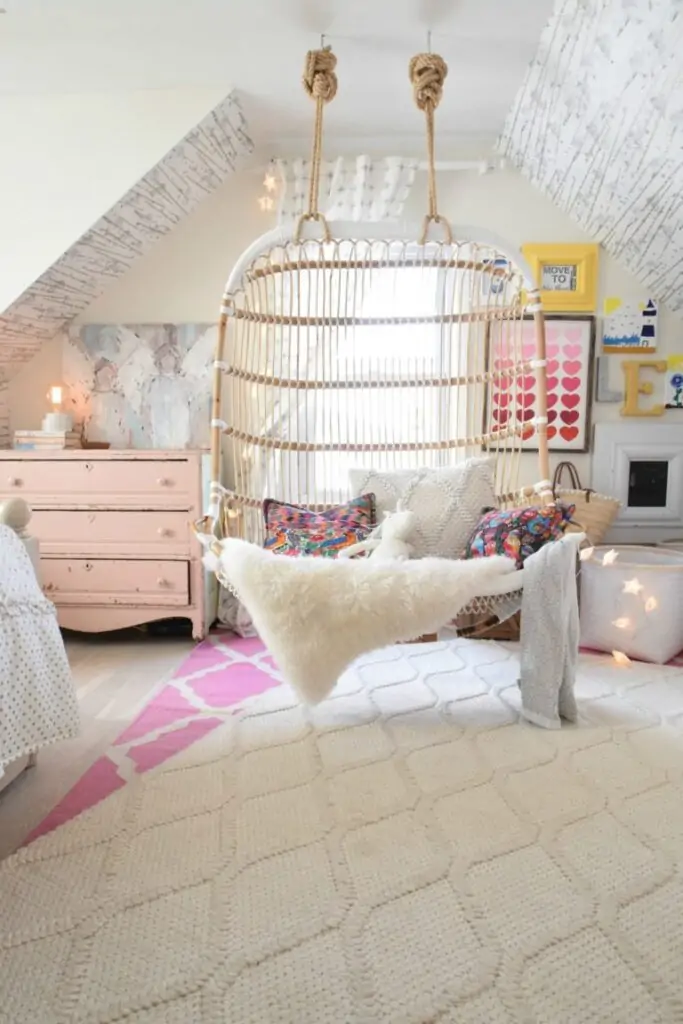 10. On Cloud Nine: Bringing the Garden (of Eden) Inside
You can get even bolder and hang the whole bed from the ceiling! It's definitely one of the more original boho bed ideas. Lots of natural materials and a well-lit room come together to create an impression of a carefree life at some resort — or heaven?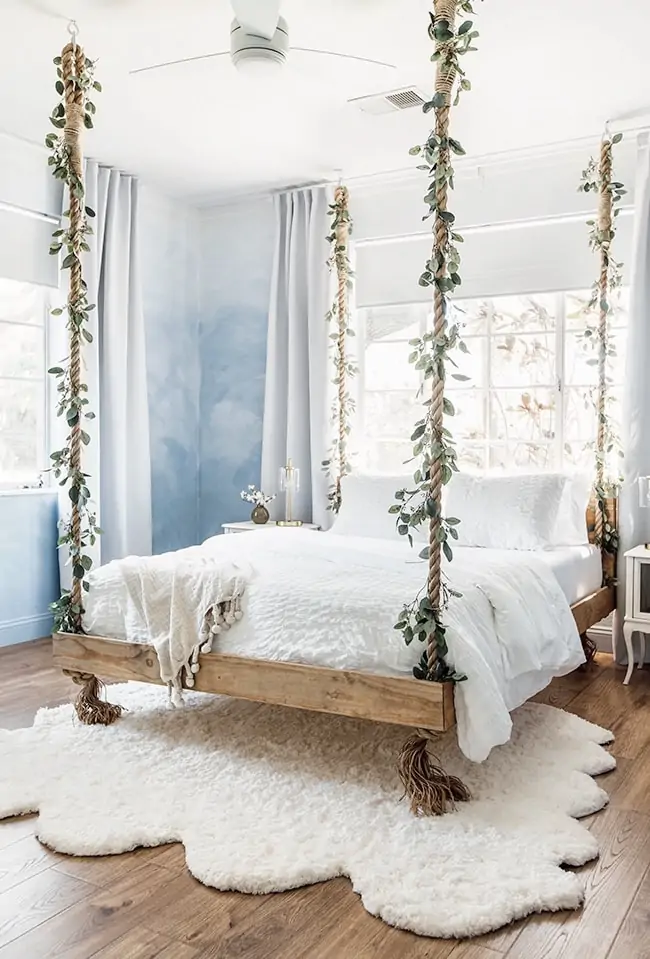 11. Sheer Audacity: Weaves and Patterns Everywhere
Speaking of natural light — if you don't have to hide behind the blackout curtains from the scorching sun in your window (or maybe some nosy neighbors), consider letting the light in with bohemian-style sheer curtains. Boho bedroom curtain ideas include using macrame and adding tassels and fringes; as a general rule, there may be a lot of curtains, but they should almost always be see-through.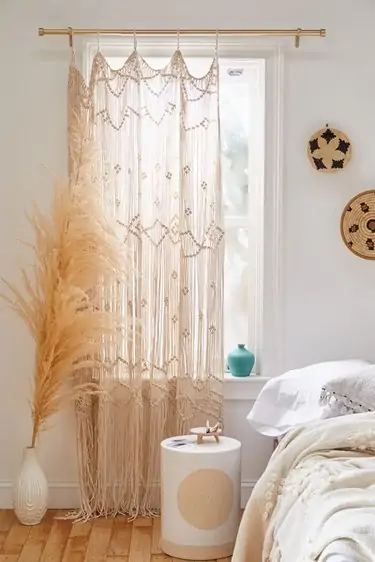 12. Divide and Conquer: Making the Room Even Cozier
Curtains can also be used to divide the room; when considering boho small bedroom ideas, they are almost a must as the dividers create zones within a room, which can make it seem larger. Using sheer curtains helps in avoiding making the room feel a bit claustrophobic; for example, a simple divider shown in the picture lets the air freely circulate while serving its purpose.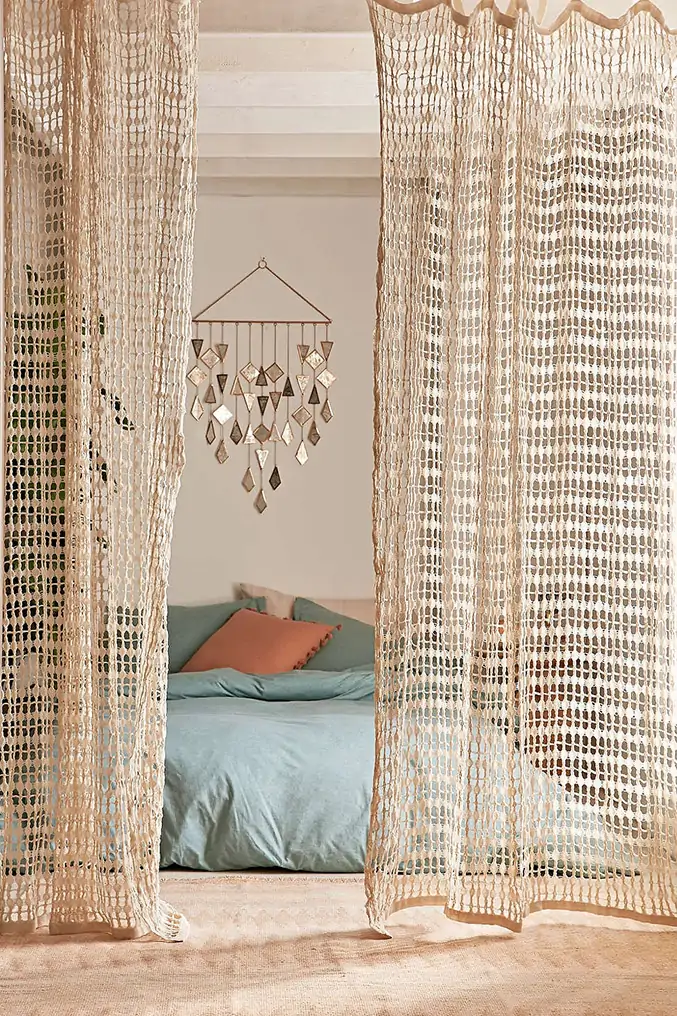 13. Hide and Seek: Providing a Sanctuary
Younger fans of the bohemian style tend to like places with fairy lights and some nooks to hide in. In the picture you can see one of the teenage boho bedroom ideas that features exactly this kind of decor. It seems like this style has been created especially for teenagers: it's truly a young princess' room.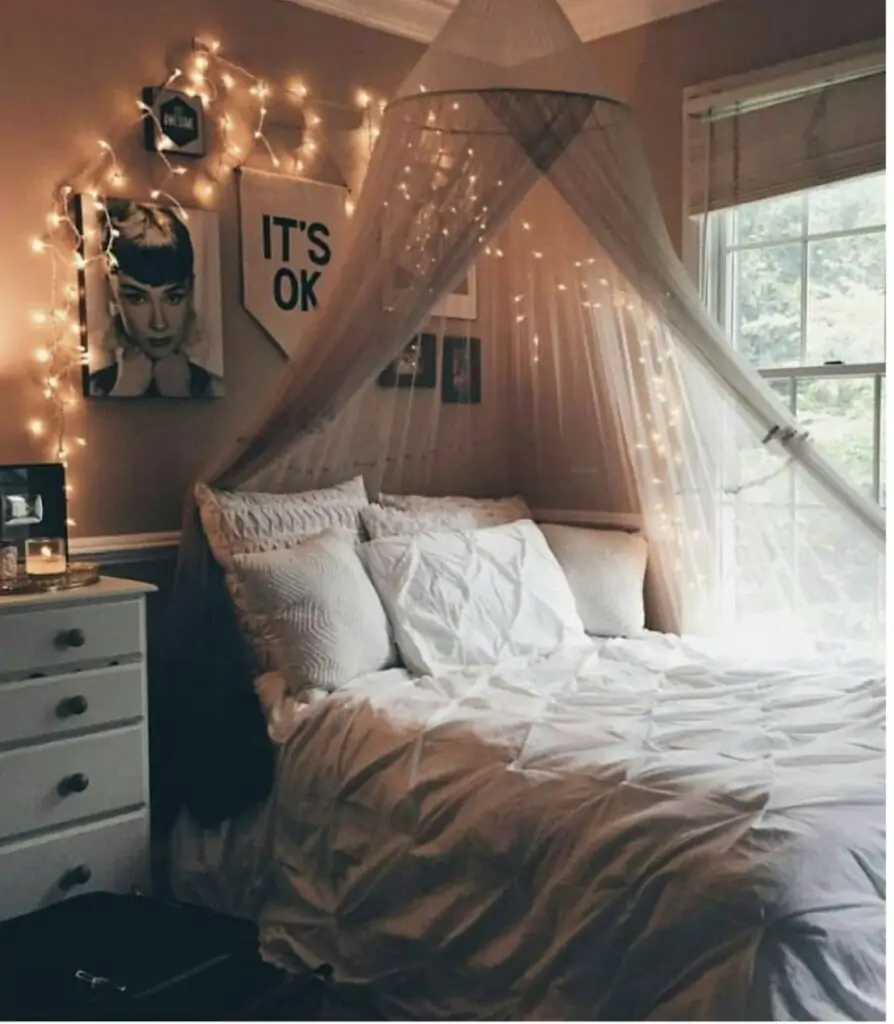 14. Power of Light: Transforming the Room One Step at a Time
Using fairy lights may actually be the easiest way to bring some characteristically creative vibes into your bedroom. You can put up as many as you want, in whatever shape you want. Are there any DIY boho bedroom ideas out there that are simpler than this?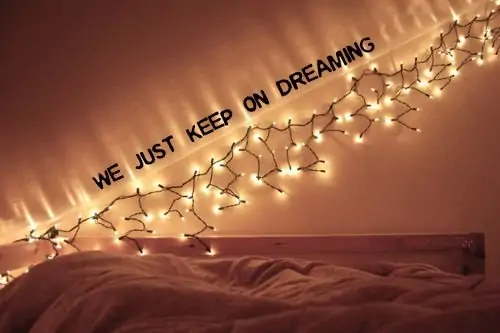 15. Nesting Place: A Refuge from the World
And we can't forgo an opportunity to mention one of the more popular boho bedroom furniture ideas — a very special deep round chair. As you can see, it goes perfectly with a canopy above, which turns the chair into an excellent spot for reading, watching TV, or merely hanging out. And of course, this room is full of other boho bedroom design ideas, such as lots of plants and soft light everywhere.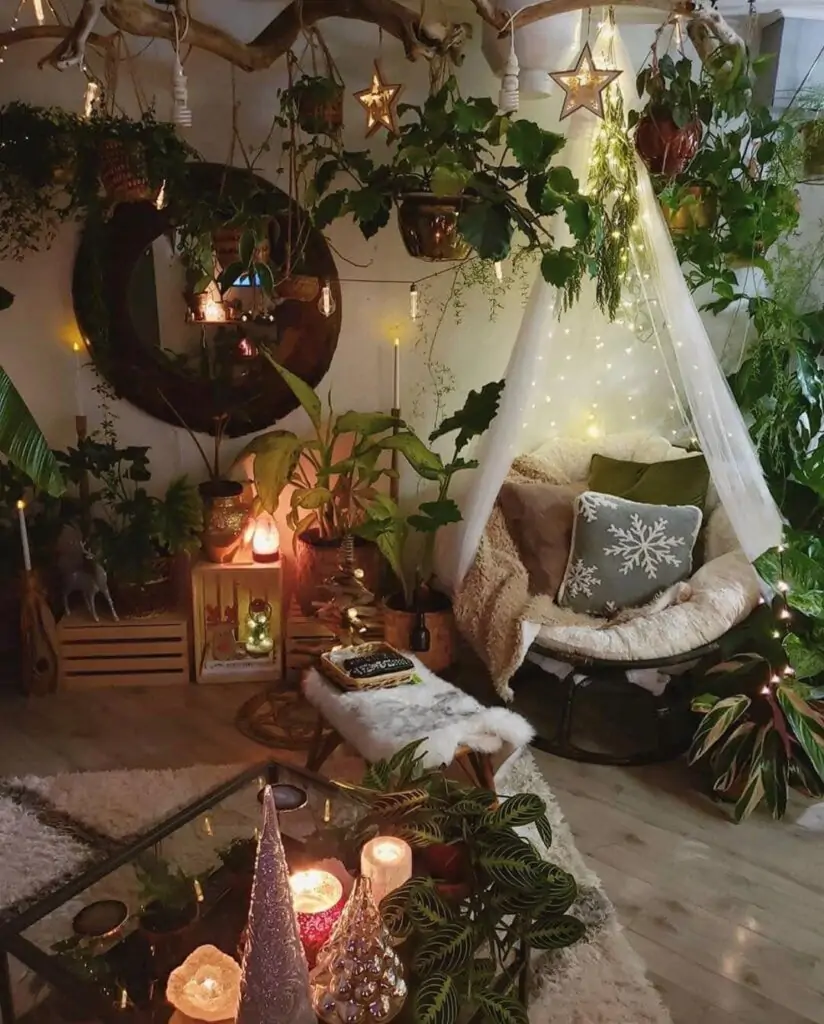 FAQ
Here are some answers to popular questions about this style.
What Is Boho Style?
The history of the word comes from "bohemian," which, in turn, was initially applied to Roma travelers from the Czech region of Bohemia. Bohemians were associated with living outside of the rigid societal norms, and with time, the word came to mean artistic people who shared a similar lifestyle. From there, the bohemian style in design was born. This style is very individualistic but usually features one or more of the following:
Preference for natural materials
Unexpected color combinations
A lot of woven textures, from macrame to wicker
Complex patterns
Scattered sources of light
Lots of greenery
Elements of vintage in decor and furniture
Will Boho Go Out of Style?
Bohemian style has been around for a long time. This style has gone through trends and transformations — for example, in the 1960's "bohemian" practically equaled the hippie look, and these days more neutral colors are often used. But it's highly unlikely that this style will ever go away completely since it prioritizes both comfort and individuality, and there's a lot of appeal in that.
What Are Some Boho Ideas for a Bedroom on a Budget?
Since many bohemian decor ideas can be brought to life just through the use of textiles and strategically chosen pieces of decor, it's not too hard to keep within a budget. Here are some tips:
Hang some fairy lights — as you've seen, this is the easiest way to add some artistic mystery vibes to the room;
Get some bed sheets to fit the style — whichever kind you like: colorful and patterned or light and airy;
Gather some throw pillows — the more, the better;
Play with textures: covers, rugs, and art — everything can be made more interesting by having some unusual feel to it;
Scour thrift shops and flea markets for some vintage statement pieces;
Utilize potted plants — they don't have to be rare and expensive;
Use woven decor. Bonus points if you do it yourself — macrame, for example, is a nice hobby!
To have even more bohemian decor ideas on a budget, watch this video:
Conclusion
Your bedroom is a place where you should feel comfortable, relaxed, and most like yourself. This is why the bohemian style is quite perfect for this space — those are exactly the feelings and emotions this style aims to evoke. We hope our boho bedroom ideas gave you some inspiration — and you're always welcome for more!