Boho Decorating Ideas to Create an Eclectic Atmosphere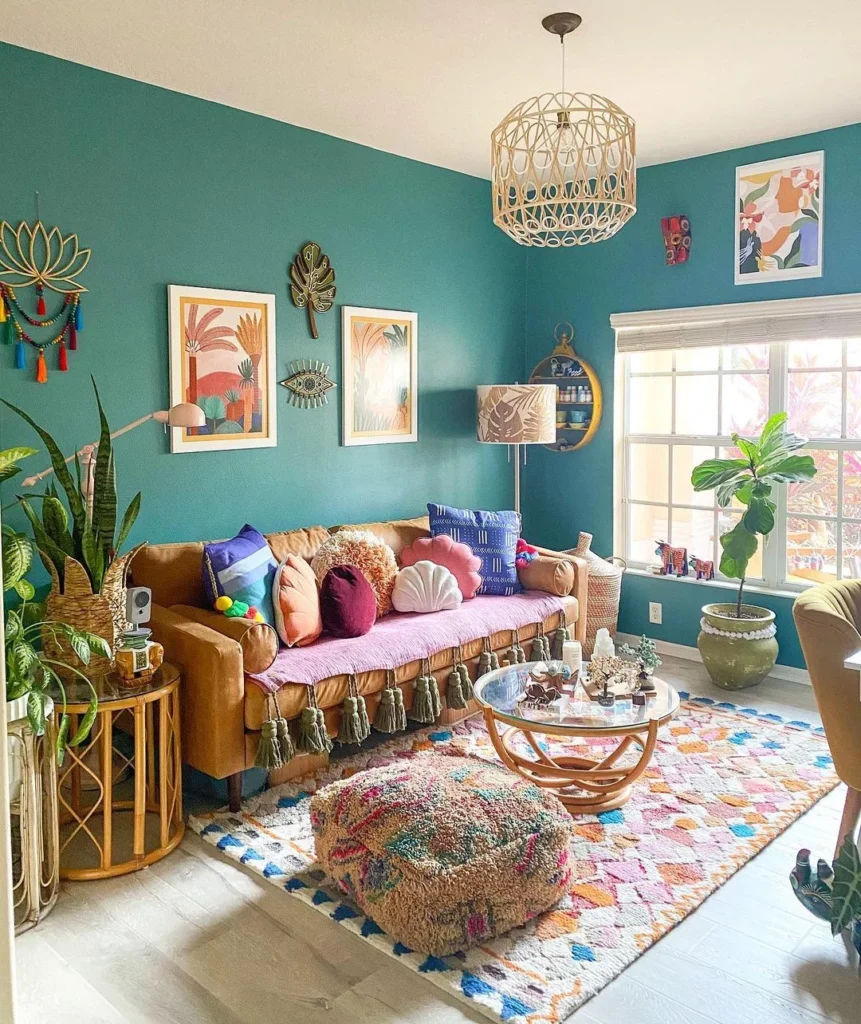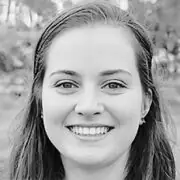 Before we start talking about boho decorating ideas, first, let's explain what this concept really means. The term "boho" is short for "bohemian," which historically refers to people who live unconventional, often artistic lives. This style is a fashion trend that is often described as being eclectic, hippie, and easy-going. It typically includes items such as flowy dresses, vintage furniture, and handmade jewelry.
Some people might say that the Bohemian style is a bit unkempt or that it represents a carefree and relaxed lifestyle. Others might say that it's all about being unique and expressing yourself through your fashion and home décor.
If you want to know what's boho style and how to keep up with this fashion trend, take your time to read the full article since we are going to discuss some of the unique and outstanding boho-inspired ideas. So let's get into it.
Bohemian Decorating Ideas for the Living Room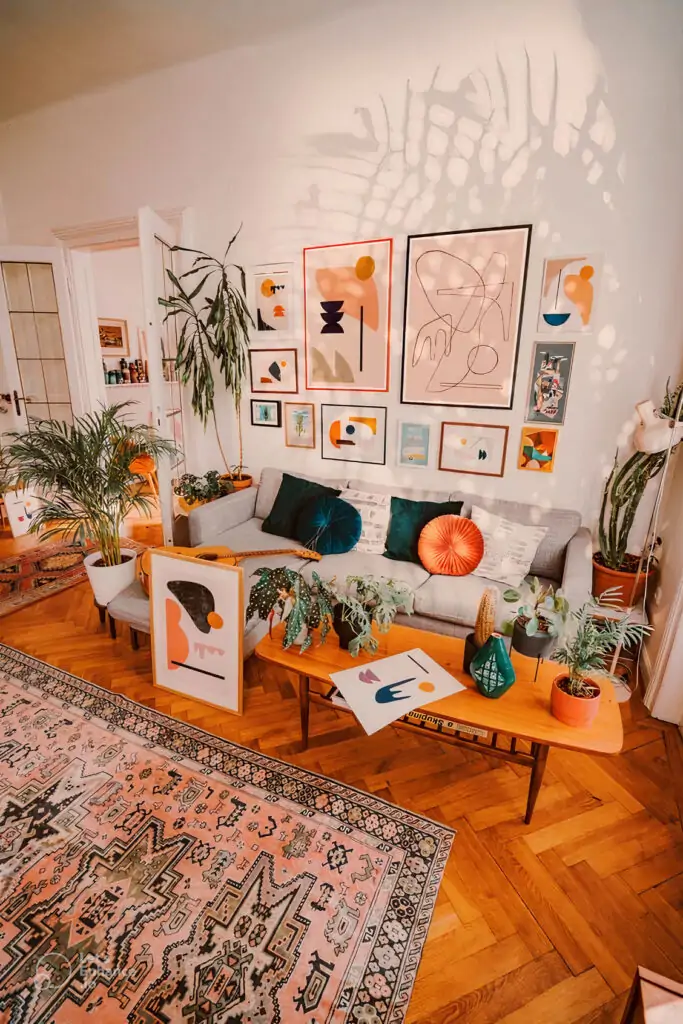 There are so many ways to incorporate boho decorating ideas into your living room. A great way to start is by adding several colorful and eclectic pillows to your couch. You can also add some tapestries or rugs for additional take-it-easy vibes.
Besides, keep in mind that adding some plants to any area is always a perfect idea. You can also use serene bohemian colors throughout the room to really bring the look together.
As you can see in the picture, this living room is small but comfortable and stylish. The bohemian style is achieved with various different colors, textures, and patterns. The furniture is all rustic, and the artworks are all very colorful. There are a few potted plants throughout for a natural touch. So if you are searching for bohemian decorating ideas for the living room, this is probably one of the best possible solutions out there.
Common Boho Bedroom Decorating Ideas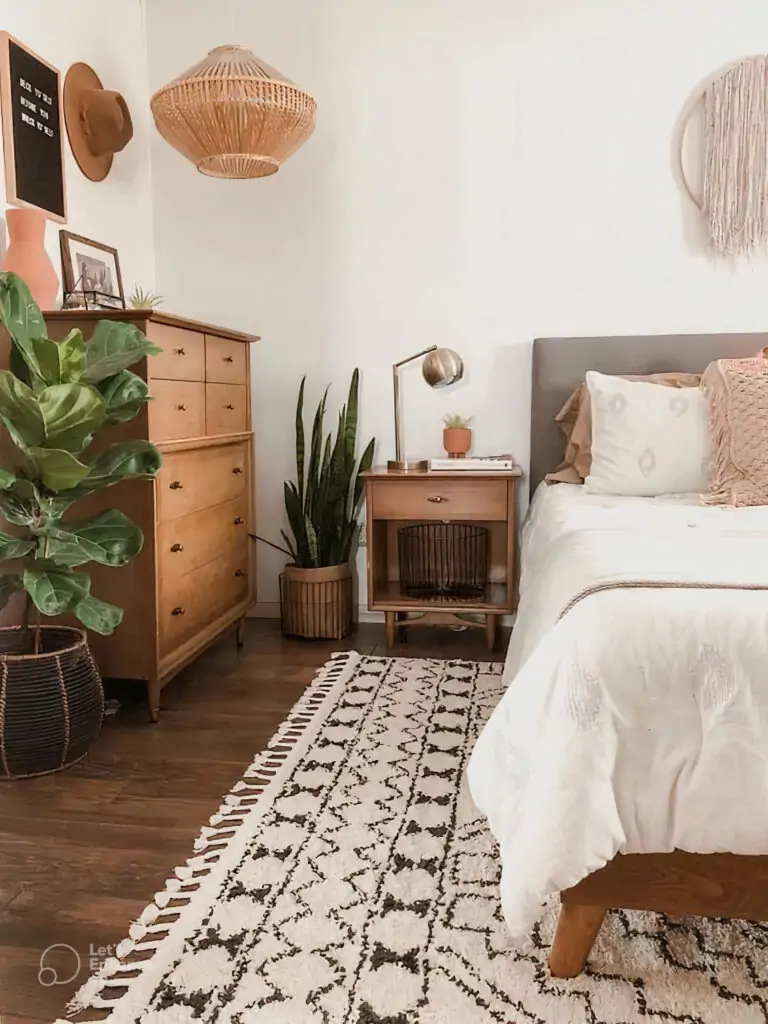 The first thing that attracts the viewers' eye is the bedroom's relaxed and laid-back atmosphere. There is an eclectic mix of furniture and decor, and you can also see the wonderful plants which bring the natural elements into the room. Interesting and unique art on the walls is something that should as well be highlighted. The white-brown carpet emphasizes the room's overall cozy and inviting look. If you are looking for boho bedroom ideas on a budget, this approach might work for you since, although very simple, it truly looks elegant.
Eclectic Furniture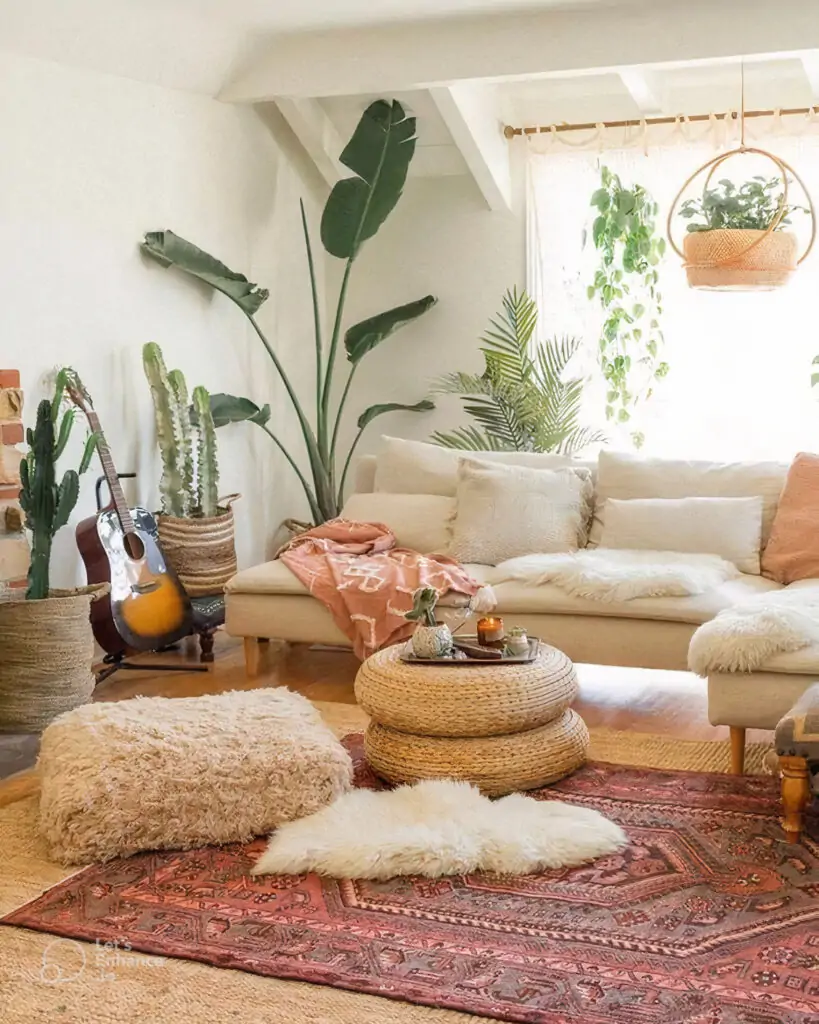 As you can see, this furniture is made of natural materials, including wood, rattan, and bamboo. It is decorated with different fabrics, patterns, and designs. This eclectic furniture has a relaxed, informal feel, so you can go inside and feel yourself at home in a minute. Besides, this room is very brightly colored, and there is a beautiful mix of different styles and influences, including both traditional and contemporary elements.
Huge breathtaking plants are something that should not be missed when talking about boho style decorating ideas. This is probably an irreplaceable part of this fashion trend and the essential element that makes the overall look even more unique.
What's more? Those soft rags and pillows look very comfortable and are definitely very gentle on the skin and provide support and cushioning.
Make It Outdoor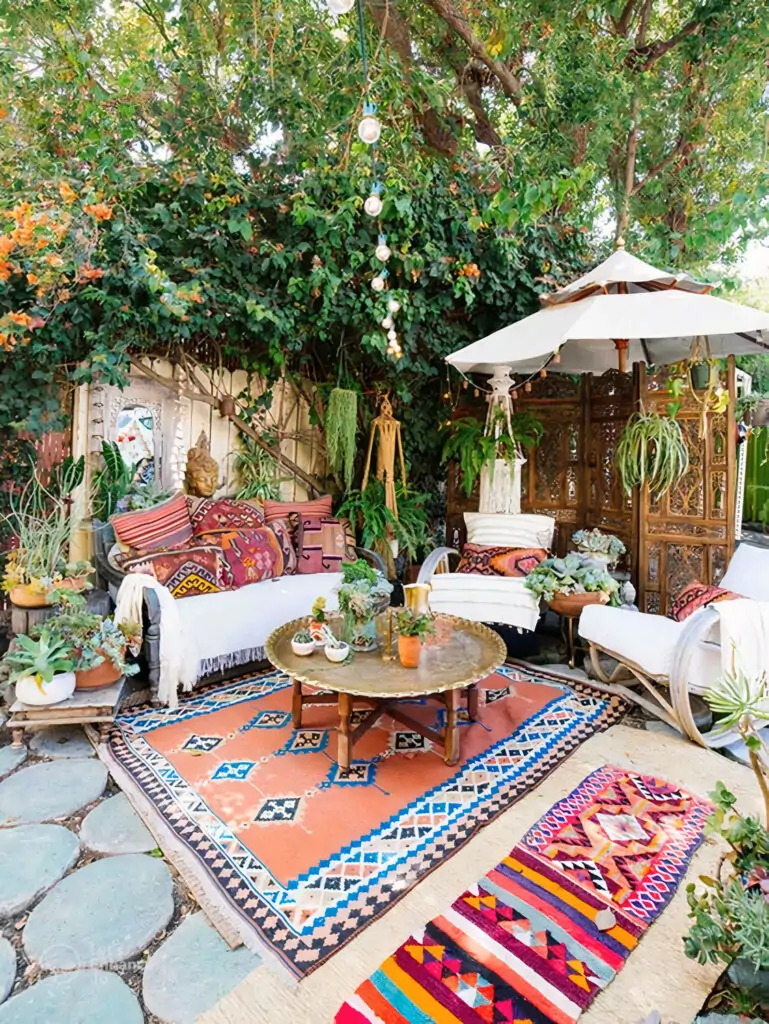 Your boho outdoor decor ideas are a reflection of your aesthetic sense. To achieve the perfect look for your home, you need to find a way to make your outdoor decor ideas unique. This can be done in a number of ways. The surest one is to add personal touches to your outdoor decor and put your personal stamp on it. For example, you can add a personal touch to your patio furniture by adding a colorful throw pillow or by adding a custom-made tablecloth. The picture you see is a perfect example of all these.
In addition, another way to add a personal touch to your outdoor decor is to add an element of fun. This can be done by adding a colorful birdhouse or by adding a fun element to your patio furniture. For example, you can add a birdbath which will add a touch of fun and will make your outdoor decor even more special.
How to Decorate a Shelf in a Boho style?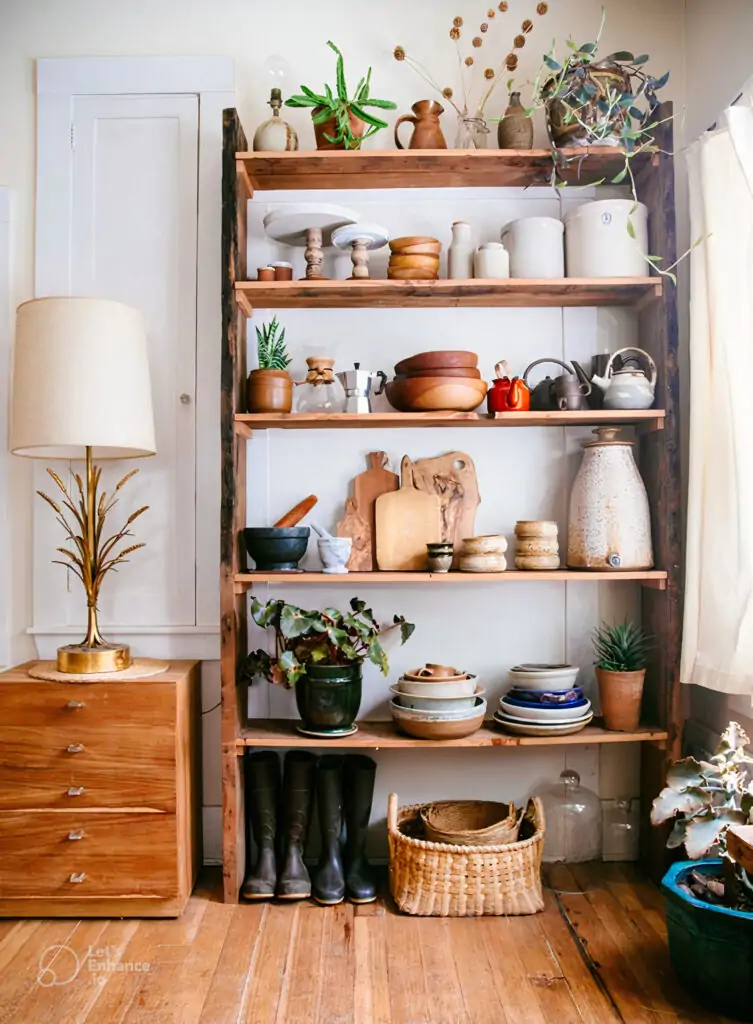 This type of shelf typically has a more eclectic and unique feeling about it and usually includes more organic items. Hand-crafted pottery, natural wood items, and various textiles can almost always be seen on display. Bohemian shelves are generally believed to be more creative and expressive, and they can add a touch of personality to any room.
What's more, the items on the shelf are often handmade or vintage, and the overall look is often whimsical and fun. So in case you're looking for boho shelf decor ideas, this might work as one of the most wonderful inspirations for you.
Budget-Friendly Bohemian Decor Ideas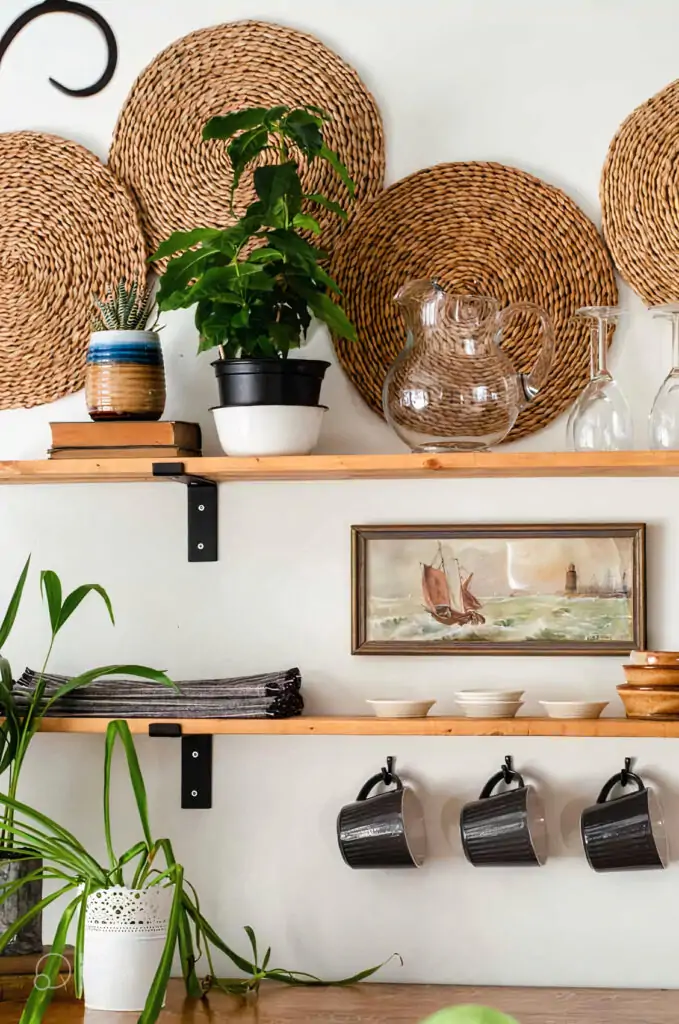 One of the best ways to achieve a budget-friendly look is to shop at thrift stores, flea markets, and garage sales for vintage finds. Incorporating vintage and secondhand DIY boho decorations is a great way to get the look without spending a lot of money. Usually, macrame and woven wall hangings are an excellent solution for adding some bohemian flair to your space without breaking the bank. They will bring a sense of simplicity and uniqueness to any room.
Besides, using neutral or earthy tones for your walls and furnishings will give your space a calming and relaxing vibe. Adding some bright and colorful accents can really help to liven up a room and add some personality. On top of that, a few well-placed plants can also change the feel of a room and bring in some natural elements.
So, as you can see, when it comes to bohemian decor, there are endless possibilities – making it both budget-friendly and stylish.
Boho Chic Decorating Ideas for Your Home
Boho chic is a style of fashion that combines elements of bohemian and hippie styles with contemporary chic. It is often characterized by loose, flowing silhouettes, natural fibers, and earthy colors.
If you are searching for boho chic decorating ideas, simply take this picture as an example and make focus on organic and handmade materials, which make the overall vibe more relaxed and comfortable. Colors in chic bohemian style are typically neutral or earthy, with pops of color coming from accent pieces like rugs or pillows.
Keep in mind that furniture is often eclectic, with a mix of different styles and periods. Boho chic is about creating a space that reflects your personal style, and there are no hard and fast rules.
Besides, funny or not, forgetting huge plants might be considered a crime when it comes to Bohemian chic decor. It looks like we've already mentioned this, haven't we?
Make Your Hallway a Boho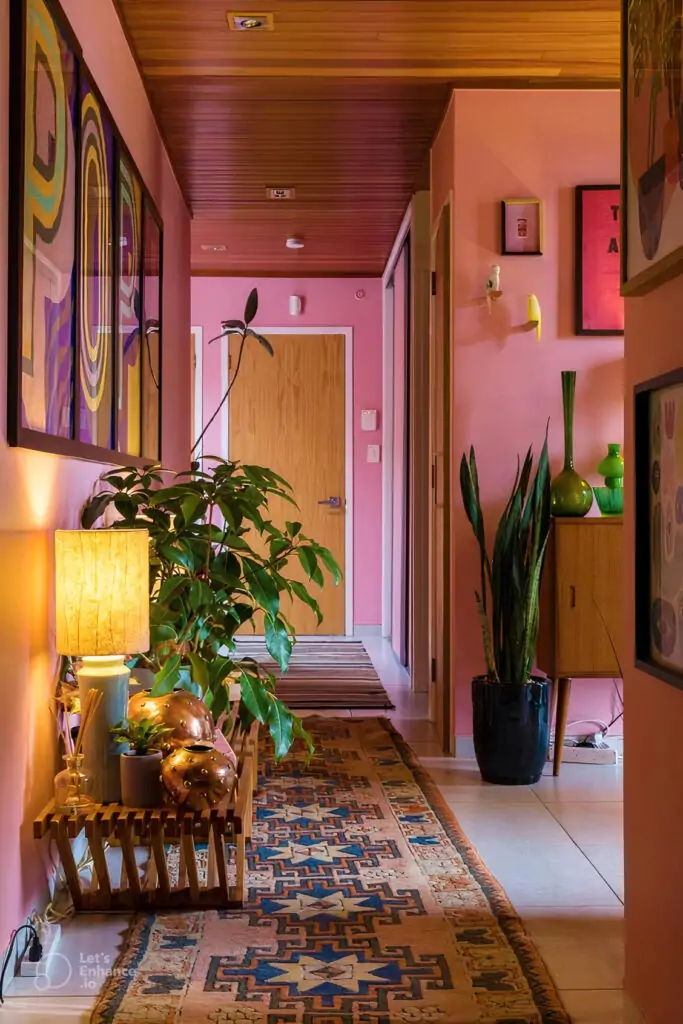 Is decorating all other rooms in bohemian style not enough? It is not a big deal. You can make even your hallway a boho. Some tips to get started include adding colorful rugs or runners, hanging tapestries or curtains, and adorning the walls with folk art or another eclectic decor. There must also be plants or flowers in the space. However, the main goal is that the overall look should be eclectic and colorful.
In addition, you can choose a very bright color (for example, pink) and dye all the walls in it, as shown in the picture. This will make the hallway look even funnier and more glamorous.
Lightning in a Bohemian Style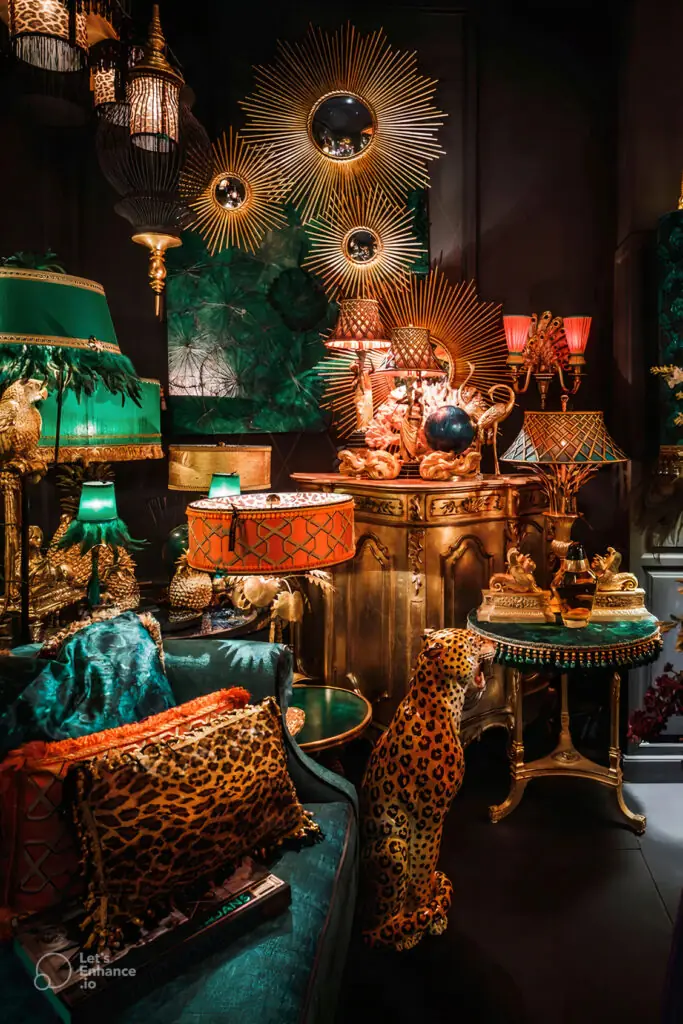 Bohemian style often uses lightning to add a touch of whimsy or magic. So while looking for boho style decorating ideas, you should also take lightning into account since it is an essential part of the trend.
There are various ways to use lighting in your room in a bohemian way. First of all, you can place a few small lanterns around the room, try hanging string lights in a tree, or use them to illuminate a pathway. You can also use them to accentuate architectural features like fireplaces or doorways.
Another way of doing it is to use Moroccan-style lanterns or use a lamp with a colorful shade. You could also add some candles around your room to create a relaxing ambiance.
Summing Up
So, what does boho mean in decorating? This style is a carefree and eclectic mix of colors, fabrics, and patterns. It is an approach that is often associated with artists and people who enjoy a more free-spirited lifestyle. This way of decorating often features colorful and unique pieces that reflect the personality of the person who owns them. Moreover, the bohemian-style decor is often seen as very relaxed and laid back, and it is not uncommon for people who embrace this style to be very creative and open-minded. So if you believe you are one of them, do not hesitate to incorporate boho decorating ideas into your home.