17+ Breezeway Ideas from Garage to House to Walk in Style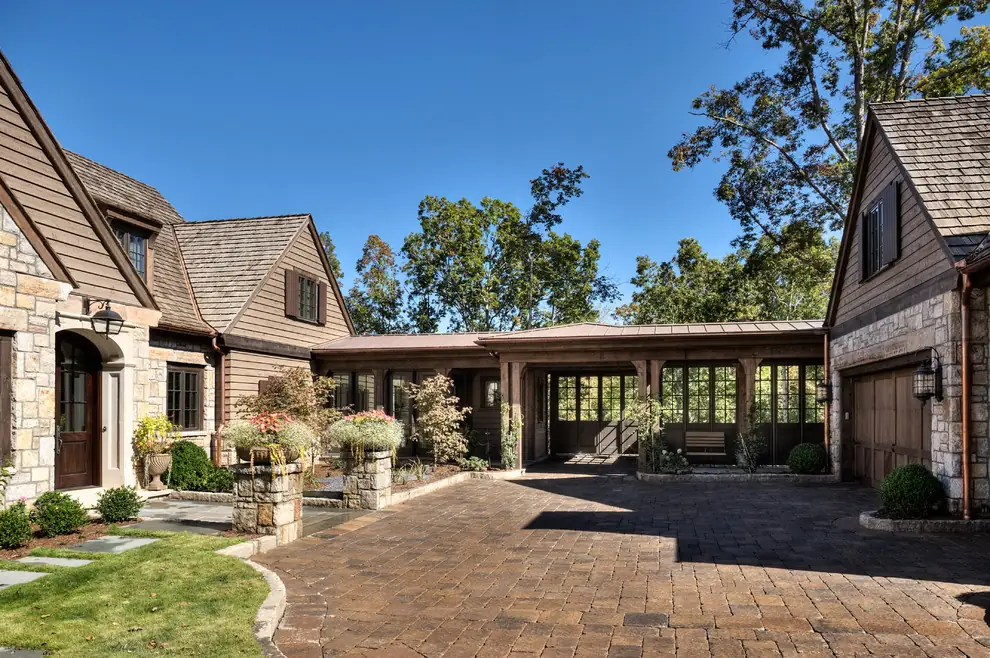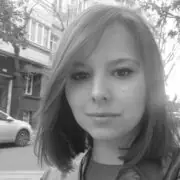 Contemporary houses often have a built-in garage, but if you're playing by the old-school rules with your real estate and your garage is a detached building, then looking at some breezeway ideas from the garage to the house is definitely a must. A breezeway, in general, is simply a covered walkway that protects you from the elements; but, since you'll probably walk to your car very often, we think it's important for this passage to look good — so that you will feel good. Let's take a look at some ideas for connecting a detached garage to the house!
1. Fitting In: Mind the Surroundings
Making a breezeway an organic part of the ensemble is half the battle in getting it to look great. Notice how well this one blends with its environment: the roof extension fits very naturally, and the stone garden wall also serves as the passage's boundary.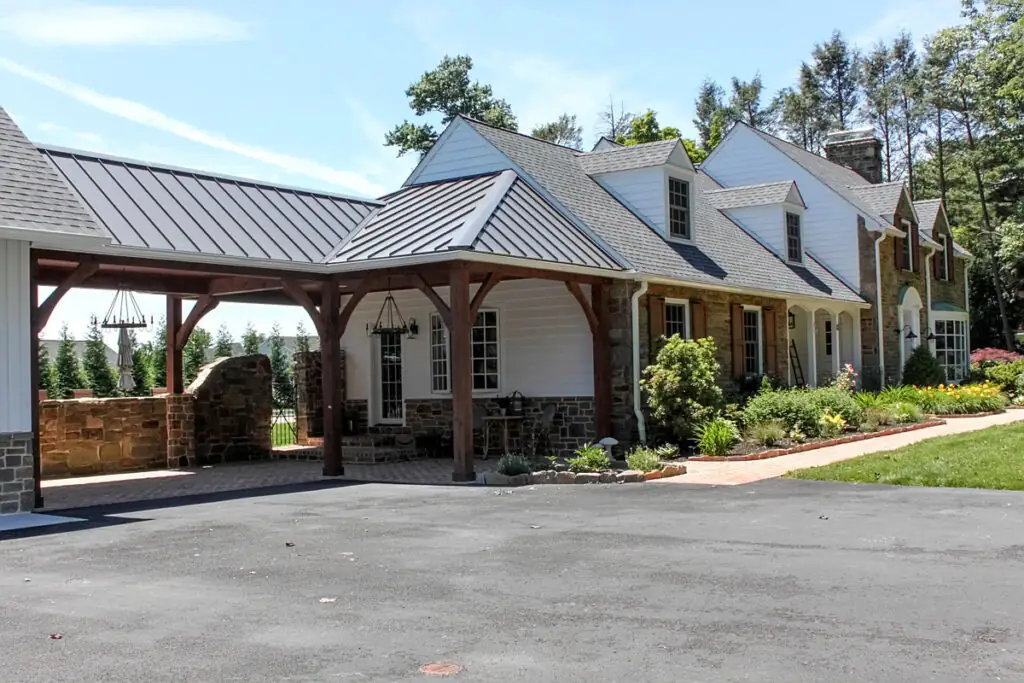 2. Bridging the Gap: A Non-Traditional Breezeway
Having a detached garage may sound old-school, but it doesn't necessarily mean that the property's design has to be old-school as well! This modern estate, built on a slope, called out for a creative solution to connect the buildings: this partly uncovered breezeway from the garage to the house is a bridge.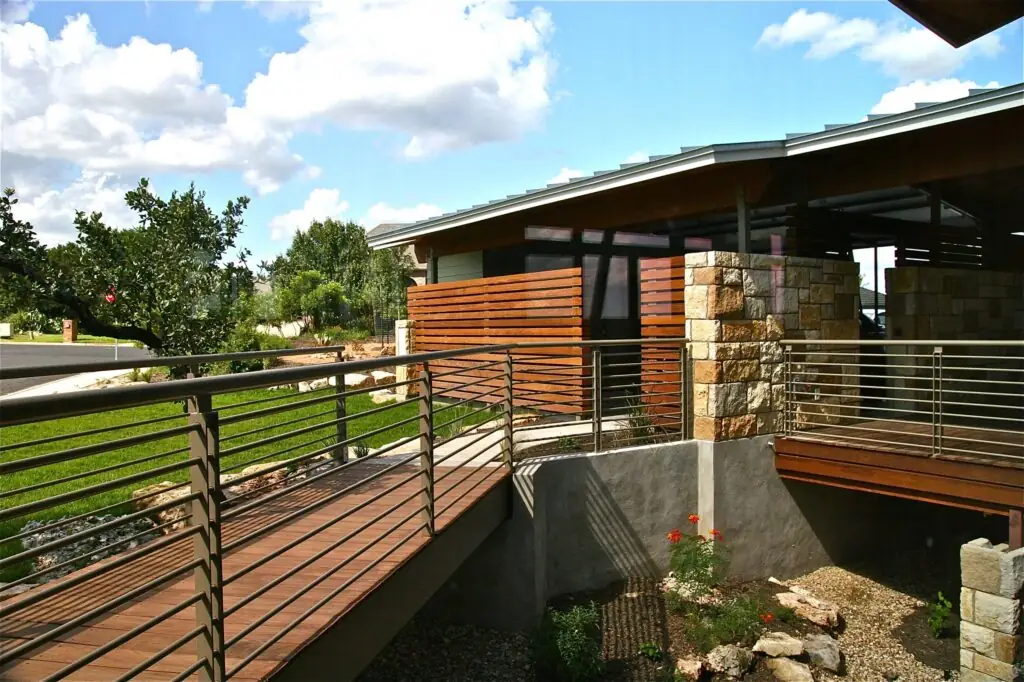 3. Upstairs, Downstairs: Working on Different Levels
Here's another proof that you don't have to have your house and garage perfectly lined up to be able to build a passage between them! The garage sits quite low relative to other buildings on this property, which is why the walkway is put on a raised stone parapet and ends in stairs.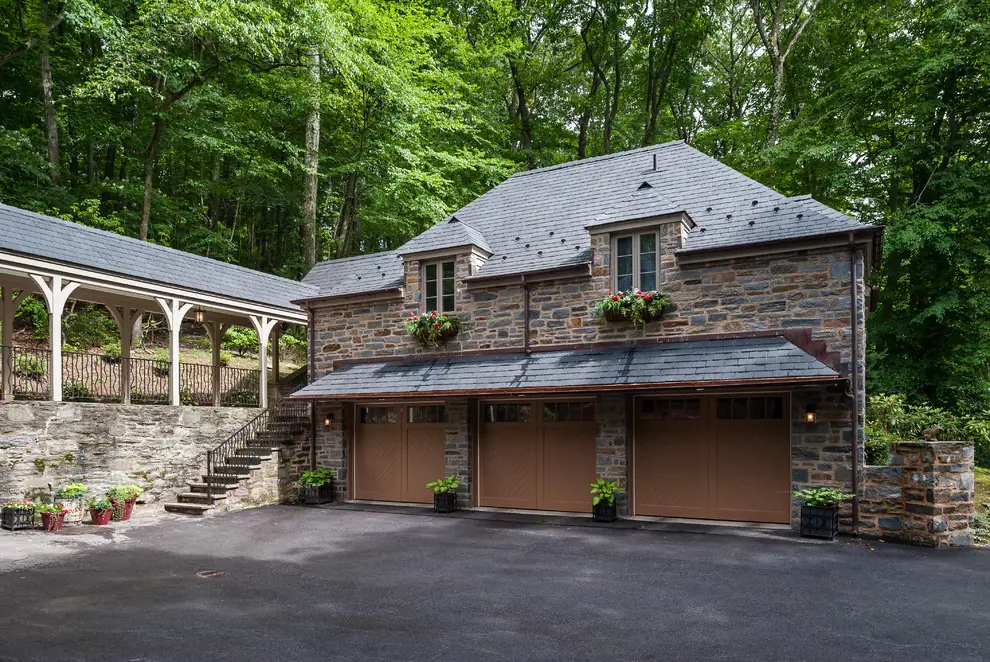 4. No Hassle: A Construction That's Easy as Pie
On the other hand, a breezeway's architecture can be quite simple. Here, it's just a roof covering a small patch between the closely-standing buildings — but it's quite enough to protect the owners from the elements on a walk to their car.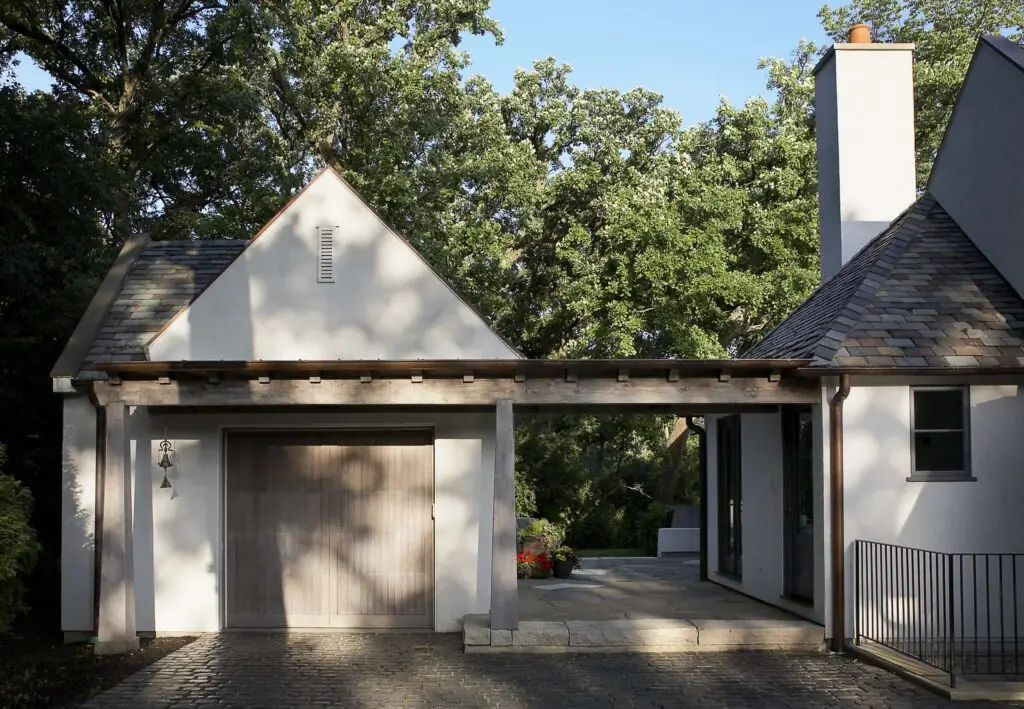 5. Need Some Storage? No Problem: A Multifunctional Walkway
Who doesn't like structures that serve a double purpose? Here, the passageway is used to store wood for a fireplace: the roof protects it from the rain or snow, so the firewood stays dry. As a bonus, the stacks of wood fit very naturally into this design.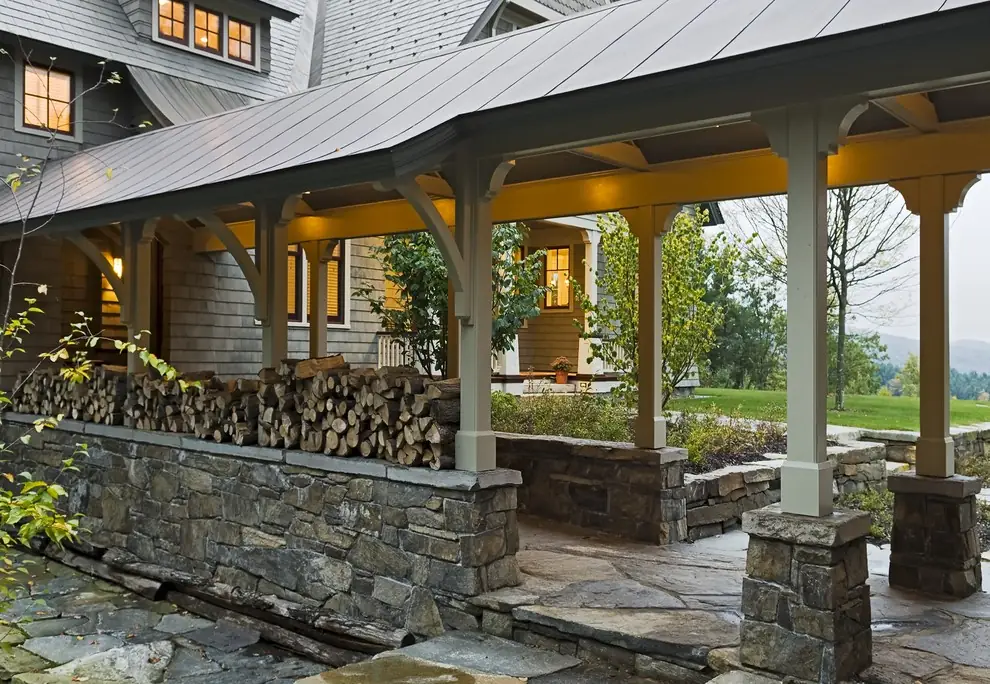 6. A Perfect Blend: Combining the Pieces
This small passage combines the features of the house (the roof) and the garage (the wall). As a result, there's a seamless transition despite the two buildings being very different—definitely, the right way to put together an architectural ensemble.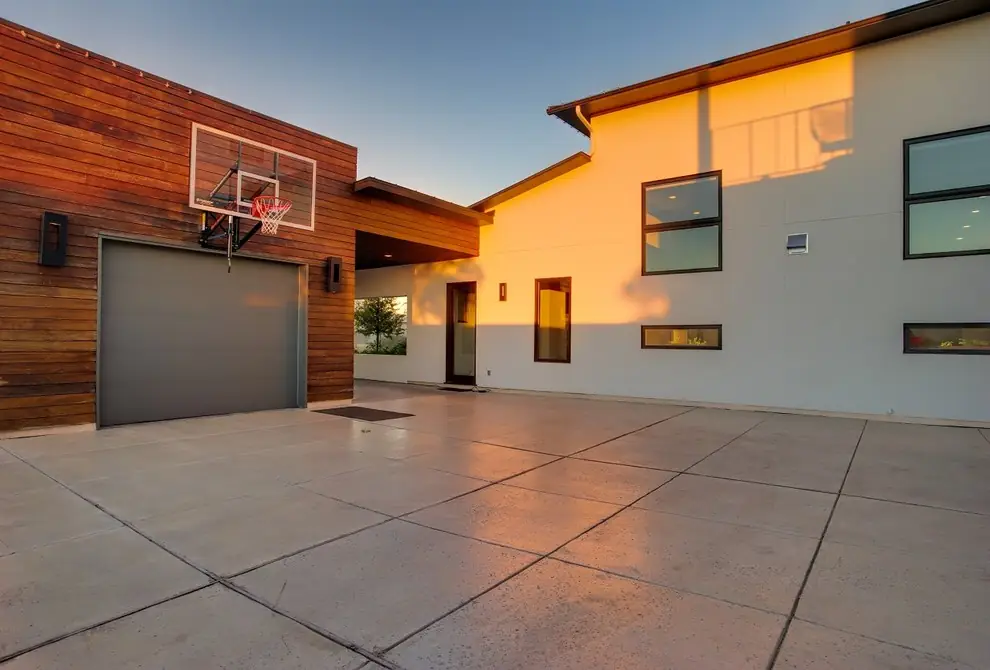 7. There's Room for a Room: Say Yes to Enclosed Spaces
There are no hard and fast rules on how a breezeway should look and what can be inside. Why not put a whole extra room there? This design combines an open passage with a small cozy space to chill out.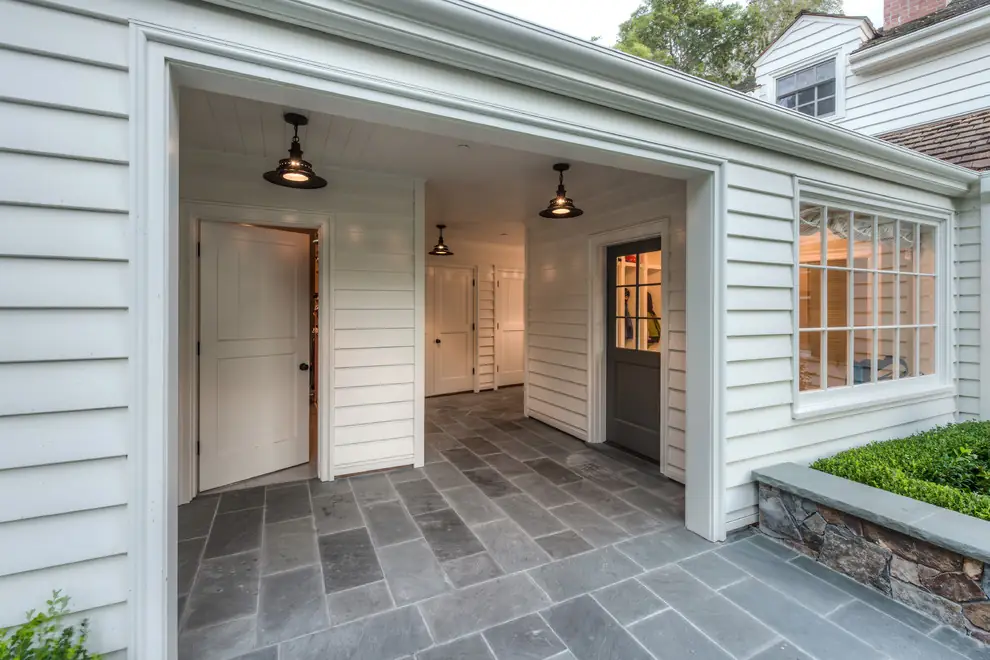 8. Thinking on a Grand Scale: Two Floors Are Better than One
We're not sure whether to put this one among the enclosed breezeway ideas from garage to house or the ideas for the open one: probably both! It takes up two floors and combines the enclosed passage with the more traditional walkway that has a roof but no walls.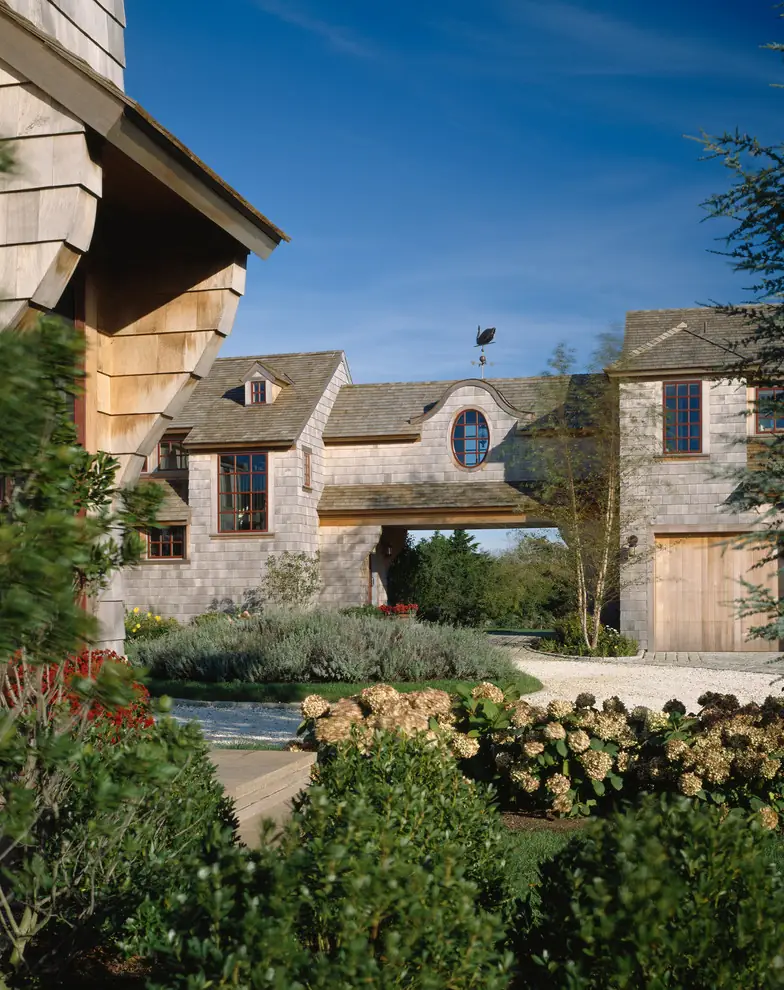 9. A Small-Town Street: A Spacious Solution
This passage is not just for pedestrians! As wide as some streets, this space allows the owner to drive through as well as walk. This is definitely one of the winning breezeway ideas for property designs, as far as we're concerned.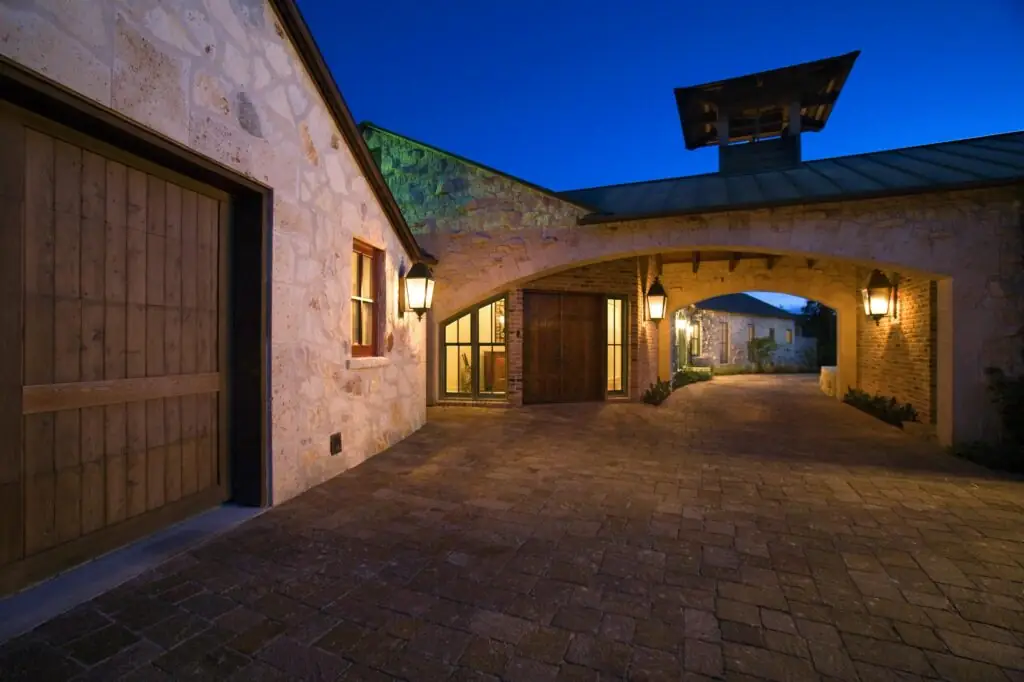 10. Being One-Sided Is Not Always Bad: Delineating the Boundaries
Here's another one of the breezeway between the house and the garage ideas that we like because it makes clever use of the available space. This passage is enclosed only on one side, creating a boundary between the courtyard and the outside world.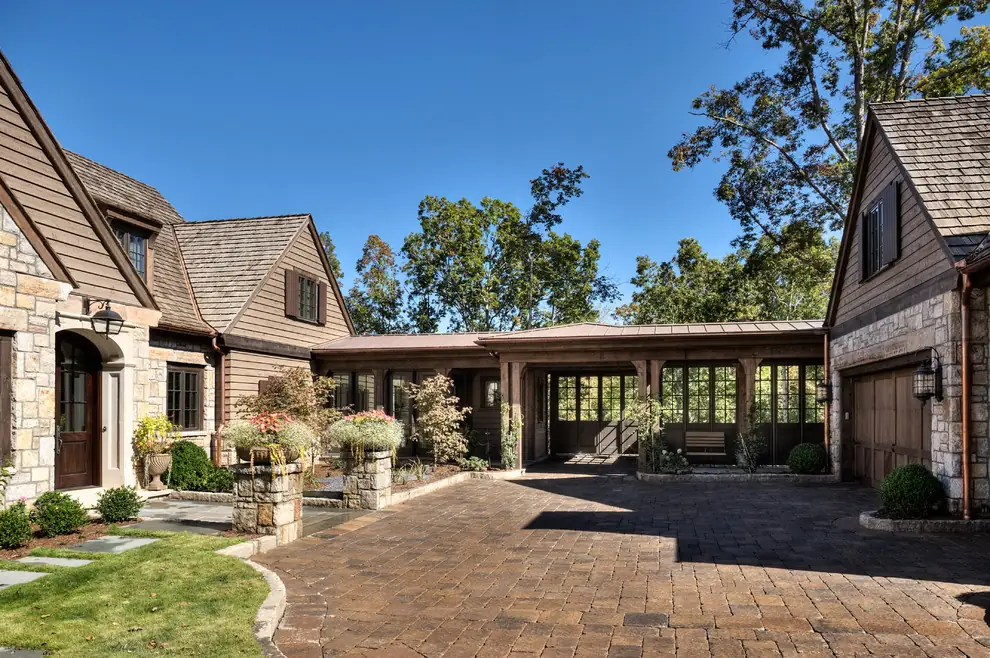 11. Looking at Your (House's) Age: Always in Style
Matching the style of your breezeway to your house is always a winning strategy. Elegant property calls for elegant solutions, like this walkway connecting a Victorian building to the garage (sorry — the carriage house!).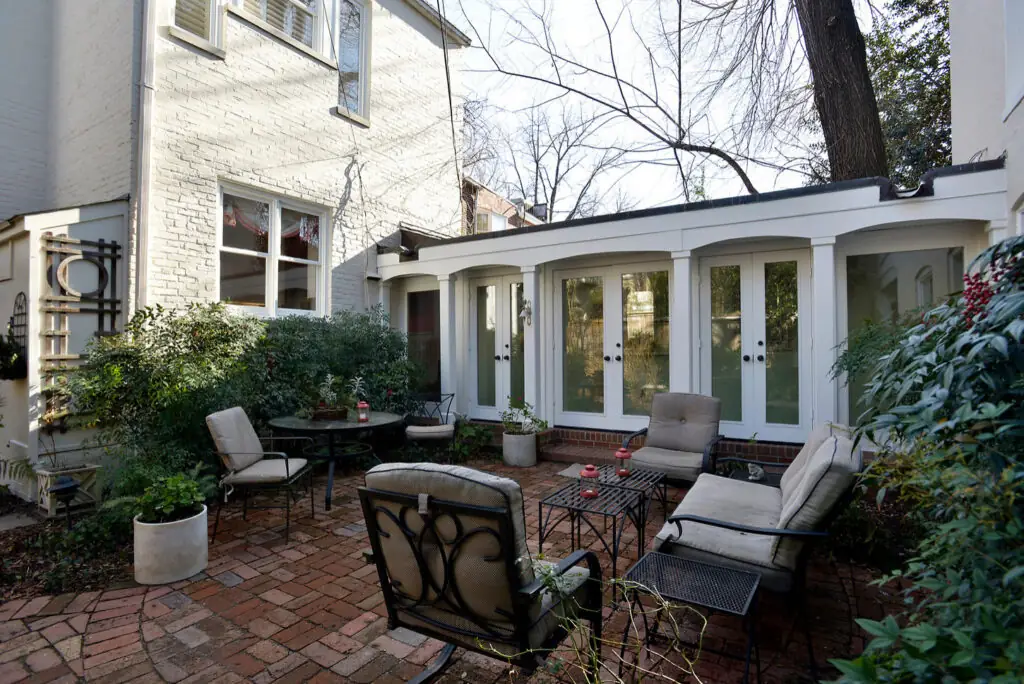 12. In Plain Sight: Unassuming but Beautiful
You may not choose to draw attention to your breezeway, but it doesn't mean that you should forget about it — quite the opposite! The trick here is to hide it without hiding it: the space with a pergola roof blends into the ensemble so organically that you almost can't see it.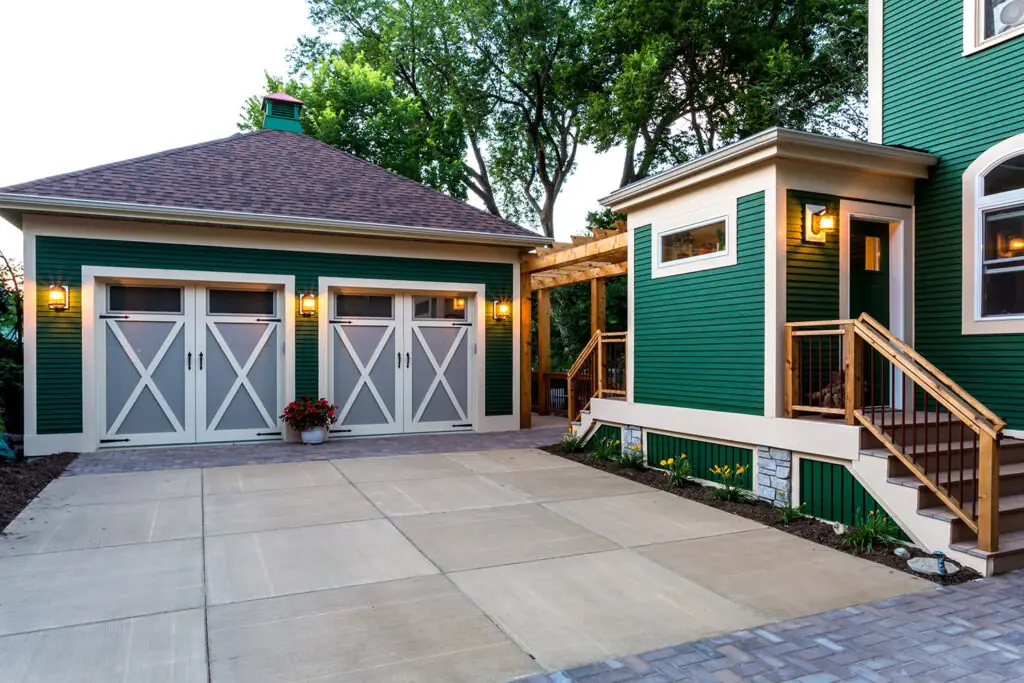 13. Simple Geometry: Minimalism Deserves Some Love
This design looks impressive because of the way it fits into the geometry of the buildings. Sometimes straight lines are all you need — of course, you also need to know how to use them well.
14. Take a Break: A Patio Is Never in the Way
You can make a small patio-like hangout in the middle of the passage of almost any size. A nice bench and some potted plants — and suddenly, it becomes a nice place to gather your thoughts before driving to work or get some air after returning from a drive.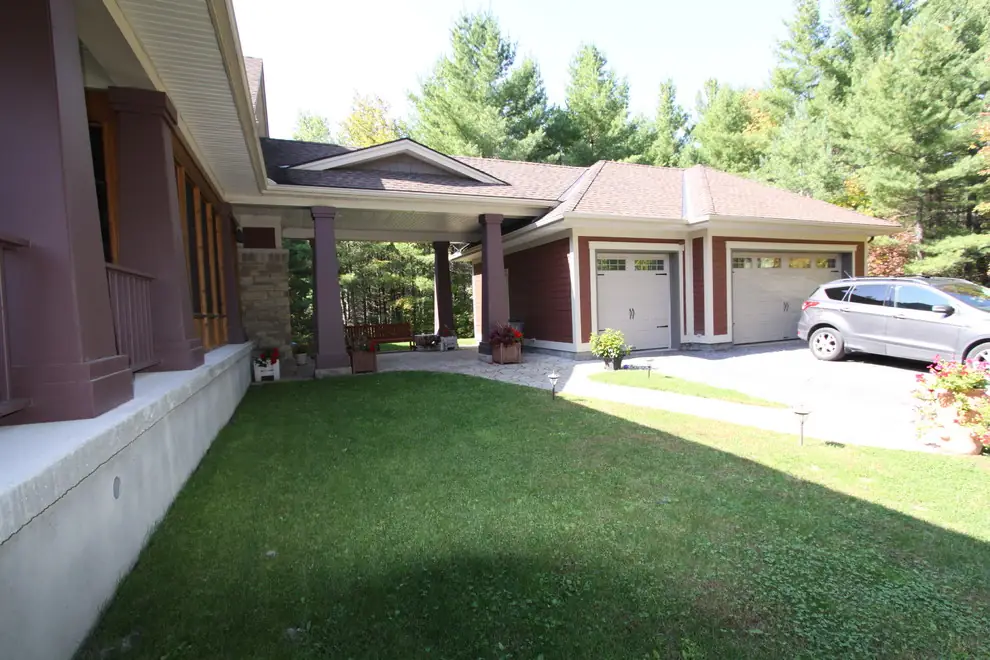 15. Greenhouse Effect: Open but Closed
If you want to build an enclosed passage but are not ready to give up on the open-air feeling, the solution is glass! This corridor serves as a small greenhouse: see-through windows and the roof let the sun in, and the plants inside provide a fresh and calming vibe.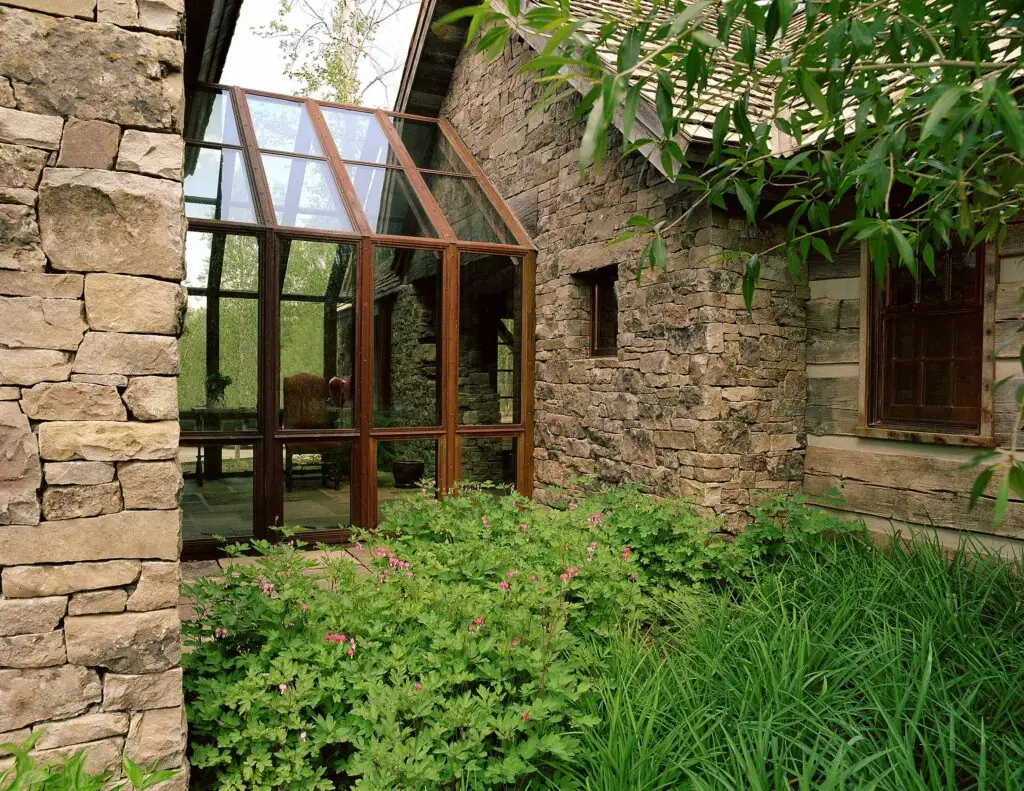 16. Mergers (And Acquisitions): Blending into the House
This garage is a later addition to the existing house, and the passage into there was put right around the front door. The cozy pocket of space can be used similarly to a front porch — or, for example, as a storage space for things one mustn't forget when leaving the house.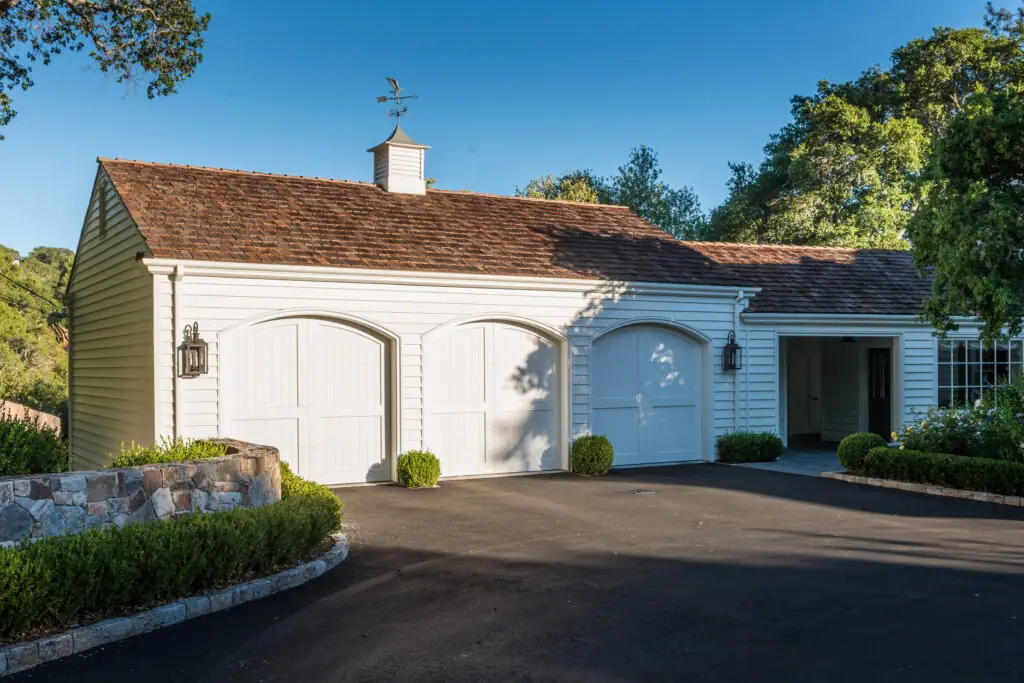 17. A Secret Passage: Designing for Yourself
This is a nice example of a well-designed breezeway: look at the way it fits into the backyard. This walkway is hidden from the street, so there's no need to impress the neighbors, but still, it looks very nice — so, perhaps, a lesson here: the person you need to impress is yourself.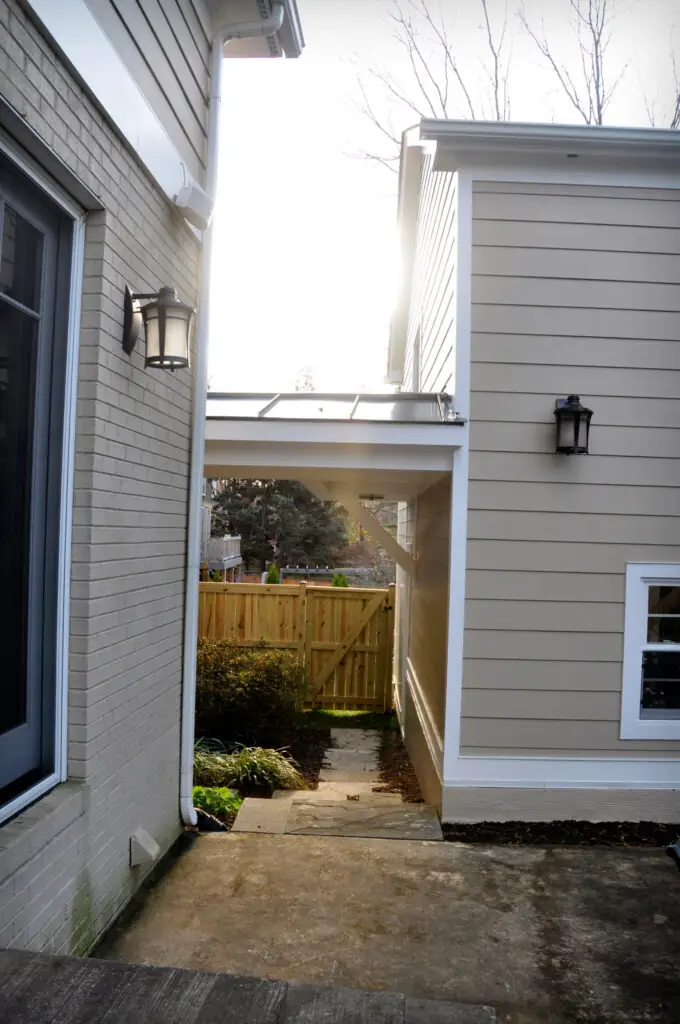 FAQ
How to build a breezeway between the house and garage?
Building something like this is a big undertaking that should be left to professionals — unless you have an extensive background in construction work. However, what you should do is think about some things first:
How will it fit with your existing buildings' design;
What is the space's purpose, and what furnishing will it need;
The regulations in your area, such as zoning requirements;
Last but not least, your budget.
What's the cost of adding a garage and breezeway?
A breezeway alone will cost you at least $10,000-$12,000, and if you're adding a garage at the same time, it will probably soar to $40,000. Remember, however, that those additions are great for your property value.
Here you can find a tutorial on designing a space like this yourself:
Conclusion
If you're an owner of a detached garage, a breezeway can be a great solution for getting to your car safe from rain or snow. But we think it shouldn't be just a way to get from point A to point B, and that's why we've shown you those breezeway ideas from garage to house. So, if you're thinking about building a walkway, we hope you use one of them! You're always welcome to come back for design ideas for other spaces, too.