37+ Ideas to Design a Small Kitchen in Heartwarming Way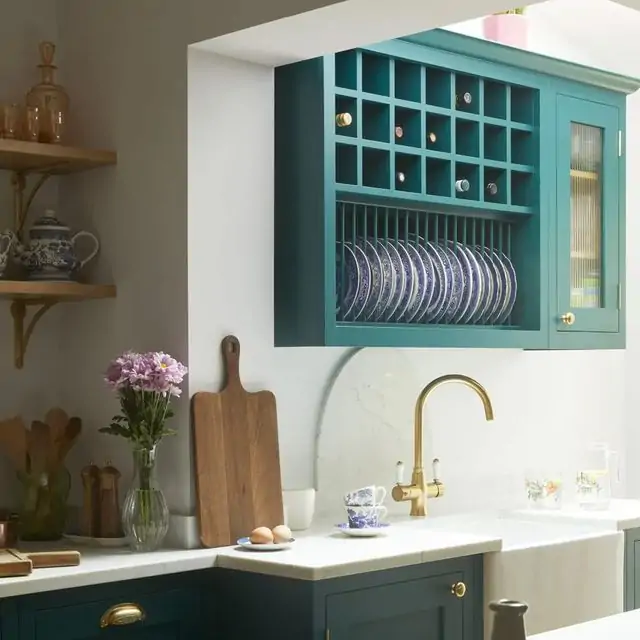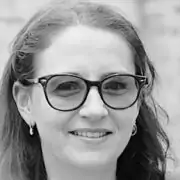 While some people believe that the bedroom is the true heart of the home, most of us know that nothing compares to the kitchen. Let's check out the coziest ideas to design a small kitchen you can introduce to create a unique and functional space.
In this review, you will find many examples to inspire a significant makeover. They will work with non-standard planning or insufficient lighting and fit every budget. Let's take an exciting journey through the small kitchen universe!
1. Go with Built-in Furniture and Hardware
When you design a small kitchen, your goal is not to lose an inch and light the space up. There are many ways to succeed, including hidden storage in every corner, ergonomic furniture at the full height of the room, and proper installation of household appliances.
The more techniques you use, the more comfortable place for cooking you will create.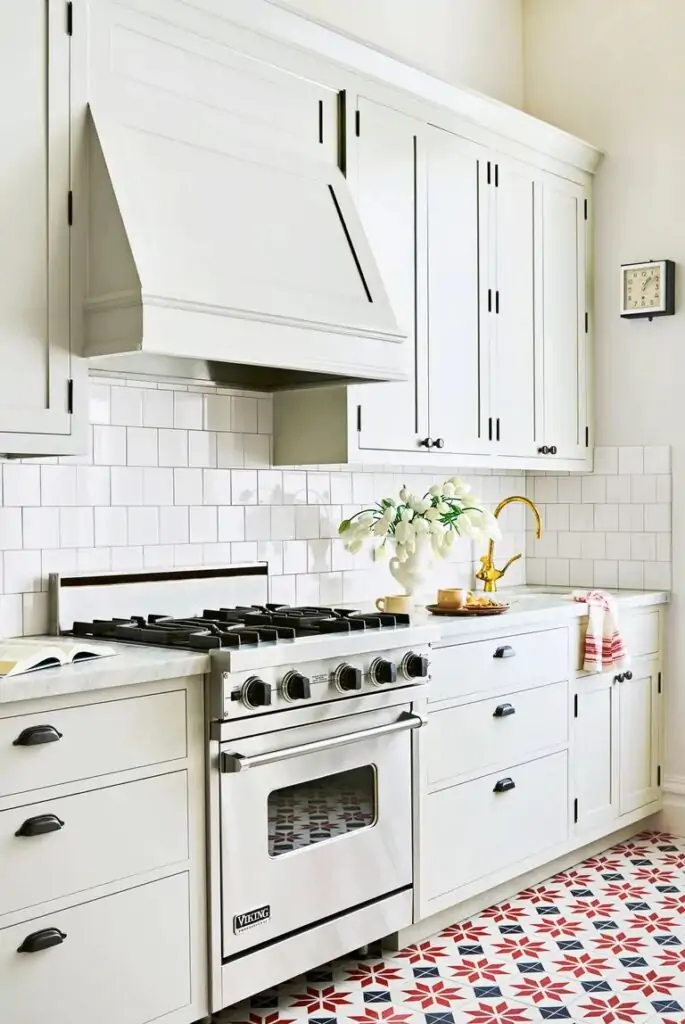 You can keep your small built-in kitchen classic in an all-white design paired with a patterned accent floor.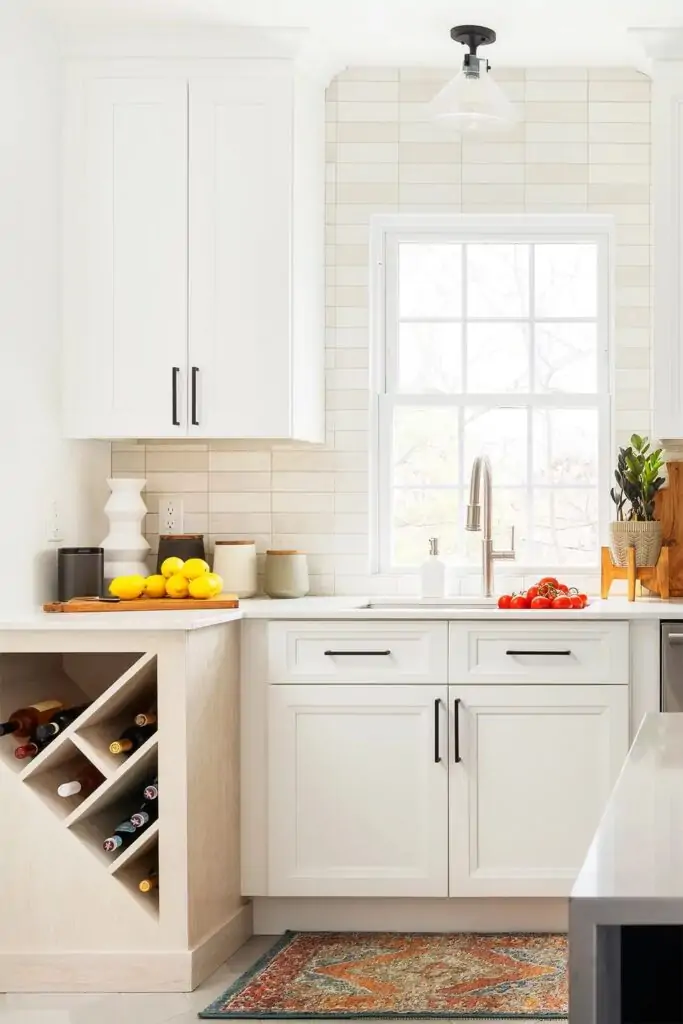 Isn't this space calm yet fabulous? Notice how wonderful combining unlimited white and beige colors and built-in furniture installed from the ceiling to the floor is.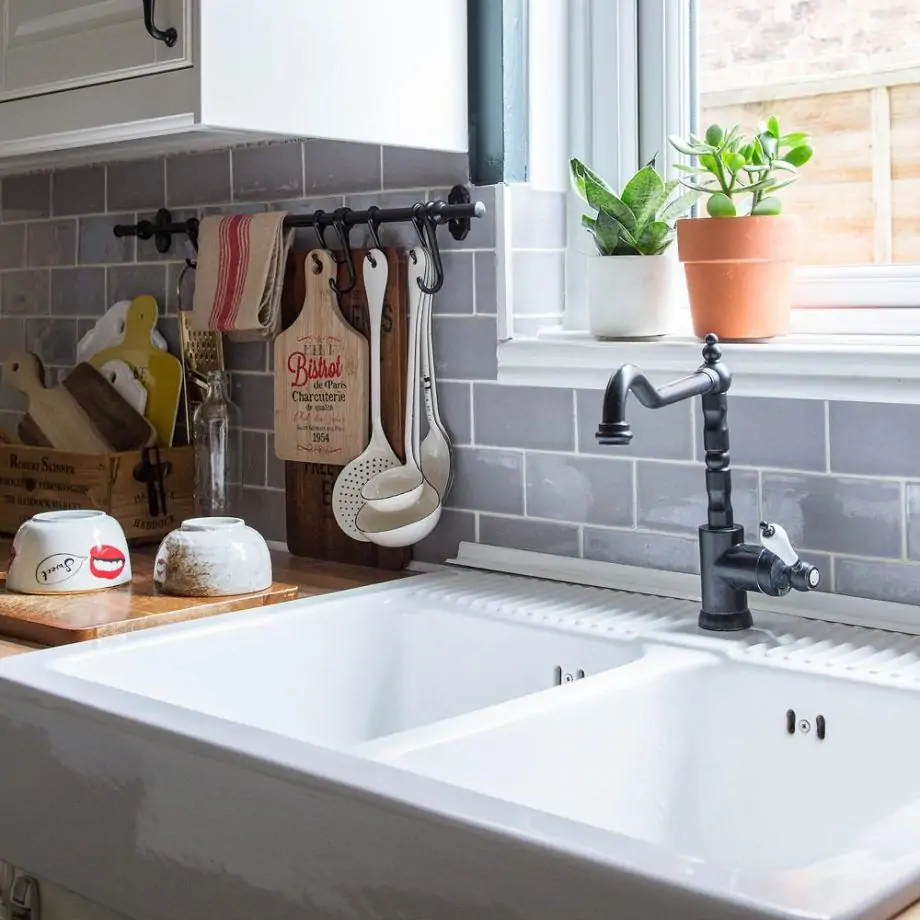 Here is an excellent design solution that will also help you enjoy the housework: the window sink underlines a family-friendly interior. When you do the dishes and look outside, you don't feel that the kitchen is small. Bingo!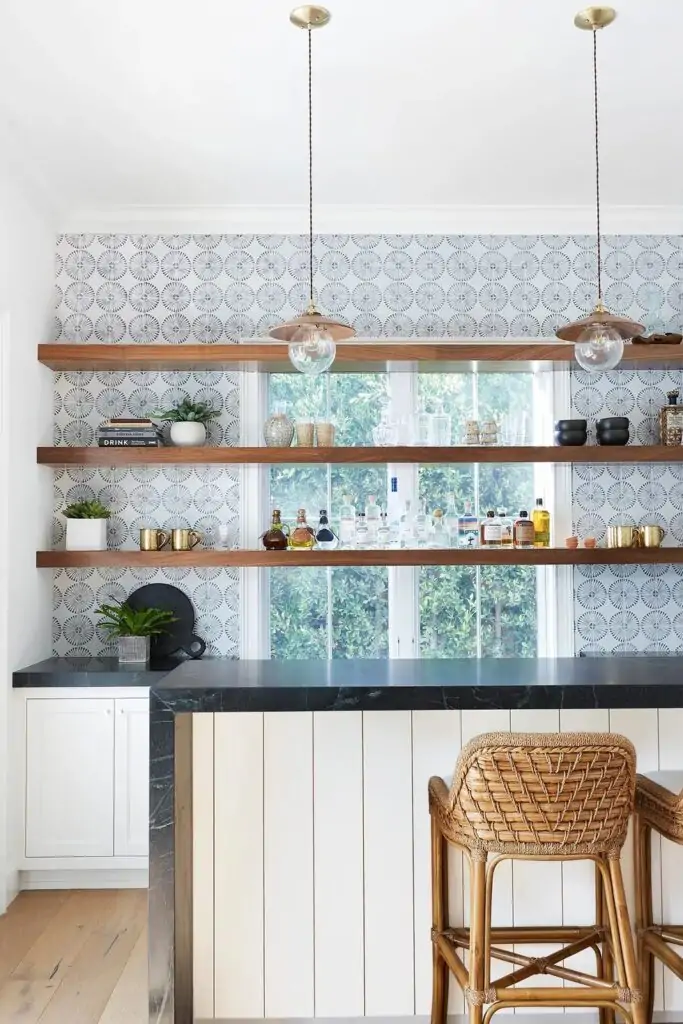 Get even more ingenious when looking for a place to hang your floating shelves. You can use the entire window surface like the photo above to arrange your storage.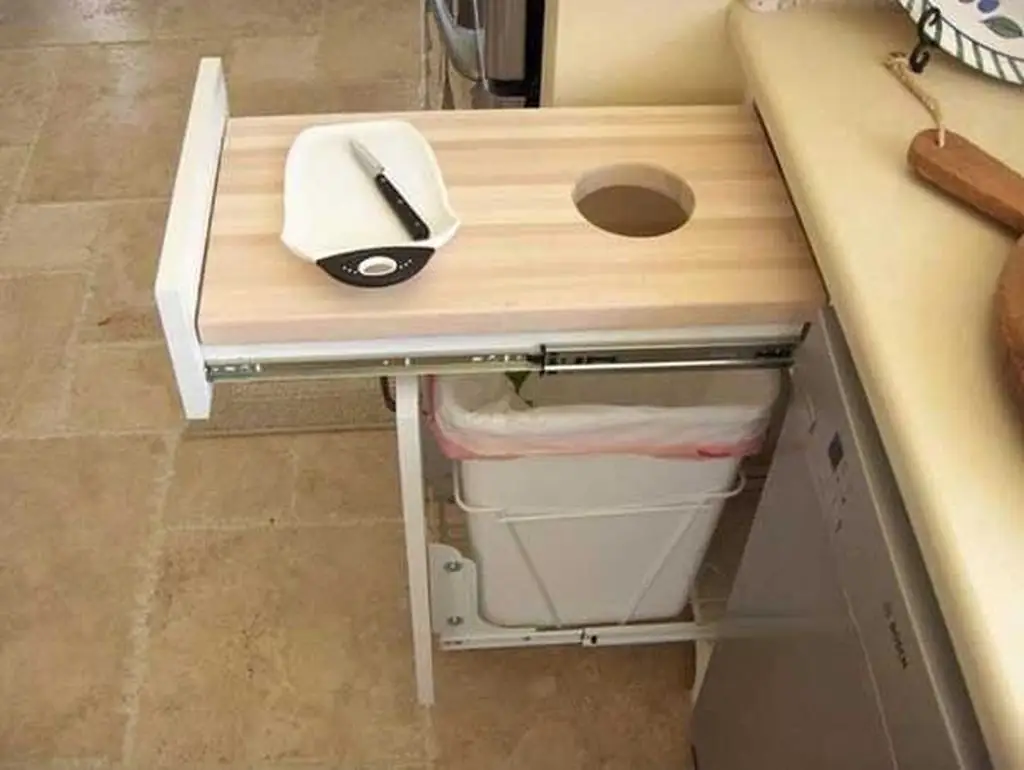 Conceal a convenient prep station in the lower cabinet, and you'll never have any problem while cooking. You need a different surface to peel and cut in a moment — pull the station out. Then clean and hide, and your small kitchen will get maximum free space. One of the best ideas ever!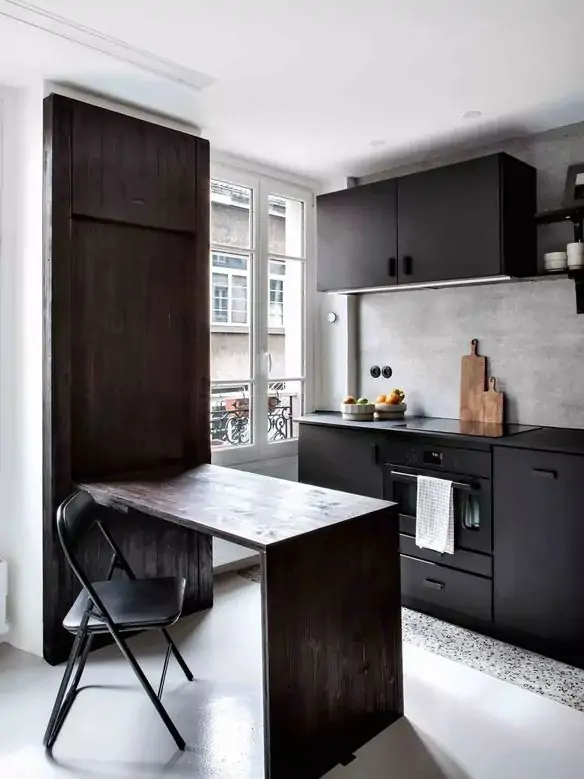 Aren't you impressed by this built-in table? Designers have created a lovely dining place you can stow away when you need some open space. Also, a very non-standard color of the cabinet imparts masculine minimalism to this design concept.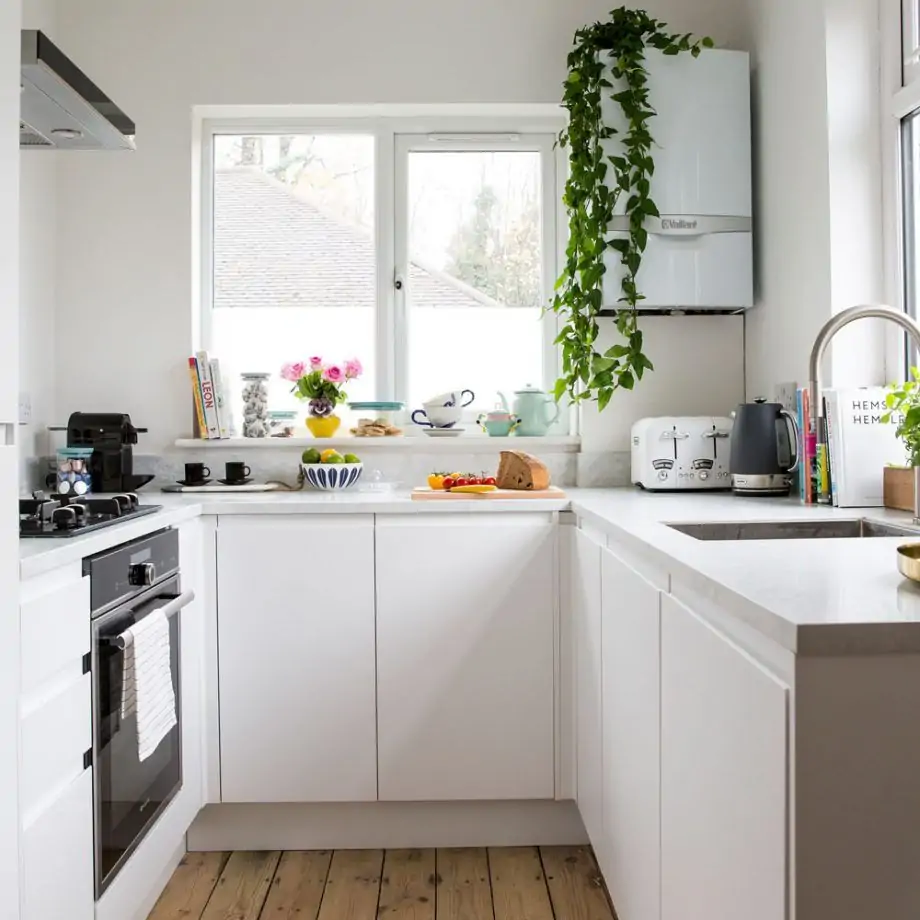 This all-white u-shaped concept brings us to the basics of the design. Consider your layout if planning a new kitchen or renovating the existing one.
Keep in mind the ideas for a small kitchen layout (see a complete guide below), and let your project have the best plan!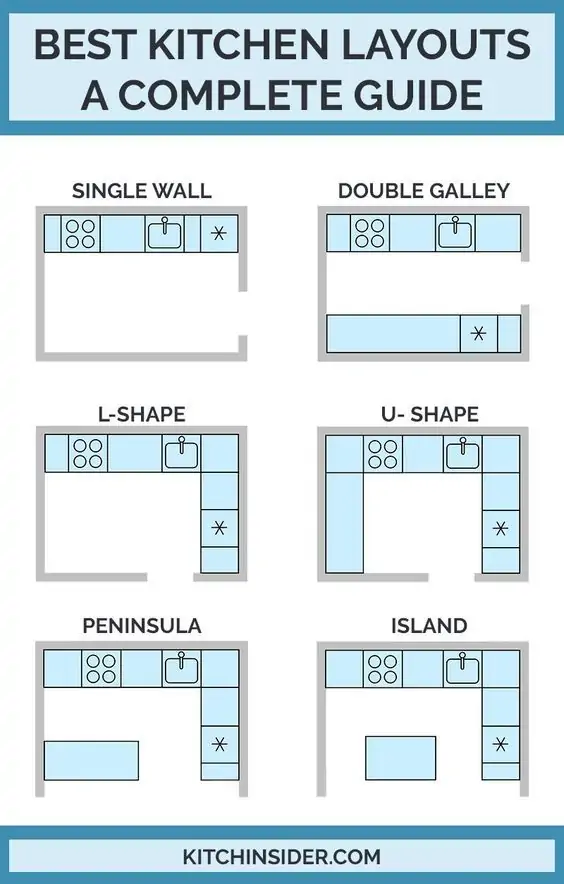 2. Design Your Interior in Briliant Color Scheme
Make your walls extraordinary to achieve a striking impression. Thus, stick to the light range of colors and solid textures with no dense and contrast patterns — there are tons of materials for finishing, including paints, wooden panels, and wallpapers.
Here you can see an exciting solution when the color of the walls seamlessly flows into the ceiling. The thinner the stripes are, the larger and higher the kitchen seems to you. Be careful not to overwhelm the room: a rule of thumb is to choose light tints and delicate lattices.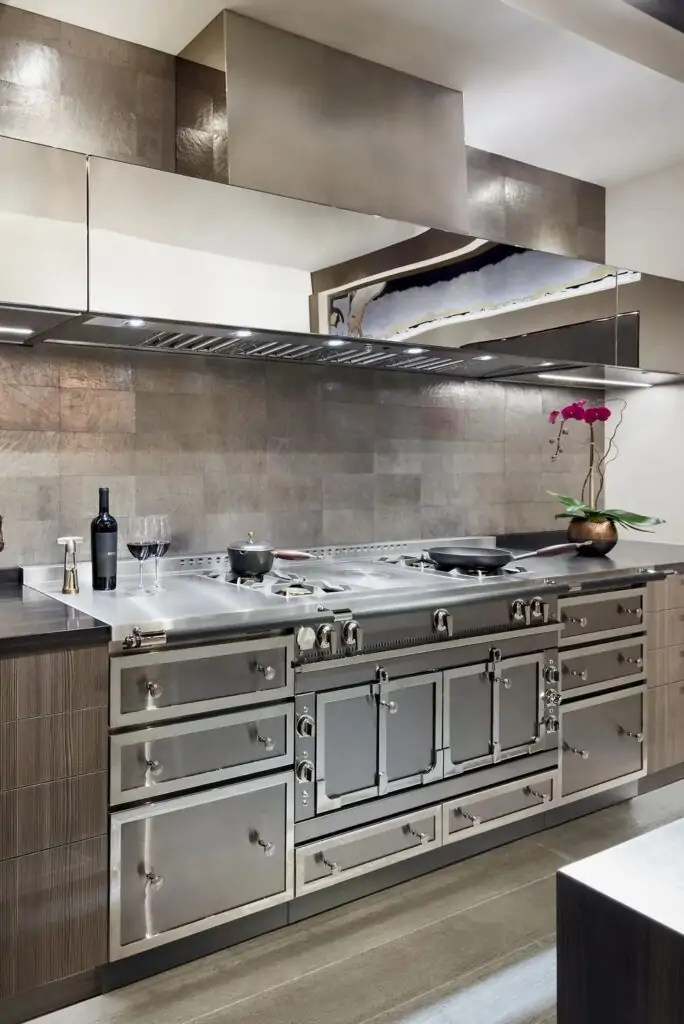 Beige, grey, and white are classic shades to maximize any space. But just because your kitchen is small, it doesn't mean you absolutely can't choose punchy and even dark shades. They also work if you find an exciting palette, preferably monochromic.
However, remember that the darker room usually feels more cramped (like the previous and following metallic designs).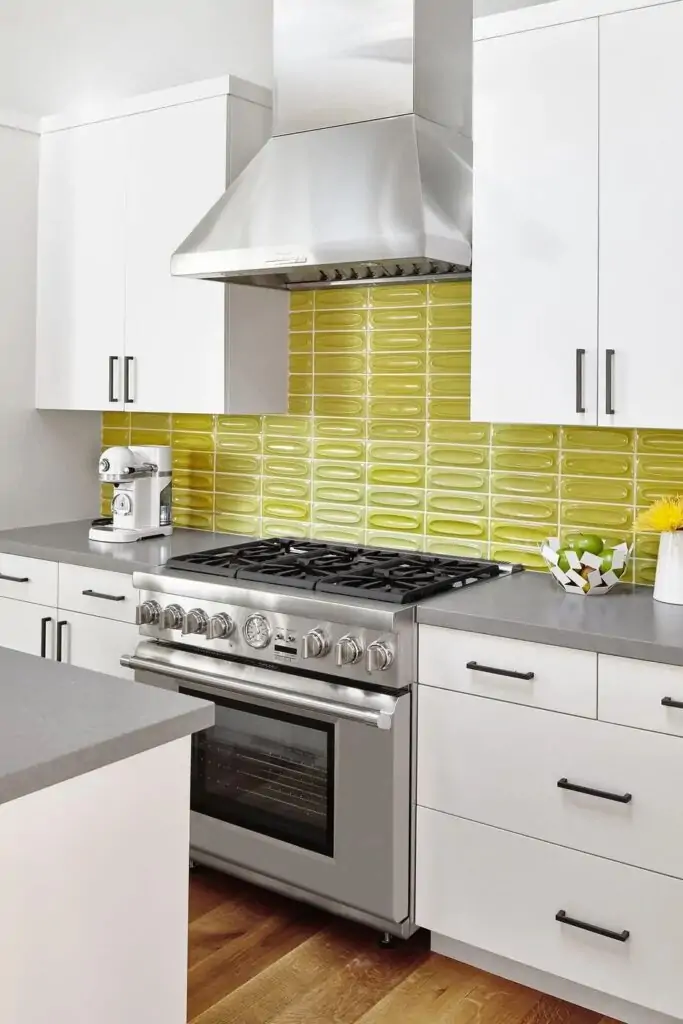 A statement backsplash makes this project feel daring, doesn't it? It contains all features of a neat, well-organized space for the excellent hours spent on family cooking.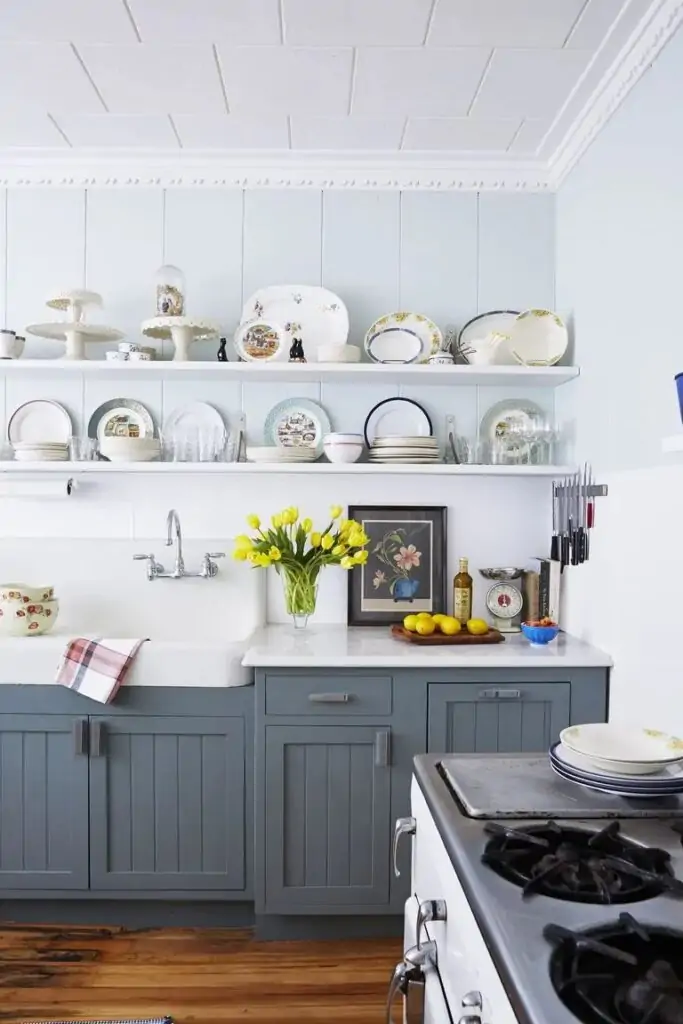 If the all-light concept isn't your choice, introduce some more dramatic contrast in a monochrome color scheme. Primary bold grey used for the lower cabinet can also give your kitchenette unique coziness like the photo above.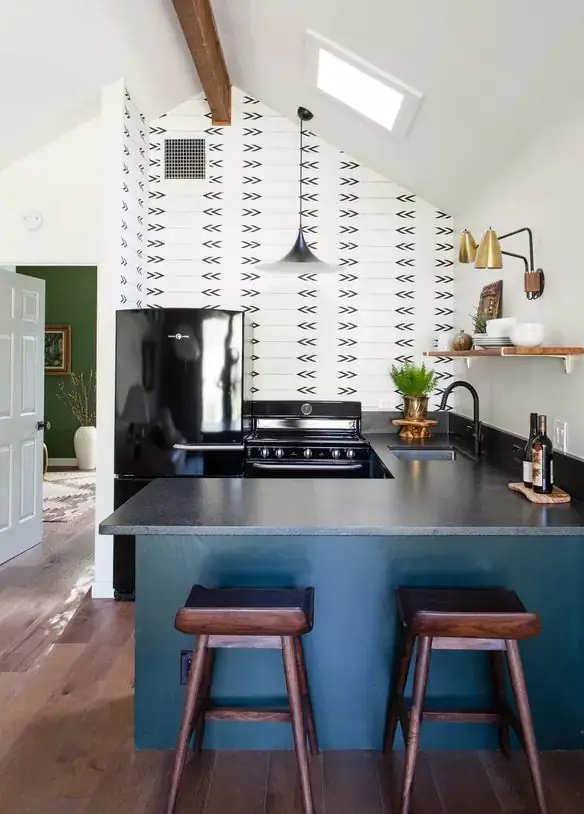 Do you like this project? It's bold and similar to the previous version in the color scheme. When repeating it, remember the rule for a non-light color scheme. You can visually expand kitchen boundaries by combining darker lower cabinets with a lighter worktop and front of the upper shelves. The expanding effect occurs because the light top opens up the room's space towards the ceiling.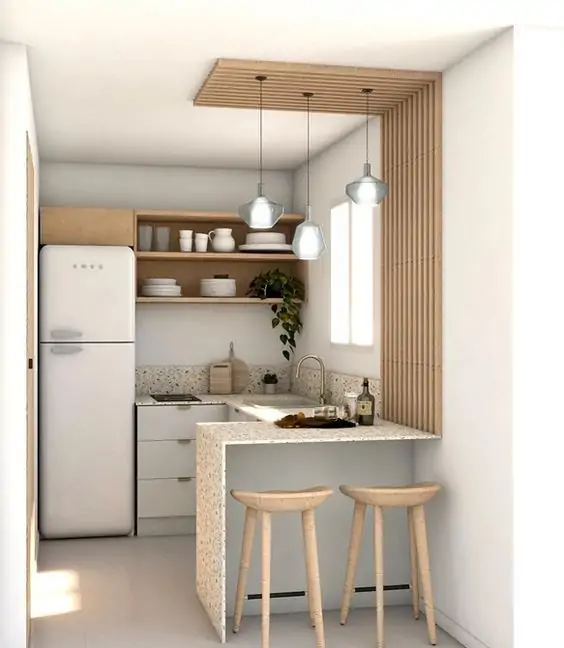 No matter what zone you want to separate, you can underline it with a contrasting color. Here you can see a divided breakfast bar. Use this easy way to add functionality and distract an eye through a lightweight design solution.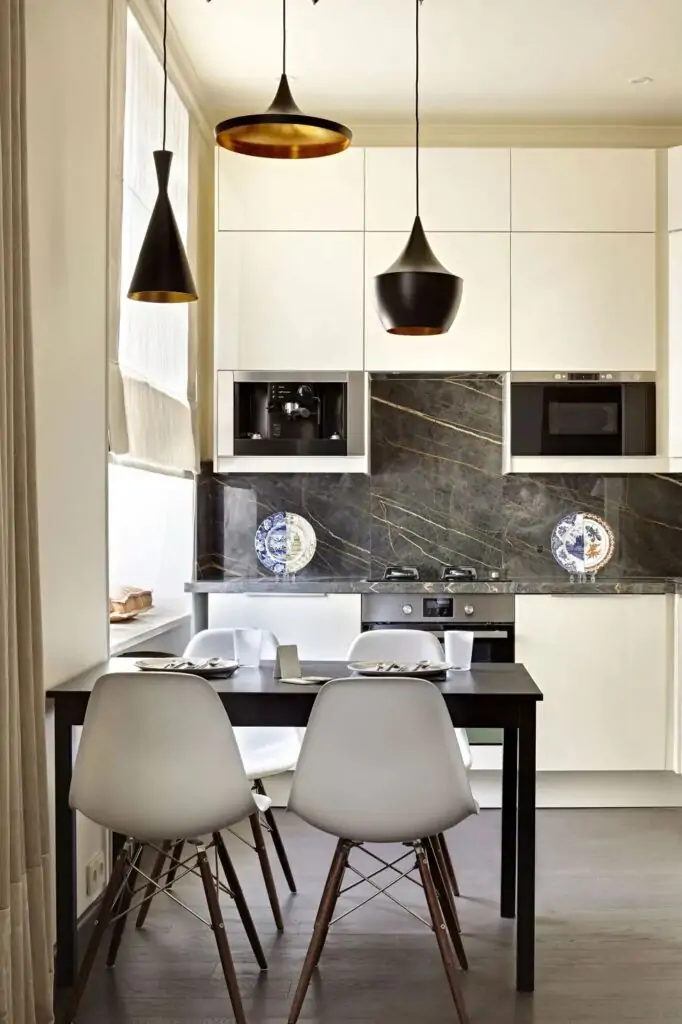 Don't overlook the classic combination of black and white when talking about zonation. In this project, notice the position of the black surface. The perfect places for black are the floor, workspace, and statement backsplash. The first opens up the room from top to bottom, and the second and third give the room more depth at eye level.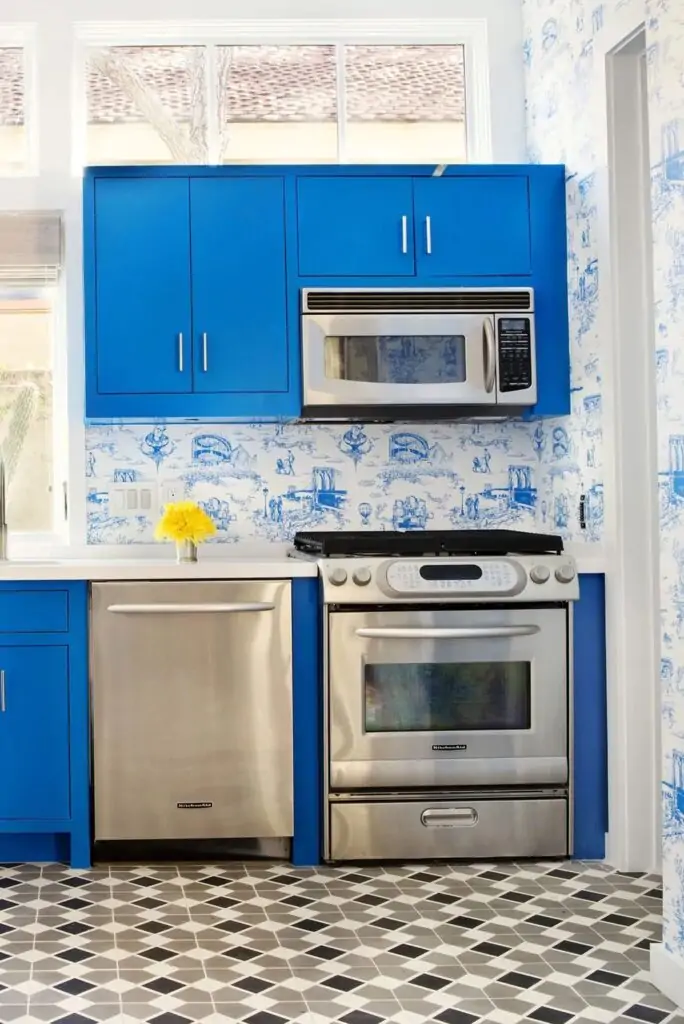 Sometimes unexpected colors please the eye and ruin your first impression about room size. This blue-metallic concept impressed us very much. But if we were you (dreaming of a great small kitchen!), we wouldn't dare to liven up the colors ourselves. Our advice — hire a pro for such a colorful makeover.
3. Arrange a Lot of Places for Smart Storage
Whatever size or planning, any kitchen might have an excellent storage design to help the family enjoy the cooking. You can introduce numerous intelligent ideas in a kitchenette, especially using cabinet doors, blind corners, and niches. Here are some tips with photo examples.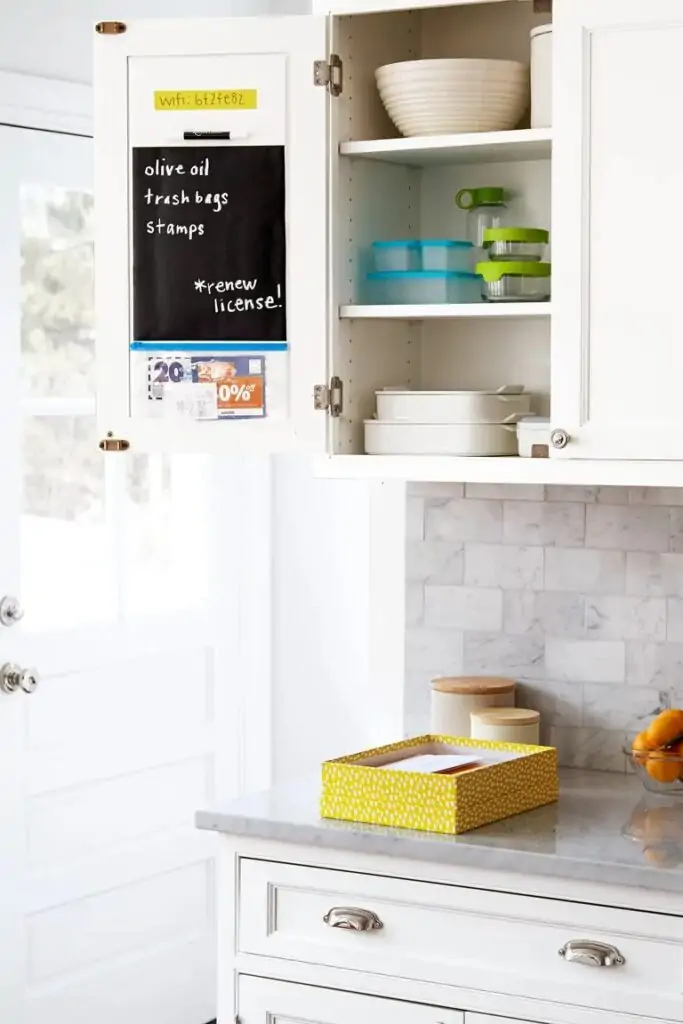 Hang on the internal door surface your grocery list, nutritional data, recipes, coupons, and other small items you need to keep close at hand.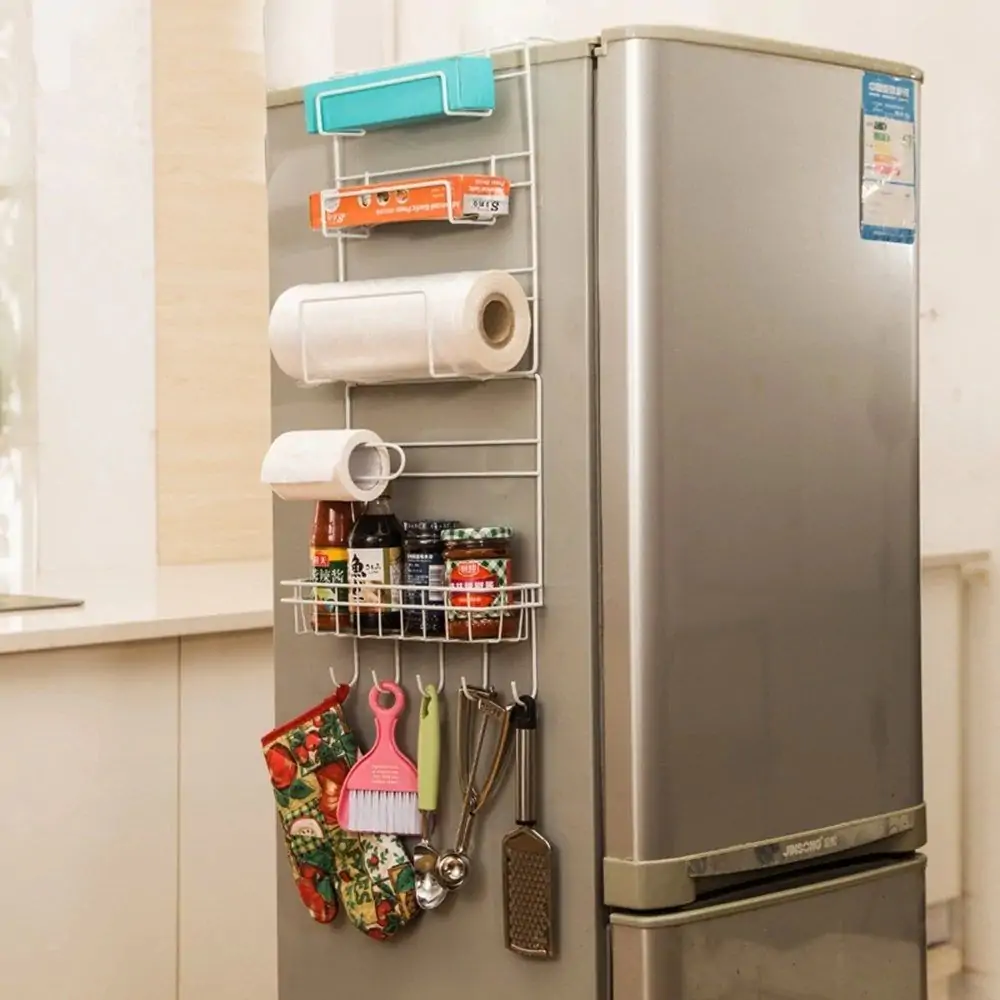 People often do not pay enough attention to the empty sides of cabinets or fridges. However, they can accommodate many cooking utensils if you hang up a rack like in the picture. This simple accessory is worth a small investment.
Any design involves many clever ideas to store your stuff conveniently. A small kitchen brings you the challenge of improving storage and not losing a single inch.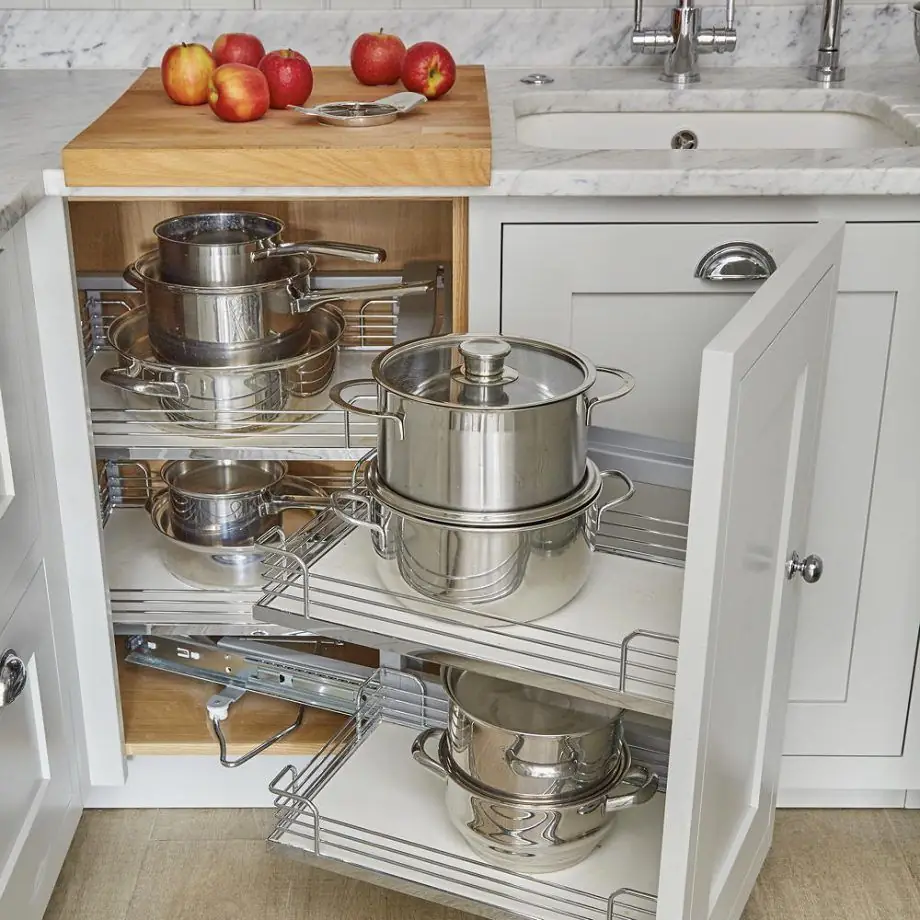 Here is a perfect storage system for a blind section in the lower cabinet. Invest in these functional furnishings and forget about losing space.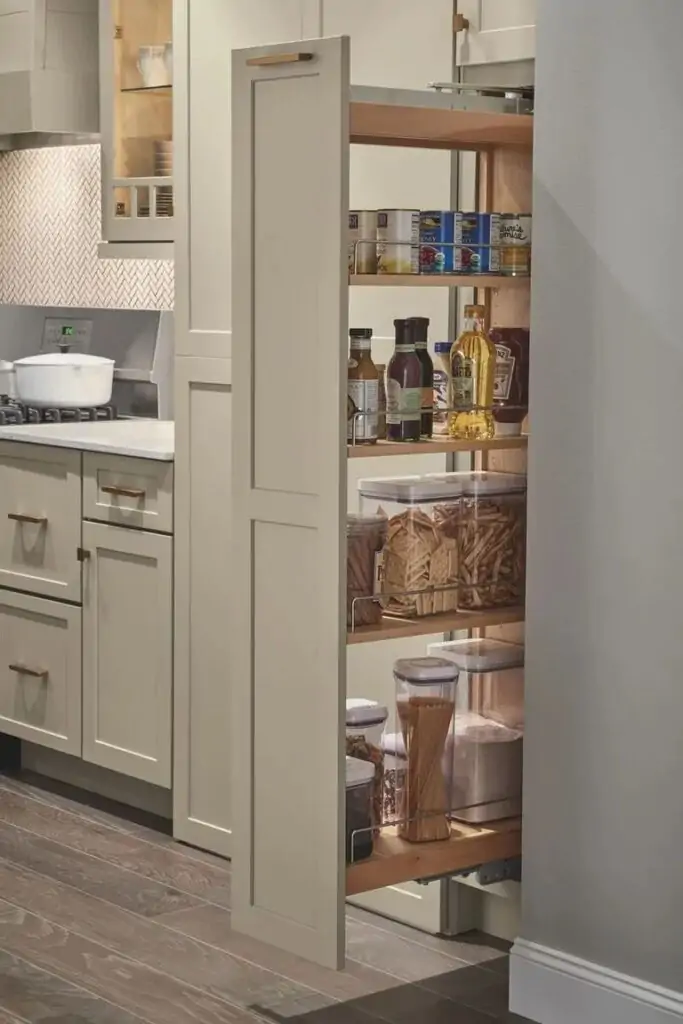 No way to install a sizable pantry? Don't worry! Our ideas to design a small kitchen will help you take advantage of a pull-out drawer that saves all spices, oils, and other tasty food in the optimum order. Seek a narrow space and fill it perfectly!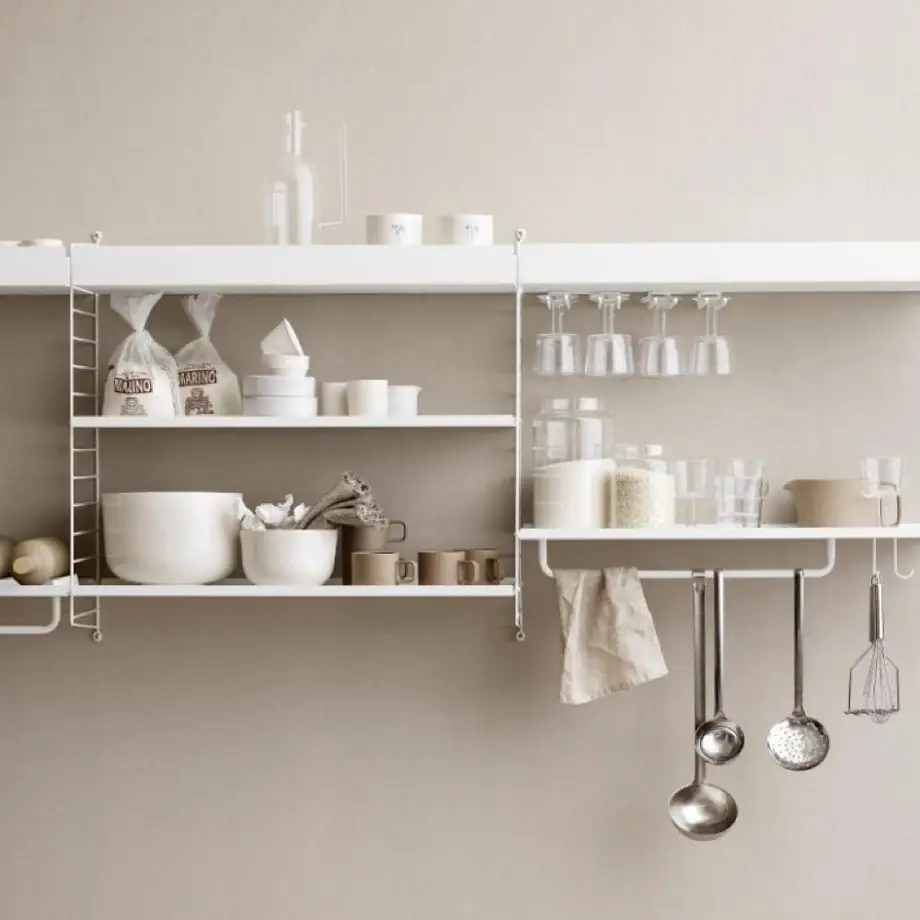 Whether you adore open shelves (when all your cooking stuff is close at hand) or have a limited budget, you can arrange perfect flexible storage over the worktop. Adapting the wire shelves like in the previous photo to all your needs takes only a few minutes!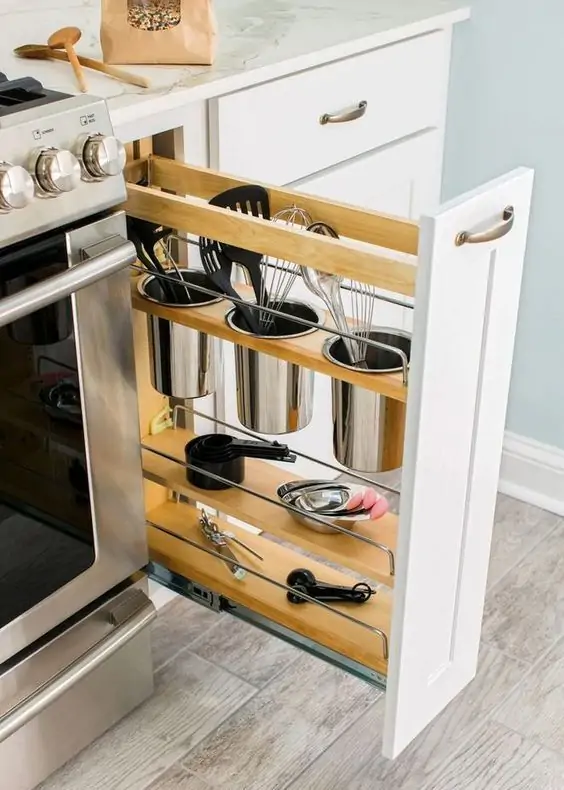 Let's return to the narrow niche: consider pull-out storage near the stove to maximize your joy of cooking.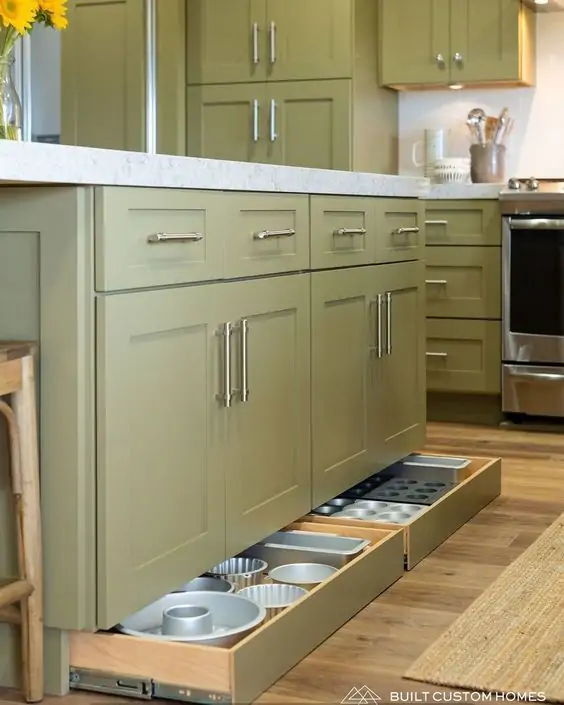 Room under cabinets is a typical example of how often people overlook an opportunity to expand storage space. Neatly keep all the stuff you don't use daily, making a narrow toe-kick drawer at the level of your feet. What a fantastic design finding, huh?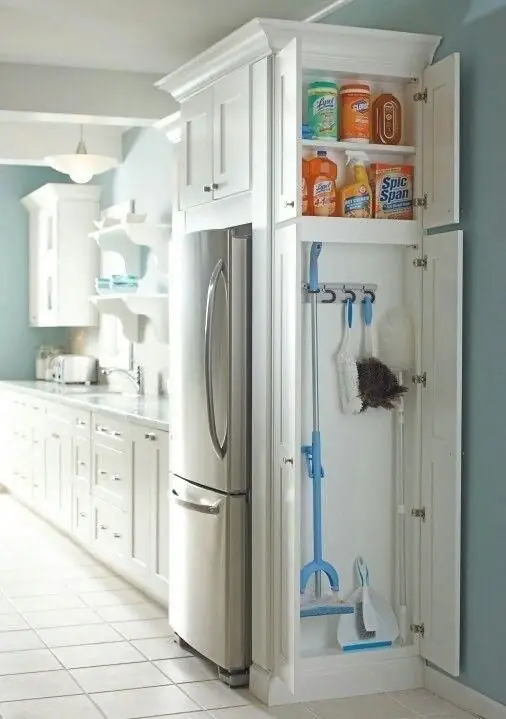 If you have an open-spaced studio apartment, think globally: how do you plan your small kitchen and all surrounding areas for maximum benefit? A built-in closet with enough space for all household items will be a great idea.
4. Organize Your Small Kitchen Items in Decorating Way
Stick to bright decorating: use everyday cooking items, such as pots and frying pans in various sizes. Sounds affordable and straightforward, huh? Some interesting concepts are waiting for you below.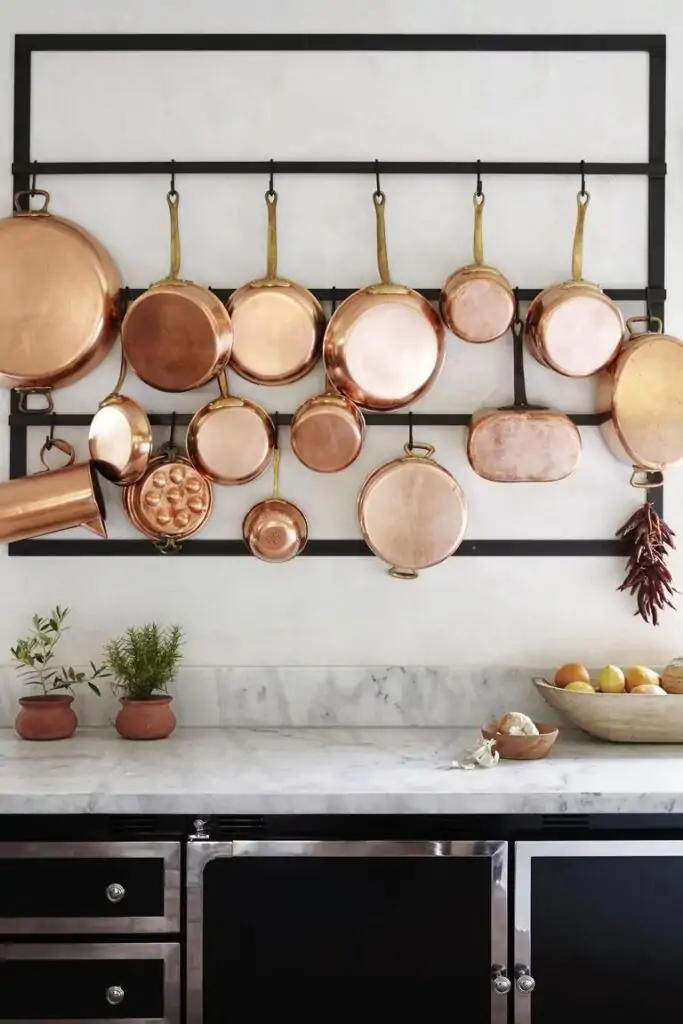 Open storage creates the atmosphere! It would help if you once invested in a unified cooking ware of high quality to kill two birds with one stone. Also, find similar cooking must-haves in the metal style and always have absolute pleasure in your small, unique kitchen.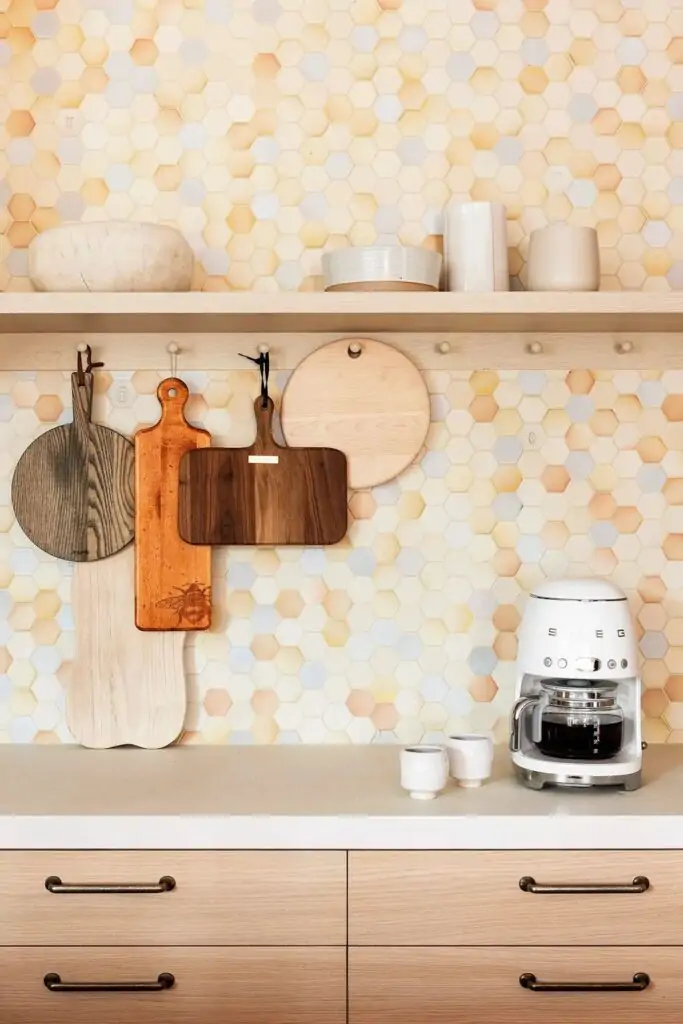 Hanging attractive liven-up cutting boards on a wall is one of the most straightforward ideas to decorate your small kitchen on a limited budget. You can put a helpful shelf on the wall over the prep area: all your storage jars will be on it, and all your cutting boards and other nifty needs will be below.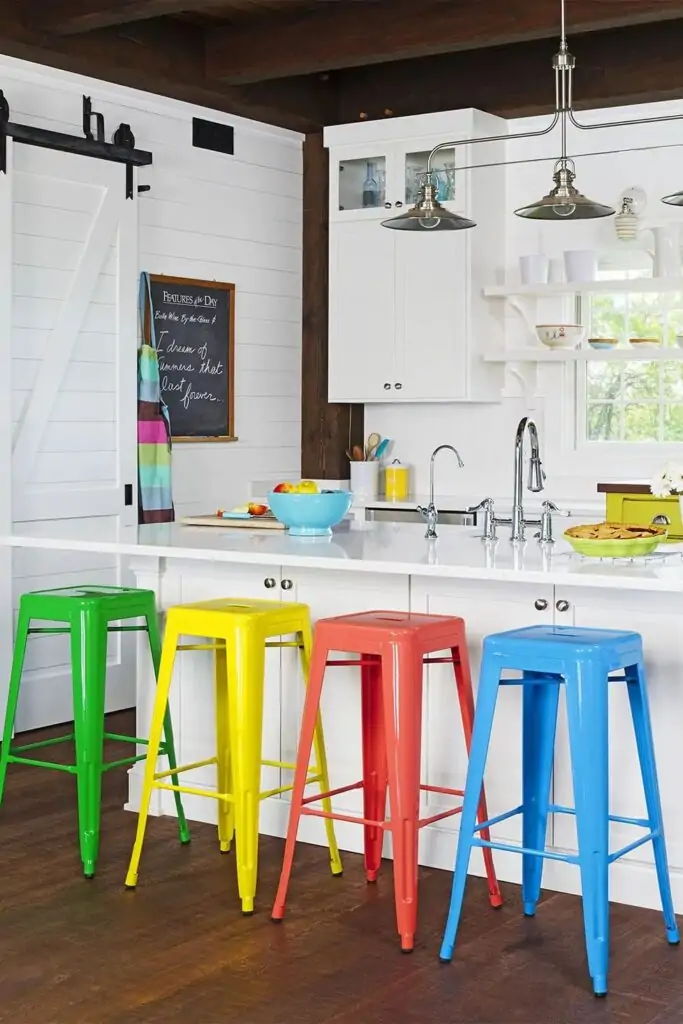 If you prefer solid neutral colors in your design, there is still a way to add a fun and vigorous mood to your space. Consider colorful stools for a beautiful accent that underlines your drive and creativity.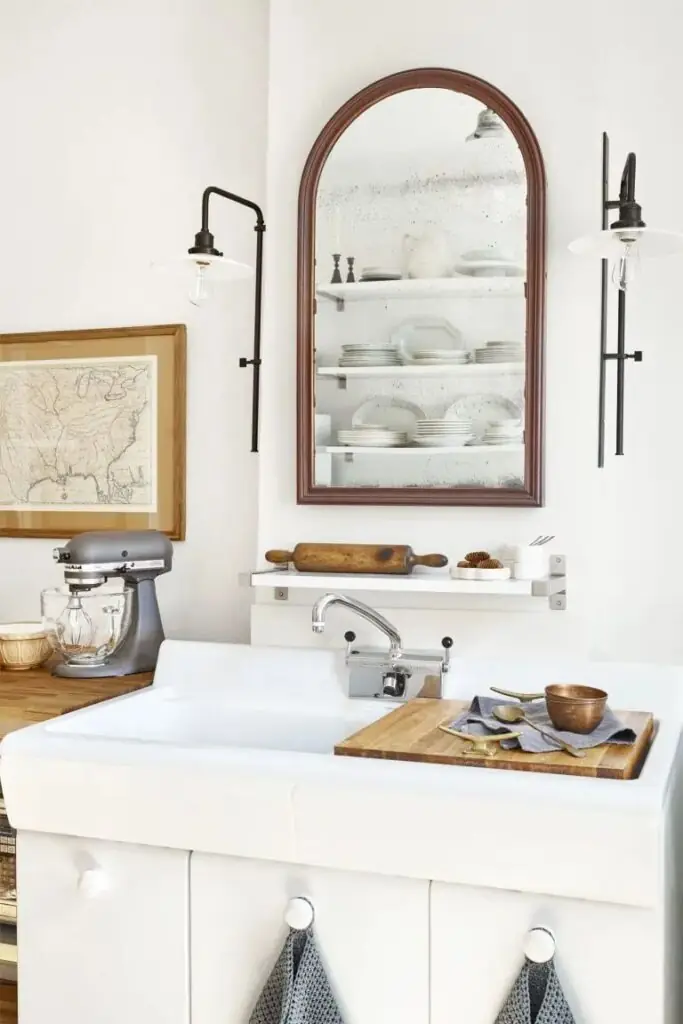 We've already emphasized that installing the sink near the window is the best option for a comfortable sense of space, but if it is impossible, you can hang a mirror on the wall to visually expand the room.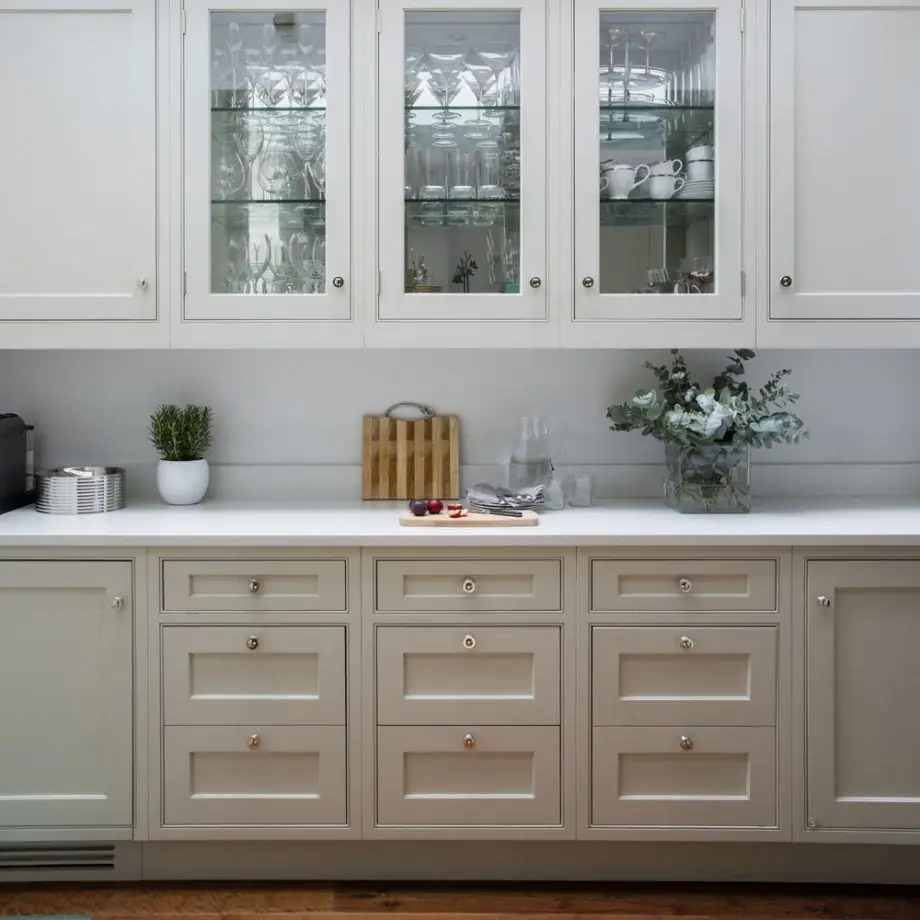 Glass is probably the best material to expand a small space. What's more, it's timeless and decorative, and almost everyone loves such a classic approach to furniture. You can carry out an exciting makeover even on your existing cabinets. Look at the picture above: how properly glass doors open the space and add a new prospect!
5. Go Functional with Ergonomic Design Ideas
Blind corners, cabinet sides, doors, and various surfaces can be a base for a significant breakthrough when designing a small kitchen project. Think creatively to find practical ways to put in necessary hardware and various cooking appliances.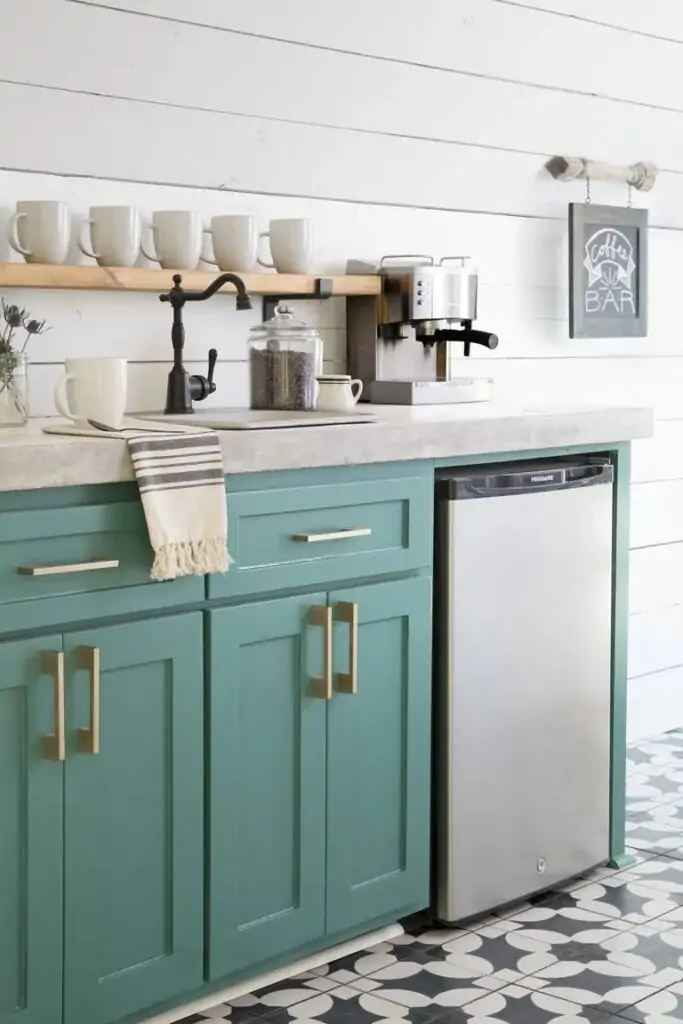 To spruce up cabinets, don't forget about the mini-fridge. Even a very small kitchen may contain special hardware if you find the correct location. By the way, consider a bold color for a solution without upper shelving to distract an eye like the photo above.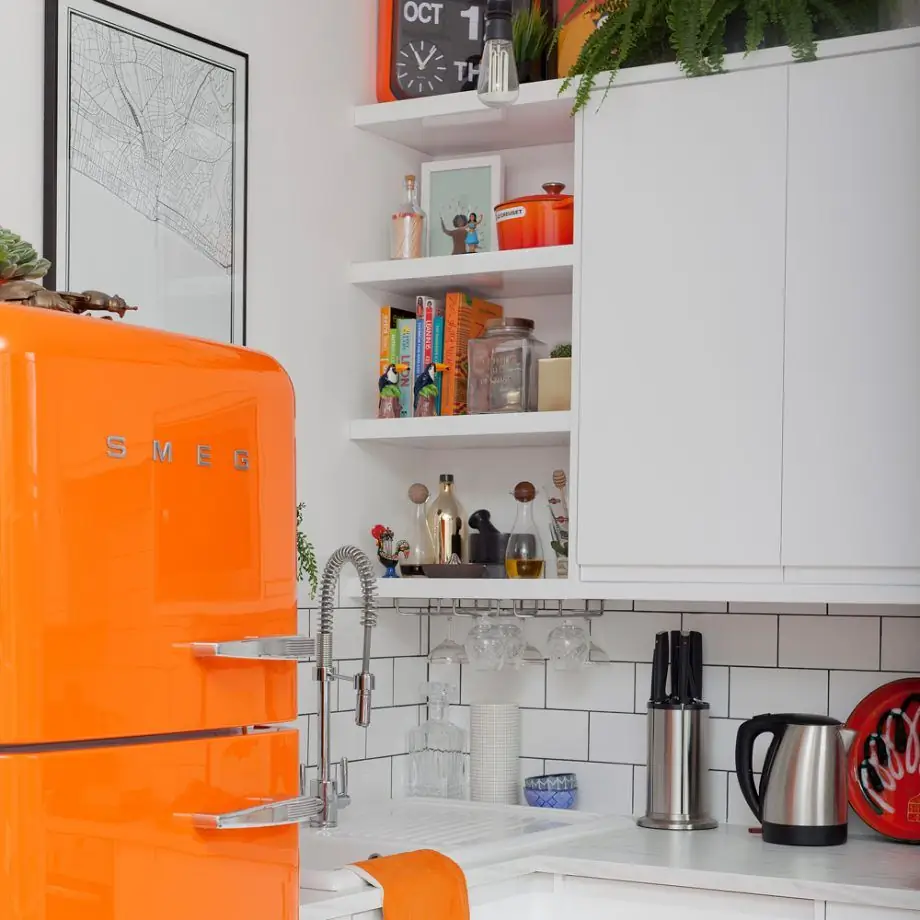 In this project, you can see an ideal location for the sink in a blind corner. Also, note how proper it is to choose the open and closed shelves interchange for the upper cabinet.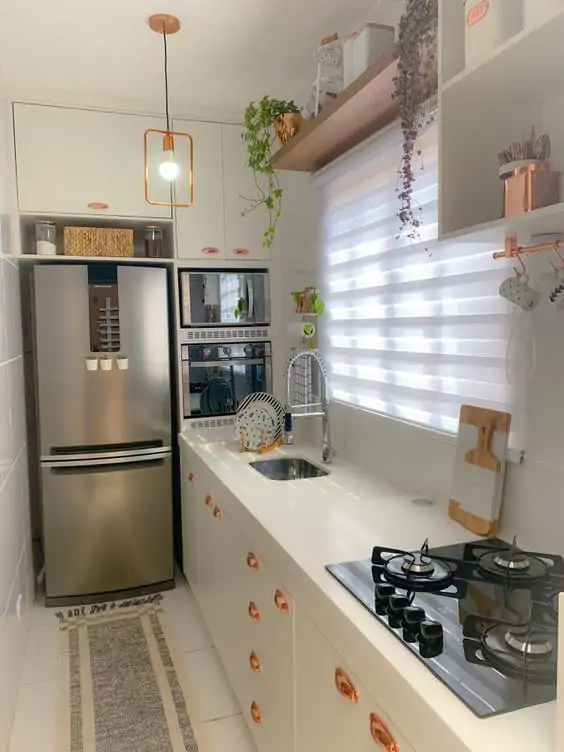 Cannot find the right place for a fridge? Place it at the end of a narrow passage and install some shelves above: your kitchenette won't feel cramped but well-organized and functional. Note the microwave and electric oven that make a single unit with the refrigerator. If life hands you a blind corner, use it for cooking appliances.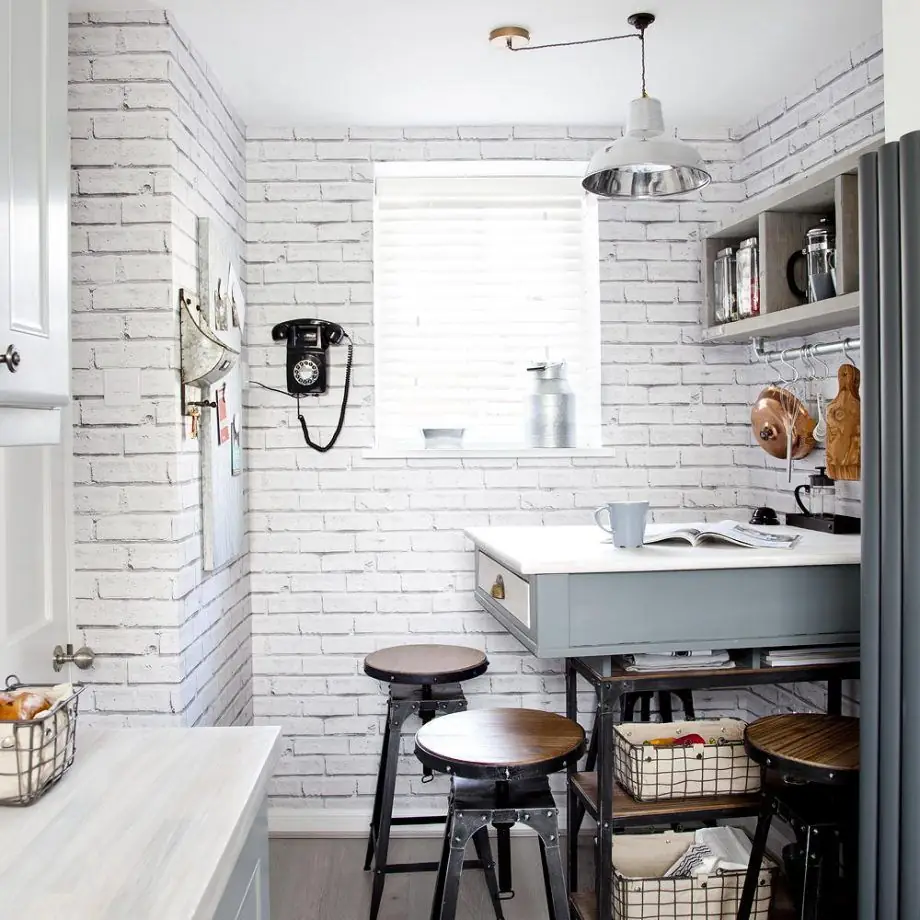 Hiding a kitchen island under the table may take care of your nervous system in a small kitchen. Whether you store vegetables or appliances on these shelves, you get a neat and easy-to-handle piece of kitchen furniture.
Among various design ideas, this is the one that makes a stunning look in almost any small kitchen. With a sliding glass door, you can save a lot more space and add daylight to the separated areas like in the project above.
6. Bring an Excellent Task Lighting
Your working space and table should be well illuminated. When you complete an interior finish and opt for kitchen hardware, find various sconces — better in the same style for consistency's sake.
Keep in mind two essential tips for perfect small kitchen lighting.
Light bulbs have a lighting temperature value which determines whether their light will be cozy and warm like the daylight through the window. It will be best to use warm lamps with a temperature of 2700K and neutral lamps from 2700K to 4000K.
Light is a great way to expand a small space. Note a general kitchen window decoration approach: let the daylight fill the entire room with an extra dimension. Instead of blank curtains, choose translucent tulle or blinds that you can fully open.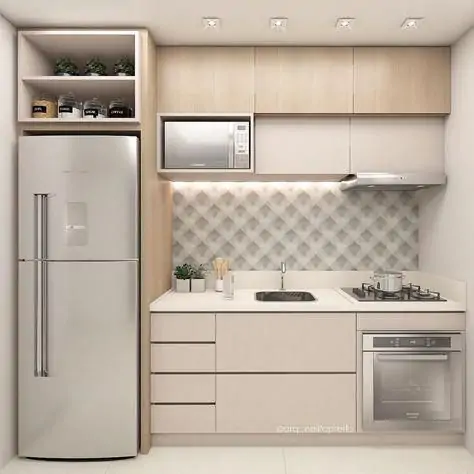 Don't neglect recessed lighting fittings all over the cabinet. Its effect is different from a central chandelier because it supports lighting in overall working zones. This photo worktop has impeccable illumination that helps the family enjoy cooking.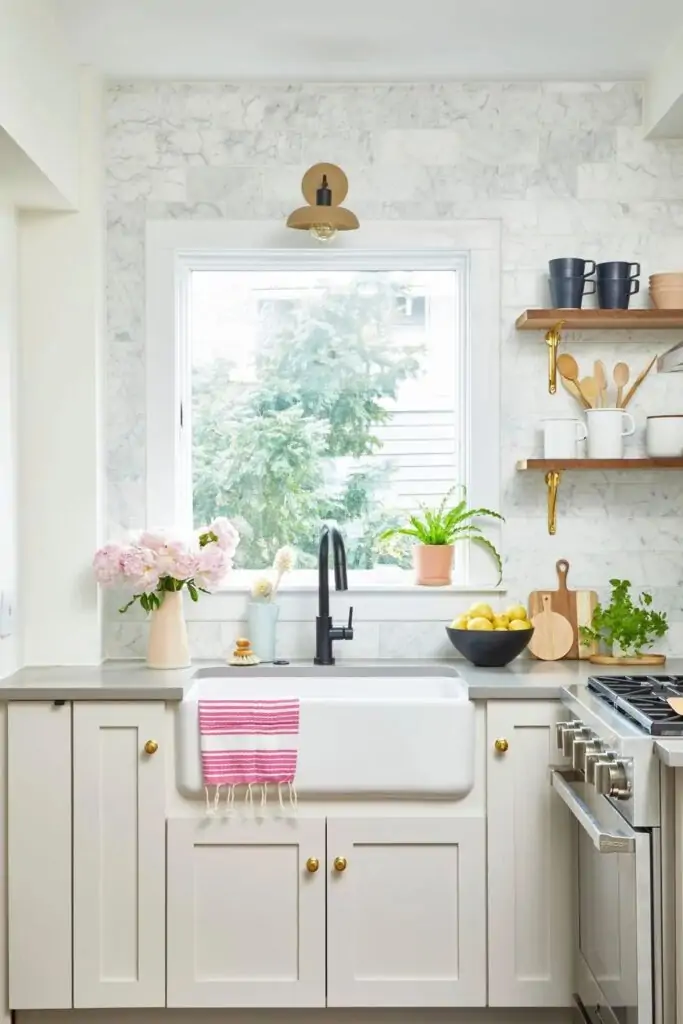 What a lovely design! In the daytime, you enjoy the greenery and fresh florals; in the evening, you put the light on straight over the sink. These small kitchen ideas are affordable, functional, and flexible because of neutral interior finishing.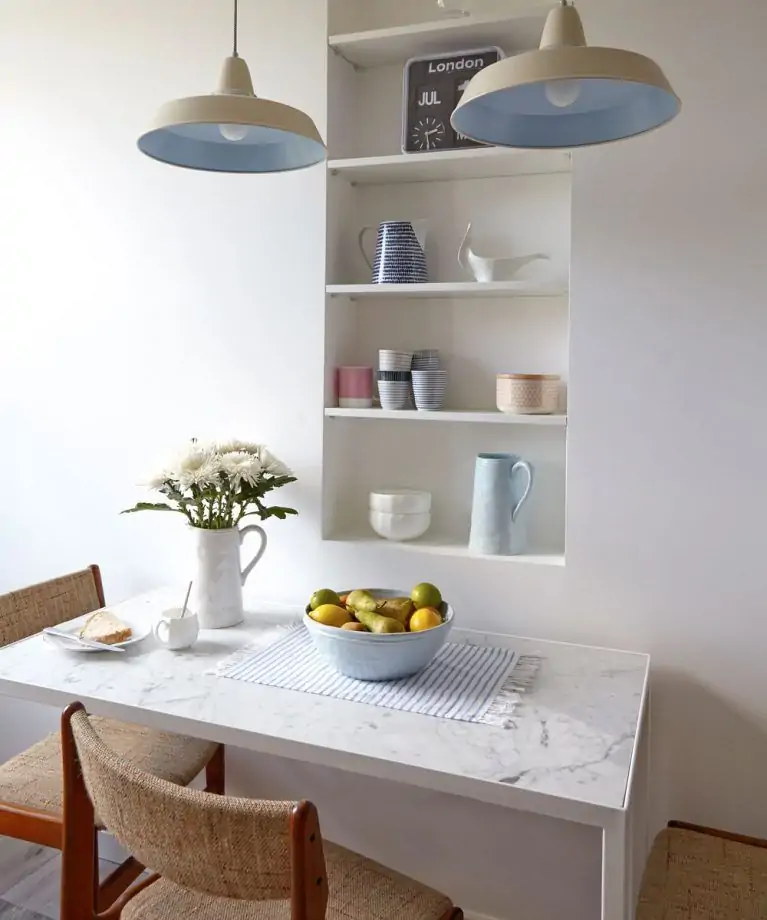 You can get by without a central chandelier on the ceiling, but be sure to light up the dining table well. One of the trendy ideas is to install several fashionable lamps made of opaque material that hang from the ceiling above the table.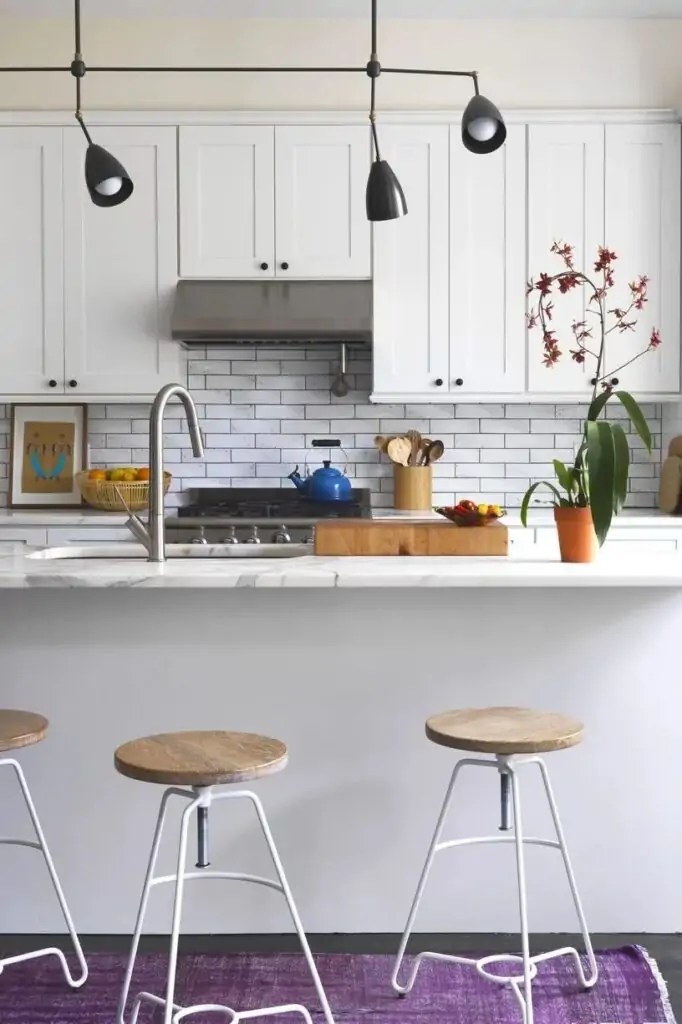 No matter how creative you feel, there is a safe and straightforward way to bring vibrant accents to an all-white kitchen with affordable lamps. You don't need red or some unusual color: strict black lighting equipment is enough.
We found for you a wide variety of ideas on every budget. Hope you got the answer to how to design a small kitchen you've always dreamed about!