Chic Ceiling for Bathroom: Ideas You Were Looking For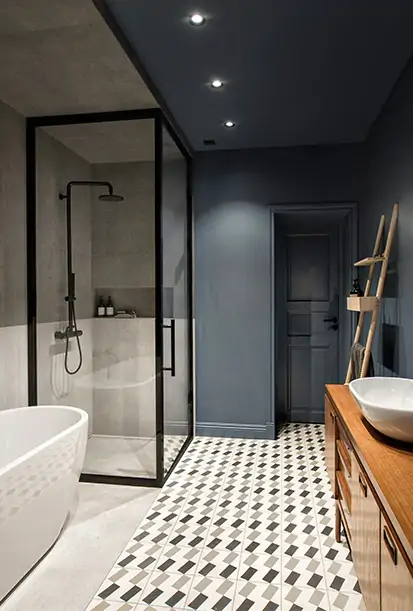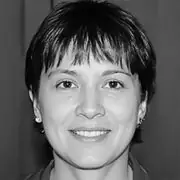 A bathroom is a calming retreat zone in your home that allows you and your family to unwind aching muscles and feel refreshed after a tiring day. So, if your space needs a spruce up because of its outdated look, getting adventurous with the ceiling for bathroom ideas will be an easy way to do exactly this.
Besides the four walls of your home, the ceiling is a fifth wall that adds visual interest to your space, depending on how you design it. It doesn't really matter that it takes up the upper level of your washhouse. What matters is that when neglected, no matter how creative you get with the other parts of the washroom, establishing a colorful space with character and style will be close to impossible. Instead, you achieve a similar rundown feel you previously tried to evade.
By exploring modern ceiling design ideas for your bathroom, you ensure your retreat zone around your home has all the necessary ingredients to help you unwind from a stressful day.
1. Floor to Ceiling Tiles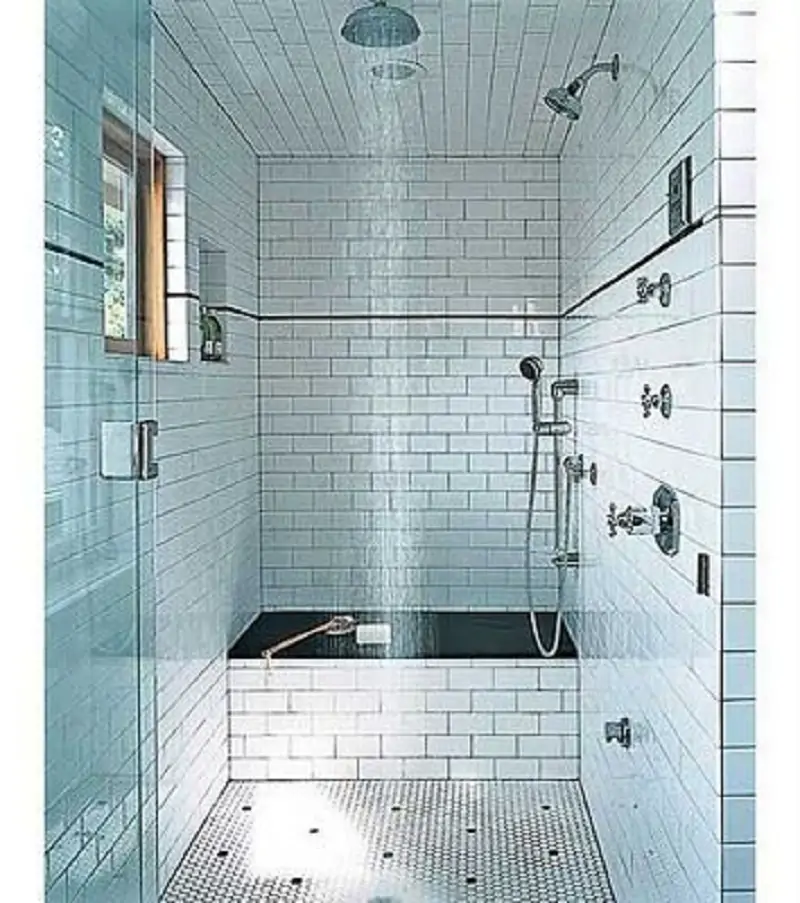 If you're renovating your washroom and want to avoid costly repairs that may arise due to water-soaked roofs and walls in the future, your best bet would be ceiling tile ideas for the bathroom. Tiles help you combat issues associated with moisture.
However, every tile won't work the same, especially if you're considering a DIY approach. Large tiles can surely help with your humidity issues, but their heavy frame makes them difficult to install. Mosaic tiles would work better for your DIY route. They are smaller and allow for flexible design ideas (for instance, pattern or block walls) on your ceilings.
Besides mosaic tiles, self-adhesive tiles are a great alternative for a more budget-friendly option. They aren't like classic ceramic tiles. Instead, they are made of vinyl, glass, and even metal materials. However, they offer similar resilience as ceramic tiles and feature an adhesive that can withstand the bathroom's humidity. If you're going for a more timeless yet on-trend look, scallops or subway tiles are a great alternative.
2. Use Wall Paints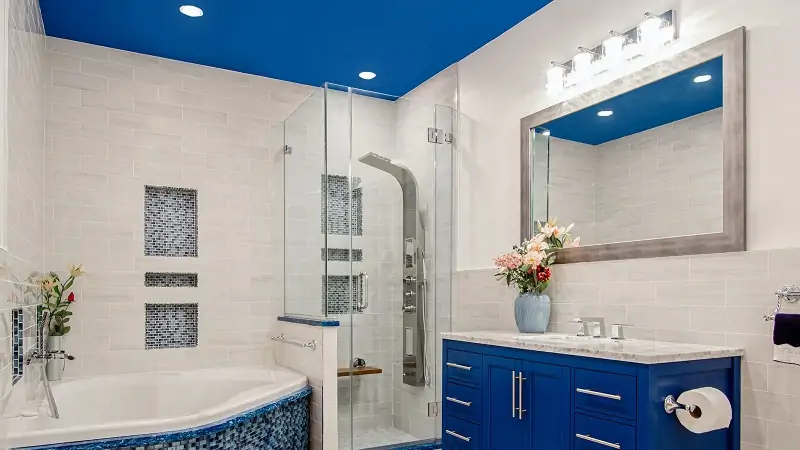 A small space usually equates to low ceilings, and this may hinder your setup and design. The good news is that there are always flexible ways to achieve your remodeling goal. One of the best low ceiling bathroom ideas you can consider is a painted fifth wall.
Repainting the bathroom ceiling isn't just a practical solution for your small lavatory. It is also a budget-friendly way to elevate its look. Still, it depends on how you choose to paint your ceilings.
Vibrant colors take away that lackluster feel of your bathroom and elevate its appeal. For instance, white is a simple and classic way to make a bold statement in your washroom. On the other hand, vivid colors like blue and orange add a touch of modern appeal to your space.
The black ceiling will also stand out. While it is a risky move, it adds bold appeal to your space. Then again, you need to be sure your room has enough lighting to compliment the black tones over the roof.
Besides the color, the paint quality also determines whether or not it lasts long and looks elegant in your space. Some of the paints are simply not meant for the bathroom. You need to ensure that the ones you choose can withstand humidity so they won't peel off easily or spot mold after some days.
3. Install LED Lights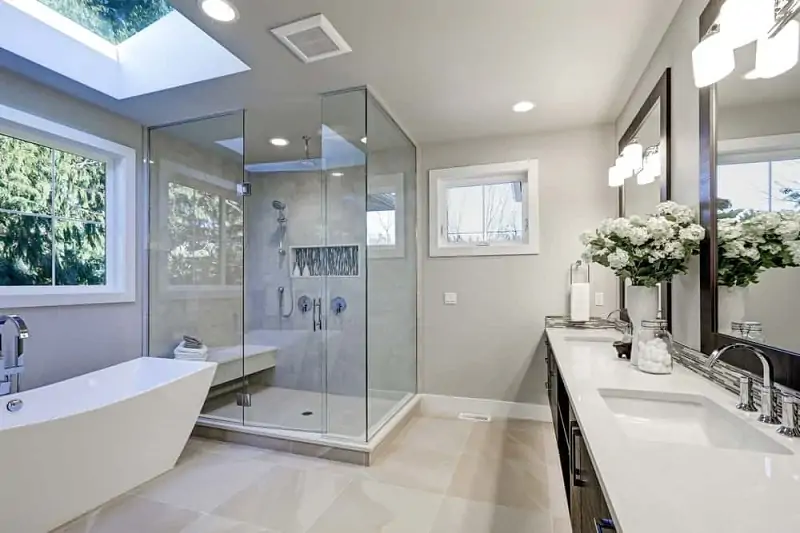 Already have a painted ceiling? Ceiling mount bathroom lighting ideas via LED lights may just be the best way to draw attention to the roof design in your washroom. LED lights illuminate your space so that it looks more spacious and brighter than it actually is.
If a direct LED light mount on the shower roof is not an option for you, install the LED lights on the edges of your laminated panel over your PVC roof to make it the centerpiece of your space.
4. Add a Statement Lighting Fixture…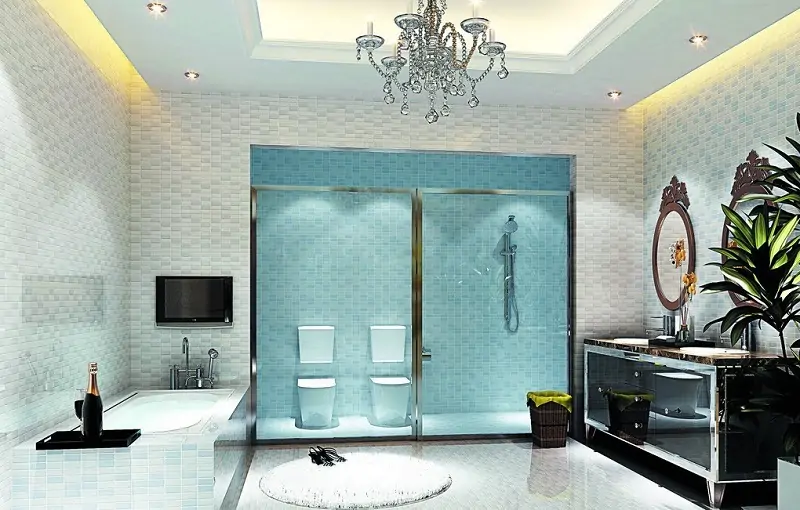 Other than LED lights, a statement lighting fixture you can consider is a chandelier. The very idea of it sounds almost impossible, doesn't it?
Technically, chandeliers are mostly used in the living room, dining hall, ballroom, and every other party room to liven up the space and add sophisticated appeal. Still, that doesn't mean you can't use them in your washroom. In fact, a chandelier can be the easiest and quickest way that your wash space needs to lose its plain character. Chandeliers add a luxurious spa-like appeal to your in-house bath.
5. …or Add Natural Lighting with a Skylight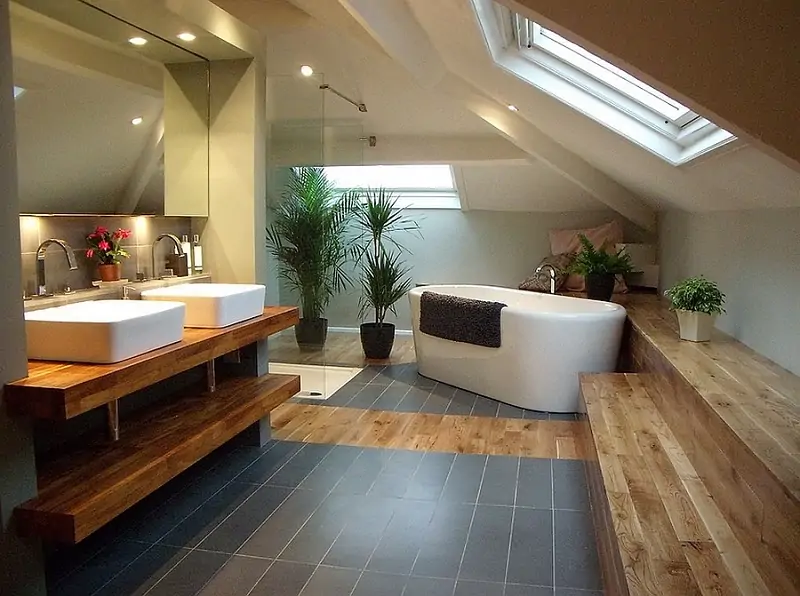 While most people love the luxurious feel that comes with hanging a chandelier under the roof of the washroom, the fans of the great outdoors will love a more natural-lit space. So, if you want to watch the sky while you bathe, a skyline is a great lighting alternative to consider.
6. On-Trend Shiplap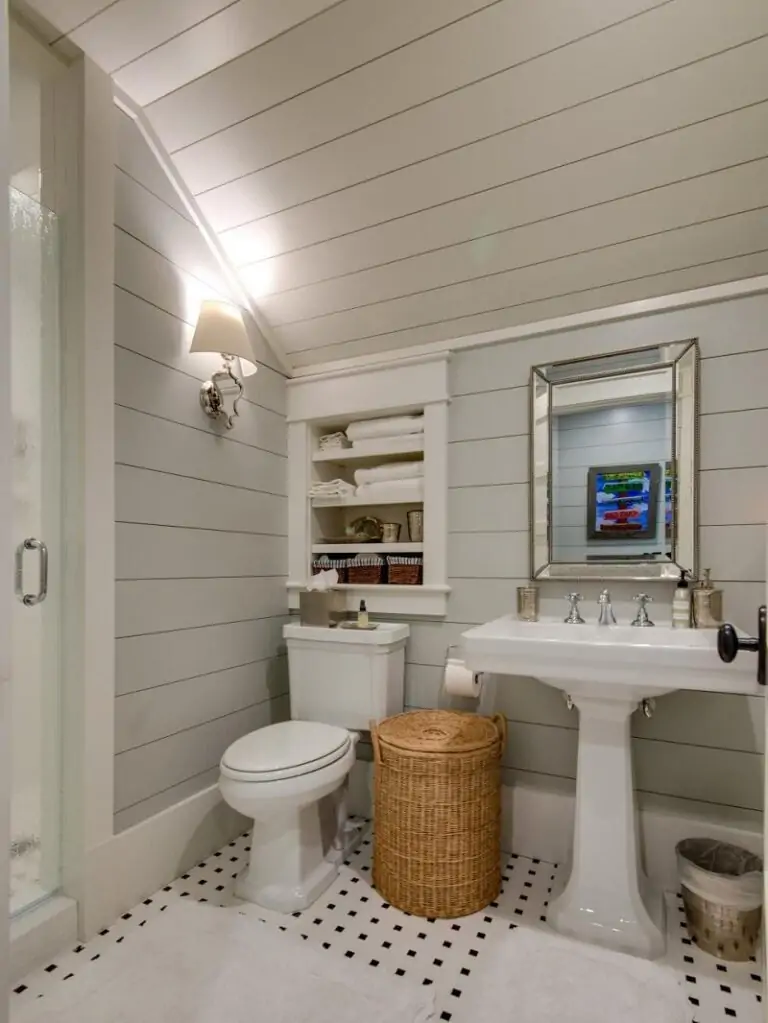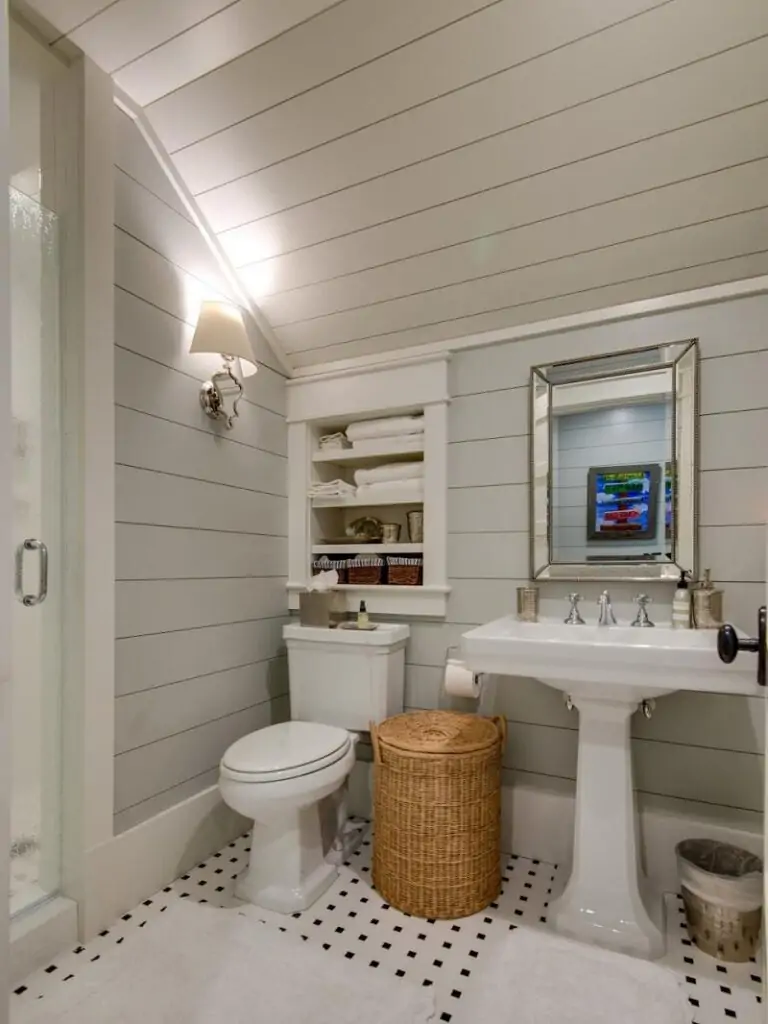 If you have wooden flooring in your home, you know how exceptional it can be (of course, we speak of high-quality wood with the right water-resistant adhesive). The only downside associated with wooden panels is that they warp easily. To avoid this, use shiplap panels. Shiplap is good quality and humidity-resistant. Plus, they are affordable and won't break the bank.
7. A Green Ceiling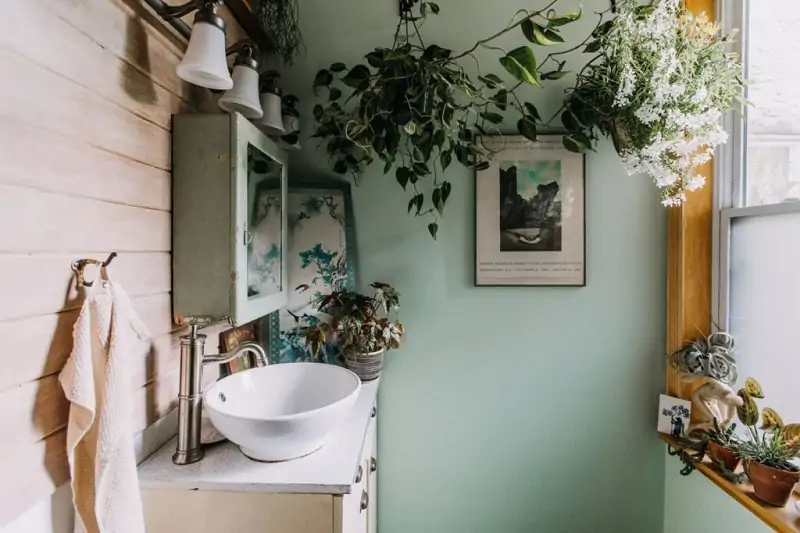 If your room has got natural light, then you won't need any other lighting fixtures to liven it up. Plant updates are the next best ceiling ideas to consider.
All you need to do is make a DIY hanging rack on the roof that allows you to suspend the pots of plants on it. The good news is that you don't have to hang the plants strictly from the roof. You can also frame the plants on your mirrors and even windows. Your plant roof brings the outdoors right into your space.
8. Wallpaper Bathroom Ceiling Covering Ideas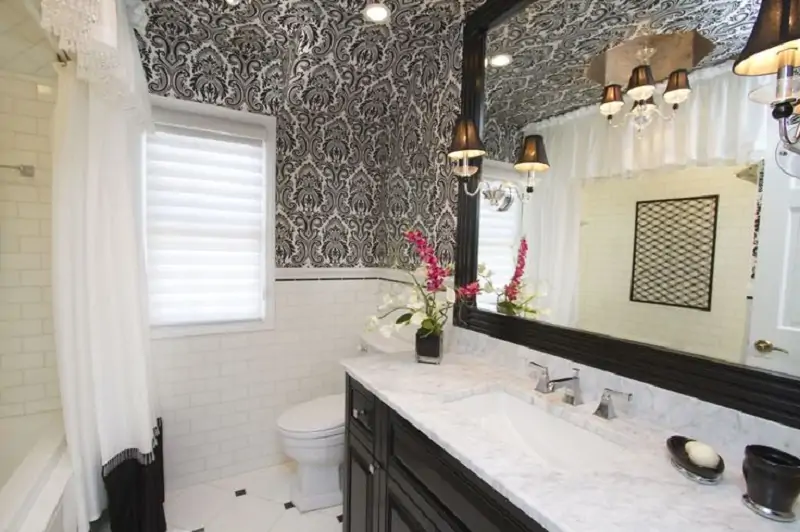 As much as lights inject a touch of luxury into your space, wallpapers (whether ones with patterns or colors) will add an element of personality and texture to heighten the visual appeal of your bathroom.
A merit of using wallpaper is that they come in varying forms like tiles. You can always choose a traditional wallpaper. However, they are bland and won't match the theme of a modern bath house. Instead, go for colorful wallpapers and those with patterns to playfully define your fifth wall and uplift its look. Then again, make sure you choose a wallpaper that perfectly suits your washroom.
For large bathrooms, wallpapers can cover the whole area of the roof and make a grand statement that compliments your large space, especially if they feature bold colors. Patterned wallpapers with simple neutral colors are better suitable for smaller spaces.
FAQs
Which Ceiling is Best for a Bathroom? 
Tiles work best for your bathroom ceiling. The simple reason is that they defy moisture. For example, if you plan to use a steam, rain, or overhead shower, the chances are that humidity will damage the roof of your house. Tiles help protect moisture from seeping into your bathroom through the roof. 
Another reason tiles are a great addition to your washroom is that they add the wow factor that makes your space stand out. Besides this, they don't warp like wood planks and shiplap. 
Which False Ceiling is Best for a Bathroom? 
PVC ceilings are the best false bathroom ceilings you can get for your home. They are sturdy, water resistant, and very durable. The fact that they are water resistant also means they can last for years without warping or bending, unlike gypsum and POP, which are more brittle. PVC ceilings are also an affordable alternative to other false ceilings you can use for your bath space. It's always a good idea to laminate the PVC wall: this will give you the opportunity to add more designs to your washroom ceiling. 
What is the Best Material for Bathroom Ceiling? 
Ceilings are prone to damage, especially from moisture, and some materials aren't durable enough to cope with a humid space. Sure, we want it to look chic and incredible, so we can unwind easily, but a material easily damaged from moisture will lead to costly repairs and more spending. So, when choosing the materials for your fifth wall, be sure you get ones that can cope with moisture. 
Fiberglass, washroom-specific paints and wallpaper, ceramic tiles, marbles, natural stone slabs, terrazzo or waterproof panels, and shiplap that can stay rooted sturdily to the wall are fantastic choices of materials. 
Conclusion
A bathroom, no matter how prone to humidity it is, will be easy to decorate, especially the ceiling. All you need to do is find the right approaches that work for you and choose the right materials which are water-resistant. PVC and tiles are two of the best materials you can use on your bathroom ceiling to defy moisture, while plants, lighting fixtures, paints, and wallpapers are some creative ceiling for bathroom ideas that helps illuminate and elevate your space with ease.