Top 20 Unique & Stylish Half Bathroom Decorating Ideas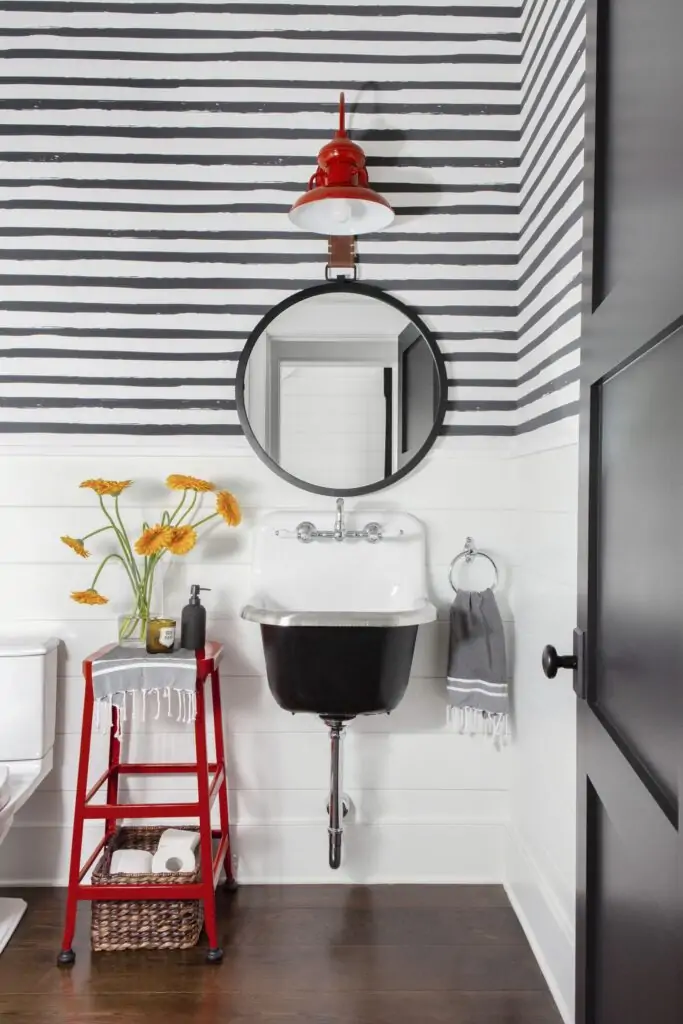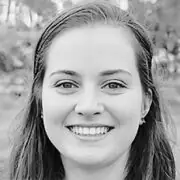 A half bathroom is something different from the bathroom: it only includes a toilet and wash basin. What half bathroom decorating ideas can you use for your living or guest room? What can you put in an empty corner of such a bathroom? Here are 15+ ingenious design solutions that answer these and numerous other questions.
Add a Rustic Touch
If your budget is close to minuscule, go rustic. Simplicity is the word: just use a large tin or iron bucket. Don't clean the rust completely. With beautiful wall paint, this rusted bucket will still look attractive. Or take an unused huge iron box, remove the lid, clean its corners and use it as a sink. This type of decorating idea can be recreated in your home incredibly easily. Sure enough, this idea will not fail to impress your guests.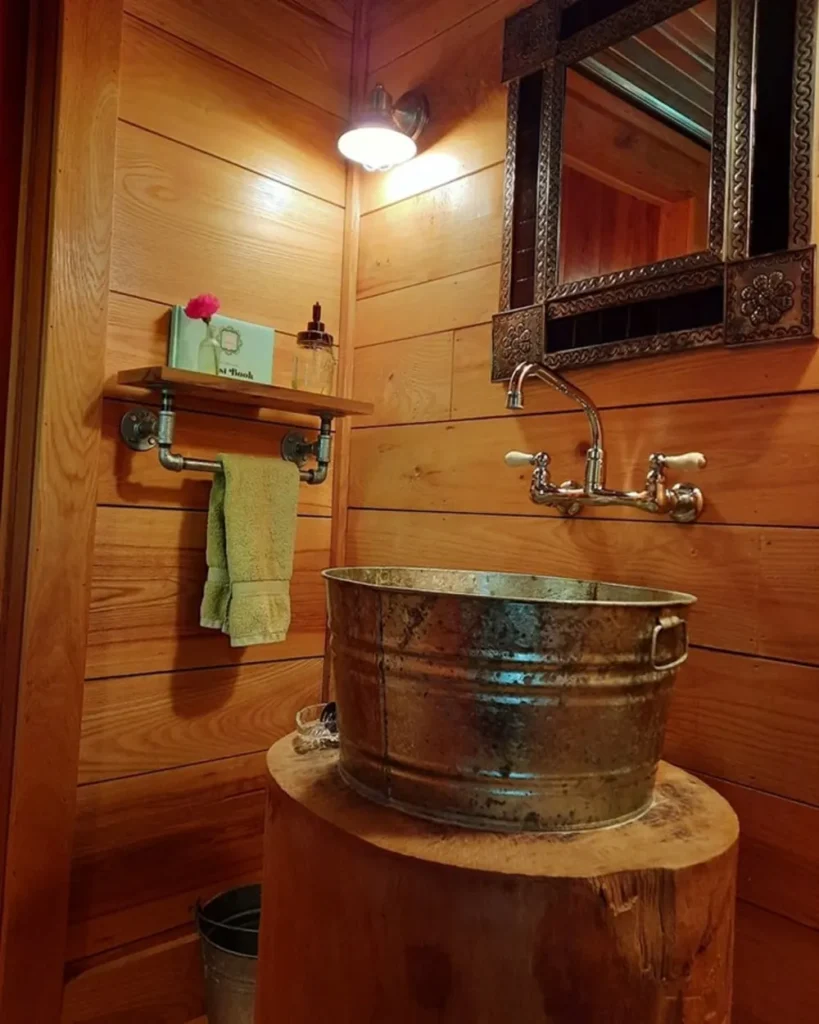 Black and White Half Bathroom
Adorn your half bathroom with just two colors – black and white – and they will give your powder room a classic look.
You can add black and white in different ways. Use black tiles with a white sink and toilet, or contrast your black toilet and sink with white walls. These color combinations will always look attractive and classic as well as give a spacious look to your powder room. If everything is done properly, a boring area will be turned into something stylish and unforgettable.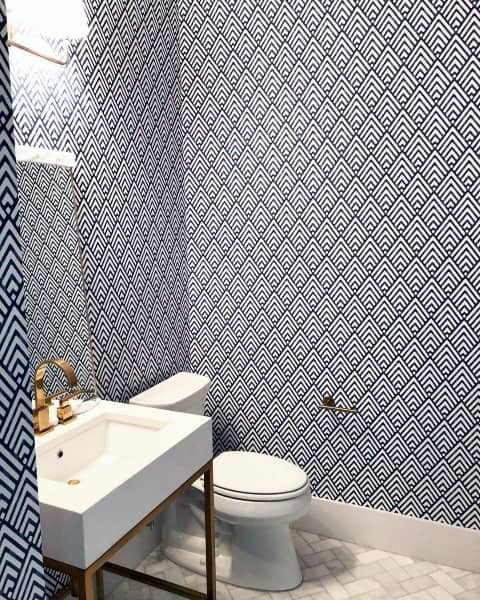 Tiny Half Bathroom Decorating Ideas
In most houses, living rooms or guest rooms are not so spacious. Still, you can have a powder room that is both stunning and small simultaneously. A small sink, simple lighting, a small toilet, and a beautiful round mirror will be more than enough to visually enhance the size of such a tiny powder room. All you need to do is arrange them in the right way.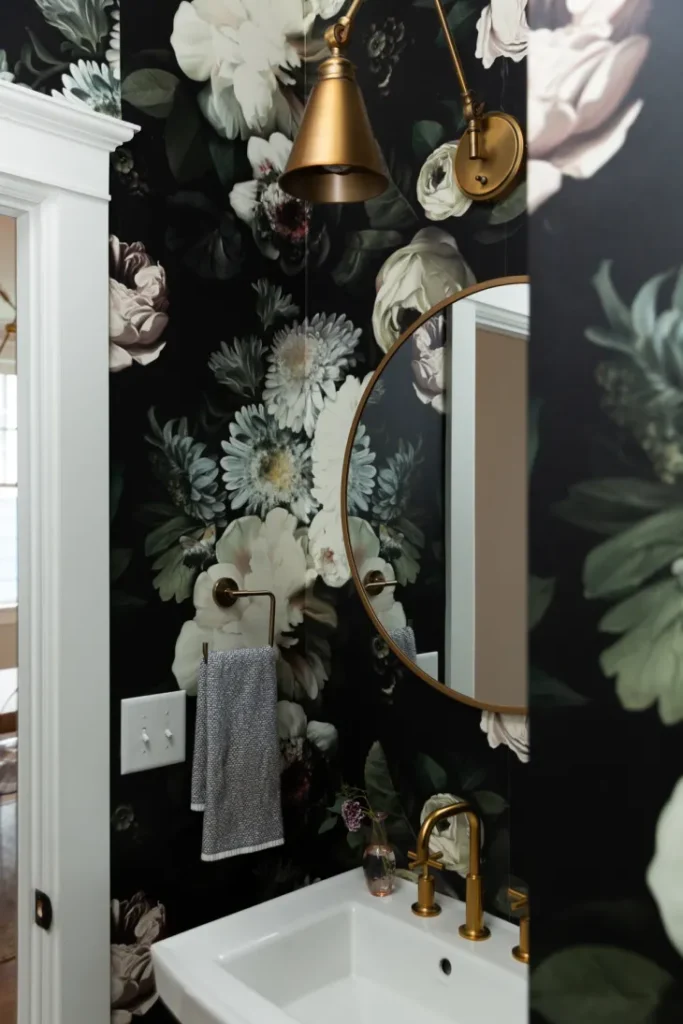 Half Bath Ideas on a Budget
If your budget is limited, then you should not ignore old and unused items in your home. An unused mirror, a belt or a cord, a wooden board, iron bars, and an old ladder: paint and arrange them carefully. You will only need to install a toilet: choose one that is small and inexpensive.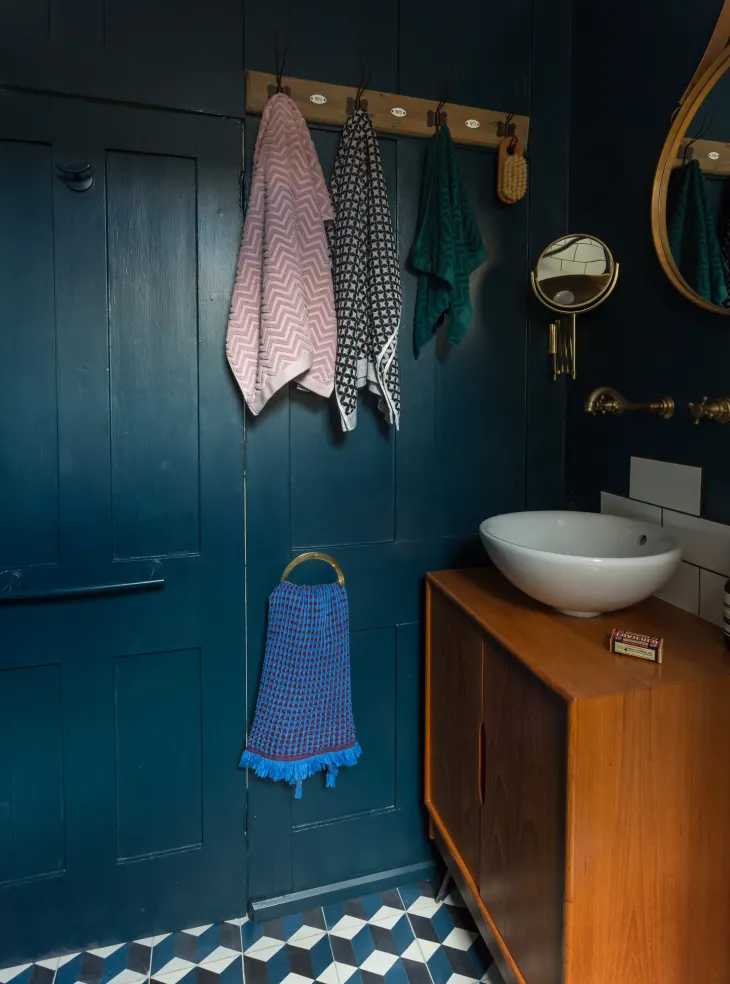 Modern Half Bathroom Decor Ideas
Styling a modern half bathroom often means breaking from all traditional and old norms. For example, in the past black wasn't considered to be suitable for washrooms. The modern world is brave and open to new decorating ideas: a combination of black, grey and off-white is perfectly normal these days.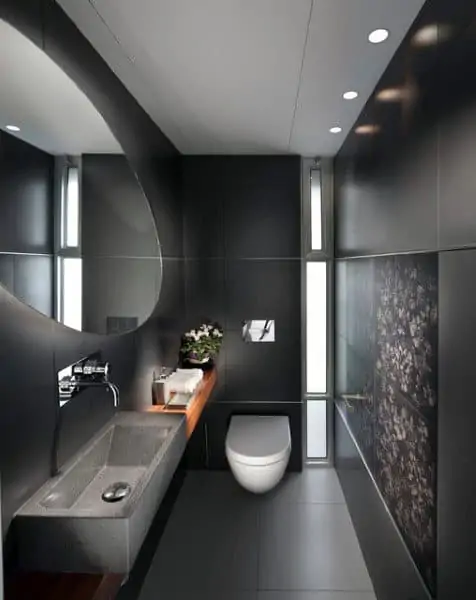 Get Ingenious
This image is a beautiful example of a DIY sink-cum-vanity. If you are good with your hands, it won't be difficult for you to turn an unused vanity table into a stylish piece of bathroom furniture. A combination of this beautiful sink, light walls, and two mirrors won't fail to impress your guests.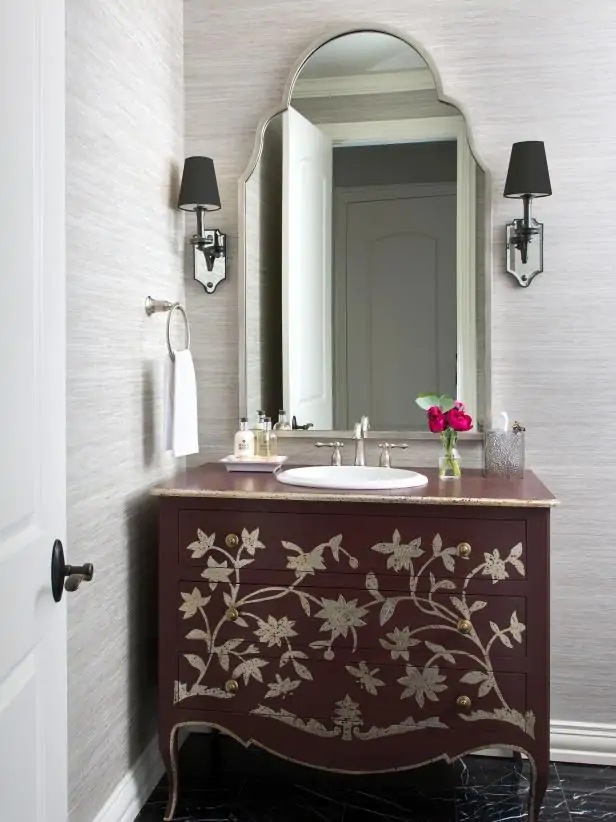 Downstairs Half Bath Ideas
How do you decorate a small half bath under your stairs? Don't worry. No matter how minimal the space is, you can always install a toilet and a small sink accompanied by a simple mirror. Cool black-and-white vinyl wallpaper on one wall will set off the whiteness of two other walls and make your half bath look spacious and beautiful.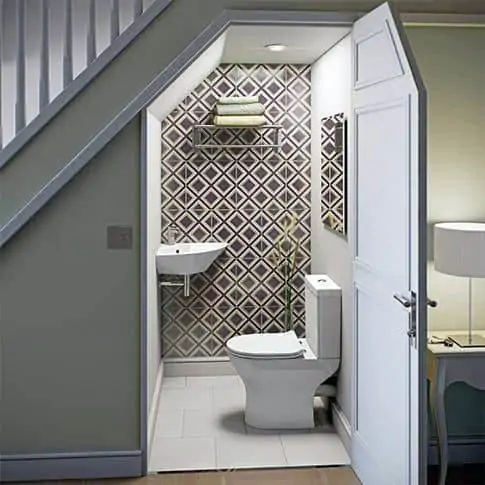 Use Printed Wallpapers
Using a printed wallpaper in your half bath is another great decorating idea to keep it attractive. If you choose light tones, daylight from a small window will keep your room shining. If you decide on darker colors, a white toilet light will be a good match. If your bath has a rectangular window, a similarly-shaped mirror will add pleasant symmetry.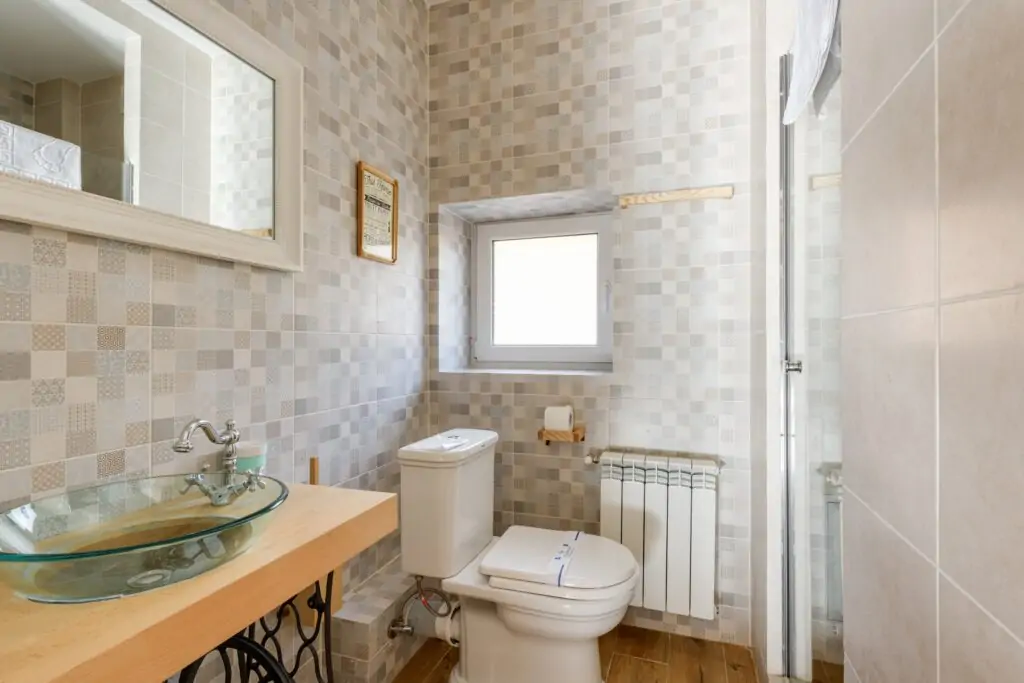 Use Truly Wild Wallpapers
Sometimes you should not be afraid of experimenting with non-traditional things. Wallpaper with large flowers, patterns, animals, and plants can give a stunning look to your half bath. The use of a modern-looking toilet and a touch of another color on the floor will give your washroom an especially appealing look. You can also use a combination of not one but two wallpapers or a wallpaper that combines several distinct colors. The right choice of color palette is sure to awe your guests.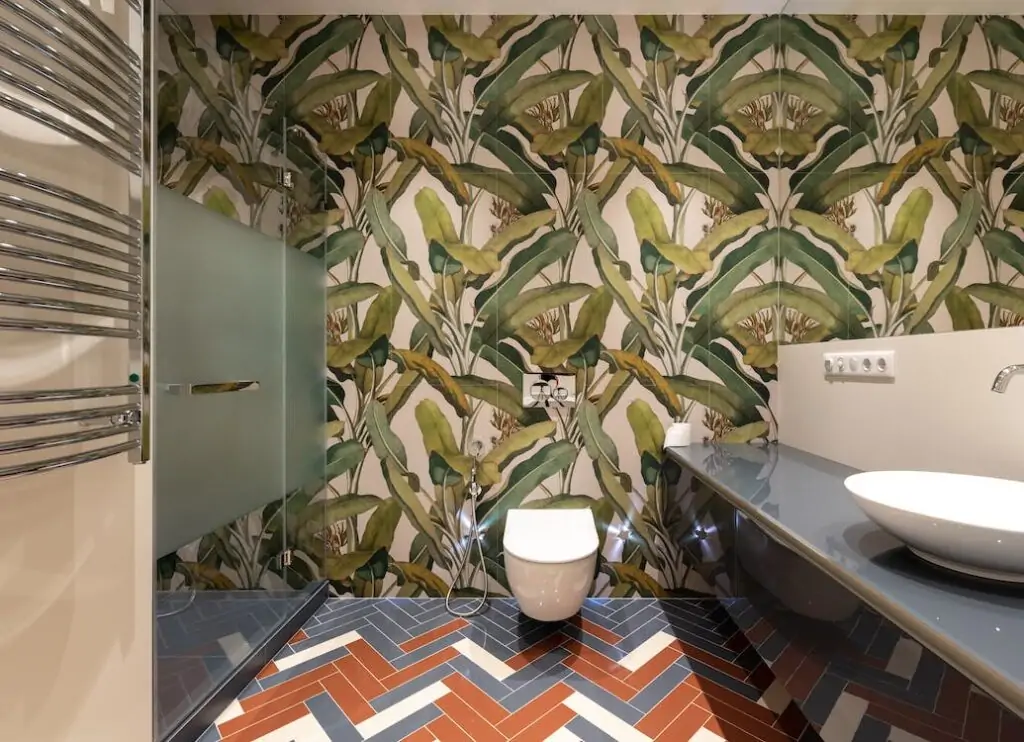 Add a Vintage or Mediaeval Touch
A vintage or medieval look is a great way to turn your simple washroom into something unusual. What's more, when going vintage, you don't usually have to buy anything expensive.
Take a look at old vintage pics of oriental palaces. Dome-shaped walls and mirrors are enough to add such a medieval touch. Bright lamps are usually not important for these types of interiors. Isn't it great to find yourself standing in an 18th-century bathroom? Old vases and atmospheric candles will also be a beautiful addition to your vintage half bath.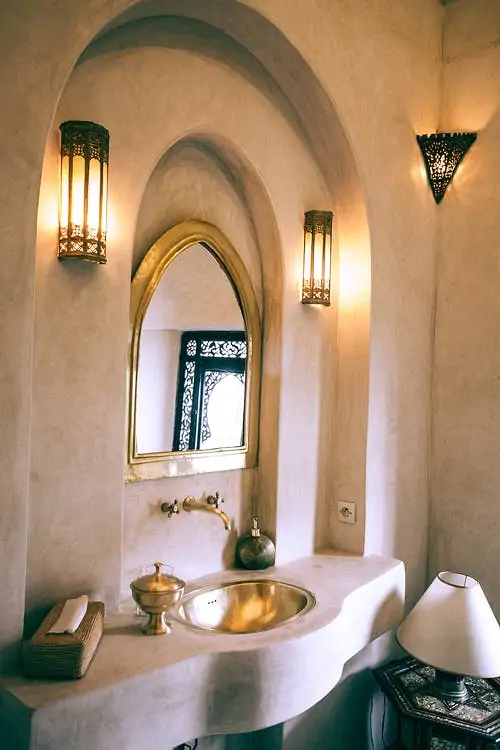 Add LED Lights
LED lights will dramatically enhance the beauty of the half bath. Tiles or wallpaper will look bright and prominent, and your washroom will get an ultra-modern look.
You can mix white and yellow LEDs or add any new colors you like to wow your guests even more. This washroom looks like it belongs to the 22nd century, doesn't it?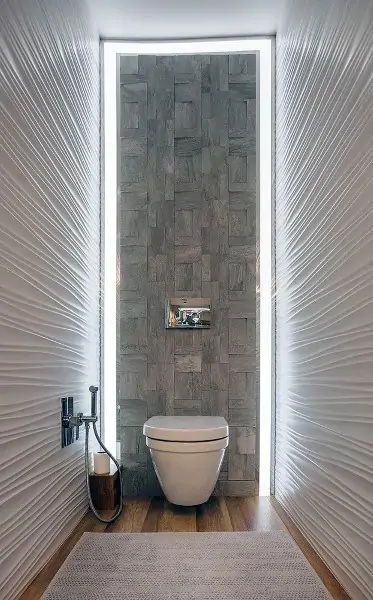 Add a Moroccan Look
Moroccan style is influenced by middle eastern culture. It is rich in colors and features seductive beauty. Interior designers usually play with light brown, light orange, green and white colors when trying to recreate it. So, what about some palm fronds and a stylish towel rack to boot?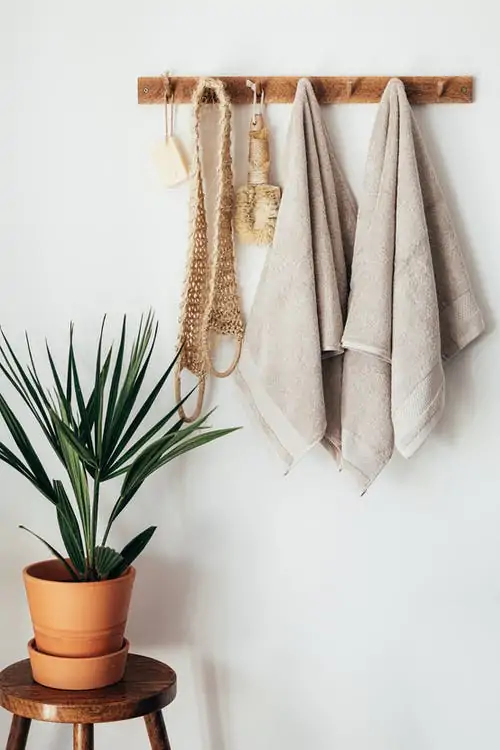 Use Tiles
Besides wallpaper, you can also decorate the walls with tiles that feature attractive patterns and colors. Contrast some darker hues with off-white walls like in the picture, and you will get one of the most stylish decorating ideas ever! This kind of look can be achieved in almost any kind of powder room.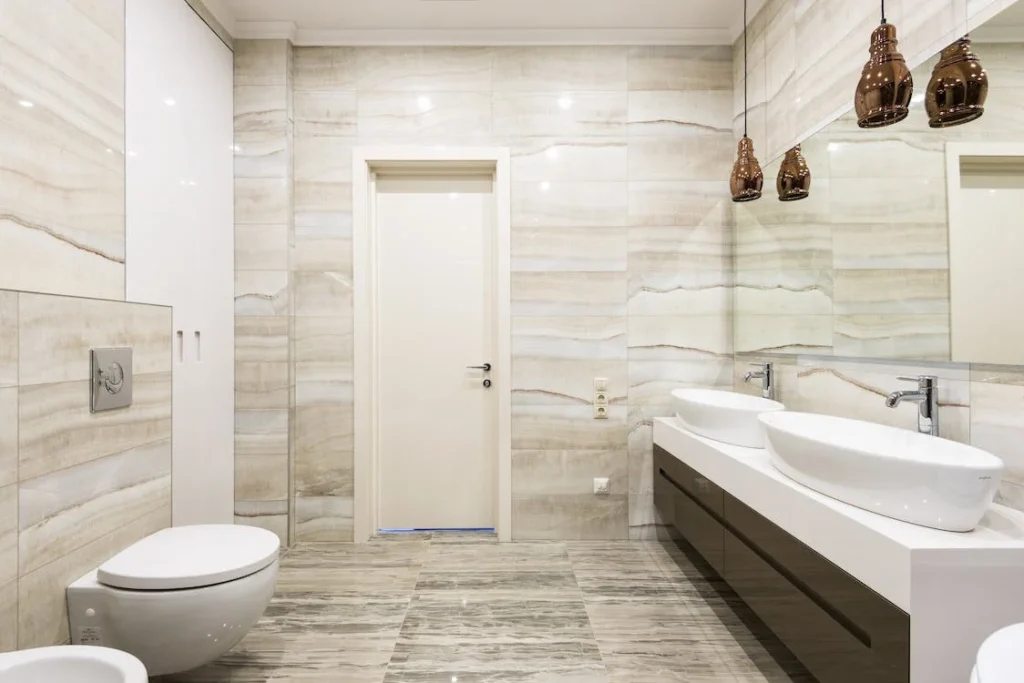 Blue and White
Use combinations of blue and white so that your bathroom gets an incredibly catchy look. Off-white walls that act as a foil to a deep-blue cabinet are a great choice to turn your half bath into a truly lavish powder room. This is an unusual decorating idea to both make a statement and use as little effort as possible.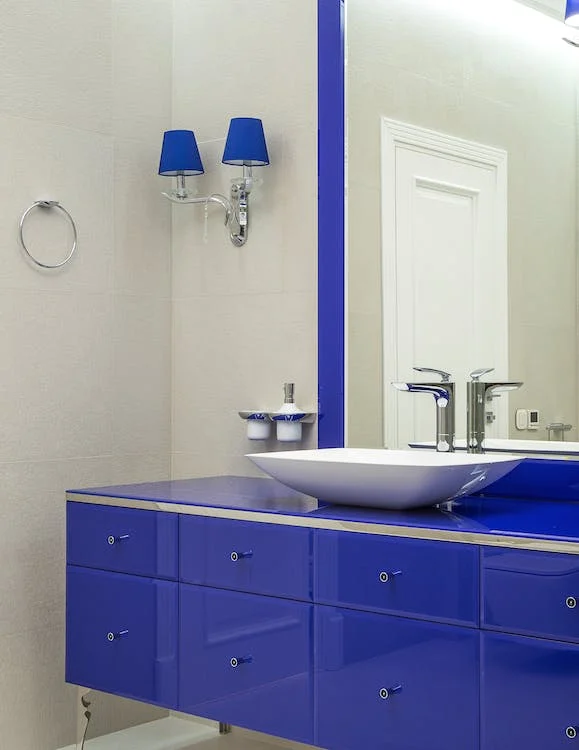 Use Wood
If you want to style a half bath in a farmhouse, a wooden style will be great for you. Use a wood-imitating wallpaper and some similar-style decoration, and your washroom will look simply fantastic!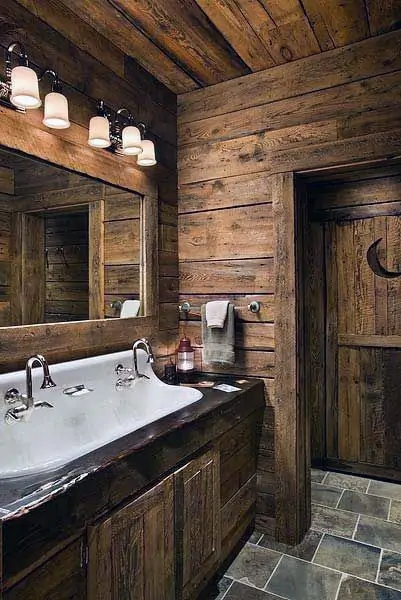 Stonewall
A combination of a stone wall and an old-fashioned sink will give your half bath a nice vintage appearance making you remember the good old times of Queen Victoria's rule. Don't fail, though, to install a toilet that is as modern as possible.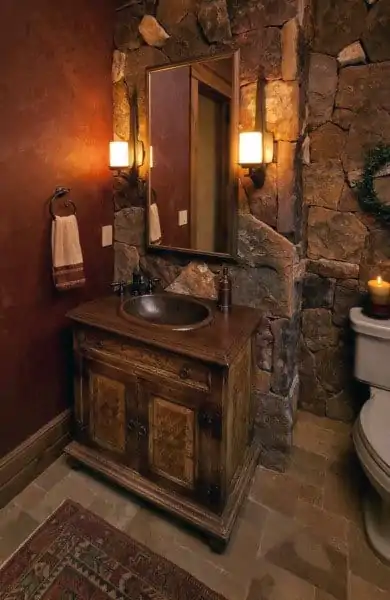 Luxury Decorating Ideas
How can I make my small bathroom luxurious? Beautiful mirrors, marble vanities, and some exquisite decorative pieces will transform it into a washroom worthy of a king. If your budget is large enough, this idea is definitely for you.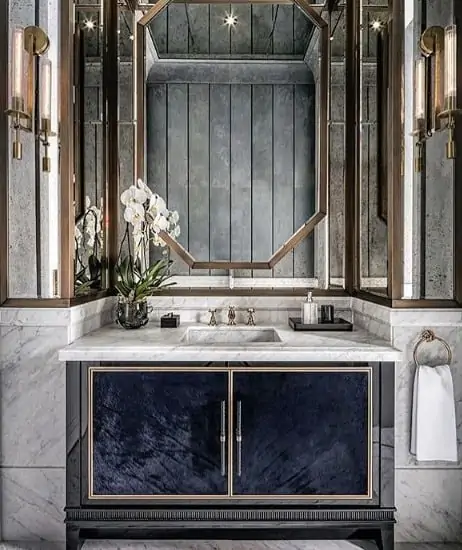 Bold Decoration Ideas
A lot of bold contrasts will give your powder room a modern and even daring look. Find a wallpaper that really works, and install a large mirror with a coal-black frame. Black and white is always a perfect combination for making a statement.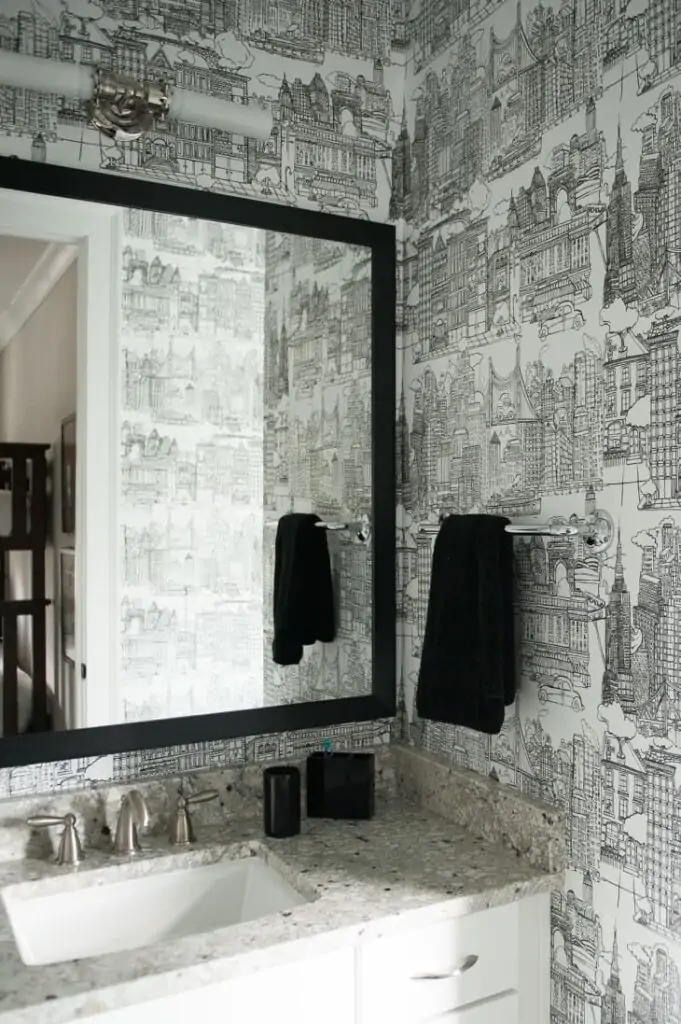 Use a Black Faucet
Forget about chrome and the shiny appearance of stainless steel. Black is the word: let the contrast work right from the moment you turn on the faucet! A similar-styled mirror is really a must.
Use a Ladder for Storage
For a small powder room space is always a major issue. To use the area you've got to a maximum, find a stylish decorating idea that will also have some important functions. If you want to add some storage space, moving vertically is always a good choice. Use a simple ladder behind the toilet or in some other place, and you will achieve two things – beauty and functionality — with one action.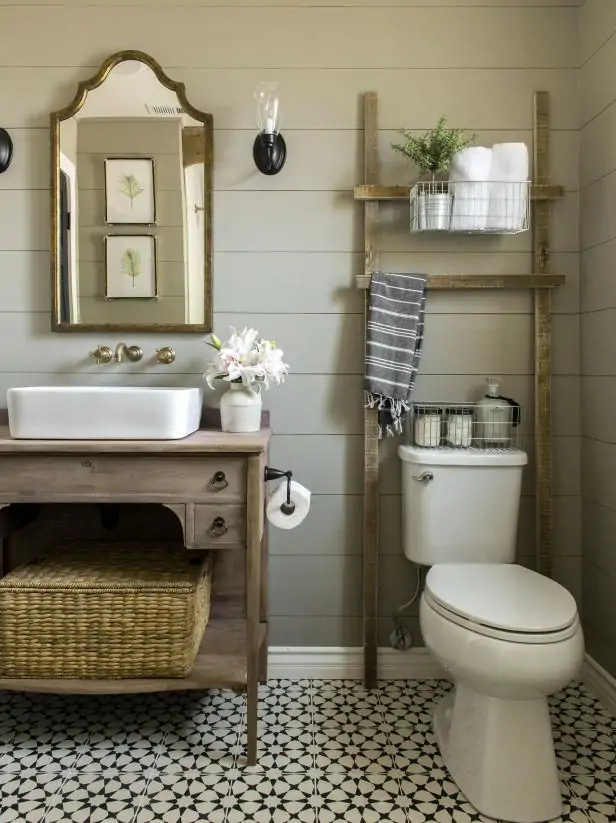 Final Thoughts
Hope you liked our half bathroom decorating ideas. You have seen a wide variety of looks from simple to luxury, modern to wooden, purple to black, tiles to wallpapers, and so on. Now it will be easy for you to decide on how to decorate your small half bath. Remember the main rule of interior design: there are, really, no rules, so it's always a good idea to let your imagination run wild.