29+ Coffee Tables Decoration Ideas to Boost Your Inspiration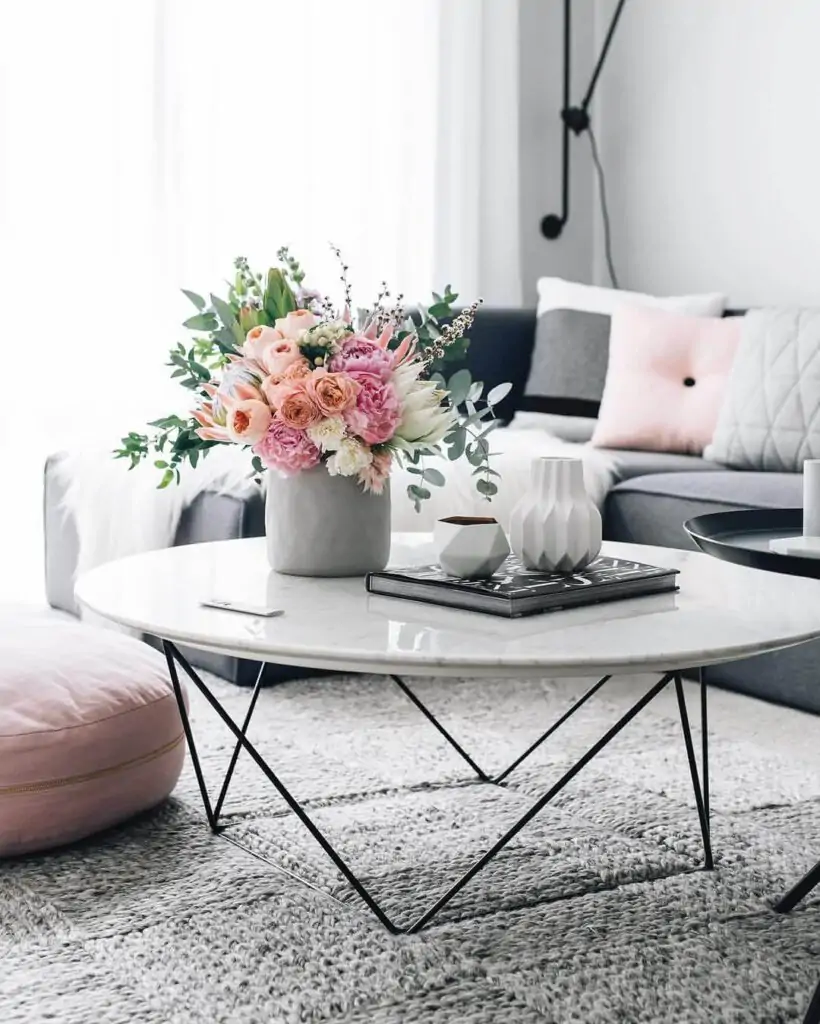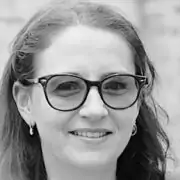 There are many ways to beautify your living room with exquisite objects for cozy gatherings. You can use myriad exciting coffee tables decoration ideas. In our article, you will find glass, wood, metal, acrylic, and wicker options for coffee tables.
Still, our review is primarily meant for readers looking for the most affordable focal point to arrange the purchased furniture. From attractive vases and practical items to unexpected souvenir collections, we'll show you how engaging decorating can be, even if you have no previous experience.
So, let's go on a fantastic journey! You are sure to find your unique idea of how to decorate a coffee table to get your living room in shape.
1. Focus on Storage and Easily Deal with the Mess
The beauty and the order go hand in hand, don't they?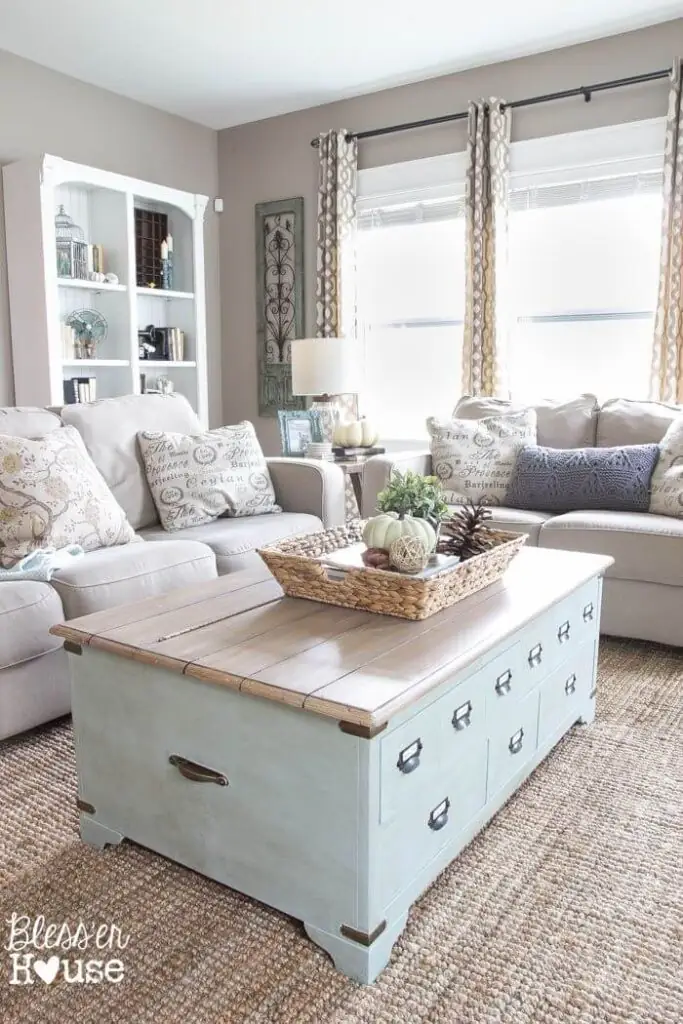 If you want to organize your work stuff, toys, and whatnot in your living room, go the extra mile and choose two in one — a large coffee table with a storage system and an accent basket as a remarkable centerpiece. By the by, you will see even more ideas with baskets in the following photos, all of which will be about convenience and decluttering.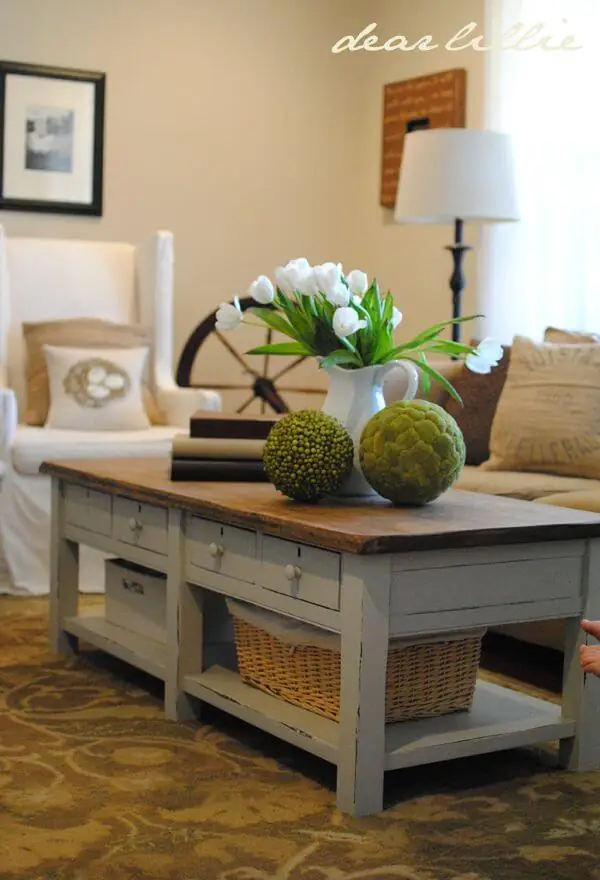 Adore farmhouse coffee table decor? Look at this old-fashioned neutral item with storage baskets under the tabletop. Three decoration ideas in the picture are simple and natural: a ceramic milk jug with season flowers, a stack of books with aged fronts, and two green topiary spheres with a rough surface. A bit rustic, a bit elegant: everyone is sure to love this design!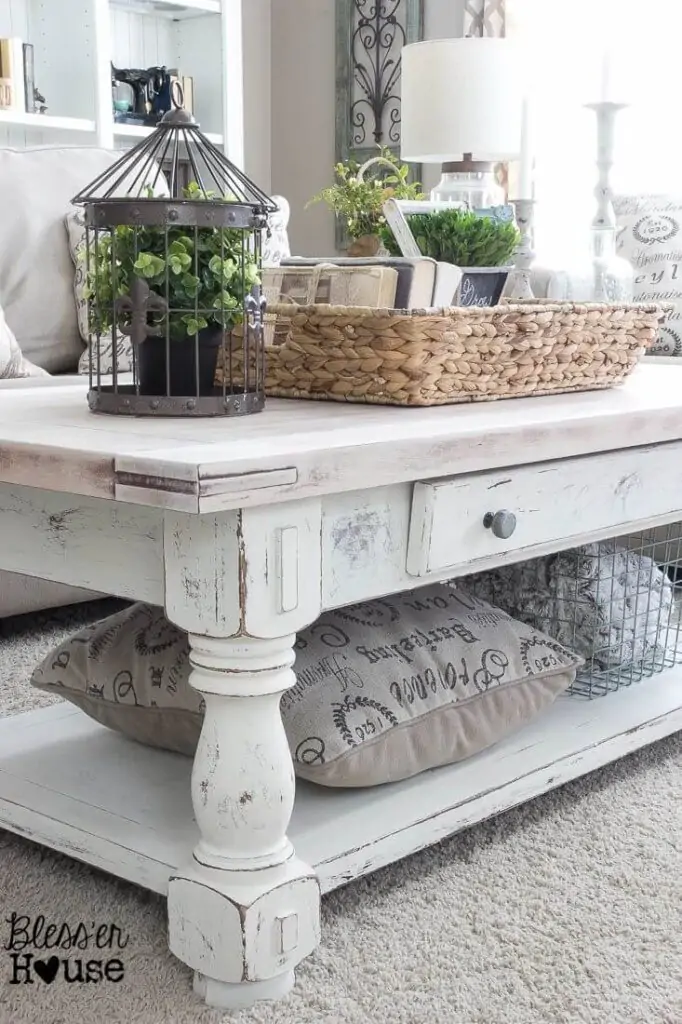 The more attractive storage ideas you'll find, the cozier your living room you'll have. A simple basket made of a metal rod is a brilliant option for remembering where you keep the stuff that eases your life. On the tabletop you can see one of the most popular coffee table decor ideas with a tray. Wicker design remarkably matches with bright greens and a unique decorating detail — a grid from a vintage lantern. What a cool and relaxing decorating approach!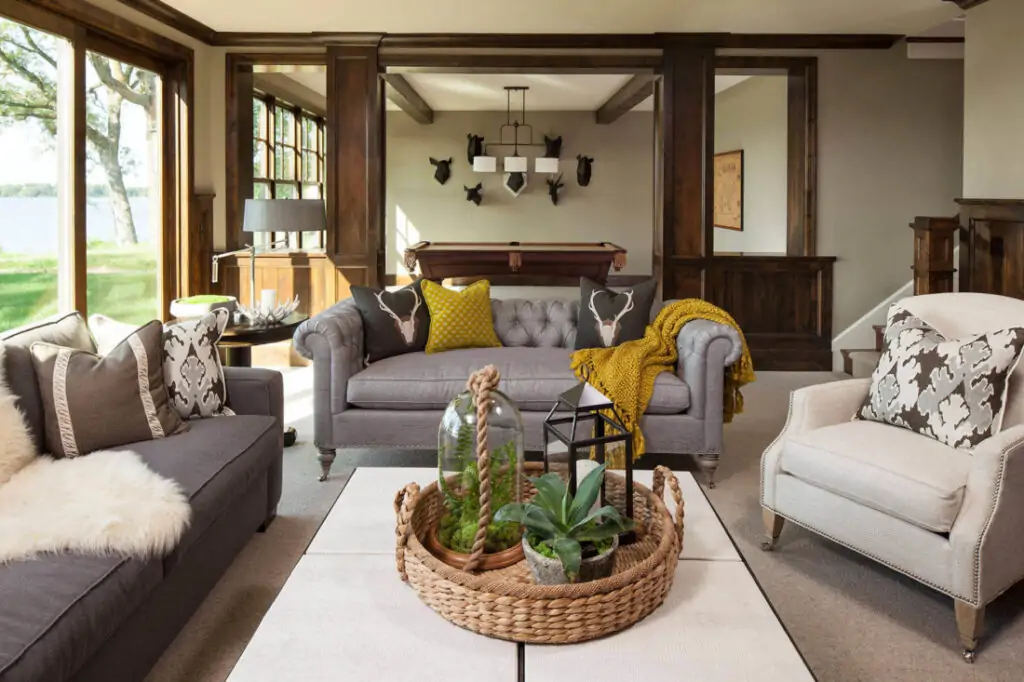 Who says a basket can only stand under a countertop? Feel free to put it on the table as focal decoration, but first, find an exquisite storage piece.
2. Add to Coffee Table Decorative Accents Exclusive Bouquets
When there is room for improvement in your interior, one of the best decoration ideas on every budget is using all the richness of floral bouquets.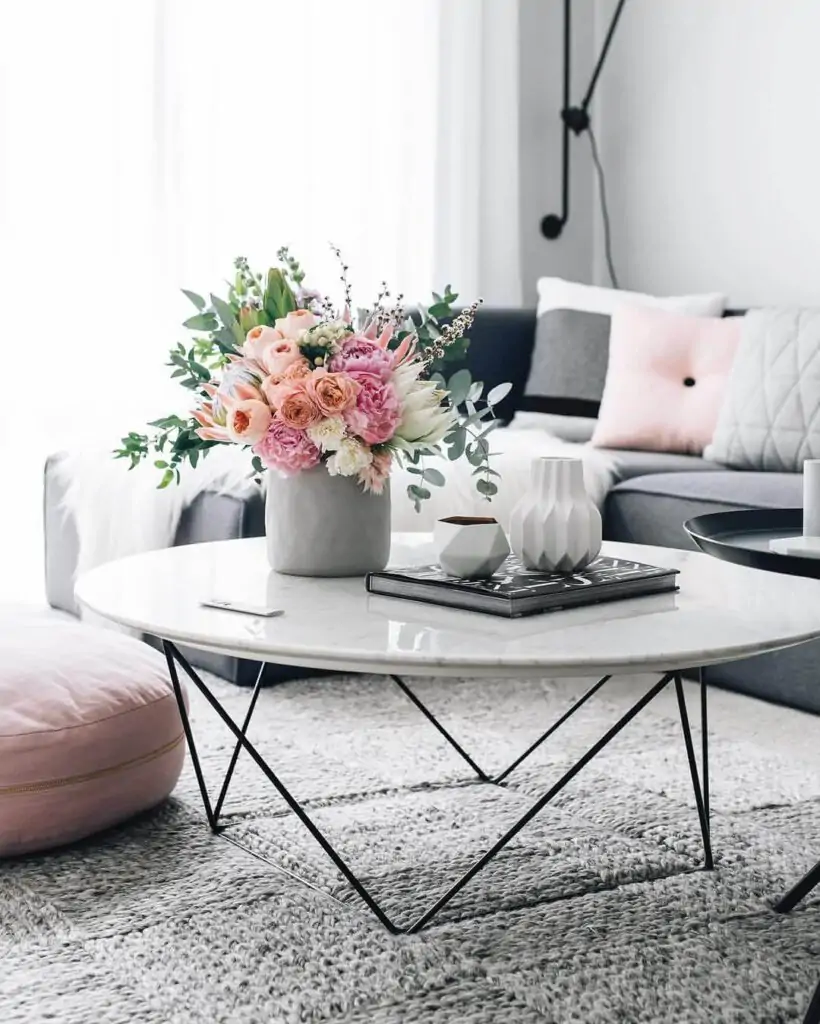 At first glance you don't even notice that this design concept is very close to minimalism, right? A neutral gray sofa and light pink pillows ideally combine with this super-airy coffee table frame. The magnificent bouquet attracts all your attention — no wonder such beautiful coffee table accessories ideas are bound to be appealing.
Don't you like this beautiful coffee table décor? While it cannot be called practical such glamorous ideas with pink flowers in black and white are defiantly stylish.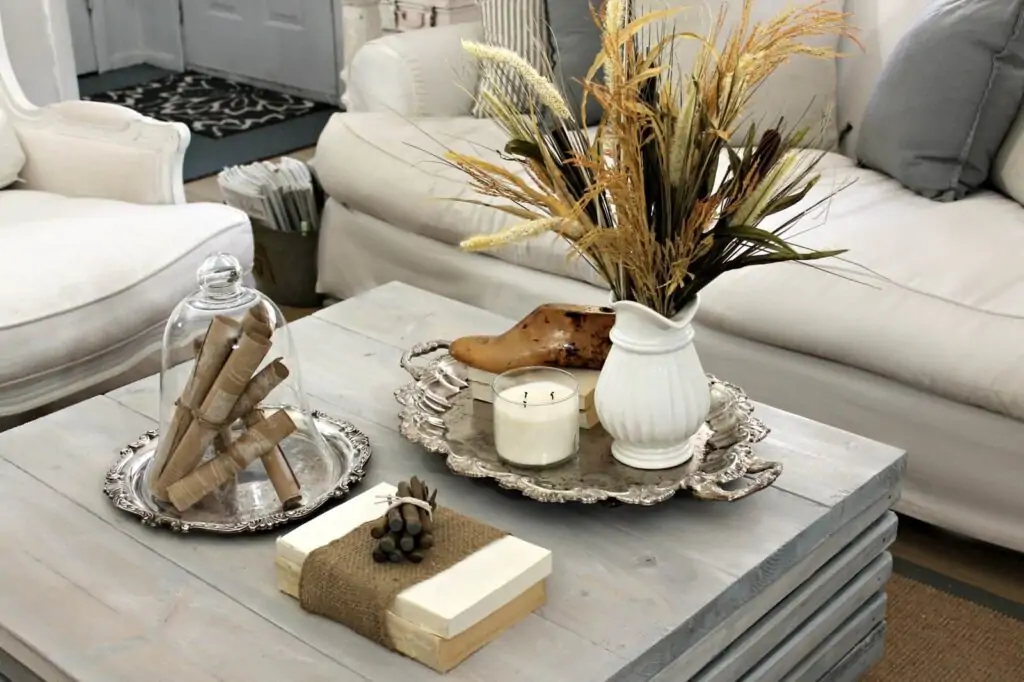 Dried flowers, burlap, candles, papyrus scrolls, and silver trays with patterned edges make you feel like you live in a historical novel. You cannot say there is plenty of storage space, but this doesn't matter. Antique beauty is worth agreeing on a compromise!
3. Go Elegant with Glass Coffee Table Decoration Ideas
Considering glass-topped furniture, style this focal point like a super pro. Invisible glass redirects the attention to nearby décor details and ultimately underlines your choice.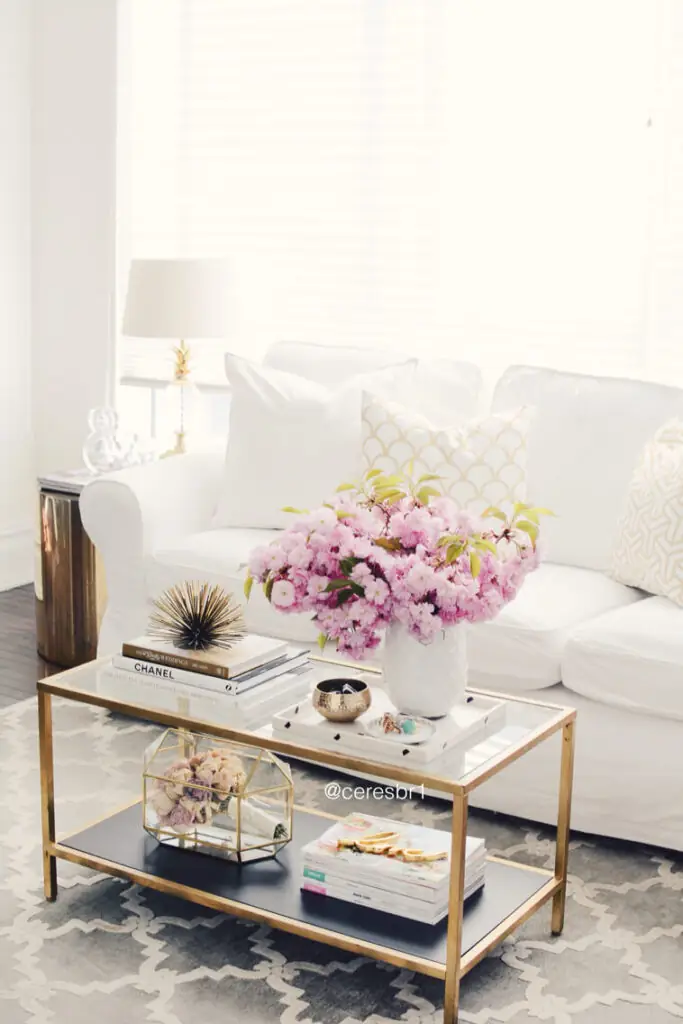 A spectacular combo of glass and gold can make a bold statement in your living room. Many excellent decoration ideas are available, such as a large vase with a rich pink bouquet, a fantastic rose terrarium, a golden sea urchin paperweight, and a marble tray, all of which work beautifully in this white gray living room.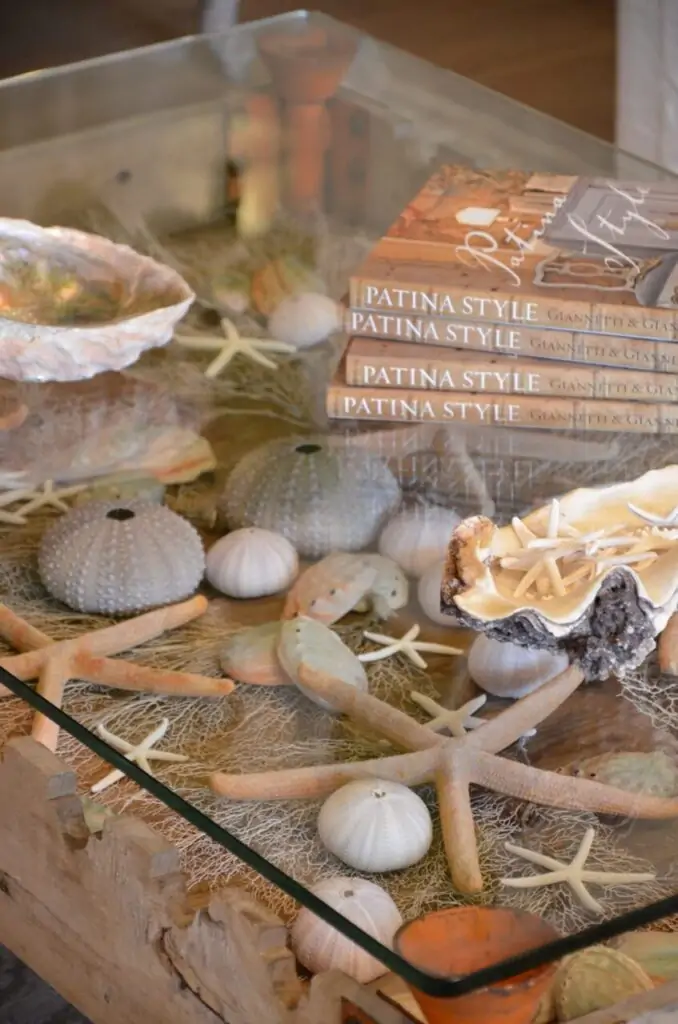 Arguably the best style for glass coffee table ideas is to put amazing decoration stuff under the tabletop and enjoy your collection all the time. What a beautiful and neat approach, huh?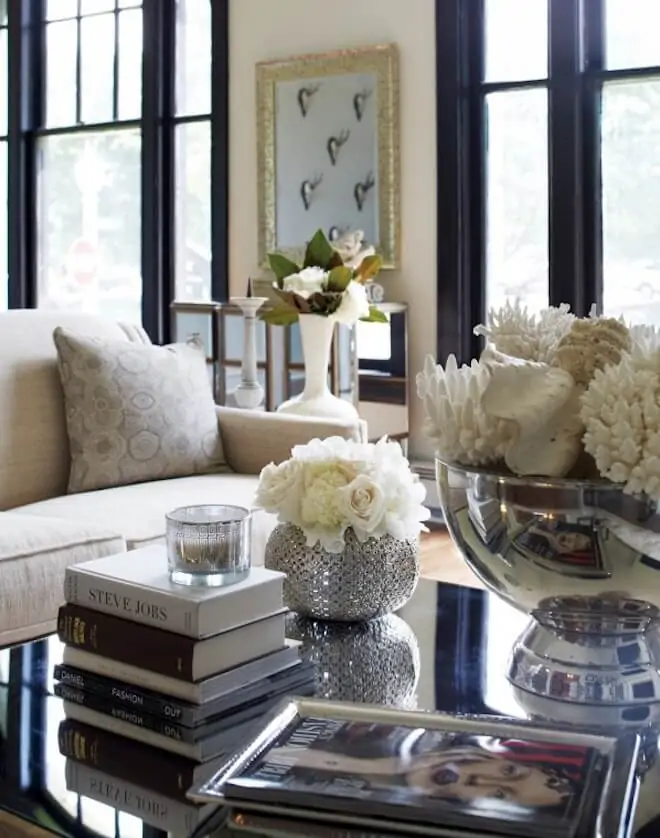 Who says the mirror furniture went out of style? This timeless glass accent will be perfect if you prefer a classic interior with a muted color palette. A mirror-top coffee table helps you enjoy decoration ideas from every angle, making them cool and polished. Inject a silver vase and photo frame, select a lush bouquet, and add faceted glass décor — and you never go wrong with the light reflection in your mirror centerpiece.
4. Consider the Best Wooden Coffee Table Decor Ideas
If you are in two minds about what focal point to arrange, opt for wooden coffee table decor ideas. There are two ways to design your fantastic living room — a unique table made of wood and eye-catching wooden decorations on the regular item.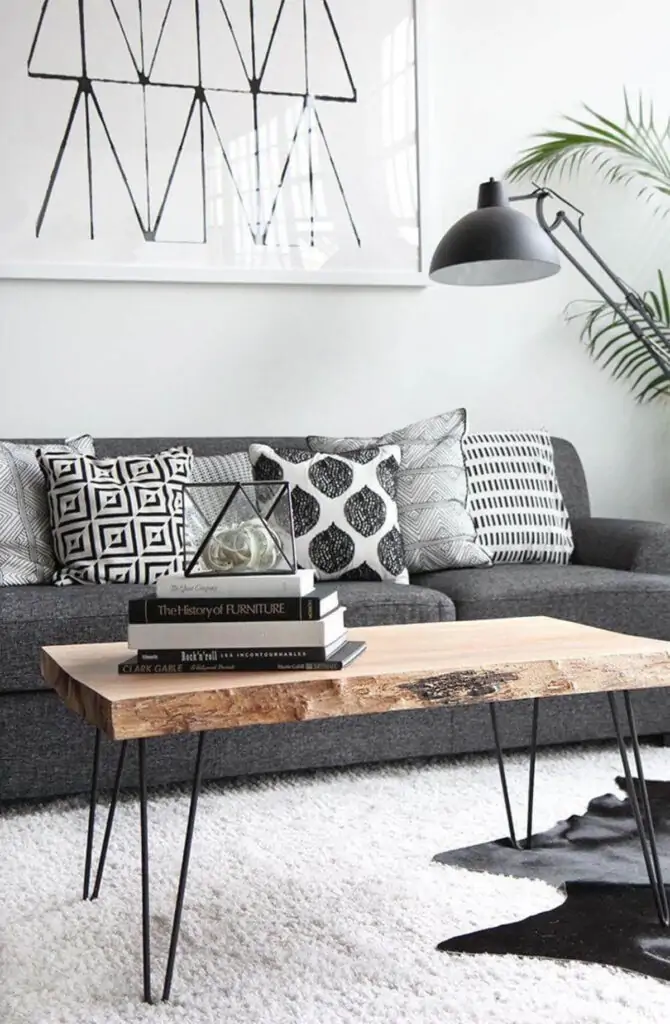 What a large and fabulous design object! This piece of wooden furniture injects sheer delight into any style. While making your space both functional and charming, use the most straightforward decoration ideas — a spectacular cut of wood, curved branches, colorful rods, shells, coral, and colored glass rolled by the sea.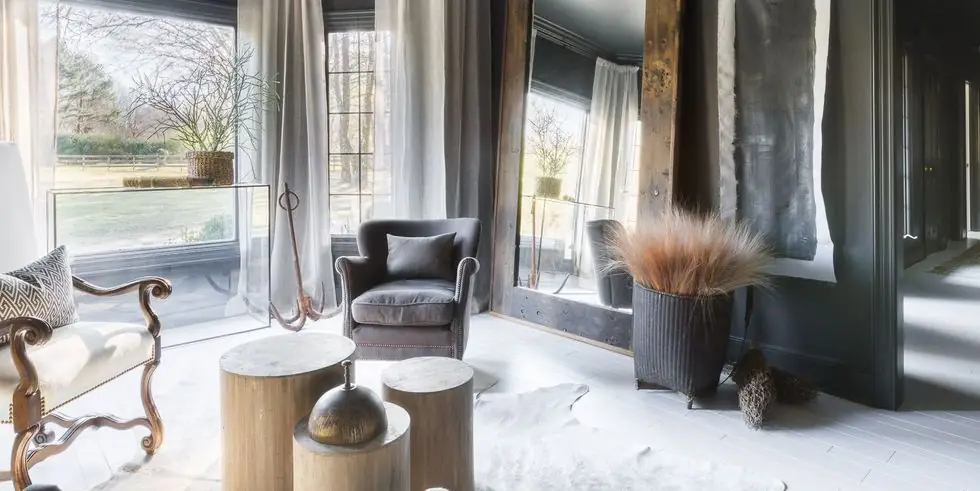 Feel the magic in the air? So do we, looking at this farmhouse interior with a coffee table group made of stumps. Here you can see that natural wooden decoration ideas are often a self-sufficient technique to attract your attention immediately.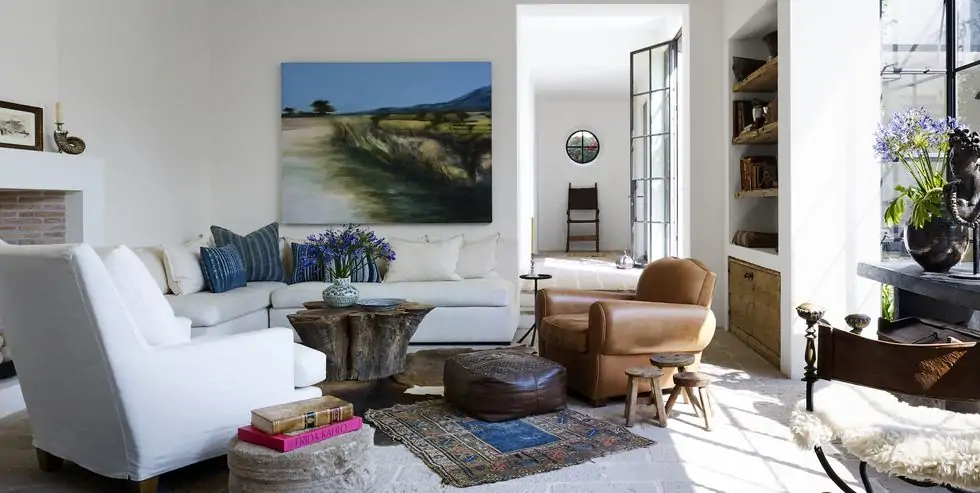 A beautiful lacquered stump can stand proudly alone. As a result, you can't take your eyes off this item in the luxurious room. Imagine how boldly such a fantastic object would play in a more modest space!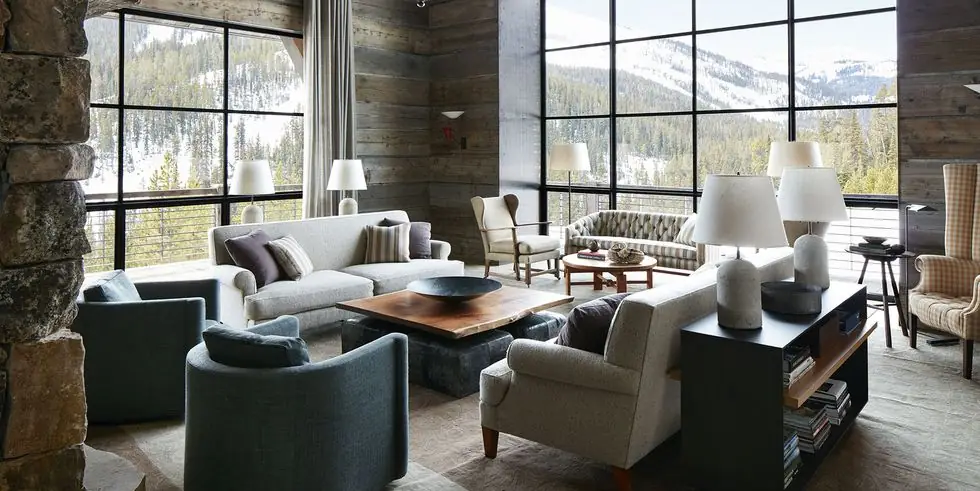 Whether you have a terrific window view or a regular city picture, a large wooden coffee table won't go unnoticed. No décor ideas and visual tricks are needed when your focal point furniture is a masterpiece!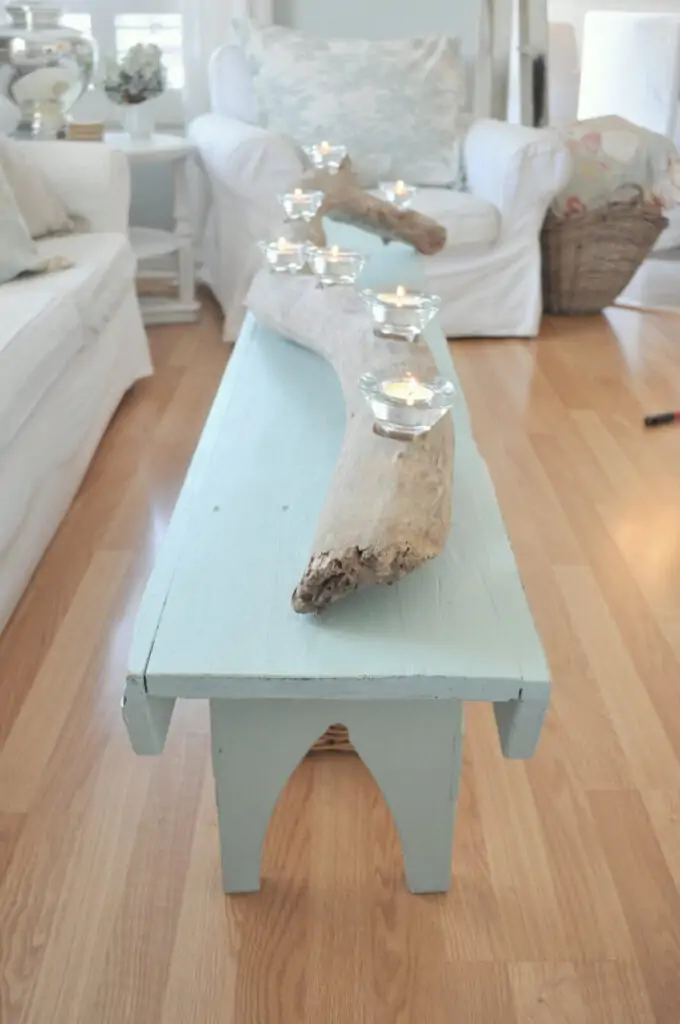 When you look at this photo, you think about the lucky guy who found this snag, do you? There is some magic in this godsend: it is well-grounded and playful simultaneously. Don't be afraid to inject external objects into your living space. A general rule says that the more natural details your home has, the warmer you feel inside it.
5. Elevate Your Interior with a Round Coffee Table
The decoration ideas may be the same as mentioned above, but the round coffee tables allow you to exploit the most convenient planning in your living room.
You can quickly get around either of them, and both these forms bring more space to your living room. No more hitting protruding corners, no more complicated squeezing through, and lots of pleasant freedom of movement!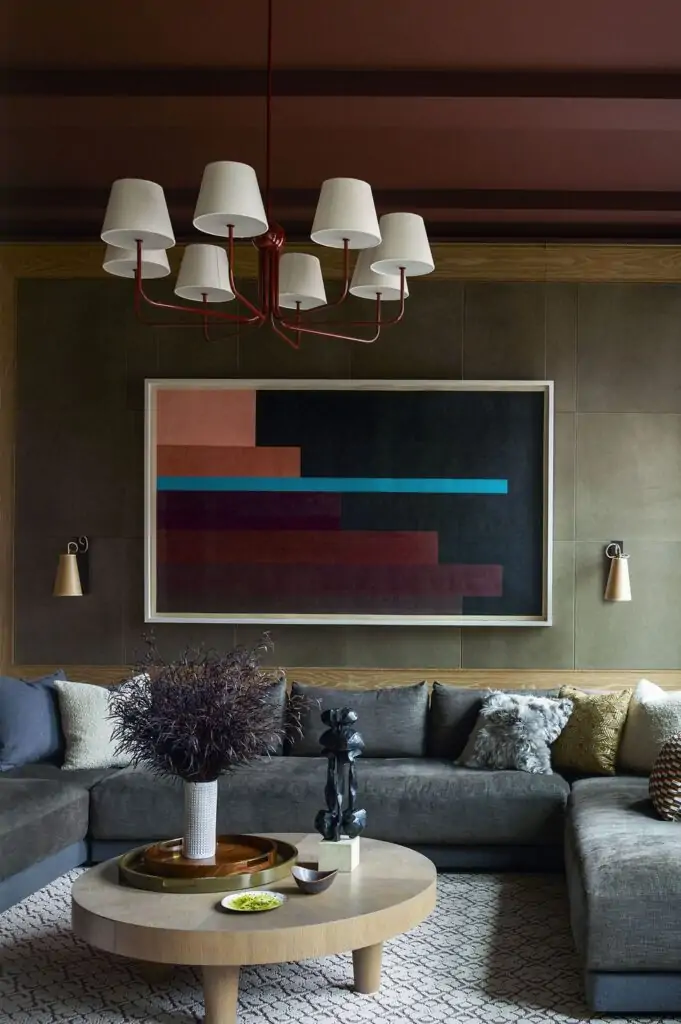 One of the most accessible ideas to give your living space an impactful makeover is to replace the rectangular centerpiece with a round one. This room would look monotonous if it didn't have a round light table in the center with fittingly round decorations. Remember this geometrical trick of how to reverse the dullness of your space.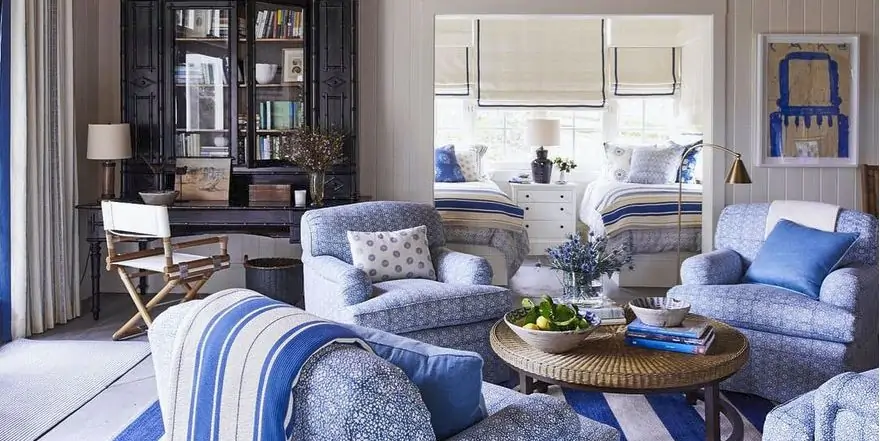 What an excellent solution for the fans of nautical décor! A round or oval wicker coffee table will bring a whiff of the sea breeze to your interior, making the space convenient and perfectly relaxing.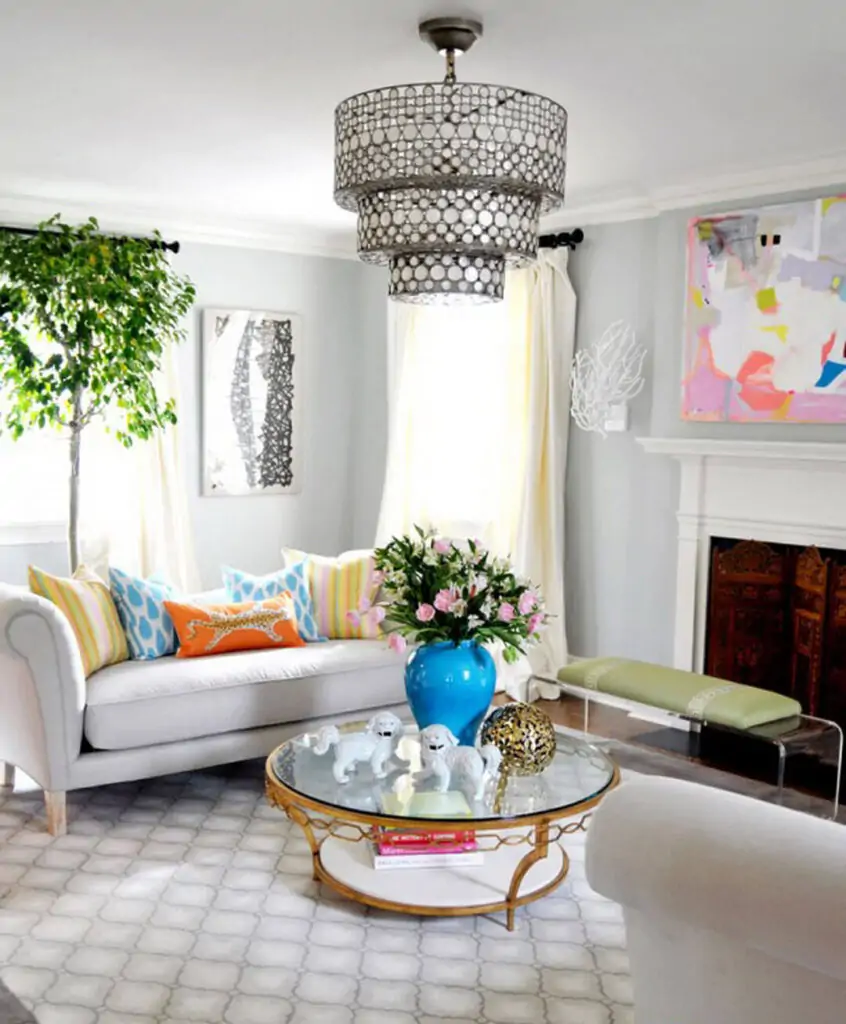 When you consider how to style your coffee table, so it always looks fresh, don't forget about flowers and color matching. Just use a colorful vase as a centerpiece and add the same accents to the other décor items all over the room — that's how you can get an exciting renovation! This charming design is complemented by Chinese ceramic lion statuettes and clear gold flecks everywhere — the base frame, the big mottled ball, and the openwork chandelier just above the focal point.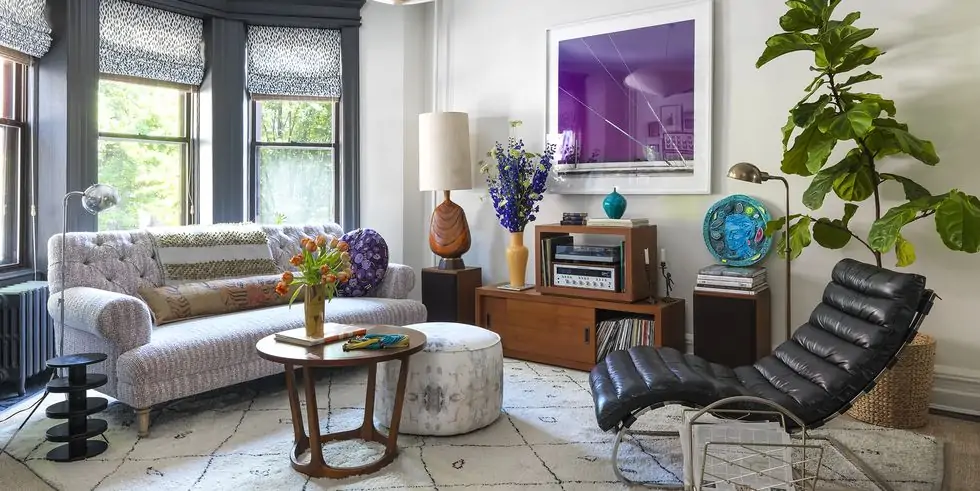 A small pouf is not only an extra seating but a must-have to liven up your interior. Push it to the center near the round coffee table and create a playful accent of contrasting textures. Easy and perfect for any style!
6. Introduce the Other Sleek Forms for an Exciting Coffee Table
Oval, hexagon, and complicated streamlined shapes are your golden opportunity to boost the convenience and stylish feel of the living room.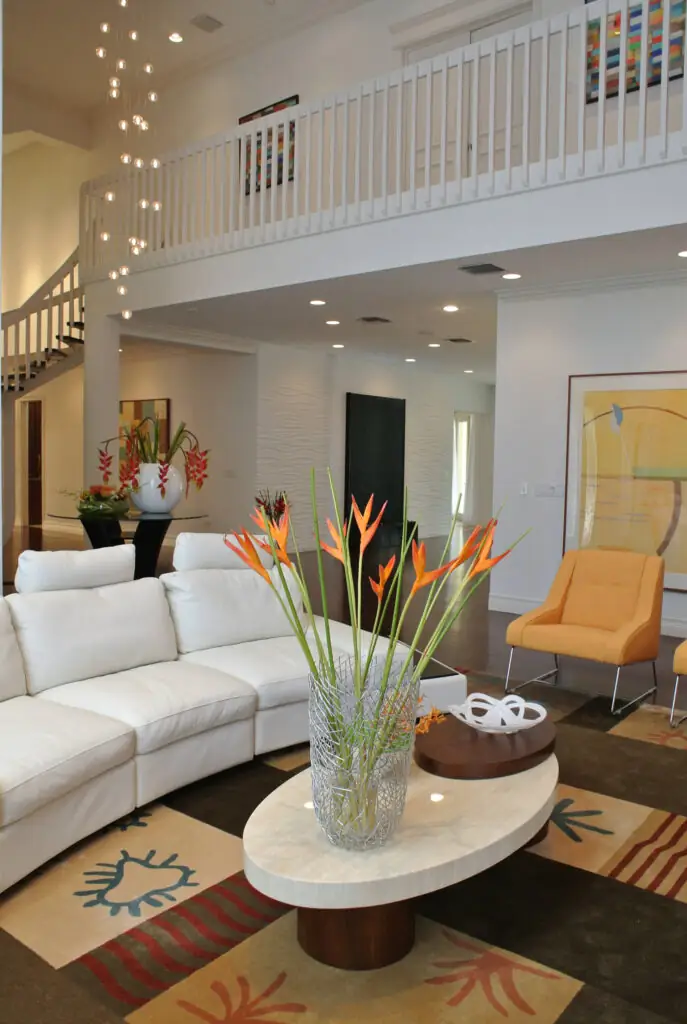 Here you can see an oval coffee table with stylish decor that belongs to the timeless ideas and fits almost any design. Don't be afraid to inject the contrast of heights. Simple but very attractive!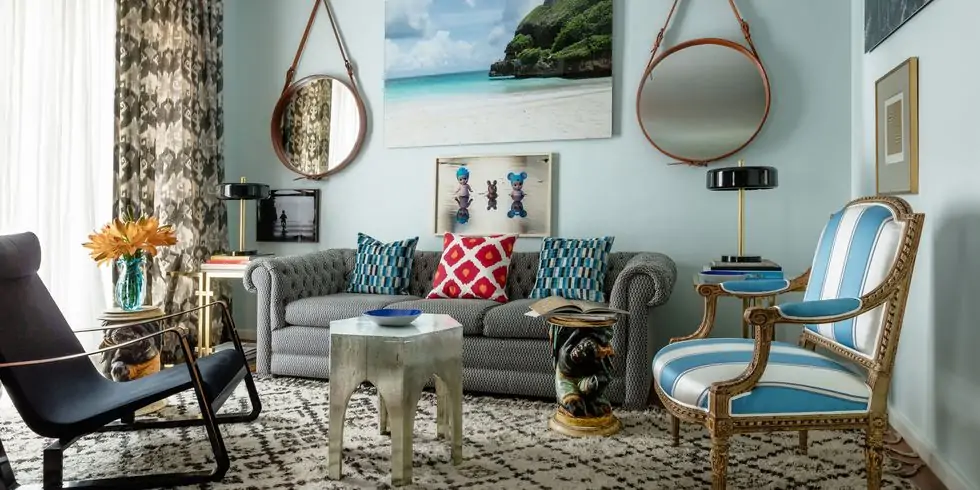 A petite item that is almost round will create a bright accent when you have large armchairs and a luxurious sofa. This unusual small geometric shape will counterbalance the size of the furniture. Use this trick and don't overdo the decor: a single vase or plate is enough.
7. Double up and Even More: If You Think One Table Is Boring
Above all, remember that two and more tables in the room can feel like clutter, making the space visually smaller.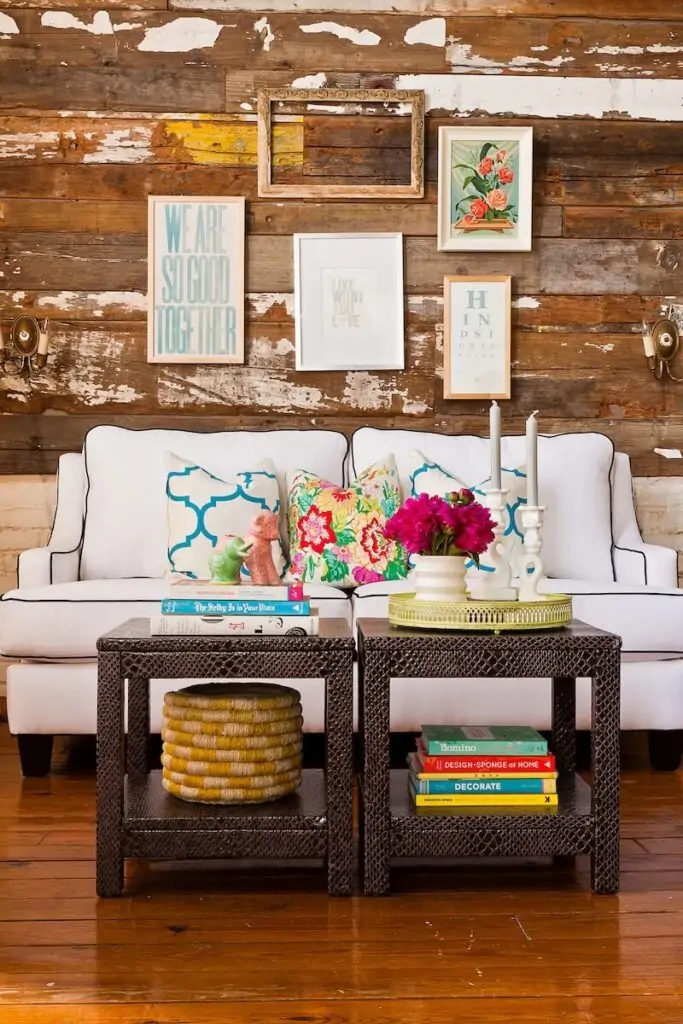 Not only is this bright focal point with a modular coffee table practical, but it is also fabulously stylish. Note what incredible decoration ideas we can introduce when we combine the rough and the tender or the natural and the cultivated. Additional storage space is the icing on the cake of this colorful interior, and you can see a convenient openwork tray and shelves under the tabletop.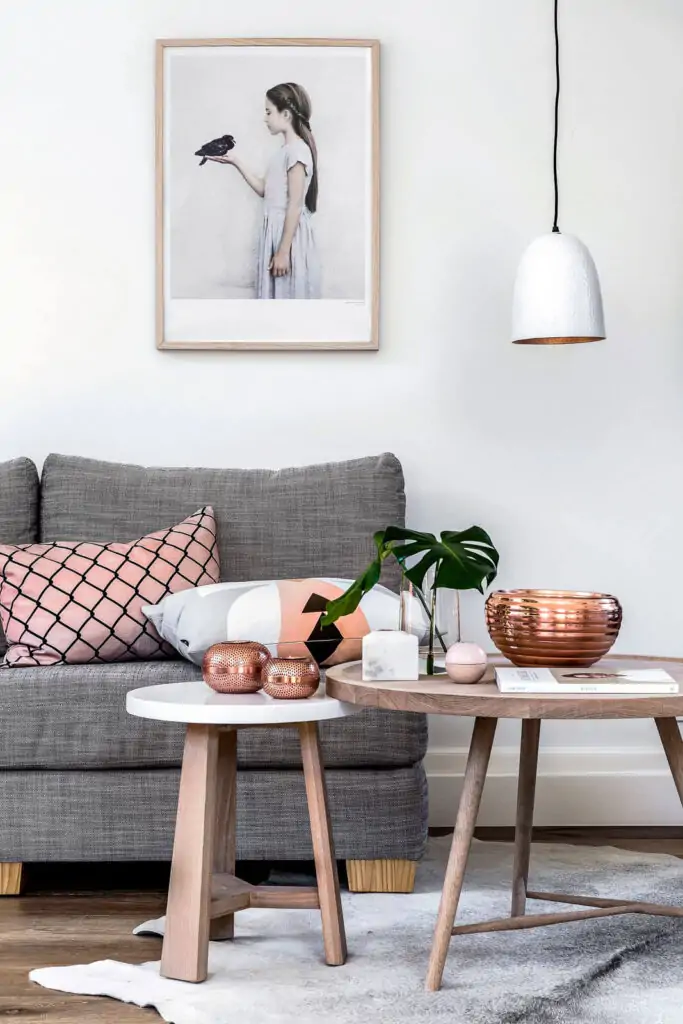 Sure, the contrast round coffee table decoration ideas like in the photo above are always eye-catching — no need to overload the focal point with sophisticated adornments. Use simple forms and a little bit of greenery. The unique feature of this concept is copper vases, and animal hides straight under the centerpiece.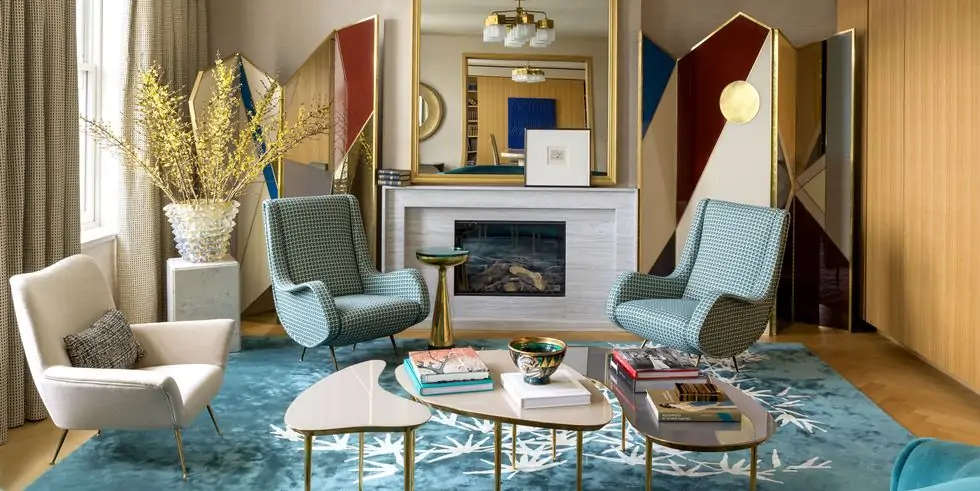 The particular highlight of this living room is a centerpiece furniture group adorned with beautiful books. Note that books are usually an excellent conversation starter: don't miss an opportunity to focus on them.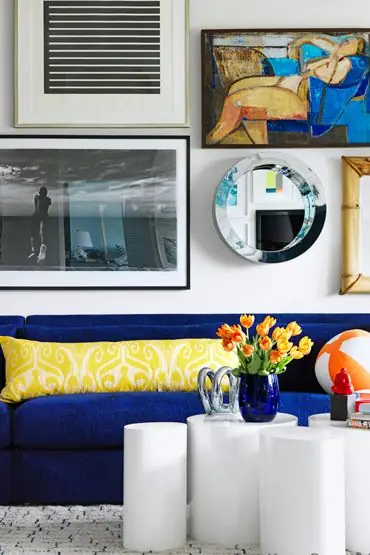 Can you think outside the box? These unique heavy cylinders will be the direct proof! They are movable and easy to care for, and decorating them won't overstretch your budget. Some flowers and books will be enough. Impeccable style and audacious ideas? Yes, please!
8. Get Daring with Real Cool Coffee Table Ideas
When you get your teeth into creating a unique interior, you must try some eclectic design concepts. Check out these compelling examples of how to decorate a coffee table with no limits on your creativity.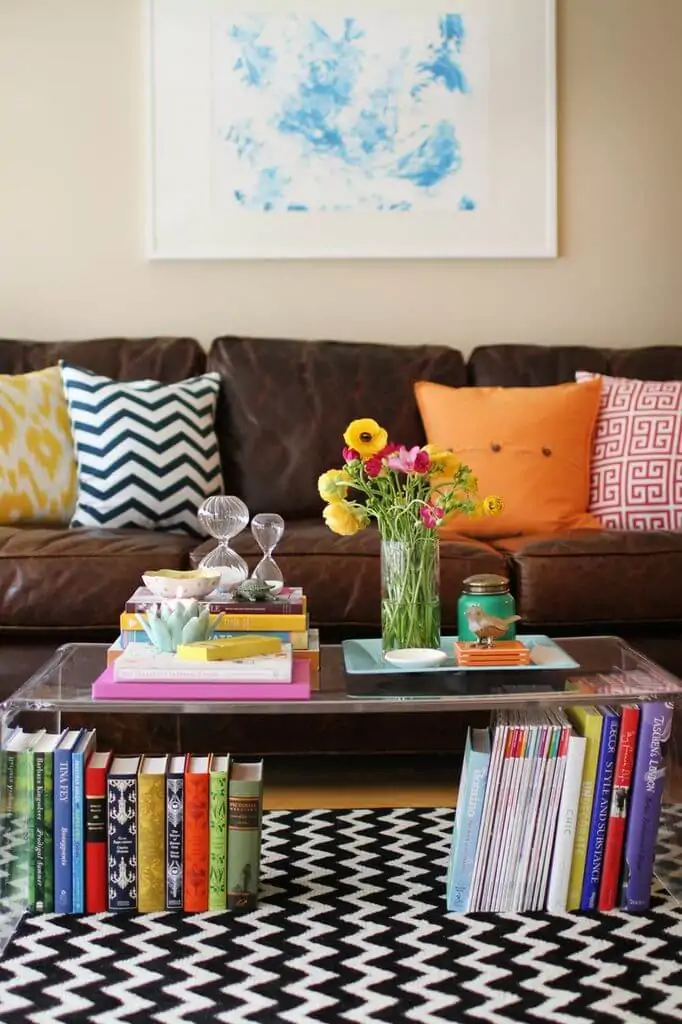 The invisible acrylic coffee table is the best proof that decoration ideas can make a bold statement with nothing flashy or expensive. This fine and ultralight piece of furniture emphasizes all the colorful things on and under it. Here you get into a playful space that helps you relax and cheer up at the same time.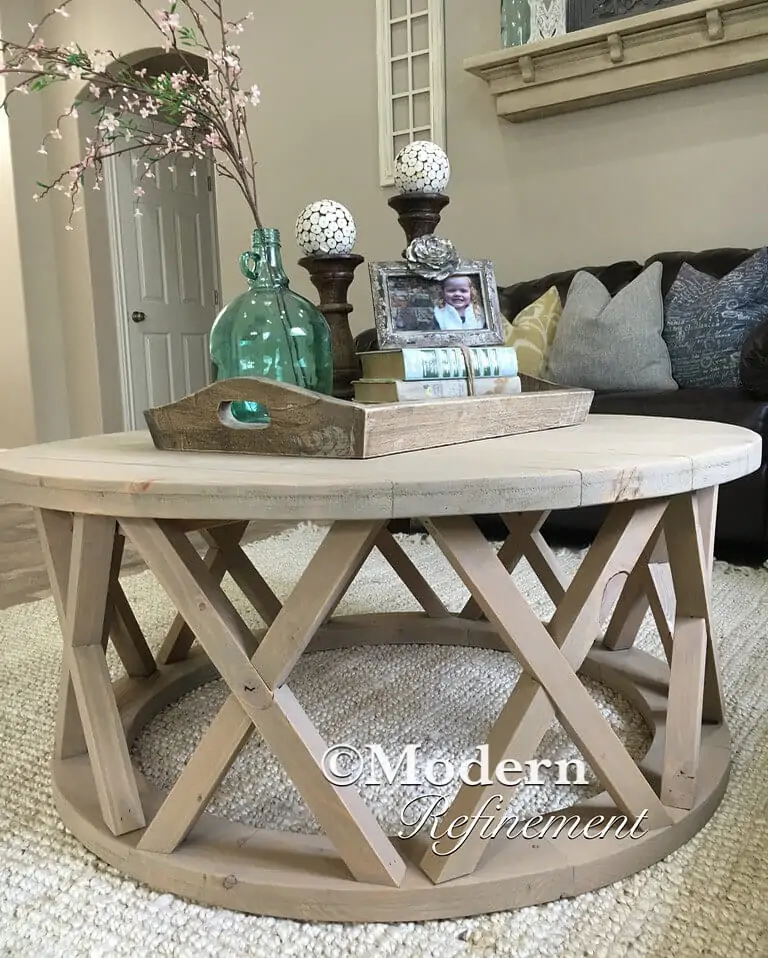 What did you think about when you first looked at this photo? The accent piece of furniture looks like the designer had brought it from outdoors, and its unfinished surface perfectly matches the old-fashioned tray and a bottle vase. Such natural decoration ideas with antique objects remind you of Harry Potter's adventures, don't they?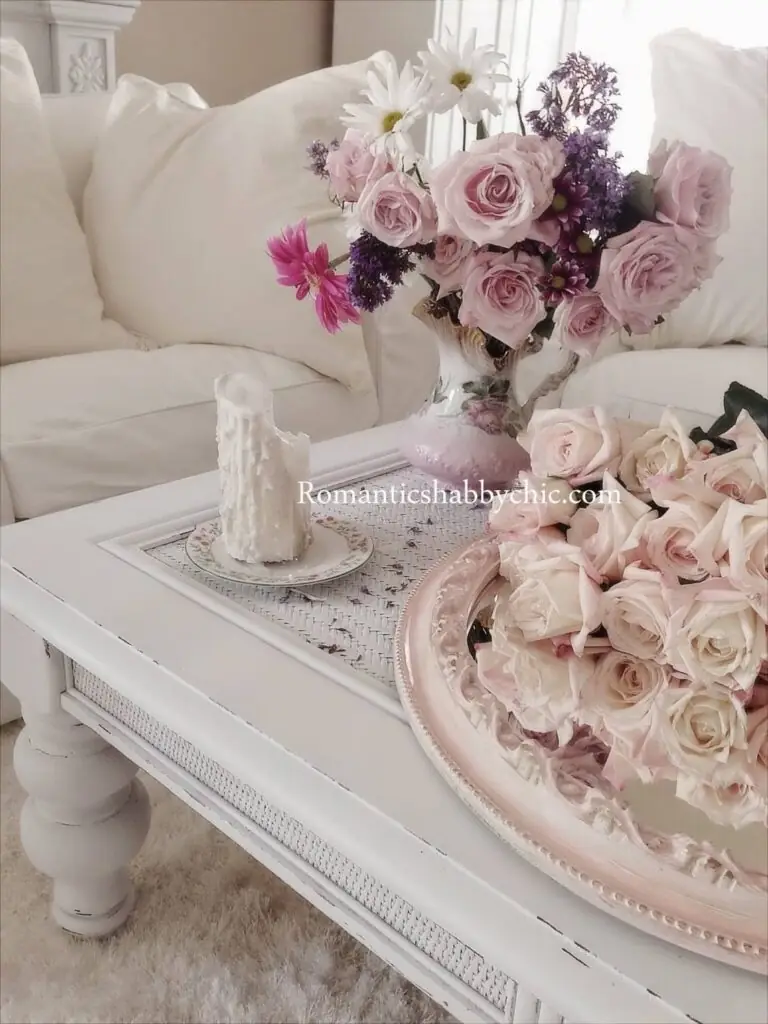 Sometimes terrific coffee table ornaments are begging to adorn your living room, especially if your space is designed in boho or oriental style. The wicker texture works extensively in totally white space. Everything inside seems to scream: "I'm a woman!". Never be shy when looking for ultimate feminine accents but always fill the project with lovely flowers and cute ornaments.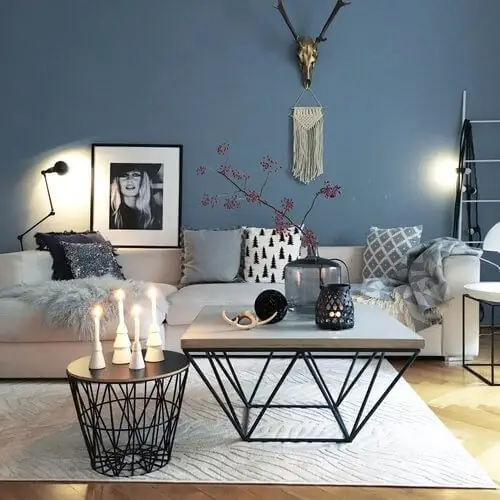 Here is another example of doubling up your table decoration ideas — combine the round and the square to arrange a precise touch of modern style. The openwork geometric black frame looks ingenious! There are also tall candles and low hollow vases: this design is the realm of contrasts.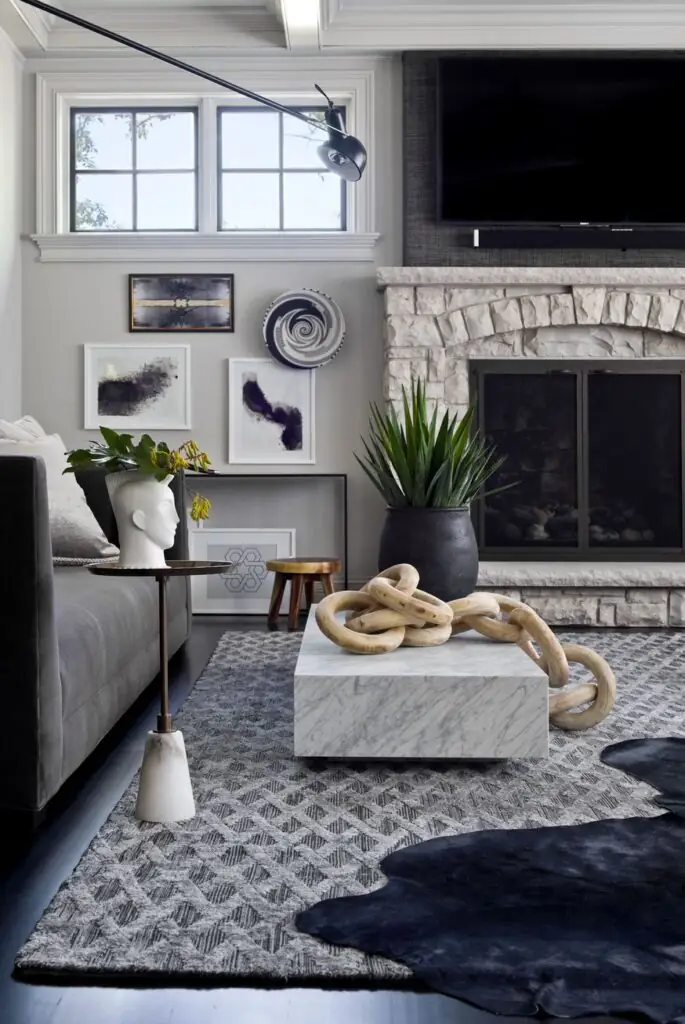 The more creative you are, the bolder your design statement can be. Swap various decorations on the tabletop for the true eye-catcher. Here is an interior sculpture as a sight to behold. The other choices include a sizeable vase, a wooden installation with candles, a large topiary, etc.
The pleasant thing about design hobbies is that they steadily develop your creativity. Looking for coffee tables decoration ideas, you become more inventive and confident. We encourage you to find a flawless design beyond your wildest dreams. See you next time!