21 Design Ideas for a Master Bedroom to Make Your Dreams Come True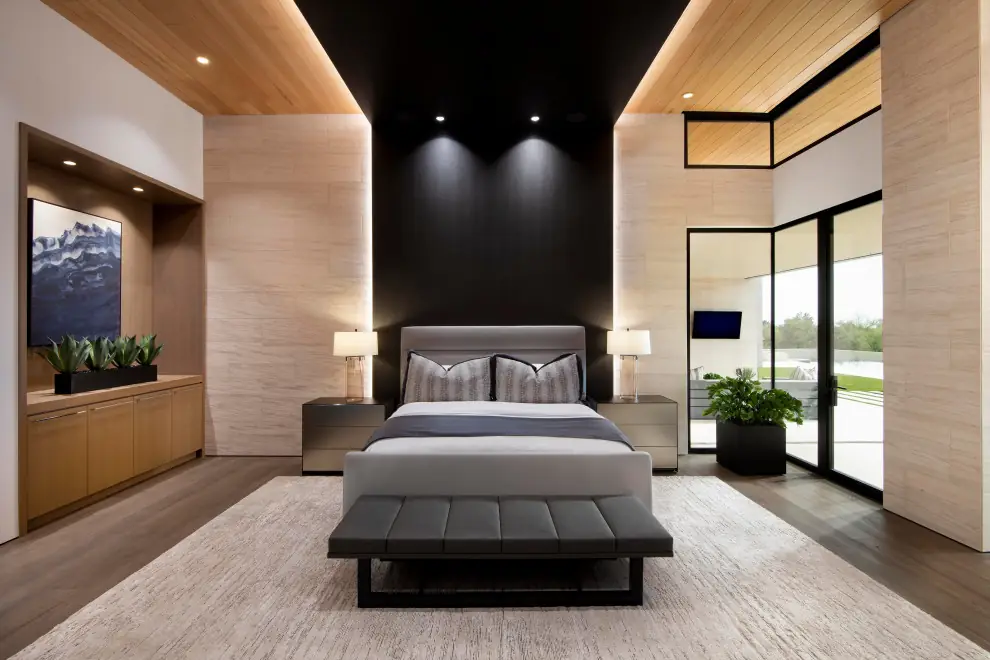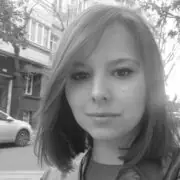 Looking for design ideas for a master bedroom is a hard task: after all, this room is your sanctuary from the world, and as such, it must be a place that fits you really well — so that you can be comfortable and recharge your batteries. If you're in the process of making a plan on how to design a master bedroom, we can help! To do that, we've collected some great ideas. Let's take a look!
1. It's All in the Windows: A Viewpoint Space
A foolproof idea for a master bedroom design is to let in as much natural light as possible so that the room looks spacious and comfortable. If this room in your house boasts a nice view, it might be perfect for putting in floor-to-ceiling panoramic windows.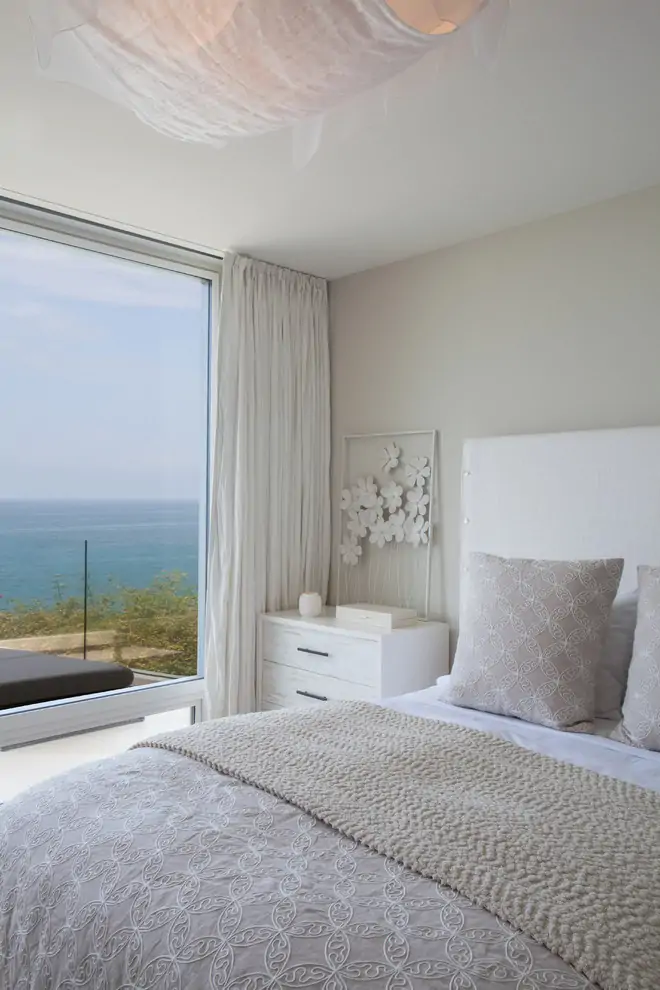 2. Blending into the Surroundings: a (Very) Open-Spaced Room
Here's one of the more modern master bedroom design ideas: this variation of a bedroom with panoramic windows proves that even without a sea view, a glass wall can look fantastic. This one opens into a terrace, creating a unified space to rest and relax.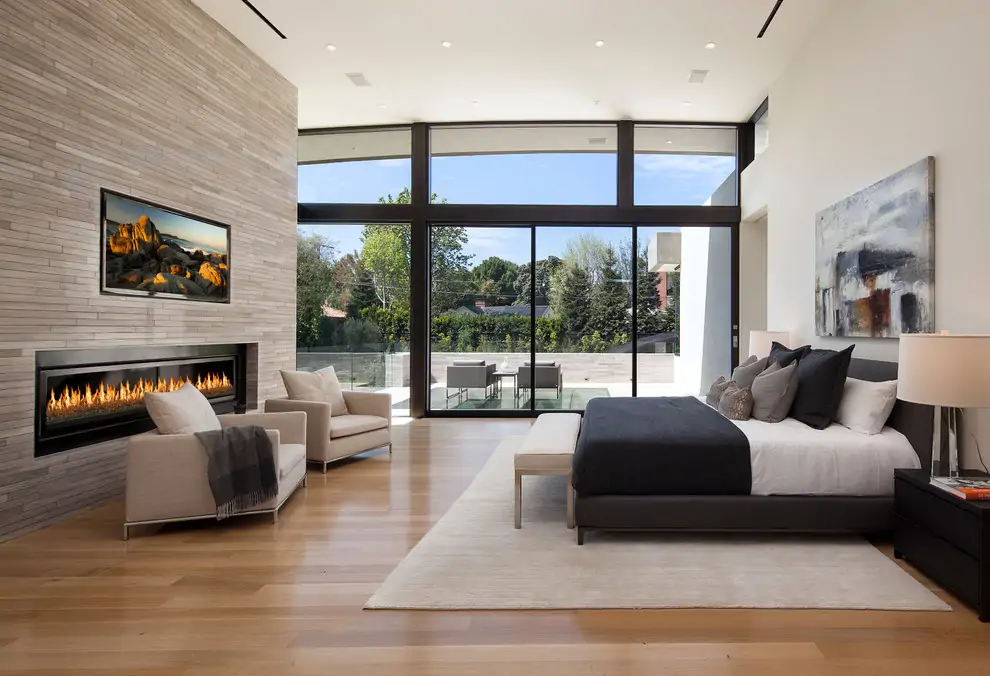 3. An Eastern Accent: A Gate into the Land of Dreams
If you're one of the people who are not afraid of loud accents in the design, there are many decor ideas for a master bedroom that will suit you well! Just look at this headboard that instantly draws the eye.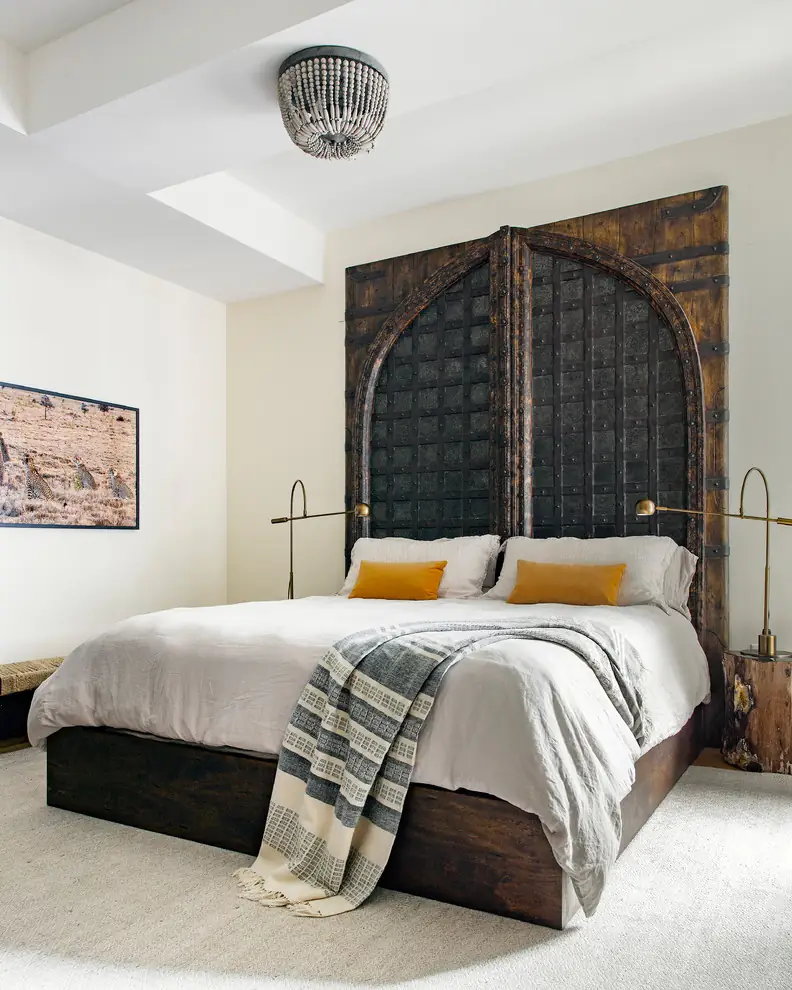 4. Silence in the Library: A Reader's Bedroom
This master bedroom design is an amazing example of keeping your passion close! Thanks to the unique pattern, the wall-to-wall bookcase works well as a part of the decor and not just a boring storage space.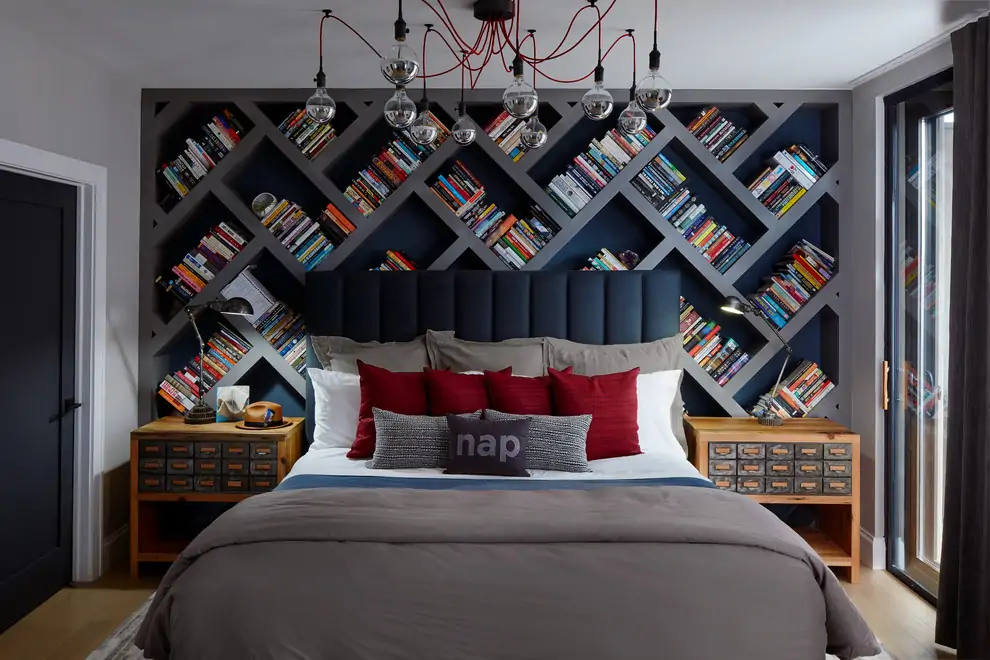 5. Rise and Shine: A Bright Room for a Bright Day Ahead
This room's color scheme is proof that it's not necessary to choose muted colors, pastels, or shades of gray for your bedroom! Imagine how energized you will feel waking up among those walls painted a beautiful intense color — in this case, a complex shade of blue.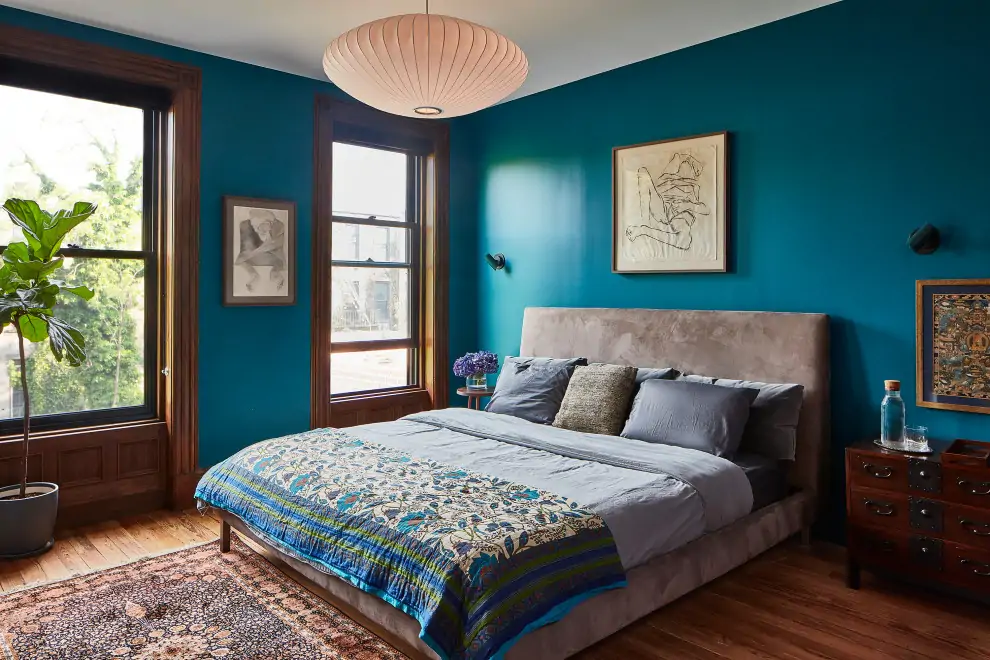 6. Compare and Contrast: Splashes of Color
Painting the whole room a bright shade might not be for everybody, but that doesn't mean there's no place for a range of colors, even among the traditional master bedroom design ideas. Just look at this example: a deep blue bed and a matching nightstand are a welcome sight in this cream-and-white interior, and pillows create a nice contrast.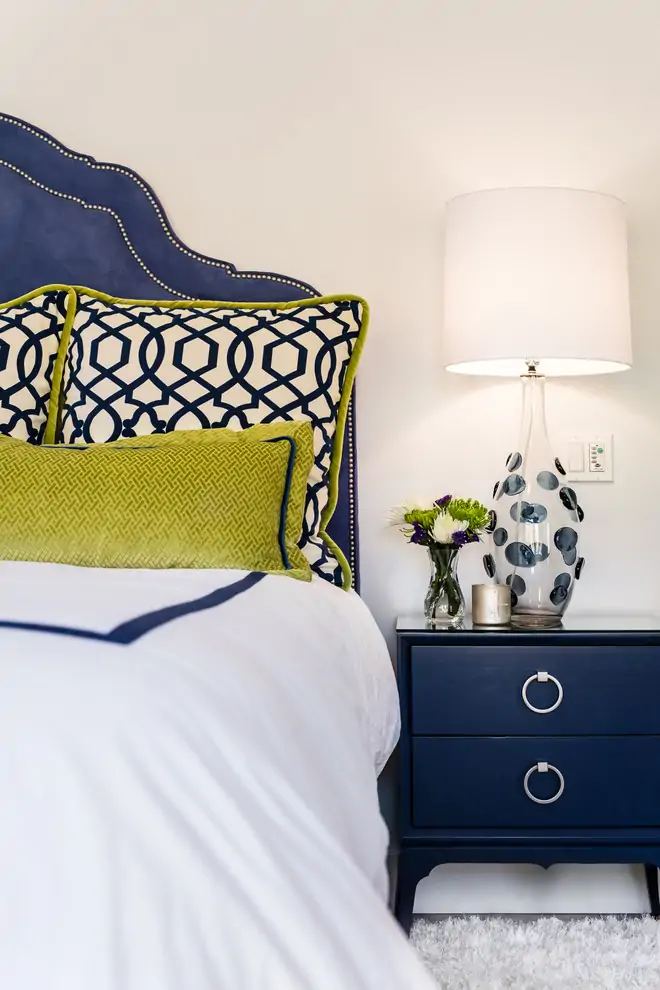 7. Who Needs Attics: A Farmhouse Chic Bedroom
For those who are unsure where to put your sleeping space within your house, this is one way to do it: if you're going for a rustic feel in your design, a perfect room is right under a sloped roof! This room is simultaneously cozy and airy, with well-thought-out details such as a cupboard, a wooden chest used as a bench, and a rug. Their synergistic effect creates a lovely vintage feel.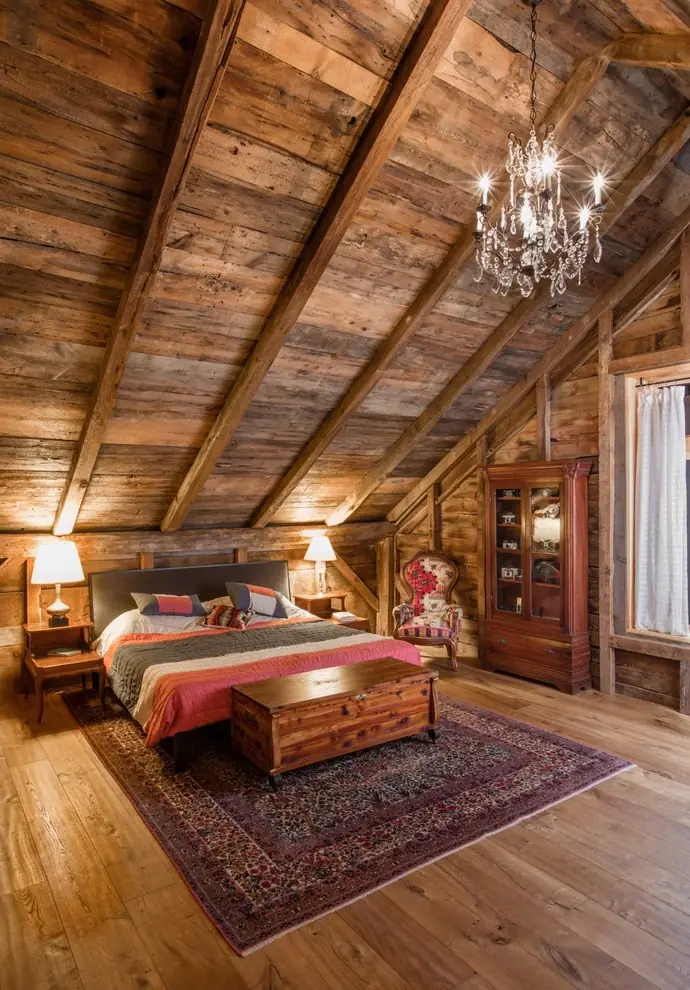 8. Scaling Down: Compact Does Not Equal Lacking
If you don't have a lot of square footage to work with — don't worry; there are plenty of master bedroom design ideas for small spaces! Putting in a bed nook is one of them: it creates separate zones in a small room. In this example, the nook fits in lighting, a window, some shelves, and storage space — it could almost be a separate, autonomous room.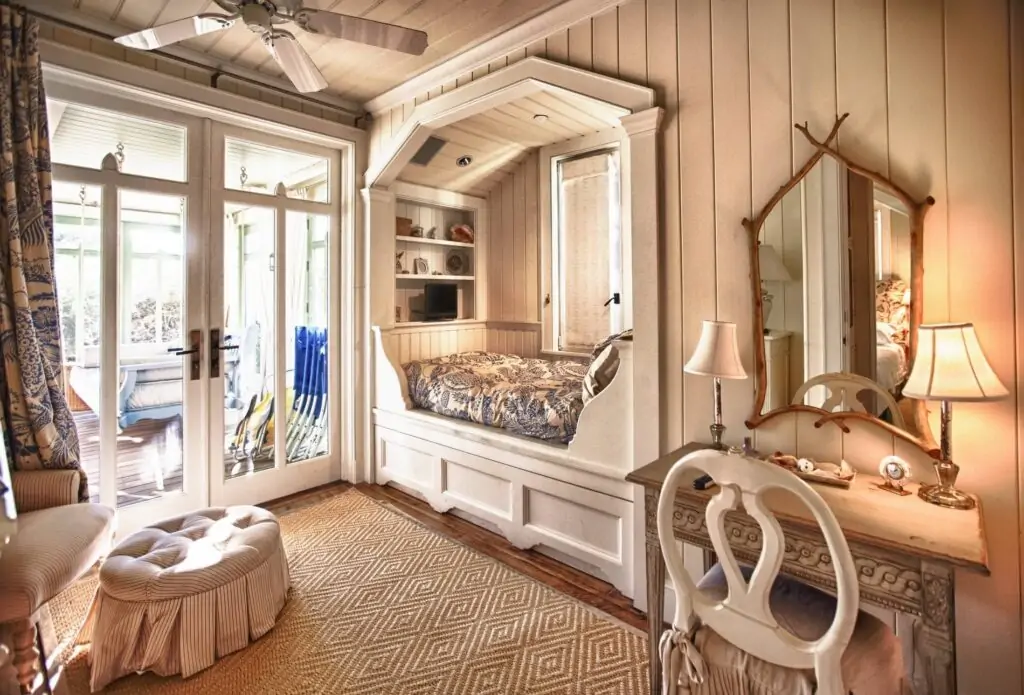 9. Paint It Black: The Art of Doing Just Enough
You might have noticed how black details can elevate the room, making the design look elegant and sophisticated. Be careful, though: there should be plenty of light — and light colors — so that the room doesn't look too dark. This example featuring black and dark grays showcases how it may be done — and indeed, this room looks glam but not gloomy!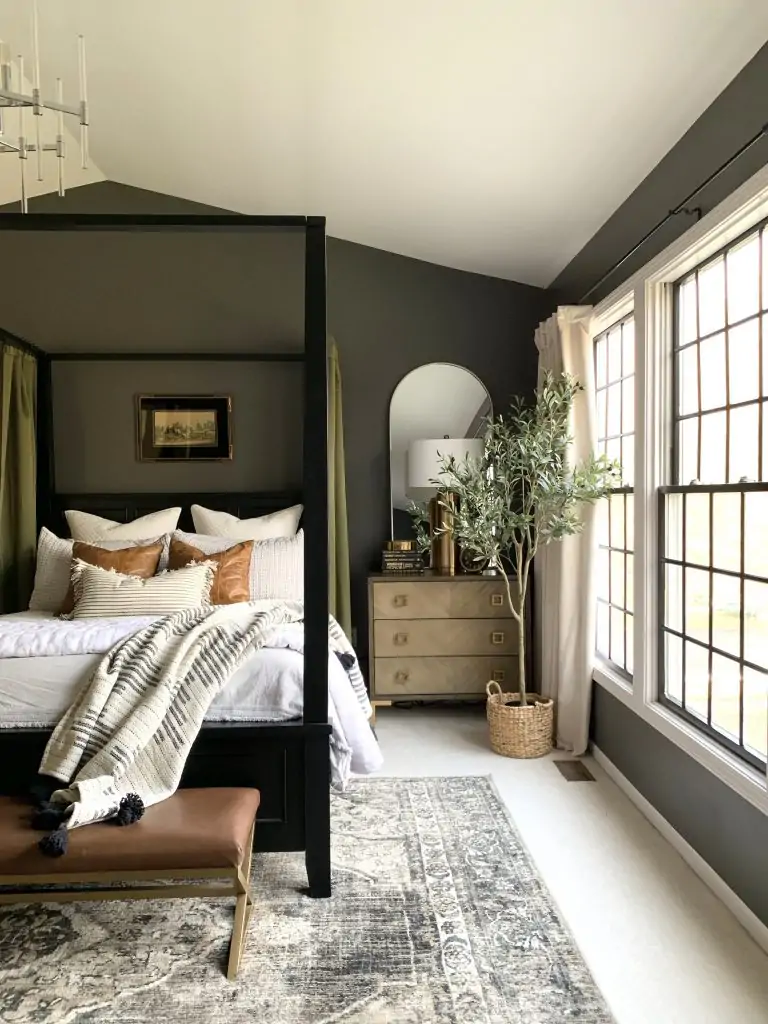 10. The Picture on My Wall: One Detail to Tie It All Together
Minimalistic design can look great in bedrooms, but minimalism doesn't mean naked walls! Here's one of the wall decor ideas for a master bedroom that you can't go wrong with: hanging a large painting above the bed. You can easily find one that fits your style, and it will give your room a finished look.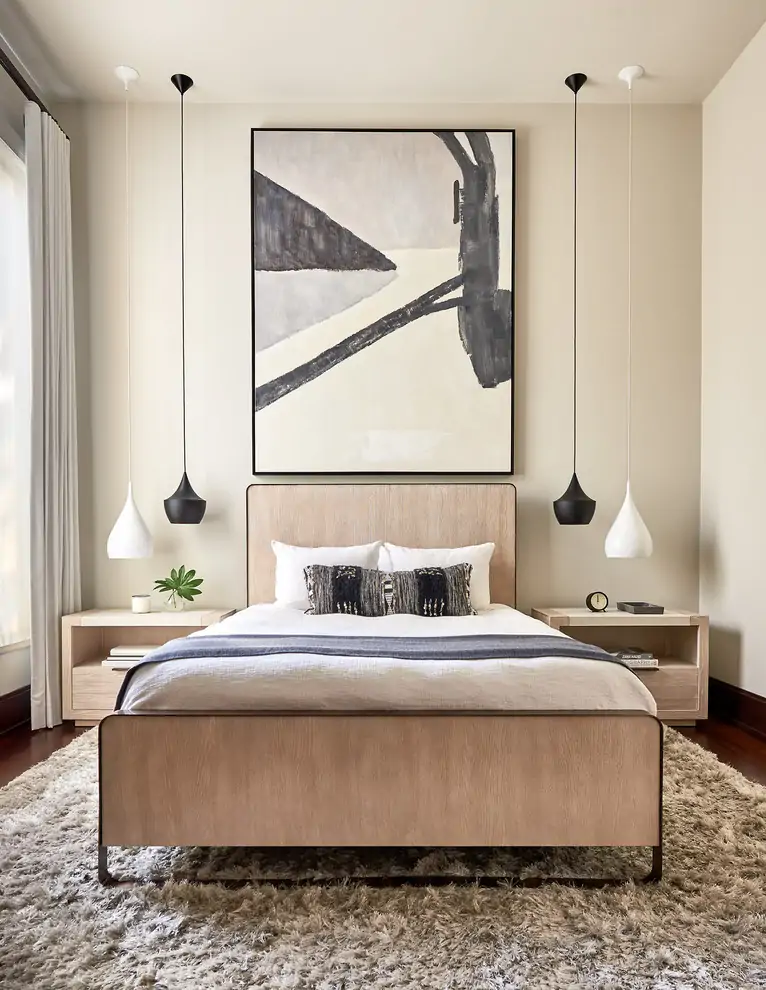 11. A (Non-) Perfect Match: There's a Place for Experiments
Speaking of designing a master suite in general, we'd make a grave mistake if we didn't mention unusual design ideas for a master bathroom! Here, the furniture matches the bedroom's design, but the wallpaper is very distinct — and 'loud.' It might have been too much for the bedroom itself since most people prefer something calmer in that space, but it's perfect for the adjacent bathroom. Nicely done!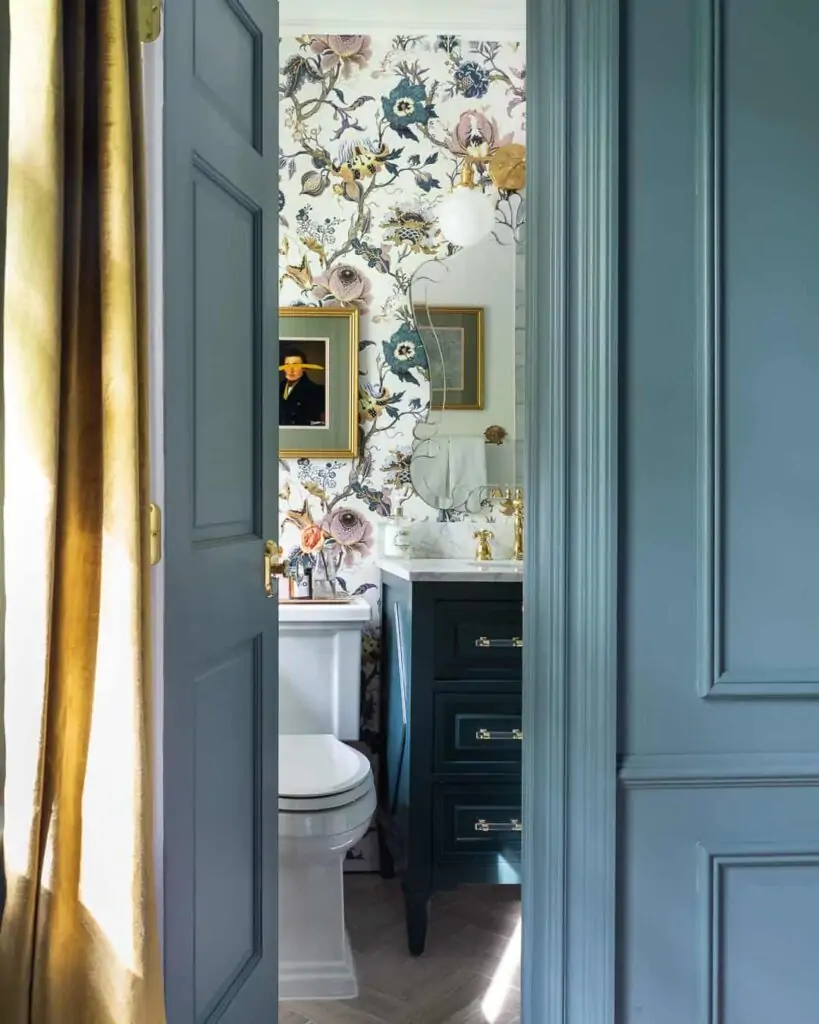 12. Stand Clear of the Closing Doors: A Simple Detail with a Lot of Use
A nice way to keep up with the trends while designing a master bathroom is to use a barn door for the entrance. Those kinds of doors look very neat; besides, sliding doors have the additional function of saving space if this is something that concerns you.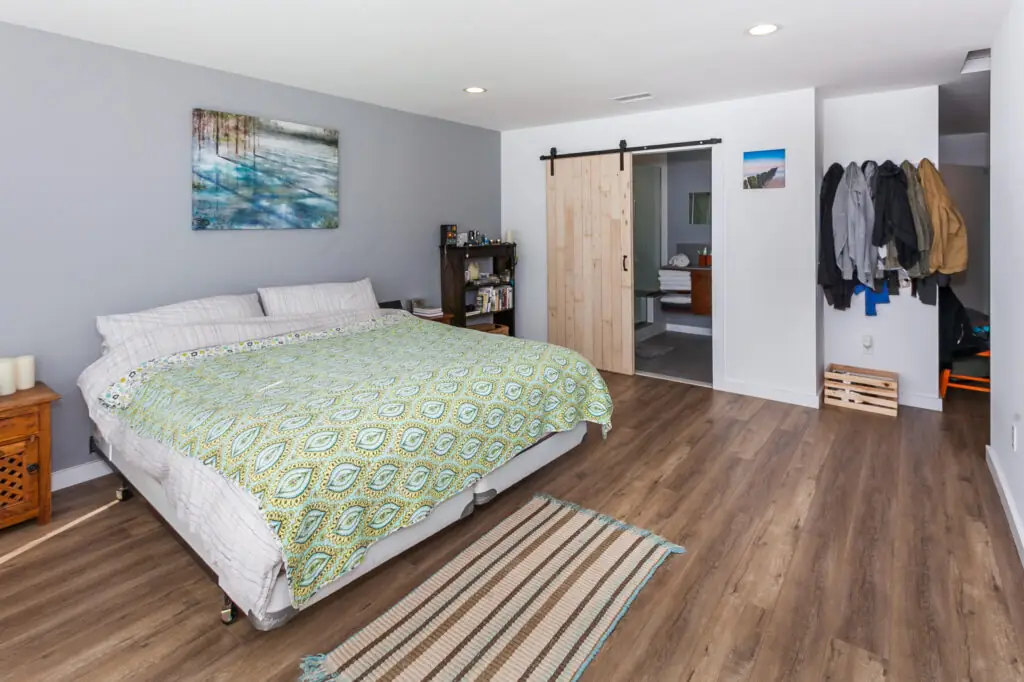 13. Getting Everything Sorted: A Small Wardrobe That Packs a Punch
Most people need some closet space in their rooms, so what about wardrobe design ideas for a master bedroom? This floor-to-ceiling closet looks compact on the surface, but it's very spacious and functional, with compartments for clothes (and shoes) of any type. The rich walnut color looks very stylish, too.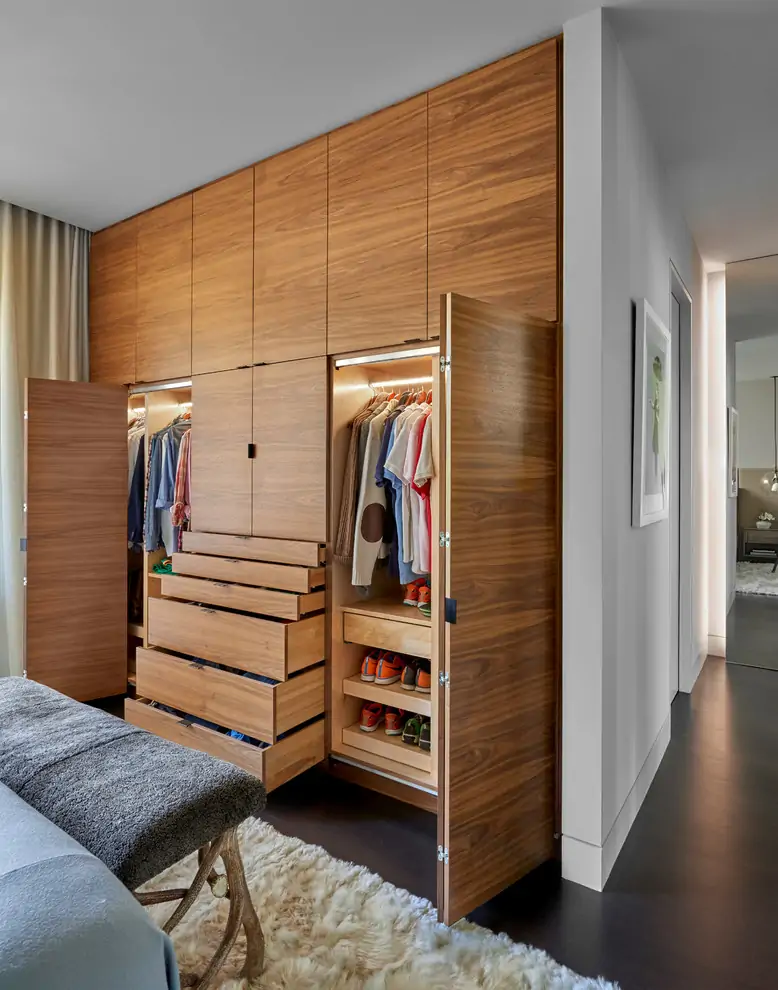 14. Changing Your Stripes: Some Simple Lines Can Transform the Space
This room is another example of stark black design elements working well. A black vinyl stripe that goes across the whole room, including the ceiling, visually accentuates the bed. Note how the lighting plays off this color: it must look even more enticing when it's dark outside.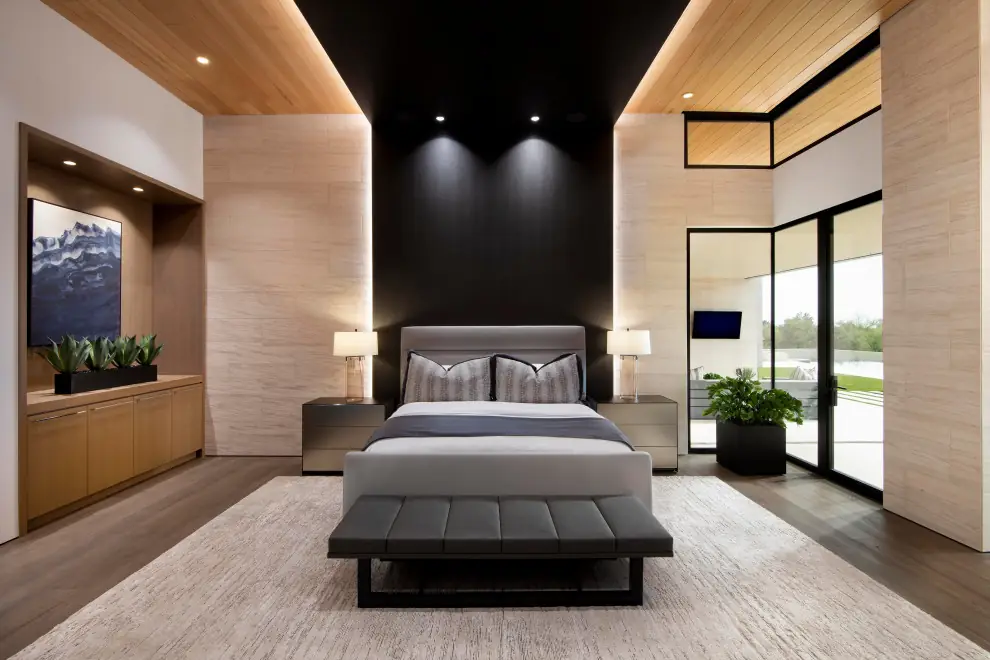 15. Everything in Its Right Place: Dividing the Space
Big master bedroom design ideas often include separating the room into zones — in this case, there are a sleeping space and a reading space to help the owners to switch between modes (and moods): resting or just taking a break with a book. Note that there's an easier way to create such zones: instead of building a wall, it's enough to put your bookcases strategically to create a separate space.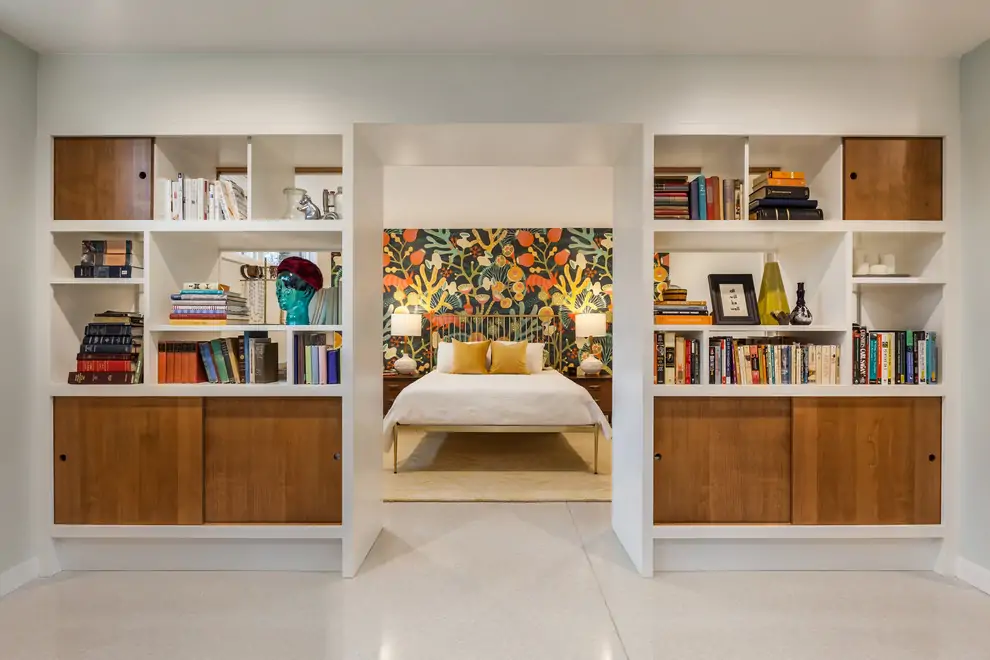 16. Read (In) the Room: Bedrooms Are Not Just for Beds
If you like spending your time with the book but don't have the space or resources to design a dedicated reading zone — don't let it stop you! You can probably fit at least a reading nook next to your bed. It can be as simple as this one: just a cushioned bench and some bookshelves. Bonus: there are some storage drawers under the bench, so this leisure space also has a practical use.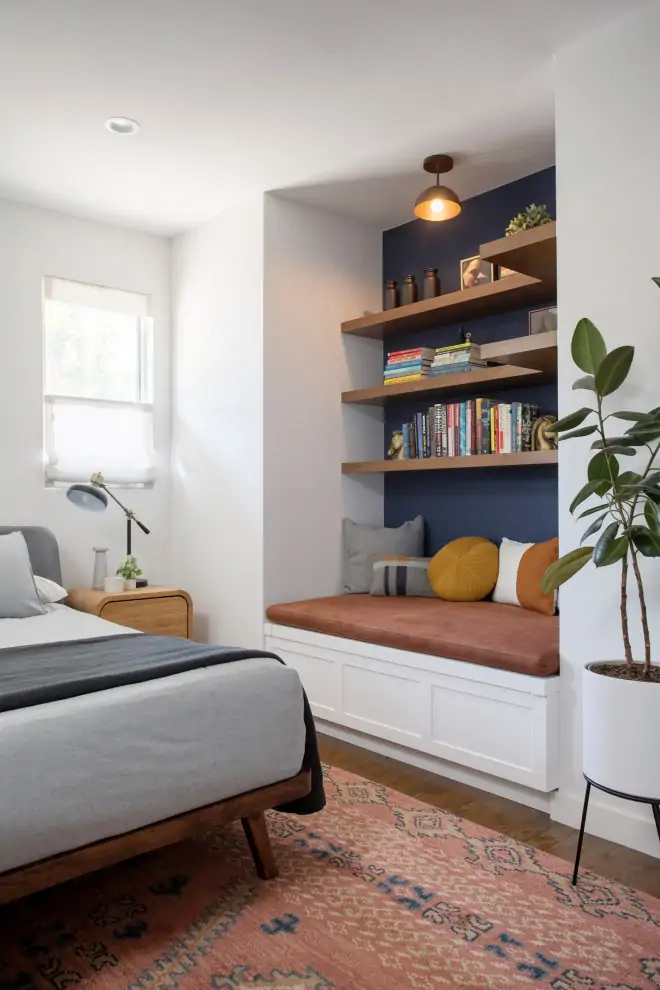 17. Flower Power: Fighting Against the Boredom
An accent wall doesn't necessarily have to be monochrome! Just look at the colorful wallpaper in this example. Despite its multitude of colors, it is well-matched with its surroundings: blues on the curtains and the bed and the darker part above.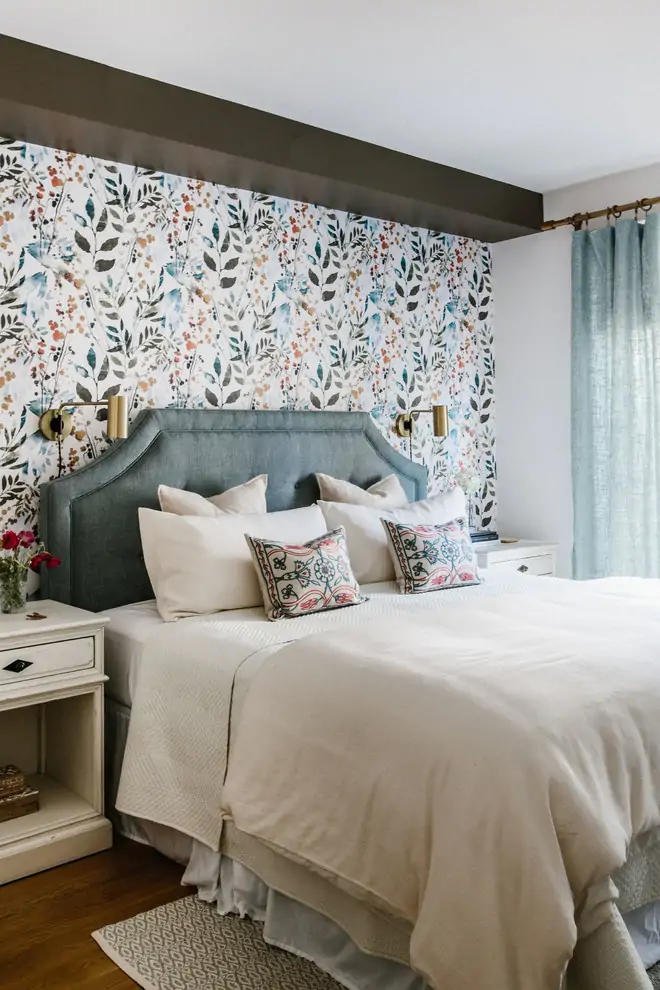 18. Some People Come with a Lot of Baggage: A Storage Wall
This large master bedroom's owners sure have a lot of things — and a lot of space dedicated to hiding them. This room-wide, almost ceiling-high storage combines both bookcase and wardrobe design ideas for a master bedroom, fitting all the clutter neatly behind closed doors. Note how the bed fits snugly into the small opening, creating a complete look.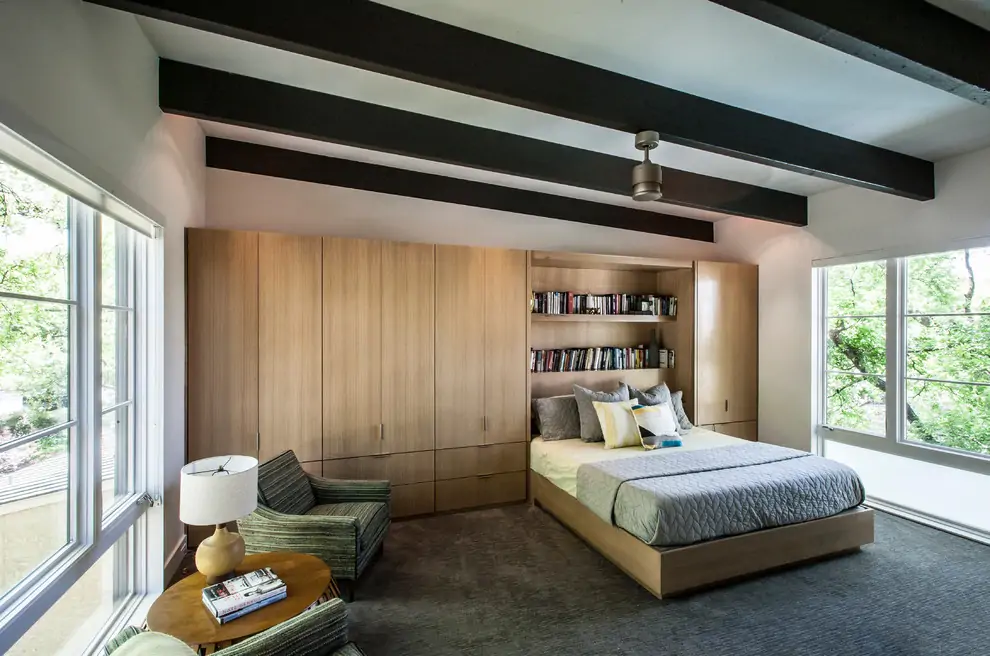 19. There Ain't No Such Thing as Too Shiny: A Polished Look
Many people opt for materials with a luxurious but clean look — like metal — when considering interior design ideas for a master bedroom. This one takes it up a notch with its shiny headboard, which looks very nice between those mirror frames. Even the brick wall and the bedding show off their luster. Brilliant!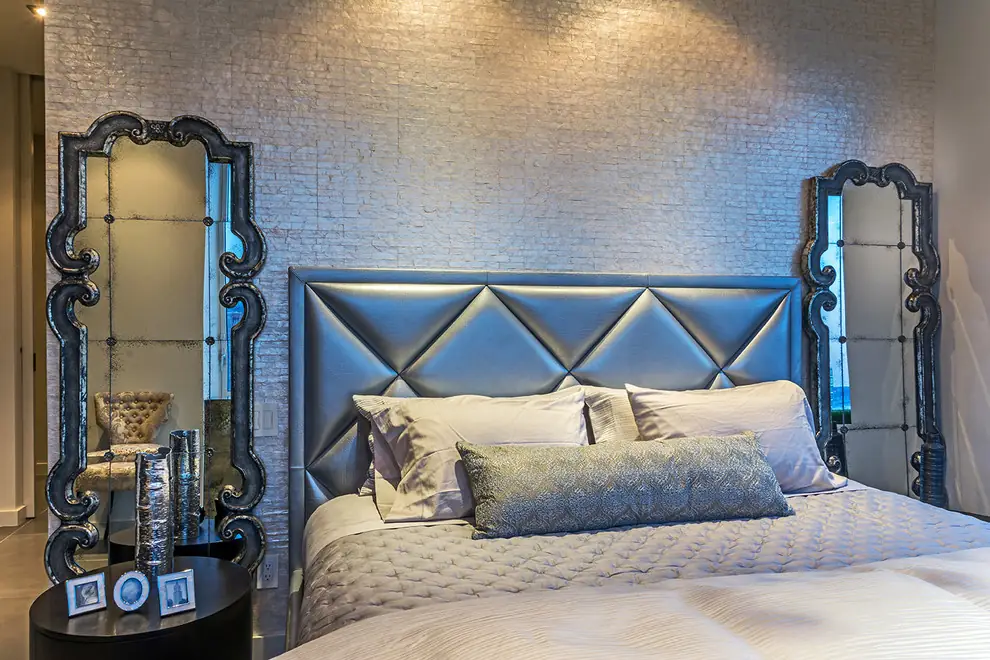 20. No Need to Leave the Bedroom: Another Way to Relax
One of the staple pieces of furniture for a bedroom that we might not have talked about much is a bench at the foot of the bed, which can add greatly to the master bedroom's coziness. In this example, there's something even better in place of such a bench — a couch! Good enough both to dress (or undress) on or to chill out.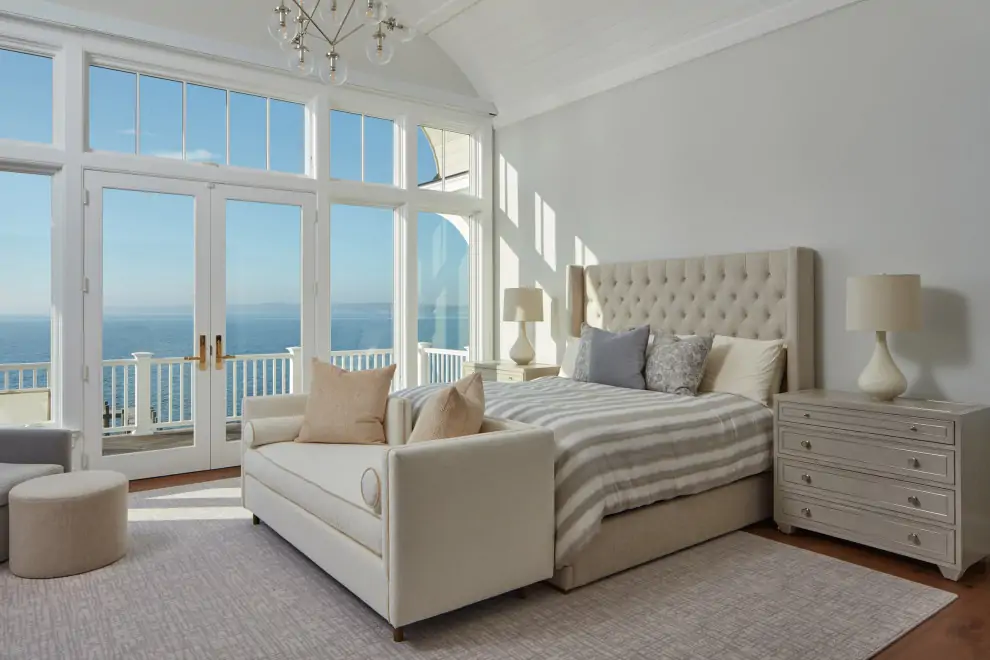 21. Dreaming next to the Fire: A Romantic's Paradise
Among the design ideas for a large master bedroom, putting in a fireplace holds a special place. In this spacious room, the fireplace is complemented with furniture set perfect for romantic evenings. Thanks in part to large windows, it's obvious that during the day this well-lit, beautifully designed space still looks majestic.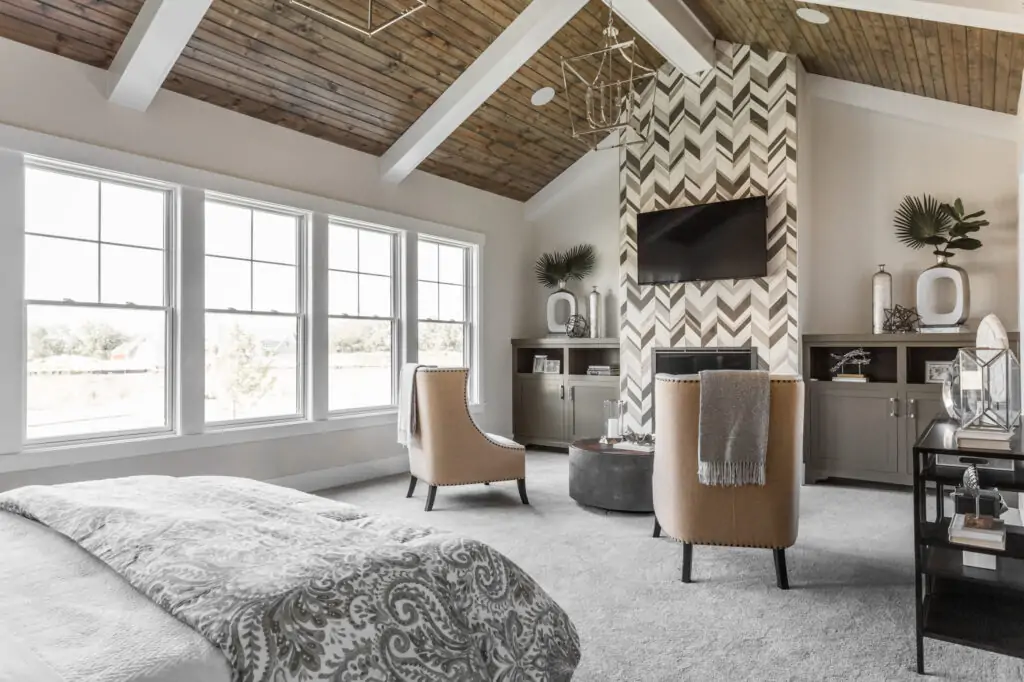 FAQ
Here are the answers to the questions people often ask about designing their bedrooms.
Can you give me ideas for basic master bedroom remodels?
We've overviewed many design ideas for a master bedroom, from simple to elaborate. Here's a quick summary of the most basic of them — the ones that don't require too much planning or resources:
Make an accent wall;
Divide the space into zones with furniture — or make a nook (be it for your bed or hobbies like reading);
Let the natural light in with the larger windows (or more windows);
Use the wall space for shelves and wardrobes — and yes, this can include the space above your bed, too;
Think about some bright, colorful, or shiny accents in furniture or decorations;
Put in more seating space;
Hang some art that matches your style.
What are some creative lighting ideas for a master bedroom?
When it comes to lighting your master bedroom, here are just some of the points to consider.
Flexible lamps are great if you need a local light source that should be able to move — for example, from your bed to the nearby reading table.
A good light placement would be around the features you want to draw attention to — art, wall decor, and the bed itself.
Use natural light to your advantage and put the lighting fixtures where it doesn't reach.
And think about balancing your design! If you're making a statement with your lighting (like a chandelier), don't let it clash with other things, and vice versa.
What are classic wallpaper design ideas for redecorating master bedrooms?
There are some wallpaper styles that suit a bedroom well (and don't go out of fashion). Some of them are:
Monochrome textured paper, understated and elegant;
Bright romantic floral or leaf prints;
Metallic patterns;
Classic black and white;
Stripes (which may be complemented by patterns).
Note that a master bedroom makeover is not necessarily a costly affair! Check out this video for tips on doing that on a budget:
Conclusion
We know that finding the best design for a master bedroom is not easy: this is one of the rooms in the house that has to be perfectly yours. We hope that we managed to inspire you with the design ideas for a master bedroom in this article — or helped you come up with your own. Don't forget to come back for more inspiration!