15 Classic Dining Room Curtain Ideas You Can Adopt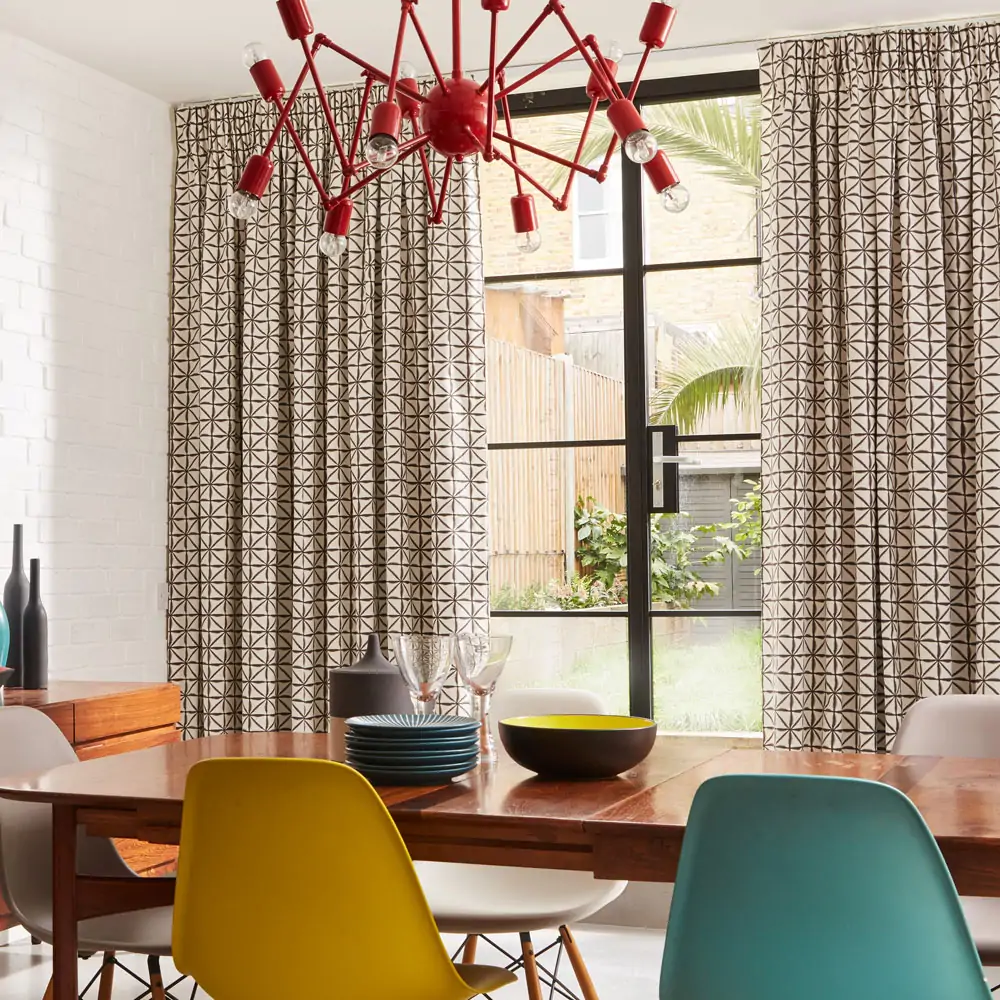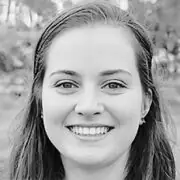 The dining room is one of the few areas of your home that is almost always open to visitors. For this reason alone, it is important that you use stylish dining room curtain ideas that enhance the appearance of your room and create a very good impression.
What's more, window coverings are essential for lighting up and properly insulating your eating area. In this guide, we've collected 15 excellent curtain ideas for functional coverings that also add beauty to your space.
Raise the Curtains for Extra Length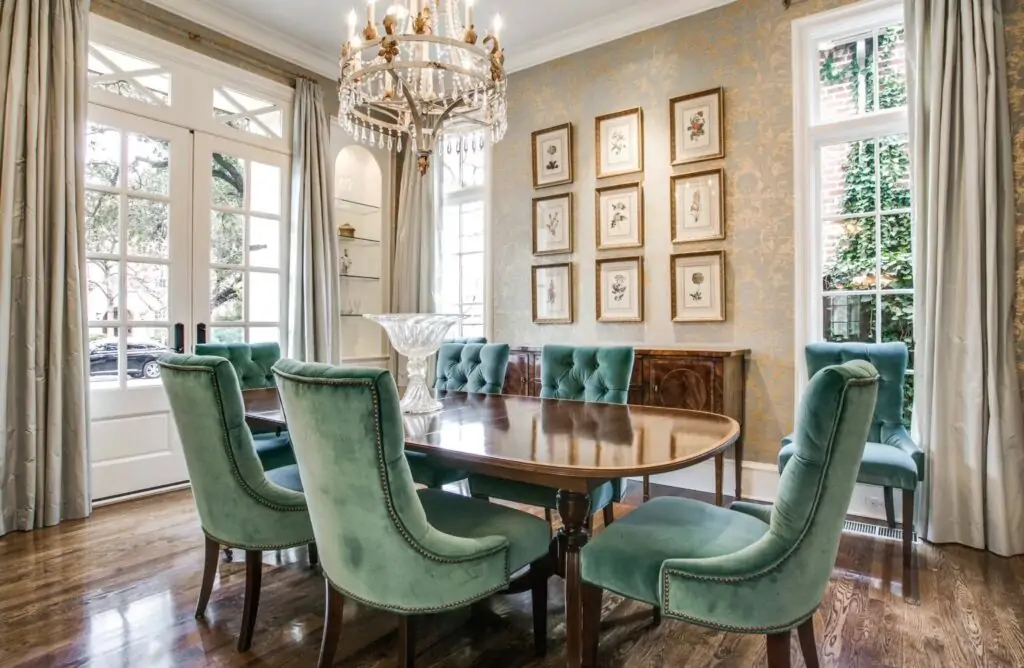 If you're looking for a window treatment that is both decorative and functional, you can run drapes from your ceiling to the floor. The norm is to place your curtains just a few inches above the windows, but a few inches more will draw attention to your tall ceilings, giving a dramatic effect that is stylish and decorative.
In addition, you don't have to worry about the expense of the extra length. Drapes are simple and affordable, so the cost of the extra length will be insignificant, even though it makes a major positive impact on your dining room decoration.
Match Your Curtain with the Dining Rug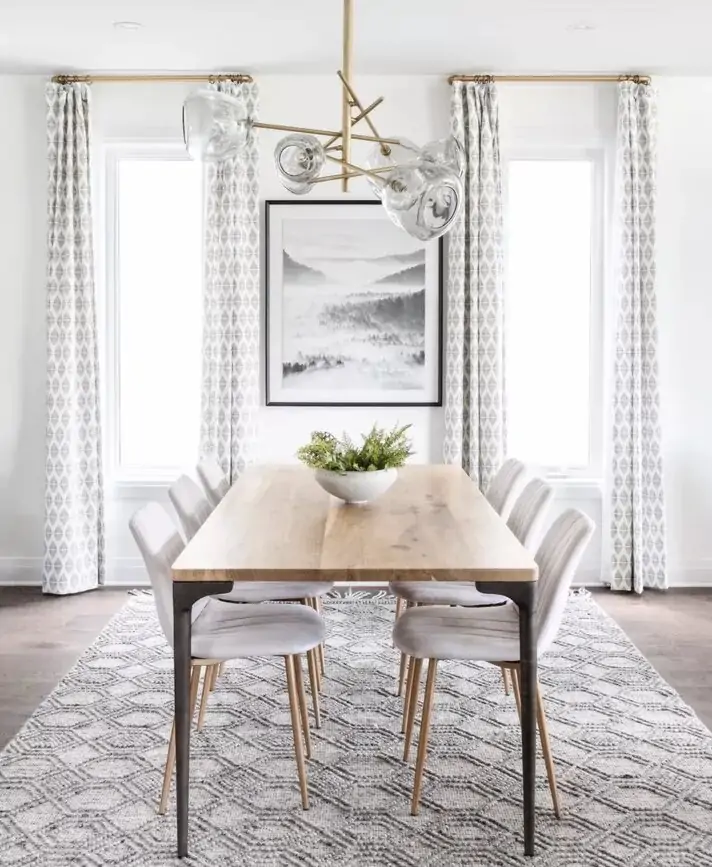 The right placement of objects can greatly improve your designs. Your window treatment can do more than simply control natural light and ensure privacy: give attention to its length and design, and it will become a decorative piece.
One of the surest ways to achieve this is to extend the design pattern of your window coverings to your dining rug (even if it is a small center rug). Your eyes will instantly recognize and pair similar patterns across the space: this will create an impression of continuity and leave your visitors impressed by your decorative efforts.
Run Curtains from End-to-End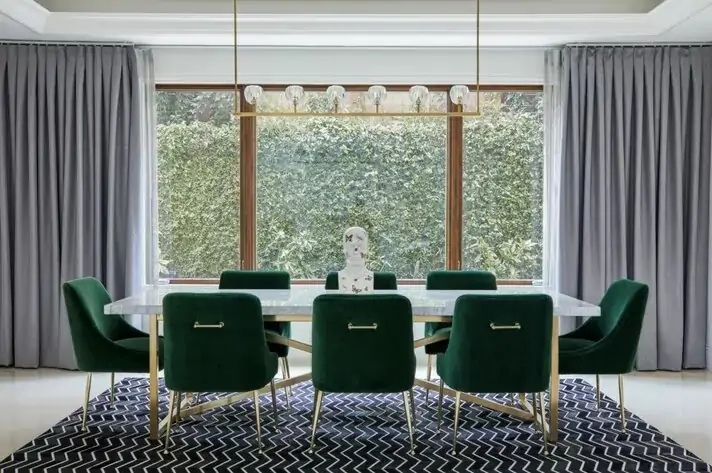 There's no rule that your coverings must spread only across window length. The most striking living room curtain ideas for windows make use of this fact, and your dining room can benefit from it too. If there's a large window in the room where you eat, why not add a larger curtain that covers the entire wall length?
This way, your curtain will have sufficient space to open up, bringing in more light. What's more, if you also adopt some stylish dining room valance ideas, your place will get an even greater cinematic and luxurious look.
Complement the Wall Paint with a Darker Shade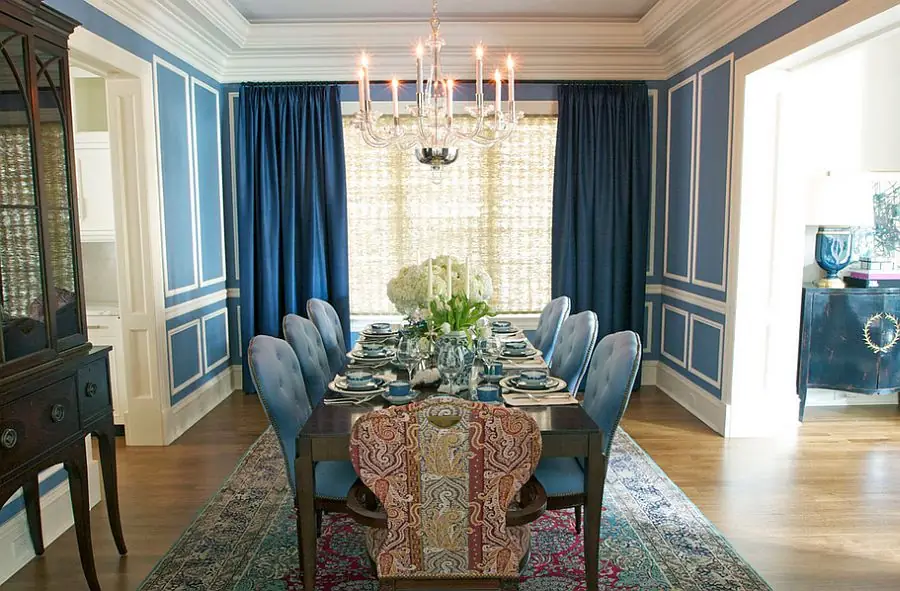 A good decor artist will always recommend bright paint to reflect more light and provide a lively feel in the space where you eat.
To complement this approach, here's our recommendation from the top trending casual dining room design curtain ideas. Use a curtain with a slightly darker shade: this solution preserves monochrome design while not allowing it to get boring. The reason for this is that the dark shaded-window treatment makes a perfect background for both your bright windows and walls.
Add Style with a Curved Curtain Rod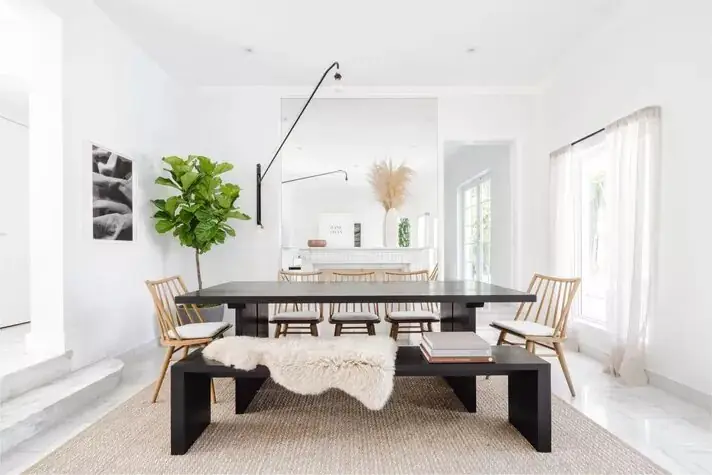 Sometimes even a simple tweak from normalcy is enough to produce an impressive effect. The same can be said of the most practical of our living room curtain rod ideas – using curved rods rather than straight ones with hooks on each end.
This unique idea gives a sense of continuity, especially when the curtain's color matches the wall. It'll look like the coverings protrude like a translucent extension right out of the wall. Moreover, the unusual rectangular shape of the rod makes it a decorative delight.
Curtains That Match Walls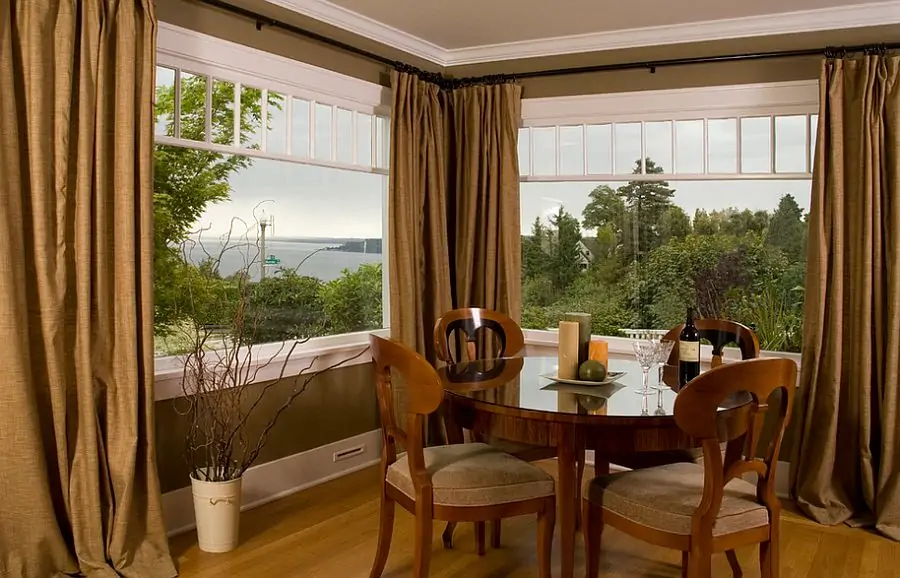 A monochrome room design is simple yet always effective. With this design, you are not limited to your walls, floors, and furniture. You can extend this theme to your window treatment using the same color to saturate the space with your chosen shade.
Use Light, Translucent Drapes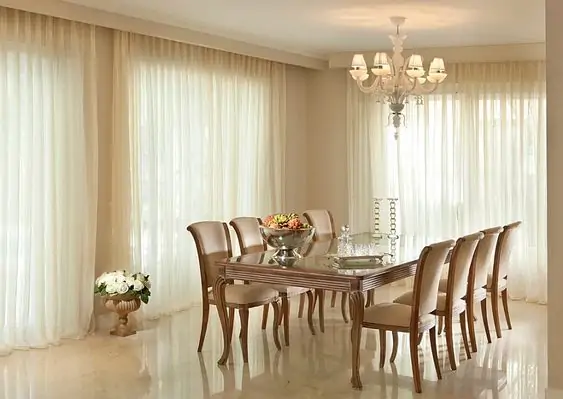 Light is essential to create a lively atmosphere where you eat; while you can achieve this with good light fixtures, it is always better to use natural light. However, moderation can be a problem when permitting light through your windows. Lifting the coverings of an east-facing window often invites too much light, while spreading them can make your room too dark.
Using translucent drapes can be a perfect solution. These materials are designed to let sufficient light through them, enough to brighten your room, allowing you to bask in the sun without being blinded by it. This is one of the better modern dining room curtain ideas: with the right length and color, you can make this functional solution decorative too.
Use a Flower-Patterned Design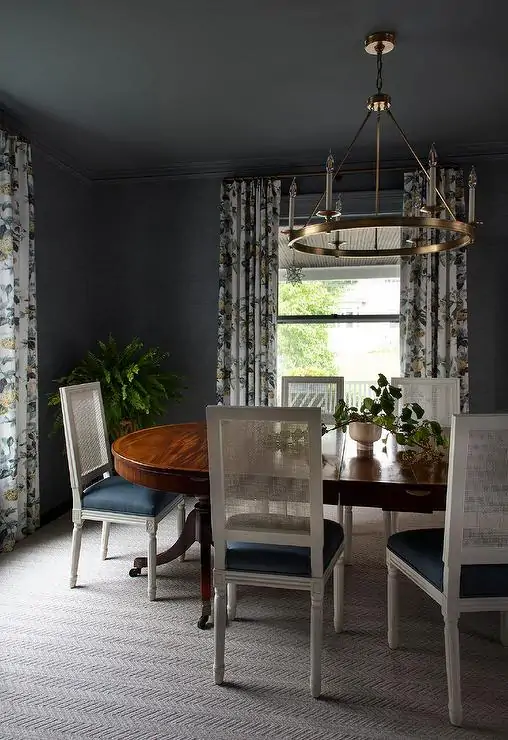 Solid bright colors used for the wall and a large window in one part of the room are ideal settings for a modern dining space. This arrangement ensures that sufficient light is let in and reflected across the entire room.
However, the light can become excessive in a large space with big windows, but dark flower-patterned coverings can help control this reflection and tone down excessive brightness. What's more, living room curtain ideas for big windows like this can make your window dressing an impressive focal point.
Try a Color Combo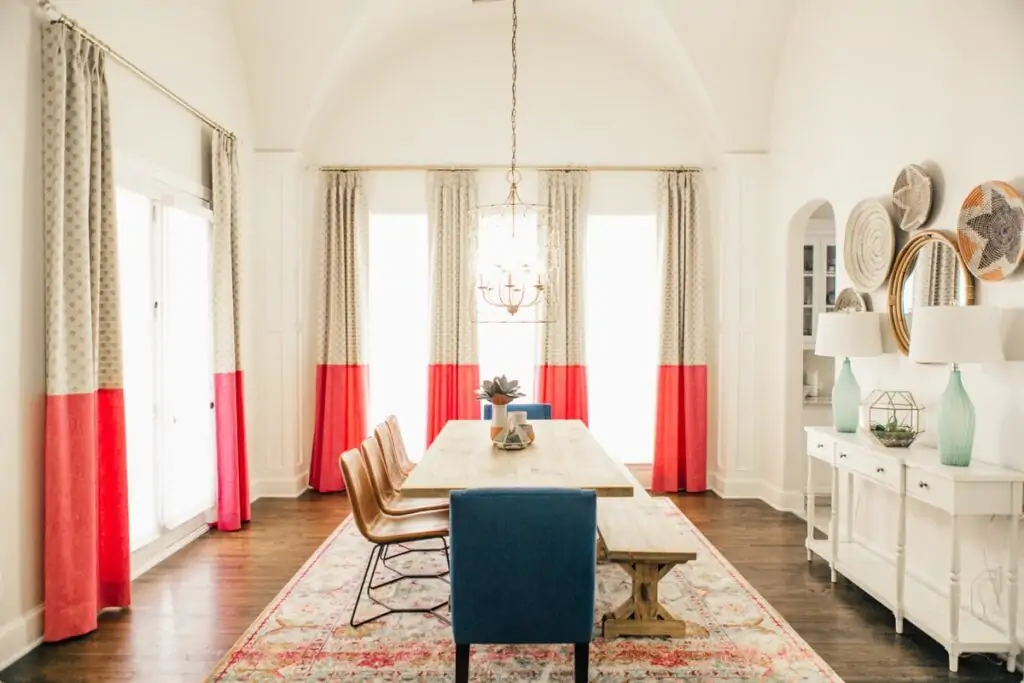 It is not difficult to choose a window treatment that matches other room accessories if they are monochrome. It is quite a different matter if you have dominant accessories of varying colors
However, you can overcome this challenge by using a curtain that combines several colors. Excessive colors on your window covering can look too busy, so it is best to stick to two or three colors from dominant accessories. This solution is one of the better living room curtain color ideas that produce a blended design throughout your dining area.
Open up to the Garden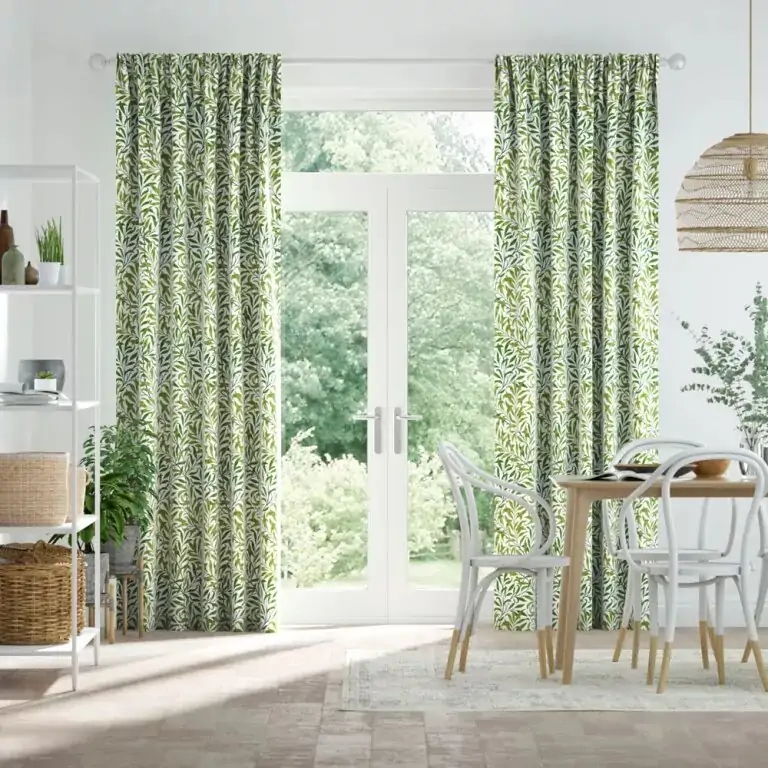 There are few times when interior decorations blend with the exterior, but when they do, it's always a perfect sight. You can create such a sight with your window covering if your dining window opens to a garden.
All you need to do is use a green leaf-patterned full-length drape for your window. When you open the covering, you will see a natural sight, and the drape will become a gateway to and an extension of nature visible from the inside. This choice of color provides a truly dramatic sight. It's even worth cultivating a garden for.
Pair Together Your Tablecloth and Curtains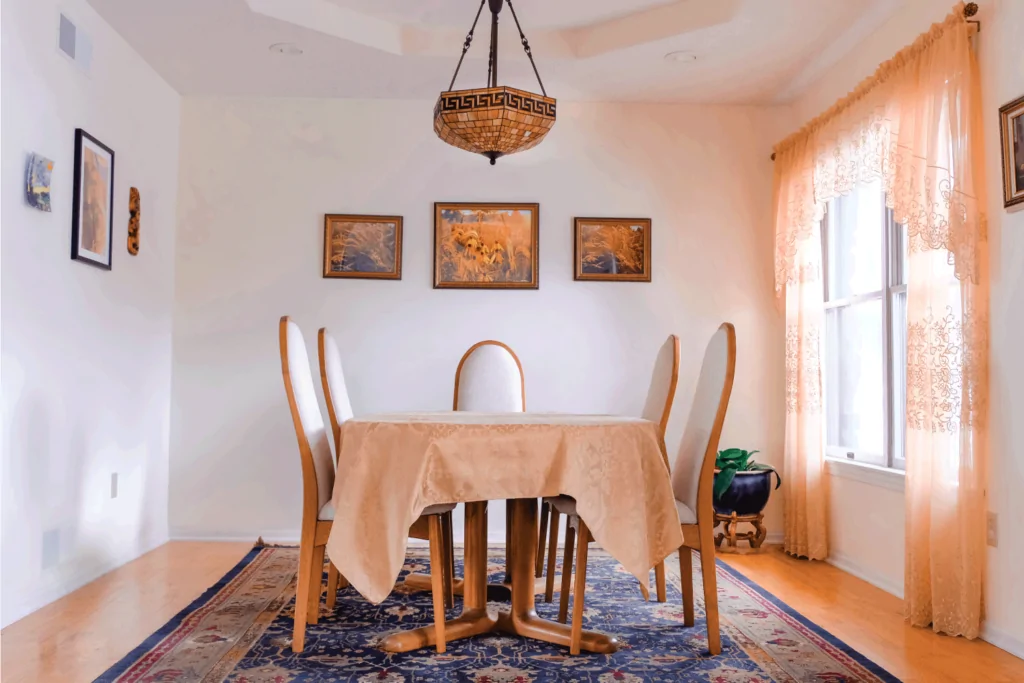 You might already have a color in mind for your dining curtains, but what if it doesn't match your walls or floor? It sure will be clashing to use for your window covering a color that is entirely different from your walls or rug. Designs go best in patterns, and it is no different here.
You can create a simple pattern by pairing your desired color with your tablecloth. This way, your window treatment does not clash with the room but matches the color pattern of your tablecloth. In addition, this creates a striking sight, especially where bright colors are used.
Use a Checkered Curtain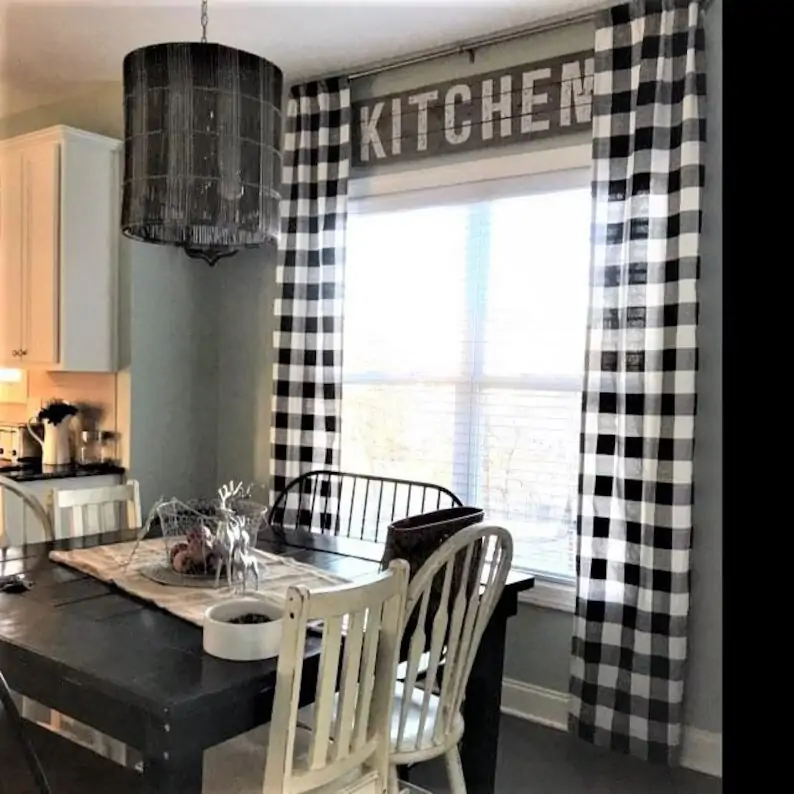 Checkered patterns are a popular choice for clothes, sheets, and even curtains. The perfect weave of bright and dark colors on the fabric makes them good pairing materials for any neutral background.
In addition to the decorative value of their design, checkered patterns also offer additional functionality. The weave of bright and dark-colored squares creates a variation in the amount of light they let through, providing a cinematic visual effect.
Introduce the Cafe Design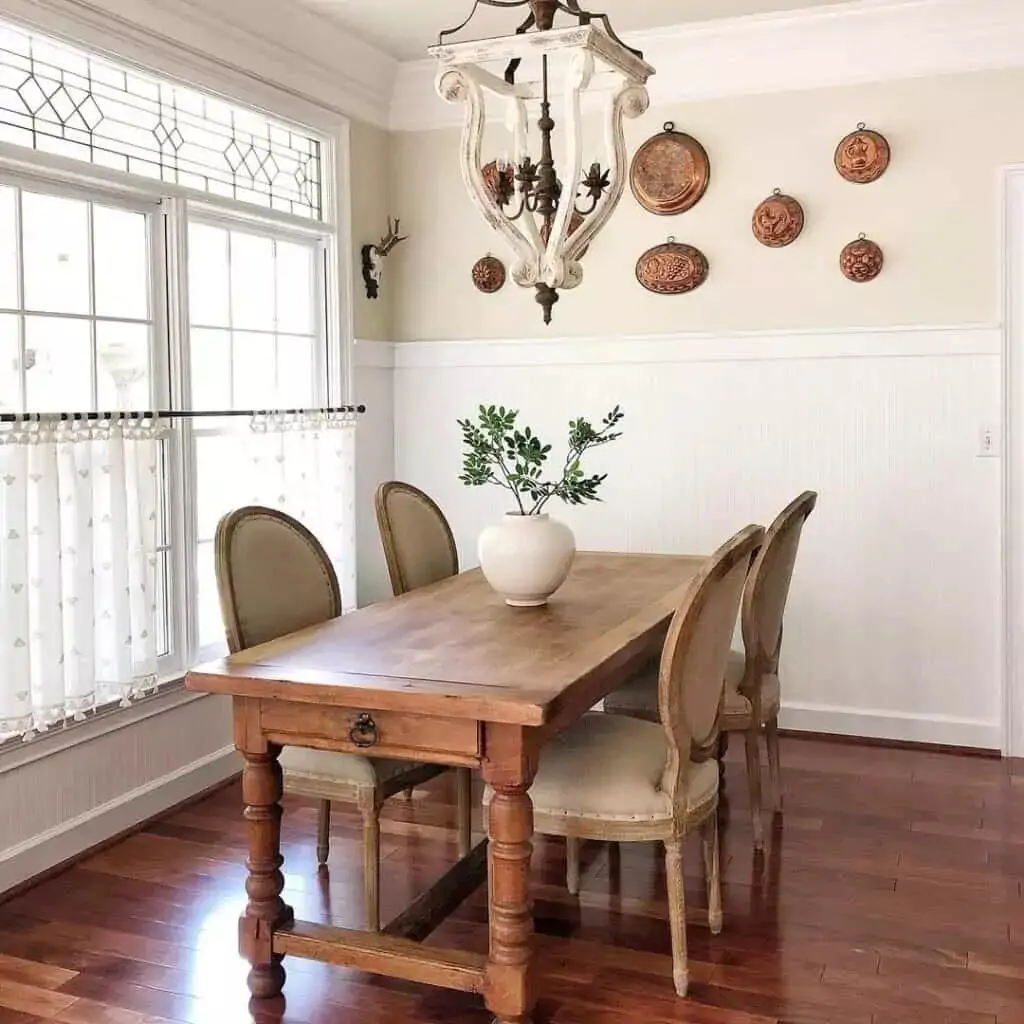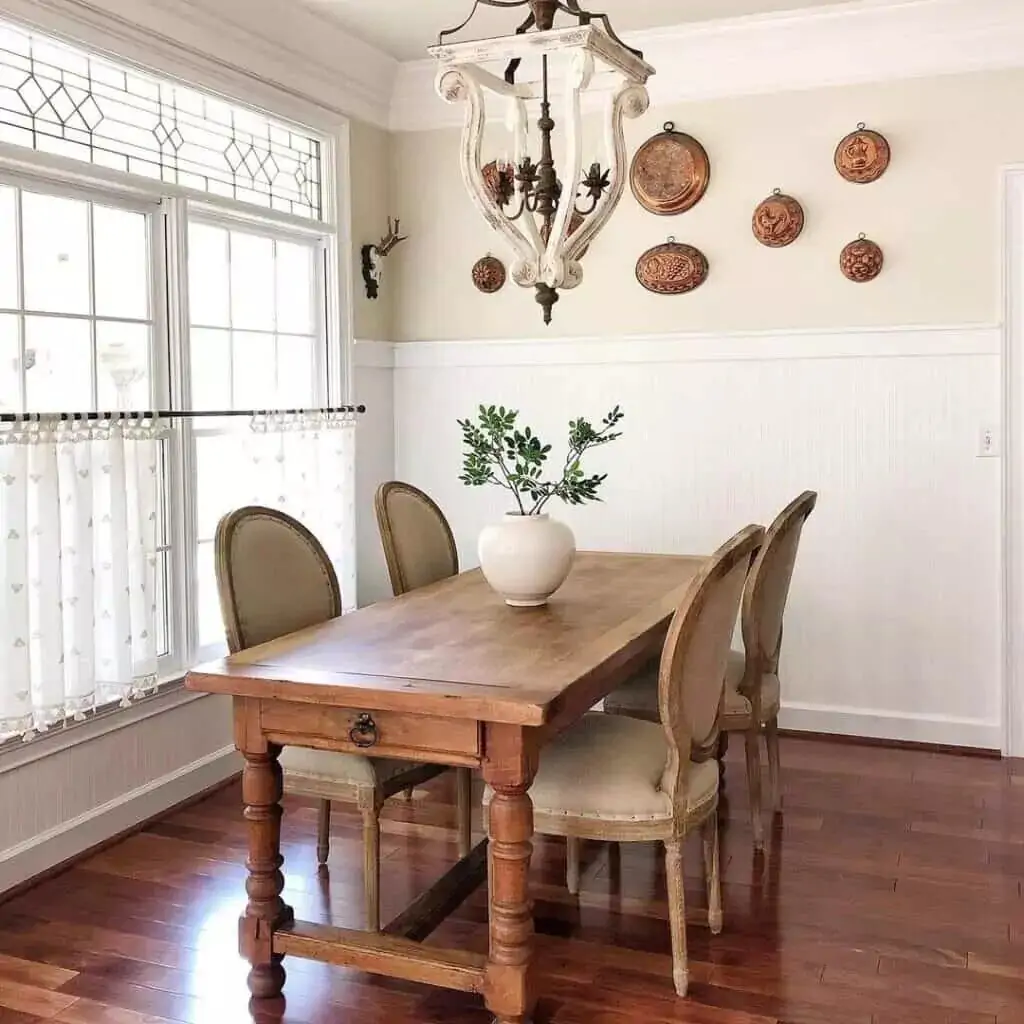 Small spaces for eating can be difficult to decorate; you never know when you're doing too much. Here is one of the better small dining room curtain ideas you are sure to like: use cafe curtains and blinds. This design requires dividing your curtain length into two, using blinds above and sheer curtains below.
It's a simple, unique, and interesting design solution to place curtain rods in the middle of your small window. This way, you have curtains to cover the lower part of your window for privacy while you eat. You also have blinds above to let sufficient light in and shield you from the bright rays of the summer sun that is high in the sky.
Install Hanging Curtains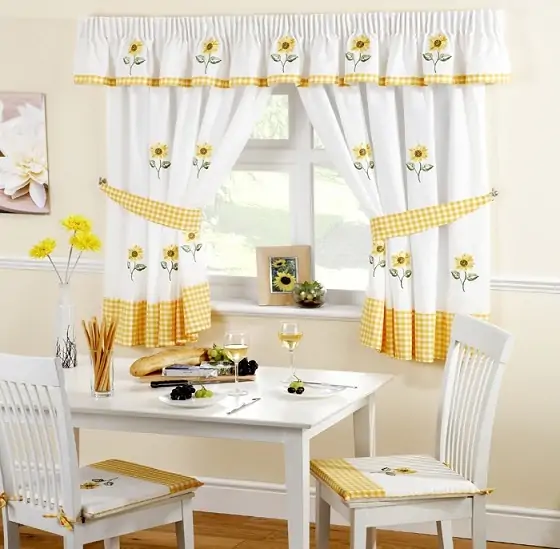 While full-length curtains are currently leading the trend, a step back in time reminds us of hanging curtains dancing to the tune of the breeze. Though not in trend today, these medium-length coverings can still produce an impressive decorative effect.
These coverings hang from rods above and end just below the window. It's best to use light drapes that are simple and can swing freely. You can also choose the curtains with a print at their base so that your dining room looks extra cute.
Use Both Blinds and Curtains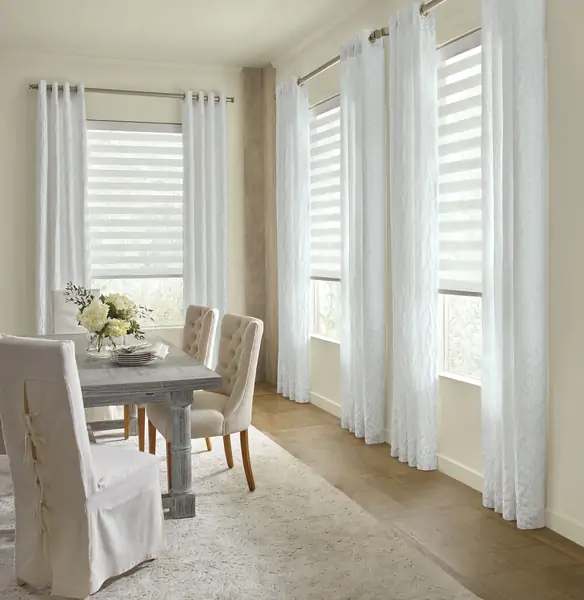 Did you ever have to choose between installing blinds or hanging curtains in your eating space? While there are many living room curtain ideas with blinds, only a few of them let you have the best of both worlds. So, what about having both curtains and blinds?
Since the curtain is not your only covering, you have the freedom to be as creative as you like. You can use drapes or sheer curtains without having to worry about how much light they let through.
FAQs
Below are the answers to some frequently asked questions.
What Curtains Can I Use in my Dining Room?
You can really use any covering for the windows where you eat. You can use drapes or sheer curtains and pair them up with any kind of valence. It all depends on your choice and what suits your decoration best.
What Length Should My Curtains Run To?
The length of your curtain also depends on your choice. While full-length curtains are in trend today, medium-length and short coverings can also look good and complement your interior decoration.
Should You Have the Same Curtains in the Living and Dining Room?
You can have the same curtains in both rooms and the entire house, provided they match the decoration in each room. If you have consistent decoration in the entire house, you can hang the same curtain throughout.
Final Thoughts
Window treatments serve functional and decorative purposes. Though an independent feature, they can make or mar your interior decoration. This article has highlighted 15 classic dining room curtain ideas that crown your interior decorative efforts. Whether you are furnishing a new apartment or simply renovating your house, these ideas will be good options to adopt.