Corner Shelves Ideas to Maximize Your Storage Space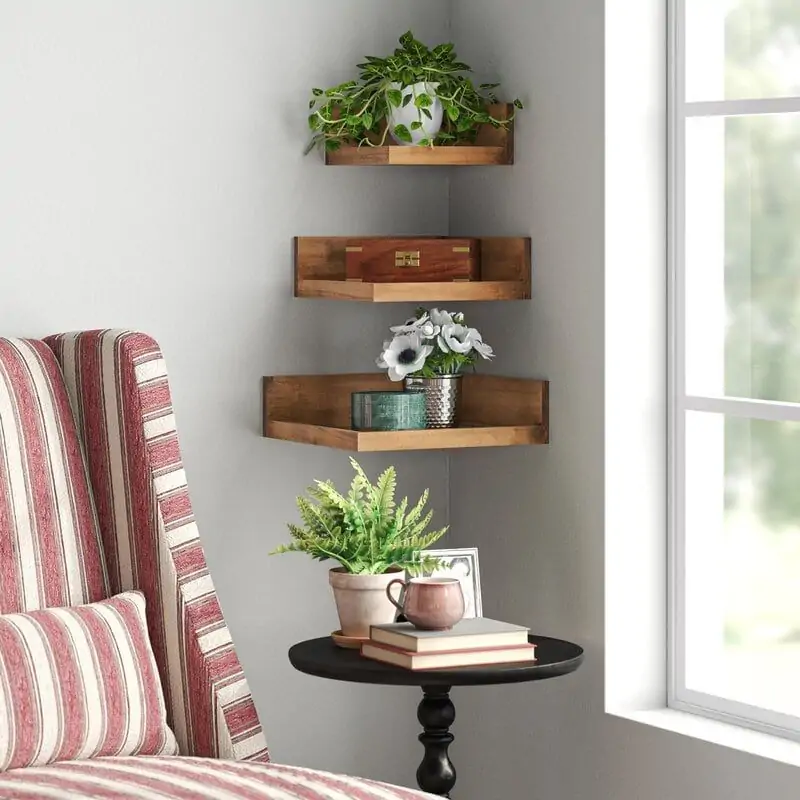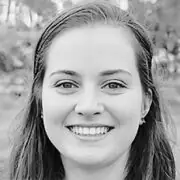 If you are looking to squeeze the most out of all the limited space of your small home or apartment, corner shelves ideas will be your best friends! That is because corners seem to go unutilized in most homes since most people believe that you cannot fit much furniture in those awkward spots. In this article, we have brought you 10 simple, functional, and aesthetically pleasing ideas to change that erroneous idea.
From floating shelves to triangular pieces of furniture that fit right into odd nooks, these unique ideas will maximize your storage space in a visually appealing way. You can use them to store your kitchen spices, dishes, lamps, books, houseplants, and much more. Let's get started.
1. Right-Angle Corner Shelves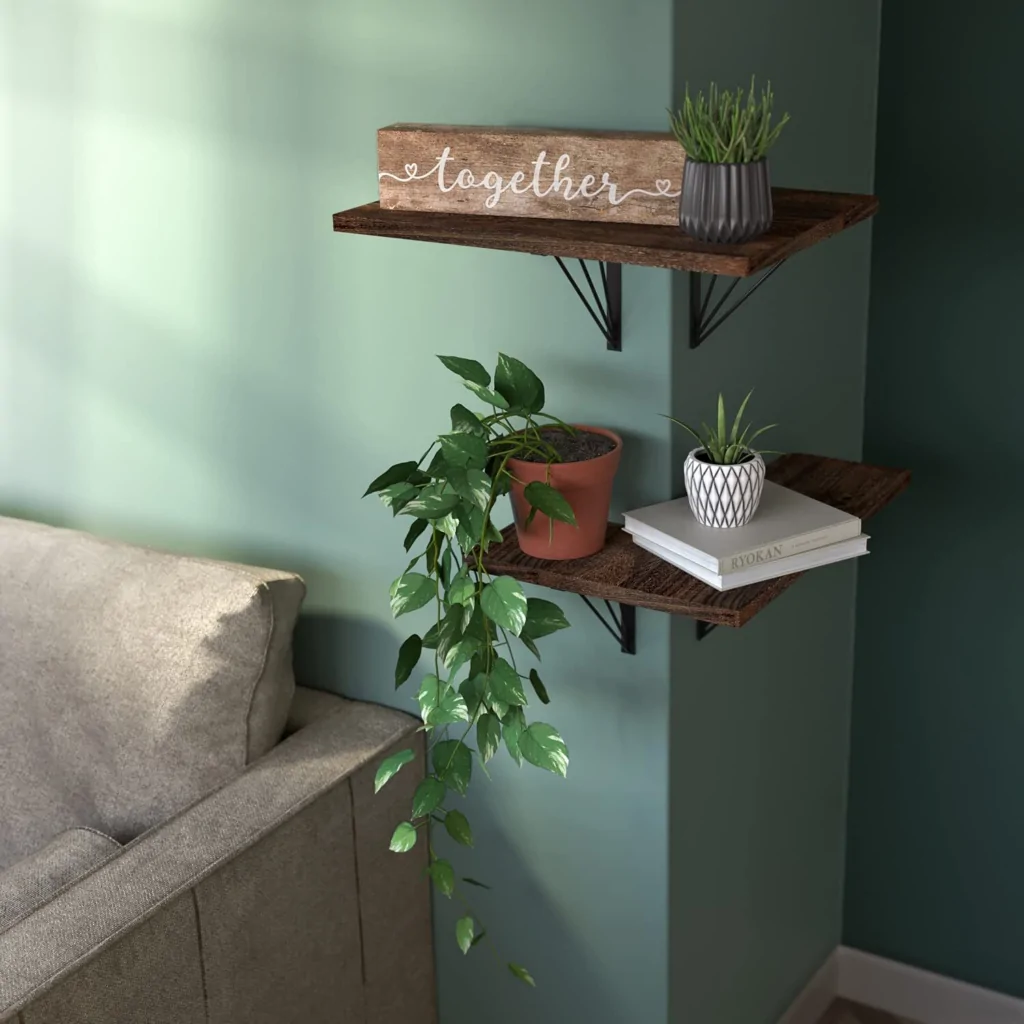 Right-angle shelves, also known as L-shaped shelves, are ideal for making use of the corners of your bedroom. They have a low-key feel, making them discreet enough to offer tons of practical value without being too attention-grabbing. These L-shaped shelves offer two storage platforms perpendicular to each other, giving you more surface area to work with despite their space-saving characteristics.
You can mount them in both outer and inner corners (as long as they have dual installation options) by altering the orientation. Since they are best used in bedrooms, you can place house plants, lights, books, or even some scented candles on these shelves.
2. Suspended Corner Shelf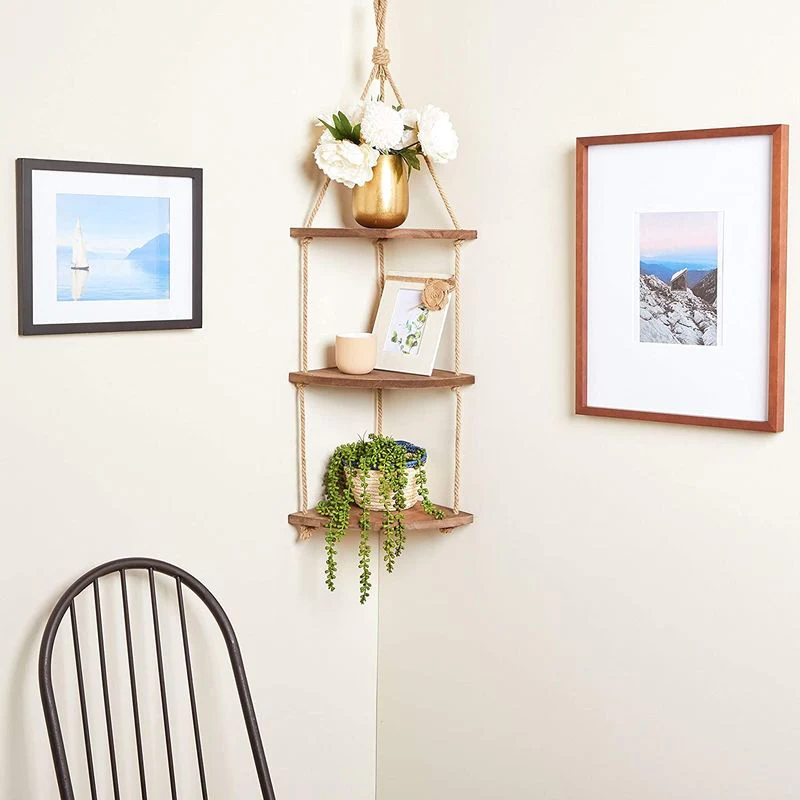 Need something to make your corner shelf stand out? Get a suspended one with a rope going up to your ceiling. It checks all the right boxes from an aesthetic standpoint and gives your room a wholesome, farmhouse country vibe that is otherwise hard to get. From a practical standpoint, the ropes also allow you to freely adjust the shelf height as needed.
You can find many hanging shelf designs with several tiers. No matter where you put such a shelf, it will be a statement piece and a focal point in your home. Feel free to place your proudest possessions on it, like some photo frames, medals, trophies, etc.
We recommend going for wooden shelves, as those, combined with a rope, will effortlessly radiate a cozy, homey vibe. It is one of the easiest ideas to make your space feel more inviting.
3. Corner Wall-Mounted Racks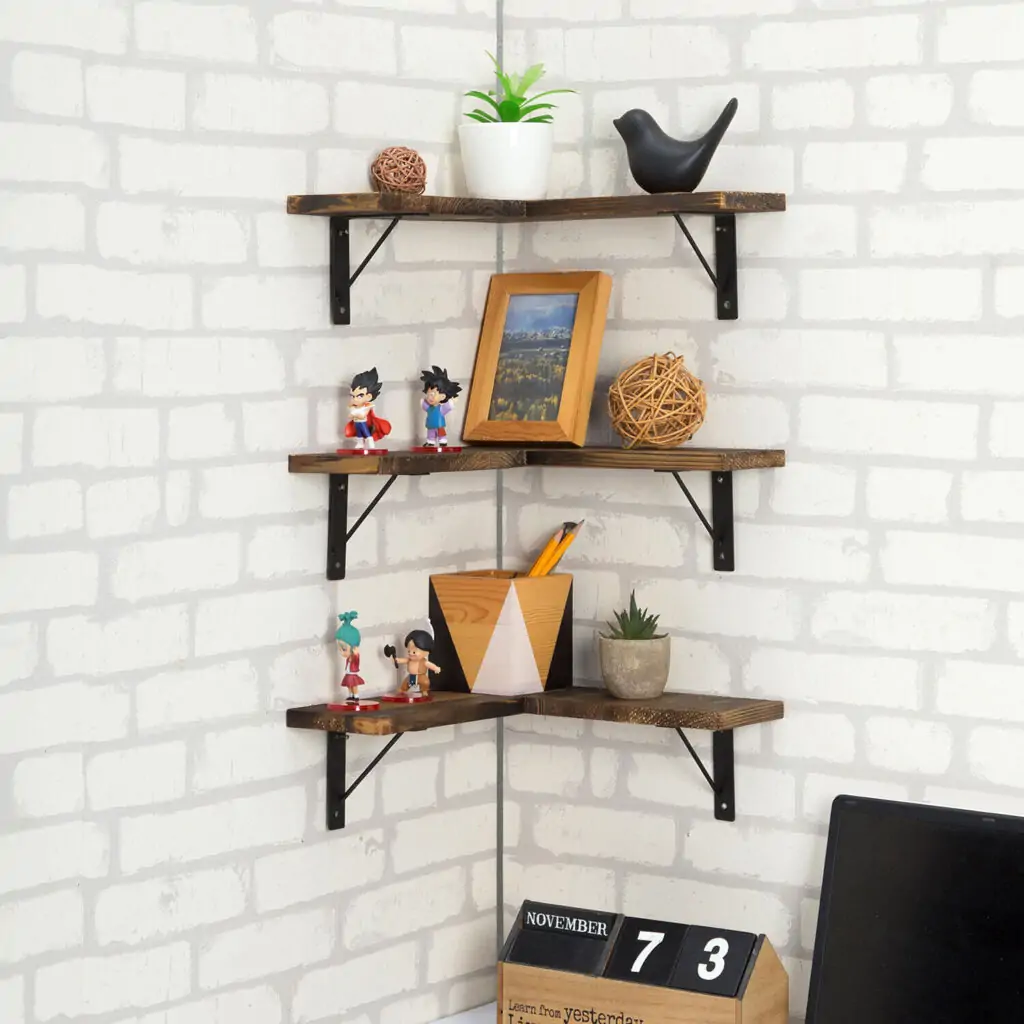 These are a common choice in small homes for some extra storage. Many designs allow you to adjust the height of the shelves as required, which adds to the rack's practicality and usefulness. That's because some items might be too tall to fit the rack while others are too small to make full use of the available space. So, having uneven shelves might make the most sense for optimal space utilization.
By adjusting your shelves to be just a little taller, you can comfortably fit in items like larger picture frames, plant pots, vases, and many other accessories — forming a beautiful display in your bedroom. You can even display art, flower bouquets, or awards, all of which are often too tall for most compartments. An adjustable wall-mounted rack can get them all the attention they deserve.
4. Zig-Zag Design Corner Shelf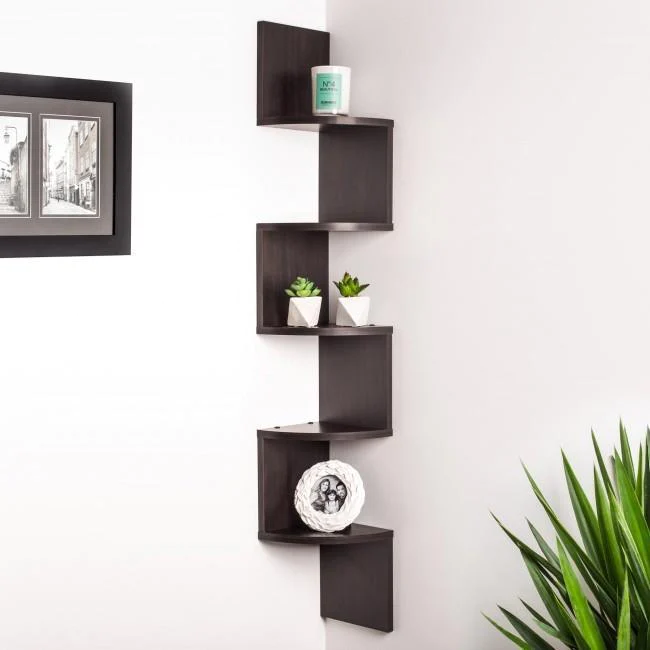 Zig-zag corner shelves have quickly gained popularity in recent years, and for a good reason. They are contemporary pieces that not only look unique in your bedroom but also offer tons of storage space to accommodate all your essentials and knickknacks.
Zig-zag shelving strikes the perfect balance between sleek, stylish, and practical — all while not being too boring, which is a pretty rare combination. Adjectives like rustic, urban, and modern are all suitable for them, which means no matter what type of taste you have in furniture, you will probably be able to appreciate their soft edges and out-of-the-ordinary character.
Their only downside is the height of each individual shelf, which is often not tall enough for standing books. But stuff like souvenirs, action figures, and decoration pieces will fit right in.
5. Freestanding Chic Bookcase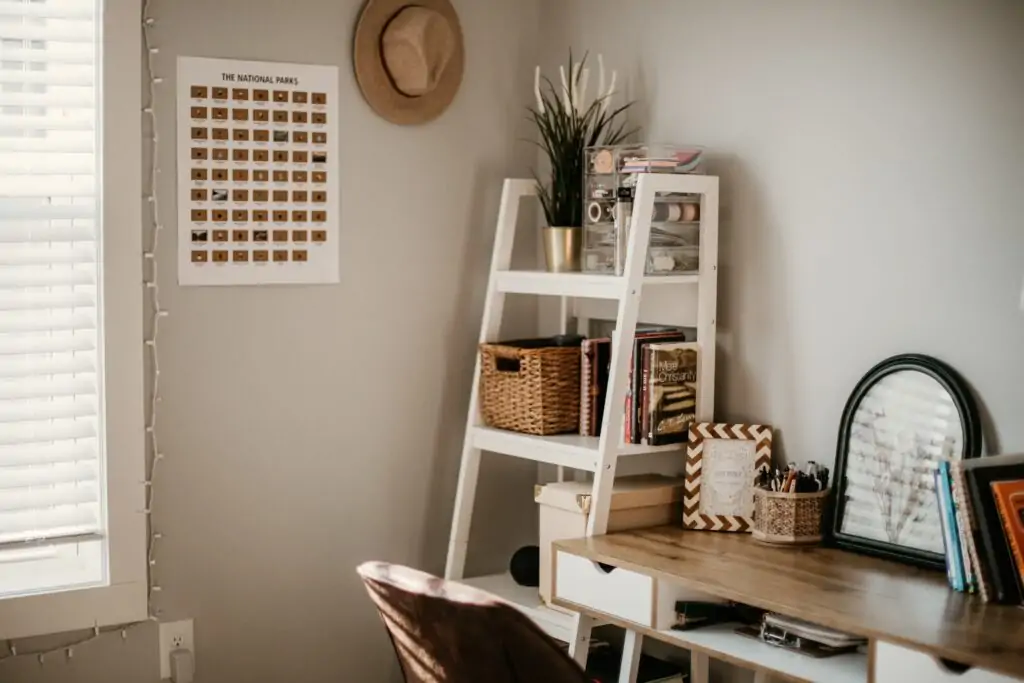 Not everything needs to be wall-mounted, isn't it true? Here is a freestanding solution to make the most out of the under-utilized nooks in your bedroom or living room. Simply place this multi-tier (with often at least four to five levels) shelf there, and the 90-degree shape will integrate itself seamlessly into the corner of your room.
Since these types of shelves are quite tall, they will require you to assemble them. Then again, the process is, thankfully, quite quick and simple for most designs.
In this bookcase, you can store anything you please, as each tier is tall and roomy enough to house all your bits and pieces without a problem. Since freestanding shelves are meant to be moved around the house, their design language is often universal. So, you can place such a bookcase anywhere in your home, and it will not look out of place — as long as you go for somewhat neutral colors, of course.
6. Square Multi-Tier Corner Shelf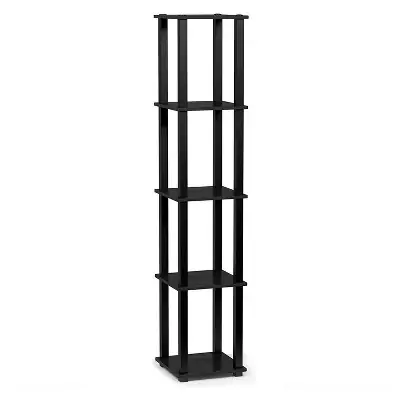 Speaking of universal designs, here is one that fits that description perfectly — a square, multi-tiered shelf. You can put this highly practical storage champ in any home and any room, and it will look like it belongs there (especially if you get it in black).
The design is not the most captivating, but minimalists will find beauty in its symmetry. Plus, it at least breaks free from the triangular shapes that we are so used to seeing on corner furniture. It is easily the safest choice you can make, but that does not make it boring by any means. With several tiers to maximize storage, it delivers excellent functionality while still being stylish enough for most rooms. Not every piece of furniture has to make a statement, after all.
7. Bedroom Glass Corner Shelf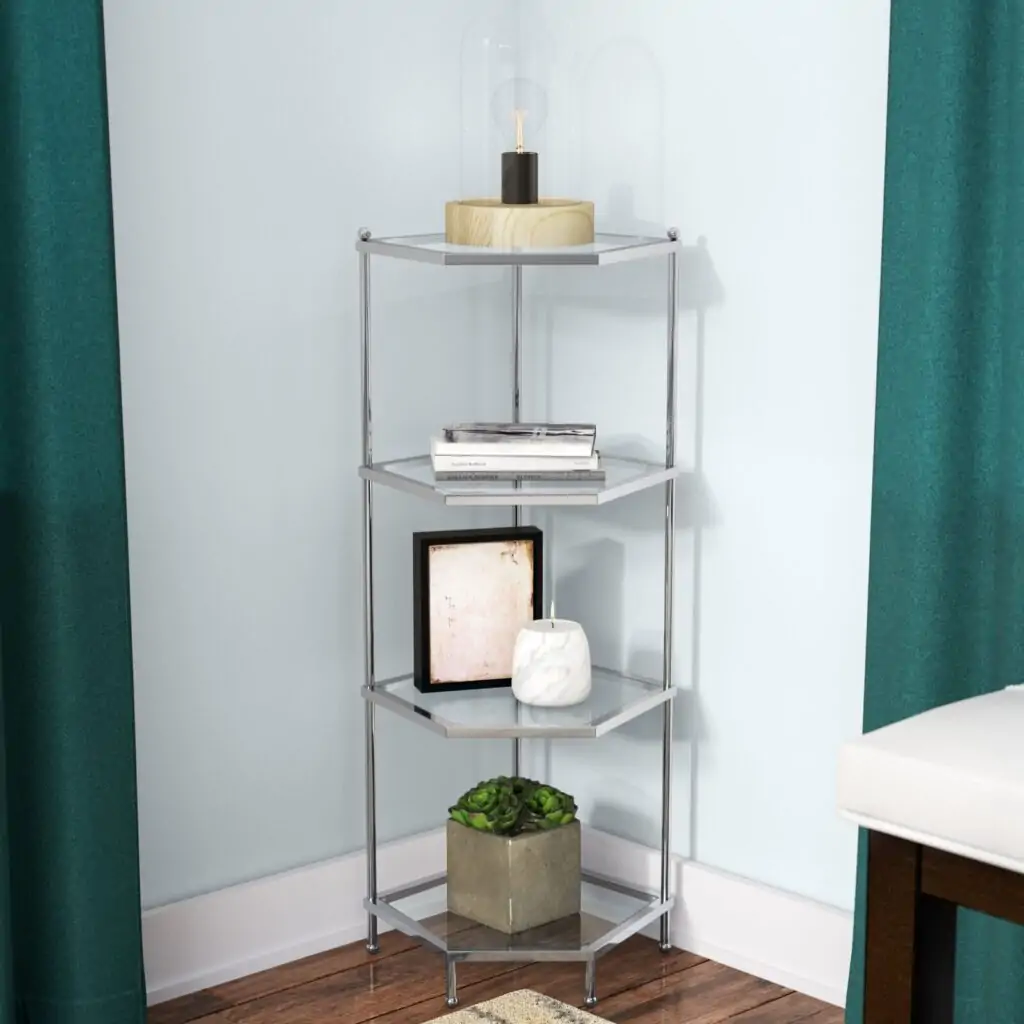 Glass can instantly introduce an airy and classy feel to your corner furniture, which is why a freestanding glass shelf with a shiny frame can do wonders for your bedroom decor. It could be golden, silver, or white, depending on the type of color scheme you have. You could also go with a matte black frame if you prefer keeping things minimalistic.
Aesthetics aside, there is a reason why none of the above ideas for corner shelving involved any glass, and it is because glass is fragile. Compared to wood shelving, it is a lot less practical, especially in households with pets or toddlers. Even adults can break it by accident by placing an object that is too heavy for the glass platform, causing it to break and shatter all over the place.
If you do, however, want glass corner shelves, we recommend going for tempered glass, as it is way more resilient.
8. Ladder Corner Shelf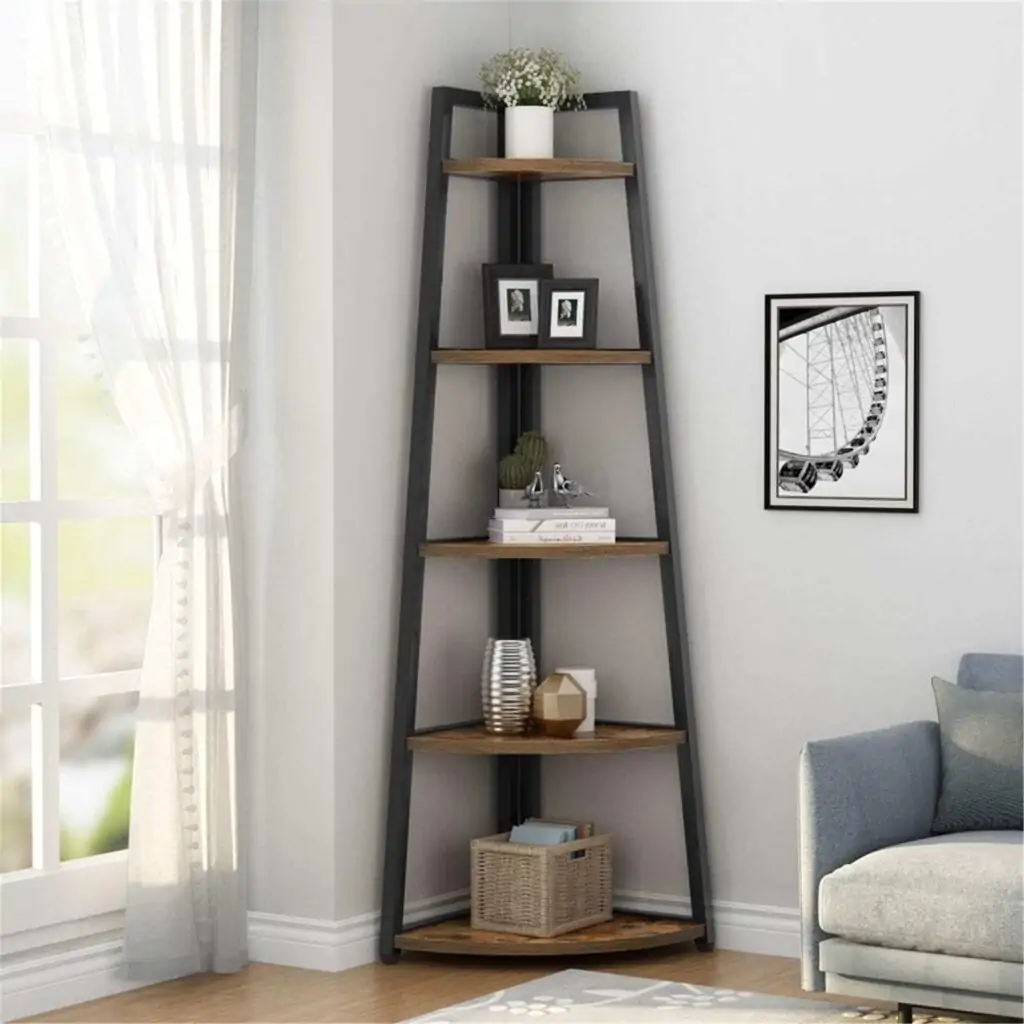 Here is another freestanding corner shelves idea — a ladder! It sounds simple, but it is actually one of the most striking pieces of furniture you can have sitting in the corner of your living room. It allows you to make use of all the vertical space while adding tons of aesthetic value to your room decor. You can even use ladders to display the most gorgeous-looking houseplants you have.
Ladders generally have at least four to five tiers, which is ideal for both maximizing storage space and making a visual statement. Ladder-style storage can even act as a book stand or nightstand in your bedroom, offering more than enough space to store all your favorite magazines and books, as well as all your electronic devices like your laptop, phone, iPad, AirPods, etc.
9. Diamond Wall-Mounted Corner Shelf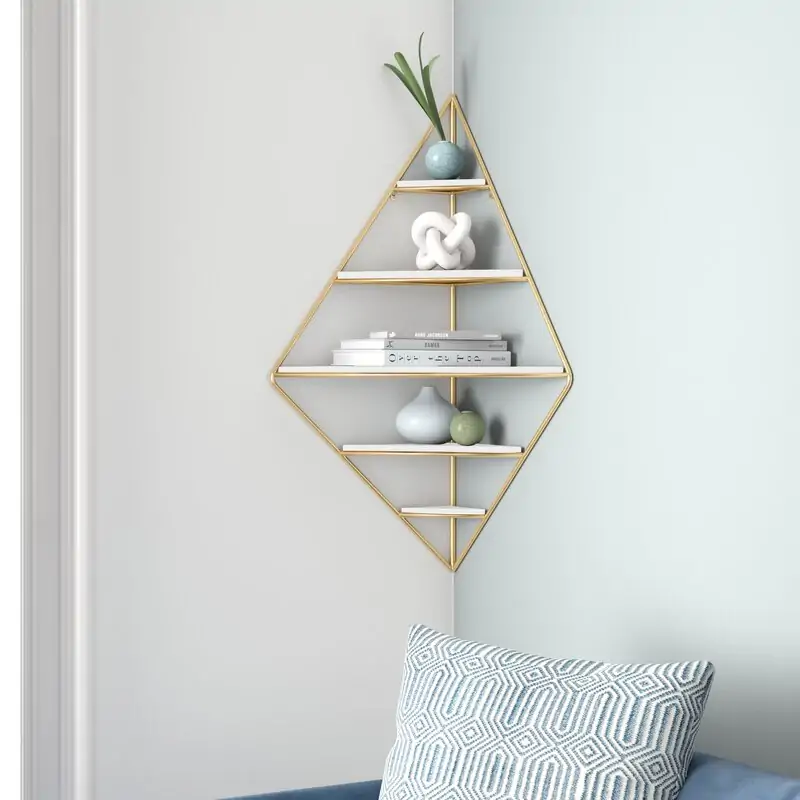 A diamond-shaped wall-mounted corner shelf can be the most visually interesting item you have in the bedroom, all while still being highly functional with its multi-tiered storage space. You can stash items like speakers, candles, lamps, and even your TV remotes in there. Not only will it make your room look better with its beauty, but it will also help you get rid of all the small bits and pieces that clutter your space.
Plus, diamond shelving usually comes 100% assembled, so you will not have to get through an entire DIY session just to get it up on your wall.
10. Floating Corner Shelf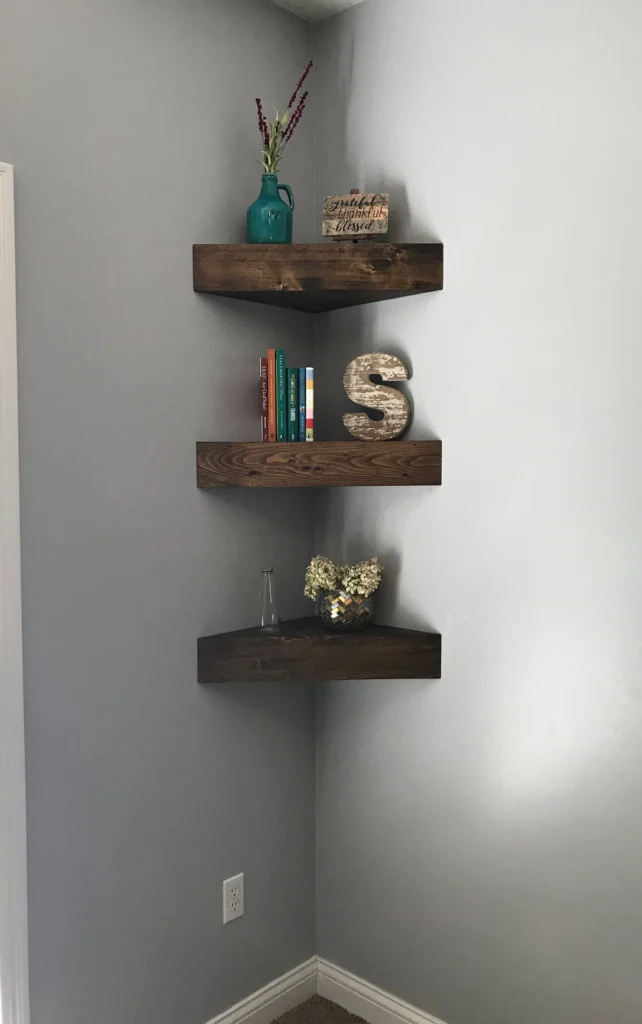 Lastly, we have one of the most commonly used corner shelf ideas for your bedroom, namely floating triangle shelves. They may be overused, but they are so popular for a reason.
After all, they are easily the most minimalistic-looking option among all other shelving ideas for corners discussed in this list. Thanks to their sheer simplicity, they can easily adapt to any interior decor theme or color scheme. From rustic to modern to boho, a set of floating triangles can never look out of place.
Aside from triangles, you can also find floating platforms in scalloped, squared, or rounded designs. You can also look for variations in the wood tone or pick from a variety of painted colors. A neutral color like white, however, will effortlessly go with every aesthetic, whereas contrasting hues can give your corner a magical pop.
Conclusion
Most people disregard their corners as unusable spaces inside their homes. Aren't corners places that no piece of furniture can fill? Well, yes, they are, unless you go looking for pieces that are designed to fit like a glove. In this article, we have shared 10 of our favorite corner shelves ideas to do just that, covering everything from floating and suspended shelves to freestanding ladders. If any of these ideas resonate with you, give it a try in your room and let us know how it went.