15 Decorating Ideas for Tall Walls You Were Looking For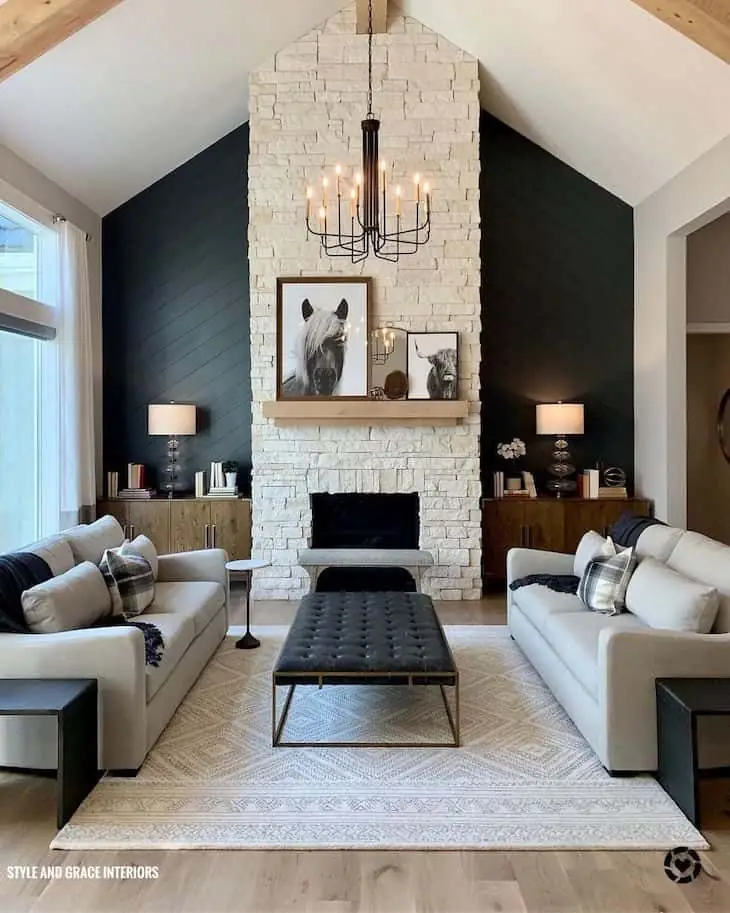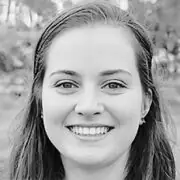 If your home has tall walls, you might be unsure about how to decorate them. That's why you would need some practical decorating ideas for tall walls. After all, they can be difficult to reach, and you might not want to waste space with something that's too small. Don't worry: you are in the right place.
This article will teach you decorating ideas for high walls that will make the most of your space. From using art to shelves and more, there are plenty of ways to decorate your high walls and make them a focal point in your home. Let's get started.
1. Use Wallpaper
If you want to decorate your home, you may be wondering how to decorate a large tall wall. Wallpaper is a great option, and there are many different styles to choose from. While it depends on your choice, some ideas and suggestions go with any type of home. Floral wallpaper is a popular choice as it can add a touch of elegance to any space. If you want something a little more fun and funky, geometric wallpaper is also an option. For a more modern look, try using metallic or mirrored wallpaper.
2. Build a Bookcase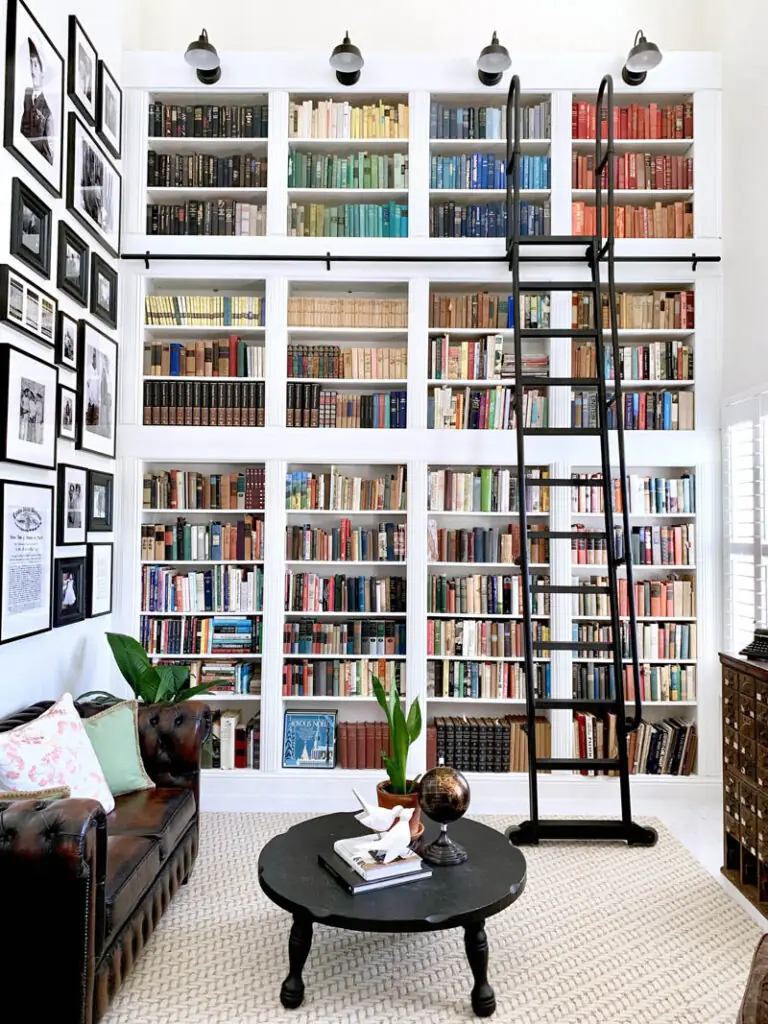 It is one of the space-saving and practical design ideas for high walls that you can employ without spending a lot of money. Building a bookcase is a great way to bring your home décor to the next level. Not only will it provide a place to store and display books and other items, but it will also be a great focal point in the room. If you're crafty, you can even build your own bookcase and turn it into an eye-catching design feature with our budget-friendly ways to decorate a bookshelf. Or, if you don't have the time or the skill, you can purchase a premade bookcase from a furniture store.
3. Create Shelves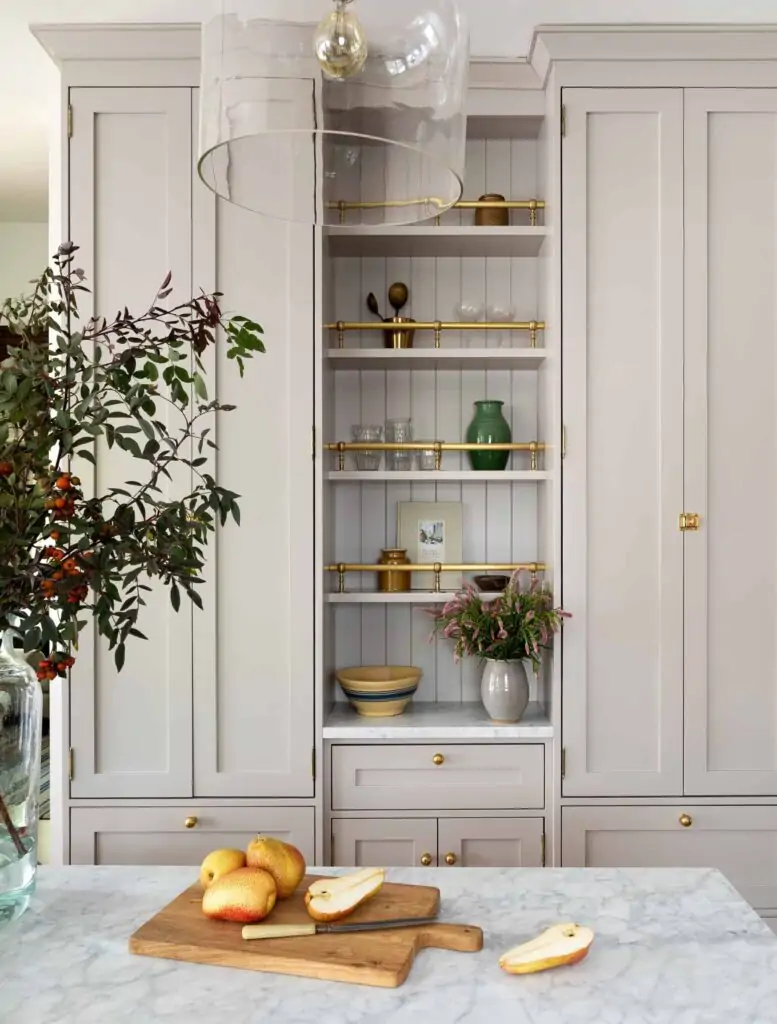 It is one of the most impressive decorating ideas for large high walls. Creating shelves is a great way to show off your favorite items. You can create a mix of open and closed shelves or opt for all open shelves. Either way, you'll have plenty of room to store and display your bits and pieces. Plus, you can use the shelves to create a wall of art by adding framed artwork, photos, and sculptures.
4. Paint Vertical Stripes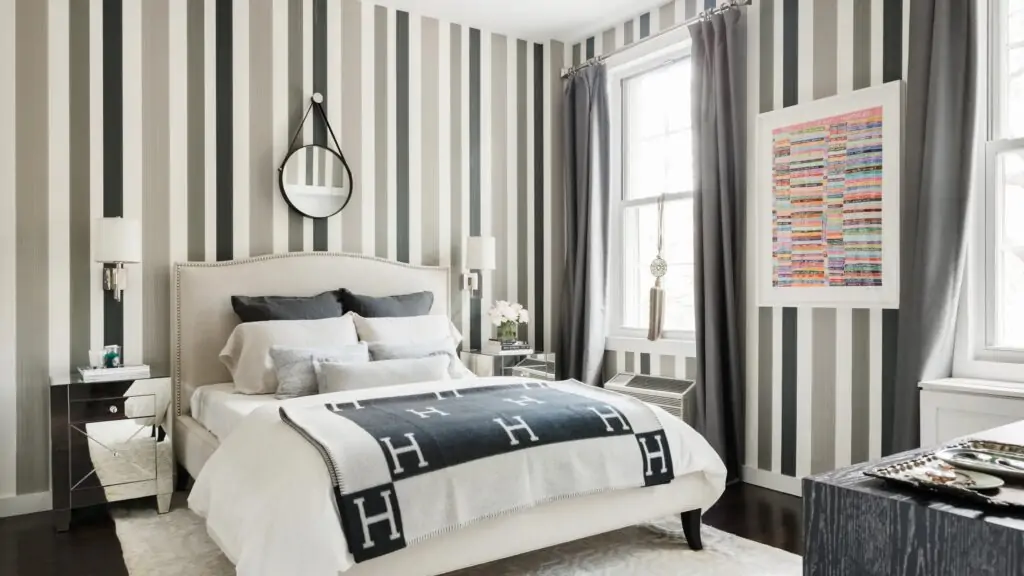 One way to renovate your space is by painting vertical stripes. Stripes are always a good choice for tall walls, as they can make the space feel even taller and even more dramatic. If you want something a little more subtle, consider using a single bold color on the bottom half of the wall, with a lighter shade on top. This simple yet effective technique will make your room look appealing and can be customized to match any aesthetic.
Furthermore, you can consider painting an accent color. This will add interest and drama to the room and make the space feel cozier.
5. Decorate it with Wall Art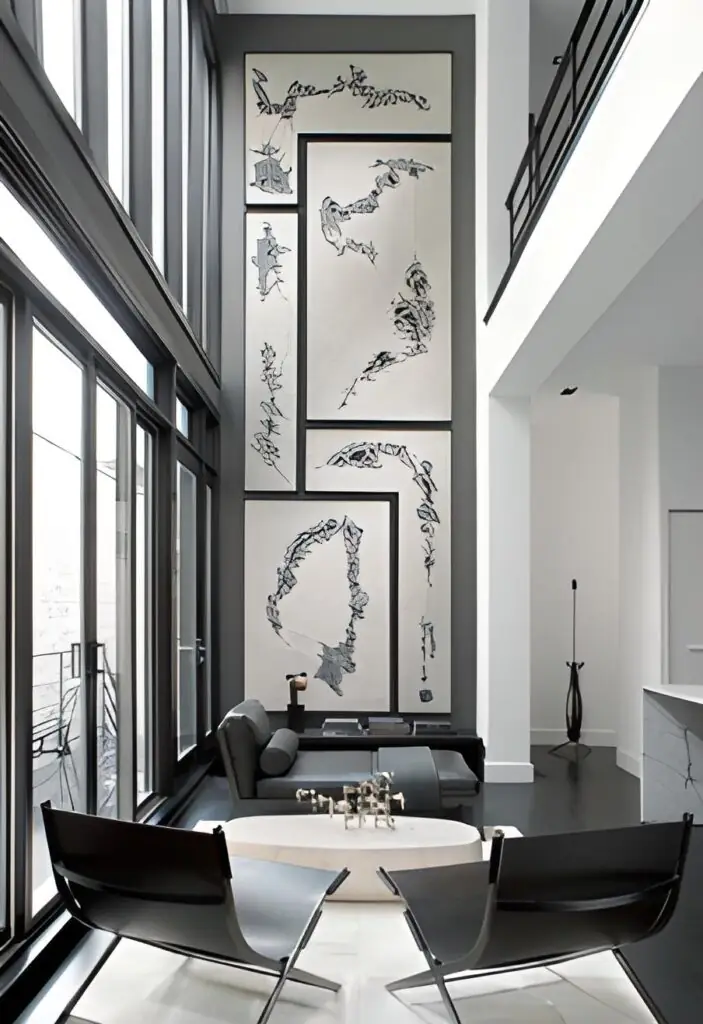 If you are searching for one of the most appealing home decor ideas for high walls, don't miss this one. You should consider decorating a high wall with a piece of art. You can hang a single large piece of art or create a collage of smaller pieces. Choose artwork that complements the rest of your room's décor, and make sure it's hung at the right height so that it's easy to enjoy. This can create an illusion of even more space and make the room feel open — and boundless.
6. Gallery Walls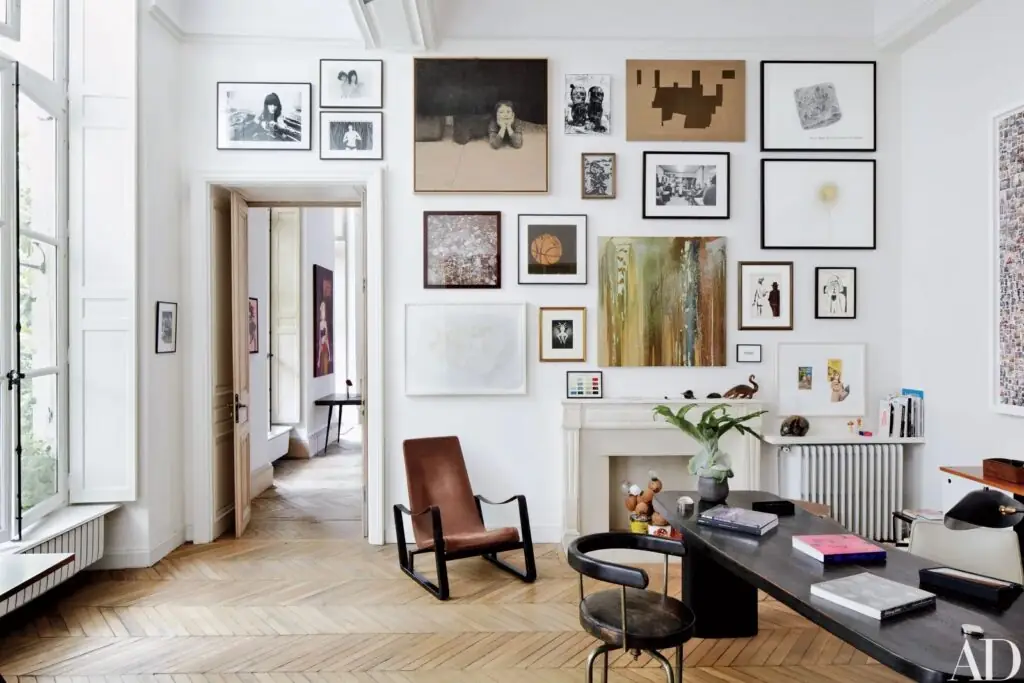 One of the most popular decorating ideas for tall walls is to create a gallery wall. A gallery wall is a great way to display your favorite photos, artwork, and other wall hangings. This is a great way to make your space look fuller and more interesting. When creating a gallery wall, make sure to use coordinating frames and hangings to create an eye-catching display.
7. Lean a Mirror Against the Wall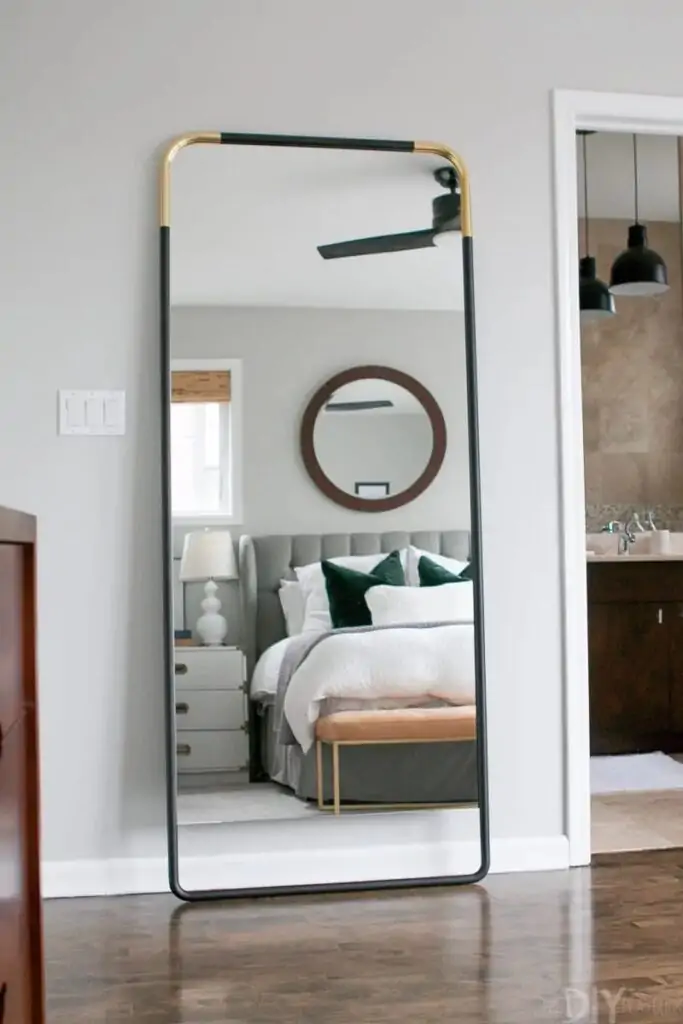 If you have a high wall that you're not sure how to decorate, one option is to lean a mirror against it. This will create the illusion of a larger space and make the room feel brighter.
The best part of ideas like this is that you don't really have to carry out any complex renovations: simply lean a large mirror against your living room or bedroom wall, and you will make the space feel more open and welcoming. One of the most elegant decorating ideas for a tall wall, isn't it?
8. Hang Curtains from the Ceiling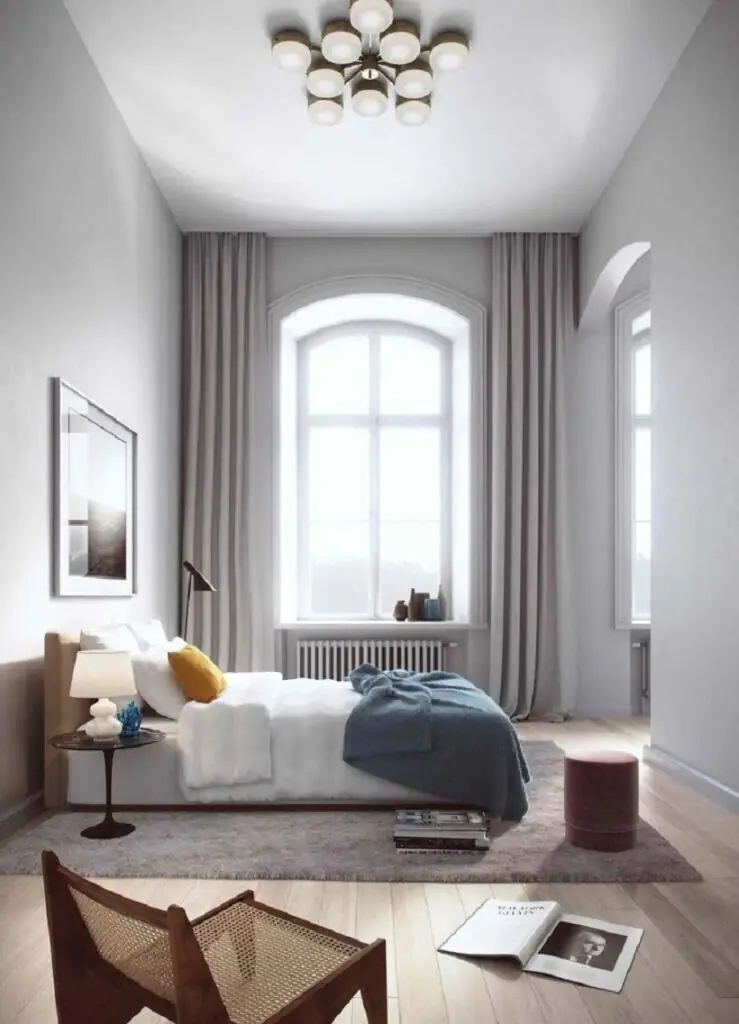 This is one of the most appealing decor ideas for big walls. You can hang curtains from the ceiling to add further charm. This will give the illusion of even taller ceilings and make your rooms look more spacious. When hanging curtains from the ceiling, make sure to use a heavy-duty curtain rod that can support the weight of the fabric. You may also want to use hooks or rings to help keep the curtains in place.
9. Plant Vertical Gardens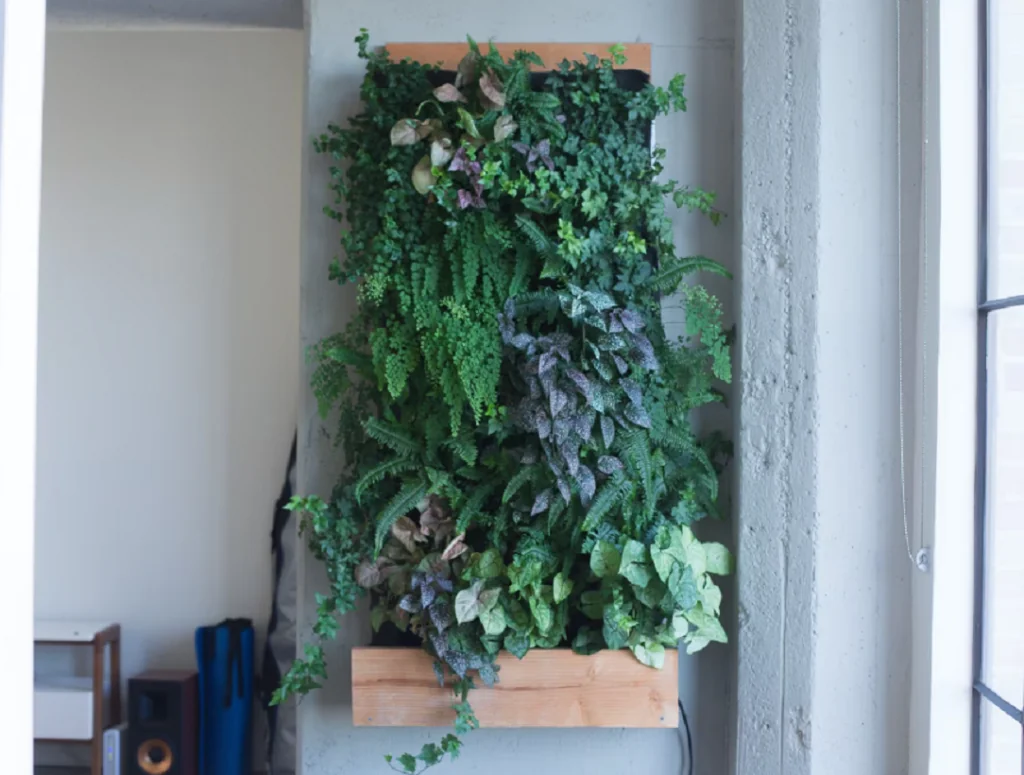 If your home has tall walls, you can use them to your advantage by adding tall plants. This will give the room an added sense of height and interest. Furthermore, plants will make the room's atmosphere more inviting: planting them can be a fun new DIY project to embark on with your family or friends.
Start by planting the larger plants near the bottom of your vertical garden, then fill in with smaller plants as you go up. You can also use mirrors together with the plants to reflect light and enlarge the space.
10. Create a Faux Window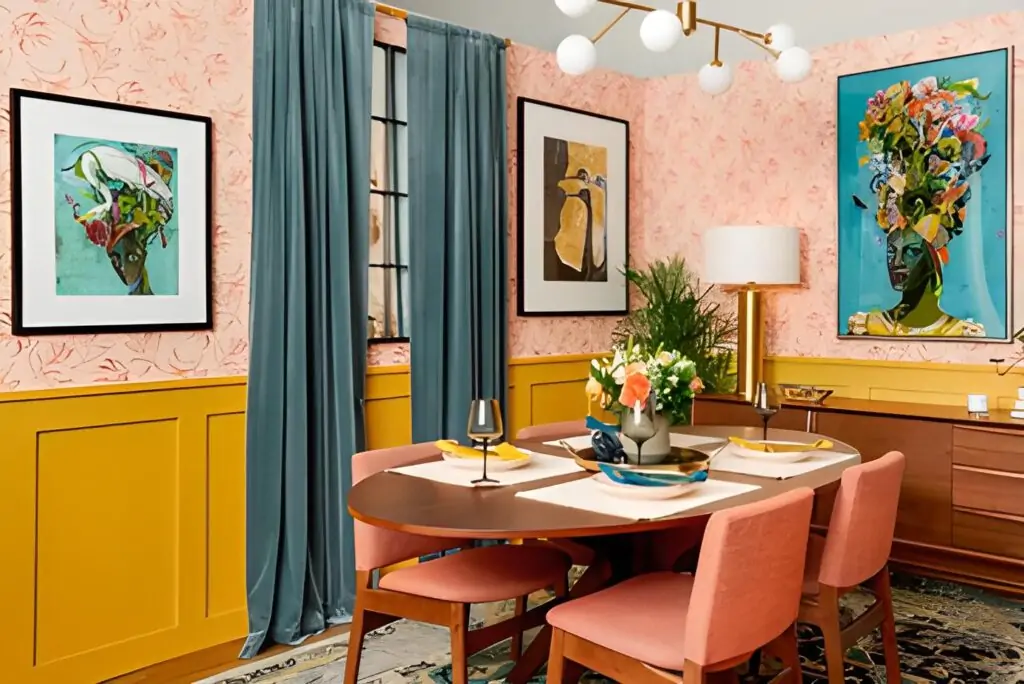 One way to decorate a high wall is to create the illusion of a window. You can hang a piece of fabric on the wall and attach a rod or wire above it. Then, simply hang sheer curtains from the rod or wire to create the look of a window. Or, if you can draw, create a picture of the window and make it as realistic as possible. You can also use this technique to create faux doorways leading to different rooms or areas in your home.
11. Install Crown Molding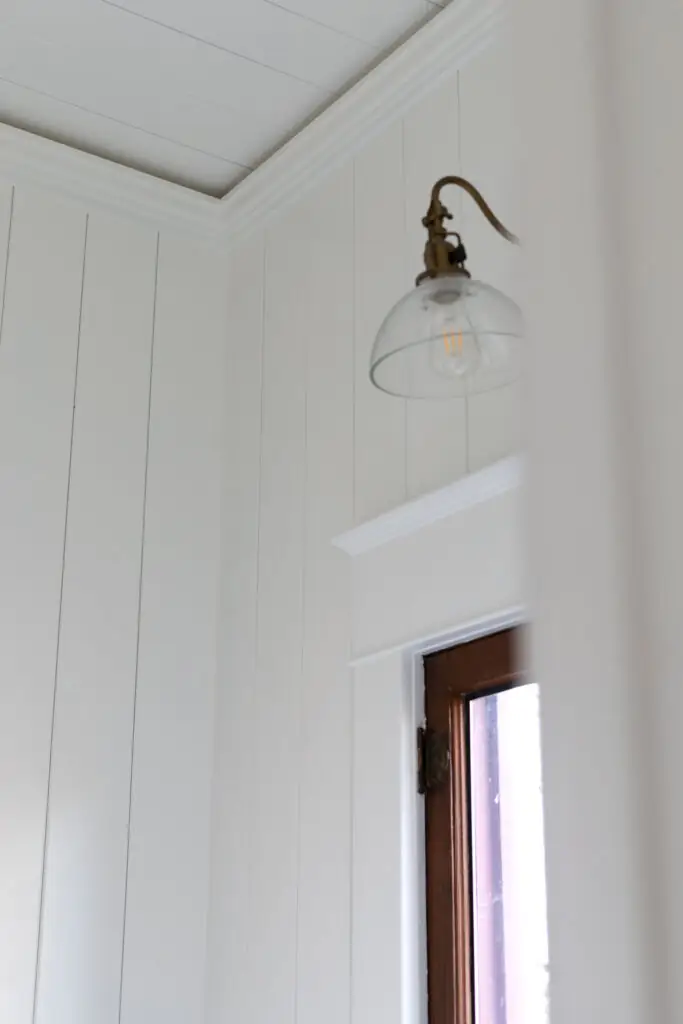 If you are looking for a high ceiling wall decor idea, then crown molding is what you need. Crown molding is a decorative trim that is installed where the wall meets the ceiling. It is available in a variety of styles and can be painted or stained to match your décor.
12. Use Tall Vases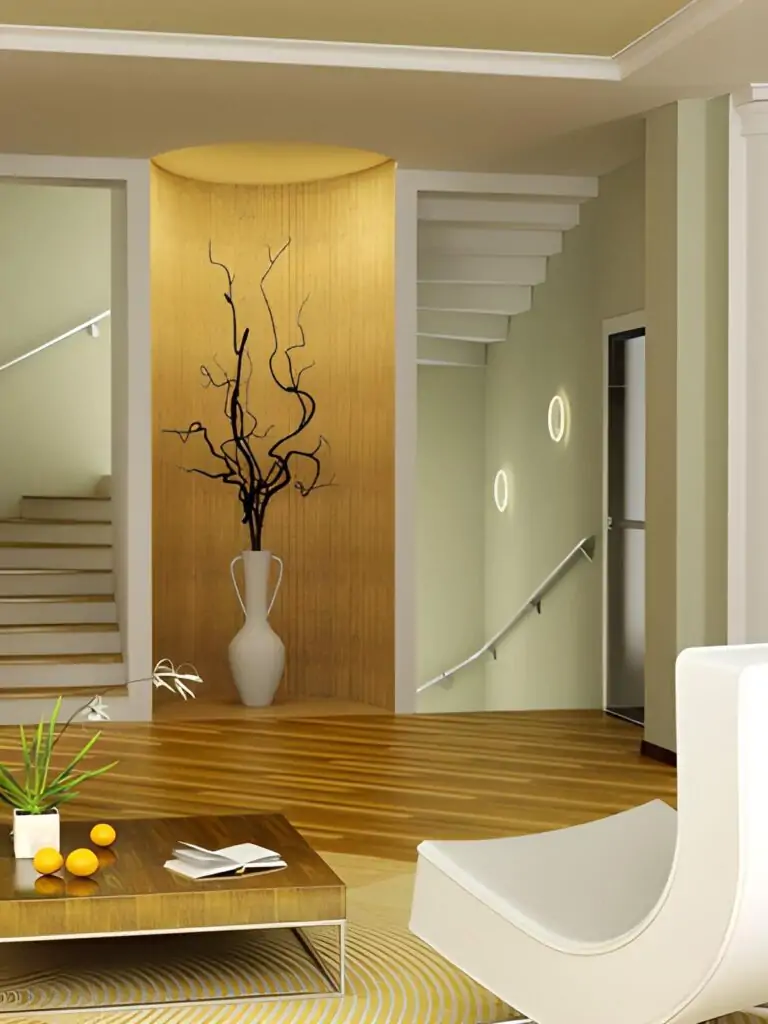 Tall vases are a great way to add interest to high walls. You can use big vases to fill empty space, accentuate artwork, or simply add a pop of color. High vases come in a variety of materials, including glass, ceramic, and metal. They can also be found in a variety of colors and styles.
When choosing tall vases for your home, consider the overall style of your décor. For example, if you have a modern home, you may want to choose sleek, angular vases. If you have a more traditional home, you may want to choose classic urn-shaped vases.
Once you have chosen the perfect high vases for your home, it's time to fill them! High vases can be filled with fresh flowers, silk flowers, branches, or even fruit. Get creative and experiment with different types of fillers until you find the perfect look for your space.
13. Combine Tall Furniture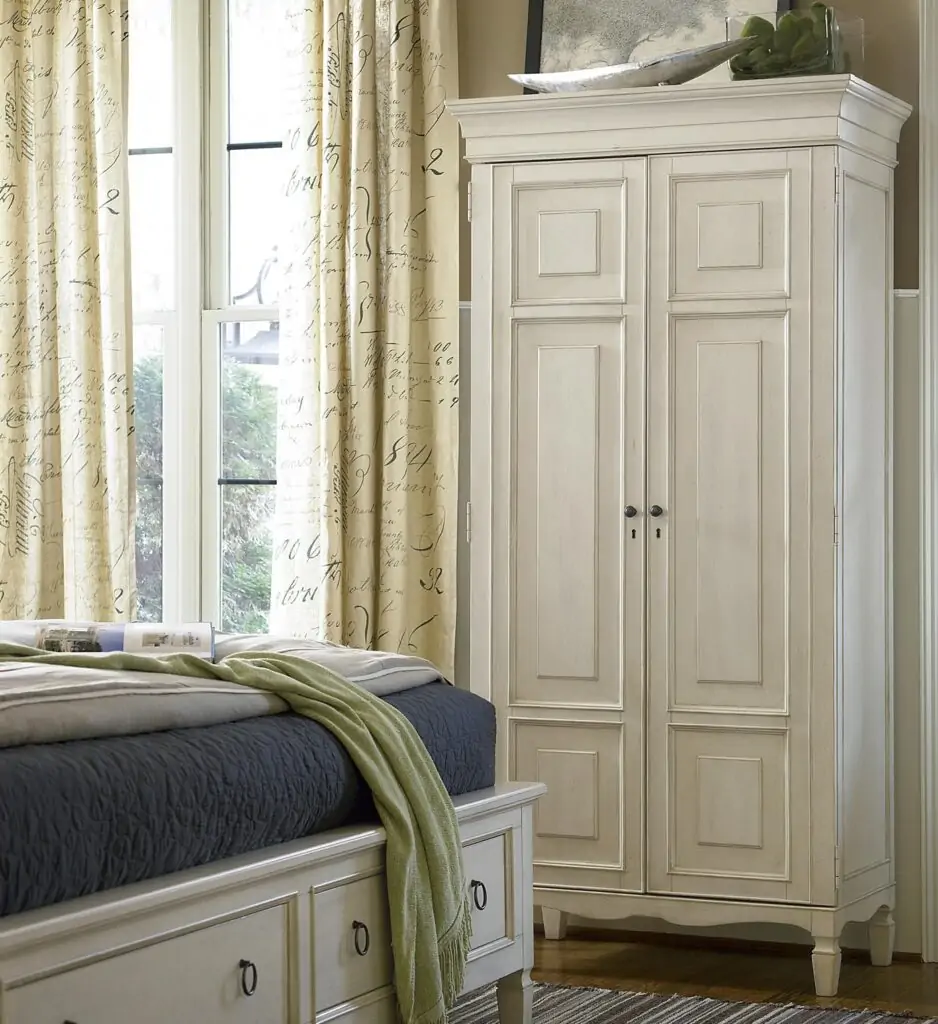 If you have high walls in your home, you can use this type of furniture to your advantage by arranging your furniture to emphasize the height of the room. This can be done in a number of ways, such as placing taller pieces of furniture against the wall. Doing this will make the most of your high walls and create a stylish and inviting space.
14. Hang a Tapestry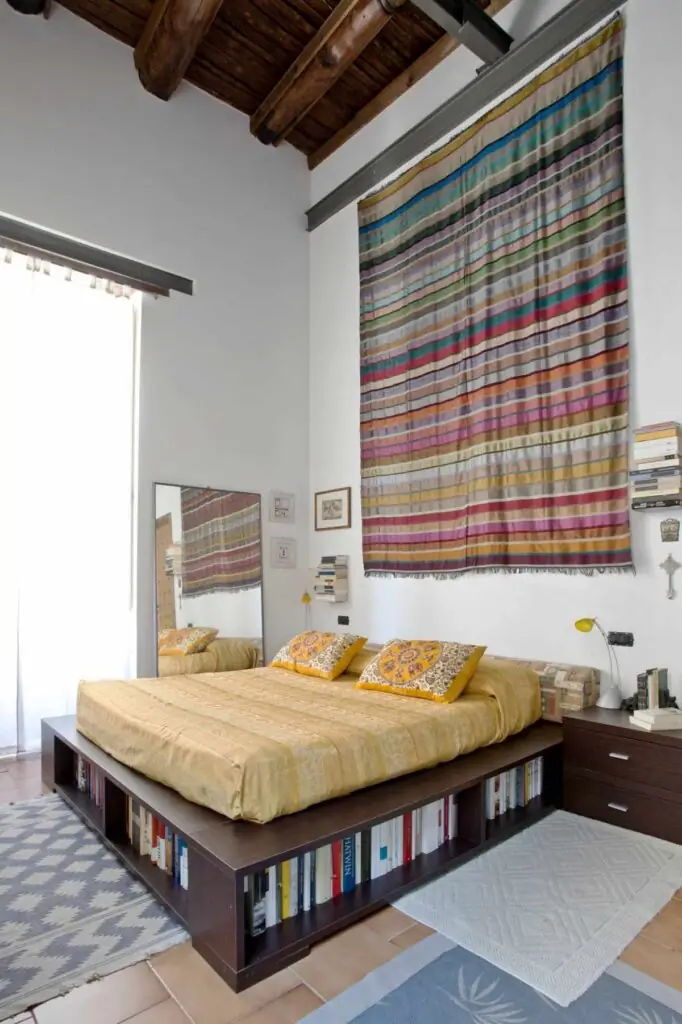 This will prove to be one of your favorite design ideas for tall walls. Tapestries are an easy and affordable way to add color, texture, and interest to tall walls. Plus, they come in a variety of sizes and styles, so you're sure to find something that fits your space. Hang your tapestry in the center of the wall to create a beautiful focal point, or choose a patterned one to fill the entire space.
15. Try Vertical Paintings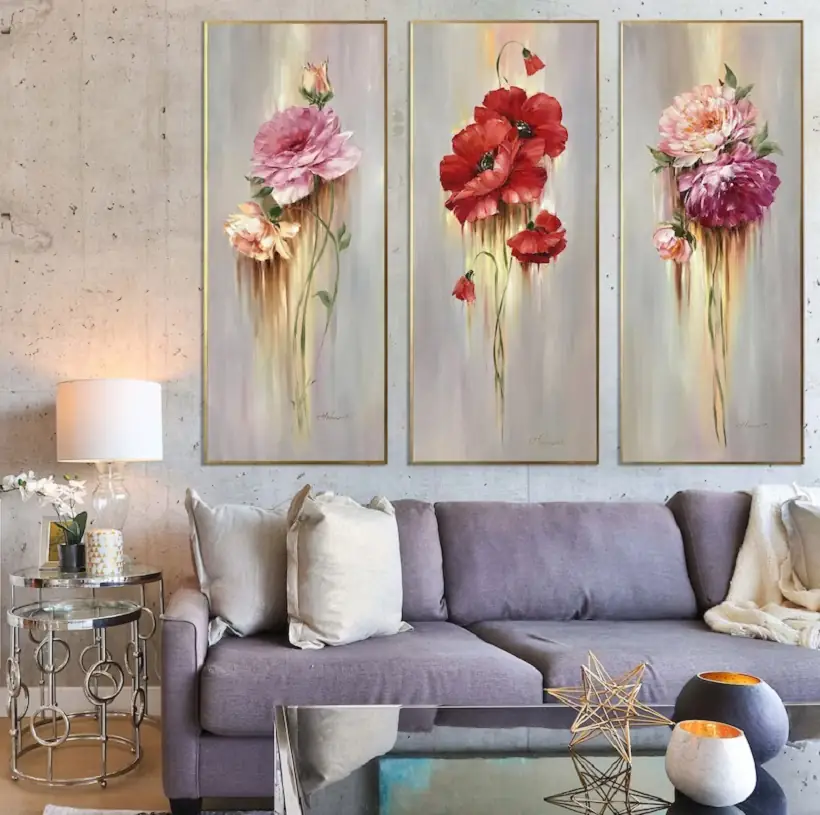 It is one of the innovative decorating ideas for very tall walls that you can employ in your home. You can simply decorate tall walls by hanging a series of vertical paintings. Vertical paintings have a lengthening effect, which is perfect for a high wall. They also add visual interest and can be very stylish. If you're hanging vertical paintings, make sure they are evenly spaced and hung at the same height. You may want to use a level to help with this.
Conclusion
If you're looking for decorating ideas for tall walls in your home, then this list is a great place to start. From hanging artwork to installing shelving, there are plenty of ways to add style and function to these often-neglected spaces. So get creative and see what works best for your home.