12 Best Small Space Door Ideas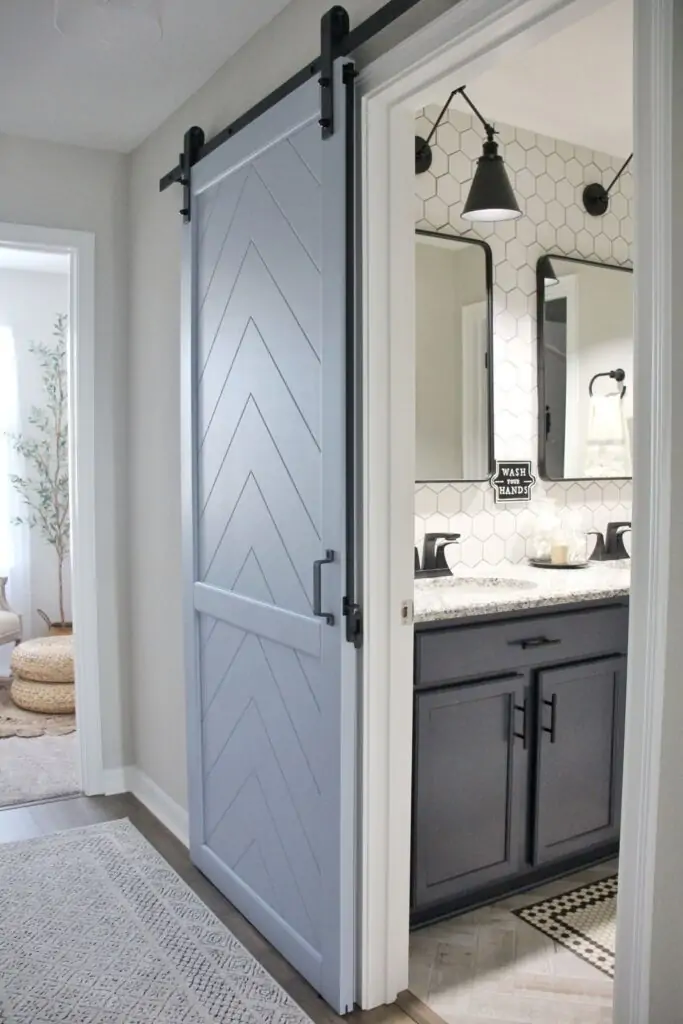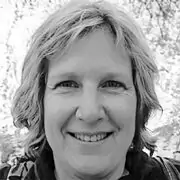 Do you need an effective door idea for a small space? The typically hinged gateways take up to 10 inches of the floor area, including the wall space. With some apartments as cramped as 300 sq. ft, this is too much space.
What's more, there are some poorly designed apartments where gateways collide with each other or are so tightly placed that you cannot put any furniture or anything there. So, paying attention to door ideas for tight spaces is something you absolutely need.
Take a look at these 12 amazing door ideas for small spaces.
1. Pocket Doors
In this example, a pocket is created in the adjoining wall where the gate slides in. This way, the area can be efficiently used for storing other things. Contrary to the hinged gateways, you do not need to leave empty areas for the door to open and close. The only condition for these is that there should be ample space in the adjoining wall.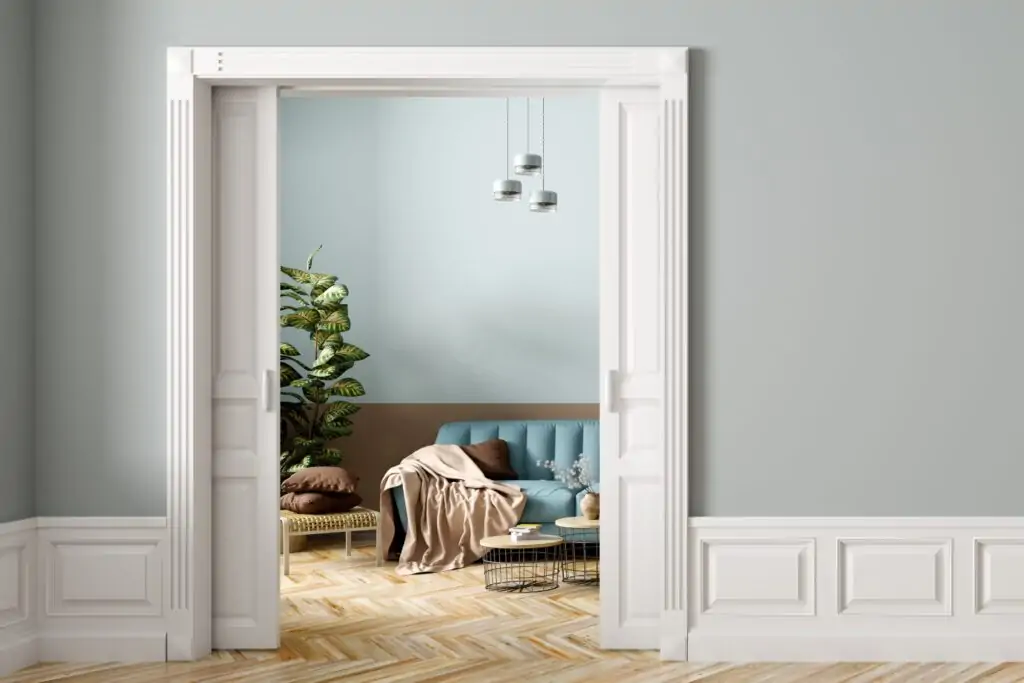 2. Barn Doors
What can be more aesthetically pleasing and functionally perfect for cramped areas than a barn door? Initially, these barn gateways were designed to prevent the cold air from gushing in when opening the gateway. You can just reuse this amazingly designed door to save some precious space. These can be the perfect door ideas for a small bathroom.
The iconic X and Z pattern will add some chic to the design. With the growing demand for this novelty, barn doors for small spaces are readily available on the market. What's more, if you are good with your hands, you can create a DIY version of them for your apartment!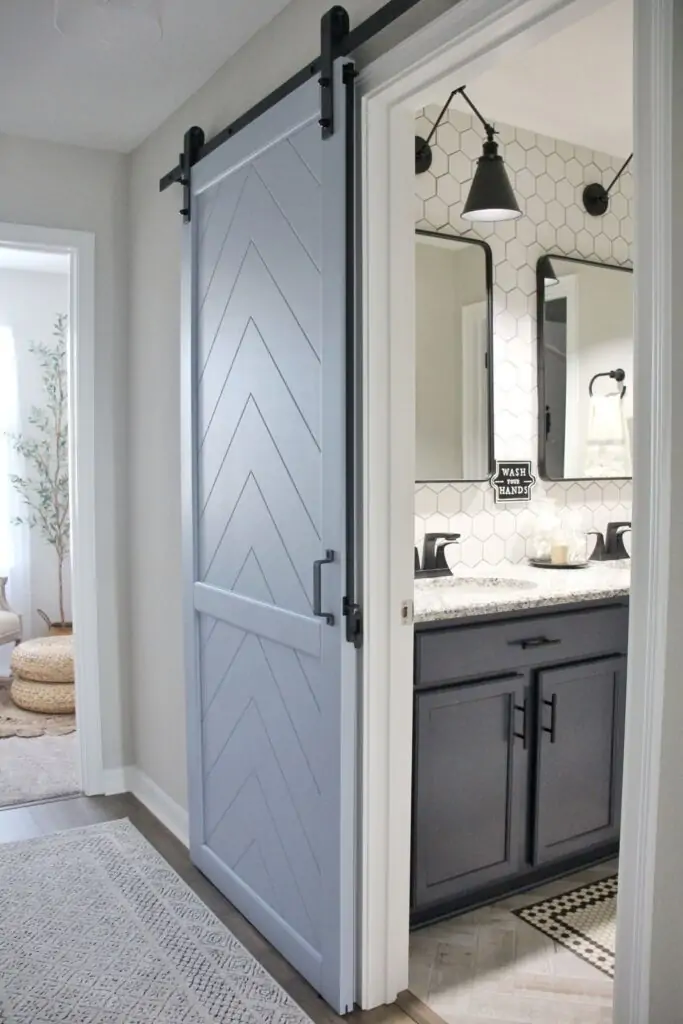 3. Bi-Fold Doors
Who doesn't want folding doors for small spaces? They create neat partitions when fully unfolded and can be folded back into layers when you wish to have an open space. They are perfect for large families who have to make do with the available room they have in their small apartments. You can also have them installed in your office to create a personal working space. An amazing and elegant door idea for small areas.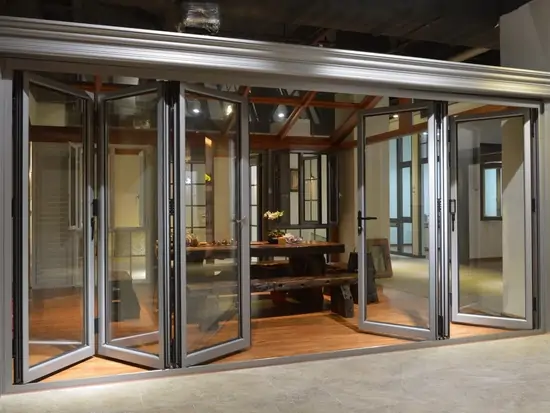 4. Pivot Doors
Have you noticed that in hotels, the main entrance is almost always a pivot entrance gate? Have you wondered why? Well, that's because they are the best exterior doors for small spaces. They create an organized partitioned gate for both entrance and exit and eliminate the need for two gateways. Instead of having a hinge in the walls, pivot gateways use the middle part of the gate for hinges. This door idea saves a lot of space on both sides.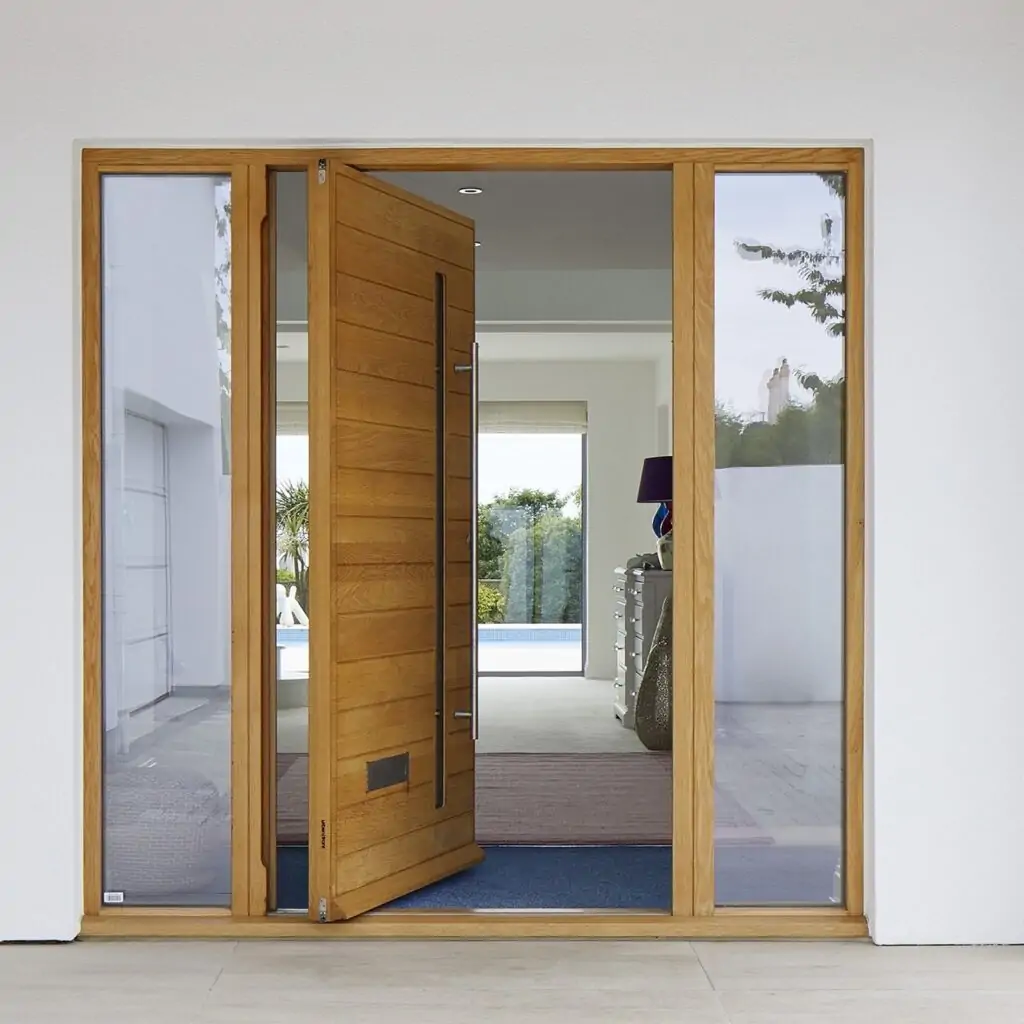 5. Concertina Doors
Have you noticed how less area the flaps of the accordion take? These use the same formula to save space. These partitions take up less than one-fourth of the area that a traditional gate takes. What's more, they are easy to operate and maintain.
The biggest advantage is that you can install them anywhere. In small apartments where you usually get an open pantry, you can use a concertina gateway to create a partition. When you need some personal pantry time, just close the gateway and when you feel the need for a larger open area, fold the flaps back. This usability makes this conception one of the best pantry door ideas for small spaces.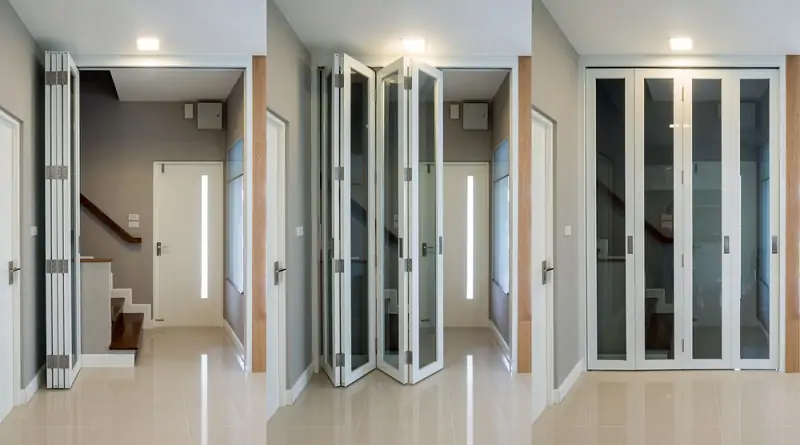 6. Sliding Doors
These are perfect for installing anywhere. The two gates slide over each other and take up less volume than any other type. You can use them on your balcony or install them to divide your hall into several parts.
You can easily install glass sliding gateways between the living area and dining area to separate the two. The only disadvantage is that you only get half the area to move. You cannot open both gateways at once. So, it might get difficult to move furniture or large items. Sliding doors for small spaces are readily available on the market. You can even get them customized to fit your requirements. This makes it an awesome idea!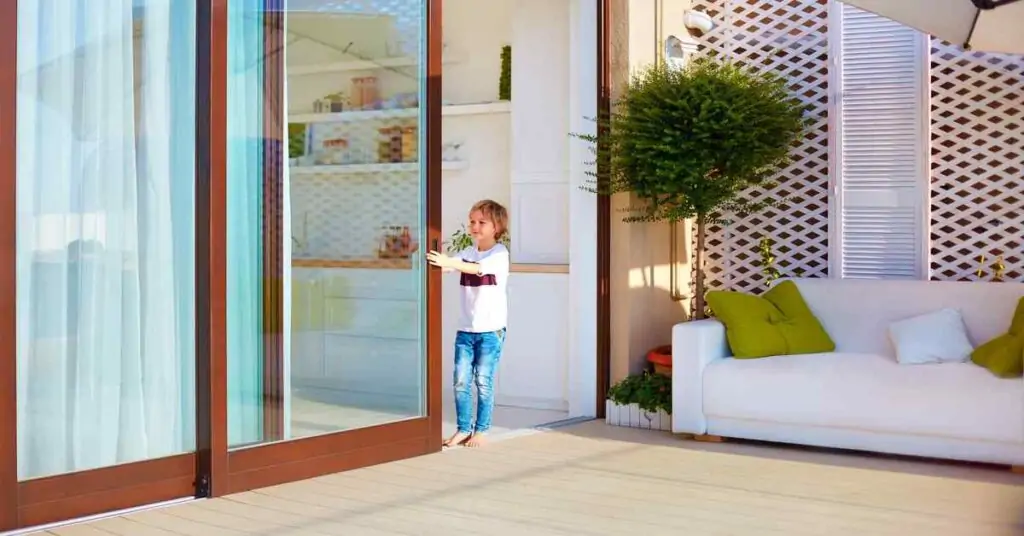 7. Garage Doors
When you are so short of an area that every square inch of it counts, just switch to garage gateways for that extra space-saver touch. These gates roll up and stay overhead. The demand for them is always high, and even glass garage gateways are available on the market so that you can give a swanky look to your home or apartment.
They also let more natural light come into your room, making it look livelier. If you wonder how to put a door in a small space, give thought to garage gateways that roll into the overhead area and let you use the floor.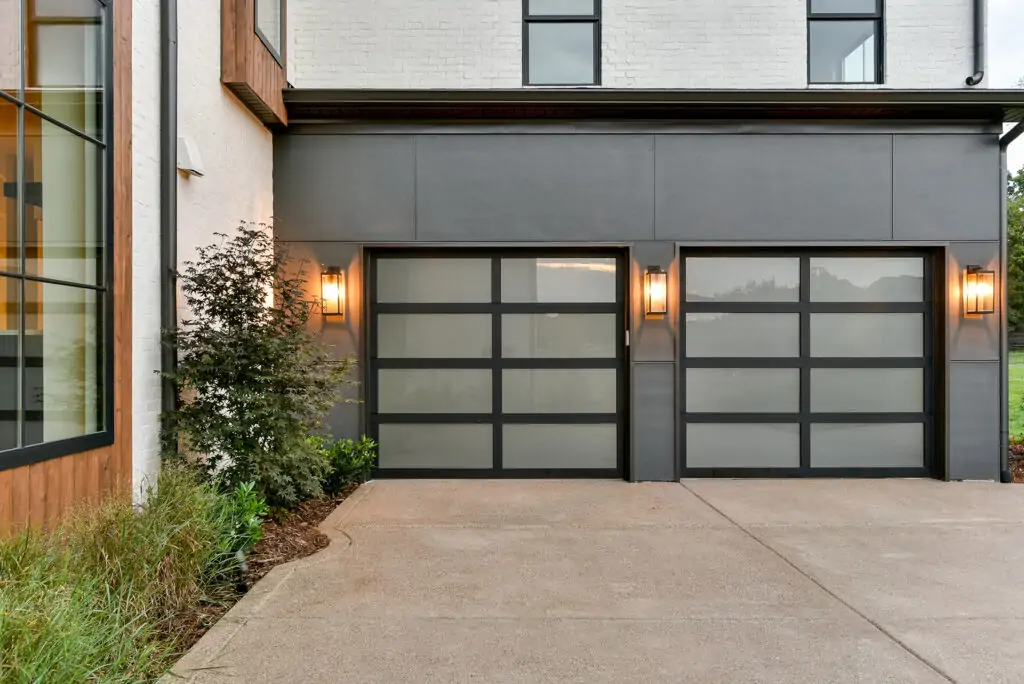 8. Dutch Doors
What is better than a gate? A gate that can act as a window as well! Separate gateways and windows often take up too much area. A smart alternative to them is to install Dutch gateways, which are doors with windows cut out from the top. This is the perfect space-saving idea!
If you are constantly on the lookout for interior door ideas for small spaces, these might be the best fit.
9. Shoji Doors
These are traditional Japanese doors. They are made by laying out washi paper over the bamboo frame. Not only are they perfect for exterior gateways and creating partitions, but you can also use them as light filters as well. They are easy to install and replace.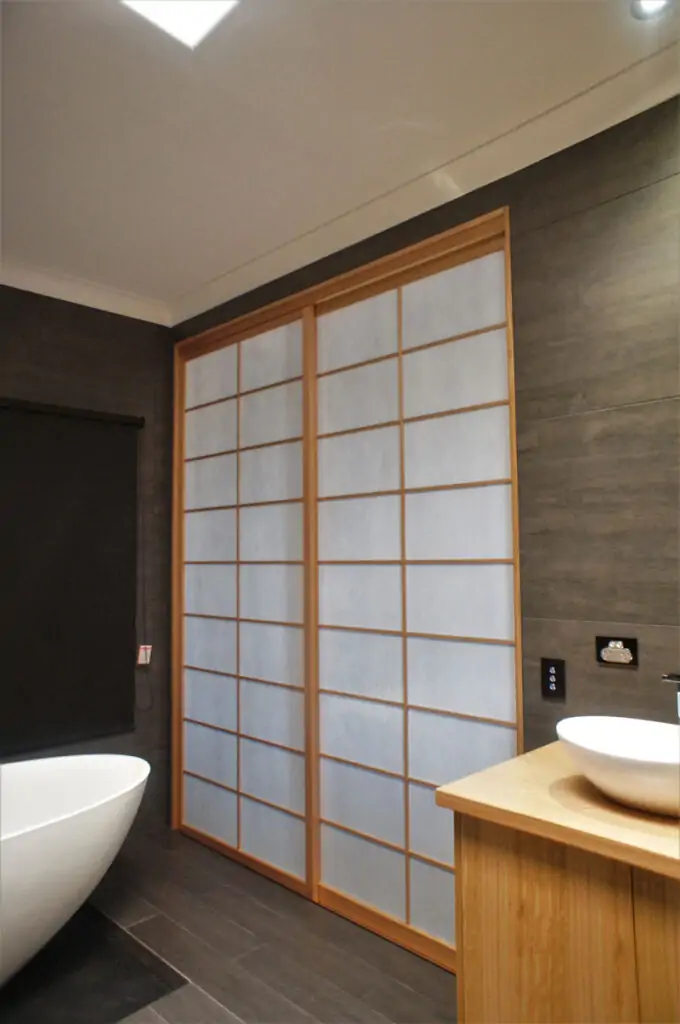 10. Fit-To-Shape Doors
If you have a storage room or a bathroom placed under the staircase or in the attic, it must have been difficult for you to decide on the gate design. Conventional gateways do not fit properly and often take up too much area. The best way to deal with this issue is to have fit-to-shape gates.
These gateways use the area judiciously. Try this idea if you are looking for space-saving doors for small bathrooms. Use the same paint or the same wallpaper you used for the walls. The gate will blend in with the walls making the area look more appealing.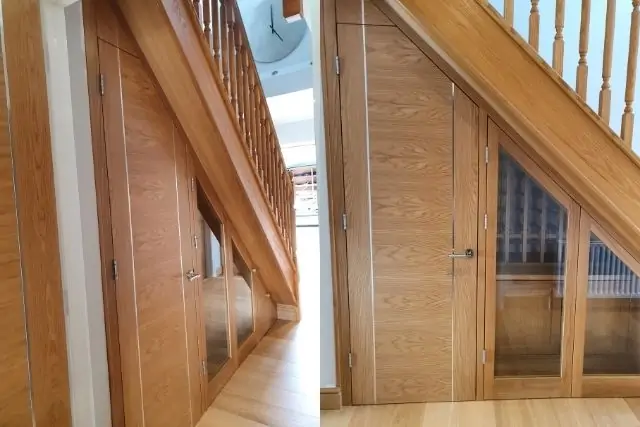 11. Storage Doors
People who live in apartments often try to find novel ways to create storage areas. One way is to have a storage gate. While it will take up the area just like the conventional hinged gate, it will help you store your stuff on it.
This idea is perfect for kitchen and bathrooms, the places where you have a lot of things to store. In the kitchen, you can store your condiments. In the bathroom, you can store your toiletries, towels, and other things. Give this idea a try if you are looking for bathroom door ideas for small spaces.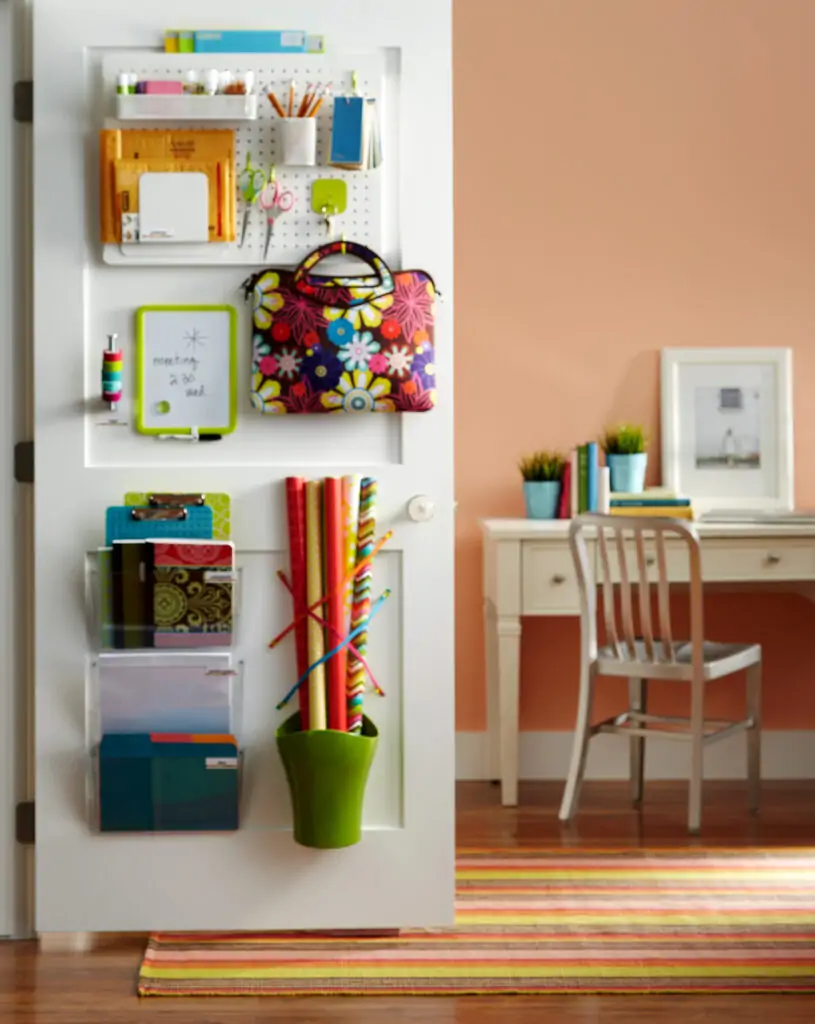 12. Mirror Gateways
Mirrors always create an impression of a larger room. You also can use them to make your room look brighter. So, don't overlook the sliding glass gateways as a great way to save some space.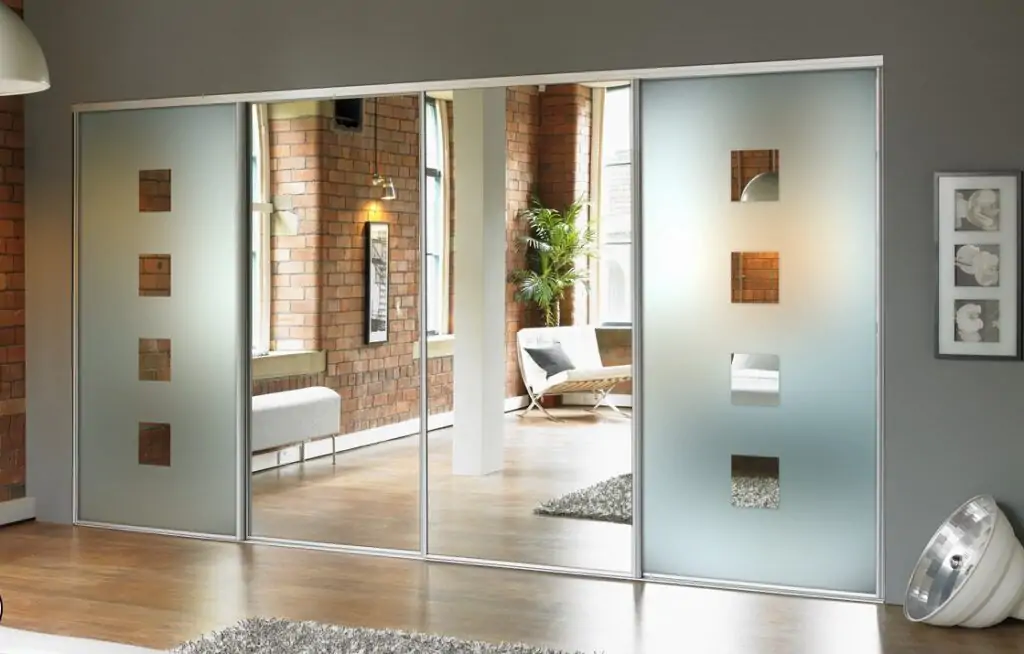 Door Alternative Ideas for Small Spaces
What can I use instead of an interior door? Sometimes you don't really need a gate inside your house or apartment. So, here are three things that can be a great answer to what you can use instead of a door,
Fabric curtains: They do not take up space, are easy to install, and create an instant partition.
Bamboo curtains: Add an instant touch of nature and create a partition with bamboo curtains. They can be easily rolled up, saving lots of volumes. They are easy to install and last up to 10 years.
Mesh room dividers: You can add them wherever you wish to create a partition. They are mobile and last long.
What Kind of Materials To Use?
When you are installing space-saving gates, always use hardwood. That is because these gateways are used roughly and seldom receive maintenance. If you have kids, they are most likely to keep sliding the gates or rolling them up. So, not to have to deal with frequent breaks or malfunctions, it is better to invest in robust materials right from the start.
Precautions To Take While Choosing Space-Saving Internal Doors
You must take these five precautions:
Get some advice from a professional interior decorator for the best possible utilization of the area.
Use high-grade materials for durability.
Do not overload the partition gateways, or they may collapse.
Regular maintenance is indispensable for the longevity of your doors.
Keep the rollers and tracks of the sliding gateways properly oiled and free of any obstructions. This will make their move easier.
The Conclusion
Apartment owners around the world often want to know which type of door takes less operating space. The answer depends on such aspects as available volume, door functionality, and your budget.
Some of the space-saving doors are readily available in the stores, while others will do an excellent DIY project.
If you want to get an opinion of a professional, consult an interior designer.
Which of the above door ideas did you like? Do you have a better door idea for a small space? Let us know!