16 Creative & Cute Farmhouse Kitchen Decorating Ideas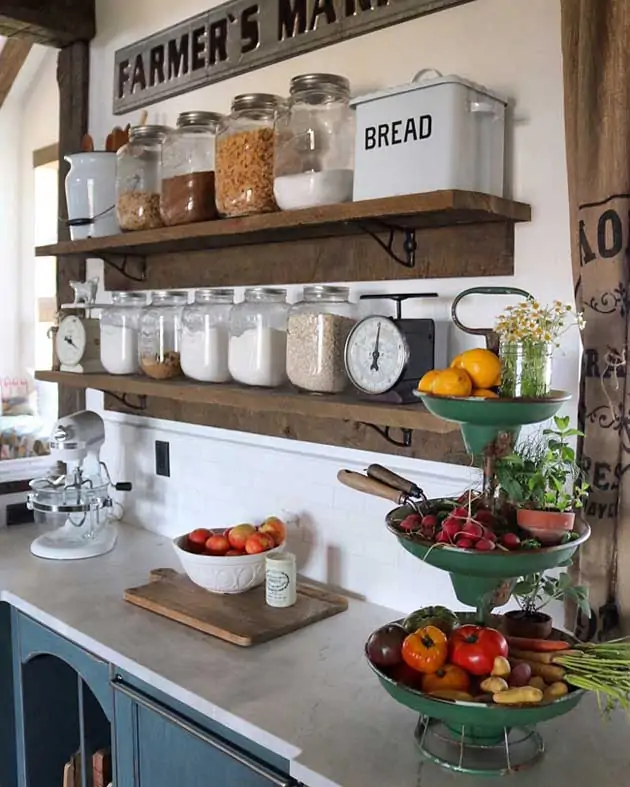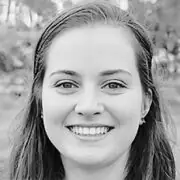 The kitchen is the heart of any home, and finding innovative farmhouse kitchen decorating ideas can be a favorite pastime for many people. For most of us, a kitchen is a place where we gather to cook, eat, and spend time with family and friends. Having a warm and welcoming cooking area is a goal shared by many. This comes as no surprise that decorating ideas for your farmhouse is the best possible way to create an inviting space that helps you recharge your batteries. In this article, we will explore the top decor ideas to help you get started on creating your own cozy space.
1. Window Awning of Reclaimed Wood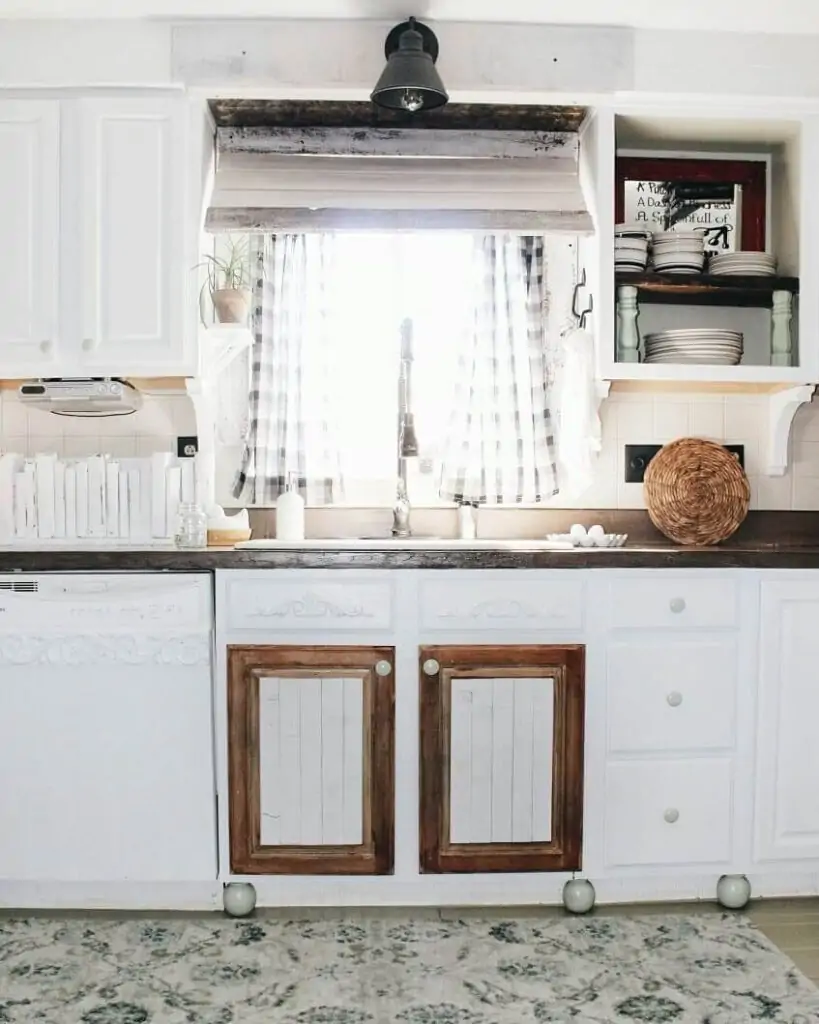 When it comes to farm kitchen decorating ideas, the possibilities are endless. One of our favorite looks is a window awning made of reclaimed wood. Reclaimed wood has a beautiful, rustic appearance that instantly adds character to any space. Plus, it's a great way to repurpose old materials and give them new life.
To create this look:
Start by finding some reclaimed wood boards in the right size and shape for your window.
Cut out two triangles from the boards using a jigsaw.
Drill pilot holes in the top corners of the triangles and screw them together at the apex.
Finally, attach the assembled awning to your window using screws and brackets. Be sure to seal the wood with a clear finish to protect it from the elements. Once you've hung your new window awning, step back and admire your handiwork! This simple yet stylish farmhouse decor idea will transform your kitchenette into a warm and inviting space. It is truly one of the better answers to the question of how to decorate a farmhouse kitchen on a tight budget.
2. Painted Mason Jars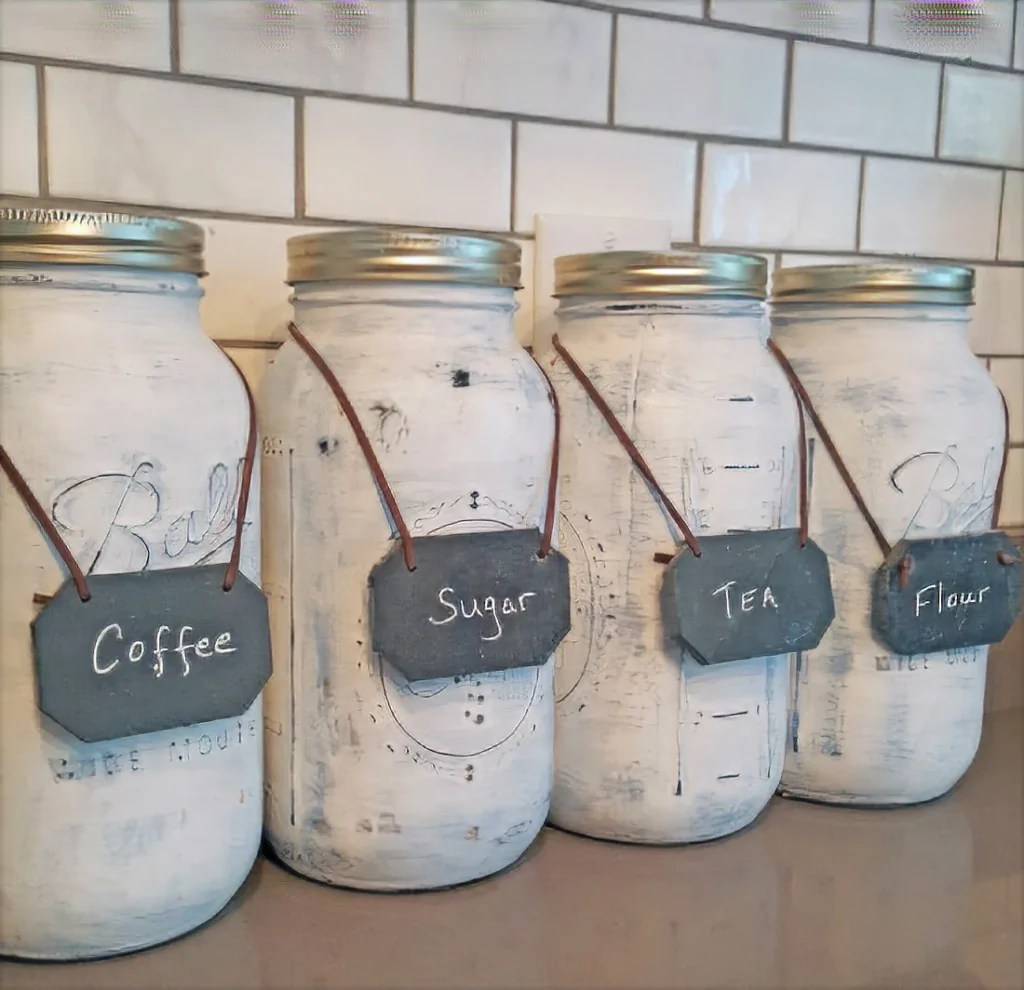 One of the more simple — yet incredibly stylish — DIY farmhouse kitchen ideas is to use painted mason jars. Extremely easy to make, they will add a great pop of color to any space. All you need is some mason jars, paint, and a little bit of time. First, decide what colors you want to use. Once you have your colors picked out, start painting the jars. Once the jars are dry, add whatever you want to them. You could use candles, utensils, or anything else that would look good.
3. Rustic Wood Signs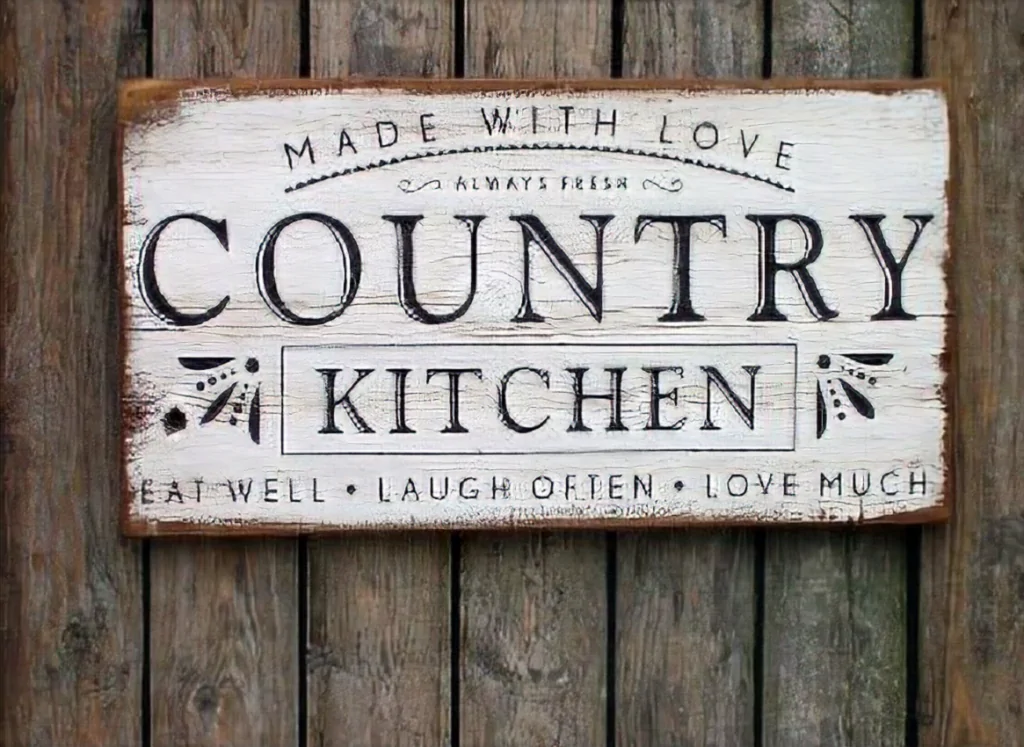 There's nothing cozier and more inviting than a rustic wood sign hanging in your cooking area. Whether it's a simple phrase or a beautiful design, these signs add character and charm to any space. Here are some of our favorite farmhouse kitchen signs to inspire your own decorating:
Bless This Food: a classic sign that reminds us to be grateful for every meal.
EAT: a simple yet effective sign that reminds us of the most important part of being in the kitchen!
The kitchen is the Heart of the Home: a lovely sentiment that captures the true spirit of the kitchenette.
Fresh Eggs Daily: a must-have for any farmhouse kitchen, this sign is a great way to show off your fresh eggs.
Whatever design or phrase you choose, make sure it reflects your own personal style. Rustic wood signs are an easy and affordable way to add a touch of farmhouse flair to the décor.
4. Copper Pots and Pans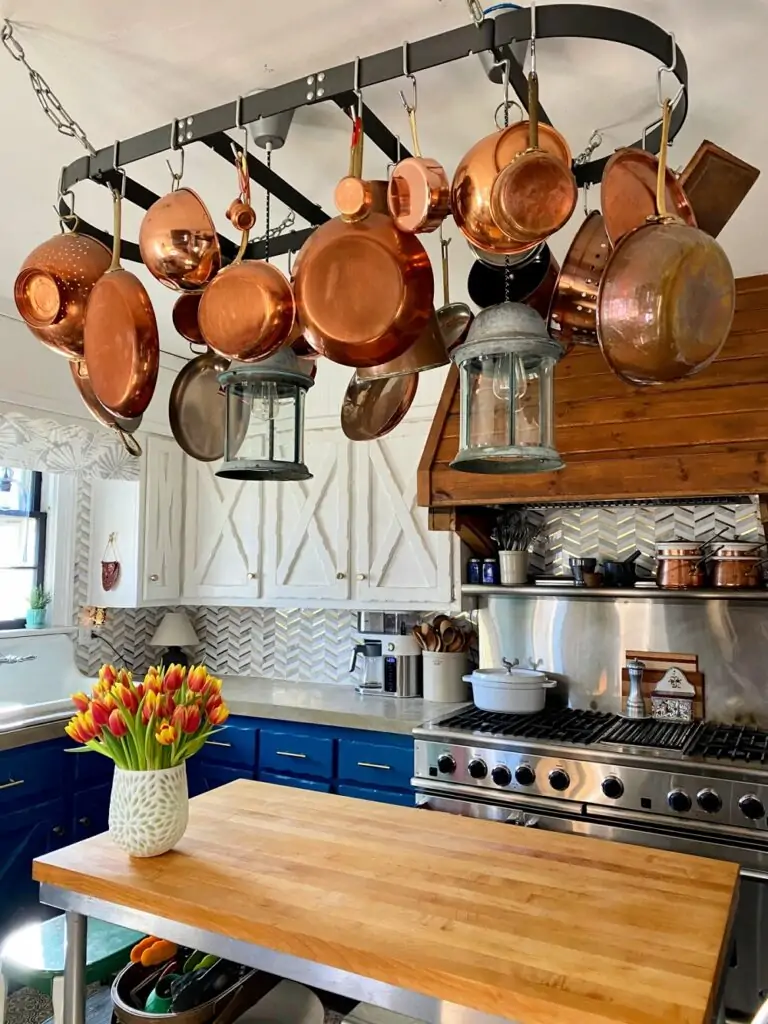 Copper pots and pans are a must-have for any farmhouse kitchenette. They add a beautiful touch to the space and can be used for both water-boiling and decoration. They come in a variety of sizes and styles, so you're sure to find the perfect one for your needs. Plus, they're usually made from high-quality materials that will last for years to come. As a result, copper kitchenware can be one of the coolest small farmhouse kitchen decor ideas that you can try immediately.
5. Vintage Finds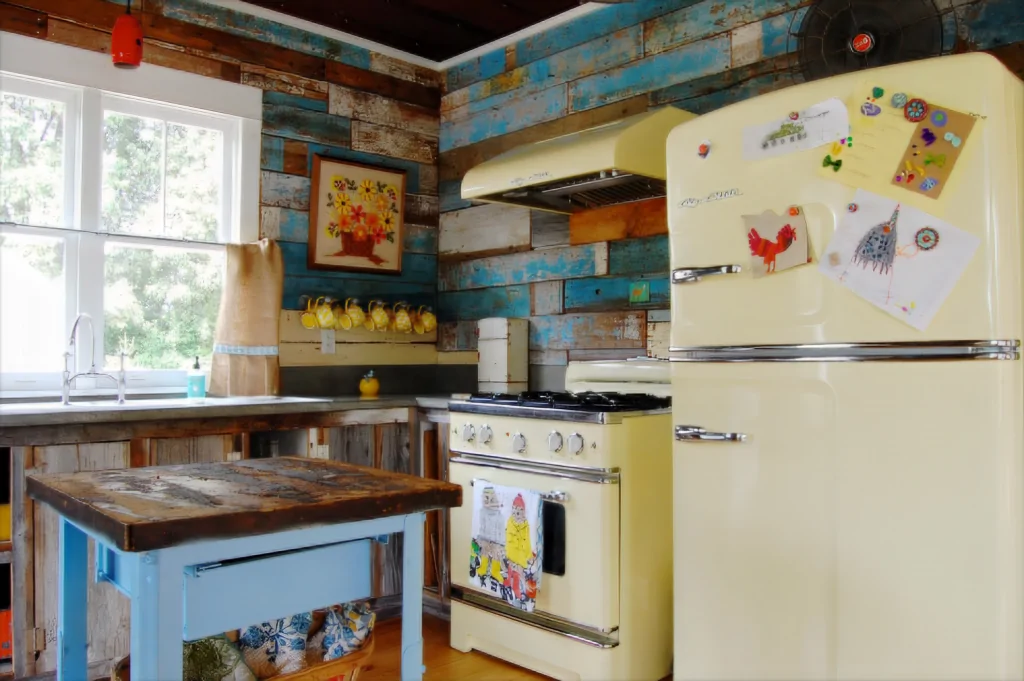 Vintage finds are a great way to add some personality. Look for old kitchenware at flea markets or antique stores. You can also find vintage-inspired decorating pieces at many home decor stores. Hang an old wooden sign above your sink or stove, or display vintage plates on the wall. Add a few Mason jars filled with utensils or dried herbs to complete the look.
6. Shiplap Walls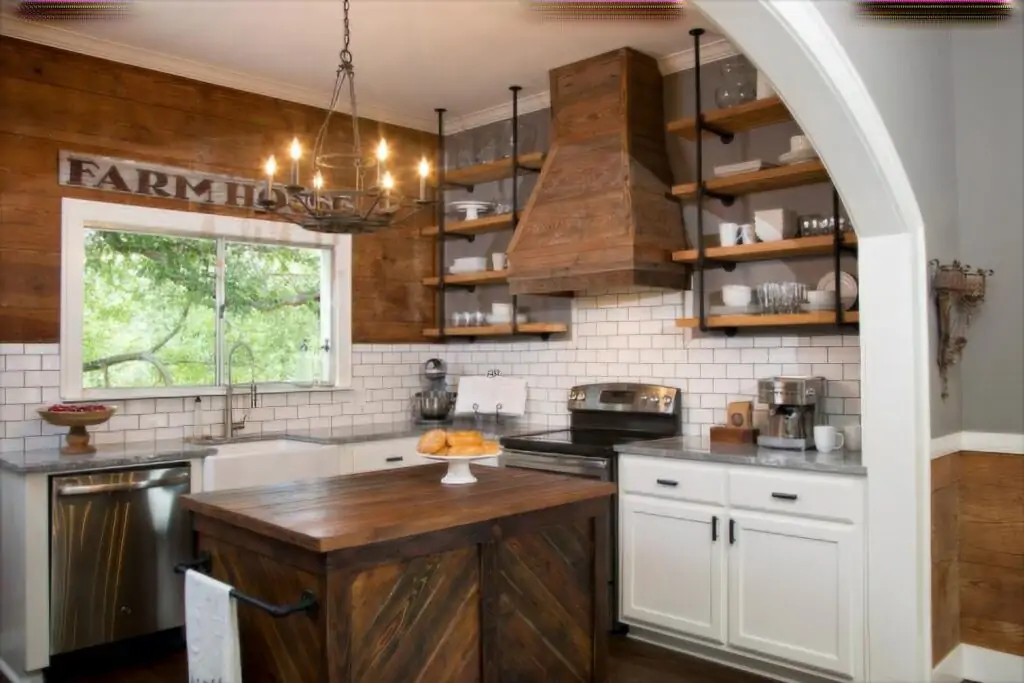 Shiplap walls are the way to go if you're looking for country kitchen decorating ideas on a budget. Shiplap is a type of wooden board that is traditionally used for shipbuilding. This gives it a rustic look that is perfect for a farmhouse cooking area.
Shiplap walls are easy to install and can be done as a DIY project. Simply measure the wall where you want to install the shiplap, cut the boards to size, and then nail them into place. Once the boards are in place, you can paint or stain them to match your kitchen's décor.
7. Farmhouse Sinks for a Cozy Look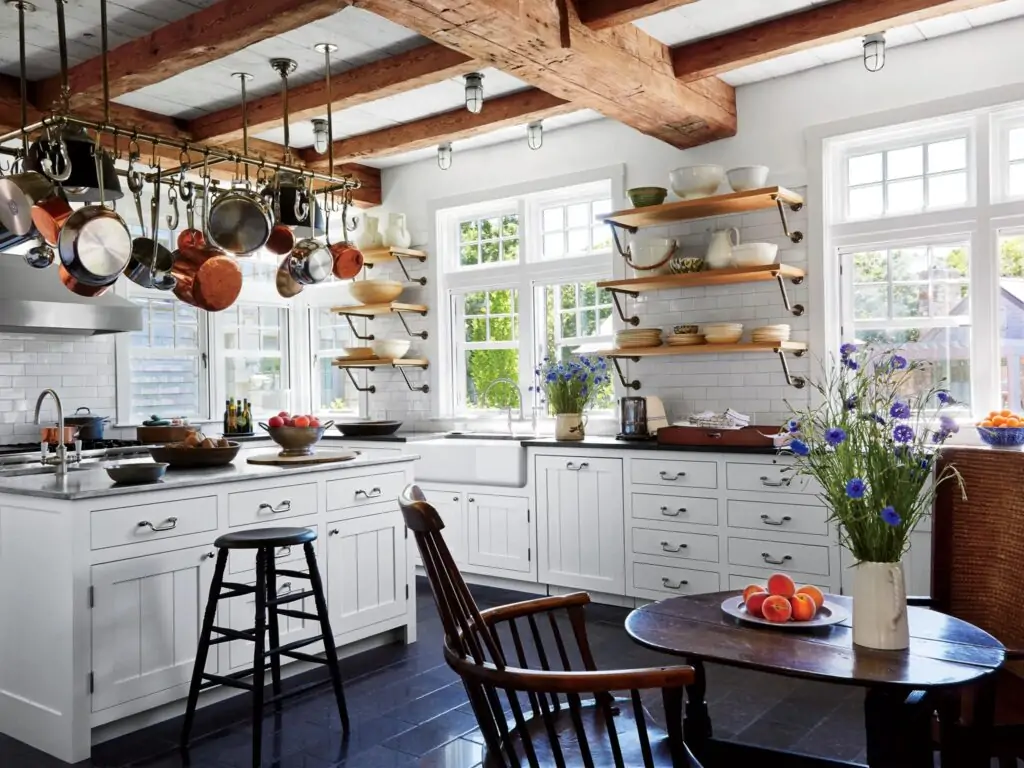 Farmhouse sinks are one of the most popular trends in design. They provide a unique, rustic look that can make any kitchenette feel like a cozy country cottage. Farmhouse sinks come in a variety of materials, including porcelain, fireclay, and stainless steel. You'll need to decide which material is right for your kitchenette based on your budget and style preferences.
8. Butcher Block Countertops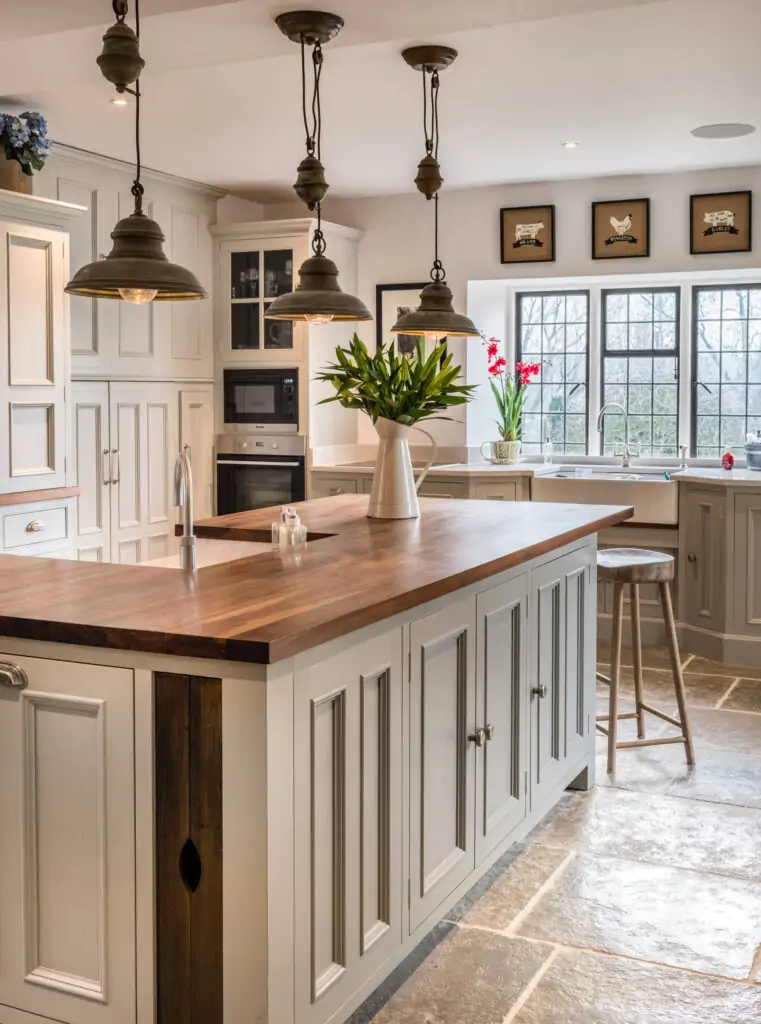 If you want to add a touch of rustic charm to your cookhouse, then butcher block countertops are the right choice. Not only do they look great, but they're also durable and easy to maintain.
When it comes to choosing a butcher block countertop, there are a few things you need to keep in mind. First of all, you need to decide on the right wood type. The most popular options are maple and oak, but there are also other options like cherry and walnut.
Once you've decided on the wood type, you need to choose the right thickness. The thicker the countertop, the more durable it will be. However, it's important to keep in mind that thicker countertops can be more difficult to install.
9. Incorporate Open Shelving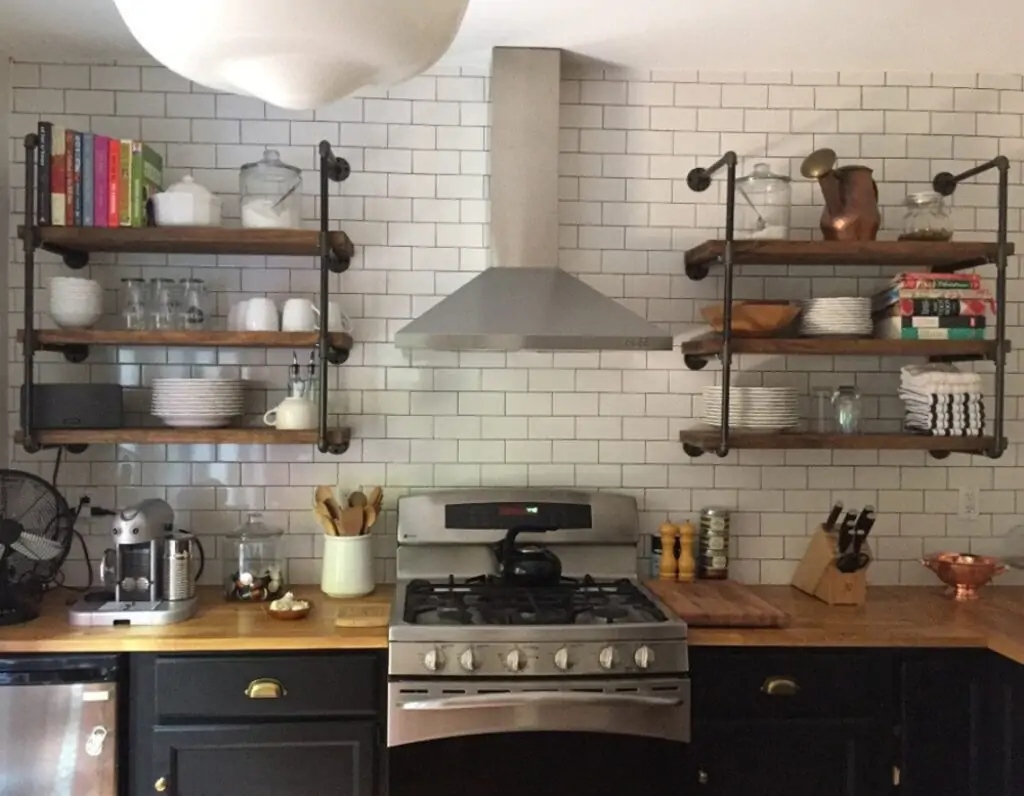 This is really one of the most practical farmhouse kitchen shelf decor ideas. Open shelving is a great decorating option if you're looking for a way to add some extra storage space. It's a handy place to keep your cookware, cookbooks, and even more compact appliances. Last but not least, it's a great way to show off your style.
10. Glass Cabinet Doors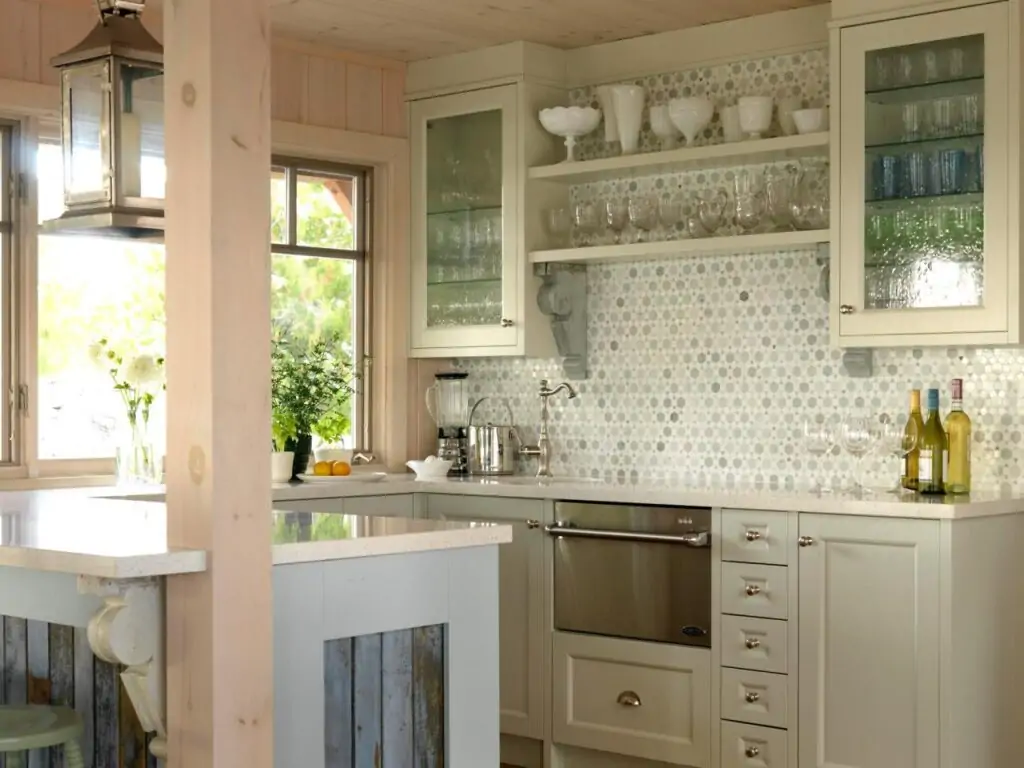 If you want to add a touch of rustic charm to your cooking area, consider using glass cabinet doors. Glass cabinet doors can help to create an illusion of more space in your kitchen and are perfect for displaying your best dishes and cookware. Plus, they are easy to clean and can be found in a variety of styles to suit your taste.
11. Barn Doors for a Rustic Feel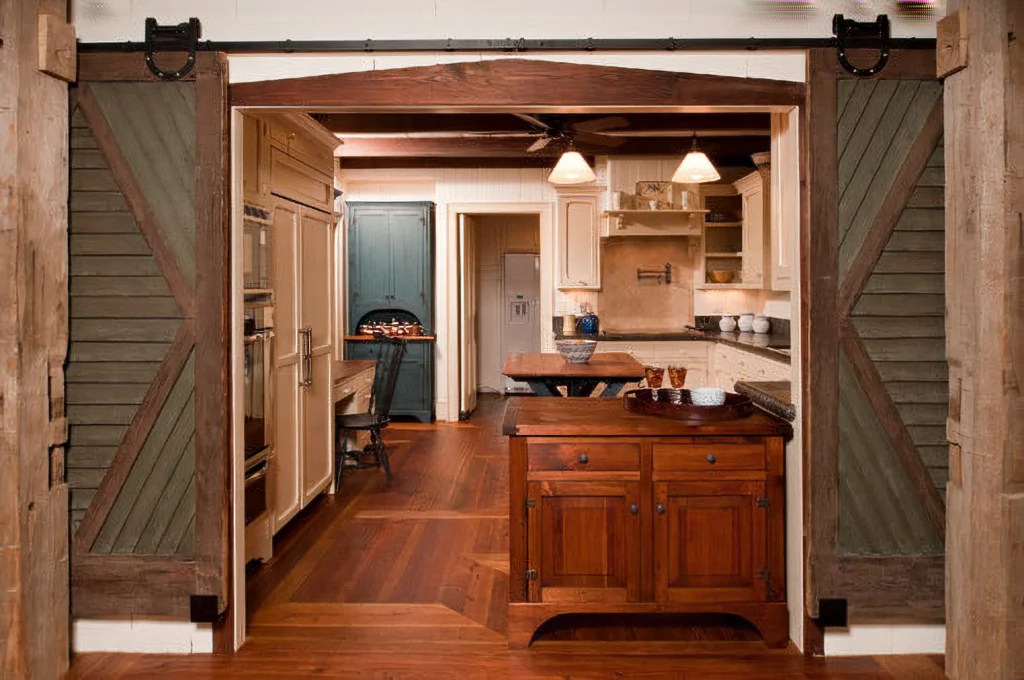 Decorate your kitchen with barn doors to give it a rustic feel. Barn doors are available in most home improvement stores. Don't forget, however, to measure the opening before you buy the door.
If you want a unique look, you can try painting the door or adding hardware to it. Just make sure that the paint or hardware you choose compliments the rest of your kitchen's decor.
12. Exposed Beams for Added Charm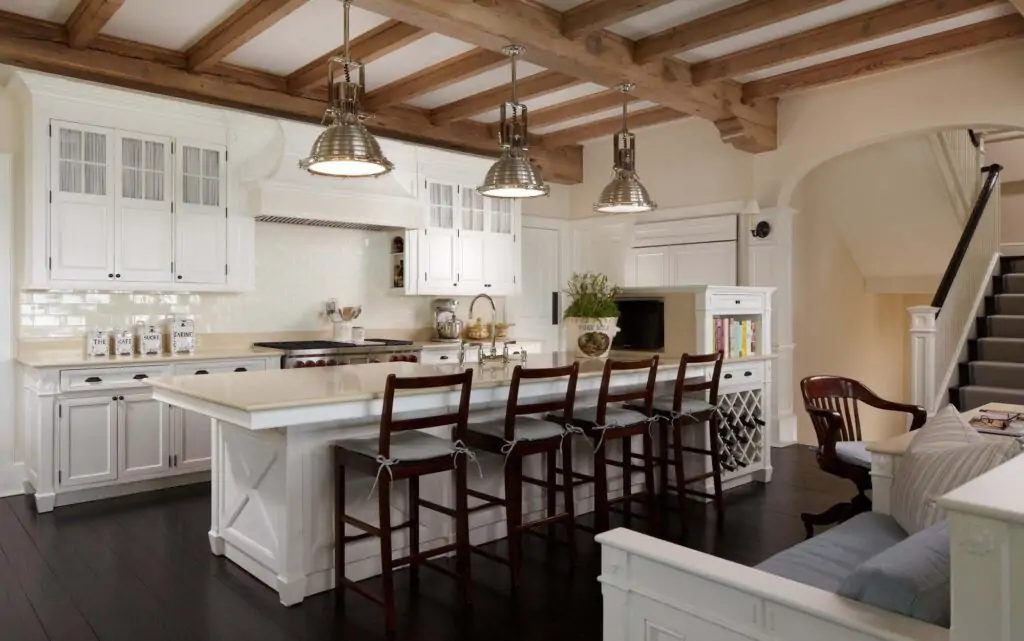 Truly warm and inviting farmhouse kitchens normally feature plenty of natural wood and stone elements. Exposed beams are a key design feature in this style that adds both visual interest and plenty of rustic charm. If your kitchenette doesn't have exposed beams, consider adding some fake ones!
You can find plenty of beam covers at your local home improvement store or even online. Just make sure to measure your space first so you know what size beams you need.
13. Floral Accents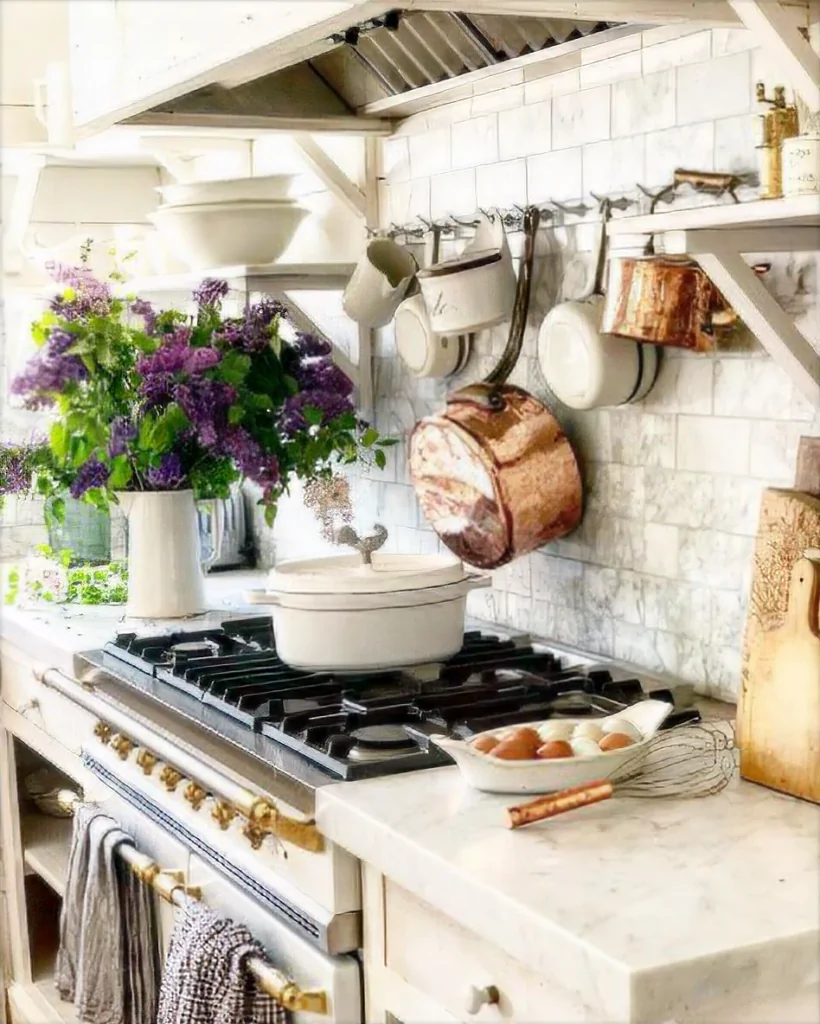 If you're looking for a way to add a touch of spring to your home, consider incorporating some floral accents into your farmhouse decor. Fresh flowers are always a welcome sight in any room and can brighten up any space. Another option is to use artificial flowers or plants to create a more permanent arrangement.
14. Wood Floors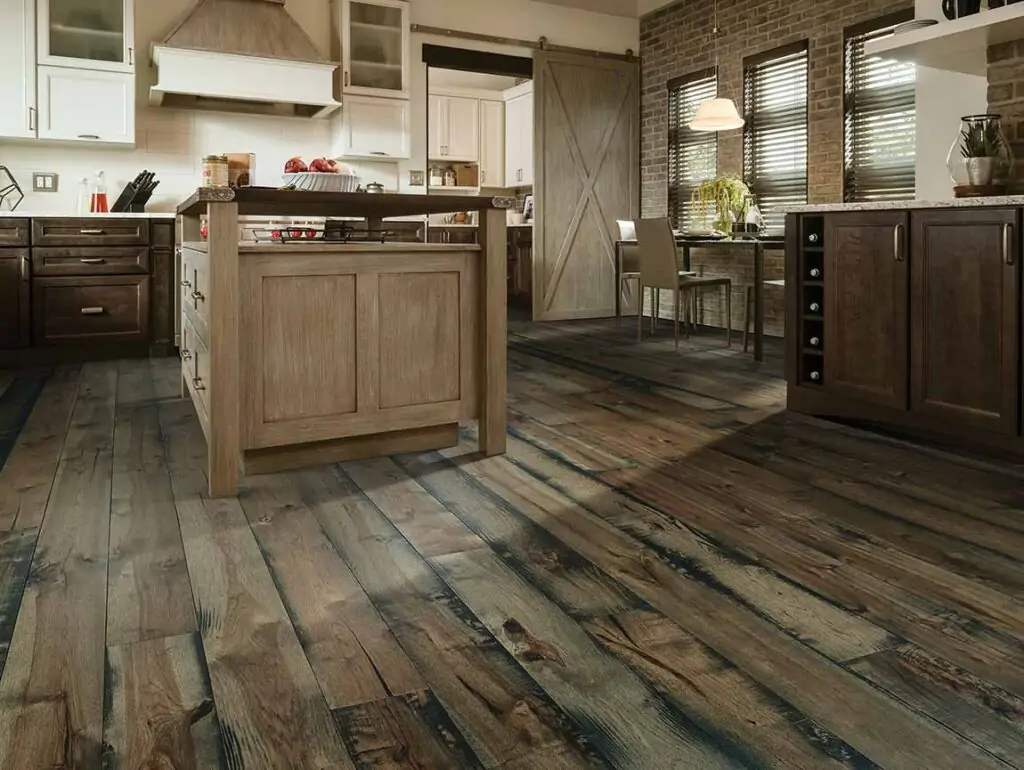 Wood floors are a classic choice for farmhouse kitchens. They add warmth and character to the space and can be easily dressed up or down to suit your personal style. For example, if you're looking for a more rustic look, opt for wider plank floors in a darker stain. On the other hand, choose narrower plank floors in a light stain or natural finish for a more refined look. Either way, wood floors are an excellent choice for every décor venture.
15. Wood Range Hood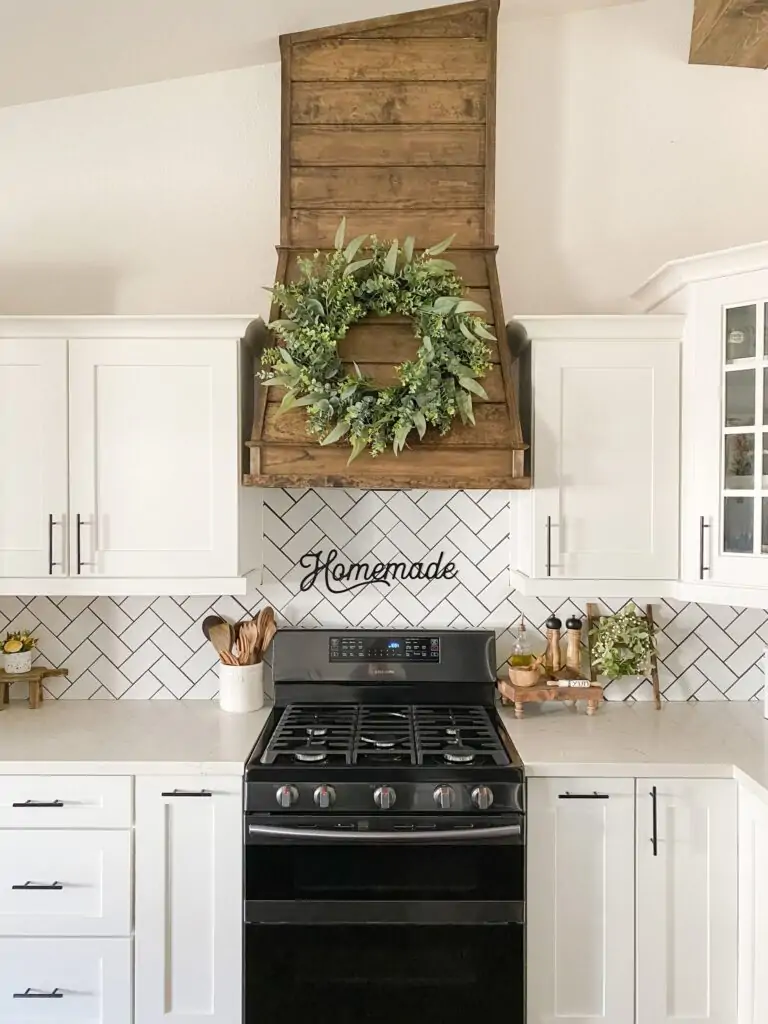 Wood range hoods are a beautiful addition to any kitchen and can help set the tone for the space. Farmhouse kitchens are all about rustic, country charm, and a wood range hood can perfectly capture that look. If you're planning on doing some kitchen styling, it is one of the best country kitchen design ideas to give a try.
16. Rustic Style Cutting Board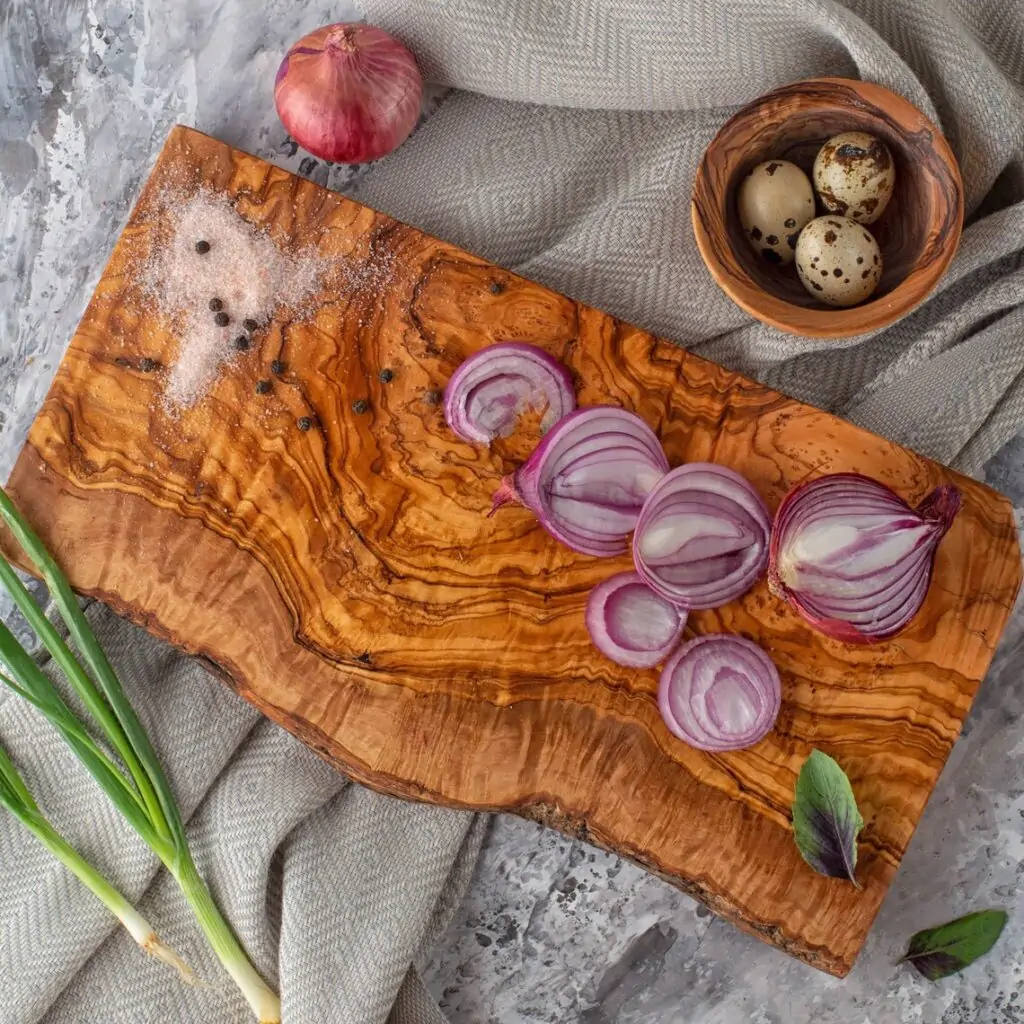 If you love the rustic look, then a rustic-style cutting board is the perfect addition to your farmhouse kitchen. This type of cutting board is usually made of reclaimed wood, so it has a natural, weathered look. Reclaimed wood is a popular choice for farmhouse kitchen decorating. It can add a rustic, country feel to your kitchen and is a durable, long-lasting material. You can find reclaimed wood at many home improvement stores or online retailers.
Conclusion
There are endless possibilities when it comes to decorating a farmhouse kitchen. By incorporating some of these farmhouse kitchen decorating ideas, you are sure to create a warm, inviting, stylish, and functional space.