The Perfect Garage: Man Cave Ideas to Get Inspired By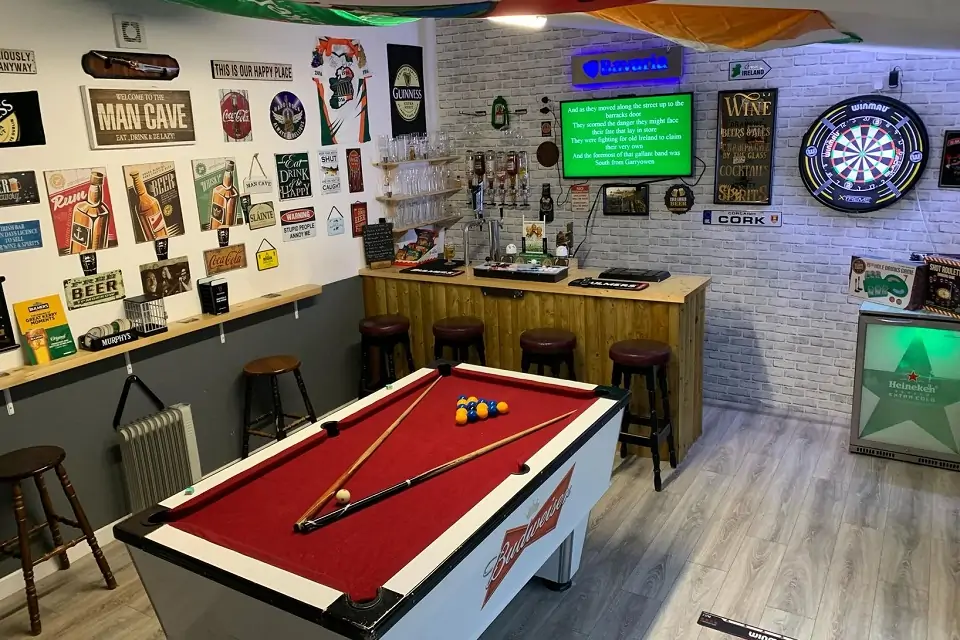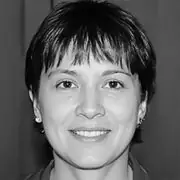 Everyone needs a nice relaxation retreat that's completely theirs to cool off and have fun once in a while. For men, one of the better places for such a spot is a garage. Man cave ideas for it need to provide this ultimate escape when you are totally free to enjoy yourself.
Then again, from deciding the theme of your space to getting reliable accessories to blend with the theme, it can be tricky to create that relaxing den you truly seek, especially if you only have a small space.
If you're considering converting your garage into an escape-worthy hangout away from the bedroom and living room, we've rounded up some simple ideas to help you make the change.
1. Turn Your Garage into a Mini In-Home Gym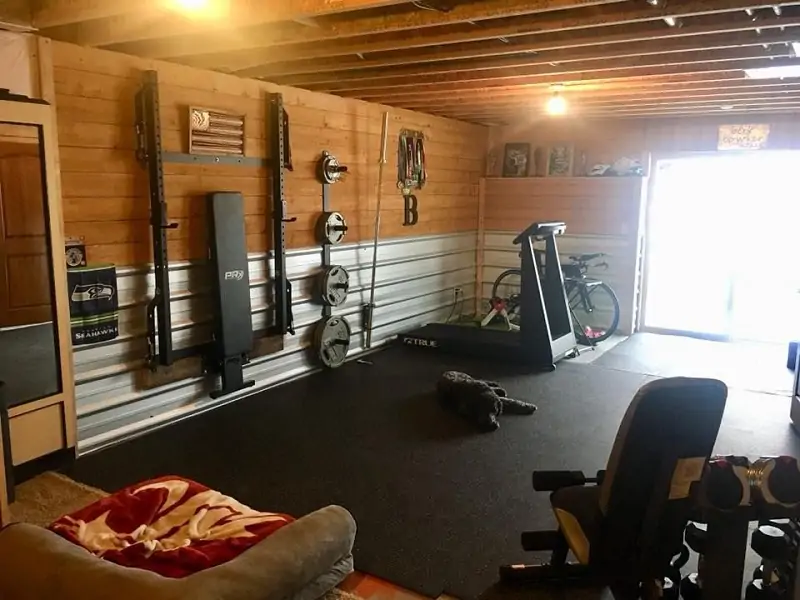 Over the years, studies have shown that gym sessions help people relieve stress while promoting mental wellness. Then again, for some people, it has become more than simply a tool to keep a peaceful personality but an absorbing hobby.
Most men can't cope with the idea of workout sessions, but if you love the hours spent in the gym, then why not create a gym-style garage? Man cave decor like this will ideally suit your taste.
2. The In-Home Workshop Space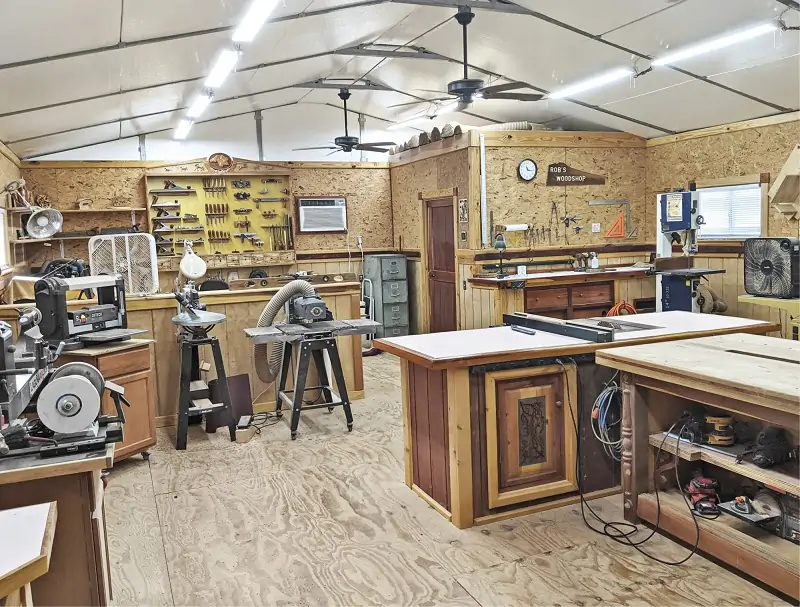 Like the gym, most men engage in building and craft activities just for fun they get out of them. So, if you're going to spend time working with wood or creating an exquisitely detailed scale model, having a workstation is key to success.
Garage cave ideas like the one in the picture help you set up your workstation and make it easy to access your tools. Enjoy peace, and calm whenever you want to engage in your craft.
3. Create a Movie-Themed Relaxation Escape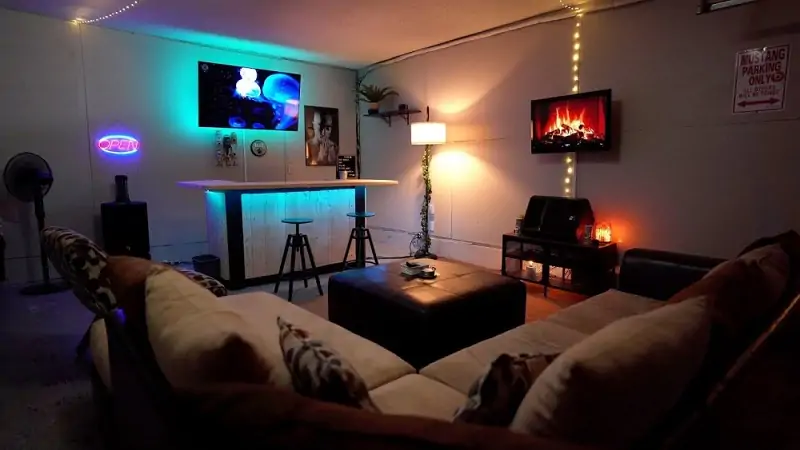 Why don't you convert this area into your personal movie theater? A private watching sanctuary like this one will help you watch your favorite shows without being distracted.
The best part of this idea is that you can easily add accessories from the large screen to dimming light bulbs that give the room that cinema vibe you only experience in the theater. Besides, you won't have to use the whole space. Just find that perfect corner to set up your plush recliners and your large TV set or high-quality projector.
4. The Sport Lovers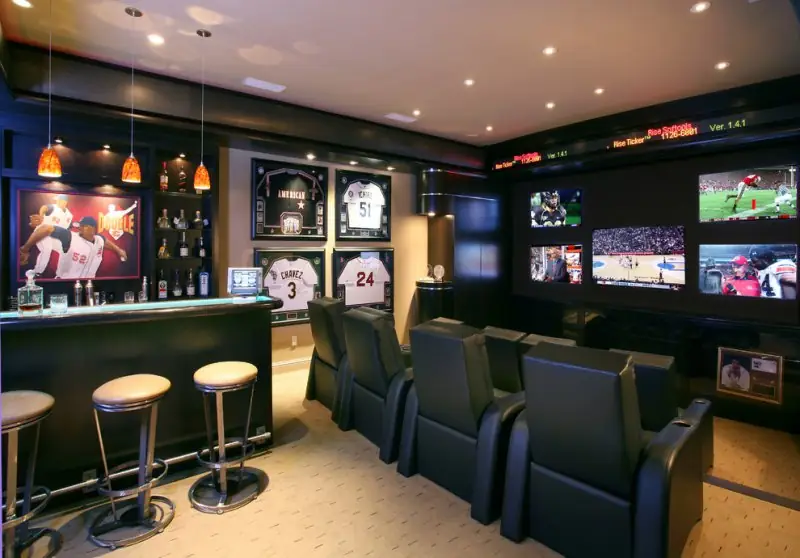 Men love sports, but the question is what type of sports. From baseball to basketball, soccer, tennis, football, hockey, hunting, cricket, and badminton, all you need to do to get a personalized sports relaxation space at home is to convert your garage using hanged jerseys, bats, and sports trophy items. With trophy collections like this, no one will deny your love for sports.
However, if you love sports like hunting, store your weapon collections in a reliable and safe spot. For your pistols, get safety accessories like a handgun safe. Also, get a large, fireproof, and durable safe for your large rifles.
5. The Relaxing Pub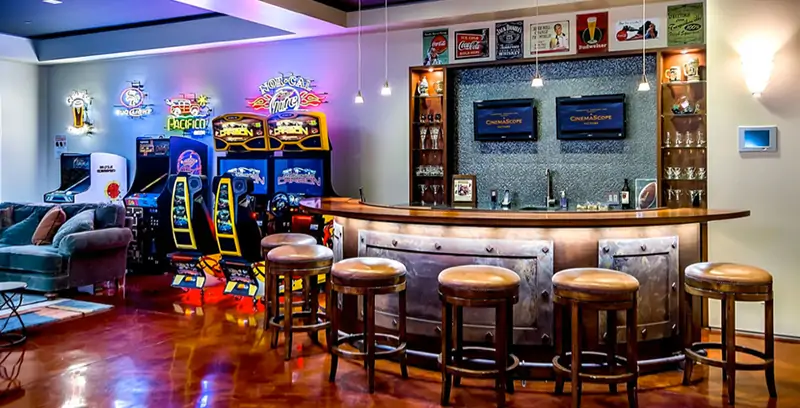 There's nothing more calming than relaxing with a bottle of cold beer or glass of wine at home after an intense day. However, building a relaxation hideout at home takes your peace and tranquility to a whole new level as you enjoy your drink in your personal sanctuary where no one will ever bother you.
The best part of this idea is that it works even for small spaces. So, if you only have a small garage, man cave ideas like this one will require buying nothing more than a small bar with a Kegerator or mini-fridge plus some fancy glasses. Alternatively, you can set up a wine rack. It allows you to put all your valuable wine collection on display while providing you with various options to choose from if you have friends over.
Then again, if you have space to spare, consider installing a beer tap or an actual floor-to-ceiling wine wall to showcase your wine collection.
6. Music Studio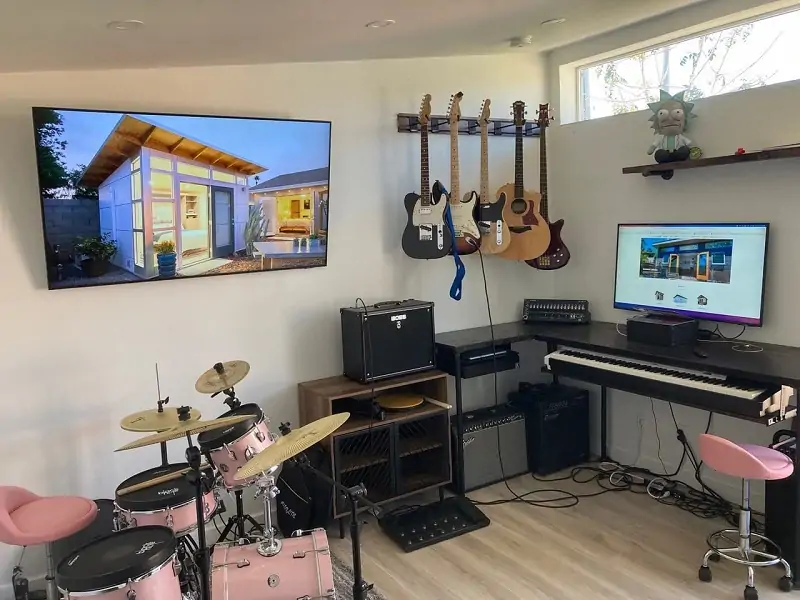 What can be a better place to enjoy your love for music than a noise-free space? Studio sessions can range from a couple of dollars to hundreds and even thousands. Still, the best part of building a live-in music studio is that you won't have to worry about the funds each time you want to record some songs. Still, you might have to install soundproof windows and walls to keep sounds within the room.
Besides this, you can listen to your best music collections without disruption. Then again, you may want to consider getting some sound equipment like a Hi-Fiplayer and a comfy seat to relax while listening to your tracks.
7. Use It for Your Collections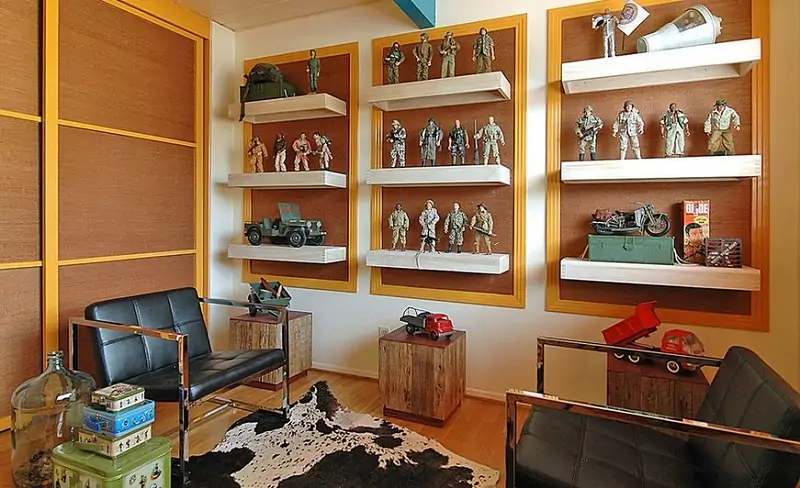 Everyone needs a safe haven to live free of neighborly or family interference. Still, your sanctuary won't really seem yours without some minimal setup that defines you. If you're a collector, creating a showroom display in your man cave can be the best decorative accent you can add to your space.
From your action figures to Dungeons & Dragons miniatures, RC vehicles, Warhammer models, paintings, and rare collections you own, setting up a cool display of your favorite pieces is one of the best designs you can decide on to make your personal den feel more like your own.
Start by creating floating shelves or wall cabinets with a showroom display glass to stylishly display your favorite collections.
8. The Gamer's Room
Besides sports, men loves games, from pool games to dartboards, cornhole, bowling, shuffleboard, and, of course, tabletop and video games. If you're always in gaming mode, you should consider converting your garage to a gaming room.
More than this, if you love 3D games or video games, your gaming den won't be complete without a proper noun multi-screen setup, gaming chair, soundproof panels, gaming pads, and high-quality speakers. Love your pool games? Then install a pool table in a corner.
9. Store Your Favorite Motorcycles and Cars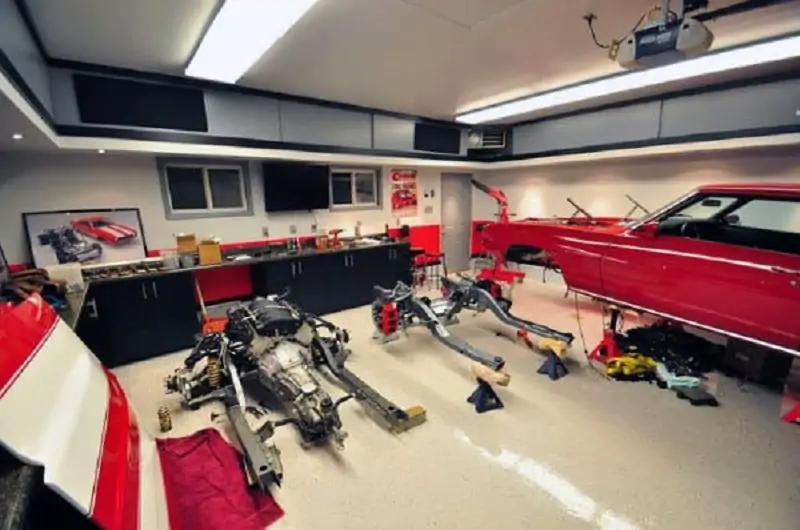 Buying a long-time dream car is everyone's dream, but only a few make their dream a reality. If you're one of these few and have your dream car at home but can't risk damage to it, then convert your garage into your packing space.
What's more, with some ingenuity you can add more parking space to your limited area. If you don't have a large enough budget for a proper 2 car garage, man cave ideas you can use include designing a two-step metal platform for your car space with one almost touching the ceiling. It allows you to store at least two cars in the room – one on the floor and the other right below the ceiling. If you don't have a car but own a motorcycle, you're in luck because ideas like these also come in handy for your bikes.
FAQs
What Is a Man Cave Room?
A man cave is part of the house, often the garage, where men can spend time on their hobbies, games, drinking, crafts, and any other masculine activity that keeps them relaxed without considering household matters.
What's the Purpose of a Man Cave?
Stress is inevitable, especially when you live in a busy city. A man cave helps you unwind and have alone time with yourself or friends after a stressful day. It also allows you the chance to enjoy your favorite hobby without distraction.
What Should Be in My Man Cave?
Ideas for a small — or large — garage really depend on your personality. The best part of building a man cave is that any setup and accessory works effectively so long as you favor them. Regardless, the essential items you should have in your sanctuary include theater seats, large screen TV, stools, sound systems, a refrigerator, and a desk.
Depending on your hobby, must-have essentials will include a bar stool, beer tap, dart board, poker table, pool table, sports memorabilia, and/or arcade games.
Conclusion
A garage man cave in your home is a life-changing experience where you can be more of yourself and do as you want without, thanks to its privacy factor. So, whether you love sports, music, building stuff, gym sessions, gaming, watching movies, or collecting valuable art pieces or wine bottles, a man cave will be a great space to enjoy your hobbies peacefully.Remember to soundproof the room while setting up essentials like a refrigerator, comfortable seats, TV screen, and sound speaker. Whether you have a fancy or very simple garage, man cave ideas we describe are still possible to put into practice. Whatever solution you choose, make sure it matches your true desire while also offering an enhanced experience.