Imaginative & Stimulating Ideas for a Kitchen Nook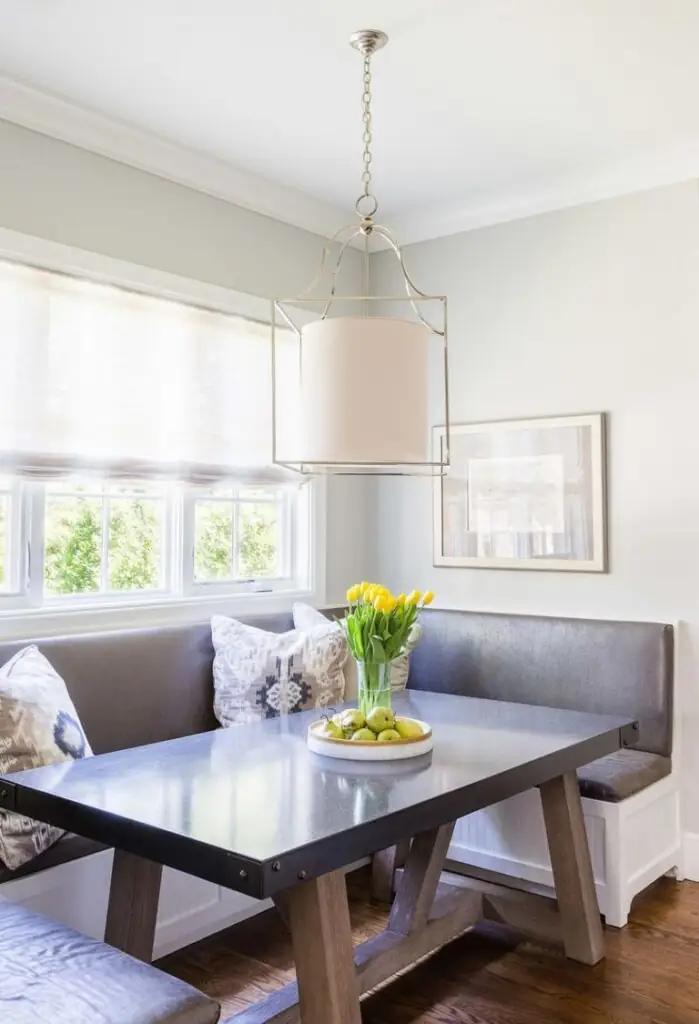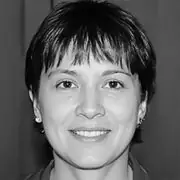 While we love the relaxing feeling such spaces as the bedroom and living room arouse, it is a kitchen nook that makes your mornings and meal time an intimate activity with yourself and your loved ones. Yet, you'll only enjoy this relaxing and comfortable appeal when you implement cozy ideas for the kitchen nook in vogue.
Nooks are decorative features that uplift your home's style. Applied in a kitchen, it has the potential to amp up a small space while making it conducive for meals and conversations. We know how intimate bonding time in the kitchen is, and that's why we've equipped you with unrivaled breakfast nook ideas for a small kitchen, so you leave no stone unturned when installing and decorating your small cooking space.
1. Built-in Coffee Nook Ideas for Kitchen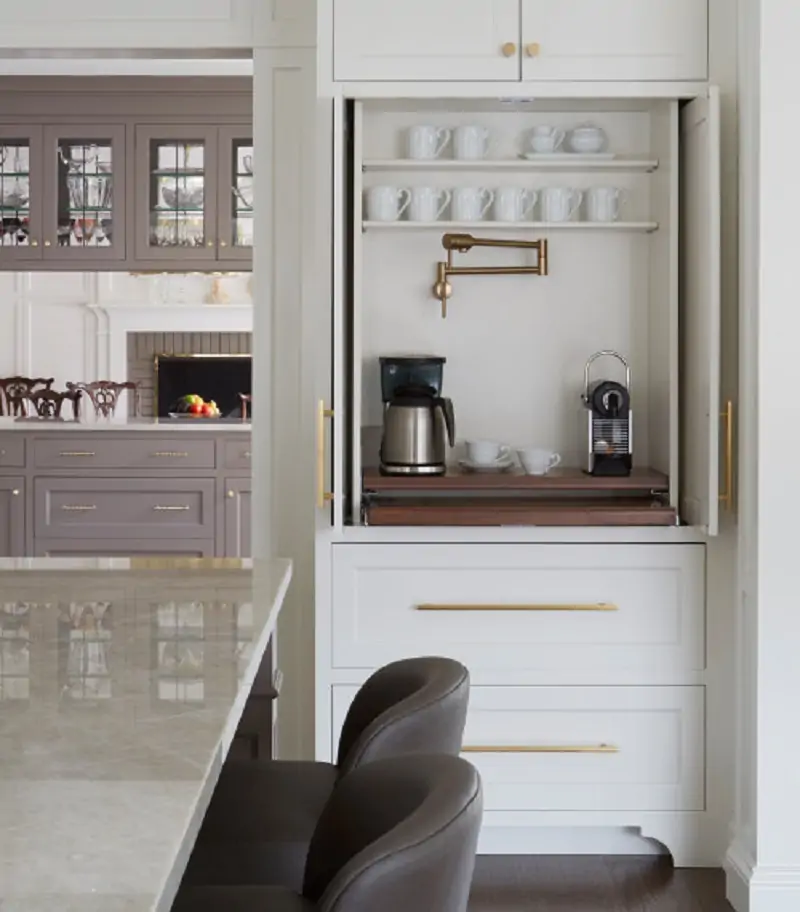 Mornings are never peachy for many until they've had their first dose of coffee to kick start their day. If your body works this way, you must have your coffee always ready, no matter your wake-up time.
Built-in coffee nooks could serve as an additional island for your cooking chores, but they also play significant roles in housing your coffee machine.
2. Corner Breakfast Nooks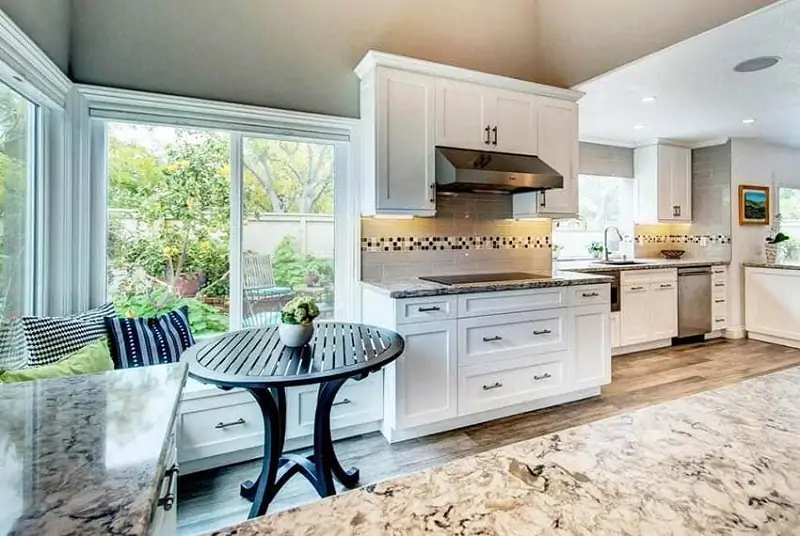 If you've got a small room, you're probably wondering how possible it is to mount a nook in a cornered space. Ideas for a kitchen nook area that really work do not restrict your access to certain spaces. In fact, corner angles are an ideal location for breakfast nooks since they give a secluded vibe perfect for intimacy and bonding.
Do your best to make the available space as comfortable as possible. First and foremost, you should maximize your seating options. You might want to choose a booth seating layout and select furniture pieces that complement the booth theme. If you aim for an alfresco vibe, add natural tones and accents like green, white, and milk for a heightened natural appeal.
3. Bring in Light Effects
Intimacy may be key when decorating breakfast nooks, but that doesn't mean you can't add more lighting. Having chosen the right light effects, whether natural or an exquisite overhead pendant option, you will enjoy a warm sunset glow around your breakfast nook and an environment that will look relaxing and welcoming at all times.
4. Get Smart with Storage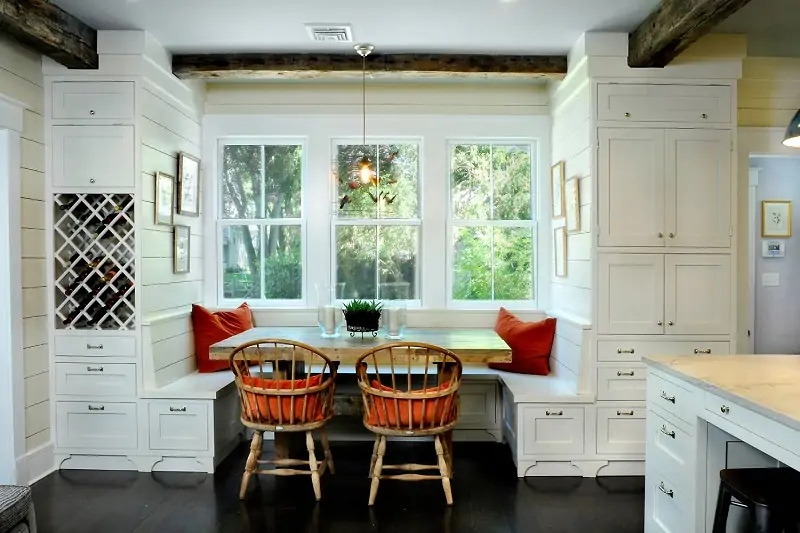 Small spaces mean you'll always need to find storage shelters for your culinary wares. A kitchen nook with a storage option adds more utility to your kitchen than you think.
You're probably wondering how this would work. It's simple! All you need to do is add storage-like drawers underneath the breakfast nook. Alternatively, if you have installed your breakfast nook opposite a wall, you can use floating shelves or floor-to-ceiling cabinets on the wall.
Then again, you can simply install a cabinet under lengthy breakfast nooks, so they look more like a table with drawers. A more budget-friendly solution to achieving this is to follow the DIY route and learn how to build a kitchen nook with cabinets.
5. Bring in Bistro Chairs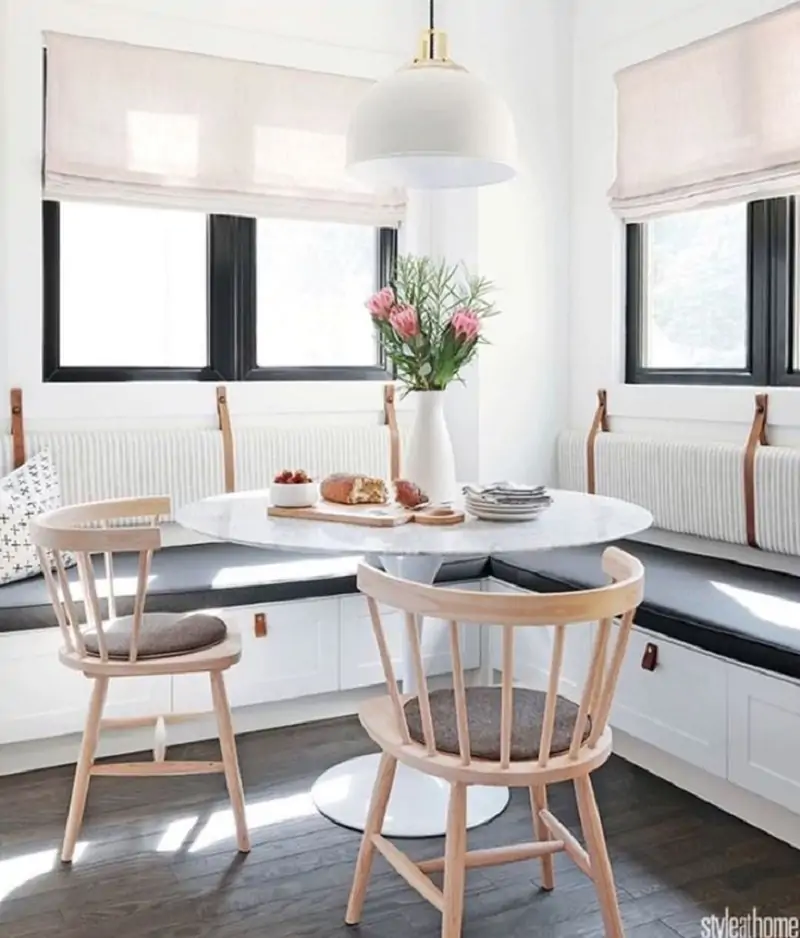 If you have extra space, you'll have access to various seating ideas that blend with your chosen design, from long benches to multiple office-like chairs.
Small kitchens will enjoy more of a classic chair to amp the small space. For this reason, a bistro chair (stripped or in any other design) is the way to go.
6. An Extended Dining Nook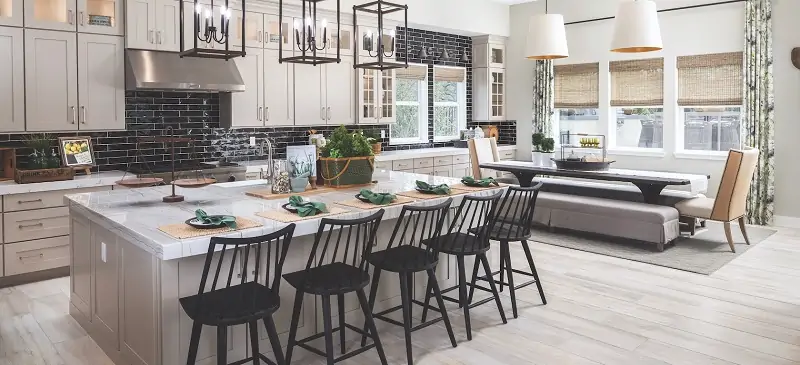 If you prefer more formal nooks better suited to house every member of the family at the same time, a small dining nook and chair set simply won't cut it. Instead, change your small nook into an extended one with bench seating that spans an entire wall. Ideas for kitchen bench seating add a formal ambiance while making your meal area look sleek.
7. Utilize Open Floor Plans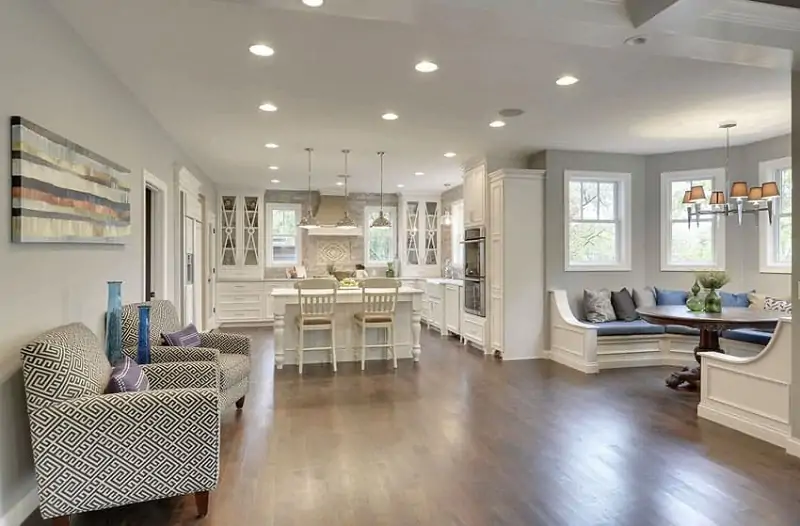 An open area in the home will feel less homey than every other space since it would most likely lack furniture and decorative pieces. Still, if you have a large space with an open floor plan, it means you can easily install as many small table islands as you wish without compromising your space. So, why not fill it with as many tables as possible? Create two to three small breakfast nooks around the open space and add matching furniture.
8. Make It More Relaxing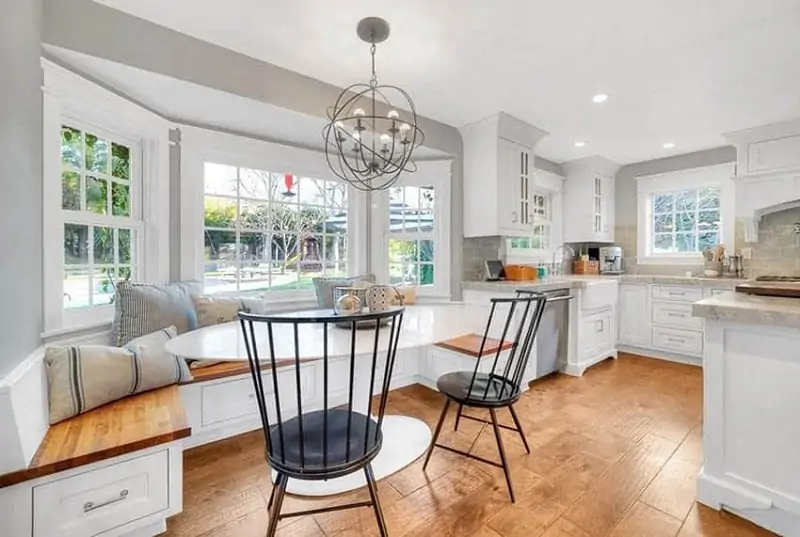 Your breakfast nooks don't necessarily have to be all about fancy dining. If you want to create a more relaxing atmosphere where you can easily cozy up with your book, a cup of tea, or coffee, kitchen nook ideas with a round table, lamp, comfortable sofa, or daybed will make this breakfast area a perfect relaxation spot in your home.
9. Add Decorative Accents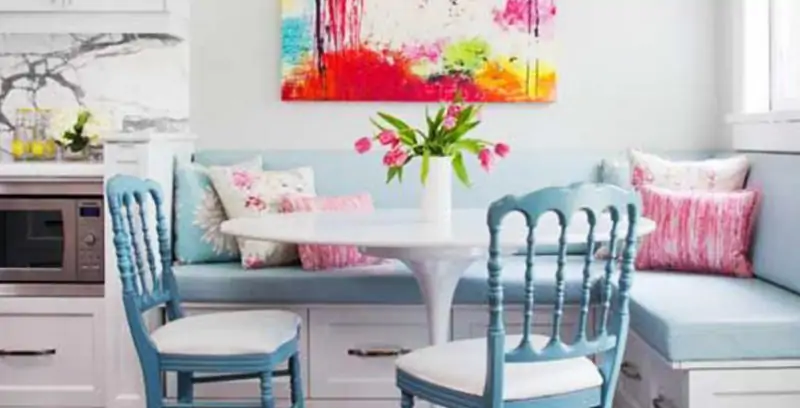 You've learned how to install and arrange your breakfast nooks. But, it still won't be enough to create the atmosphere you truly desire if you don't use decorations of any kind. Infusing decorative patterns into your space will be an ideal way to complement the vibe and style you aim to achieve. So, how do you add some personal décor touch into your breakfast nooks?
For a modern vibe, choose classic stripes or abstract prints on the bench and chairs. Throw in a cozy blanket, pillows, or green plants. Add some bright accent colors on the walls or furniture, and don't forget to add lighting effects like a pendant light or chandelier for a more inviting atmosphere.
How Do I Set Up A Nook in My Kitchen?
If you're planning to add this feature to your home, there are quite a few ideas to consider:
· Size. Large nooks won't fit into a small space. So, you'll need to think carefully about the table, bench, and chair sizes so that they will fit ideally. A small kitchen will benefit from L-shaped seating, while a large one will work well with built-in seats, large and round tables.
· Location. Where you place the nooks also matters because it determines how much space you will have left. An ideal location is usually a cornered area, away from the main cooking island. This way, you easily create an intimate place to relax.
· Furniture and Decor. These are two things you can't do without since they bring out the preferred effects. Still, you need to be sure they can blend in with the available space and theme. For small spaces, choose a foldable table you can tuck away easily or mount the table in a corner so that it won't affect mobility. If you're considering corner nooks, choose bar stools. They allow you to tuck them under the table with ease.
FAQs
What Is a Breakfast Nook in a Kitchen?
It is a small area in the kitchen often used for casual dining and located in a corner away from the main cooking island. Breakfast nooks have a small size, smaller than conventional dining places. Unlike traditional dining areas, they may (or may not) have bench seating areas. Some are only window seats with decorative accents like blankets, pillows, and cushions, while others have more elaborate designs with a built-in bench.
What Can I Do with My Nook in the Kitchen?
There are so many things you can do with breakfast nooks when it comes to their design.
Add built-in shelves as additional storage.
Install a window seat to enjoy the outdoor view while you eat.
If you have a bay window, make it the foundation of your nook.
Create a breakfast bar by adding bistro stools or foldable bar stools to one side.
Use a screen or divider to add some privacy.
Add decorative accents to the wall with some trendy and colorful wallpaper.
How Do I Use My Small Kitchen Nook?
Small kitchens with little to no counter space will benefit from breakfast nooks since they can be a supplement counter space for food preparation during large gatherings and also offer additional seating areas while working in the kitchen. You can also use them to spend intimate time with loved words or read.
Breakfast nooks are often designed to be a relaxing and comfortable space while dining. This is perhaps one of its most alluring benefits. So, if you need a space aside from your bedroom to relax and unwind, this feature adds a warm and inviting ambiance to your cooking island. It also serves as a spot for your early morning coffee routine or even an occasional bar to loosen up.
Conclusion
A breakfast nook is a sanctuary every home needs to create a cozy and intimate dining experience, no matter the available space in the kitchen. To create it, you'll need to find the perfect layout and designs that suit your space. For small spaces, it could be as simple as placing it in the corner or adding built-in storage, while for large areas, lighting effects, custom bench seating, and built-in corner tables will create a functional nook that suits your space.
All you need to do is take advantage of these inspirational ideas for a kitchen nook to create that minimalist, chic, or relaxing corner breakfast island that suits your style and home.