16+ Lovely Ideas to Decorate the Top of Kitchen Cabinets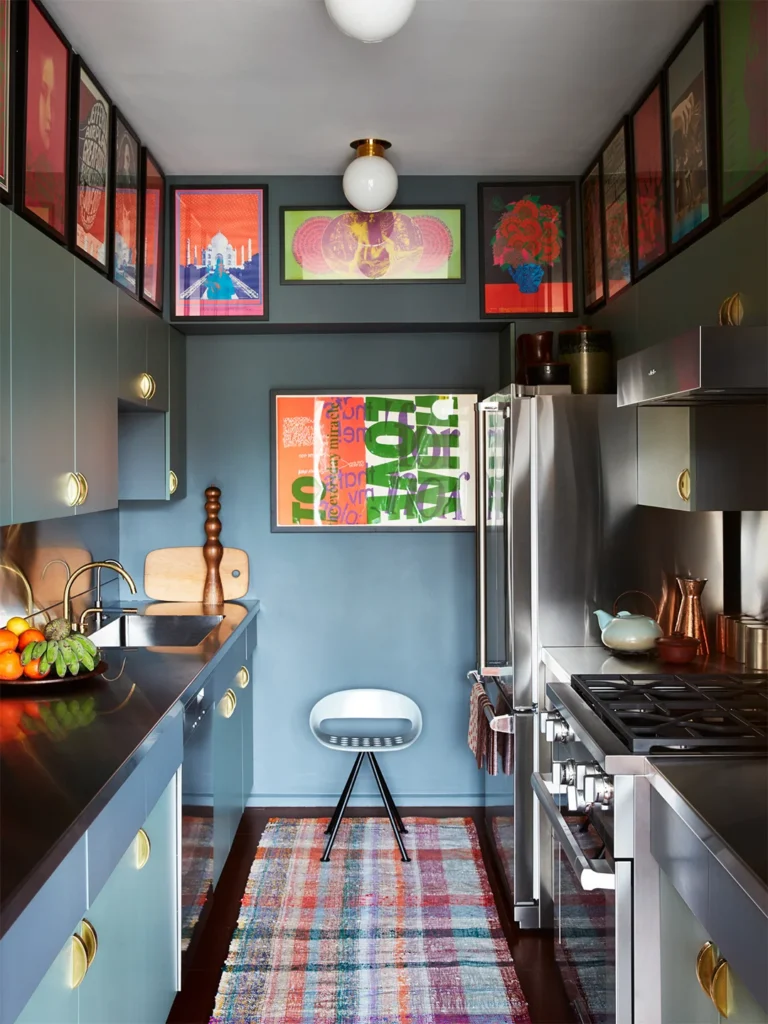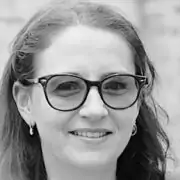 When you have finally installed your kitchen, you feel like you're on top of the world. You have every right to because this room is where the heart of your home is. All that is left to do is to choose how to decorate the top of the kitchen cabinets and create a complete adorable design with a gentle touch of your personality.
There are myriad answers to how to decorate the space above kitchen cabinets. From modern and practical built-in storage to a lovely collection of vases or greens: take a look at our beautiful ideas, and you will be able to spruce up your design.
1. Add Potted Plants and Forget About Urban Stress
Got tired of your ubiquitously smooth and neutral interior? Welcome to the countryside right above your modern kitchen cabinets! Pottered plants are the best way to decorate the top of them to refresh your interior on a budget while staying true to yourself.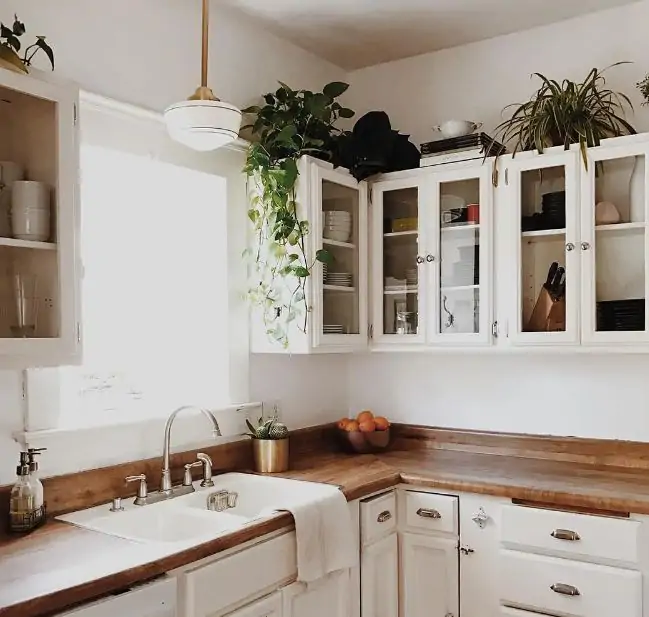 When you are looking for a solution to enliven a sleek white environment, there is no need to add a lot of lush greens. Look at this brilliant option for how to decorate the space above kitchen cabinets. There are several bright-colored plants, and all of them are adoring. Important feature: the plants do not interfere with the hinged doors.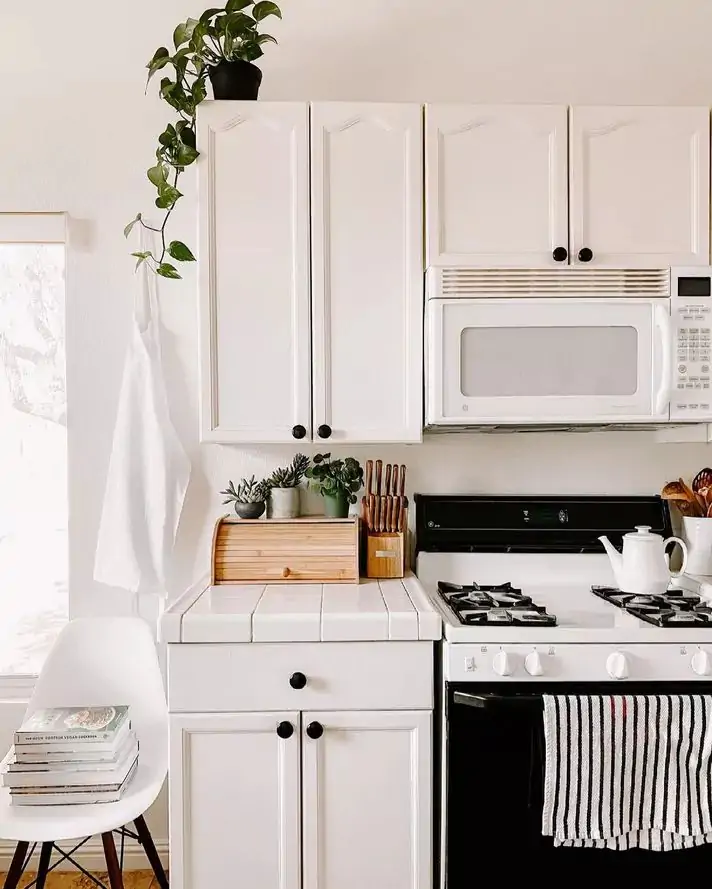 And now for something completely different: this sole hanging plant is enough to complete the room spectacularly. It looks as if it is eager to look out the window: no overloading decoration, just fresh air, and a visually elevated ceiling.
Quick tip on how to decorate the top of the kitchen cabinets with greens: fix your greenery firmly to the shelf to prevent it from falling, and determine in advance how much light and water your unique small garden will need. The place near the ceiling is most suitable for shade-tolerant plants with a regular watering regime.
2. Reimagine the Top of Your Kitchen Cabinets in a Farmhouse Style
If you're looking for a fantastic idea of how to decorate the top of kitchen cabinets in a farmhouse style, colorful bricks, handy baskets, or charming curtains might be the answer.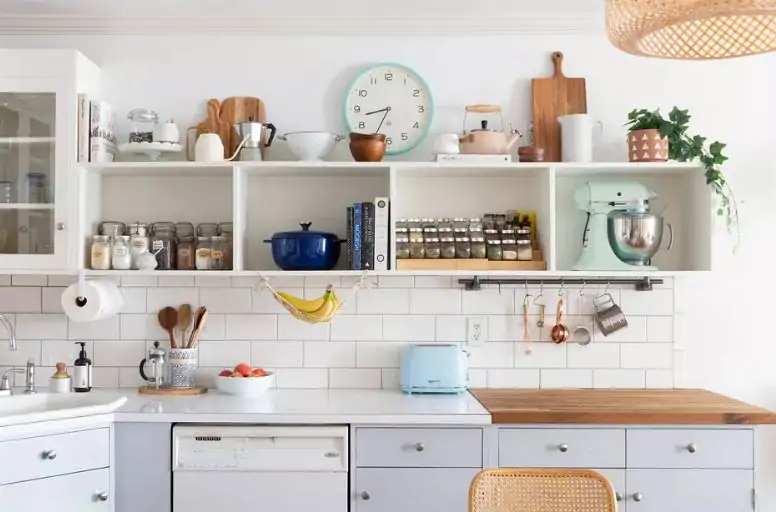 To add a true farmhouse style, leave your upper shelves without doors. The top will look like a logical extension of the room. All you have to do to achieve this conceptual design idea is arrange the appliances on shelves. In the photo above, the eye-catching accent is the warmth of the wood that spreads all over the space.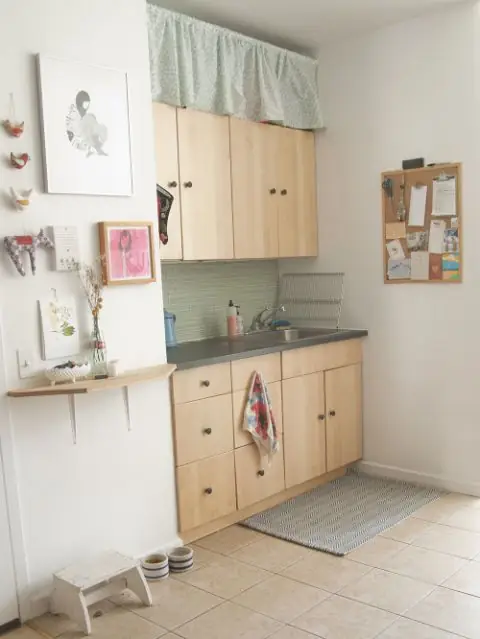 What a fabulous use of a curtain! True farmhouse style doesn't stretch your budget — simply install a tension rod and lovely curtain. No doubt, you will always enjoy looking at this light-filled scenery right below the ceilings!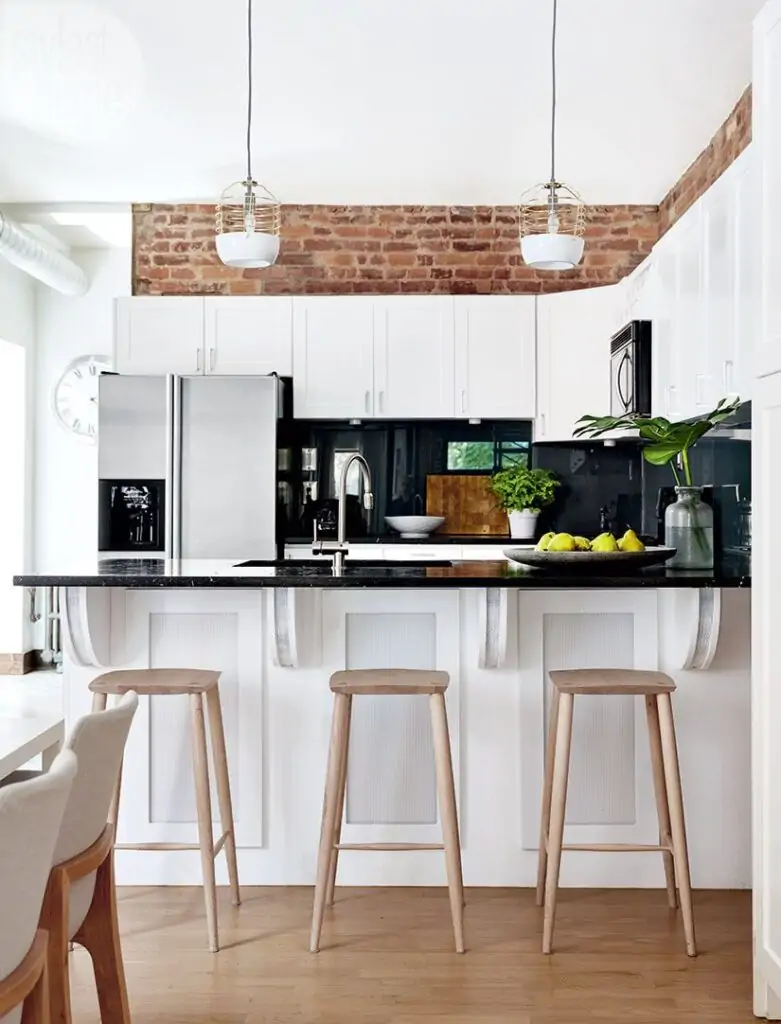 Go rustic with a farmhouse brick wall. Greatly featured but quite simple, especially if you use stylish wallpaper. It is a remarkable touch of creativity with certain flatness in colors and texture.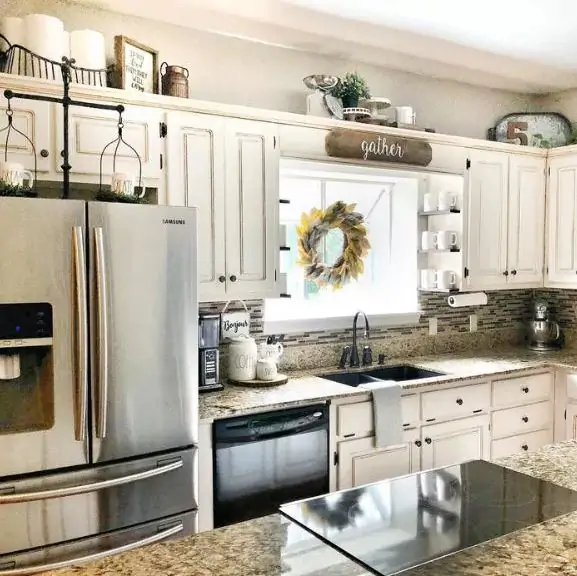 Balance out the empty top of cabinets by finding farm-styled spots for storage. In the picture above, you can see how to decorate a sleek white design by arranging some practical places for cooking necessities like rolls of paper towels, pieces of décor, and even a small unpretentious potted plant. Beautiful islands of objects are always at hand and ready to be changed according to your mood.
3. Get Your Lovely Collection to Cloud Nine
No matter whether your room has high or low ceilings, there are still ideas of how to decorate above kitchen cabinets with your favorite items.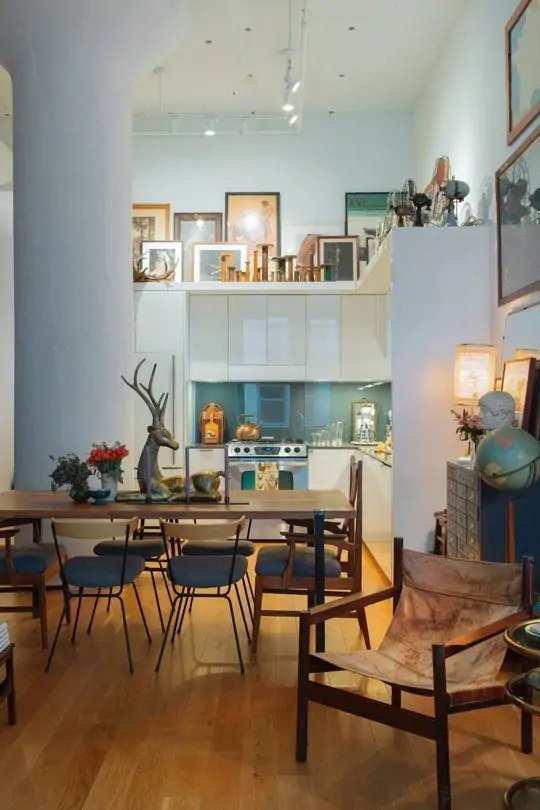 So, do you take advantage of high ceilings? Organize your unique gallery loft on top of the items of furniture. It's a piece of cake to decorate the top with modern artworks or vases.
Take into account that such a way of decorating has an expensive look to fill. This kind of arrangement underlines both your collection and the large airy area.
If you're lucky to have high ceilings, use all your creativity and track down the various glass and ceramic items to place them together on top of the furniture. For a modern feel, combine tall and low vases and alternate contrast colors.
Keep in mind a general rule for such a placement: the more sizes you display in your installation, the bolder accent you will create.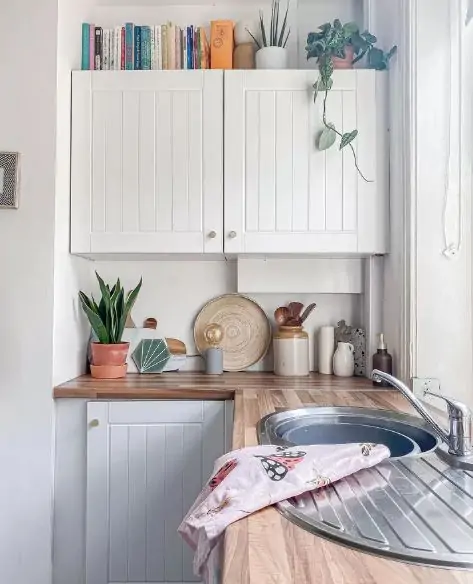 For fans of paper books who like to flip through pages, the best design solution is to place your cookbook collection below the ceilings. The only thing you additionally need is to have a step ladder at hand.
4. Gain Extra Storage Space Above Cabinets
Everything you don't use often is better be put away from the kitchen work area. Storage ideas are coming to the forefront again! Check out how to use the space above the kitchen cabinets and beautify your design at the same time.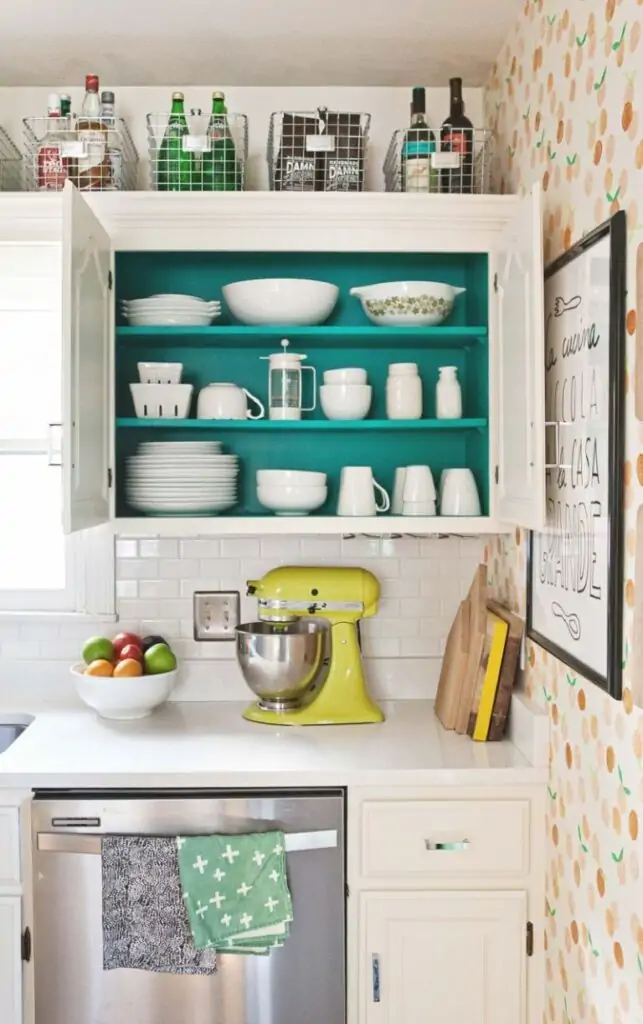 Go transparent and see-through with stylish metallic baskets. A fantastic farmhouse feel in a small colorful kitchen!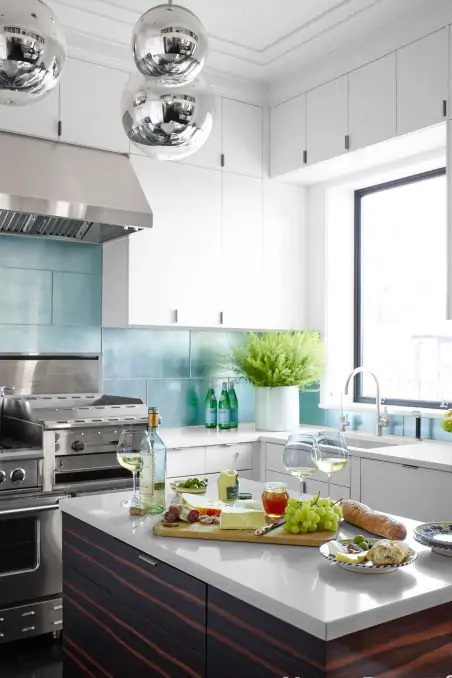 Get extra storage space by extending the kitchen shelves to the ceiling. In this practical design, even an area over the sink has a ceiling shelf!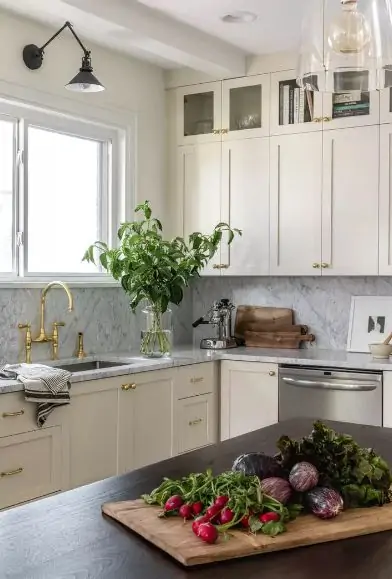 A practical approach to the top gap is to install closed shelves above the kitchen cabinets. Consider small boxes with glass doors to smooth out the transition to the ceiling.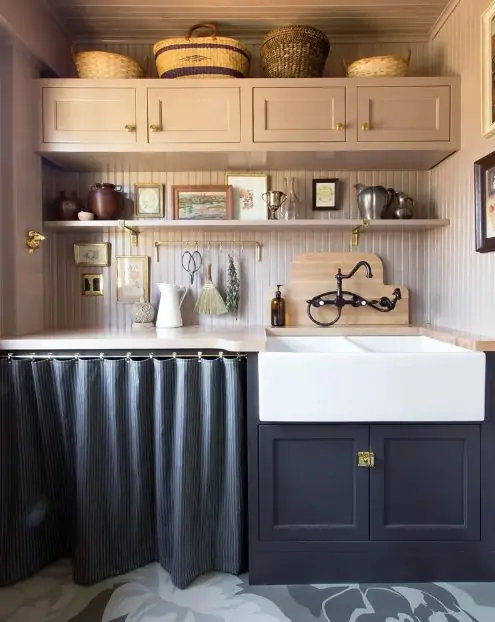 There is another storage idea you can opt for — to decorate the space above the kitchen cabinets with baskets. How to do this is not rocket science: buy several matching baskets to achieve a uniform look.
Remember a helpful tip: warm colors from horizontal surfaces and accent décor details below the ceiling make your room feel more attractive. In such a case, the shelves stay open, and the least expensive storage plan is to put your appliances inside baskets.
5. Be Creative to the Fullest
In search of creative designs, it is essential not to forget solutions that are simple but bright. Here are a few words and instructive photos with exciting and affordable options for how to decorate the top of the kitchen cabinets.
Whether you opt for open shelves or smooth built-in cabinets with doors, there is one magical way to spruce up any gap between your furniture and the edges of the room. Put garland over the shelves under the ceiling and enjoy the festive atmosphere all year round!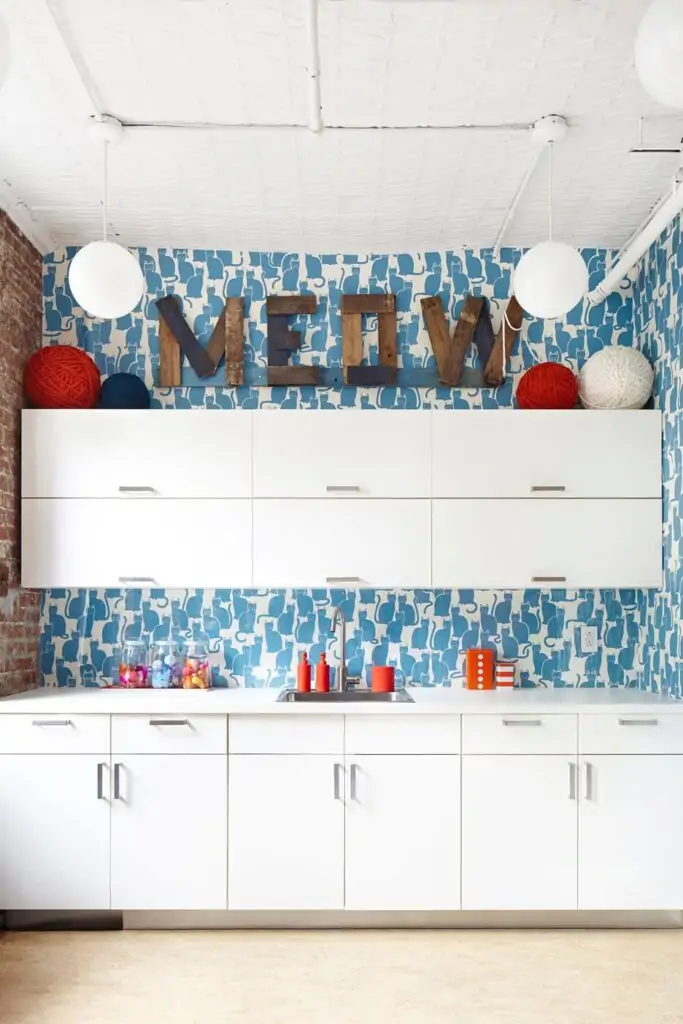 Wallpaper can be your brilliant choice to make a bold statement and elevate the whole concept of any design. Put it up on the backsplash and the walls so that it stands out. To spruce it up even more, make your kitchenette themed. For this room, the designer has found a cute word "Meow" and several round light fittings like balls of yarn.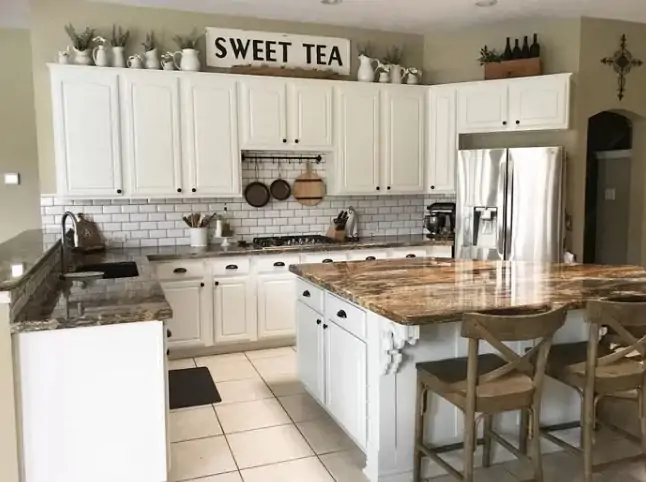 Here is one more example of how to decorate the space above kitchen cabinets by using a slogan or motto. In the picture above, we can see a charming group of three kinds of objects: small greens, dark glass bottles, and fabric wording. You can adjust the message any way you like to underline your current mood!
Don't leave a corner of the heart of your house without a lovely adornment, even if it is a simple design approach. Every time you lift your eyes, you will get thrilled, and your guests will always turn to you for ideas on how to decorate the top of the kitchen cabinets. Go creative, go bold, go your best — good luck with your decorating!