17 Attic Room Ideas on How to Transform Your Upper Floor Space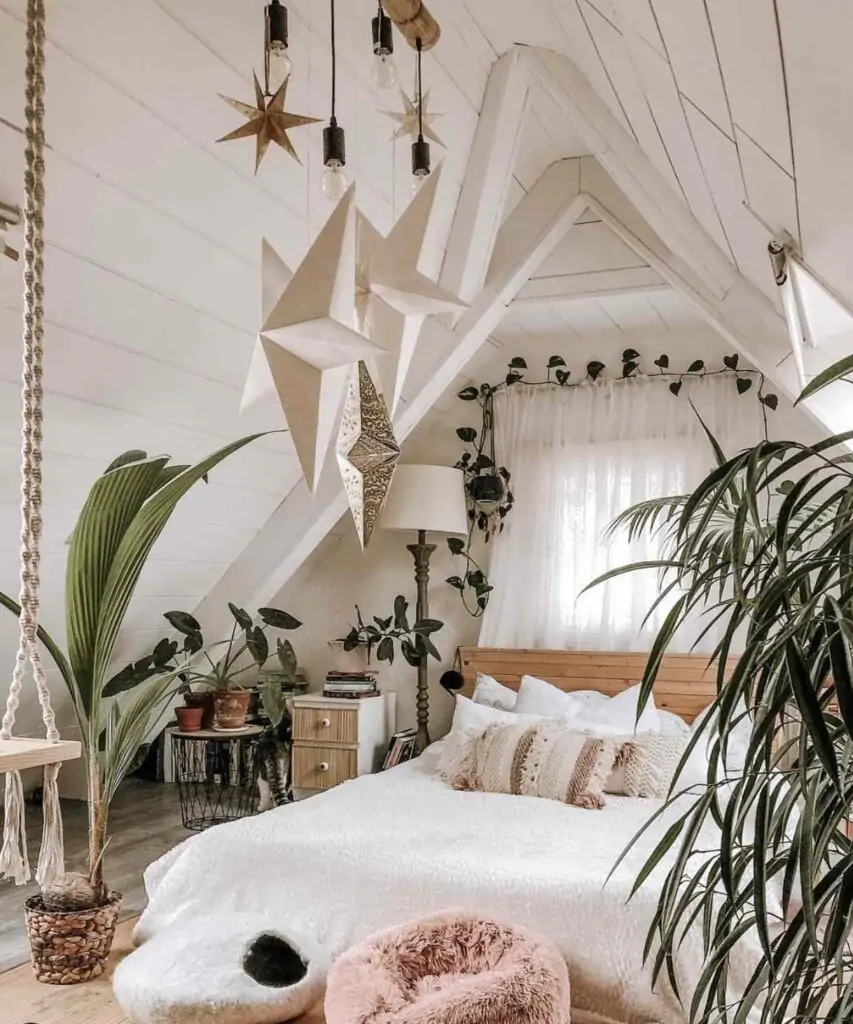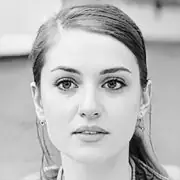 Do you have a forgotten and cramped room on the upper floor of your house and need ideas for the attic room transformation? If yes, then go through these incredible ideas to learn how to transform that dark and hidden space into a magnificent corner.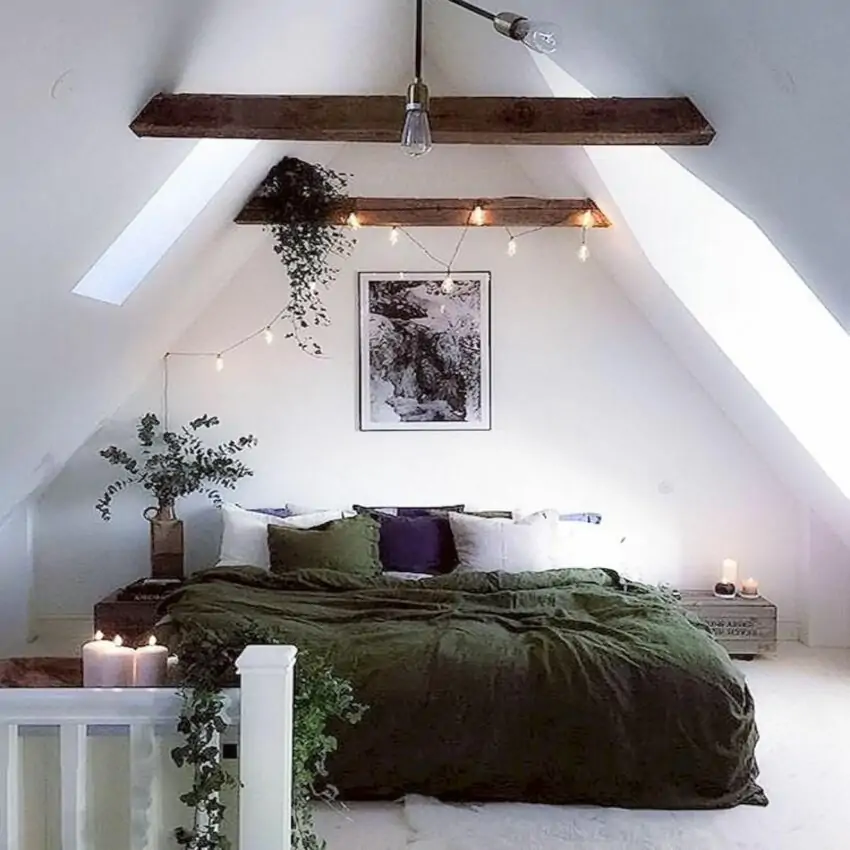 Over the years, the attic has gained a certain degree of notoriety: it is often believed to be a dusty place that can only act as storage. However, attic rooms have an enormous potential to be turned into a cozy and admirable place, which can be as inviting as other rooms at your house. In addition, if you have a growing family and would like to add one more living area to your home, this place can be of help. To bring a new life to your secret space on the top floor, we have collected 17 exciting and charming ideas for attic space. We've compiled both traditional and modern ideas for transformation. Find your inspiration here, and start visualizing.
1. Bring Lights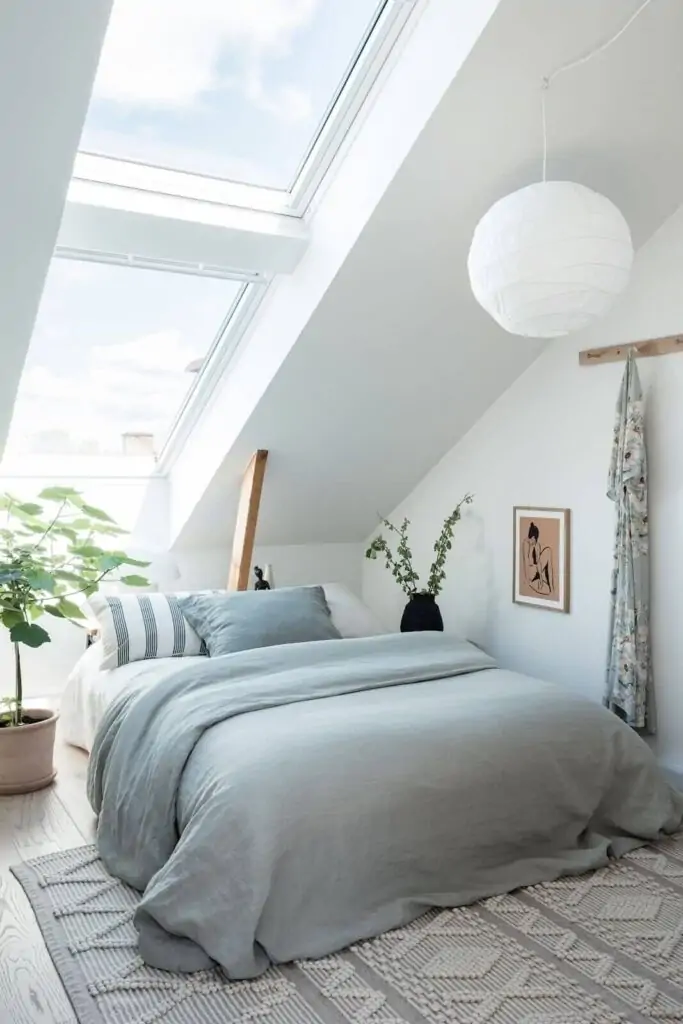 Natural light is one of the major components when considering various decorating ideas for attic rooms. No artificial light can replace the natural one. So, try to bring as much light as you can. To increase the amount of light, you can have a skylight installed in the ceiling. It is super enjoyable and will make your room seem larger and brighter. Moreover, you can place your bed under the skylight and look at the sky when you lie down.
2. Design the Room in White Colors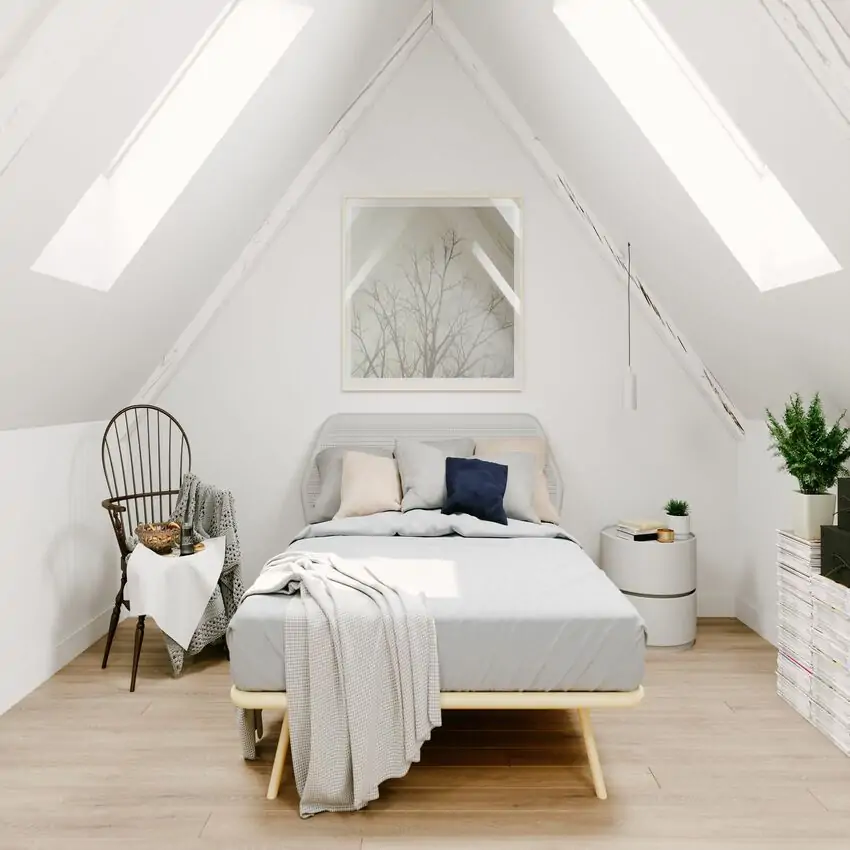 Sometimes white is considered a cold color; however, there are plenty of ways to style and make it cozy. You can have white walls; however, add warm colors with the help of bad covers, pillows, decorations, etc. White also helps make the room look bright, even if you have a natural light source. If you don't enjoy bright colors and prefer minimalism, this will be ideal for you.
3. Create Studio Apartment Mood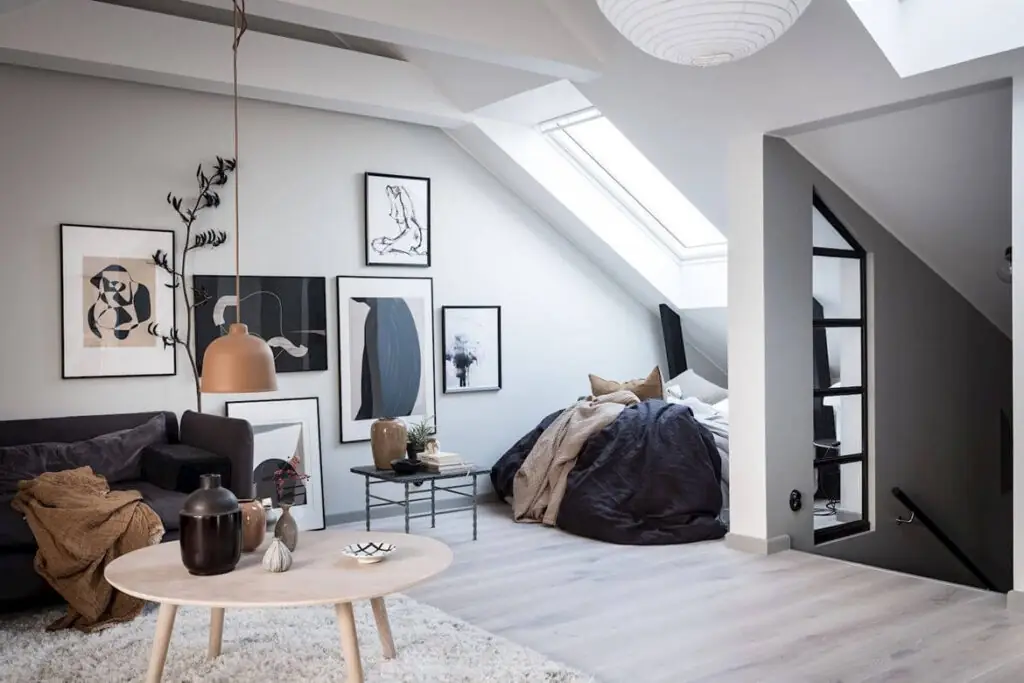 Attic rooms allow you to get as creative as you want. If you have ample space on your upper floor, don't limit yourself to just the bedroom. You can create your cozy corner by adding a couch, table, and reading shelves. Isn't it great to create a place for extra seating and add a warm place for gatherings to your house?
4. Make the Most Out of Small Spaces
If you've got a very small attic room, the right design ideas can seed difficult to find. Still, there's no need to worry. There are still plenty of ideas for small attic rooms. Any space looks bigger with bright colors. Use the walls for more shelves and more space for storing different items. The extra drawers and closets can be thin and built up to the ceiling to save up someplace. However, if the place is too small for a bedroom, think about other ways to utilize it.
Walk-in Closet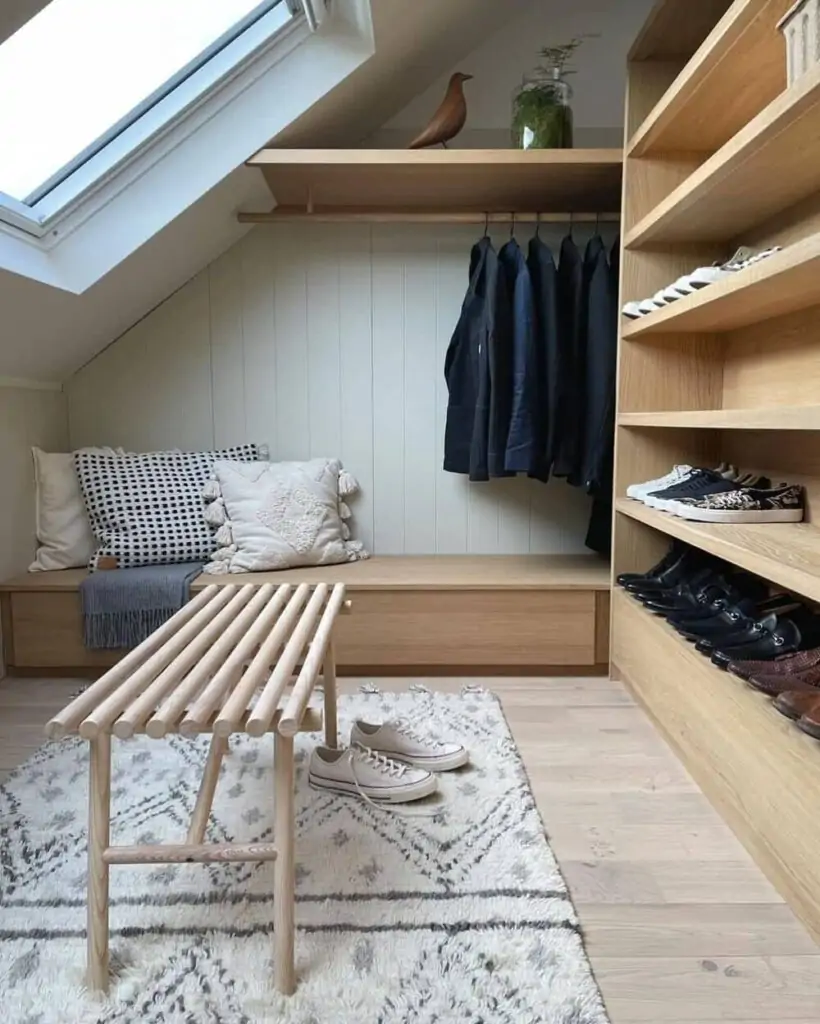 Walk-in closets are most probably a dream for most of us, right? If you have always had a goal and vision of having a walk-in closet, this is the time to make it a reality. You can store clothes there and have your make-up table. As a result, the small space will transform into a mini dressing room for you.
Home Office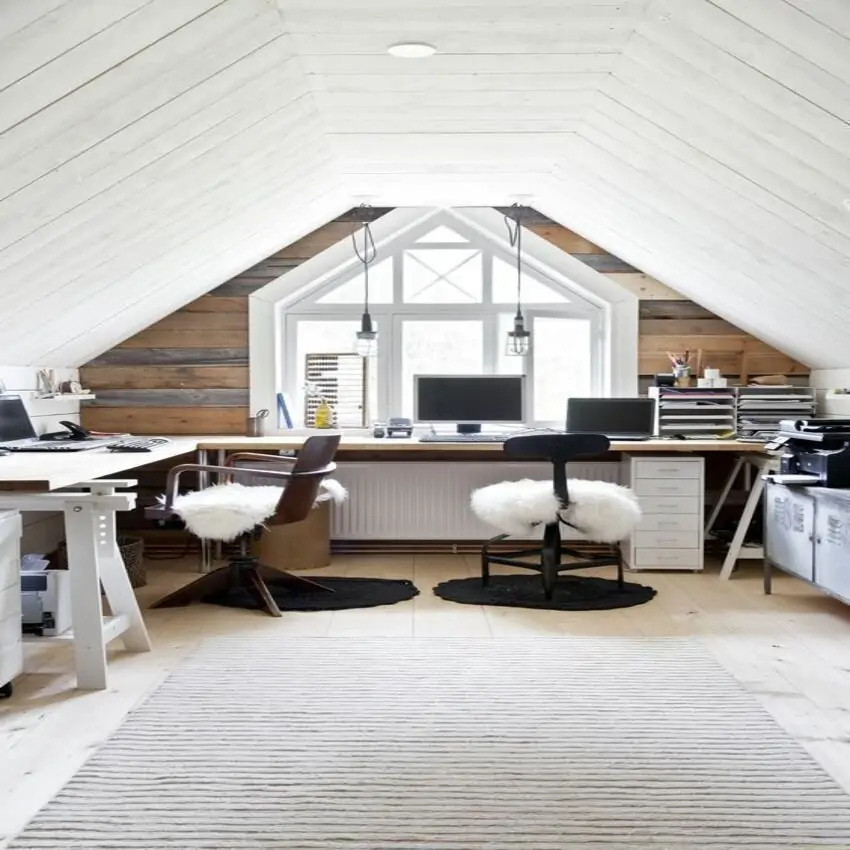 Work from home has taken new turns, especially in recent years. Many people are working these days remotely, and it is logical to devote a special place to serve as your home office. Attics make excellent offices since they are usually isolated from the rest of the house. You can have your Zoom calls without a doubt; no one will hear your family members' voices. A lot of people will agree that office space is the best attic room design possible. Make this space a truly useful part of your house!
Bathroom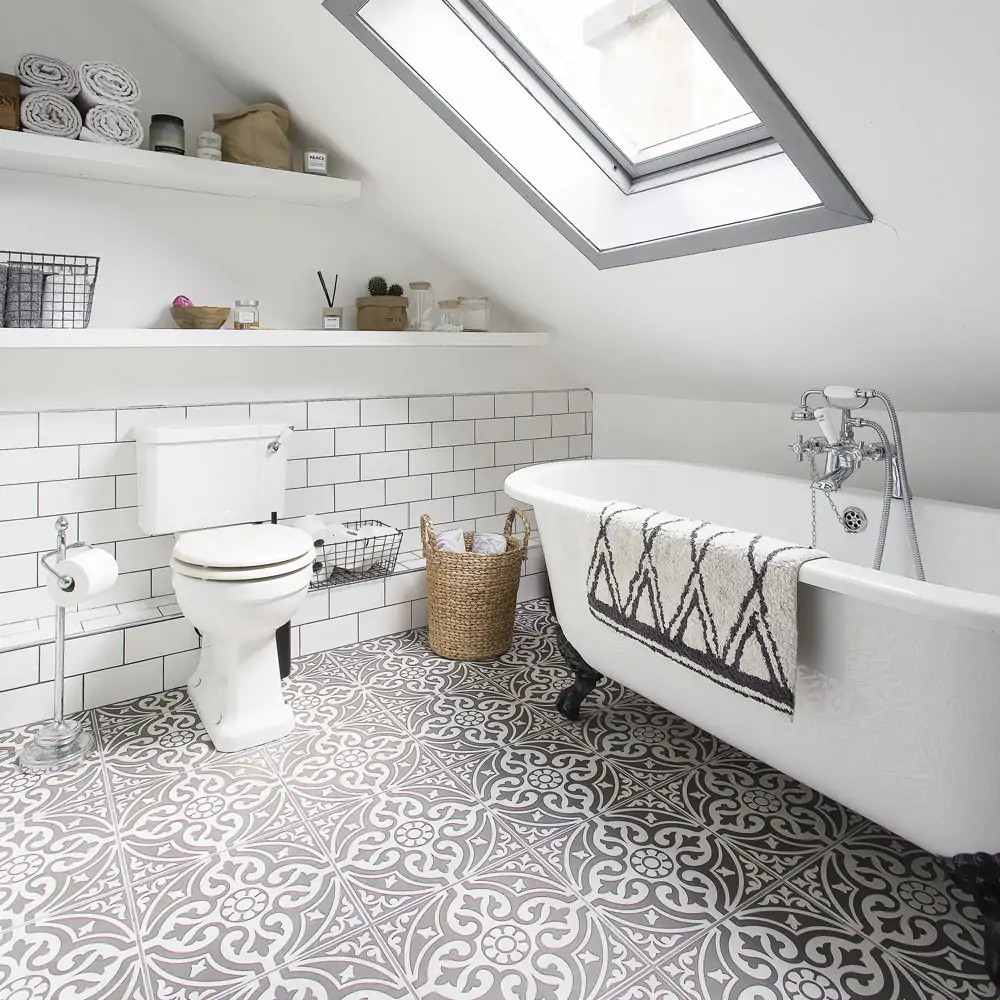 A walk-in shower is one of the better ideas for your attic conversions. A shower enclosure would merely waste space in this little attic room, whereas a walk-in shower offers a seamless space. Mirrors are also crucial; with two skylights, the mirror in the bathroom nearly gives the appearance that it is double the size.
Book Corner
If you are a book lover, having a reading corner should be a dream idea for attic rooms. Imagine having a space where you have a comfortable couch and a wall full of books. It sounds like heaven, doesn't it?
To bring more character to the room, add a little rug and make it feel like its own separate space. If you can place your reading location beneath a skylight, do so; if not, pendant light and a side lamp will suffice.
Nursery Room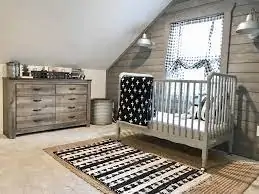 Turn the attic into a nursery if you've welcomed a new family member but don't have enough room in the main bedroom for a crib. Later it can also become a playroom for your children, where you can store all their toys. The baby will have their own space, which can be designed in neutral tones that will suit any gender.
5. Use Wood Elements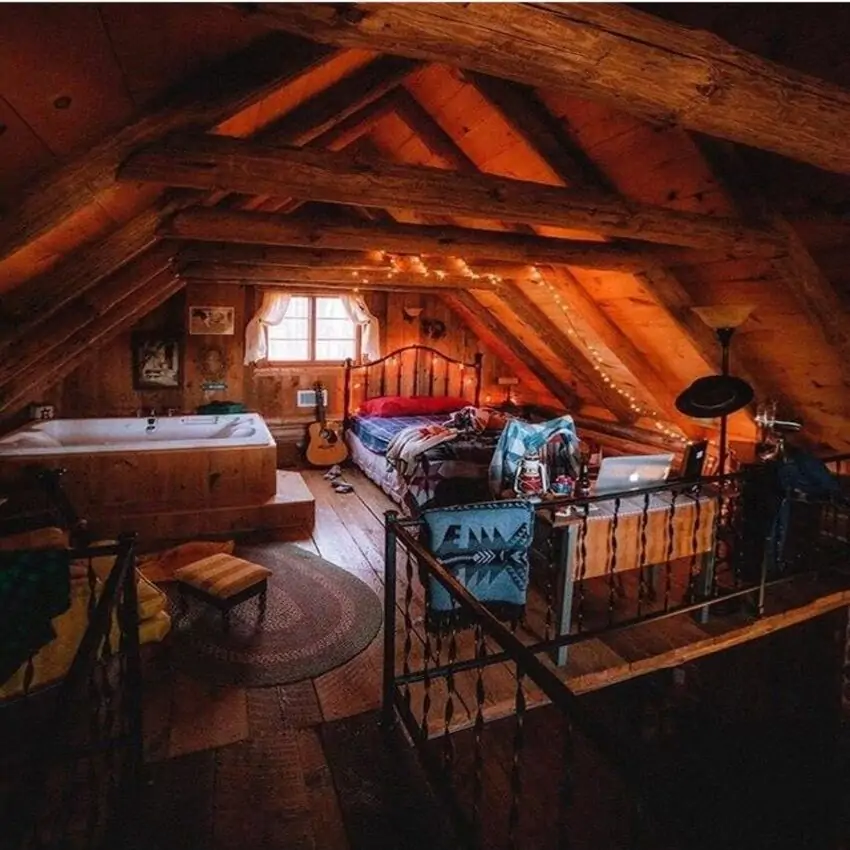 Wood is always beautiful in interior design to consider while thinking about ideas for attic rooms. It brings warmth to your house and creates an authentic mood. If you wish to have a fireplace in your room, this is the best place. Both the wooden ceiling and the fireplace stand out beautifully when combined with white walls. To add vintage decorations, such as wooden boxes, is an excellent idea for your attic space.
6. Use Shapes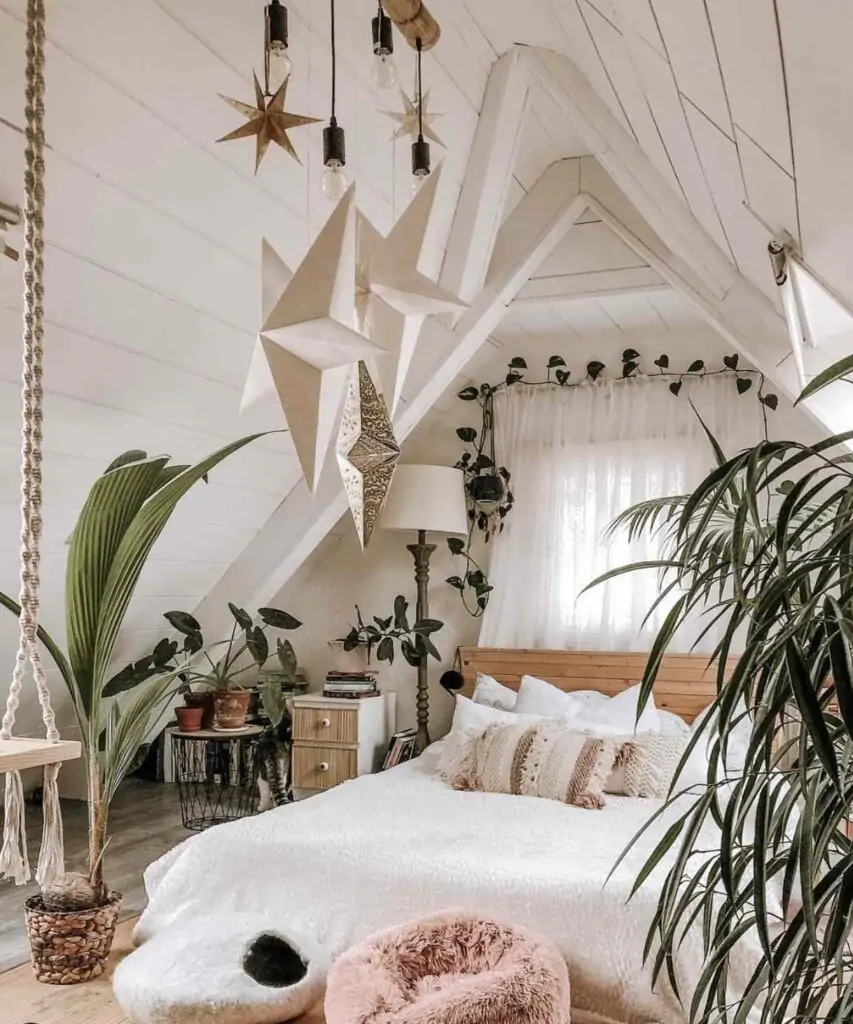 Symmetric and asymmetric shapes bring new charisma to your room. The important part is to keep balance and mix it with taste. For example, you can choose an asymmetric and original chandelier, which attracts everyone's attention. However, pick simple shaped side tables or lamps which neutralize the mood.
7. Bring Theme to Your Room
While coming up with ideas for attic rooms, it would be interesting if you could come up with one theme. For instance, if you are a fan of the "Game of Thrones" TV show you can get inspired by it. This doesn't mean hanging posters on the wall. You can choose the colors and decorations that bring the show's mood. Pick warm colors, and use wool, wood, and portraits to transfer the vintage spirit.
8. Don't Forget About Colors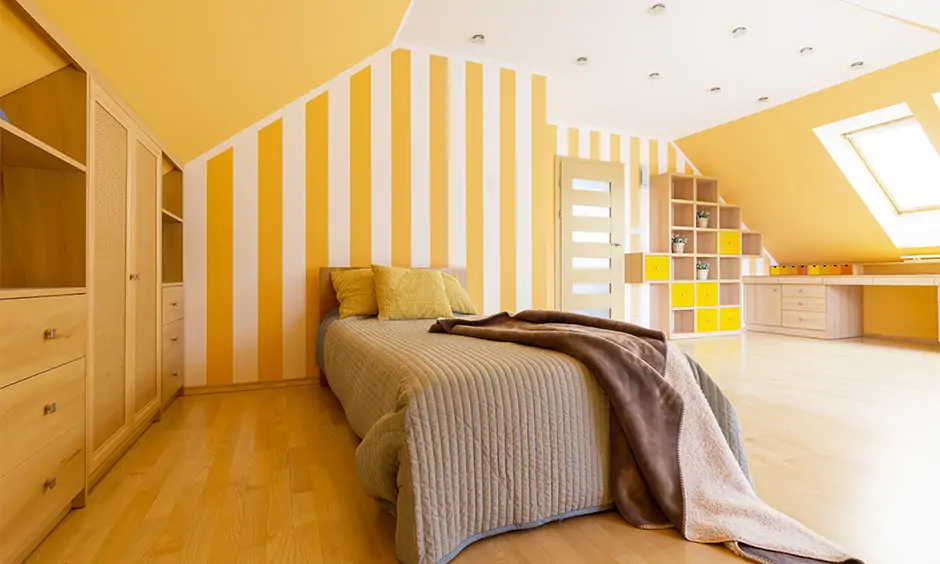 Allow bright colors in your bedroom: it is a great idea for your attic design that shows how paint can radically change a place. A beautiful splash of green or yellow paint provides a healthy color to a modest attic room. However, always combine bright colors with neutral tones. If you decide to paint the walls green, we recommend choosing a white ceiling. It will also make your room look larger.
9. Use Rustic Textures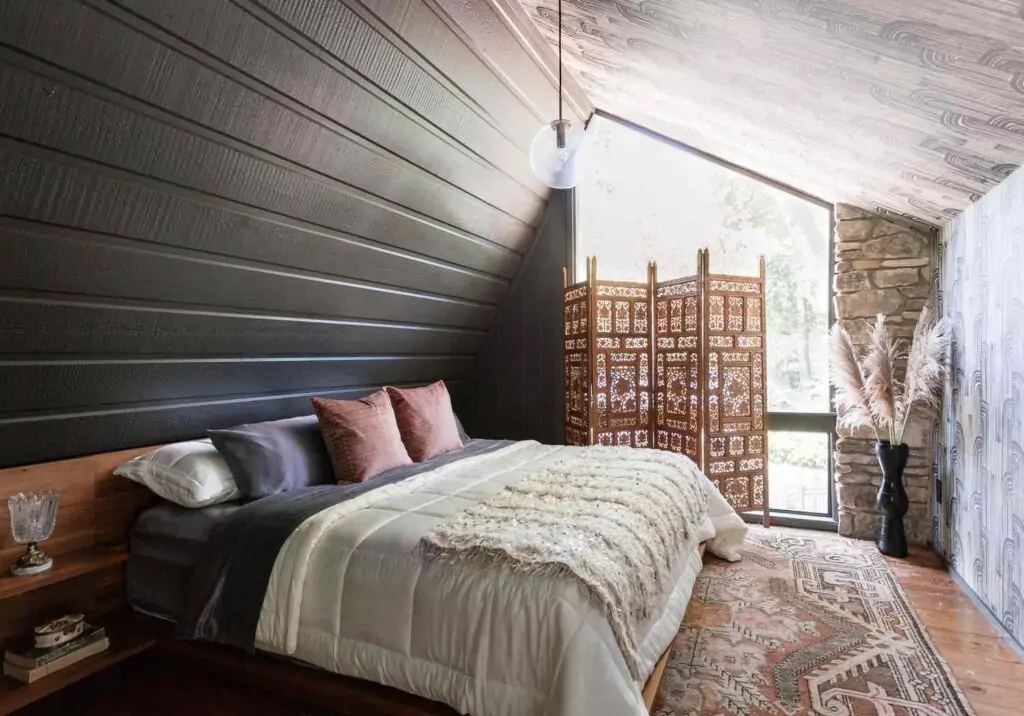 If your fundamental goal while searching for ideas for attic rooms is to create a cozy atmosphere, then rustic textures are what you need to use. To be a little more creative, decorate the ceiling with wooden beams. Then, on the walls, apply wallpaper with a rustic texture. Don't forget about lights, because if the place lacks lighting, it might seem too dark and sad.
10. Innovate with Lighting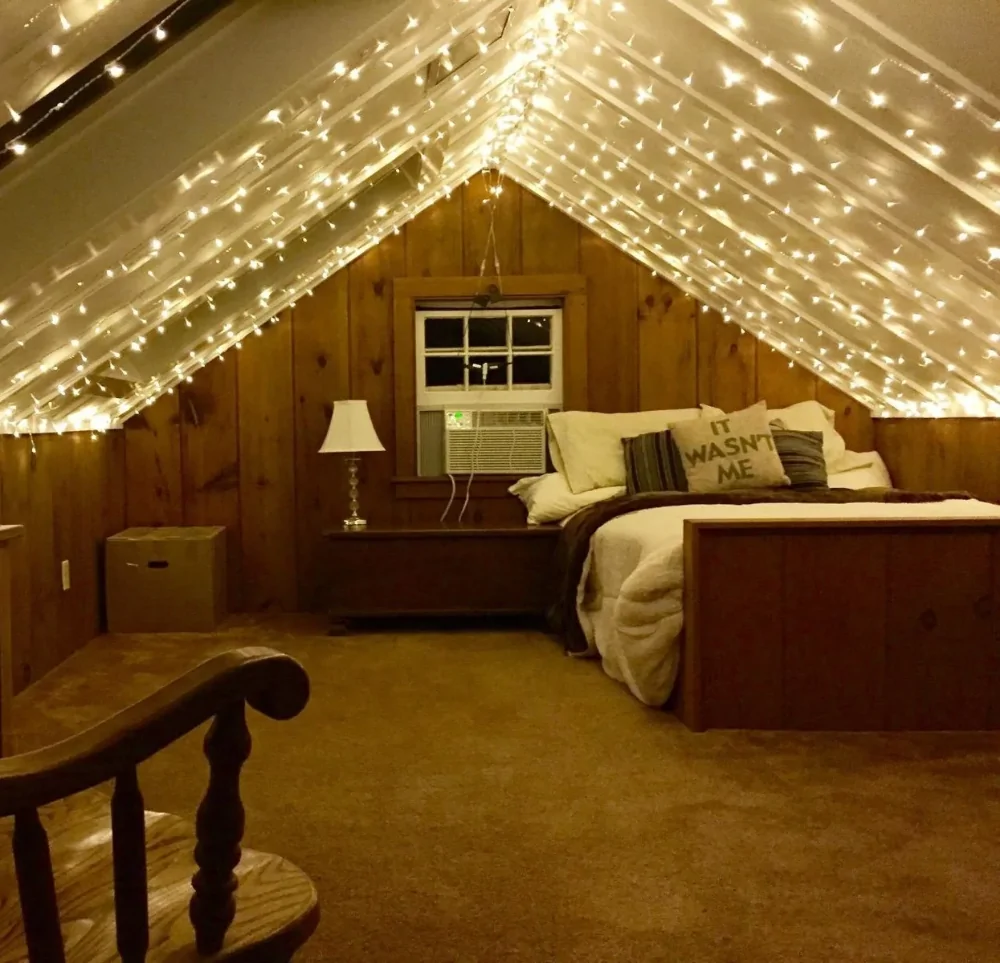 As we've stated a couple of times, lighting is crucial in the attic design, regardless of what you want to do. It's essential to duplicate natural light with artificial choices since they're typically locations that don't get a lot of natural light or only get light at specific times of the day. There should be several layers of lighting, including overhead lighting, task lighting, and ambient lighting. Spotlights are an excellent choice, but we also like the notion of stringing many light sources around the space. It looks gorgeous and lends a focal point to the room, but it also efficiently illuminates various areas.
11. Use Plants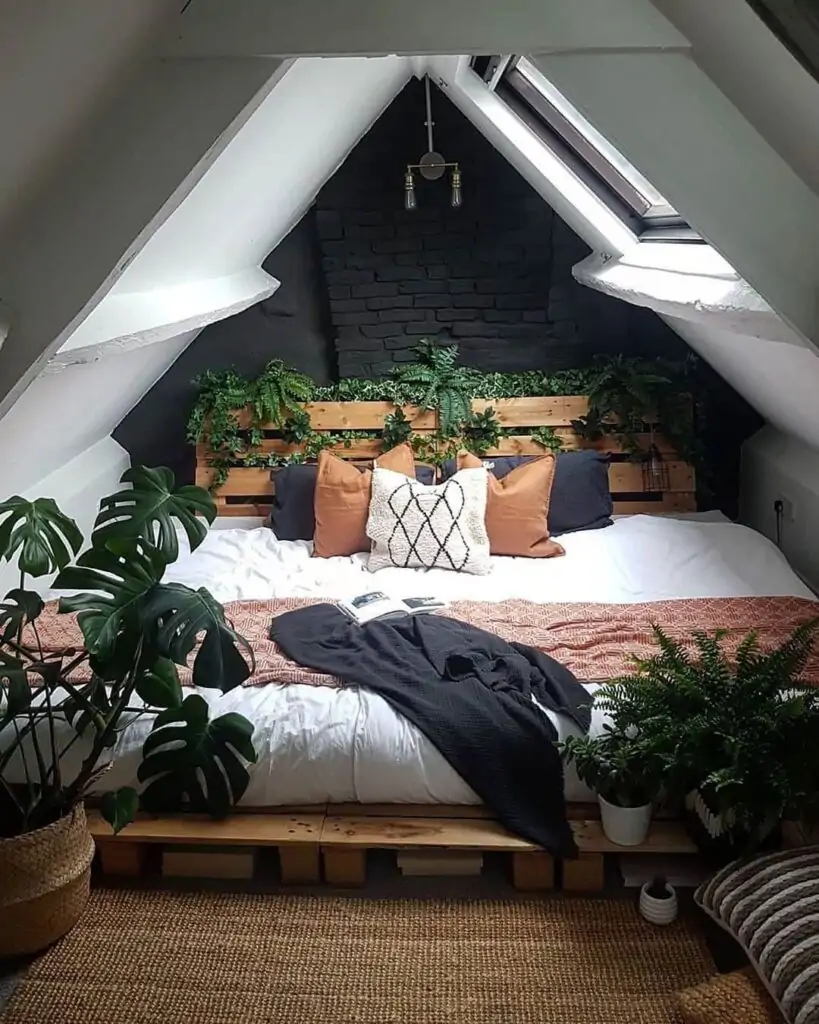 Plants are not only a beautiful decor, but they also bring life to any space. The plant-filled environment feels more attractive than any other room. If you like to take care of plants, this is an excellent opportunity to have your garden. If you don't have any allergies, it would be lovely to have flowers that are both beautiful and smell gorgeous.
12. Utilize Mirrors
Not everyone likes to have mirrors in the bedroom, so this entirely relies on your preferences. Anyway, an attractive alternative to painting or wallpaper for a feature wall is a wall of mirrors. Furthermore, mirrors will merely serve to bounce additional light throughout the room. More interestingly you can choose mirrors which have different shoes. It will be a unique addition to the space.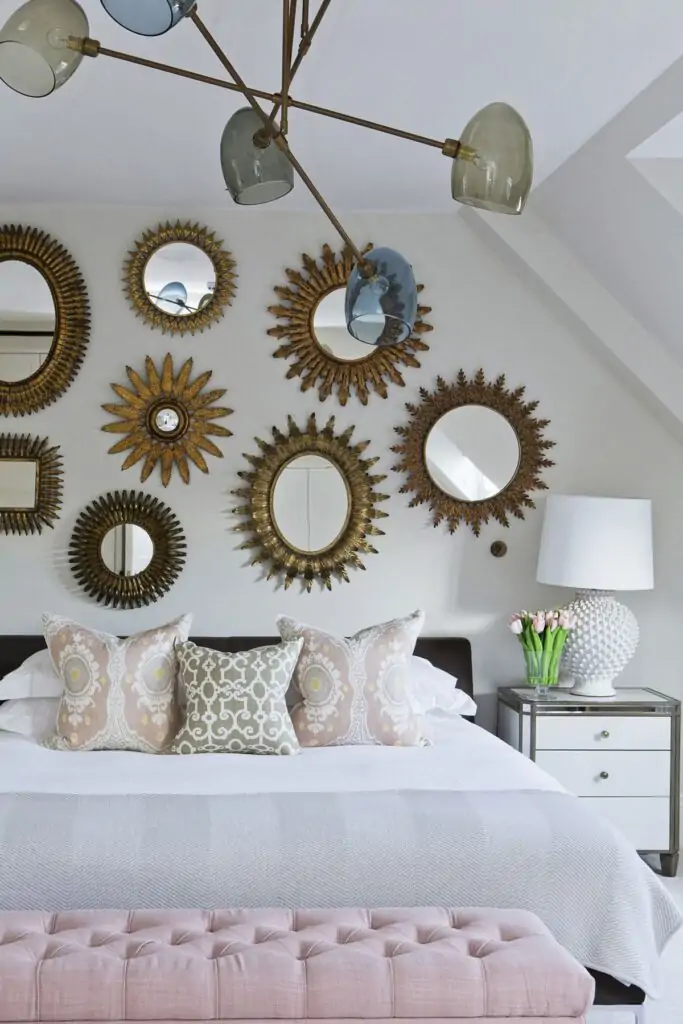 13. Minimalism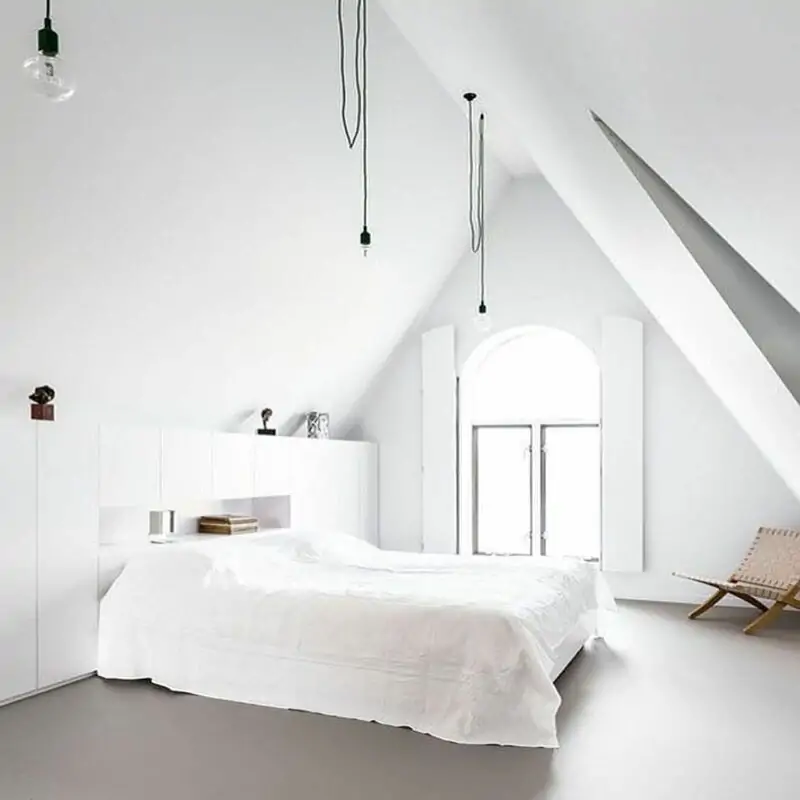 This basic, minimalist look exudes serenity. The brilliant white walls provide the ideal backdrop for any theme or decor wish that may arise. If you like minimalism, our advice would be not to overload the room, don't mix colors, and always keep in mind that "simplicity is the key."
Conclusion
Have you planned to give a new breath to your upper floor space and need ideas for attic rooms? Hopefully, our list and all the ideas that we've combined will be helpful and inspirational for you. We included different ideas so that everyone finds what lies in their heart. Try to understand your preferred style and find inspiration wherever you can. Don't be afraid because there is almost no way that you can go wrong. Just turn on your imagination and use our suggested ideas for the attic room!