Ideas for Living Room Curtain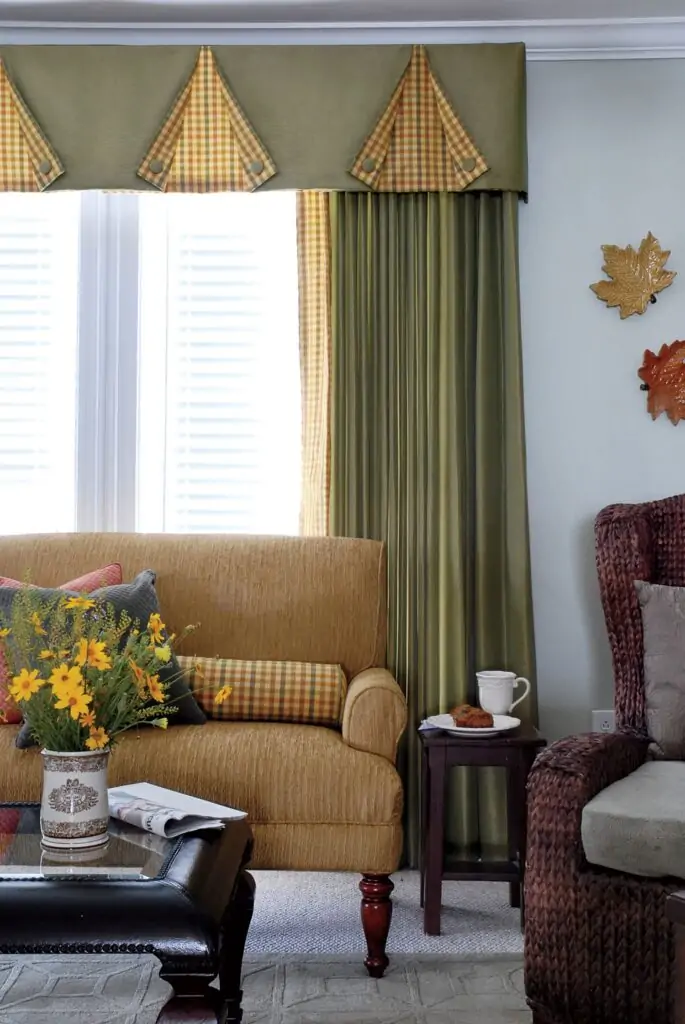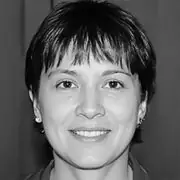 Decorating your living room with a fine sofa or flooring may make the setup practical, but a statement curtain adds texture with ease. If coming up with ideas for living room curtain displays on your own seems challenging, we've made the job easy for you.
Whether you want to give your lounge interior a modern, traditional, vintage, or classic look, or you simply need to hang a drapery for privacy, you'll find a wide assortment of ideas for living room curtains décor to fuel your inspiration.
1. Use Colors that Contrast with the Wall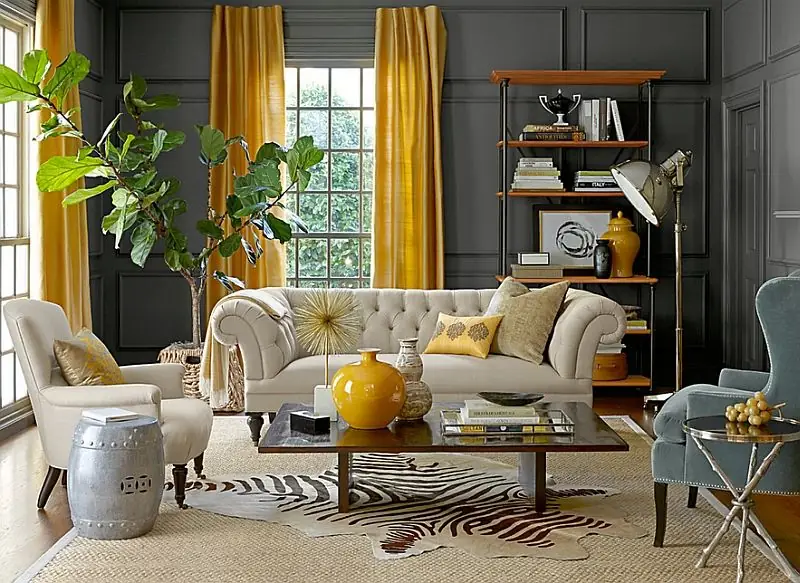 Love colors? A dramatic pop of color on a neutral wall adds sophisticated luxury to your home's interior. On the other hand, if your interior is sporting a bold color on the wall, consider using minimalist colored drapes to create contrasting shades and enliven your lounge.
In this room, the plain yellow curtain contrasts with the gray walls. A plant adds life to the already lively decor. The interior decorator sure does know how to pair minimalist tones with bold colors.
2. Blend It with the Wall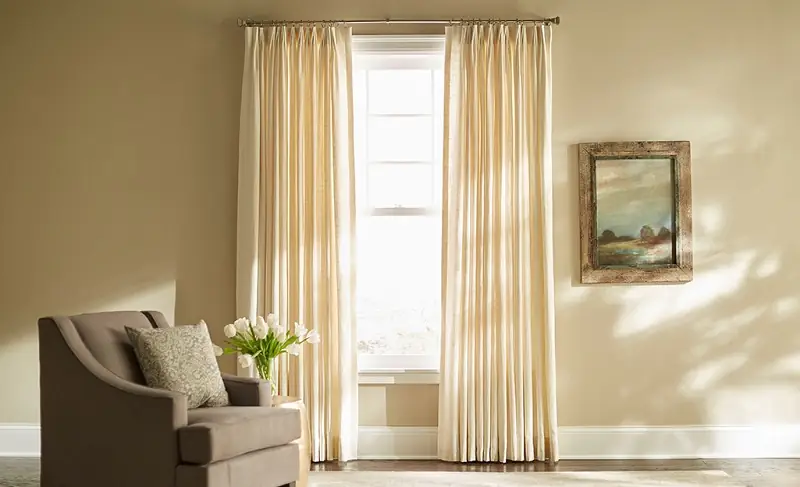 Whether your parlor walls are sporting dark shades, light tones, or wallpaper, a great way to make your curtain accessory stand out is to let them blend with the color theme. Just get a fabric with the exact color of your wall or wallpaper.
3. Use Patterned Draperies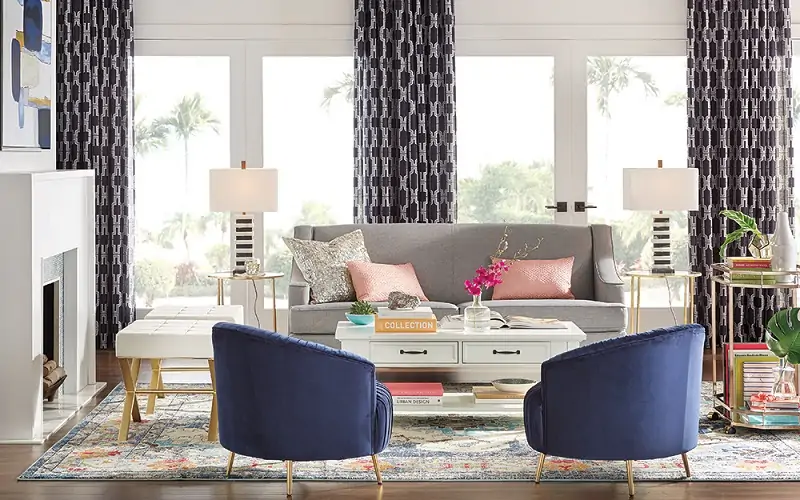 Does your living room have double windows? Finding the perfect living room curtain ideas for double windows can be challenging, especially if you have a large living space. The best drapes décor inspiration to consider at this point is a patterned assembly.
Use striped fabrics to achieve a subtle pattern, or choose flora pattern designs to achieve a powerful show-stopping centerpiece around your double window area.
4. A Valance Adds Country Vibes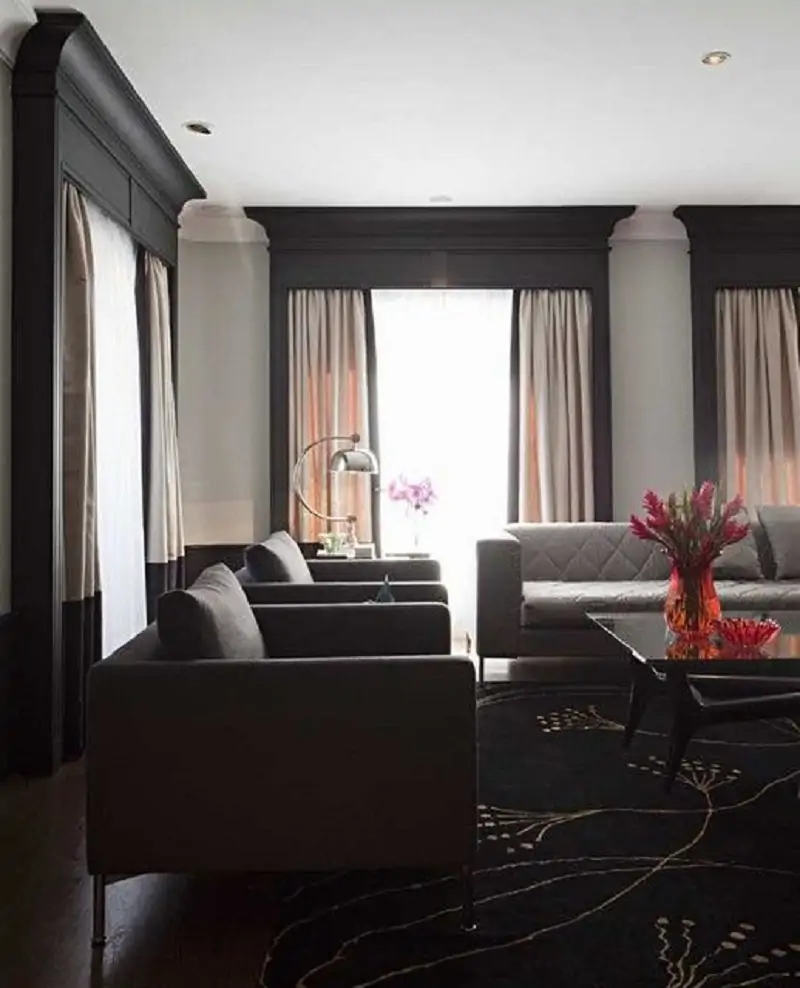 Adding an attractive window framing with decorative borders like a valance can change the entire ambiance of your lounge.
If you thought valances are only suitable for traditional homes, it would shock you that using a valance to hide a curtain track is still in trend and has even returned in a big way.
When used in the right setting and with appropriate old-fashioned yet classical fabrics, a valance completes the ambiance of your country home. Plus, it always invites watchful eyes while adding height to your room.
Pro Tip: If you're considering using valances, ensure your window is high enough to accommodate it. Also, consider using valances in lounges with an abundance of natural light.
5. Enjoy Minimalist Space with Sheer Curtains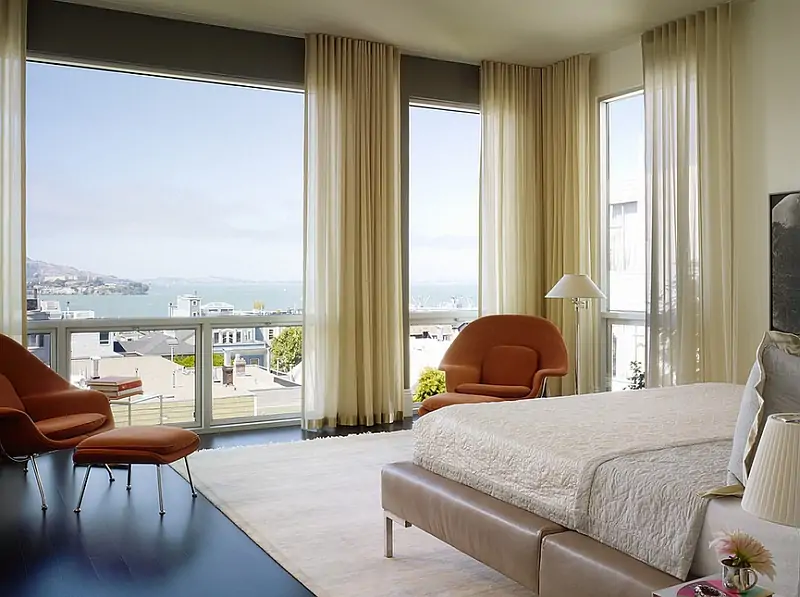 If adding airy softness to your space is a priority, you can never go wrong with sheer nettings when considering simple curtain ideas for the living room.
Sheer draperies are made from lightweight and neutral-tone fabrics, so your room feels airy and bright. With a sheer fabric, you give your parlor a breezy treatment that helps create a calm and relaxed atmosphere.
6. Use a Sheer Curtain Under Your Main Drapes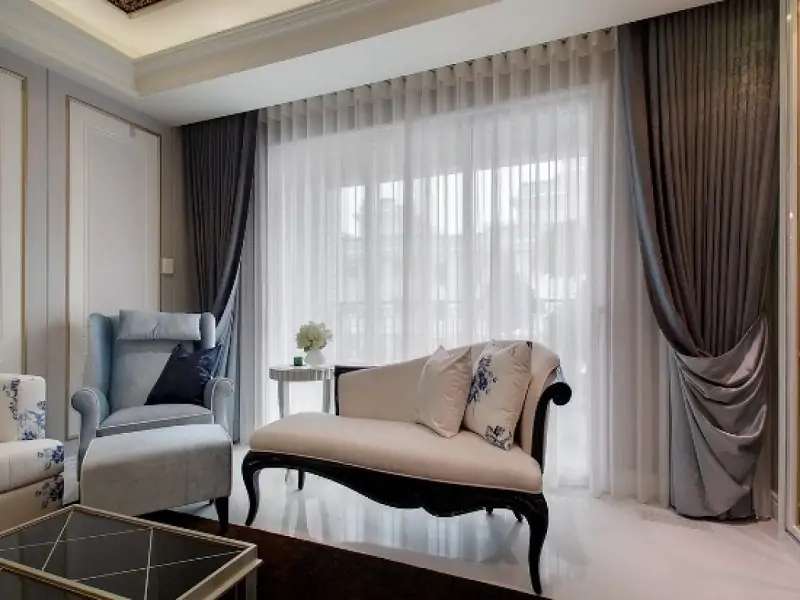 Love the idea of sheer draperies but want to switch the atmosphere of your space easily? Then attach a sheer fabric under your main drapes for a contrasting feel.
With simple sheer curtains, your space appears soft but layering them under thick drapes heightens the cozy feel of your space.
7. Add Elegance with Neutral Colors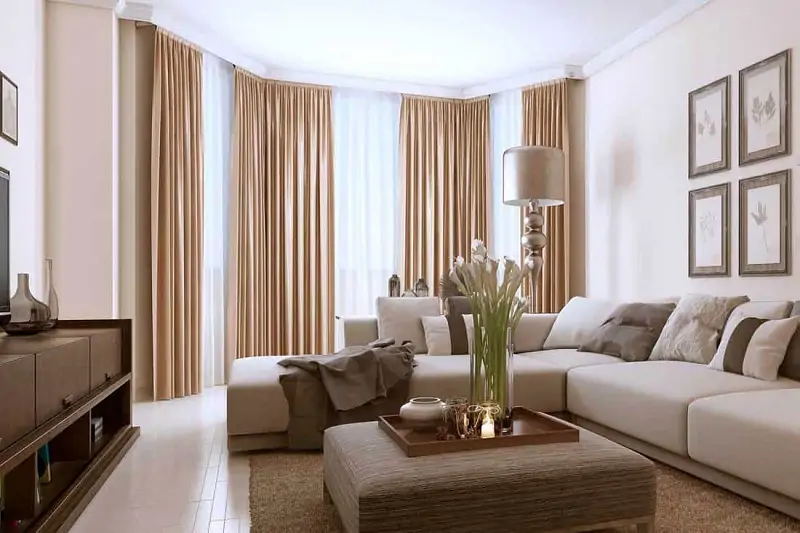 No matter how the décor pieces of your living room merge seamlessly, sometimes you still run the risk of achieving a soulless atmosphere with a lack of texture. On the other hand, too many colors and patterns in the room can reduce the thrilling effects that bring your space to life. In these cases, a neutral-colored drape will make a stunning statement by balancing the scheme and pattern of your space, especially if you have high ceilings.
Neutral color ideas for living room curtains add a subtle trim to echo spotlight furniture, sofa, colors, and patterns in your lounge.
Featuring a soft ombré tone, this full-length drape looks naturally calming and commands attention without being loud. The soft yet luxurious texture makes a beautiful focal point in this living room and adds elegance to the space.
8. Make a Statement with a Colorful Patchwork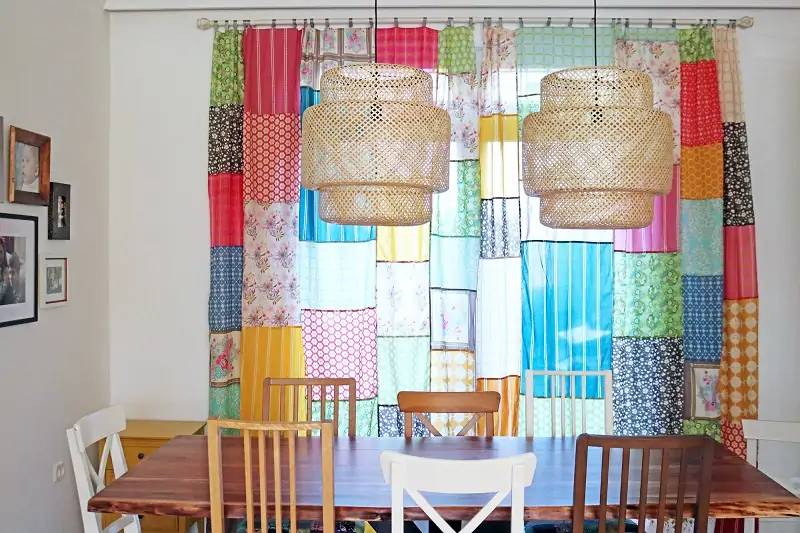 Love bold colors? Then choosing a bold fabric will make a confident statement. Still, it's not just about using simple bold colors. It's about creating a riot of colored fabrics to form a curtain. This idea resonates with Dolly Parton's song title "Coat of Many Colors."
We love this idea because it plays with several multicolored fabrics to perfectly bring together all the vibrant artistic tones as a patchwork curtain to boldly shape the room.
9. Use a Wide Rod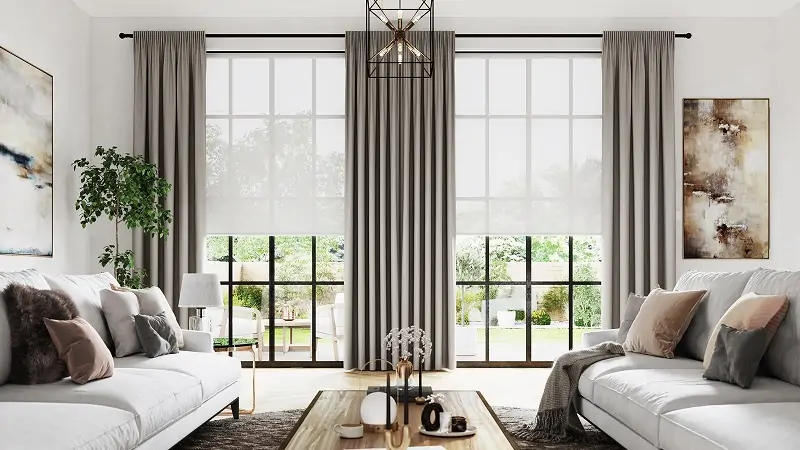 Sometimes, living room drapery ideas don't have to focus on the drapes themselves. The rod also plays a significant role in making the curtain décor stand out. However, this idea will work best for small spaces since it gives the illusion of a wide window area.
10. Attach Draperies All the Way to the Ceiling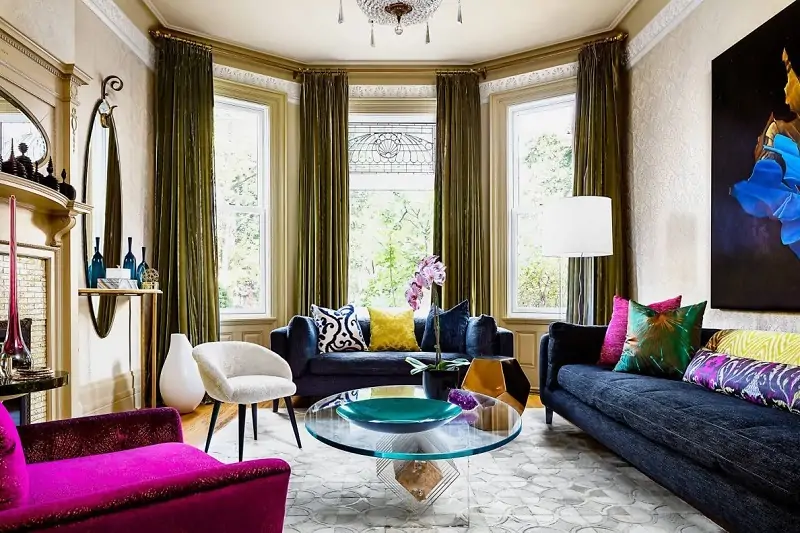 If you want your small space to look large, another useful living room drapery idea to consider is to hang the curtains all the way from the ceiling. It gives an illusion of tall ceilings and larger space. Full wall curtain ideas like this also make your living area feel elegant and stately.
Which Curtain Is Best for the Living Room?
What type of curtains are best for the living room depends greatly on the style you aim to achieve and your budget. Every fabric will give a different effect. For instance, neutral colors like ombre will give your space a more minimalist modern and luxury feel, while colors like brown will create a rustic vintage vibe in your home.
Regardless, ensure you choose long drapes for your living area, no matter their size. If you want a formal-looking lounge, choose pleated or grommet-style draperies. On the other hand, bold, patterned, plain, or neutral drapes will also look classy in your parlor. You only need to pick a style that dominates and becomes the focal point of your living area.
FAQs
How Long Should the Drapes Be?
As we mentioned earlier, your parlor will look better with long drapes. Short drapes are rarely attractive. Floor-length sitting room curtains can range from 60 inches to 120 inches. However, how long the curtain is will depend on the height of the door or window and how high you mount the rod.
How Wide Should the Drapes Be?
To answer this question, there are four things you need to consider:
How wide is the window?
What shape does the window have?
Do you want the curtain to cover the entire window?
Do you want to create a contemporary, modern, traditional, farmhouse, or classic lounge?
Regardless of your answer, the width of the drapes won't matter much if you don't know the type of window you have.
For a bay window, ensure the curtain is a little wider than the window to fit all the way around. If you have a tall window, what really matters is how long the drape is. Make sure it is a few inches longer than the window itself.
Are There "Best Fabric" Ideas for Living Room Drapes?
There's always a "best" in anything man-made, and draperies are no exception. However, the type of fabric that will work best for your parlor will depend on the activities you engage in within your lounge. If you want the best quality drapes for your lounge, choose linen materials for casual décor and silk or velvet for a formal-luxurious atmosphere.
Is the Weight of the Fabric Important When Selecting Drapery Material?
When selecting your fabric, consider the season and the atmosphere you want to create. Heavy draperies are ideal for cold months and to make your space feel cozy. Light or sheer curtains provide excellent contrast. They offer a sun-lit space and allow air into your home in the humid summer months.
Should My Drapes Match the Sofa?
Not necessarily. Rather than match the sofa, the color can contrast or even complement it. For instance, if the sofa has dark colors, neutral or light-colored drapes will effortlessly blend with it. 
Conclusion
Curtains will either become the centerpiece of your living room or blend into nothingness with the rest of the space. Sheer or light fabrics offer breezy aesthetics, patterned and colorful draperies freshen a modern room, bold curtains become the focal point of your space, layered drapes with neutral colors add contrasting décor, and curtains with valances heighten the aesthetic appeal of your contemporary country home. As you use these ideas for the living room curtain to add life to your space, remember to choose a fabric, pattern, and color that resonates with you.