11 Breathtakingly Beautiful Ideas For Living Room Flooring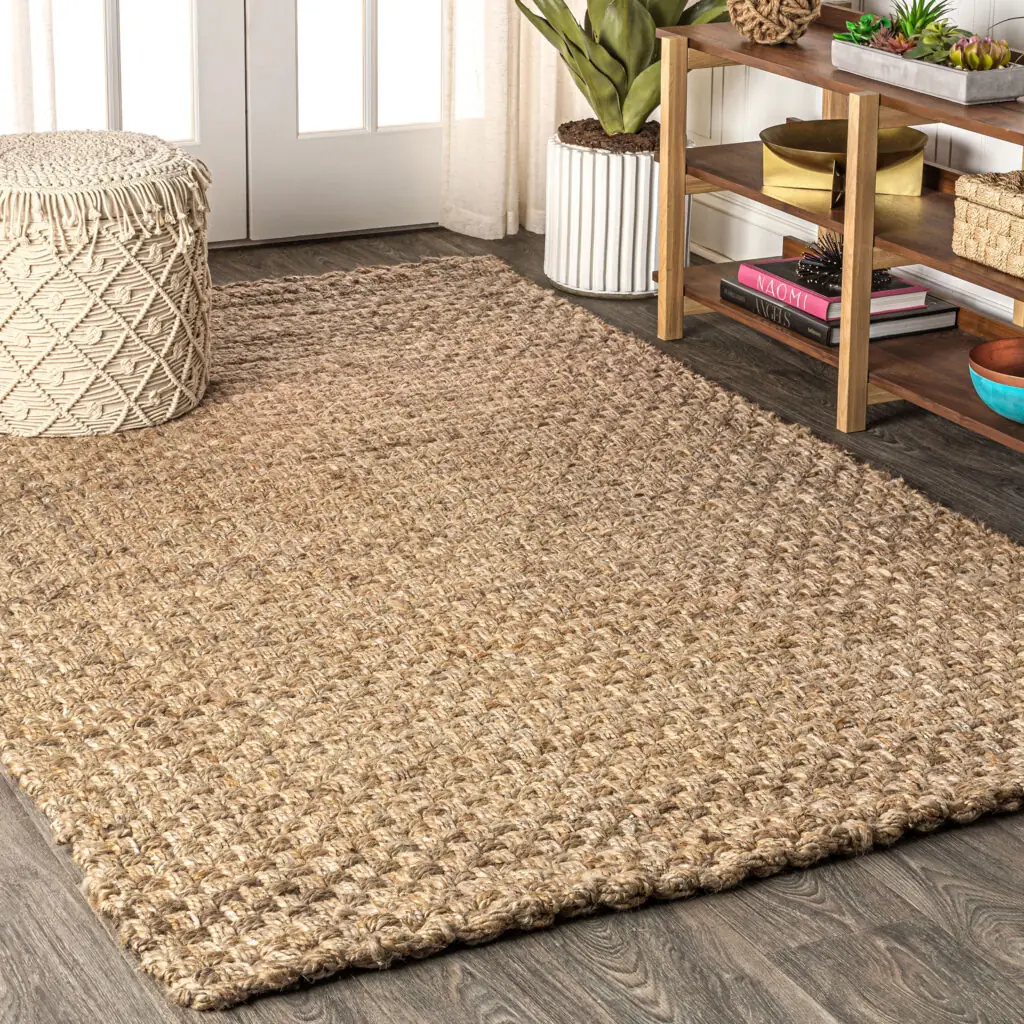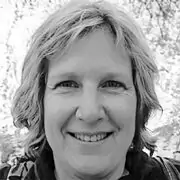 The very first thing you notice when you enter a house is its living area floor, especially when you are looking for ideas for living room flooring for your own home. Whether it features linoleum, laminated wood, or Italian marble, it always shows the taste of the owner. If your room is one of those living-cum-dining affairs or you live in a studio apartment, this question is fundamental.
So, let us have a look at these 11 excellent ideas for flooring in the living room and see which one suits you best.
1. Classic Hardwood
If you want your living area to look as stylish and elegant as possible, look no further than the hardwood floor. It is available in different shades like light and dark hues. You can choose from a wide range of available wood varieties and shades. Select light hues that add optimism or darker tones that make the room look truly impressive
You can try different plank layouts to give a special appearance to your place. The Internet is the best place to get some wooden flooring ideas for the living room. The drawback of such flooring is that it can be difficult to maintain.
One thing that homeowners need to be attentive to is the quality of wood. Select it in accordance with your geographical location and the age of the house. What's more, it needs to be almost religiously maintained. Otherwise, one bad plank can cause damage to its adjoining ones too. Stay away from wooden floors if your house is susceptible to termite attacks.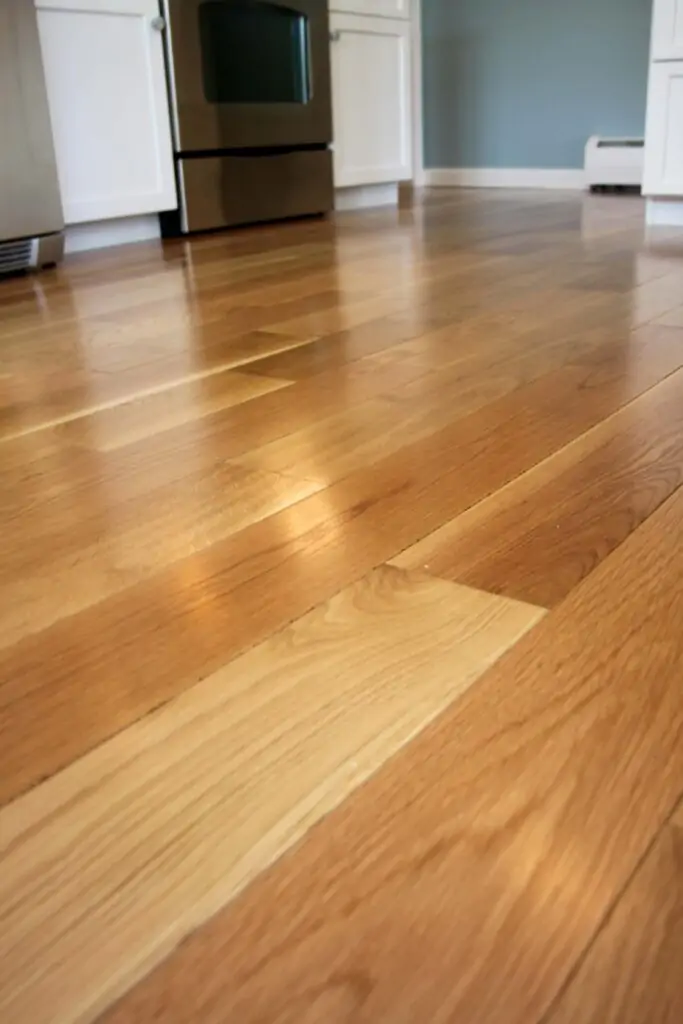 2. Tile
If you want to have a no-nonsense, easy-to-maintain floor, try ceramic floor tiles. They are very easy to install. With numerous patterns and motifs available, you will always be able to add an element of elegance to your space. If you are allergic to home dust, this is the best choice possible. Also, it is best for hot and humid places as it keeps the temperature down.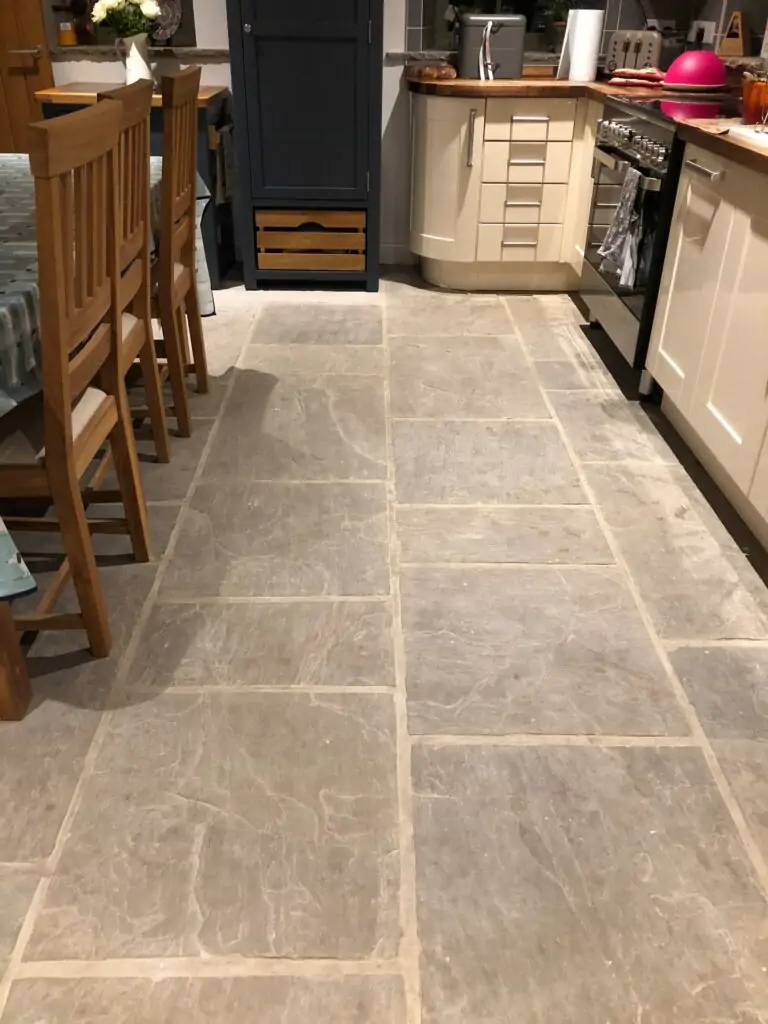 3. Marble
Want a touch of royalty in your home? Have the marble floor installed and see the difference. Its smooth, shiny surface is all about brilliance. If you are looking for white flooring ideas for your living room, marble will be your best bet. What's more, if you live in a hot climate, it will keep the room temperature down.
What's more, being a natural material, it will not cause any allergic reaction. It just needs polishing after 5-6 years of use, and you will once again get a clear, bright surface.
4. Concrete
Are you looking for cheap flooring ideas for your living room? Look no further than concrete floors. This most basic floor is all about cost-cutting. Believe it or not, it is possible to beautify even the dull gray of concrete: use a mosaic pattern like in the picture below.
One of the greatest advantages of a concrete floor is that it keeps the space cool, and it will be sheer bliss if you live in a hot and humid climate. And, if you live in colder climates, you can cover it with a thick carpet. By choosing this option, you will be able to save a lot of money. Concrete is cheap and durable, and that's why it is one of the most popular living room flooring options for those who need to stay within a small budget.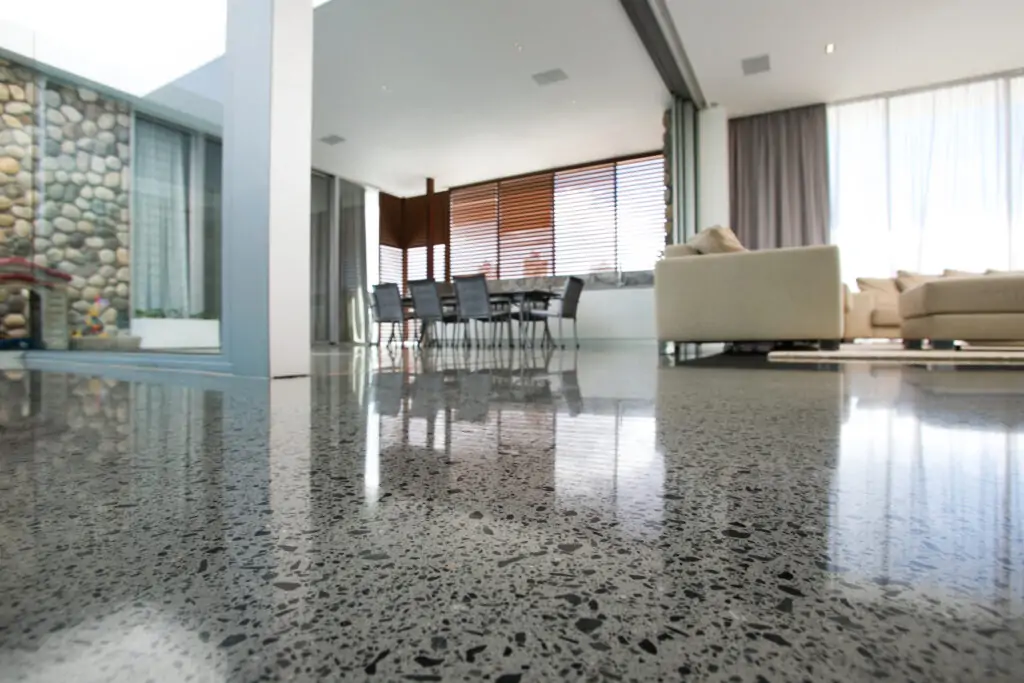 5. Vinyl
Are you one of those homeowners who are looking for an option that is scratch-resistant, water-resistant, safe for kids and the aged, easy to install, maintain, and, above all, absolutely affordable? Well, this is what every middle-class homeowner wishes, and that's where vinyl comes into the picture. It has stood the tests of time.
Vinyl is so popular that at one time, it was present in almost every home. It is the perfect material for numerous flooring ideas for a living room and kitchen too. You can choose from an endless array of designs. If you are looking for a wood floor, but the amount it requires puts you off, then opt for vinyl flooring ideas for your living room that resemble wooden textures.
The most significant disadvantage of vinyl is that it is made from synthetic materials and can cause allergies in some people. Be sure to have an allergy test done before installing vinyl in your home.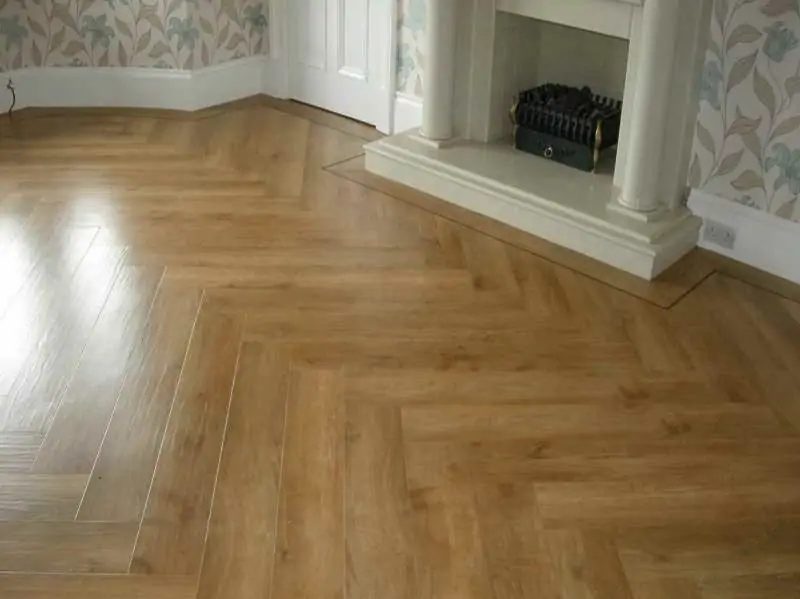 6. Laminate
The laminate floor uses a fiberboard core bonded with resins and can mimic the appearance of a ceramic tile, marble, or wooden floor. It is easy to install and highly resistant to damage. Usually, there is a thin plastic layer on the top for added durability.
Since the top material is fire-resistant, it is one of the most sought-after flooring ideas for a living room with a fireplace. It is also very easy to clean and maintain. You can look up the Internet for laminate flooring ideas for the living room to get some creative inspiration.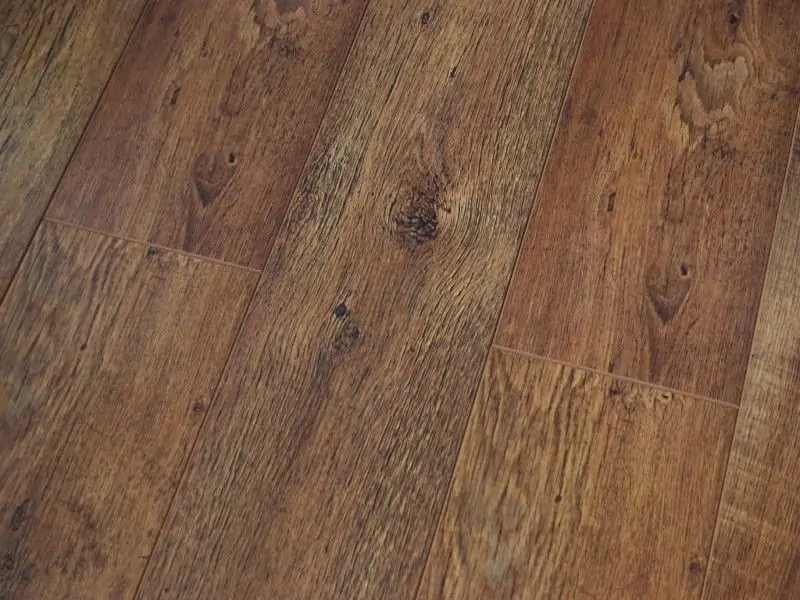 7. Carpeting
In colder places, the greatest problem with all types of floors is that they don't keep the space warm. The biggest advantage of carpeting is its ability to trap heat. And that makes it the number one choice for floors in colder climates. Carpeting is easy to clean with vacuum cleaners. What's more, it adds a cozy look to the area. Another benefit of carpeting is its ability to absorb sound. The greatest con of carpeting is its tendency to trap dust. It is definitely not the best choice for allergic people.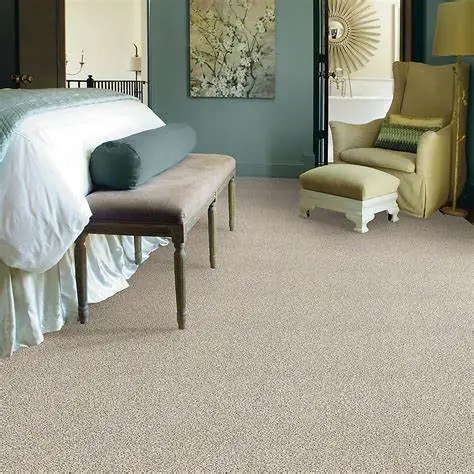 8. Bamboo
Bamboo floors add a serene look to your drawing room and give it a natural feel. Opt for the high-quality, locally sourced bamboo for the most aesthetically pleasing look. Team it up with lots of tropical plants, and your space will get an instant uplift.
Bamboo is best suited for people who live near bamboo-rich areas. That makes the raw material cheaper and easily available. Stay away from imported ones overseas as they may contain harmful chemicals. What's more, it is not the best material for humid areas.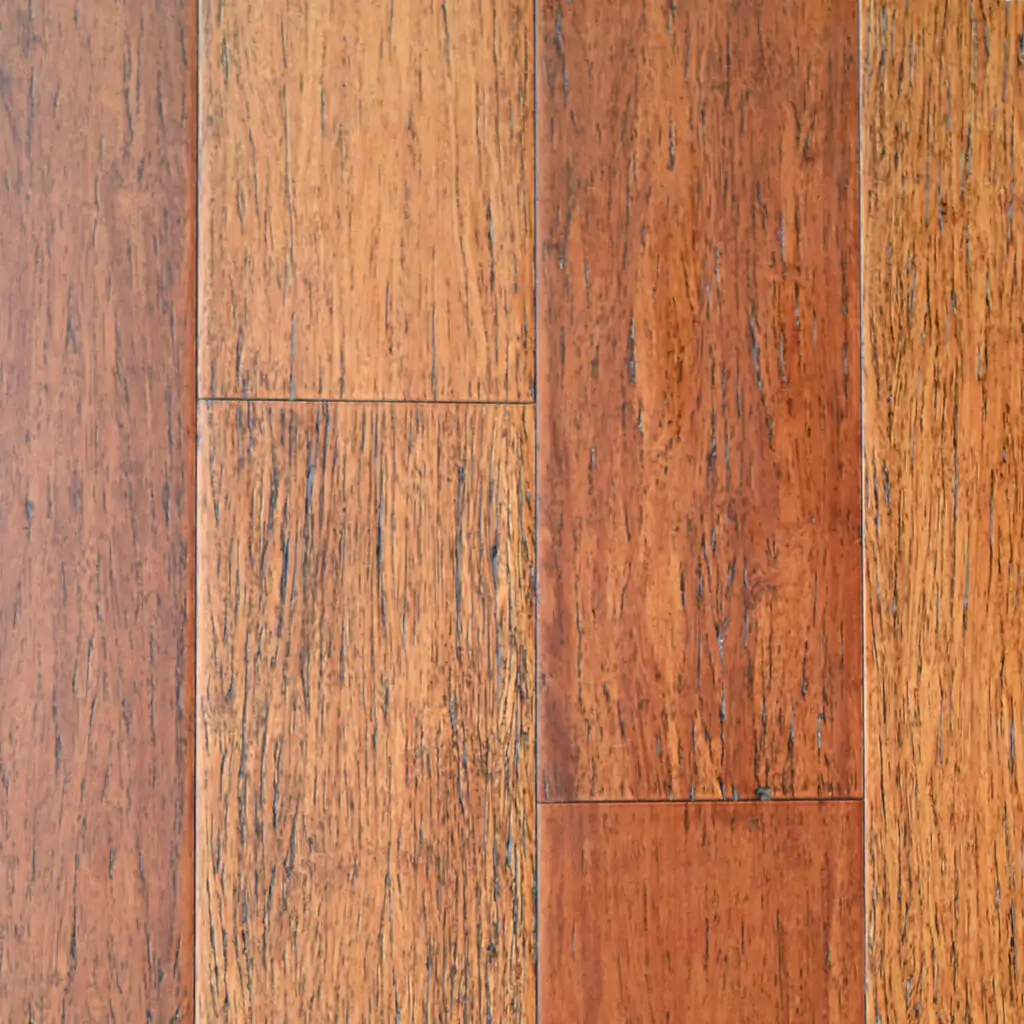 9. Slate
A natural option with high durability, slate is every homeowner's best material for the floors. Its hue and look add sheer elegance to your place and make it look truly sophisticated. It is slip-proof and resistant to all kinds of damage. All this makes slate the best material for bathroom and balcony floors.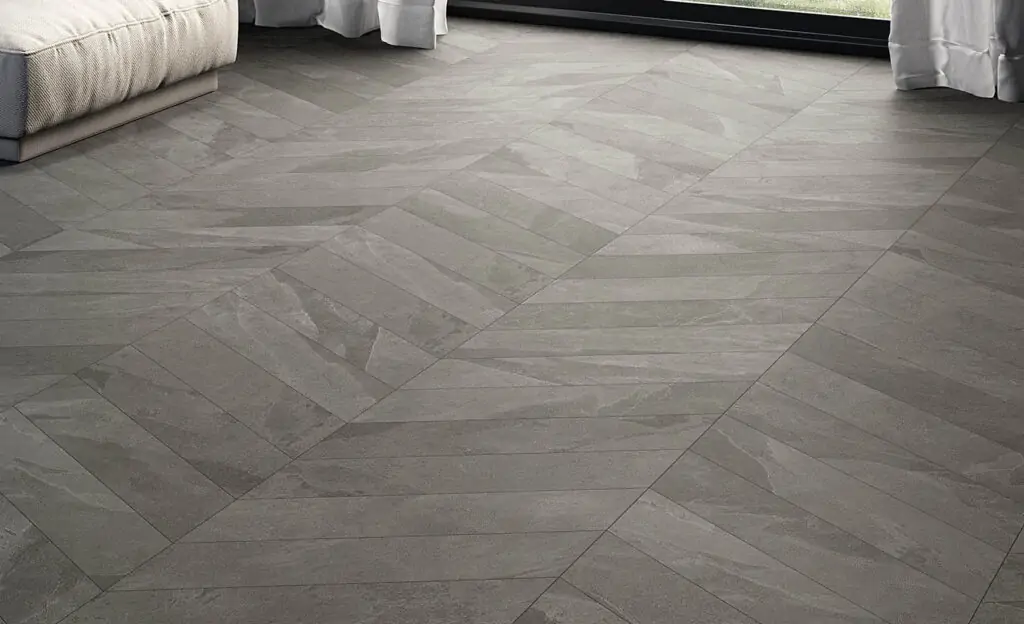 10. Linoleum
One of the hurdles that new homeowners need to overcome is the lack of expertise with tile or marble installation. Hiring a professional is not always possible. So, how to get sophisticated flooring for a living room and a kitchen? Opt for linoleum! It is super easy to install, maintain and replace.
It is resistant to scratches and water and super comfortable for feet. Its durability is up to 40 years. What more do you need?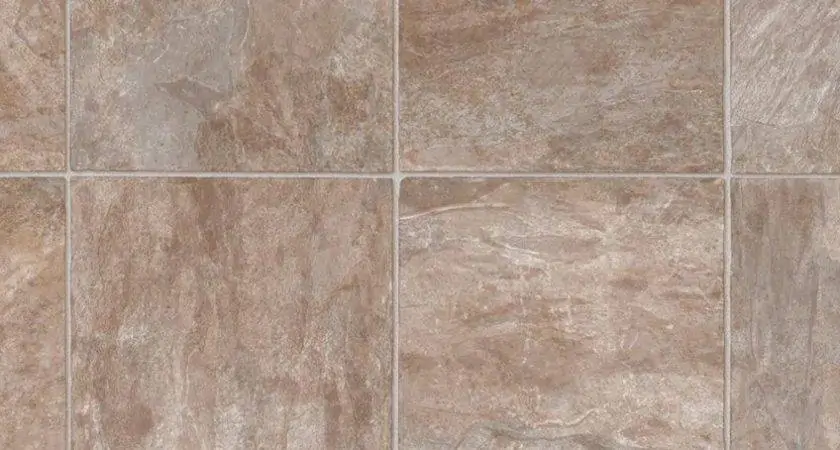 11. Jute Rugs
Having a rugged drawing area is in vogue right now. While jute creates a sense of rustic charm, it also adds a much-needed softness to the space. Pair it with furniture in neutral tones and lots of plants, and the room will surely look as if it belongs in a holiday resort.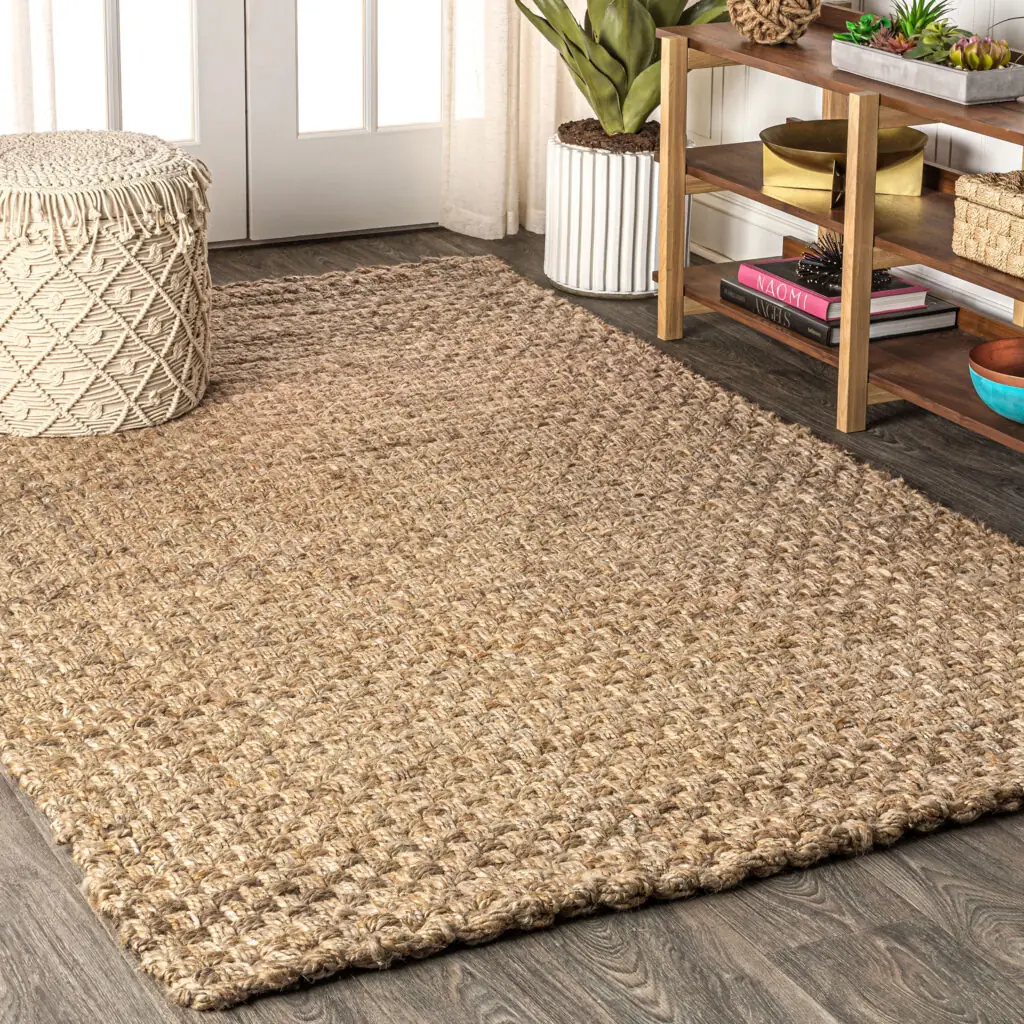 Things to Take Note of When Buying Flooring for Your Living Area
Always pay attention to these 3 points when deciding what kind of floor to install in your home:
Usability: Your living area will have the most footfalls. So, always go for the most durable materials for it. Get professional help to choose the best. Installing a bamboo floor in a flood-prone place is definitely not a very wise decision.
Budget: Never overlook this aspect. It would help if you had a uniform quality floor throughout your home. So, if your budget does not permit it, do not overspend. Vinyl carpeting, laminates, and bamboo are affordable options that are also aesthetically pleasing l. What's more, consider the cost of the materials like adhesives.
Planning: It is essential that the floor in your room match the house layout. For example, carpeting is better for higher floors than for the ground floor or basement. Likewise, having tiles fitted on the ground floor is better. Be sure to look up vinyl or tile flooring ideas for the living room or on the Internet to know the latest trends.
The Final Say
The living area is where most visitors come, and it is the place where the house occupants spend most of their time. So, it needs to be cozy as well as aesthetically pleasing.
As important as the furniture, the floor should not be overlooked. Simply choosing a material that you like is not the right approach. You need to take into consideration your geographical location, house design and age, your available budget, and the materials required. Always go for quality materials that offer durability. And never shy away from spending some extra for maintenance. Let us know how you feel about the above ideas for living room flooring.
Do you need more wood flooring ideas for your living room? Let us know! Also, keep us updated about your recent renovations and experience!