12 Ideas for Living Room with Fireplace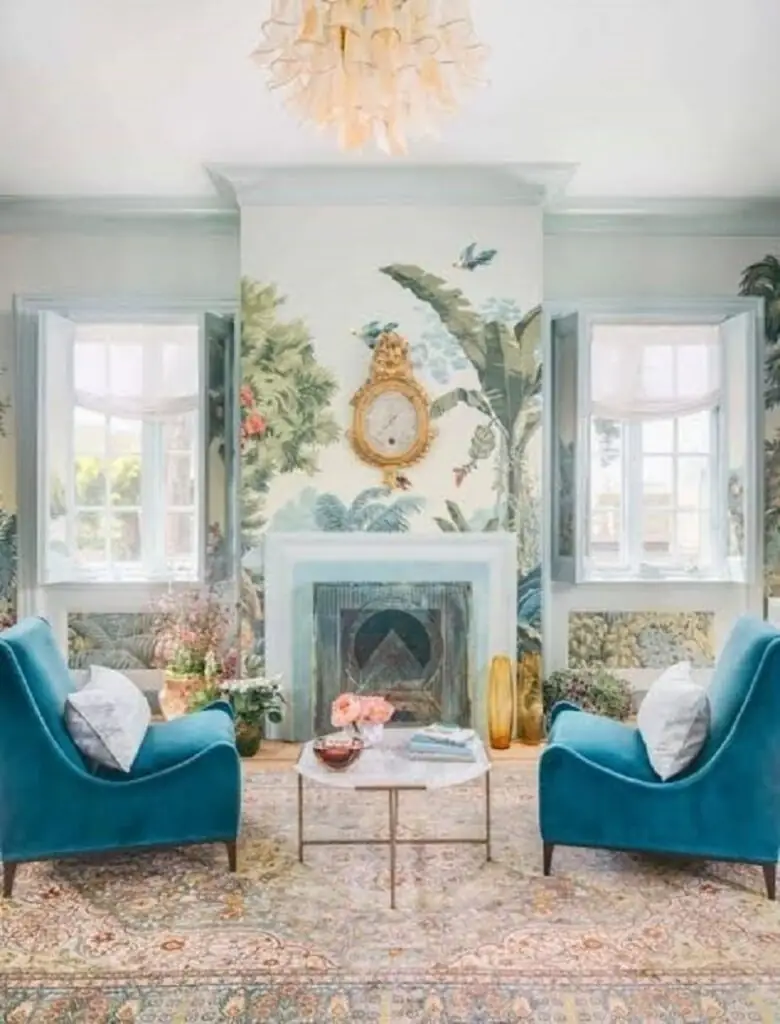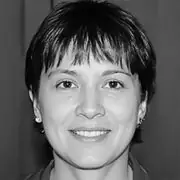 In this guide, we discuss some beautiful interior design ideas for a living room with a fireplace that adds a unique feel to your space. The living room is the focal point of your home. It is where you unwind after a stressful day, entertain loved ones and create lasting memories.
Most homeowners believe that large sitting furniture décor is what makes the lounge inviting and cozy. However, even with the large furniture, nothing adds more life and warmth to your living room than a fireplace. Whether your lounge has a more traditional, modern, or vintage style, a living room with a fireside will feel homier.
But here comes the challenge; how do you decorate your living room with a fireplace to make it stand out? Let's take a look at what you can do with these design ideas for a living room with a fireplace.
Choose Dramatic Black Color Scheme
If you aren't the colorful type but want to make your fireside stand out with a bold color scheme, then a dramatic black color on your modern walls will do the job.
Black is never a dull color. depending on how you use it, it calls for attention. We absolutely love how this black color takes up the entirety of the hearth opening and floor-to-ceiling walls surrounding it.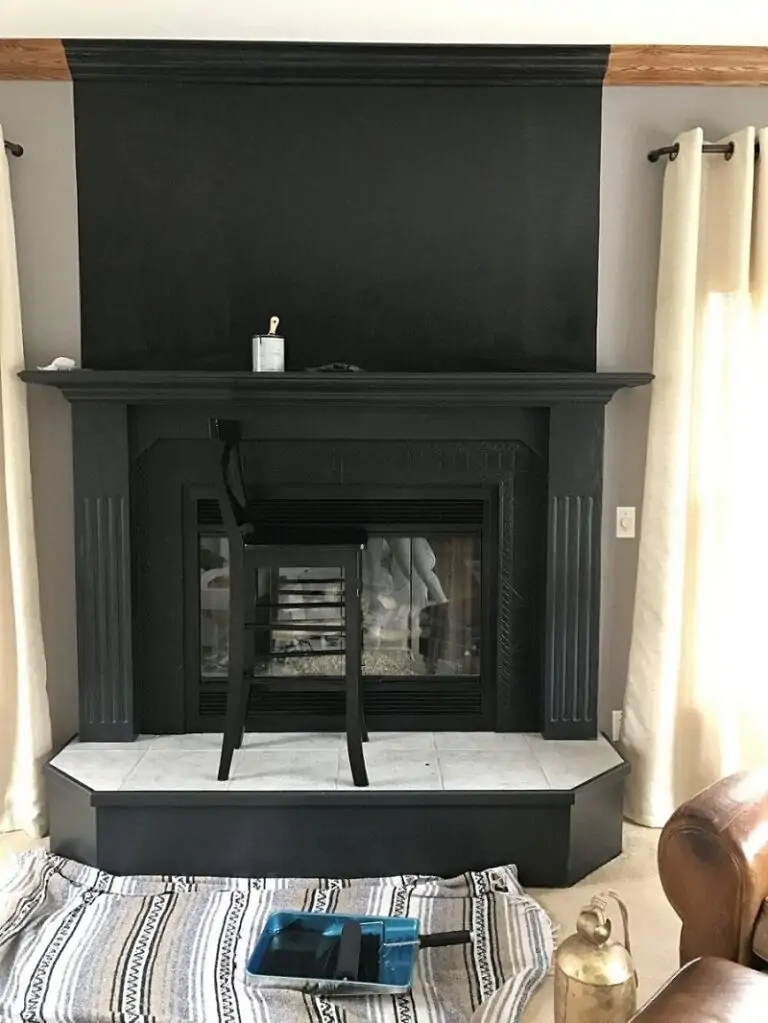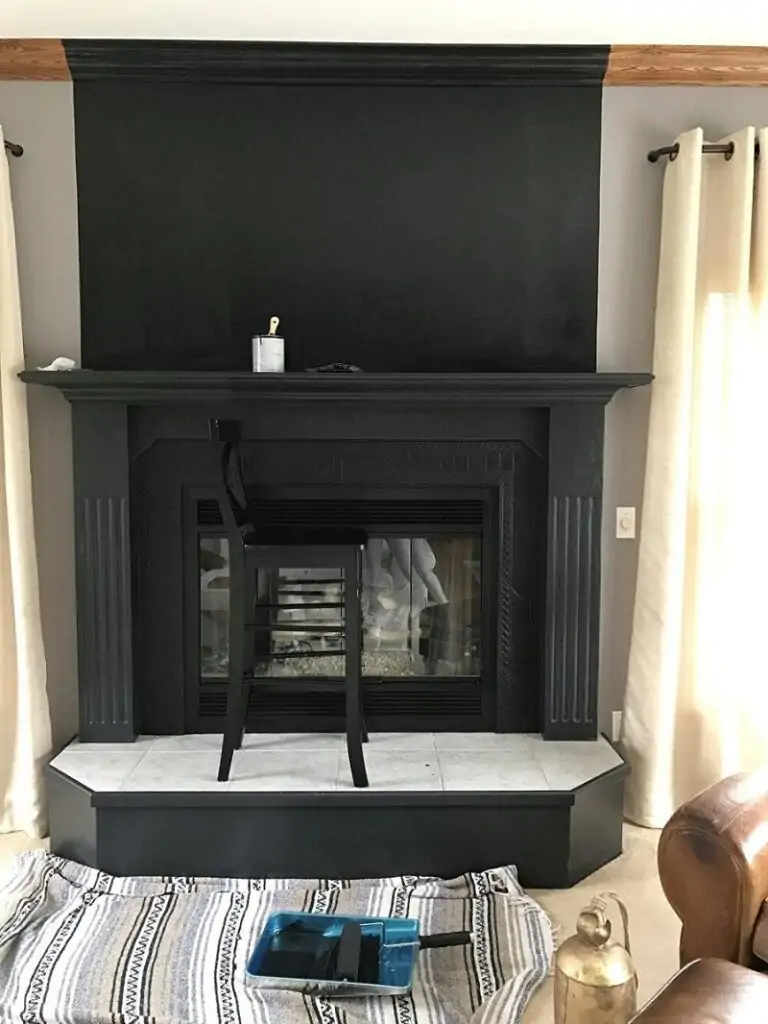 Crazy for Color? Try a Colorful Assemble
Not into the simple and minimalistic decor? Transform the neutral setup of your living space with a vibrant color scheme for your hearth settings.
While the latest décor trend is a bold black and white color, your fireside doesn't have to follow the norms to make a statement. Get creative with any color that showcases your personality and taste.
We love this picture because it features a lovely floral piece to transform your space and fireside from bright white and blue décor to a creative pattern and color scheme that is sure to catch your eyes.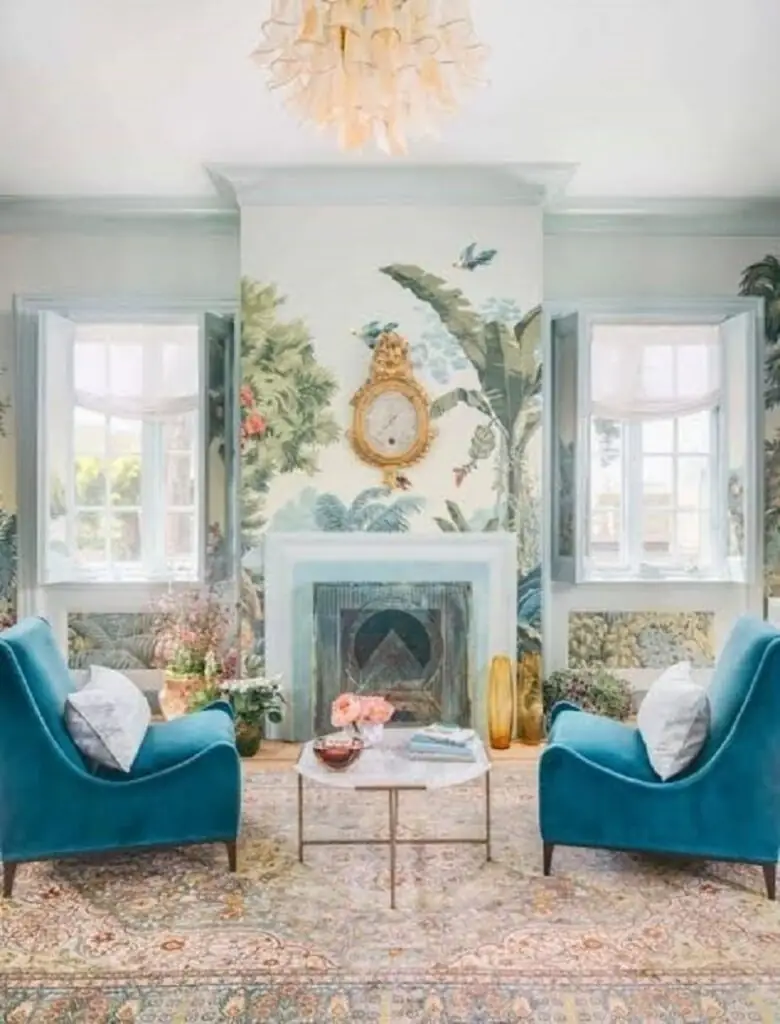 Bohemian White-Out Interior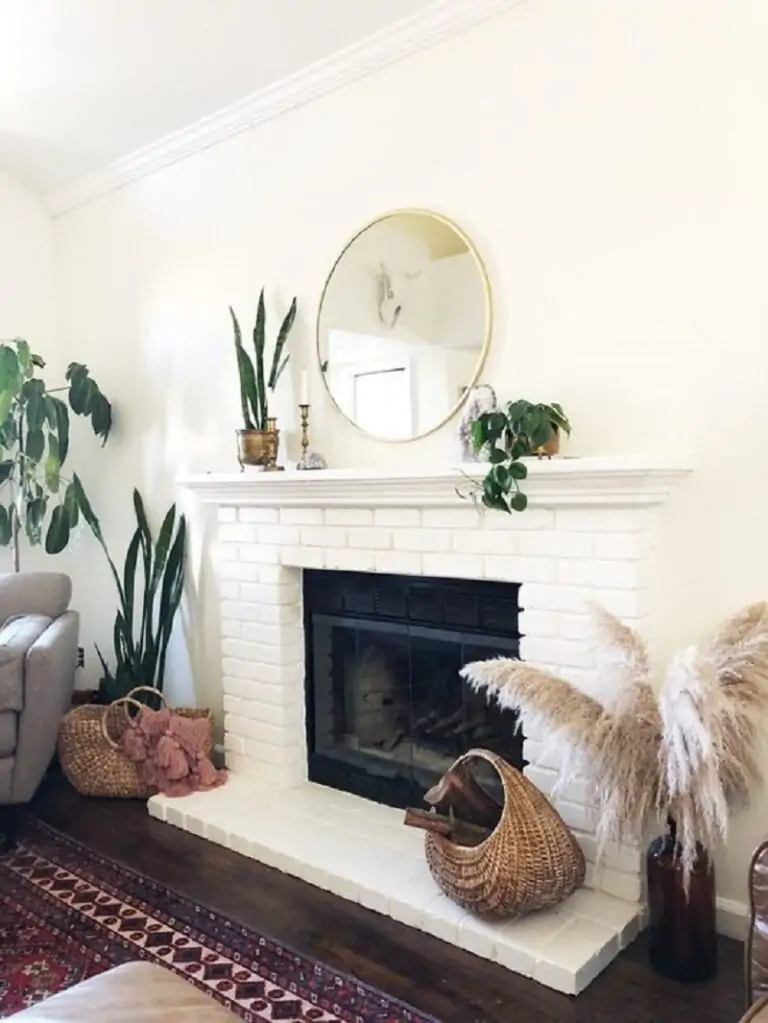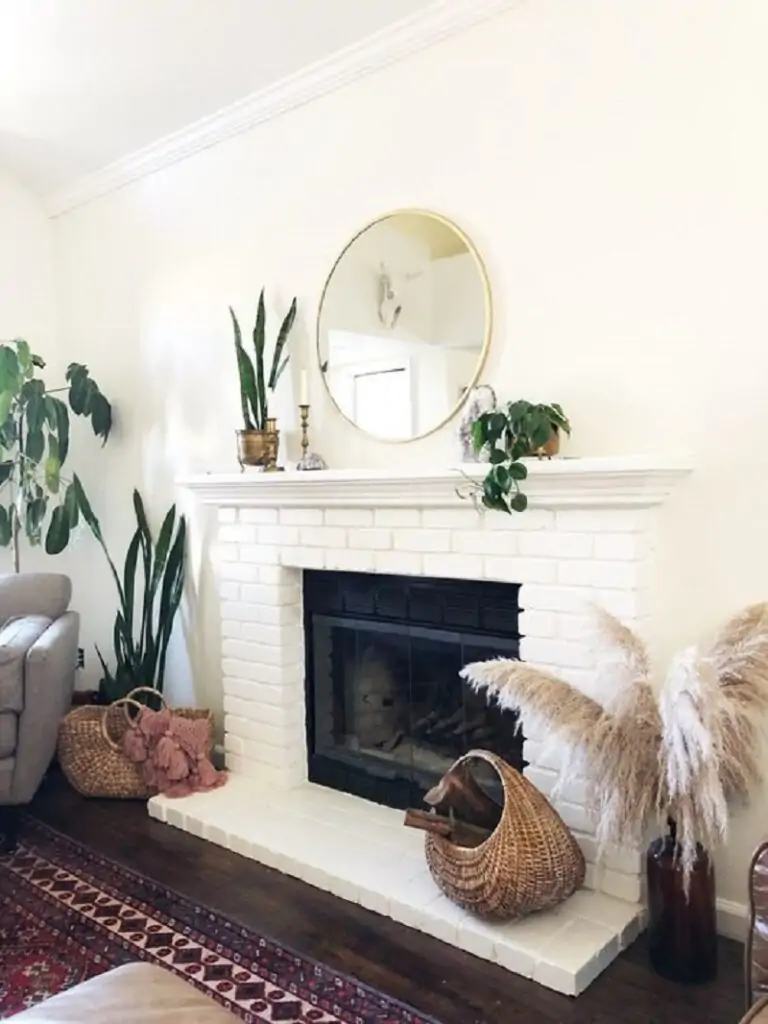 The perk of a white-painted fireside is how effortlessly it blends with the theme of any type of space. If you're going for a serene atmosphere, a bohemian-theme white paint uplift around the fireplace will give a fresh look that makes you and your loved ones feel calm even after a long stressful day.
This hobo-style hearth boasts a simplistic full-out white design plus a basket-like case sited on the hearth. It also features minimalist plant accessories and candle stands set up on the mantel which heightens its overall look to make the white-painted hearth walls truly shine.
Use our step-by-step fireplace painting guide to transform your indoor brick fireplace with a fresh coat of paint, using specialized paints that are easy to apply and dry quickly.
Simple Scandinavian Silhouette Ideas for Decorating a Living Room with a Fireplace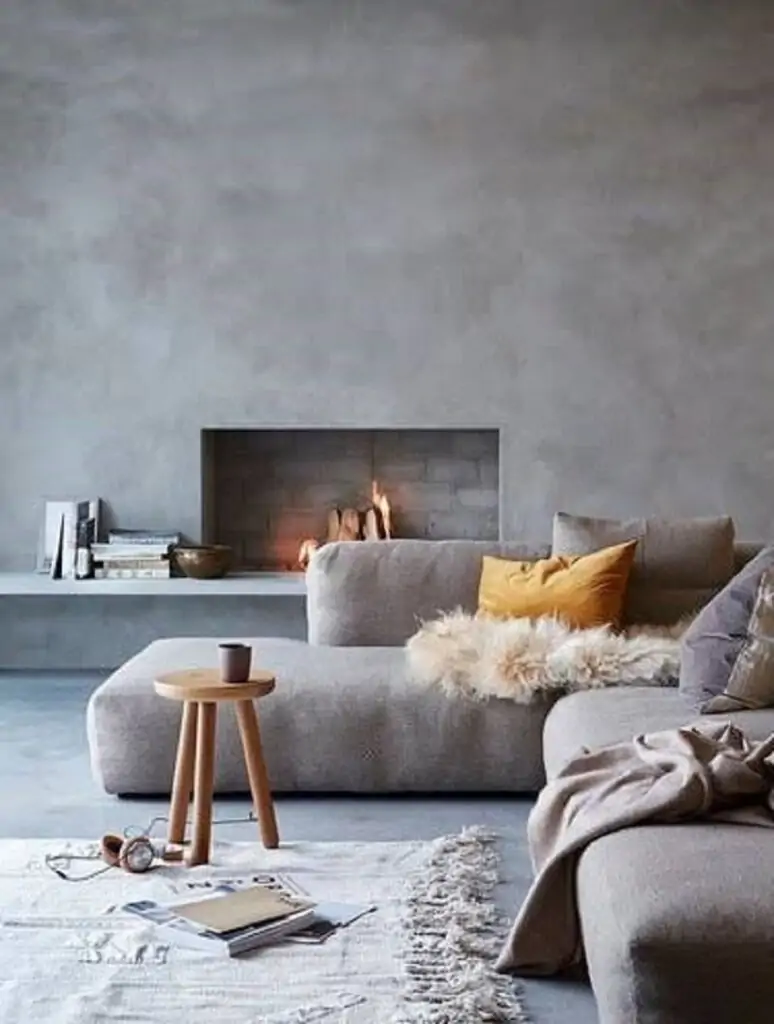 If you are wondering about how to decorate a small living room with a fireplace, the beauty of Scandinavian interior decors is that they are never fussy.
Do you need a minimalist look in your small lounge? Then, go for a Scandinavian-themed fireside that has subtle colors and tones to help create a relaxing space.
This simple grey-themed hearthside design feels cozy and adds a nostalgic feel and extra character to the atmosphere. The minimalist shelf-like accents help to personalize the suspended hearth.
Small Living Room Fireplace Ideas with Mirror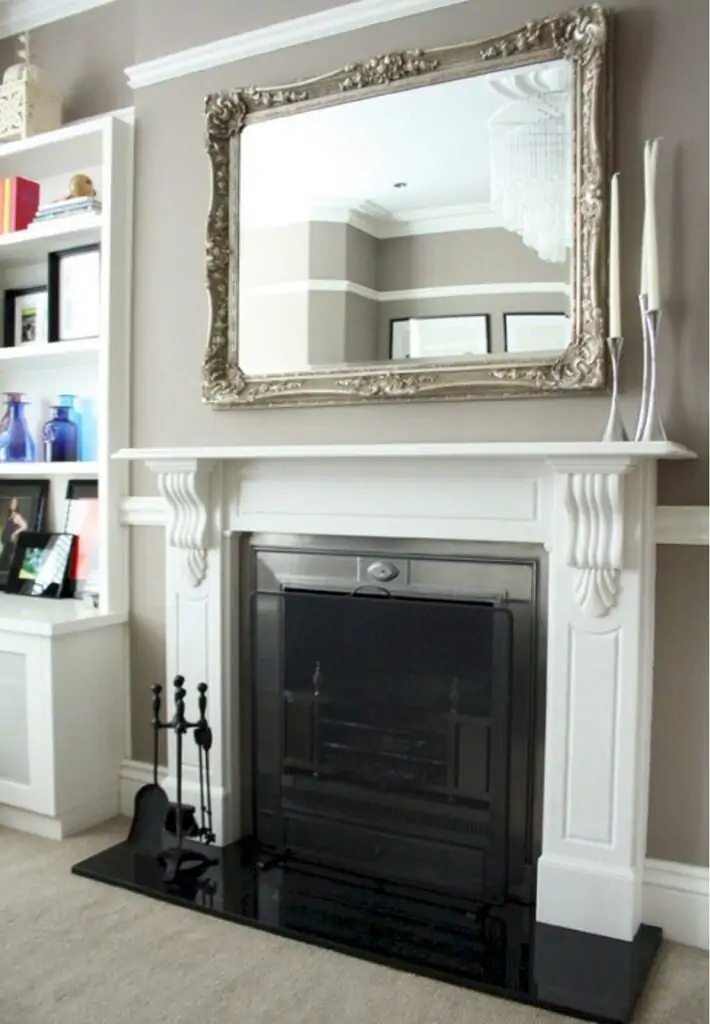 Sometimes, all you need to make a stylish statement in your parlor is to put a striking piece of ornate framed mirror that communicates elegance and luxury to decorate the mantel.
Depending on what size mirror you want, your mirror could take up the entire space on the mantel or a simple cut-out space for decorative features. Elegant mirrors in rectangular shapes convey a more traditional style while circular mirrors with small frames give your small living room a contemporary style.
We can't get enough of this lounge interior setup that showcases a traditional rectangle mirror placed at the center of the mantel.
Don't Neglect the Need for an Artistic Touch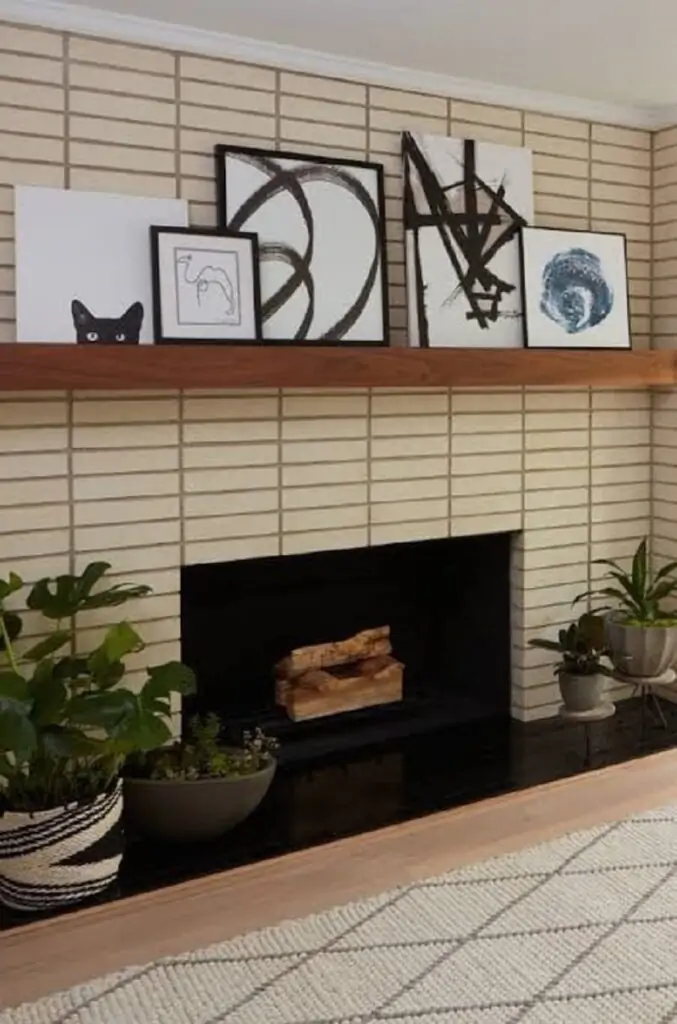 The very first decorative piece you should think about when setting up your fireside to make a statement is to feature an art piece above the mantel. However, art pieces differ.
If you've got a luxurious space, then you will most likely prefer canvas arts to paint jobs or small framed pictures over your hearth setup. However, you need to make sure that the color you choose matches the pattern of your living room layout. For the bold art lovers, a black and white color palette will add essence to your hearth while colorful art pieces will match the flavor and personality of someone that loves vibrant colors.
Get more inspiration from our elegant mantel decoration ideas.
Living Room Fireplace Wall Ideas with Abstract Wall Art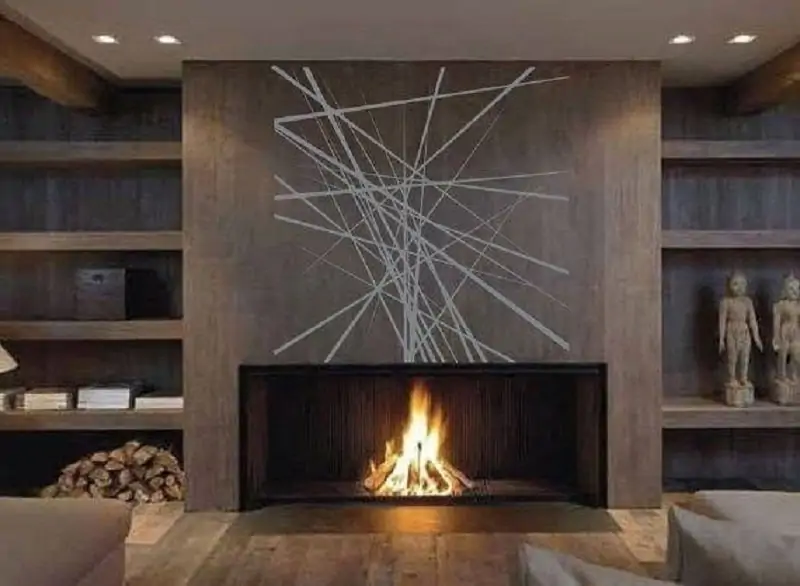 One of the best living room fireplace wall ideas you can try is to get creative with abstract wall art. Most art lovers without artistic skills find it difficult to create a visually appealing drawing or painting that adds the wow factor to their lounge. The good news is that you don't need to have the artistic experience to curate a living room with a hearth full of attention-grabbing abstract art.
In fact, creating abstract art pieces won't demand excessive thinking since it is a visual art form that has no rules. Even with the most uncoordinated abstract art designs over your fireside, you can curate something uniquely different that makes a statement and communicates your style.
This sitting room layout features a fireplace with abstract line designs to match the modern aesthetic feel of the space.
Creative Living Room Layout Ideas with a Fireplace and TV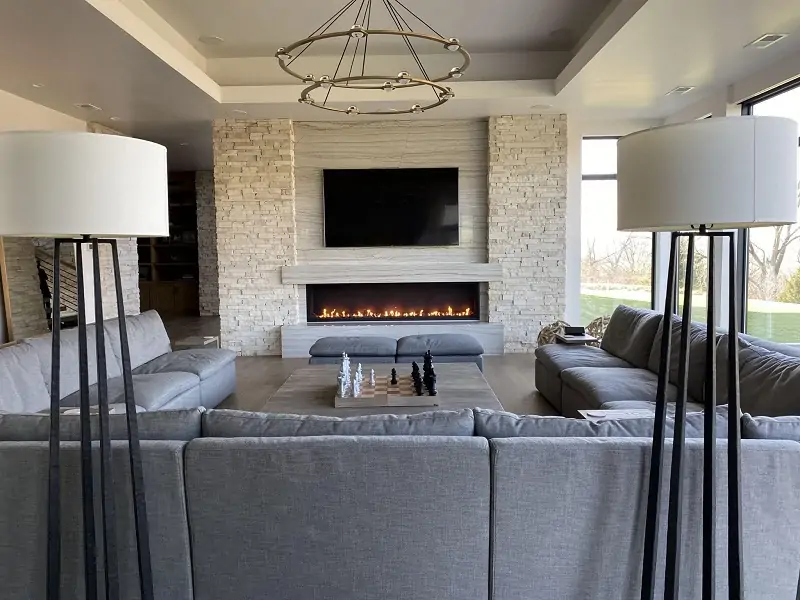 For those fortunate enough to have plenty of space in their living room, organizing the living room layout this way may seem impractical. Well, this interior design is a perfect, more practical, stylish, and functional addition to small living rooms with a fireplace and TV.
For a more contemporary design, you want to go for a slim TV with minimal slanted edges and one that perfectly fits over the mantel. Make sure that the TV isn't overly enormous and that it covers the entire space of the hearth backsplash. When framed by your fireplace backsplash, it heightens the overall aesthetic feel of your living room. Also, ensure that the TV cords are cleanly stacked to allow minimal accessories to accentuate the mantle of your fireside.
Living Room Ideas with a Fireplace in the Middle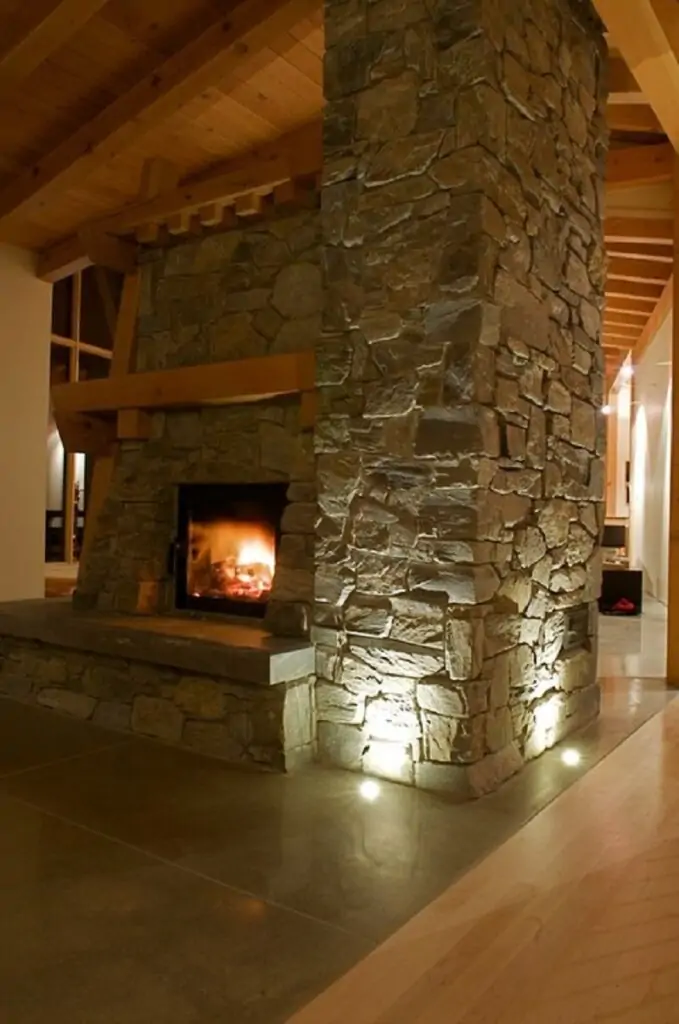 If you've got a living room that features a middle hearth, it means you've got an expansive lounge that allows you to organize large furniture pieces in just about any way you like. However, no matter how overly priced these furniture pieces are, they won't match up to the allure a middle fireplace adds to your space.
We love this picture because it showcases a towering middle hearth in a modern lounge. Its simplistic brick design doesn't just give this vintage home a warm homey feeling but it adds sophistication to the entire décor.
Compromise on a Nature-Filled Indoor Setup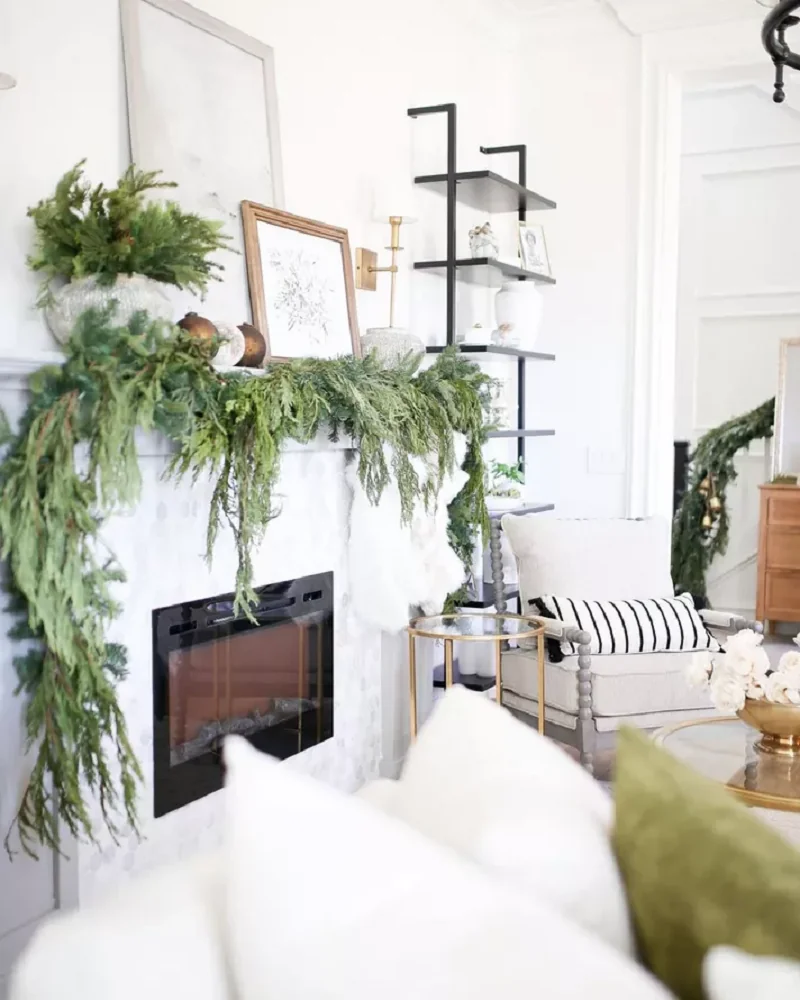 For winter seasons with extremely cold climates and snow, enjoying the beauty of nature is a luxury that is technically unrealistic.
So, when decorating the fireplace, consider mounting flower pots or plants. Alternatively, you can place them on the mantle or around the hearth opening, as to how you would do with a Christmas light.
This layout looks incredible because the artificial woven plant flower leaves around the hearth with stone-like accessories add a rustic yet natural vibe to the space.
An Electric Fireplace takes Things Up a Notch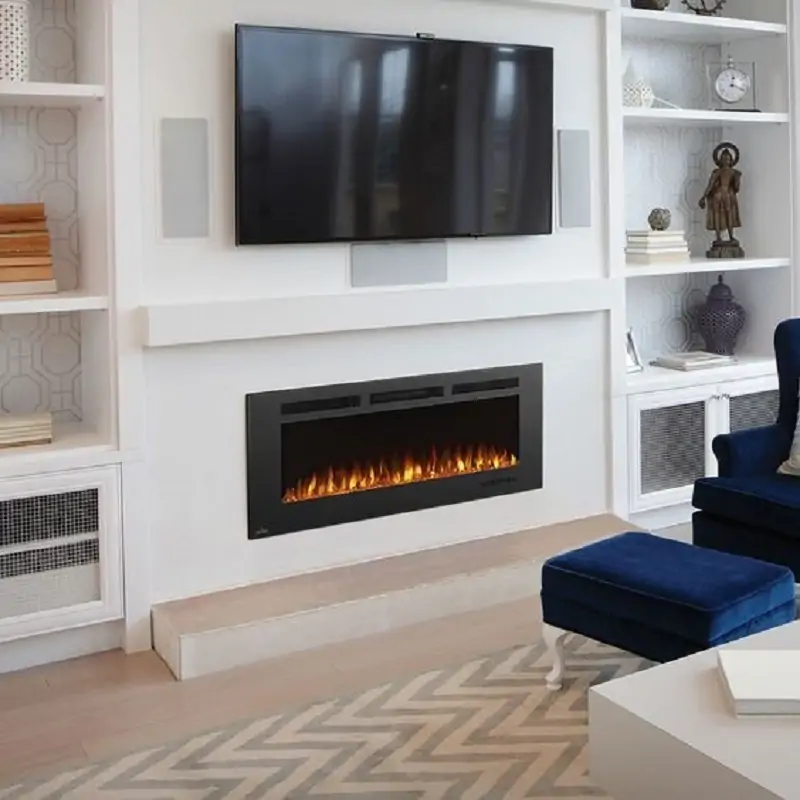 Like how you incorporate nature into your lounge hearth, a battery-operated fireplace is a terrific way to make your décor uniquely yours. It offers more convenience and unrivaled relaxation than a fake fireplace.
Add Rustic Accent with Elegant Driftwood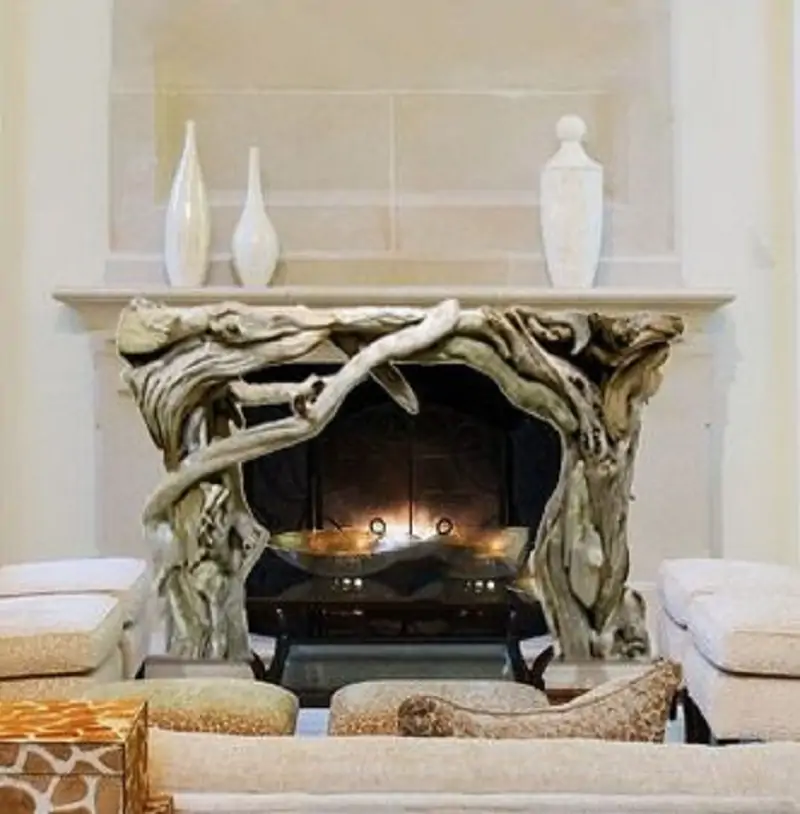 Love the sea but don't have access to one? Channel your love for the sea by surrounding your drawing room and fireside with elegant driftwood that gives your modern space a rustic feel.
Curating a Coastal fireplace is never too challenging if you use the right materials such as knotted driftwood. We love this picture because this gnarled driftwood matches effortlessly with the space. The twisted appearance gives your lounge hearth a natural feel of being close to the forest and sea.
If you prefer something more artistic than this driftwood over your mantle, use sculptures made from driftwood materials, whether synthetic or natural driftwood.
In the Corner Does Not Mean Out of Place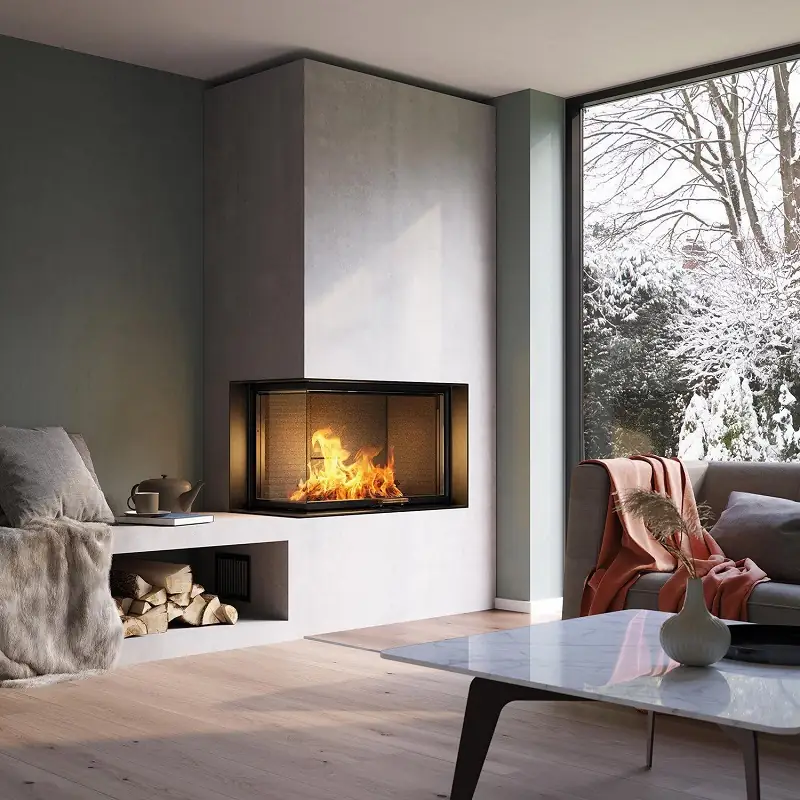 This hearth uses a neutral theme and glossy finish that blends with the interior designs of your space to give you a sense of calm. No matter whether you need decorating ideas for a living room with a corner fireplace, it doesn't have to be difficult to find the perfect ideas for a parlor with a fireside that effortlessly blend with your interior furnishing and fireplace décor.