19+ Ideas for Room Dividers You Instantly Want to Repeat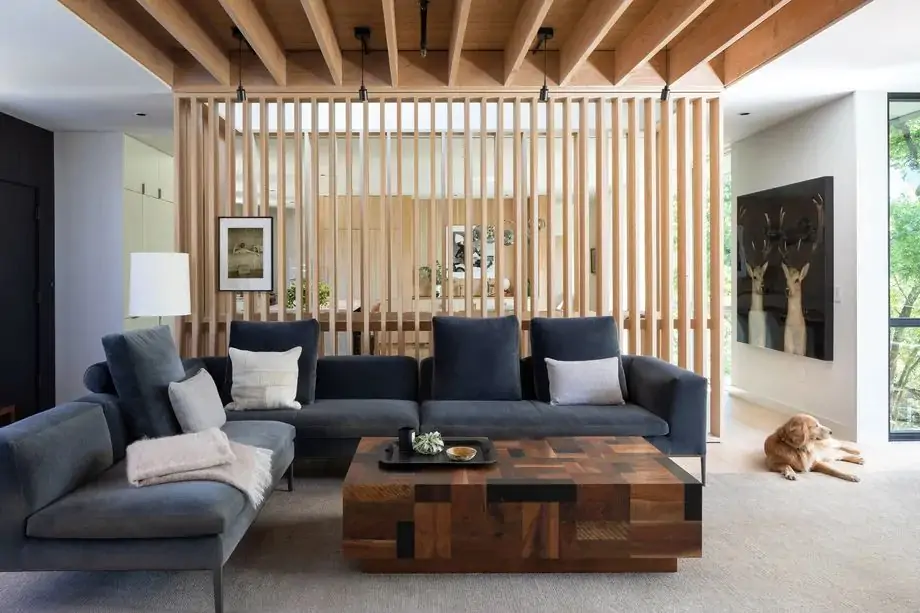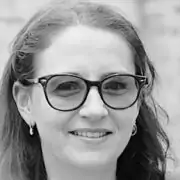 When you need to give your home more flexibility and functionality, the best choice is to divide the space with room dividers. Here is a wide variety of ideas that will inspire almost everybody! Let's check our findings to improve and beautify your separated spaces.
1. Go for the Best Ideas for Temporary Room Dividers
Seeking an elegant way to break up your home area will be very easy if you choose something lightweight and foldable. An open-and-close folding divider or an attractive curtain will give a fresh look to the design project.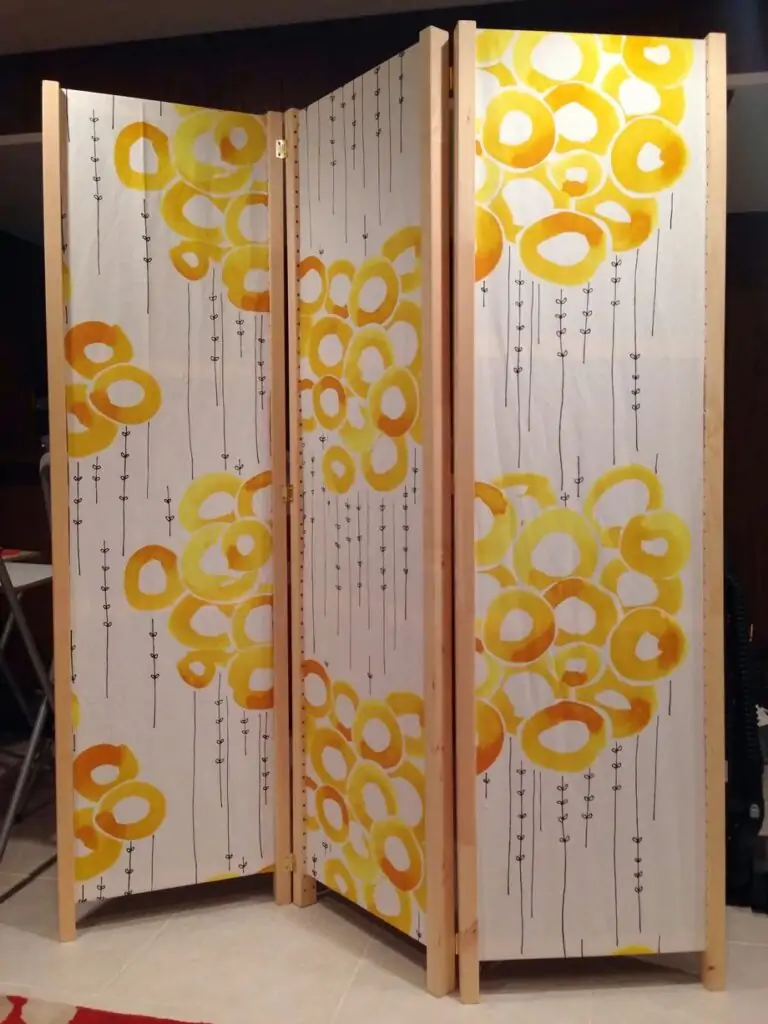 See? You can't take your eyes off this DIY folding screen! To create such a unique and cheap thing, take panel frames and staple a beautiful fabric into them. Keep in mind that light colors with no dense and contrast patterns are the most preferable to expand the space.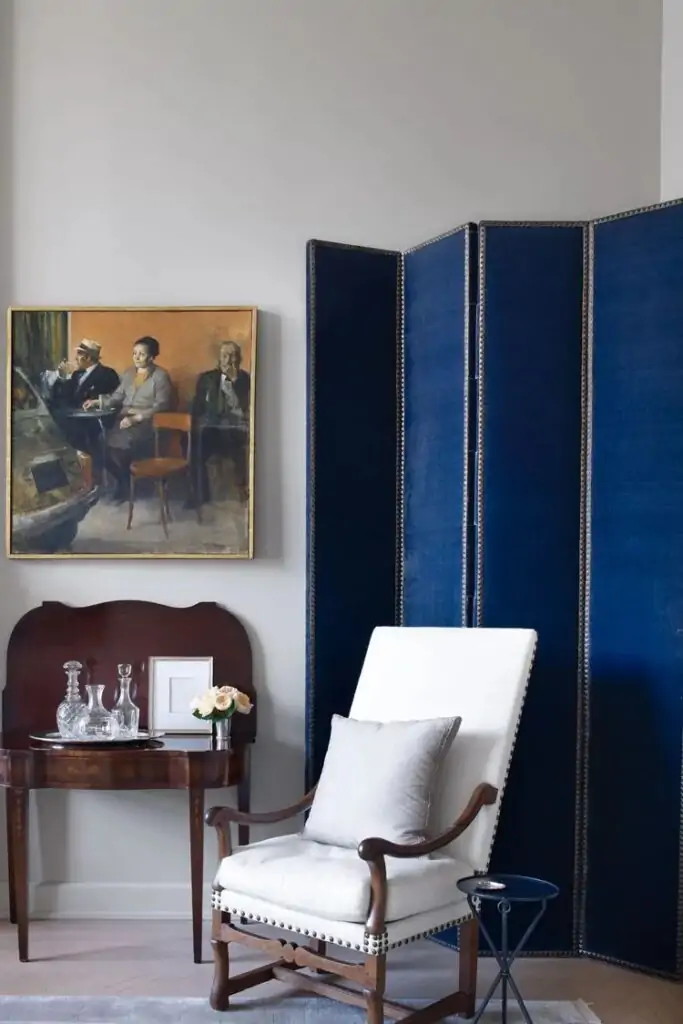 Opt for a solid masculine color when looking for extraordinary ideas for room dividers. In the photo above, a punchy crocodile screen makes the space perfect, full-bodied, and unique.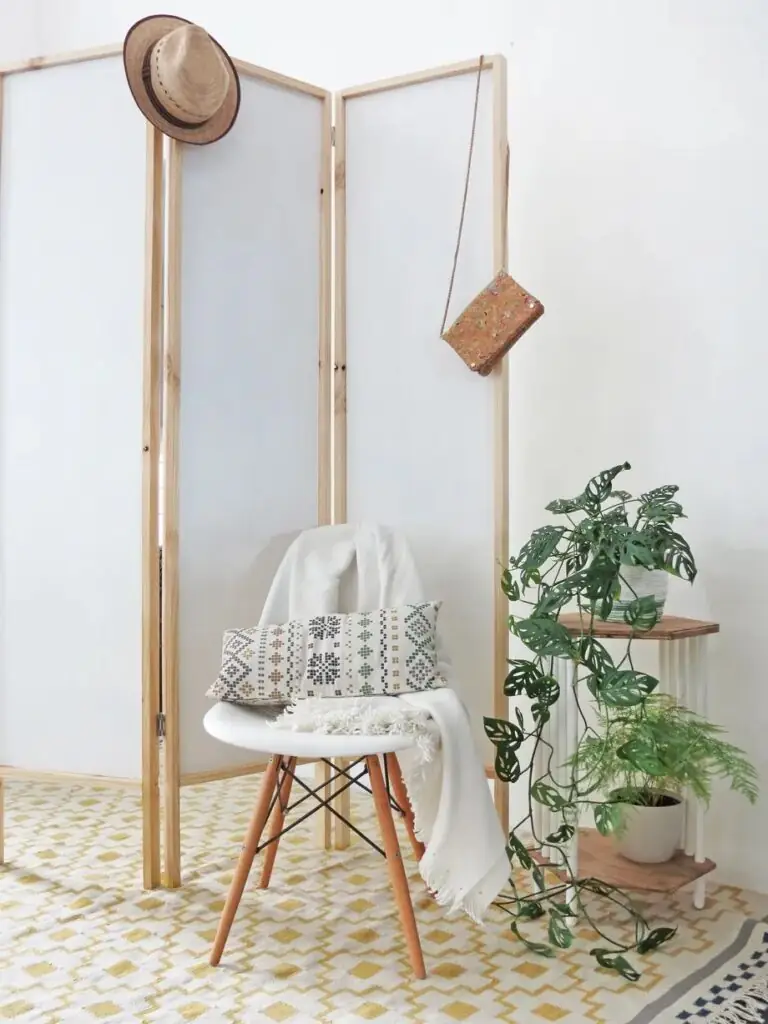 Take a huge inspiration from this easy solution. This folding screen is so good that no doubt is possible! In other words, don't be afraid to spruce up your airy living area designed in light colors with the simplest dividers that almost melt with the walls.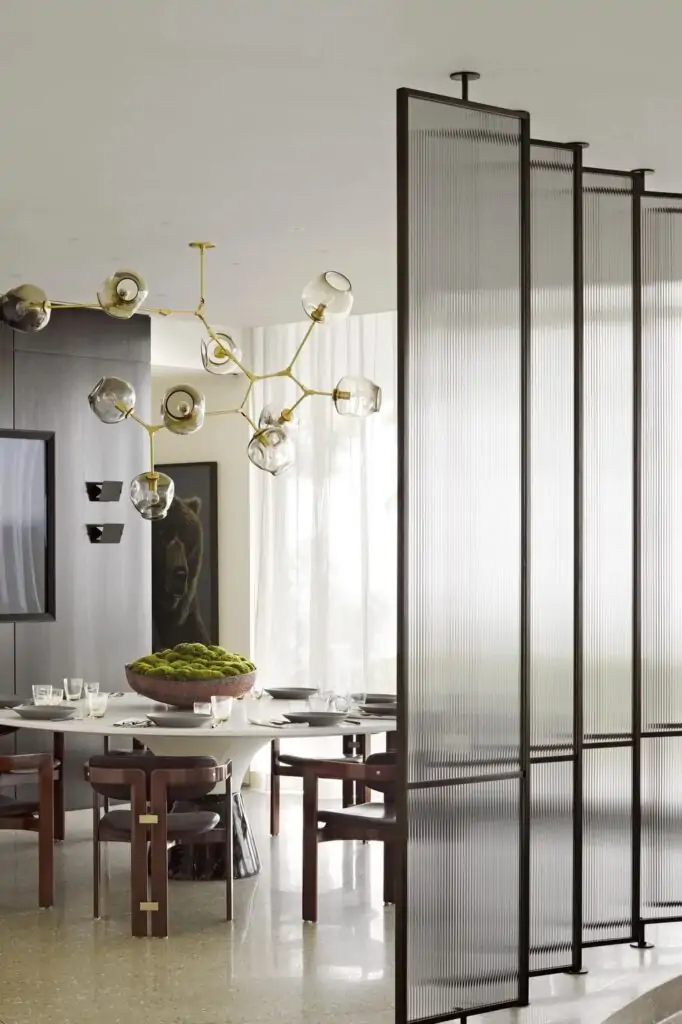 In any apartment there may not be walls where you need them; at the same time, you may need daylight all over the room. You can deal with the challenge. For instance, add a glass or transparent plastic screen in such a case — you instantly get a terrific visual effect and much-needed privacy in the separated areas.
Whether you fixed the divider or left it movable, in addition to the frosted foldaway glass divider, you can update the lamps and provide a beautiful renovation of the space.
2. Enjoy Inspiring Curtain Ideas for Amazing Room Dividers
Looking for affordable dividers that can be changed at any moment, do not refuse the most comfortable solutions in interior design. These are fabric curtains that have an accent color or, on the contrary, merge with a broad range of shades.
You noticed where the curtain is hanging not instantly, right? The classic industrial loft has neutral primary colors with antique accents. Therefore, if we were bachelors, we would give the apartment the Audience Choice Award.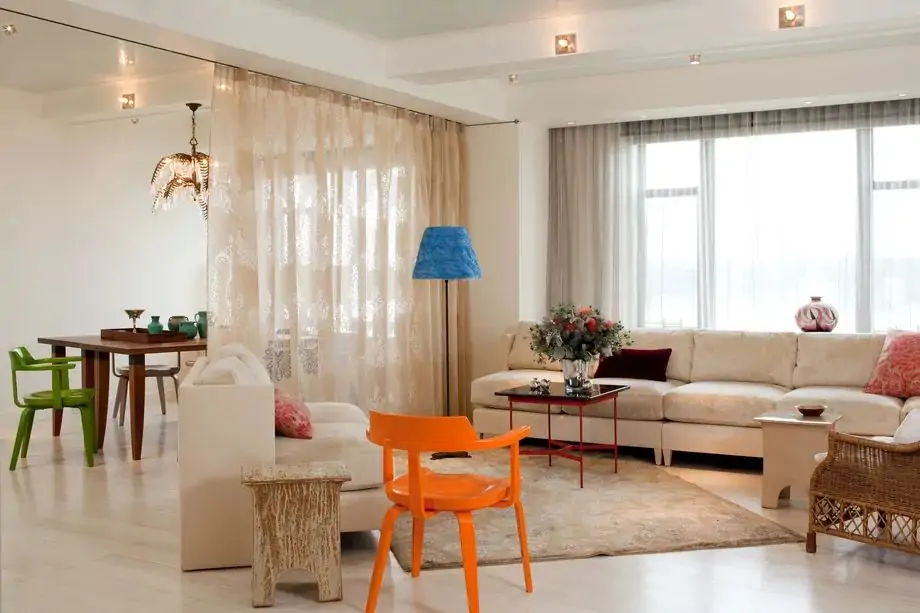 You can create instant space partitioning using gauzy curtains. If you want privacy, pull the fabric out and back when you need spaciousness. In addition, there can be another separating style — a heavy velvet curtain that embraces a profound statement in your design.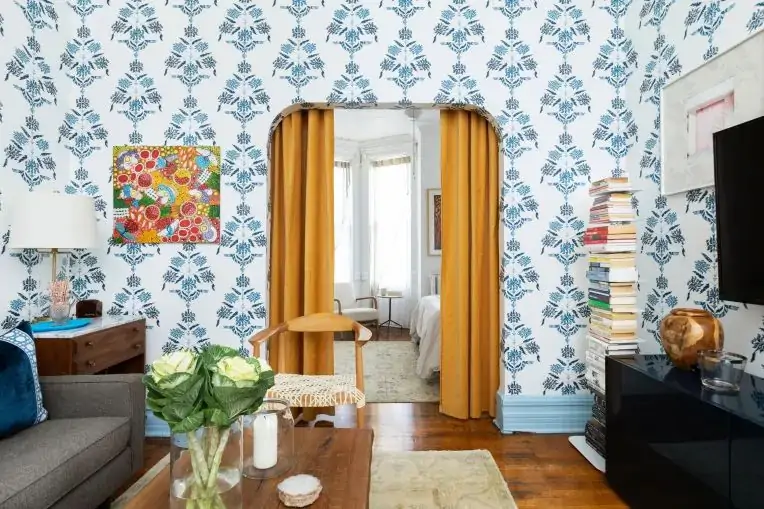 Instead of a large door, use a contrasting curtain that will determine the mood of the entire interior. This photo shows you how to choose the boldest solution among all creative ideas for space separation.
3. Opt for Cheap and Simple Room Dividers You Really Need
What to use as a room divider is not a difficult question if you boost your creativity with materials at hand and some essential pieces of furniture. The more confident you are, the more exciting way to make a screen you will find.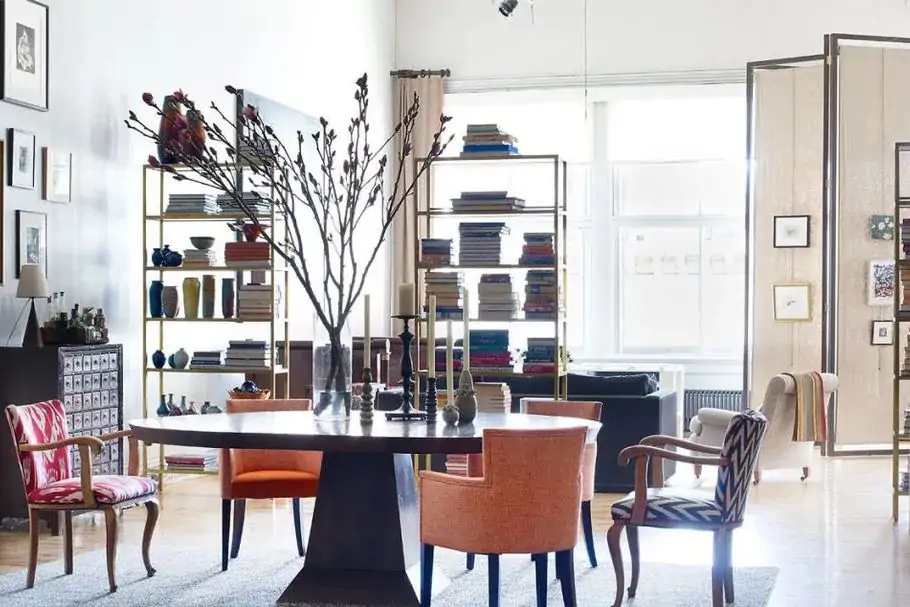 There are books in every family home. It doesn't matter whether you like to read or only inherited a sizeable collection; you can arrange the books beautifully on the simplest possible shelving that effectively divides the room.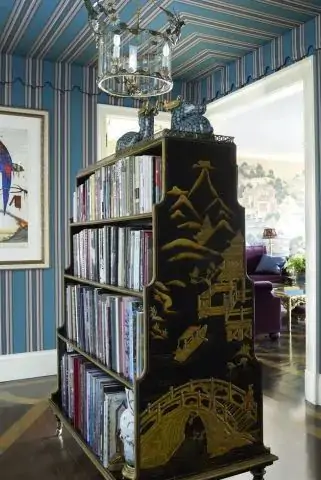 Some unusual furniture works very well as a massive, eye-catching example of excellent dividers. Ideas on using bookshelves are akin to a magic wand for people who love solidity but don't refuse an easy renovation. A particular advantage of bookshelves is that you can always rearrange your space separating scheme.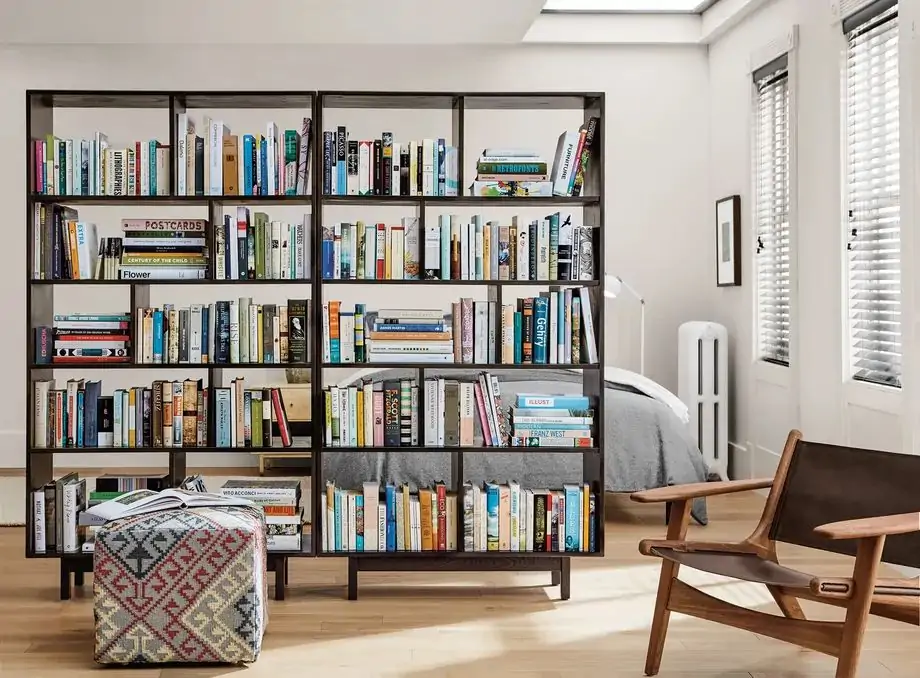 It is not necessary to place open shelving near the wall. If your room is large enough, let your bookcase be in the middle of the dividing line and get an excellent and stylish solution for a dynamic interior.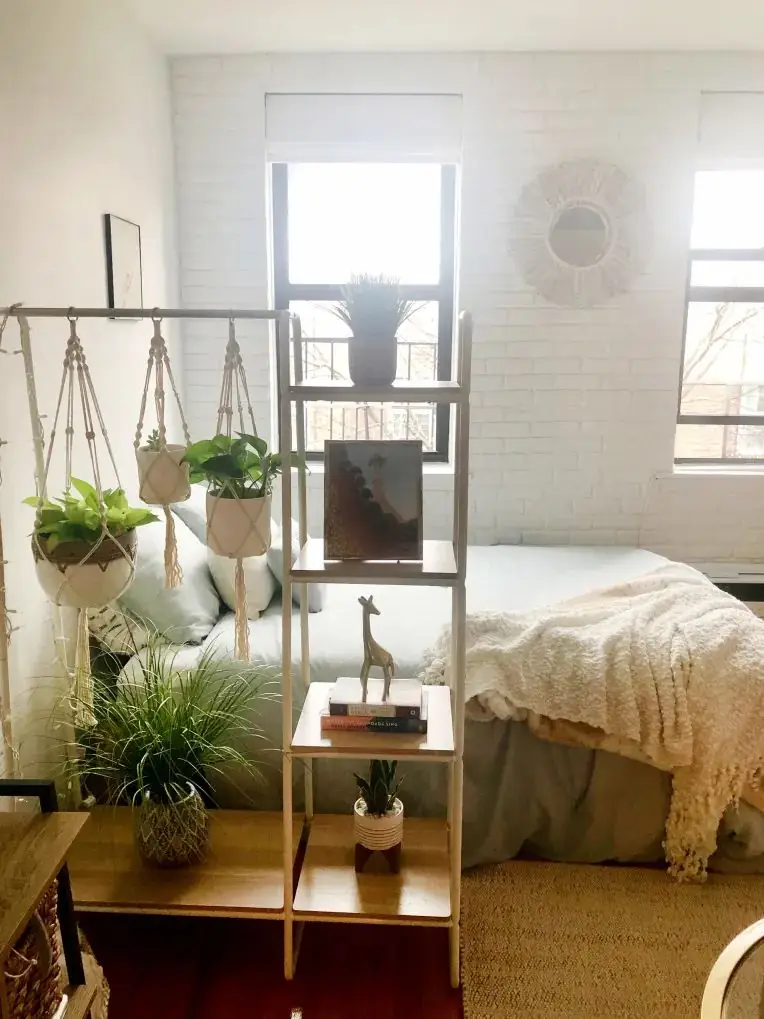 Another way to organize your house with DIY dividers is to put pottered houseplants and fancy decorations on the shelving. You can use impressive vases for this budget-friendly concept and a collection of figurines, toys, and souvenirs from your journeys.
4. Consider Cool Ideas for Spectacular Wall as a Unique Room Divider
What about breaking up your space with a room divider wall? Probably it's not the most affordable way, but it always looks classic and fits any style, even when the dividing wall makes the main accent in the design project.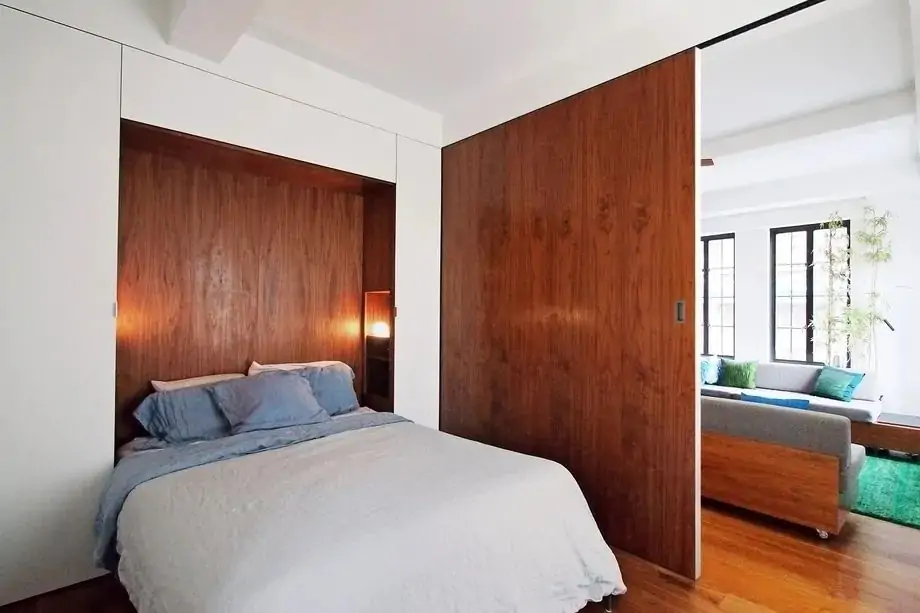 There is no need to tell about the beauty of the wood, and this perfect and natural material is always in fashion. Look at the photo above and notice how precisely the separating wall matches the bed's headboard and seamless floor. A perfect studio apartment, huh?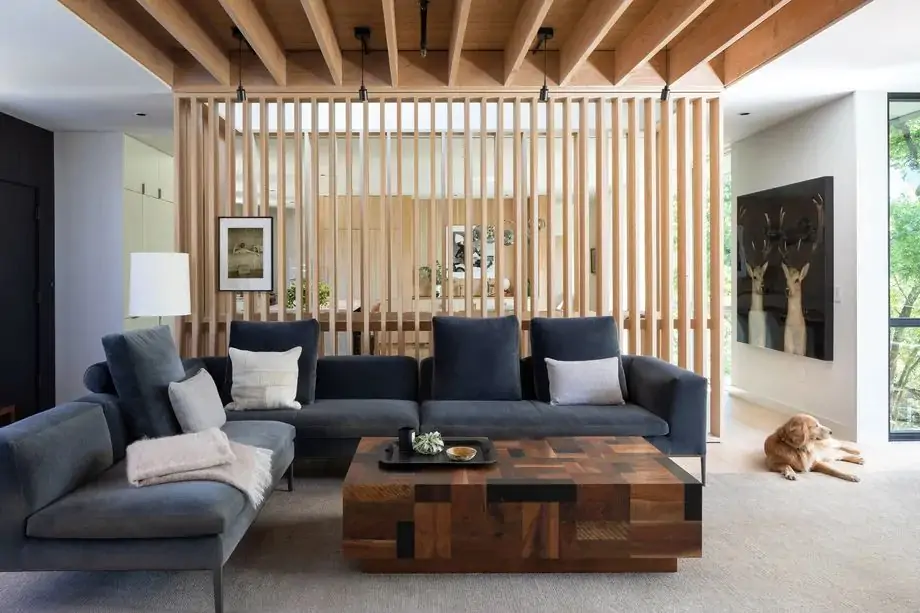 What's this? Either a lattice or a wall, but looks stunning. Such unique room dividers will not leave anyone unmoved. They catch your eye instantly!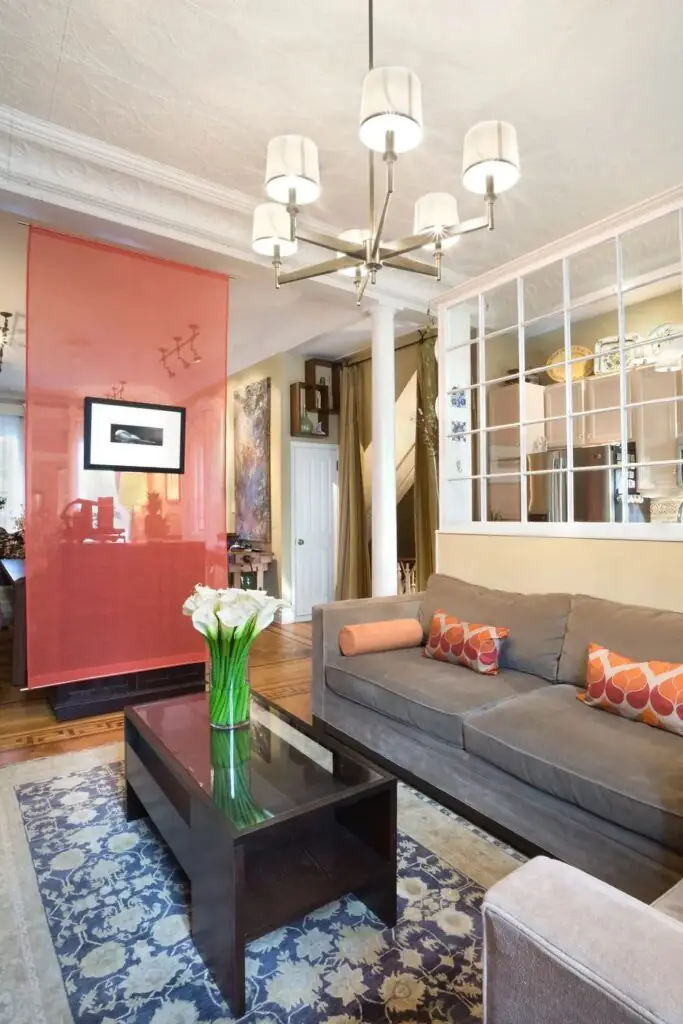 Incorporate an audacious fabric wall as the particular godsend for a non-typical interior. Play with bright colors and delicate cloth structures. There are many opportunities to make a statement — your home means your rules!
5. Add the Coziest or Unexpected Ideas for Magnetic Room Dividers
What about separating your room creatively without losing functionality? Mix unusual materials, use bold technologies, make up your mind to do a partition as your first DIY project, or hire a pro to bring your fantastic ideas to life. To sum up, all these approaches will give you absolute pleasure and stunning results.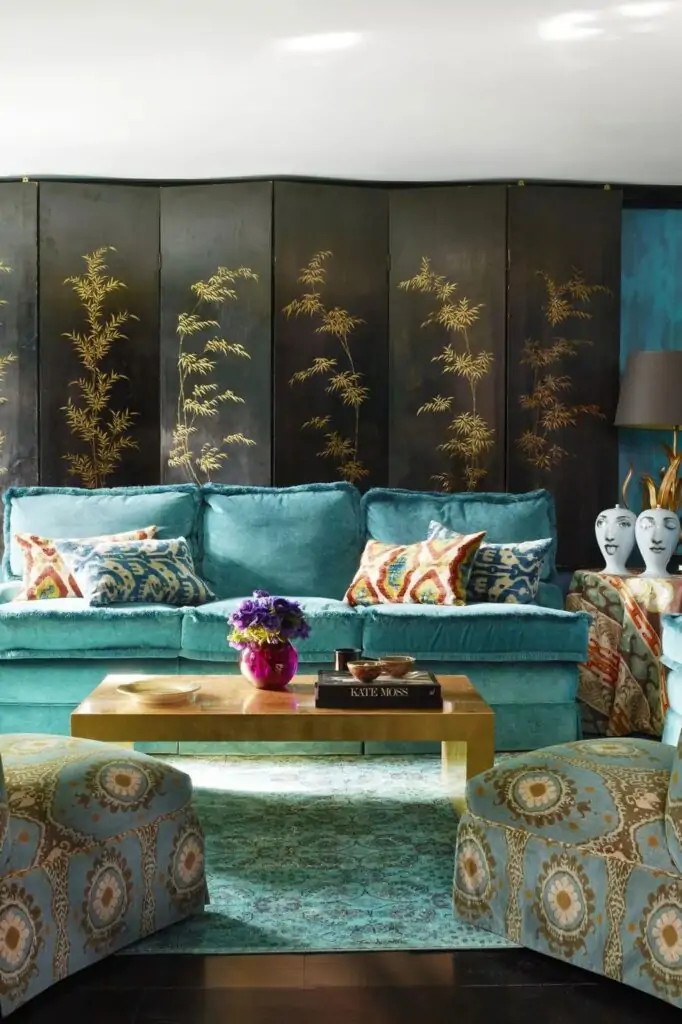 Ideas for room dividers give you a chance to arrange your unique world without overstretching your budget. For instance, if you are a devoted fan of eastern mystic decorations, make your lightweight fabric screen the interior centerpiece.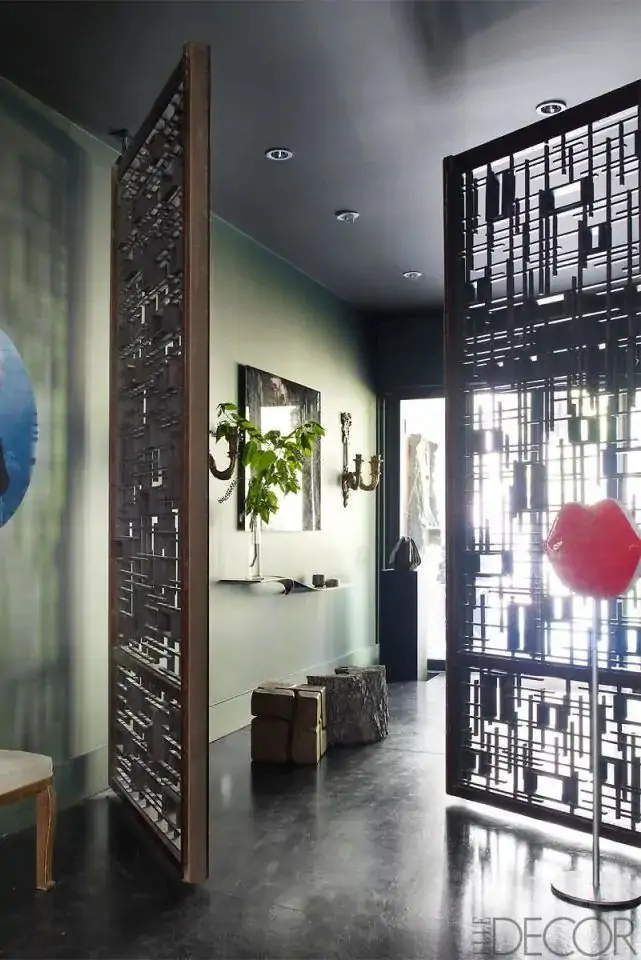 Add an extraordinary screen like the wooden doors if you are not afraid of dust. This openwork partition divides the room quite clearly and, at the same time, retains light in both parts of the space.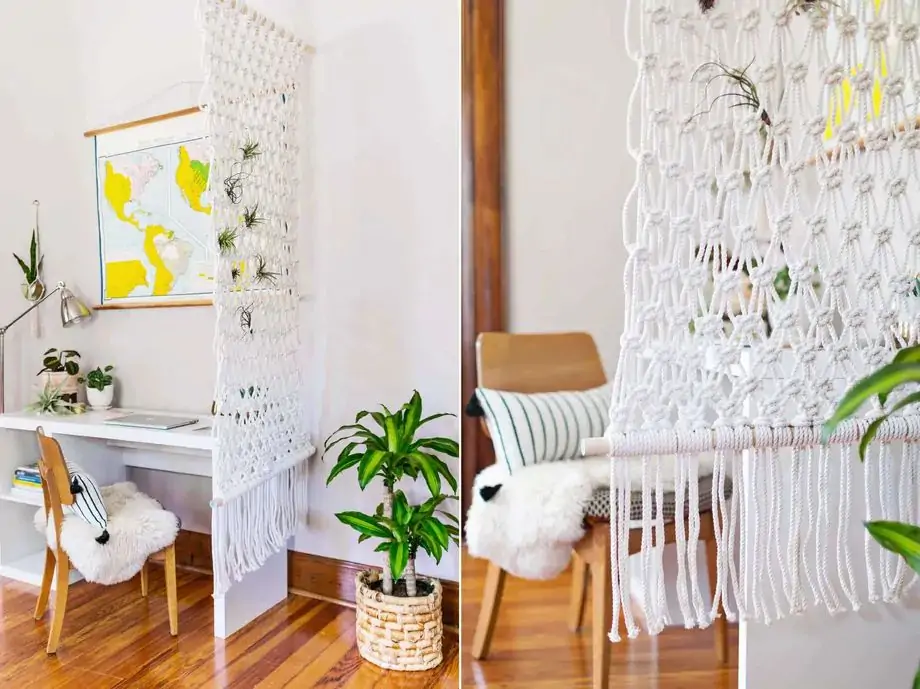 Catch the sun into your fabulous macramé netting! You will only need a cotton rope and a lot of patience. By the by, you can weave macramé and watch TV shows simultaneously!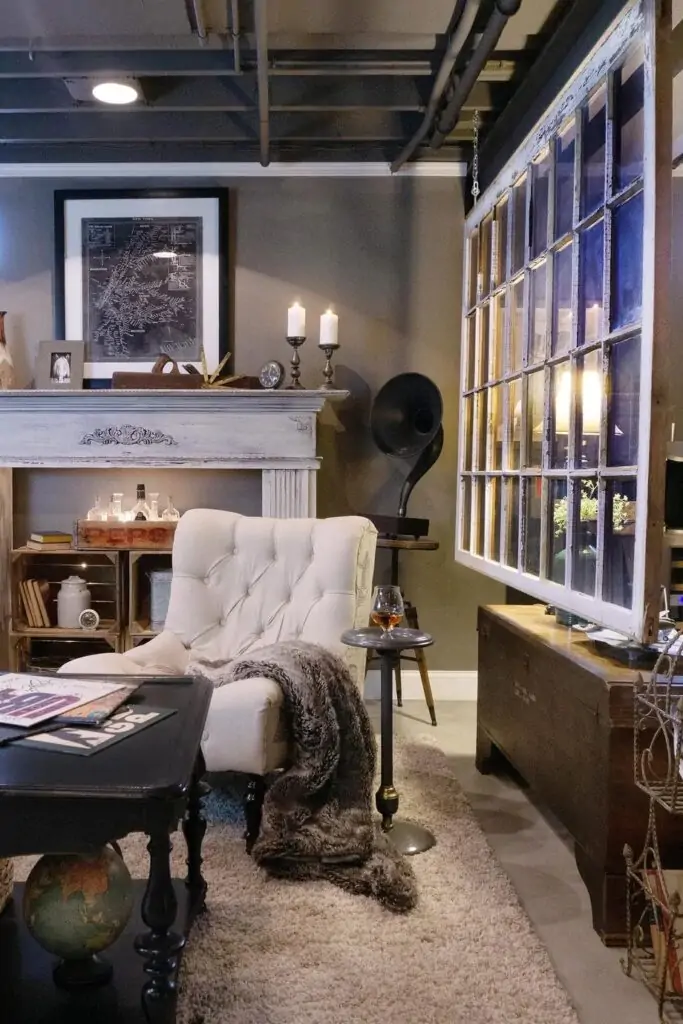 The fans of this partition have surely always dreamed of a large old house in the countryside. Renovate old-fashioned window frames instead plain modern plastics.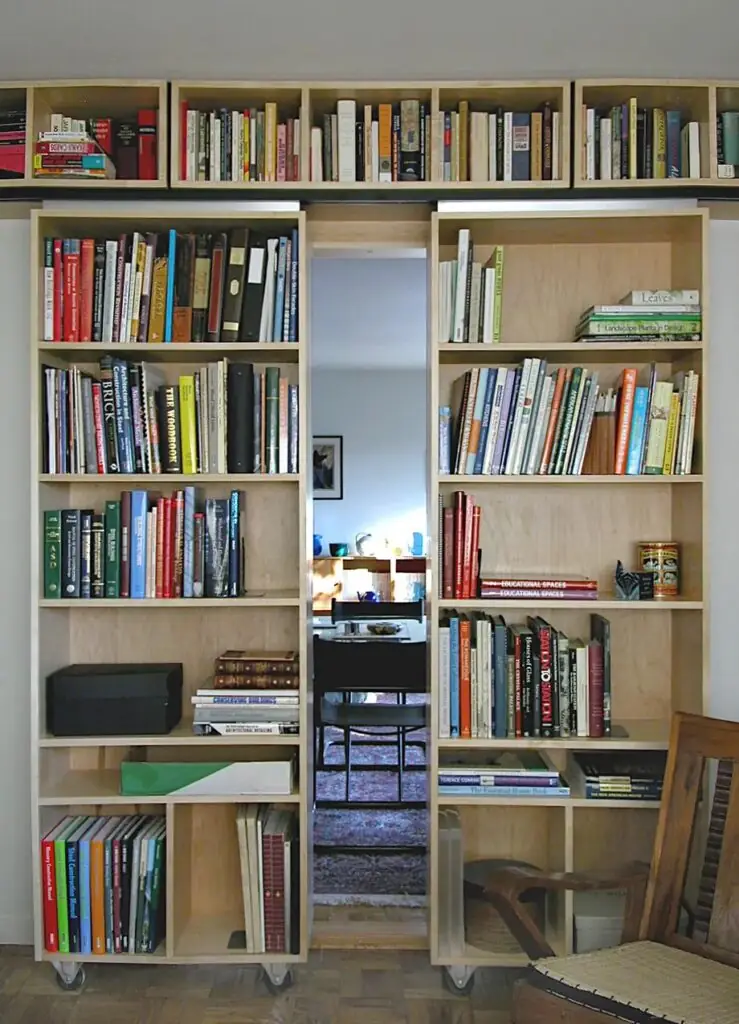 A bookcase with locking wheels can separate any loft, basement, or studio apartment. The more functional your design is, the more supportive your home atmosphere will be.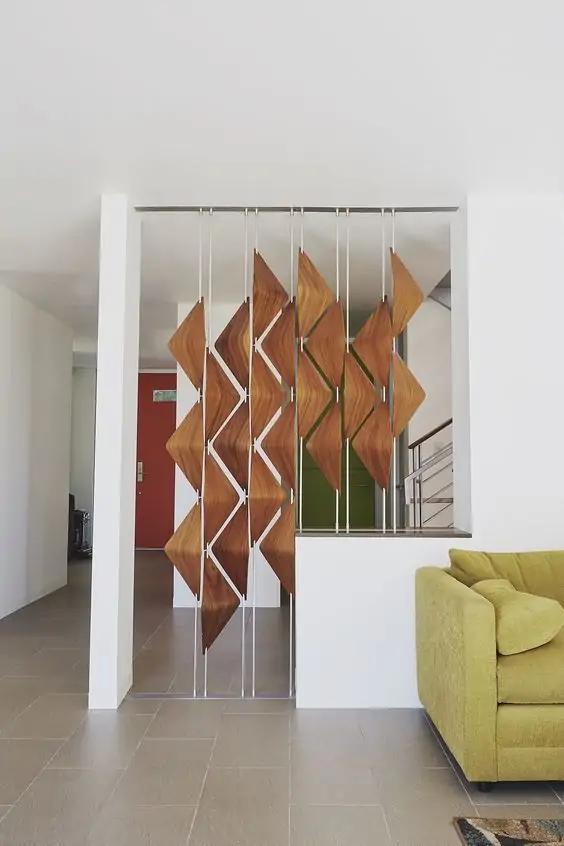 Besides, many flexible ideas for room dividers have appeared in recent years. One of them is to fasten the installation with various wooden elements on the rope between the ceiling and floor, like in the previous picture.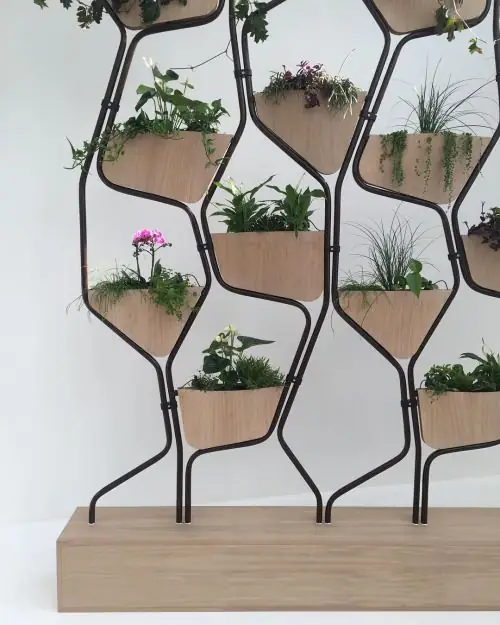 Why not add some natural beauty to your lovely home? Gorgeous potted houseplants will remind your family and guests about the pleasure of having a picnic outdoors.
Use our ideas to be trendy and divide your room to feel cozy and find some privacy.