10 Inventive Ideas for Small Bathrooms on a Budget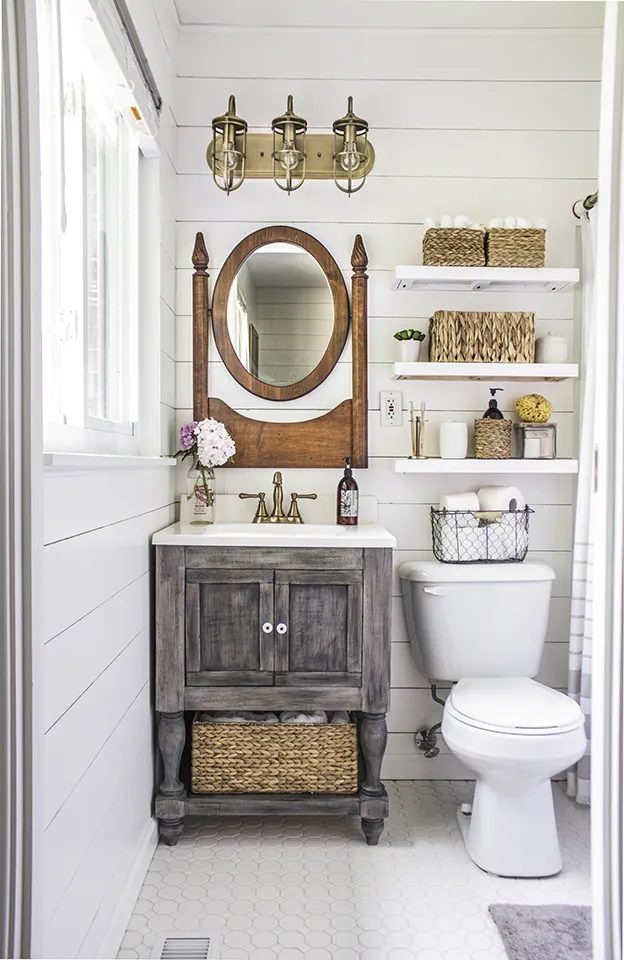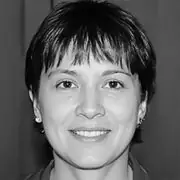 Most small bathrooms embody what they are – small and lackluster. But, with creative ideas for small bathrooms on a budget, you can still make your bijou bathroom feel chic, modern, and dazzling without spending a fortune.
Utilizing bathroom ideas on a small budget may seem impossible, especially if it is your first try, but in fact, it is always doable. The key to making this work is finding the right ideas for a small bathroom makeover that gives the exact finishing details you need to enhance your bathroom without spending too much.
From quick DIY décor to trending and cost-effective updates, we've found some great decorating ideas for small bathrooms on a budget to help you update your compact lavatory for less.
Continue reading to see how these bijou baths were uniquely transformed while considering style and budget.
1. Update the Wall Paintings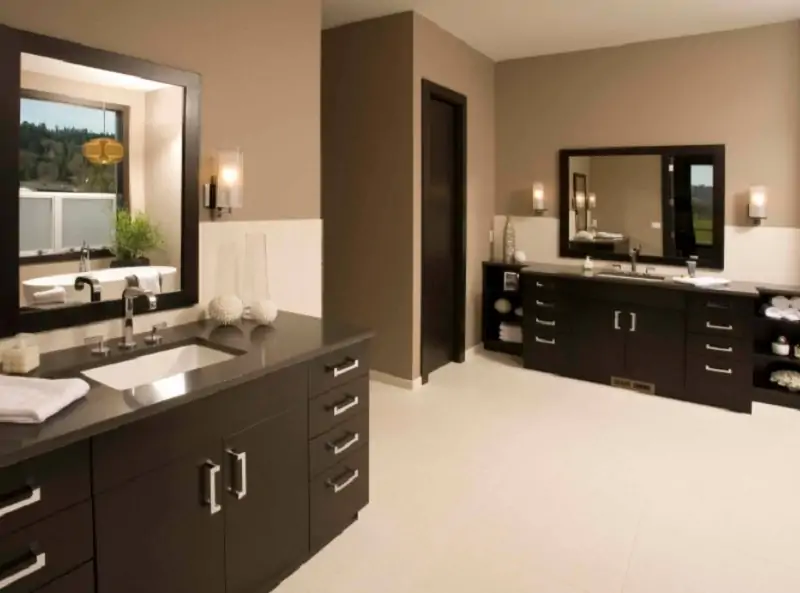 From minimalist beige or white colors to bold black, brown, and dark navy tones, painting your bath walls tops our list of ideas for bathroom remodeling on a budget. The simple trick is to gather as much paint as you can, no matter the color, and experiment to find the perfect mixed shades and patterns that will suit your bath house.
However, the only way to keep this budget painting idea as intended (low-cost) is to get paints that are washable as well as moisture- and steam-resistant. The paint should also prevent mold from forming on your bath walls so you wouldn't have to spend money on remodeling after only a few months of use. Apart from this, consider getting a paint that needs no undercoat. Getting one that requires an undercoat means you will have to spend twice the initially planned amount.
2. Swap Expensive Tile Flooring for Minimalist and Affordable Vinyl Alternatives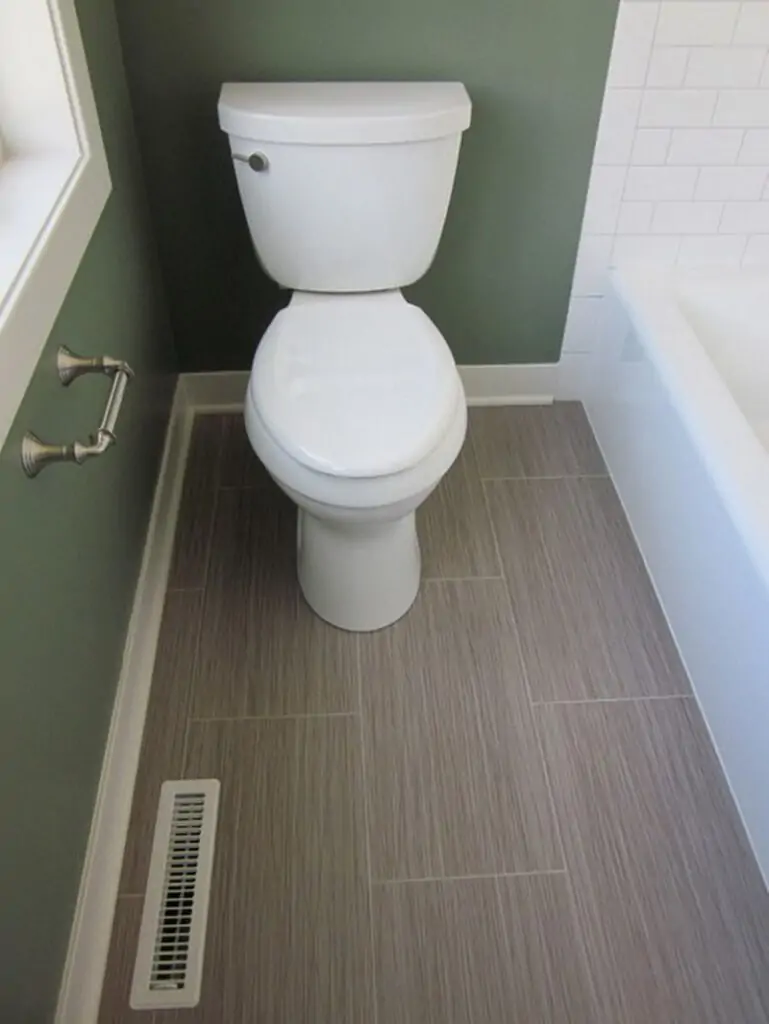 If you love the feel of tiles under your feet but think that you can't afford them due to a low budget, opt for luxury vinyl tiles that are wear and water-resistant.
These tiles are budget-friendly, at $3 per square foot, accessible to homeowners no matter the location, and more fashionable than traditional lino floorings. They imitate the luxury setup of trending patterned tiles to make your minuscule lavatory look modern and chic. Another perk of this bathroom idea is that these tiles are easily washable, which makes them low maintenance, durable and long-lasting.
3. Install Multi-Tasking Wall-Mounted Shelves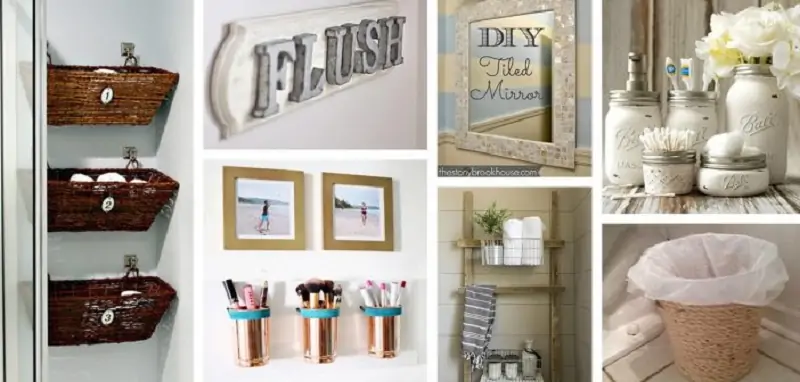 If your restroom lacks space, installing a floating shelf will offer a great space-saving hack while also saving costs. One of the best ways to maximize wall-mounted shelving without spending money is to consider using Rattan woods. Among many wooden pieces of furniture, rattan is quite cheap, making it a trendy and accessible material for people on a budget.
To make the transformation even more money-saving, you can also use shelves previously mounted in your traditional setup. But first, check if your worn-out shelves are still useful.
You will have to find a way to retouch the old shelves. Try painting them using wood polish, adding a gloss finish that makes them shine, or glue wallpapers that match the wall painting while contrasting with the other décor updates.
Alternatively, a cost-effective solution would be to find recycled wooden desks and cut them as you wish to serve as additional shelving units in your minuscule bathhouse.
4. Get Crafty with Savvy Storage Ideas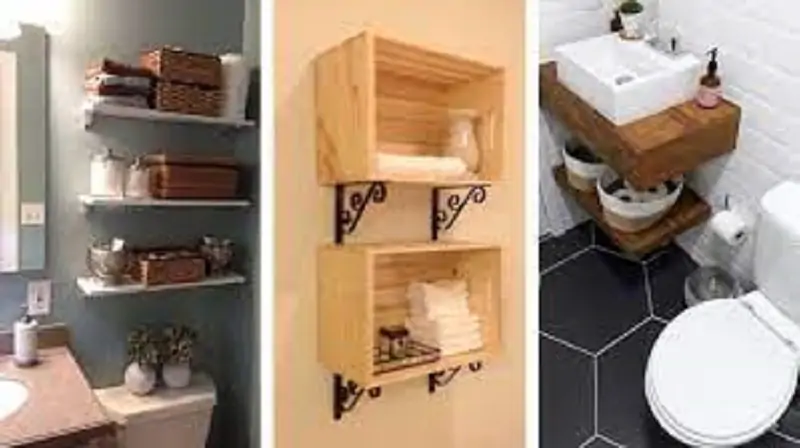 Sometimes a shelving unit is not what you need for your small bathroom since it might clutter the walls and hinder mobility. In these situations, the best cost-effective solution you should invest in is unique, stylish, and efficient wicker baskets or storage containers that help you store your bath wares and toiletries. Alternatively, use innovative space-saving fixtures like divided drawers and ergonomic storage trays that can fit anything.
5. Combine Bathroom Fixtures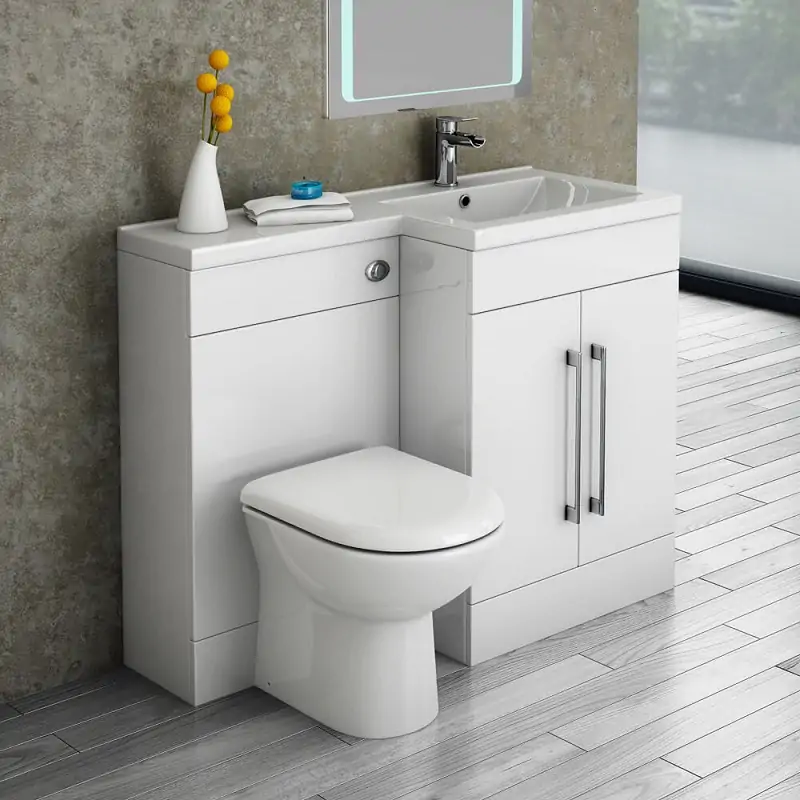 Guest bathrooms usually come out smaller than every other in-home restroom. If you've got a guest room in your home, the best ideas for small guest bathrooms you need to consider are combining both the vanities, basin, storage unit, and toilet to save space and money.
When you use this method, you indirectly utilize the buy 1 get one free rule, which means you gain the space-saving and chic modern bath look with one easy move. The other perk of this option is that you save money easily.
So, if you are on a strict budget and want to renovate your guest lavatory, these inexpensive combined bathroom fixture ideas are where you want to start.
6. Choose Budget-Friendly Windows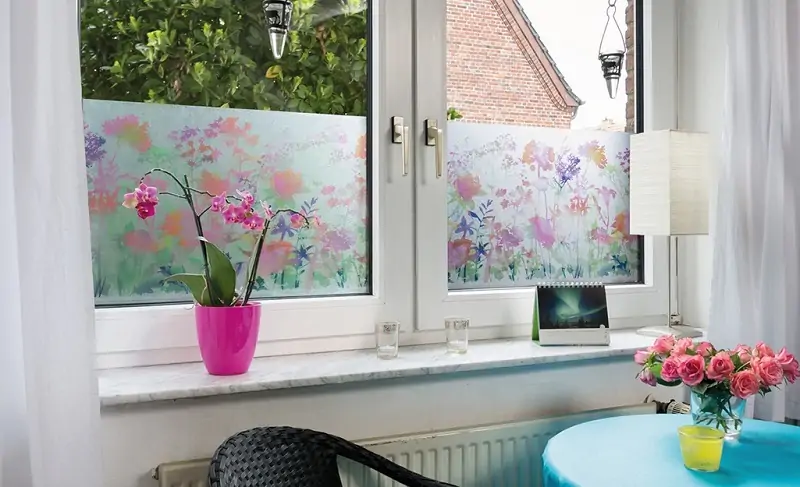 Windows are a place many homeowners tend to overlook because they usually look minimalist, especially the traditional ones. However, like every other bathroom fixture, the windows add character and style to your minuscule bath and make it stand out.
While roller blinds and Venetian are two commonly used modern trends on windows, the cheapest option you should consider buying is window films. They are easy to install, stress-free, and elevate your bath house in a matter of minutes.
7. Use Affordable Lighting Fixtures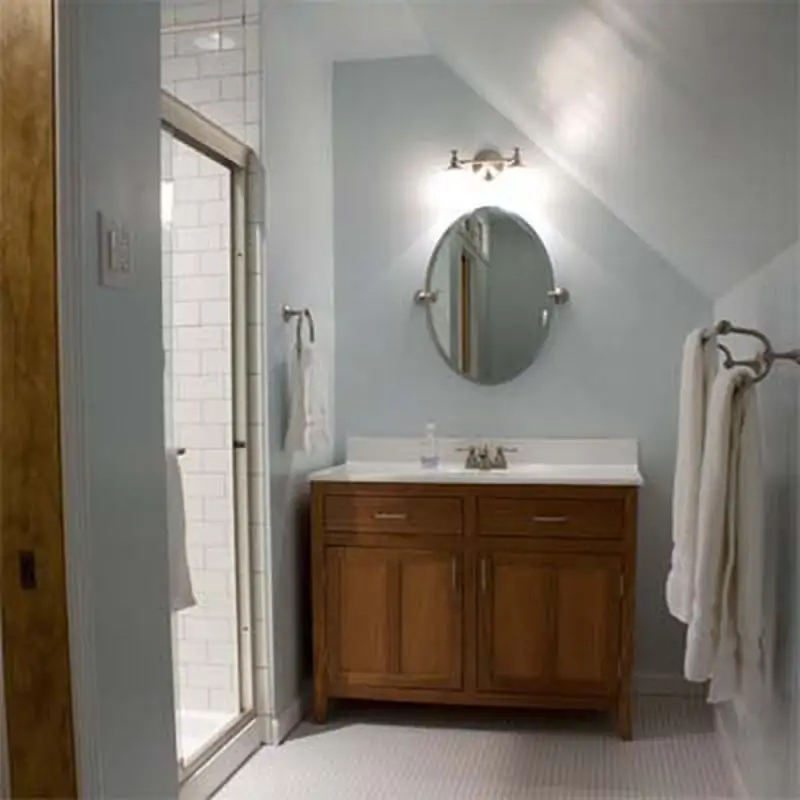 If you're refurbishing your minuscule restroom, you can't do without good lighting. Good lighting ideas set the tone of any restroom, whether small or large. The good news is that you will find some stylish lighting on a minimal budget in high-end interior stores near you. However, remember that since you need the lighting for a small space, they don't have to be huge like those used for large decors. Look for efficient LED lights that are power-saving and help you cut down the cost of electric bills.
8. Try Showers Rather than Bathtubs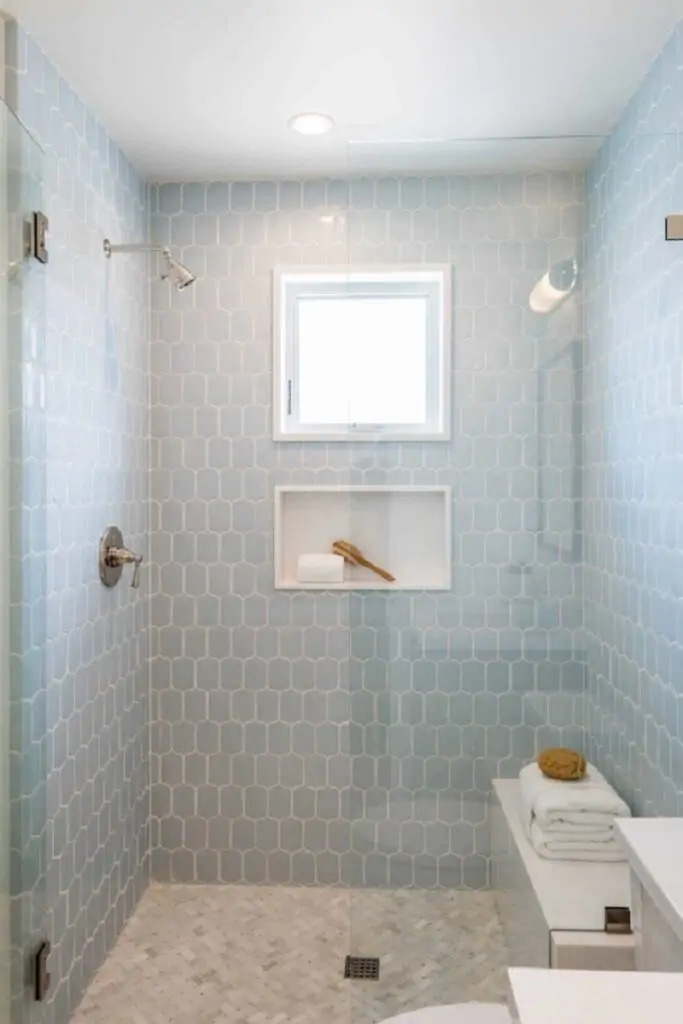 While this idea may sound senseless, it actually makes sense, especially as you only have little to no space to spare in your small bath area. Plus, bathtubs usually cost more than showers. So, rather than a bathtub, install a frameless shower in your small bathhouse to create more room and save cost.
9. Choose Small Baths with a Storage Panel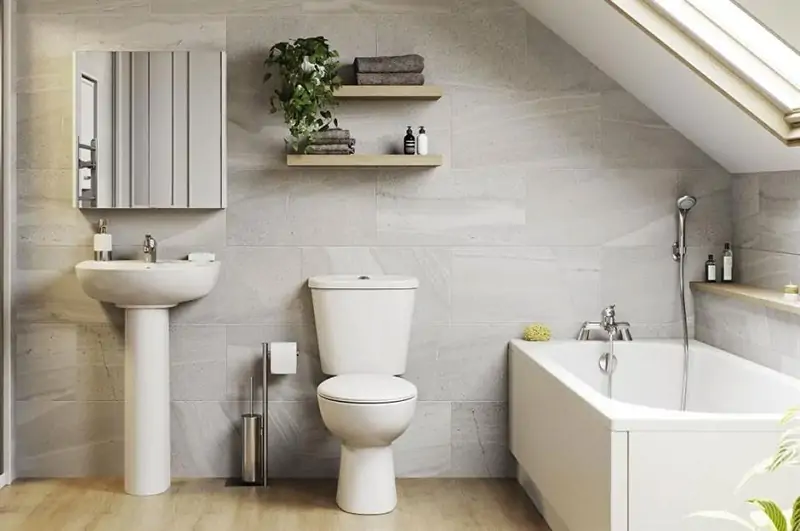 If your bath holds sentimental value and the thought of removing it seems too unbearable, the best idea to consider is to find smaller bathtubs with reduced length and width, and one that comes with storage panels attached to it so that it can fit some bath wares inside and thus create more space. Such baths often come cheaper than regular ones.
10. Accessorize with House Plants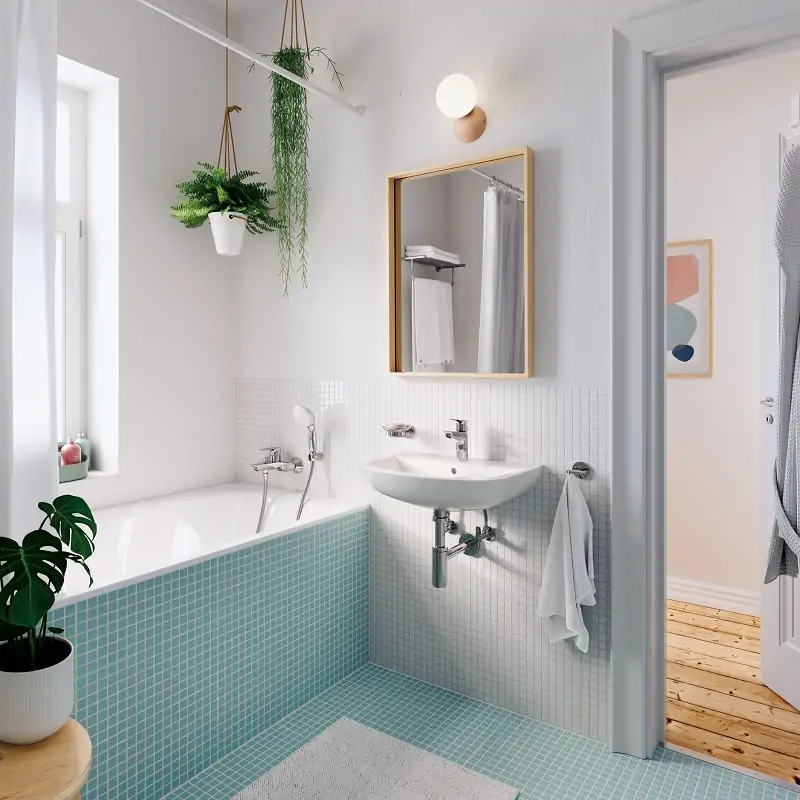 If you love nature, art, and bohemian-themed designs, be sure to use house plants in ceramic pots or wall-mounted plant shelves to boost your minimalist bathhouse. House plants ideas for your bijou restroom will cost little to nothing since you can grow the plants yourself and even hand-make the plant containers.
If your parlor room does not have windows, you can always use the fake plants. They are extremely affordable and keep your indoor air healthy.
How Much Should a Small Bathroom Remodel Cost?
Renovating your petite baths on a budget is never easy and involves a lot of calculations.
The main detail you need to keep in mind is finding that one focal item that looks expensive and spending the bulk of your budget on it to uplift the room's décor. However, the cost of a petite bathroom remodeling can still range higher than that of a larger one if you decide to use high-end fixtures. Most bijou restroom fittings cost higher than the larger ones. For instance, small brassware may cost $5,500, while the large one may have a price range of $4000.
Remodeling your small bathroom doesn't have to swallow your fortune. If you are prepared to go the DIY route, you can still transform your petite bath with second-hand fittings that don't sacrifice style or design. Plus, the DIY option would mean you utilize creative ideas for a small bathroom renovation that can help you spend as little as $1,500.
If you're considering getting an interior designer to do the job for you, you may be looking at a higher cost margin, between $3,500 and $5000. The simple reason is that the interior designer factors in labor costs.
Final Thoughts
Cheaply transforming your small bathroom is always a major time-consuming project that comes with hard-hitting stress.
To avoid this, you need to salvage whatever rustic yet appealing fixtures you can find in your current bathhouse to spend less. Also, consider doing the labor yourself. Although nothing like what a professional will do, simple DIY tasks will not only help you save cost but help you achieve the style and design deeply ingrained in your mind. Other than this, ensure that the new products you choose are affordable but look expensive.
Remember that maximizing savings on a petite bathroom may not always give you the desire you aim to achieve. But, with the right ideas for small bathrooms on a budget, you won't need much space and money to transform your bijou bath.