33+ Accent Wall Ideas for Living Room That Will Make You Want to Stay In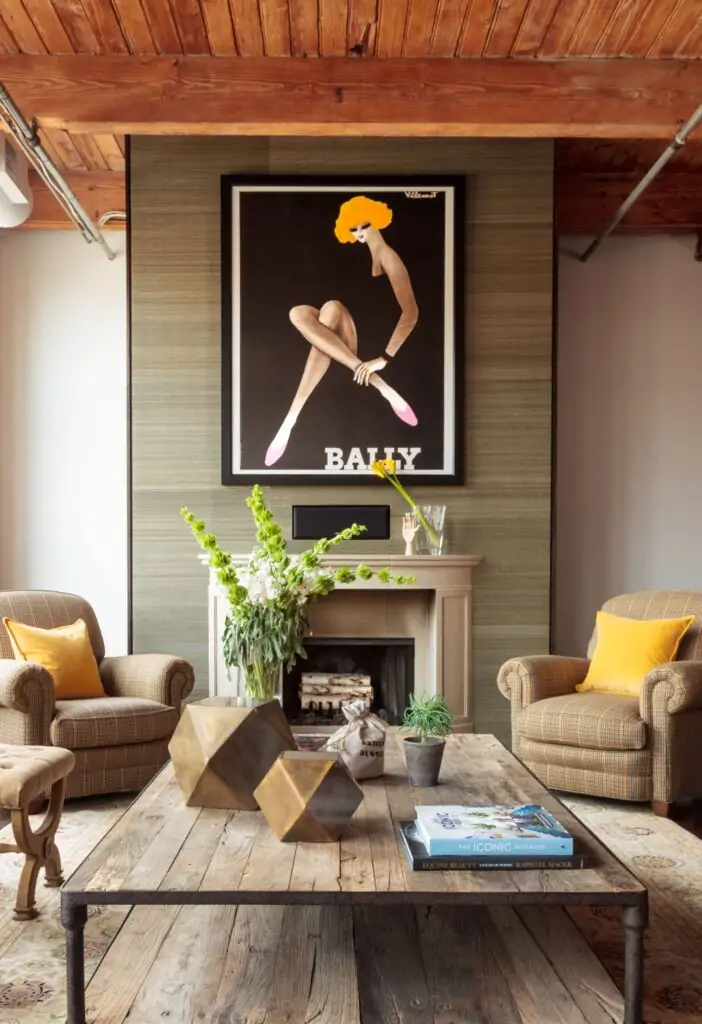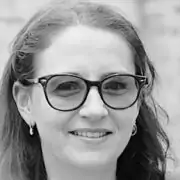 To create an on-trend focal point for your living room, you need to check out tons of pictures and vote with your heart for the design solution you like best. In this review, you will find numerous inspiring accent wall ideas for the living room to make a beautiful statement in the most hospitable place of your home.
The first things that come to mind when you think of the featured wall are color, texture, and a modern TV. Some choices like wallpaper or fireplace stand out as genuinely cozy ideas to get a terrific yet practical concept.
Give your inspiration the green light by examining the photo collection with bright and affordable designs that are encouraging and exciting to look at!
Make Color Play the Leading Role: 7 Brilliant Ideas
Believe it, injecting drama can be a massive hit in any makeover. Maybe it's time to dare — to create a color scheme with dark accents and sharp contrast. Don't be afraid of black: it can give your living room a unique festive look.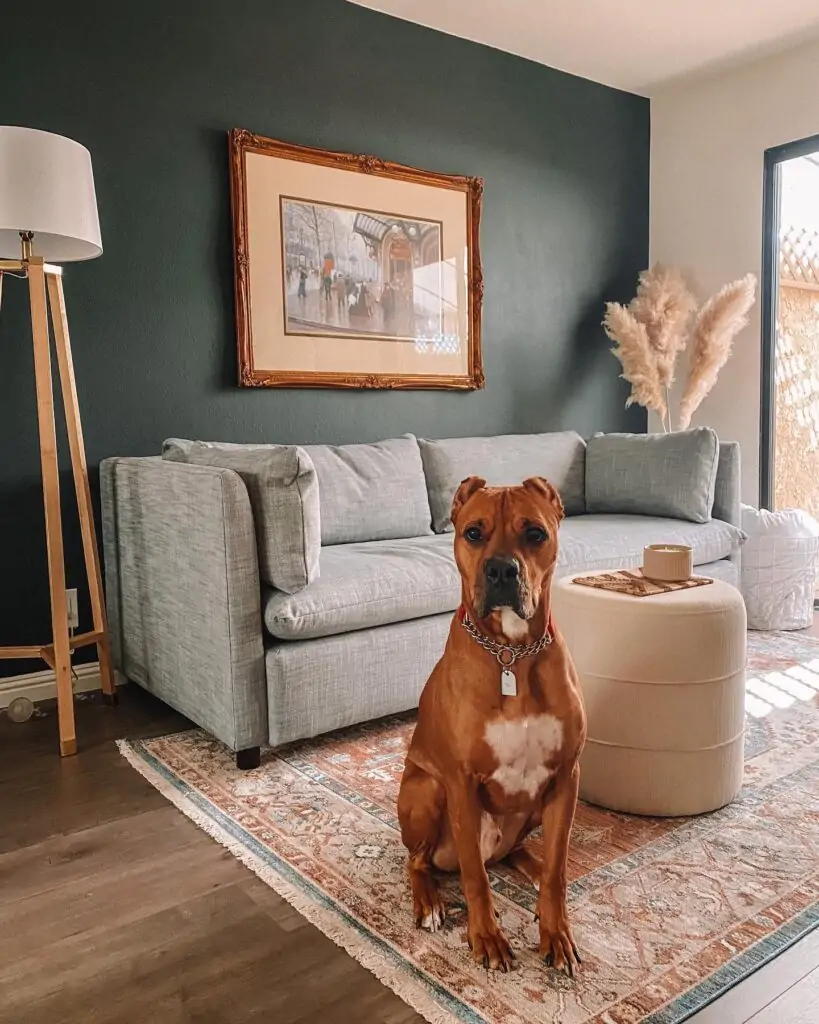 Even your pets will appreciate the classic black and white interior with a dark surface behind an elegant picture. Such a living room makes you feel confident and relaxed at the same time.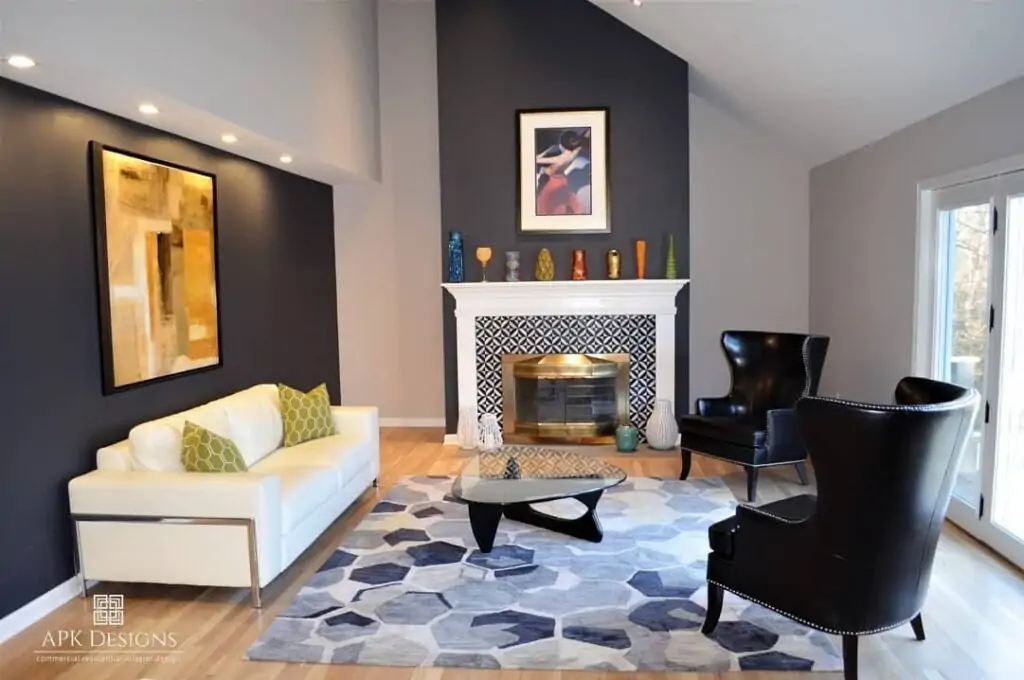 Play it like music, alternating between black and gray in a room with many niches. In this case, you can also see two spectacular black armchairs that underline the boldness of the design.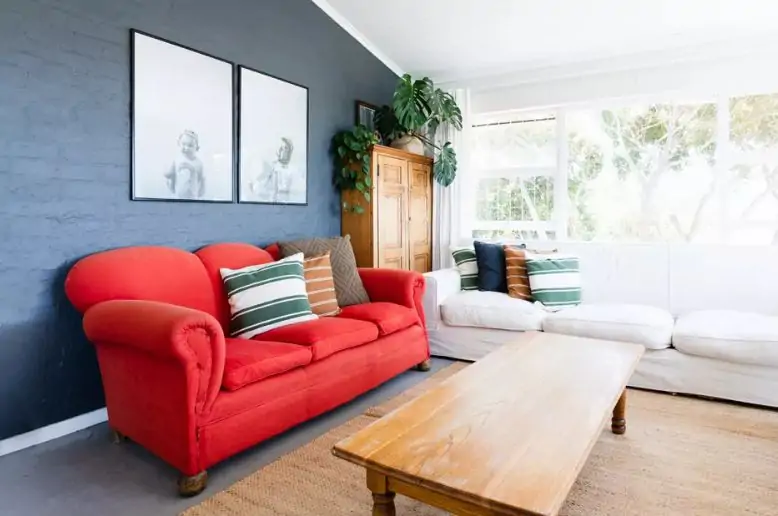 It is also possible to practice outstanding contrasting ideas with colors other than black. Note this trendy red coach that works superbly for the black and white living room. Such a dynamic, eye-catching concept makes your space visually more significant: an unexpected yet lovely surprise.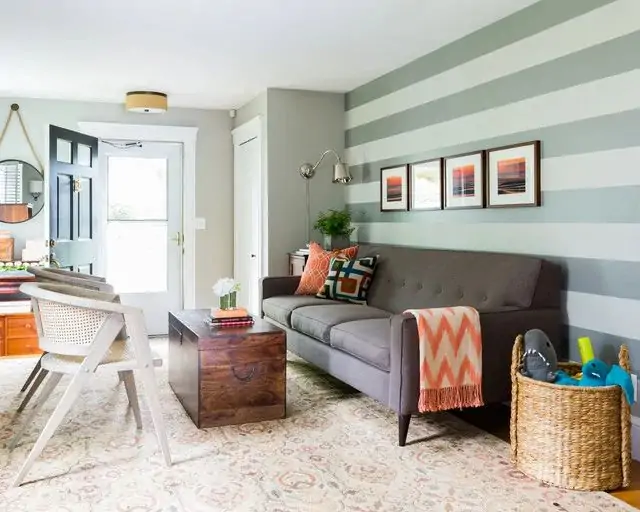 Wide green strips renovate any living room like a magical touch of spring. There can be many other color hues for the striped accent wall, including yellow combined with orange and even monochrome grey tints.
There are only two rules:
The lighter shades you prefer, the larger your living room feels.
To balance the space, consider some decorating ideas with stylish small details on the featured surface.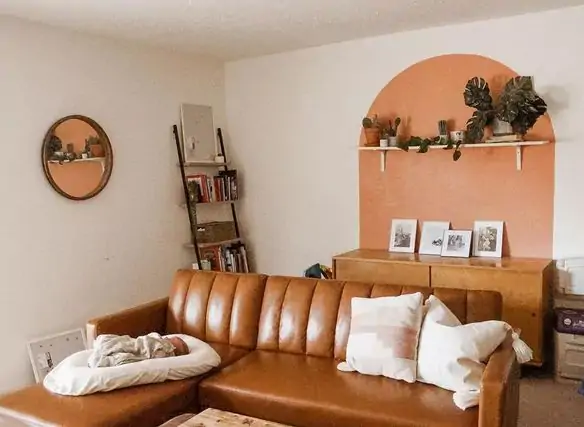 If you have a bright living room with neutral walls, support the color of the furniture with a contrasting semicircular arch behind a decorative shelf like in the picture. Such ideas work best in warm tints and always look very optimistic — like happy dawn on the horizon or a wide door to a new successful day.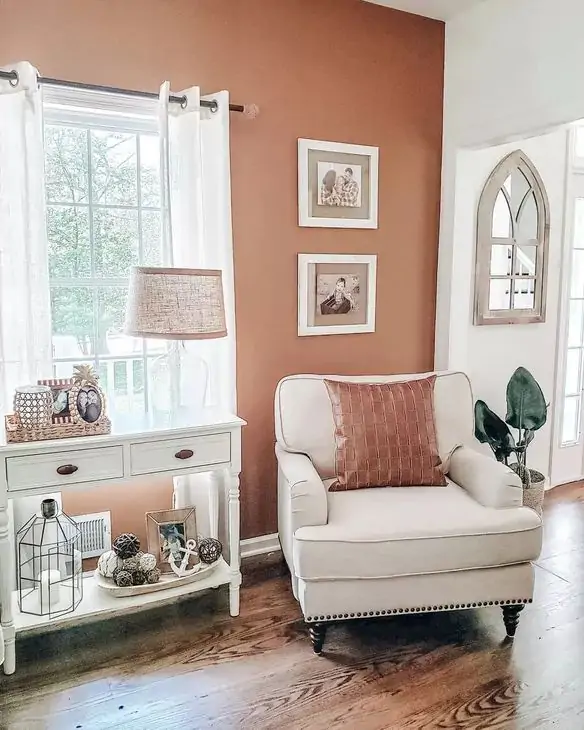 If you're lucky and have an airy living room with an enchanting window view, keep in mind one of the perfect ideas with an accent wall all around the windows. We love two things in such a solution: framed outdoor beauty and additional space you get with no massive curtains.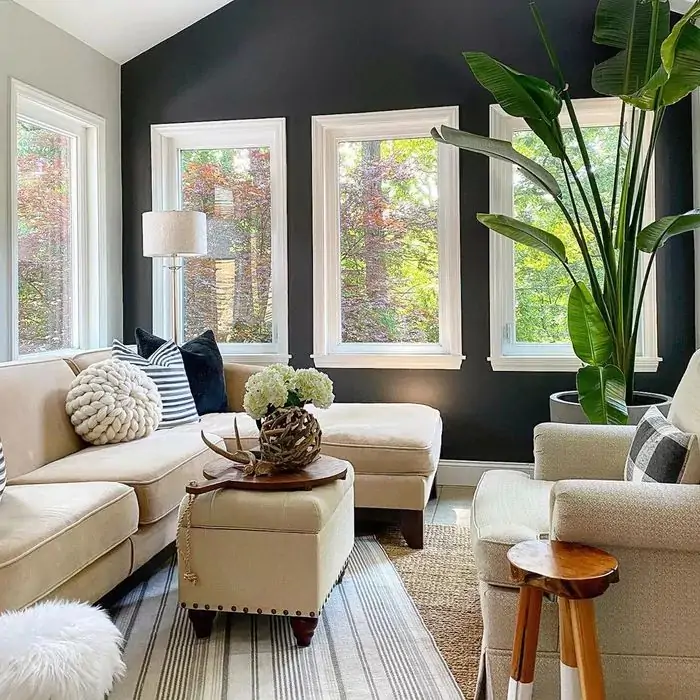 Here is one of the better examples of how to accent walls in the living room. At first, you could only notice stunning windows broken up with dark foil. Then it occurred to you that there is also a tall pottered houseplant plus cozy seating furniture — an outstanding design for a family gathering to have a friendly chat at any time.
Paint Your Accent Wall: Be Bold and Creative!
The design approach with murals is not the easiest way of renovation; still, it looks great in almost any place. There is a rule about accent wall designs with paint: the more simple picture you choose, the more affordable your makeover will be. You can even do it yourself from scratch!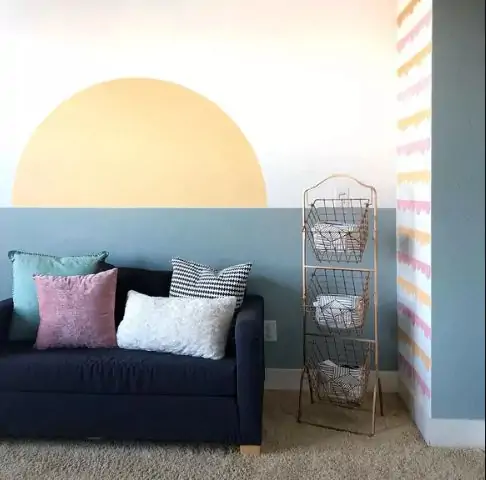 Cover the whole corner around your sofa to paint a sunny picture that seems to embrace the furniture. Simple yet splendid!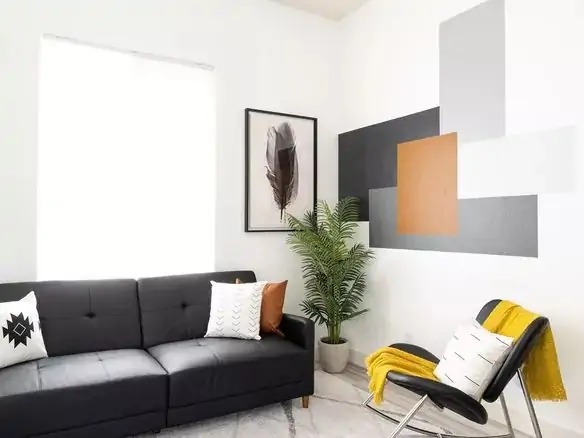 The painting project for the living room in the photo above is like a geometric puzzle that a cheerful kid will complete in a little while. Here is a hint for self-made hobbyists: the most colorful figure must be placed above others. That way, you can renovate your exciting mural whenever you want.
Are you a little afraid of doing a mural? Then hire a pro who will propose elaborate artwork to please your eye for many years.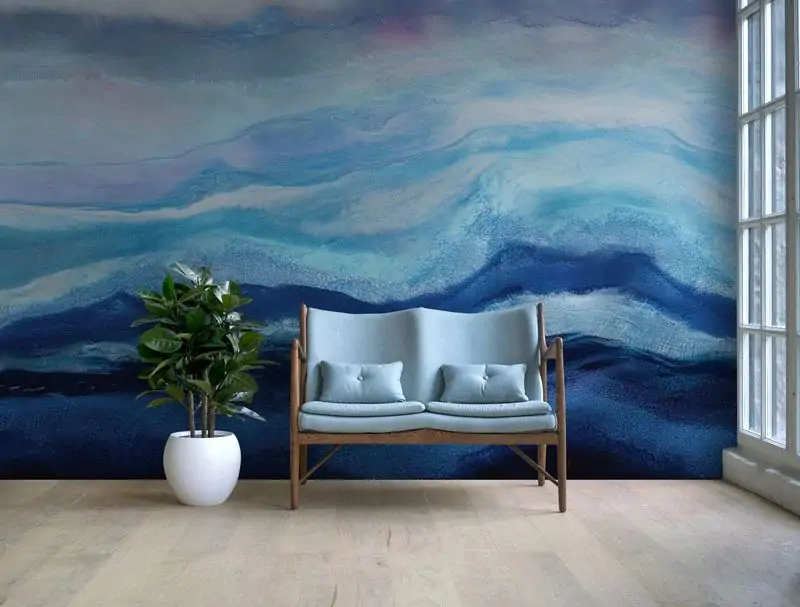 Here is another example to understand the main principle of wall paint for the living room. Focus on the picture and choose neutral furniture that does not overload your interior. Notice how much natural light matters for a beautiful paint that covers a sizable wall.
Put up Wallpaper: How to Accent Walls in a Living Room in a Quick Way
This design method was dramatically popular in the previous decade. So, wallpapers deserve to be mentioned separately as a very suitable material for an accent wall for the living room.
Hope some interesting findings below help you make up your mind and create an incredible makeover that doesn't overstretch your budget.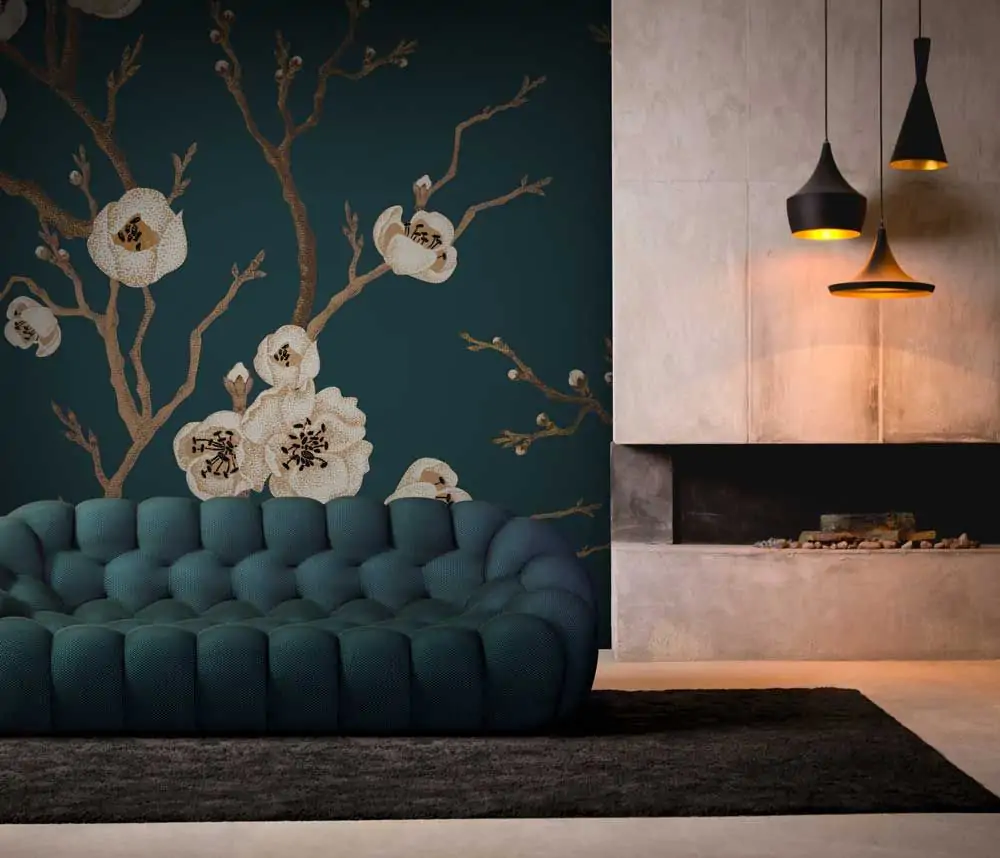 Giant flowers in the magical darkness spruce up your space with a unique atmosphere. We get an extraordinary yet cozy place, especially for relaxing evenings and deep non-subtle thoughts.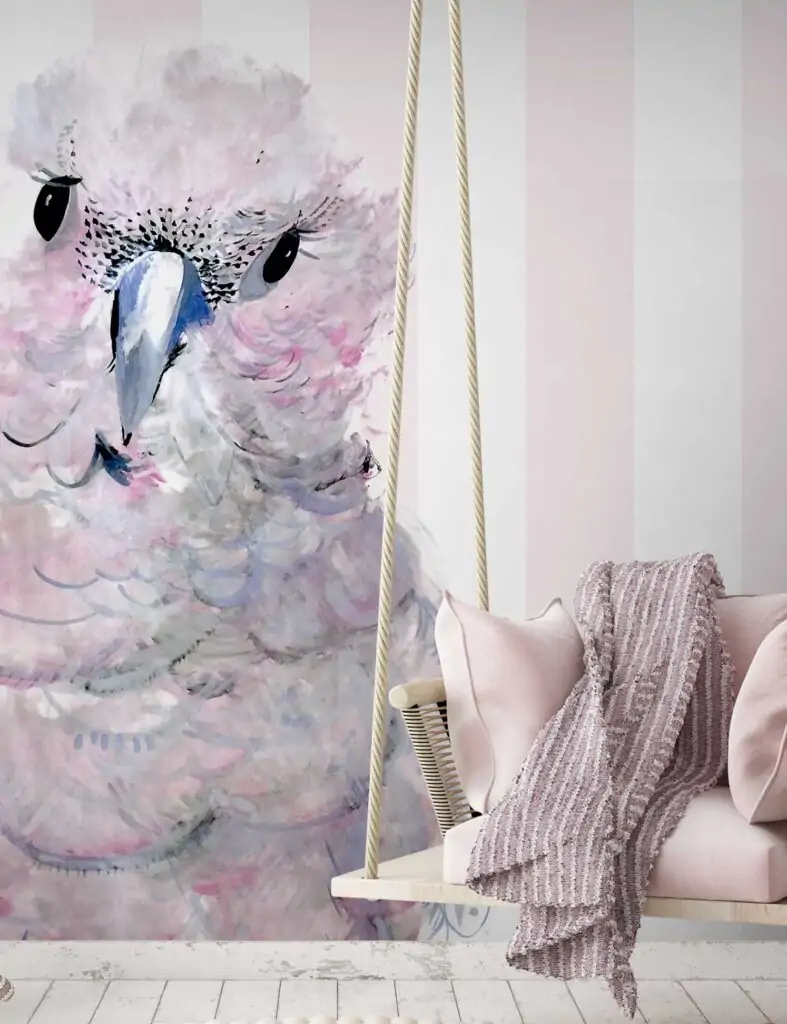 Such a wallpaper with large light bouquets, birds, trees, or mountains creates an opposite mood: it is all about freshness and vigor.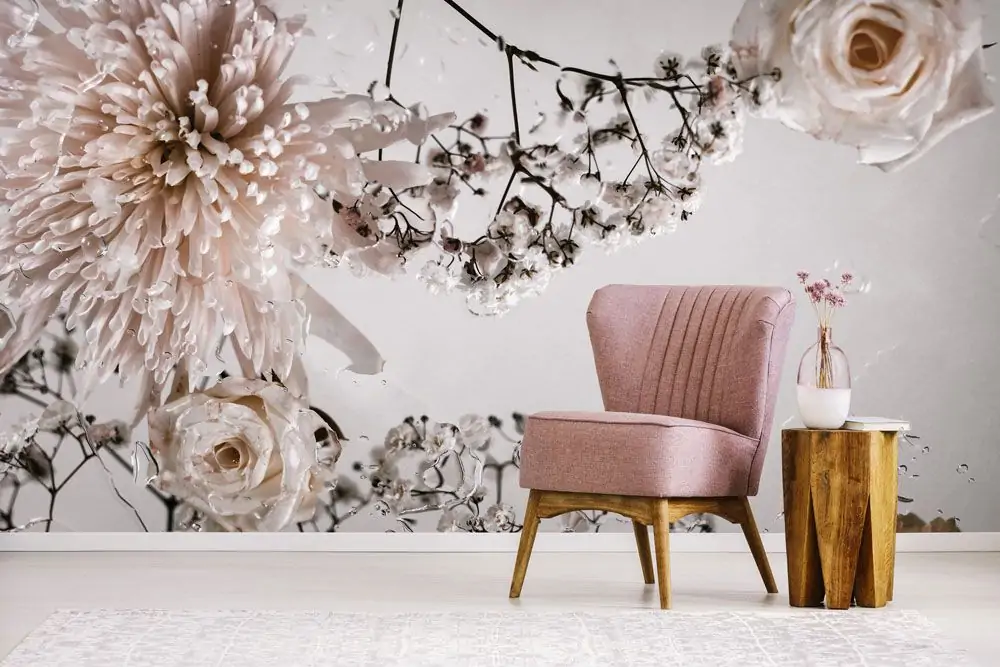 Spend your time in the large living room with gorgeous flowers and get confident in the future. This ambitious overloaded print is not fit for small spaces; however, it was enormously popular for sizable houses only ten years ago.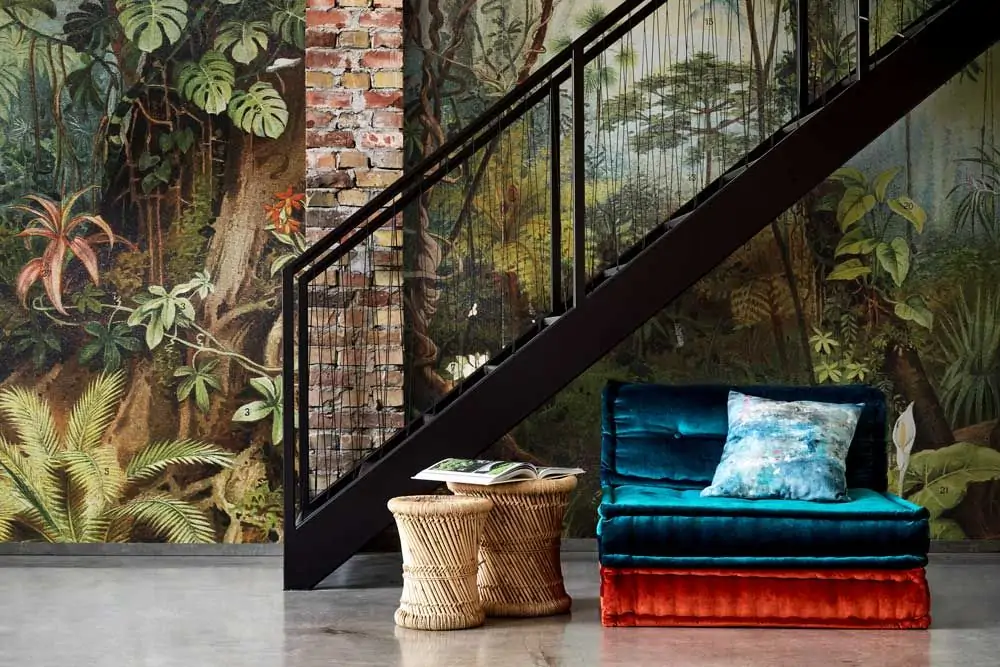 Want to escape to the ancient paradise instead of simply coming home? A perfect and easy choice is to beautify your living room with an accent wall that invites you to the lush jungle.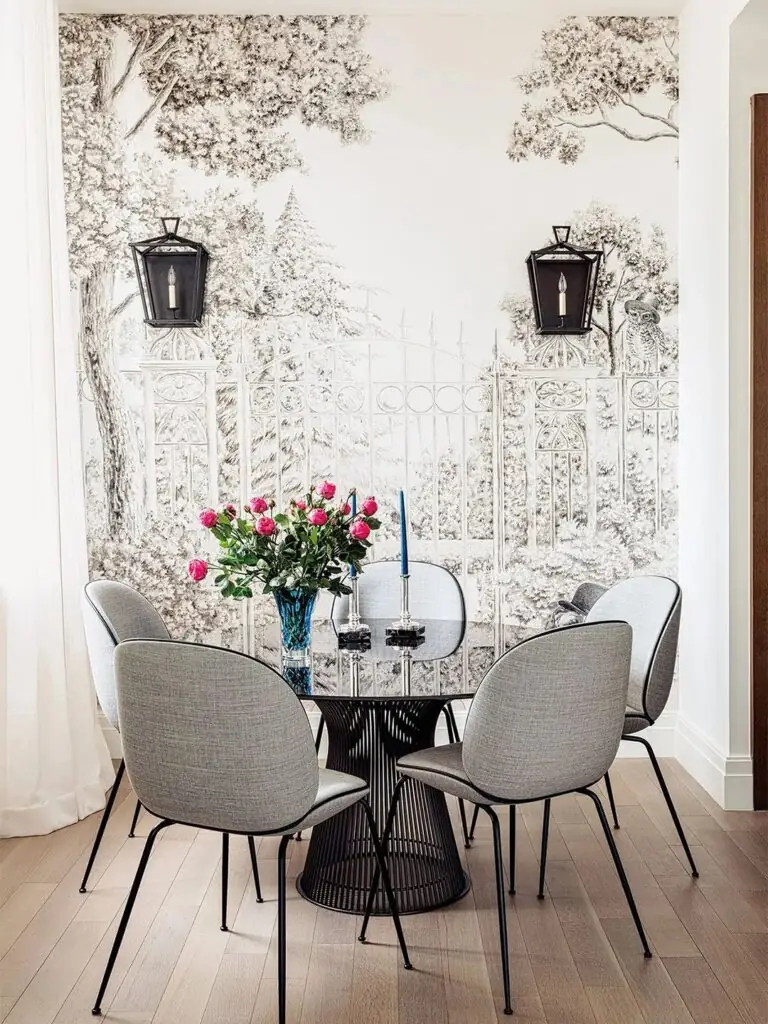 One more thing to add: nothing will give your dining nook such a nice and affordable renovation as an airy garden wallpaper. Clichéd but charming!
Inject Artworks or Photos: A Truly Quick Design for an Accent Wall
For an easy accent wall, you can hang on stunning framed pictures or a group of photos that remind you of your treasured life moments.
What's more, it's one of the most convenient ideas to keep your guests occupied. "There is our gallery: some family photos we enjoy seeing every day" — tell you to the guests and feel glad and proud.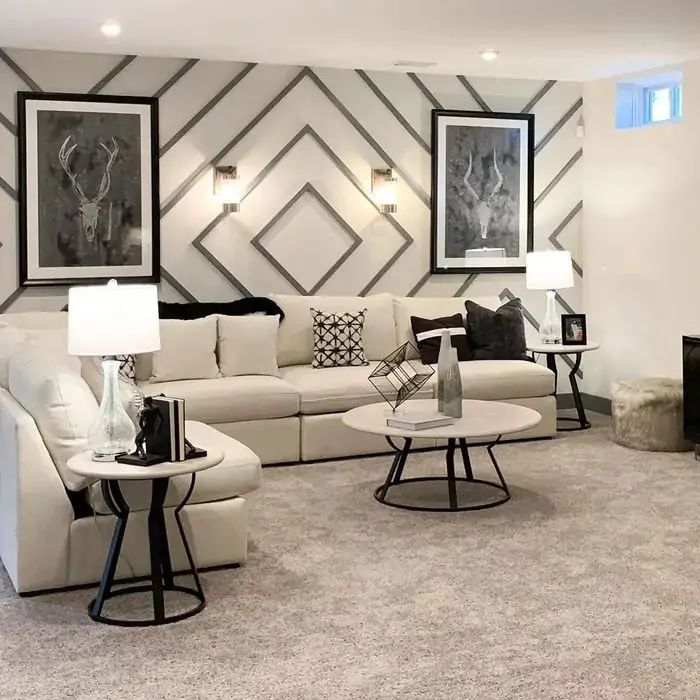 You can add to your accent wall both texture and framed artworks. Creating a stunning cramped surface on a minimal budget, don't forget that pictures can be changed whenever you want to refresh the atmosphere. If you adore modern pictures with big flowers, the ideas with a basic geometric pattern will perfectly combine with lush blooming.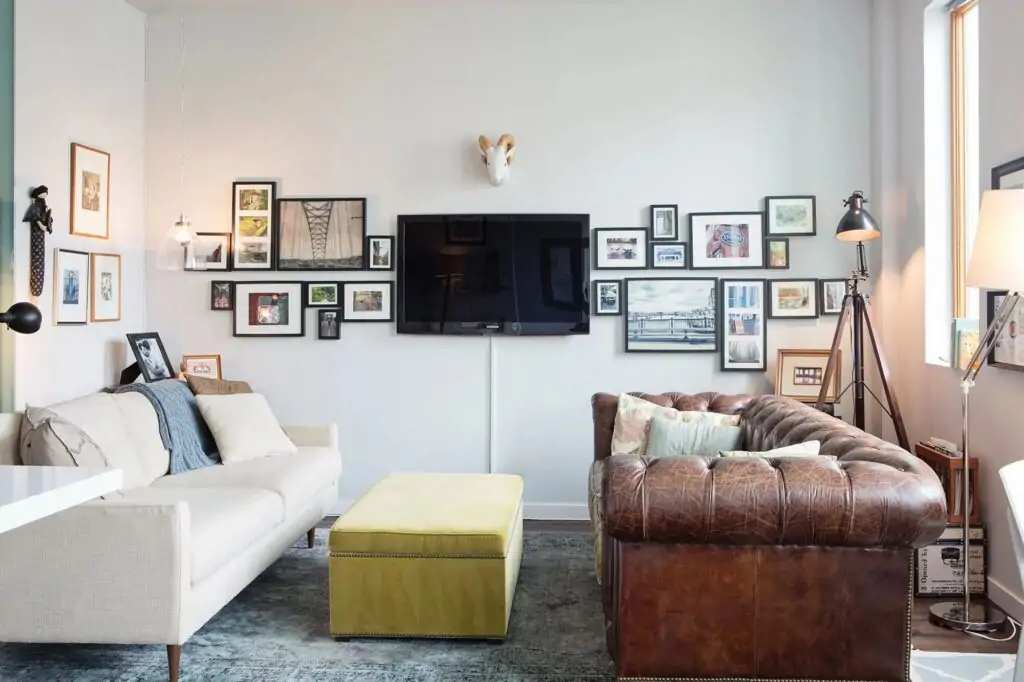 Isn't it the most straightforward option to accent a wall on every budget? Here you can see a quick and easy photo collection led by a TV instantly catching the eye. Still, you need to note that this design can feel overbearing in a small space or look a little bit like clutter.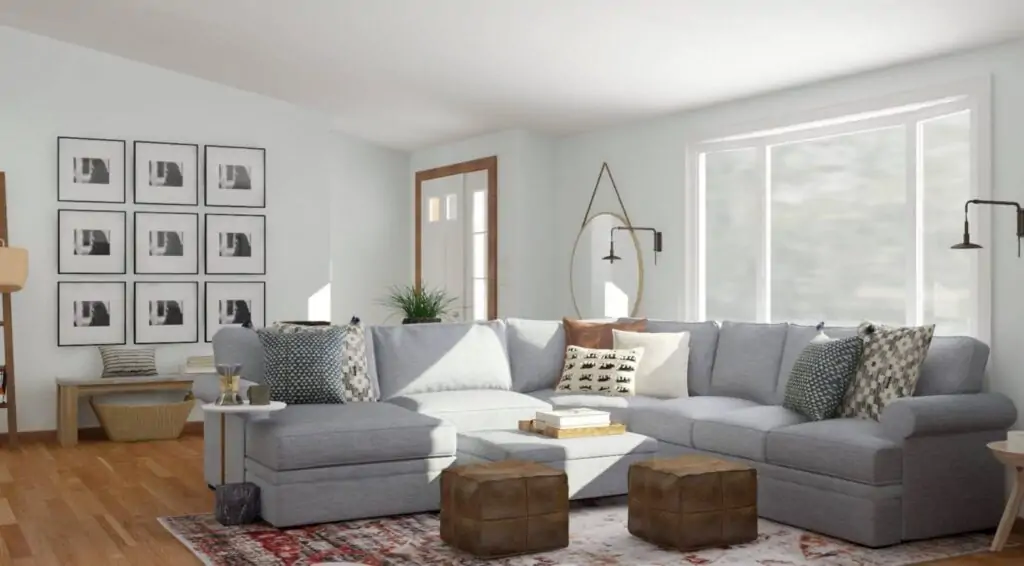 Here you can see how choosing equal frames and images creates a gorgeous portal that compliments the window and the large bold mirror. Is there anyone who doesn't like such ideas? We doubt it because the approach is simple yet beautiful, so it has become a part of numerous design styles.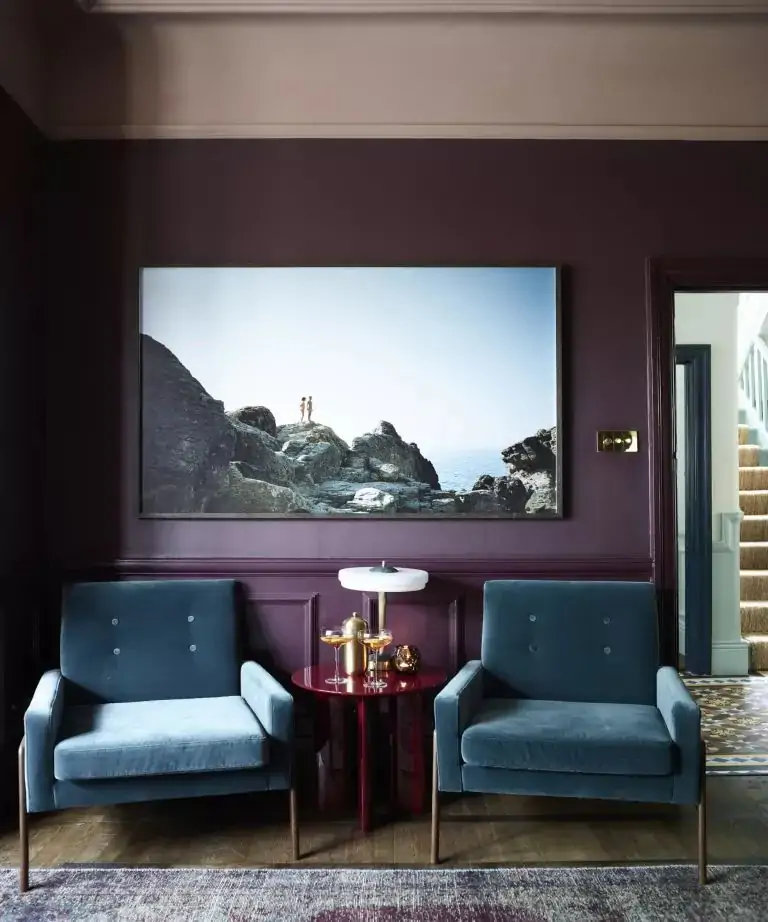 When you think of accent wall ideas with a giant artwork or photo, you usually imagine something bright and daring being put into the frame. What happens if you make it completely different? You will get a splendid living room interior like in the image above.
Why does it feel so audacious? It contrasts a massive, dark primary surface and an airy, natural focal-point picture. It feels like a window cut into a parallel dimension. What a remarkable shift of the popular concept!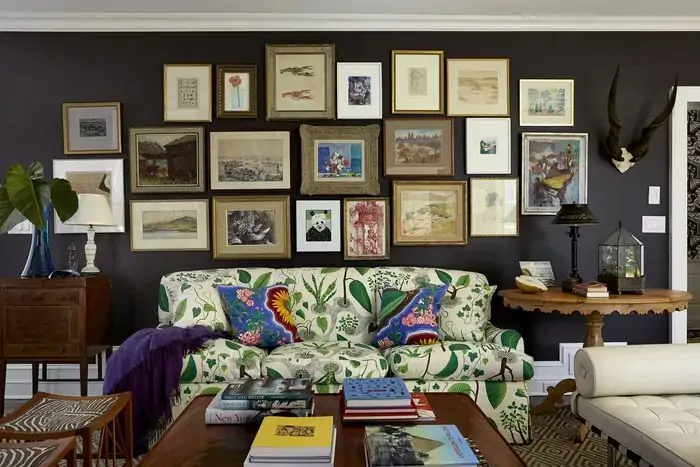 A bit cluttered? Sure. Great for collectors and photo lovers? Most certainly! All you need is a bold dark color for the gallery place and your favorite images in modest frames.
Opt for a Wood Accent Wall for a Living Room: When Natural Is the Best
If you want to create a prominent accent wall with some texture, place your trust in wood, and you will never miss your aim.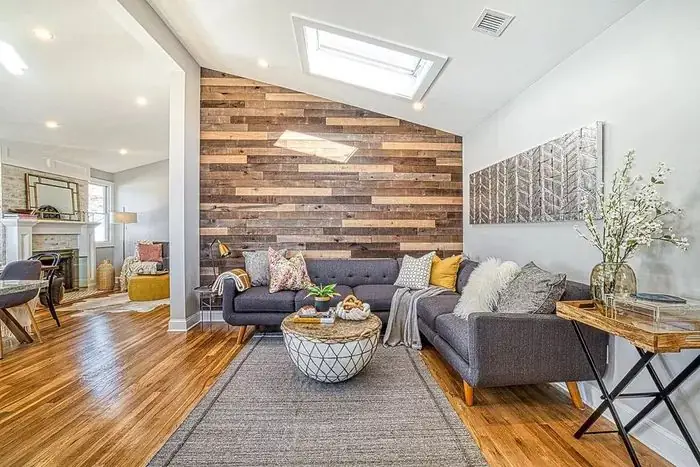 The adorable warmth of the wood cannot be compared to any other materials. In this open-spaced living area, the wood accent wall perfectly complements the floor and breaks up the space adding a great feel of coziness.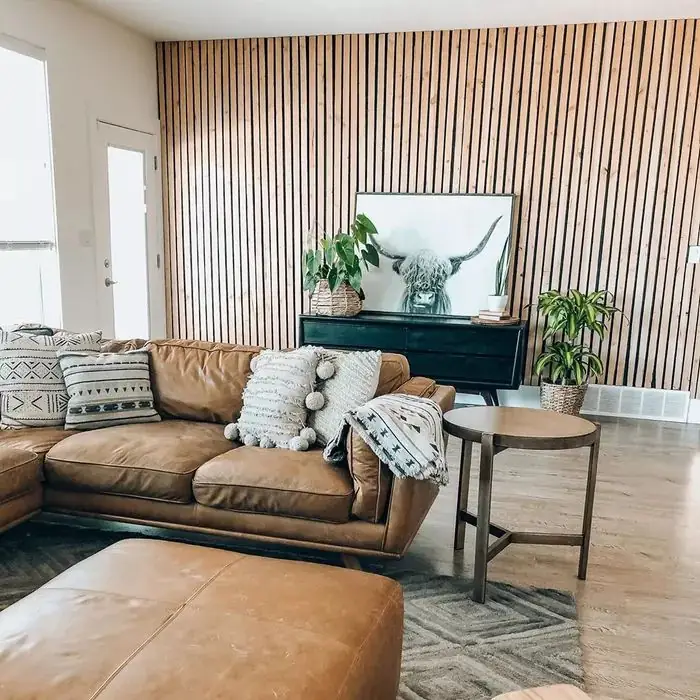 The elegant wood accent wall for your living room like the one in the picture will establish a Scandinavian atmosphere that is truly relaxing and welcoming. Airy and neutral but not overly pale and dull.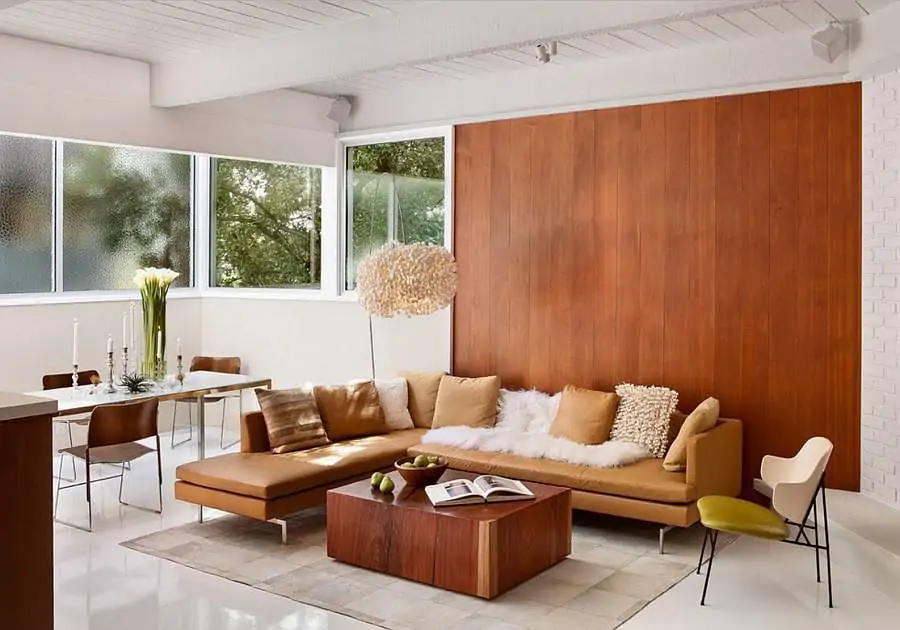 When adding a classic wood focal point to your modern interior, inject some contrasting color. Look at these redwood panels that resemble smooth parquet and match the shades of the furniture. Aren't they terrific?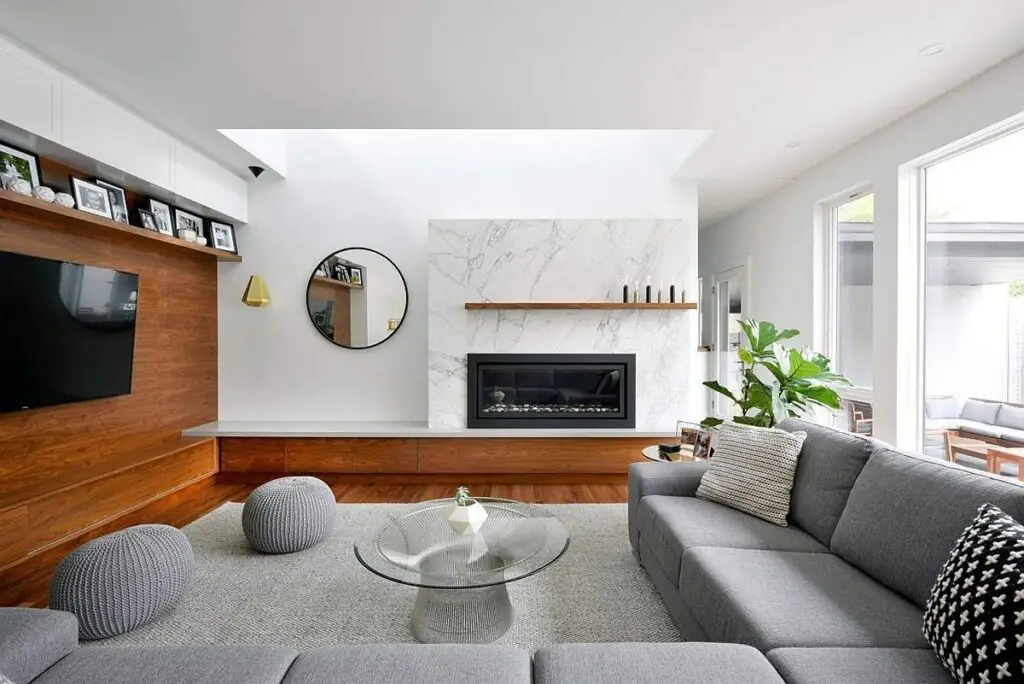 As the river flows — these are the right words to describe this outstanding design which features one of the most straightforward but gorgeous wood accent wall ideas for the living room. Just choose the finish material you like and use it for both the floor and the walls: no borders, no drama, only natural warmth, and coziness.
Texturize Your Accent Wall with Bricks and Strips
Bricks, panels, strips, and other textured ideas are among the most accessible possible ideas to add focal points to the room.
A wall with panels injects the desired texture when your finishing is too smooth. The concept above hits the bull's eye with both texture and color. Now there is more depth to the room, which makes it appealing and, at the same time, allows the eyes to rest.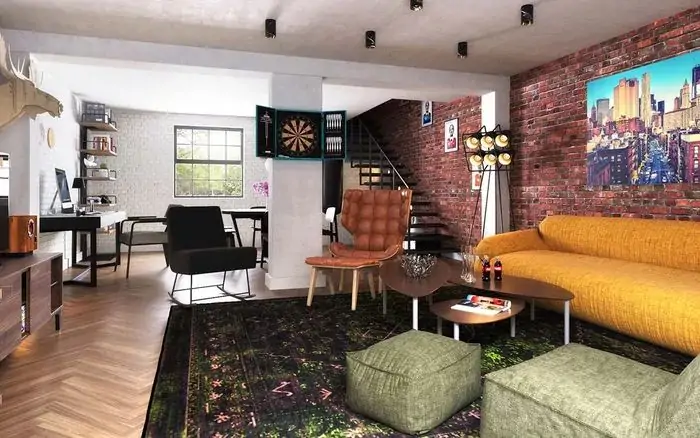 If we want an ultimately urban space for gathering the family together, most likely, we will choose a brick accent surface. A bit brutal, pleasantly saturated, and paradoxically warm — these focal point ideas with natural stones are the best feature for modern dynamic apartments based on open plans.
Add TV on the Wall to Emphasize the Purpose of the Living Room
As usual, we can't imagine a place for a family gathering without a TV. It makes sense that an accent wall living room with a TV never goes out of style and is always practical.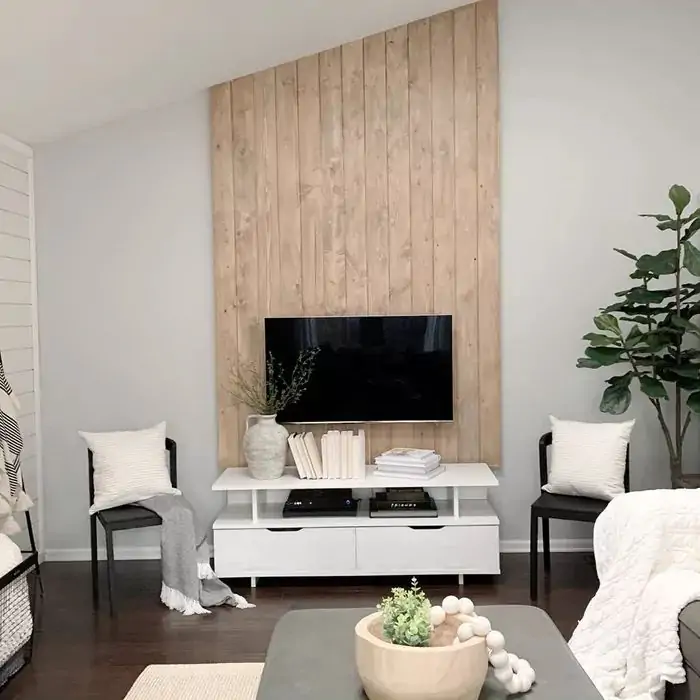 You will make your TV more noticeable by hanging it on an eye-catching wood accent wall.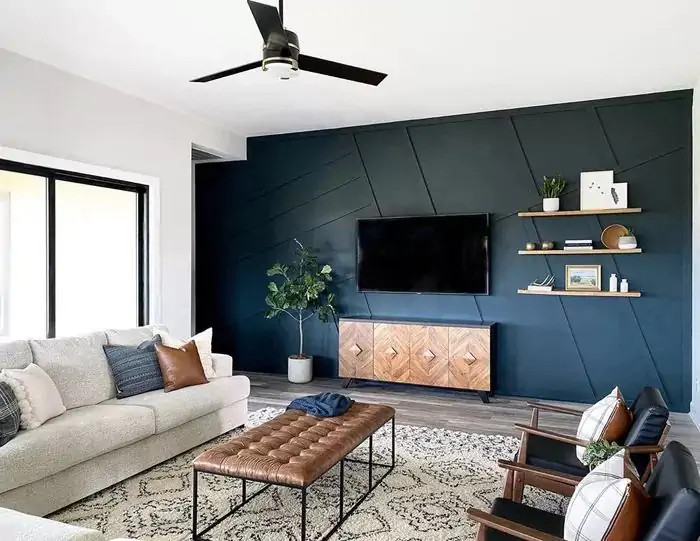 Bold and fabulous, huh? You will probably hardly believe that this is a DIY project because it is more advanced than various other accent wall ideas on our list. The author has ideally played with the color scheme and the height of the decorations, and such designs help you learn how not to overload the space.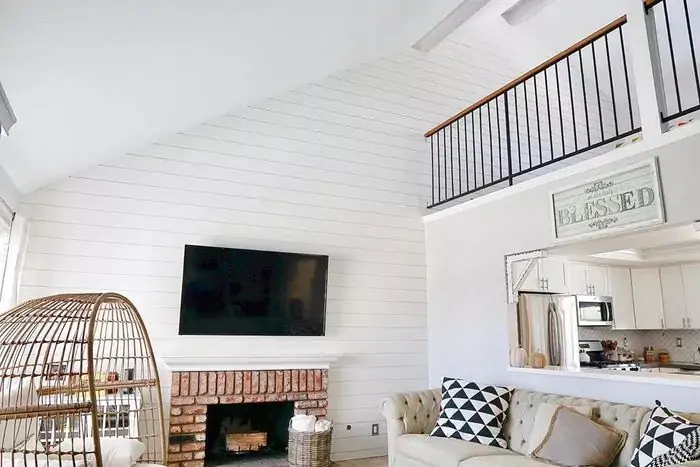 If you don't want to experiment with accent wall ideas for the living room, put your TV over the fireplace to kill two birds with one stone—a lot of families like this simple and practical design. One more reason to follow this example is that the blank surface around the TV allows you to add personalized decorations to the interior.
How to create an accent wall in a living room with a fireplace
I'm overwhelmed with ideas — isn't it what you think coming to the end of our article? It's only natural: the more ideas you see, the harder it is for you to choose. Considering a fireplace for an accent living room wall, you need to select from various designs, such as:
Combining a fireplace with a TV
Injecting bricks or panels around the fireplace
Adding wood for the warmest mood
Building around something extraordinary
Beautifying a fireplace wall with a photo collection, etc.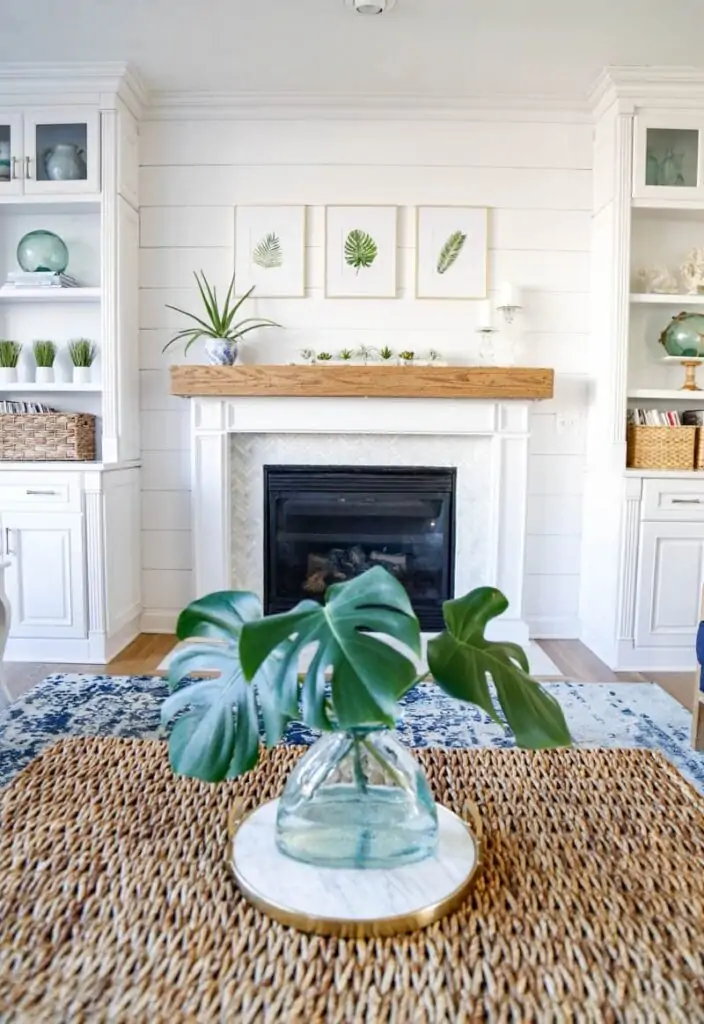 You will find a comprehensive review of the ideas for a living room with a fireplace here. Do not deny yourself the wonderful custom of getting together by the fireplace!
Even More Creative Ideas for an Accent Living Room Wall
Bookshelves and extraordinary installations are one of the best options to spruce up your design.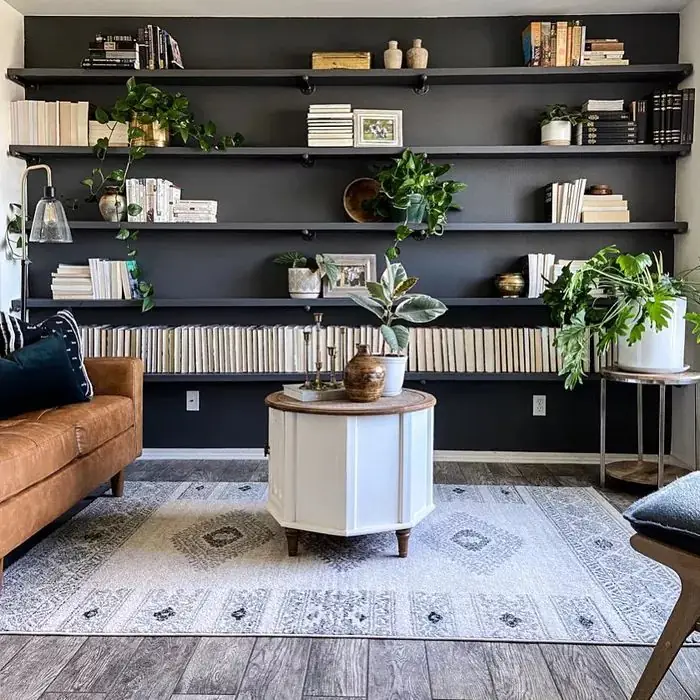 This photo shows another example of how to feature a black accent wall and add some great storage ideas. Arrange a fabulous built-in for your library and memorable souvenirs. If we were fans of traveling or reading, we would like to have a living room that reflects our hobby. Note that the space looks more significant than it would have been without shelves. Truly intricate project!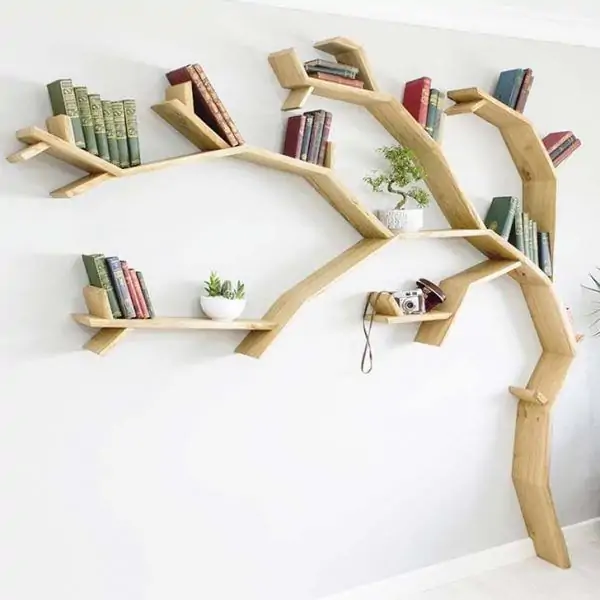 This design will soon become a classic for accent wall shelves. A tree of knowledge and memorabilia, a library, and a photo album — all in one piece of furniture: be cute and think positive!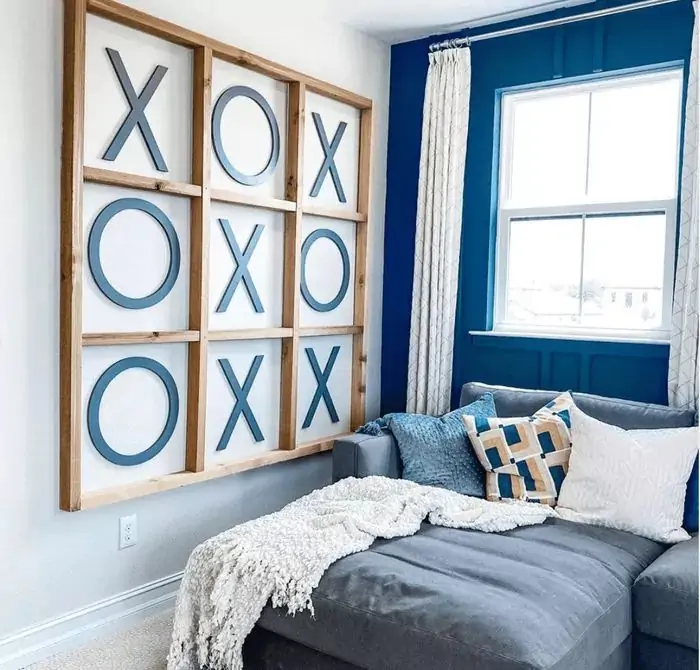 The more audacious you are, the more vigorous your design accent will feel — like the small living room above. There is a lot of fun in it! Did you notice a lively invitation to play? Cute ideas rule the mood: our life is but a game!
The roads of the world welcome optimists. Don't be shy! Emphasize your tastes, express yourself, and let the accent wall in your living room be gorgeous and unique!