5+ Setup, Décor and Design Ideas for a Small Game Room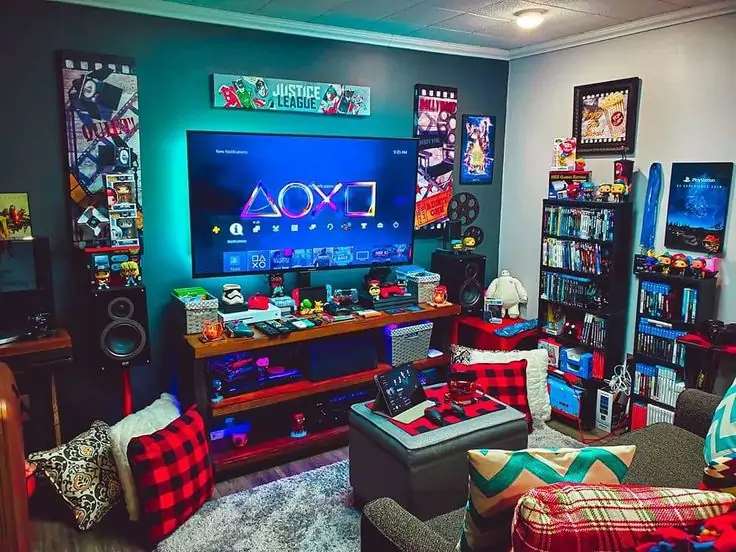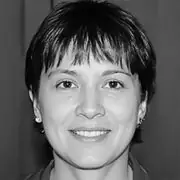 Everyone wants a place in their home that provides a fun distraction for relaxation, but the lack of space in many homes makes creating a playroom seem almost impossible. If you are thinking of adding this fun spot to your compact house, the good news is that with little planning and creativity, finding the perfect ideas for a small game room won't be a hassle.
Whether you are looking to entertain guests or simply want to create a dedicated area for your relaxation, there are many game room ideas for small rooms to consider when designing your playroom. Continue reading to find some of our favorites.
Theme-Oriented Small Game Room Decorating Idea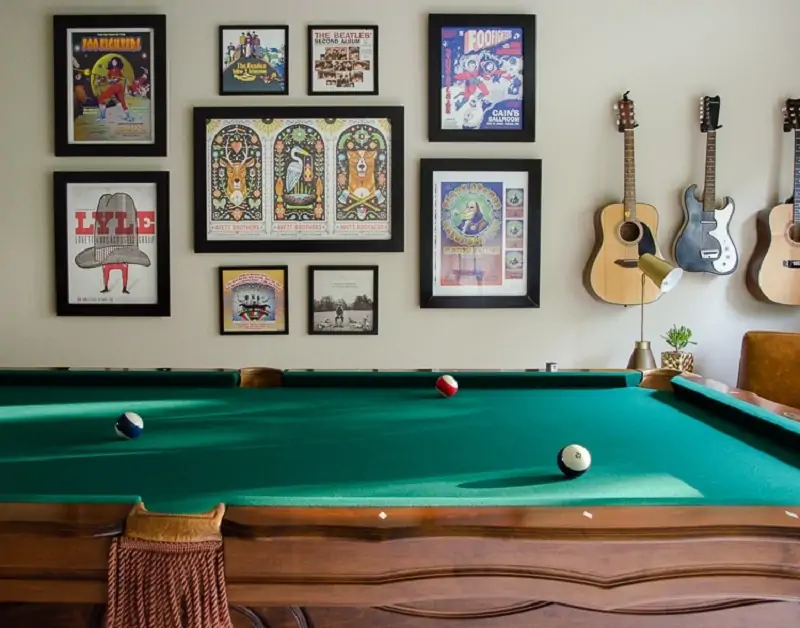 Creating a recreational playroom for gaming is a fun and exciting project for game lovers. Still, the first thing you want to factor in when considering small gaming room setup ideas is how you want it to look. To achieve this, it means your relaxation spot should have a theme.
Even if you cannot easily make up a theme, this doesn't automatically mean that this approach is not worth dedicating some effort to. A theme-oriented setting has its perks. It makes your play area feel curated and with a narrative that gives the relaxation area a classic and chic appeal. So, what about some cute 'Star Wars' posters or spectacular comic book covers? Your options are limitless.
Add Lighting and Décor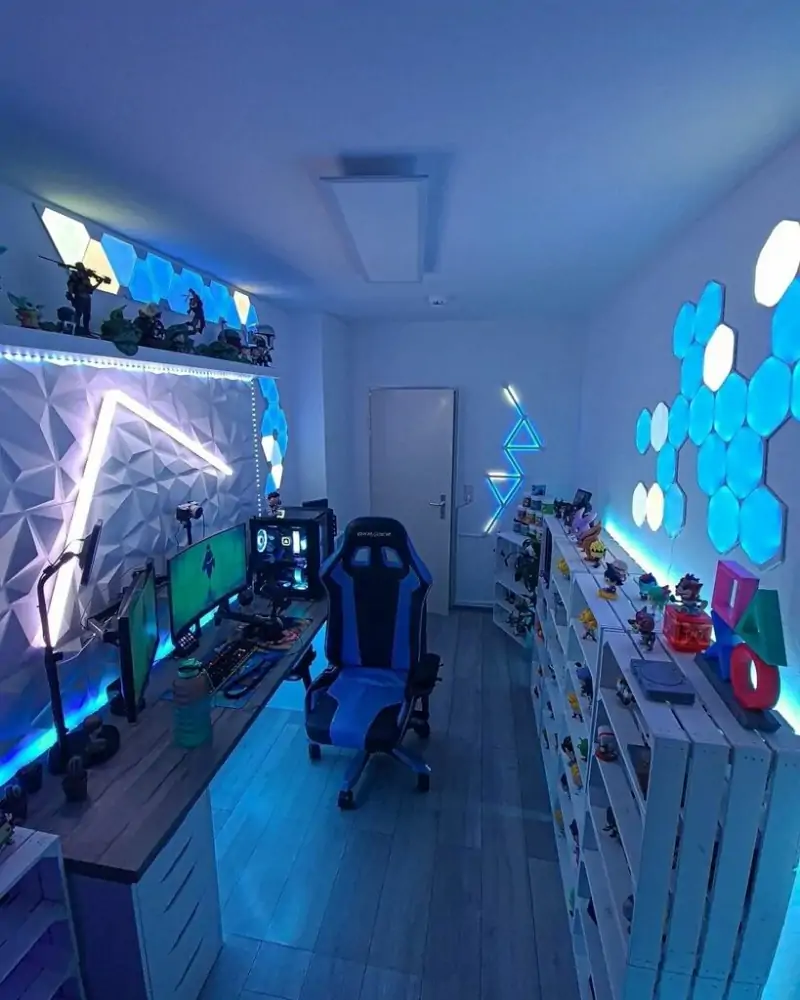 To create the perfect ambiance for your tiny playroom, add some lighting and decor. Proper lighting can create a cozy and inviting atmosphere, while the right decor accessories can add character and personality to the space.
For light effects, add low overhead lights, floor lamps, and table lamps. Small game room design ideas with decorative accents like posters, artwork, or plants are also a sure way to add visual interest. You can also consider theme-oriented atmospheres from vintage settings to retro and pop culture that match your interest.
Invest in Comfortable Seating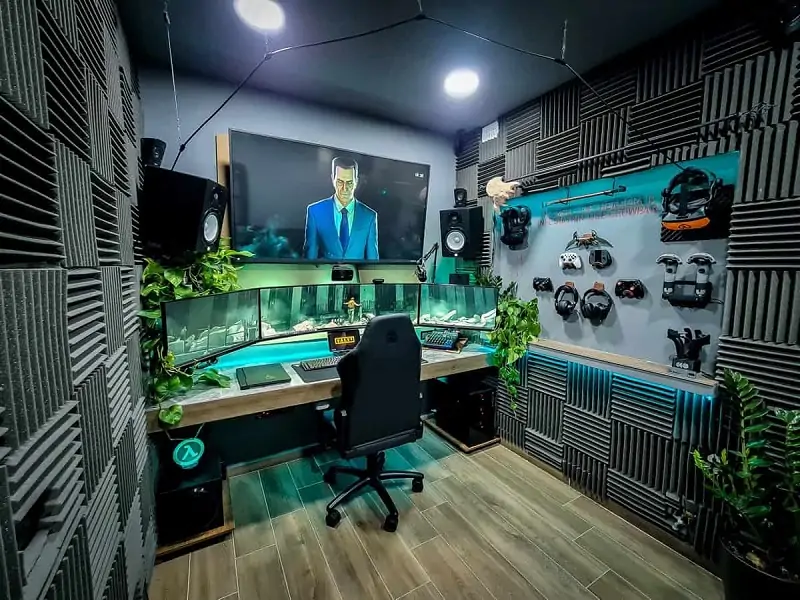 Investing in a comfortable seat is a good way to create a functional and enjoyable playroom. Not only does it make the gaming area more inviting, but it also ensures that you and your guests can enjoy hours of gaming in comfort.
The best small game room seating ideas people should consider are bar seating and revolving chairs. Small game room bar seating ideas with a few bar stools ensure everyone finds a place to perch while observing their friends accomplishing a new mission. Revolving chairs are all about ground mobility.
Play Tabletop Games…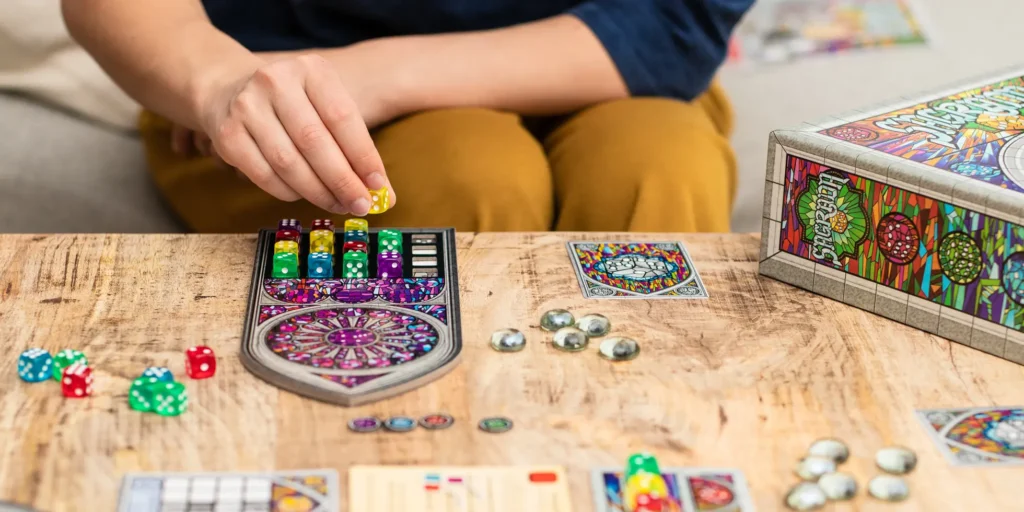 One of the best things about tabletop games is that they are ideal for a small — and large — family. Game room ideas will be numerous when your family is big.
There may be simple games like "Snakes and Ladders" and advanced ones like time-consuming tabletop strategy games. So, whether you are a child or an adult, there is a tabletop game within arm's reach that will appeal to you. Plus, most tabletop titles don't require a lot of space, making them perfect for a tiny playroom.
Tabletop tournaments like chess, checkers, and backgammon are great ways to spend time with friends and family. They come in many different forms. From classic to newer games designed for a modern audience, there is something for everyone when playing tabletop games.
… Or Virtual Reality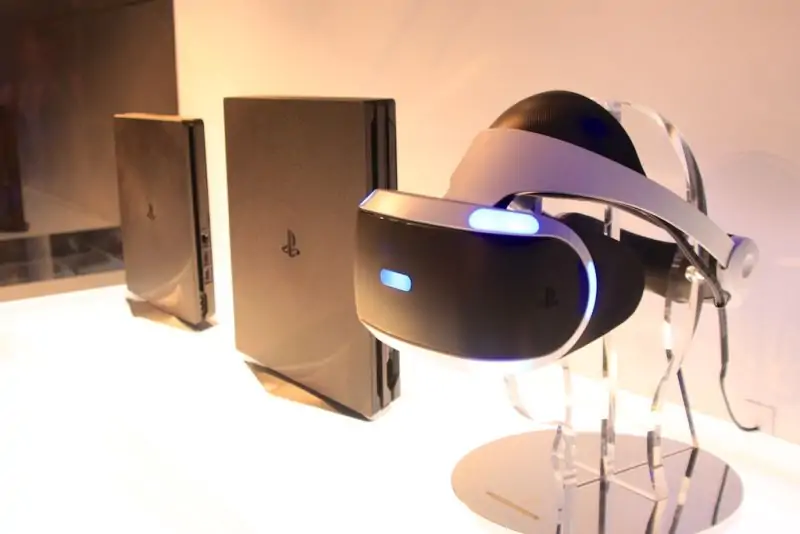 Besides tabletop games, VR technology can be a great addition to your playroom.
One thing people will love about small gameroom ideas that employ VR technology is that it is relatively easy to set up and use. With the latest VR headsets and controllers, players can easily jump into a virtual world and start playing. This makes it a great option for small playrooms where setup and maintenance are a concern.
Then again, most small game room ideas for adults won't be complete without a PS4 installed in the room. Small gaming room ideas with a PS4 provide you with a unique and immersive gaming experience you can share with family and friends. This device is really worth your investment: if you still don't own one, you might want to explore the market for special offers.
Video Game Room Ideas for Small Rooms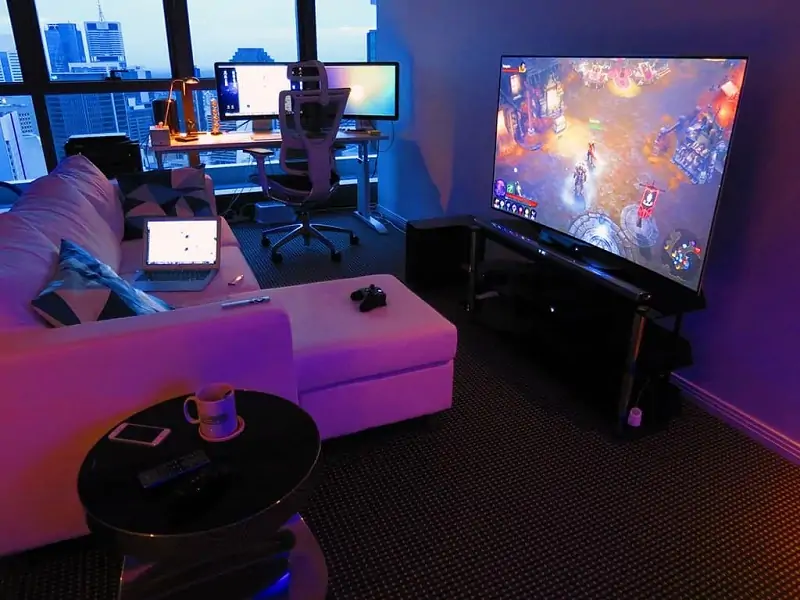 Video games are also a popular fun activity and can be a great addition to your tiny playroom. Their most alluring characteristic is that they come in different variations. So, if you're adding them to your compact apartment, you can rest assured knowing you will get something that will fit regardless of the available space.
For small rooms, console-based devices are a great option because they don't require a lot of space. Instead, you will only need a TV and a game console. These fixtures can easily fit in a compact space while providing hours of entertainment.
Make It Serve Multiple Functions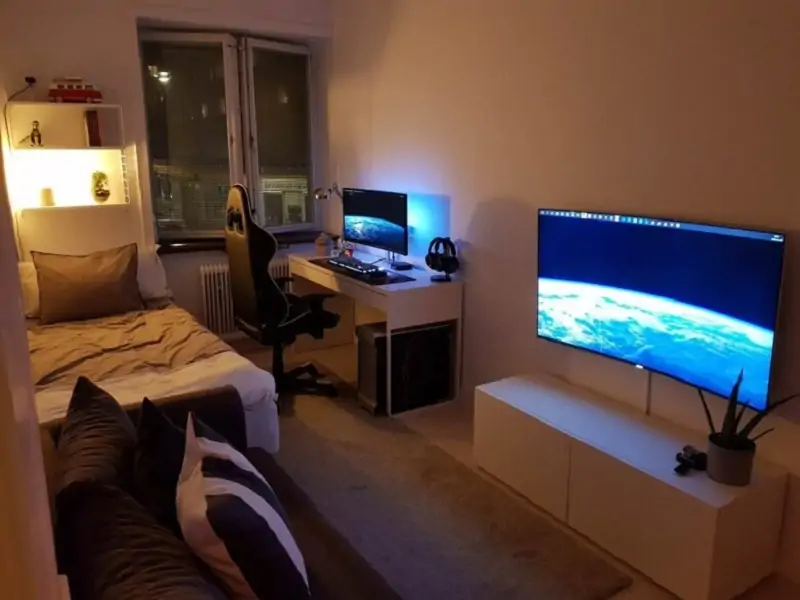 A gaming area is a versatile and valuable addition to any household as it provides a dedicated space for leisure and entertainment. So, why limit it to just gaming? With a little creativity and planning, you can transform a playroom into a multi-functional space for various activities.
One way to make your gaming area more versatile is by incorporating a comfortable bed. A bed with a few throw pillows can serve as a comfortable seating area or a sleeping space. Small gaming room ideas with a bed will make the space more inviting for relaxation.
Use a Multi-Purpose Gaming Table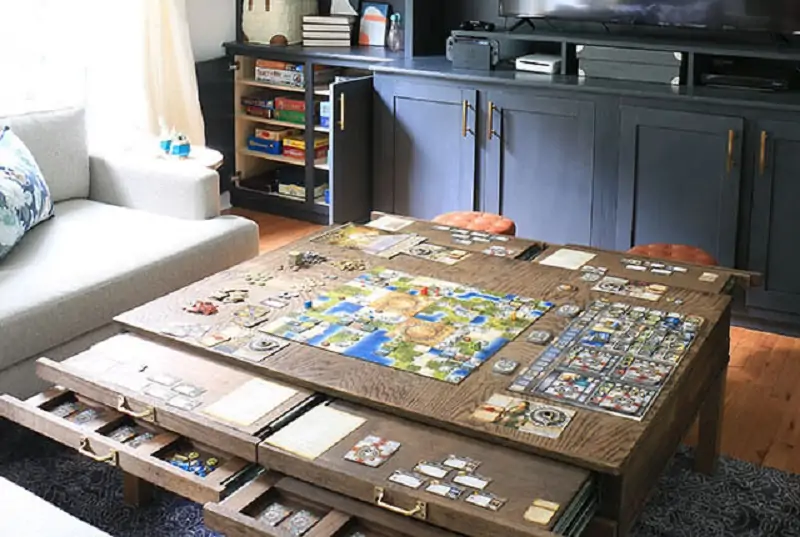 Gaming tables are the perfect small game room ideas on a budget if you want to cut down on cost.
A game table is a great addition to any playroom, as it provides a space for different activities. Hence, you won't have to spend money finding the perfect platform for your games. Whether you are a fan of traditional board games or card games, a gaming table can be a versatile and functional piece of furniture that serves fun purposes while saving you cost on large stationary tables.
Some popular games you can play on an advanced multi-game gaming table include poker and other card games, board games, chess, checkers, dominoes, go, and backgammon. You can also use them to play solitaire!
FAQs
Here you find answers to some commonly asked questions.
How to Decorate a Small Gaming Room?
When decorating your gaming area, always ensure the decorative accents suit your needs as a sports fan. The key to achieving this is to think about the sports and games you enjoy and incorporate decorative elements that reflect your passion for that particular sport. With some creativity, you can create a functional and entertaining playroom where you can enjoy the games you love with friends and family.
How Do I Build a Playroom on a Budget?
Among our budget-friendly small space game room ideas to try, consider using repurposed or multipurpose tables and seats you can find around the house but don't take up much space or make the gaming space multi-functional. 
What is the Easiest Way to Set Up My Game Room?
The easiest way to set up a playroom will vary depending on the space and resources you have available, as well as your personal preferences.
Start by choosing a space where you want the gaming area to be, then consider the games you want to include in the playroom. After this, set up the games and furniture to allow for easy mobility and also ensure enough space for people to move around and play the games without getting in each other's way.
How Long Does It Take To Set Up A Modest Game Room?
The amount of time it will take to transmute your tiny game room ideas into reality will vary depending on the size of the space, the number of games you plan to include, and the amount of furniture and decor you need to purchase or build. For compact spaces, it could take as little as a few hours to set up the basic layout and get the games ready to play.
Conclusion
A gaming room in your home is a fun way to entertain your friends and spend some leisure time alone. All you need to do is decide on the theme you aim to achieve, how much you are willing to spend, and the available space to get started. Regardless, investing in tabletop games, virtual reality, video games, comfortable seating, good lighting, and catchy decorative accessories will make your gaming area the perfect relaxation spot you can't wait to step into. Whichever one of these ideas for a small game room you choose, you can create a small playroom that is perfect for entertaining guests and enjoying some leisure time with friends and family.