9 Amazing Ideas for Wall Panelling You Were Looking For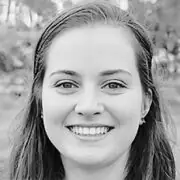 If you're looking for inspiration on ways to add a bit of character and personality to your home, you should check out these amazing ideas for wall panelling. They're not just pretty; they are practical as well.
A room full of walls is a room that's waiting to be customized. So whether you want to add a little personality to your space or just give it a facelift, there are lots of ways to do it. From modern and contemporary designs to classic and timeless styles, there's something for everyone in this round-up.
If you have a little bit of time on your hands and want to add some great ideas to your home decor, then look no further. This article is jam-packed with unique ideas for wall paneling so that you will never run out of inspiration for your DIY projects.
1. Use Panels as a Space to Be Creative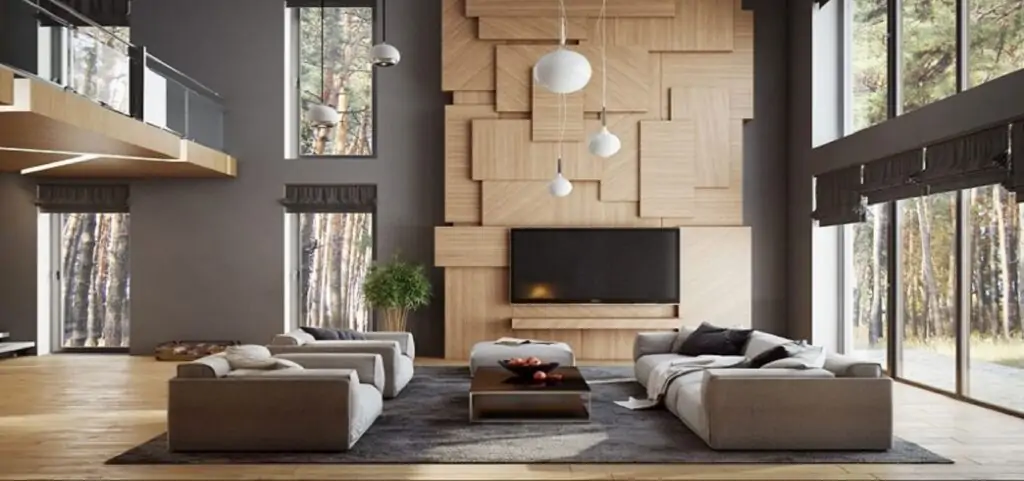 Panels can be used as building blocks for a piece of contemporary art. With so many different options and designs, you can create your very own unique space. So, here are some amazing ideas for wall panels to give a try to
Use them as a background to display your favorite photos;
One of the best wall paneling ideas for your home office can be creating a cozy corner home workstation with walls of bookcases and paneling;
Create an eclectic bedroom with a large collection of colorful paintings or prints on the panelling;
Use it as an accent in a larger room by placing it on one side or corner and using it as a canvas for your abstract painting;
Create an indoor/outdoor living area by using panelling to divide the space into two sections.
2. Try Paneling in the Bathroom
Try panelling in the bathroom! This is a great way to add character and style to your bathroom without having to spend a lot of money. You can find all kinds of different panels at your local home improvement store or online. Just be sure to measure the space you want to cover and choose the right size panel.
You can also try using wall borders for a more custom look. Borders are available in many different styles and colors and are easy to install. Just cut a piece of wallpaper to fit the desired size, then attach it using adhesive or nails.
3. Get Creative with Panelling on the Stairwell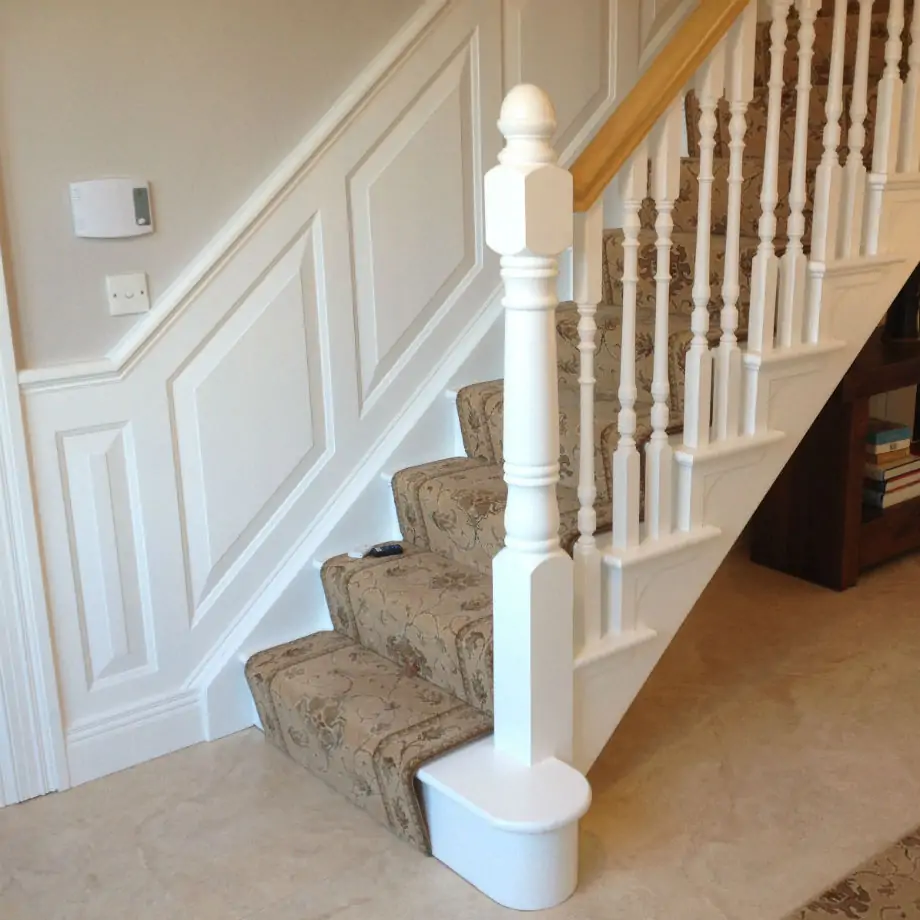 Stairwell panelling can be a great way to spruce up your home and make it look more modern. There are a lot of different options for stairwell walls panelling, so you can find something that fits your personality and style.
4. Try Open Shelving into Panelling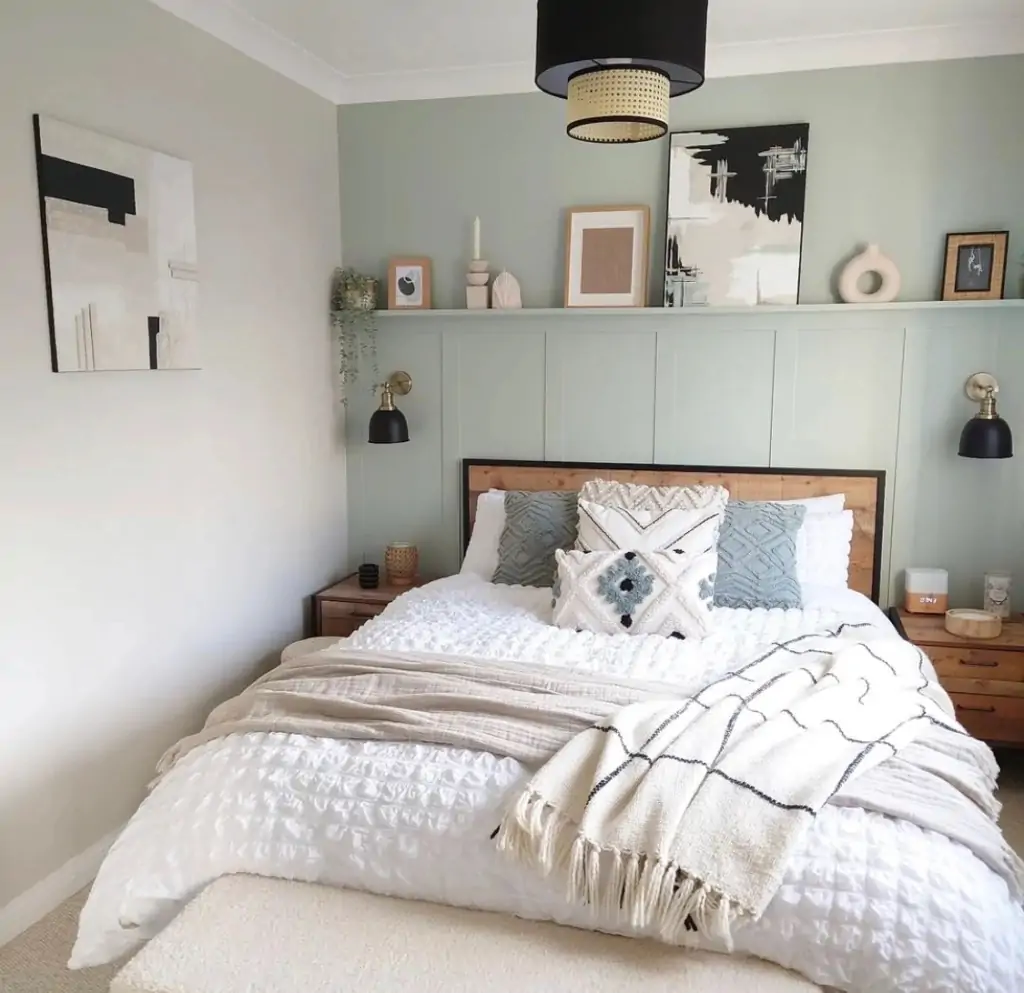 One way to incorporate open shelving into your wall panelling is by installing it as a built-in feature. This will give your room a more contemporary look and feel, as well as make it easier to find various bits and pieces.
Alternatively, you could simply add open shelving to existing panelling by drilling holes at its top and bottom and fastening the shelves with screws or brackets.
5. Create a Colorful Pop of Pattern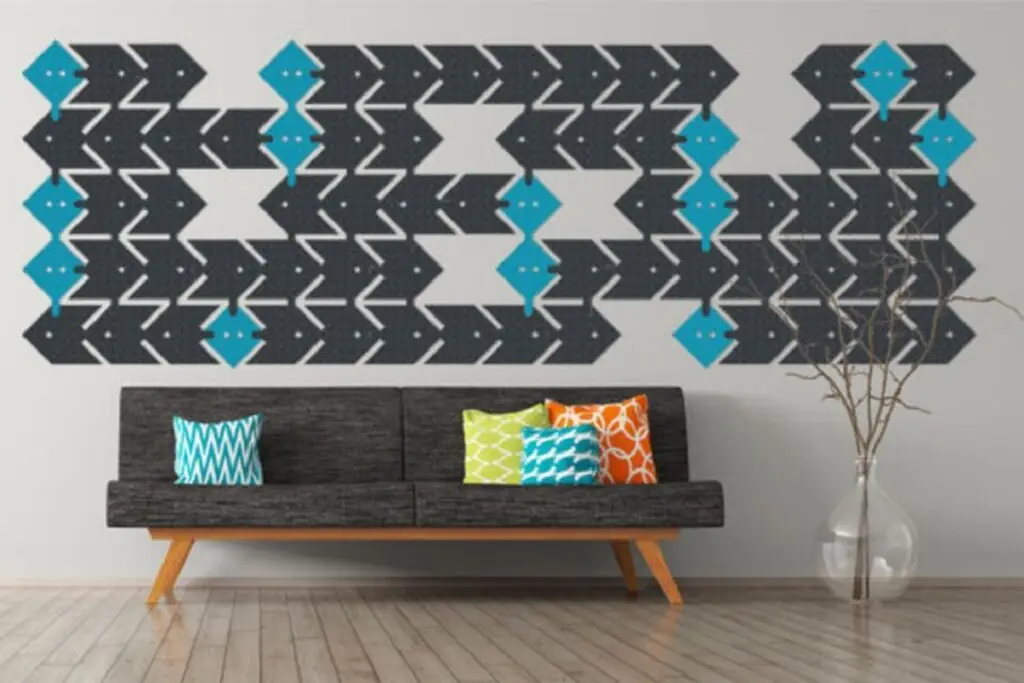 If you're looking for a colorful pop of pattern in your room, geometric panels for walls are the way to go! It can be one of the best wall panelling design ideas for anyone. They come in a variety of colors and styles, so you can find the perfect one that will add some personality to your space.
However, there are a few things to consider. First, the style of the panel is important. You can choose traditional geometric designs or more modern styles that use bolder lines and shapes. Second, the color range of the panels is wide, so take your time to find a panel that truly fits your personality and décor.
Finally, make sure to choose the right size for your room, especially if it is very large or small. Most geometric panels for walls are available in standard sizes, so you may have difficulty finding the perfect one for your space if it has non-standard dimensions.
6. Consider Layering Panels in a Bedroom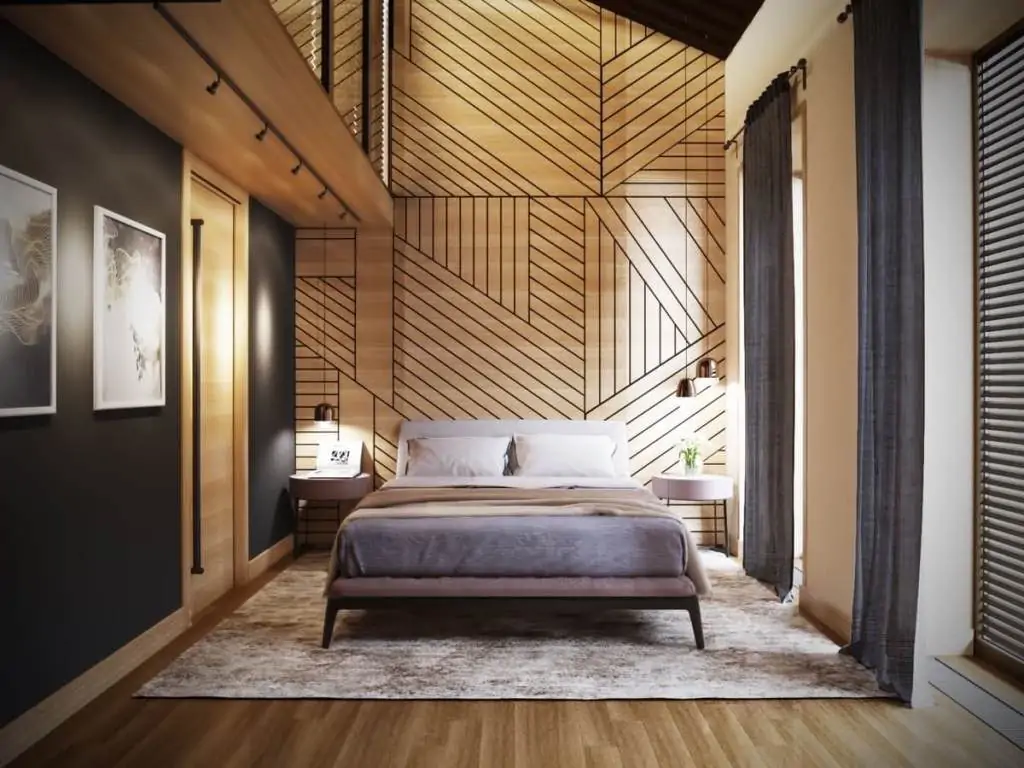 Bedrooms can be quite bland and monotonous, so it is perfectly normal to be looking for some unique ways to spruce them up a bit. If you're in the market for wall panelling, then here are some amazing wall panelling bedroom ideas that you can use to add interest and personality to your bedroom.
Start by choosing a theme or color scheme that you love. Once you have decided on a direction, start brainstorming different ways to incorporate it into your bedroom walls. For example, you could use a trendy graphic or an eclectic mix of textures and colors.
Another great way to add interest to your walls is by using layer panelling. This technique allows you to create a more complex graphic or design without having to worry about the seams between the panels. Simply attach the panels together using screws or nails, and then hang them on the walls using hooks or brackets. This will give your walls an extra level of sophistication and detail.
If you're not familiar with layer paneling, then don't worry – there are plenty of online tutorials available that will walk you through the process step-by-step. Just be sure to take your time to customize your wall panels according to your own personal style – there are numerous ways to decorate your bedroom, so there is no need to hurry!
7. Chimney Breast with Rustic Panelling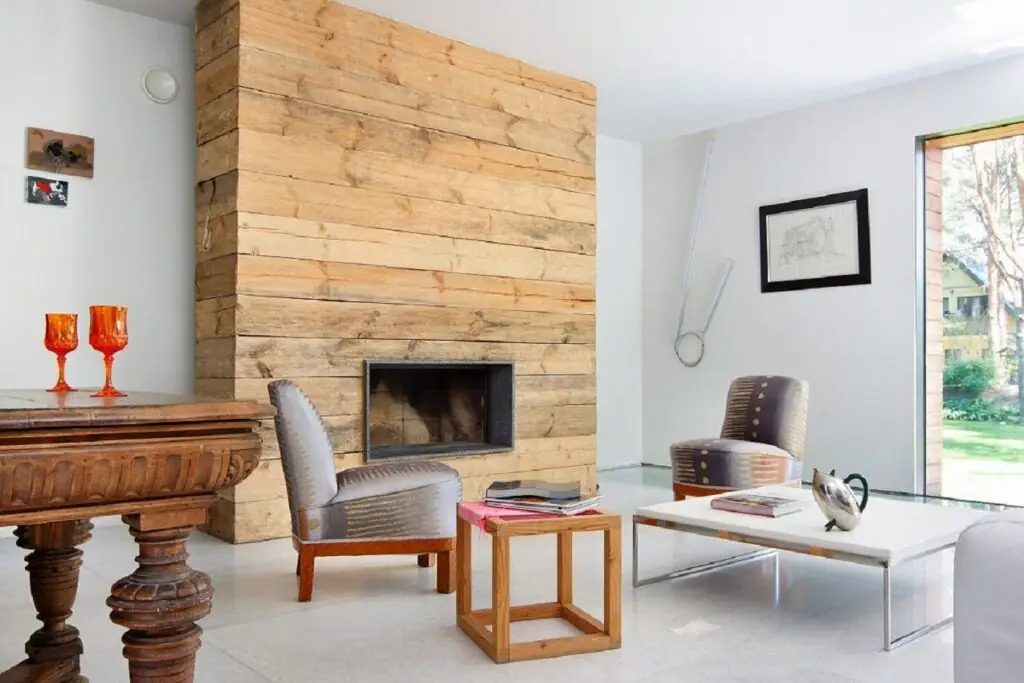 If you're looking for an affordable and rustic way to cover your chimney breast, look no further than wall panels! These versatile pieces are perfect for spicing up any room in your home, and they can be decorated in a variety of ways to create a unique look.
To get started, find a set of wall panels that are the right size and shape for your chimney. Once you have chosen your panels, start roughing them up with a sandpaper or wood paneling brush. This will give the panels a more natural appearance and will help to disguise any seam lines.
Once you've finished roughing up the panels, it's time to start painting them. Use a paint that is designed for outdoor applications, such as polyurethane sealer or latex paint. This type of paint will resist weather conditions and will last longer than traditional house paints.
After you've painted the panels, it's time to add the finishing touches. Try adding details such as rustic brackets or hooks to make the panels more customizable. And don't forget about the roof! Add some shingles or tiles to finish off the look of your new wall paneling project!
8. Disguise a Door with Paneling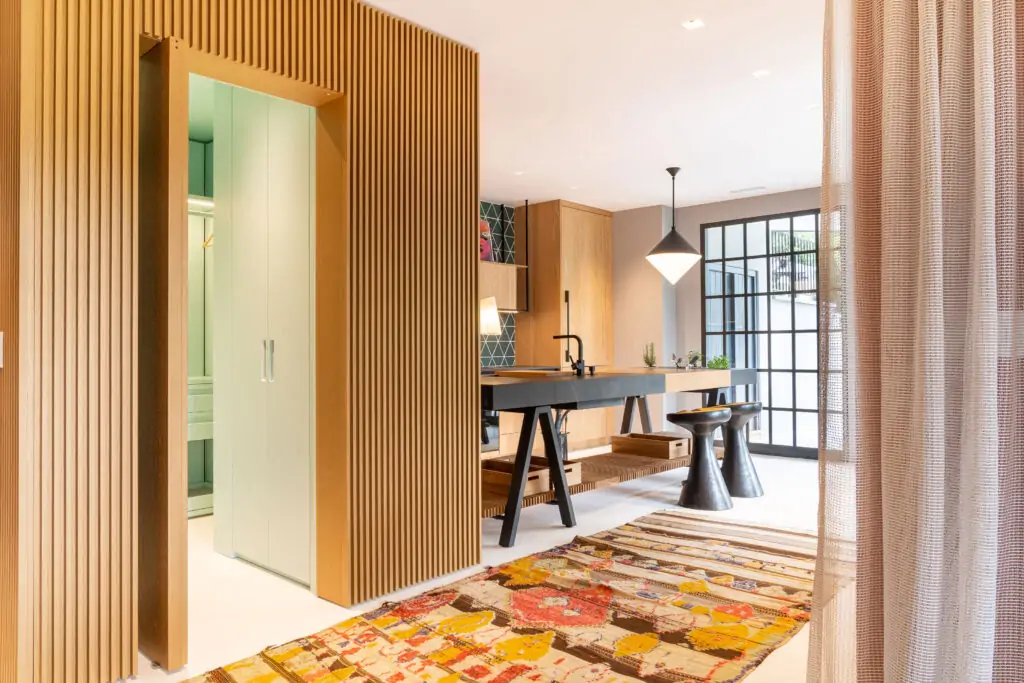 If you're looking to camouflage a door in your home, try using paneling! You can easily add a layer of texture and detail to any room with this easy wall treatment.
To get started, measure the length and width of the door opening and choose a paneling style that best suits your needs. Once you have your paneling order, start sanding down the corners and edges of the paneling until they are flush with the floor or wall surface.
Next, apply a coat of primer to the entire surface and wait for it to dry. Once it's completely dry, begin painting your desired color onto the panels using a brush or roller. Let each coat of paint dry thoroughly before applying the next one. Once you're done, hang your panels on nails or screws and enjoy!
9. Try Wooden Paneling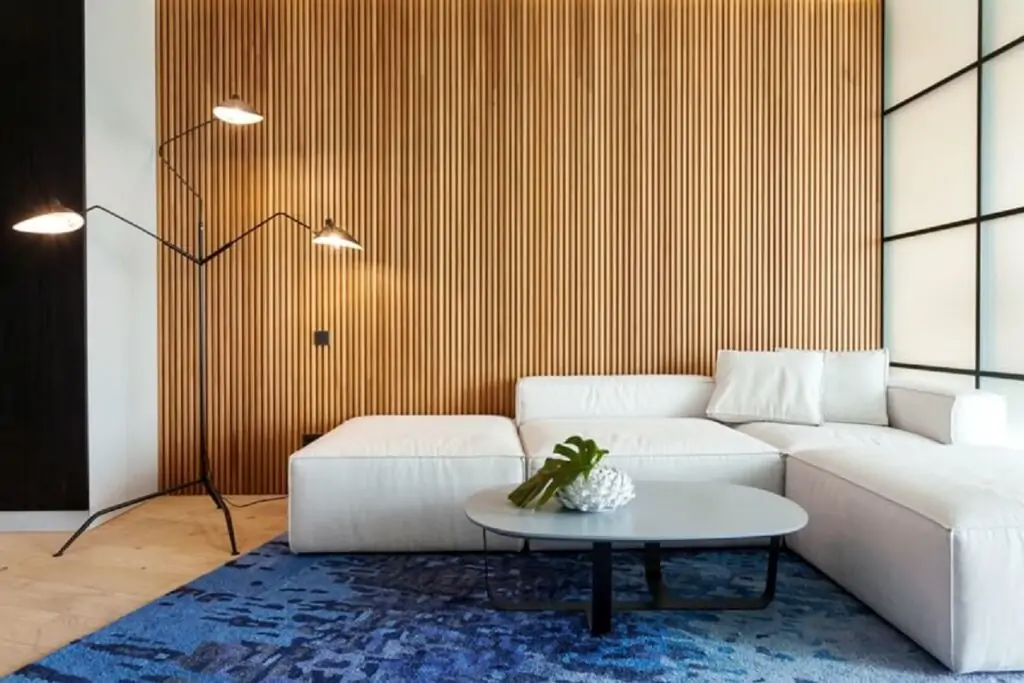 Many homeowners shy away from wooden paneling because they think it will look too dated or unfinished. However, there are a number of wood paneling ideas for walls to beautifully update your home with wooden paneling without making a big investment. Here are three cheap ideas for wall paneling using wood as wall decor:
Use wood paneling as a feature wall. If you have an extra wall in your home that you don't use, consider using it for wood paneling. This is a great way to add character and warmth to a room without spending a lot of money on renovations.
Take advantage of natural variations in wood grain by installing multiple panels in different shades and textures. This will add interest and dimension to your wall space, making it look more like a piece of art than a mere surface.
Add wood paneling to a room that is already decorated with other elements. For example, consider adding wood paneling as an accent piece if you have a traditional living room with delicate upholstery. This will add warmth and character to the space while still maintaining its traditional appearance.
Conclusion
Panelling is a great way to integrate different styles and colors into your home without having to spend a fortune. If you're looking for inspiration, be sure to check out the above list of 9 amazing ideas for wall panelling that will help you create a look that's uniquely yours. Whether you want to experiment with a new style or update an old one, these ideas will get the job done. So, start planning your dream home today!