22 Kitchen Ideas with Dark Cabinets That Steal the Show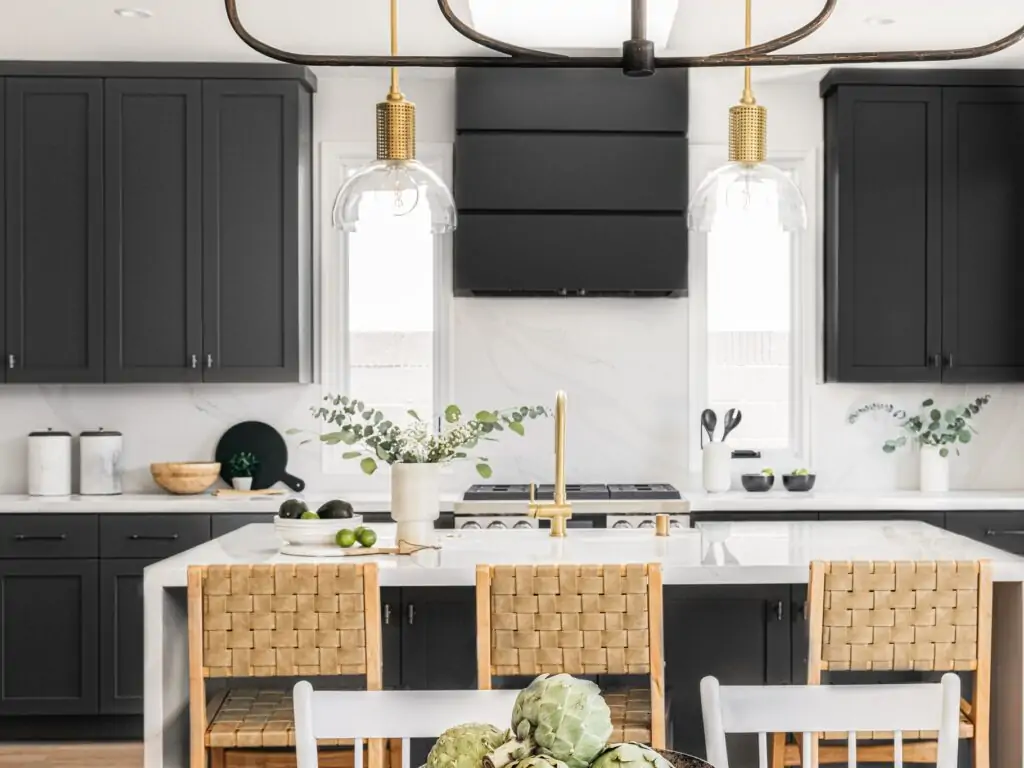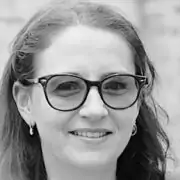 Let's start with the good news: kitchen ideas with dark cabinets make it possible to choose from various color palettes and styles for your interior. As for bad news, there is none! We gathered many photos showing how attractive your cabinets can be if you won't be suspicious of a unique design solution.
The dark color usually looks sophisticated and adds depth to the room. Such furniture seems more substantial, and you can quickly accentuate it with light decorations, creating a festive mood all over the kitchen.
Take a look at a rich collection of kitchen designs with dark cabinets for your beautiful interior!
Go Modern or Minimalistic to Underline a Non-Trivial Color
You can be in doubt: "Are dark kitchen cabinets old-fashioned?". If you are concerned about it, remember that it is a combination of shape and decoration that determines whether the furniture looks outdated or not. Modern, minimalistic, or Scandinavian cabinets are always trendy. So, choose the most suitable layout for your space, find your favorite cabinets in the styles mentioned earlier, and select a discreet dark hue, putting your worries about fashion aside.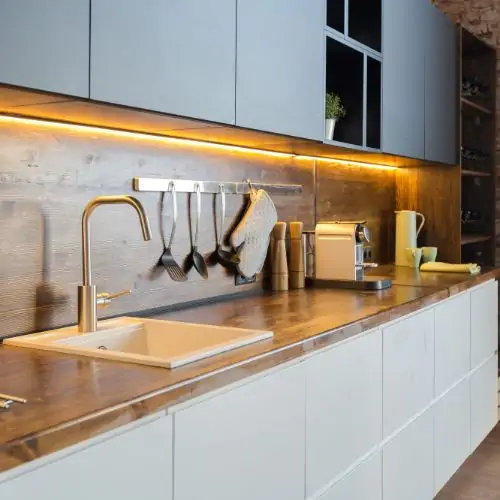 What a prime example of a modern black-and-white kitchen that will always feel comfortable and look relevant! Keep your color scheme simple and use warm wood hues for the countertop and floor. To spruce it up even more, arrange hidden lighting with a yellow tint. It is truly one of the more heartwarming ideas with dark cabinets!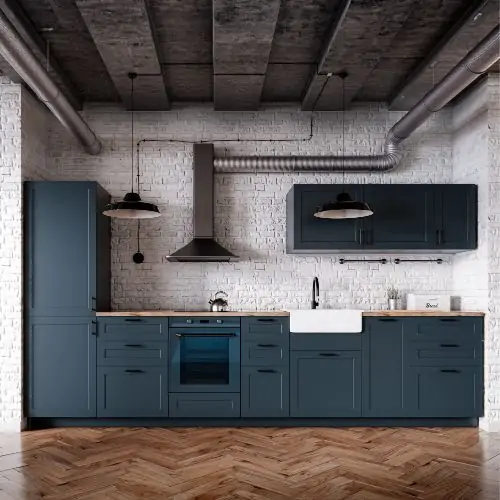 Muted deep blue and some open space instead of an uninterrupted row of upper cupboards add a first-class design approach to this loft. Here is all we need to say "Bravo!": a place you want to stay forever at. Its strong points are:
Non-stressing color scheme
Lightweight layout
Industrial-style hood to unobtrusively catch the eye
Welcoming warm hues of the floor and countertop.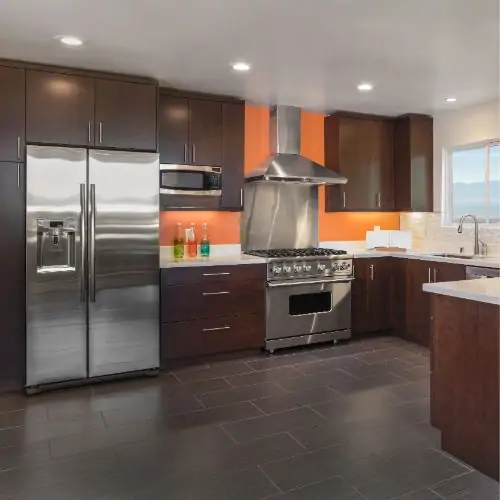 Can you do without a very light shade as the primary complementary color? Yes, if you know how to handle bright hues. The photo above showcases a stunning example of using juicy orange for kitchen ideas with dark brown cabinets. Many features here please the eye: the smooth metal front of the appliances, the industrial-style hood, and the grey tiled floor, which ties everything together. Keep in mind: in place of the orange there could be green, blue, or bright yellow.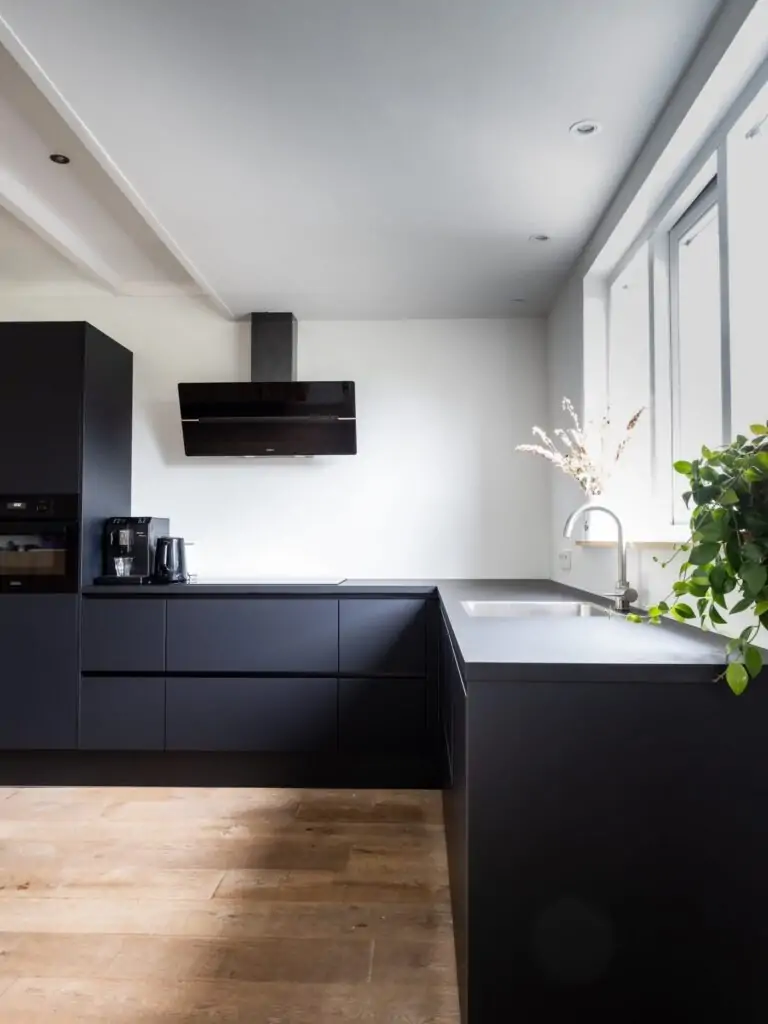 Sleek black and extremely practical minimalism — meet another dark design that never gets old. Pay attention: no upper cupboards to create a super-airy space!
Introduce Dark Classic That is Gorgeous and Timeless
Who says the only option for a traditional kitchen interior is the light palette? Check out our top-of-the-line findings that prove the opposite.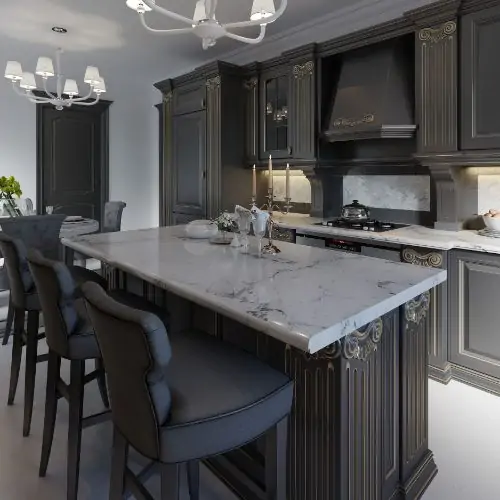 In the picture above only the horizontal surfaces (white marble countertops and the floor) offer a sharp contrast to the black. Such ideas are not uncommon in modern dark kitchen cabinets. This classic furniture, including many chairs, also shows no compromise. To underline the exciting approach, the designer colored the door the same hue. This project looks like one of the perfect kitchen ideas with dark cabinets and has the best of both worlds — classic and modern.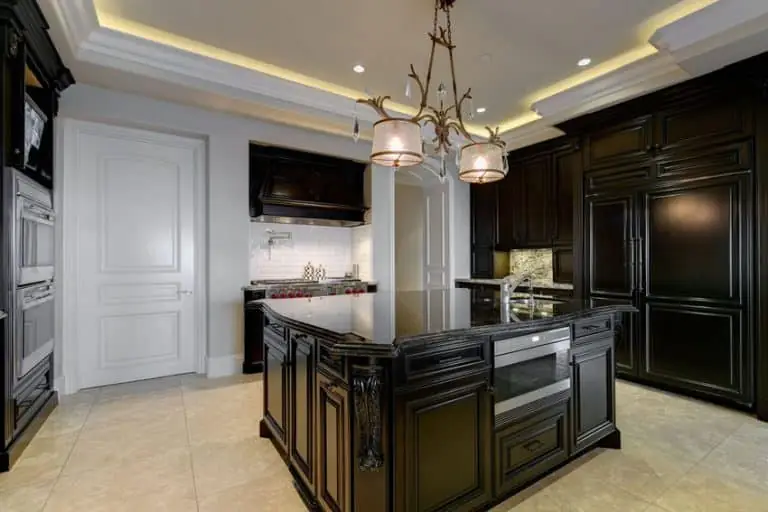 What an unconventional project for the ones of great resolve! Even the countertop is black to make the kitchen extremely eye-catching. It feels as if you're being invited to step into a world unlike anything else in the house. Then again, don't forget that such radical ideas need a pro. Hire one and let them see a picture of your favorite interior.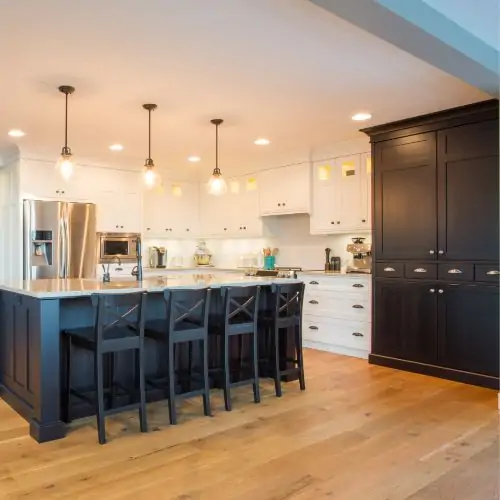 If the photos above feel a bit oppressive to you, alternate in black and white. A fascinating solution is to make some parts of cabinetry dark while leaving another part in sharp contrast. The kitchen will immediately get lighter, and clear zoning will divide the space, making it easy on the eye. Note that drama color is only vertical to spruce up the room depth, effectively avoiding overloading.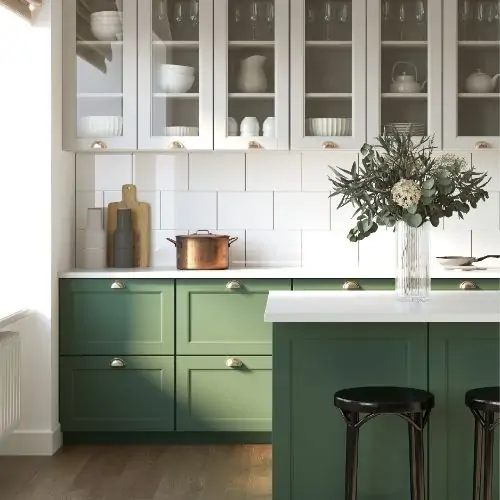 We think that black-and-white will never get outdated. But if you want something playful, you can choose a simple and timeless design in other classic colors like navy blue or all the range of muted green.
Opt for Contrasts to Make a Statement with Blue Cabinets
You've already seen a lovely kitchen with contrasting cabinets where glass green is an ideal match for beige. Let's take a closer look at similar projects that employ blue.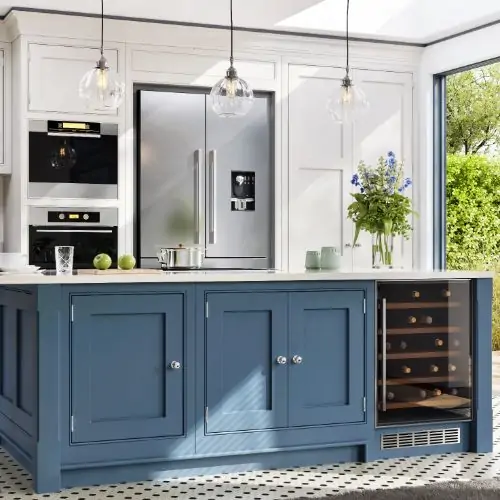 Never mind what kitchen color ideas with dark cabinets are in fashion. If you paint just one part of the furniture your favorite blue, it will surely please your eyes for a long time. To accompany this shade, choose a light tone, dividing the cabinets into upper and lower areas. The same two-color approach for the floor, backsplash, or accent wall will tie the contrasting cabinetry together.
Quick tip on how to avoid dullness: add glass and metal appliances to revitalize the row of cupboards.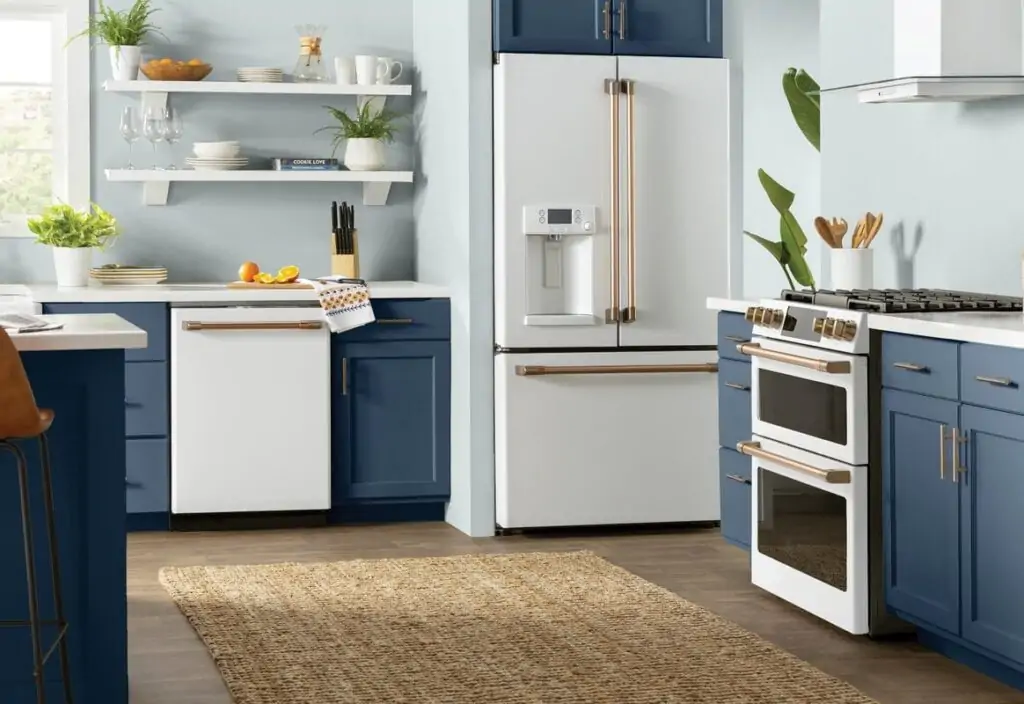 This blue project is really sophisticated but seems easy and universal. What makes this design impeccable? First, it is a relaxing marine color scheme with golden splashes. Second, it is airy open shelves used instead of upper cupboards.
Last but not least, how fantastic the white fridge looks! It's the best thing since sliced bread to choose as a centerpiece for modern dark kitchen cabinets.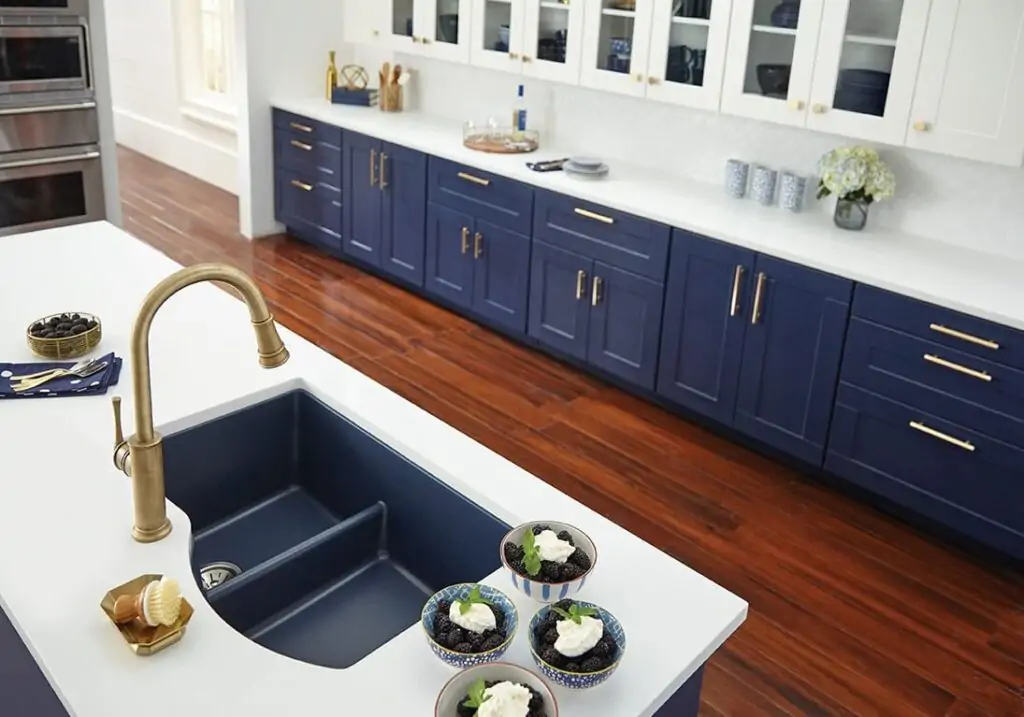 Here is another attractive design in which a blue-white color scheme rules the roost. The upper cabinets are white and lightweight: using glass is the key to brightening up any drama concept. Also, note how ideally this wood floor fits. The mahogany color completes the design as if we were standing on the deck of an expensive yacht. Consider such kitchen floor ideas with dark cabinets when you accent the lower cupboards and want to tie all the surfaces together to add depth to the space.
Jazz Up Your Kitchen Design with a Bold Island
What brings a strong dynamic feel to a sizable room? The island is the word! Let's scroll some gorgeous interiors to boost your inspiration.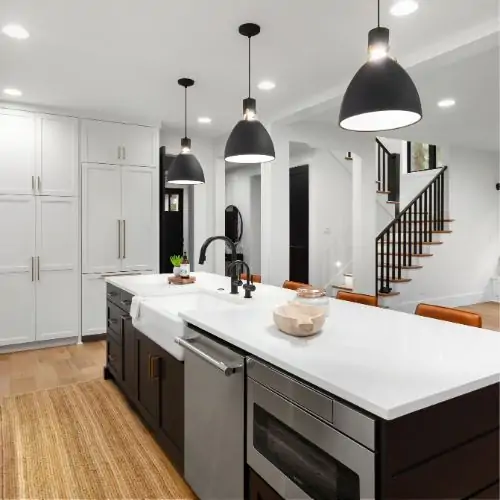 Some people think all-light solutions feel strange — like you're in the hospital. If you think the same, this design is the concept of your dreams. Use any kitchen ideas with dark wood cabinets only for the island. That way you get an airy, never-boring, and always spectacular interior, and your island makes a clear statement. The most interesting highlight here is the dark accents surrounding the space and matching the island's dark verticals.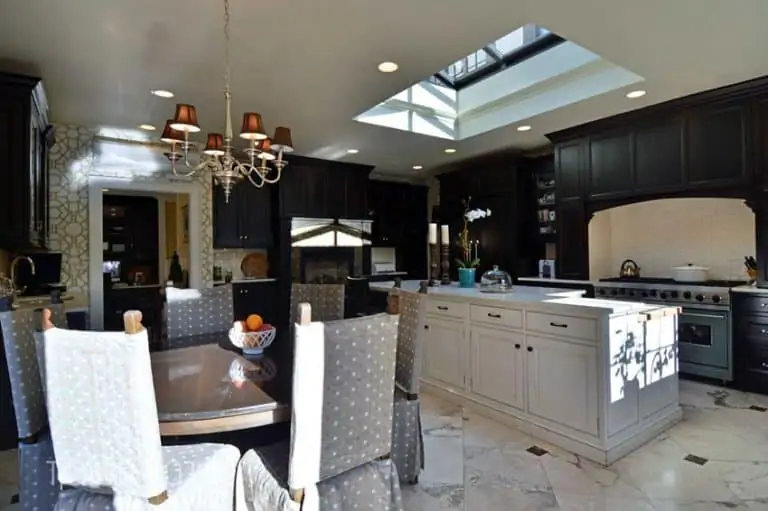 Reversing the concept above, you can go for an all-white island that merges with the floor. It will liven up your black wood cabinets — even more so if you paint a backsplash white. The light floor and ceiling visually widen the space; the chair covers give the dining area a touch of snugness — a beautiful design for a large, welcoming home. By the way, the general rule for such ideas is the more straightforward your color scheme is, the more elegant aesthetic you'll achieve.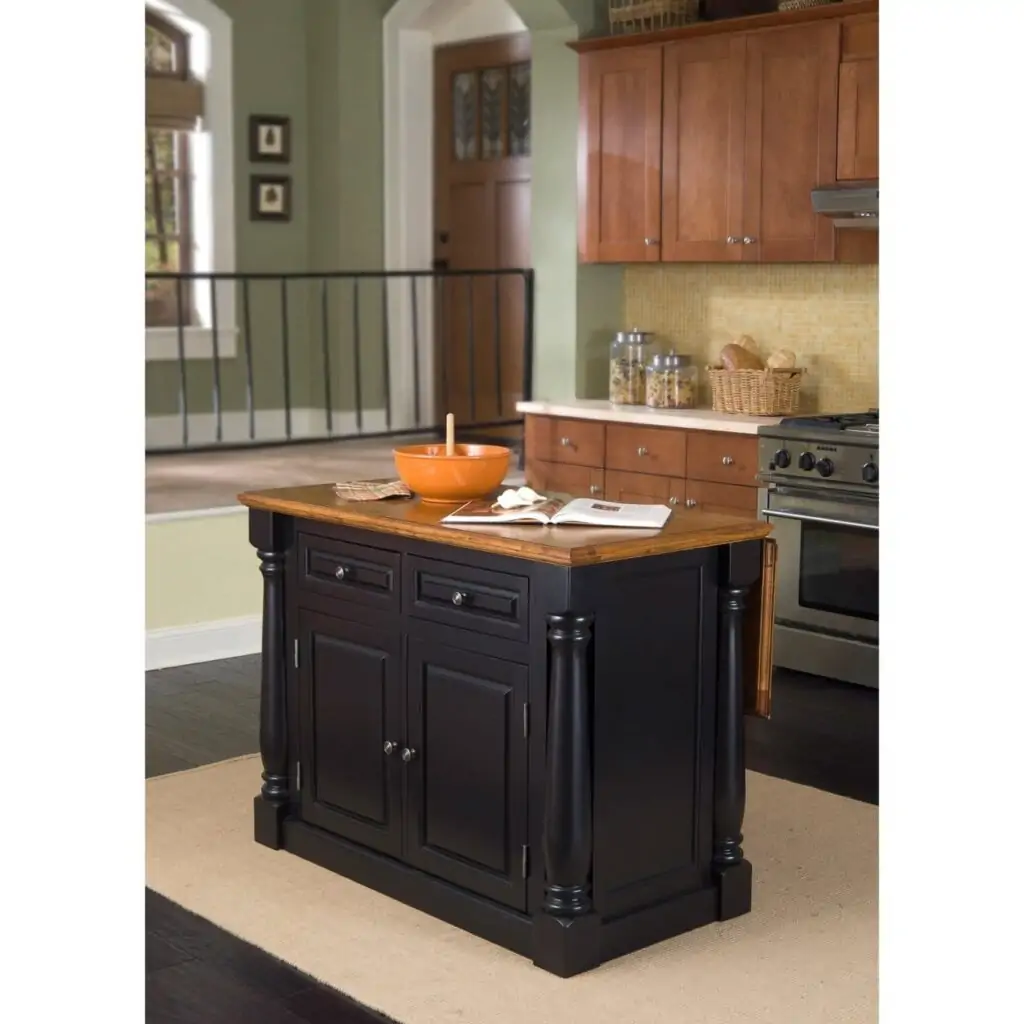 Not one but two basic dark shades can also be an elegant solution. Look at the picture: warm oak brown cupboards with a bold black island don't seem overloaded because of the simple design with no massive adornments. Such furniture is better placed in an open-space room so you can accentuate other interior elements in two primary colors. This method helps add unity to any space.
Get Peaceful and Happy with Grey Kitchen Cabinets
Grey may seem dull, but we know how to make it beautiful and invigorating when it comes to the kitchen. Enjoy the best kitchen ideas with dark grey cabinets!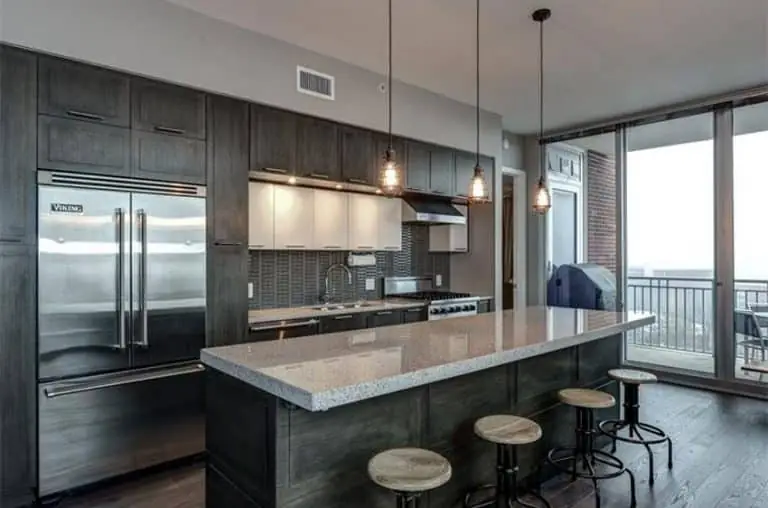 Lots and lots of light are enough to turn a smooth and straightforward grey project into a cozy masterpiece. Such brilliant ideas for a kitchen renovation are worth keeping in mind: even if your room doesn't have floor-to-ceiling windows, you can refresh the cupboards with glass, mirrors, or a big metal fridge. And, of course, a must-have improvement is to use all kinds of lighting.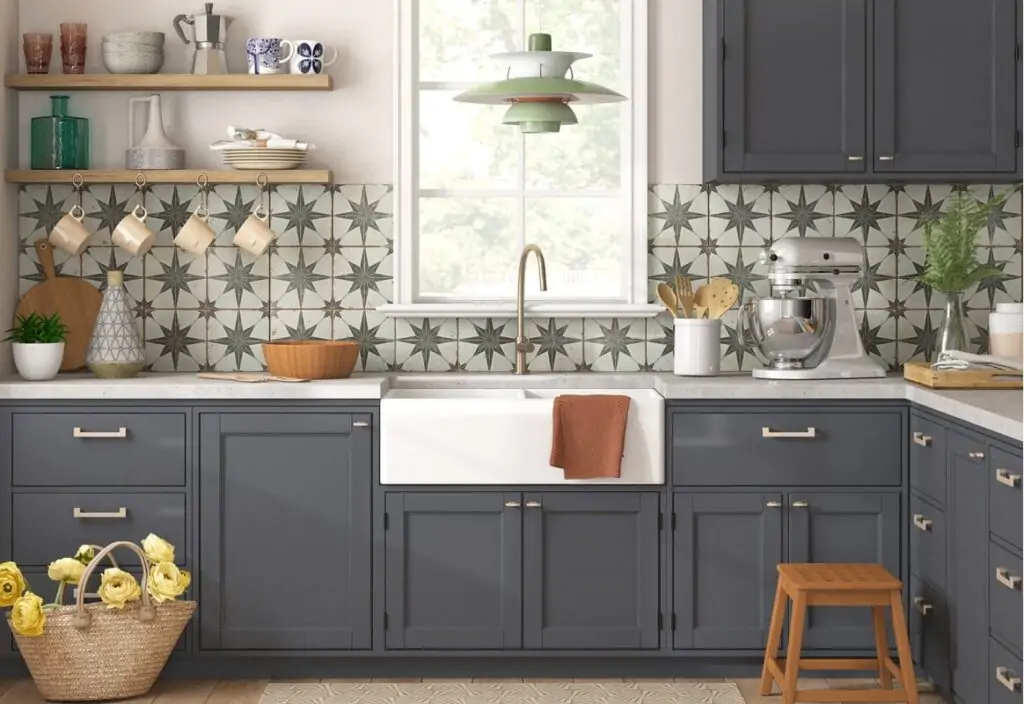 A vibrant star pattern on the backsplash adds zest to this concept and makes the furniture seem light. All you have to do is pick up natural accents to help your interior feel cozy and farmhouse-inspired.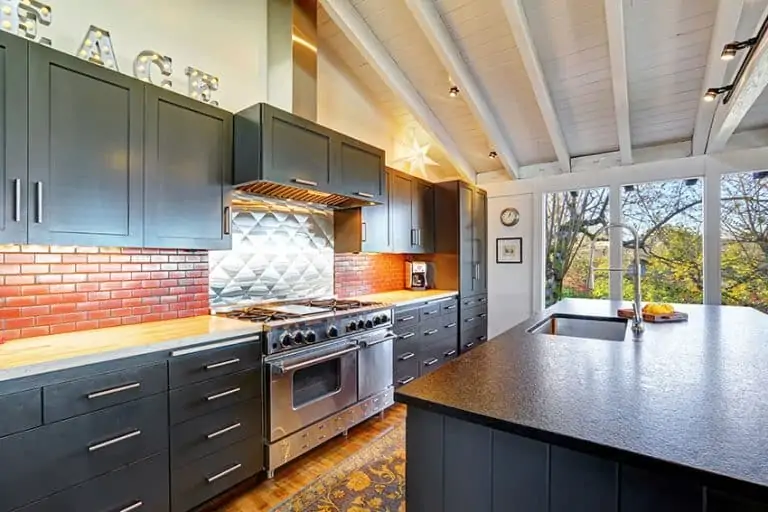 A dark grey kitchen can be paired up with almost any backsplash, even a small-brick orange one. The dining island will seem especially spacious if there is a lot of light in the room. Such a design is not easy to replicate. Still, it's worth a try if you like unusual interiors and your house has large windows and high ceilings with spectacular beams.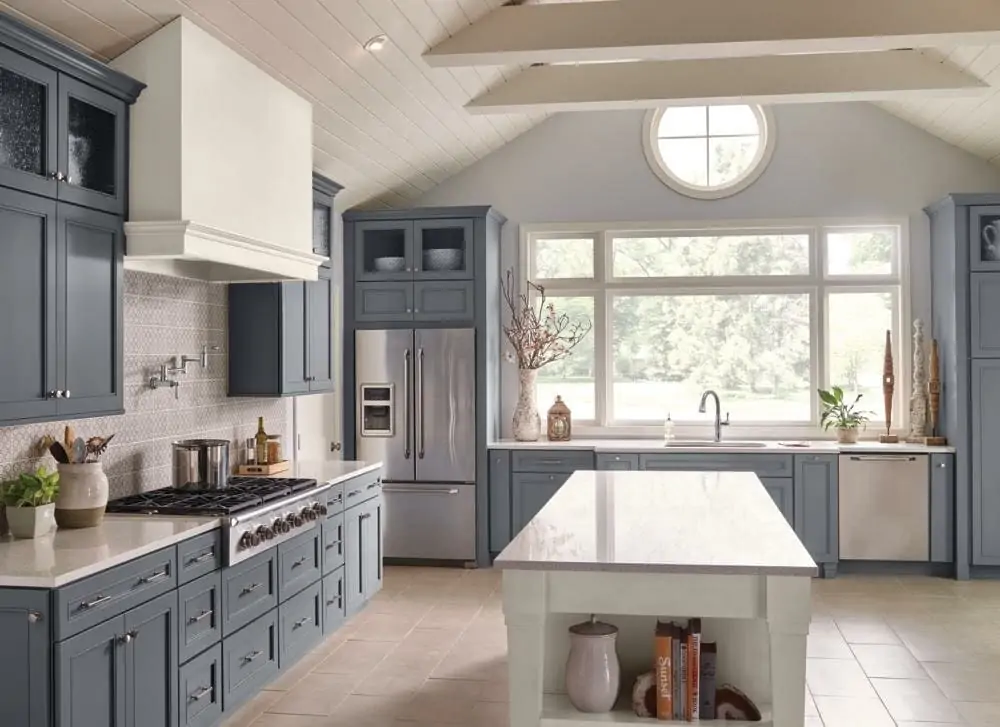 To conclude the review of designs in grey, let us admire Their Royal Majesty Light once again. Look how beautiful this sizeable grey-blue kitchen is if no expense has been spared for the details which can reflect the light well. Even the countertop is made of polished stone — simple and luxurious!
Make Your Brown Kitchen Feel as Second Black
Slightly boring calm brown wood, as in an old-fashioned office, is not the only shade for a family kitchen. Ideas with dark brown cabinets cover a lot of variations in styles and shades.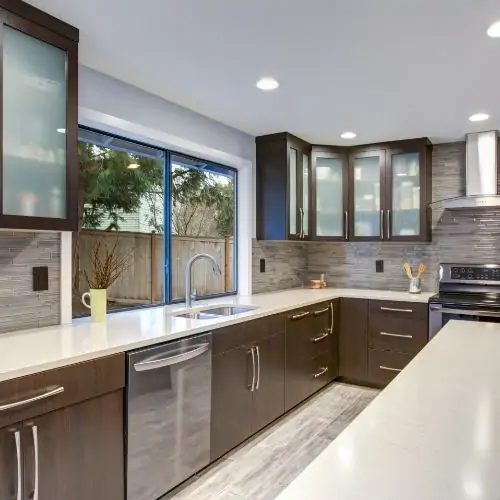 A few blue splashes, a lot of silver, and dull brown is resurrected! The photo above shows how to work properly with light in a restrained contemporary interior. If you don't like a very light backsplash, it's best to lighten up the other surfaces as much as possible. What can help you? Glazed upper cabinets, glossy countertop, metal appliances headed by an open-view hood, and small built-in lamps.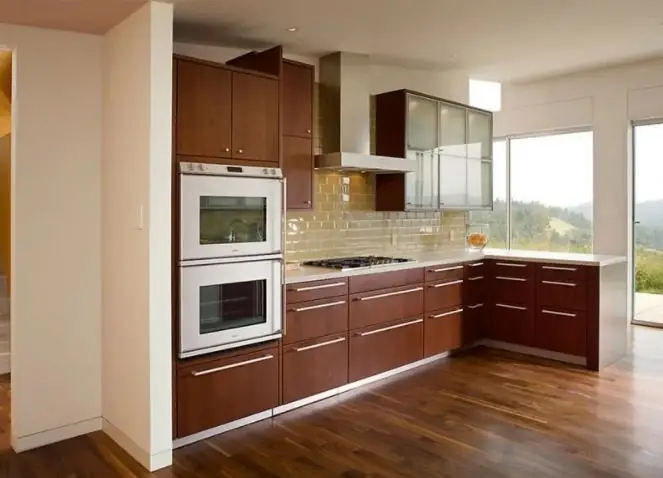 Here you can see a shade of wood that was all the rage in the past. Notice how it works with modern fittings for the same design cabinets. Incredible warm simplicity in a charming kitchen! Similar ideas with a bit banal colors are easy to repeat when it comes to grey, green and beige. Mark the key success factors: large built-in appliances with a metal façade, open-view hood, glazed doors in a metal frame for upper cupboards, and long horizontal handles.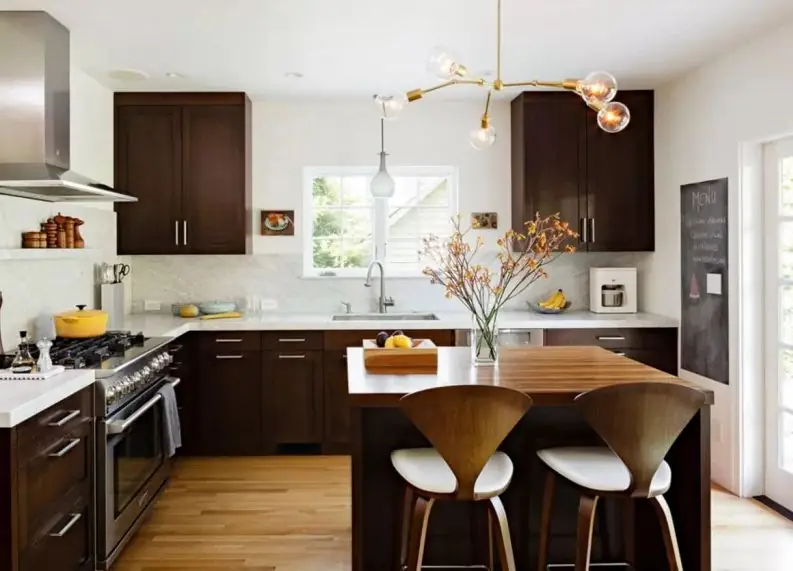 Leaving dark brown at the bottom and using it for two top cabinets was a great finding for this cozy kitchen. The dining island is also brown, but the walls and all horizontal surfaces are white or a much brighter brown shade. Warm wood and gold decor seem to pull the kitchen toward the sun from a thick forest. Second to none, huh!
Create Splendid and Rich Design with Dark Wood Cabinets
Whether your kitchen is subtle or really huge, interesting ideas never end. We want to show you one more photo: it is all about a sweet and remarkable home — enjoy!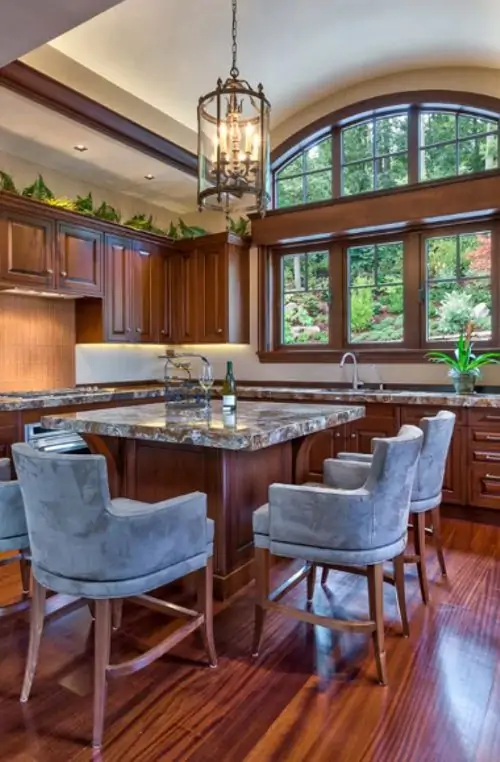 A classic brown choice for a luxurious kitchen of a large house never gets old, and it is worth sifting through the image to catch how the sense of luxury is created. Among them are velvet upholstery for sizable armchairs and the window frame that exactly matches the color of the cabinets. These ideas are timeless if your budget is large enough.
The Main Reasons to Decide on Dark Kitchen Cabinets
The list of advantages of darker furniture is truly comprehensive:
The busiest hub of your house will look new for a long time because scratches and stains are easier to hide on dark surfaces.
Dark cabinets are a real centerpiece and always define a deep sense of luxury.
Sharp contrasts make a bold statement and never look boring.
There is a wide variety of styles to go darker with.
The proper choice of dark color brings intimate, welcoming depth to the room.
And ultimately, it's a genuinely fascinating process to elevate your space in a dramatic way.
In conclusion, here is a video about the color wheel as an essential tool in designer work. Learning about the universal helper in any renovation is always worth investing time in.
Hope, having scrolled through our fabulous collection of kitchen ideas with dark cabinets, your renovation enthusiasm bubbles over! Go unique without hesitation — make the heart of your home perfect with a strong touch of your individuality.