Creative Large Wall Décor Ideas for the Living Room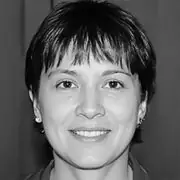 While walls certainly play functional roles in our homes, sometimes they serve an additional decorative purpose — especially in the living room. This is precisely why many people often consider large wall décor ideas for the living room when they have to deal with empty spaces on their blank walls.
Still, let's face it, decorating a huge wall can be challenging. You'll have to think about how to get started, from finding DIY large wall décor ideas for the living room to considering the sizes of decorations and how to fit them so they blend seamlessly with the room's furniture.
Many people love the appearance of artless walls because they seem minimalist and won't require much maintenance. Then again, the possibilities decorated walls add to your space are endless. You only fully enjoy large walls when you give them a vibrant tone to arouse a feeling of homey warmth. So, how do you bring style to your big, spacious walls? Read on to find out.
Large Wall Art Ideas for the Living Room
Art showcases your personality while adding mood and character to your home. So, since it's your personal space, a decorative idea that helps you best express yourself is wall art. Consider the following:
Create a Mirror Collage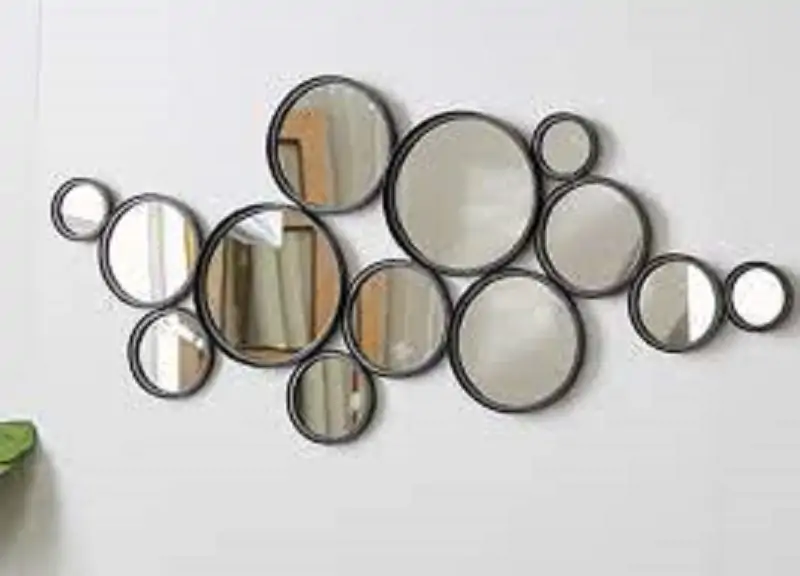 Art doesn't have to be about paintings. Accessible fixtures like mirrors can help you create a mini gallery that stands out. A mirror collage is a great idea for contemporary and industrial-style homes with lots of metal finishes.
Consider using different-sized mirrors. Their shapes won't really affect the outcome, but they will add heightened appeal. On the other hand, mirrors with colored frames will certainly stand out since you won't always find many homes with colorful mirrors.
Place a Large Split Canvas Picture on the Walls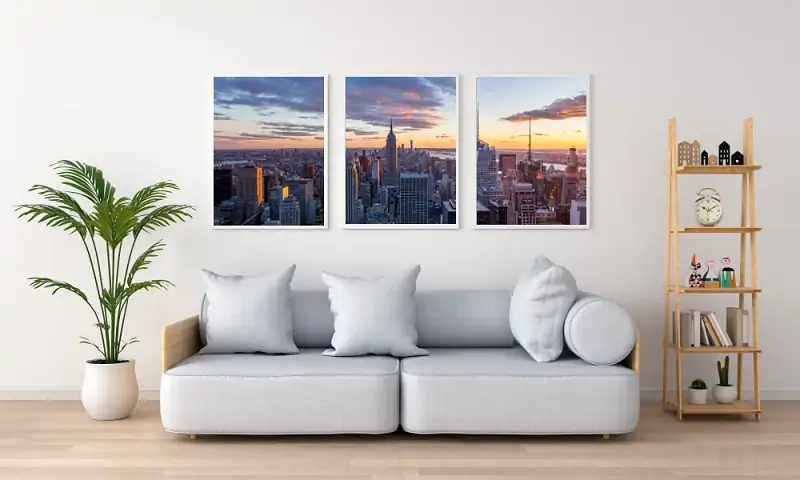 One of the better extra large wall décor ideas that adds character to your space is to use decorative picture canvases.
A picture says a lot about you. Most people won't often utilize this idea because they have a complicated relationship with a breezy and minimalist room. However, an enclosed area won't be a home without a small gallery of pictures that expresses your personality. Canvas pictures make your space feel homey.
Consider placing three to four canvas frames on the wall showcasing either a family photo, wedding photo, an image of your pet, or your favorite landscape. Note that a canvas can take up quite a lot of space, especially if it has a lengthy size. So, do your best to find the perfect balance between size and shape when using canvases.
An advantage this décor idea offers is that it allows for flexibility. If you decide you no longer like the design, you won't have to spend money renovating the walls. All you need to do is take down the large canvas that is now out of favor with you and get creative again.
Add a Wallpaper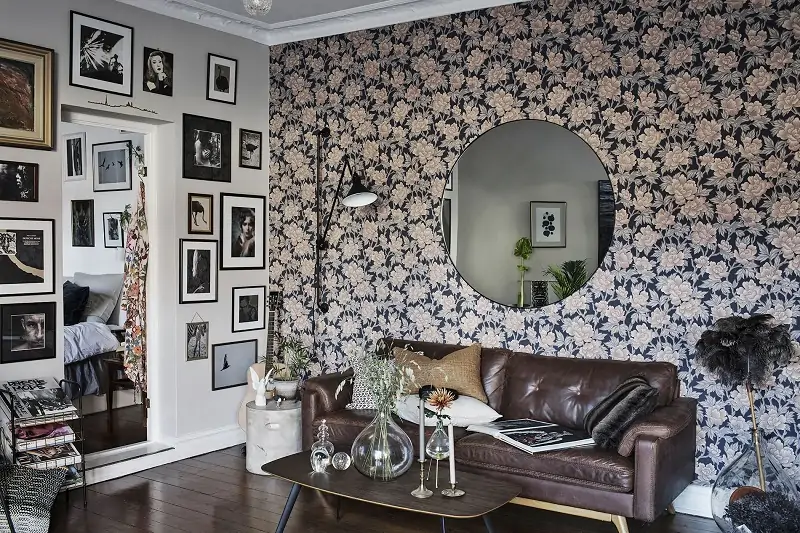 Wallpaper ideas are another time-tested way to add artsy aesthetics to your home. The best part about using them is that they allow you to explore different colors and textures you won't often try with paintings. Thanks to the competitive industry, manufacturers are now making unique wallpaper designs with shiplap patterns, murals, board panels, geometric patterns, and even landscape sceneries. With wallpaper ideas, the freedom to create something unique is endless. However, they don't come cheap, which can be a major issue if you are on a budget.
Painted Accent Walls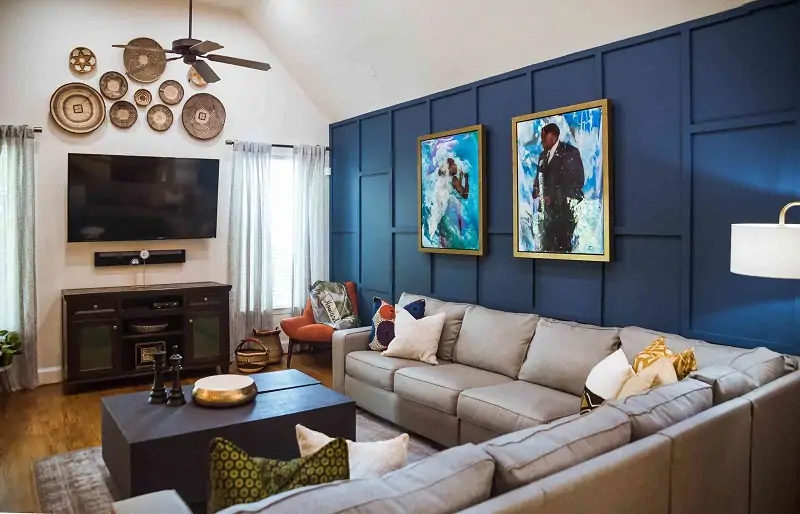 Paints are the foremost art inputs that add mood to your space. Even neutral colors can add vibrant appeal to the most lackluster walls while showcasing your unique taste. So, no matter how you choose to paint the walls — whether in landscape shapes or portrait form, you can't go wrong with well-matched tones.
Still, you need to consider the amount of space available for painting. Most times, walls with excessive paints can be overwhelming. Instead, create painted accents on different parts of the wall so that your room will have the right balance of color and still look breathtakingly stunning.
Lights Ideas for the Living Room
Just like it is with walls, light fixtures play functional roles in your home. Yet, mounted strategically, they look artsy and can drastically change your home's atmosphere. Small rooms with large walls and little or no access to natural light will greatly benefit from lighting ideas. You both add light to your space and use an affordable décor trick that can help you give your living room new life.
Whether you have a traditional, modern, or industrial home, these unique lighting ideas will come in handy in ways you've least expected.
Draped Panels with LED lights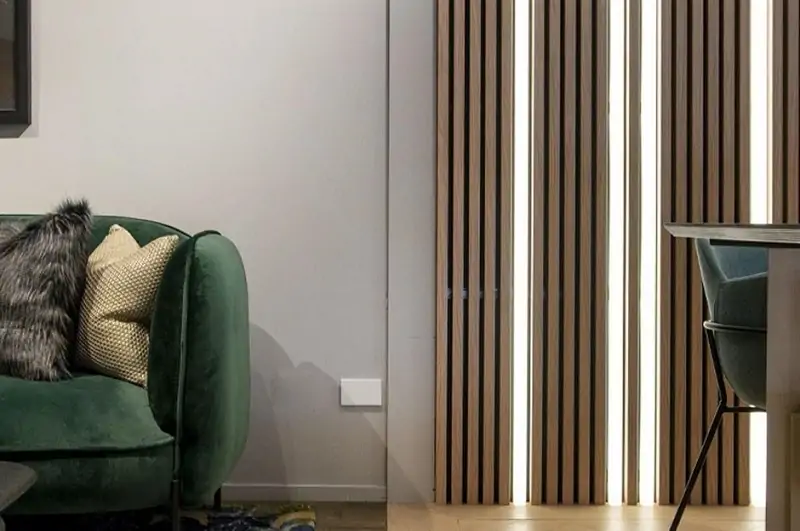 If you have draped wall panels, LED lights will add a sophisticated edge to your room. What's more, the most interesting result of this idea is the silhouette effects the lighting gives the draped panel so that it looks soft and cozy.
Use Eclectic Lights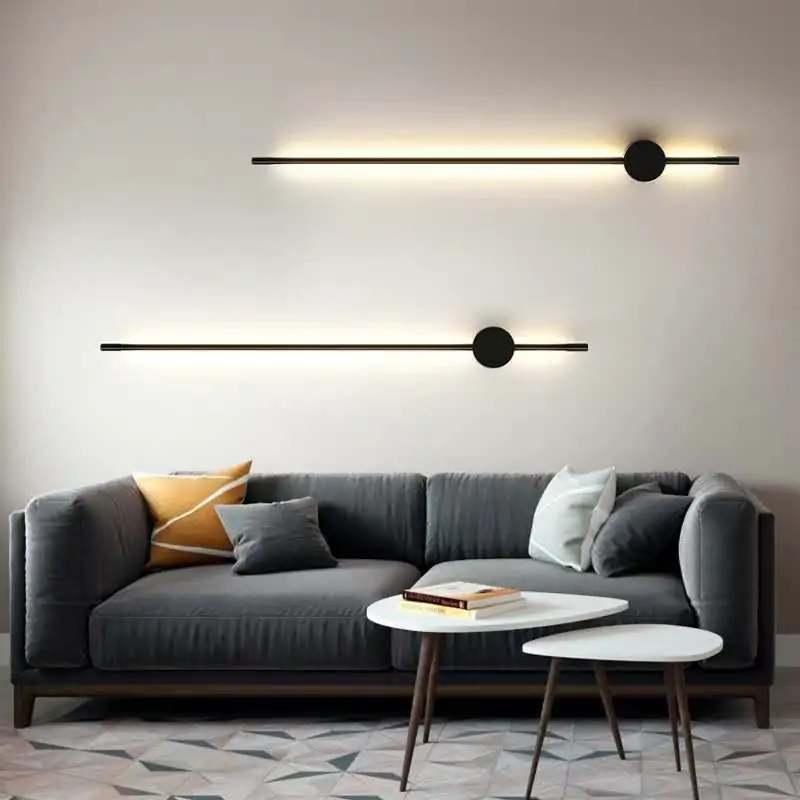 Eclectic lights often have simple designs but unique shapes, so they can easily be the center of attraction wherever you place them.
If you have neutral-themed paint, choose eclectic lighting fixtures that feel disjointed and chaotic yet can successfully match your home's color palate. Bold fixtures go well with neutral tones, while bright fixtures feel more unified with bold schemes.
Install Lights Behind Geometric Interior Walls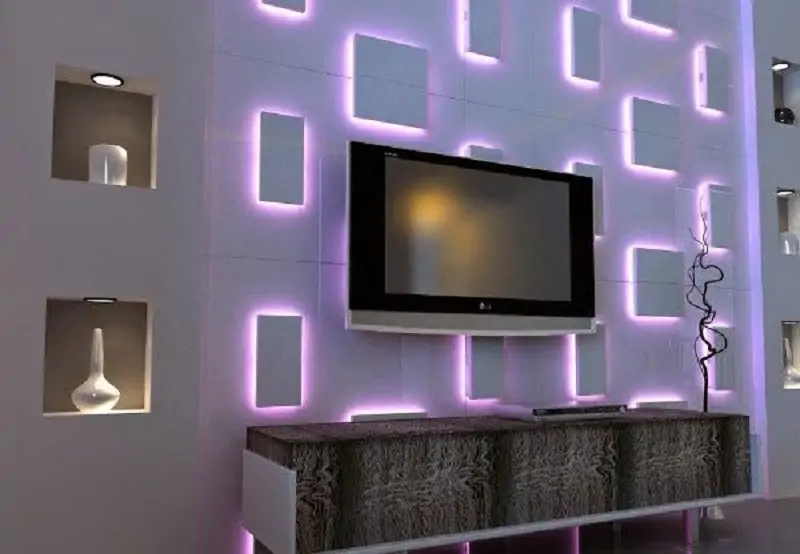 Geometric patterns are often underrated, but they can help you create unique accents on your walls. Now install some LED lights behind them, and you'll not just be adding functionality to the symmetrical patterns but also make them a backdrop impossible to miss.
How to Decorate Large Walls in the Living Room
The simple answer is to find modern large décor wall ideas for the living room that are really suitable for your room's atmosphere.
Every modern living room thrives in sharp, neutral, bold, or minimalist pieces. Colors like white, beige, crème, navy, and black instantly add an appealing backdrop to your space without the need to utilize over-the-top fixtures. On the other hand, the style can quickly switch from relaxing to sleek and sterile, depending on the art prints used. With a modern living room, the key is finding simplistic minimal décor ideas that won't clutter your space.
So, before you get creative, decide on key factors like:
Do you want the wall to look busy?
Do you have enough budget for extra large pieces?
Will a single large-piece fixture create the desired effect, or do you need multiple smaller ones?
Decorating your living room will prove more fun and less challenging if you know exactly what you want. Here are two rules to help you decide on the perfect long wall décor ideas for your living room.
Consider Your Style: What atmosphere do you thrive in? Will serene colors or bold themes create the mood and vibe you want? Once you know what you want, you can easily narrow down your options.
Consider the Wall's Size and Shape: Every wall differs. So designs they accept will vary. Be sure to choose a décor idea that complements its architecture.
Don't be afraid to get creative! Conventional elements won't always give you the standards you aim for. So, try something fun by adding a few unexpected designs and styles to your large walls, and you'll be amazed at how refreshing your living room will look.
FAQs
What Can I Put on My Large Living Room Wall?
You have limitless options on things that can go up on spacious walls. All you need to do is decide whether you want a simple, vintage, contemporary, or modern look. The simple rule with decorating a space is that anything works. So, the possibilities are endless. You can choose to go with carved panels, large mirrors, art printables, canvas, botanical plants, tiles, shiplap, floating shelves, abstract art, printable quotes, watercolor painting, or even wallpaper.
How Can I Decorate My TV Wall?
Large wall décor ideas for the living room with a TV ensure that when turned on or off, your TV will easily blend with the interior theme of your space. If you have a big, floating TV, a simple eclectic lighting fixture or minimalist yet boldly painted walls will be a refreshing addition to your theme. But, if you own a small television, be sure to surround it with art.
Conclusion
Sometimes, a blank wall may seem like an uplifting and refreshing theme for living rooms, especially when you have it packed with various luxury appliances, bold furniture, and colors. But, more often than not, such walls appear lifeless, feel neglected and give your space a boring, monotonous theme not worthy of a lounge. For this reason, utilizing every square inch of the vertical space, whether with mirror ideas or panels, light effects, wallpaper, paintings, and even canvas pictures is essential. The bottom line is that using the right large wall décor ideas for the living room you can make your lounge the favorite part of your home.