13+ Alluring Rustic Bathroom Ideas You Are Sure to Love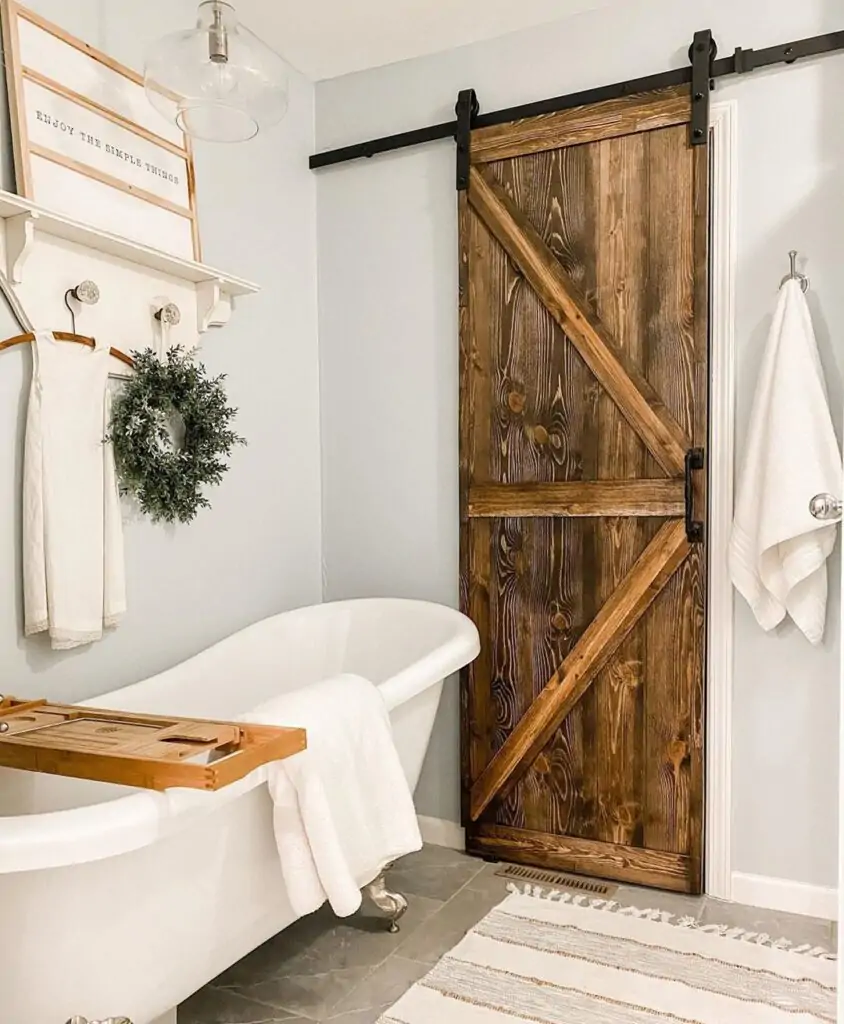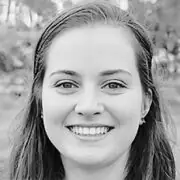 When seeking inspiration for the best rustic bathroom ideas, it might seem all you can find these days is the modern farmhouse look. More often than not, you won't find many articles featuring unique ideas that feature genuine rustic decor for your bathroom.
Let's halt that sad trend: check out the ideas below to find inspiring – and authentic – tidbits that will help you create the ultimate rustic design for your space.
1. Rustic Bathroom Wall Ideas
Deciding the best way to create a rustic feel in your bathroom should start with the walls. This is likely the largest surface area you'll need to cover when revamping your space, so it's best to make it count.
The outline of your room will set the stage for your creation. Choose a design that defines your intent for the remainder of your project. Do you want to give your space a sleek and modern design or prefer a rough and rugged side of things?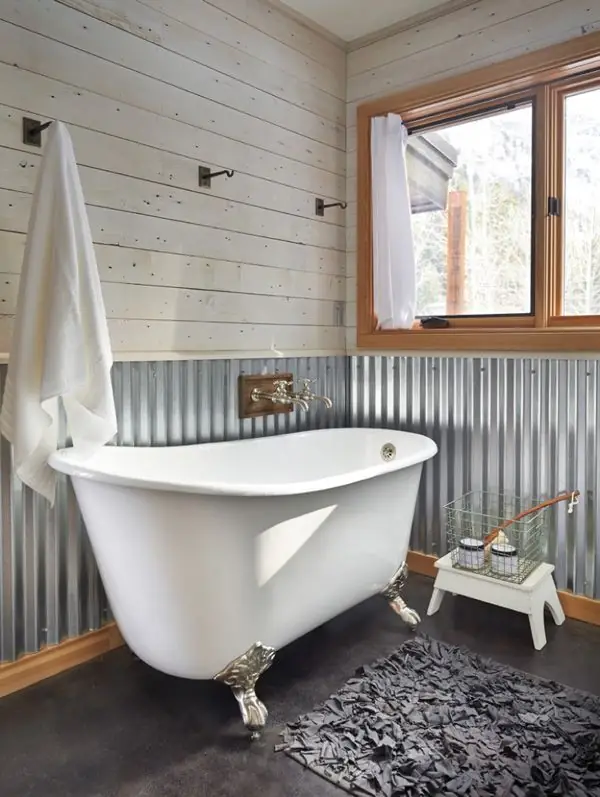 a. Stacking Pallets
Pallet wood is an excellent way to add a rural feel without breaking the bank, putting it at the top of the list for rustic bathroom ideas on a budget. It is not uncommon to find pallet wood for free. Some local businesses are generally just glad to get them out of their way.
You can stain your boards the same shade or use several different ones to give the look of your walls more depth. You could even add in a few panels with a turquoise stain for a more modern and colorful effect.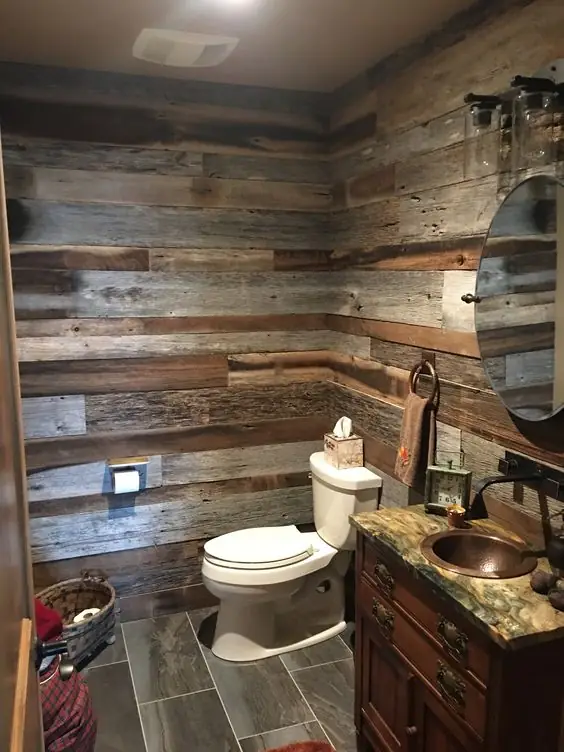 Want to know how to put up a pallet wood wall? Check out the video below:
b. Grandpa's Old Chicken House
Tin sheets make for a great accent wall or backsplash. If you are brave, you could even go all the way around the area with them. Buying metal sheets is not the only option you have: you can also salvage old pieces of metal to create even more authenticity.
Using metal in an interior design plan is a growing trend. It is also budget-friendly and easy to use. A little adhesive on the wall and the back of the metal panel, and your room will have an entirely new look!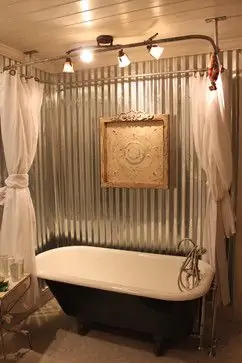 c. The Log Cabin
Wooden log-covered walls make for a cabin lover's dream. With this theme, every bubble bath will feel like a mountain retreat. Add pine or another nature-scented candle to the room to duplicate the perfect Rocky Mountain vibe.
There are plenty of choices available regarding wood stain shades. Choose a darker wood for a cozy sense or a lighter wood to brighten the room and make it seem more extensive.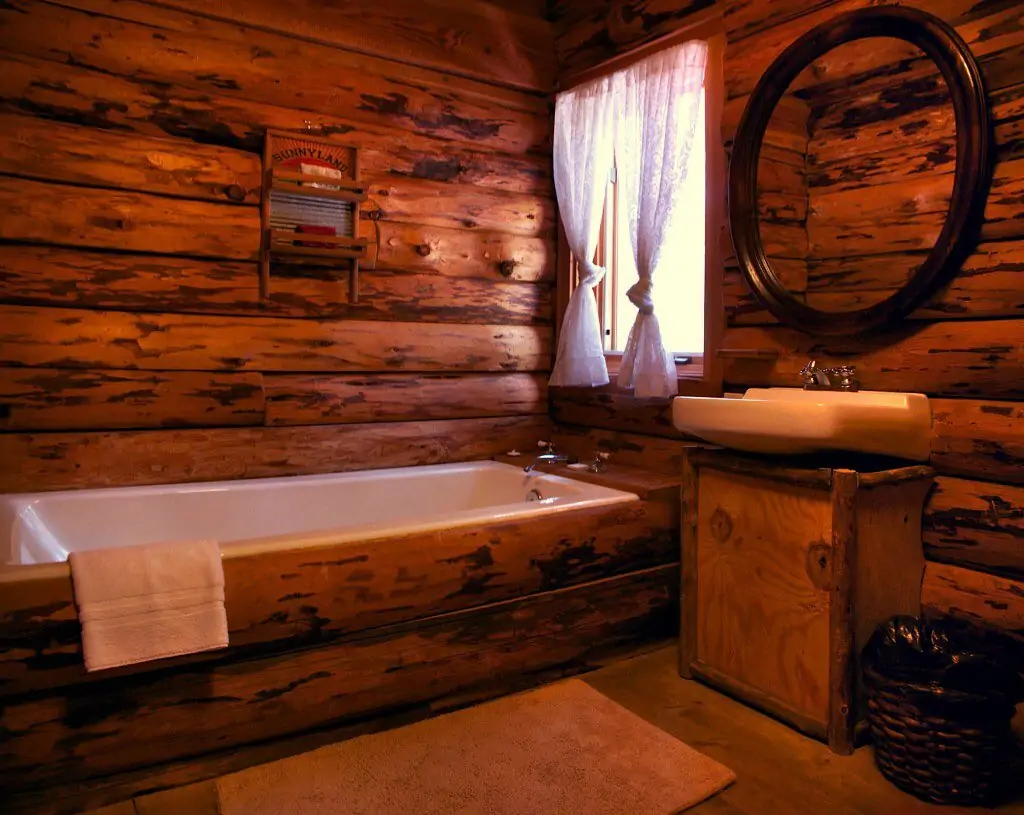 2. Rustic Bathroom Floor Ideas
Next up, you'll need a plan for your floors that compliments your design for the walls. Again, these two things are closely linked to achieving the overall theme you desire. For instance, do you want to bring elements directly from nature? Or do you desire a more modern look?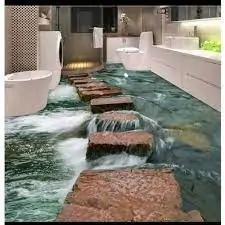 a. Chiseled in Stone
Nothing says rustic or country bathroom ideas like this stunning stone floor. This DIY floor is a simple project that will save you an impressive amount of cash on your bathroom makeover.
If you want to have a more elegant stone look, you can purchase flooring to look like virtually any type of stone imaginable. You can also create your own pebble floor by using resin and a few other materials. Do you want floors that feature a trendy, modern design? Or perhaps you prefer a DIY approach that adds an extra level of depth to the location.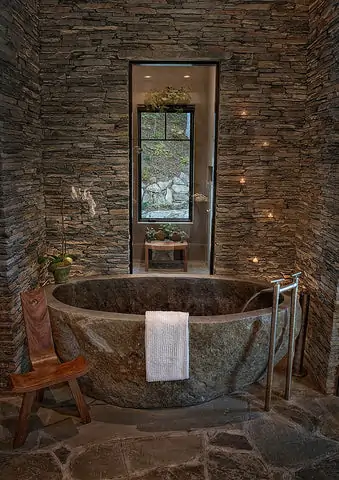 For a tutorial, check out the video below:
b. A Sturdy Foundation
It's crucial for floors that are frequently exposed to water to be as durable as possible. If you opt for a concrete floor, you won't have to worry about water damage.
Before you think of a dull, gray slab and decide that this option isn't for you, keep in mind that concrete can be stained or painted. You'll just need to ensure that it is sealed correctly afterward. Consider using stencils to create your own pattern.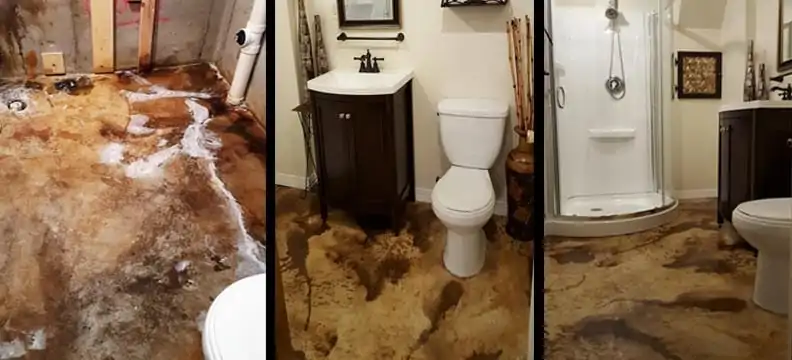 3. Rustic Bathroom Lighting Ideas
Let the radiant southern charm define the ideas for lighting in your rustic bathroom. When it comes to rustic light fixtures, you can skip the store for many and create your ideal version of the piece you love. Are you looking to brighten up your space with a trend-setting light fixture?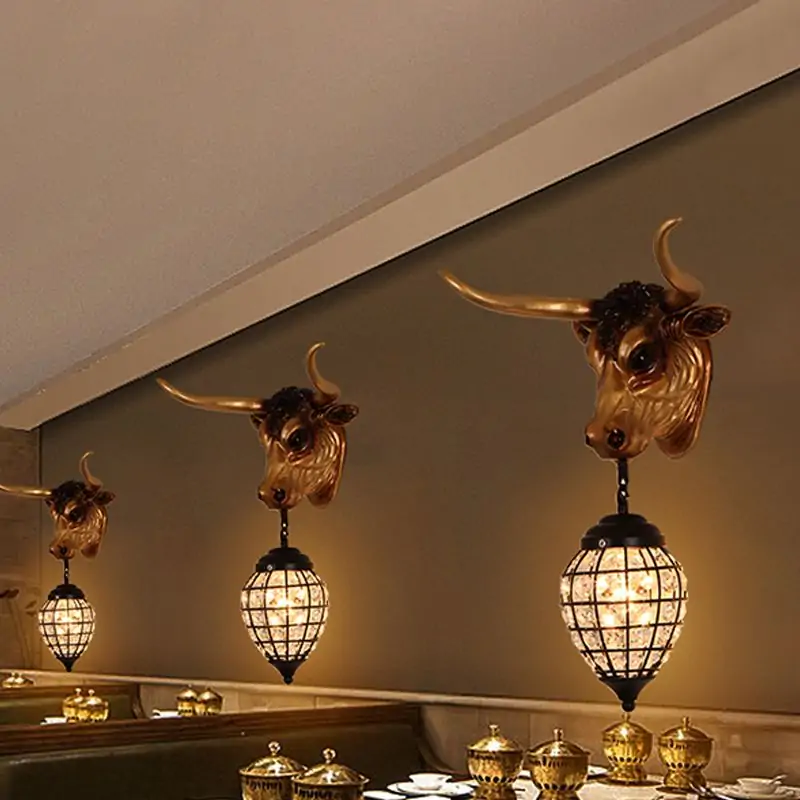 a. Where Did the Tea Go?
If you know anything about a rustic theme, you know that it won't be complete until you add a mason jar to the mix. The fairy lights inside give off a warm and gentle glow which is sure to enhance your end-of-the-day relaxation. This is one of the most adorable simple rustic bathroom ideas.
Given their popularity, finding this type of lighting premade and ready for use will likely be the least complicated part of your recast. In addition, the style is easily recreated if you want to make your own version yourself. After that, you'll just need a new favorite glass for your sweet tea.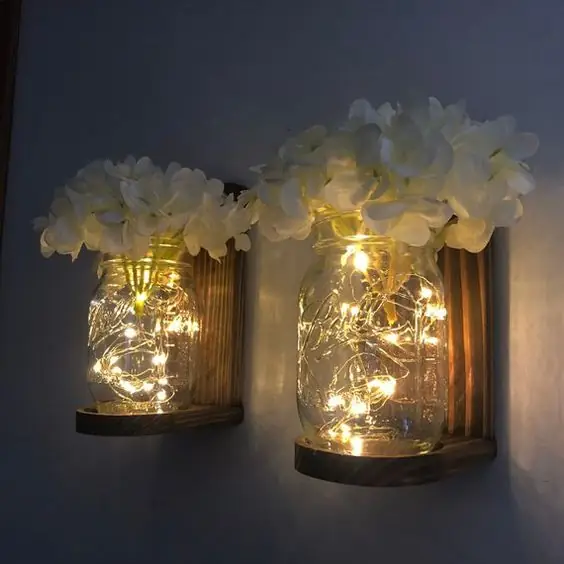 b. Stories by the Campfire
Lantern lighting is commonly associated with a farmhouse decor scheme. However, when the right ones are selected, you can give the entire space a nostalgic summer camp vibe. You can purchase modern lantern fixtures or repurpose an old lantern depending on the level of country charm you seek.
Lanterns can be featured not only in a country-themed setting but also in the garden, farmhouse, and chic decor methods.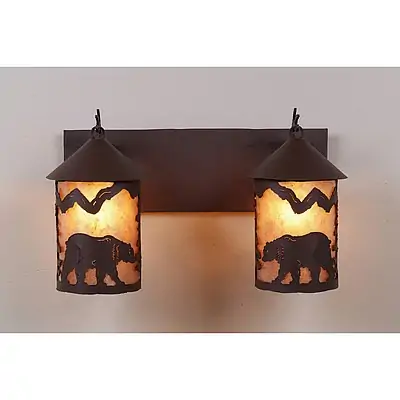 4. Rustic Bathroom Sink Ideas
You've heard the term "everything but the kitchen sink" more times than you can count. Then again, when seeking an original bathroom sink idea, it's more along the lines of "anything but a bathroom sink."
A trend that's on the rise is to use something that's not a sink as a sink. The more outside the box you think, the better. From bowls to barrels, anything goes.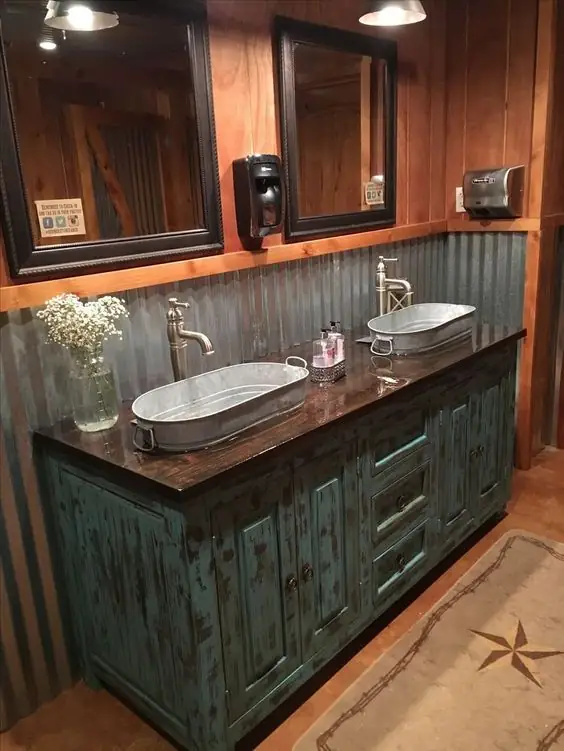 a. Down Home
With adequate finishes to prevent rust, any copper bowl can be transformed into the ultimate bathroom sink. Designs range from simple to elaborate to convey the desired depth of your decor scheme.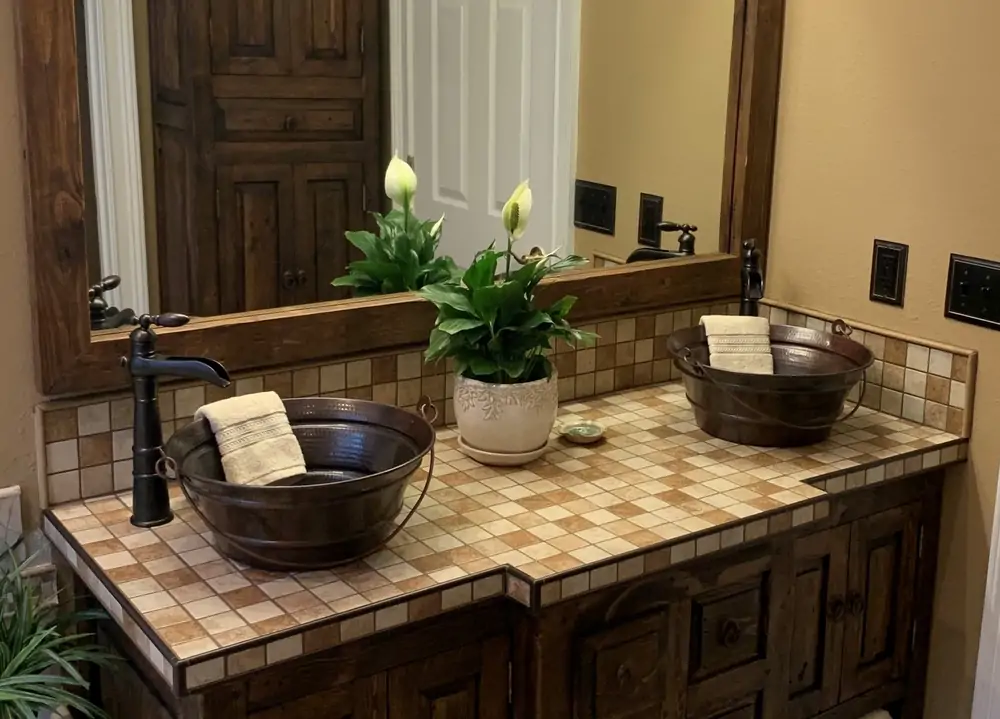 b. The Bottom of the Barrel
A space-saving pedestal barrel sink sits among the best rustic ideas for small bathrooms. Online vendors have barrels already equipped with the needed plumbing features, but they can be on the higher end of the price chain. So if you're on a mission to revamp your washroom for the lowest amount, consider finding one that needs a little TLC and turn it into your vision.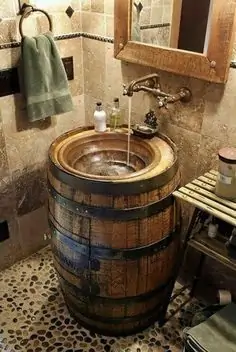 5. Rustic Bathtub Ideas
For a bathtub that corresponds with the rural feel of the room, the possibilities are limitless. The best thing about this theme is that if it seems a bit too unique, it'll probably be the next trendy bathtub idea.
You can spruce up your regular tub with a rock or wooden border. Even better, find something that was never intended for bathing in the first place.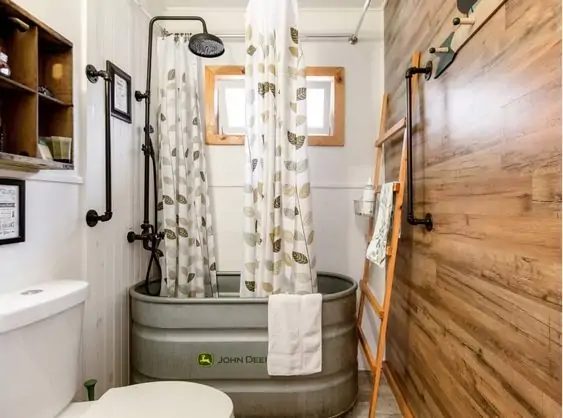 a. The Rocky River
Nothing completes a country design like a stone that looks like you pulled it from the river and added it to your home. You can decide between a rock that looks rough and rugged to enhance the effect or find a stone that has a smooth finish for a modem twist.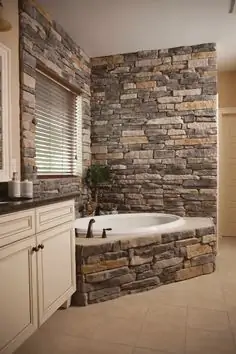 b. The Watering Hole
You may be surprised to discover precisely how many farm feeding and watering tools you can use as a bathtub. While the idea may seem a bit absurd at first, once you choose your trough, you'll understand the obsession that has made this design solution such a popular tactic.
You can pick from items already optimized for bathing. Alternatively, if you fall in love with an object that isn't already equipped, the transformation is a pretty simple task.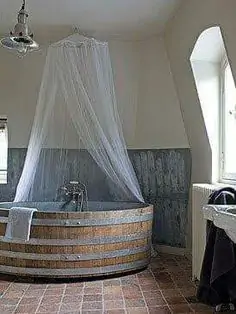 6. Rustic Decor Ideas for the Bathroom
Lastly, finding the best and most unique rustic decor for your bathroom is all it takes to fully complete a flawless look. This is where you are supposed to let your creativity take flight and keep an open mind. Remember, with this design idea, there are no wrong answers. Instead, define your rustic vision and bring it to life.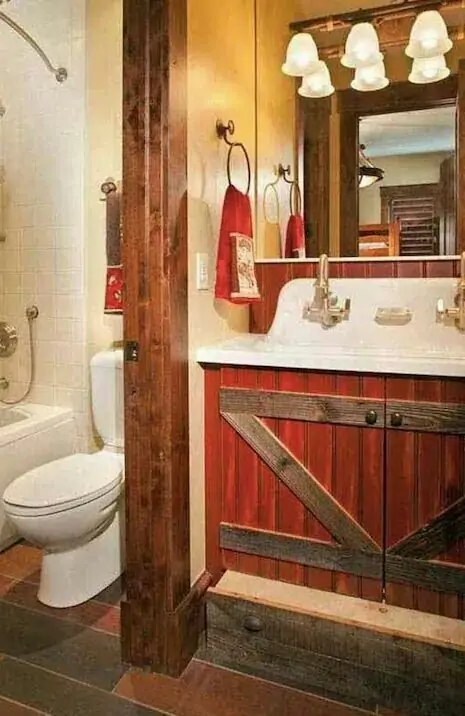 a. A Natural Element
Find a synthetic version of a natural element and add it to your decor. After all, the whole idea is to give the area a rural and natural look. Adding artificial trees, vines, flowers, or even animals will take this style to the next level.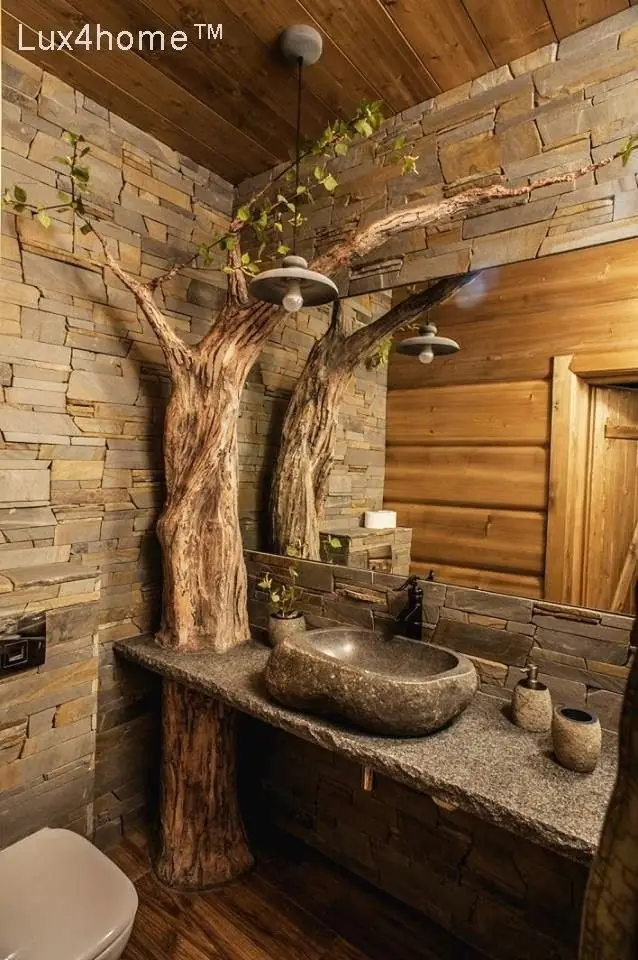 b. Trendy Themes
Give the bathroom a theme that features a trendy design. Consider using ideas related to barns, cows, or elements of nature to come up with the perfect decorative items to feature.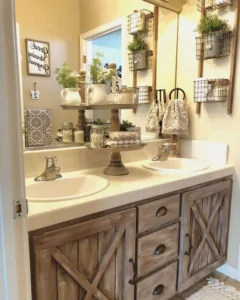 Begin your Project
After scrolling through many of the best rustic bathroom ideas, your inspiration should be in full swing. So take advantage of creative motivation and get to work on bringing your vision to life. Creative motivation generally comes in spells, so put it to use before it evaporates.