13 Simple & Clever Layout Ideas for a Small Bathroom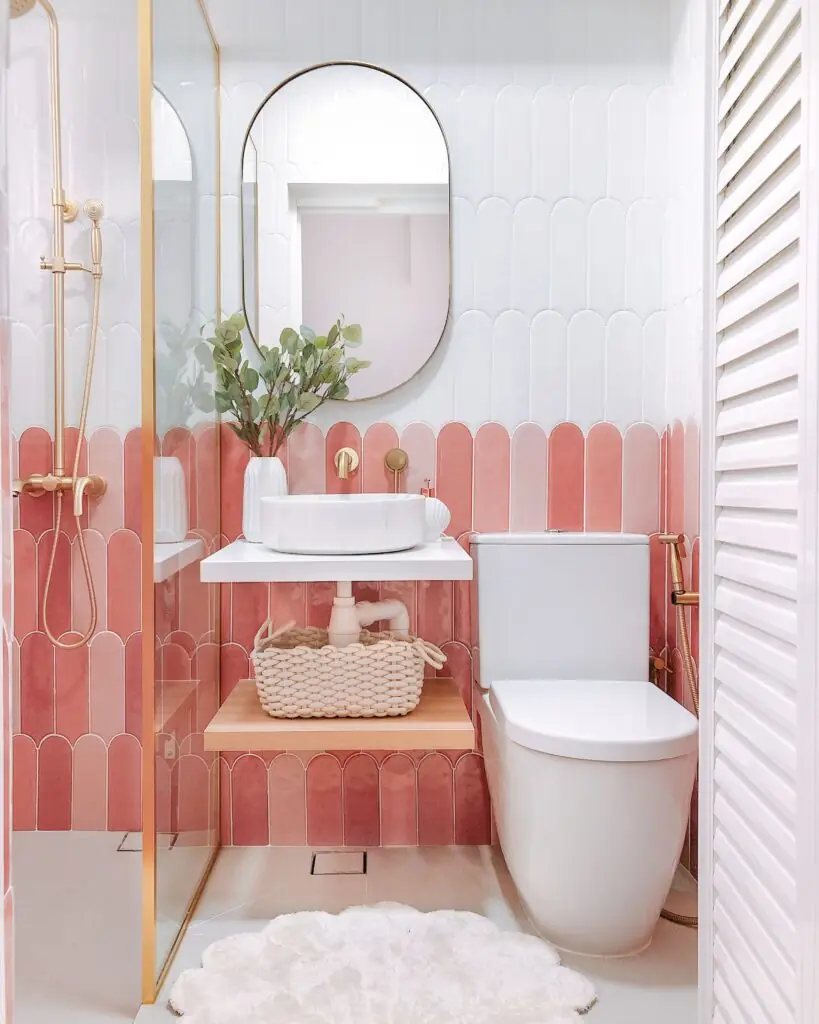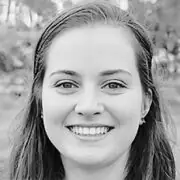 A small washroom could limit your creativity and force you to sacrifice some essentials and preferences. However, a well-thought-out layout for a small bathroom can help you retain such preferences without inconvenience.
This article outlines 13 ideas for small washrooms to maximize tiny areas. In addition, it'll highlight cost-effective ways to make a place where you bathe look more spacious.
The Perfection of the Square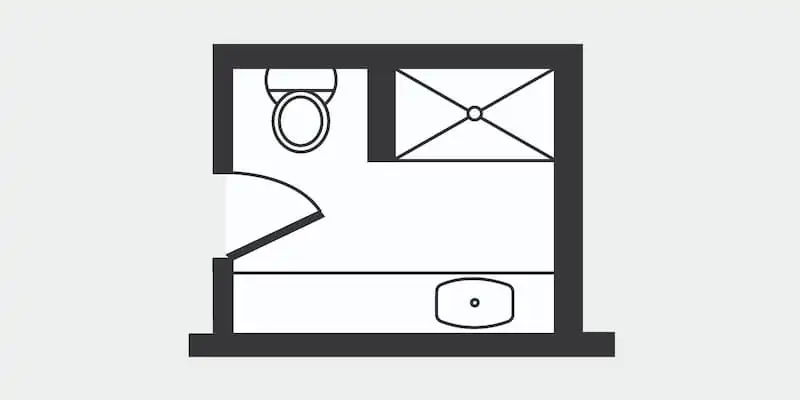 Here's a design for a small bathroom with a shower that provides sufficient floor and storage space even for a 75-square-foot washroom. This layout splits the area into halves and creates a wide passage from the door to the opposite wall.
You'll place a screened shower on the left, preceded by a toilet by the door. On the right, you'll have a vanity running from end to end with a sink or two. This design allows you to be exhaustive with decorations and even fit your shower room with furniture and plants.
You can also fit a large mirror just above the vanity, using other wall space for towel racks, wall furniture, or decorative artwork. This is one of the best layout solutions for a small bathroom because it assures comfort with ample space for the shower and toilet.
Fit Doors to Open Outwards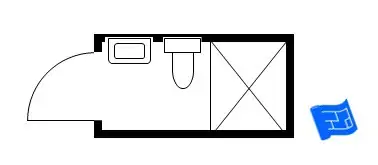 In every room, the layout design needs to consider the space that the doors take up if they swing inwards. Hence, you'll have to leave some negative space behind the doors, which certainly limits your design ideas.
On the other hand, when your doors open outward, it leaves the entire floor area at your disposal to arrange your bathing essentials however you desire and provides sufficient space for movement. Using this simple trick, you can fit a shower or a tub and still have room for a toilet, a sink, and even independent linen storage where the door would have opened.
Add a Bathtub and Full-Length Mirror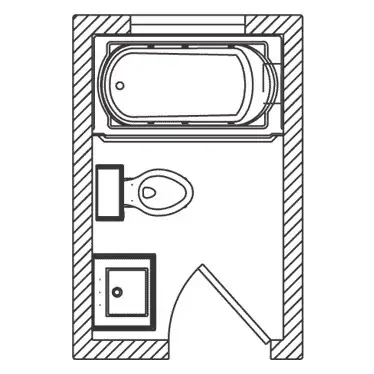 An I-shaped room can be tricky to design, but a properly segmented layout does the job satisfactorily. As shown above, you can place the door on the bathroom length but higher up so that it opens up to the vanity sink. The sink is followed by a wall-mounted toilet that leads up to the bathtub, which occupies the entire breadth of the room.
You can also choose to have a shower in place of the tub. In any case, this segmentation leaves the right side free to accommodate a full-length mirror that'll add to the visual spaciousness of your bathroom.
Simple and Independent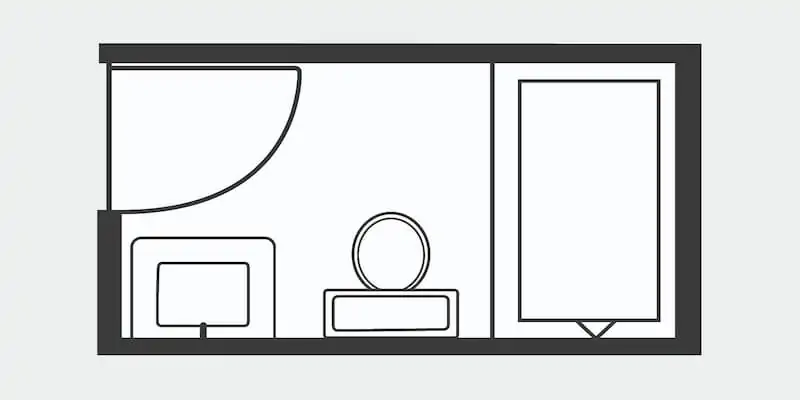 This design for a small bathroom helps improve a rectangular washroom and leaves sufficient floor space. The design places your bathtub or shower/wet room at the far end of the room, screened off from the rest of the washroom. Then you can position your toilet bowl and a single vanity for simple bathroom storage on the right, leaving ample space on the left.
The design allows a small bathroom to accommodate more than one person simultaneously without congestion. You can also place a mirror and wall-hung racks for towels opposite the toilet where the door opens. That way, you'll adorn your simple shower room even more.
Isolate Your Accessories at the Corners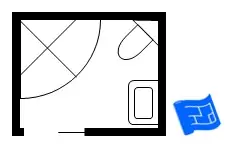 The place where you bathe may be so small that any attempt at demarcation spells inconvenience. Placing all your washroom fixtures in an open space, though functional, may seem bland and unsatisfactory. Fortunately, there's a functional, beautiful, and fascinating design for a plain square room.
This layout places an enclosed convex shower in one corner of the room, a toilet in the adjacent corner, and a sink opposite the shower, preferably a pedestal sink for space efficiency. The design leaves ample clearance for movement and enough wall space for mirrors and racks for shower room accessories.
Reserve a Wet Area According to Shape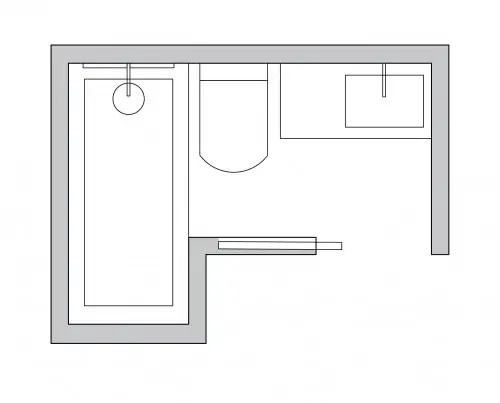 An L-shaped washroom can be designed in several ways, however small. Nevertheless, the best designs would have the sink or screened-off shower on a longer width. Afterward, you can choose to arrange your sink and toilet however you desire.
In the above design, the bathroom door — note that it is a sliding door that maximizes the room's length — leads to the vanity sink. The toilet comes after the sink, just before the bathing area, leaving enough wall and floor space for extra decorations.
Create a Powder Room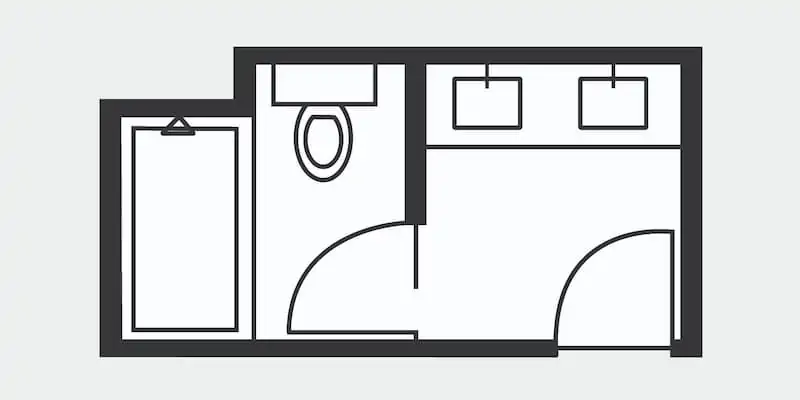 You might not be a lover of wet rooms but still insist that wet and dry sections be apart in washrooms, even tiny ones. If these are your thoughts, this layout for a small bathroom with a tub is sure to please.
The design requires segmenting your tiny washroom into two. Depending on the available space, you can separate them using either a door or just a screen. The main door in this layout opens to a dry powder room with a vanity, a linen closet, or an accessories shelf. Beyond that is the wet section with a tub and toilet, preferably wall mounted, to maximize space.
This separation design allows you to get the feel of a master bathroom in your small area. What's more, it's great if you get visitors often. This way, they can use your sink without entering the wet zone.
Place a Shower and Tub at Opposite Ends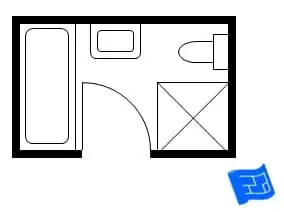 One major way of saving space in a small bathroom is to replace the bathtub with a shower. However, this layout for a tiny bathroom shows how you can still keep your bathtub and even add a shower without having to expand the room.
With your door in the middle of the room's length, you can place a screened bathtub on one side and the shower and toilet on the other side. Your vanity will face the door. That way, you'll always have a dry powder area, even in such a tiny space.
This design is especially convenient if you are not a fan of washroom storage because there's only room for storage inside the vanity. Still, you can also use wall spaces for racks and shelves; however, the design guarantees sufficient floor space to accommodate multiple users simultaneously.
Adjust to the Shape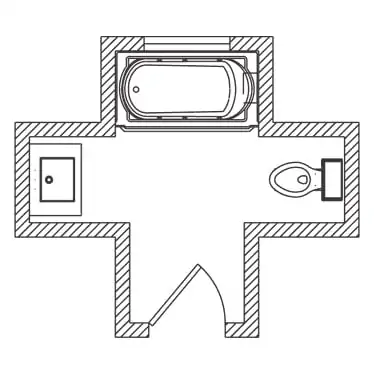 Designing an awkward-shaped room can be a challenging task. Still, here's a simple yet impressive layout for a t-shaped washroom. The door occupies the first extremity, and other accessories take up the other extremities.
This design leaves so much space at the center that, with the help of sufficient lighting, you'll get a feel of a master bathroom in this tiny washroom. You may even install a tub or a simple wet room inside the larger extremity, whichever suits you.
Carving a Wet Room in Your Bathroom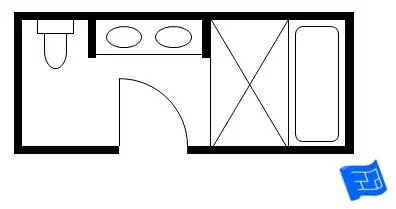 Rectangular layouts traditionally have doors on their widths. However, placing the door on the length paves the way for unique designs like the one above. This layout for a tiny bathroom allows you to install a bathtub and a shower in the area of the washroom that is furthest from the door.
You can bolster the aesthetics by choosing a cute tile layout for a small bathroom. Let a different tile design/pattern/color differentiate your wet area. You can then place your vanity opposite the door and your toilet to its left. A linen closet can also fit just opposite the toilet, leaving enough clearance in the center.
Bathtub and Shower at a Single Length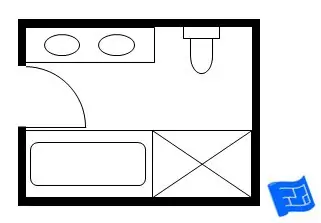 A small area with a bathtub and shower can be difficult to design, but here's a layout that makes the most of your wall length. You can place your bathtub and shower linearly on one length while the vanity and toilet go on the other.
This simple idea not only maximizes floor space but also provides more storage opportunities, welcoming a double vanity without further congesting the room. You can still have a large mirror above the vanity and a piece of art just opposite the door to further beautify your washroom.
Use Sliding Doors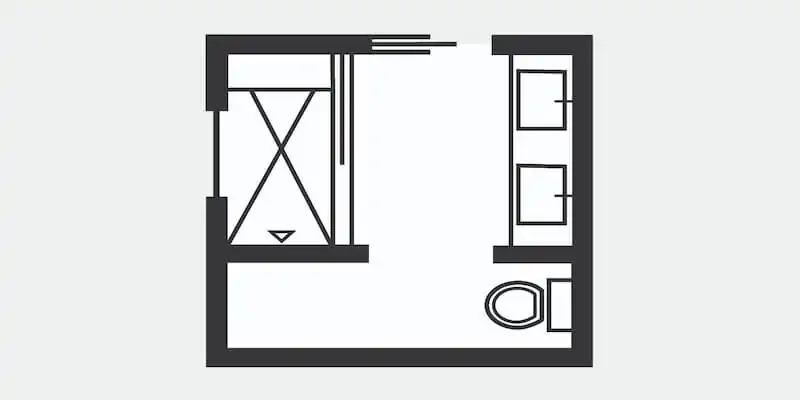 You can also make demarcations to utilize your space as effectively as possible, as this design layout for a small bathroom suggests. Here, one-third of the washroom is demarcated and set apart for the linen storage and toilet area. Closer to the door of this square room, there's a shower area to one side and vanity tubs to the other.
Sliding doors are best for this design as they help you to avoid congestion. What's more, this layout is an excellent choice for shared spaces since it improves the privacy of a washroom by separating the shower room from the toilet area. Therefore, more than one person can benefit from this design without inconveniencing each other.
Design a Wet Room
Making your entire area a wet room is the best solution for a truly tiny washroom. Depending on its dimensions, you may have to lose the tub, but you get to keep a sink and a wall-mounted toilet right there in the bath area.
With these essentials, you can let your creativity run wild with floor and wall designs. You can introduce plants and wall/suspended racks. The lighting can be played with to give you a more exotic feel in your tiny shower area.
How to Make a Small Bathroom Look Bigger
If you're renovating or simply redesigning a place where you bathe, there's very little you can do about its dimensions. While you can easily reduce its length or width, expanding them is usually nearly impossible. However, a good plan for a small bathroom can make your bathroom look and feel bigger and more spacious. Here are some ideas you can try:
Install a full-length mirror: A large mirror in an I-shaped dimension can create an illusion of a spacious area by simply replicating the other side of the room. Beyond that, mirrors also reflect light, and the more reflected light is in the room, the more spacious it feels.
Use glass for demarcating: In contrast to regular walls that are all about sharp divisions, the use of glass will give you the feel of continuity. This happens because all parts of the washroom remain fairly visible. Thus, no matter how many boundaries you make in a bathroom with glass, you can still enjoy the spaciousness of the entire area from any of its sections.
Remove Vanities: Though they seem space-effective in combining sinks and storage, vanities can still take up reasonable space in your bathroom. In contrast, pedestal sinks take up as little space as possible and, as believed by some people, offer more aesthetic value. What's more, you can additionally install wall-mounted racks for your towel, maximizing your tiny area.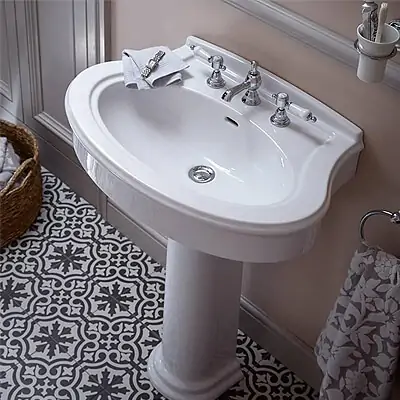 Bring in more light: Undoubtedly, the amount of light in a place where you bathe, whether natural, electric, or reflected, plays a huge role in your perception of space. The more light you can see, the more spacious your washroom feels.
Therefore, you can use more transparent blinds and add more lighting to bring more light and, thus, more space into your washroom.
Use an all-white theme: Like a mirror, white color bounces off light rather than absorbs it. As a result, when you paint the walls (and, if you would like to carry this idea to extremes, even the floor) all-white and do the same with the tiles, you get a spacious feel, however, small the room's original dimensions.
FAQs
How Can I Make My Small Bathroom Look Luxurious?
You can make a small washroom look luxurious by fitting high-end accessories. Decorative mirrors can do the trick. You can also add bigger lights and exotic shower curtains. Artworks, too, are not out of place if you have an enclosed shower area.
How Do You Save Space in a Small Bathroom?
You can save space in your washroom by swapping your bathtub for a shower. You can also make your entire washroom a wet room, installing a wall-mounted toilet and a pedestal sink. In addition, you'll have more space if you make your bathroom door open outwards.
Summary
When deciding on an ideal layout for a small bathroom, there are plenty of ways of making your space truly functional and aesthetically appealing. All the ideas we described are founded on simplicity and help you organize your accessories in such a way that you're left with ample space.