10 Best Lighting Ideas for Your Kitchen to Try Out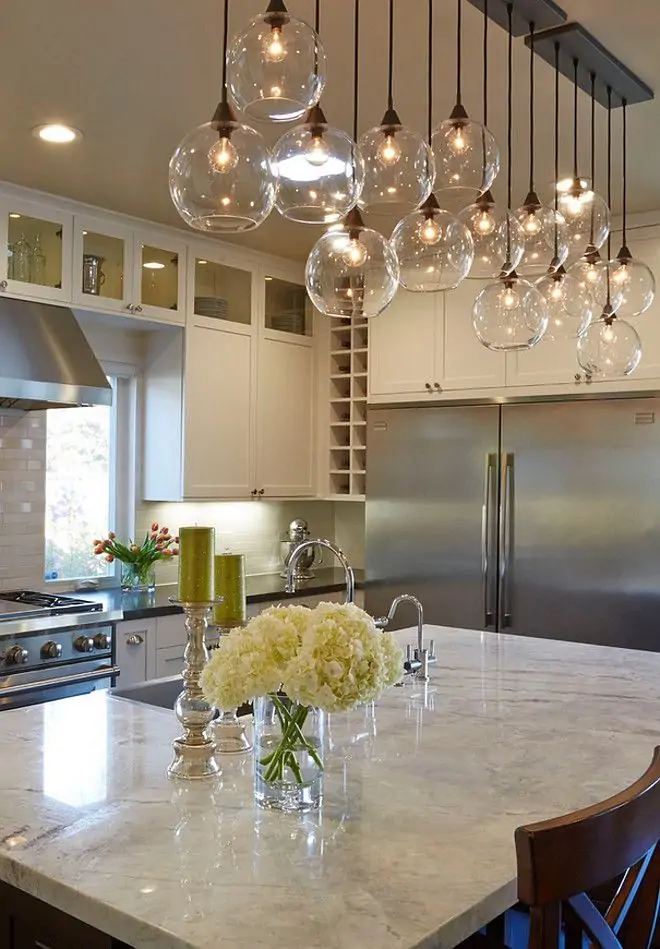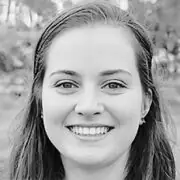 They say that the kitchen is the heart of your home, and we think your lighting should highlight that (pun intended). The right lighting ideas for your kitchen can go a long way in beautifying the theme, decor, and overall ambiance. Even seemingly minor improvements can help bring the space come alive. The right tweaks and additions can even make it look bigger, so you should certainly do what you can to optimize your kitchen lighting.
In this article, we'll tell you what lighting is best for the kitchen and share 10 of our favorite ideas that you can choose from and try out. Let's get started.
1. Install Several Statement-Piece Lights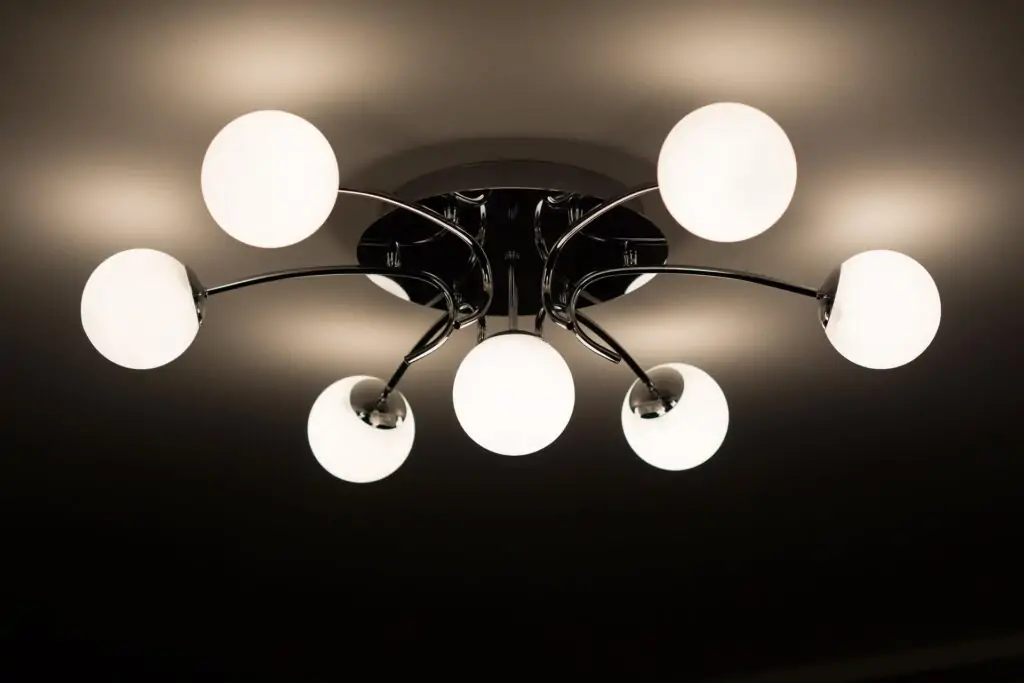 The most impactful change you can make is adding one or more statement-piece lights to the space. You should have at least one such piece that is an attention-grabber. By that, we mean the ones with that special "wow factor" that's highly likely to be a talking point or get compliments.
You can decide on an oversized option or choose a modern feature of unusual form that sets it apart from regular lighting fixtures. It could also be motion-activated or simply too big to ignore (without looking tacky, of course). A statement piece light is merely something that stands out, so you could look for unique designs and attractive shapes.
2. Get a Catchy Feature Light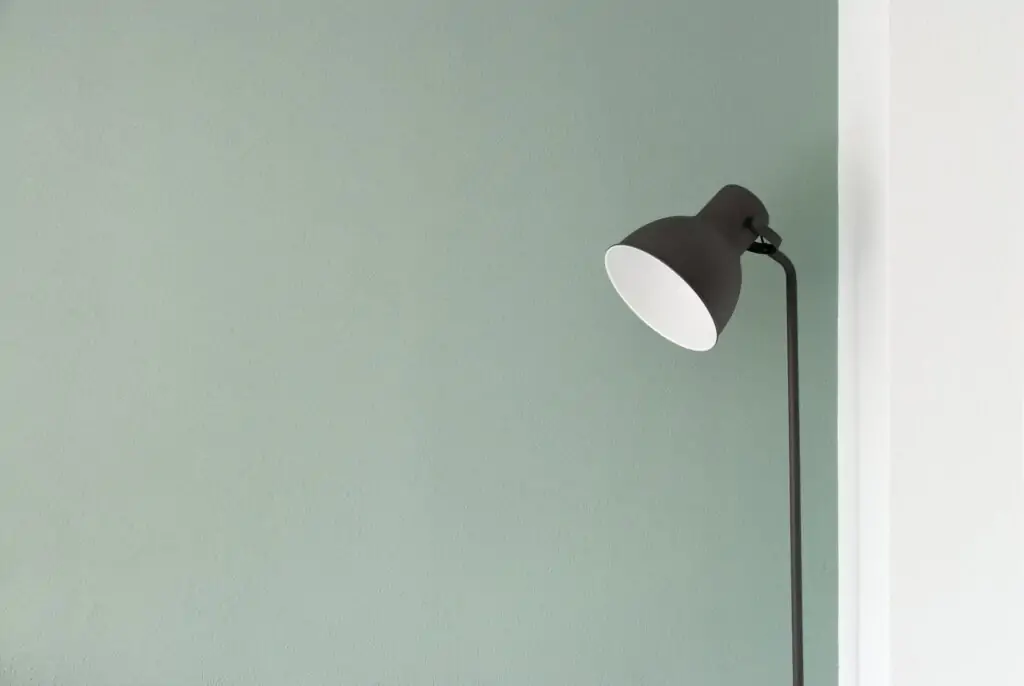 In many ways, a feature light is quite like a statement-piece light discussed above, but this one is not just for show. It can offer lots of practical utility in your kitchen, especially if it is something like a focused lamp with a vintage swing arm. Those models are adjustable and can be positioned right when you need them, whether you are doing the dishes in the sink or cutting veggies on the counter.
Ideas like this one not only add a lot of character to your cooking space but also offer a nice cozy glow in the background when all the other lights are switched off.
3. Make the Most out of Your High Ceilings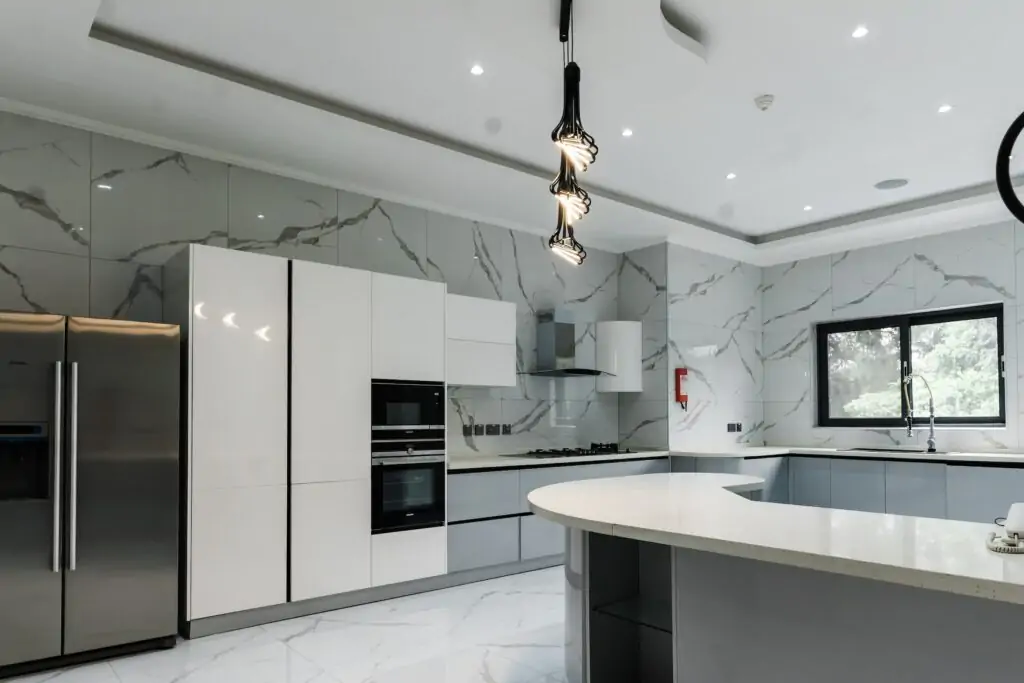 Getting some top-down fixtures installed is one of the easiest ways to make the whole setting look classy. It's even better if you have high ceilings to complement them.
Other great lighting ideas for your kitchen ceiling include long-hanging fixtures, preferably ones with reflective metal shades to help bounce their glow evenly around the space.
If you're installing more than one top-down or hanging fixture, remember to space them apart evenly. Even if your lights are beautiful, symmetrical positioning will always help you score more aesthetic points.
With hanging fixtures, make sure they are high enough not to get in the way. We would recommend leaving enough leeway to allow even a tall person to freely stretch their arms upward.
4. Wall Lights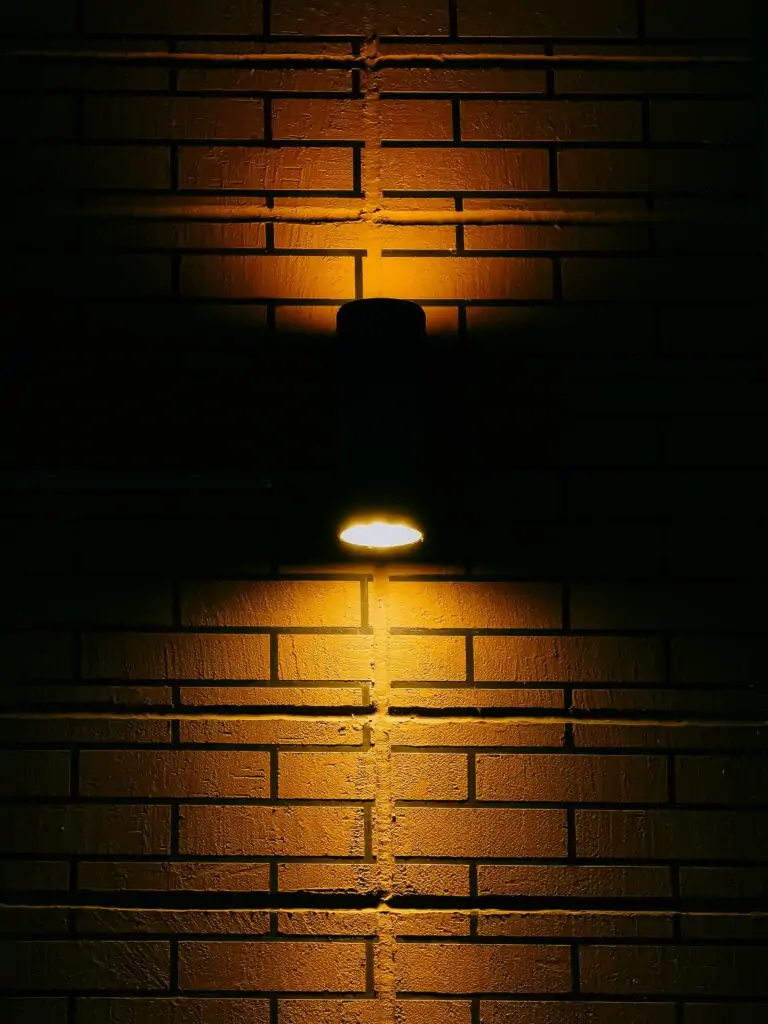 Wall lights offer tons of value in a kitchen in both practical and aesthetic ways. That is because, in most cases, there is not a lot of floor or counter space to spare.
Ideally (and hopefully) your home builders thought this through before starting construction, in which case you would have integrated slots for wall lights. If not, don't worry; you can always buy wall mounting lamps online with single-screw installation to minimize wall damage. You should look for small units with a high lumen count because they will offer the perfect blend of minimalism and practicality.
5. Get Integrated Cabinet Lighting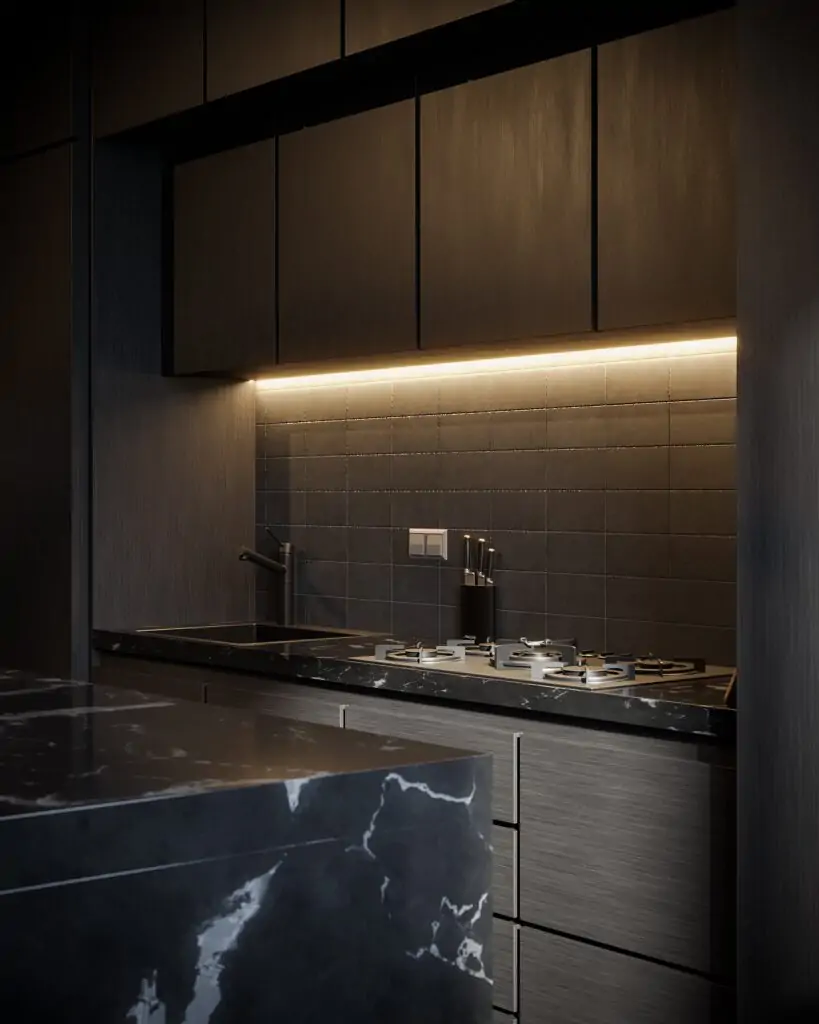 Aside from walls, cabinets are another great spot where you can install lights without taking up any counter or floor space. Lately, cabinet-integrated lighting has been picked up in trends. They are designed to replace your wall cabinet's base, offering lots of light underneath them (i.e., on your counter) and inside. Advanced variants even have a motion control feature that'll sense when you're nearby and turn on and off automatically. This way, you won't have to worry about untidy wiring and unhygienic (and more often than not inconvenient) light switches.
For a more affordable alternative, you can even get away with installing a simple LED strip underneath the cabinet. Still, this will only shower light on your countertop, not on the inside.
6. Pendant Lighting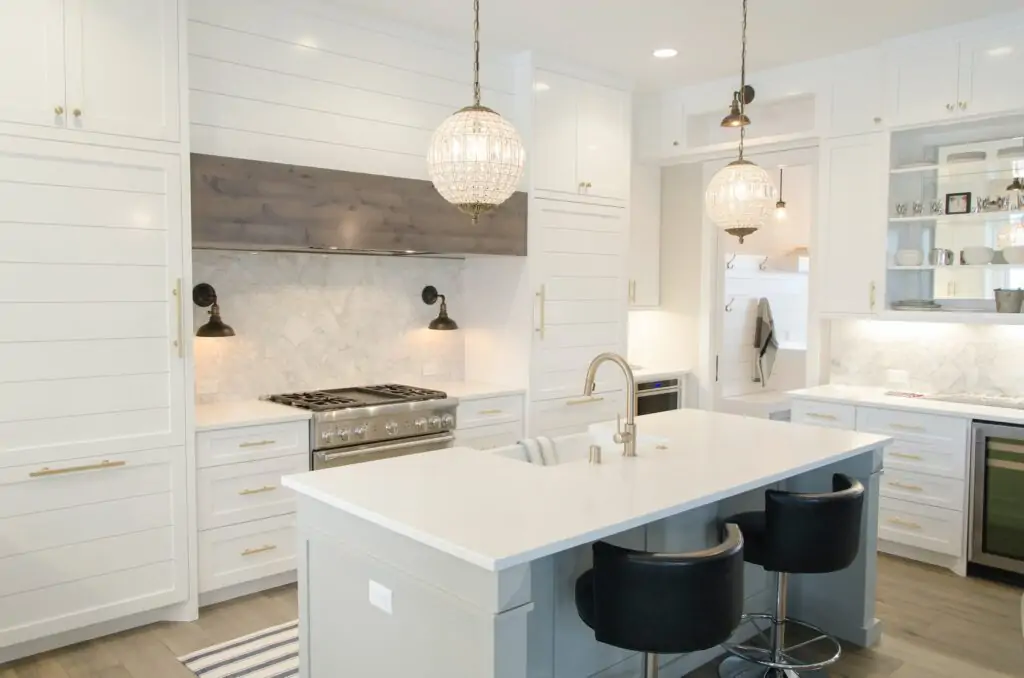 We have already touched up on pendant lighting ideas for the kitchen above, but they truly deserve a separate section. Fixtures like these are the perfect way to get just the right amount of light for convenient cooking while also making the ambiance come alive. You can install one, two, three, or even more of them, depending on how big your cooking area is.
Pendant lights are ideal for smaller-sized rooms as they have a large impact with a very low footprint (or no footprint at all, to be precise). Even 1 – 3 pendant lights can add style, glamor, and personality to tight spaces without making them feel cluttered. It's the perfect example of how good lighting can make your tight space seem luxurious, whether it is tight or not.
7. Color Temperature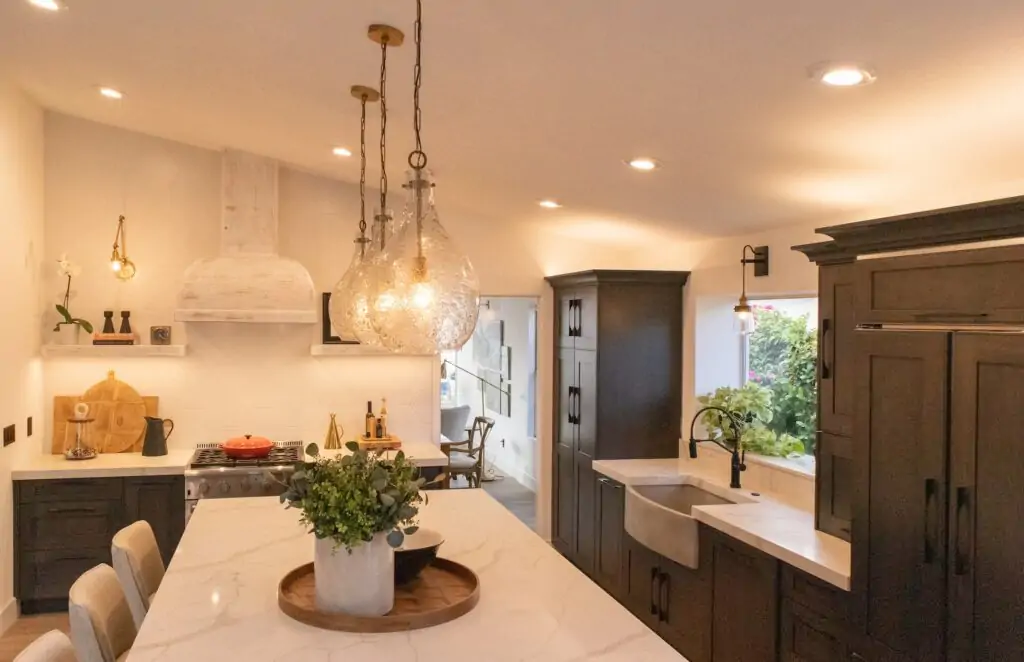 The design and positioning of your lights are not the only factors to worry about. The color temperature should also be just right to achieve the vibe you want. You would be surprised how big of a difference these subtle details can make.
Expert interior designers suggest that you maintain a consistent color temperature across all the lighting fixtures installed inside your kitchen. Your warm or dimmable LED lights should have the same tone as the standard incandescent bulbs (if any), as well as any pendant or wall lighting you may have.
If they don't match up, they'll seem odd and out of place when you switch on all the lights, so that's something you should be mindful of while shopping.
8. Minimalism All the Way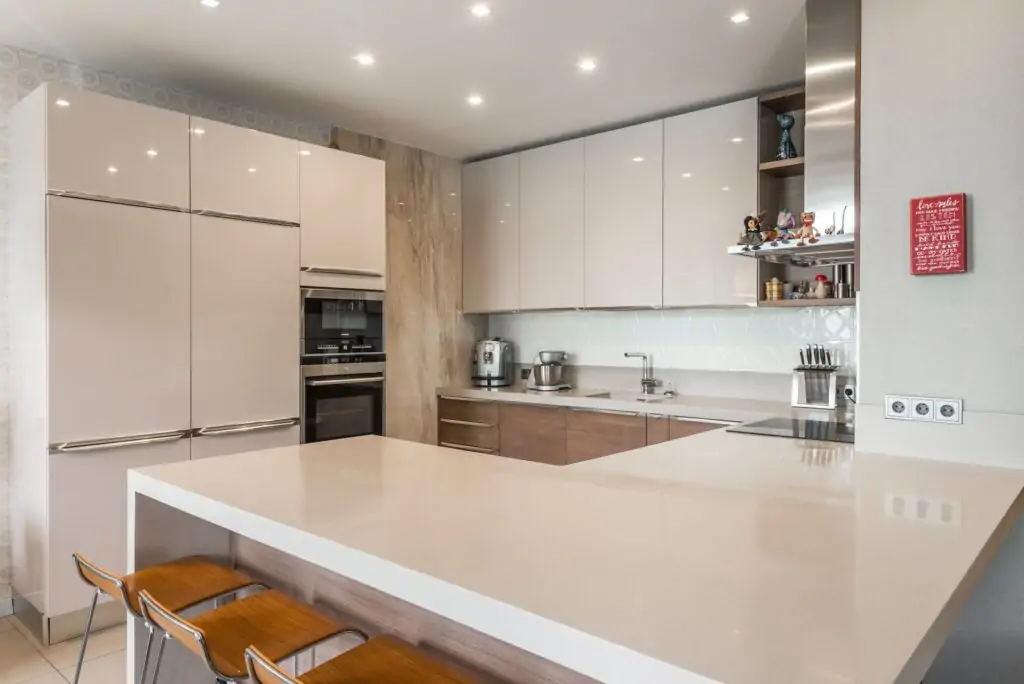 There are people who believe that bold, flashy lights have no place in the kitchen. For them, the cooking area always looks best with lights that are minimalistic and low-profile yet bright enough to be functional and aesthetically pleasing.
If you share these views and ideas, always look for subdued colors and inconspicuous fixtures. Examples include neutral-shade flush mounts, small pendants, and low-lumen hanging lights that can illuminate the space without taking up much room.
Such lighting fixtures help distribute light evenly which makes the whole setting look pleasing to the eye while still giving you enough illumination for practical use.
9. A Touch of Nature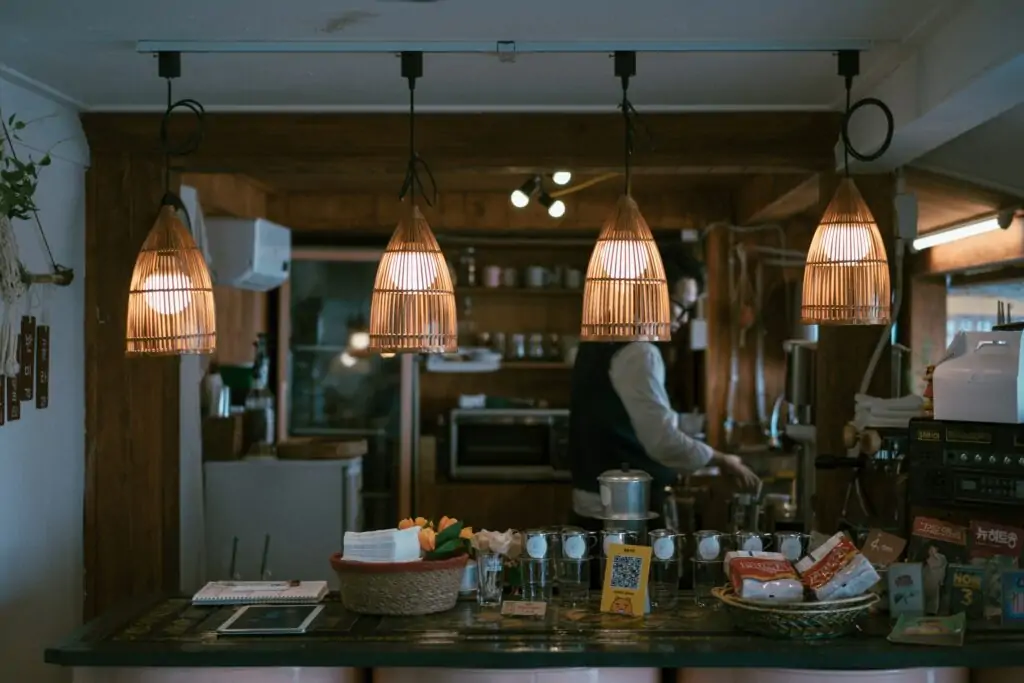 Most people think that woven jute or rattan light fixtures only belong in a list of lighting ideas for outdoor kitchens, but that's not the case. They can also be a great way to bring a touch of the outdoors inside, which especially works well with wooden flooring or cabinets that have light wood tones.
It's a great way to install a high-design statement piece without coming off as too "showy" or tacky, as the reason why it stands out is not its design but its natural minimalism.
10. Add Task Lighting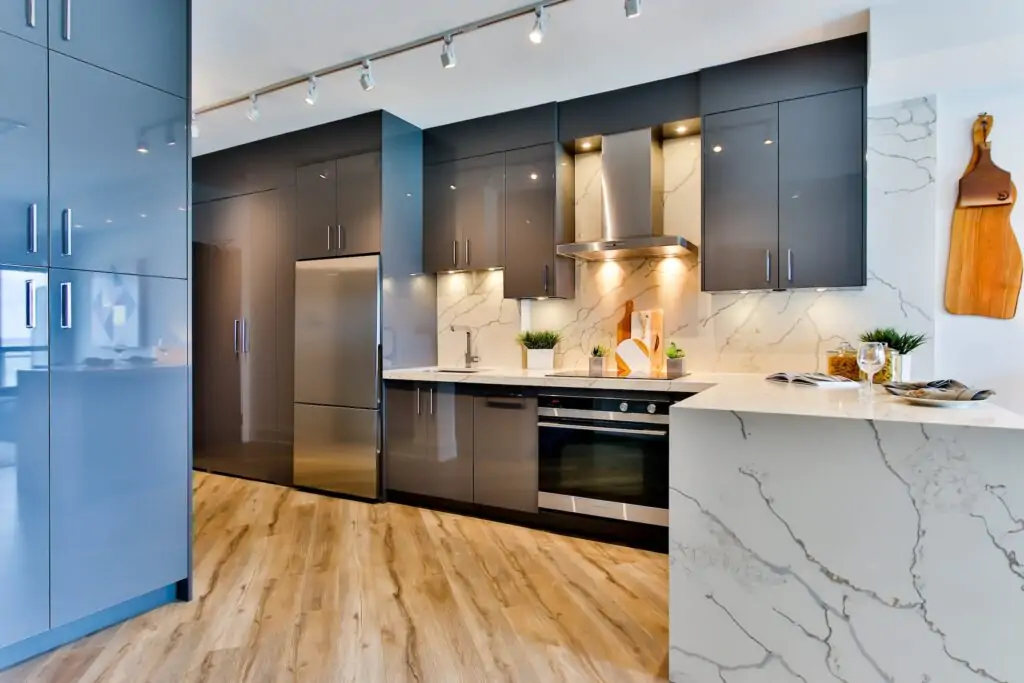 Task lights, as the name suggests, are supposed to illuminate specific "tasks" that you carry out in the kitchen. Examples of task lights include focused lamps positioned right over your sink to offer you lots of light to work with while you're doing the dishes to make sure no smudge goes unseen. Similarly, under-cabinet lights are also classified as task lighting as they illuminate key tasks like chopping up fruits or vegetables at nighttime.
There are a lot of different ways to illuminate important spots. For instance, you could get one or more of those compact LED under-cupboard downlights or simply use a compact fluorescent bulb for a lamb positioned directly above the sink. For under-cupboard units, we'd recommend putting them as close to the edge as possible to make sure they illuminate the entire countertop and not just the back half of it.
Another great option — like was said above — is to stick a flexible LED strip underneath your overhead cabinets.
How Bright Should Your Kitchen Lights Be?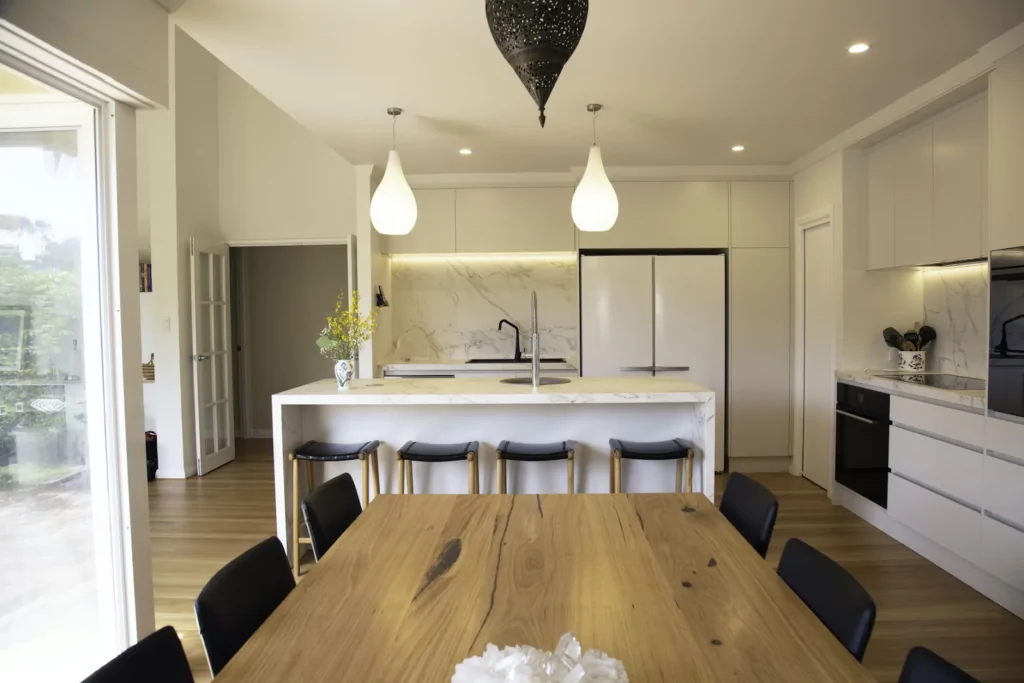 Now that we've covered 10 aesthetic ways to illuminate your kitchen, here's an important question: how bright should those lights be?
Ideally, you need about 30 to 40-foot candles (lumens per square foot) worth of light inside, but it all depends on the size of the room. If we do the math, you'd need your total lumens to be around 3,000 to 4,000 for a standard-sized 100-square-foot (9.3-square-meter) area.
Conclusion
Your kitchen is an integral part of your home, and it deserves its fair share of attention when it comes to lighting. In this article, we've shared 10 high-impact ideas to add some extra practicality, aesthetic value, and well—pizzazz to your current kitchen decor. Aside from boosting your kitchen's visual appeal, good lighting can make even a small-sized space look luxurious and cozy. A few minor tweaks can go a long way, so even if you don't think your modest kitchen space is worth all the effort, we'd still suggest giving it a shot and seeing how it turns out. Simply scroll through the list of lighting ideas for the kitchen above and pick out the ones that may have piqued your interest.