18+ Master Bedroom Sitting Area Ideas for Ideal Retreat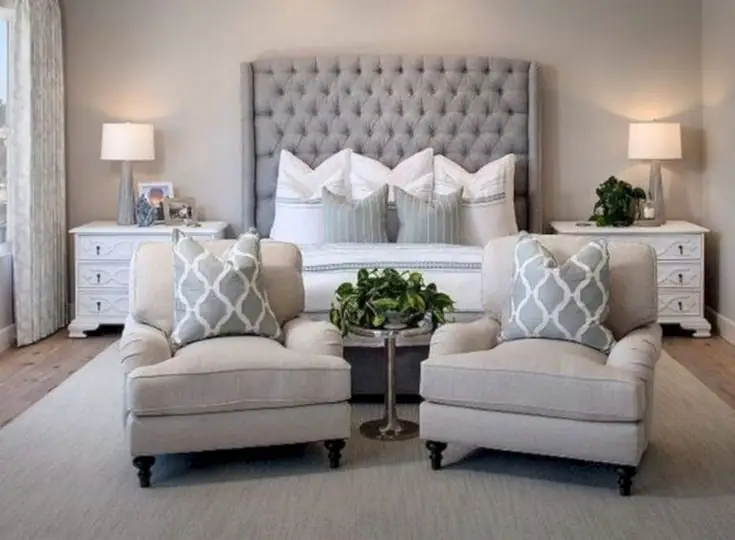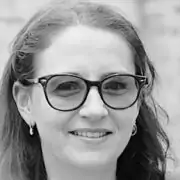 A beautiful and very comfortable bedroom: isn't it every couple's heart's desire? We gather the best master bedroom sitting area ideas to show you how wonderful your private space can be. All these design solutions are miles ahead of numerous other makeovers and will bring more functionality and coziness to your everyday retreat.
Take your time checking out various examples of master bedroom sitting room ideas. When you find your own perfect source of inspiration, your way to the stunning results will be easy and exciting.
When a Bedroom Is Quite Small: Go Light and Bold
Who says that white color is dull and out of style? The white concept is all about restful hours, sweet sleep, and a touch of luxury.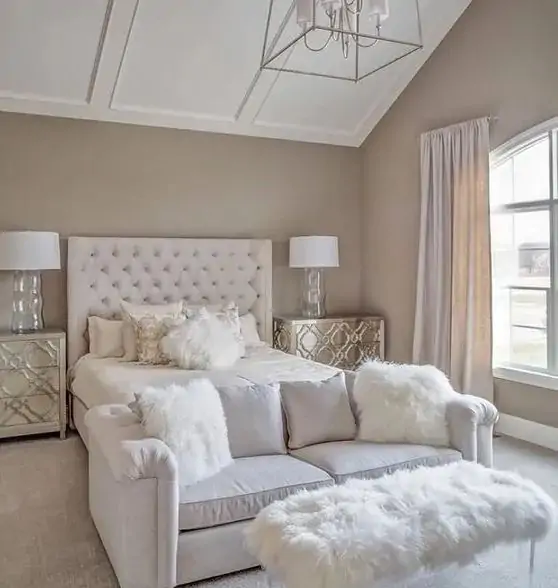 Look how properly the small sofa is placed! At the foot of the bed you can introduce not only a narrow couch but also a comfortable sofa with a soft backrest and adorable furry pillows. This is one of the most popular master bedroom small sitting area ideas, and it feels like a first-class design approach.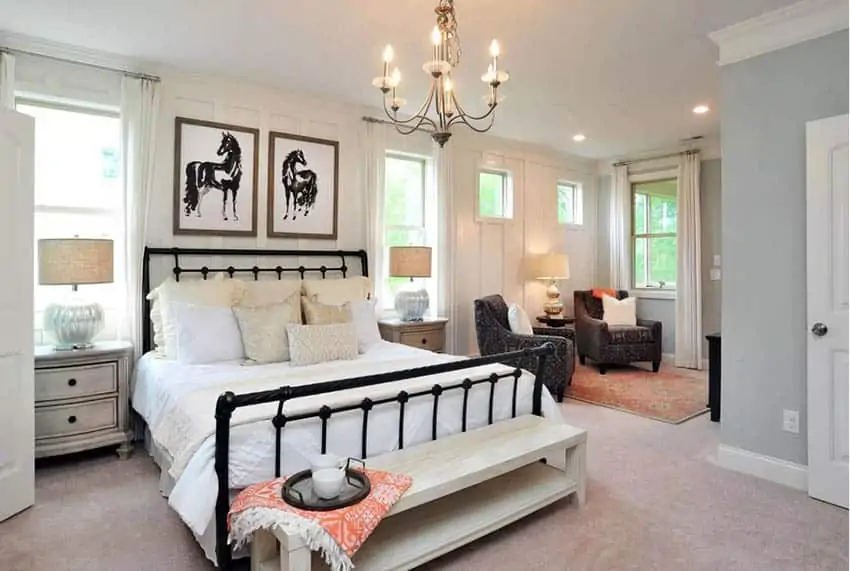 When you want to add a bold statement to a small space, use strict color contrast like, for example, a black bed and armchairs that set off a white color scheme. Spectacular, huh? Also, here you can see one of the most practical ideas of what to put at the foot of the bed. This lightweight, movable bench can be a seat, a table, or a morning exercise device.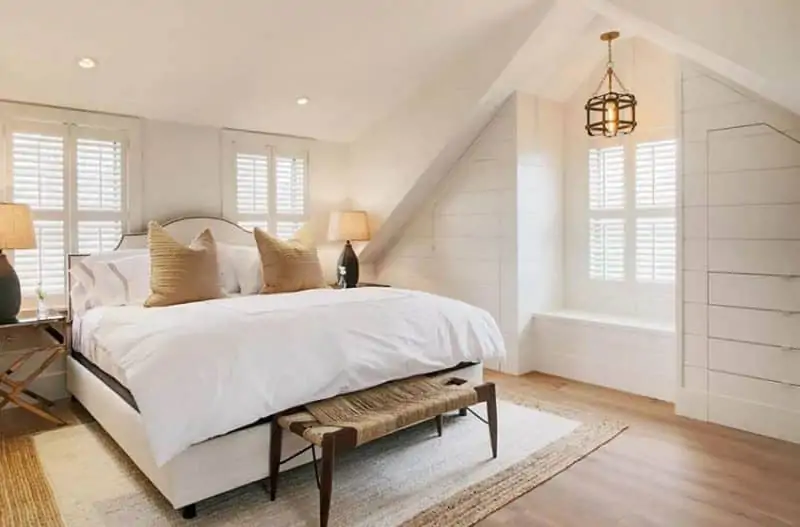 Want to have a lovely nook for a morning coffee by the window? Admiring a picturesque view is such a pleasant daily ritual! You can enjoy it even in a small master bedroom using various bench ideas for the sitting area. In the photo you can see a built-in bench that seems to dissolve into the white interior. Stop and smell the coffee: the primary rule of a happy life!
Use Classy Ideas in a Large Master Bedroom
Sure enough, there's nothing better for unwinding at the end of the day than a large bedroom with a similarly impressive sitting area.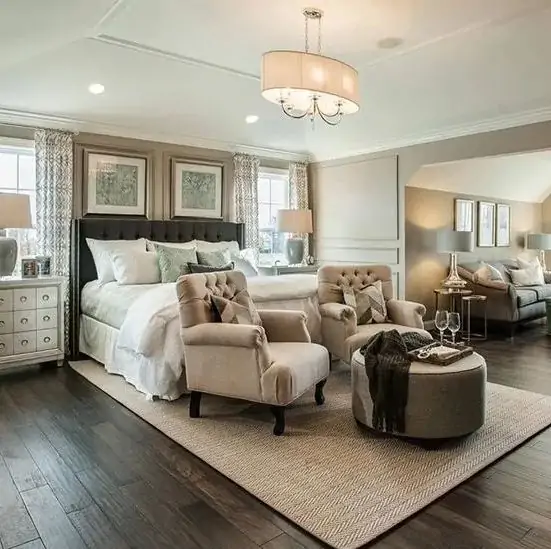 Instead of restraining your comfort requirements, dare to create a top-notch solution that includes everything you need to relax. Use sizable armchairs with padded armrests and a sturdy ottoman that can also serve as an elegant table.
The more you enjoy your home every moment you are inside, the more confidence you feel during intense days outside. If your room is large enough, meet the morning sun or relax at sunset sitting in the beautiful area by the window.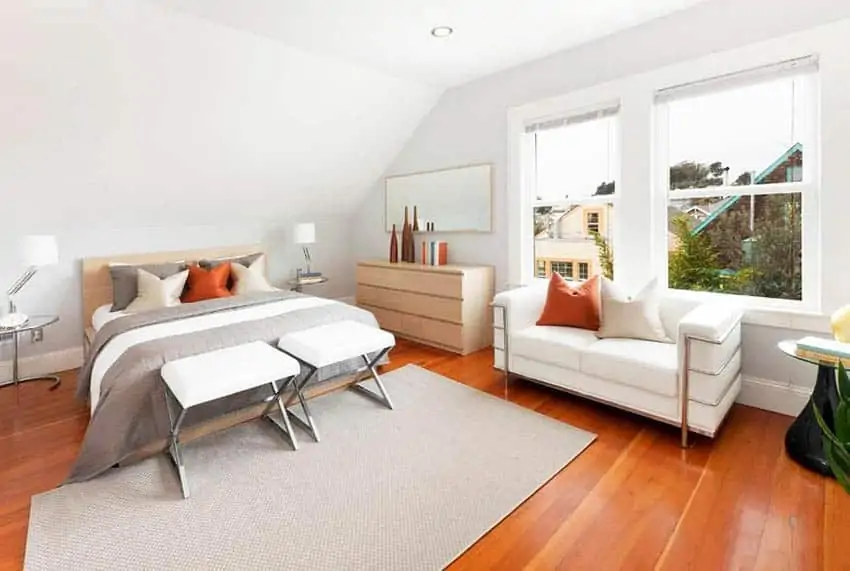 An equally attractive option to cuddle and chat is a sofa by the window accompanied by a couple of poufs by the bed. They add zest to your master bedroom because you can move them to the sofa, rearrange them to create a breakfast nook, or even use them as a small work area.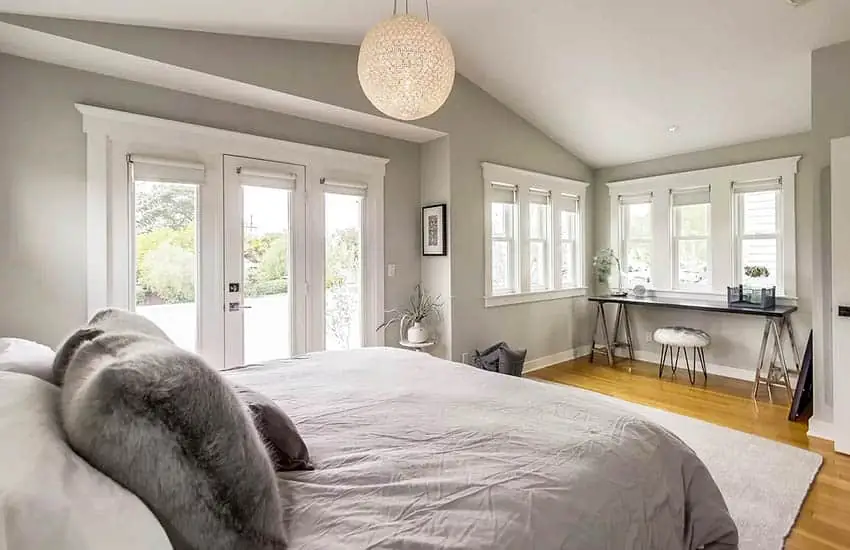 For the space by the window, you can find a variety of remarkable ideas. For instance, install a convenient table inside the window opening instead of the sill. If there are no spacious sills in your house, just place a lovely sleek table right up against the window and add some sitting furniture.
Jazz Up Your Sitting Area with Unusual Objects
When planning a special place to chat and unwind after a tiring day outside, you may want to take the bull by the horns and evaluate your master bedroom with something extraordinary. The following ideas are exactly what you will love!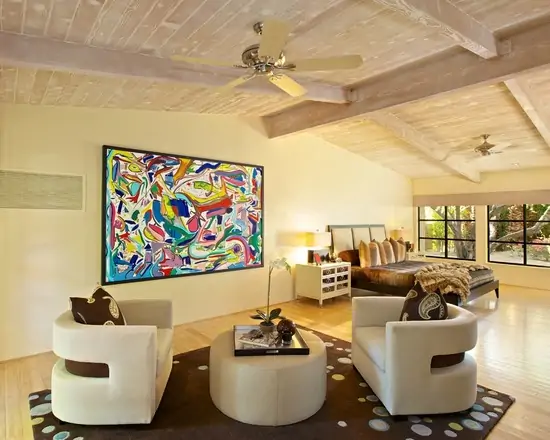 No matter what kind of art you prefer, if you are an art connoisseur, hang your favorite masterpiece on the wall to make a bold statement in the sitting area. In addition, this project is marked out with extremely comfortable master bedroom sitting area furniture for an absolute retreat in the sophisticated atmosphere.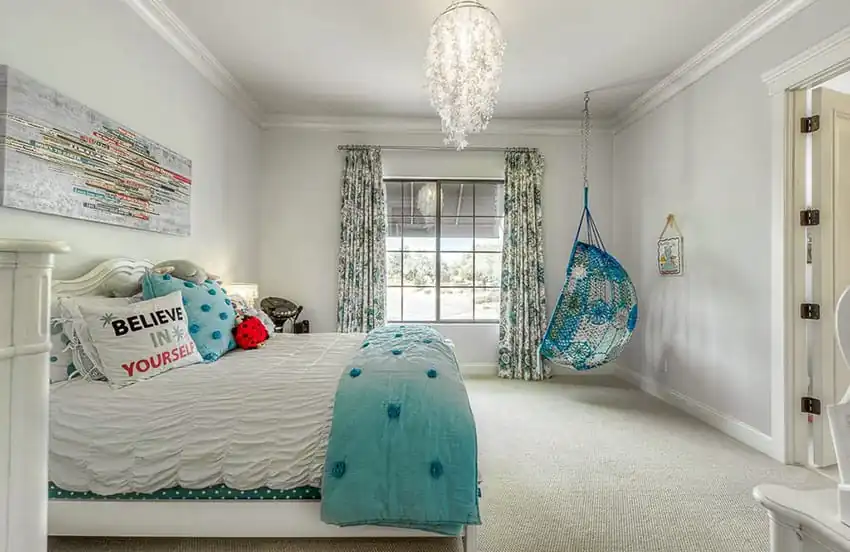 This calm interior seems incredible because of just one playful detail — a charming hanging chair in the corner near the window. Gentle swaying and tranquil surroundings will relax anyone. However, if we were developing this concept, we would add a deep, very soft chair that feels like it's warmly hugging you for maximum comfort. Two luxurious seats are always better than one!
Be Practical: Add a TV to Your Cozy Sitting Area
Among our special decoration ideas for the master bedroom sitting area a design with a TV is a sure winner. Practical, versatile, and always easy to do: you can hang up your TV on the wall or put it on a cabinet.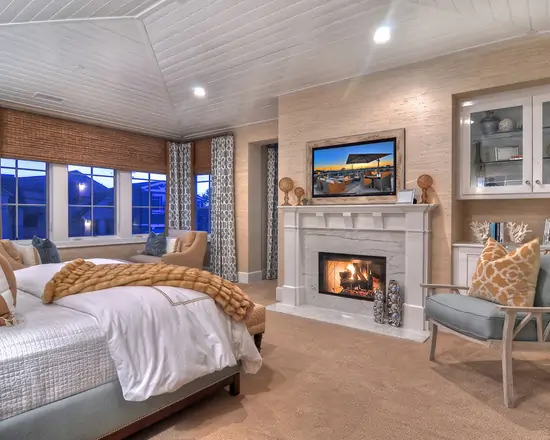 There is a large room for creativity when looking for a place for TV. For instance, make a hardline accent on the TV paired with a fireplace in front of the bed. Or elevate a whole wall with a TV, making it the only focal point of the sitting area. Sometimes the best choice for the layout of the master bedroom with a sitting area is a side arrangement of a TV zone.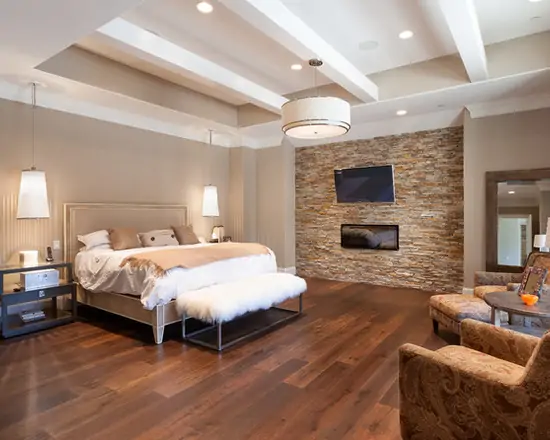 Here is an exciting way how to plan the best space for relaxation. Why not accent your TV wall with spectacular texture? So, you could watch TV and please your eyes when lying in bed or chilling out in soft chairs.
A quick tip: for the most eccentric ideas, hide the TV behind the doors of a hinged cabinet, which will not be conspicuous when closed.
Get Inspiration from Luxury Master Bedroom with Sitting Area
Want to be as cool as a cucumber after happy hours at home? Consider some luxury accents or even recreate some master bedroom sitting area decorating ideas from these ambitious projects. There are no down-to-earth designs. Besides, the photos below can inspire you to create something incredible in your apartment.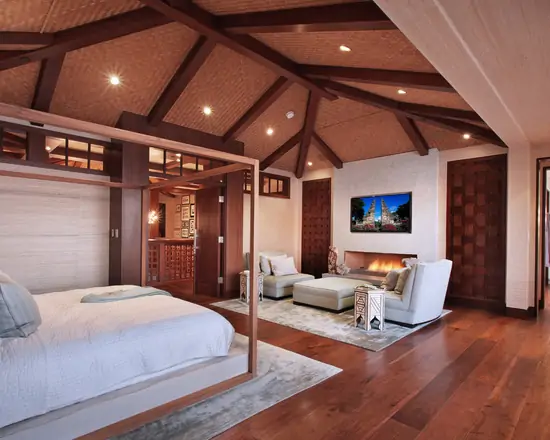 This bold solution with a hollow wood frame all over the bed has rave reviews in recent years. Also, note how interesting carpet zonation is: take advantage of textile decorations even if you don't use a lot of them. There are two comfortable chairs — you can stretch out and enjoy a TV series or flame dance.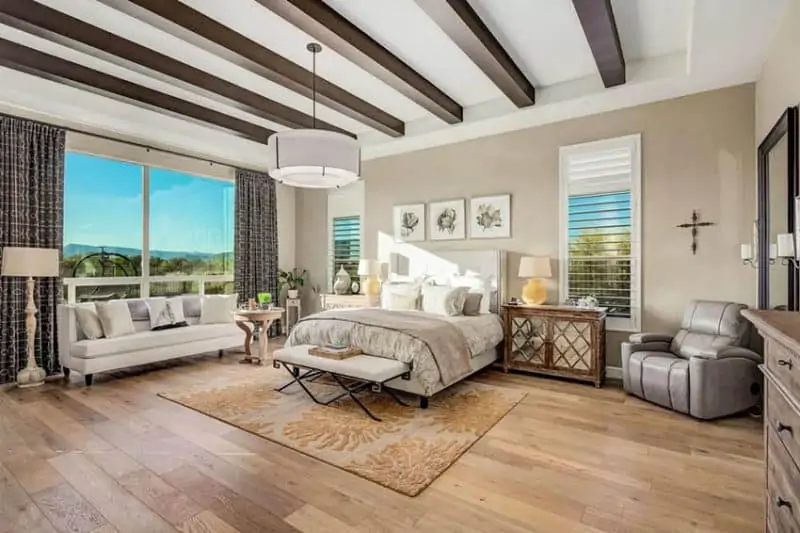 What practical approach can you choose for a really huge room? Double up your sitting area, like in the photo above. You can read on the sofa by the window in daylight, leaving a gorgeous chair in the corner for complete relaxation in the evening after a tiring day.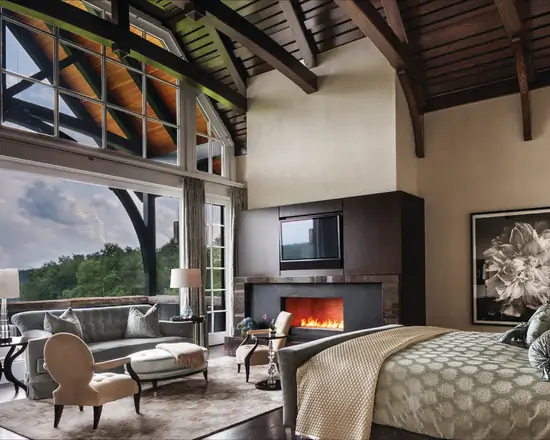 What a perfect interior of a spacious master bedroom! Truly large spaces never go out of stylish ideas and always give you a great opportunity for ultimate functionality. Varied pieces of sitting furniture, a splendidly floor-to-ceiling window, a fireplace and TV on the accent wall, and restrained design: the owners have everything to enjoy a luxury room for their rest!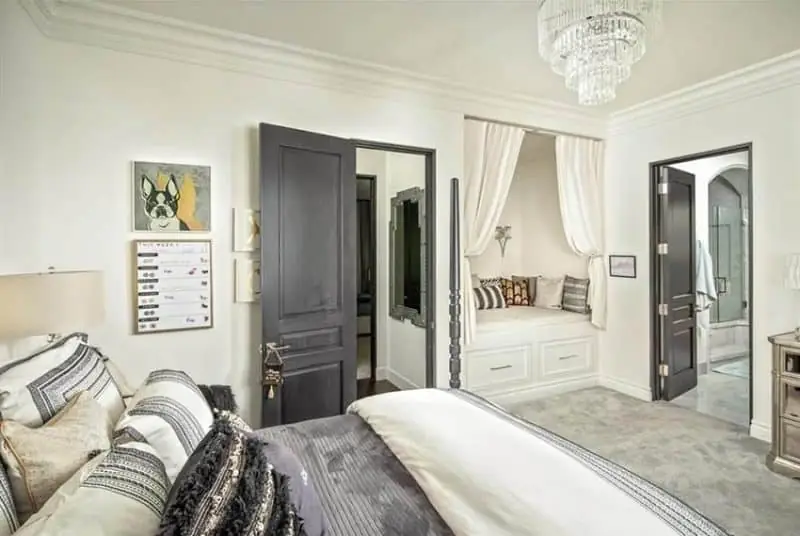 How can you enjoy two different advantages in the same room? This luxury design approach kills two birds with one stone. One evening you will immediately spread out on a royal bed, and another day you will first have a chat embracing your loved ones and hiding in a remote curtained nook.
Three Cool Ideas for the Master Bedroom with a Separate Sitting Area
If you have recently moved from a small apartment to a large house with a huge bedroom, it's a really sea change. That's why you must enjoy your first-class space as much as possible and use our cool ideas.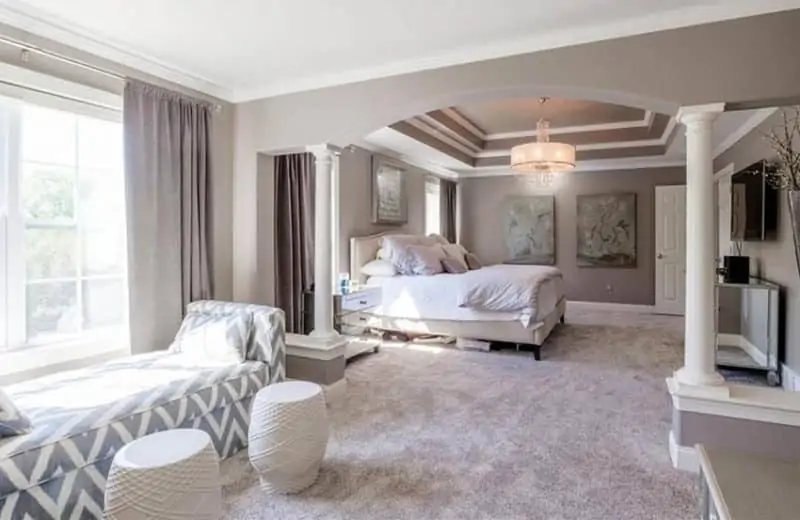 Introduce the sitting area into a specially separated zone or break your master bedroom up in another way. It will take you some time to choose an excellent solution, but as a result, you will genuinely enjoy your lounge hours. Besides, your big bed will be removed from any bustle.
By the way, a window up to the ceiling is the best place to organize a comfy relaxing spot next to. After all, any weather outside appears attractive and pleasant when you're looking at it from a cozy house.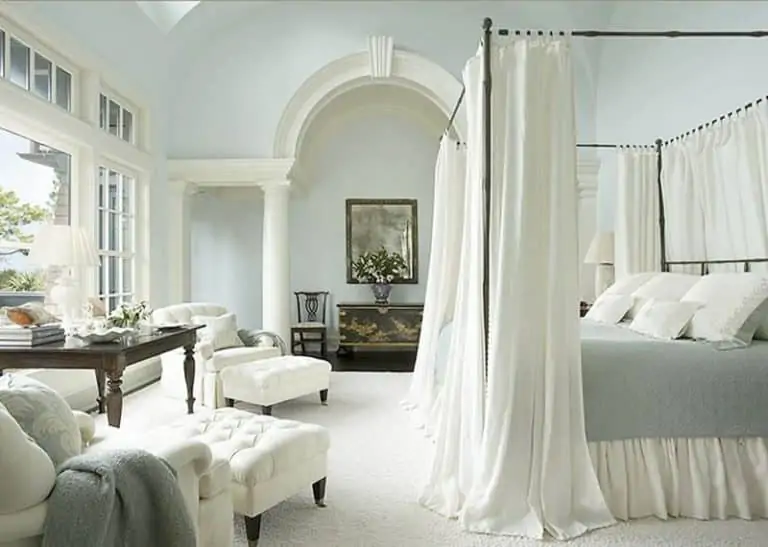 It is an out-of-this-world project, isn't it? This luxury, all-white, soft, and light master bedroom seems to be a flawless room for the royal family. Your time at home will be perfect in such an interior. Note how excitingly the bed is separated from the sitting area: the curtains create an intimate atmosphere to emphasize comfort and safety. In addition, the photo is a great example of practical design. Ample space for reading and even working at the broad table brings complete functionality to the concept.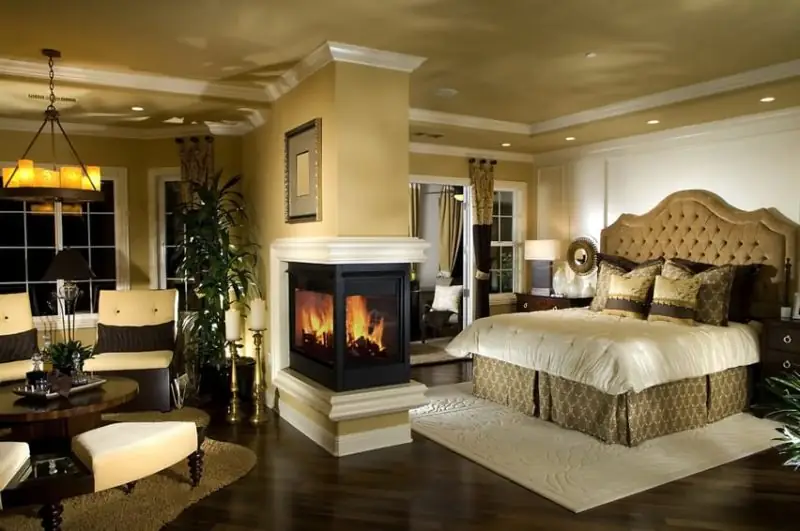 The center point of the bedroom that is not a bed: is it possible? Yes, indeed, if you can think out of the box. The folding-glass fireplace uniquely divides this space so that the flame dance can be seen from any part of the room. At the same time, every area has a semi-private feel. This layout is second to none in making a bold statement in a spacious house.Hope you've enjoyed our master bedroom sitting area ideas. Make sure to plan this lounge room so that it is comfortable to spend your time in a heart-to-heart talk or warm hugging. See you in the following review!