Best Patio Door Curtain Ideas to Inspire and Stimulate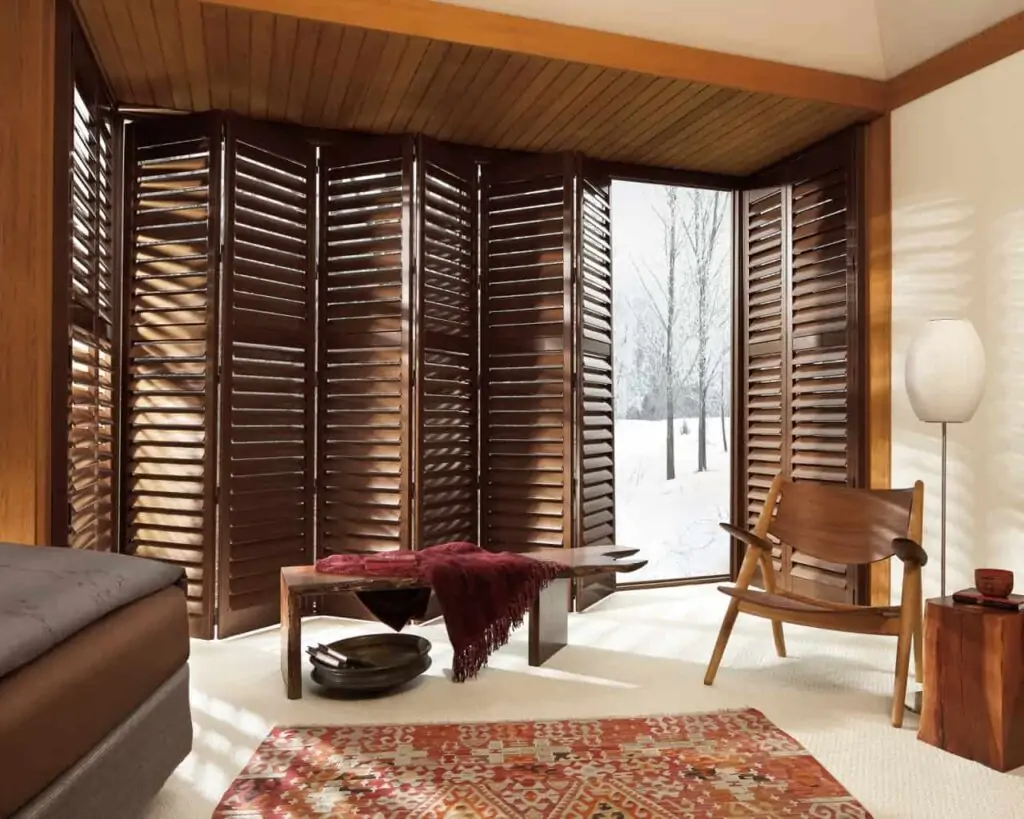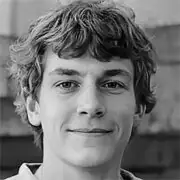 The patio is, undoubtedly, one of the essential parts of any backyard, and it is crucial that it be in the best shape possible at all times. Adding patio door curtains will add detail and personality to your backyard and will make it unique. In this article, we will show you numerous unique patio door curtain ideas to choose from. Select ones that can be good for your patio and modify them in any way you like until they become perfect for your house.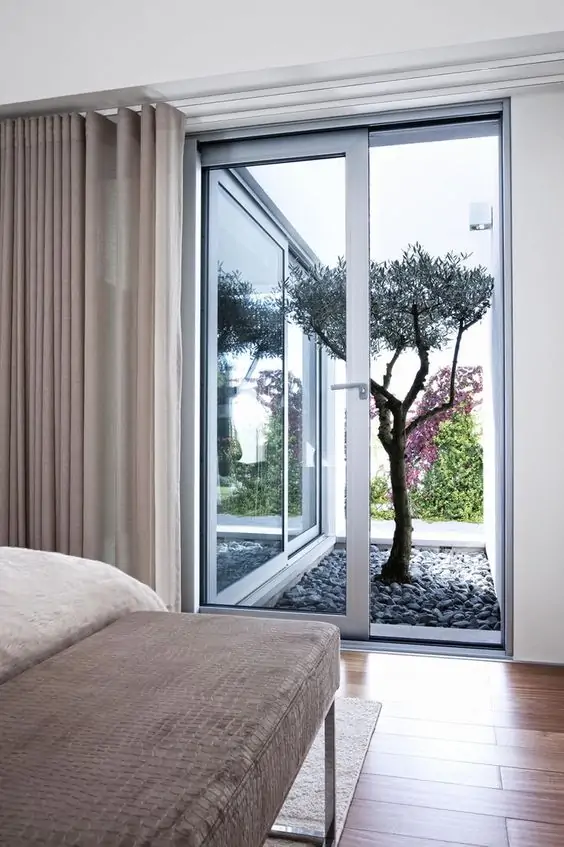 There are many types of curtains you can use to cover the patio door. Some are completely transparent and will allow most of the light to come through, while there are also ones that will block all of the sunlight.
There is also a huge variety of materials you can use, from soft silk to sturdy bamboo. The material should match the rest of the room, and it should also be able to withstand the elements. If your curtains are installed outside, you should avoid using any type of material that absorbs water and instead use either hard materials like wood or a water-repellent fabric.
1. Avoid These Four Mistakes
A lot of people make these four mistakes when they are installing new patio door curtains. You might not think that these are huge mistakes, but the first time you install your curtain the right way, you will see how much of a difference it makes.
Installing the Curtain Rod too Low
You may think that it is best to install the rod right above the doors, but in practice, it is actually better if you install it at least 8 inches above the door or about ⅔ of the distance between the upper edge of the door and the ceiling. This will make the door look taller and give the illusion of higher ceilings. The main disadvantage of installing the curtain rod too low is that you won't be able to hang longer curtains since they will lay on the floor, which is not ideal.
Installing a Rod That IS too Narrow
Another major mistake that many people make when they are installing a rod for the first time is that they get one that is too narrow for their doors and windows. The rod should be wider than the door by about 4 to 6 inches. A rod that is too narrow will make your door and windows look small and cramped. When your curtains are fully open, they should be resting next to the windows.
Purchasing Curtain Panels with the Wrong Dimensions
Before you go out to buy curtain panels, you should measure the height and width of the rod so that you will buy the panels that fit your doors and windows perfectly. The width of the panels should be ¾ the width of the rod. This will ensure that the panels look luxurious when they are closed and nicely gathered when they are open. Any wider than this will make them look too densely packed when they are open, and any narrower than that will make them look stretched out when they are closed.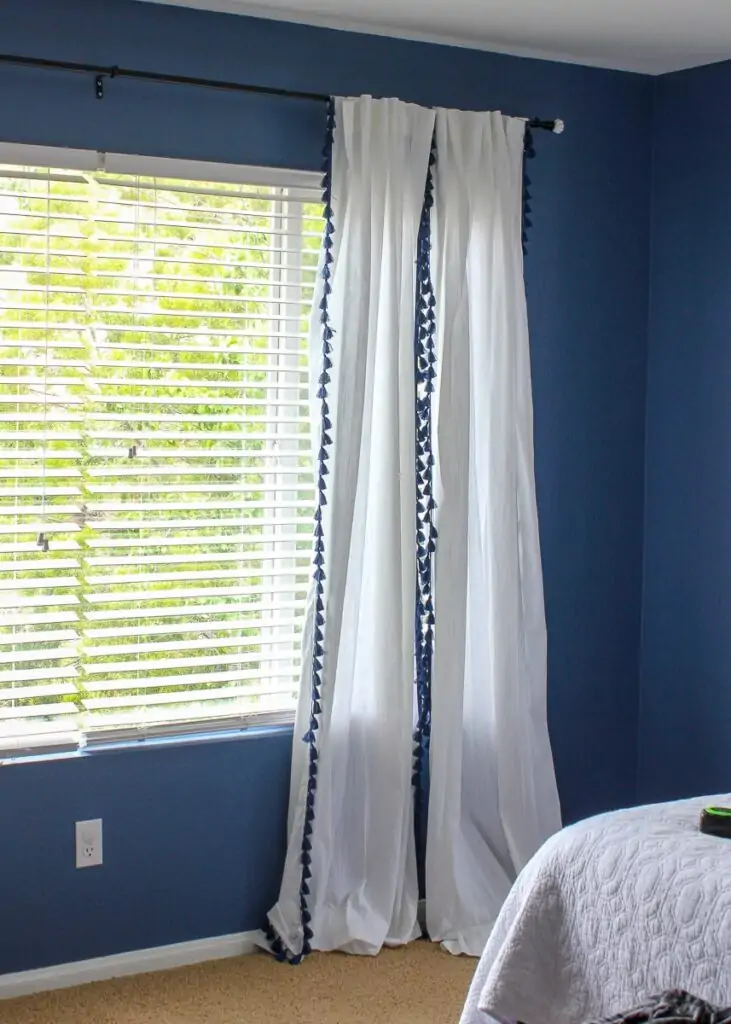 You should also avoid buying curtains that are too short. Short curtains don't look good and will make the rest of the room look smaller.
There are 4 main curtain lengths that interior designers use, and they are kiss, puddle, break puddle, and float. The only one that we can recommend is the float because the other ones may be too difficult to maintain, or you need to be extremely accurate when drawing and opening them.
The curtains should be hanging half an inch above the floor. This will give them a floating effect, hence the name float. This look is a bit less formal than a kiss or break puddle but is easier to open and draw, and it will make your room look much more polished.
Too Many Colors
The color of the curtain should either match the rest of the room or provide contrast if the room is missing some colors. A common mistake that happens all the time is when people buy curtains with contrasting colors when there is already a piece of furniture or a differently colored wall that provides the room with contrast. At that point, you are adding too many colors to your room.
2. Sliding Glass Patio Door Curtain Ideas
Sliding glass doors look good on their own, but you can make them look even better with curtains that match their modern appearance.
You Can Never Go Wrong With White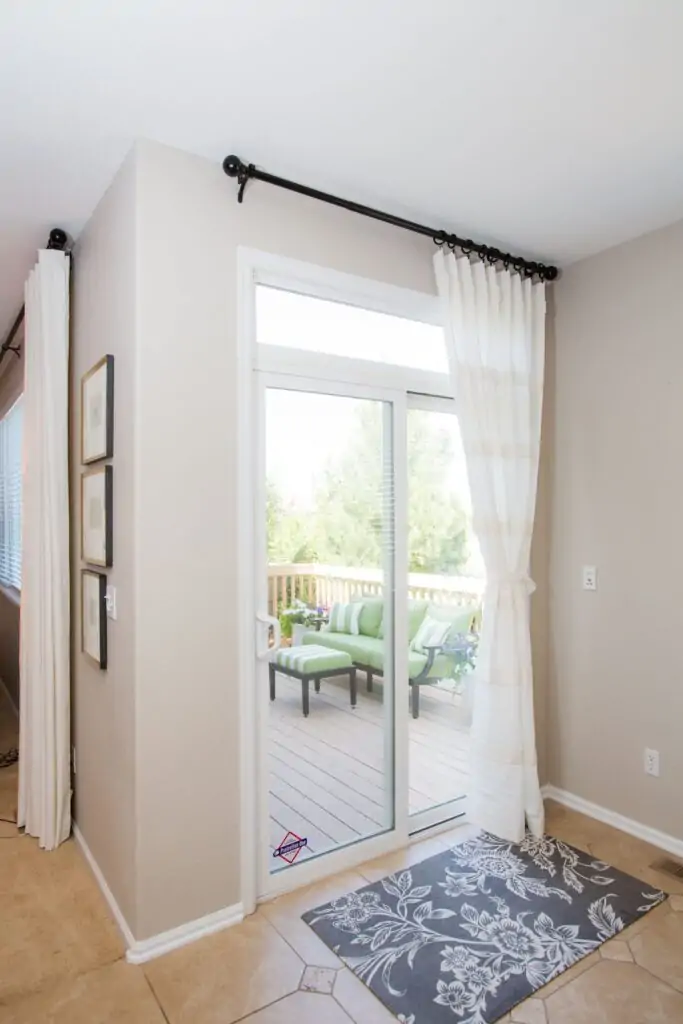 White and off-white curtains will fit with almost any color, and they will give the rest of your room a classic and elegant feel. They are really popular these days and recommended by most interior designers. Their only downside is that they provide little or no privacy and that you will need to wash them a bit more often than darker drapes.
Match the Walls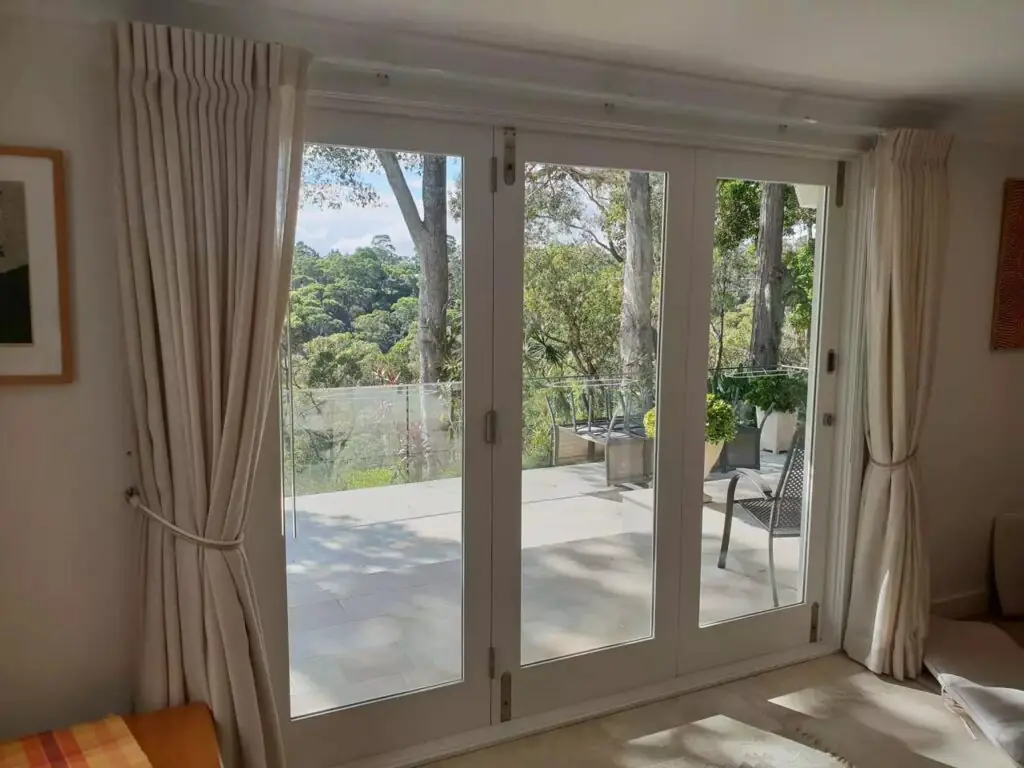 If you are not a fan of the look of drapes but still want their functionality, with the right color and material, you can make them seem invisible. Get a color that is as close to the color of the walls as possible, and pick a material that is at least semi-translucent. This way they will draw less attention when they are open, and you will still be able to use them to dim your room.
Plantation Shutters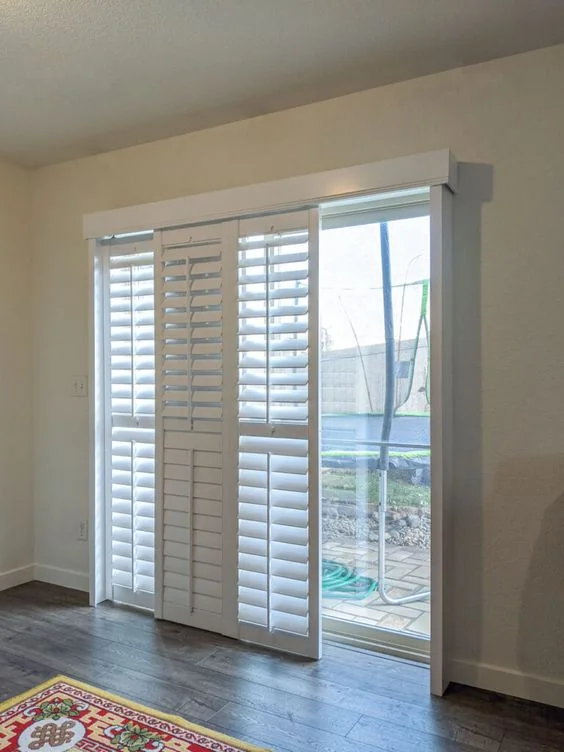 If you want something a bit different from the usual curtains, you can install plantation shutters. They are easier to maintain and a lot more effective at blocking sunlight. They are pretty durable and will last for a long time. If you plan to install them in a place where they will be exposed to elements, you have to apply a wood finish that will make them water and moisture resilient.
Roman Shades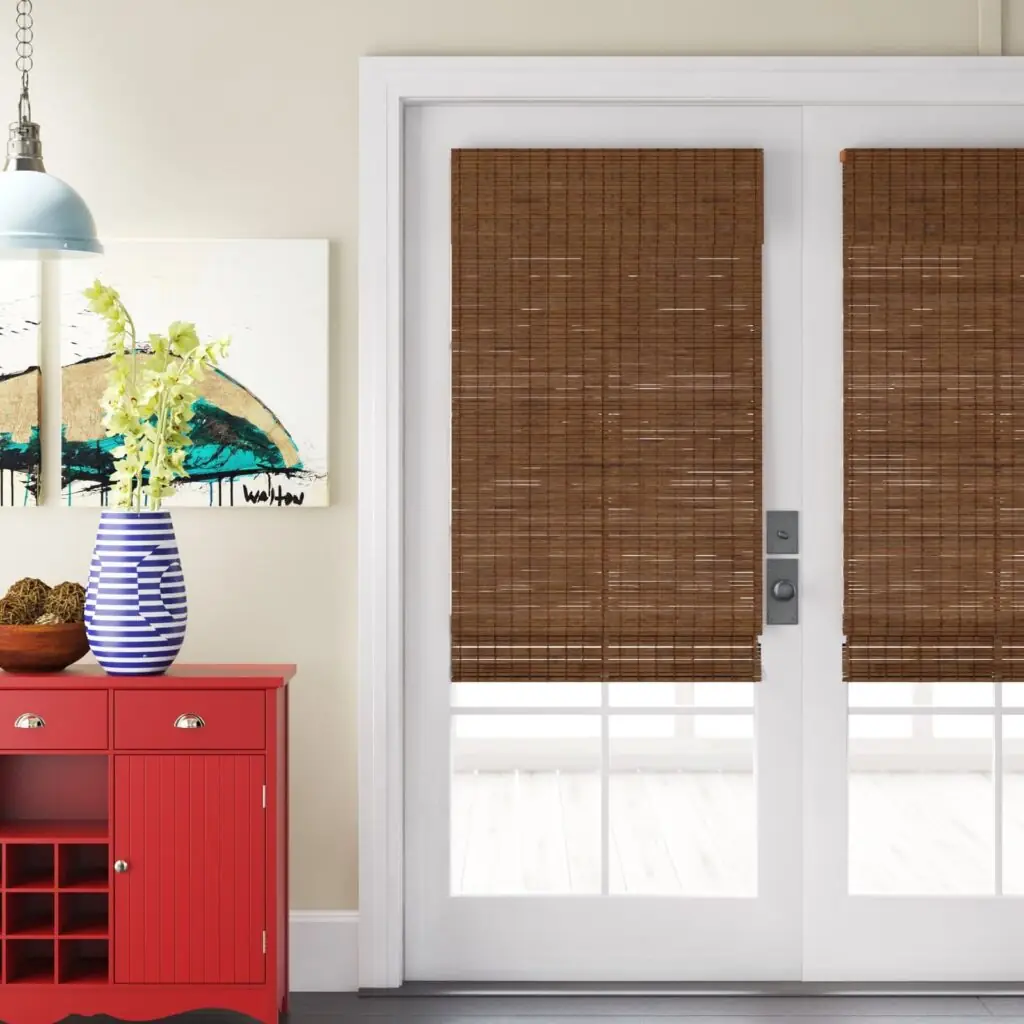 Roman shades are an excellent option for a patio door. They are easy to install, adjustable in length, and since they are made of bamboo, they will last for a long time. They will provide privacy and a natural look for your room.
3. French Door Curtain Ideas
If you want something that looks a bit more classy and luxurious, french door curtains are a perfect choice. They will make your patio magical and make you feel like you belong to the royal family.
Modern French Door Curtains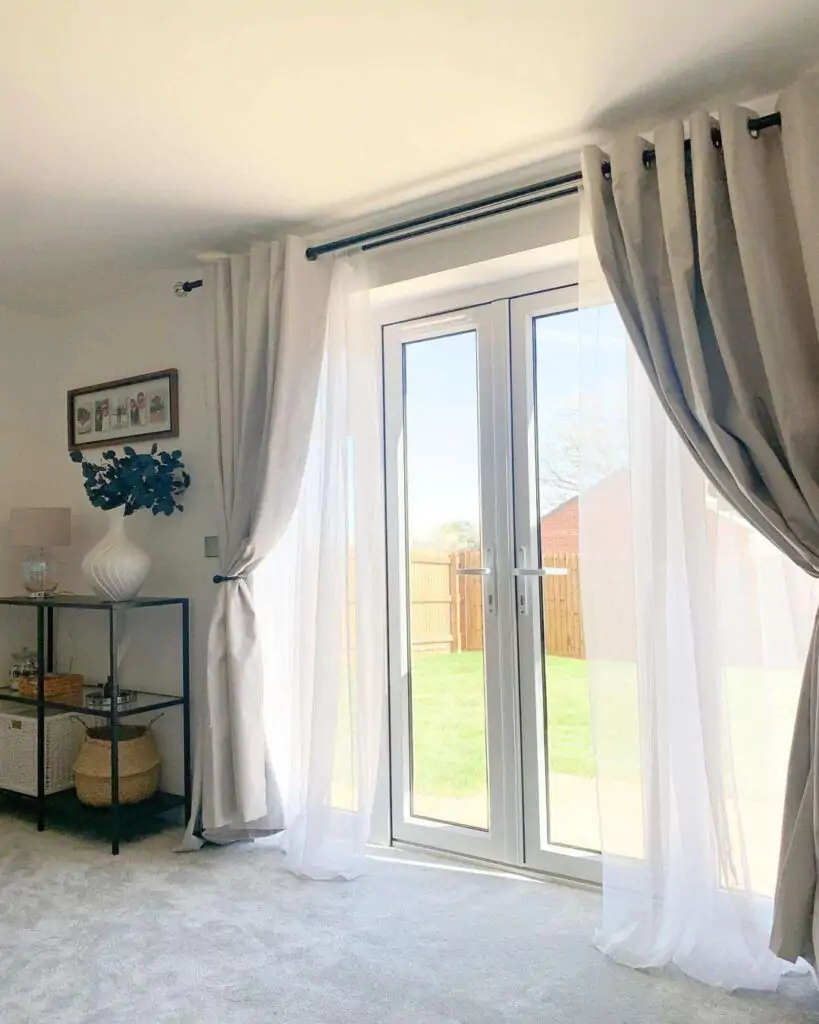 If you want your patio to look classy but still have a modern look, you can hang these two-layered modern french curtains. For the outer layer use a soft color and for the inner one use strictly white.
Traditional Embroidered French Curtain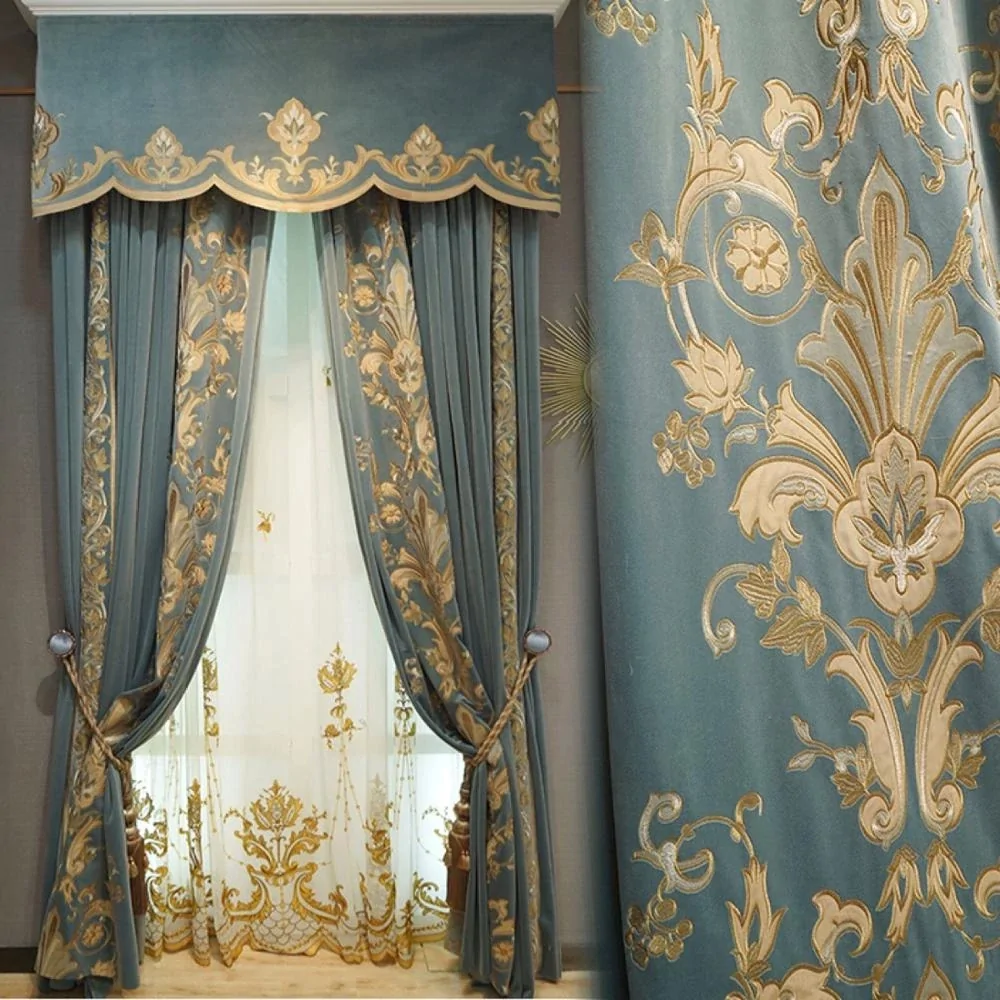 If you are designing a rustic room, these traditional embroidered curtains are a perfect choice for you. They look simply majestic. Drapes like this can be pretty hard to come by, but when you find the right ones, you will know this immediately.
Short French Curtains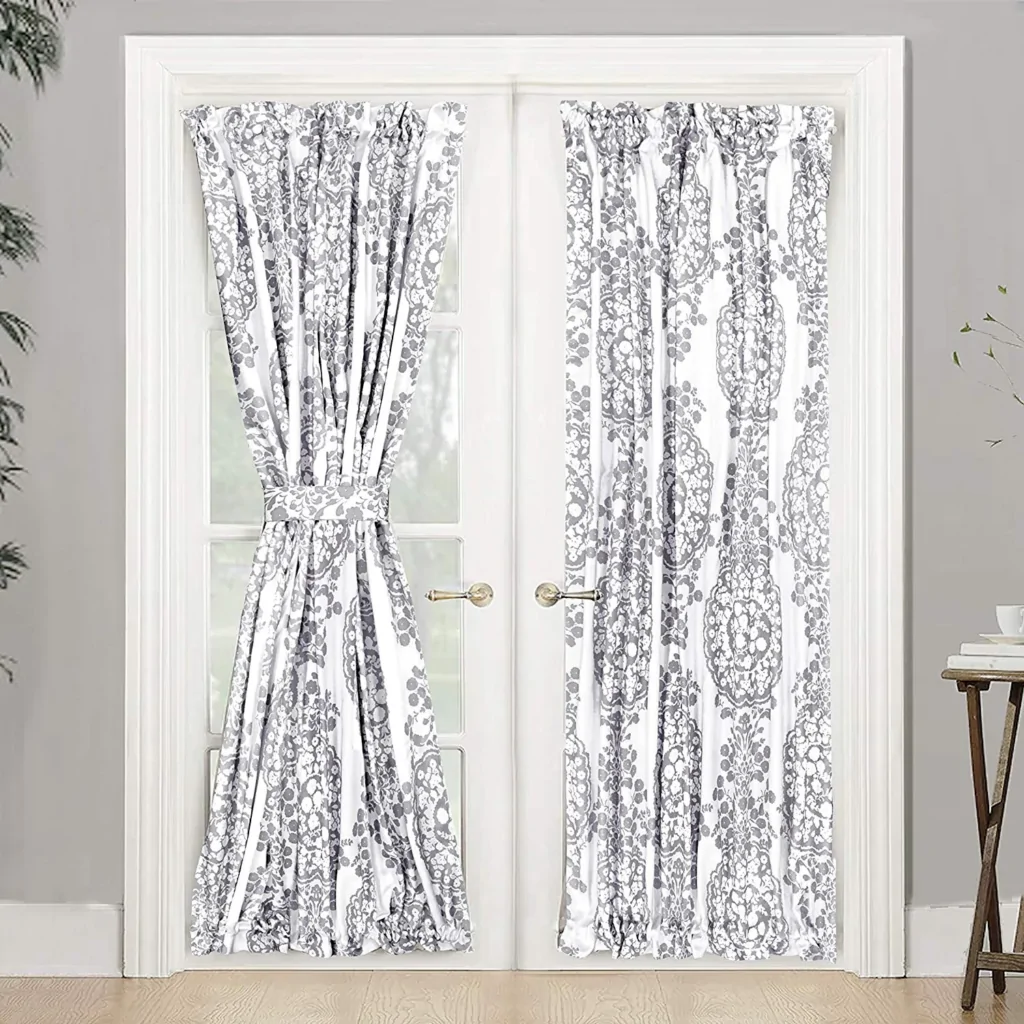 Choose them if you want to keep the perfect balance between modern drapes and traditional french curtains. They are easy to hang, wash, and maintain. You can get perfectly white ones, or you can choose an unusual pattern.
4. Modern Patio Door Curtain Ideas
Here are some unique and interesting modern-looking curtain ideas that are perfect if you are designing a minimalist interior.
Sliding Panels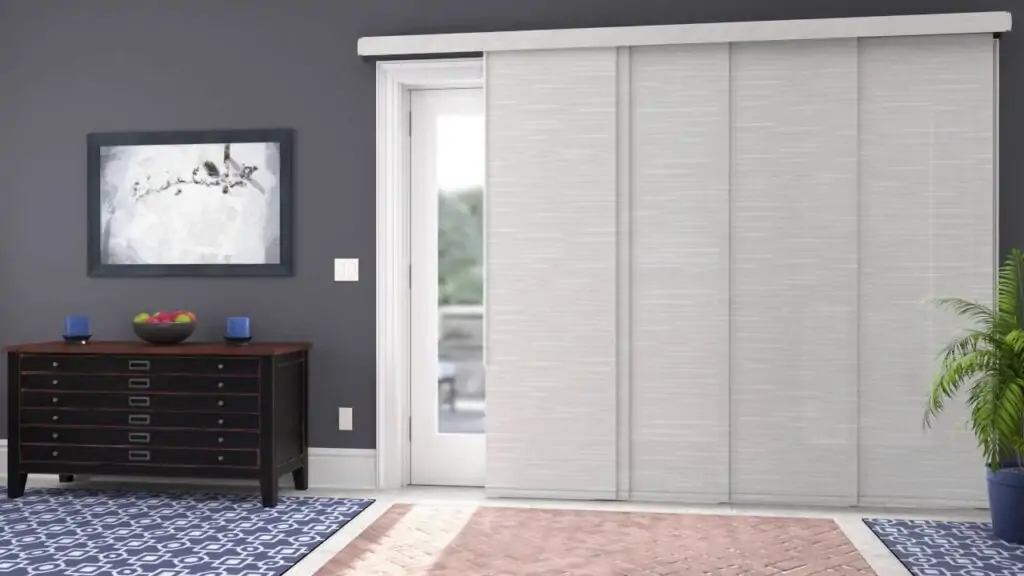 These panels look incredibly on large glass patio doors and will make your room look organized, modern, and stylish. They will provide all the privacy you will ever need, and you will have an easy time cleaning them. You can use any color as long as it matches the rest of the furniture.
Slats Blinds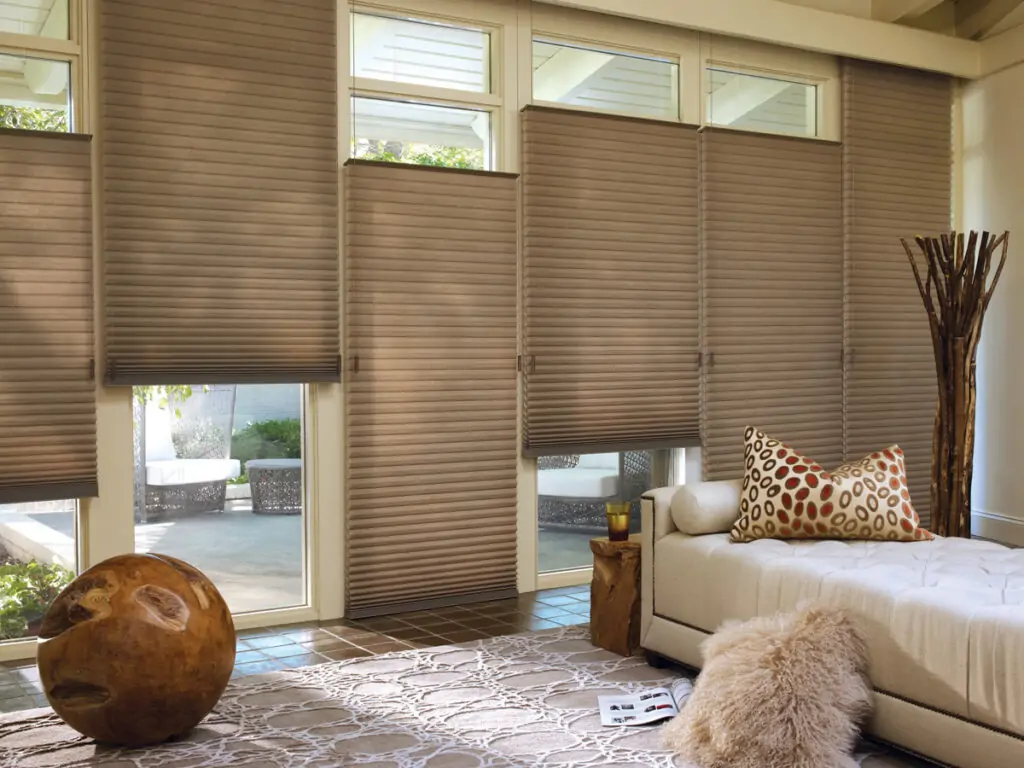 While they do not look like your usual curtain, their purpose is exactly the same with the added bonus of looking modern and organized. Slats blinds are a bit more expensive than most other door coverings, but their extra cost is totally justified. Installing and maintaining them is super easy, and you can adjust them in any way you want.
If you didn't find any of our ideas fitting for your house, take a look at these amazing YouTube videos with various interesting and unique ideas:
FAQ
Here you will find the answers to the questions most people ask.
What Kind of Rod Should I Use for My Patio Door Curtain?
If you are installing a type of curtain that requires a rod, it should be made of a strong material that will be able to hold significant weight for a long period of time. The best choice of materials for this is either metal or hardwood, such as oak. The material and the color of the rod should also match the drapes as well as the rest of the room.
How Many Curtain Panels Should I Use?
If you are able to get a strong enough rod that can hold up all the weight while only being attached to the wall at the ends, you should use two panels. If that is not the case, use as many as you see fit.We hope that you found the solutions that fit your home or something that inspired you to come up with an interesting idea of your own. It is always better if you make something that you thought of yourself, so we hope that our patio door curtain ideas are of help. Good luck with your future DIY projects, have fun, and see you soon!