12 Tabletop Centerpiece Ideas You Are Bound to Like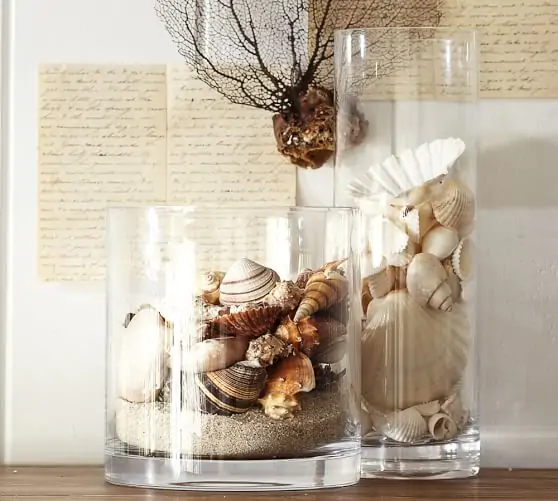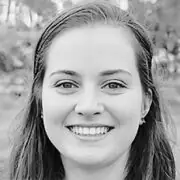 Be it the festive season, an occasional family gathering, or a Friday evening you spend with your friends, a cheerful get-together is something everybody likes. Why not check out and implement some classy tabletop centerpiece ideas to impress your friends and family? Even a DIY piece can go a long way in showing your guests that you have put some deliberate thought into your decor — just for them.
So, here is a comprehensive list of our favorite table centerpiece ideas for your home that can help you impress your loved ones. Let's get started.
1. Fruit Bowl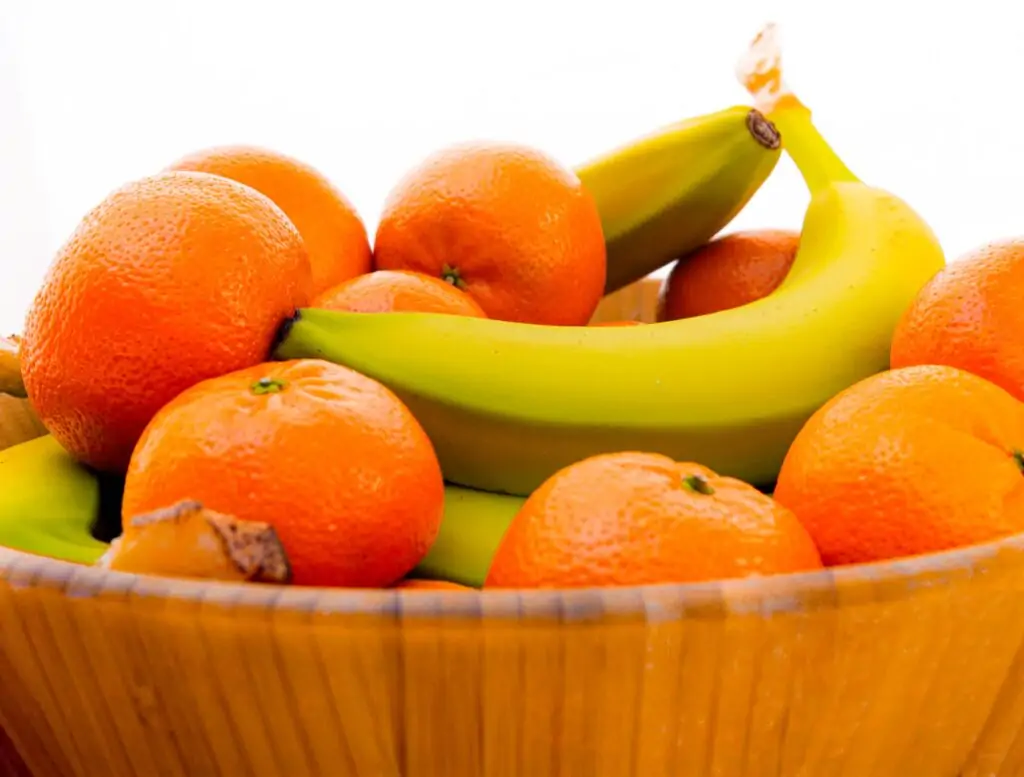 We start with an absolute classic, which is putting some colorful fruit on display. The best part of this idea is that you will find everything you need in your refrigerator — no need to spend the big bucks for something flashy.
Even something like a few bright red apples in a big bowl positioned at the dead center of your tabletop can make things come alive. The bowl will act as a captivating focal point for your guests. Plus, it will give them some delicious-looking fruit to reach for, so why not?
For something more dramatic-looking than mere apples, you can go with bunches of grapes, artichokes, autumn squash, oranges, or a combination of golden and green apples. No matter what fruit you choose to put on display, be sure to fill the bowl or basket with it.
2. Use Eucalyptus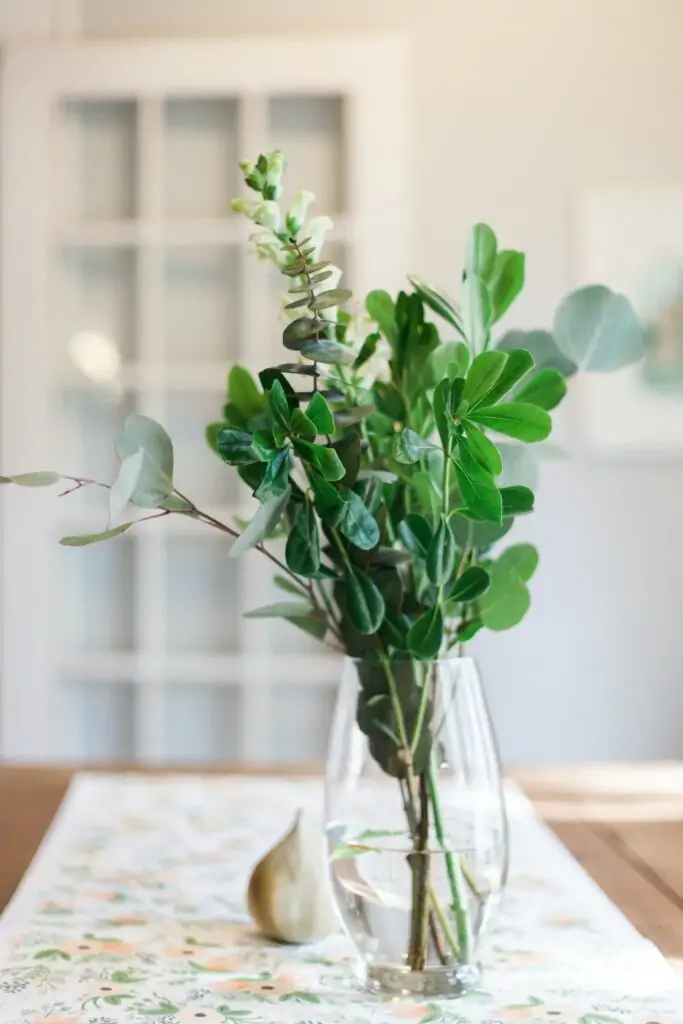 Eucalyptus naturally has an elegant vibe to it, which makes it one of the best table centerpiece ideas for your home!
Introducing a touch of greenery in your house can add a refreshing and modern feel to your interior decor and even fit well in a minimalistic theme. Not only is Eucalyptus less generic than floral blooms, but it also lasts way longer — which means you will not have to replace it as frequently.
You can easily DIY a catchy Eucalyptus arrangement on your tabletop. All you need are a few strands of this plant, maybe a few candles to go with it, and an elegant vase or two. It sounds simple, but that is precisely what makes it so special.
Try it out, and it will certainly add a more welcoming and positive vibe to the setting.
3. An Artistic Look with Sculptures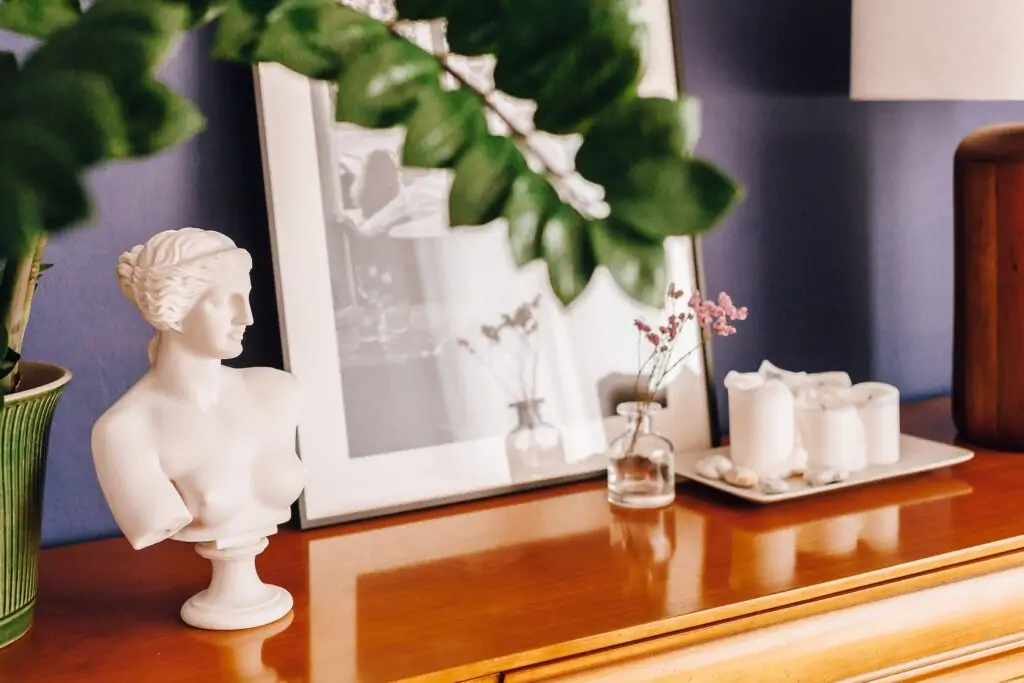 If you are ever short on ideas about what to put on an empty-looking space inside your home, you can barely ever go wrong with art. In the case of tabletops, sculptures can instantly enrich the space with a distinct sense of class.
The right selection of sculptures can make your space look artistic, personable, and warm. Plus, your choice of artwork, or your mere interest in it, can be genuinely impressive to some guests. Now that is a nice bonus, isn't it?
We think a large dining table is a befitting place for a striking piece of sculpturing artwork. It can really help fill a wide, clean space on an eight- or 12-chair setup — especially if you have a pair or an entire collection of sculptures in the center.
4. Fill the Table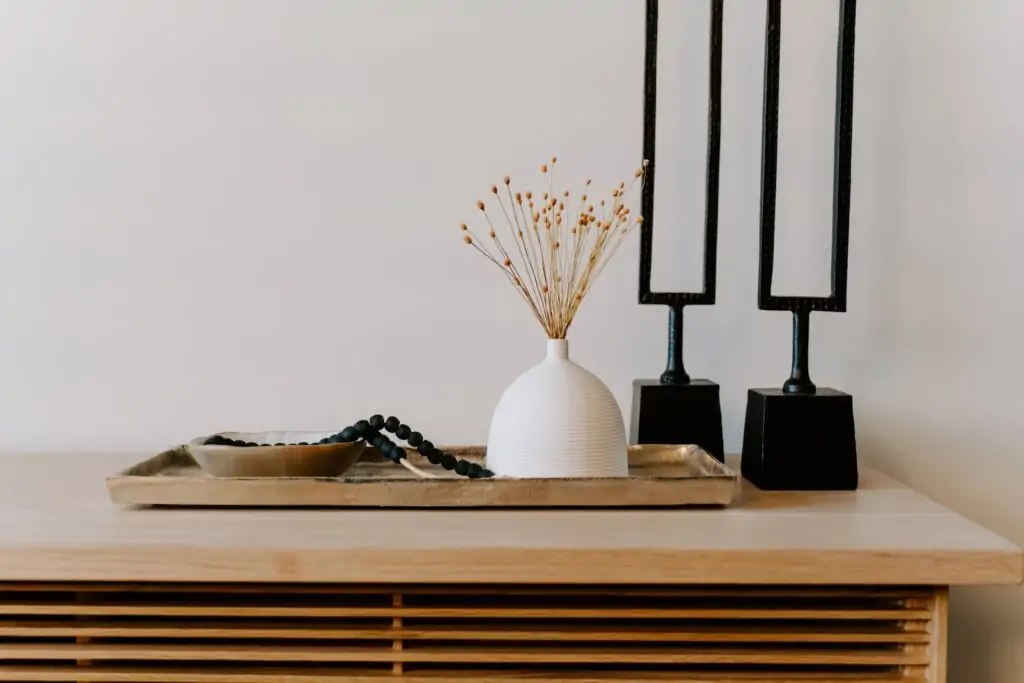 You don't always need to go with flashy ideas to decorate a tabletop. For some spaces, simply filling the table with a variety of visually interesting items does the trick to amp up the overall aesthetic.
For instance, some candles, flower pots, and a decoration piece that is easy on the eye can team up to offer a cozy vibe to your dinner table. Filling the table might not even require you to go shopping as long as you have some appealing stuff to work with lying around.
5. White Candles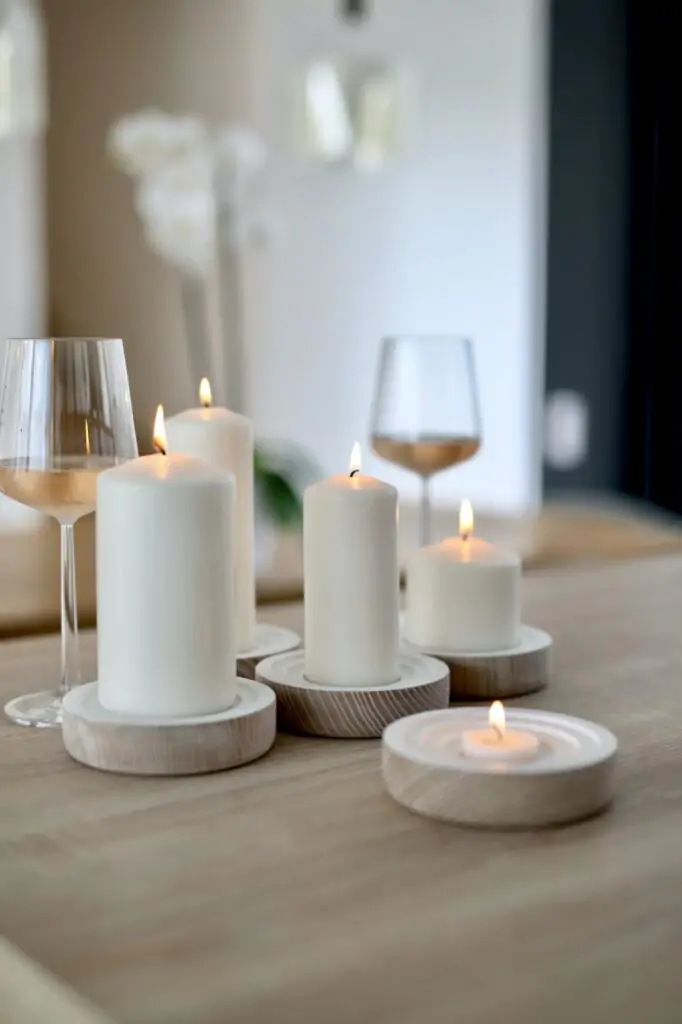 Ho-ho-ho! Baby, it's cold outside! This means that the most wonderful time of the year is nigh! And that calls for some festive table centerpiece ideas for Christmas.
Our favorite one is simple but very impressive. All you need is a beautiful platform the size of a plate, some strands of wooden beads, and a couple of different-sized white candles. It helps to have wider candles with a large diameter as they can easily grab more attention.
Nestle the wooden bead strands all around the base of your candle(s), and you are set. For bonus points, lay down a branch of evergreen to add to the festive vibes!
6. A Candy Jar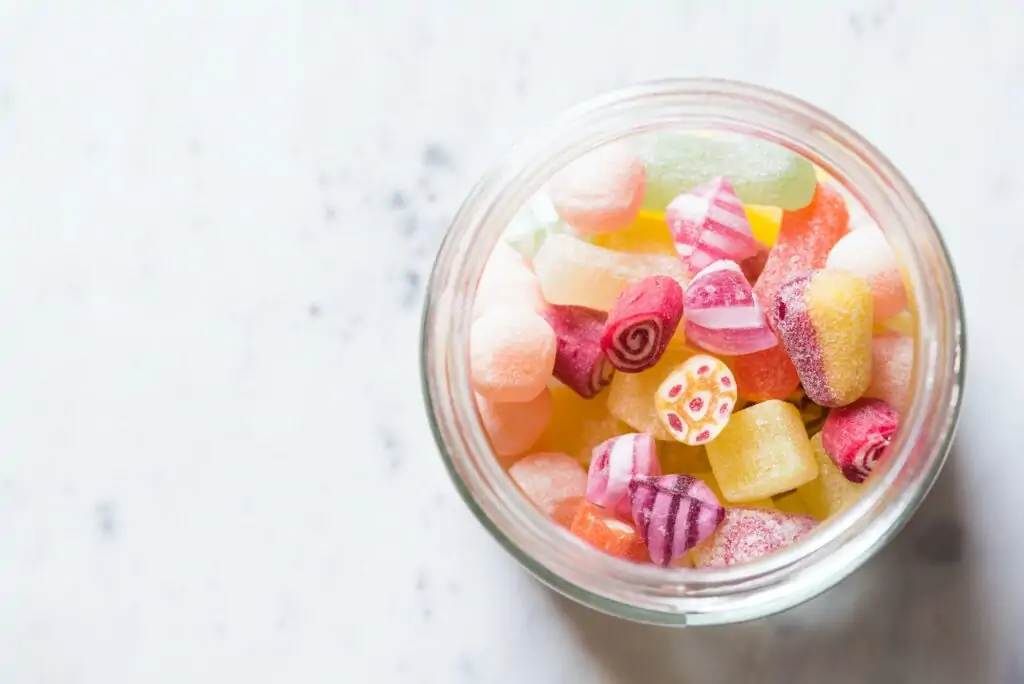 Here is a slightly unconventional yet one of our favorite tabletop centerpiece ideas — candy jars!
Get a large glass jar and fill it up with candy. Our pick would be silver-wrapped Hershey's Kisses as they have a neutral color that goes with any design theme, yet at the same time are flashy enough to earn you all the style points. Aside from the whimsical and shiny touch this centerpiece certainly has, it will also allow your guests to reach for a delicious treat any time they want. Kids will absolutely love it for obvious reasons.
7. Get Succulents
Are you a fan of introducing natural elements into your decor themes? Well, did you ever think of having a living, breathing tabletop centerpiece? We are talking about succulents, in particular.
Caring for succulents won't require much effort from you. They are well-contained, exotic-looking, and ridiculously low-maintenance. You do not even have to worry about watering them for days on end, which is why a prickly pear cactus is a perfect item to have in the middle of your tabletop.
Put it in a chic ceramic pot, and voila! It is the easiest, least taxing way to foster a biophilic vibe inside your home.
8. Potted Plant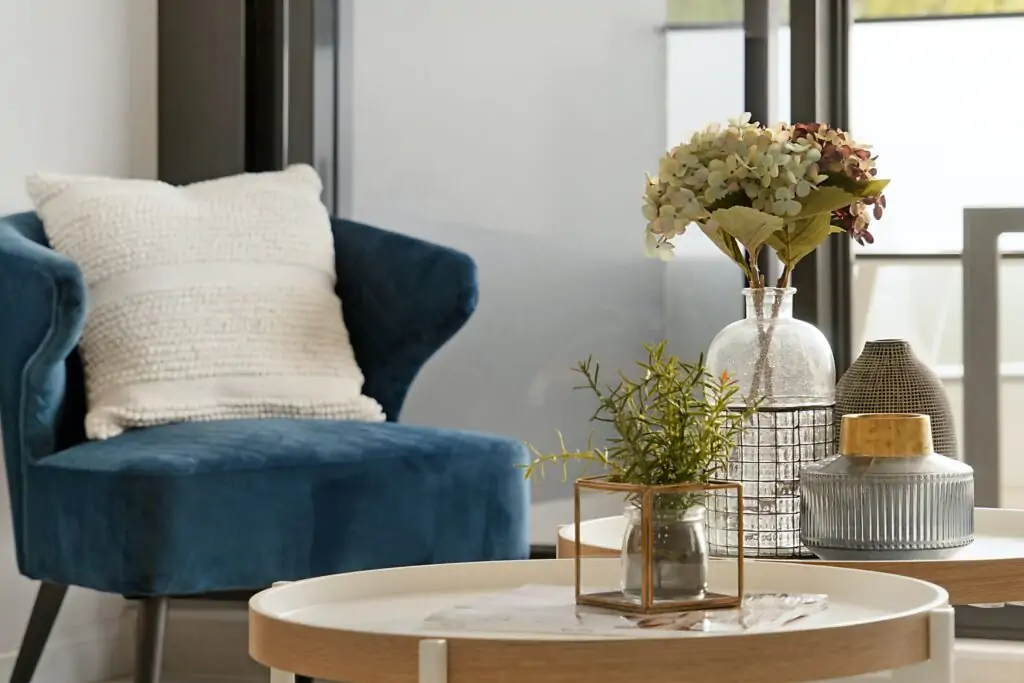 Speaking of botany, potted plants are another great option you have to go green. Just like those fruit bowls on dining tables, it is pretty common to find a large potted plant occupying the central spot on coffee tables. Still, that does not necessarily mean that ideas like these are cliched: if you choose the plant(s) right, your arrangement will instantly stand out.
For example, you may find rose flowers or a generic bouquet on most florally decorated tabletops, but do you recall a gorgeous orchid arrangement on a minimalist, all-white dining table? Finding and implementing such simple yet striking combinations can easily make your interior look unique. Not just that, but it also leaves an unforgettable imprint in the mind of your guests.
If you are not a fan of the idea of indoor plants, you can also bring one of your outdoor plants inside for just a few hours. Use it as a showpiece on your tabletop and take it back outside once the party's over.
9. Stack Books
Another unique tabletop centerpiece idea is to stack some books. Who says they're limited to coffee tables? As long as they have some good cover design that seems to go well with the surrounding aesthetics, it'll be a valuable addition to the setting.
10. A Monochrome Assemblage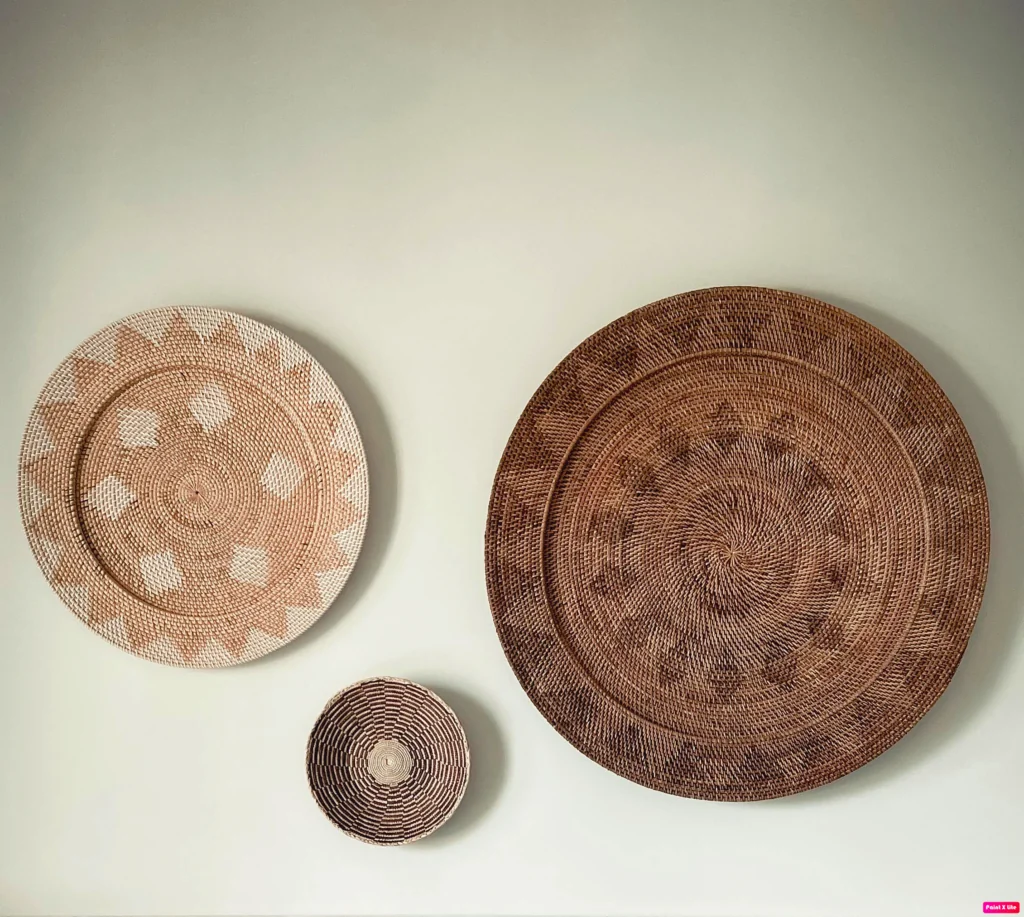 Your centerpiece design ideas do not have to consist of one unit alone. If you feel like showcasing several items with high visual appeal, that is exactly what you should do. One of the better ideas you can use is to look for vases, bowls, and pots of the same or similar shade to create a monochromatic look. It will make the table feel more organized, cohesive, and well put together.
Some great color palettes to play around with are brown, silver, black, or a dramatic shade of maroon.
11. Colored Glassware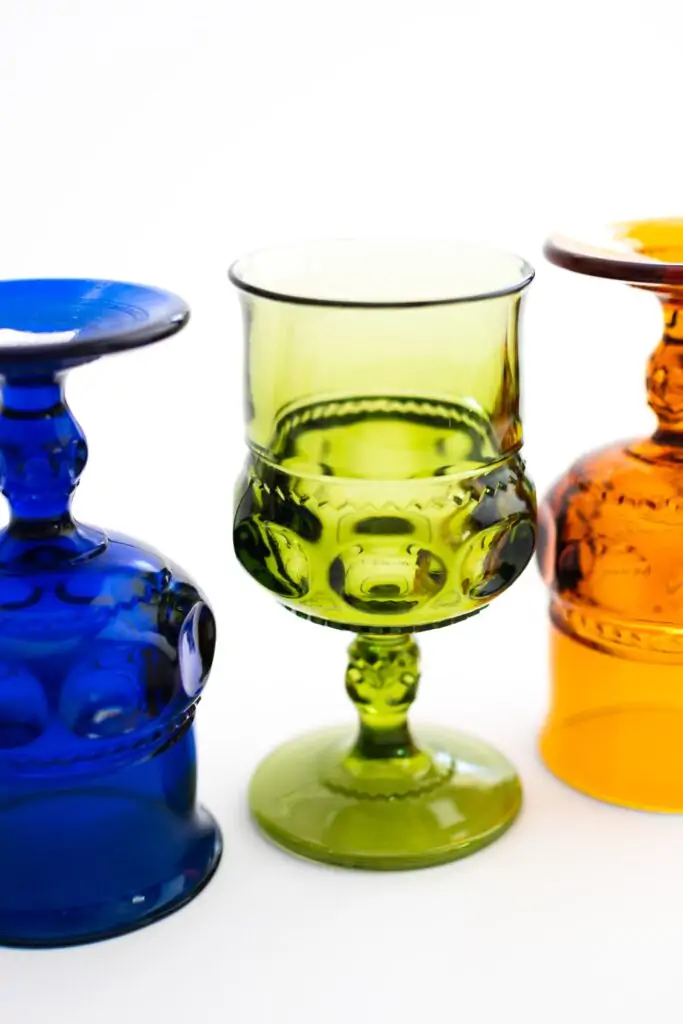 Some interior themes are bright, colorful, and the absolute opposite of what you would describe as minimalistic. For such a setting, colored glassware makes a lot of sense. It will effortlessly demand attention when centered on your tabletop and will be enough to make a statement about your aesthetic preferences without even a floral bloom, houseplant, or candles.
Choose several different-sized glasses that have complementing hues, and stage them all together in the middle of your dining table. You can even fill them up with rechargeable fairy lights for an extra bit of pop.
12. Floating Candles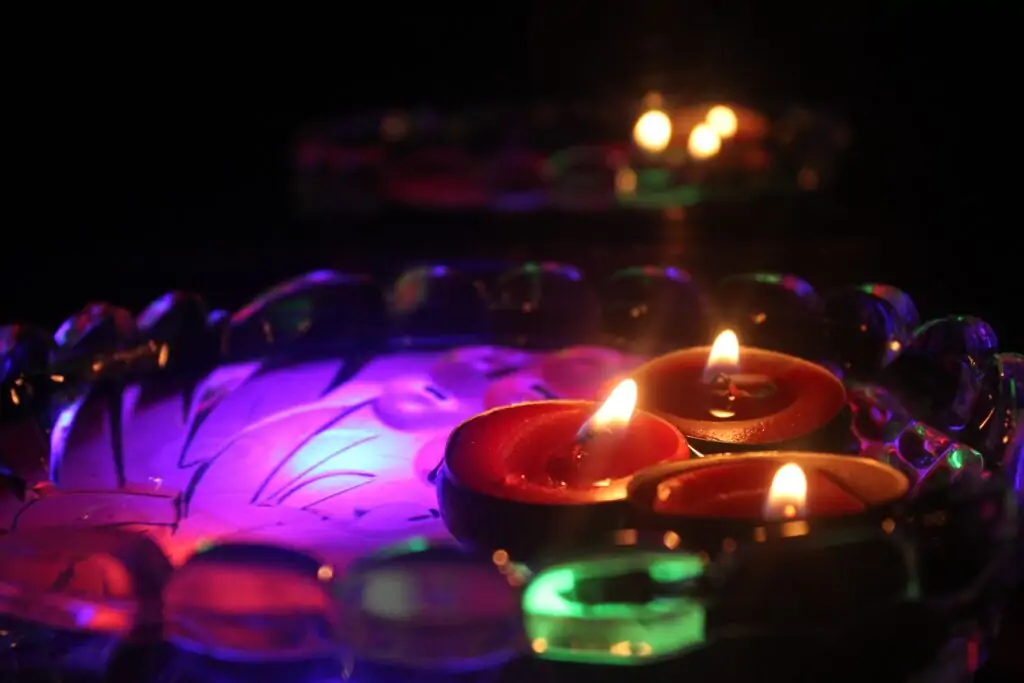 We saved the best for last — floating candles! They are ideal for folks looking for an exotic flair in table centerpiece ideas for the dining room.
This recommendation is also commonly found in lists of table centerpiece ideas for weddings, so if you have your big day coming up, feel free to add that to your list of pre-planned decorations. We recommend adding flower petals as an even lovelier garnish; just make sure that they are positioned far enough from the fire.
Conclusion
The extra bit of effort that goes into decorating your dinner table goes a long way, and guests never fail to notice it. Appreciative ones will even compliment you on it and leave you with a heightened sense of inspiration to come up with a DIY interior-design project of their own. Since most celebratory dinners end up getting posted on social media nowadays, a gorgeous-looking centerpiece will even beautify your feed — not just your dinner table. In this article, we have shared some of our favorite tabletop centerpiece ideas that are impressive yet easily manageable, so be sure to try some out.