21 Small Bedroom Decorating Ideas to Make It Your Place of Power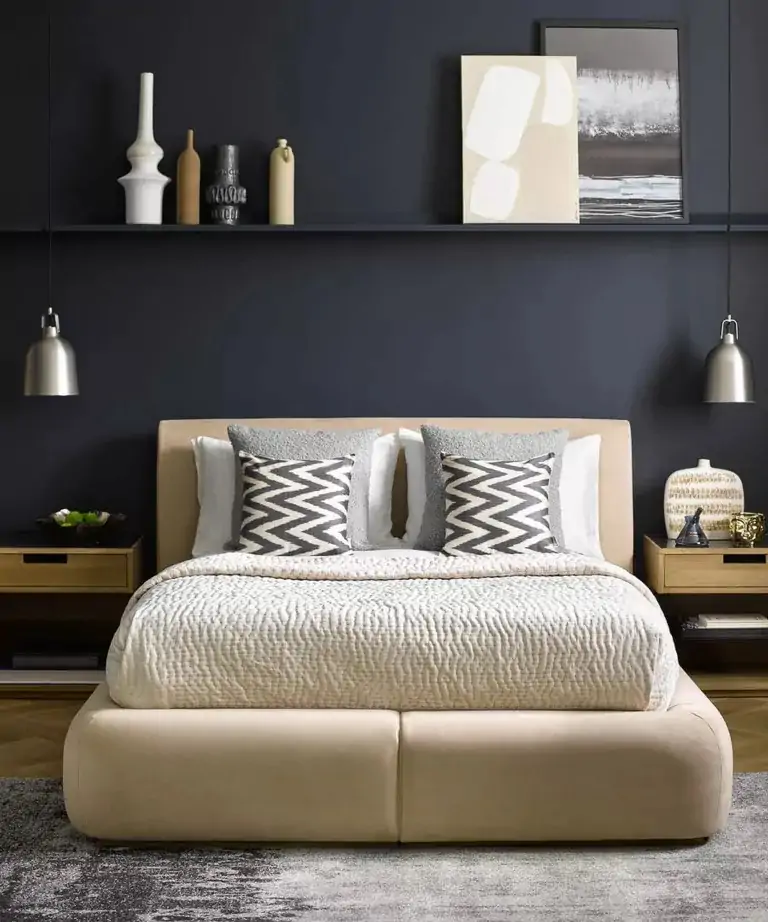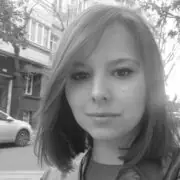 Searching for small bedroom decorating ideas is totally understandable: while it gets increasingly harder to afford a large place, people still want the room where they spend most of their free time to look nice. Luckily, there are a lot of ideas to make this space comfortable and good-looking. We collected some of them in this article — so if you're one of the people who are looking for small bedroom decorating tips, keep reading!
1. Keep It Simple (But Not Stupid): Decorate with Color — Not Stuff
Avoiding large statement pieces in decor is not a bad idea, especially if your room is multi-purpose like this one. The space here is used quite cleverly, with the work corner next to the window, so there's enough natural light. And this design more than makes up for the minimalistic furnishings with the use of deep green color – despite the design's simplicity, it's not boring at all.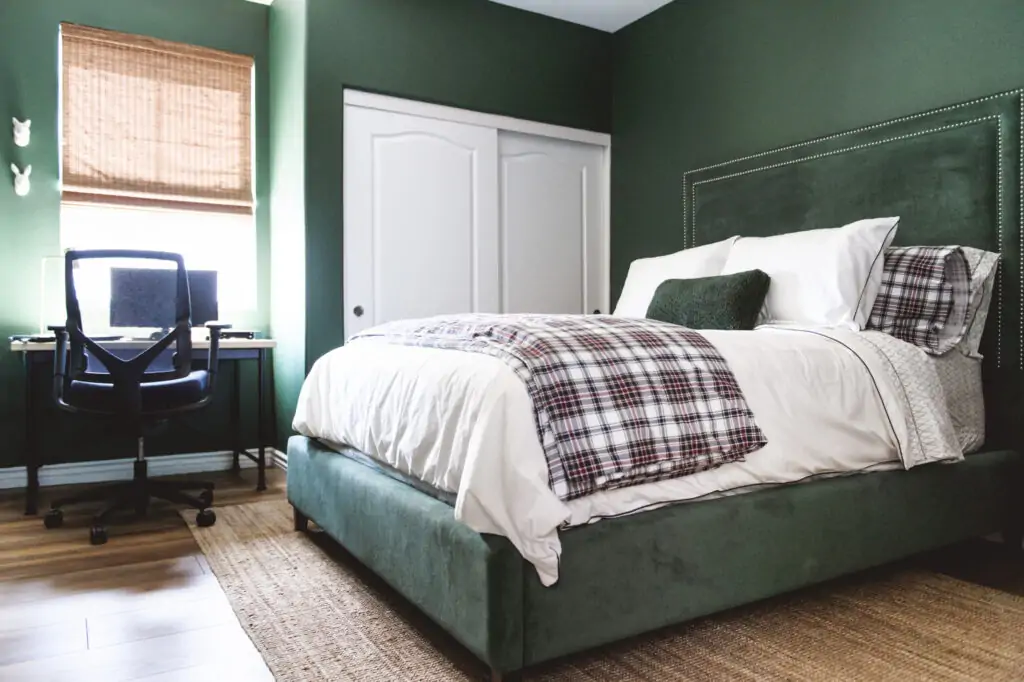 2. Beam Me Up: A Place for Some Inspired Dreams
This futuristic bedroom for a teenager combines off-white and grayscale background with an accent wall and colorful details. The room's compact size actually works to its advantage here, helping create the look of a spaceship cabin from a sci-fi movie. Note how the complex lines and shapes also invoke this feeling.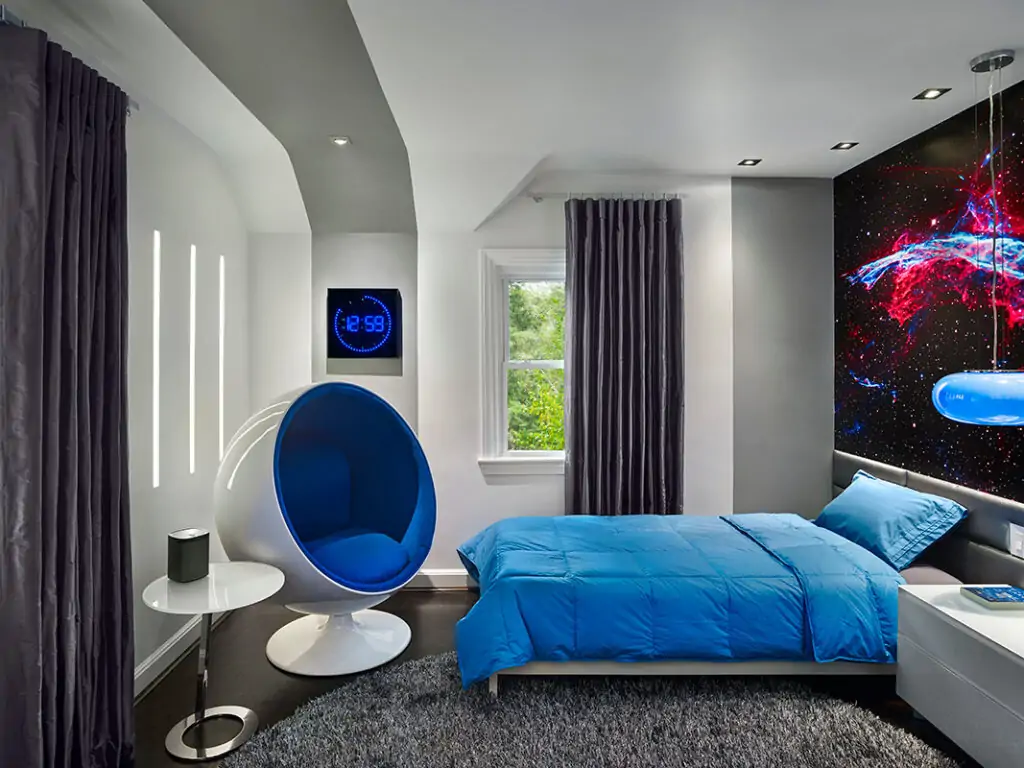 3. Feeling Snug: A Small Window Makes a Big Difference
This small bedroom's cozy charm is in large part due to the bed's placement: a small window above the headboard lets in some light while also creating a kind of a nook under an arched piece of the ceiling. This unusual detail works well to attract attention — and distract from the fact that this space is tiny, of course.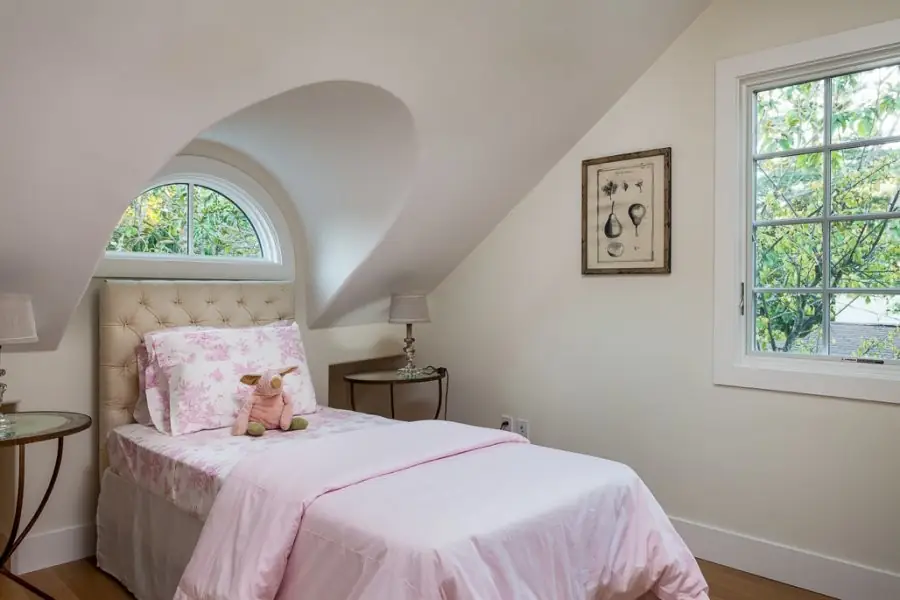 4. Bunkin' It: A Very Compact Bedroom
This transitional guest bedroom seems to hardly deserve to be called a room; it's so tiny — and yet, it actually has everything one may need. Not only there's a place to sleep (for several people!), but under the lower bunk, there's a lot of storage space to tuck your things away from the people's eyes.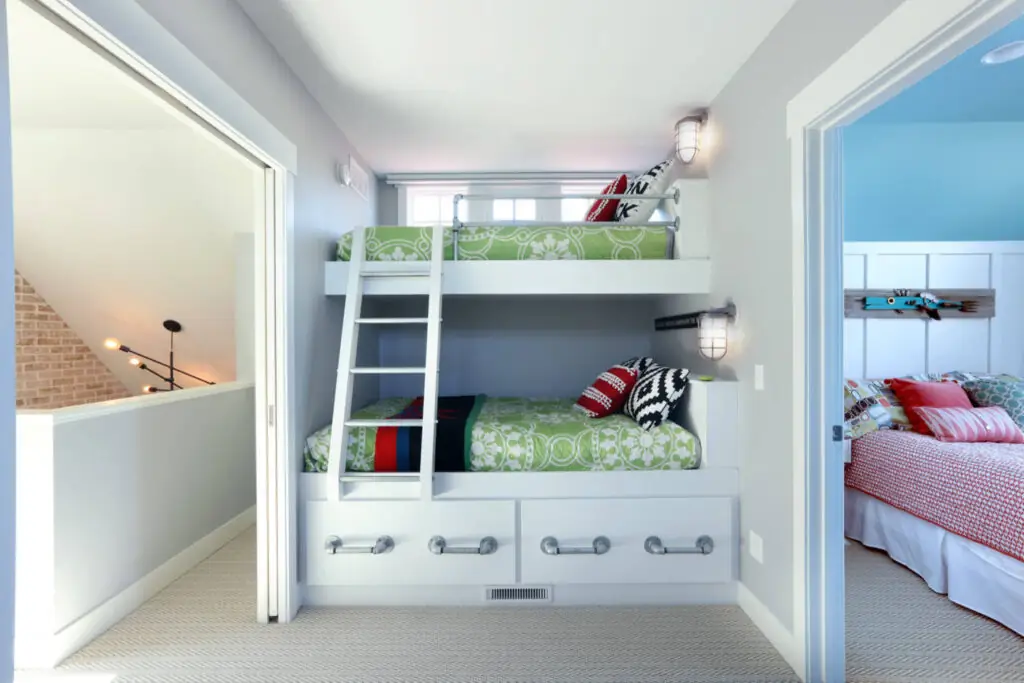 5. Behind Closed Doors: A Transformer Room
Using a Murphy bed is a recurring theme among the small bedroom decorating tips — and it's no wonder since it can really save you a lot of space. The best thing is that there are so many possibilities for fitting this kind of bed into your design: for example, here it's obvious that a lot of thought went into the doors of the cabinet that hides the mattress. Also, note the clever lighting scheme: those lights can be hidden when they are not needed, just like the bed.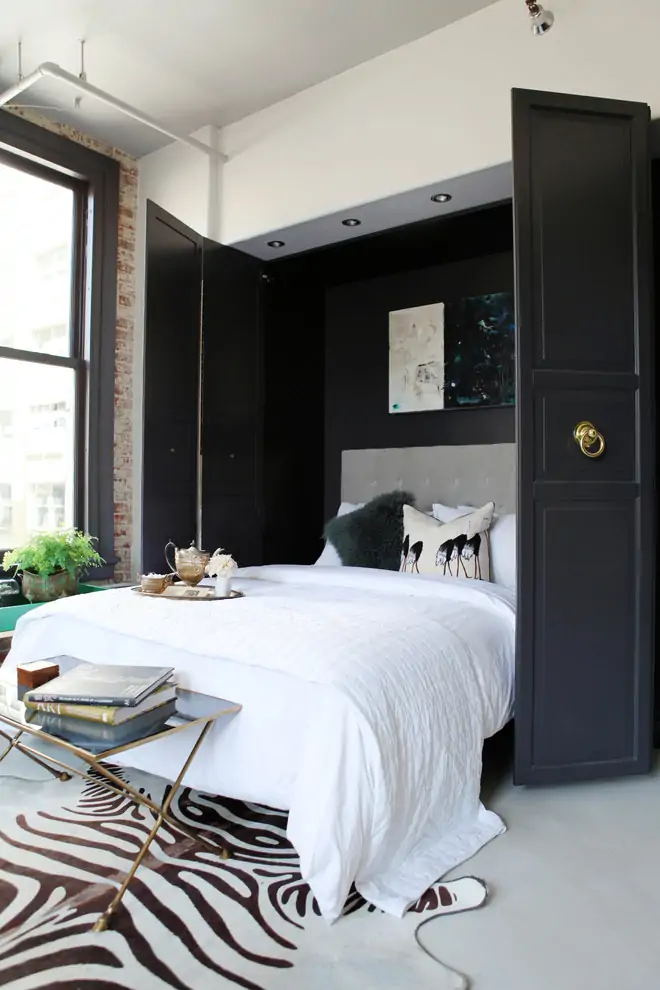 6. Straight and Narrow: Decorating for Utility
Small rooms force you to think creatively about ideas for maximizing the use of space. Here, the need for storage led to this sleek design where everything is built-in, resulting in clean lines and a lack of clutter. The rug is a nice addition to make the place feel cozier and add some spice to its clean look.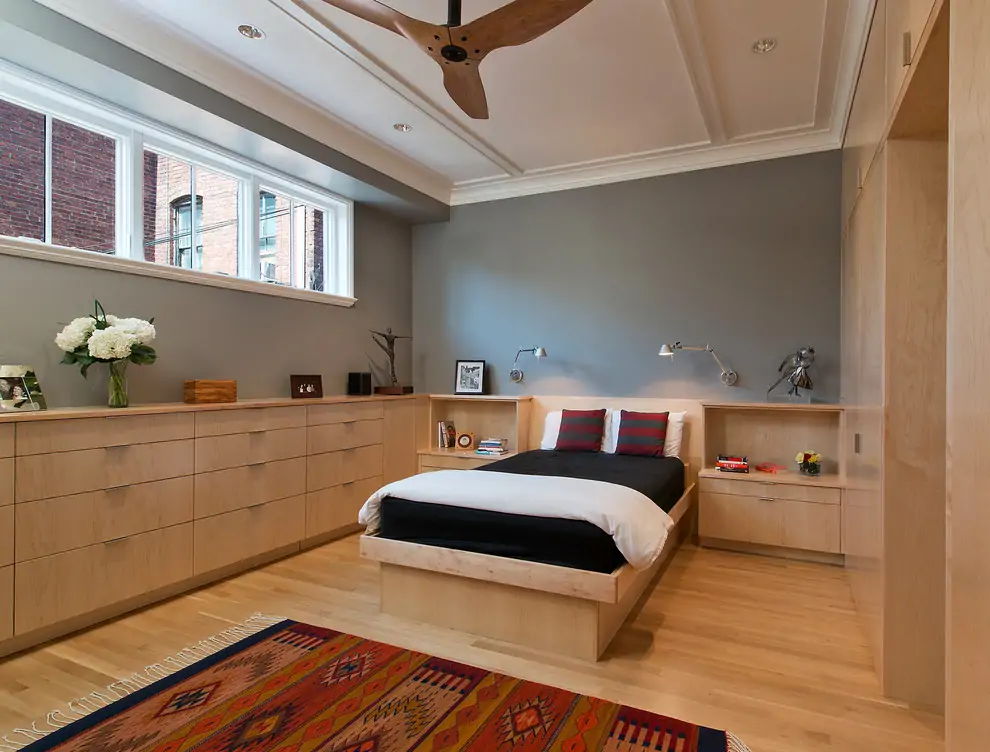 7. Hiding Out: Small Bedroom Fit for Royalty
Small master bedroom decorating ideas like this one may feel counterintuitive: is the canopy over the bed really necessary in a room this small? But notice that this bold choice seems to add space to the room, making it feel larger (and grander)! Also, it divides the room, which is beneficial for limited spaces — especially if the bedroom is also used for something else, like work or hobbies.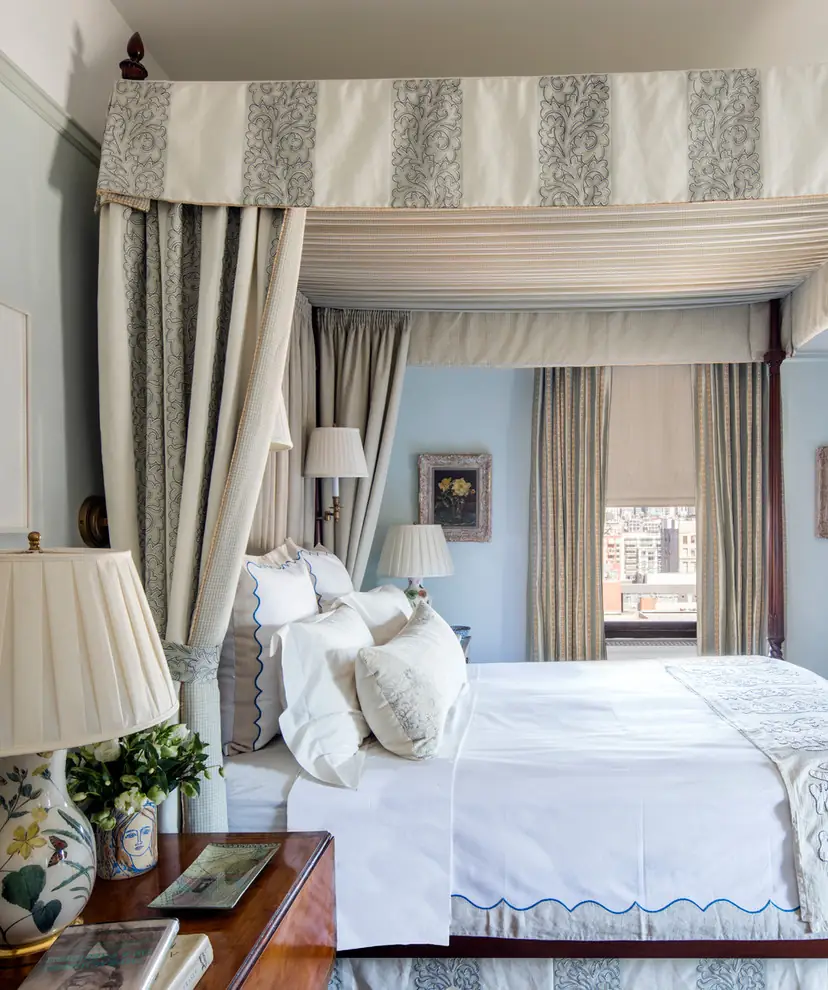 8. Small but Tall: Lofts Are Always Cool
If your bedroom is low in square footage but has some vertical space to work with — one of the cool ideas is to turn it into a loft. Here, a bookcase occupies the upper level of the room, turning it into a reading corner, while the space to rest, sleep or chill out remains separate below.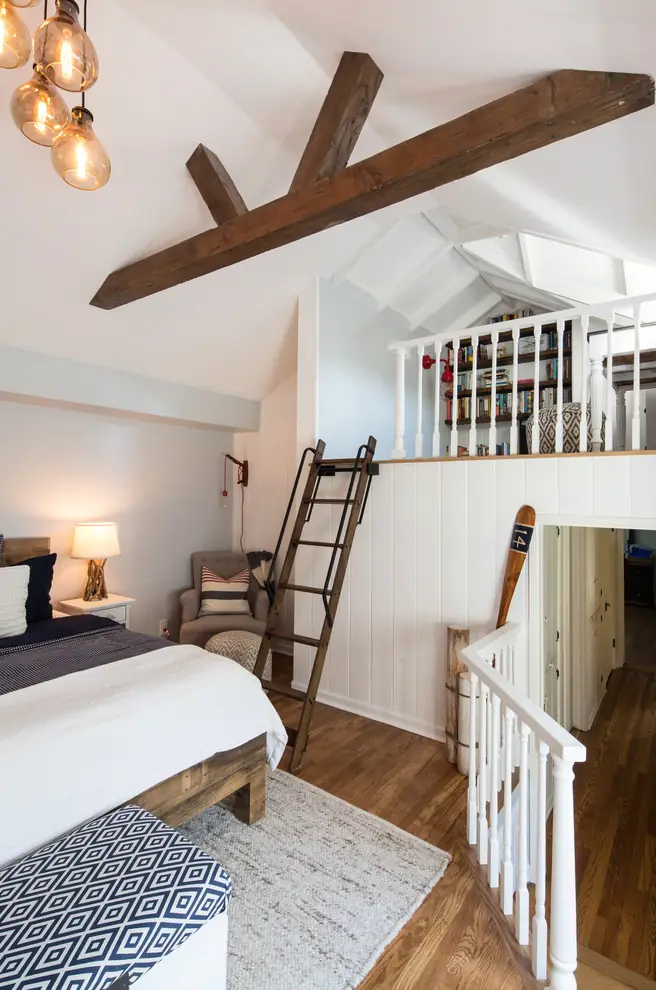 9. Putting on Airs: A Spacious Room Should Have Space
Putting space between the objects is a great way of making the room appear larger. This doesn't solely apply to spacing out pieces of furniture — getting some distance between the floor, and the bed works well too! This "floating" design draws the eye and gives off the impression of lightness which fits a small room quite nicely.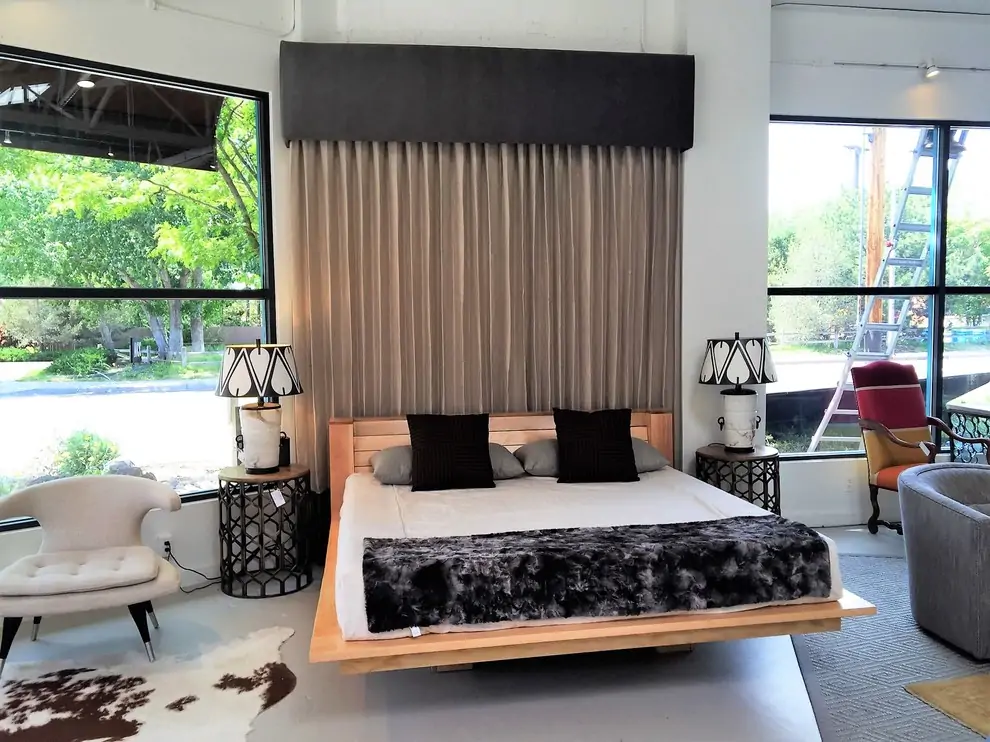 10. Drawing the Curtains: A Simple Alternative for a Door
One way to avoid making a small room's design feel oppressive and heavy is to get rid of traditional doors wherever you can. Here, the wardrobe door was replaced by drapes, which enhance the room's look: they keep the room light while still capable of hiding whatever needs to be hidden. Decorating ideas like this one also provide a lot of flexibility: if you get tired of looking at the same design, it's easy to change the look by replacing them.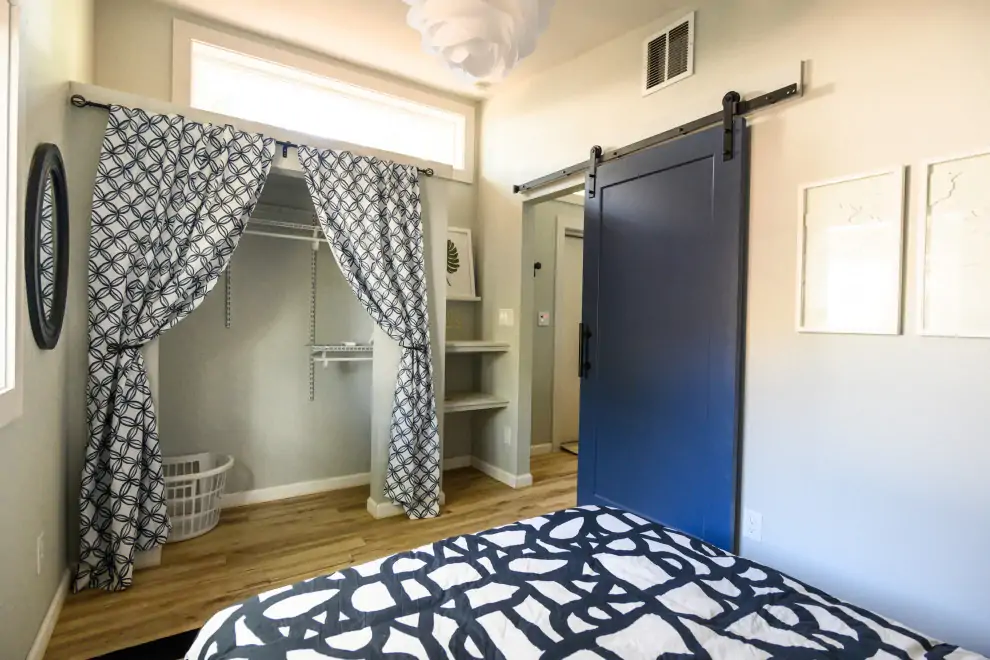 11. Making Statements: Harmony in Everything
Stylish design can easily make you (or your guests) forget how small your room actually is. In this beautiful example, the bedside table and the geometric print on the wall provide bright accents, and the bold choice of lighting completes the picture.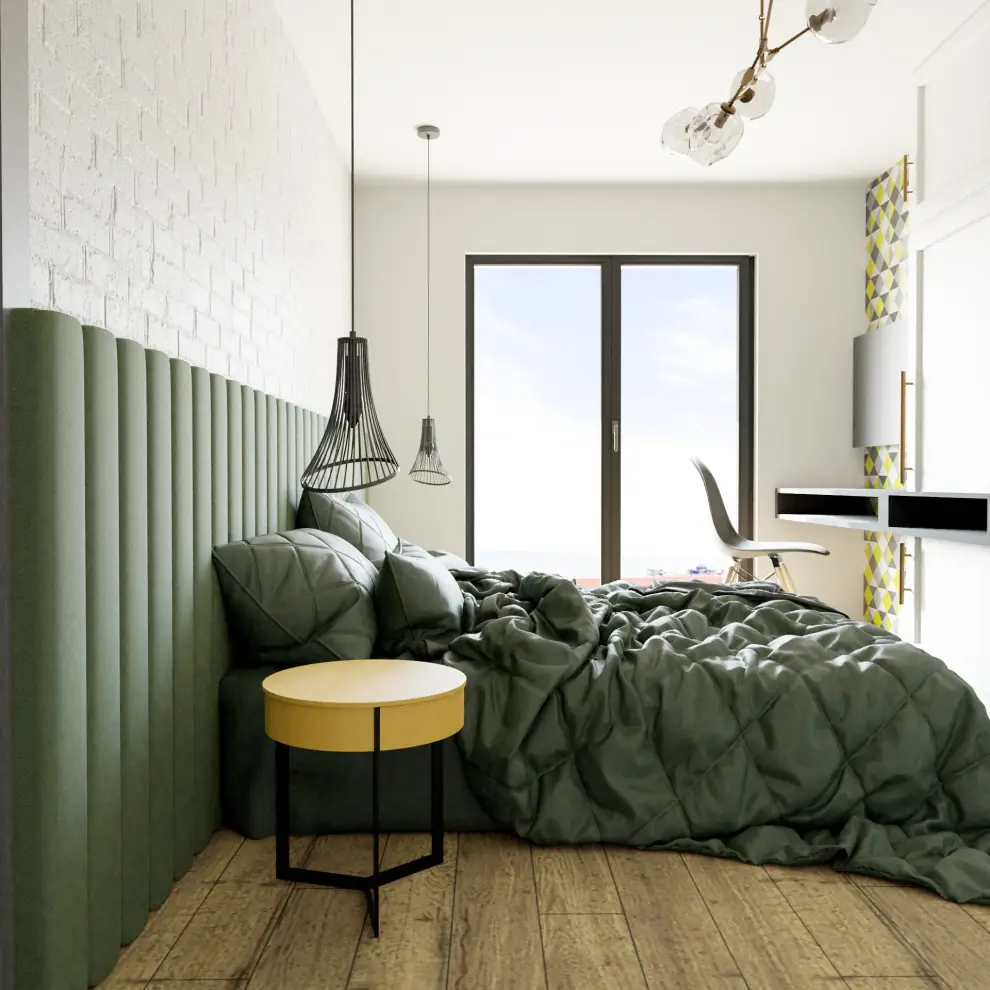 12. Smoke and Mirrors: Doubling up the Space (Visually)
The oldest trick in the book for making any space look larger is to use mirrors. It became the oldest trick, though, exactly because it works! Luckily, it's very easy to fit as many mirrors as you want in a bedroom: it's a natural choice to have at least a vanity mirror there — or, like in this case, a whole wall of reflective wardrobe doors that makes the room look two times larger.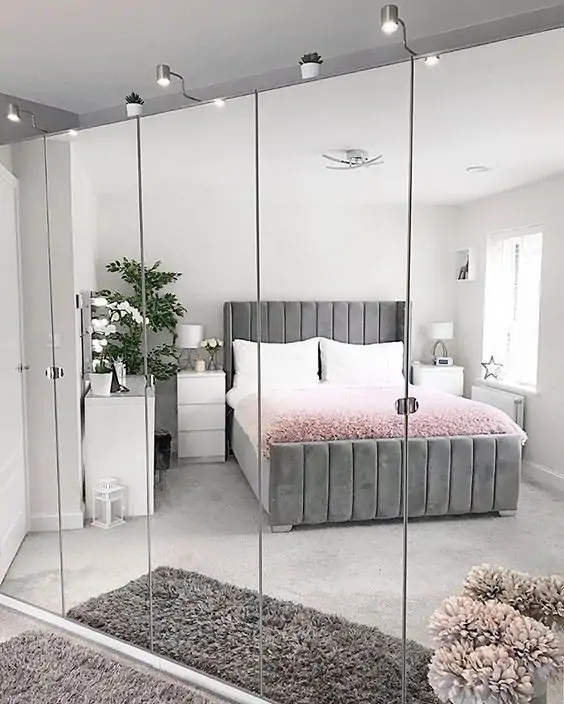 13. Having It All: A Way to Combine Business and Pleasure
In small houses and apartments, there's often the need to double your bedroom as something else — like a home office. If your bedroom is tiny, a good choice for a work corner is a floating or even a foldable desk: when you're finished with your work, just fold it away — and the bedroom once again becomes a place focused on recharging your batteries again. Nice to have this switch!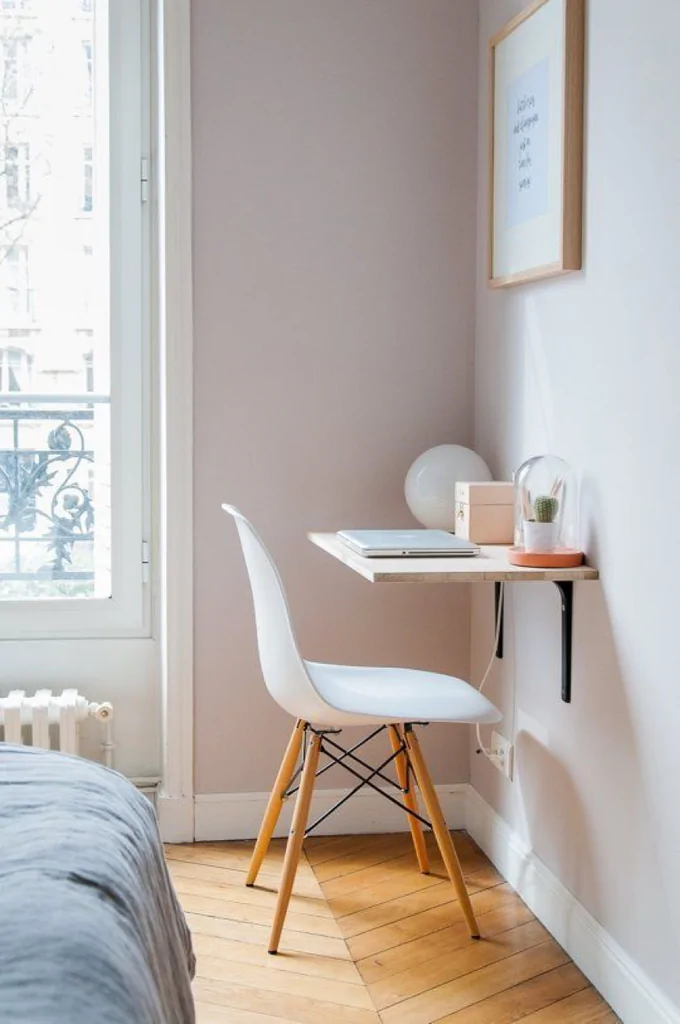 14. Just Girly Things: Don't Hide Your Treasure Hoard
Unlike the more neutral bedroom designs we saw, this example is unmistakably feminine and full of small bedroom decorating ideas for a single woman. Besides the color palette and the cute details like the wall art, some solutions here are both practical and pretty, such as open storage spaces for bags and hats. This way, your things are on display, ready for you to show them off — but not contributing to clutter!
15. Moving It Around: Create Some Space with Smart Furniture Placement
With real estate in big cities being in such high demand, it's only natural that you might need some very small bedroom decorating ideas. Fear not, there are a lot of those! This example with an accent wall and ceiling shows that you can make even a tiny place feel cozy and comfortable with a few choices like hanging several ceiling lights, separating the sleeping and working corners with furniture, and putting the bed next to a wall. For a narrow room like this, it makes sense to free up floor space (and avoid stubbing your toes).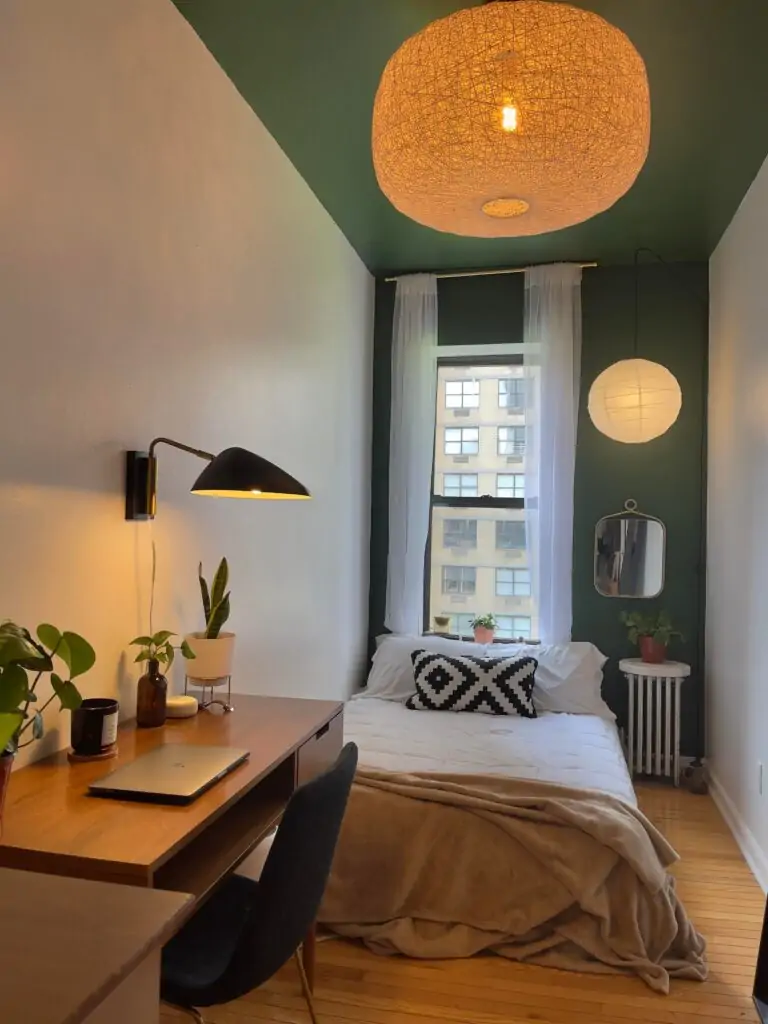 16. Making It Personal: Details Can Make (Or Break) the Place
This example proves that small room decor ideas for a teenage girl don't have to include pink frills (although, of course, if that's your kid's preference — go for it!). This bedroom shows personality and is nice to look at — what else does a teenager need in her space?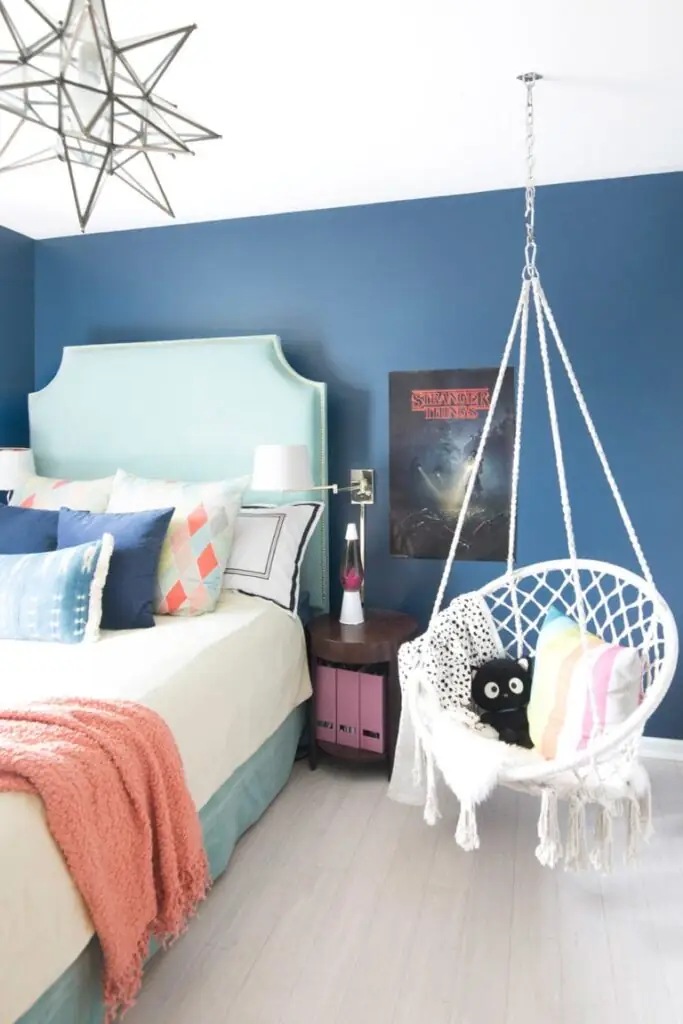 17. A Darkroom: Decorating Ideas for Showing Off while Cozying Up
Men needing a "man cave" is something of a stereotype — but a lot of males really do prefer dark (but not gloomy!) places to hide themselves in. This example showcases small room decor ideas for guys: putting your hobbies on display with the clever lighting placement that contributes to the experience.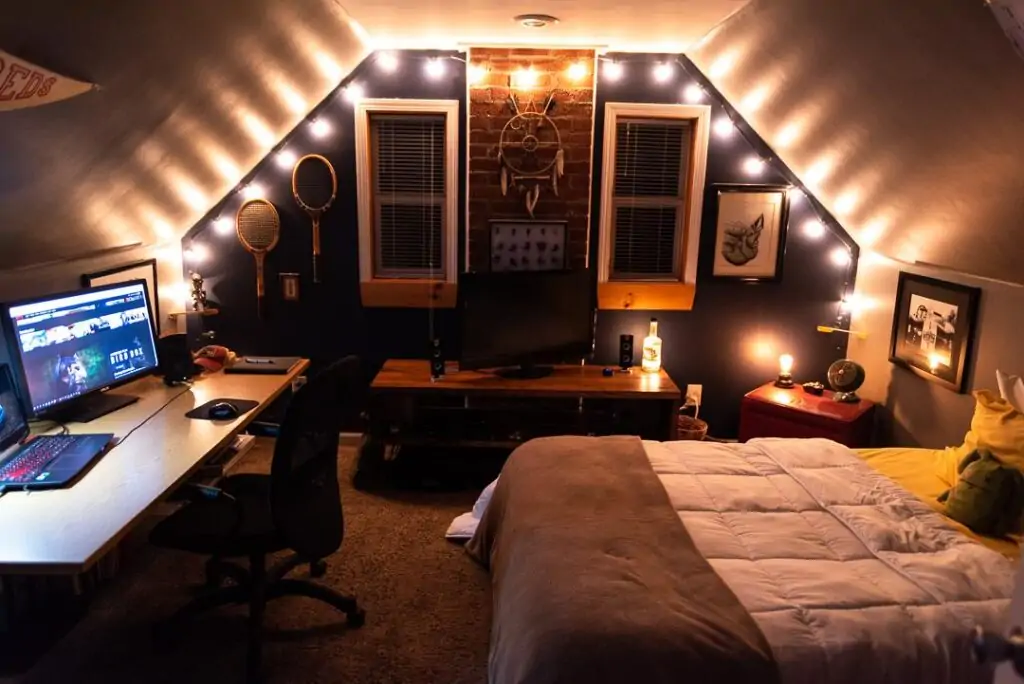 18. Neon Demon: Don't Be Afraid of Colors
Designs like this one are trendy at the moment among young people looking for ideas on how to decorate a small bedroom. We have to admit that it's a nice way to cozy up a space: vines and LED lights create a warm feeling, and the wall decor fills the room with personality. And of course, with all those pretty neon colors, no one will even notice what size your place really is!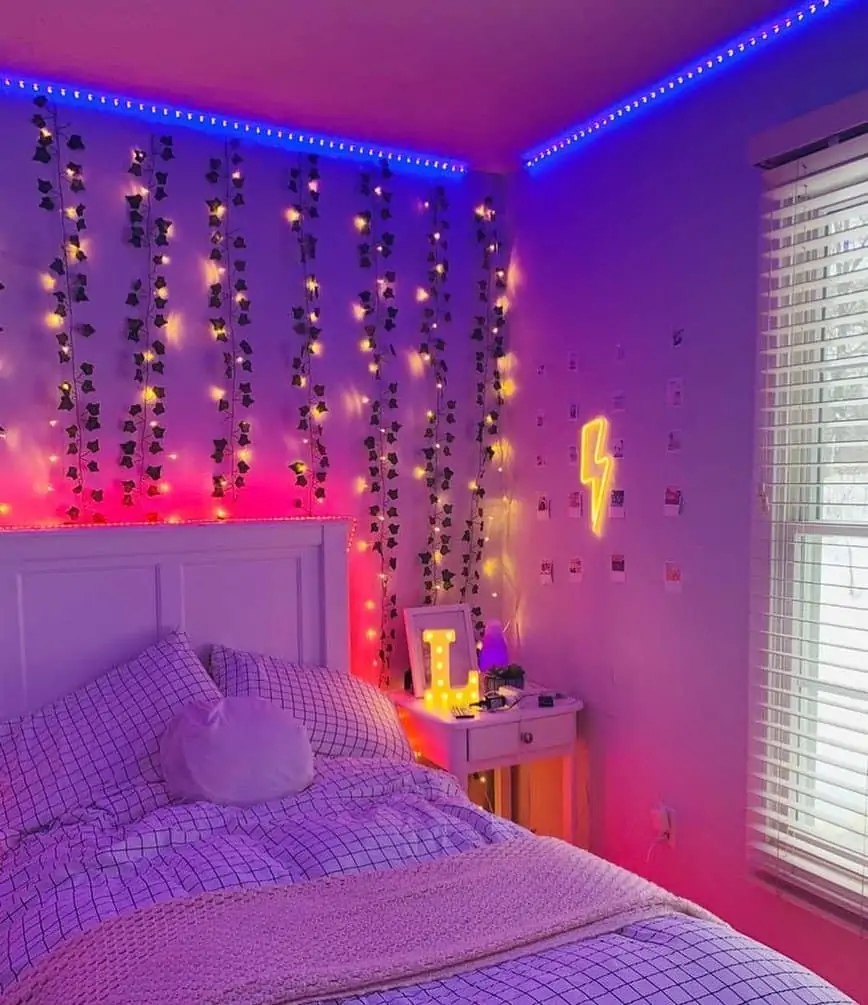 19. Maximum Efficiency: An Easy Way to Utilize the Space
This loft bed made by combining simple IKEA shelving modules and, well, a bed frame was created by an engineering genius: it's a wonderful solution for expanding the usable space in a room. If you're looking for small bedroom decorating ideas on a budget — we urge you to consider something like this!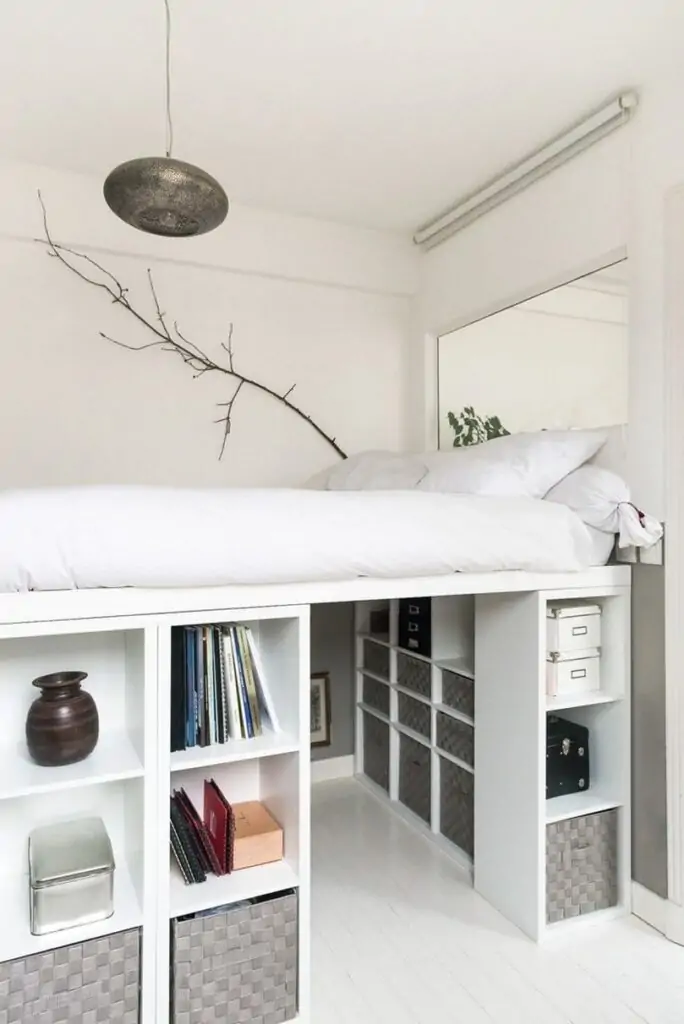 20. Low-Hanging Fruit: A Simple Transformation
If you want to change the look of your room with just a single piece of furniture, without tedious construction or a complete makeover — there are ideas on how to do it. One way is to replace an ordinary bed with a low one — it will help create the space and make the place look bigger.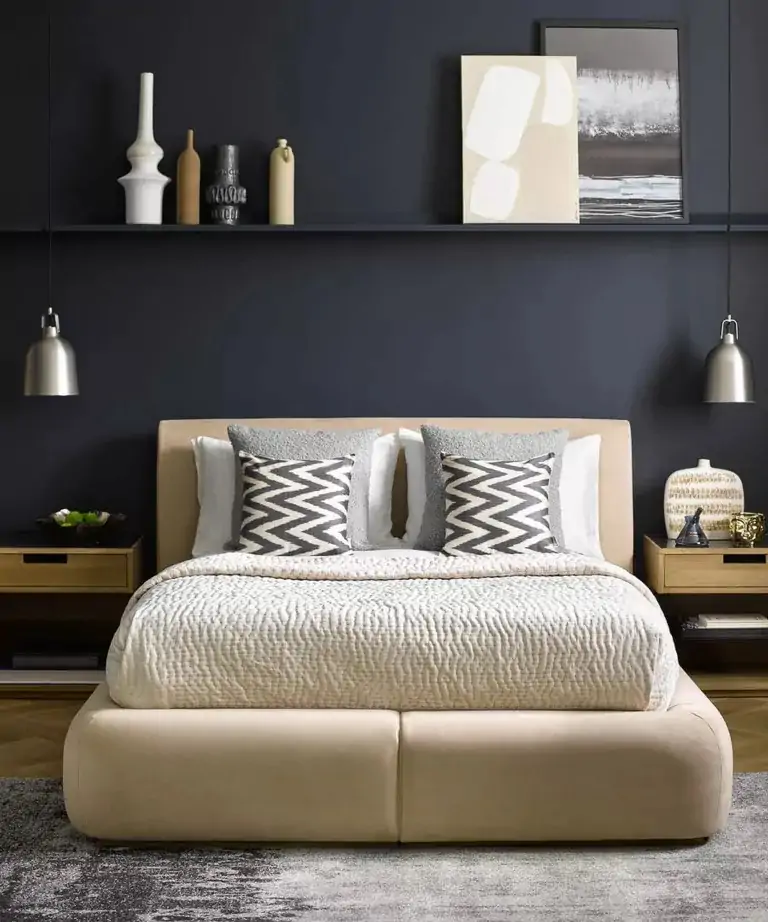 21. There's Space for Everything: Don't Hide Things If You Don't Want To
On the other hand, instead of trying to make your small bedroom look larger, you can actually embrace its size. Put in LED lights, plants, decorations — whatever you want, and don't worry about cluttering up the space. It's a cozy room — and that's okay.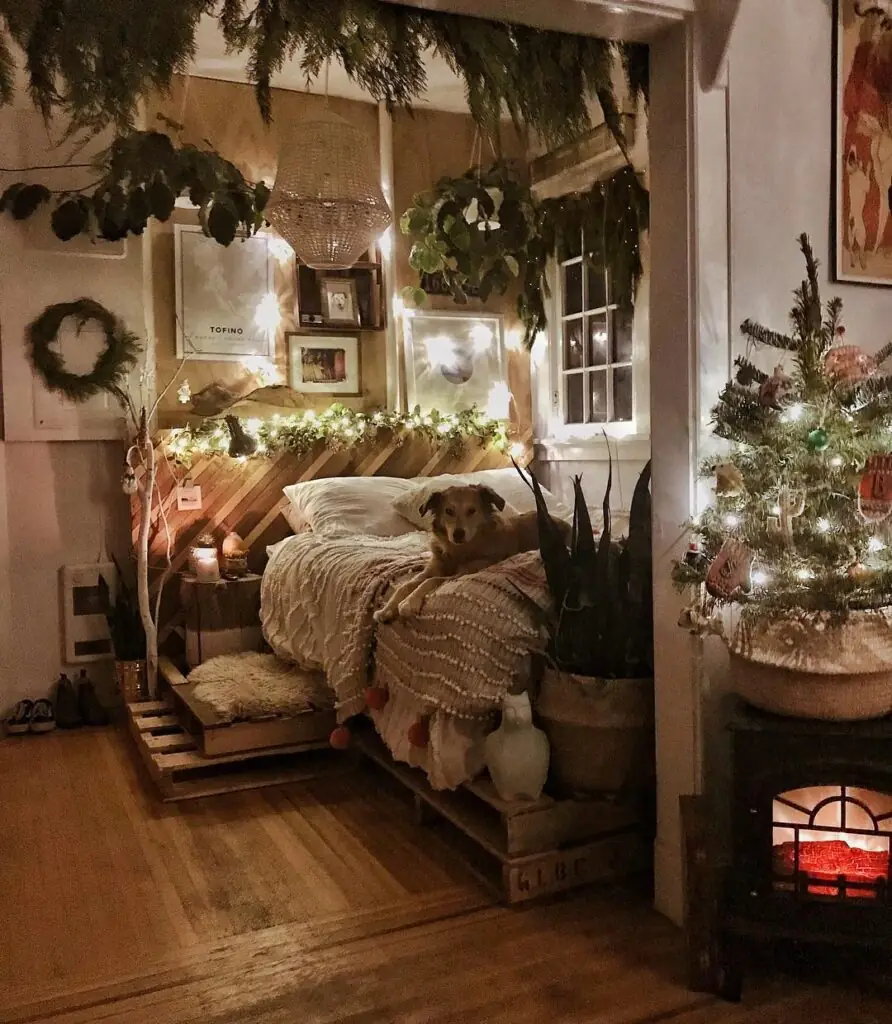 FAQ
Here you can find quick answers to some of the questions on how to decorate a small bedroom.
What Are Some Suggestions for Decorating a Small, Windowless Basement Bedroom?
Designing a bedroom without windows is tough: natural light is a winning feature in any space, especially a small one. However, there are still some ideas you can use.
Use light colors to open up the space;
Install mirrors as a surefire way to make the place look larger. Additionally, you can use other reflective surfaces, such as metal ones;
Spread out the lighting to get rid of the dark corners that make the room look gloomy;
Plants are a sure way to freshen up the space;
Also, you can put in a statement piece, such as a large painting or an accent wall, to draw the eye.
What Are Some Ideas for Decorating a Teenager's Small Bedroom?
Since teenagers are at that age when they're "finding themselves" and their preferences can change radically, it can be tough to think ahead. So it's best to:
Maximize the design's flexibility — it's easier to change, for example, the pillowcases than the whole bed;
Put in plenty of storage space — it helps fight the mess (which is, most likely, unavoidable, no matter your design choices);
Make room for their creativity — if the wall design can be spoiled by a poster, it's probably not worth it.
If you want some ideas about the decorating process itself, we suggest you watch this helpful video:
Conclusion
Whether you're decorating the only bedroom in your tiny apartment, browsing for inspiration for a guest room, or something in between — a space where you (or your guests) spend so much time should be both comfortable and good-looking. Hopefully, our collection of small bedroom decorating ideas will help you with your design choices. See you later in other rooms!