17 Inspiring Small Kitchen Ideas with an Island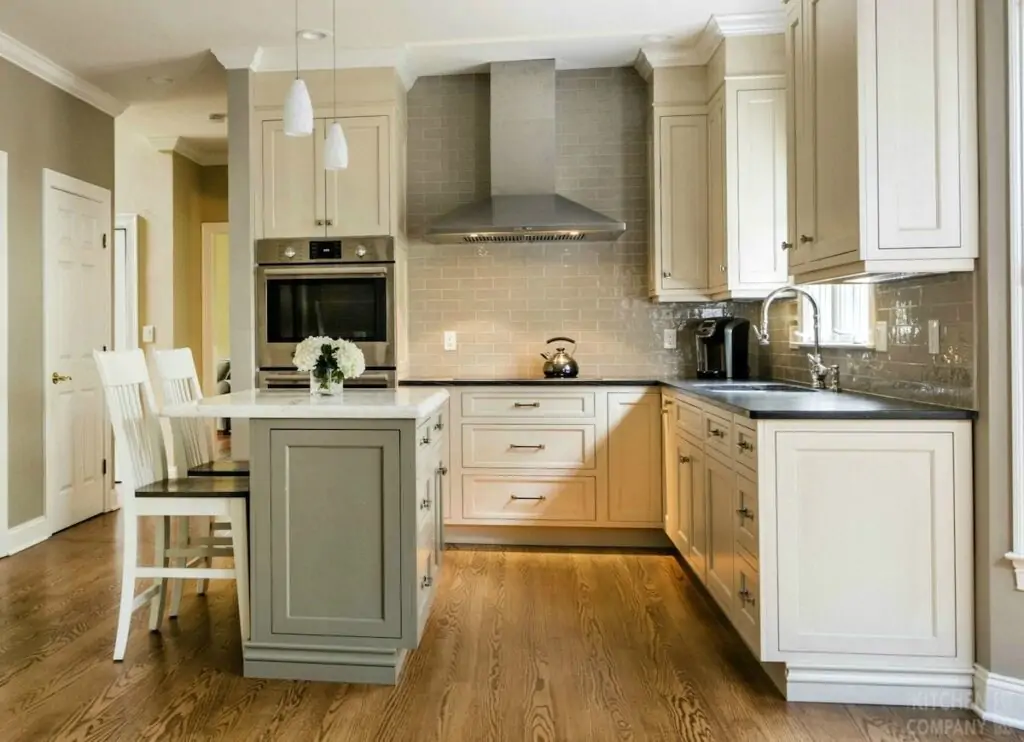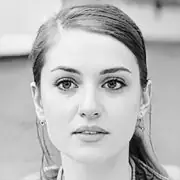 The island in the kitchen is the first place that catches the eye. Using our ingenious small kitchen ideas with an island, you will be able to make this piece of furniture one of the most functional parts of the room. It can serve both dining and cooking purposes.
Though it may seem that you need ample area to incorporate the best peninsula ideas, we are here to prove the opposite. Even people who only have a tiny room have several options to choose from. Adding an island or peninsula will give you extra counter space and an excellent spot for a fast snack in the morning. We've made a list of ideas to help you make your tiny area a spectacular place.
1. Choose a Small Island
Before discussing the whole spectrum of tips and hints, you need to know the basic principle of using an island in a small kitchen: go for compact options. A tiny island or peninsula integrated into the room makes the limited space more functional in several ways. For home chefs, the top part will offer sufficient room for cooking. The underneath storage space will give you more space for storing utilities, equipment, and food. Bonus points if there is also a place to attach a kitchen rail and a step ladder.
2. Narrow Option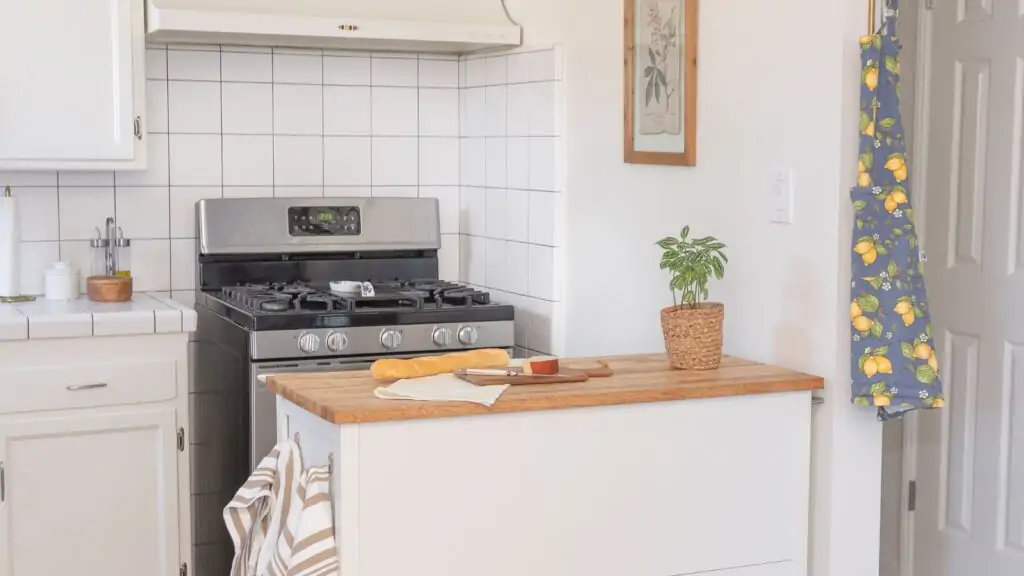 If your area is limited, do not choose furniture which takes up too much space. That is why narrow islands are the best choice, as they can serve perfectly for dining, cooking, or putting in extra equipment. What's more, ensure that your piece of furniture has shelves underneath so that there is additional storage for you. If you find a movable island, you will easily be able to change its place whenever you want.
3. Extra Storage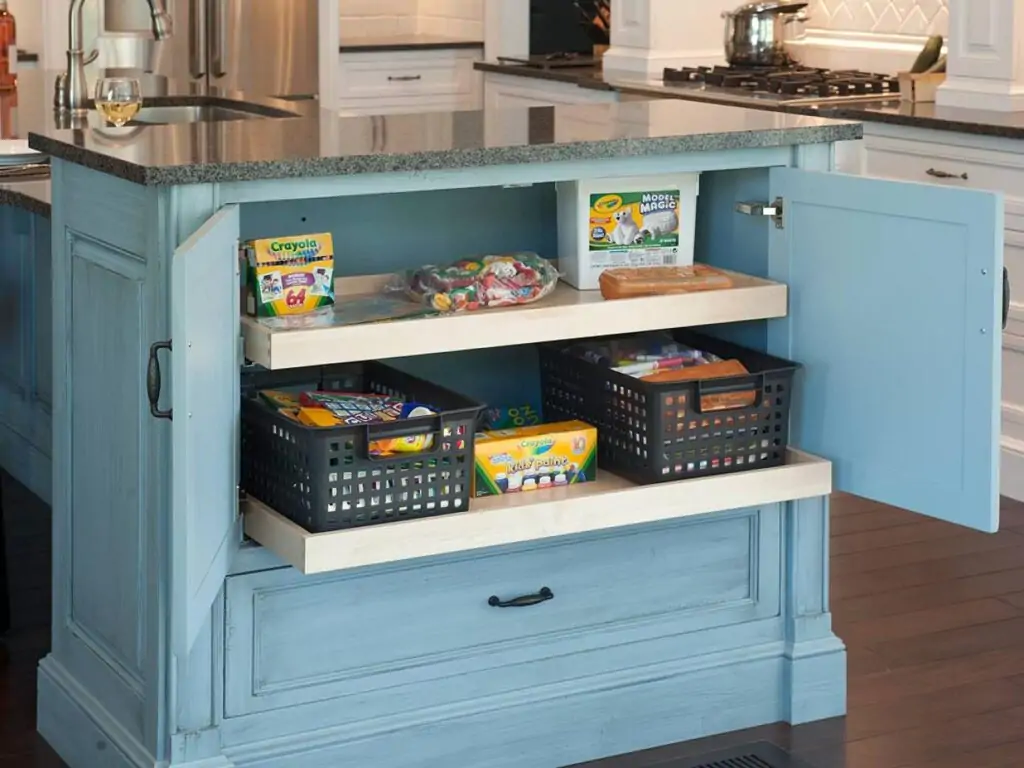 If you want to create extra space for storing food, jars, or utensils, think about a small kitchen island with cabinets. Not only will it be a table for eating or cooking, but it will also act as an additional place to put cooking essentials and plates. Thus, you can solve more than one issue with a simple trick. You'll have both an additional table and more shelves in your limited area.
4. Wheels to the Rescue!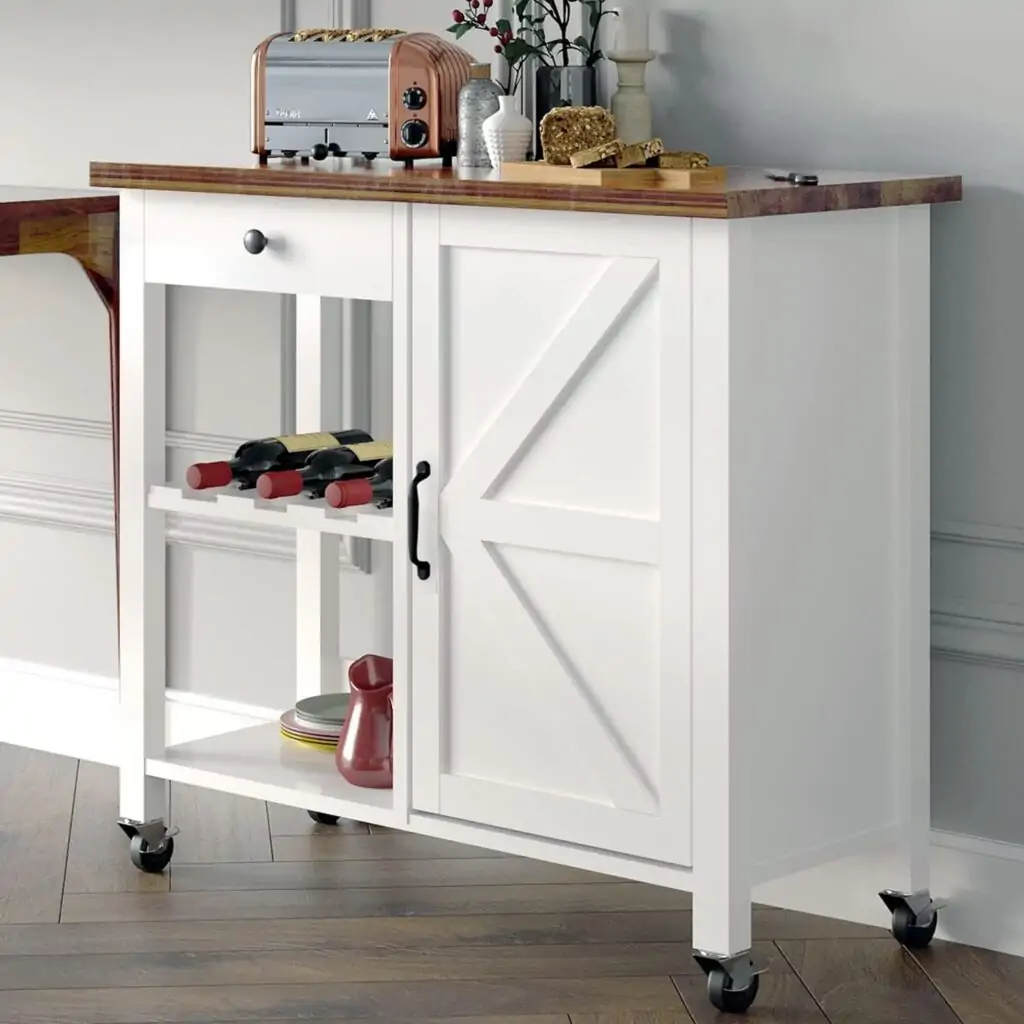 Movable furniture is a real boon for every compact area. Pieces of furniture with wheels allow moving and creating passages in a cramped space whenever needed. The rolling table adds extra functionality and also is quite creative. You can choose a little squared option, with shelves for storing equipment like pans or a mixer. You might also want to add one or two chairs for your family to sit around this table-cum-cabinet.
5. Folding Option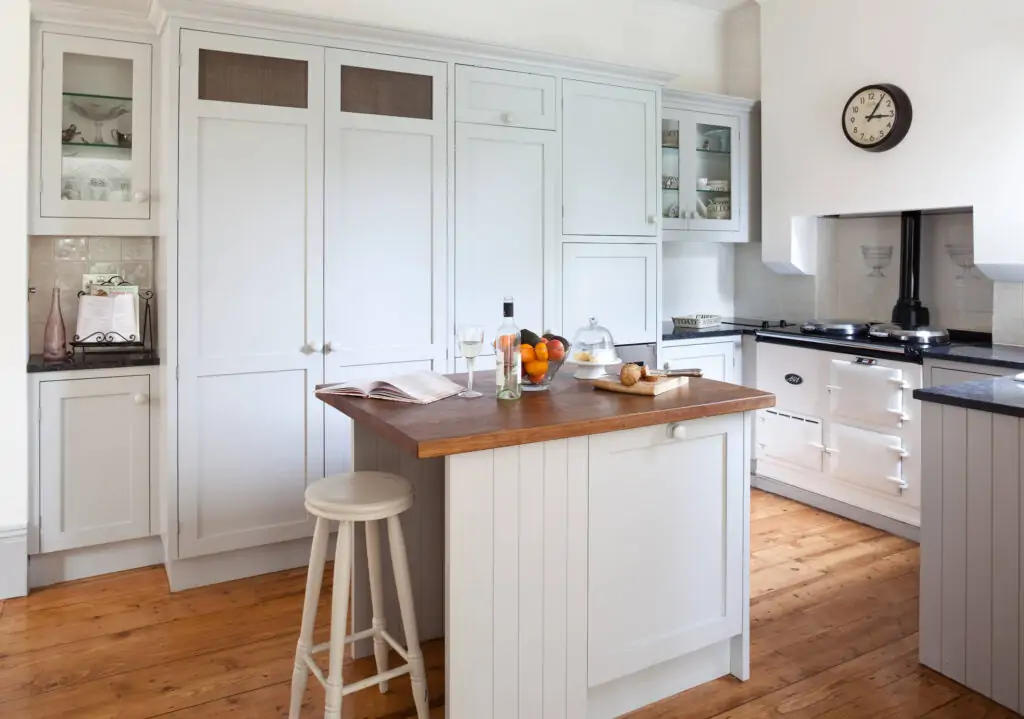 Islands in the room are more convenient when they have the function of expanding whenever additional space is needed. Moreover, it can be hidden away if the floor needs to be free. If your kitchen is small, but you regularly need to find a lot of table space, such an option will be best for you. Keep your island folded most of the time, and then unfold it when you need some more space to eat or cook.
6. Keep It Hidden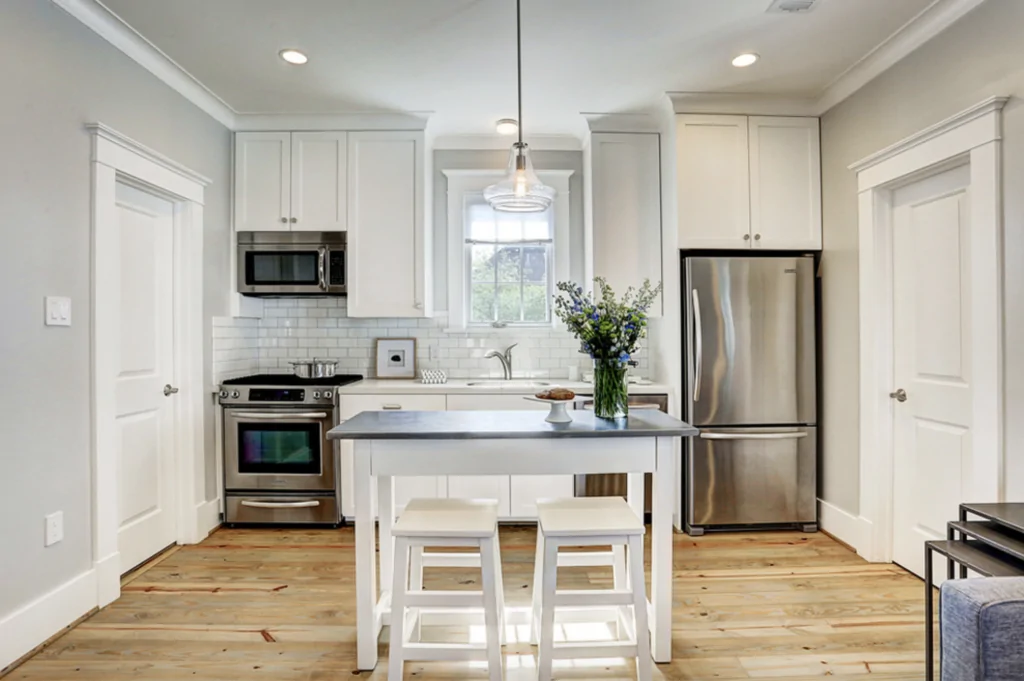 In limited areas, certain pieces of furniture should not only be movable but also easily hidden when needed. Note this built-in island that is meant to be made disappear easily. When more space is required, this piece of furniture conveniently slides out from its location under the countertop. It is one of those design ideas that help you make most of your small space.
7. Combine It with Table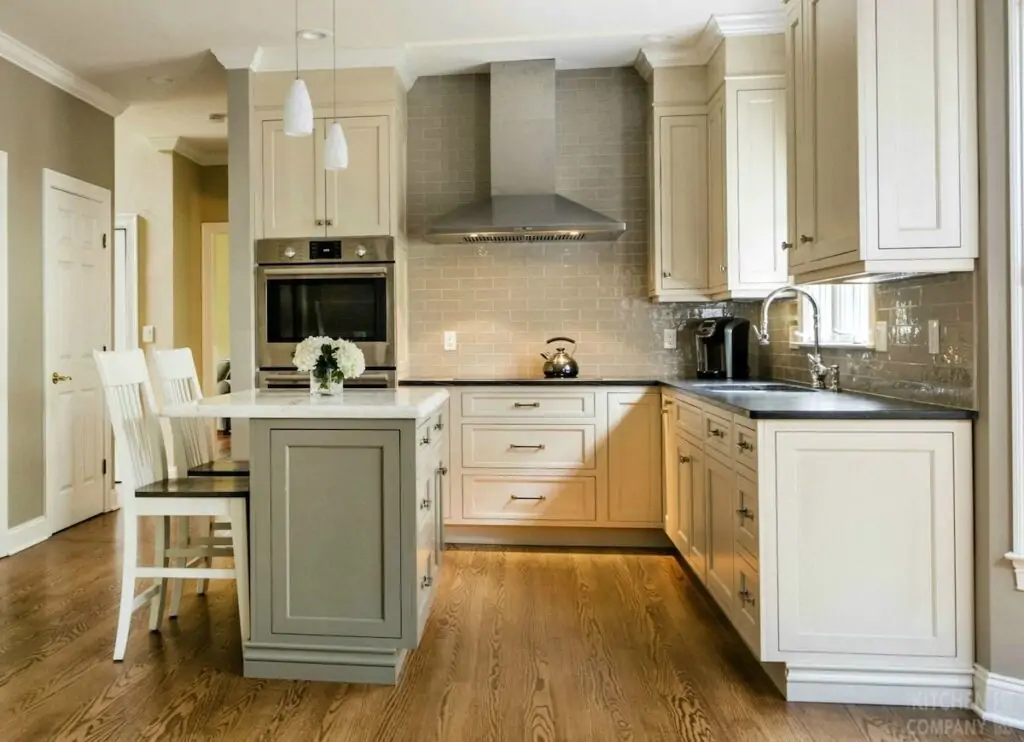 Why not add a piece of furniture to your kitchen that can function as both a dining table and a peninsula when you only have room for one of them? Combining certain items together is always a good idea – especially when it comes to tiny places. Islands can serve both as a dining table and a cooking place simultaneously, so there is no need to have both.
8. Fast Break Spot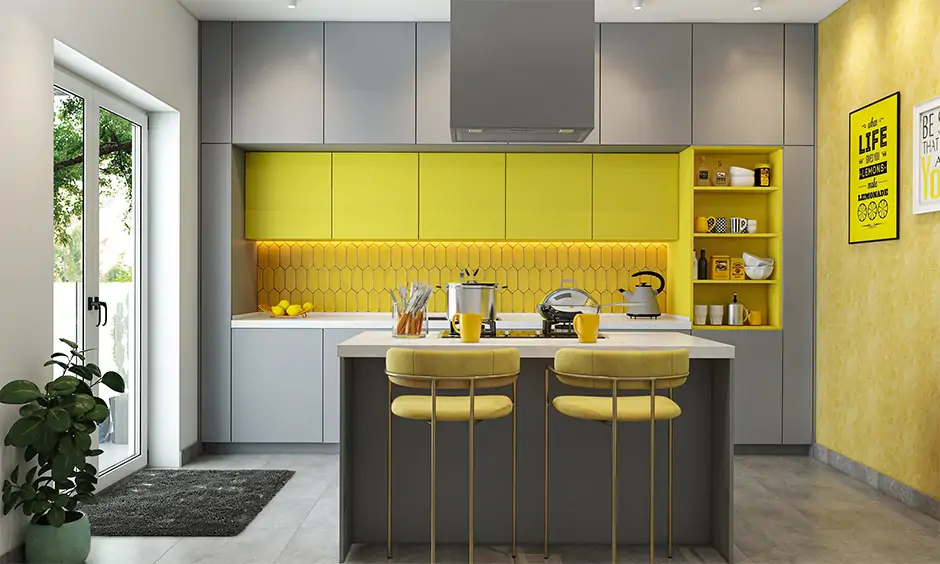 It's not required to have many chairs all around your peninsula. Simply create a fast break spot area with one chair on either side. It will be adequate if you wish to utilize the area for storage and need easy access to the cabinets. This design approach offers a peaceful place where you can rest. The atmosphere is warm and inviting – a friend of yours will be glad to drop by for a coffee. This is also one of the modern small kitchen ideas with an island that can easily be integrated into almost any small space.
9. Monochrome Color Scheme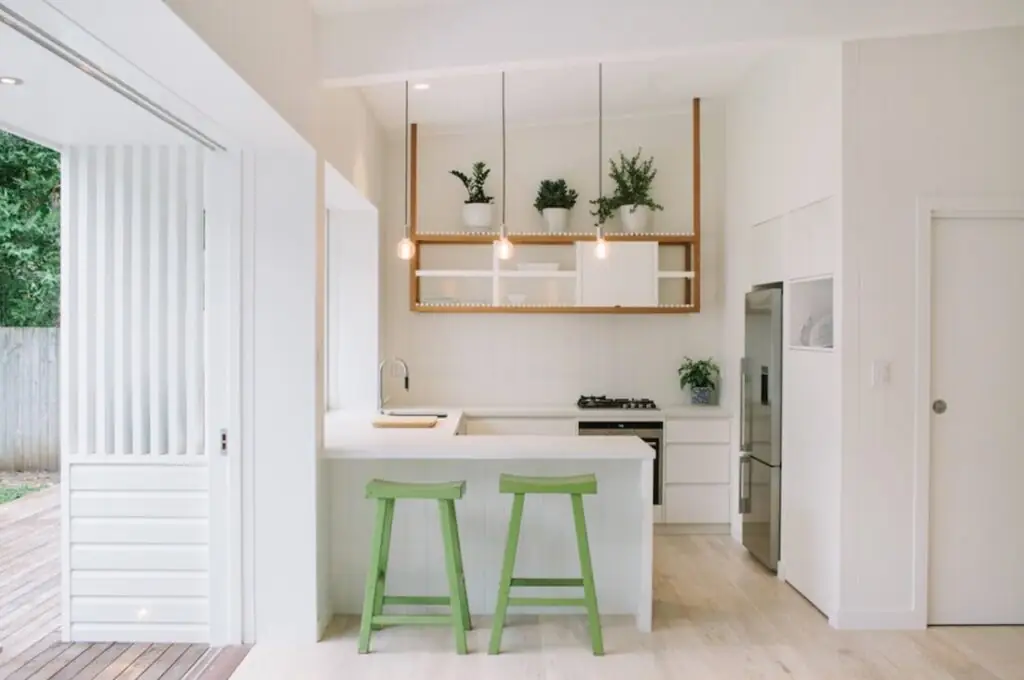 Visuals are a vital aspect of any house. Before starting to look for furniture ideas, we highly recommend that you pay attention to your kitchen's colors. You can make any room look more spacious by using white and light colors. So, you might want not to choose a dark color scheme; play with pastel colors instead to make your place look brighter. Even if your kitchen is compact, people will hardly notice it because of the white-on-white color scheme.
10. Think Outside the Box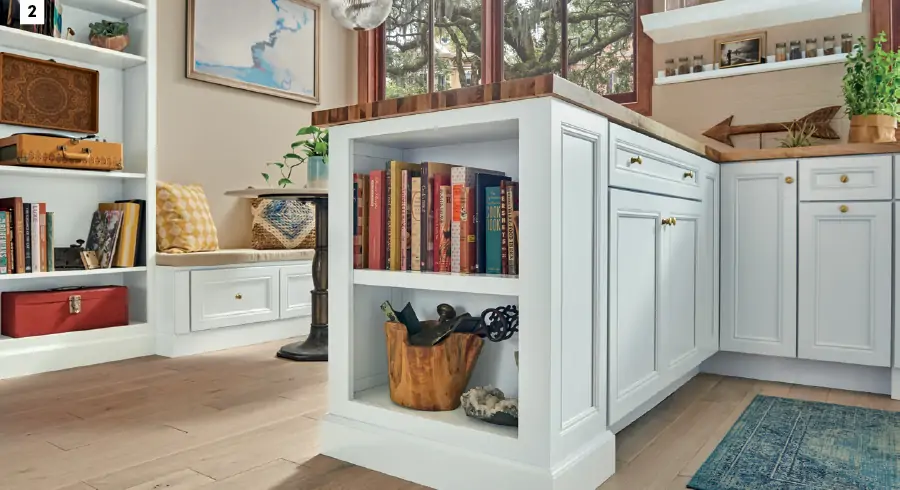 Creativity is the key to making every area of your house appealing. Don't be afraid to think outside the box and, as they did in the photo, use the open shelves under the peninsula for books. Such an idea is certain to your guests about your life priorities. What's more, this way you can store not only books but also some decorations. This bookcase allows you to display your favorite items, whether they are cooking-themed or not. At the same time, the cooking equipment will be hidden away in cupboards.
11. Create a Hidden Trash Area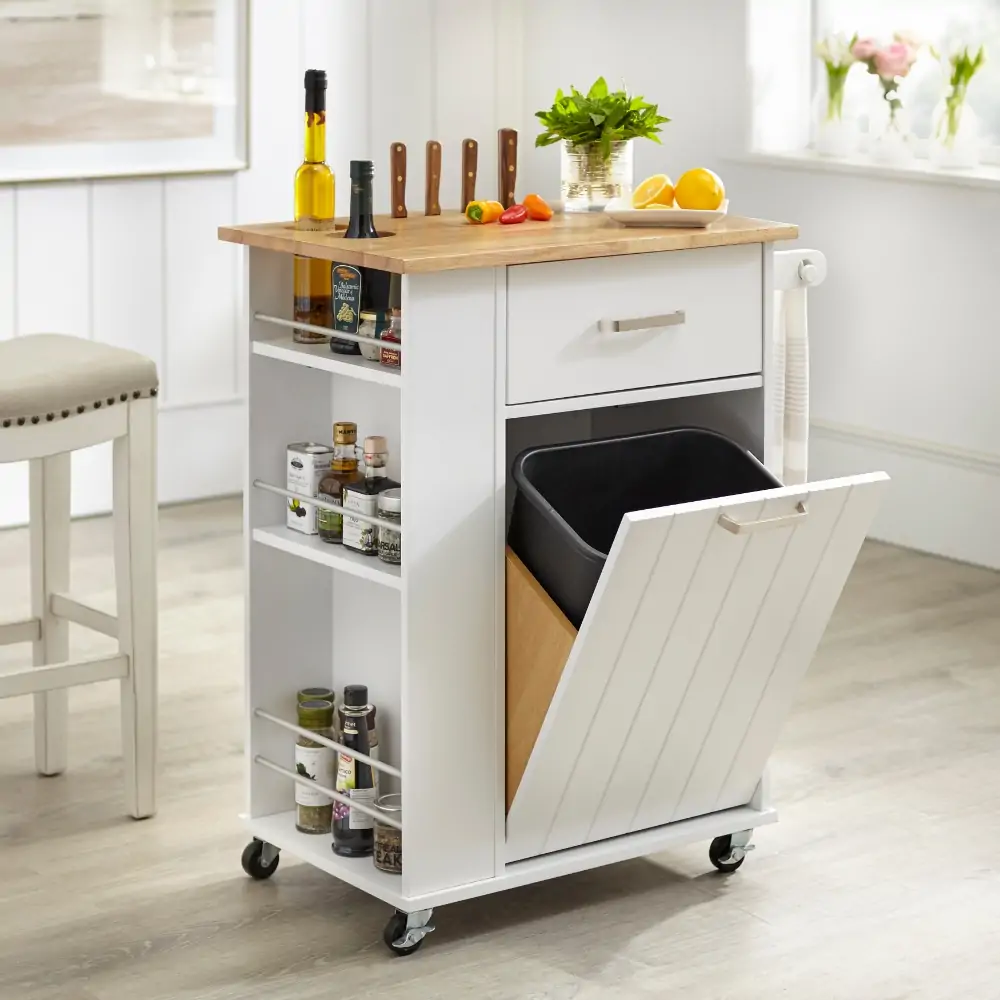 Effective solutions are what help you successfully meet major challenges. Another great idea for your kitchen is to place a hidden trash can inside the island. No one will see it, and there will be enough room for dealing with the garbage. This hack will free a lot of space and make the area more appealing because you won't have to display the garbage can.
12. Square Shape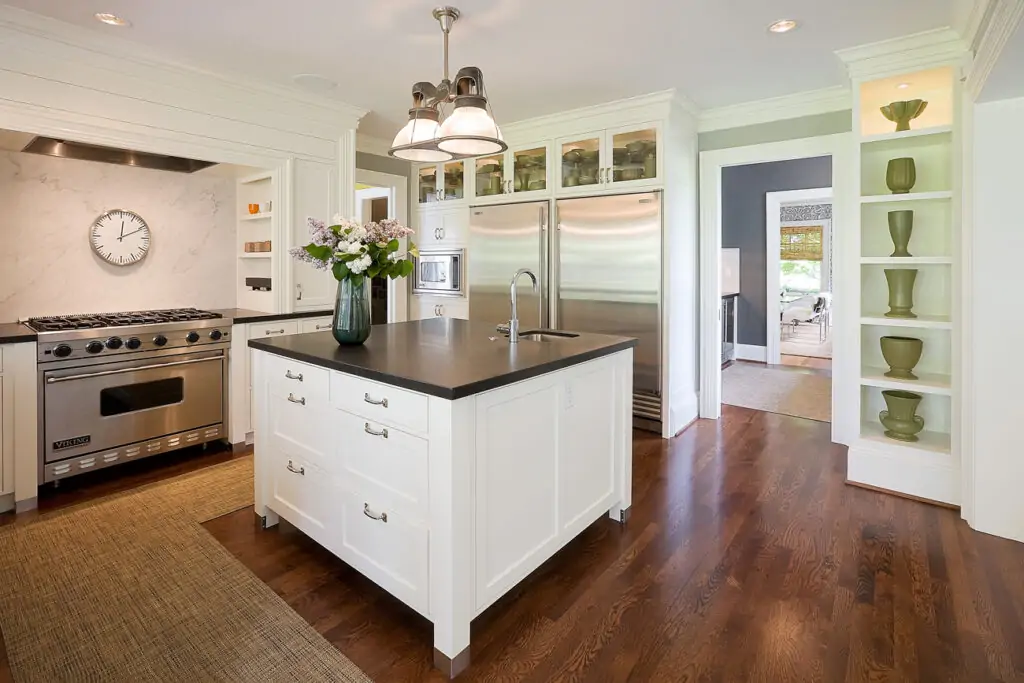 Even in a cramped kitchen, a square peninsula can help maximize the space. You can put a couple of chairs around it and take them away if you need the table for cooking. Try choosing an option with elegant curves on the sides to make it look more creative. This is an excellent illustration of yet another approach to creating a visually appealing little island.
13. Add a Pegboard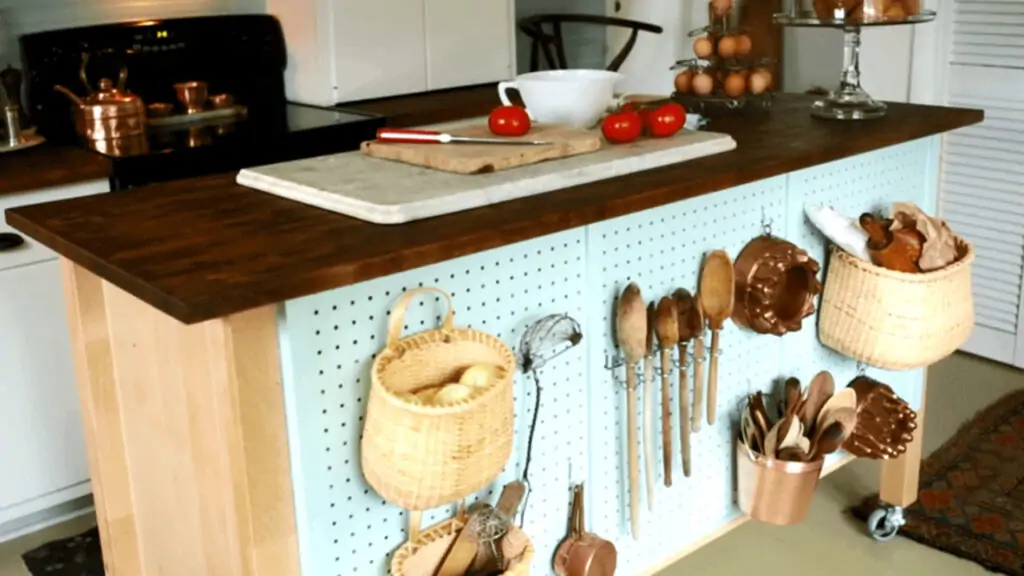 Do you need some additional storage area? Add a pegboard to your island! The back or the front part of this piece of furniture can be the perfect place for a pegboard. You can hang cooking utensils, pens, cleaning essentials, and other non-kitchen-related items there. For example, if your child likes to draw, you can hang their artwork there.
14. Combine It with the Microwave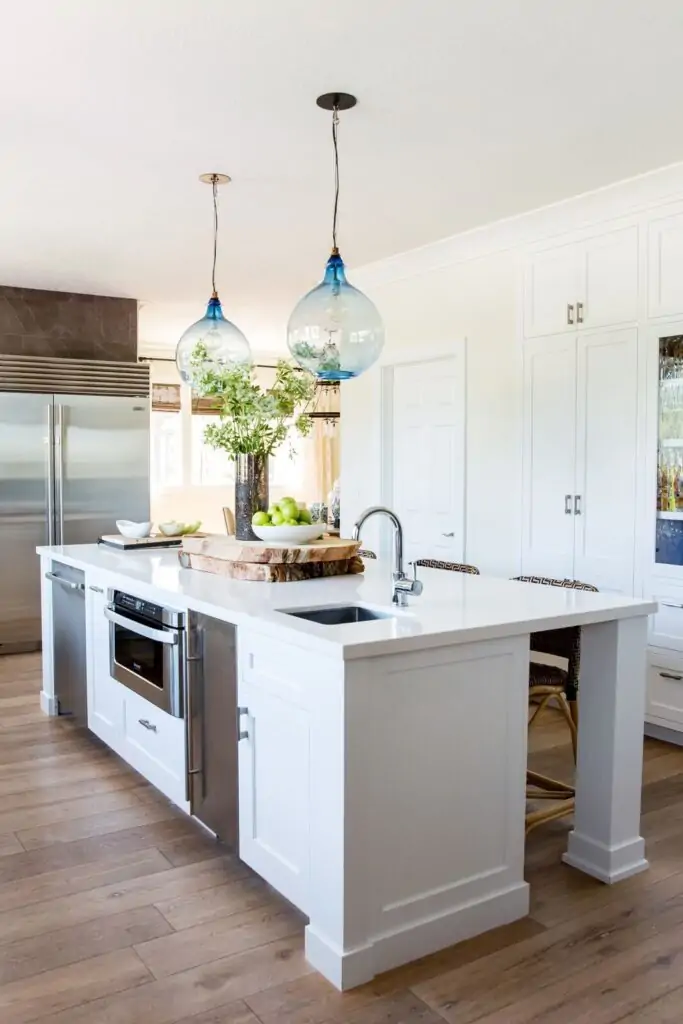 Here is another option for combining two pieces of equipment/furniture together. For some people, microwaves are never really visually appealing, no matter how beautifully the manufacturers try to design them. Some of us might even abstain from buying them at all because microwaves don't fit the design of the kitchen. So, you can use an island to conceal your microwave. This way, you will be able to enjoy the benefits of this technological gem and keep it hidden from sight at the same time.
15. Put an Accent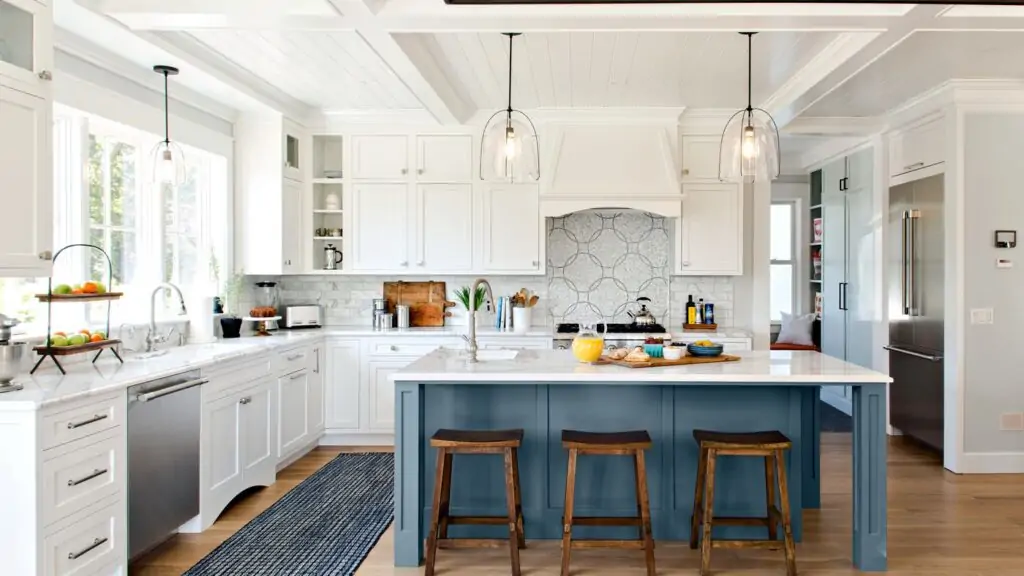 As we've mentioned above, the peninsula is the first thing that catches the eye in your kitchen space. So, why don't you put even more emphasis on it? Paint the walls of your space off-white and choose a bright and super stylish island that will stand out. Jazz your kitchen up!
16. Bar Design
The island in your kitchen is really a representation of your life priorities. There is nothing wrong with using it for preparing dinner, but what about giving it a different style and creating a small bar space at your home? Need small kitchen island bar ideas? Add bar stools and some beverages on the shelves and use lights to create a relaxed atmosphere. Do this, and you will be able to spend time in style with your friends or family while going about your domestic chores.
17. Attach It to the Wall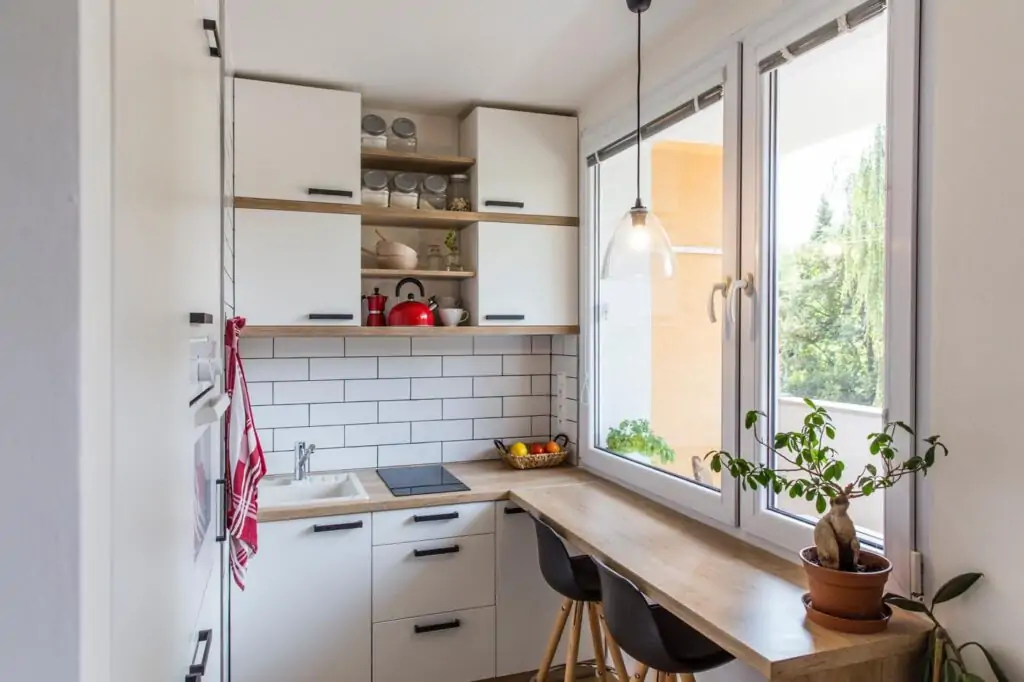 By positioning the island against the wall, you will effectively use the kitchen's space: place your peninsula in the corner of the room and/or use a foldable option. Add two chairs to it: this piece of furniture will be your and your partner's favorite morning spot.
Final Words
Have a small kitchen? No need to worry, as there are plenty of options for making it the warmest and the most used place in your home. Don't let your small area limit you. You can add an island to a small room to increase its functionality. To give your little area a bit of extra flair, try one of our small kitchen ideas with an island and use your imagination: every guest of yours will be astonished by your creativity.