15 Remarkably Impressive Small Space Wardrobe Ideas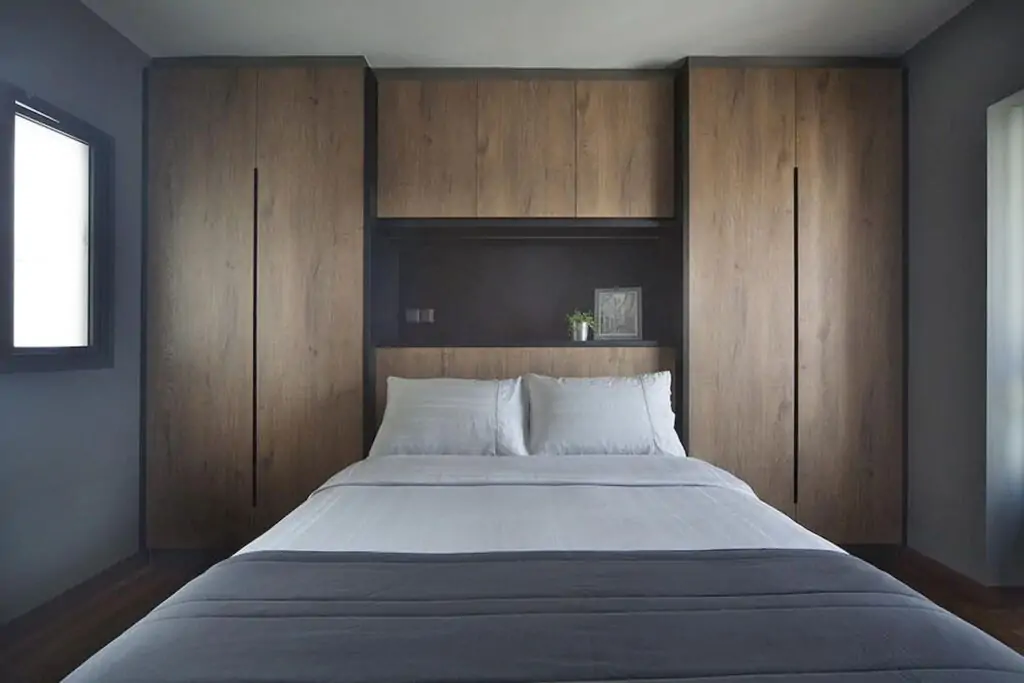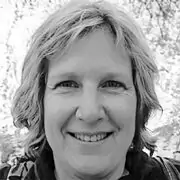 If there is something that almost anyone living in an apartment needs, these are some inventive small space wardrobe ideas. Living in an apartment seems all fairy and dreamy until you realize how small an area you really have. All too often, apart from the bed, there is a dearth of area for any other furniture.
So, how do you build a wardrobe in a small room? You improvise! Here, we have collected 15 of the best small space clothes storage ideas. Have a look and let us know your opinion.
1. Compartments in Bed
This may sound exaggerated but the area under the bed often goes wasted. You can have a nice drawer in there. Beds with storage are available online and you can also get them custom-made. If you already have a bed and don't want to dump it, go for the DIY ideas.
Take some planks and rollers. Attach them to the base of the bed as per your requirement and comfort. Your storage bed is ready to get stuffed with your clothes.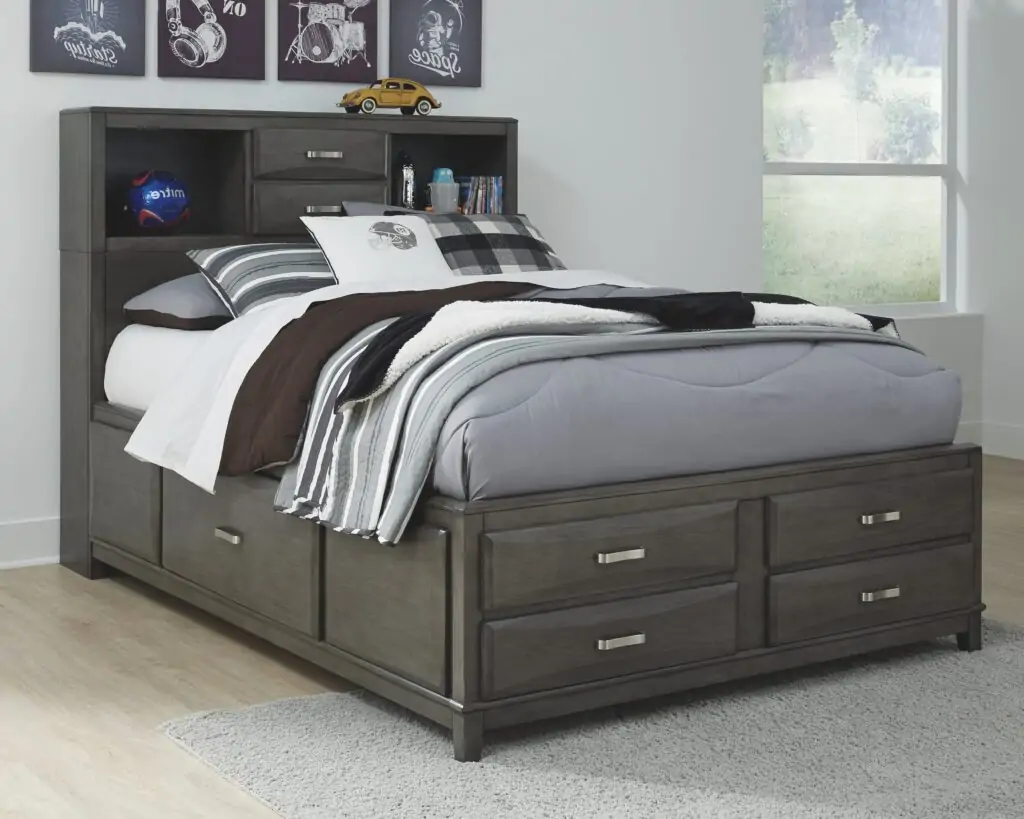 2. Storage Sofa and Benches
Another piece of furniture that takes up too much space without having a storage function is your sofa and bench. Say goodbye to the older models. There are numerous models for storage sofas and benches. They not only accentuate your living area but also declutter your home by storing lots of stuff.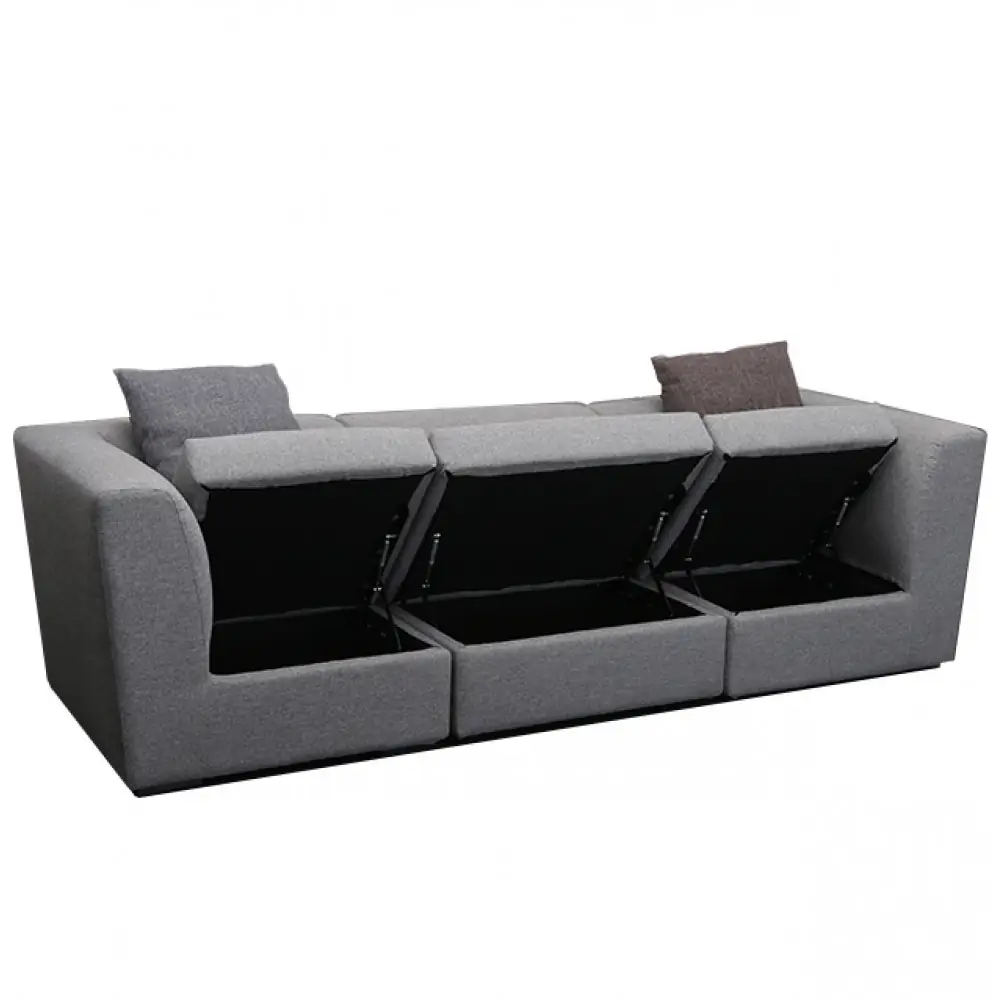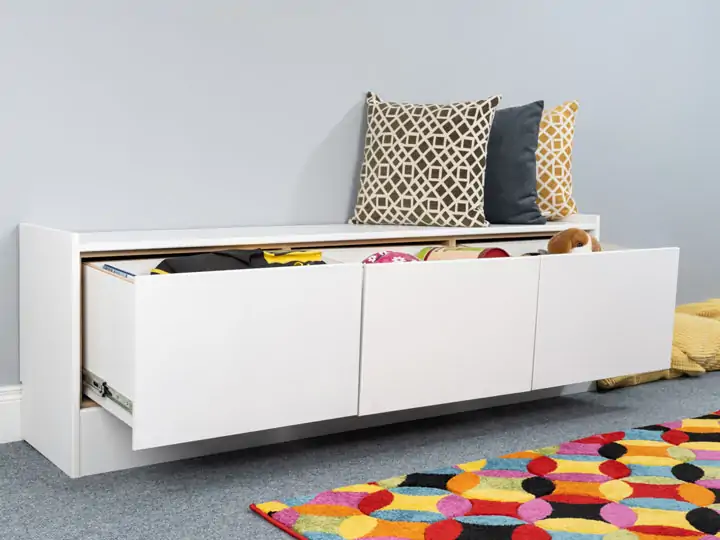 3. Wardrobe Till Roof
Usually, people build closets that have a maximum height of 6' or 7'. If your apartment has a higher ceiling, get a closet that actually meets the ceiling. This not only prevents wastage of area but also makes the ceiling look higher and more imposing. You might need to add the conventional stairs or go for the space-saving stairs that are easily available online.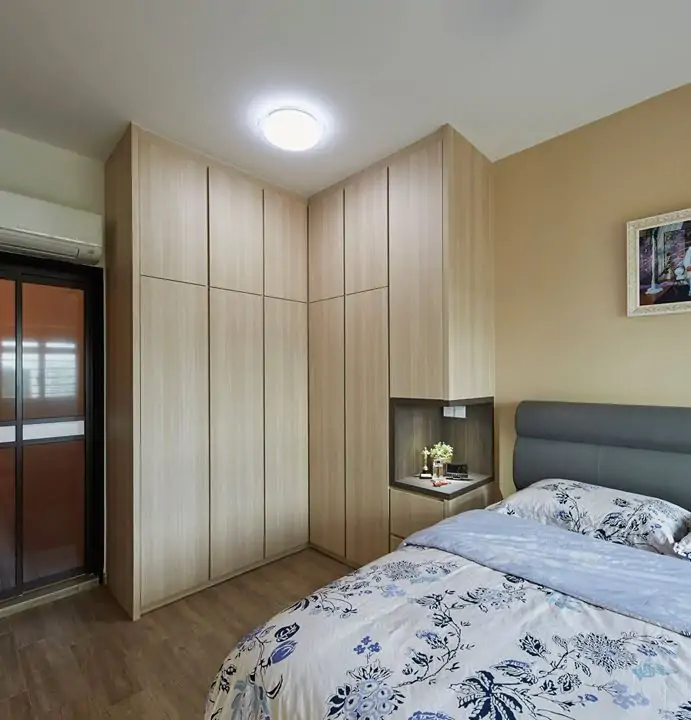 4. Look for DIY projects
Nothing can beat the beauty of DIY projects. You can customize them according to your needs and they are very efficient as you know what you specifically need. These days, stores like IKEA easily provide materials for building furniture.
The first step should always be intense brainstorming. Take help from an interior designer for the most efficient ideas. Then execute the plan. You will be impressed how your efforts turn into the best wardrobe for small spaces.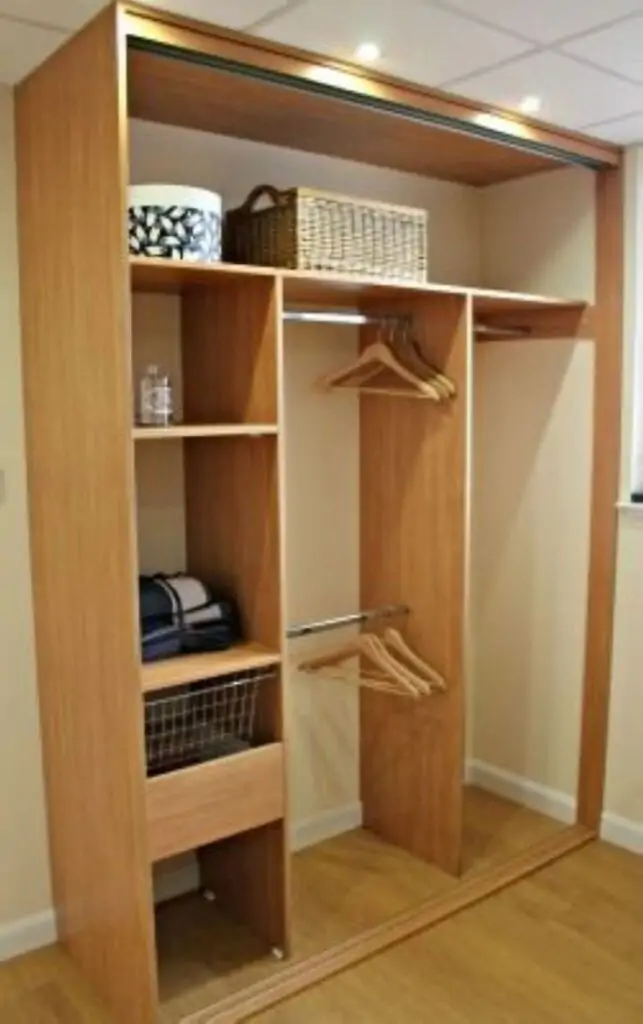 5. Over-The-Door Storage
If you are constantly struggling with a small storage area for clothing items like socks, underwear, ties, stockings, and so on, go for over-the-door storage. These are super easy to install, affordable, and do not take much volume. In fact, by doing so, you make use of otherwise idle space. You can get them online, from stores, or even get them custom-made.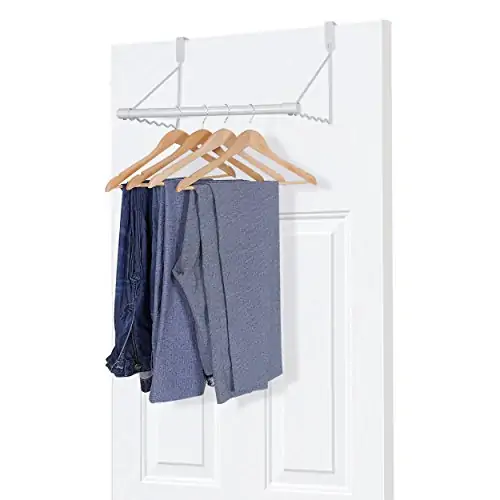 6. Clothing Rack with Wheels
There are many clothing items that you need on the go. Coats, blazers, and scarves come in this category. In absence of an easily approachable storage area, these usually lie on a chair or your bed. It is better to get a clothing rack with wheels which you can move easily. These take very little space and are quite easy to manage.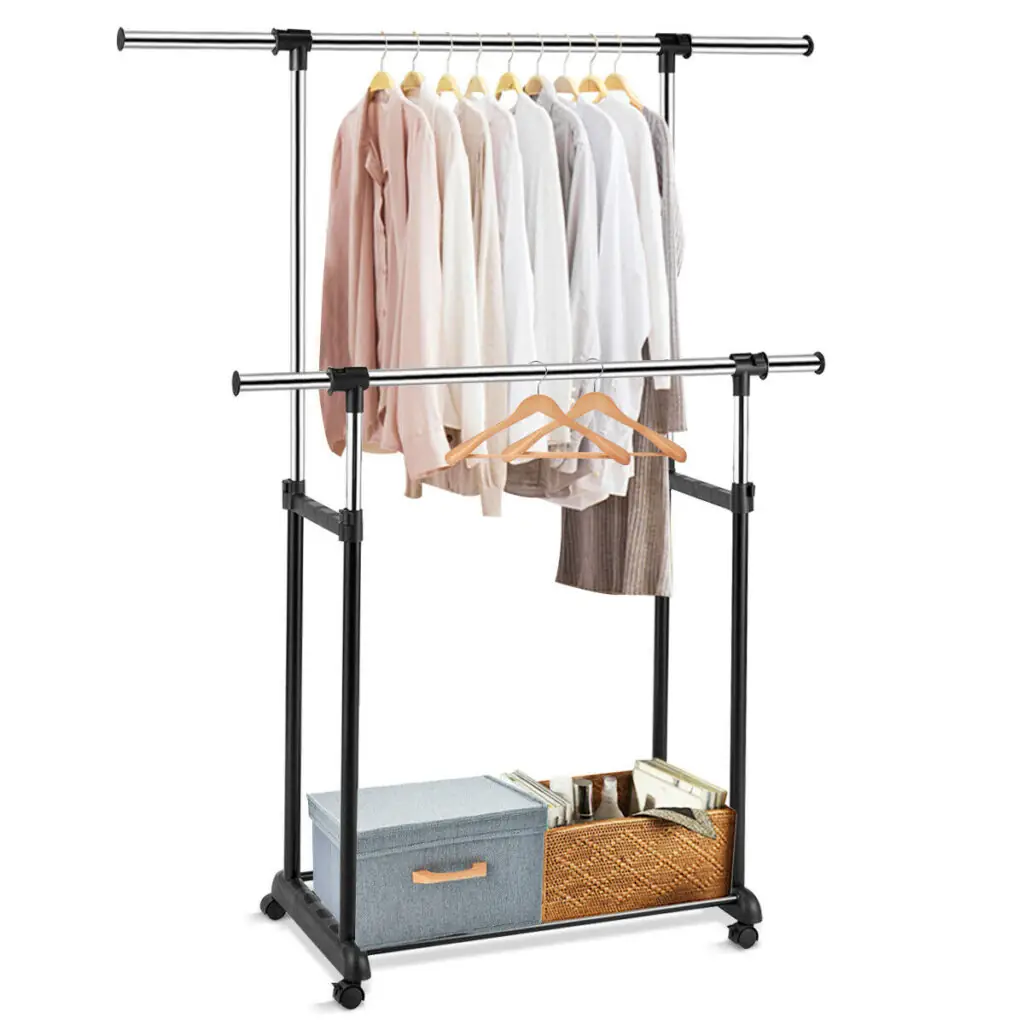 7. Headboard Wardrobe
If you are not into open cupboards, have the cupboard sliding doors. The biggest advantage of sliding doors is that they are space-saving. You can even put an art piece on the wardrobe door for accentuating the room's look.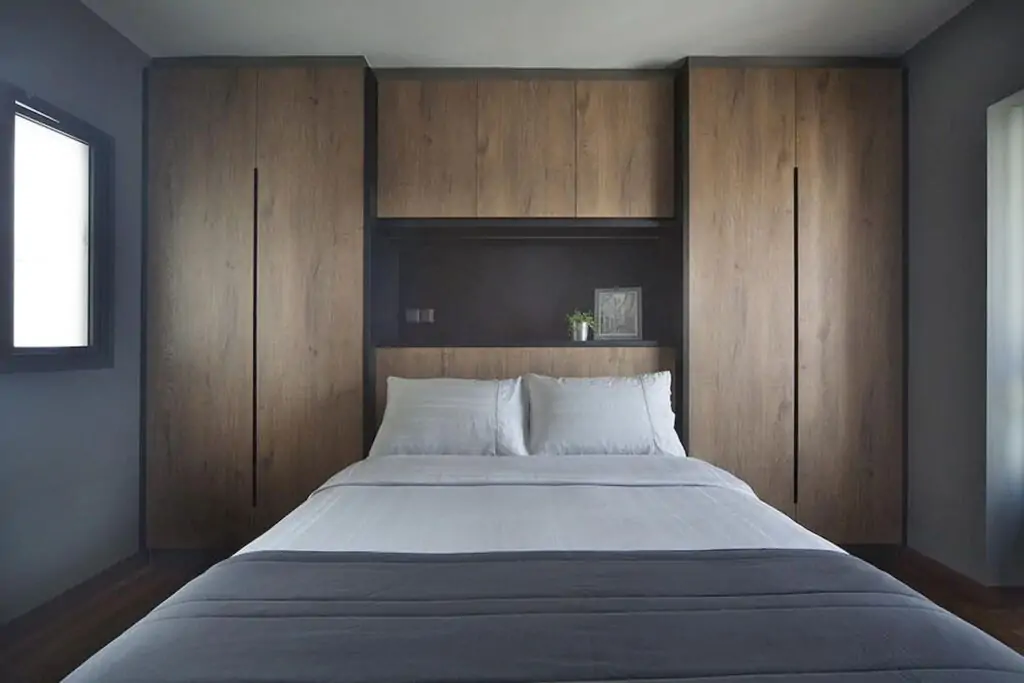 8. Hanging Racks
Get a few rods and S-hooks and have them installed over your bed. You can hang your clothes on these hooks and they will give a chic-boho look to your room as well.
You can also use such an extremely convenient contraption as hanging racks: put them everywhere. And by that, we mean everywhere. They are an excellent way to save the floor area and use bare walls. We have one more tip here. Vacuum out your woolens, pack them in poly bags and store them on these racks. By vacuum sealing, you reduce the weight and mass and that puts lesser weight on the racks. That also makes the rack look decluttered.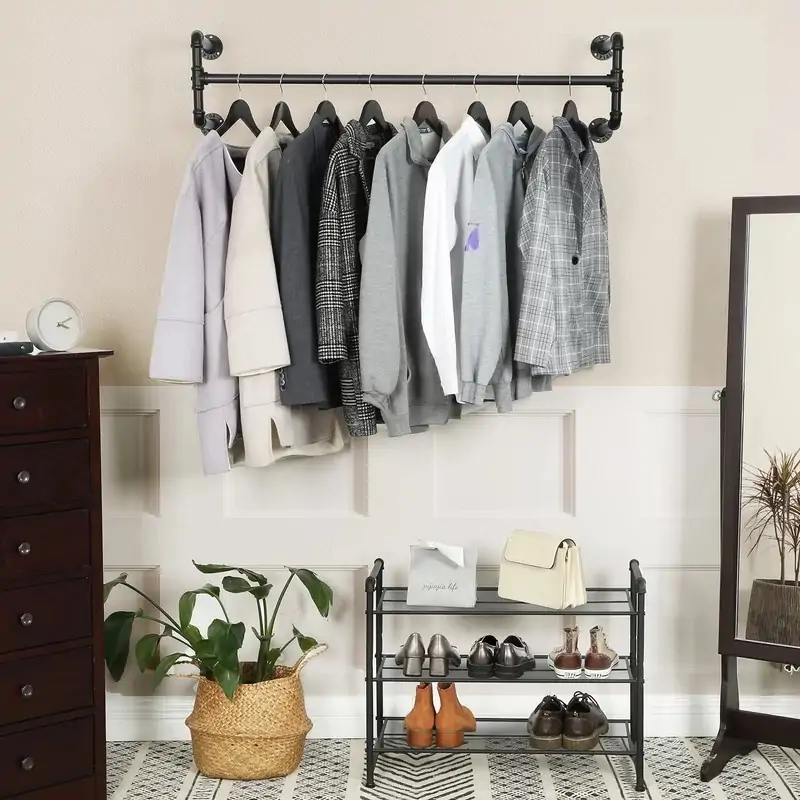 9. Corner Racks
Corners of a room are usually the most unused area. Get yourself a corner rack and keep clothes in there. We recommend using custom-made corner racks. Every room has a different dimension of corners and a factory-made rack might not be the best bet. Get a semi-circular rod and add S-hooks to it. Such a storage space is perfect for storing skirts.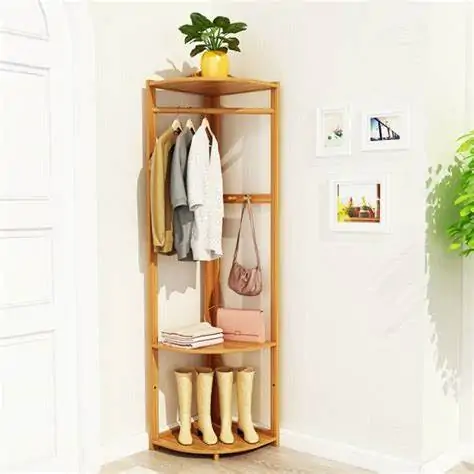 10. Storage Space Under the Stairs
The area under the stairs is perfect for a small space walk-in closet. You can add several layers to a closet and close it with a mirrored door. The space is efficiently utilized while giving you ample storage area.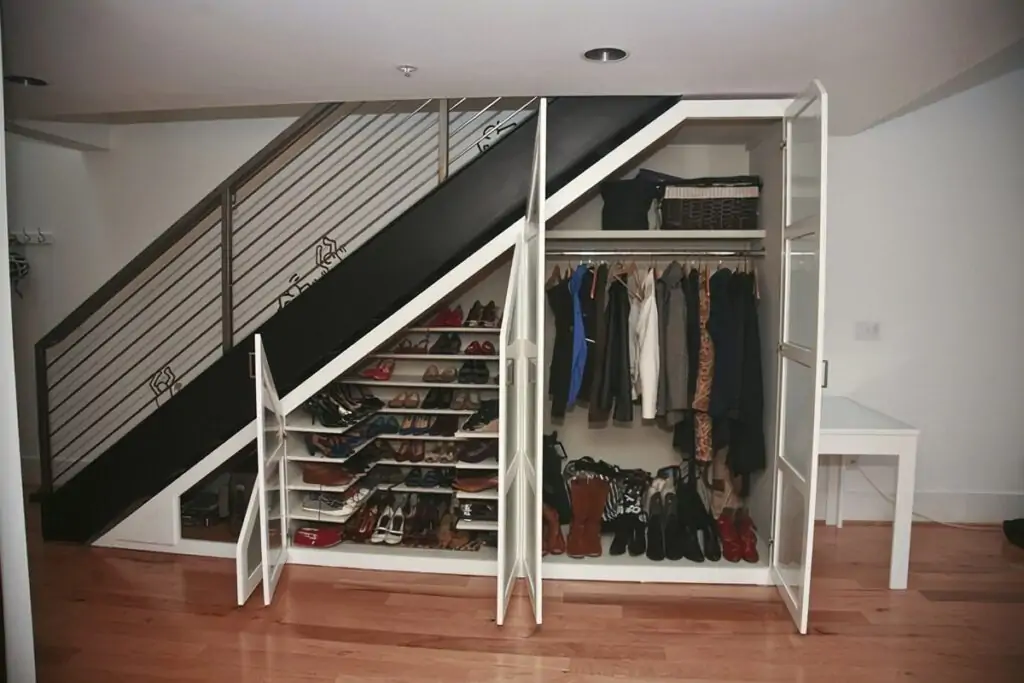 11. Entertainment Unit with Wardrobe
Usually, the entertainment unit has open compartments for keeping show pieces. But if you are wondering how to make space in a small closet, it is better to replace the open racks with closed cupboards. Construct closed cupboards so that they reach the ceiling. This trick will instantly increase the available storage area. And if you feel that the entertainment unit has lost its charm, then you add a few floating racks with suction cups on the door.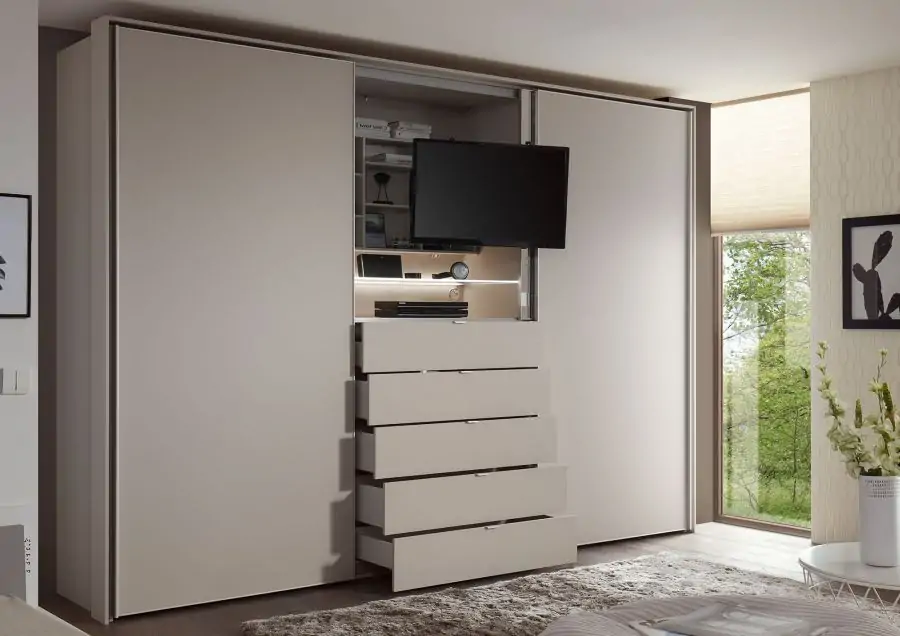 12. Pull-Out Wardrobe
You must have noticed that there are narrow areas in the house that go unused. You can add a pull-out wardrobe there. That is an efficient way to keep your clothes without making the room look cluttered.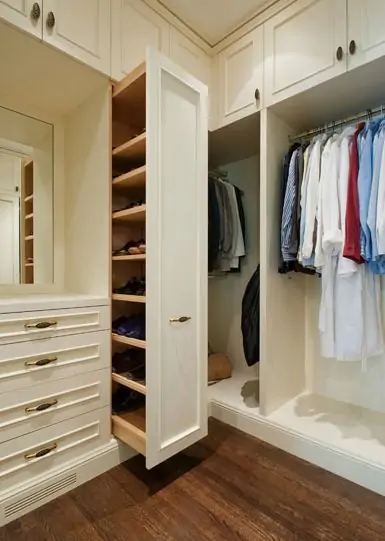 13. Wardrobe Combined with Dresser and Study Unit
The post-COVID world calls for a permanent workstation in your home. But adding a separate study table and chair will eat up most of the available space. So, here is one of the best ideas for such cases: buy a closet that has a built-in dresser and study unit. You can store your clothes, cosmetics, and office supply all in a single piece of furniture. What more do you need when you are looking for wardrobe ideas for small spaces?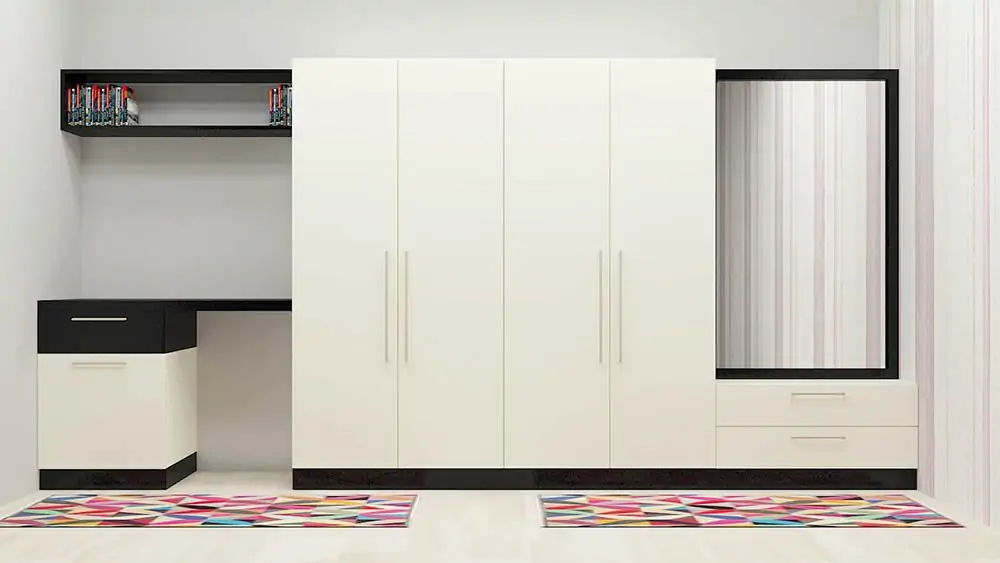 14. The Doorway Storage
The entrance to every apartment is usually a little passage. Just add overhead storage to it. It will be perfect for storing your blankets, extra sheets, and some unused clothes.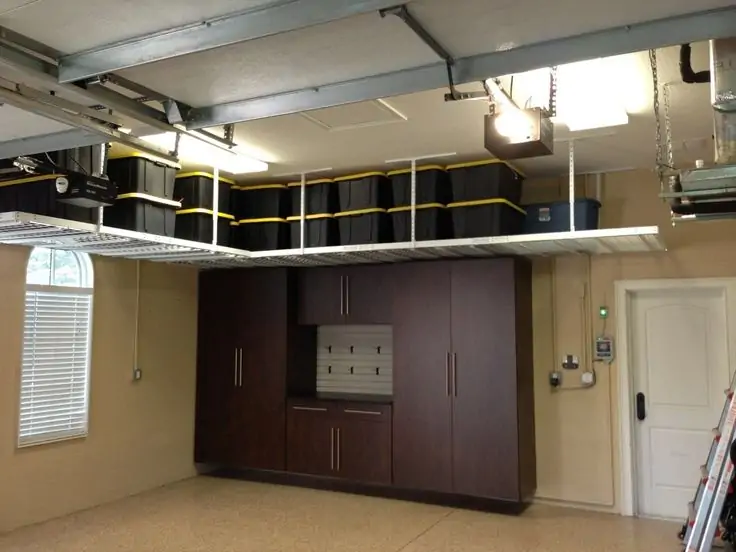 15. Storage By The Window
If you love to have a sitting area by the window, you are sure to love this lifehack. While making the sitting area that adjoins the window, just add the storage area beneath it.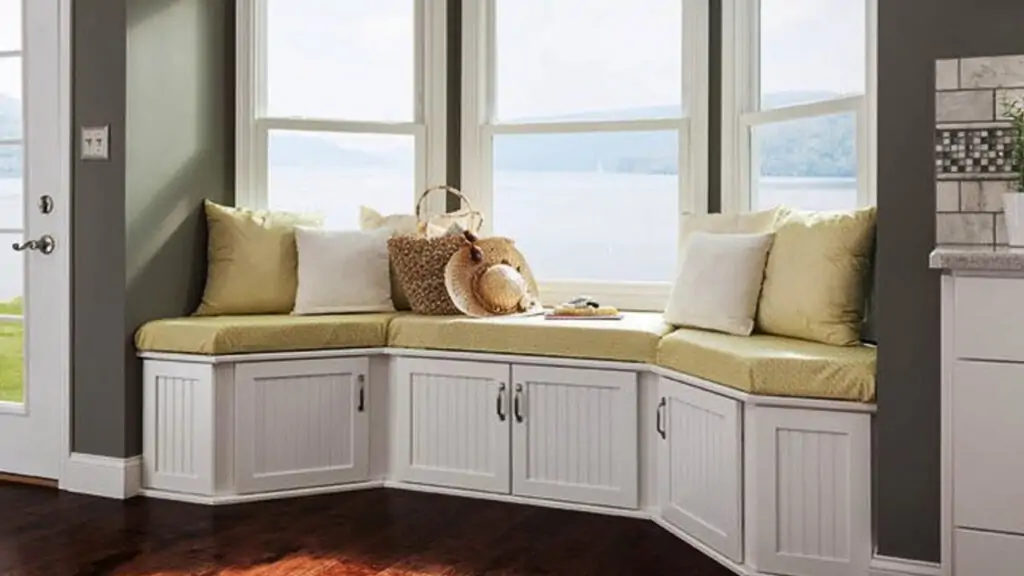 How Do I Maximize My Small Wardrobe Space?
What do you do if you have no space in your wardrobe? This is exactly the question everyone who lives in an apartment wants to know the answer to. Here are 5 tips on what you should do in such a case:
Add baskets and keep your clothes sorted. This automatically creates an extra area.
Go for custom-made closets. Every person has different ideas of keeping a wardrobe and you cannot expect someone with a large collection of overcoats to adjust in a wardrobe with a small section for them. So, the best way to maximize the volume is to get a wardrobe that meets exactly your needs.
Vacuum-seal your heavy clothes, especially the woolens. Woolens and blankets tend to take up a very large area. So, just vacuum the air out, seal them in a polybag and keep them in a basket. You will be amazed to see how many vacuumed clothes can be fitted in a single basket!
Points To Remember When You Are Looking for Wardrobe Ideas for Small Apartments
While the Internet is full of marvelous small space closet storage ideas, you must pay attention to these 3 points:
Always ask for the opinion of an interior decorator. We say this to every apartment owner again and again. Interior designers have an excellent sense of making the most out of an area on a limited budget. They will suggest to you the best materials and load capacity, and give some advice on maintenance. You lose out on these important points when you choose to do it all by yourself. Many people are left with broken racks because they don't know anything about load capacity or how to install them properly. So, spend some bucks and get professional help.
Always choose the best possible materials. You don't install wardrobes every season. So, don't choose the material that needs frequent mending or replacement. Choose the best wood or metal and keep them well-maintained. Keep them free of rust, and termites, and apply paint regularly to prolong their life.
Keep your space decluttered. Just having a wardrobe is not enough. How do you put clothes in a small space? The answer is, by maintaining order? Add baskets and keep clothes sorted. Iron them so that they take less volume. Storage baskets will keep the clothes from mixing.
The Conclusion
If you are an apartment resident, you often have insufficient area for bulky furniture. But you can easily overcome that hurdle and make an extra storage area by thinking out of the box. We hope these small space wardrobe ideas will help you in having a storage-savvy smart home.