9 Smart Storage Ideas for Garage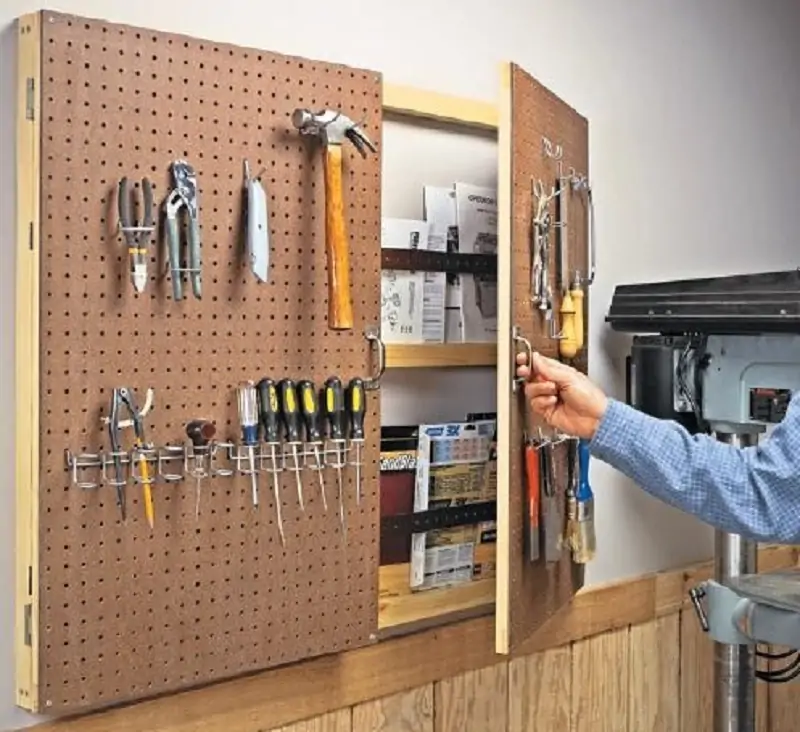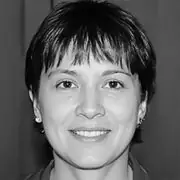 The garage is an essential part of the house since it helps you store every item that won't fit inside your living quarters. Still, you might need some fresh storage ideas for your garage as it is often far from easy to maximize your space. Unfortunately, it is all too easy to let a place become a dumping ground for unwanted homewares since they are not the major spotlight of your home.
Leaving the store room in a messy and clutter-filled state will make finding things stressful, time-consuming, and almost impossible. With the right storage solutions for the garage, you will create a clutter-free room to fit your occasional homewares and will be able to easily access and locate them when needed. Sports equipment, large home fixtures, gardening supplies, automobiles, and even gym equipment can fit nicely into the tiniest of spaces when you employ the right small garage ideas for storage.
Check out the homemade garage storage ideas we highlight in this guide to help with organizational hacks you need.
Smart and Functional DIY Organization Ideas for Your Storeroom
Before we get into our DIY storage ideas for a garage, the first thing you need to do before sorting out your storeroom is to go through the room's contents because not every item in it is truly of use. Make sure that the ones you plan to store are really worth saving for future purposes. After decluttering unwanted items, you will be left with a spacious room that will fit in everything, no matter how small the space seems.
Next, get started with organizing your stuff, but ensure that you have a system that works for you. Garage organization storage ideas may range from simply adding compartment boxes that will fit your small items to creating fashionable built-in cabinets.
Some smart and functional storage ideas for a small garage you should consider include the following:
1. Build a Versatile Wall
Since you only have a small space to spare, the chances are that everything won't fit into it. The best way to overcome this challenge is to make your walls available for packing important homewares. Storage ideas for garage walls ensure that the storeroom has enough floor-to-ceiling shelving features that help you maximize every inch of the room.
This minimalist room showcases different types of organizational strategies, for wall shelving to mini tool racks, pegboard-style wall panels and overhead ceiling hacks for hanging large homewares.
2. Setup Functional Tool Racks on Walls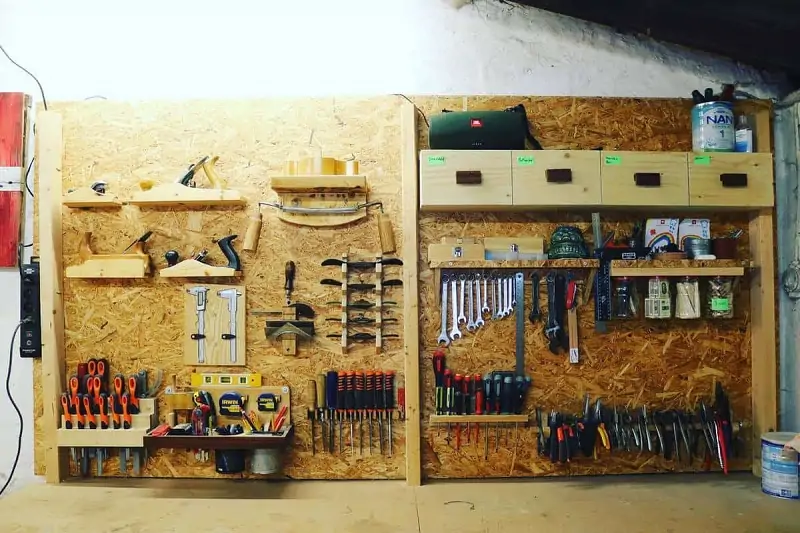 How functional your store wall is depends on what it holds and can take. So, ensure that while you build a versatile wall frame to hold your large and small equipment, there will also be some space left for your storage ideas for garage tools. Whether you plan to incorporate smart garage storage ideas for yard tools, garden tools, or fishing tools, a tool rack is truly what gives way to keeping large and small home gears off the floor.
This picture features how you can keep your fishing and yard tools in a compact and wheeled box.
3. Use a Tool Chest Rather than Tool Rack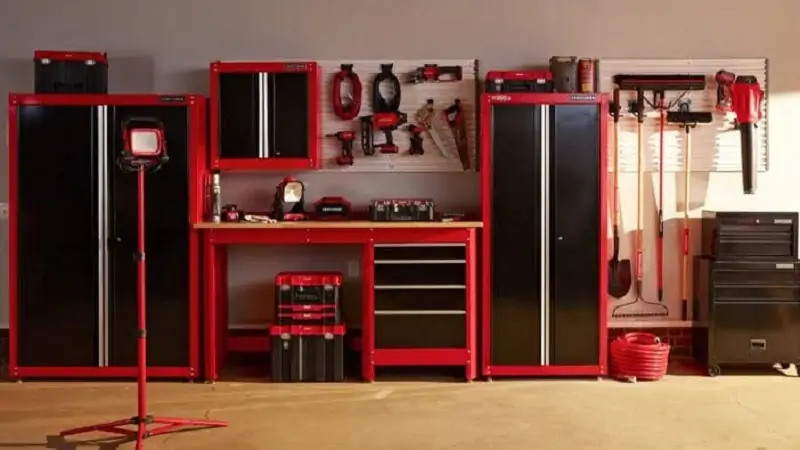 If you have a small space for storing your items and are looking for garage storage ideas on a budget, especially to store your tools, you want to consider getting a tool chest instead of an instrument rack. A tool chest comes in various shapes and sizes to fit your home gears, especially the hand tools.
4. Use Stylish Shelving to Smarten Your Space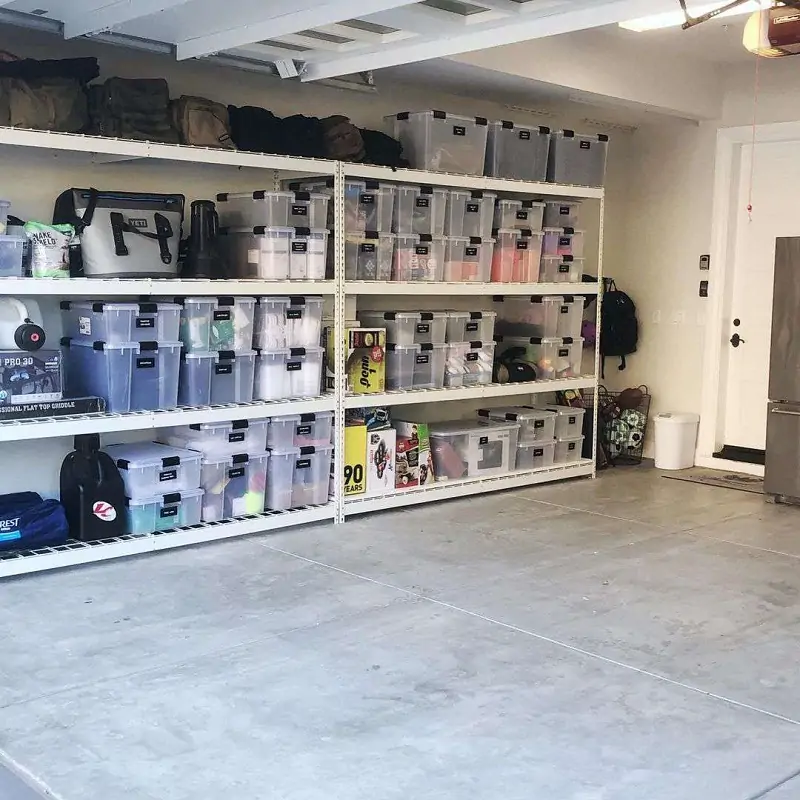 Apart from tool racks, using shelves can heighten the overall appeal of your storeroom while ensuring it stays a mess-free zone for as long as possible. In fact, the good thing about shelves is that they help you keep breakable, delicate, and unique masterpieces such as model kits safe without taking up much space. The shelving system ensures they do not scratch or break. However, you want to make sure to use metal shelves that are sturdy and can hold a bulk weight.
The storage ideas for garage shelving in this picture features an open metal shelf with several container containers lined up so that you can easily grab any item you need.
Additional Tip: if you've got foodstuffs in your home but can't find a suitable place to keep them, the store room is a go-to option you need to consider, especially if you've lined the walls with shelves. Shelves are also great garage food storage ideas because they prevent moisture from the ground from seeping into the food while keeping sun, mold, and heat temperatures.
5. Shoe Storage Ideas for Garage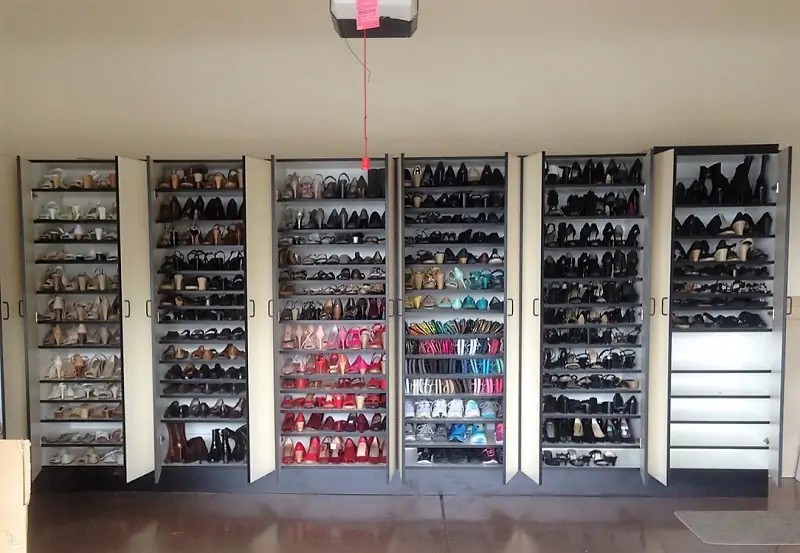 The chances are that after a walk, you keep your muddy boots in the storeroom to avoid dirtying your living room floors. Apart from your delicate items, your shoes and boots will also sit perfectly on specially designed shelves to take their weight. If you don't have much room on your shelves to accommodate your boots, create a wooden box that serves as a small compartment space.
6. Use Wooden Hangers or Pegboards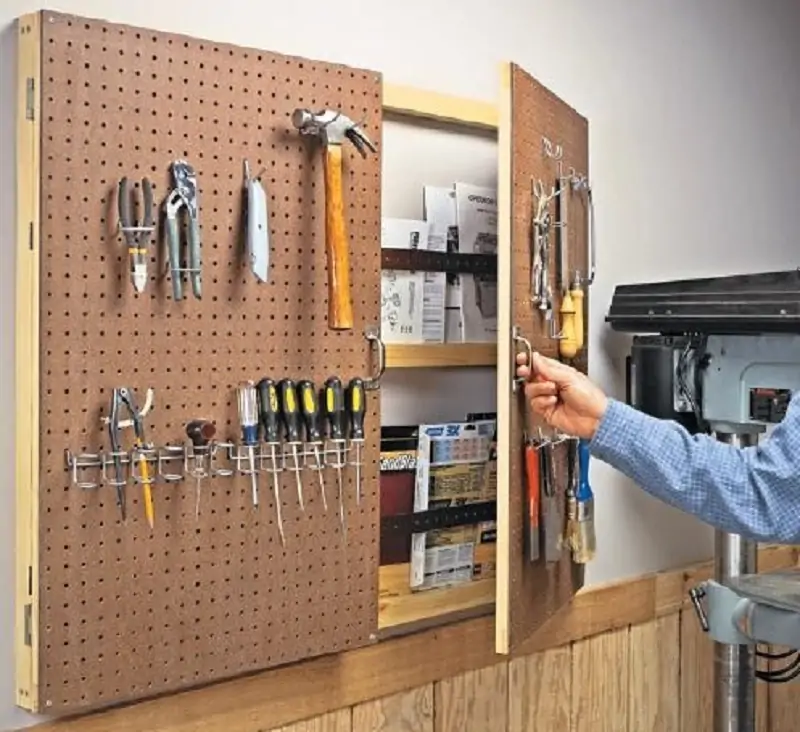 If you find that you are running out of space and need to organize your hand tools, fishing rods, and other essential yard items, create a wooden tool hanger that features hooks and pegs to hold your small hand tools. Wood storage ideas for a garage will be as sturdy as metals and will hold weight well no matter how heavy your hand tools are provided you choose quality wood like heartwood redwood
7. Save Space with Storage Ideas for Garage Ceiling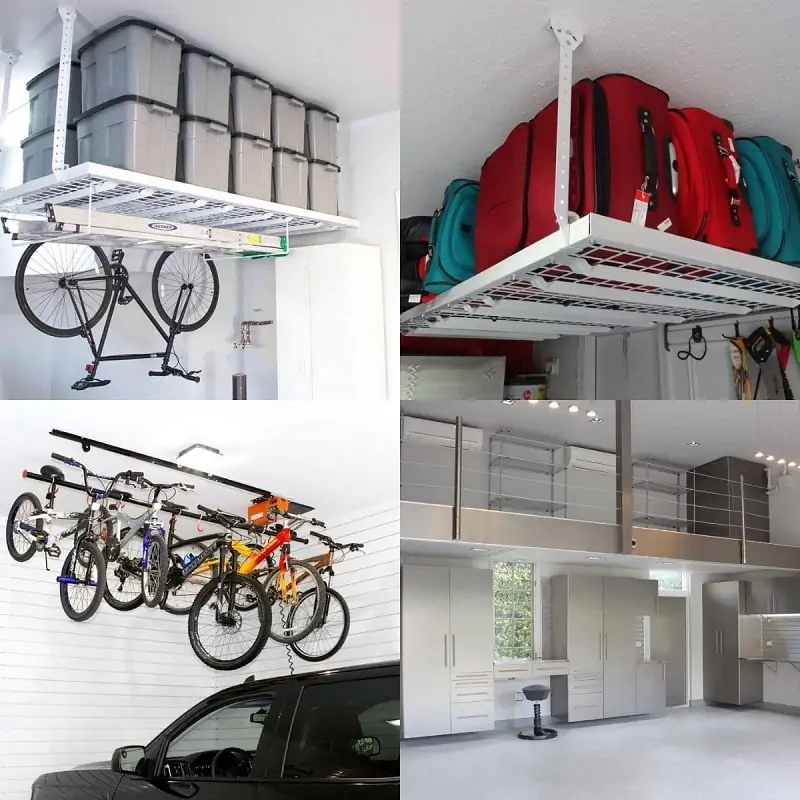 No matter how small your belongings are, the chances are that you always have one large yet weightless piece of equipment taking up a lot of space. You may choose to leave them alone in the middle of the room. However, they will still take a bulk of space that it seems your once spacious room has turned into a tiny closet. One of the best storage ideas for a garage that prevents this is to use overhead racks suspended over the ceiling.
However, you need to ensure that whatever item you fix on your overhead ceiling is ultralight and won't interfere with your up-and-over door or the open and close motion of your door. The ceiling is better suited to lighter objects to avoid the risks of lifting heavy-weight items over your head that might fall and harm you. You even enjoy a more spacious room if the space has a high ceiling.
Additional Tip: It can be difficult to remove items suspended on the overhead roof of your storeroom. So, make sure that you build a rail or support ladder to make your items in the ceiling accessible.
8. Hang Sports Gears Like Kayaks and Bicycles on Wall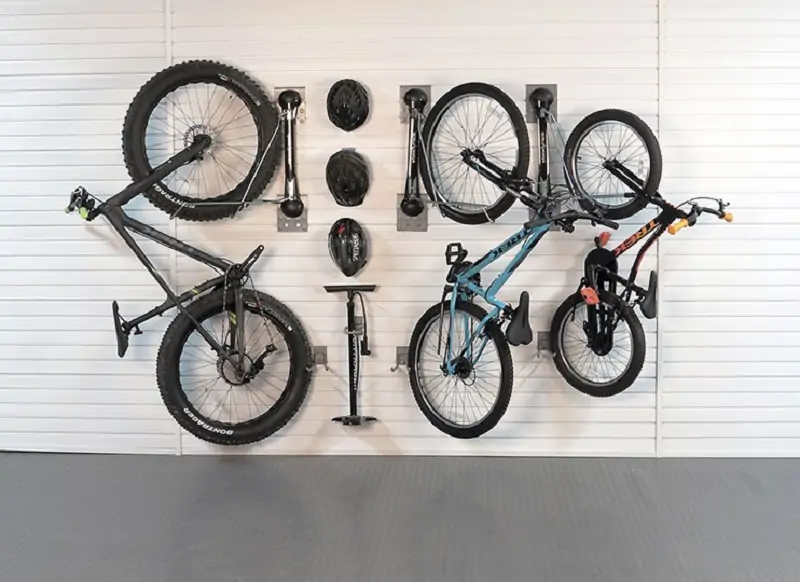 Most people design a large cabinet and pile their sports gears in it. The fact is that putting sports gear in a cupboard won't leave them scratch-free or save their pristine form, nor does it make it easy to access them. Fortunately, by fixing nails and hooks on a wooden board nailed to the wall, you ensure your bicycle and kayaks stay in the best conditions for years.
Whether you need garage storage ideas for kayaks or bicycle storage ideas for the garage, this picture showcases a hook frame on the wall that ensures your large and priceless items get enough wall support to maximize space and keep them in good condition for a long time.
9. Garage Storage Ideas for Lawn Equipment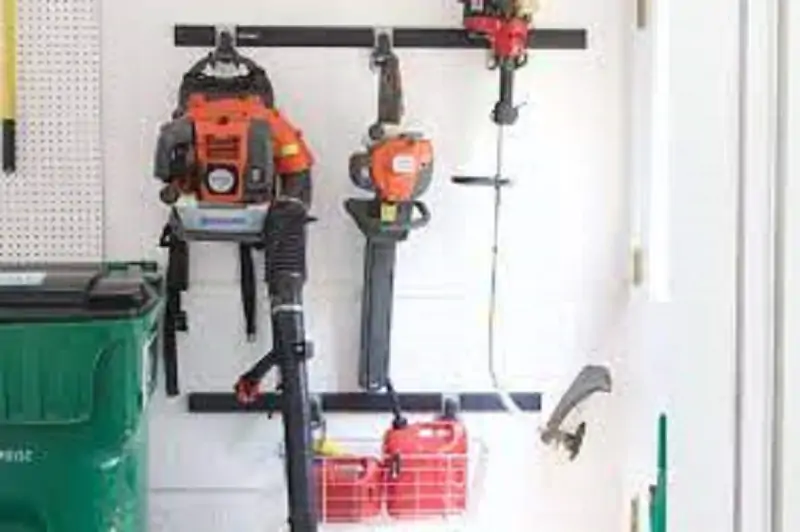 If you are a nature lover with a huge tree in your yard, your lawn will often get littered with dead leaves falling off on a windy day. The best way to ensure you get the right lawn care items to keep your yard neat no matter the time of the day is to organize lawn equipment neatly and where you can access them easily.
This picture showcases lawn care items fixed on a wooden board opposite the door entrance to enable easy access when needed while staying organized.
The Bottom Line
The garage is the most likely space in your home that will turn into a junkyard if not cared for. For this reason, you need to consider the best ideas, options, and hacks to keep your storeroom in order. If finances will be a major challenge, organizing your storeroom on a tight budget is also possible. You can always skip the extravagant options and find homemade answers to help you achieve that functional and spacious store room you seek.
However, without the right plan and creativity, your homemade solutions may crumble. Before organizing your belongings, make sure that everything you wish to store is useful to avoid cluttering the space. All these storage ideas for a garage we've listed will only prove beneficial when you plan and declutter your space before organizing it.