Storage Ideas for Small Bathrooms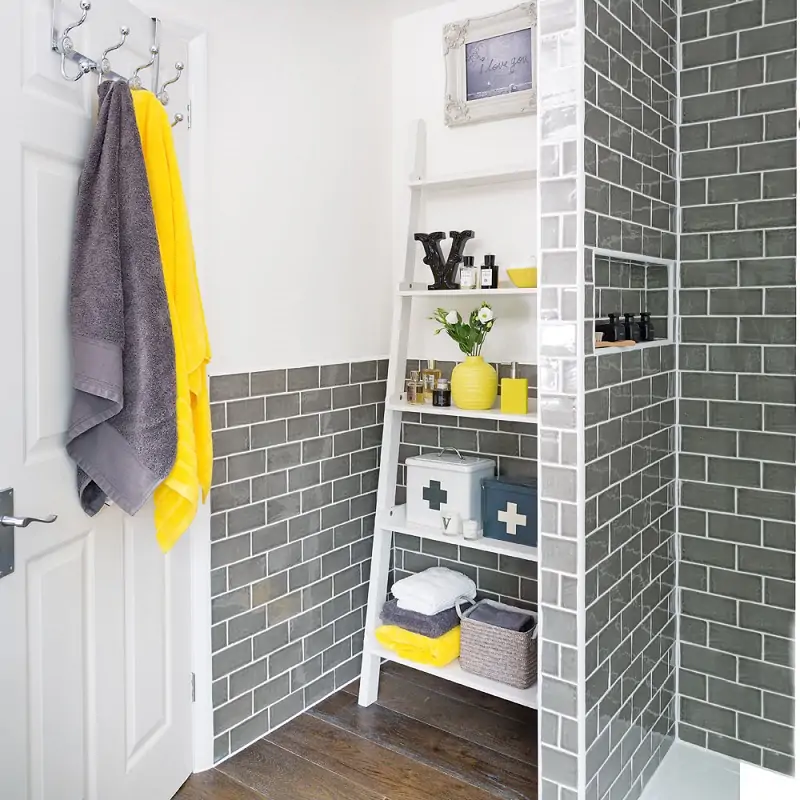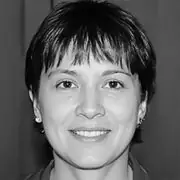 Small bathrooms are one of the trickiest places to organize in every home because they leave no room for proper placement plans, leaving every corner in a messy state. The good news is that there are several creative storage ideas for a small bathroom to help keep everything in your small lavatory organized. These organization ideas for small bathrooms simply mean your space will no longer feel cramped and small.
That said, the simple question you should ask yourself is, "how do I get more storage in my small bathroom?" So, read on to know how to create storage in a small bathroom.
How Do You Organize a Small Bathroom?
As mentioned earlier, organizing a compact and small bathroom is one of the most significant hurdles during home improvement. To make storage ideas for very small bathrooms work, you need to take advantage of the available space in the room. From hanging to stacking, shelving, and hooking options, make sure to utilize every strategy to make even the tiniest spaces uniquely stand out. Also, consider more efficient options and DIY storage ideas for small bathrooms that will make your lavatory more functional.
Plan to re-organize your bathroom? Here are some creative storage ideas for small bathrooms to teach you how to increase storage in a small bathroom.
1. Get Creative with the Medicine Cabinet
Got a medicine cabinet? It doesn't have to simply remain a medicine cabinet when you need a stowing area to make the lavatory less cramped. Simply install the cabinet over or under the medicine counter and get the space-saving area you desire.
2. Get a Dual-Purpose Mirror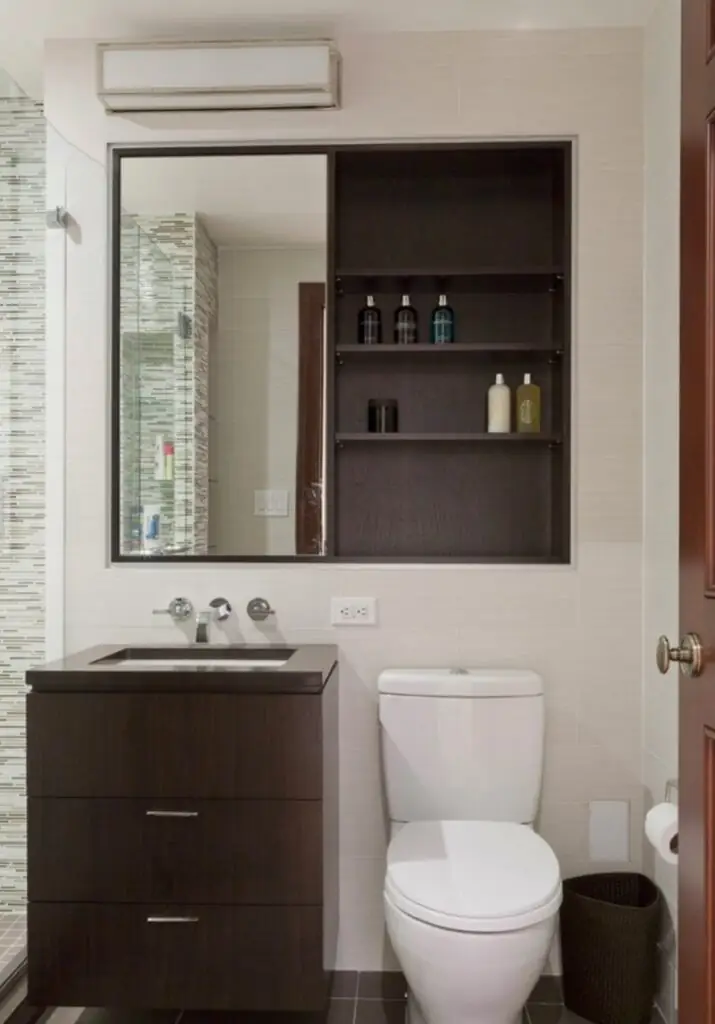 How cool can it get when your mirror isn't just a full-length mirror but one that opens to reveal several shelving rooms to store your bath wares. The simple answer is "very cool."
We love this two-in-one mirror because when closed, it gives you the picture of a mirror simply hung on the wall. But, swing open the door of the mirror using the specially crafted handle, and it will reveal a built-in wall shelves you can use to store your health care and beauty products.
3. Add a Floating Shelf Near the Mirror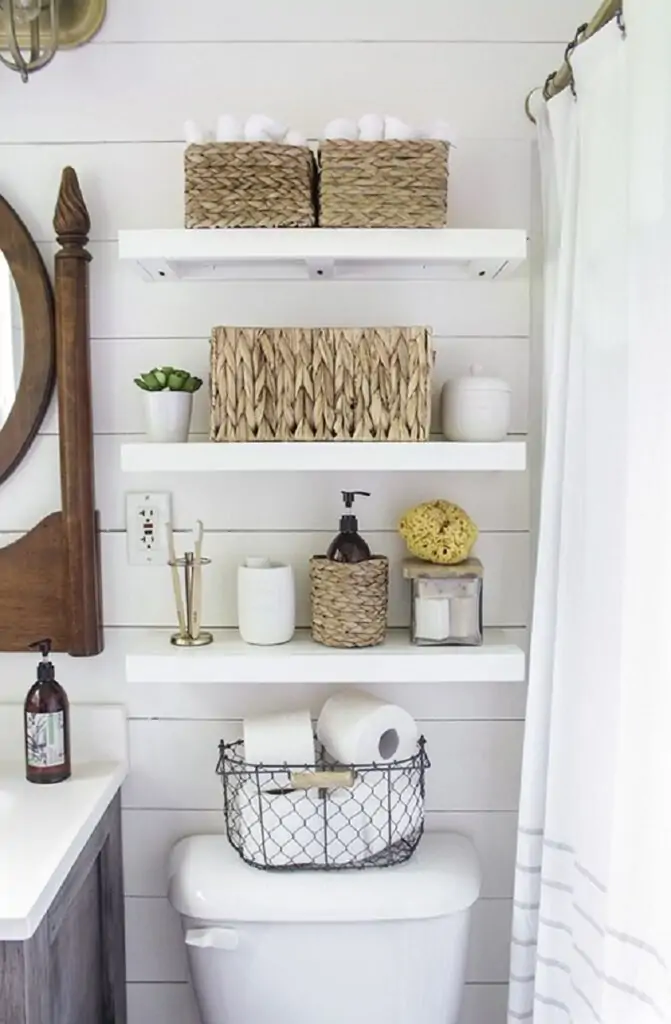 Don't like the idea of an in-built shelf behind your mirror? Or have a mirror without a counter space? Then, add a floating shelf beside the mirror. These shelves typically come compact and can hold toiletries, including toilet paper and a toothbrush jar. If you also do your make-up in the bathroom, the shelf will also easily hold your make-up accessories. Love nature? Then, you can also place a mini flower pot on this shelf without compromising on the available space.
4. Install Hooks on the Bathroom Walls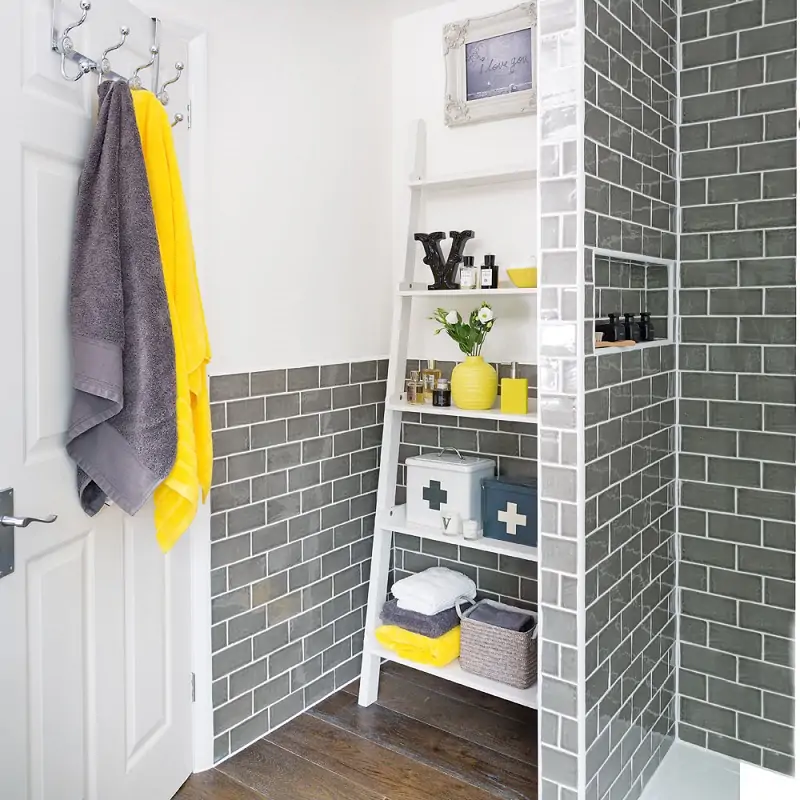 Unlike cabinets and shelves, using hooks means you have to hang everything on the wall. This is especially a great option if you don't have space for bath linens. Have extra towels, robes, clothes, bath sponges, body brushes, or hair accessories that cannot fit into the cabinet and shelves? Simply install a hook on the bath wall so they wouldn't be a thorn in the flesh when using the shower.
How Can I Organize My Small Bathroom Without Cabinets?
Cabinets are a compact and versatile tool that helps you stay organized no matter where you use them. Don't have a cabinet in your small lavatory? Here's what to do.
5. Cleverly Store Items Outside
The best storage idea for a small restroom with few available spaces that helps your bathroom always have enough room for convenience is to stage a wardrobe or cupboard behind the restroom door. This way, you can easily have space for toiletries and bulky bath wares like towels.
This vanity area set-up in this picture could be a life- and sanity-saving option you could ever use in your tiny restroom, especially when you enjoy living the dorm life or sharing a room with someone.
6. Use a Crochet Organizer Basket
The good thing about baskets is that they are not just meant for use in the kitchen or the garden. Like cabinets, baskets can be used as a loading deck for bath wares and toiletries. Simply arrange them neatly and watch your space turn a beautiful shade of classy and minimalist.
We love this picture because it does not just showcase a simple basket organizer. Instead, it showcases a beautifully designed yarn material woven to create a unique basket that can be hung on the walls of your toilet while helping you save room.
7. Hang a Sturdy Metal Organizer
Don't like the option of storing your bath wares outside the door of your toilet? Then get a sturdy metal organizer to stack the bulky linens like washcloths and towels. The benefit of using this hack is that you keep this off the floor, thereby creating more mobility space.
How Can I Organize My Bathroom Without Shelves?
Like cabinets, shelves are great for storing heavy and light-weight items. The difference between both is that shelves offer you easy access without the door barriers, while the cabinet has inbuilt doors that hinder your access to essential items.
Your bathroom is one area where you want easy access to every wash gear, no matter how big or little. Unfortunately, not every tiny lavatory comes with shelves. If yours doesn't, and you need creative hacks to create space, then consider the following:
8. Racks Make a Whole Difference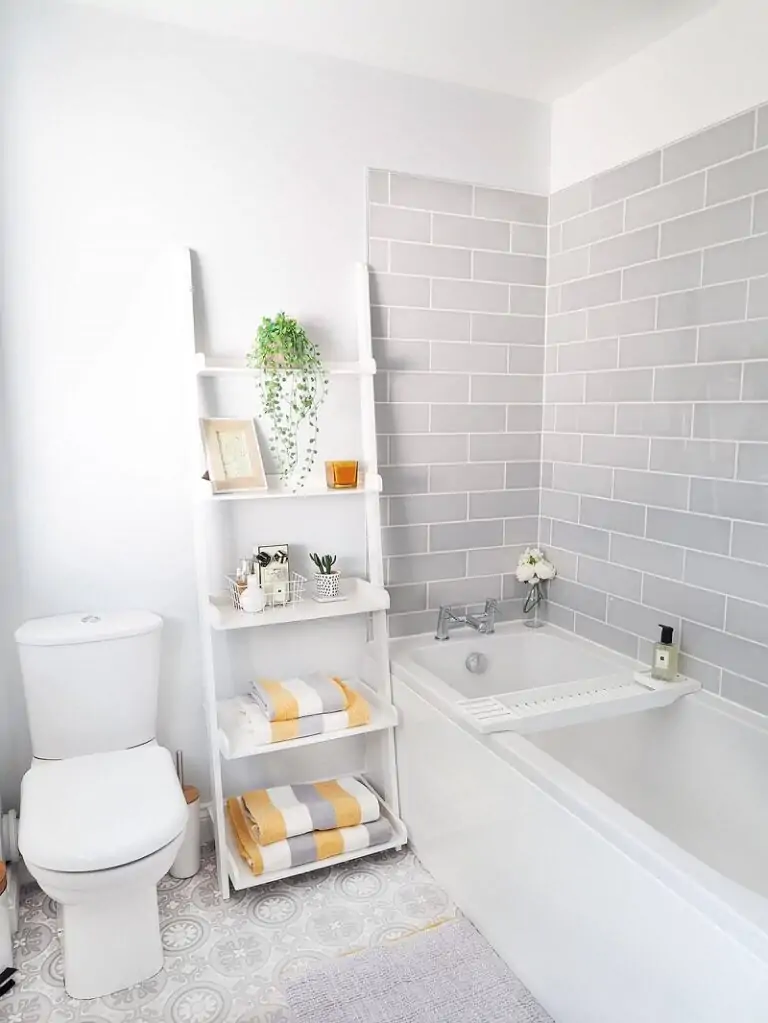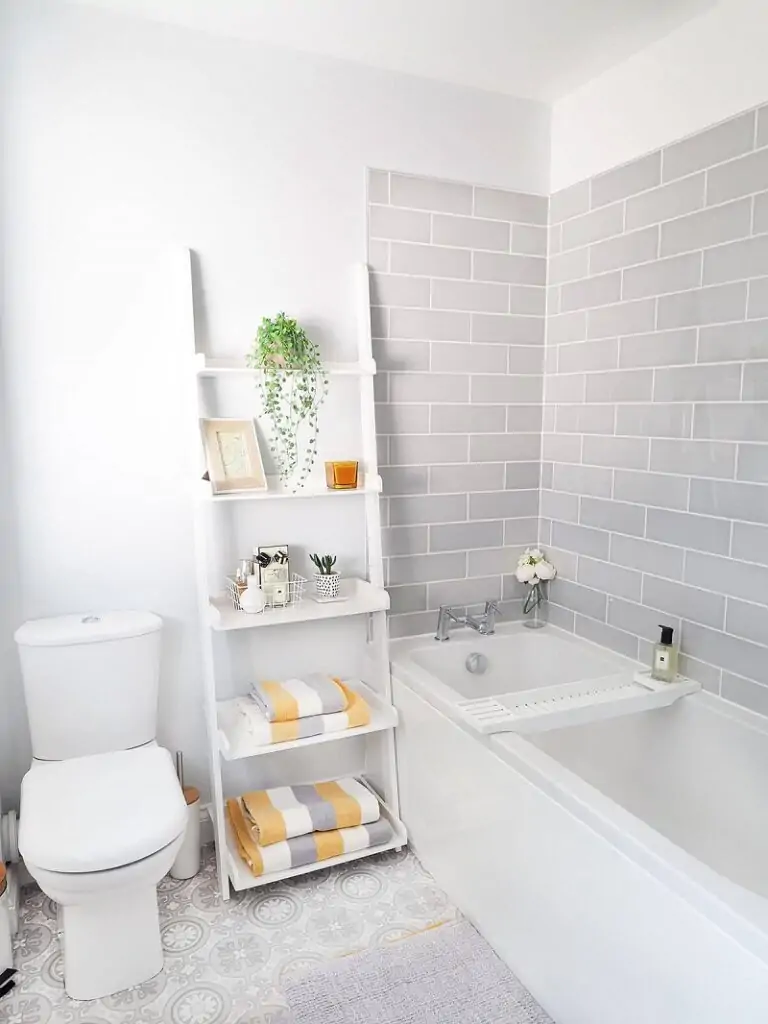 Whether you intend to use a shoe rack or a spice stand, the fact is that racks can also save the day. However, ensure that the rack you choose to use does not just use irons for demarcation. It needs to have wooden planks or plastic sheets underneath them to stow your items and keep them safe.
9. Utilize Shelf Framing Technique
One of the best storage ideas for small bathroom vanities you also need to consider is a storage shelf in a framed style. The simple reason is that you never know how much loading room your tiny toilet can carry. A framed shelf is probably the best makeup storage idea for a small bathroom because it offers you a great lot of storage space right inside the wall. Plus, it is one of those ideas that add a decorative feel to the bathroom.
10. Build a Mini Shelf into the Wall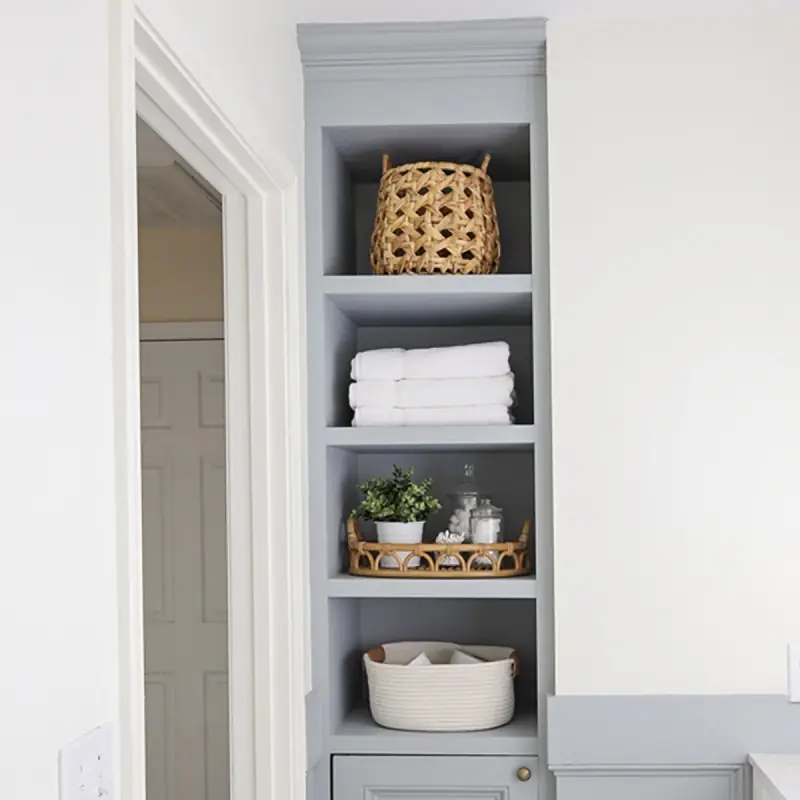 Don't have a shelf in your restroom, then construct a built-in wall shelf to help you increase loading capacity. While this design makes your bathroom stand out, the advantage of utilizing this option is that you maximize space and make it easy to move freely within the restroom without hitting objects on the wall.
Storage Ideas for Small Bathrooms with Pedestal Sinks
A pedestal sink makes small bathrooms look bigger because they never come attached with a shelf, cabinet, or counter. This simply means pedestal sinks provide no space for storing bathroom wares. For this reason, you will need to get creative and make changes that support stowage.
11. Create a Mini Shelf Over the Sink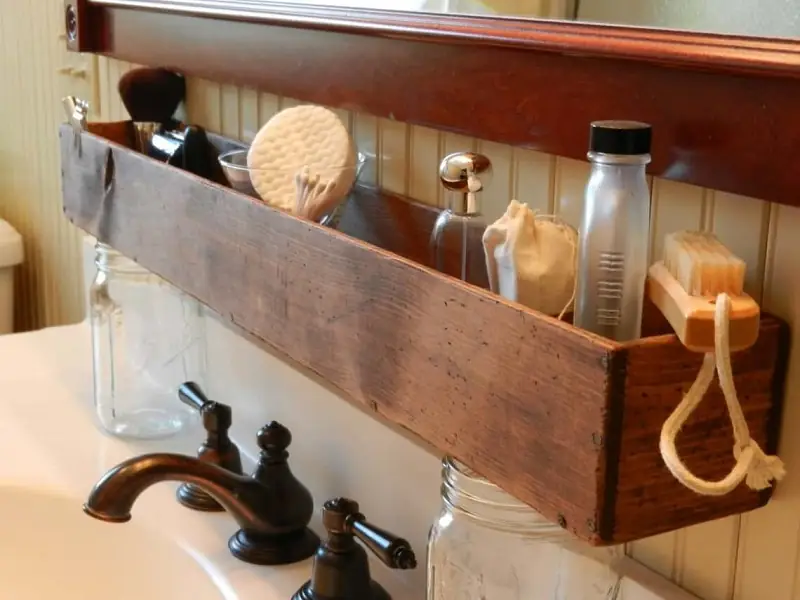 Lavatories with a limited store room will benefit from this hack because it offers a trimmed solution to a rather constricted space. In fact, the minimalist yet bold color scheme of the wood leaves your toilet and sink area looking classy chic.
12. Add a Cabinet Near the Pedestal Sink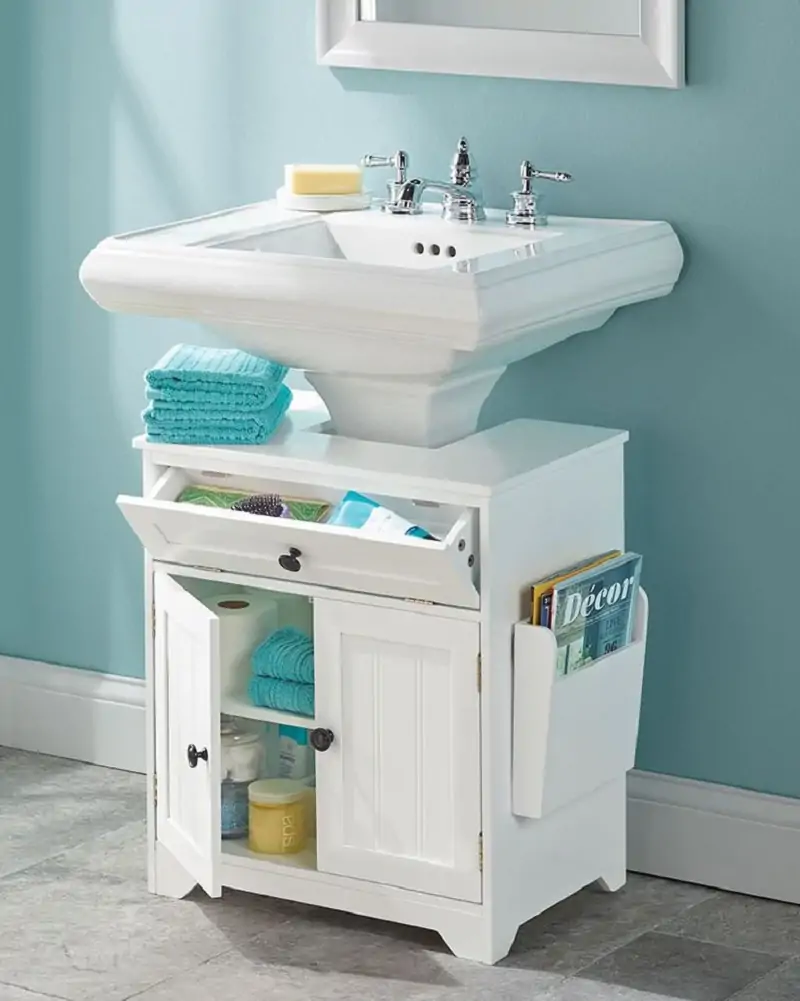 If you have a pedestal sink in your bathroom, the chances are that the room will lack a functional cabinet. The best way to get out of this situation is to install a cabinet near or around the pedestal sink. The addition of the cabinet will make it easy to access toiletries, including soap and toilet paper after washing your hands over the sink.
13. Install a Curtain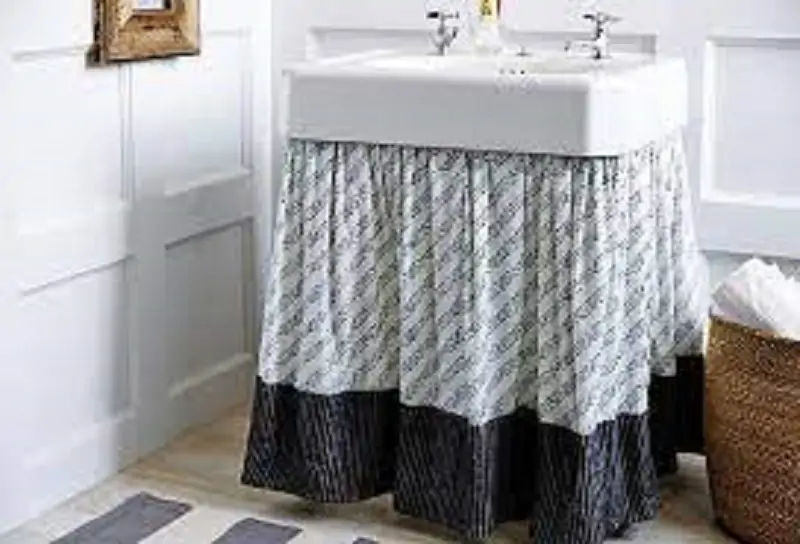 Although curtains are mainly used on doors and windows to ensure privacy, they will also add value to your restroom. Wonder how? Simply fix the curtain under the pedestal sink to create an enclosed space where you can store items. However, ensure that the curtain adds decorative features to the room. Don't limit yourself to picking muted shower curtains because they will only serve depository purposes.
The Bottom Line
Whether a residential or commercial property, the bathroom is essential for comfort. Yet, it is one of the smallest rooms you will ever find in commercial and residential buildings, making them a little tricky to organize. The good news is that you don't have to settle for a messy room even if your shower space does not match the big luxury-like lavatories. These storage ideas for a small bathroom are the perfect way to learn how to declutter your space and create additional room.