12 Storage Ideas Under the Bathroom Sink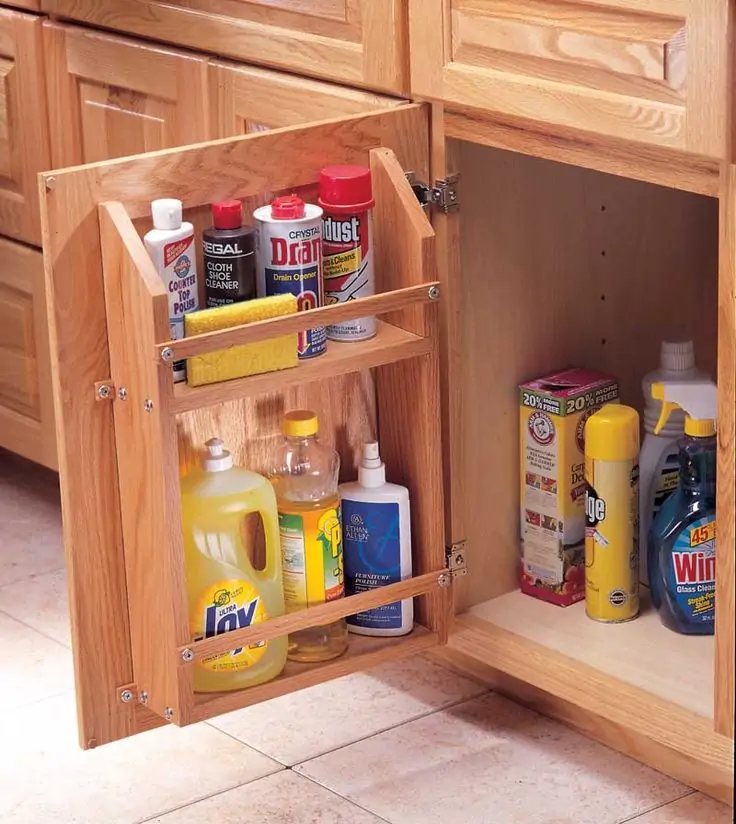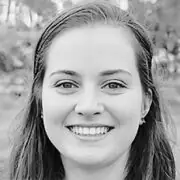 Meta Description: "Get rid of the unpleasant feeling that comes with your cluttered countertop with these 12 simple under sink storage ideas for small bathrooms."
Remember the uneasy sensation you got when you saw your bathroom's cluttered countertop? Then consider how storage ideas for the under bathroom sink will change its appearance. Cleaning supplies, hair dryers, curling irons, sponge cases, and soap, oh my! Could you have done a better job of organizing these despite the limited space? You get increasingly troubled each time you discover that the little room doubles as a laundry room, and you can't seem to stop yourself from looking for a larger area to utilize. While it may appear that getting a larger room is unattainable, you should rejoice in the fact that you can rearrange your smaller room to create more space. Get started with these ideas.
That modest nook is a treasure of storage ideas for under the bathroom sink that is often ignored. Its oblique plumbing angles, as well as its often dark and dingy nature, are among the factors that keep the area's utility from being considered by the majority of people. The good news is that that location gives fantastic ideas to maintain your countertop clear and create a spacious bathroom that you can't wait to enjoy. Let's find out how exactly.
How to Find DIY Under Bathroom Sink Storage Ideas
Before you uncover the fantastic ideas to transform the seemingly worthless space into a resourceful area, you need to know this. It's important to remember that having a perfect organizer for your bathroom isn't enough; you also need the right information to know how to create perfect solutions for optimal satisfaction. Get started with these tips:
Outward Appearance
If you want to create a bathroom with a less cluttered countertop and a mind-blowing aesthetic appearance, determine your outward appearance goal first. Then, consider the possible ideas to keep the number of products on your countertop to the barest minimum. Imagine the design that will fit your needs before stepping out to get any organizer.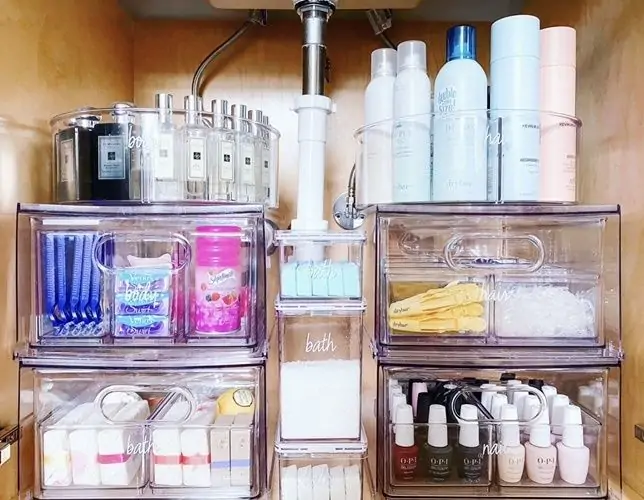 What to Store
The next point you must address is what you wish to store. The type of organizer you choose will be determined by the items you wish to store. Some people keep extra toilet paper, cleaning materials, towels, soap dishes, razors, and toothpaste in the closet under the bathroom sink. Instead of cluttering up this space unnecessarily, consider putting your towel in a linen closet in the room. Also, your hair dryers and other items that are used in the bedroom can be stored there.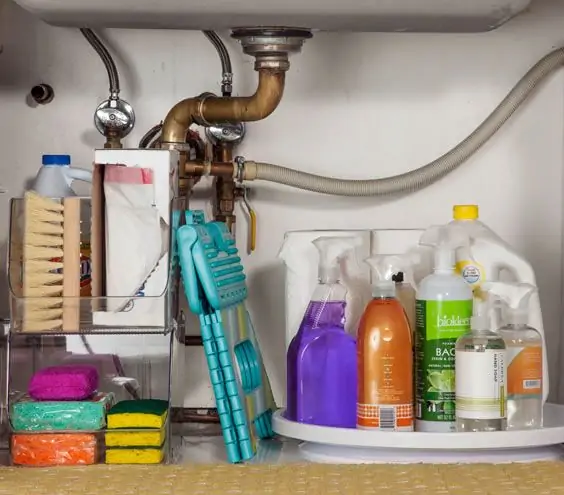 Measure Your Space and Line the Cabinet
Use your tape measure to determine the size of your under-sink area before purchasing an organizer to ensure that you purchase a proper size. However, the possible bad plumbing of the under-sink space is not a good reason to allow the space to waste, as you can get an adjustable organizer that can fit into any region. Also, consider lining your cabinet with water-resistant linen to protect your belongings from water dripping from above.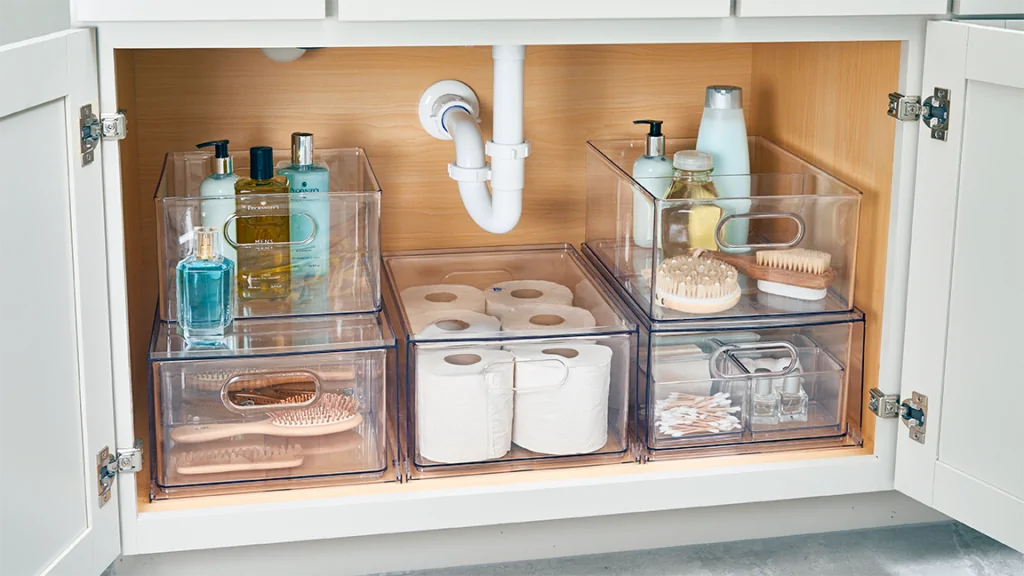 Make Use of Doors
The back of the cabinet should not be unused; it's one of the excellent storage solutions for under the bathroom sink to store materials in the bottle containers.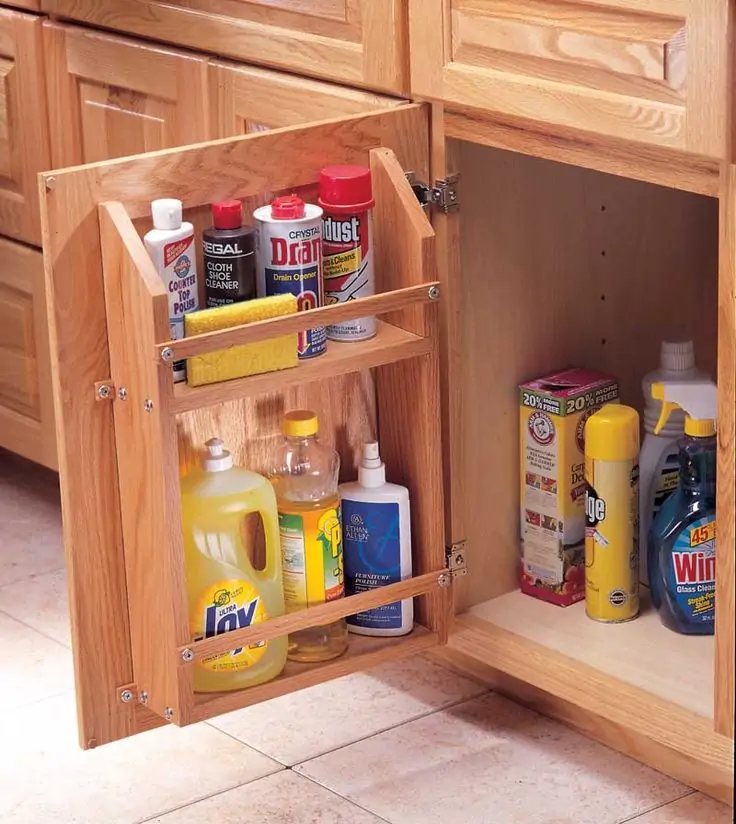 Make Your Stuff Simple to Grab:
Invest in an organizer that allows you to access your items. It will be more convenient for you to store your cleaning goods in an easy-to-grab bag, and it will also be easier to reorganize them. It also makes it simple to reassemble them after each usage.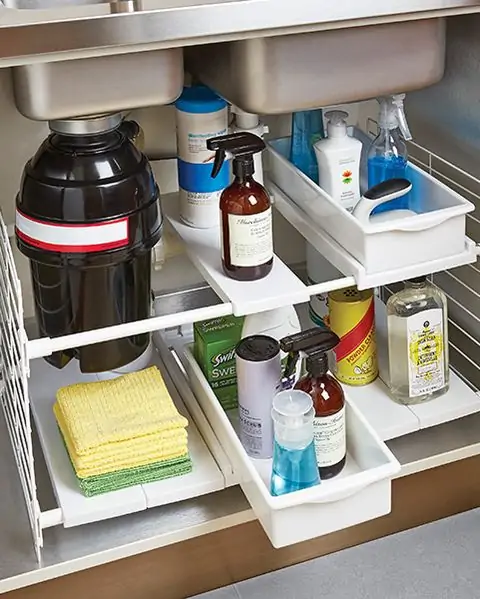 Work Around the Obstacle
Instead of overcrowding the floor, make greater use of vertical space. Take advantage of a stacking drawer; you won't have to work around obstacles or worry about your belongings being lost in the back of the cabinet.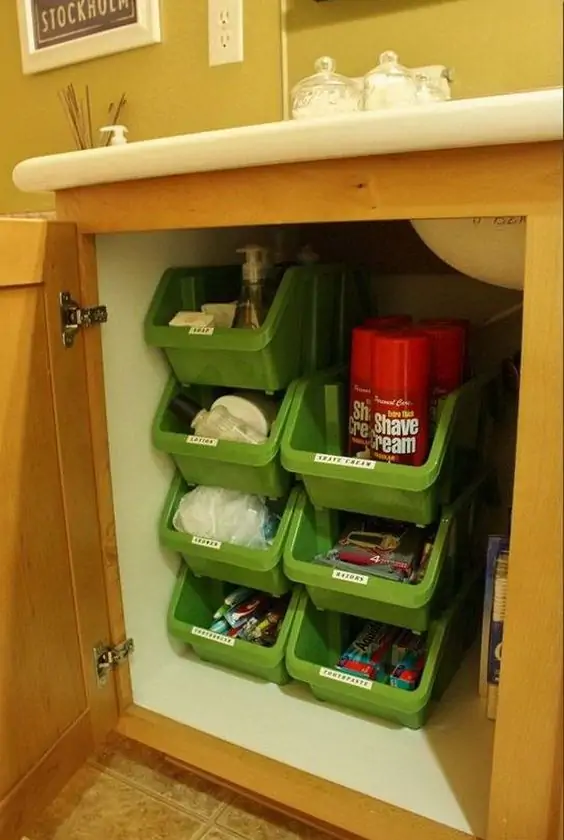 12 Storage Ideas for a Bathroom with a Pedestal Sink
Keeping in mind the aforesaid, you may now evaluate these fantastic design ideas, which can be employed in a bathroom with a pedestrian sink for your needs. See innovative ideas to make better use of what seems to be a useless space.
Plastic Bin for Stacking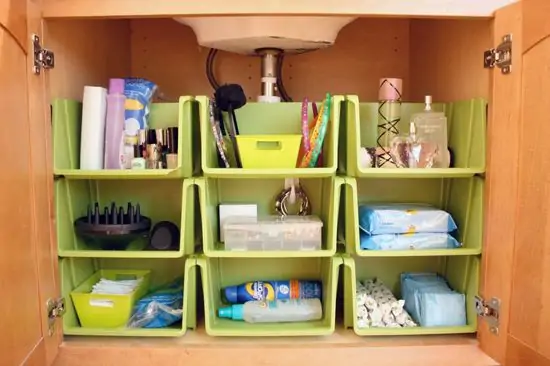 Stacking plastic bins allows you to repurpose an otherwise wasted space in your bathroom. It lets you organize your objects vertically so that they are immediately visible without having to label the organizer.
Roll-out Tray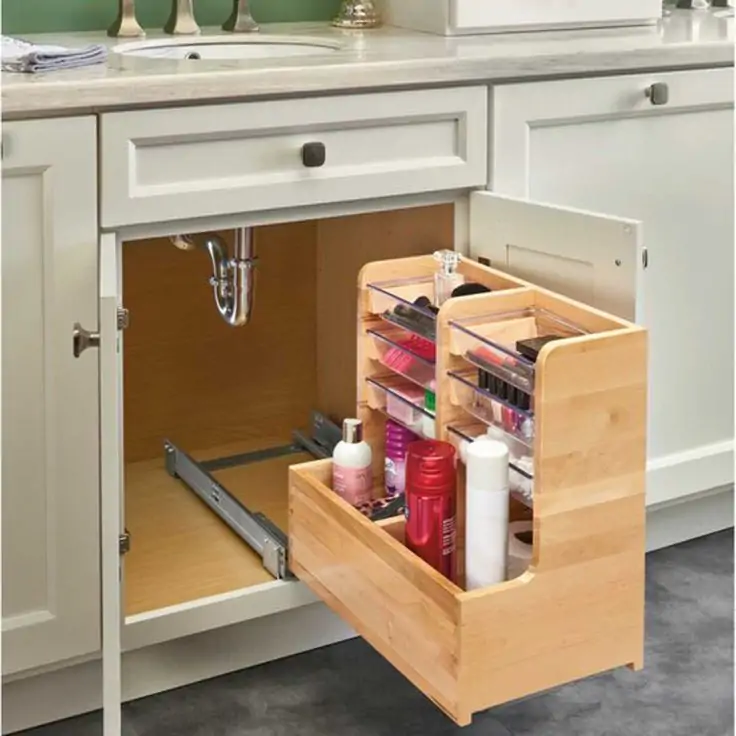 The benefit of roll-out trays is that you don't have to worry about the dark and dingy nature of your under-sink space. When you open the door, the roll-out trays bring everything outside and make it visible without the use of any aid.
Basket
Stack your little objects into small baskets and stack them on top of each other, as seen above. Unlike the rolling-out tray, which is obvious at first look, you may need to label your storage basket to make it easy to find the content.
Addis Under Sink Storage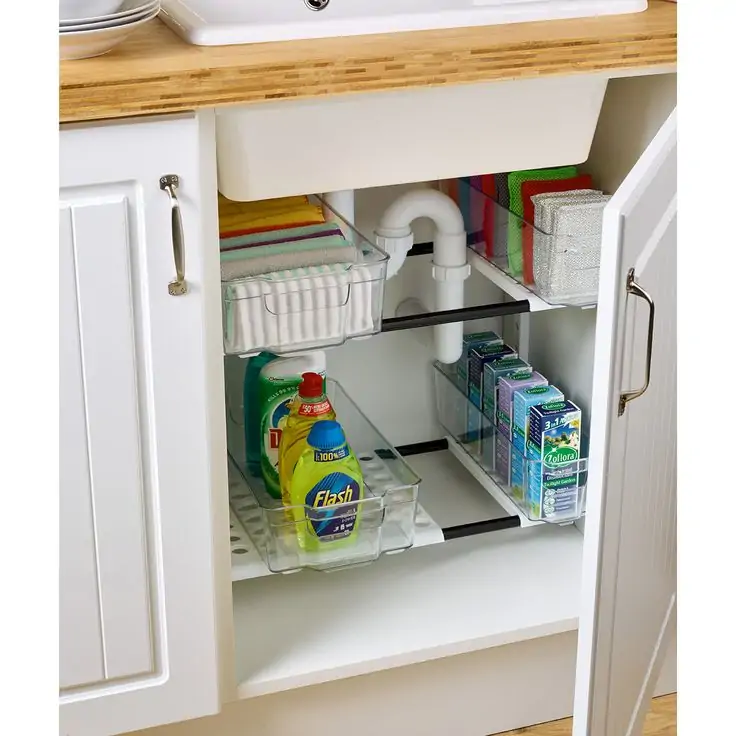 If the storage solution you want to explore is out of use due to poor plumbing techniques, consider the under sink storage unit called Addis. It is adjustable and can be altered to fit into any area perfectly.
A Plastic Basket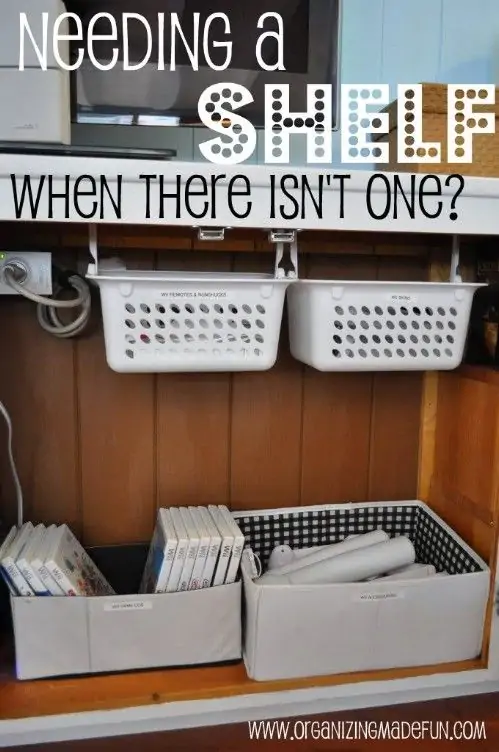 Organize your books, DVDs, toys, and other items in the plastic basket suspended from the pipe. You can as well use some cardboard boxes instead of plastic ones for this easy-to-make organizer.
PVC Pipes Storage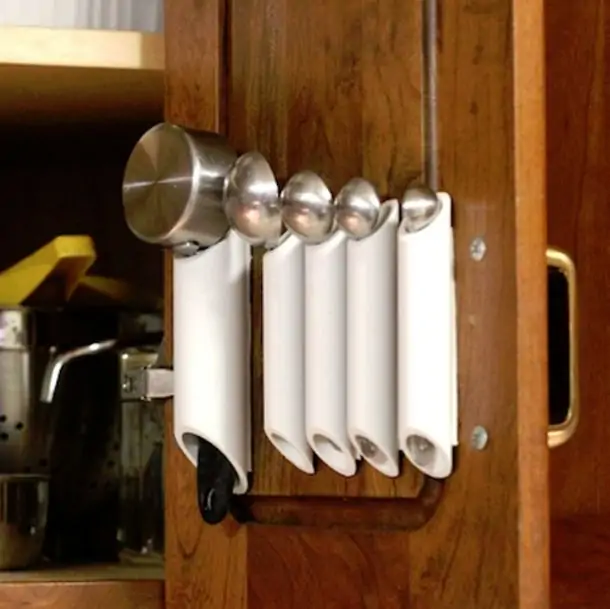 You can effortlessly hang your curling iron and cables inside the PVC pipe organizer attached to the vanity cabinet door. Turn your toilet tank into a vanity table by laying curling irons on it to avoid a cluttered look on your countertop.
Drawer That Surrounds Plumbing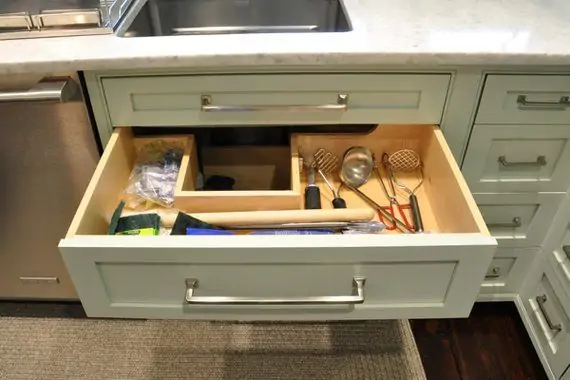 This is a flexible organizer that works nicely with plumbing. It's a wonderful organizer for cleaning supplies, sponges, soap, trash bags, and other items. It eliminates the problem of under-sink darkness and helps to prevent your valuables from getting lost in the back of the cabinet.
Suspended Spray Bottles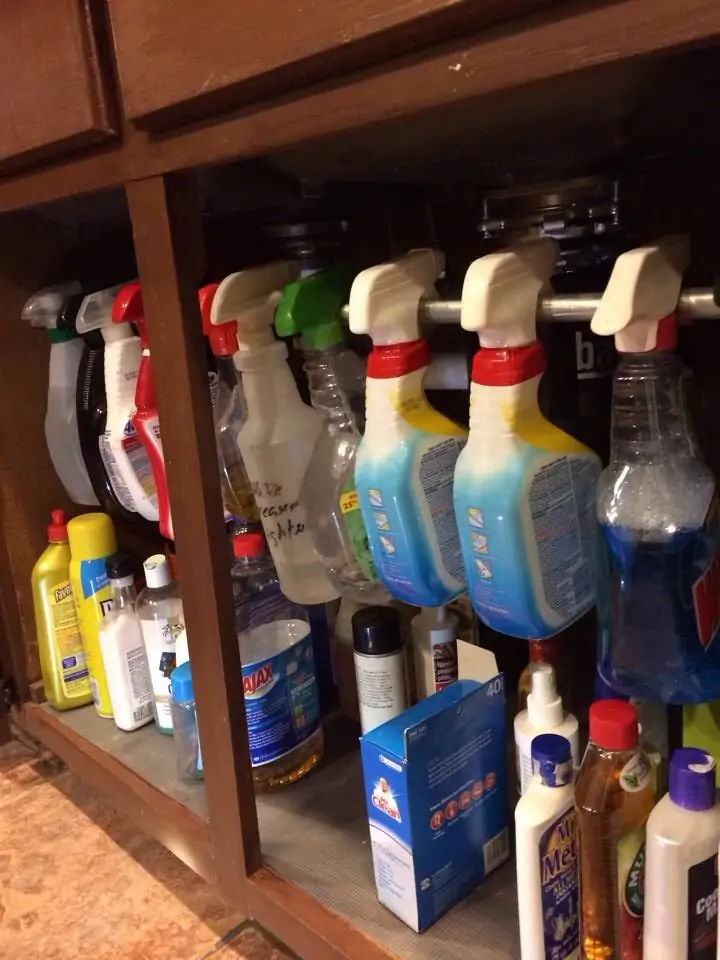 This is an excellent organizer for storing your bottled cleaning supplies. The spray triggers on the bottles are used to hang them to the curtain rod that is positioned inside the cabinet. It aids the aesthetic value of your countertop.
Holder for Curling Irons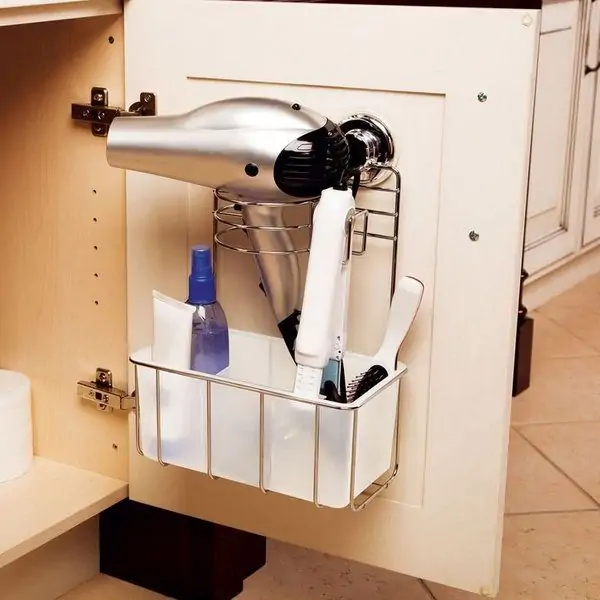 If you don't think your bedroom is large enough for keeping your curling iron, an excellent alternative is to keep it in an organizer that is attached to the cabinet door. It is a great way to keep your countertop decongested and give aesthetic value to your bathroom.
Multi-tiered Storage Cabinet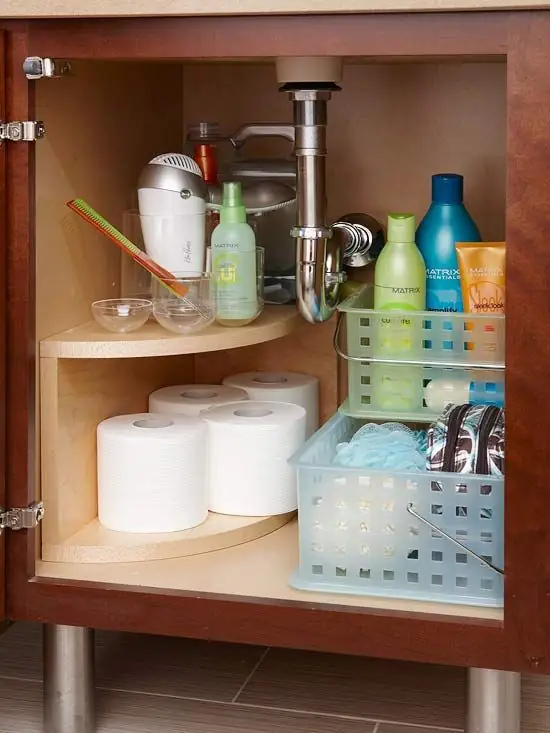 With a multi-tier cabinet, you can easily retrieve your daily kits. As you can see, the things are grouped in layers and are accessible.
Storage Basket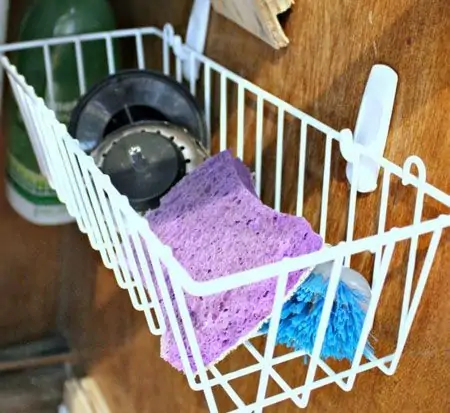 Hang a simple storage basket within your under-sink cabinet to store wet items. It's a great way to keep wet products like sponges since the basket allows for water drainage and air drying.
Rack for Shoes
You can be creative with your shoe rack. Cut it into two and attach it to the side of the cabinets, as shown above. It is ideal for your sponges, scrub brushes, and other cleaning items. Hope that with these 12 storage ideas for under the bathroom sink, you have the right mindset to transform your small bathroom and increase its aesthetic value. Go and explore!