18 Toy Storage Ideas for Small Spaces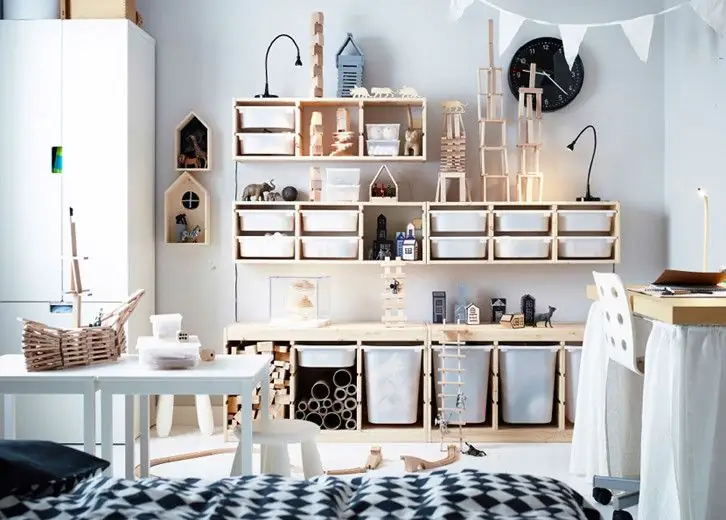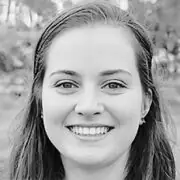 The search for toy storage ideas for small spaces is a significant worry that many mothers are concerned about. Over the years, kids accumulate and keep a large number of playthings. All too often your kid's room is a mess of toys, clothes, and various curios simply because you lack the necessary space to keep them properly. Get inspiration to organize everything your kids own and are proud of by looking at our simple yet elegant solutions to the storage issue.
DIY Toy Storage for Small Spaces
The best answer to the question of how to organize toys in a small space and keep your home well arranged is to enjoy some DIY. Here is what you can do:
1. Keep Toys out of Sight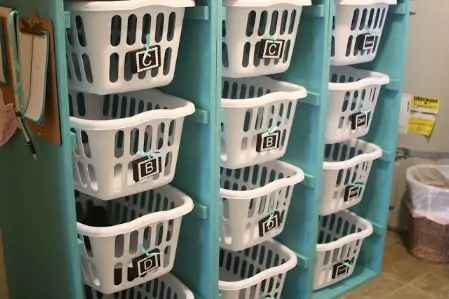 Keeping your children's playthings hidden in a succession of baskets, containers, and boxes is among one of the simplest ideas ever. Although it appears that more effort is required to pack the playthings after each play, it is well worth doing. You purchase some plastic boxes that can be stacked up in the room effortlessly. Set up the evening routine of picking the toys up and placing them where they belong — and that's it.
2. Open and Accessible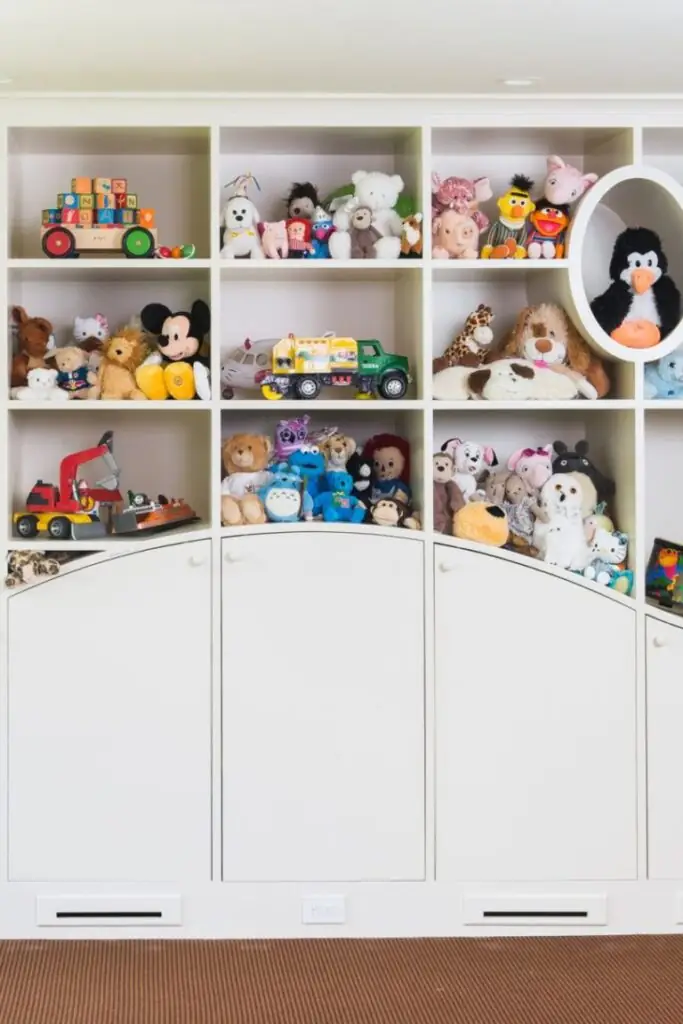 Pigeon holes are one of the best ideas to store the items openly so they are easy to locate and use. You can be creative with your access arrangement: place the less-used ones on top, allowing easier access to more frequently utilized ones. This strategy is preferable for keeping beautiful toys for show-off, and what's more, it improves the aesthetics of the room.
The only issue you will have to deal with is dust: it can accumulate with astonishing speed. Ask your kids to help you with dusting.
3. Furniture That Doubles as Storage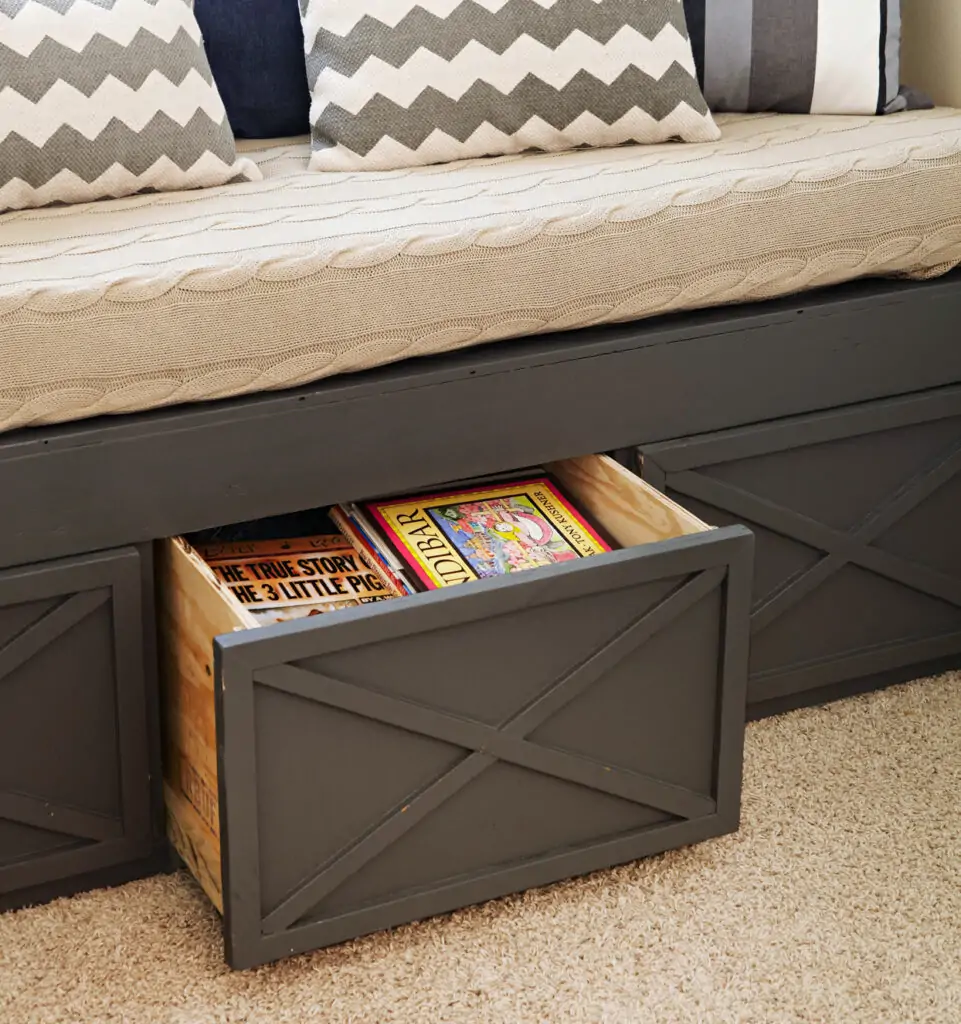 If you wonder how to store toys in a small bedroom, get the furniture you can keep your items in. Your chair, tables, and bed can all be designed with organizing compartments underneath while still serving their primary use. The bed that doubles as storage is highly effective in keeping your bedroom organized. Also, make your coffee table unique by adding a drawer or cupboard underneath and using it to store your children's toys. Such furniture may be the best long-term solution for keeping your home organized, improving its aesthetic, and solving storage challenges.
4. Woven Baskets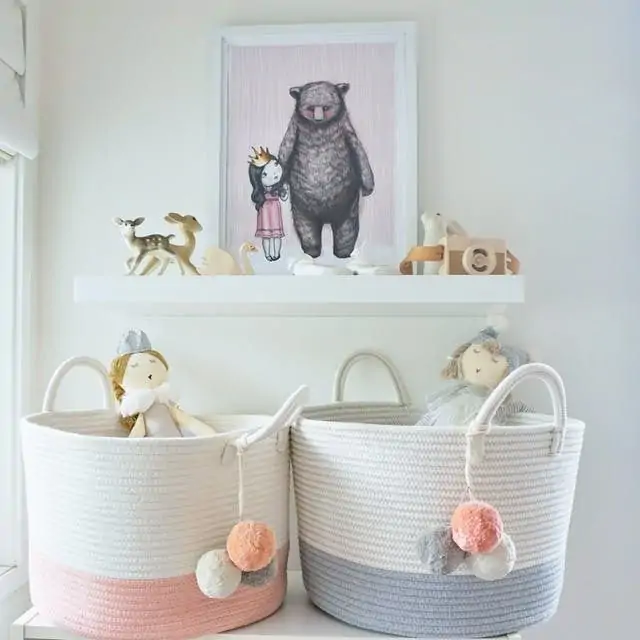 When you're short of space, a woven basket can help. It's among terrific ideas to toss in your toys and store them safely behind your furniture. Your children can help you choose a woven basket for their needs. The basket can then be placed in the corner of your room to enhance the room's appeal.
5. Plastic Containers with Lids for Stacking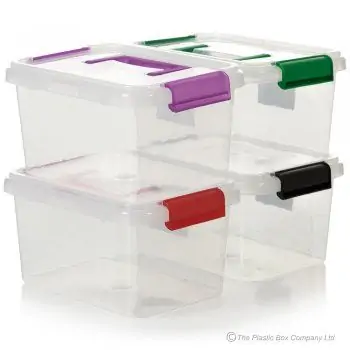 A stack of small transparent containers with lids is one of the most popular storage ideas for small spaces. Get a lot of them and make sure that you can stack them up in a neat pile. They are ideal for storing your children's toys. You can also label each container to make any toy easier to find. Stack them in the corner of your room to make it feel larger.
6. Space Behind Your Couch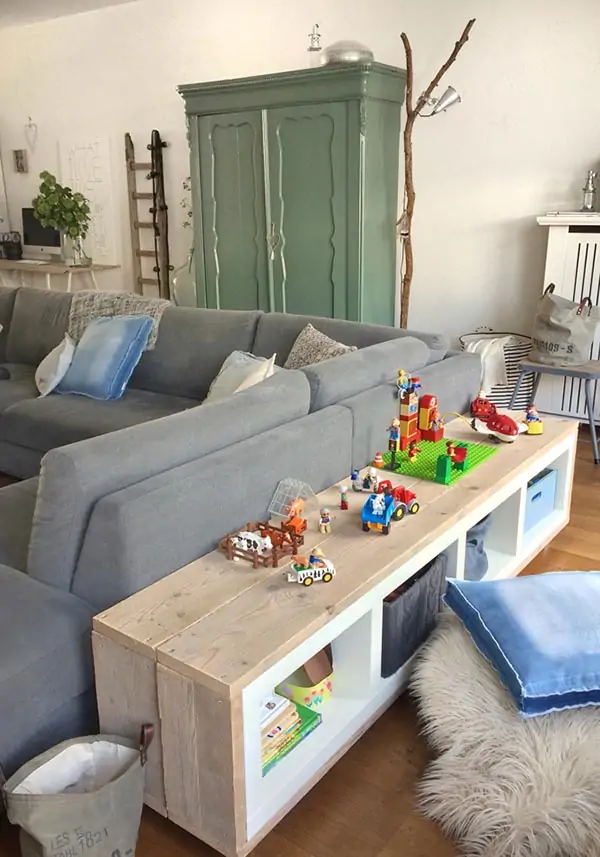 Arrange your couch so there is some distance between it and the wall. This area is one of the most overlooked toy storage ideas for a small living room. You can comfortably organize your children's playthings without worrying about the small living room area. Though the area behind the couch isn't completely hidden, it will be out of the path of foot traffic in high-traffic areas. What's more, kids will adore the idea of having their private noon in your living room.
7. Shoe Racks
What about this simple way of storing action figures, dolls, and any similar toy: hang your shoe racks on the back of your bedroom door. This is one of the most practical toy storage ideas for small rooms, and if put into practice creatively, it might even make your room seem a bit cozier.
8. Bins Attached to the Wall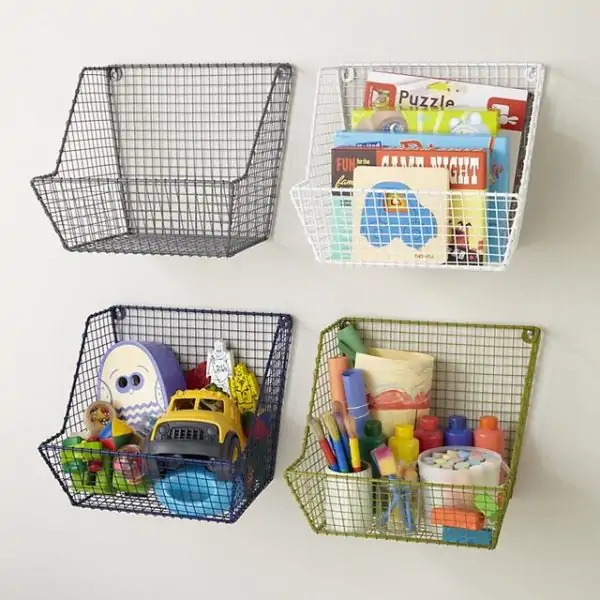 Don't allow the vertical space of the walls to be wasted; use it to your advantage. Attach small organizing bins to the wall using a nail or hook and tuck in your kids' playthings inside them. It is an inexpensive toy storage idea for small spaces to declutter your home.
9. Wall Hanger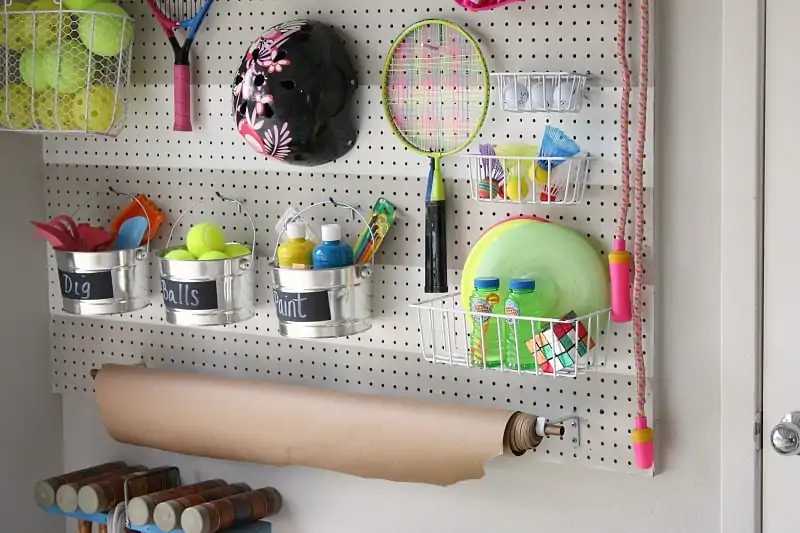 You can use a wall hanger to hang your sports rackets, little baskets of toys, or dolls' outfits within your room. If organized creatively, the hanger will greatly add to the room's appearance and will be a major element of your décor.
10. Toy Hammocks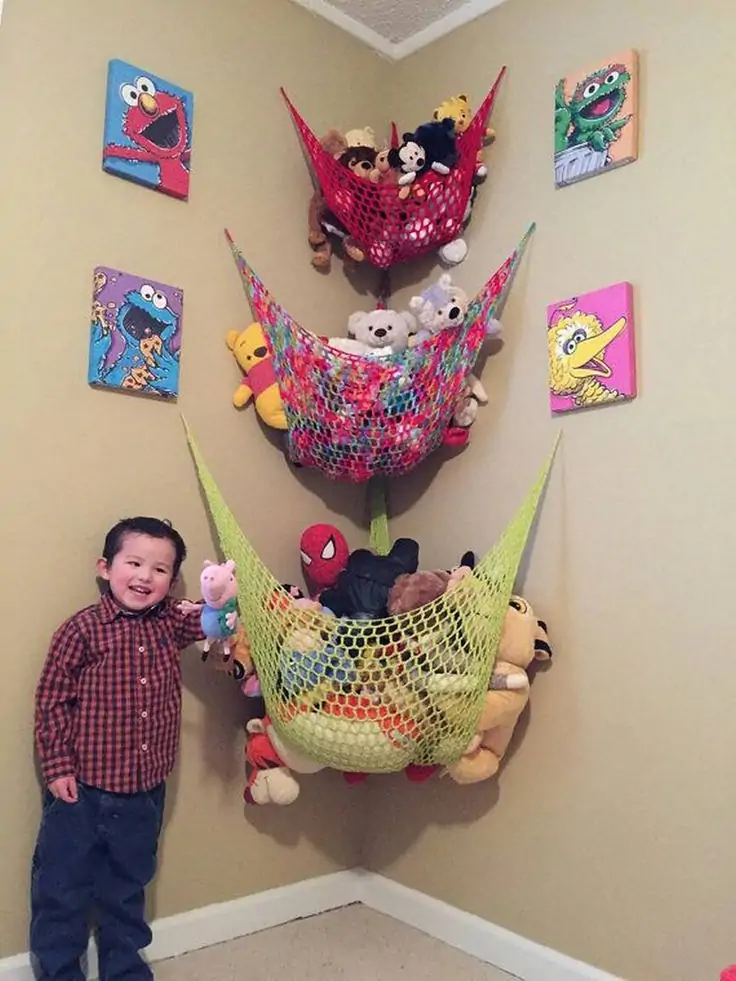 You can install a little hammock in the corner of your kids' room for easy access. Toy hammocks are a terrific way for your children to store their stuffed animals.
11. Repurpose Your Existing Furniture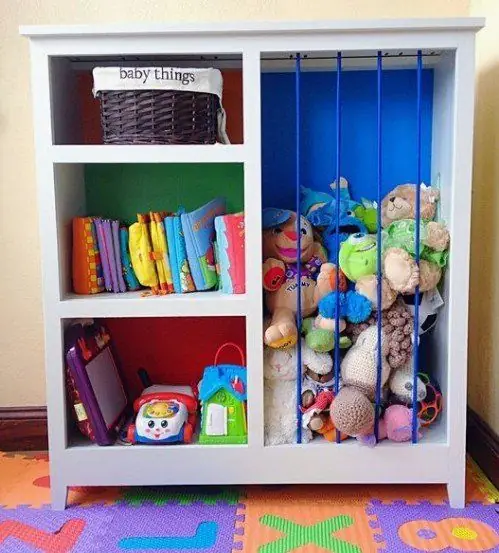 You might not have to buy any new furniture or containers to fix your storage area issue. All you need to do is repurpose your old furniture to satisfy your current needs. Repurpose an old box or drawer to serve as storage in any of the small spaces of your apartment and relieve your home of the irritating clutter.
12. Make Use of Rolling Bins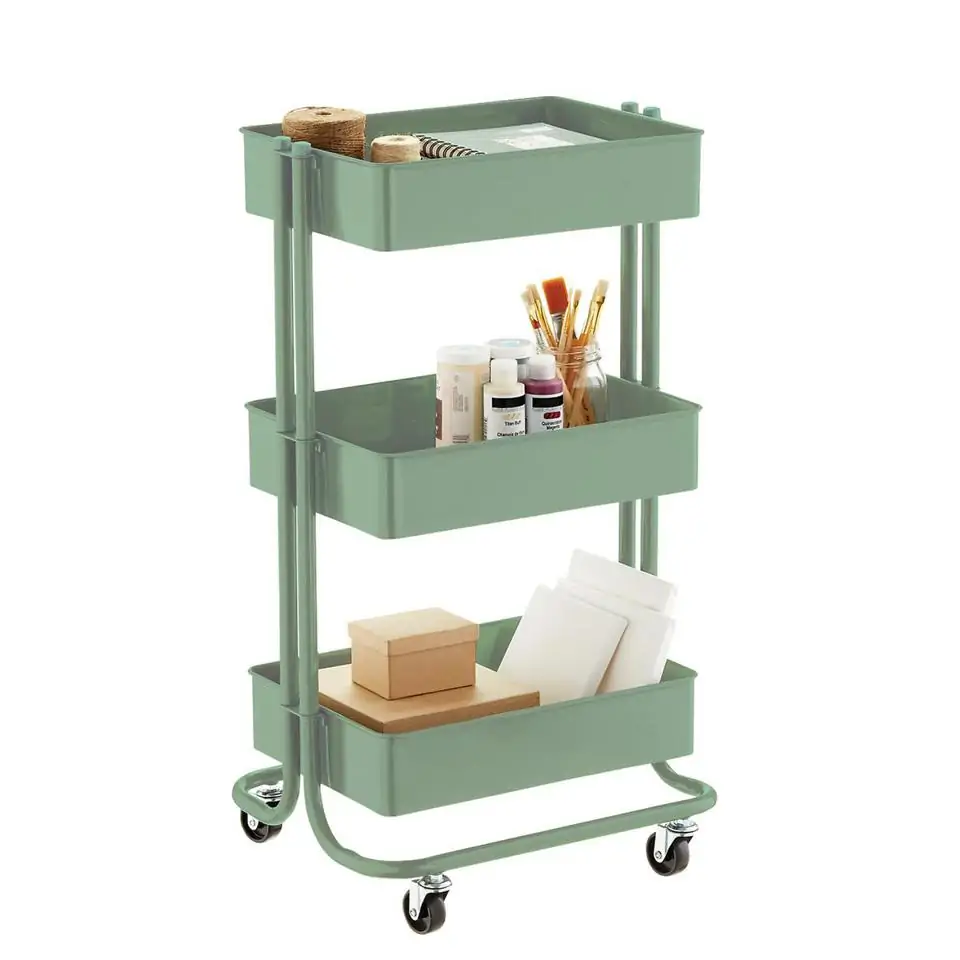 If your kid does not have a dedicated playground, a rolling cart is an excellent option to consider. It lets you move any toy freely from place to place while also relieving you of the burden of seeing your room cluttered.
13. Your Bookcases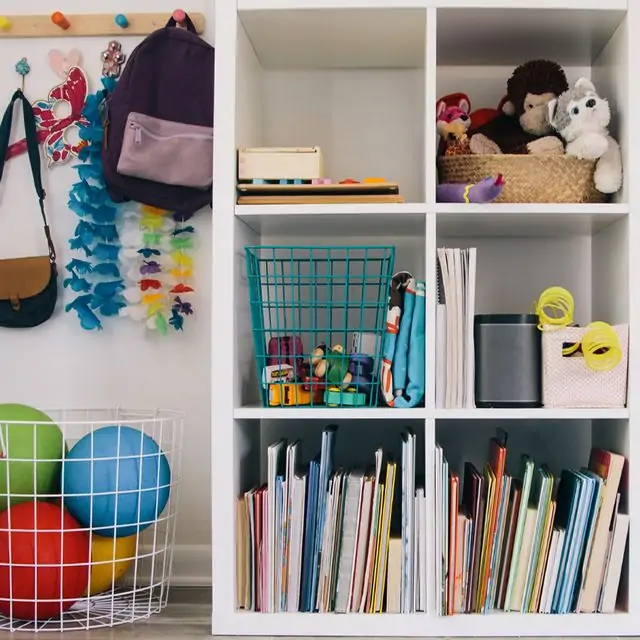 Your bookcase may be too large to store only your books. Rather than letting such spaces remain wasted, you can fill them with playthings. Let dolls, balls, and books be friends! What's more, you can add some other things to make the company even more diverse.
14. Modular Storage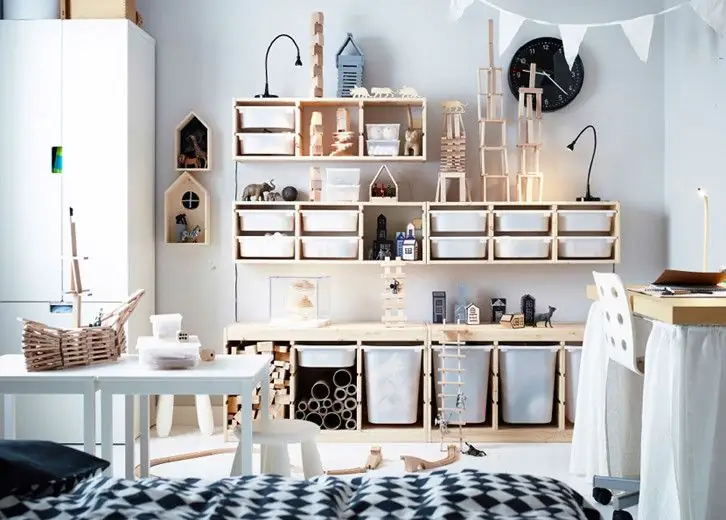 This is an excellent option for an expanding family because of its adaptability. You can easily alter the shelf size as needed without having to reinstall anything.
15. Desk Spaces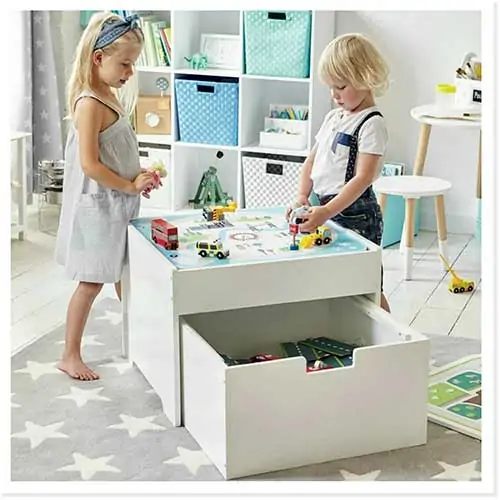 The drawers in your kids' desks don't have to be filled up with their books and school materials. The use of desk space is one of the creative toy storage ideas for small spaces that must be considered. Place stationery in the smaller drawers, and use the free ones for essential toys. If the playthings are colorful enough, they will add vibrance to the room.
16. Use the Space in Between Bunks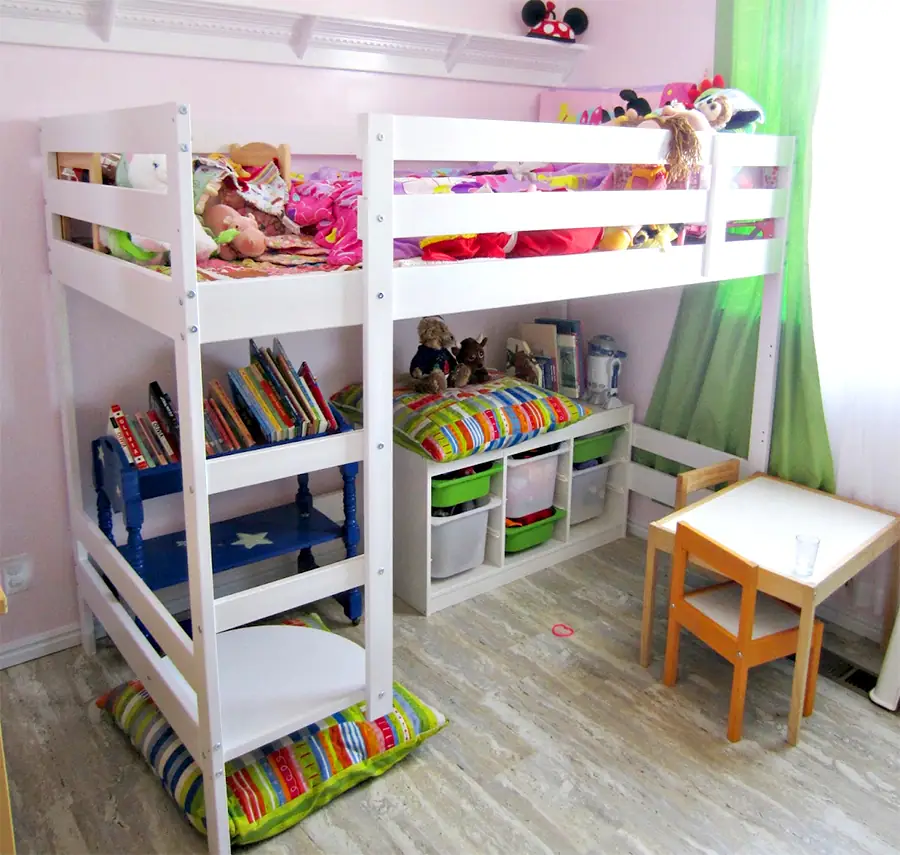 If bunks are in your kids' room, you can make better use of the spaces between them. Place a built shelf underneath the slide between the bunk beds and get an ideal space for storing. What's more, you can install a small curtain over the items to cover them.
17. Stack Crates
Be creative with your old crates. Place them side by side or arrange them in a neat pile to get additional storage for your kids' playthings.
18. Portable Toy Boxes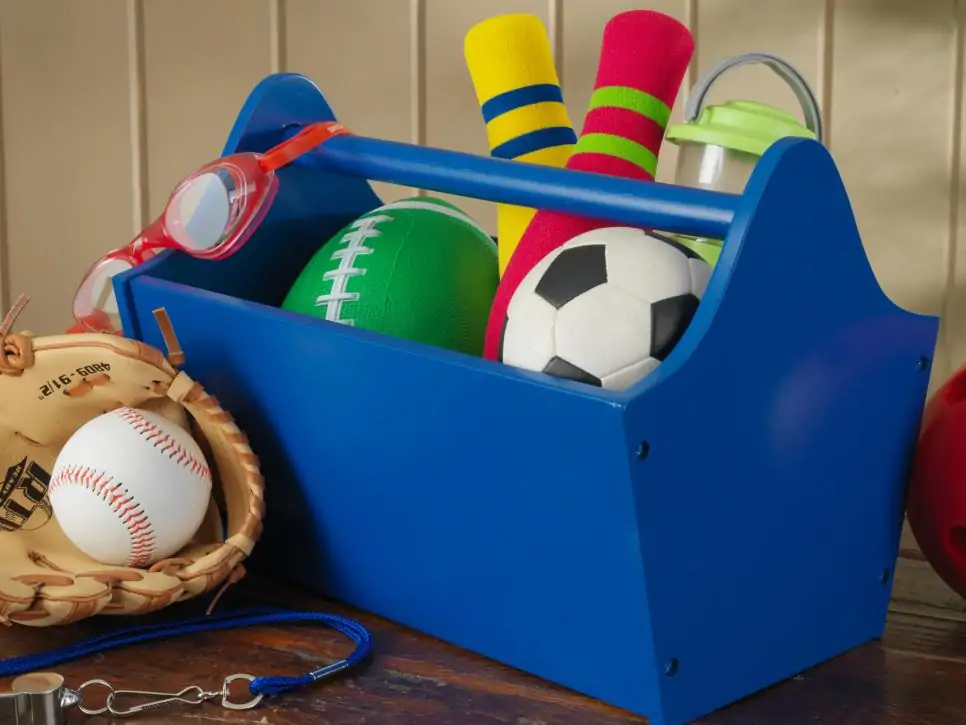 Hope you liked your 18 toy storage ideas for small spaces: the more empty spaces there are in your house, the easier it is for your kids to play and enjoy themselves. Don't be afraid to explore and exploit new opportunities!