35+ Ideas for a Small Backyard Patio That Will Fit Anywhere You Want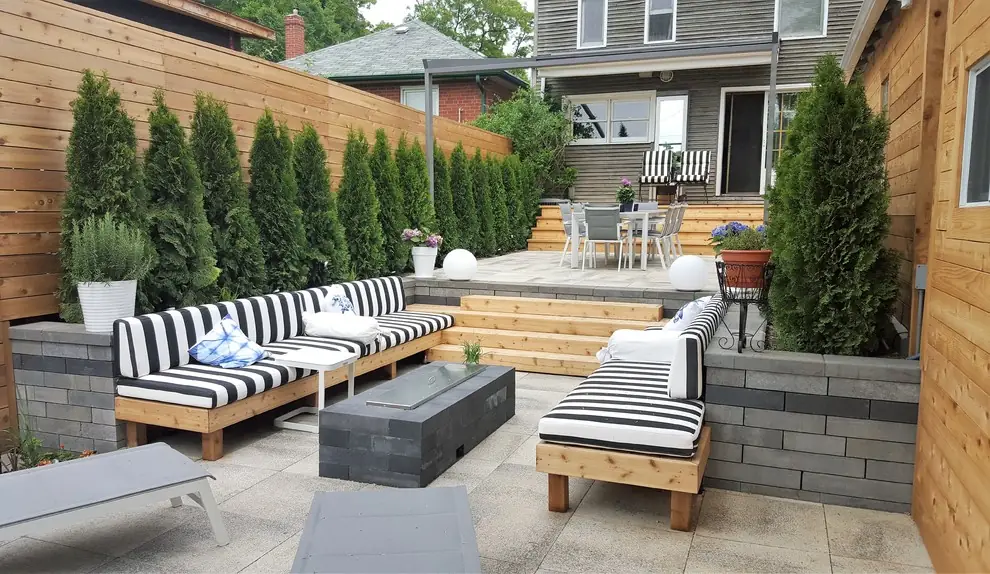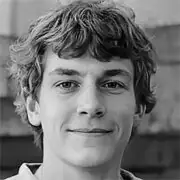 A patio is, undoubtedly, a major addition to your property. Unfortunately, not everyone can afford to build a large one, so most property owners are usually looking for ideas for a small backyard patio. If you're one of them, don't worry: there are numerous ideas for small patios' designs with pictures floating around.
1. Versatility Is the Word: A Patio Idea That Packs a Punch (And Other Things)
You have to be creative when there's not much room to work with. Here's an idea for a small backyard design: a decorative element that doubles as a countertop when guests are around.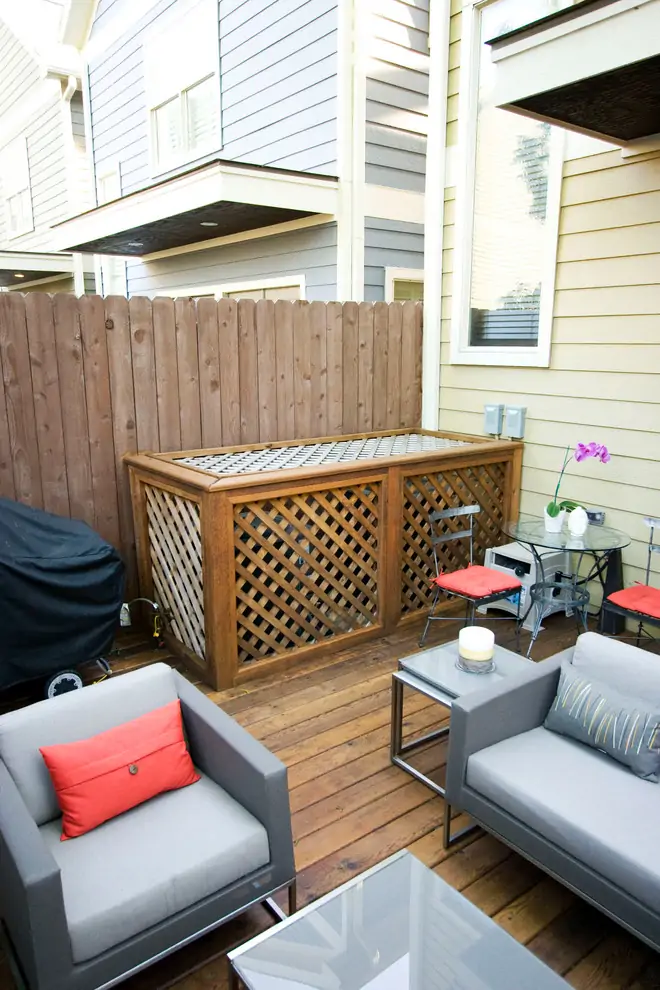 2. Think Vertically: Keeping All Dimensions in Mind
It's hard to avoid taking up the floor space, to be sure. But there are always walls! You can get some shelves and other attachments if you need storage. A bonus idea: a windowsill acting as a countertop.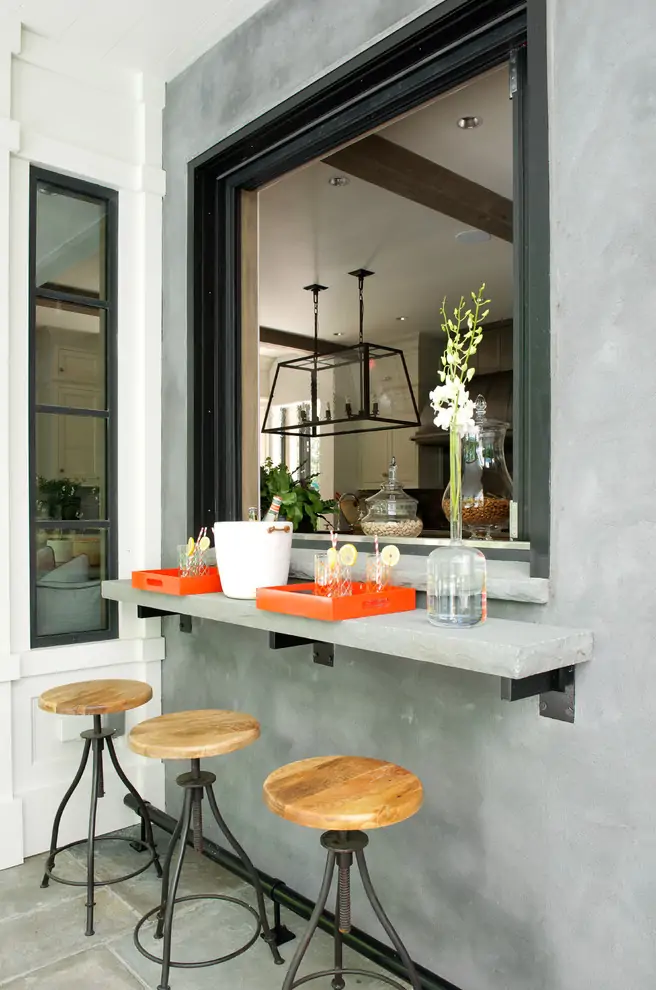 3. A Green Wall: Not Just a Color
There are other ways to use walls while designing an outdoor space. If the size of your backyard allows putting aesthetics above function, try adorning your walls with plants: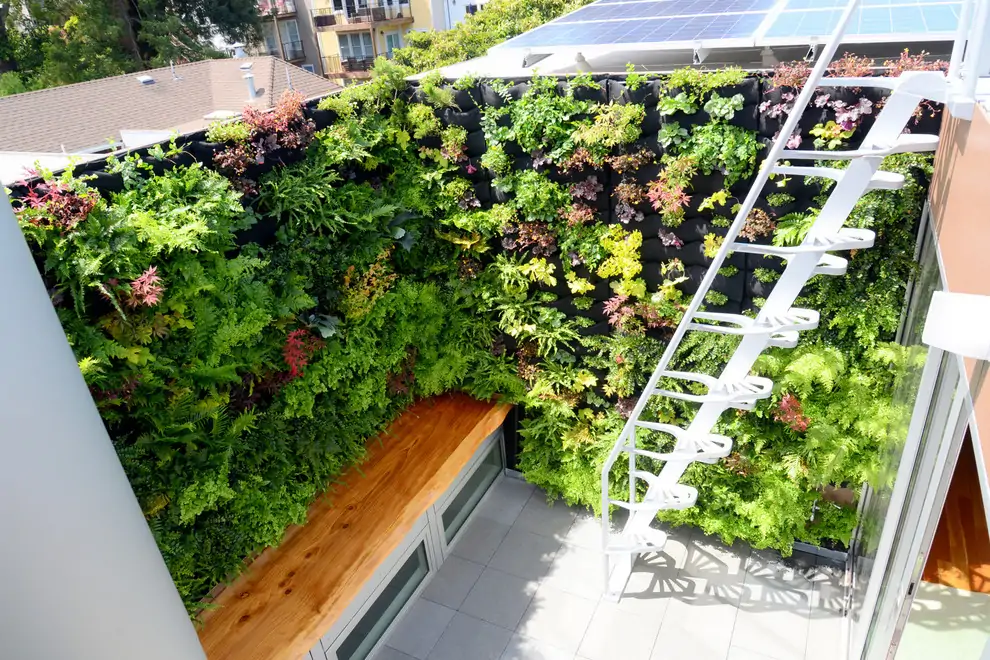 4. Happy Campers: Sitting next to the Fire
If you ever sat with your friends or family around a campfire, you probably remember the feeling of closeness associated with it. Recreating it in your garden is not that hard, as evidenced by the small backyard patio ideas with a fire pit — for example, this one.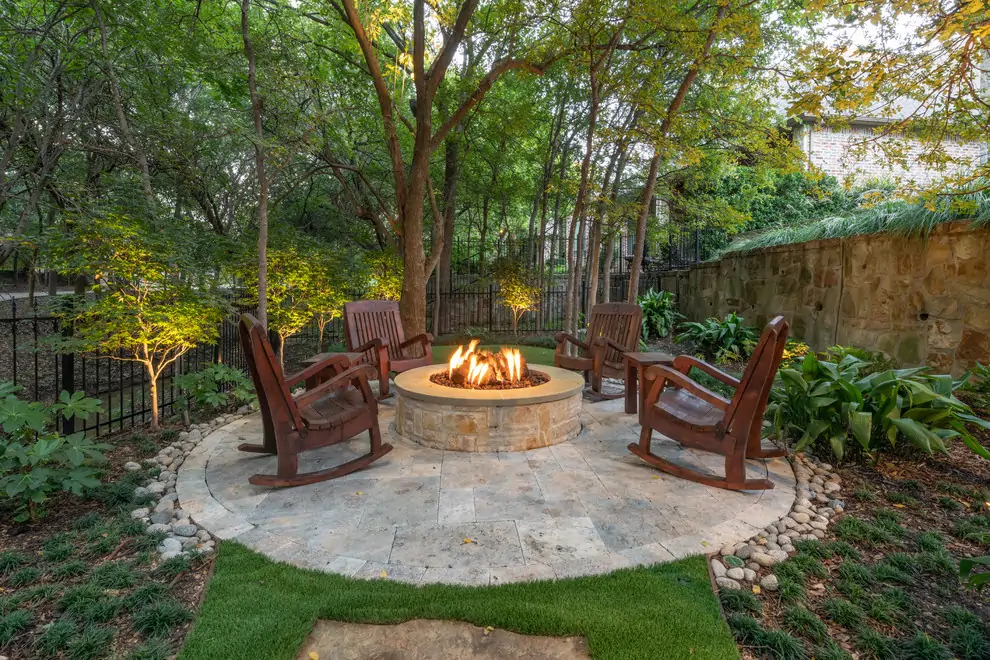 Tell new stories around the fire and create fresh memories — right where you live!
5. Fitting the Unfittable: Small Patio, Big Impact
You may be one of the people who prefer ovens to open fire. Good news for you: even a small backyard can still fit one of those! Even better, a large fireplace can make the place look bigger.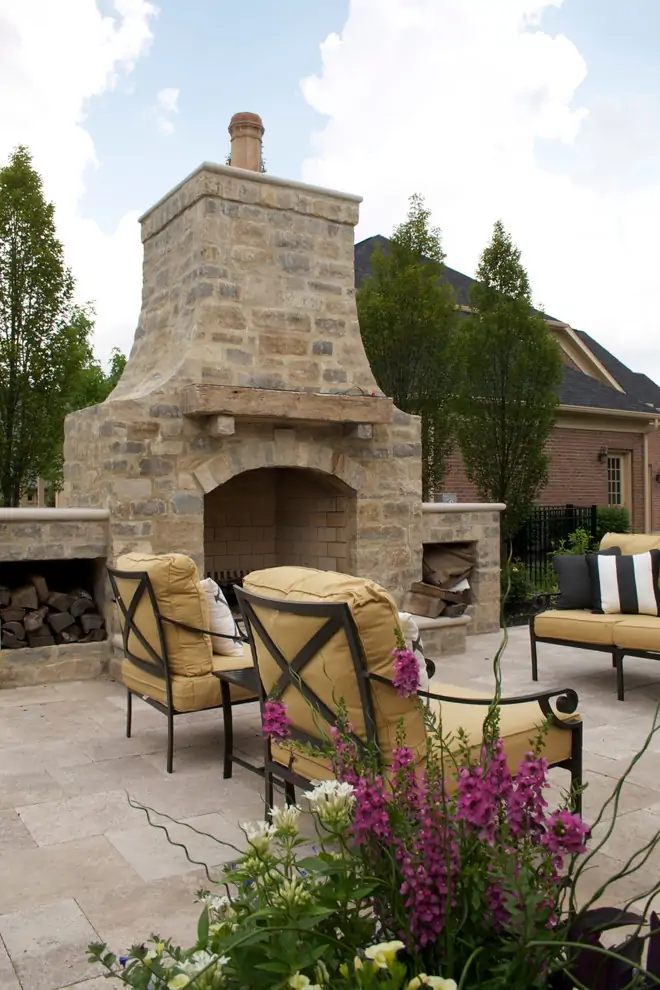 Think about putting a piece like this in your backyard to form a truly grand impression.
6. Accessorize This: An Easy Way to Transform Your Space
You don't need an elaborate design project to liven up your space: some ideas for a small patio can be DIY, requiring just a few accessories. This example shows how: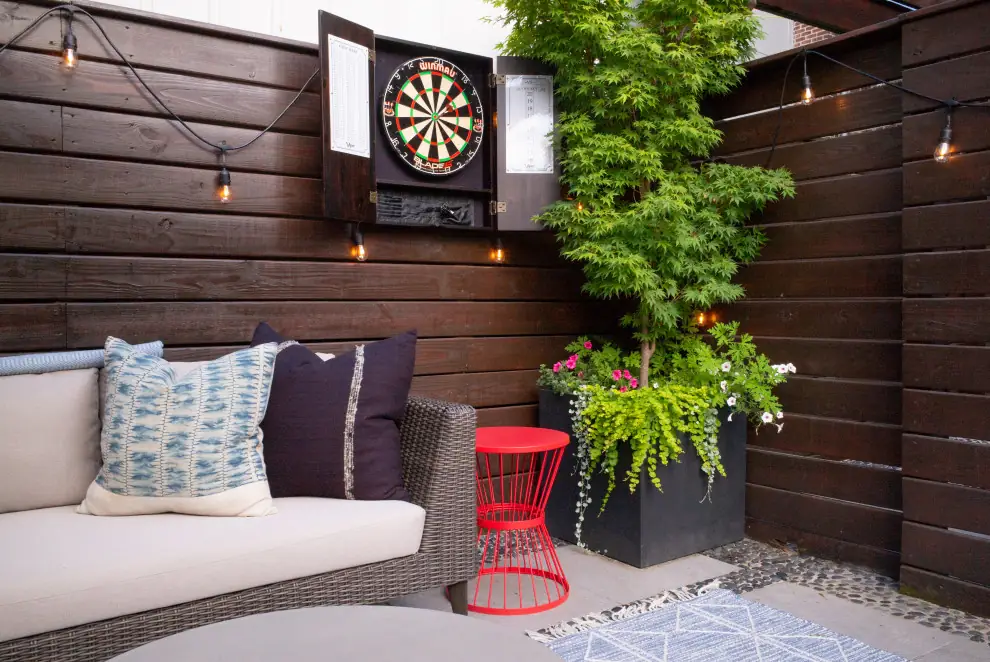 Another great thing about this idea is that it's easy to shake things up once in a while.
7. Break out the Waterworks: A Backyard Fit for Royalty
There are ways to make the place feel luxurious even if you don't have a lot of square footage. Consider putting a fountain in your yard.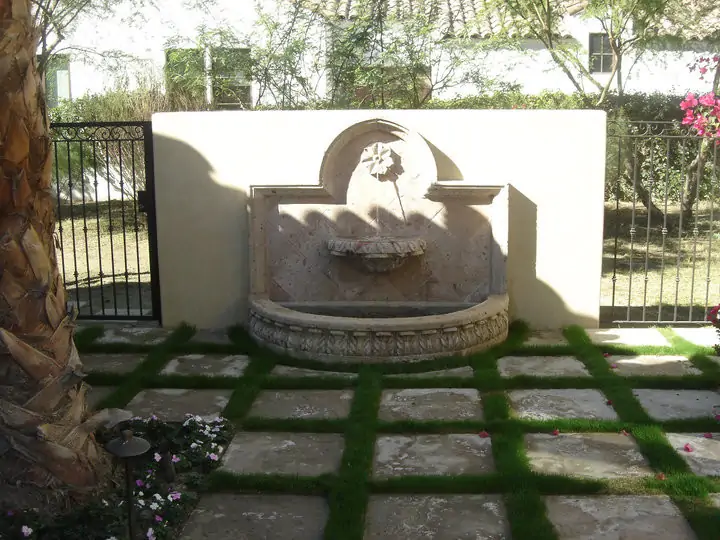 8. Distracting Maneuvers: Conceal the Modest Size with Numerous Details
What if your outdoor space is not just small, but tiny? Get inspired by the ideas for very small patios, of course! Throw in some bright unusual details to help you feel cozy but not cramped.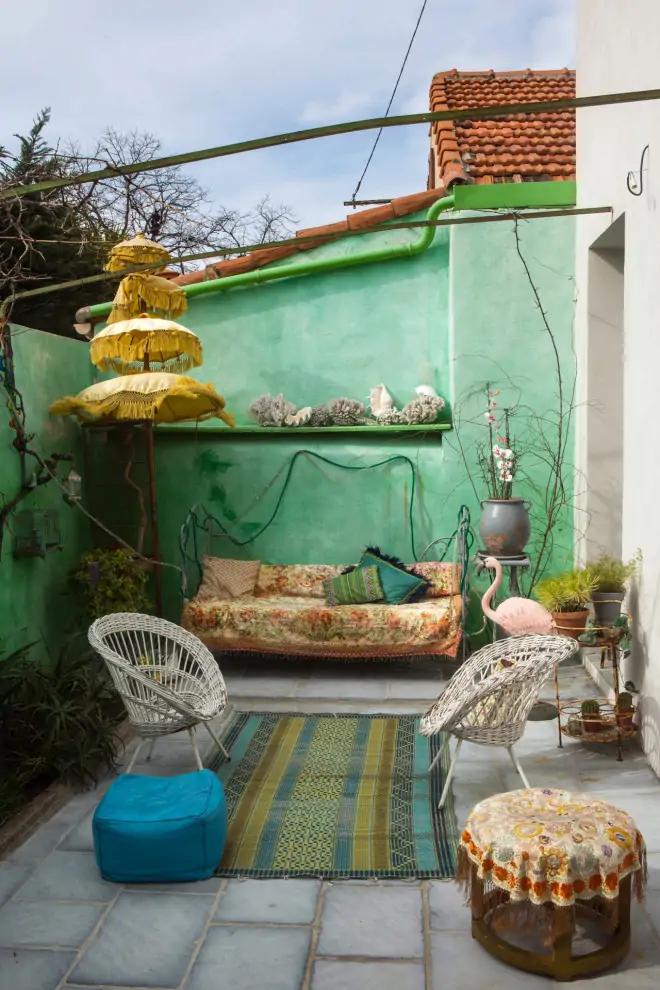 9. A Moveable Feast: Outdoor Furniture for Any Layout
The simplest way to design is not to design: get a beautiful foldable furniture set and put it anywhere you like — or have space for it.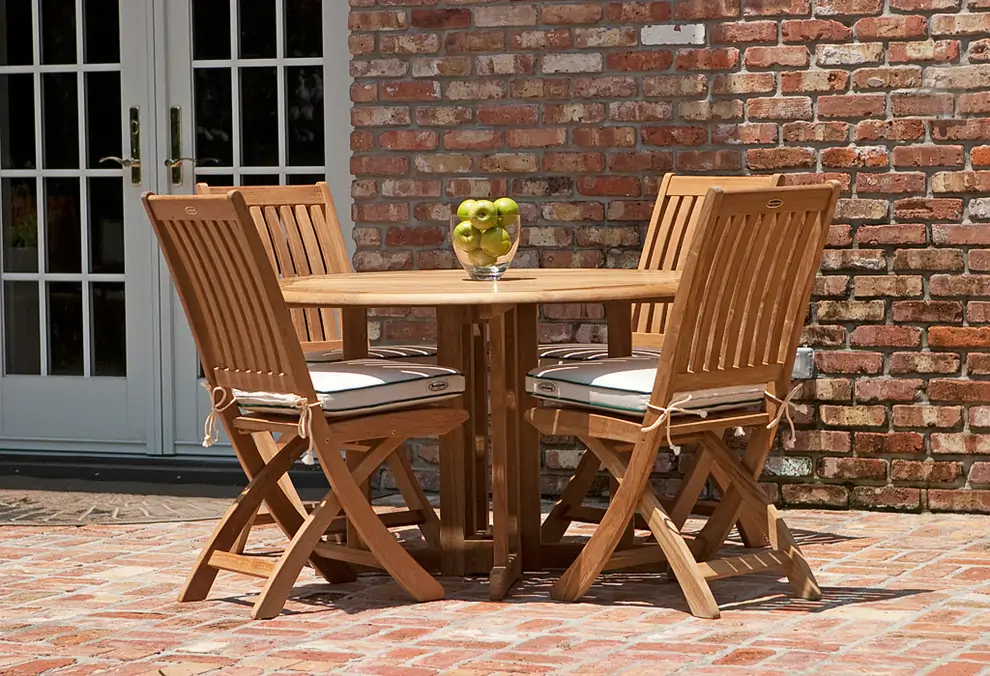 The best thing about small backyard ideas like this one is that it can be done on a budget: whether you get this beautiful set or any other, you'll get so much bang for your buck!
10. Making Things Complicated: A Design for Show-Offs
If you're set on making something elaborate, here's an addition to the list of the backyard patio ideas for small yards to take note of.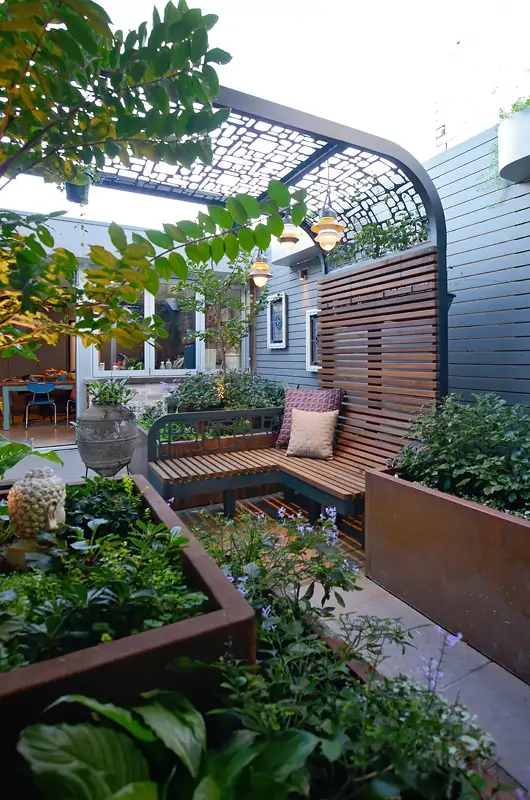 Curved lines and combined materials — such as concrete, wood, metal — create a modern look for this space, and lush plants complete the picture.
11. The Practicality of It All: A Small Patio with a Lot of Function
Not only does this backyard feature clean straight lines, it also provides a storage space hidden from everybody's eyes as well.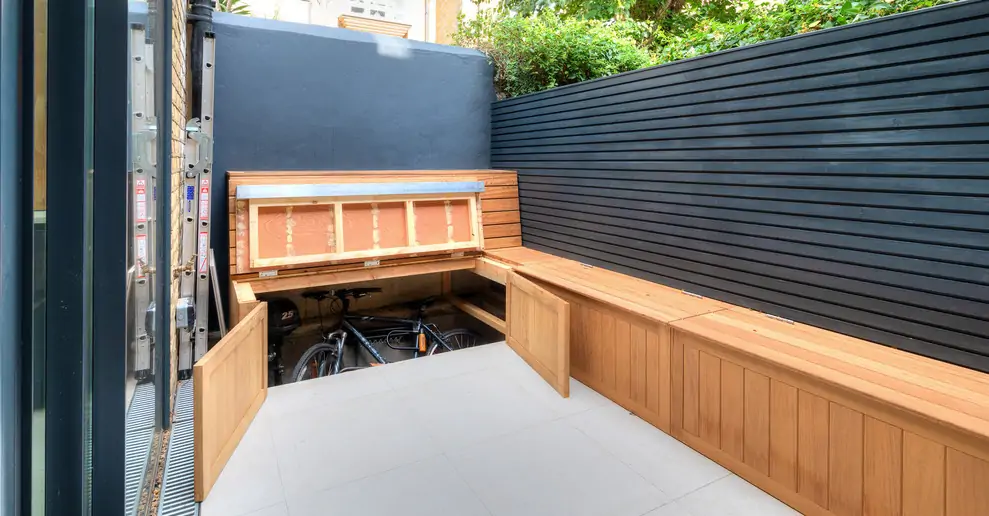 This color palette highlights the shape with its simplicity.
12. Looks like All Shoes Are Off: A Secret Corner for Some Comfort
If you're looking for some original flooring ideas for a small back patio, why not look at wooden tiles? They create a feel that's warm and cozy — which is just what the doctor ordered for a compact space.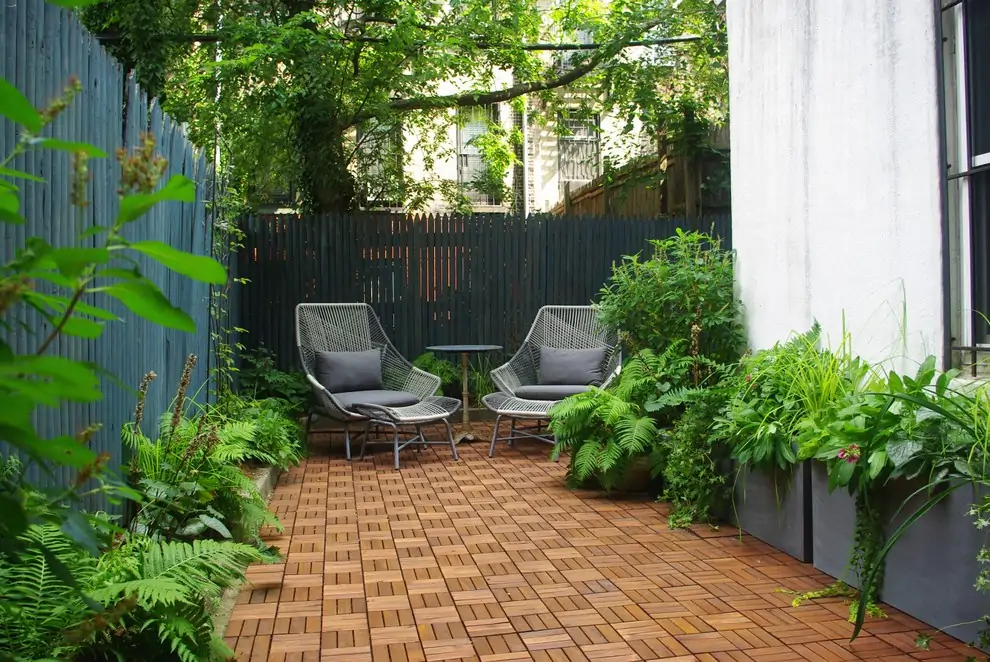 There are plenty of appealing ideas for patio flooring you can choose from.
13. Like a Brick Floor: A Paving Idea to Shape Your Yard
Of course, it's not necessary to think about all three dimensions at once while planning your outdoor space layout.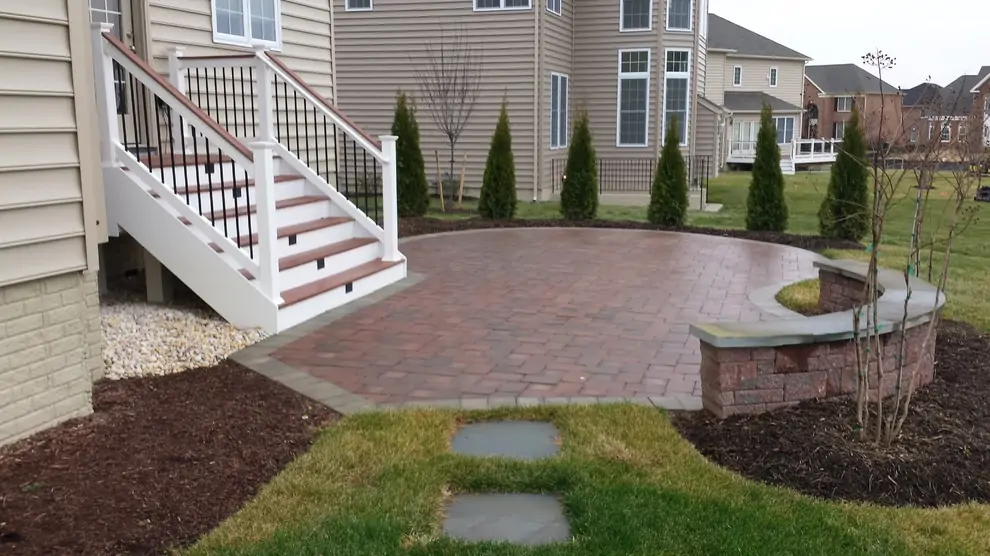 The interesting shape and color scheme "make" the look. A curved bench adds a nice touch.
Just look at all those patio paving ideas we have collected for you.
14. Origin of Symmetry: An Easy Way for Minimalism to Work
This project is a perfect example of why the placement of furniture and decorations matters in design.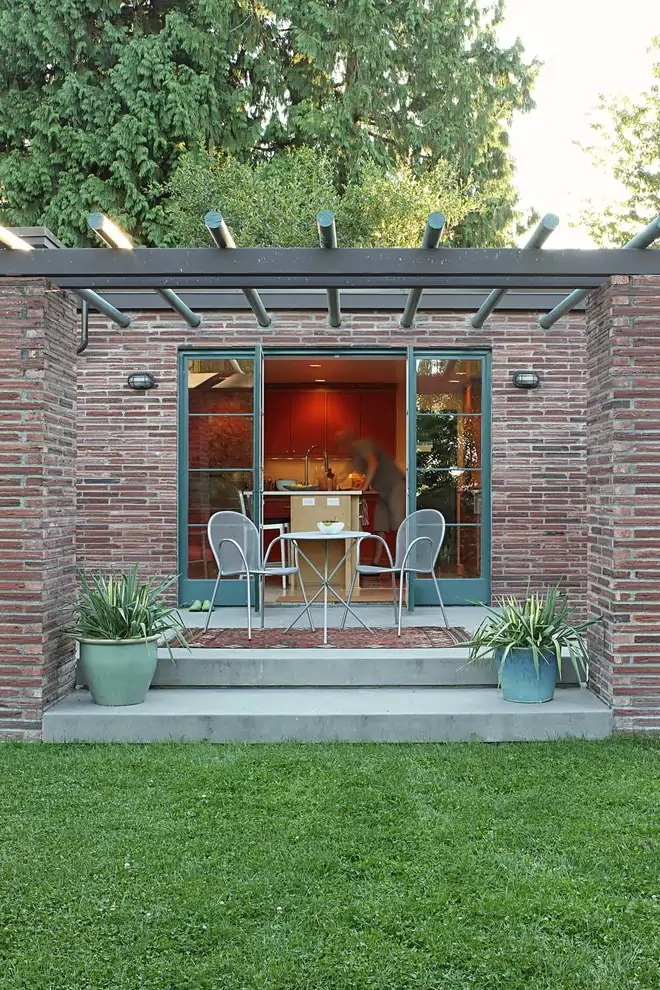 Carefully placed features make a harmonious ensemble, and straight-lined pergola and sliding doors complete the sleek, concrete-and-brick look of this modern patio.
15. (Not) Against the Rules: Many Ideas, Same Space
This project combines several decorating ideas for small outdoor patios at once. There are textiles, like a rug and pillows, to make things cozier; a clever combination of wall lights and hanging planters; some table decor, and large graffiti on the wall, which instantly draws the eye.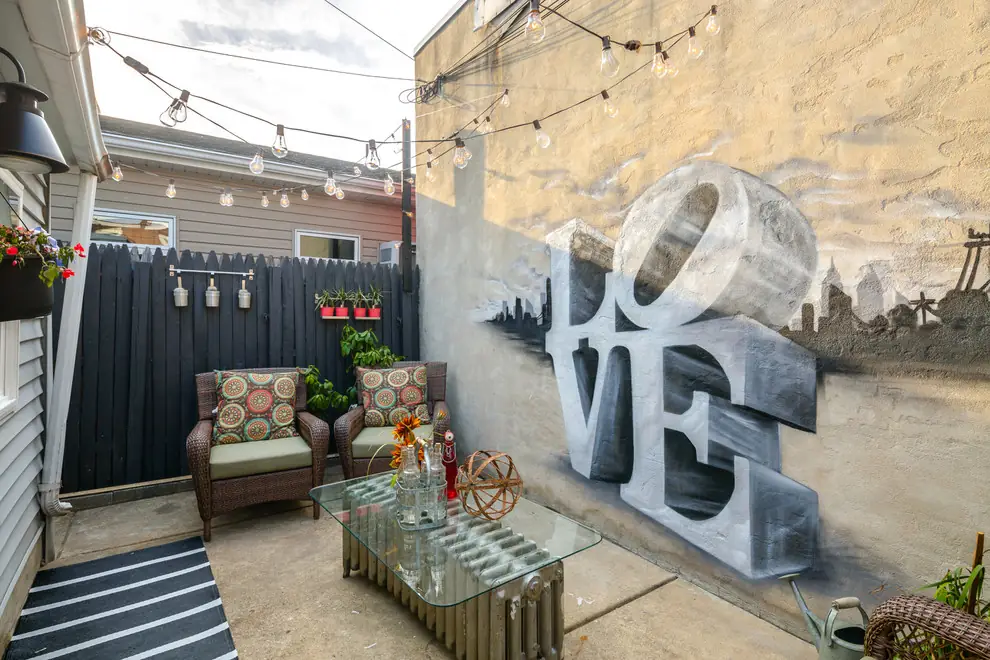 16. There's Always Space for a Pool Party: A Cooldown Corner
Nobody said that it's necessary to have a huge backyard to put a pool there. Here's an example: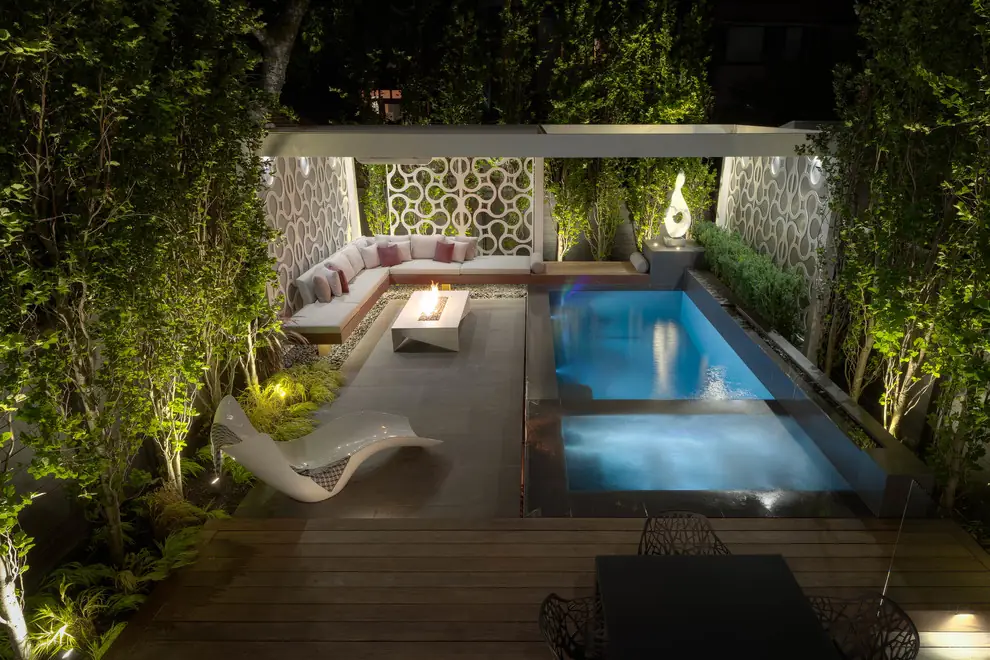 This compact outdoor lounge with a small pool, a cover, and a fire pit allows the owners to feel the luxury despite the patio's small size.
17. A Hot Attraction: Hot Tub Hangout
A hot tub can be an option for those who either don't have enough space for a pool or are looking for something more interesting.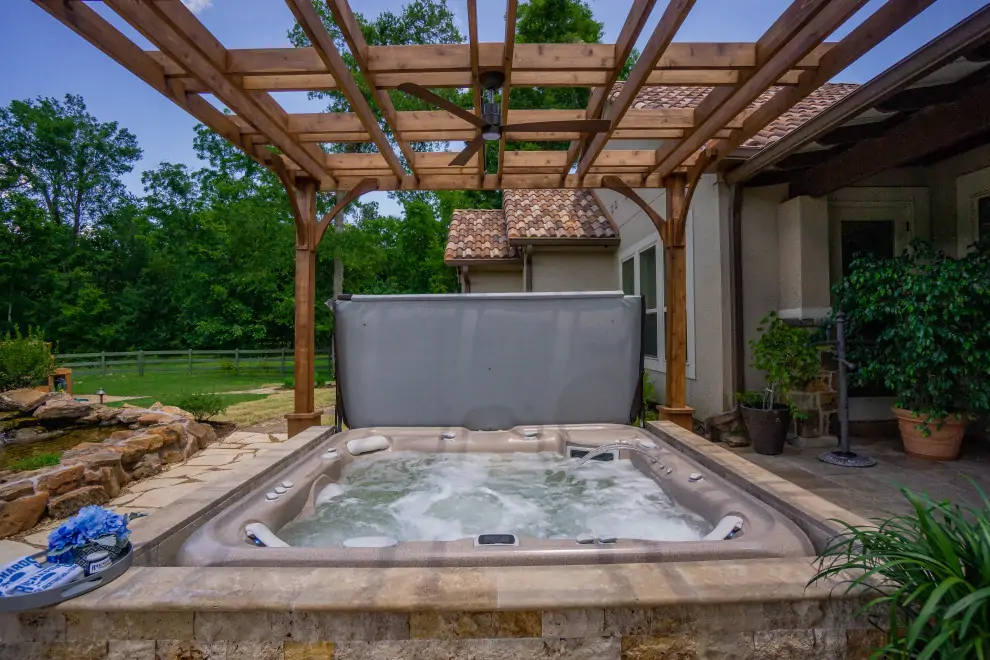 Making it a centerpiece of your patio will serve as a great starting point for the backyard design — and a nice attraction for your guests.
18. Ocean Breeze: A Room with a View
Neither patio size nor its design matter much if you have a view like that! If you're that lucky, you can make comfort a priority and you're all set.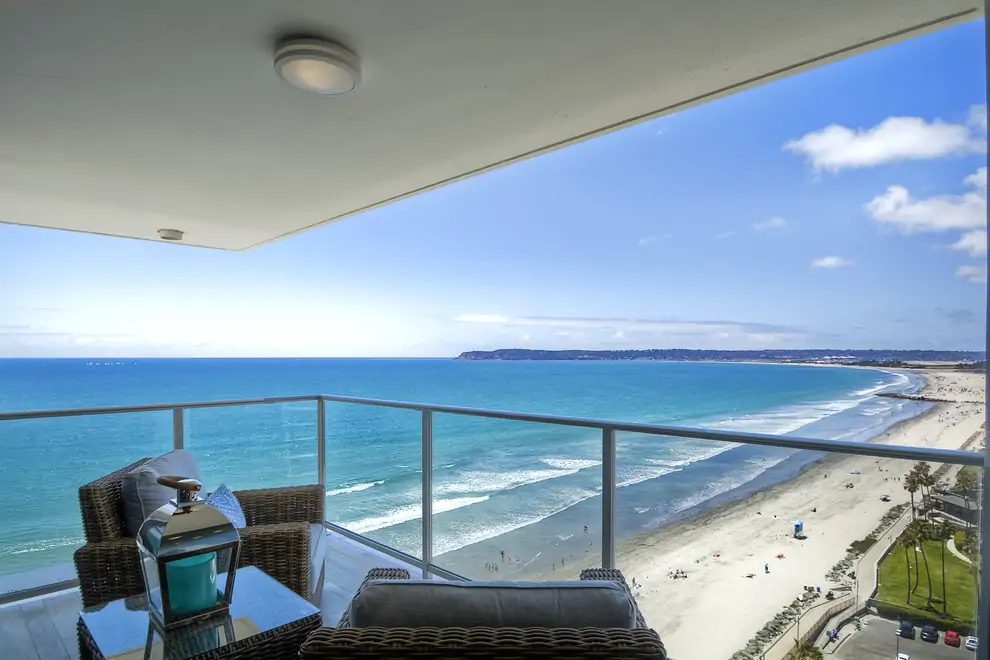 However, this design team thought about style and utility both, combining deep comfortable chairs with sleek glass for a modern look.
19. Something Exotic Among the Ordinary: A Patio to Forget Your Troubles
Choosing a distinctive style can not only help your patio look unique and original, but also hide what you don't want to see with the elements of decor.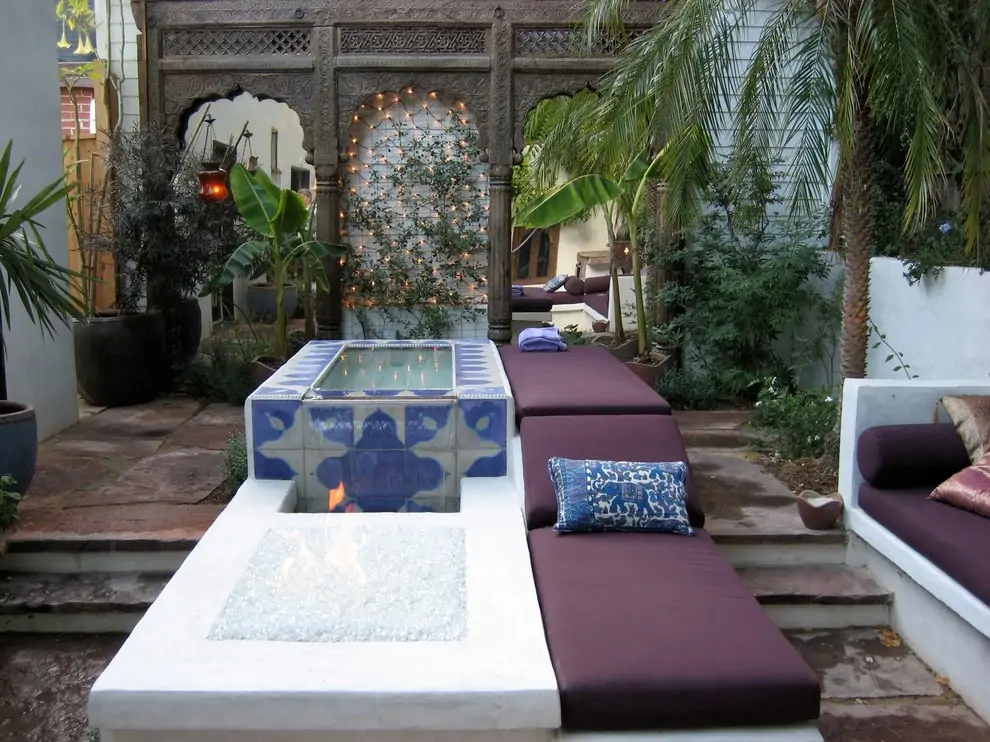 In this example, the beautiful arches set the boundary between the owners' backyard and the neighbors' house.
20. Doing It Yourself: Designing an Outdoor Patio Is Easier than It Seems
Handmade elements can help you make the space truly your own, so here's another one of the small patio DIY ideas to keep in mind: repurpose items to make furniture.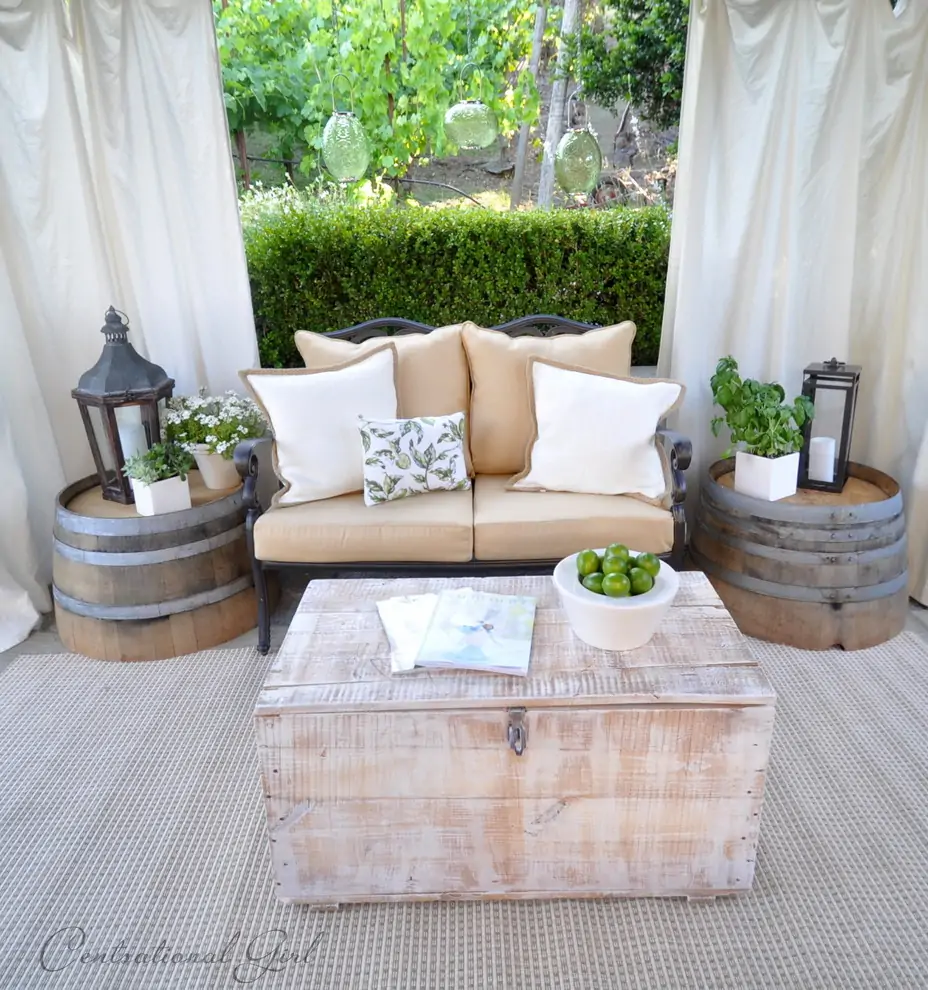 21. Swingin' Around: Focusing Your Backyard Space
Sometimes just one piece of decor or furniture can elevate an ordinary backyard into the "design you can be proud of" category. For example, just hanging a swing seat among the greenery is enough to give a patio a romantic, intimate look.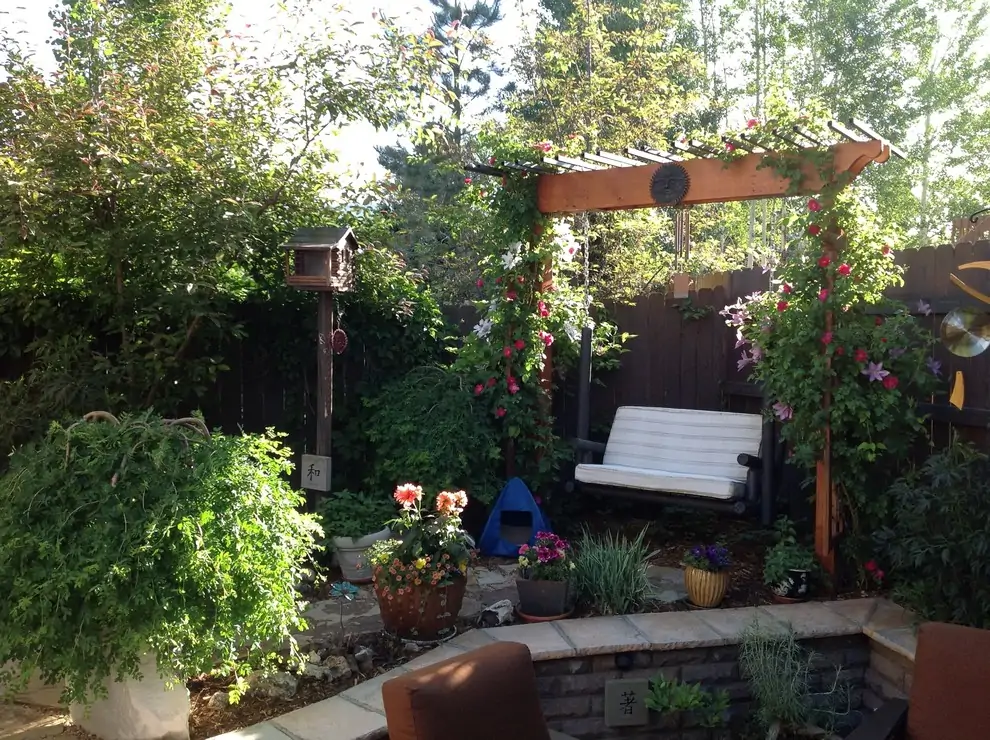 22. Doing What You Love: An Awesome Space for a Cook
It may be more fun to focus on decorating the parts of your small patio other than the dining area; here, the idea is to center the place around a large grill made of shiny stainless steel, with a small prep space next to it.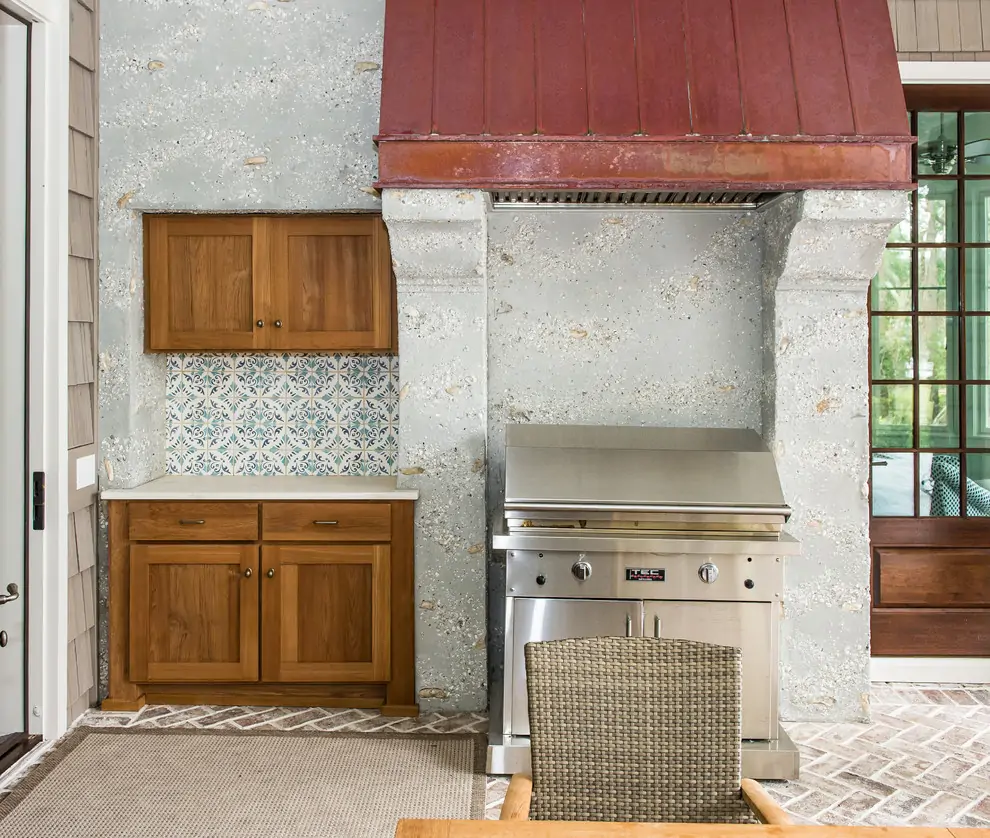 For the sitting area, the design team chose a simple wooden table, complete with the wicker chair set.
23. Hanging Gardens: A Patio Can Be Wherever You'd Want It to Be
If you have a large terrace or balcony on the upper floors, consider making them your main hangout instead of the backyard. For those wondering how to decorate a small patio on a budget, a terrace provides a great opportunity to just put in some chairs, potted plants, and a table and be done — or you can go further and get more intricate designs like in this example.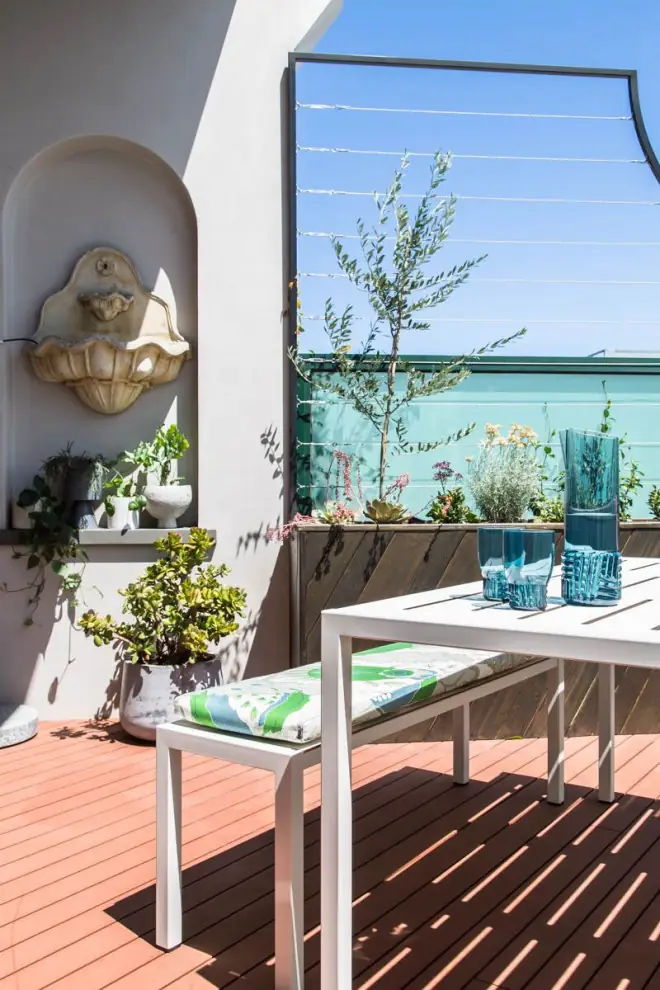 24. Level Up: Different Styles for Different Heights
If you want to divide your backyard area into distinct zones, think about doing that by elevating parts of it. This makes the place look bigger, even if you don't have much to work with.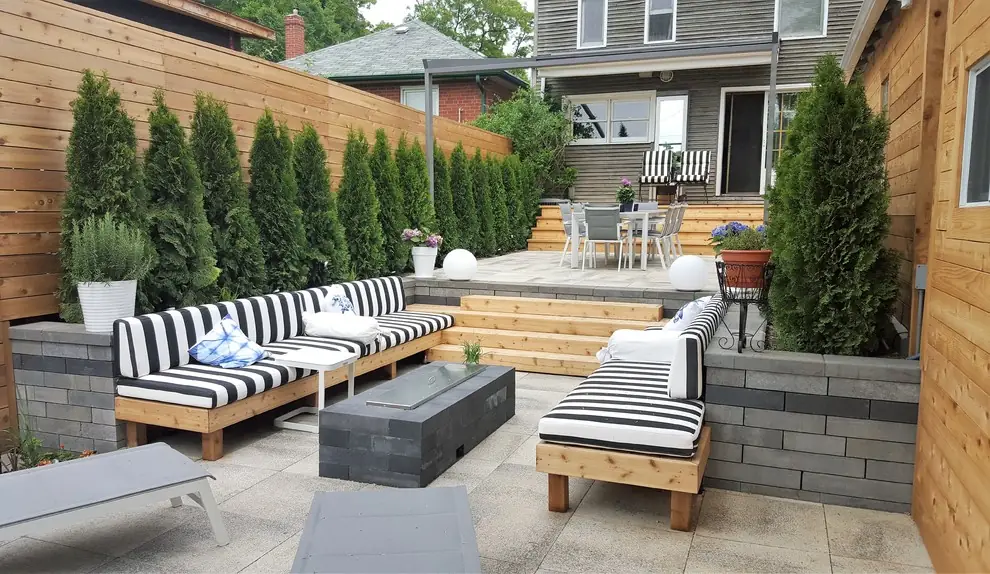 25. Making the Geometry Work for You: A Very Small Patio Idea with Some Pizzazz
Even the tiniest garden isn't a lost cause when it comes to design. This project features some great ideas for very small backyards, such as an irregularly-shaped gazebo that provides seating while making the most out of the available space.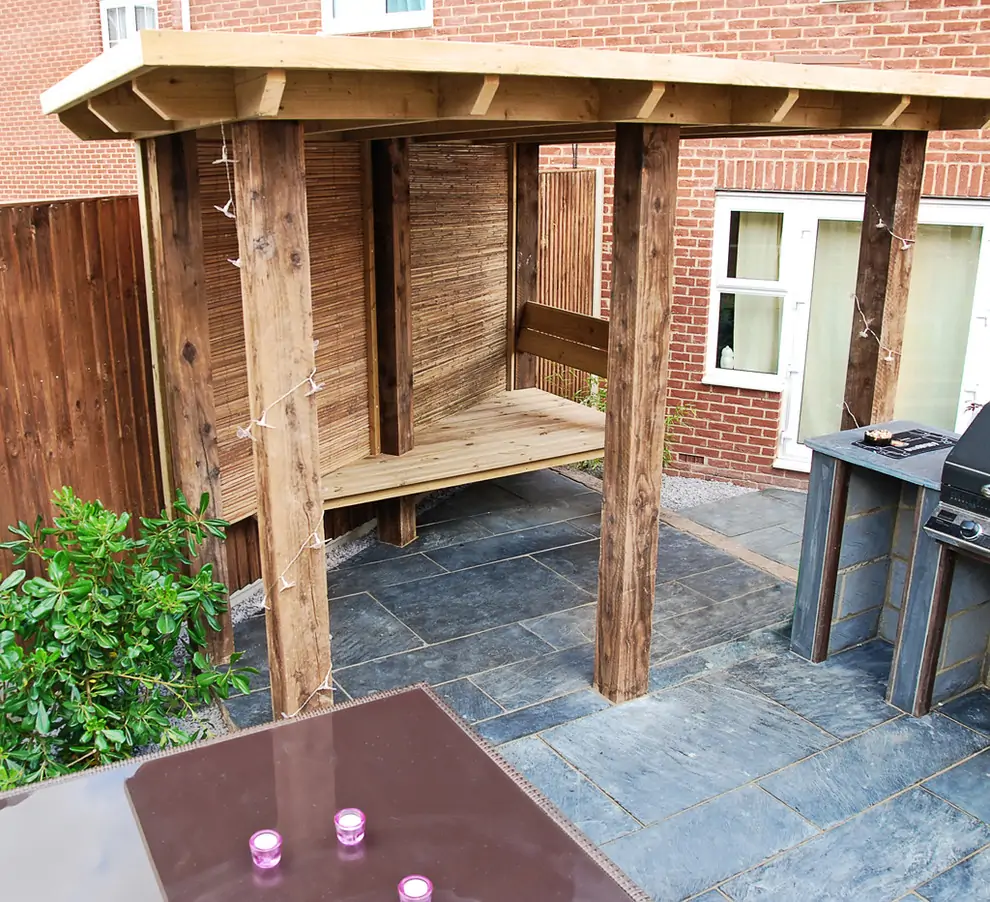 The team was also able to fit a cooking area, dining zone, and storage space among the greenery in this compact garden.
26. Beachy Vibes: A Simple Way to Satisfy Your Summer Nostalgia
Your choice of materials can dictate the style of your patio — no matter its size and shape.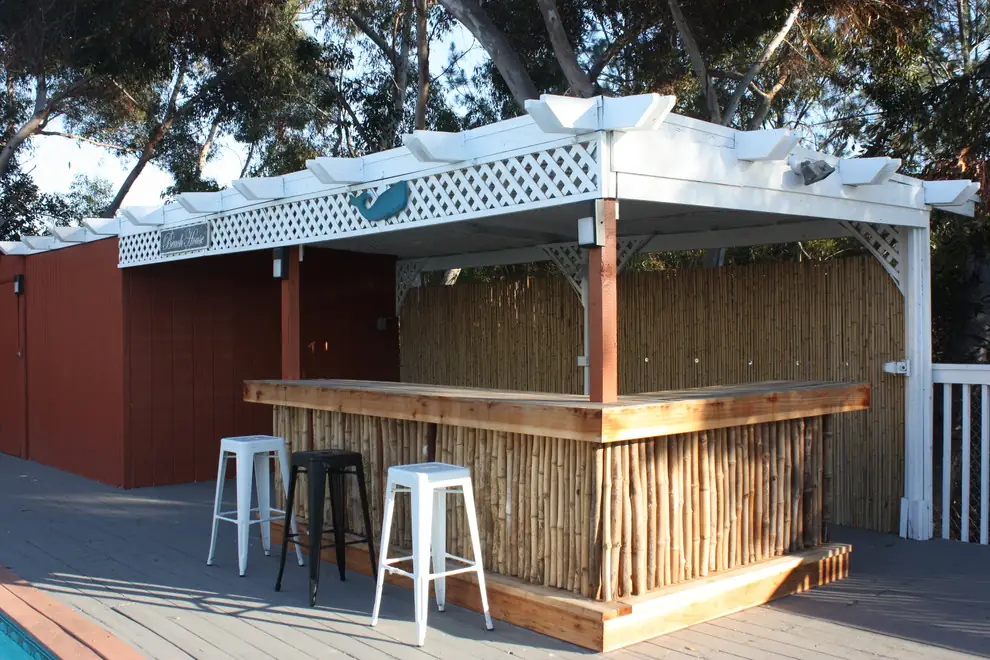 This bamboo counter with a roof and some simple bar stools can instantly put you and your guests in the beach mode — add some fun drinks and enjoy the vibe!
27. Defining the Boundaries
If you're looking for ideas for small patio areas to make your seating area distinct from the whole garden, the idea can be as simple as paving a part of the backyard to create a separate zone.
28. Balancing Act: Making a Hideout That Doesn't Hide
This small patio design idea is to create a cozy, but not stifling, space.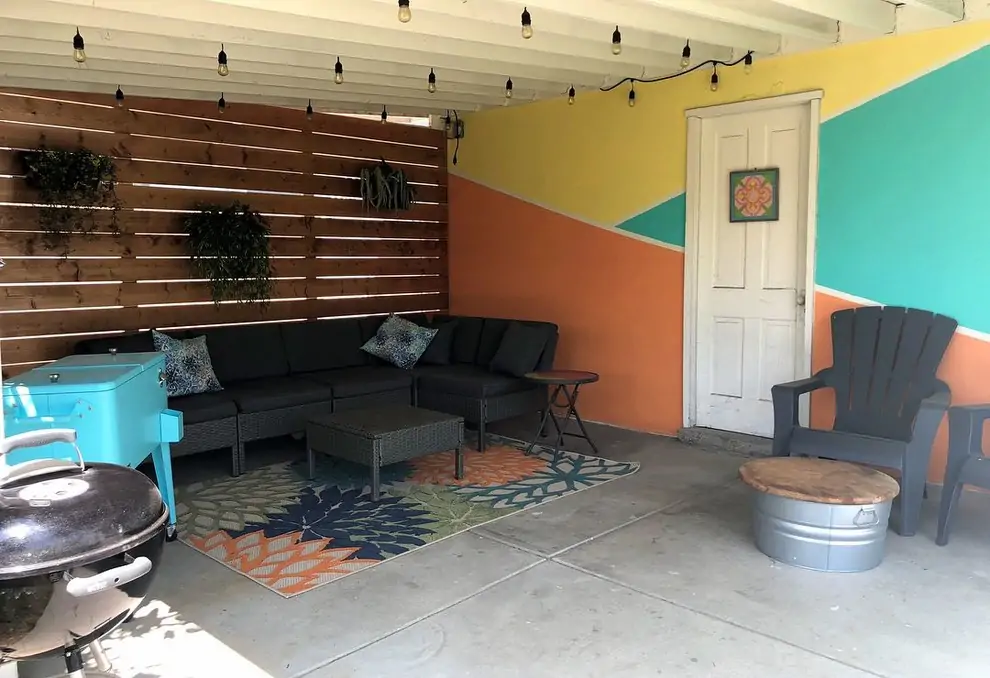 This is achieved by using bright colors for the walls and details, like the rug. The lighting also works to help the space look intimate and comfortable.
29. Simplicity Is Key: A Non-Design Design
If you already have a nice garden, here's one of the ideas for small backyards on a budget: you'll need a table and some chairs. To make it interesting, play with textures or colors, as is in this case: bright blue chairs are a nice touch.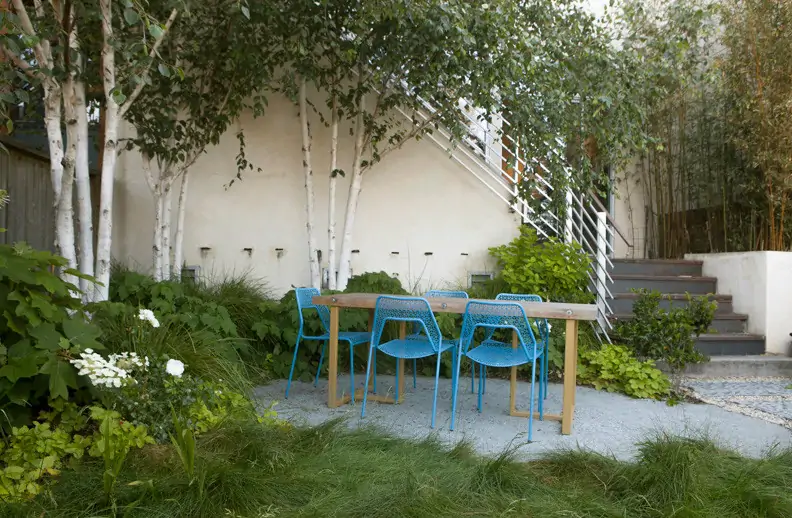 30. All Hands on Deck: A Hybrid Hangout
Going for a terrace feel for your patio is a great idea, especially if your backyard is uneven.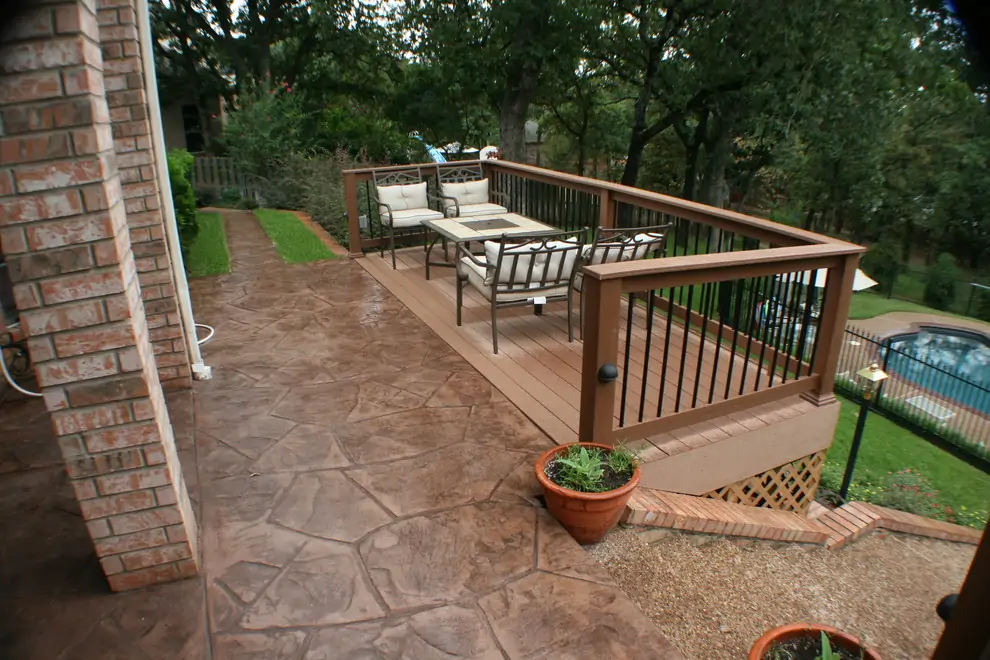 Subtle design choices, like matching the colors and materials, help this space fit right into the environment.
31. Don't Throw Stones: A Glass Cabin for Glamorous Evenings
Floor-to-ceiling windows can make almost any building look better, as evidenced by this project. This idea showcases complex architecture and materials to reinforce feelings of comfort and luxury.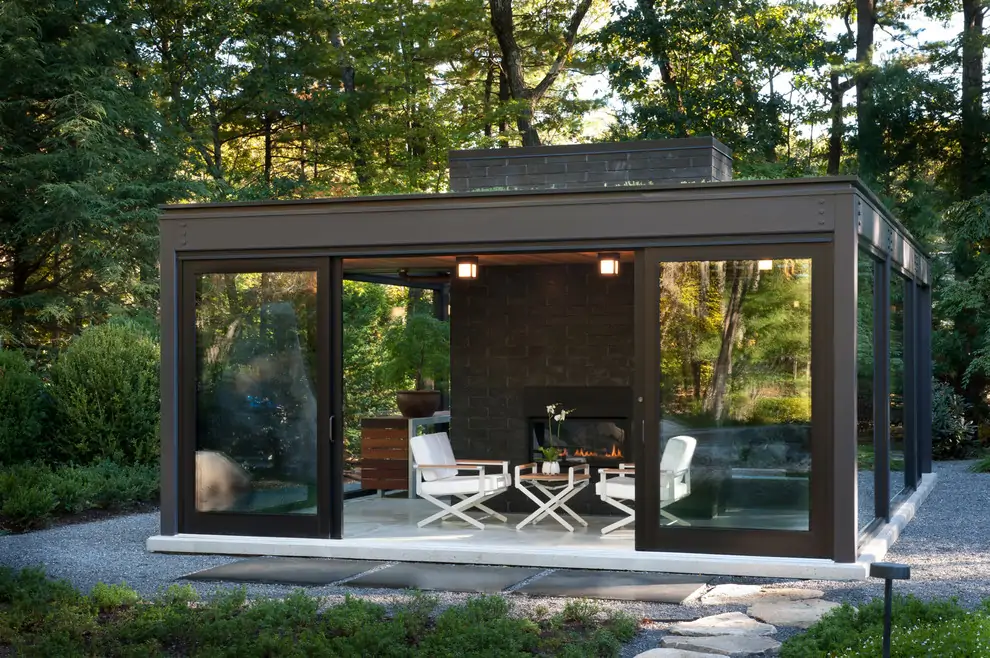 Here you can find more ideas for covered patios of different shapes and sizes.
32. Ideas for Small Backyards on a Budget
You don't necessarily need a big budget to make something special. All you need is some inspiration. So, here are some great ideas of how to decorate a small patio on a budget.
Intimate Reading Space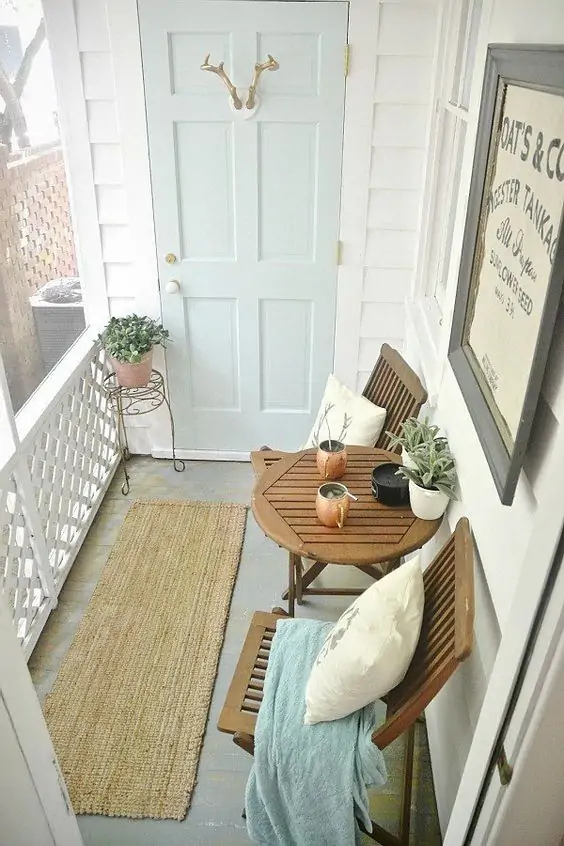 A table, chair, and natural sunlight are all you need to enjoy your favorite book or magazine. Use soft colors and add pillows and a few potted plants to add detail and make this patio even cozier.
Beverage Cart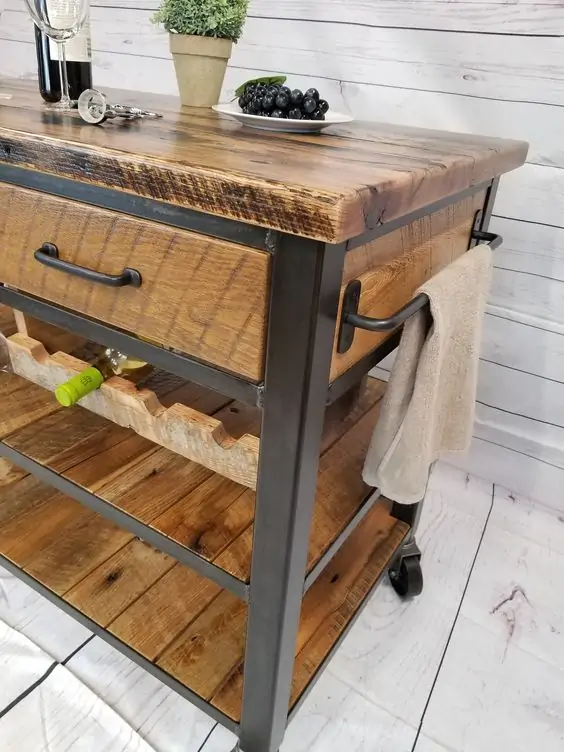 A designated spot for drinks that ensures everyone stays cool and hydrated on a hot summer day is always a great choice. Preferably get one with wheels so you can roll it around the backyard and keep pouring drinks for everyone.
Hang a Hammock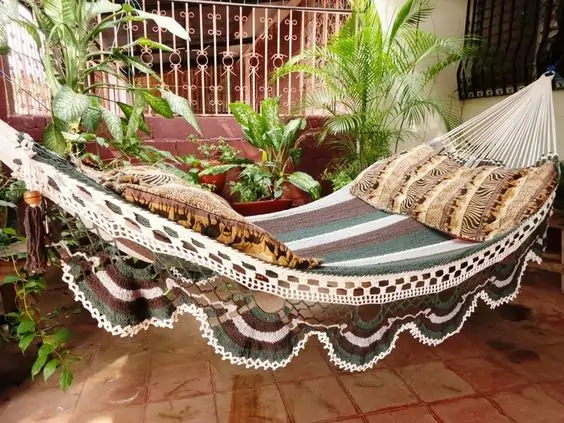 A hammock is a perfect place to take a nap after a long and exhausting day. Add some pillows — and ta-da! — you have a perfect combination. Choose bright and playful colors to add variety to the color pallet of your backyard patio. Attach the hammock to a wall or beam using nail-in hooks.
Wind Chimes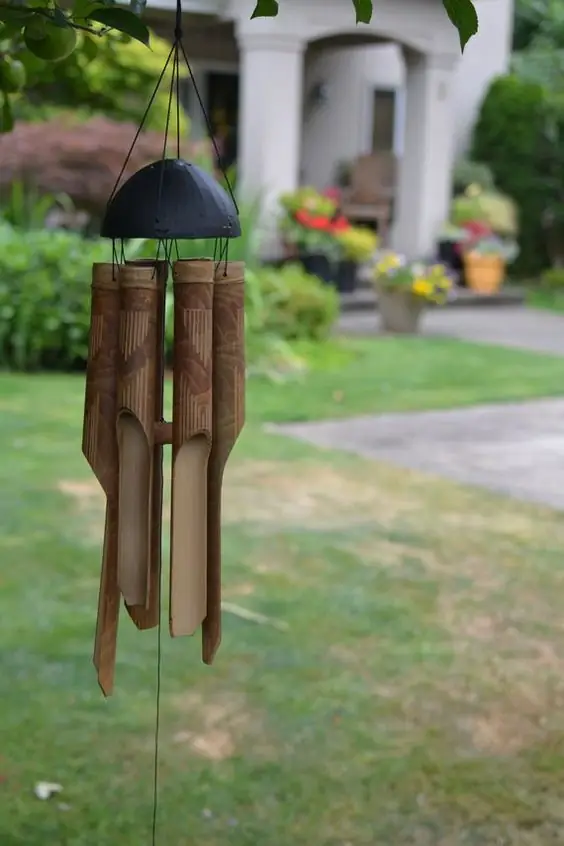 Wooden bamboo wind chimes are a very inexpensive way to make your backyard feel cozier and magical. When the wind starts blowing, you will hear a soothing sound that will certainly make you feel sleepy.
Add a Bean Bag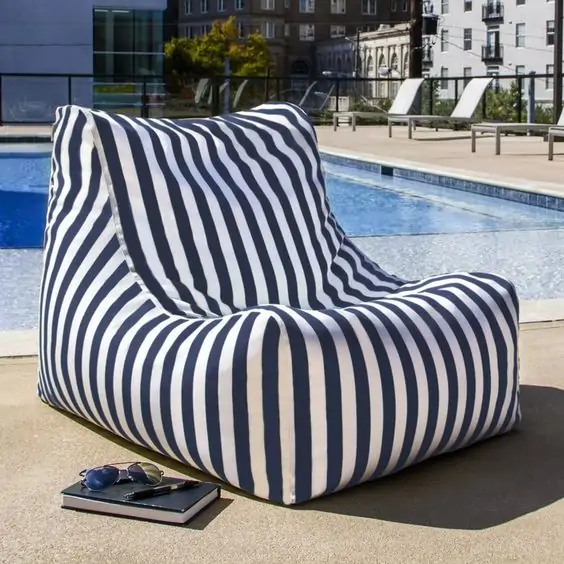 If you are tired of boring chairs and want something a bit more interesting, a bean bag is a great choice. Make sure to buy one that is made of hydrophobic material so you don't have to take it into the house every time it rains.
33. Small Patio DIY Ideas
By making everything by yourself, not only do you save some money, but you also indulge in an awesome hobby. You can make everything exactly how you want it to be, down to the smallest detail. Get creative with the materials you use, try any idea that comes to your mind, and transform old rusted junk into charming additions to your backyard.
Let's take a look at some DIY ideas for a small outdoor patio to find out what you can do right now:
Decorating Your Fence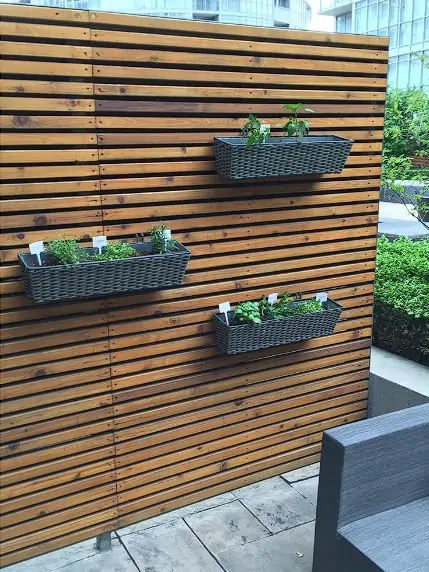 Since you don't have a lot of room to grow plants, this can be a good option for you. Not only do you make full use of otherwise empty space, you also add details to otherwise a boring wall. You can grow any herbs or small plants this way. Be sure to use stainless steel hooks and water-resistant plant pots since they will be exposed to rain.
Flowers on a Ladder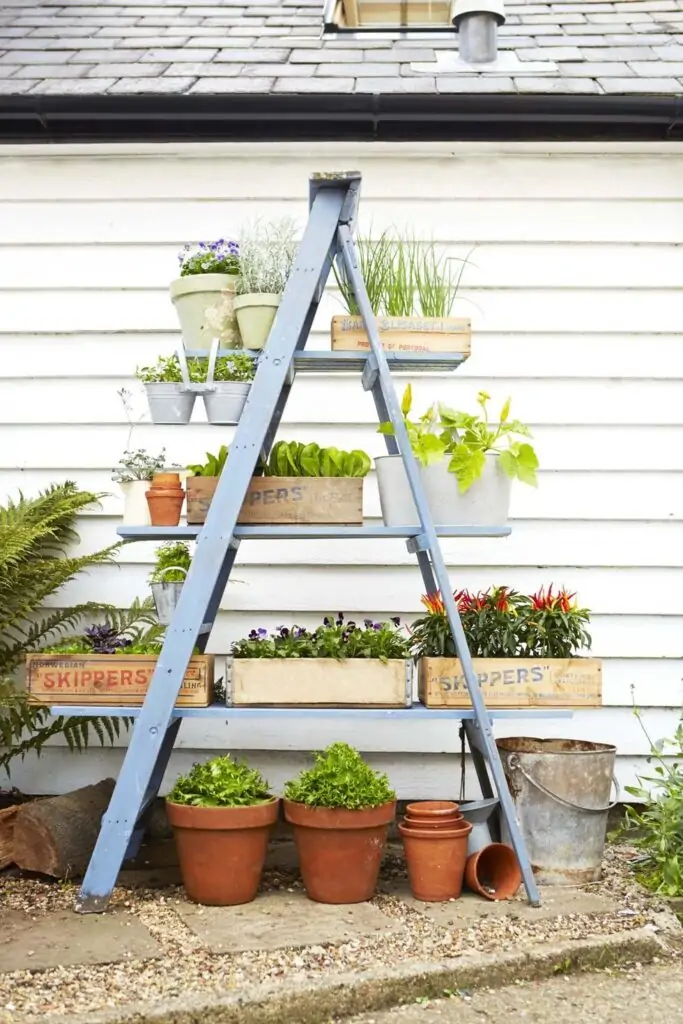 Turn an old wooden ladder into a vertical stand for potted flowers and herbs. A few strong wooden planks and basic tools are all you need. Be sure to give it a fresh coat of paint since it will be exposed to outside weather and add a couple of ropes connecting the parallel steps of the ladder for extra support.
DIY Retractable Bar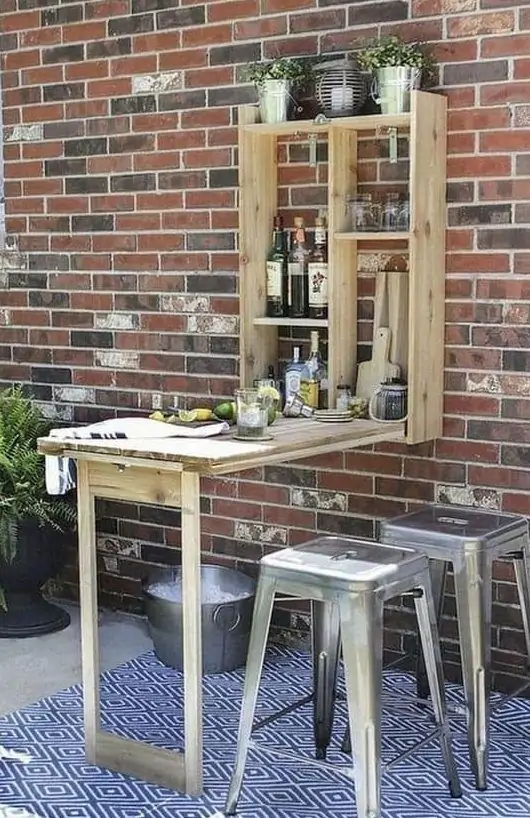 An easy way to save space is to make a retractable bar. Make a wooden frame and door and attach them to the wall of your house using galvanized shelf holders. Stock the shelf with your favorite drinks, a shaker, and a bartender kit to make refreshing cocktails during the scorching days of the summer.
Corner Planter Box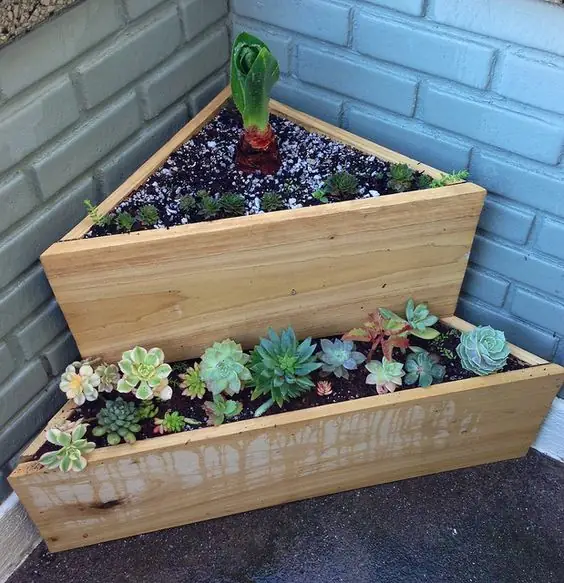 Since you don't have a lot of room to grow plants, be sure to think of creative ideas to use the available space you have. In this case, assemble a plant box that will nicely fit in the corner of your backyard. You can also add layers to it to make it look even nicer. Leave some space between the boards to let the excess water drain from the planter box.
Small DIY Outdoor Kitchen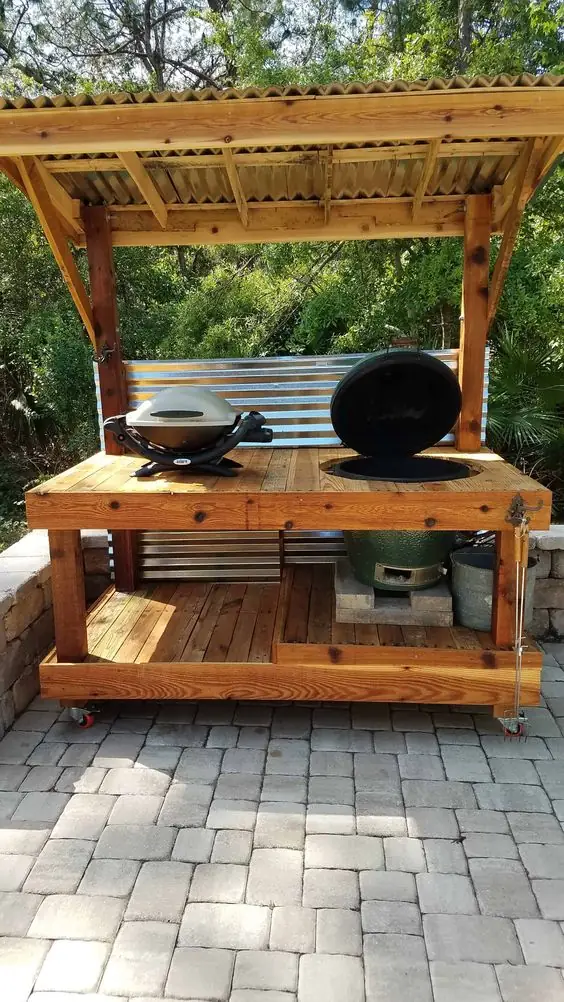 There is nothing better than making a delicious meal all by yourself. Make the countertop using planks and beams of any hardwood such as oak or teak. Add a canopy made from aluminum or lexan sheets to provide much-needed shade during the summer and protect you from the rain so you can continue cooking. Be sure to apply the wooden coating to make the wood even more resilient to the climate. Install a grill and a hotpot and you will be able to make basically anything.
Transform your backyard with our outdoor kitchen ideas to inspire you.
Reuse Old Pallets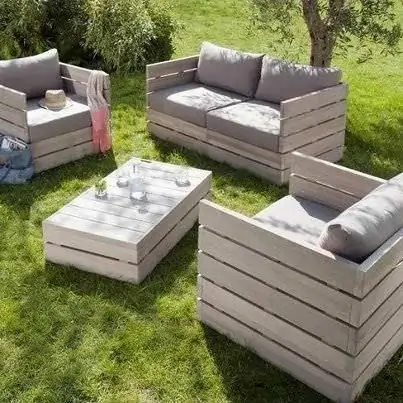 Pallets can be used in a variety of ways. You can make comfortable armchairs, small tables, or even vertical planters for your plants. You will have to treat the pallets first. Sand them to prevent any splinters to form and apply any soft color you like.
34. Small Backyard Patio Landscaping Ideas
If you are looking to just improve the look of your patio and not add any new functionality, this can be an option for you. By adding an interesting landscape to your backyard, not only do you improve the look of it, you increase the resale value of your house as well.
Building a Pond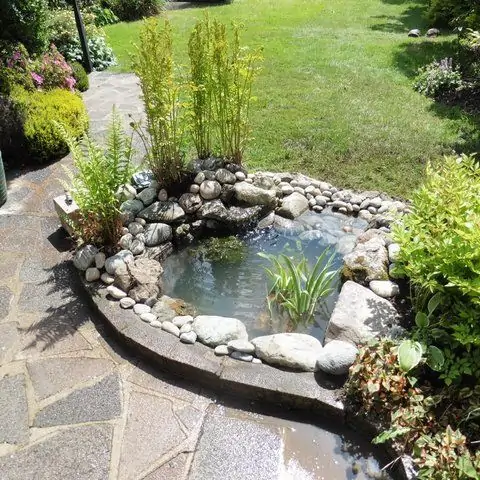 The pond will provide a relaxing feel to your backyard patio. Plant the usual pond plants like amazon frogbit, calla lily, parrot's feather, and hornwort. Taking care of the plants and preventing them from overgrowing will make an interesting free-time activity. Depending on where you live, you might have to deal with a few pests if you live in a warmer climate, such as mosquitoes and aphids. You can add fish such as shellcracker and bluegill to your pond as a sustainable way to deal with the pests.
Multiple Levels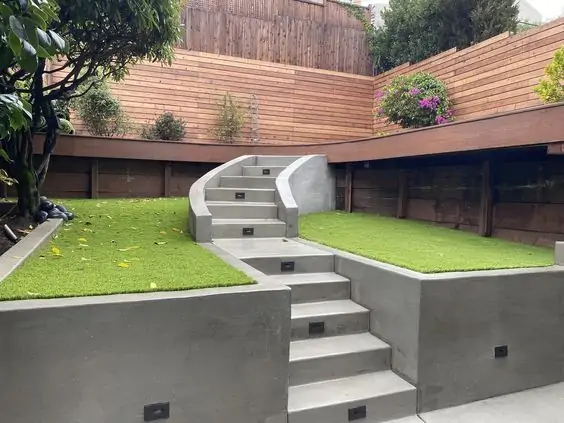 Separating your backyard into multiple levels will give it both a modern and organized look. Each level can serve a completely different purpose. While the bottom level is primarily used as a place to hang out, the top one can be used as a small garden. Planing the flowers on a higher level makes them even more magnificent.
Planting a Bamboo Hedge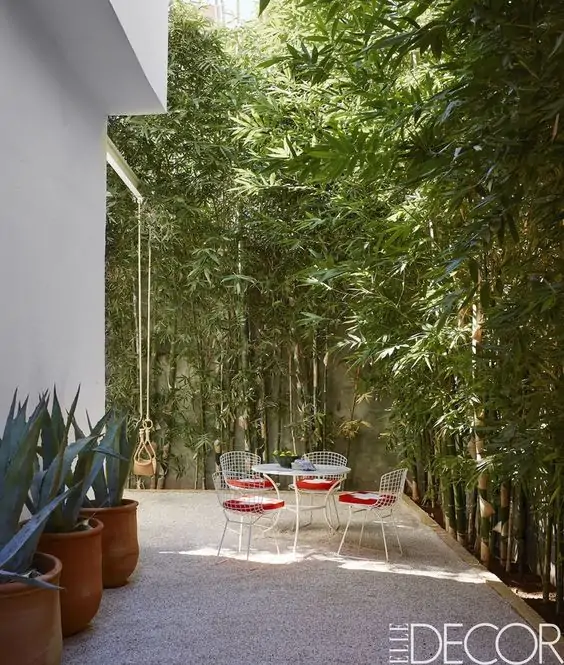 Bamboo is a perfect plant for a hedge. It grows quite rapidly, is easy to maintain, and grows very densely, basically creating a real wall. All you have to do is water it if it hasn't rained in a while. It will provide privacy and shade on a sunny day and will make you feel like you are in the middle of a quiet forest, even though you are sitting on your patio.
Building a Pergola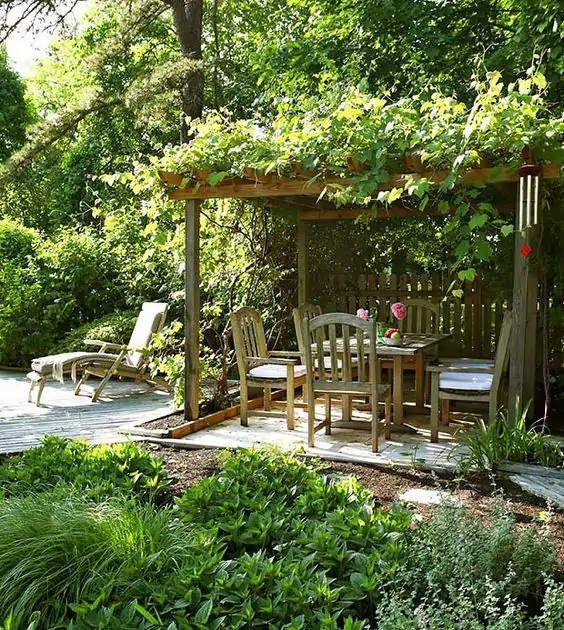 A nice wooden pergola can be an excellent addition to your patio. It will provide a nice rustic look to your backyard. You can also, add a light to your pergola to create the right mood for evening gatherings. What's more, if you want your backyard to be a bit more natural, you can plant climbing plants and let them grow all around the pergola. They will be a nice focal point in your garden. The most common plants are climbing roses, clematis, grape vines, and trumpet vines. Make sure to cut them regularly since they grow quite fast. If you notice a large number of aphids or mealybugs on leaves, spray them with soapy water to get rid of them.
Installing a Small Fountain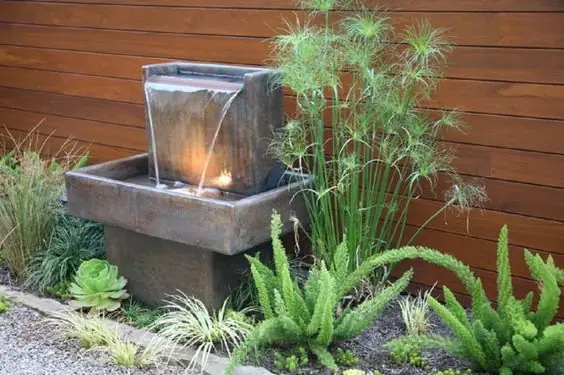 The sound of running water can be very relaxing and help you focus while you study or read a book. Splashing of the water may even help cool down the backyard on hot summer days. You should hire a professional to install the fountain for you since even a small mistake in laying the pipes can make your backyard flooded. Before the winter comes, make sure to drain the pipes, because the water expands when it freezes and may puncture the pipes.
35. Small Backyard Patio Ideas With a Fire Pit
When your friends and family gather around a fire, you get a nostalgic feeling. It feels like you are a kid again, going on a camping trip and having fun in the middle of nowhere.
Barbecue With Friends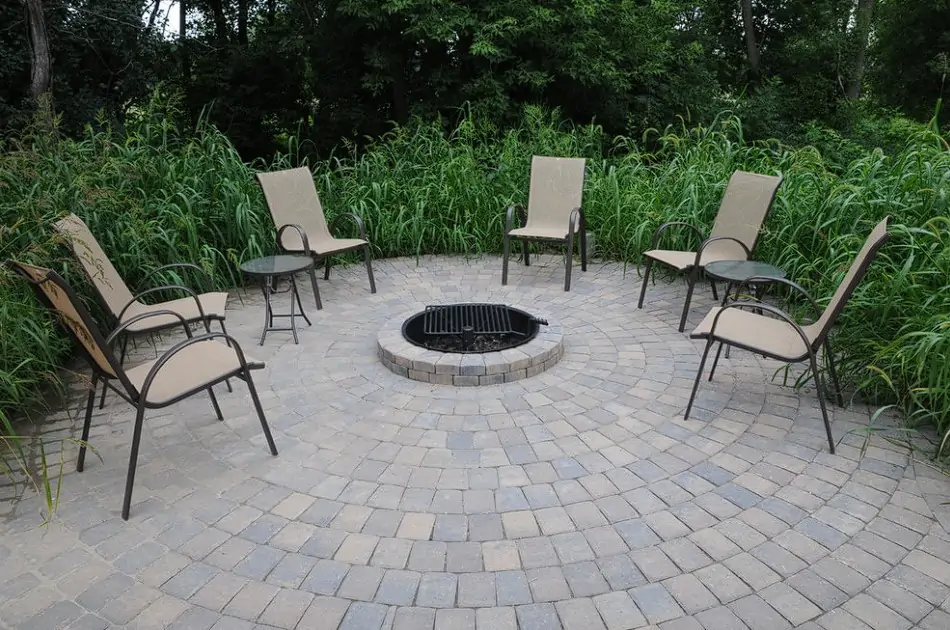 A perfect place to have a meal with your family and friends. You all can sit around the fire pit and enjoy the warmth of the fire and the aromas of the freshly roasted meat. Stone pavement will add a rustic look to the patio while also preventing the fire from spreading to the rest of the backyard.
Fire Pit Table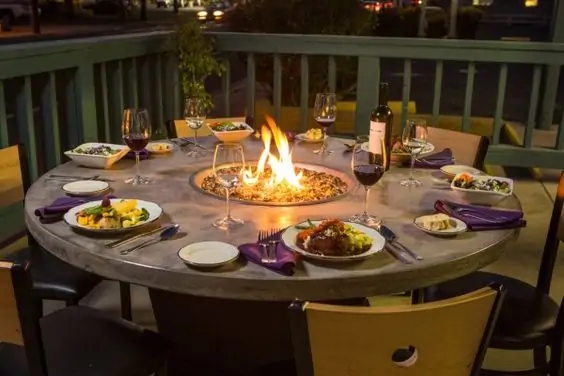 If you want something more unorthodox, you can kill two birds with one stone and buy a fire pit table. It will keep all of you a lot closer together, making it feel like a usual family meal while still having all the upsides of a fire pit. Putting the grill in the middle of the table allows you to talk with friends while still preparing the meal, making cooking even more enjoyable, and when you get tired, someone can step in and help you.
From classic and simple to modern designs – there are many more ideas for fire pits in a backyard .
36. Small Backyard Paving Ideas
Paving will give you a nice flat surface that can be used to set up a big dining table with much more stability than plain ground with grass or as a solid path around your backyard. It also requires a lot less maintenance than grass.
Black Marble Tiles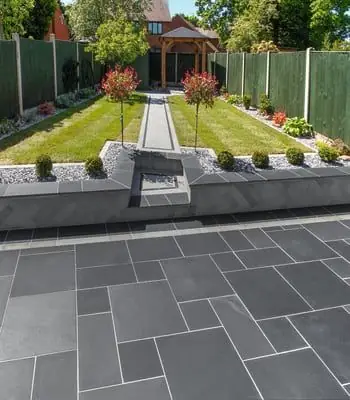 Black marble tiles provide a nice contrast between them and all the green in your backyard and will give it a nice modern look. They are one of the easiest paving surfaces to maintain. All you have to do is sweep them with a broom once in a while and pressure wash it every year or so.
Interesting Pattern With Concrete Pavers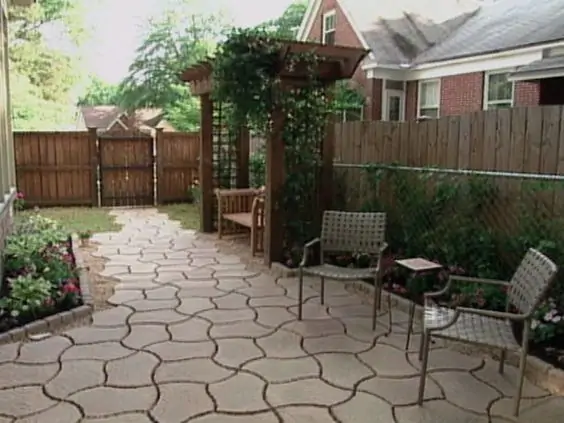 With concrete pavers, you can make any pattern you want. It can be random straight lines, patterns of geometric shapes, or arbitrary squiggly lines. Pre-design their layout and order them online. They might be a bit harder to set up, but it will be worth the extra effort.
Flagstone Path With Gravel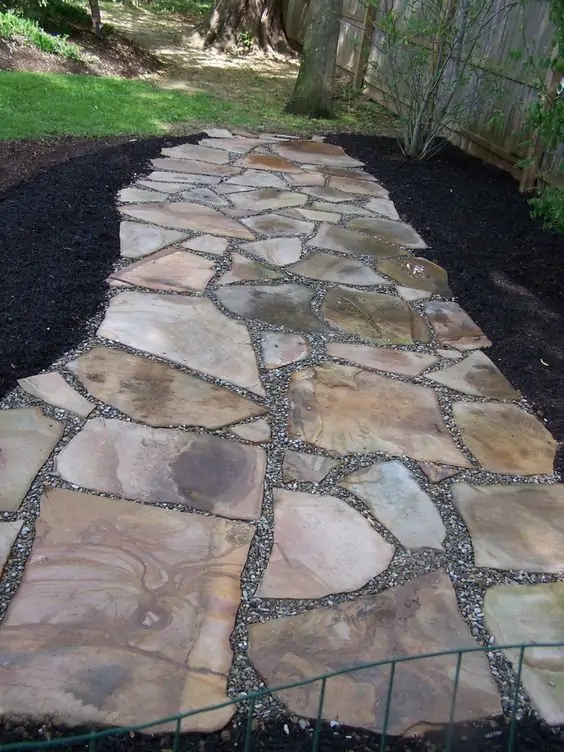 Old Stone slabs will give your backyard a rustic and traditional look. Pre-dig the path, lay the stones randomly, and fill the gaps with gravel. If you live in an area where it rains heavily, add a thin layer of concrete to prevent the gravel from washing away.
Unique Mosaic of Stones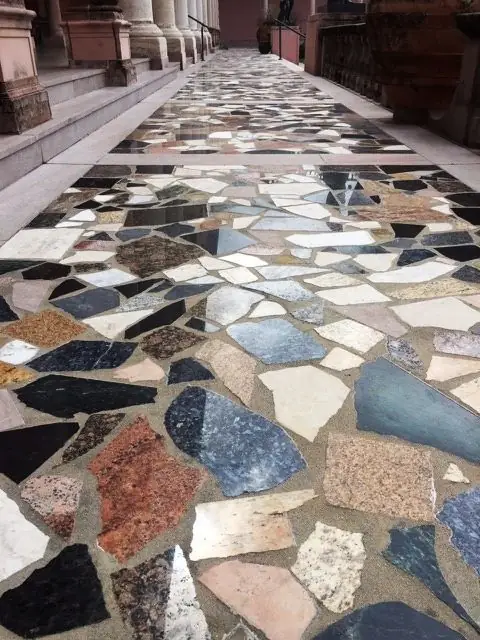 Stone masons will gladly sell their leftover stones to you at a reduced price. You can use a variety of stones for this design, such as granite, marble, quartzite, and soapstone. The more kinds of stones you use, the better the final look will be. Add some colored stones to give the mosaic some vibrant colors. Fill the gaps with concrete to keep everything in place.
37. Small Patio Lighting Ideas
When night arrives, you need something to brighten up your backyard. There are more options for lighting than you can count. Here are some of the most creative ideas.
Hanging Cafe Lights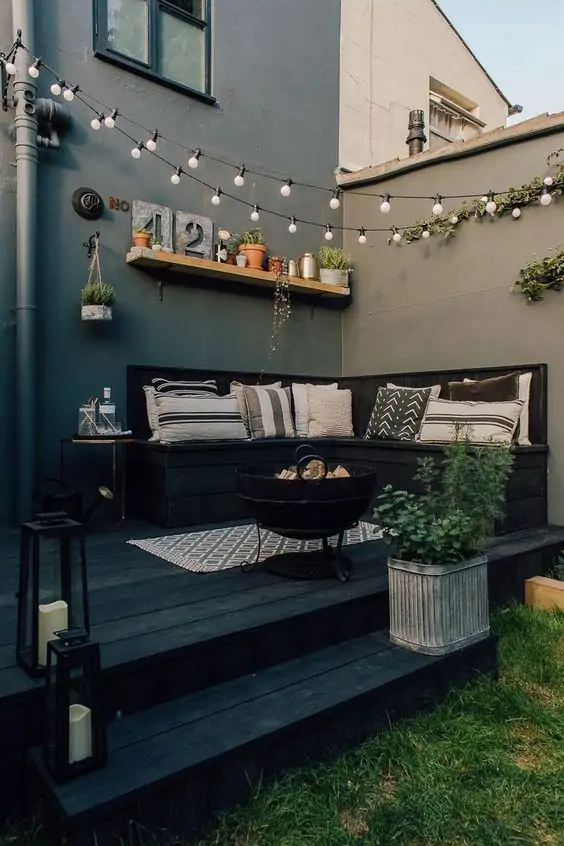 Cafe light can add a warm cozy feel to your backyard, while still being a good light source. They match any decor style, and they are easy to set up and require a small amount of power.
Twinkling Lights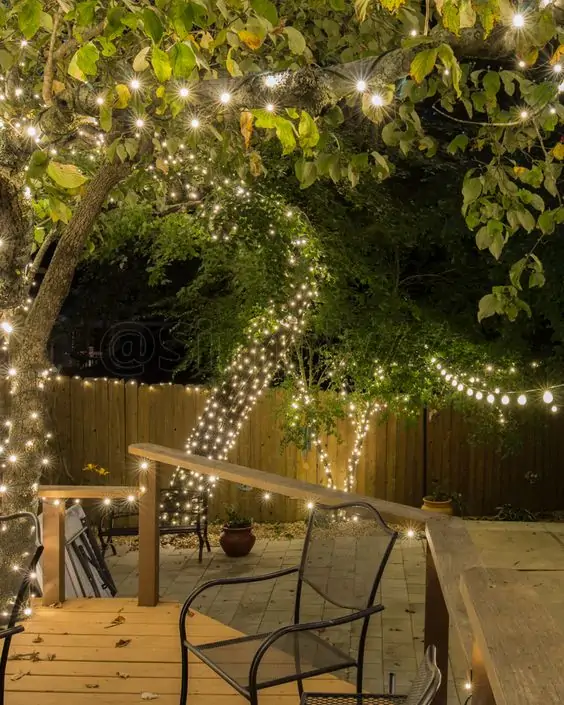 You can wrap your twinkling lights around basically anything, treas, beams, railings… Be sure to buy ones that are at least a bit higher quality since malfunction can make a spark that can start a fire in your backyard.
Glistering Galvanized Lanterns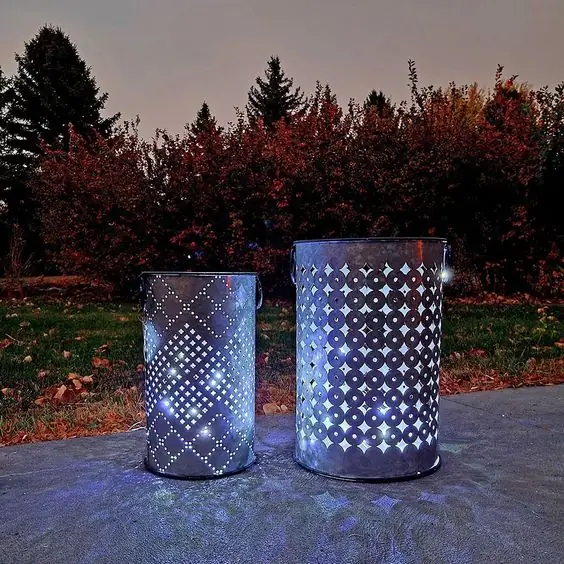 Illuminate your backyard with these vintage fairy lanterns. They can be shaped in numerous patterns and cast light in unusual bands and dots all across your backyard. Because they are made of galvanized metal, they are water-resistant and will last for a very long time.
We've covered even more ideas to light up your patio.
Hopefully, those ideas for a small backyard patio will spur you to put your creativity to work — to help you make your own; come back for more inspiration on designing your outdoor space!