Living Room Color Ideas to Make Your Space Lively and Welcoming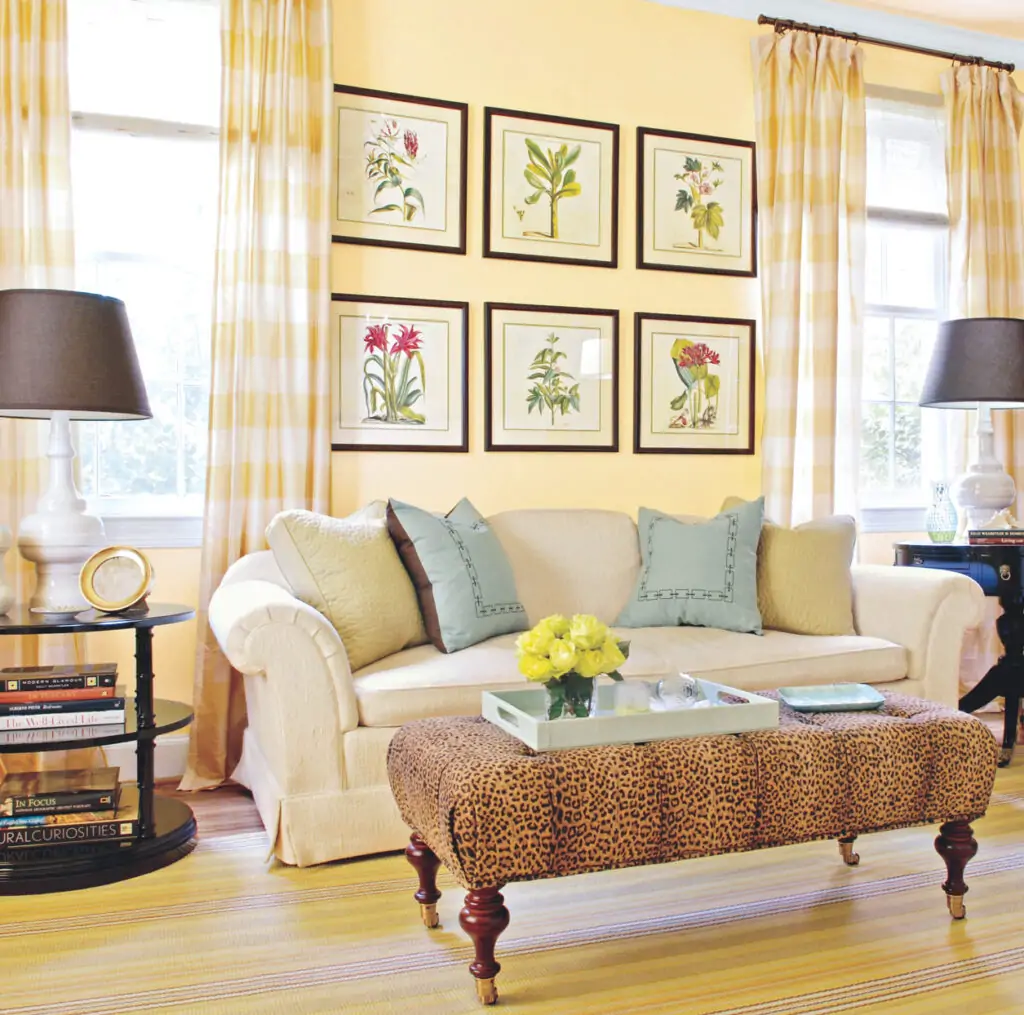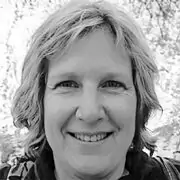 If you wonder why your next-door neighbor's sitting space looks more appealing than yours, you've reached the right spot. We will let you know everything about different living room color paint ideas that can make your drawing area look more energetic, lively, and vivid.
Do you know why some areas look inviting whereas others tend to look dull and boring? A major secret behind this is the wall color ideas that one uses to style up their living areas.
The living area is a place that witnesses a lot of chatter, laughter, tea breaks, parties, and guest gatherings. It is also a symbol of your choice and style statement. Thus, it is imperative that you deck up your sitting space in hues that make it look homier and inviting.
Whatever art pieces you are going to use to decorate your space, make sure they do not clash with its color pallet. If you are thinking about what are the new colors for living rooms, then read on — we've got a story to tell.
1. The Ombre Effect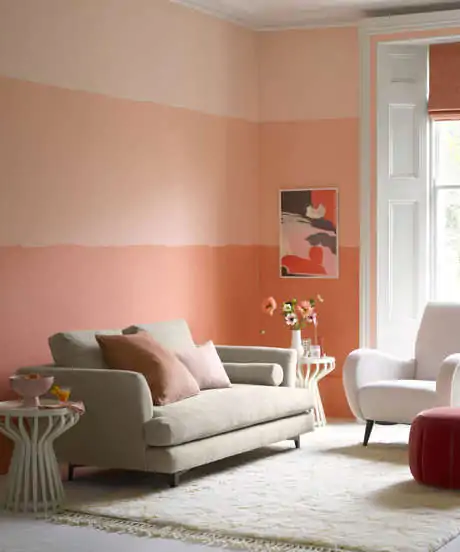 Drawing rooms tend to be the heart of any house and thus should be painted in colors that are captivating and can easily catch the attention of visitors. The aspects you can try your hands at to make your living space narrate its tale range from interior décor to rugs and curtains,
One such theme that you can try is neutral paint colors for the living room, such as ombre. Creating an ombre effect by painting stripes on walls in dusk pink, salmon peach, and pink harmony is perfect for bringing uniqueness to your sitting space.
Such a pattern adds versatility and adventure and does not necessitate you to use high-end decorative items for further decorating your drawing-room.
2. Midnight Blue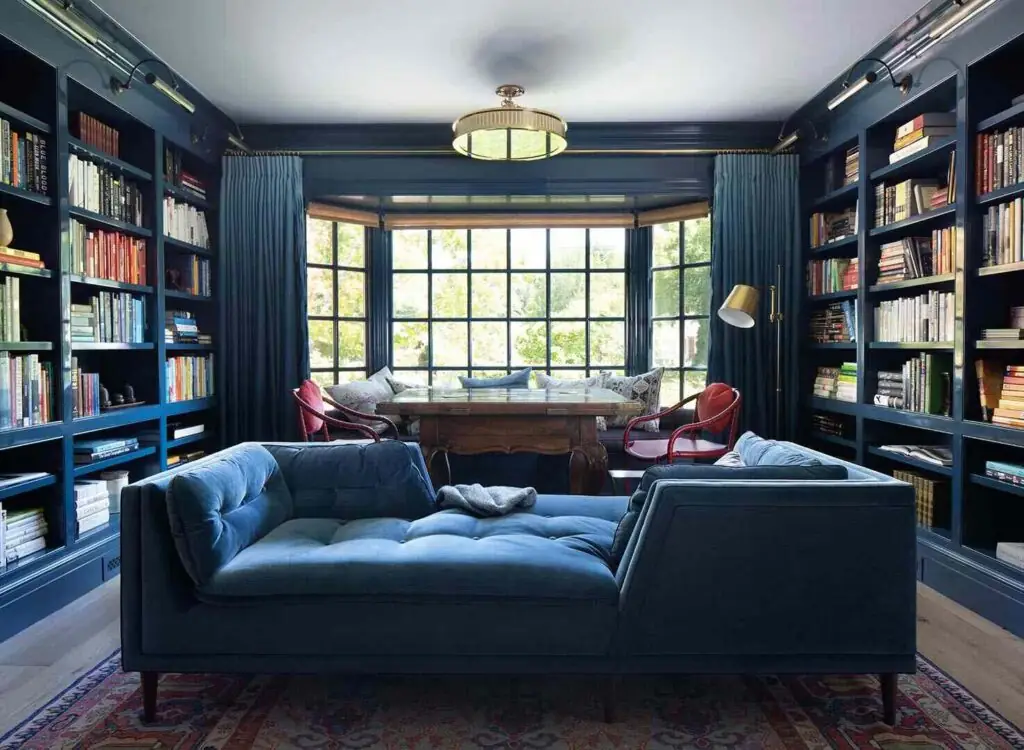 Midnight blue is the theme used by most homeowners to recreate an atmosphere of the midcentury. The right tone of midnight blue can create magic and greatly accentuate the feeling of space. If you are looking for small living room paint ideas, then this blue shade can make your space look twice its original size.
The rich hue of blue in a room with a large window adorned with golden curtains can create a perfect visual effect. Consider painting the ceiling white to balance the dark-colored walls creating a relaxed and vibrant look in the living area.
3. Light Peach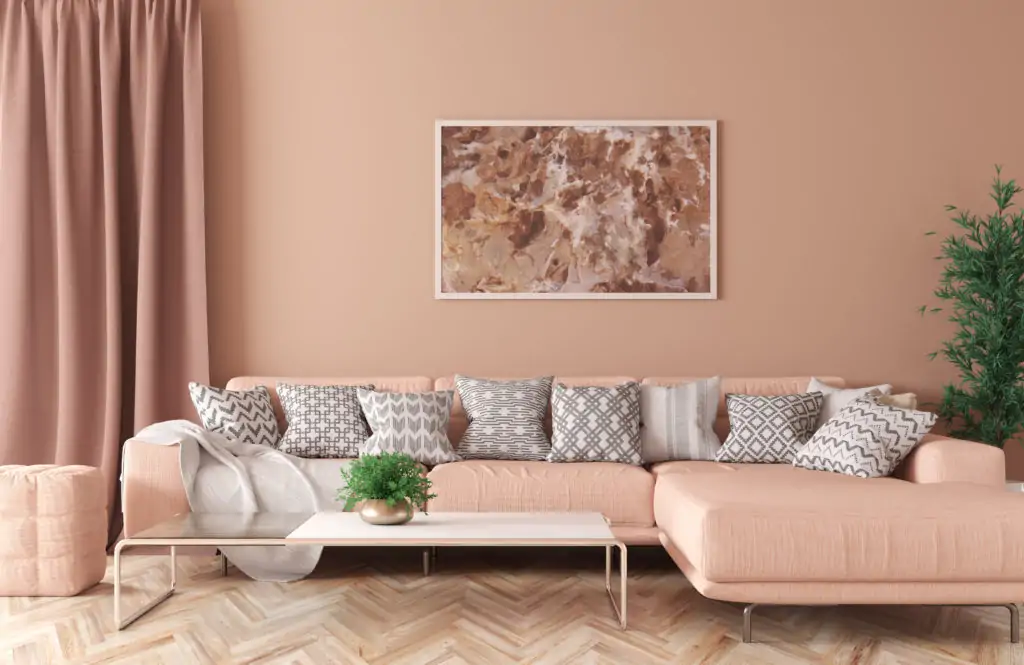 The light peach color can make your sitting area a true haven filled with cheerful and warm vibes. It is one of the best color ideas to paint a living room that can take you back to the spring season and has the ability to add love and happiness to your room theme without making your space look overwhelming.
The peach color is suitable for all types of settings and is an elegant backdrop to keep you in a good mood. What's more, you can create an accent of your own by using gray-colored cushions and rugs to maintain a balance between these cheerful and subtle colors to add a timeless appearance to your sitting spaces.
4. Light Yellow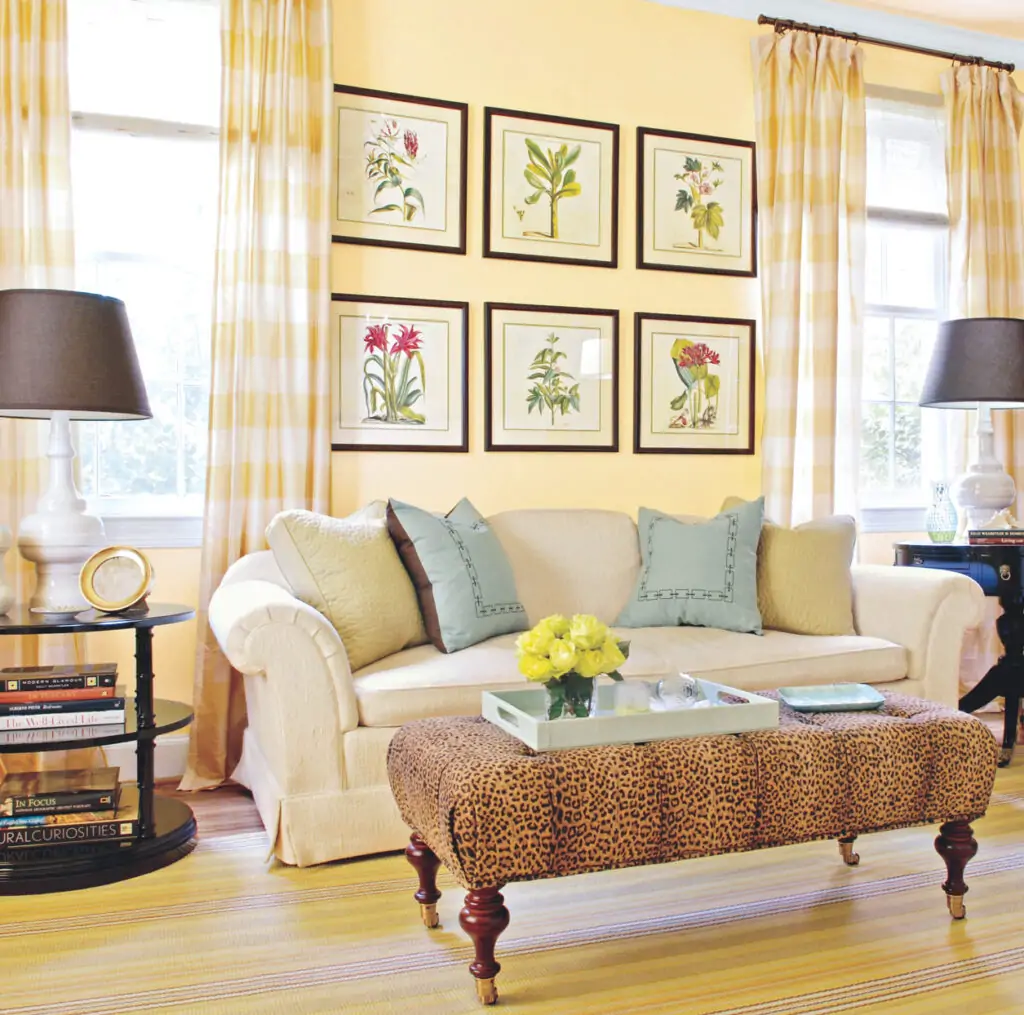 Planning to get a winter makeover for your home? What can be better than having a light yellow-colored backdrop that can bring brightness and summer vibes to your home? Yellow is considered the best color for living room walls as it both creates a stylish look with an appealing contemporary twist.
This color can highlight the details of your drawing room and complement cream and rosy couches, animal-printed tables, and other pieces of artwork that improve the appearance of your sitting area. You can also consider adding paintings, lampshades, bookshelves, and other artworks that will infuse a majestic feel.
5. Chocolate Brown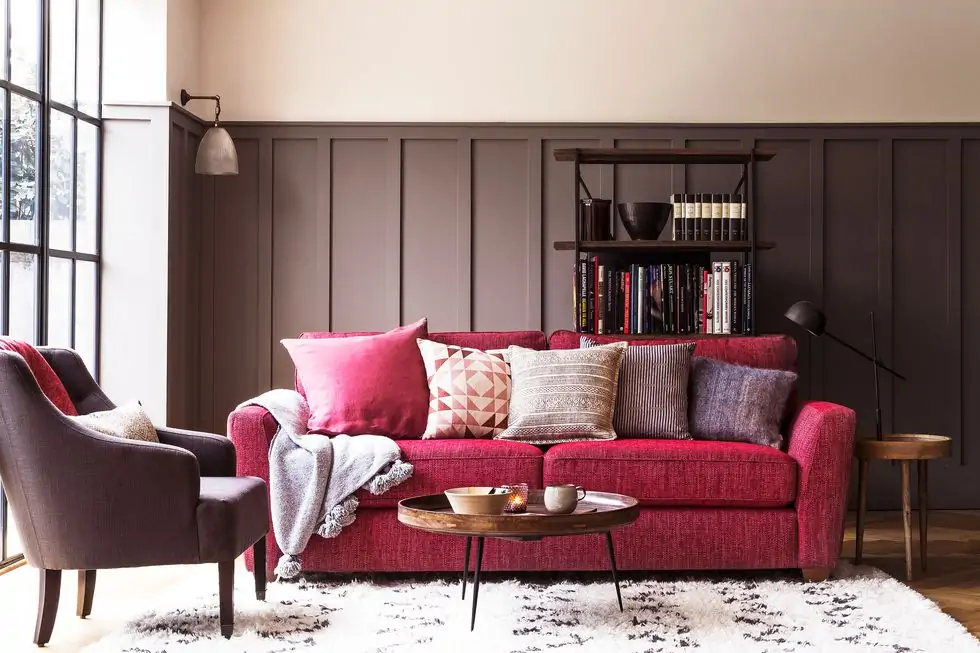 Do you think that brown is boring? Then check out this sitting area painted chocolate brown. This color can accentuate the wood panels of your room and give it a brilliant transformation.
Adding some subtle and warm color cushions and choosing your chairs in contrast with the chocolate brown color can furtherly improve the interior decor of your living area. Chocolate brown color can warm up the space and give an earthly feel and calming effect.
6. Slate Gray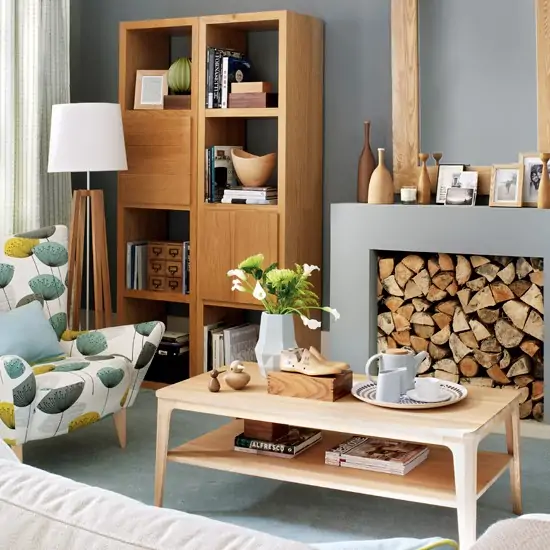 Gray is an understated color, but when coupled up with rustic wooden furniture, it creates an impact of its own. Living room paint ideas with brown furniture are ideal for a minimalistic home. All you need to do is use the right furnishing ideas.
Grays can make you feel relaxed in your sitting area and are a good choice for those who do not want to paint their rooms in brighter colors. Living room paint colors in grey add grace and elegance, and the luxurious furniture can instantly amp up this understated sitting space.
What design elements will look great together with gray? Opt for rich espresso floors, velvet pillows, and shag rugs that can make the entire theme of slate gray stimulating and delightful.
7. Tiffany Blue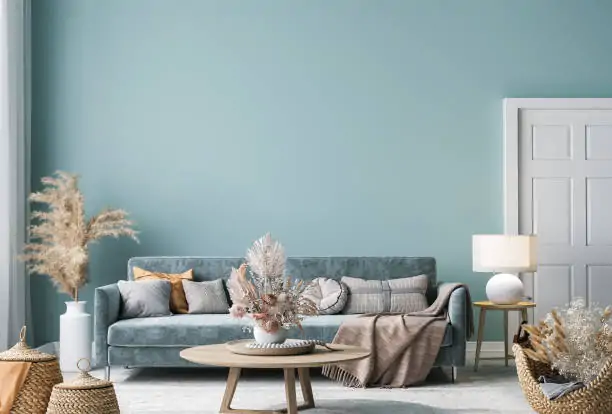 If you are in love with the color blue, then Tiffany blue is the right hue to fall for to paint your drawing rooms. Tiffany blue is a cool shade usually seen in jewelry packaging but can also create a great atmosphere in your sitting areas.
This hue, however, is not for the faint-hearted. If you are fearless enough to add bold colors to the color palette of your house, then you should try using tiffany blue at least once when you are planning to renovate your living area.
But make sure that you master the art of balancing by using both neutral and distinctive colors in other interior décor pieces and furniture.
8. The Creamy Affair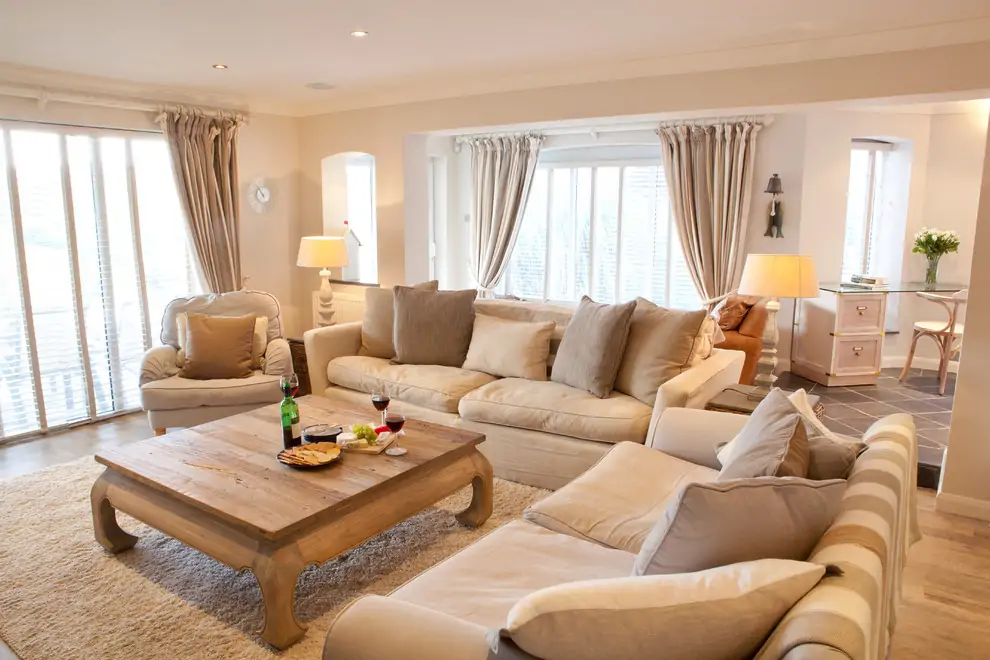 If you are wondering what colours are popular for living rooms, cream color is definitely an option to give serious thought to. The cream color is never going to die a natural death; despite how hard the interior designers may try, it's going to remain a top favorite among homeowners. It gives your space a contemporary appeal and will bring warmth and cosines to almost any room.
Matching this shade with other subtle colors you will be able to create an area that exudes calm and gives you a respite from bustling city life. Rustic shade floors, subtle hue couches, and fur carpets will be ideal add-ons for this dreamy-creamy hue.
What's more, by adding pillows, lamps, objects of art, and exquisite drapes, you can transform your cozy little drawing-room into a truly harmonious place. One of the most amazing ideas!
9. Lilac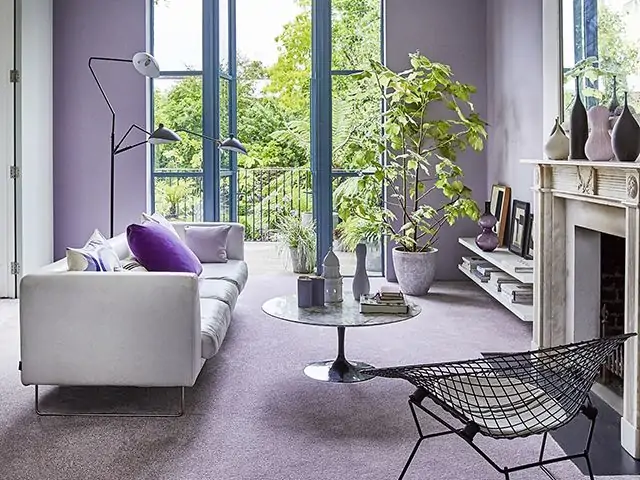 If you like purple, then lilac is something that you should go for as it is a light shade of purple that evokes peace and a restful atmosphere. This shade exudes tranquility, pureness, and restfulness, making your living rooms more of a place you won't simply want to leave!.
Add some rustic side tables to amplify the boldness and dramatic vibes. Don't be afraid of bringing nature inside by using potted plants. Modern-looking metallic chairs will add a daring edge to an otherwise serene living room.
10. Gray and Ivory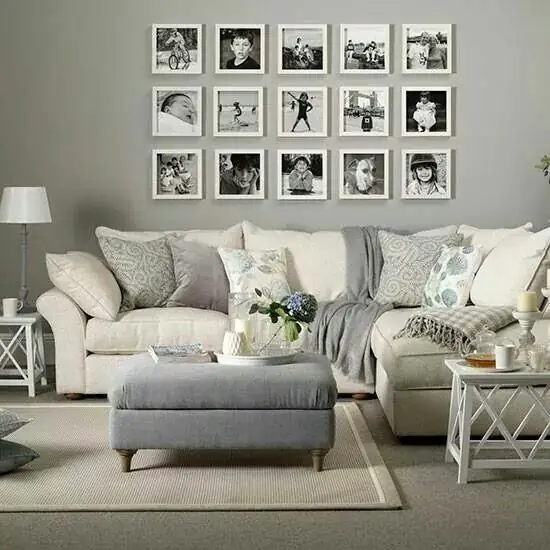 If you wish to make your drawing rooms more inviting, nothing can match the level of teaming up grey paint colors for the living room with some delicate ivory notes. Be sure to mix them up in the right proportion: warm gray can easily mix with neutral shades and create a cozy feel.
Besides spreading comfiness, it also makes your space look stylish and chic. You can also add vintage pieces and ivory-colored squishy sofas to give your visitors an extra dose of stylish punch.
Furthermore, the gray tone used for the backdrop to create a wall of memory-evoking pictures is also a great add-on to make your space look sophisticated. This is one of the best two color living room paint ideas.
Conclusion
Whether you plan to renovate your home completely or simply introduce some touch-ups to get over the boredom of seeing the same setting, again and again, colors play an important role in the reno task. Bringing color to your living room walls can instantly change the look and feel of the space. They add freshness and newness to your home and allow you to master the art of transformation. Whether you prefer a classic neutral palette or a more adventurous look, read more for inspiration on living room wall color ideas for your home.
We hope that we have helped you make up your mind about what color to paint a living room. New paint coatings can work wonders and add new vibes.
So, what are you waiting for? Choose any one of the above living room color paint ideas and paint your drawing area in hues that showcase your décor inspiration. Wish you a happy color-coding transformation!