21 Pool Fence Ideas for Truly Exciting Pool Experience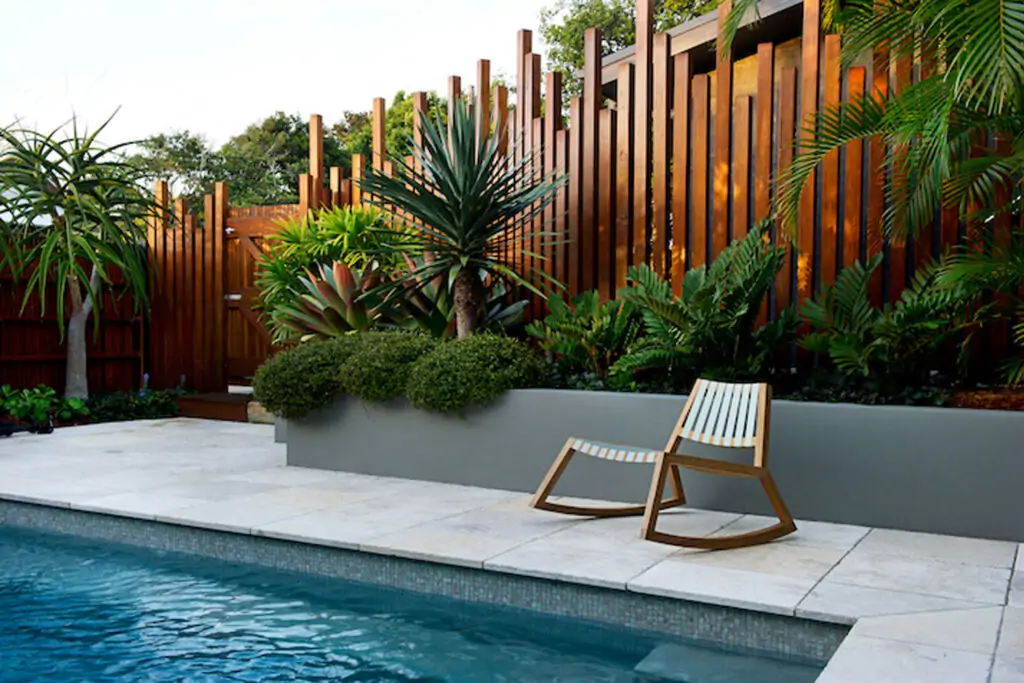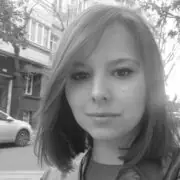 The next logical step after deciding to get a pool is to start looking for pool fence ideas since fencing it off may be unavoidable if you need security, privacy, or both. Luckily, many design choices are available to make it fit right into your beautiful backyard, so let's take a look — and get some excellent ideas for you!
1. Back to Basics: Iron Is an Obvious Solution
A classic iron fence is a great option if you enjoy simple elegance. If you don't want to hide the water but would still like the area to be separated from the rest of your backyard, this is a perfect boundary! Not to mention that its height can easily deter children (or animals) from getting close to the water unsupervised.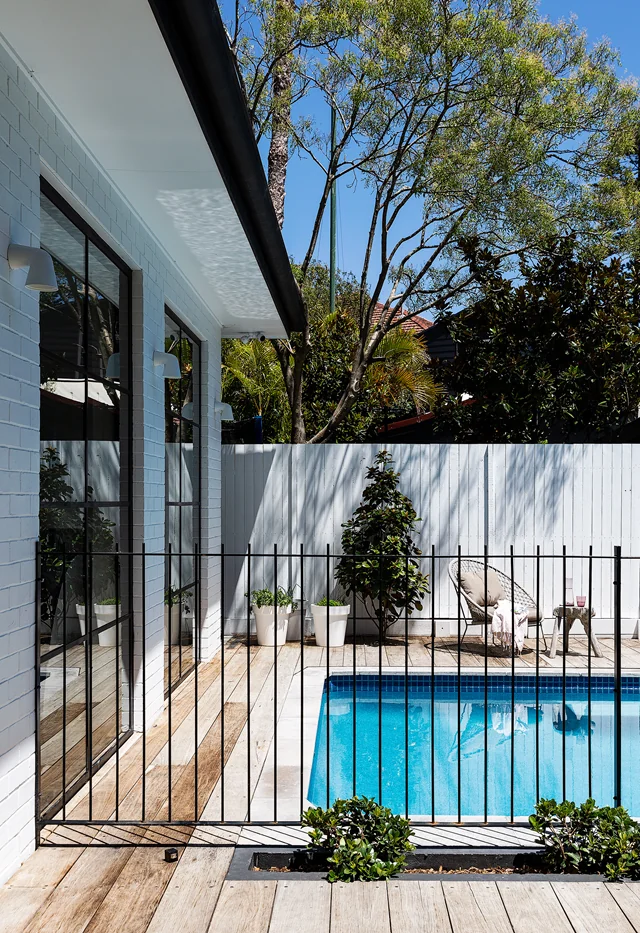 2. Modern Geometry: A Play on the Classics
This sleek, non-traditionally shaped pool requires an equally non-traditional boundary! This beautiful fence is reminiscent of old-school white picket ones but with a decidedly modern touch.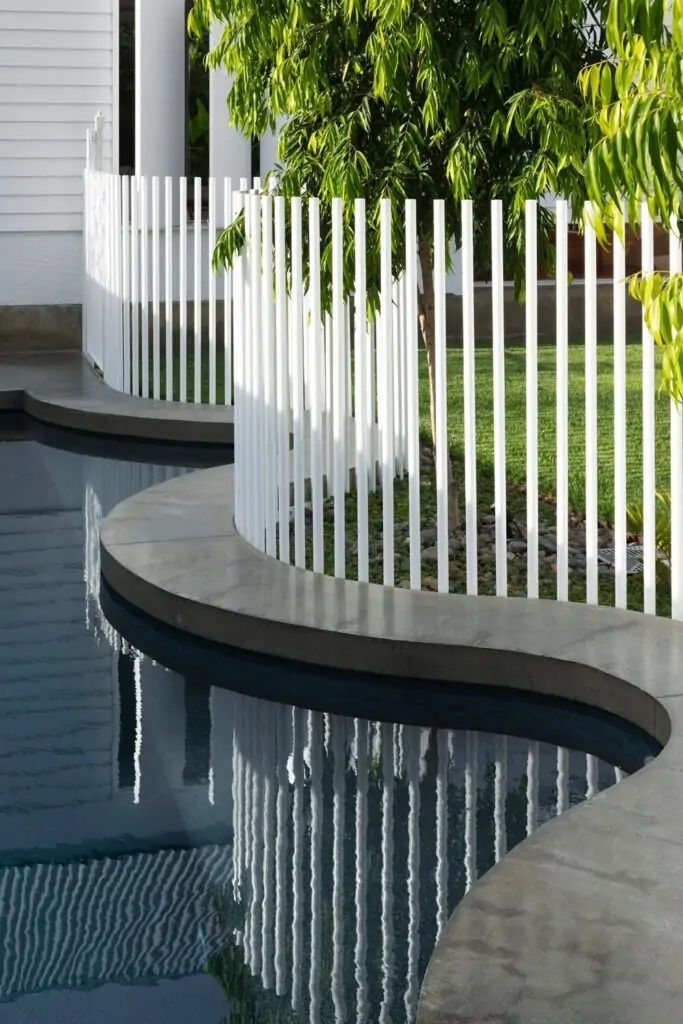 3. A Glass of Water: Nothing to Hide
This one is a truly classic option for a pool area: a glass barrier. It's an easy way to make your place for swimming look fancy: don't hide anything but actually showcase the area. At the same time, modern glass fences are quite sturdy and adequate for safeguarding your space from kids, pets, and other visitors. What's not to love?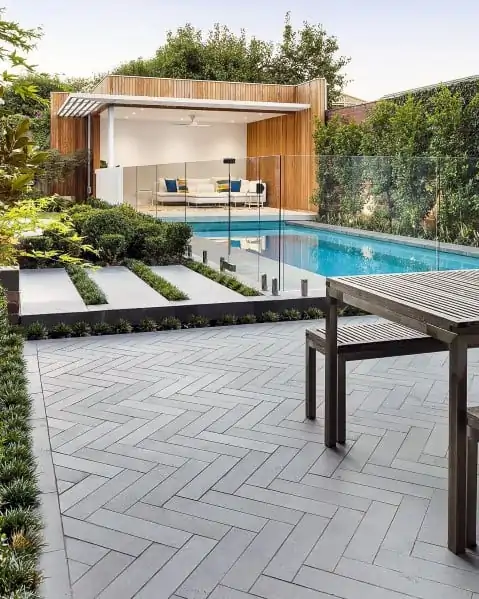 4. Gated Community: Make It Fancy
This low wrought-iron fence with a beautiful gate is more decorative than secure — so what? If you don't have to concern yourself with preventing anyone from getting into the water, you definitely have more freedom in your design choices. This one matches the patio furniture quite nicely, bringing a finished look to the ensemble.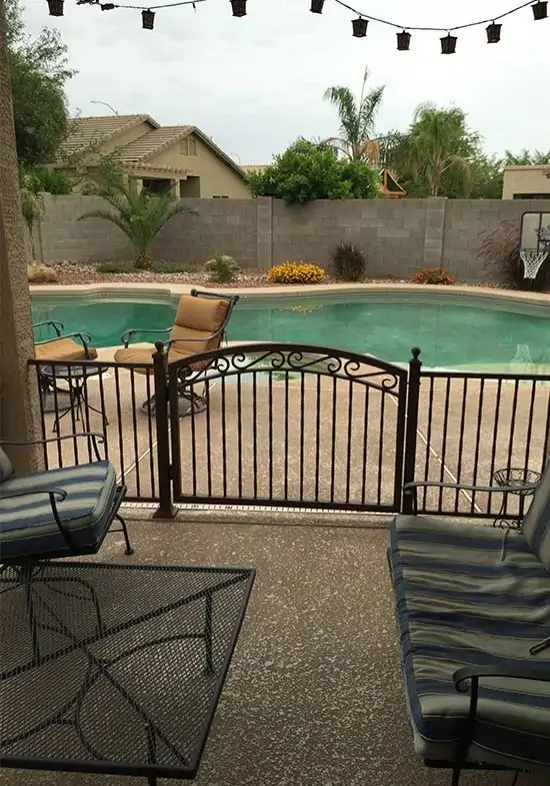 5. Highs and Lows: Not for Perfectionists
This wooden barrier could have been simple, but the uneven height of the planks transformed it into a more sophisticated, elaborately designed construction. This choice also makes the surrounding plants blend with the wood very well, creating a harmonious look — and proving that wood pool fence ideas don't have to be boring at all!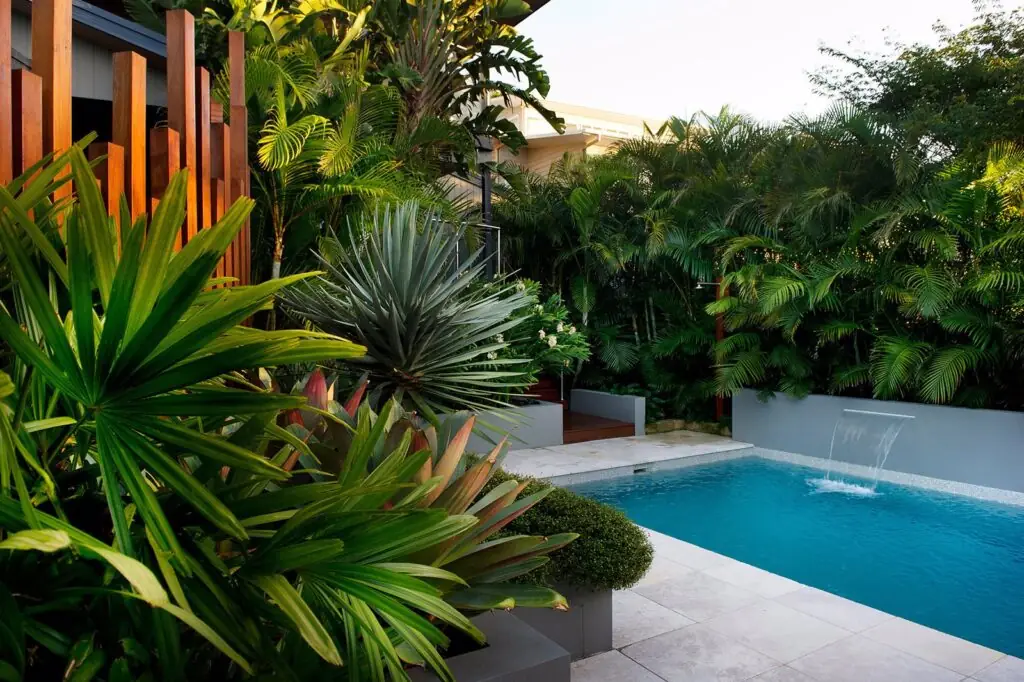 6. Making Complements: Combining Your Fences
Pools are often located at the edge of the property, which makes sense: not everybody's backyard is large enough to put a large body of water in the middle of it. If this is your situation, then put some thought into the way your fence will look in combination with your main backyard fence. Here, a combination of a low glass barrier and a high wooden one creates a stylish contrast.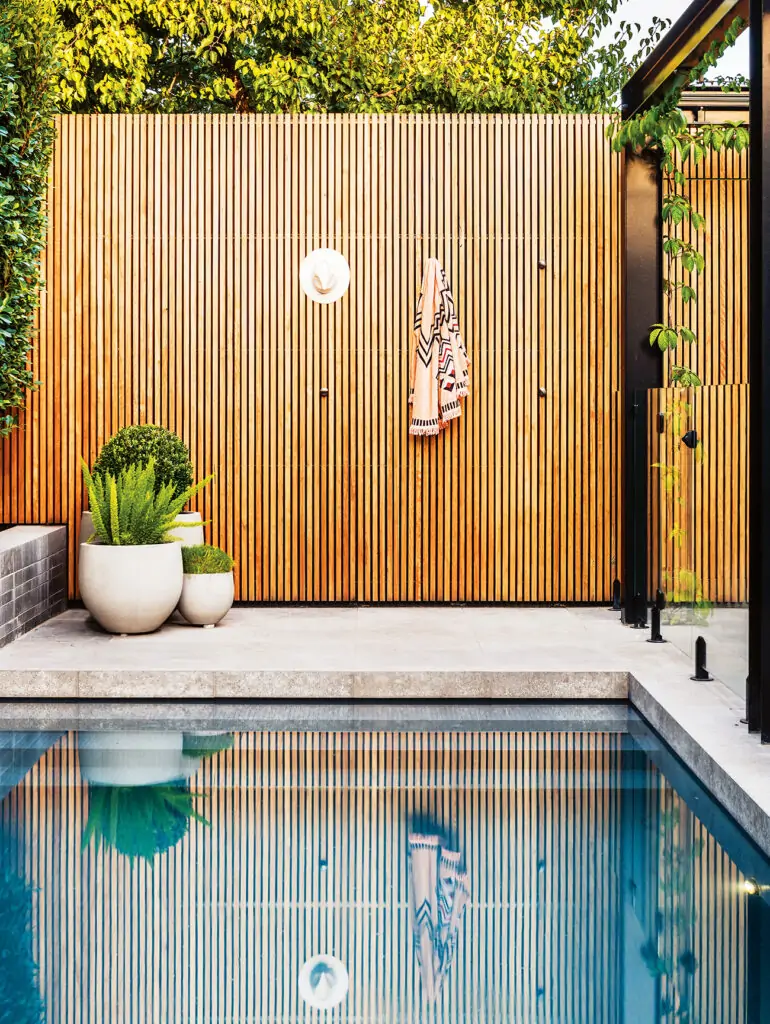 7. Rustic Charm: Contrasts That Work
If you're going for a more ranch-inspired look — consider some rustic pool fence ideas like this one, which uses raw wood and asymmetrical patterns. This roughness creates a nice counterpoint to the water's smooth reflective surface.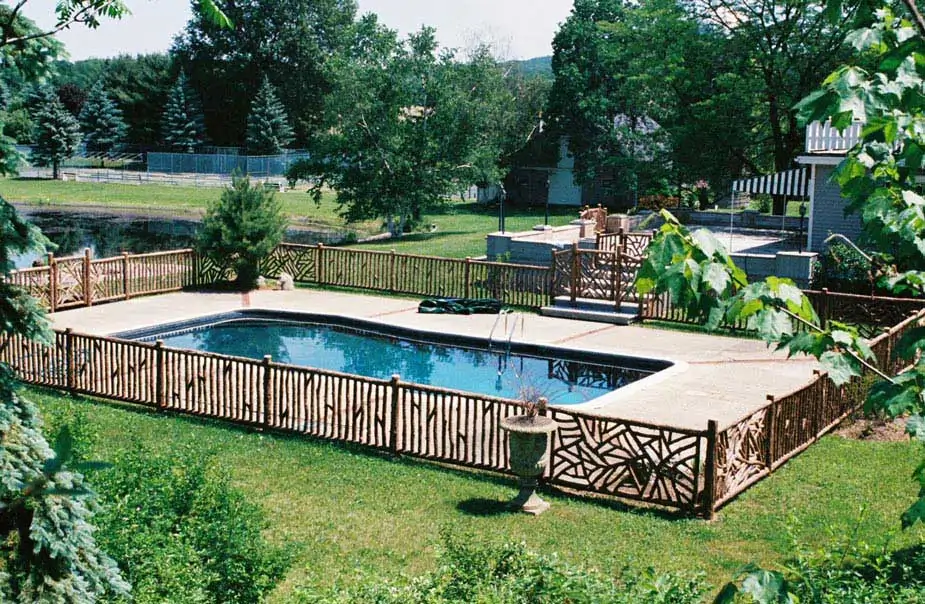 8. Suit Yourself: Building on Your Own
You can find many DIY pool fence ideas out there, and no wonder — if you don't need fancy patterns or elaborate designs, building a fence is easy! This example features a vinyl kit: those are sold in many stores, can be installed very quickly, and will cost you just a few hundred dollars.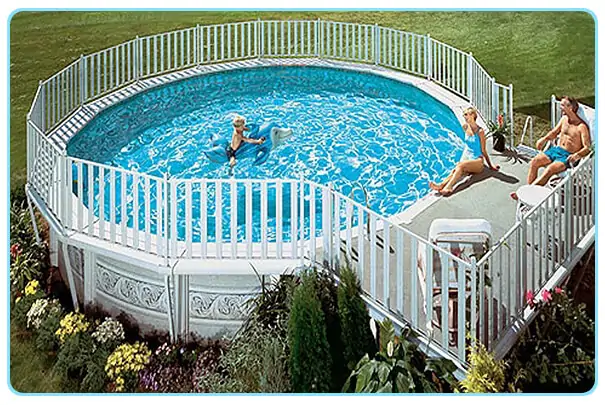 9. Splash Those Colors: Using the Plants
What about taking a look at some creative swimming pool fence ideas that combine ingenuity with vivid colors? In this example, the low railing is paired with the bright flowers around the perimeter so that they make a united composition.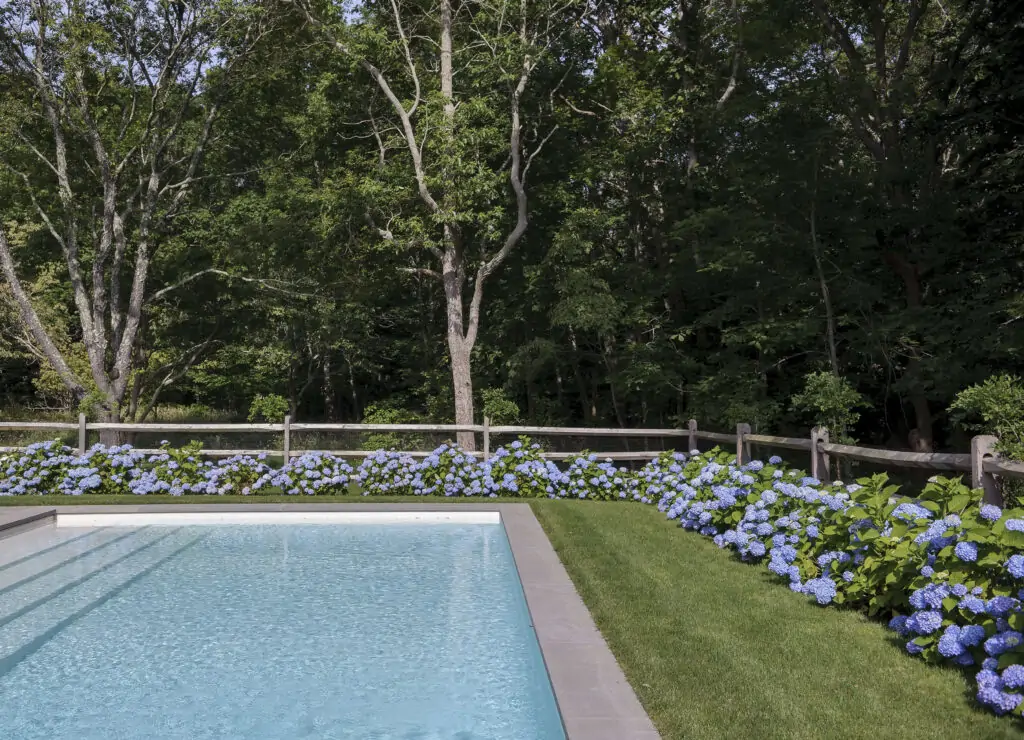 10. Some Things Mesh Well: Accent Posts
For a more secure enclosure, consider using mesh or wire. As shown in this example, it can look quite elegant and not draw too much attention to itself while protecting the property well. To balance it out, you can use something like these rough-hewn stone posts.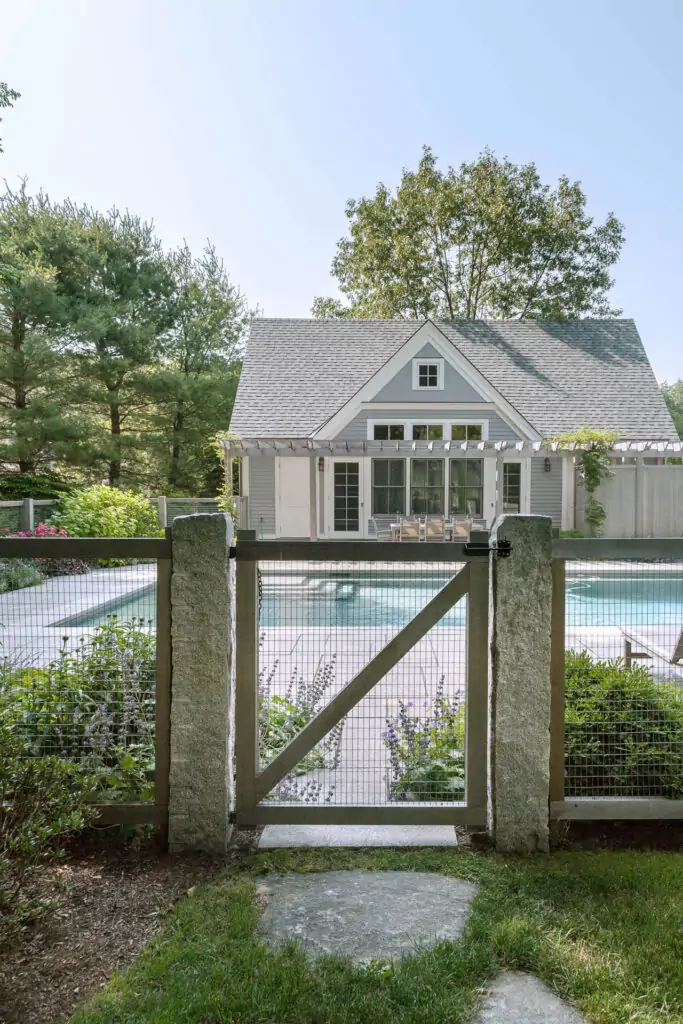 11. The Impermanence of Things: Designing for Easy Removal
If you don't really want to commit to a permanent barrier but still want to protect your kids from wandering into the water, some temporary pool fence ideas might just serve you. There are many manufacturers who offer those now, and being temporary doesn't equal being flimsy, as evidenced by this picture. Even this sturdy fence can be easily packed up when needed — for example, when your children grow up.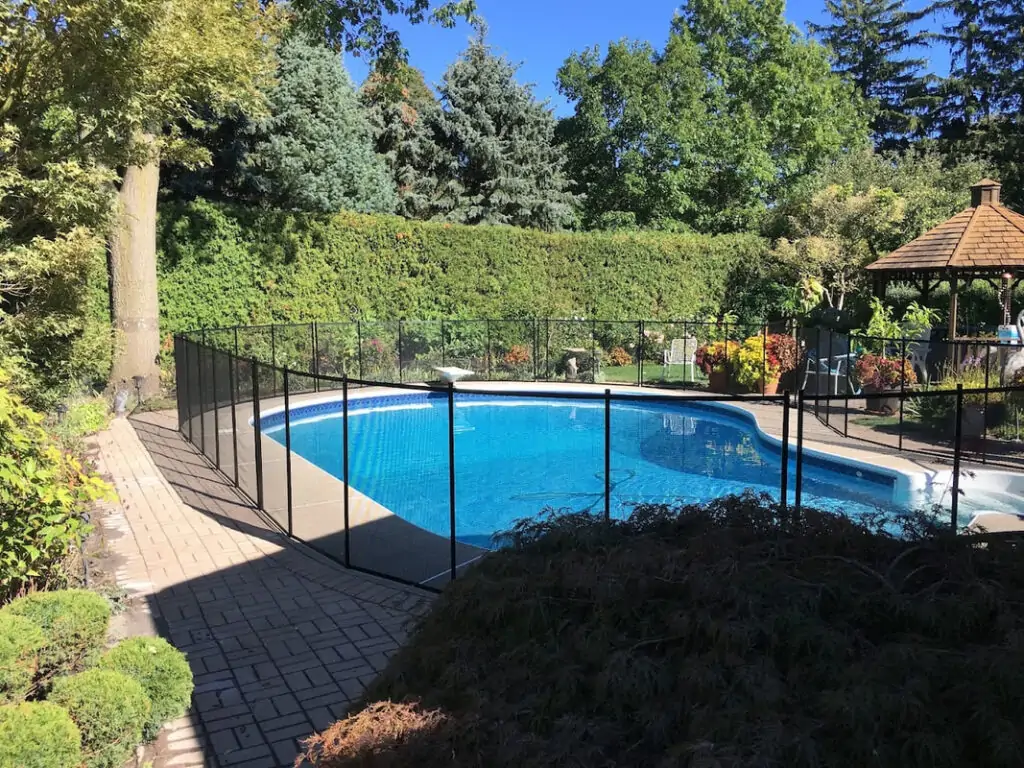 12. Trees Behind the Forest: Setting Live Boundaries
Generally, inground pool fence ideas allow for more creativity than the ones for above-ground pools. For example, you can use vegetation — such is the case with this two-layered hedge which features both tall trees and shorter shrubs and allows the owners to enjoy an unprecedented degree of privacy.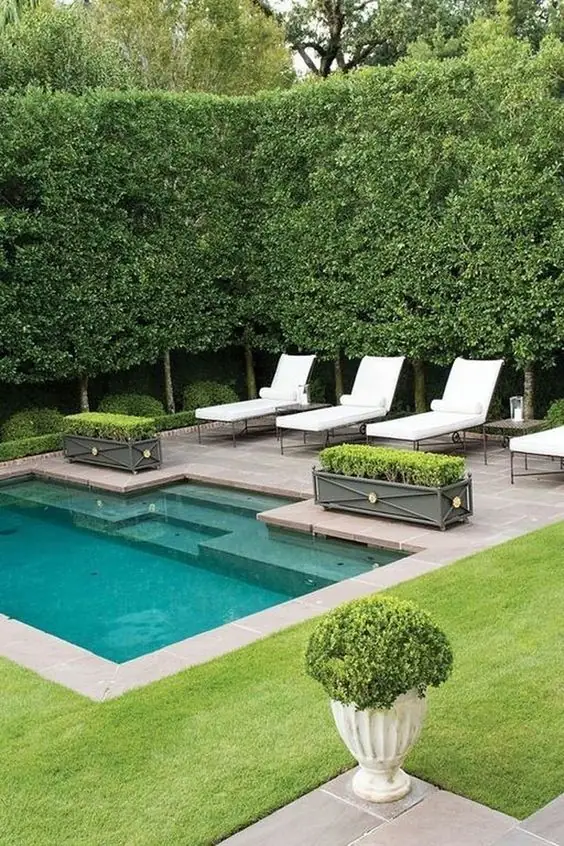 13. Tropical Rain: Creating a Paradise
Remember that fences can have additional functions! In this case, one of the walls guarding the space also features some waterfalls — a perfect way to make the visitors of this space both protected and relaxed.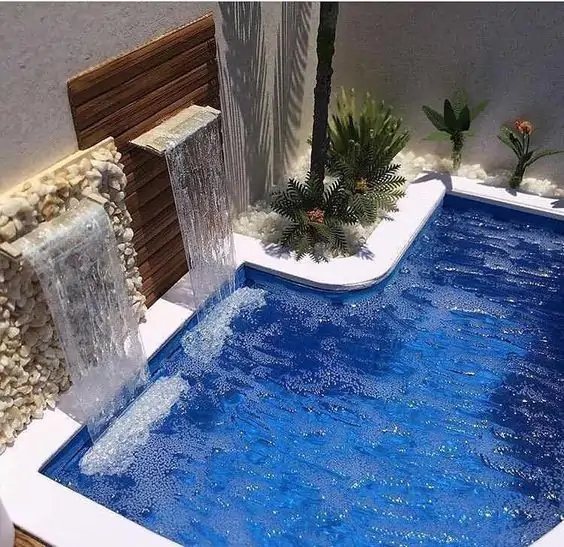 14. Swimmer's Nest: Fencing off a Deck Patio
Building a deck around the water is always a cool idea! As a bonus, thinking of pool fence ideas for above ground pools becomes much easier this way: you just have to fit it into a general design of your deck. Here, a wooden rail around the area matches the deck theme while doubling as a guard for a pool.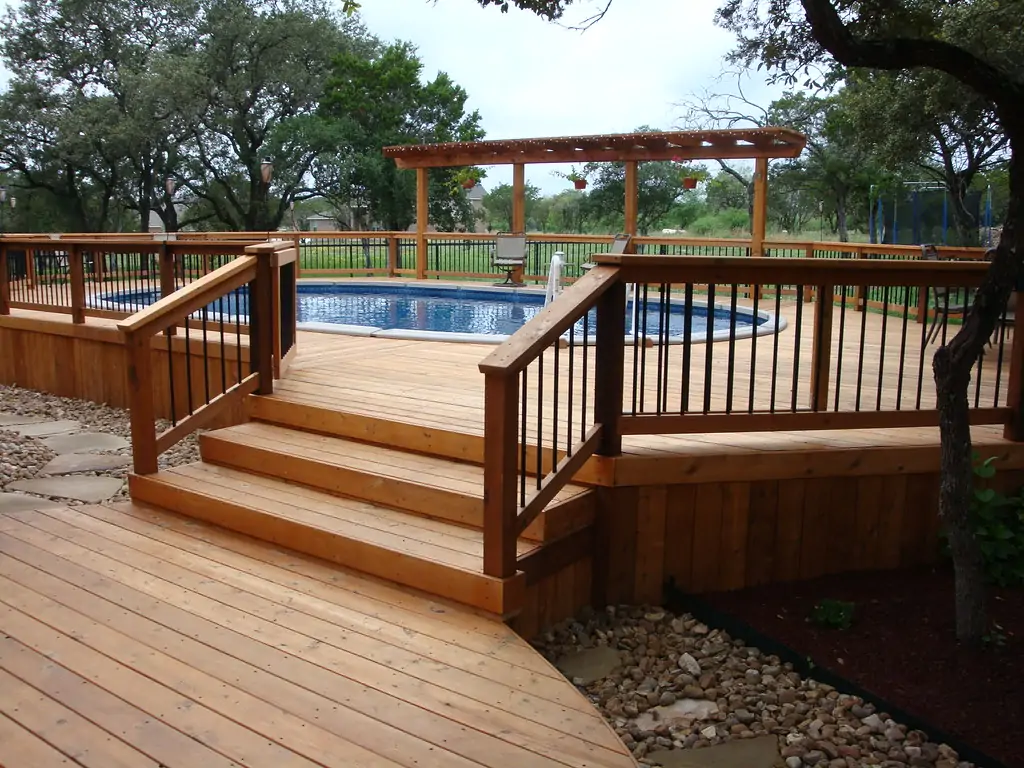 15. Details Make the Ensemble: Making Simplicity Work
This is another example of a water basin with a deck built around it. The fence is as plain as it could be, but it looks very nice in this clean light ensemble — and the decorations such as plants and pillows are masterfully selected for this look. This one also can be counted among one of the cheap fence ideas for a pool since the boundary itself is so simple — yet stylish enough to make your neighbors jealous!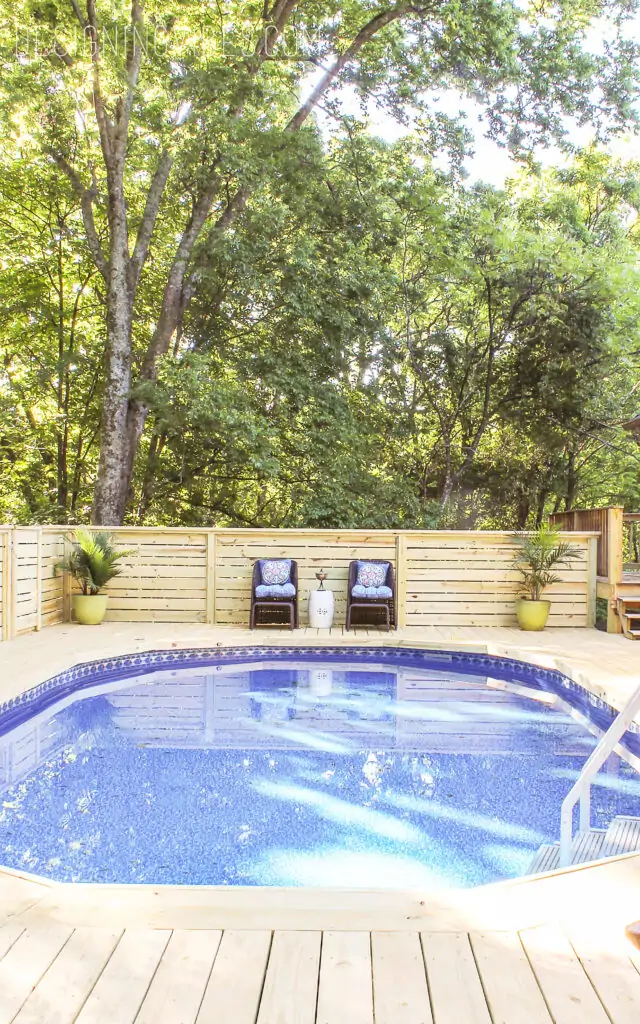 16. If You've Got It, Flaunt It: A Place Fit for Royalty
On the other hand, if you like to show off some classic ideas in your pool area design, this might be just the one for you! A wrought iron fencing with brick posts gives an undeniably aristocratic look to this example. Lounge in luxury!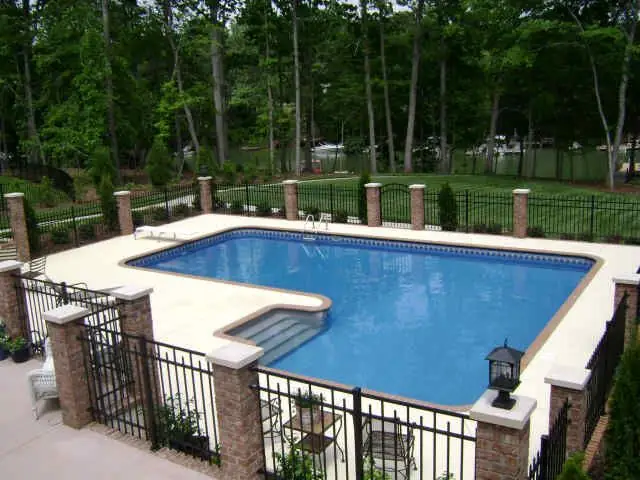 17. Illuminate Yourself (And the Water): Keeping up with the Times
There are many ideas to light up your pool. And this example is quite eclectic with its combination of different materials and heights, but take a look at the stone wall with a beautifully lit waterfall! It's one of the most beautiful modern pool fence ideas that looks sleek and timeless at the same time. Light-colored stone is a great choice to keep the look clean.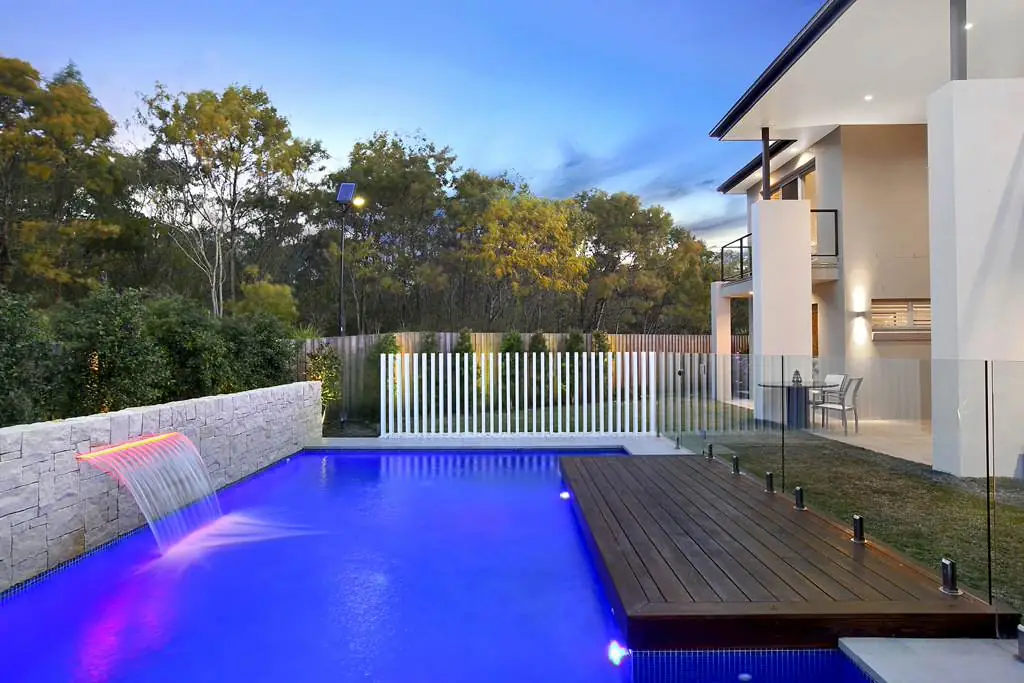 18. Rough Around the Edges: Another Rustic Idea
On the other hand, this rough stone wall next to the basin doesn't look modern at all. This is as it was meant to be since the whole design is rustic and natural rather than high-tech. Combine it with wild greenery and simple wood — and it feels like a retreat in the middle of the jungle.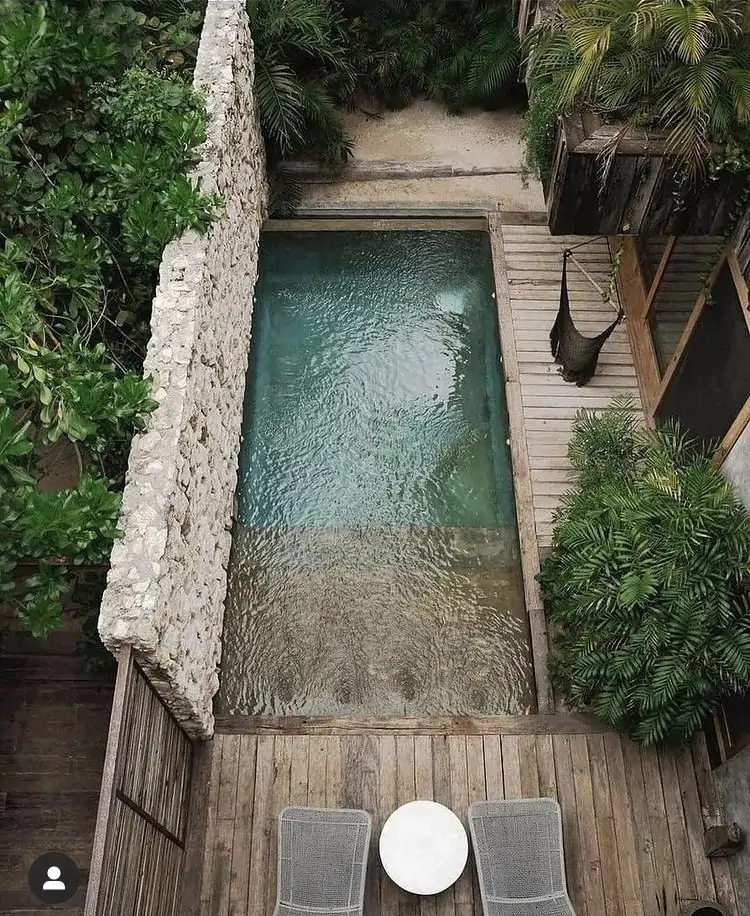 19. Several Layers of Protection: Safety First
This pool is already in its own building, so there's no need for more privacy. But don't dismiss the idea of putting up an additional barrier so that your kids are safe. Children are known to get into places they're not allowed into, so more protection is always a good idea.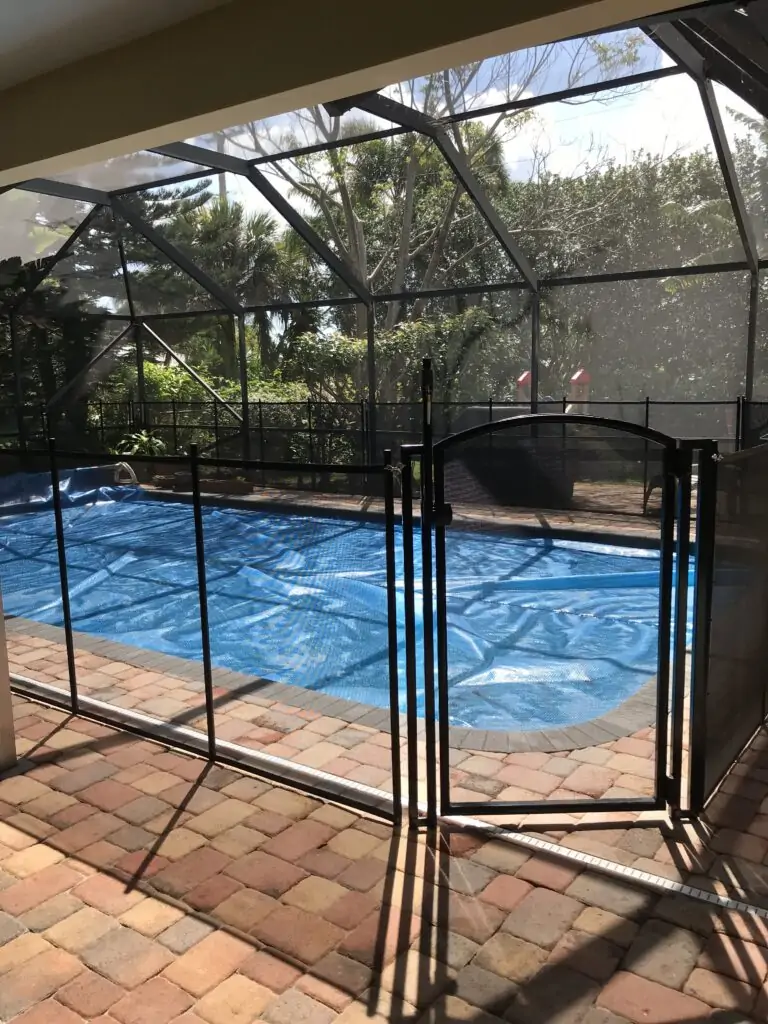 20. Shadowplay: Going for Something Slightly More Unique
If you like complex patterns, you should take a look at this idea! These days, there are technologies like laser cutting that allow customers to get any pattern they want — including decorative pool fences.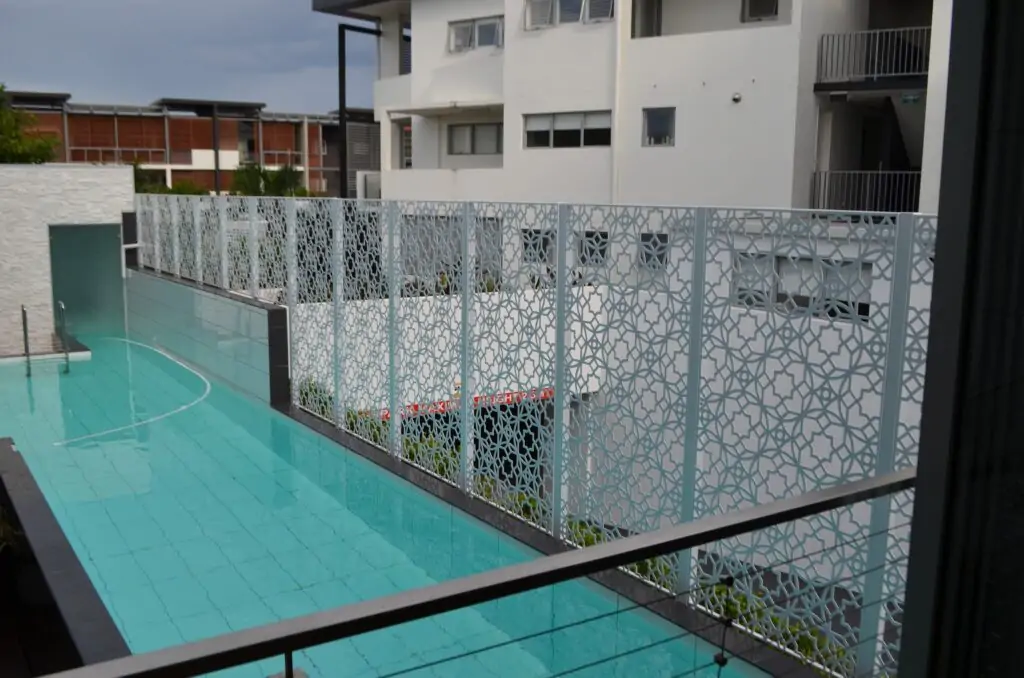 21. Hedge Your Bets: A Well-Cut Garden Is Never out of Fashion
This one is another classic. A perfectly cut hedge highlights how much heart goes into keeping this area around the water looking beautiful and well-cared for. The small gate also adds to the embodiment of that white picket fence suburban dream.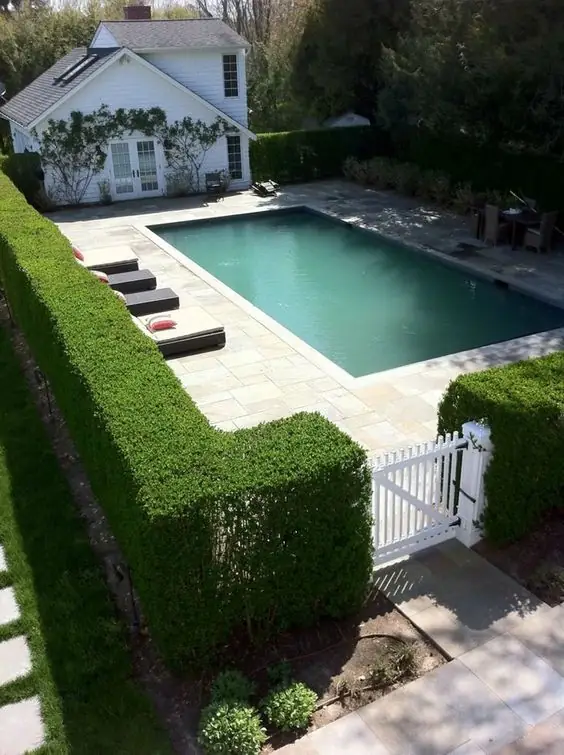 FAQ
We put together some answers to popular questions on this topic.
What Type of Pool Fence Is Best?
Choosing the best type for you will depend on a variety of factors. Consider these questions:
What is the primary function of your fence? You might have children or outdoor pets to guard against falling into the water; you may want privacy, or maybe you just want a barrier to separate the area as a part of a greater landscaping effort.
What is your budget?
What kind of pool do you have: inground or above-ground?
How many additional factors do you need to consider to decide how your fence fits into your overall design? Can it be simple, or must it be a statement?
Maybe you don't want to keep it for long at all and want to be able to remove it once you don't have kids in the house?
After thinking about these questions, you can settle on the best type for you. If you don't have any restrictions — great, then it's up to your imagination! Otherwise, here are some useful examples:
Mesh fences can be very sturdy, safe, and reasonably priced, so it's one of the best options if you really need to safeguard the area. They can also be removable.
Vinyl fences also work well as protective barriers, and they usually do nicely in above-ground setups.
Solid wooden fences provide a lot of privacy, but with children it can be a safety risk: if they get past the barrier somehow, you may not see that. The same goes for stone walls.
Wrought iron fences look sturdy and very fancy, but many of them may be easily climbed.
Glass fences provide good protection and visibility (but, of course, no privacy), but they are quite pricey and require maintenance (i.e. regular cleaning) to look good — although with the proper care they really, really do.
What Is the Best Fence for Pool Safety?
If your primary concern is safety, but you also consider such factors as affordability, the safest fences are probably meshed ones. They do a great job keeping children out of the area. For a higher price point but a fancier look, consider a glass barrier.
How Much Do Pool Fences Cost?
The cost will depend on the size of your pool and the material used. Mesh prices can start as low as $7 per linear foot, while tempered glass can cost you as high as $600 per linear foot. Adding labor costs and additions such as gates, average pool fence costs from $1,500 to $10,000, and with glass fences this figure can reach up to $20,000.
If you want to cut costs with DIY, make sure you know the safety requirements in your area for pool fences (there might be some important stipulations). If you're sure that you can safely install one, check out this video for a tutorial:
Conclusion
A pool is a great feature in any backyard, and any one of them can benefit from a fence — be it for protection, privacy, or just as a cool design feature. These days, there are so many styles and materials to choose from that there's an option for anyone, as evidenced by the pool fence ideas in this article. We're glad to aid you in your search — and see you next time!