Cute & Inexpensive Deck Skirting: Ideas to Consider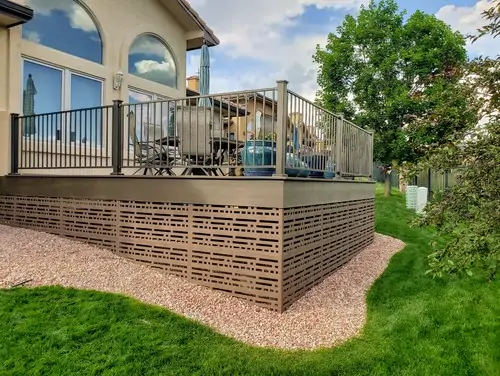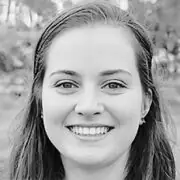 If you're looking for creative and inexpensive deck skirting ideas to dress up your home, then you have come to the right place. We have gathered a collection of ideas that will help you add visual appeal and privacy to your outdoor living space. What's important is that you won't have to spend a hefty sum.
From lattice to wood planks to faux stone, there are plenty of ideas that can help transform your deck into an oasis. In this article, we will cover some of the cheapest deck skirting options that will help you make the most of your space without spending too much money.
Use Lattice Pattern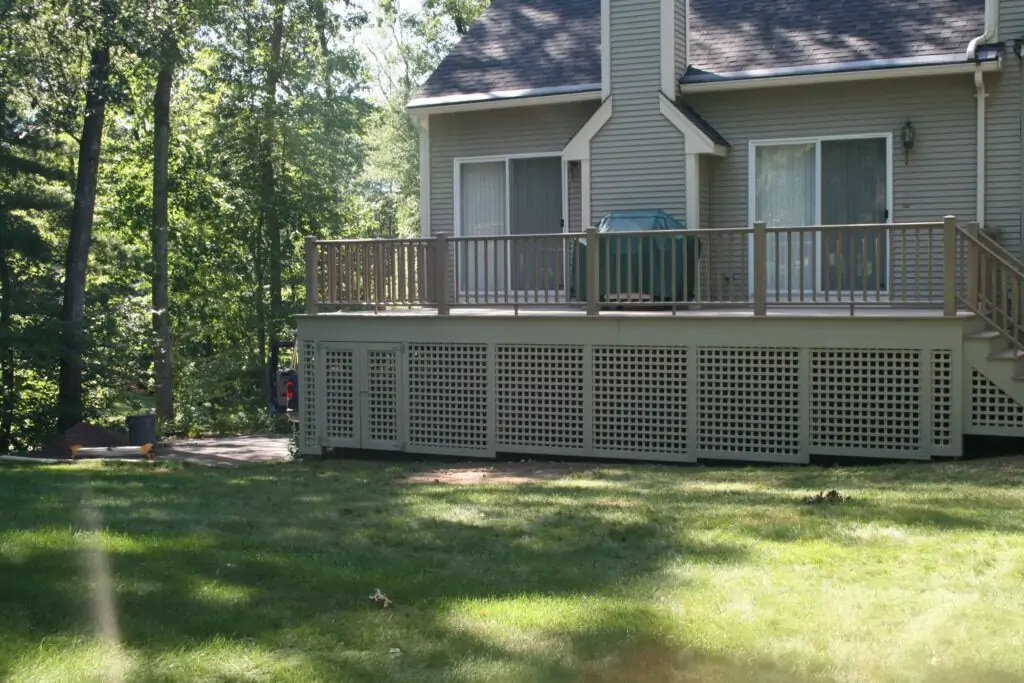 Lattice skirting is an attractive and versatile way to hide the unsightly parts of your outdoor space while adding a touch of charm and beauty to your landscape. There are many different styles, designs, and materials available to choose from, so you can find a solution that fits your budget as well as your style.
One of the most popular and affordable options for lattice patterns is vinyl: it is easy to install and comes in a variety of colors and textures to match your landscape. Vinyl lattice is also extremely durable and can withstand the elements which make it a great choice for outdoor spaces.
Another inexpensive option is to use a plastic lattice. A plastic lattice is also widely available and normally costs less than a wooden one. It is also a great choice for those who are searching for a modern look. What's more, unlike wooden lattice, plastic does not require any staining or painting, which can save a lot of time and money. So if you are looking for some truly inexpensive under deck skirt ideas, this might be one of the best options for you.
Install Bamboo Screens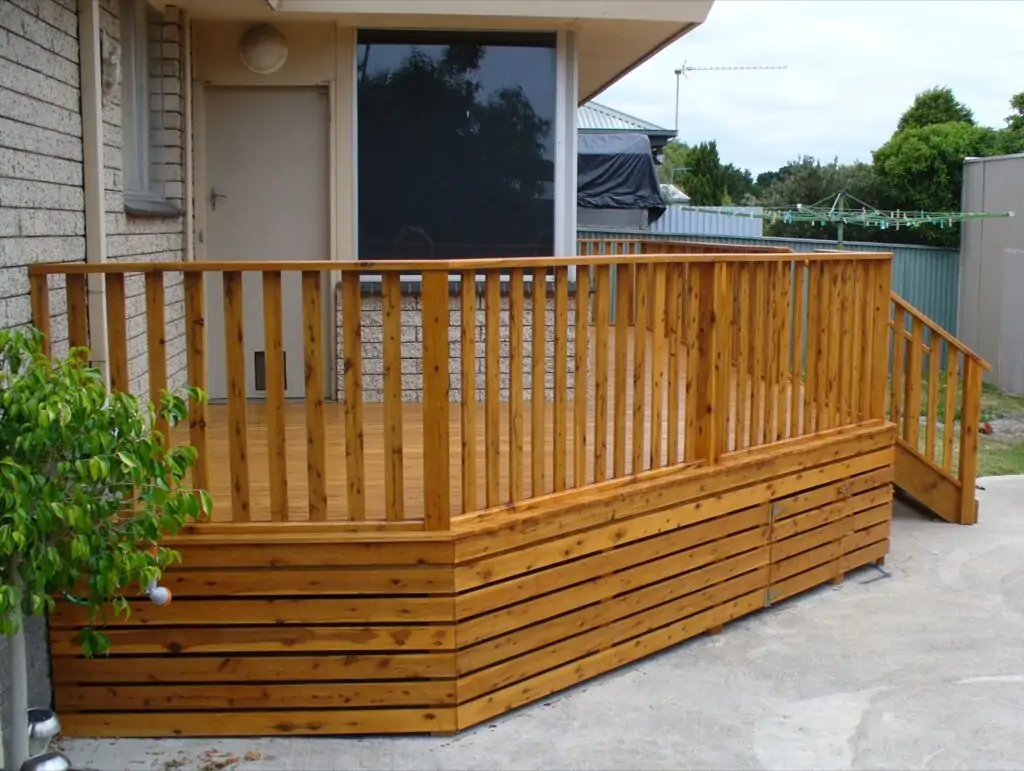 Bamboo deck skirting offers an attractive and natural look that will easily give your house a stylish makeover. Generally, bamboo is considered to be a durable and sustainable material that is perfect for outdoor use. It is also relatively affordable, making it a great option for decks on a budget.
Another advantage of installing a bamboo screen is its versatility. It comes in a variety of sizes and widths, making it easy to find a style that will suit your deck. You can also use bamboo for draping, lattice panels, or even just for a decorative fence. 
So if you want to add some style to your deck, this type of inexpensive deck skirting is always the perfect solution.
Stacked Stones Add Style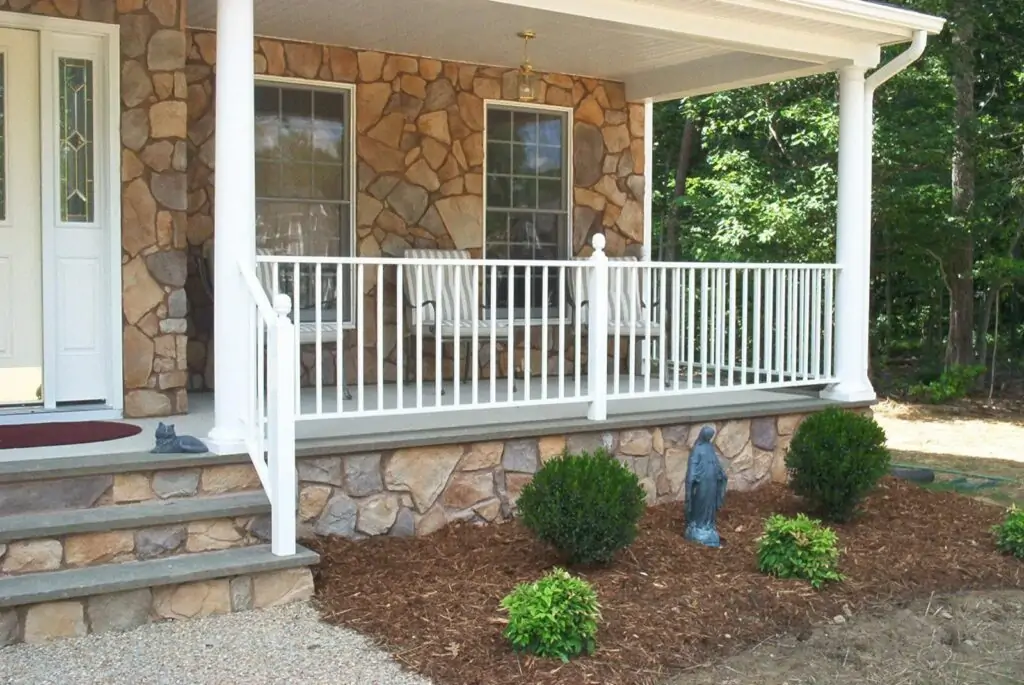 If you are looking for inexpensive yet attractive ways to update your deck design, consider using stacked stones. It is a natural way to add texture and depth to your home. The stones come in a variety of sizes and colors, so you can find a look that is unique to you. On top of that, installing stacked stones is relatively easy, although you might still need some special tools and skills.
When it comes to choosing the right stone for your skirting project, there are plenty of options. Large river rocks, large flagstones, and slate are all good choices. The color and size of the stones you choose will depend on the look you are going for. So with this cheap deck skirting material, you can create an attractive and practical solution that's sure to be a hit with your family and friends.
Consider Wooden Skirting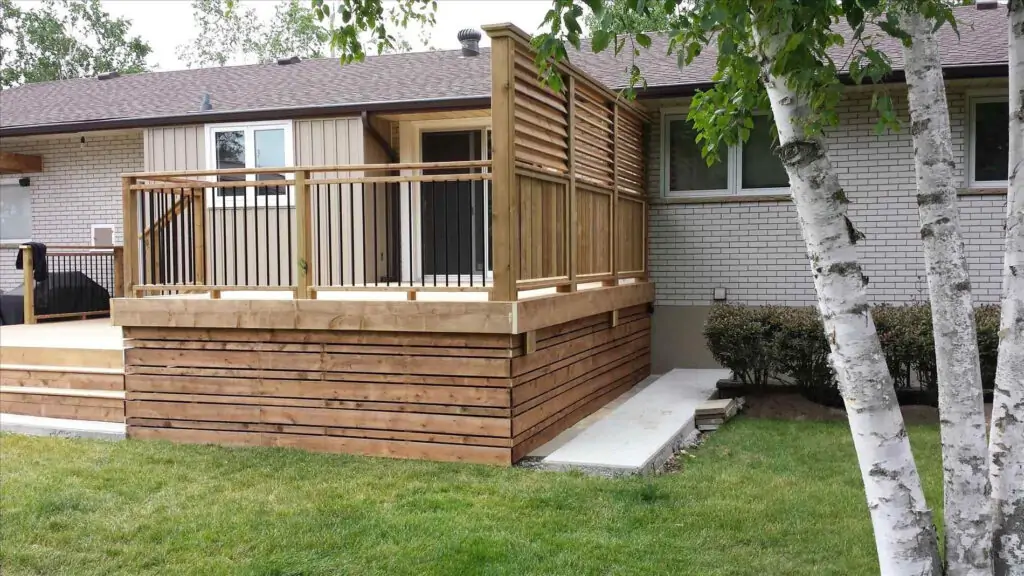 Wood is a durable, low-maintenance material that will give your outdoor space a classic, timeless look. Plus, it can be used in creative ways to create intricate-looking designs without spending too much money.
Wood plank skirting is a great choice if you are looking for a classic and timeless option that has the additional advantage of being inexpensive. It can be painted any color you choose, and it is available in a variety of widths and lengths. Besides, it is an excellent way to hide any gaps between the deck and the ground.
Overall, ​​with the right type of wood, you can get beautiful, durable, and low-cost skirting that will keep your outdoor area looking great for years to come.
Use Outdoor Curtains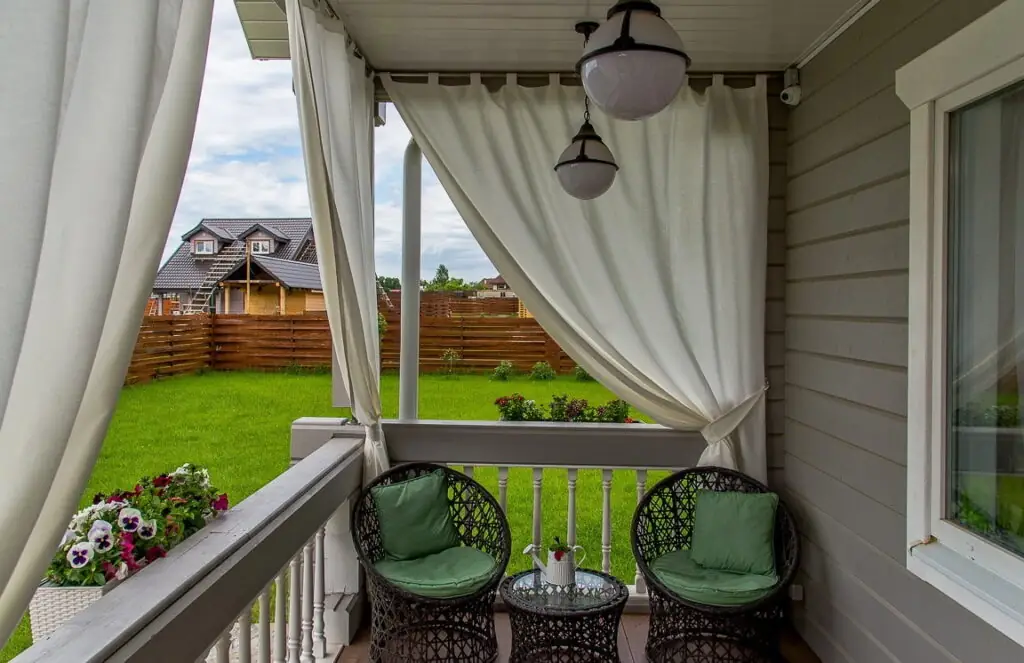 One of the most affordable and unique deck skirting ideas is using outdoor curtains. Curtains come in a variety of colors, fabrics, and sizes, so you can easily find something that matches your deck's look. You can even get creative and mix and match different curtains to create an outstanding look that ties the whole space together. Plus, there are hard-wearing curtain materials that can withstand wind and rain.
On top of that, curtains are also lightweight and easy to install, so you won't need to hire a professional. All you need is some basic hardware and a few tools, and you can hang the curtains in no time. They are also easy to maintain; simply remove them and throw them in the washing machine whenever they get dirty.
Use Plants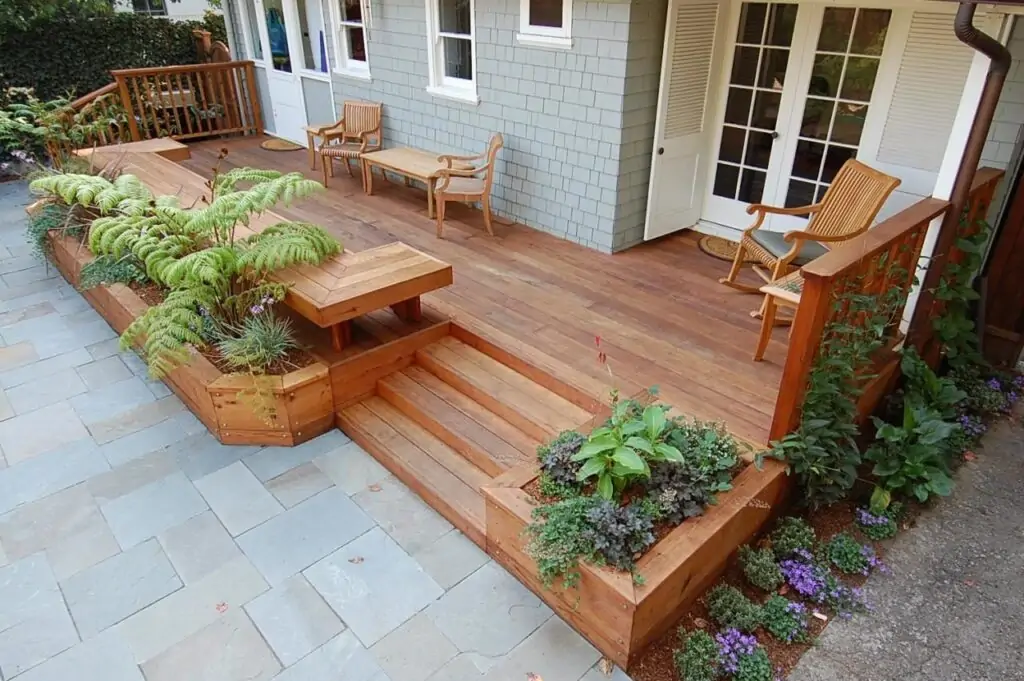 One of the more visually stimulating yet, at the same time, simple and cheap deck skirting ideas is to spruce up your home using plants. This option offers a variety of advantages. First, it is a great way to add color and visual interest to the outdoor area. What's more, plants can also act as a natural barrier.
Generally, it is important to choose plants that are appropriate for the climate and the amount of space available. For example, if you have limited space, then a low-growing evergreen shrub or ground cover is a good option. On the other hand, if you have plenty of space, then taller shrubs, such as boxwood or holly, can be a great choice. Overall, with the right selection of plants and proper maintenance, you will manage to create a beautiful oasis near your home. We've got one idea for such an oasis prepared for you.
Modern Low & High Deck Skirting Ideas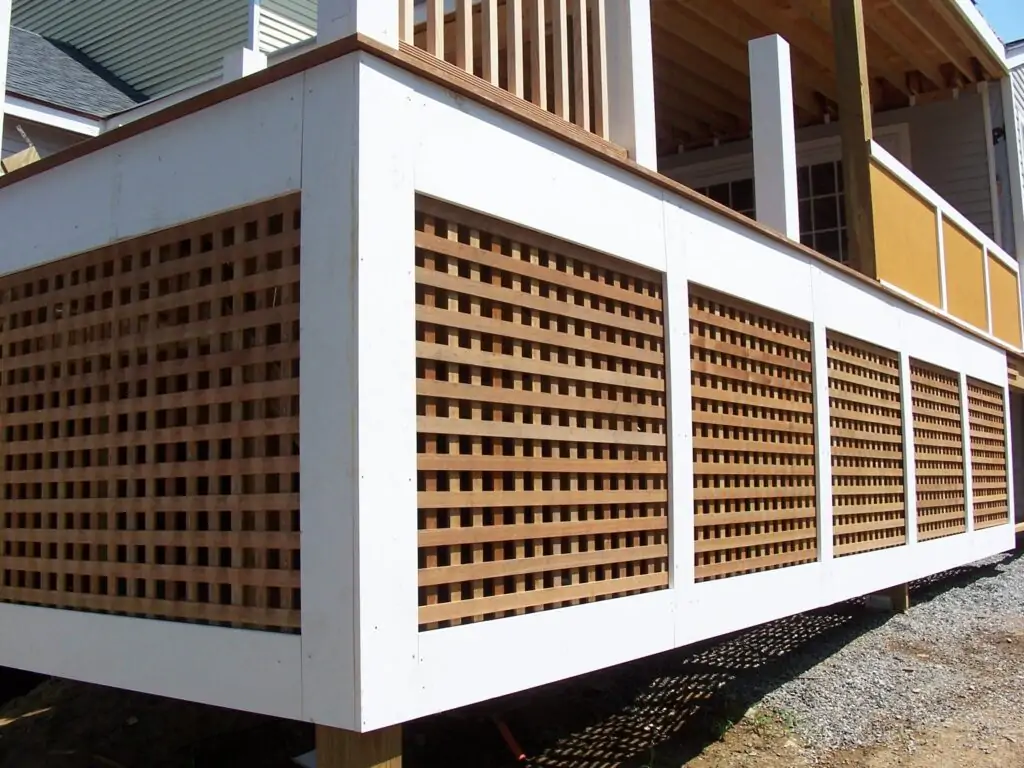 Cheap ways to spruce up your home don't necessarily mean that you have to put up with something outdated or downright ugly. In fact, there are numerous modern ideas that look incredibly great and don't cost a fortune.
So, when looking for a style that complements your home's exterior and provides the protection you need, you can either opt for traditional latticework or choose something more unusual, like metal or plastic panels. You can also create an interesting effect by using different colors, textures, and shapes.
If you are looking for something a bit more eye-catching, consider using decorative shutters or panels. You will be able to find these in a range of colors and styles. No matter which design you choose, there is always a way to make it a place you and your guests will enjoy.
Conclusion
Building a deck can be a great way to add extra living space to your home in an affordable way. We can help you build one yourself with our step-by-step guide. However, it is important to ensure that the result looks attractive and inviting. Fortunately, there are a variety of inexpensive ideas available. Utilizing recycled building materials such as pallets, lattice, and wood planks can be a truly cost-effective solution. Incorporating plants and other decorative elements can make your home look incredibly appealing. So, with a little creativity and the right materials, it is always possible to find inexpensive deck skirting ideas that will add character and charm to your outdoor space.
Please, check out more ideas on how to improve your deck further even within a small area.