11 Stunning Interior Design Ideas for the Living Room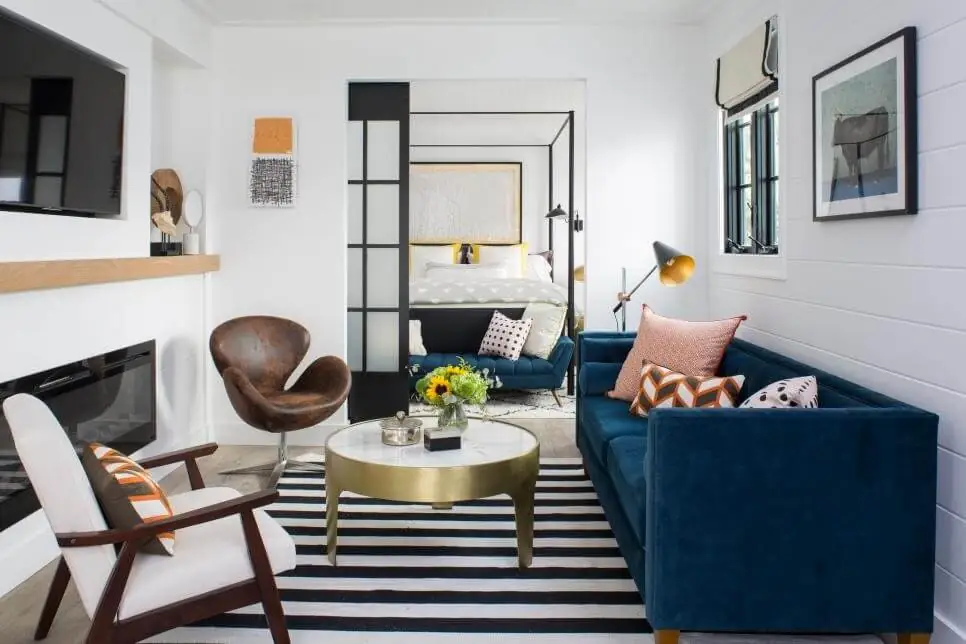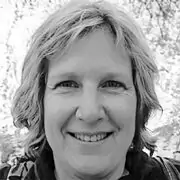 If you are looking for interior design ideas for the living room, look no further. We have selected a list of the 11 most beautiful décor ideas that instantly uplift the room's zen.
Whether you want a chic Boho look or prefer a grandiose one, you need to properly outline the plan of what you are going to do. This will both help the project's proper execution and keep your budget under control. First, let us take a look at these ideas for living room interior design:
1. Evergreen Boho
Ask about the best interior design for the living area, and boho is the very first that will come to mind. Create a beautiful and elegant setup with bold colors, modern furniture, and vintage elements for that lovely boho appearance. And if you wonder how to make it stand out, add lots of brightly-colored props and plants. Nothing beats the chaotic yet calm look of a boho-styled space. If you are looking for a mix of old and modern interior design ideas for the living room, go for this one.
Dive into the world of boho decorating with us, as we explore the eclectic and carefree trend of bohemian style and showcase boho-inspired ideas for your home.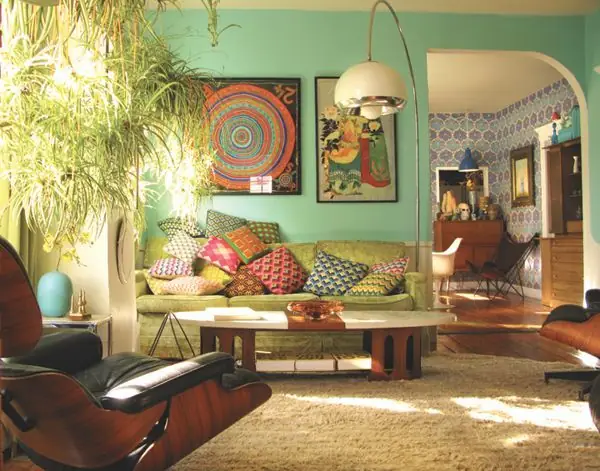 2. Mediterranean
Say "Mediterranean," and bright white walls and subtle hues immediately come into mind. The biggest advantage of this look is its minimalism. Have the walls painted white. Keep the wooden ceiling. Put upholstered wooden furniture and throw in some golden elements like a large golden planter.
Complete the look with lots of plants. One thing you need to be attentive to is not to overcrowd the room. It is one of the best interior design ideas for a big living room.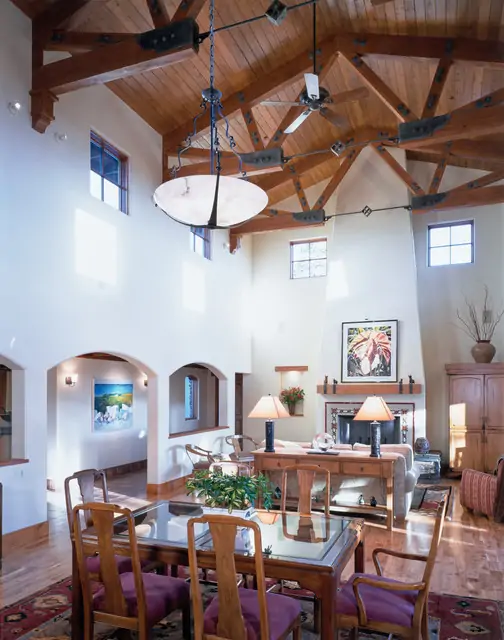 3. Go Royal
If the idea of the good old times appeals to you, then go for this rich appearance. When you are doing this setup, everything needs to speak of royal elegance. Add thick curtains in vibrant colors. Go for velvet sofas. Be sure that the furniture is all hardwood. A beautiful chandelier in the center of the sitting area never hurts! What's more, you can also have one or several oil paintings on the wall.
Be sure to pick only the high-quality materials. Otherwise, the room will get a tacky feel.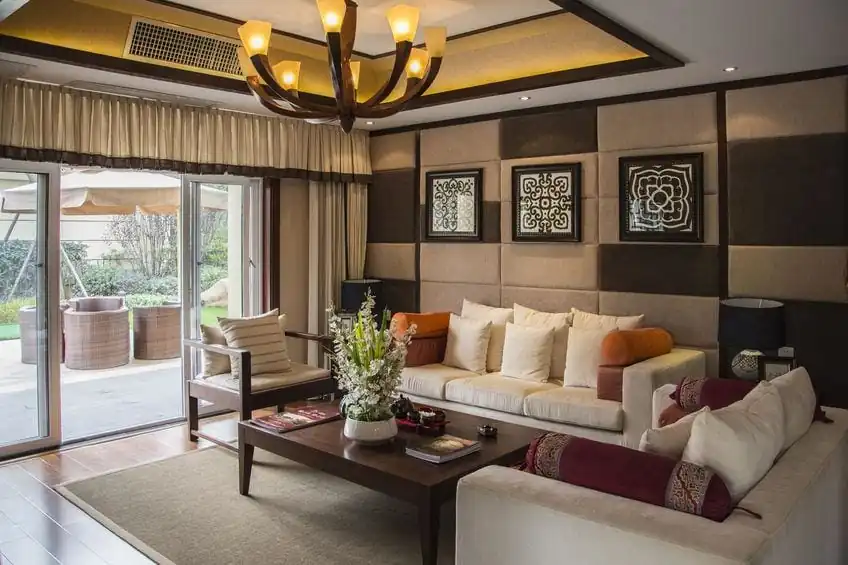 4. Pristine White Living Space
What can be more soothing than a minimalist, all-white living area? This pristine setup is bound to make anyone who enters the room relax. Add minimalist furniture, lay a white carpet, and go for an off-white shade for furniture and other accessories.
Some glass-top tables can be paired with white curtains to accentuate the aesthetics of the room. It is a much-sought-after interior design idea for a living space with a fireplace because of the neat look that it gives to the area.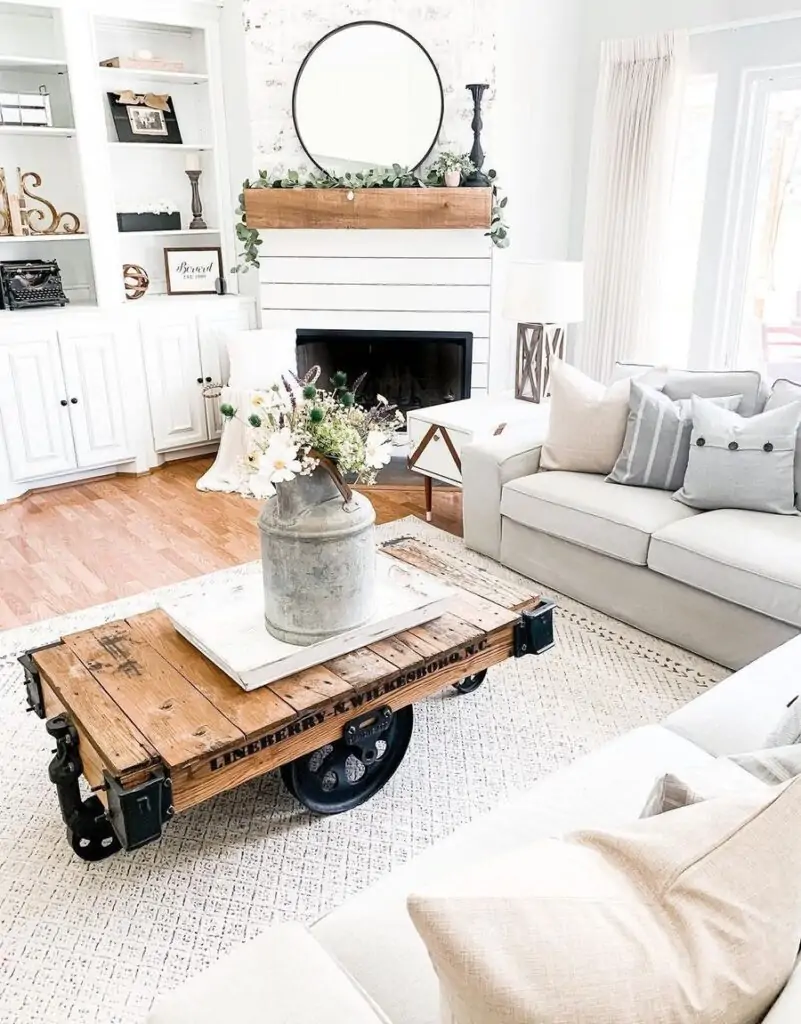 5. Modern Living Area
Have you ever wondered what makes cafes so attractive? Most of the time, it is the wall schemes, modern, sleek furniture, and art installations that wow the crowd. The next Instagram-worthy place can be your sitting area too.
Opt for unconventional pieces of furniture. Pair them with hanging lights, lots of framed photos, and some elegant planters. A few pieces of modern art paintings are a must-have. You can easily shop these items in your nearby store or online. If you are looking for elegant ideas, go for this one.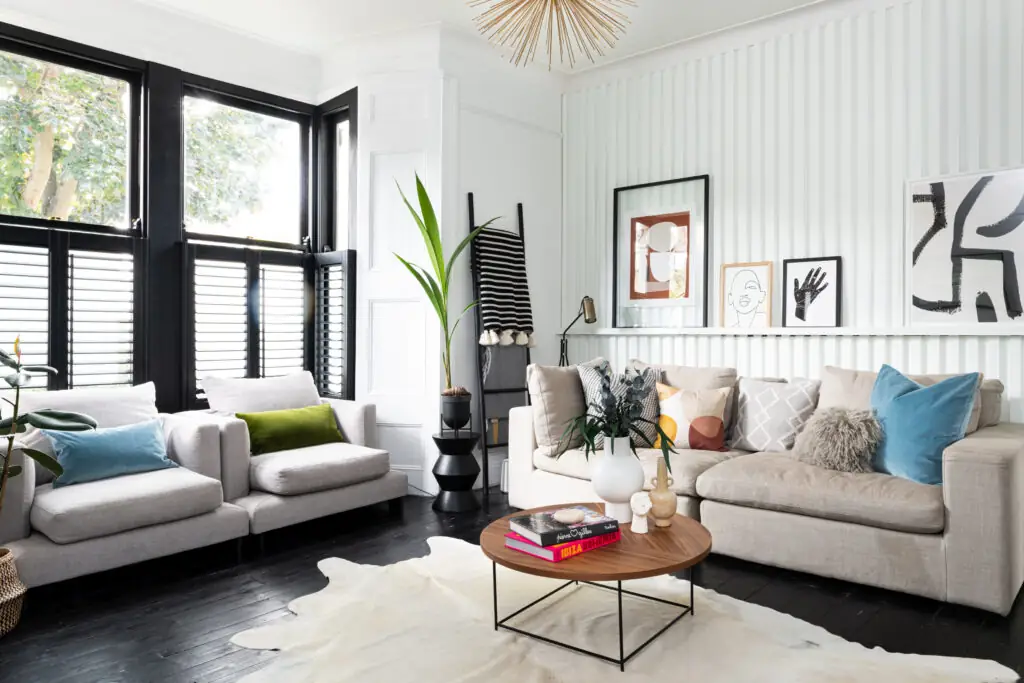 6. The Multipurpose Living Area
Some people have to make the best of very small apartment areas. If you have to carve an aesthetic space in just a few square feet, it is better to opt for multipurpose furniture. You can easily have a sofa-cum-bed, some multipurpose nesting tables, hanging shelves, and space-saving accessories. This way, you have lots of open space that you can use when needed. The USP of these set-ups is how airy and open the room seems despite its small area.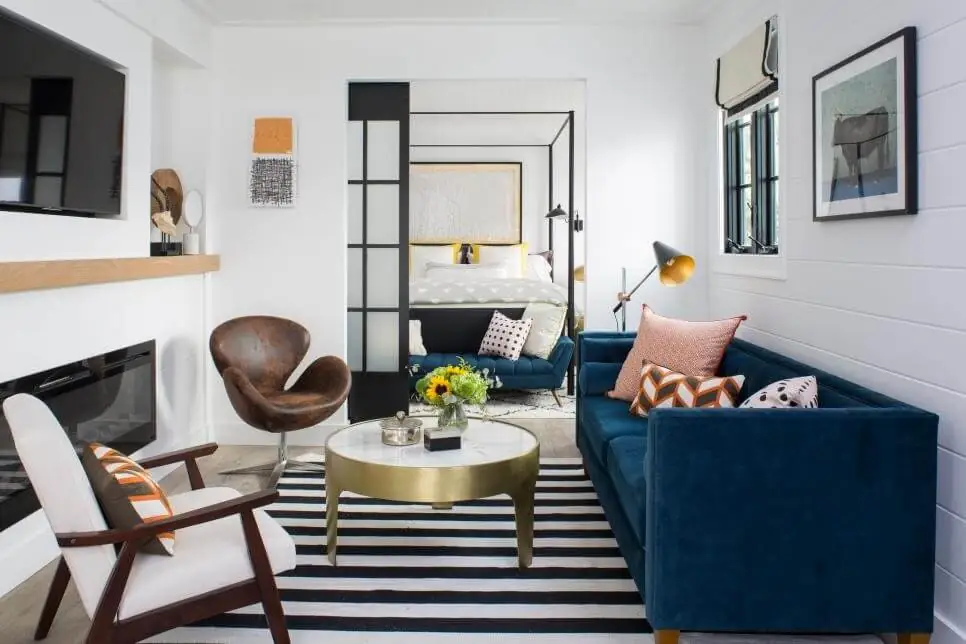 7. Wooden Saga
Wood never goes out of fashion. Why not use it as your drawing room theme? From the wooden flooring to hardwood furniture, everything will add an element of sophistication. And do you know what the best part of this approach is? Quality wood is most durable in the long run.
So, get some wooden drawers and tables, and do not forget about the importance of hardwood flooring. Enjoy the magic that the wooded room creates. The USP of this design approach is keeping the upholstery pretty basic. This gives a neat look to the room. The huge fabric sofas are a big no-no. The same goes for bright-colored thick curtains and cushions.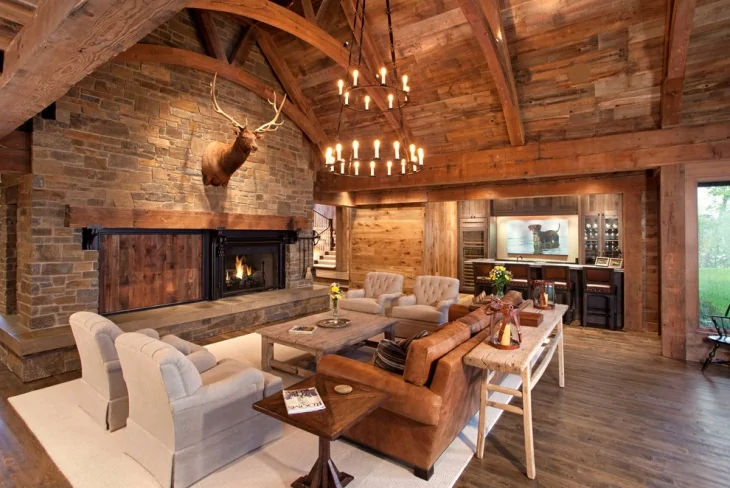 8. All-Natural
If the wooden look does not charm you that much, try going for the all-natural appearance. A total must-have is cane furniture paired with a hammock. Add lots of plants, especially bamboo and palm trees. Get sheer curtains to make the look truly special.
Have a large wind chime by the window that tinkles with the breeze. Opt for jute carpet. Keep the wall tones neutral. The color of the cushions and curtains should be sober. The best thing about this look is its calm elegance paired with a warm relaxing atmosphere.
What's more, all-natural materials mean less pollution. The best of simple interior design ideas for the living room is this: go natural.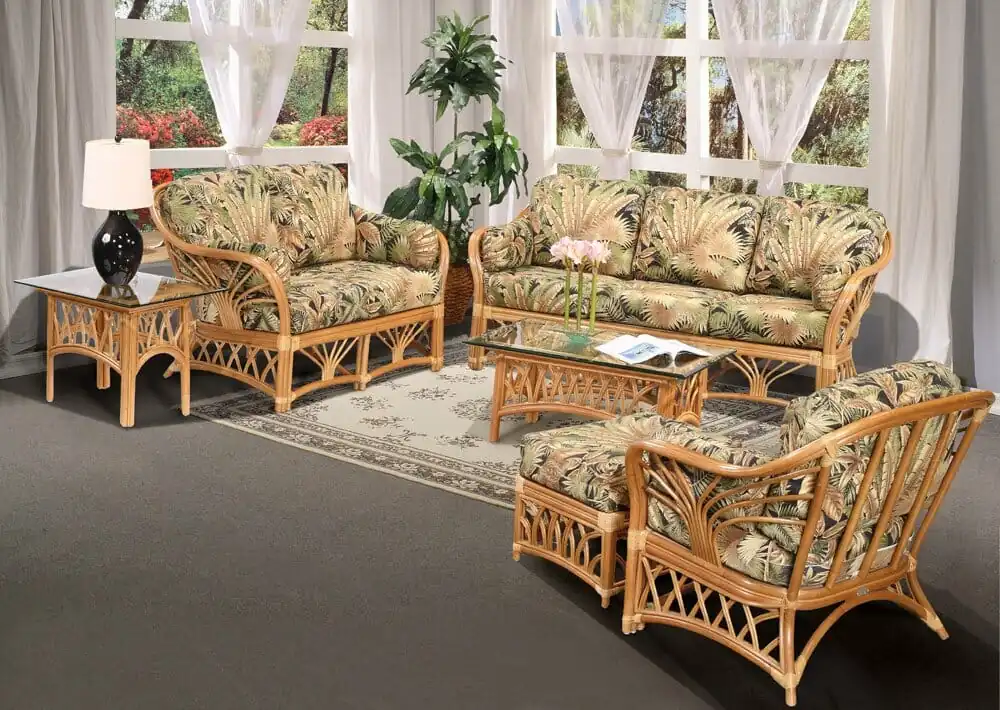 9. Black Magic
People often overlook the magic that the color black can create. Black is all about royalty and brilliance. If you are looking for interior design ideas for a living room with a fireplace, this could be your best find. Have the fireplace done in black marble.
Team up the room with a glossy black floor and some hardwood elements. Polished furniture in natural colors will compliment the black of the other parts of your drawing room. Having chosen black, you make your room visually appealing and incredibly stylish. This is a truly good interior design for small living room spaces.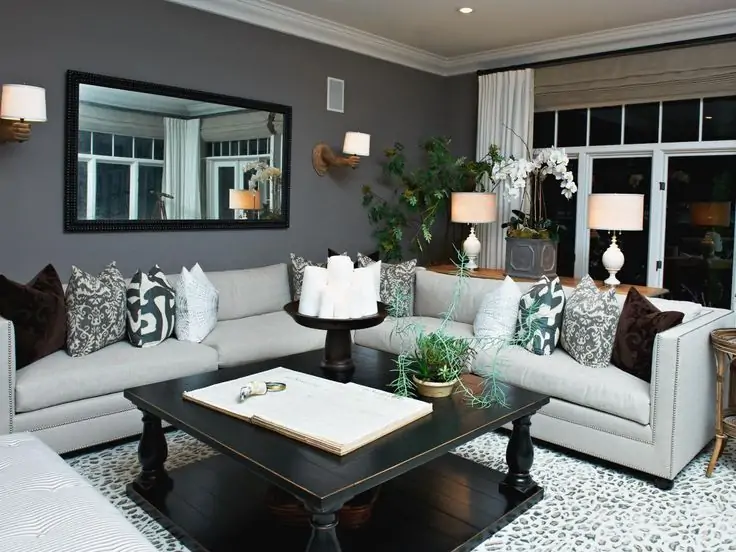 10. Japanese-Inspired
If minimalist aesthetics appeal to you, this Japanese-inspired décor will surely take your breath away. The simple formula is to completely declutter the space. Get rid of all those unnecessary vases, furniture, showpieces, and whatnot you have in your sitting area.
Have the walls painted in neutral colors like beige, cream, or mint green. Lay a light wall-to-wall carpet. Add a low-rise large coffee table. You will have to sit low on the floor. Be sure to have shoji blinds for an authentic Japanese look. It is one of the more stunning yet simple design ideas.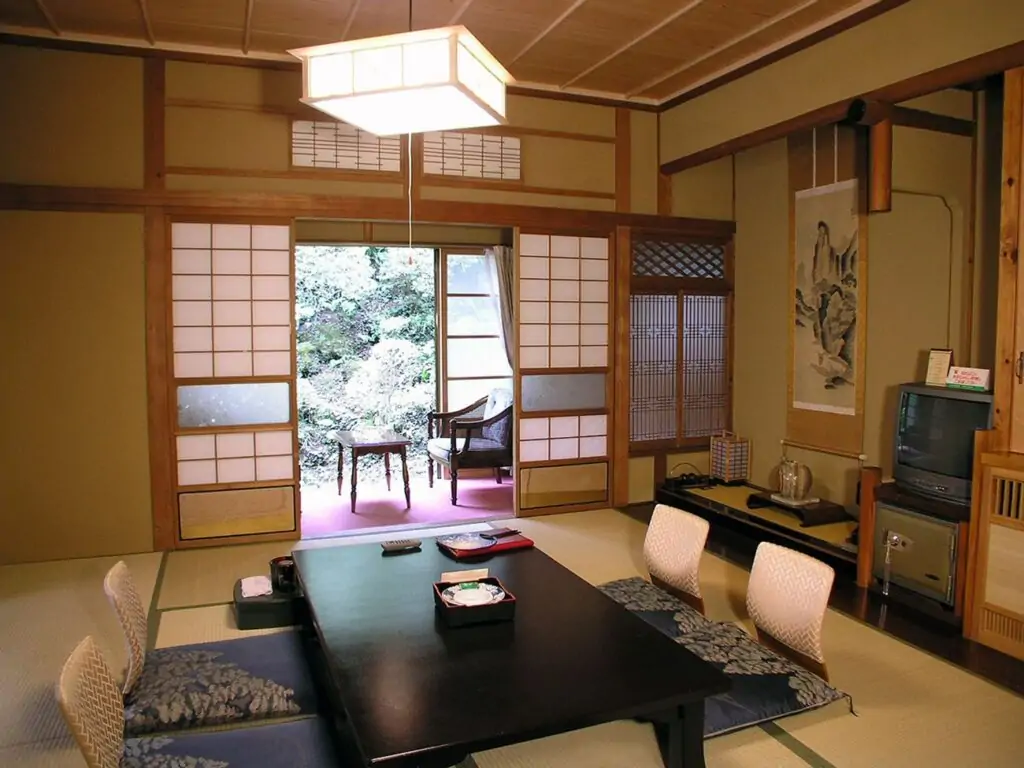 11. Hawaii
Hawaii gives everyone a happy vibe. Get this feel in your drawing area with an all-Hawaii-inspired look. How do you get it done? There are some indispensable basics like Hawaiian print sofa cushions, curtains, and upholstery.
The very first step is to hang wallpaper with the characteristic Hawaiian print. Then have some neat furniture. Be sure to add lots of tropical plants. Top up the look with some Hawaiian art and sculptures. If your living area has an attached balcony, add some canopy chairs. Ta-da! Your ultimate vacation spot is right there in your drawing space.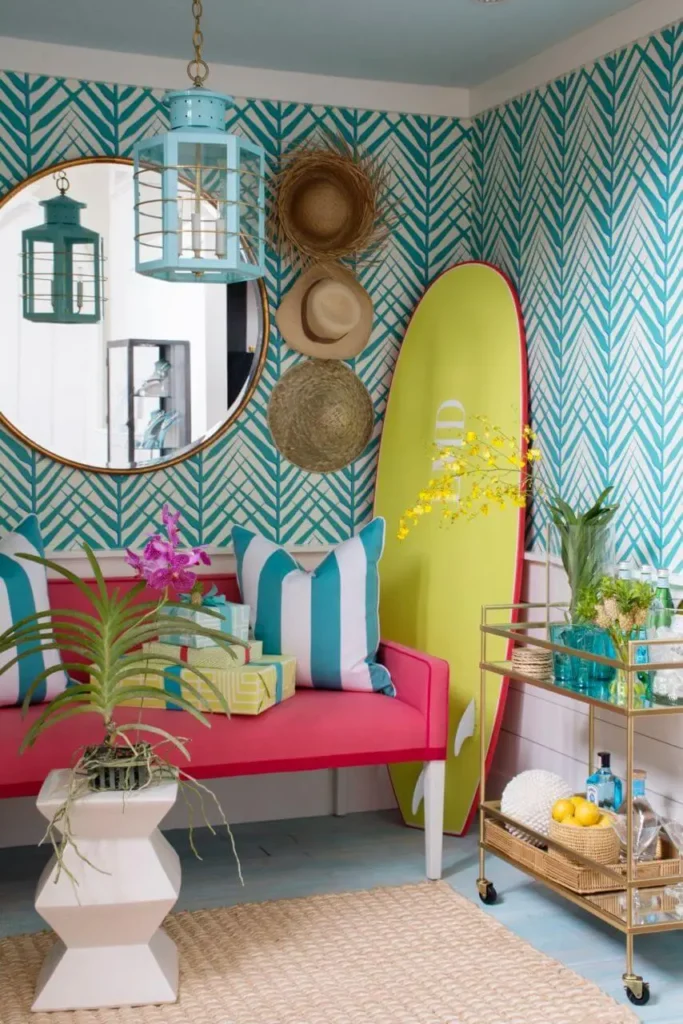 Things to Take Note of When Working on the Living Space Decor
Simply deciding on the look of the living space is not enough. Here are six things that you should keep in your mind when planning a décor:
Condition of the house: You need to know the structural condition of your house before planning a look. Before looking for the best interior design for a living room, consult an architect or an interior decorator who would suggest the best look. You cannot try having an all-cane furniture look in a damp place!
Climatic condition: Like the condition of the house, your local climatic condition is equally important. Try having minimalist designs if you live in a hot climate. Having an all-black living area or one with a royal look will be very uncomfortable in such places.
Budget: Opt for a design that suits your pocket best. Always include the maintenance cost when planning a look. If you are renovating, try upcycling your old things. It will help you with cost-cutting while taking care of sustainability as well.
The materials used: No matter what look you opt for, always choose the best materials possible. They will enhance the look of your room and won't require frequent repairs.
Keep it de-cluttered: Keep away from hoarding and keep your drawing area decluttered. It will enhance the beauty of the space while giving you ample free space.
Try to be eco-friendly: Do your bit to help the environment by opting for eco-friendly products. You can also use as many solar electrical appliances as possible. They will enhance the beauty of your space. Additionally, they will also help you cut your electricity bills.
The Final Say
No matter what look you decide on for your drawing room, be sure to keep your space comfortable, cozy, and easy to maintain. Be sure to consult a professional decorator to get help with the best style selection, budget, and proper execution.
Let us know which of the above interior design ideas for a living room you loved the most. Take care and see you next time!