21 Outdoor Small Balcony Ideas to Help You Think Big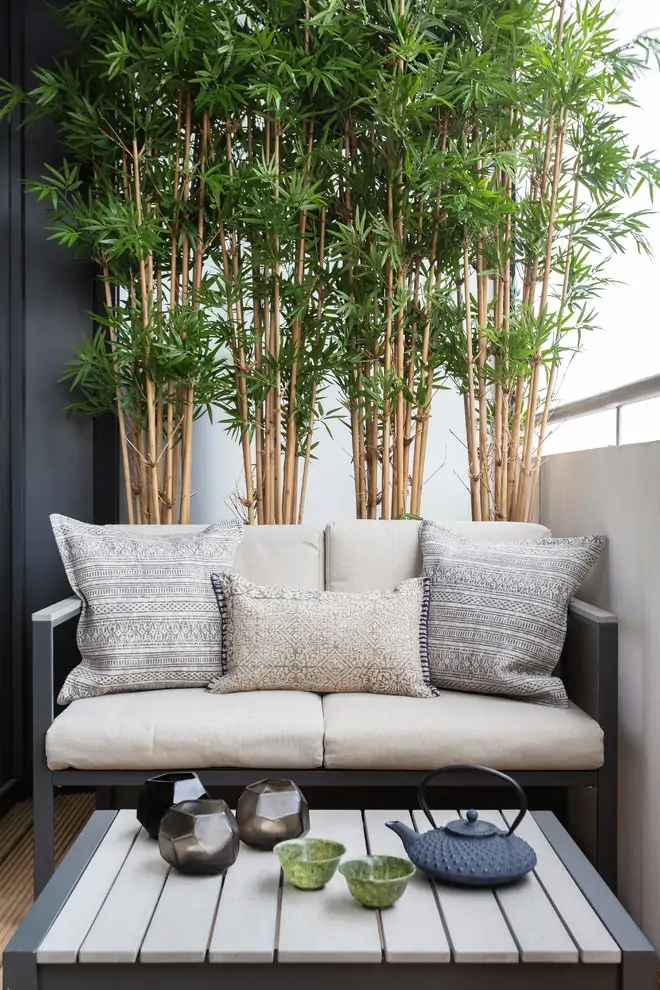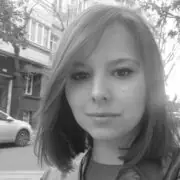 It may seem like there are not many fresh design solutions for a terrace if it's not a large one, but if you take a look at some outdoor small balcony ideas, you'll realize you can still do quite a lot with yours — even if you're pressed for space.
1. Nothing's Set in Stone: Going Mobile
Buying a folding furniture set is one of the ideas for a small balcony that are pretty obvious — which doesn't make them any less worthwhile. This way, you set up this area to be very versatile: sit down and have a quiet breakfast, or put the furniture away and bring some house party guests to enjoy the fresh air — there's space for both!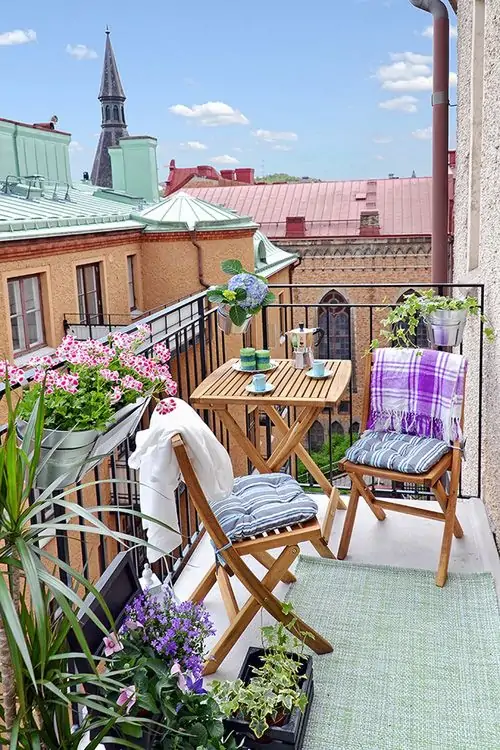 2. There Is No Spoon… or Table: Another Idea for Fans of Flexibility
If you don't want a whole folding set, getting a fold-down table is among the best small narrow balcony ideas: this way, instead of having to squeeze past the table every time you want to sit down, you can just tuck it away when you're done with your meal or coffee.
3. From the Floor Up: DIY Place That Looks Great
When it comes to small balcony ideas on a budget, this one won us over: not only does wooden decking make the space cozy, the stone-filled seams make the design more interesting, proving that you don't really need a lot of money — just a lot of heart.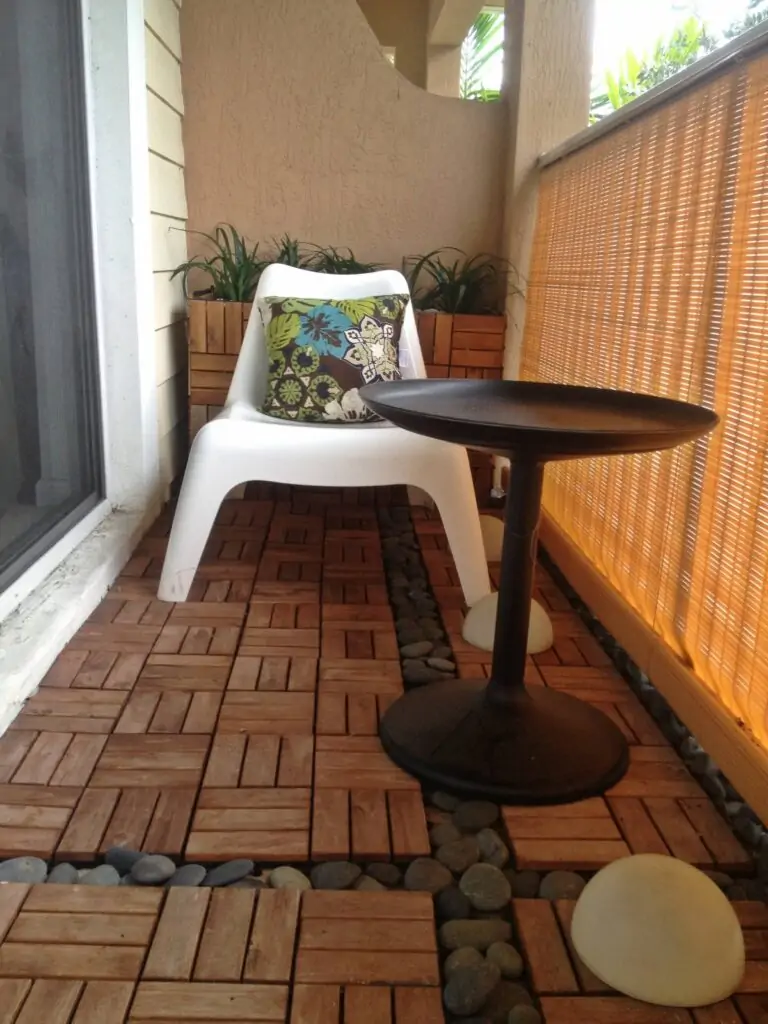 4. Boxing Day: New Life for Old Crates
Here's another way to DIY your design. Small balcony ideas often include using pallets or crates (or their parts) repurposed as furniture since they work very well in this setting: they are the right height, easy to decorate, bring a fun rustic vibe into the design — and, last but not least, are quite cheap.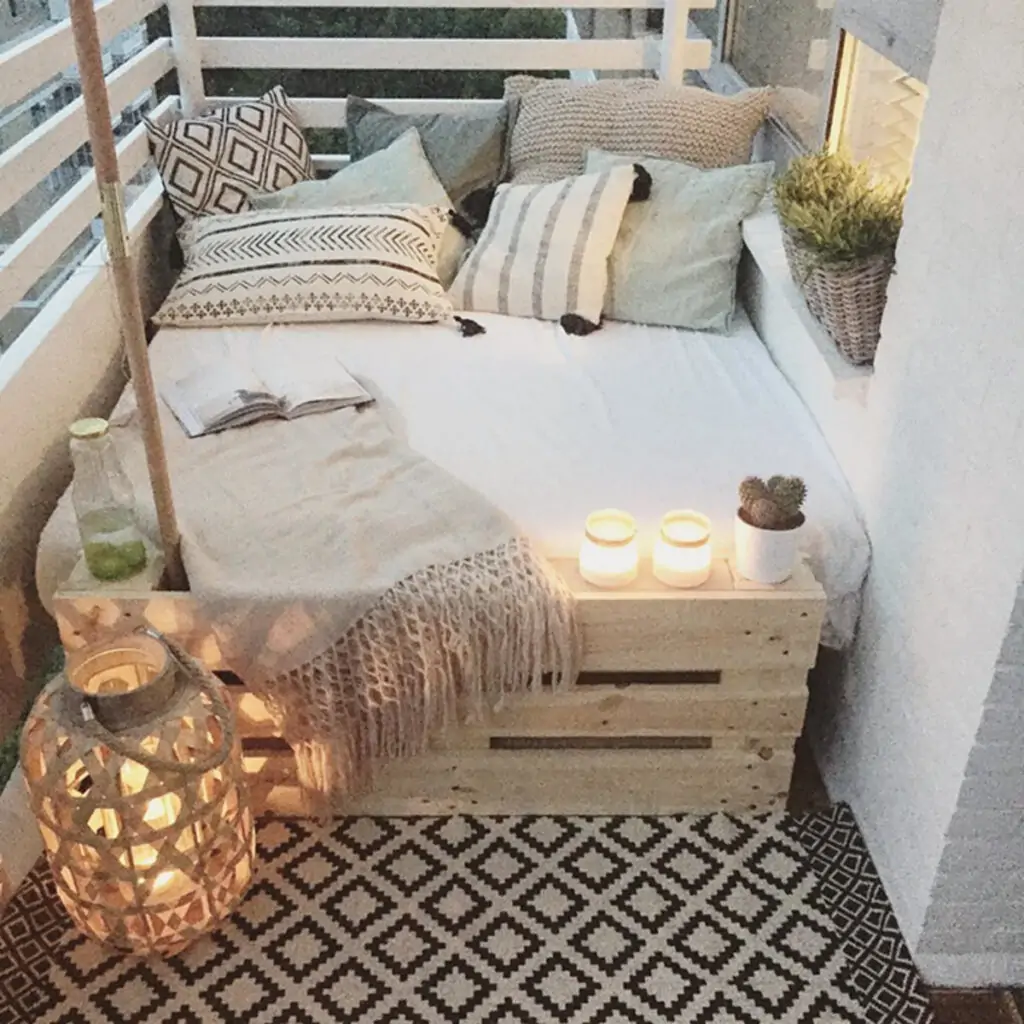 5. Changing Your Stripes: A Lesson in Color Choices
Speaking of ideas for privacy on the balcony, putting a cloth to hide whatever happens in this place might seem like a boring solution. But it's easily remedied if you choose the right color palette for the cloth. Here, sunny orange and white stripes create a playful mood.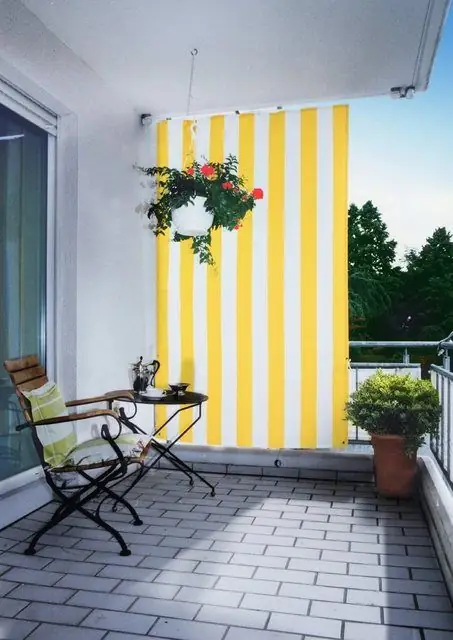 6. A Secret Garden: Beauty and Function Is a Great Combo
If you're looking for some more outdoor balcony privacy ideas, consider putting in a planter wall like this one: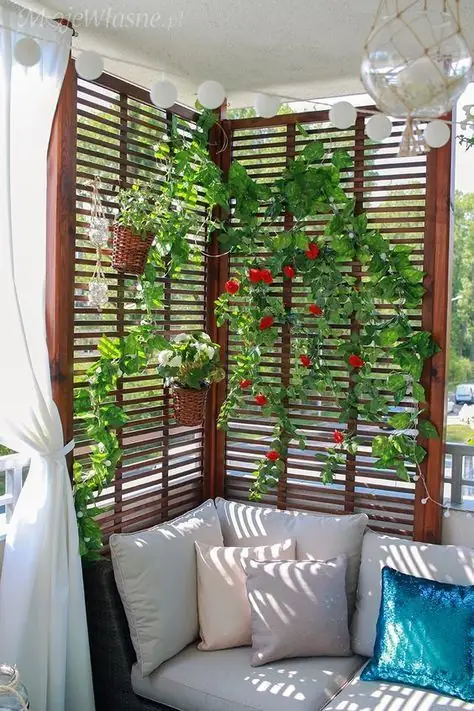 You can fill it with as many or as few flower pots as you like — which would serve as a decoration and a way to hide what's going on in your space
7. Vine, Don't Whine: Lush Green Space to Make You Feel Wild
In general, planter walls are a winning design feature for outdoor spaces of any size. There are so many plant varieties and their combinations that it's hard to choose any particular idea — although we really like vines and climbers.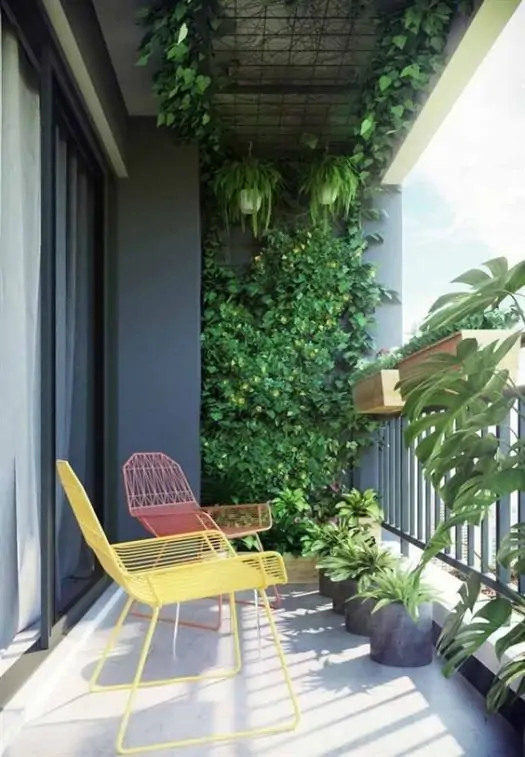 8. Now for More Original Ideas for Small Balcony: A Bouquet Of… Bamboo
Packing your outdoor terrace choke-full with greenery is a surefire way to make it look nice. But what if you're looking for more unique plant ideas for small balconies? This one looks very nice in its simplicity: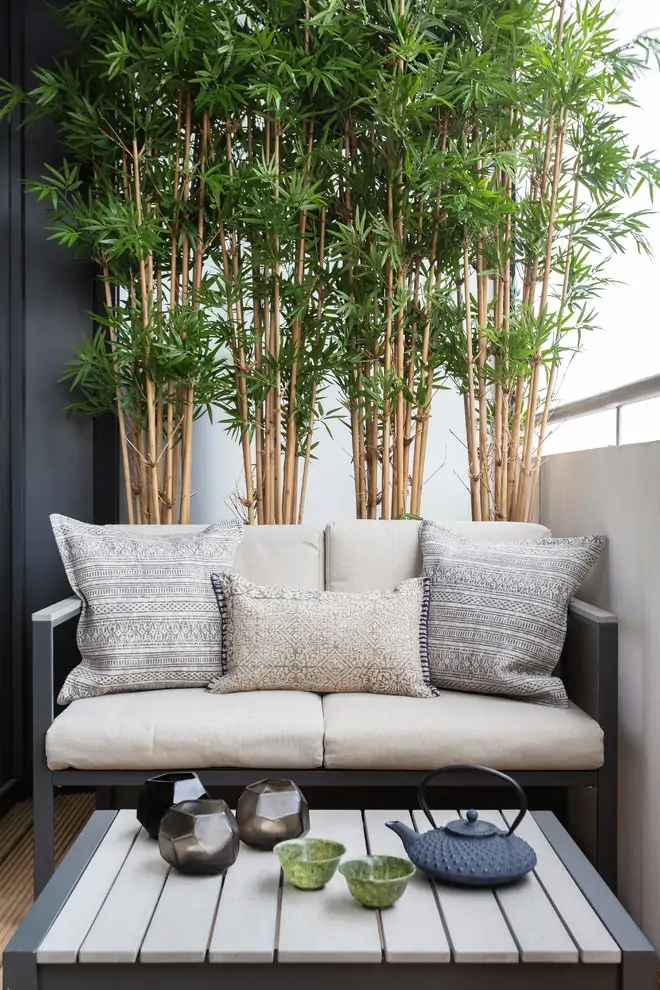 The bamboo bundles are strangely reminiscent of columns while simultaneously bringing some fresh greens into the mix.
9. Age Is but a Number: Don't Be Scared of Mixing the Colors
If you don't have much square footage — one way to compensate is to use colors! Small space balcony ideas like this kids' space are great because they don't require special skills to build or even a lot of furniture. Just put your imagination to work!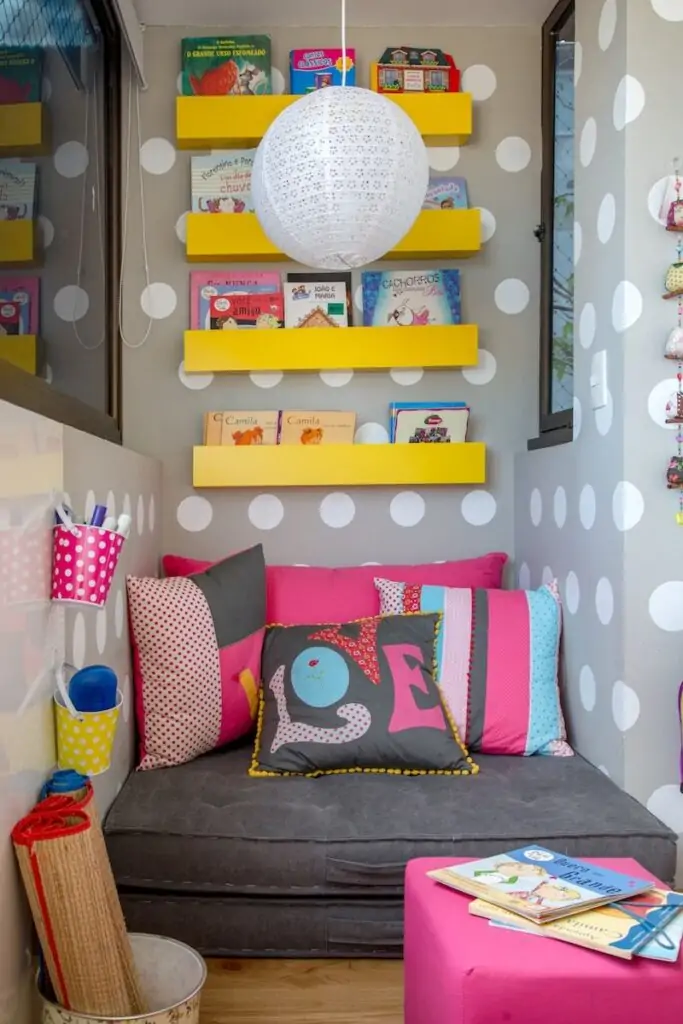 10. Hang on and Hang Out: A Space with a Royal Seat
In contrast, this idea for a small outdoor balcony design does put a piece of furniture front and center: a hanging chair provides a place to snuggle while going for some fresh air. What a way to transform the whole feel of the place!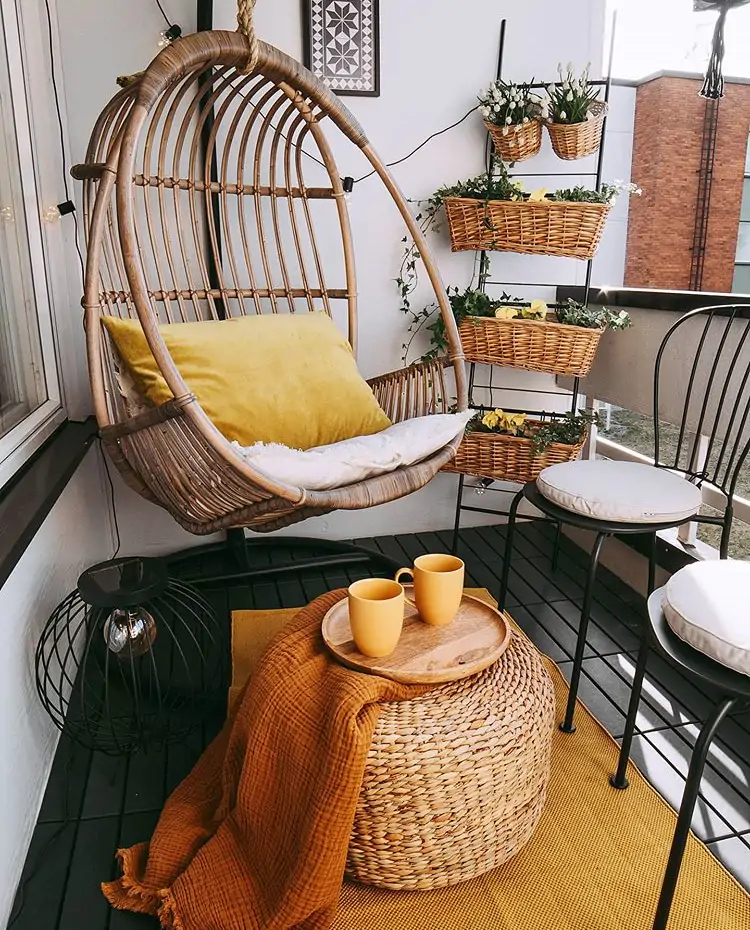 11. Nooks and Crannies: Balcony-Turned-Bed
If your terrace is really tiny, you can transform the whole place into a lounging area. A mattress, some pillows, and some plant boxes around the railing — what else would anyone need to kick back and relax?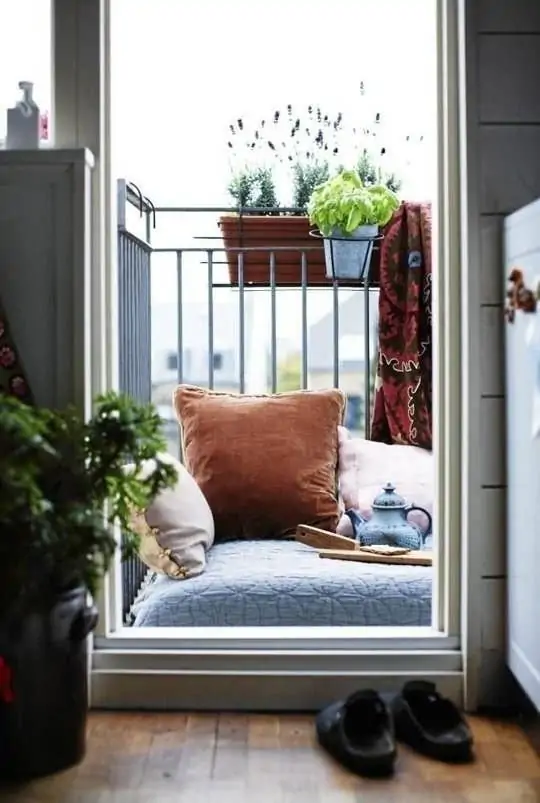 12. (Not So) Blinding Lights: A Little Detail That Does a Lot
You can put a lot of energy into thinking about how to decorate a small outdoor balcony in your home, but something as simple as the proper lighting is often a necessary touch to bring it all together.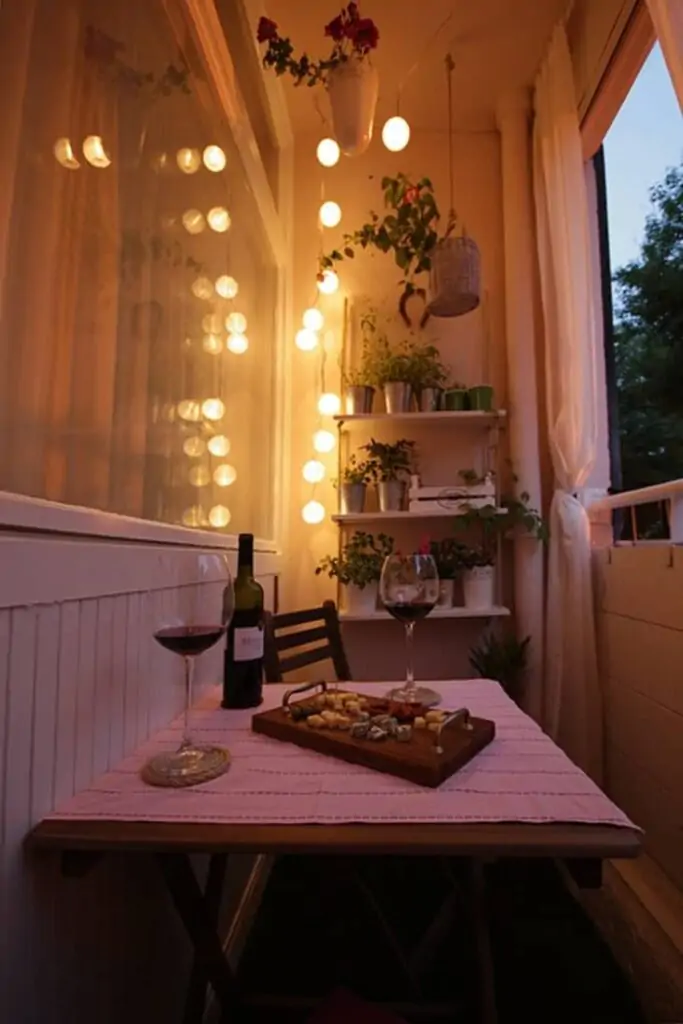 13. So Many Things to Do: A Cozy Lounge with a Twist
A patio adjacent to your apartment is basically an outdoor terrace, so if you have one — you can apply the same decorating rules to it! One of the ideas for small apartment patios that we like is turning the space into a lounging area with extras: a pizza station and a movie projector.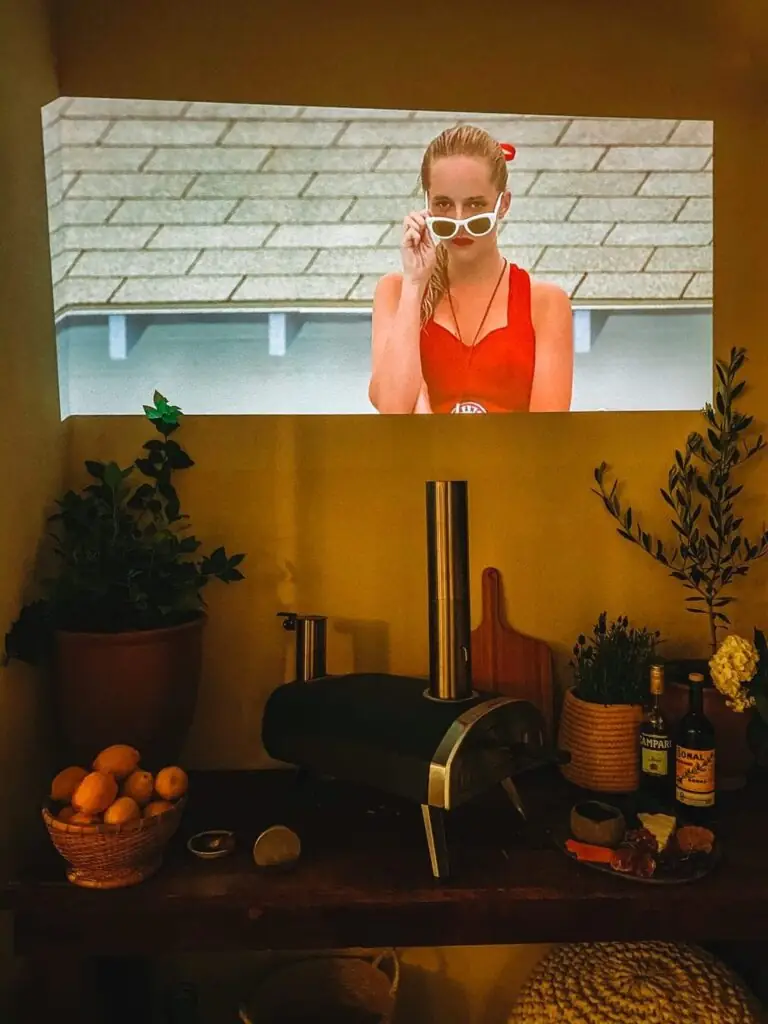 14. It's Quite Easy Being Green: A Colorful Touch
Even if there isn't a lot of space in a physical sense — there's always space for imagination! Putting in a few exciting details goes a long way, as evidenced by ideas for small balcony decoration like this one.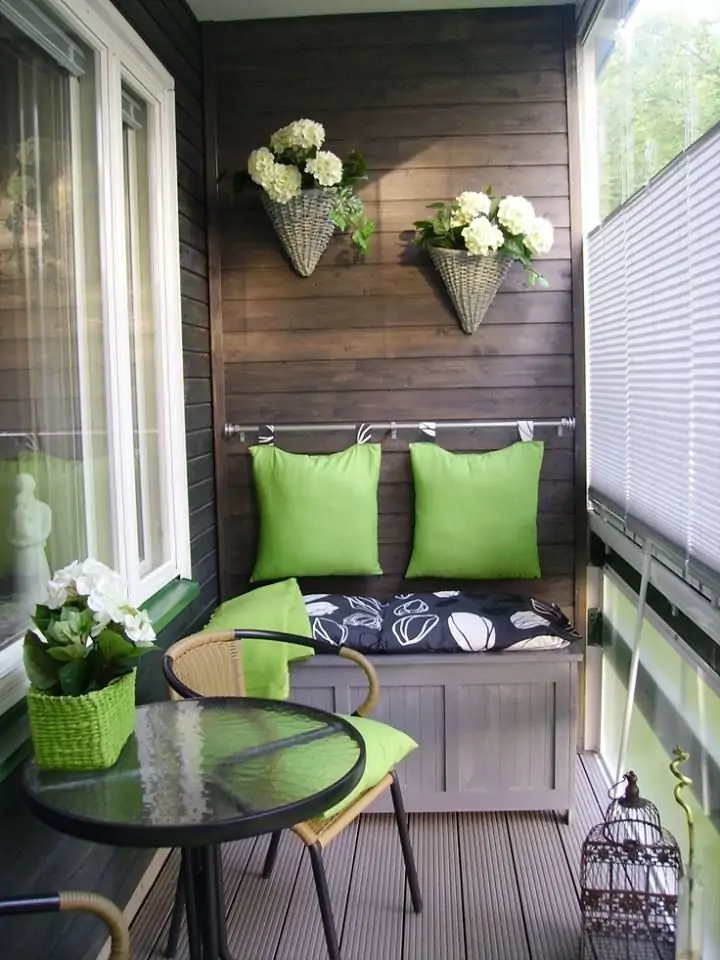 15. Work from Balcony: WFH, but Better
There are many beautiful and functional small balcony office ideas, but we choose this one for its originality. Instead of putting in a classic work desk, the setup features a long table hanging from the railing. There's enough space on the table — and a way to enjoy the view right from the work chair.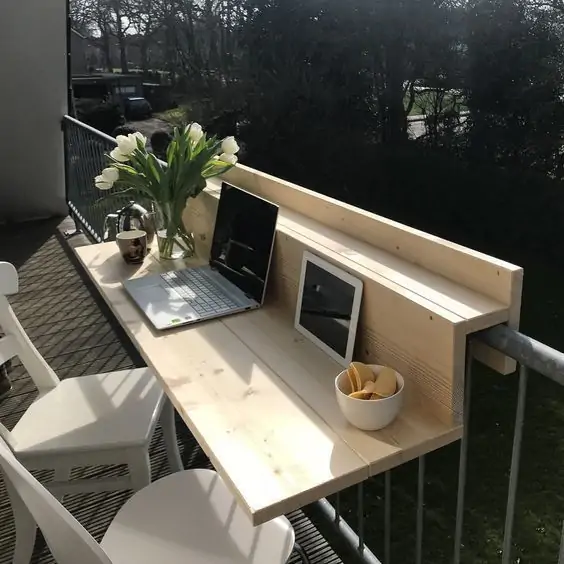 16. Is This Seat Taken: A Railing Bar
You can go even further with the idea of putting tables onto railings: just turn yours into a bar! You can use it for breakfast or spend time over cocktails in the evening there, like a regular outdoor bar, but it's all yours — to do as you please.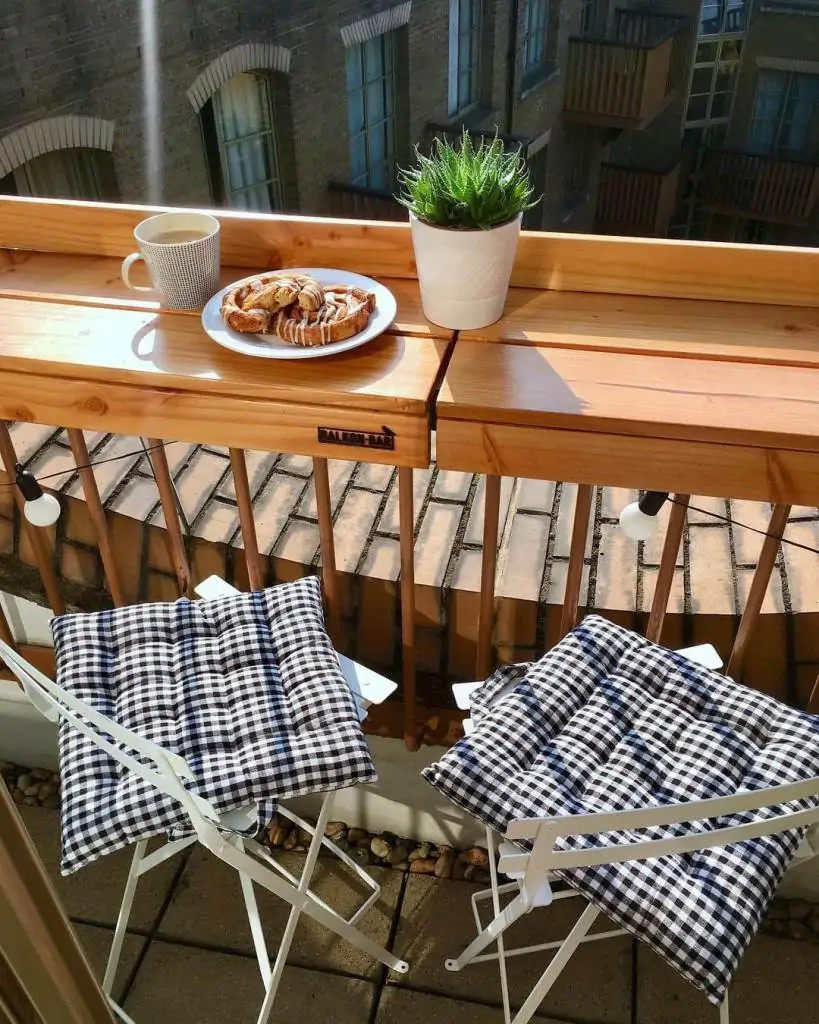 17. Zoning Committee: Make Parts That Make a Whole
Small long balcony ideas are slightly different than those for the more regularly-shaped spaces. You still have to be mindful of your furniture's size so that you don't block the passage, but you can easily create several zones, dividing the space lengthwise.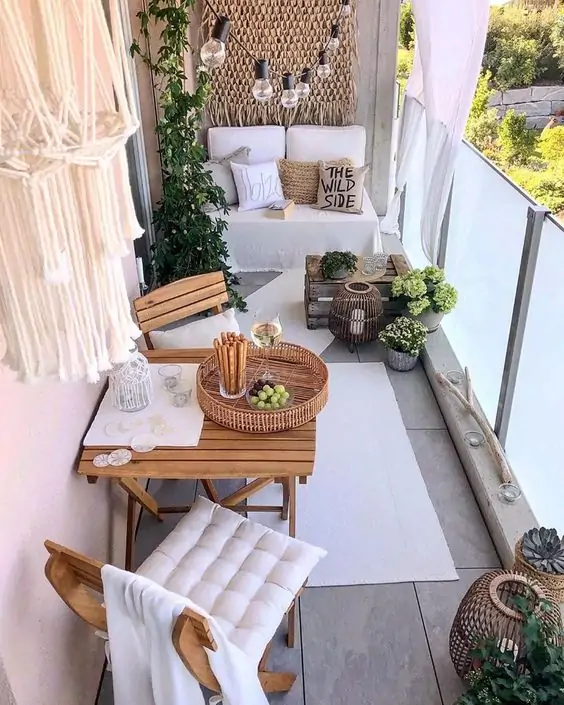 18. Balance Substance with Style: A Boho Paradise
As far as small balcony patio ideas go, this one is undoubtedly among the more stylish ones. The rug makes the space cozy and matches the covers and pillows on the couch, adding to the boho style. The numerous decorations and the bamboo fence complete the picture.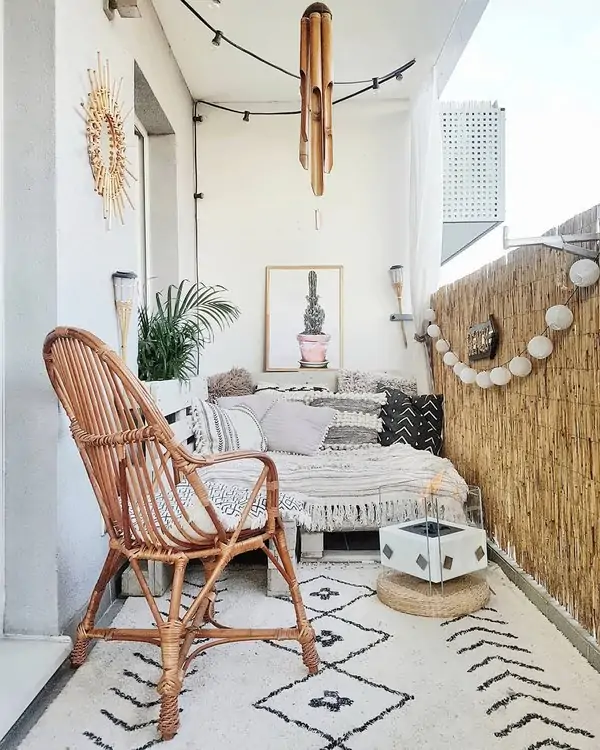 19. Full of Secrets: Where to Put Your Things When There's Not Much Space
If you're a fan of the efficient use of every inch of the available space — you'll probably love this idea! A long bench also functions as storage — and as you can see, you can fit quite a lot inside.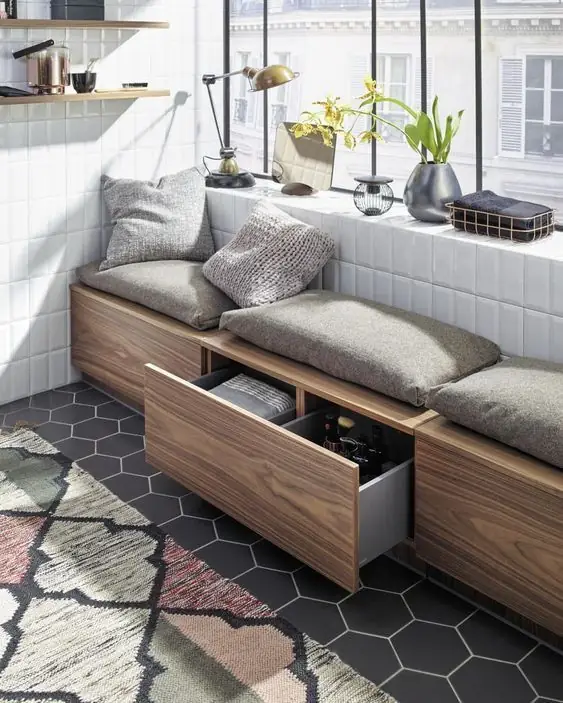 20. Putting "Fun" into "Function": A Place to Relax (And Do Your Chores)
For those who like creative solutions for making their mundane tasks more fun, this may be a perfect one! Combining an outdoor terrace and laundry room certainly saves some space, still leaving a lot of room for relaxation.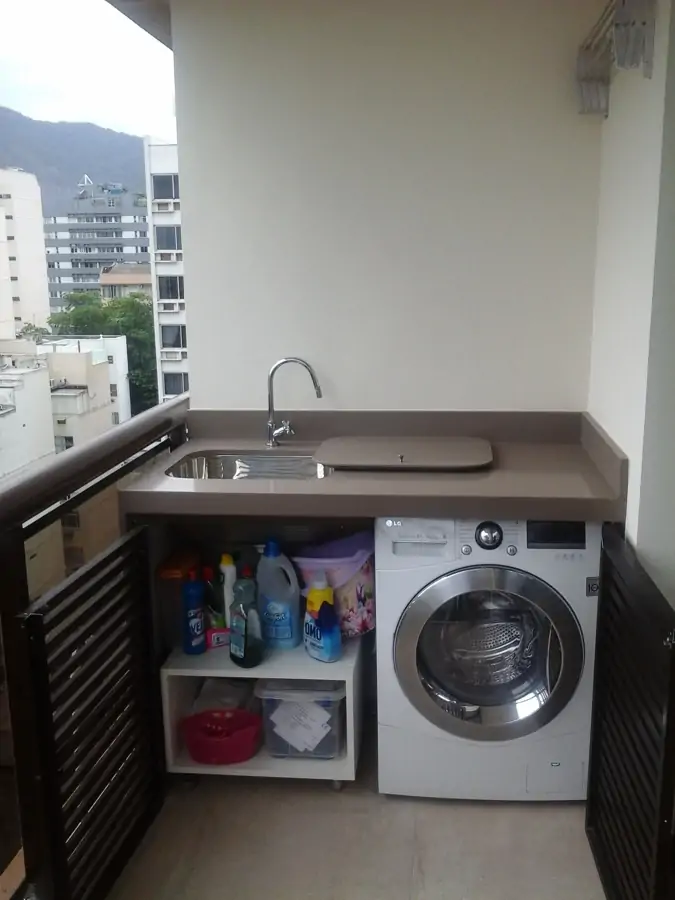 21. The Best of Both Worlds: Bringing the Outdoors into the Apartment
Putting some turf as flooring is one of the most popular ideas for a small apartment balcony: it immediately gets that outdoorsy feeling that apartment dwellers often miss. Here, it's combined with a brick wall that stands in a nice contrast.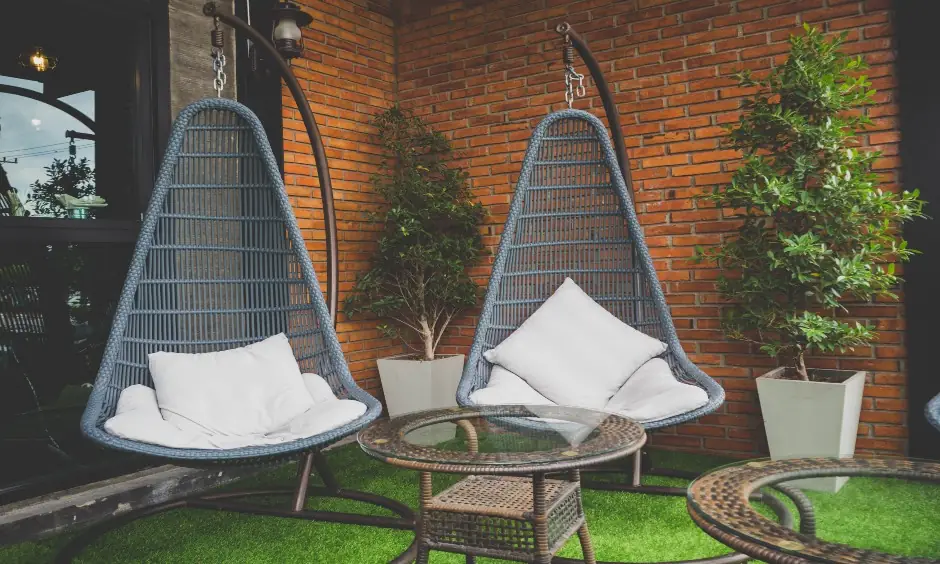 FAQ
What are some ideas to make a small balcony cozy?
Here are some thoughts on how to decorate a small outdoor balcony so that it has a cozy vibe:
Put a rug on the floor
Use seat cushions, pillows, and covers
Put up some privacy screens
Make your lighting soft
Put in some plants
What are some ideas on how to turn a small balcony into a garden?
Put planter boxes on your floor: you can use as much space as you have!
There are many plant ideas for small balconies that utilize the walls (look at the article above for inspiration)
You can hang planters from your railing — it's a great way to use it!
Any ideas for a small balcony sunroom?
Consider putting in some plants to provide shade if needed
Choose some wicker or light wood chairs for a summer vibe
Use light pastel colors so that the place feels bigger
Touch the place up with little bright accents and details
Prepare the space for your hobbies so that you really want to spend time there
For more tips and tricks, take a look at this video:
To Sum Up
If you don't have a lot of space — have no fear! As you see, there are truly a lot of outdoor small balcony ideas. If you weren't convinced before that you could turn yours into a beautiful space. Hopefully, we've convinced you now. Good luck in making those ideas come true — and come back when you need more inspiration for other parts of your home!