How to Decorate a Mantel Year-Round: 16 Ideas from Experts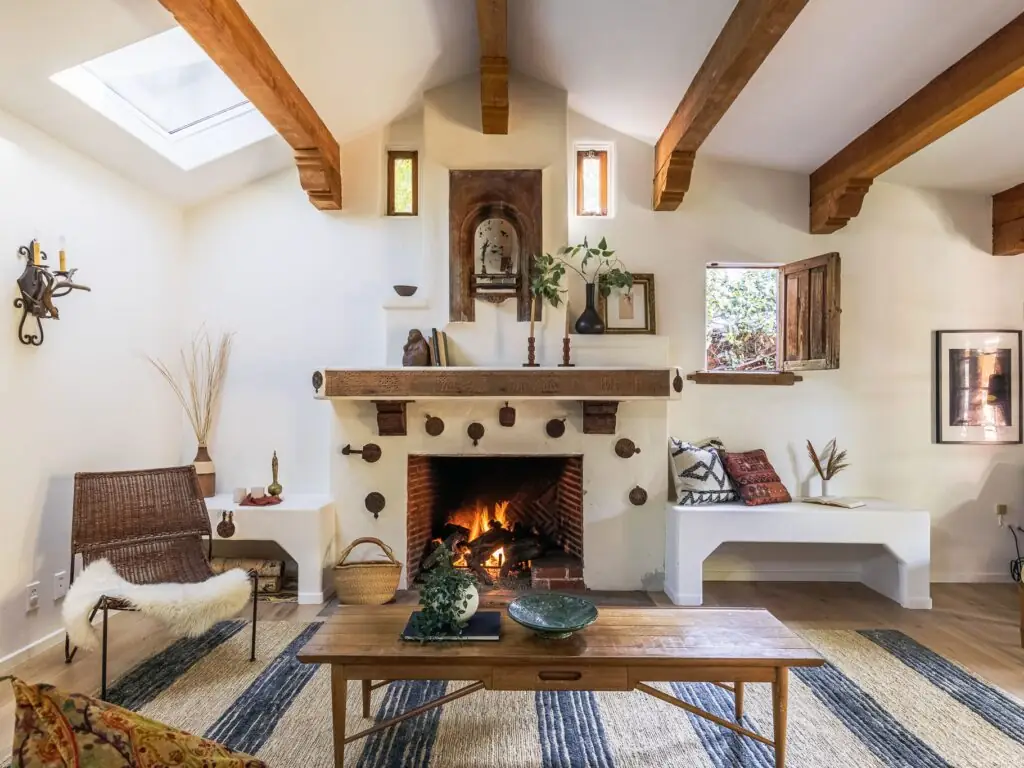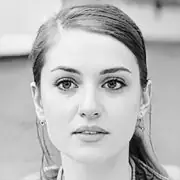 Mantels are the most eye-catching part of the room, so their design should be visually appealing. To help you find designs on how to decorate a mantel, we've collected 16 ideas that will be a game-changer for your space.
Having a fireplace at your living room is like a cherry on the cake, as it can make any space more charismatic and beautiful. Most of the time while searching for designs on how to decorate a mantel, people think of the holiday season. Still there are plenty of ideas on how to decorate a fireplace mantel all year round. So, scroll through the list and make your fireplace a spectacular statement.
1. Use Plants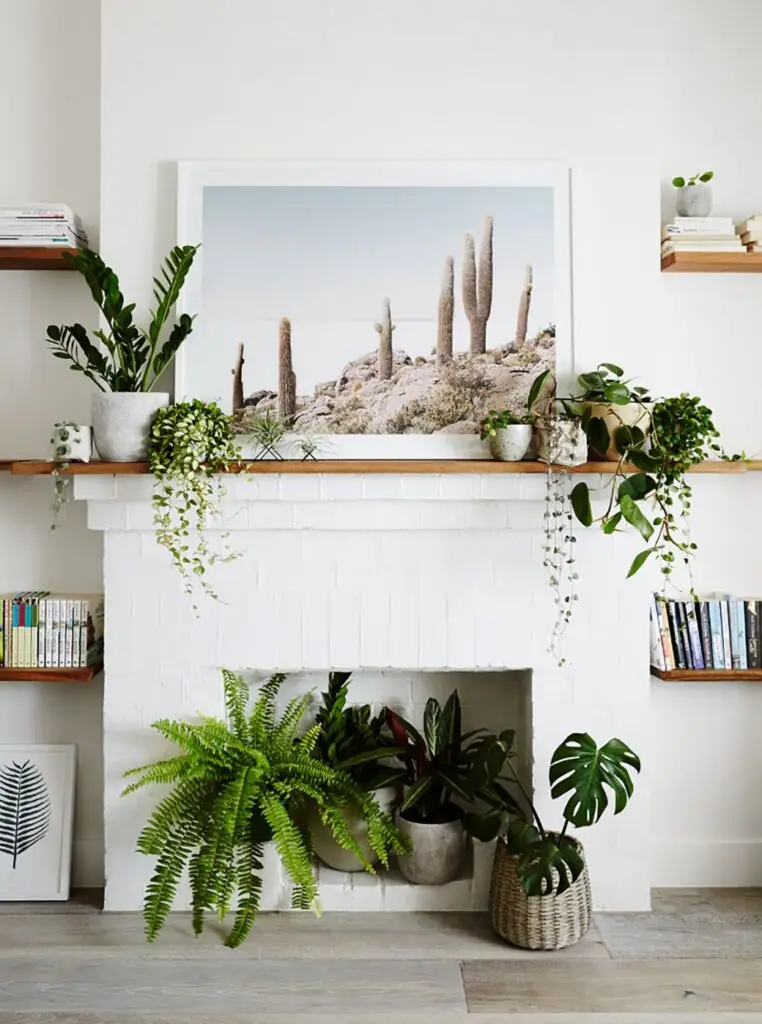 Plants are an excellent decoration for any space and a great example of how to decorate a mantel. They give any place a fresh appearance, and if you love green decorations, they are perfect for you. To make the site even more beautiful, you can choose colorful vases for the plants. However, if your chimney piece is not decorative and you use it as a fireplace, then be sure to select heat-tolerant plant varieties.
2. Add Mirrors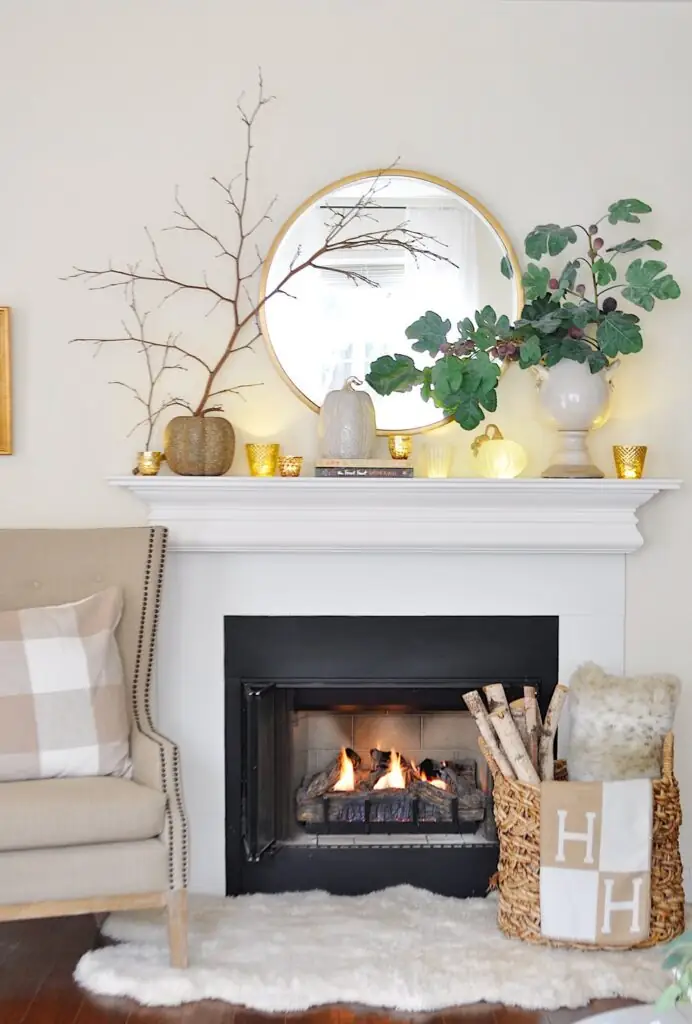 Not only are mirrors a gorgeous element for an interior design, they play a massive role in making the space seems larger as well. They bring natural light to the room, and it is tough to go wrong while looking for ideas with a mirror above it. You can choose a large one that takes all the place, or a small round one and combine it with the artwork. If you want to spice it up more, pick a couple of asymmetric mirrors and place them unevenly. The possibilities are endless! 
3. Use Artworks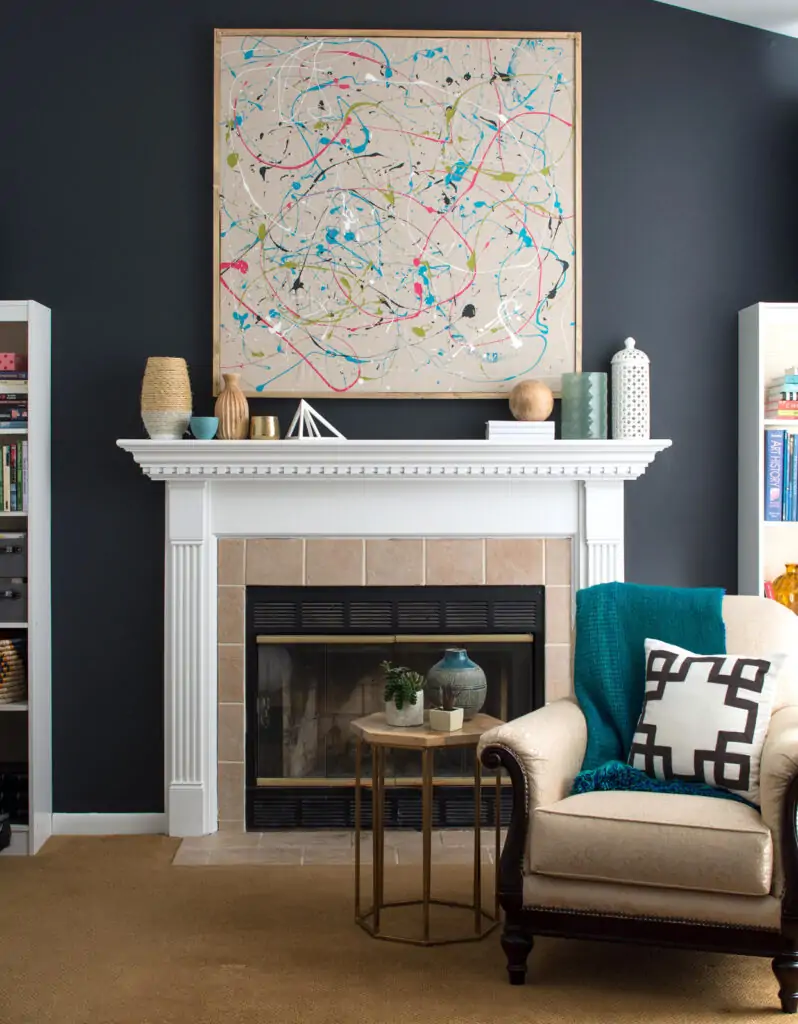 Artworks are the main decorations of a wall. However, if you hang them over a fireplace, they will look more eye-catching and modern. To make them even more stylish, we recommend choosing a couple of paintings of different sizes and hanging them together. It will be an especially fresh approach if you are thinking about how to decorate a large mantel. Choose the right size and position for the piece. Don't use any other element in this case because the artwork is enough. While searching for ideas on how to decorate a mantel, always keep it simple and don't make it too crowded.
4. TV Corner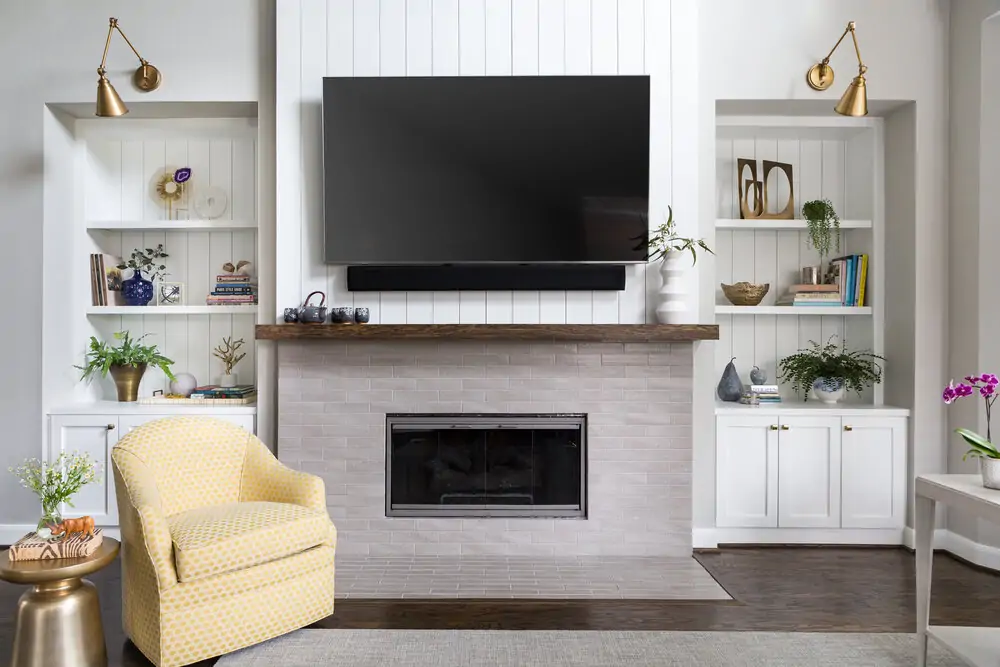 Many people use the space above a fireplace for a TV, which is fantastic. However, it may be hard to style it and make them fit together perfectly. The main challenge is to find the right balance between these two eye-catching elements. Here are a couple of ways on how to decorate a mantel with a tv above it.
Frame TV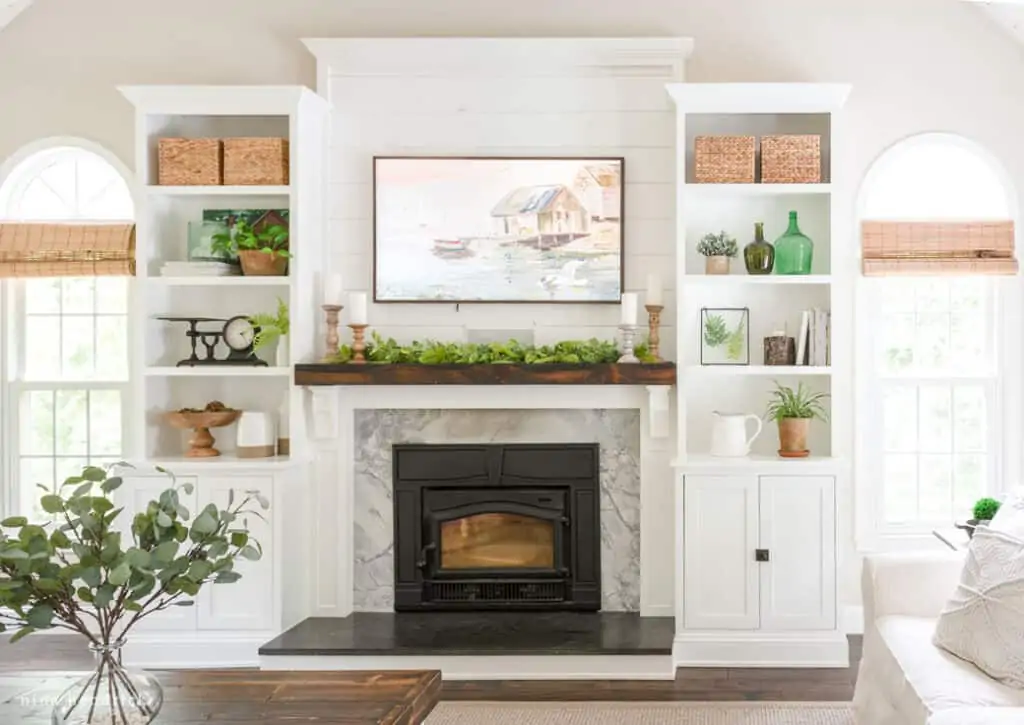 The fantastic feature of frame TVs is that while being turned off, they show beautiful artwork, and it seems that it is a painting that is hanging, not a TV. If you are in search of how to decorate a mantel with a TV and planning to buy a new one, this is the best option. However, it may be a bit pricier than other models on the market.
Built-in Area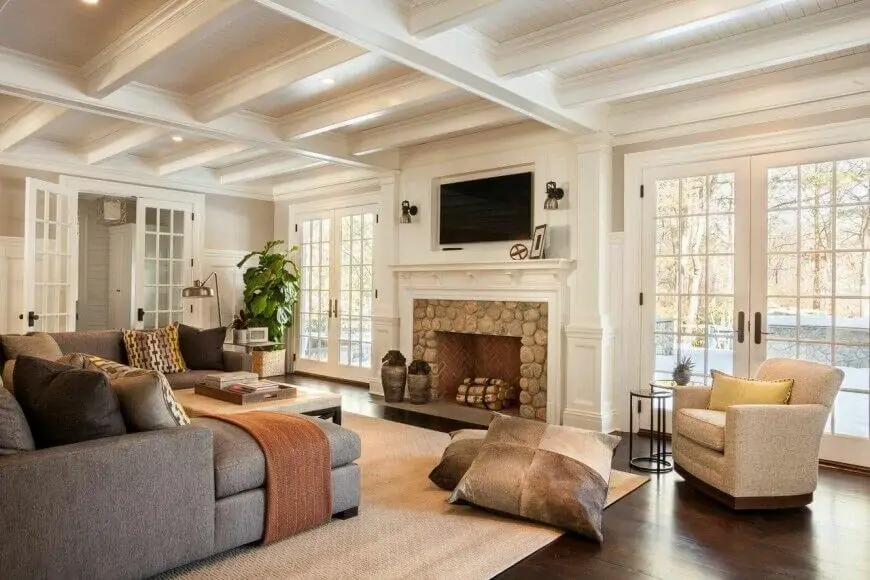 If you have both a large budget and considerable time, then consider having built-in shelves installed around your TV. It will be a great idea to store books, candles, photos, and whatnot in this area. What's more, it can be convenient if you lack space and need more room for different items. Designs on how to decorate a mantel are endless; you need to know your resources (money, time) and simply experiment.
Use Lamps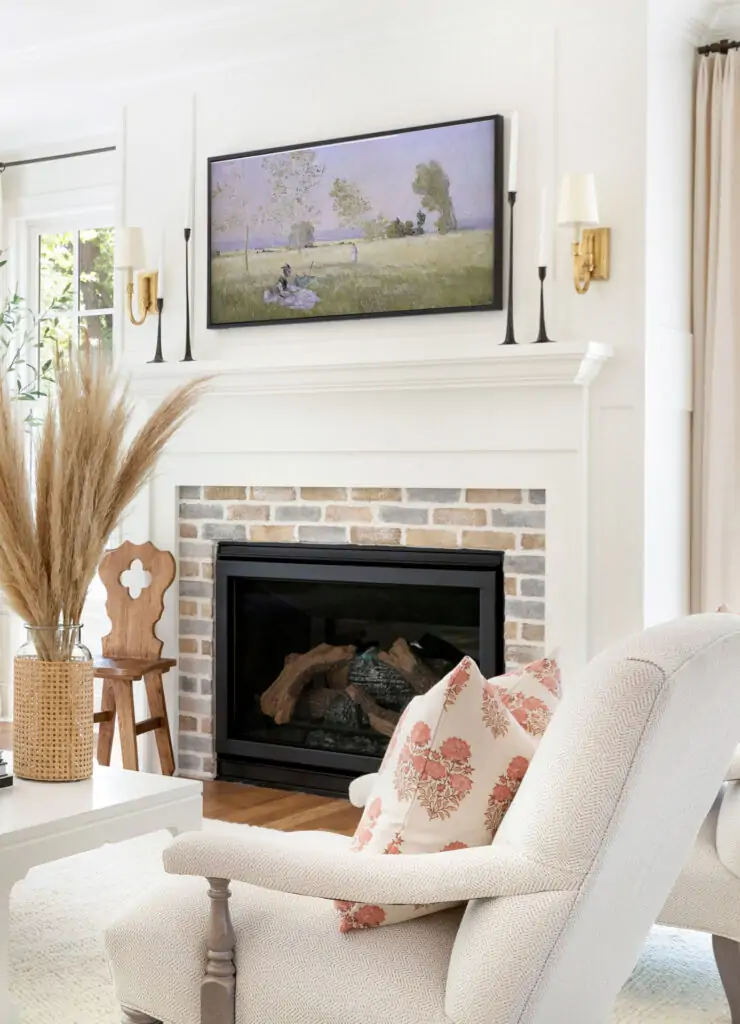 Different lamps, especially sconces, are gorgeous decor elements and a great way to upgrade the look of the place. Not only will they fill in the space: after having hung them, you won't need to add anything else. Sconces have the advantage of being both adequate for any place and minimalistic. In the evening, you can turn them on, then turn off other lights in the room, and watch TV in a cozy and romantic atmosphere. If you install sconces, you won't need to look for other ideas on decorating a mantel with a TV.
5. Prepare for Holiday Season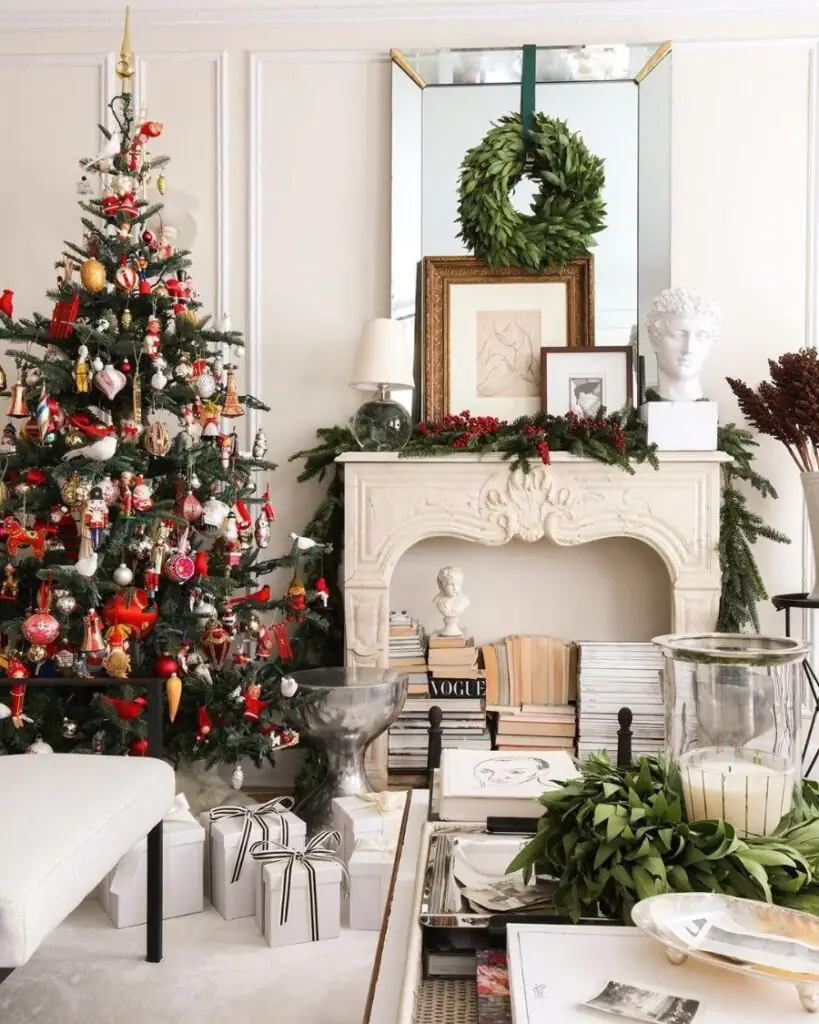 Everyone who has a chimney piece at home thinks about how to decorate a Christmas mantel in the winter season. Fireplaces are primarily associated with the cozy mood of Christmas. There are numerous ways to get the most out of it and make your room the most magical place; some of them are presented below. Santa-approved!
Combine Classic Colors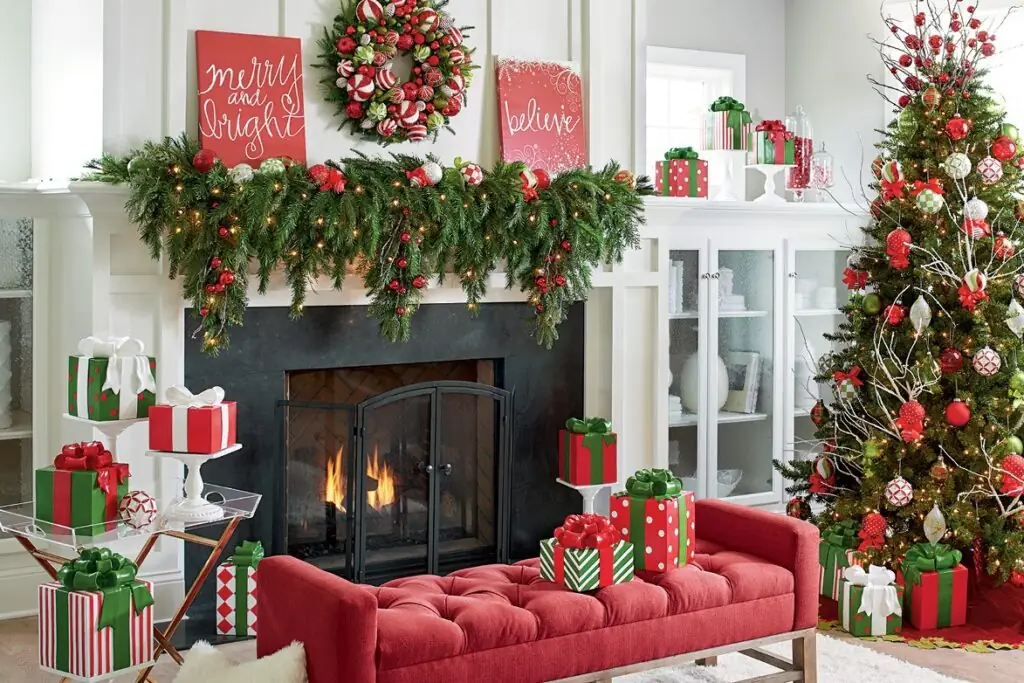 The holiday and Christmas season are primarily associated with red, green, and white colors, so combine those three and make the most festive fireplace out of all. Above it, in the center, hang a green garland with white snowflakes. Finish the look by adding red Christmas stockings so that Santa knows where to put presents! You can also add the natural leaves of a Christmas tree on the mantel, adding a great fragrance to the room.
Farmhouse Style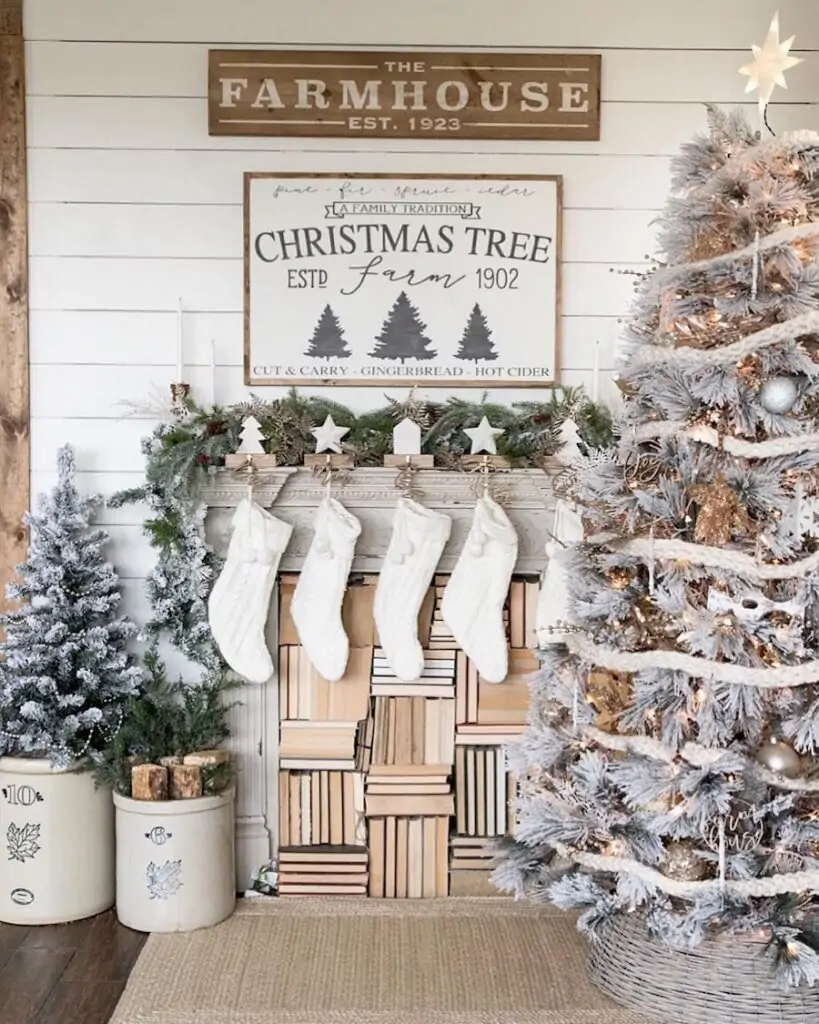 If you want to find ways on how to decorate a mantel farmhouse style, then the holiday season is the exact time to implement such a design: put green garlands and tiny houses on top of the fireplace. Place a big sign with something written on it or a wooden clock in the center. You can also add some rustic accents to finish your farmhouse style.
Use DIY Decor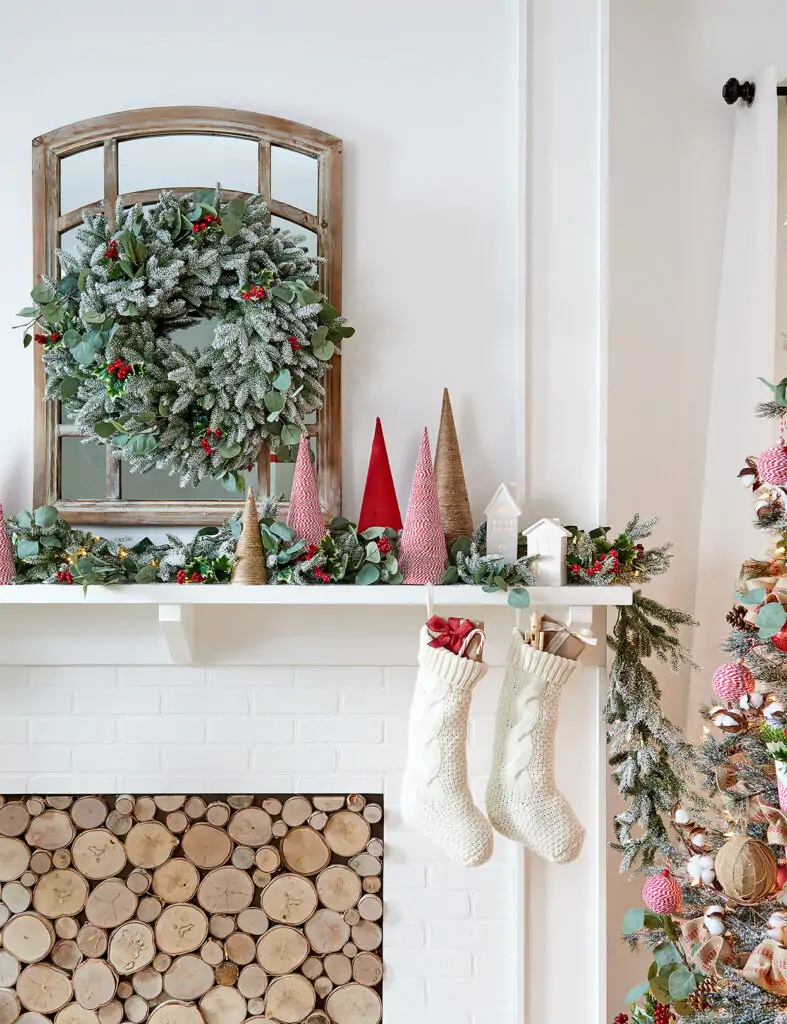 Christmas is the time of the year when all family members gather together, and you can use this opportunity to make decorations using the combined effort of the whole family! In addition, if you are on a budget and thinking about how to decorate your mantel, DIY options can be of help. For example, you can make a plaid sign and hang it above the fireplace. Another idea can be to make your garland with real and faux greenery, like Kelly Rinzema showed in her blog.
6. Book Corner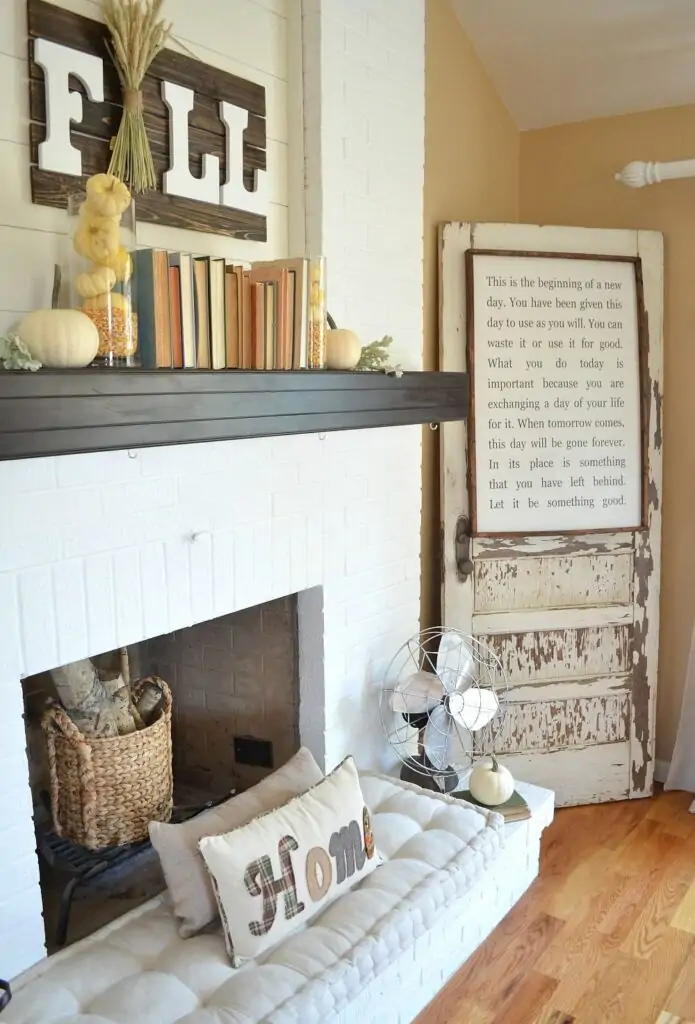 Are you a book lover and want to know how to decorate your mantel? Then you need to combine these two aspects of your life. If you have too many books and don't know where to store them, turn your attention to the fireplace. You don't need to build unique shelves; place the books on top of the chimney piece the way you want. After this slight touch-up, your living room will feel like an old-timey library. Creating a library corner will be an even better idea, especially if you wonder how to decorate a long mantel.
7. Clock Decor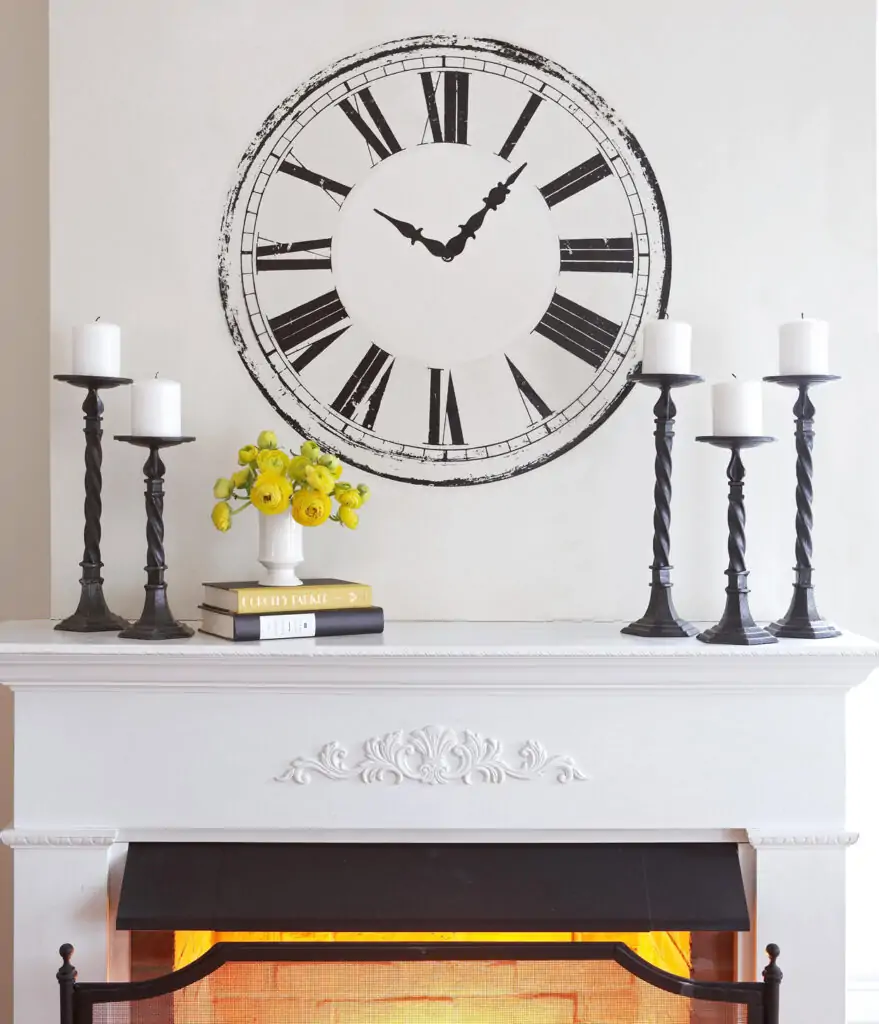 Nothing beats a nice, old-fashioned large clock for decoration! A clock is a beautiful method to cast back to simpler times for individuals inclined toward traditional or country decor. Use a massive clock as the main statement and dress it up with other elements such as vases with flowers or photos. If you like changing specific interior designs during different seasons and need an idea on how to decorate a mantel for the fall, then this is exactly what you need!
Discover more ways how a simple mantle clock can add timeless charm and practicality to your home decor with our wall clock decoration ideas.
8. Try Layering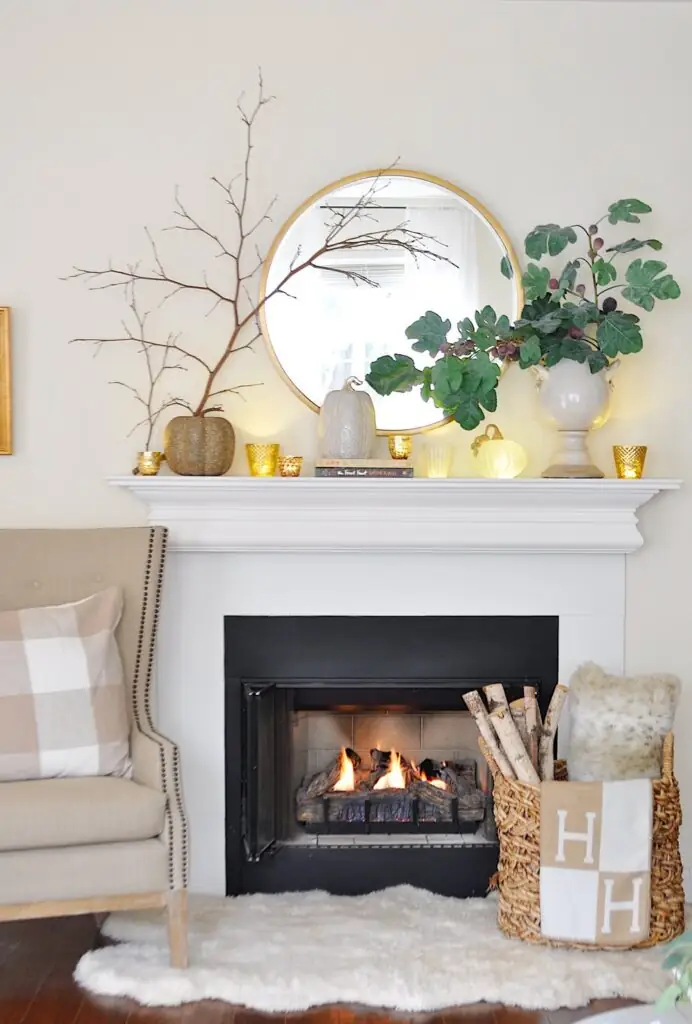 Though massive decorations catch an eye, If you like to gather a few more minor framed works, you don't need to spend on large art pieces. Blending small elements adds depth and complexity to the scene. However, the vital part of this situation is that it may be easier to make the place seem overloaded. So, ensure the pieces have enough area to breathe and don't overlay. Try to layer the decorations to stand out rather than blend in.
9. Place Photos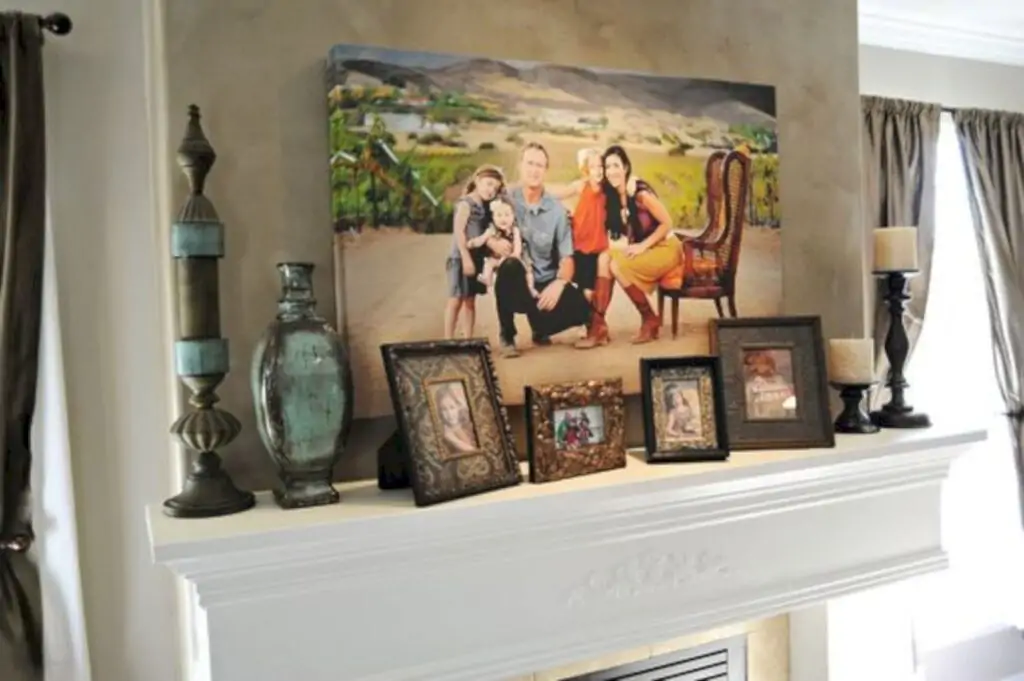 Fireplaces are a famous place for placing framed family photos. You can hang them both above the fireplace in an asymmetric design or put them on top of the chimney piece. All the family members will appreciate this idea, as it is not only beautiful but also emotional. While choosing ideas for decorating a mantel, remember that every design is more beautiful with personal elements.
10. Pick Candles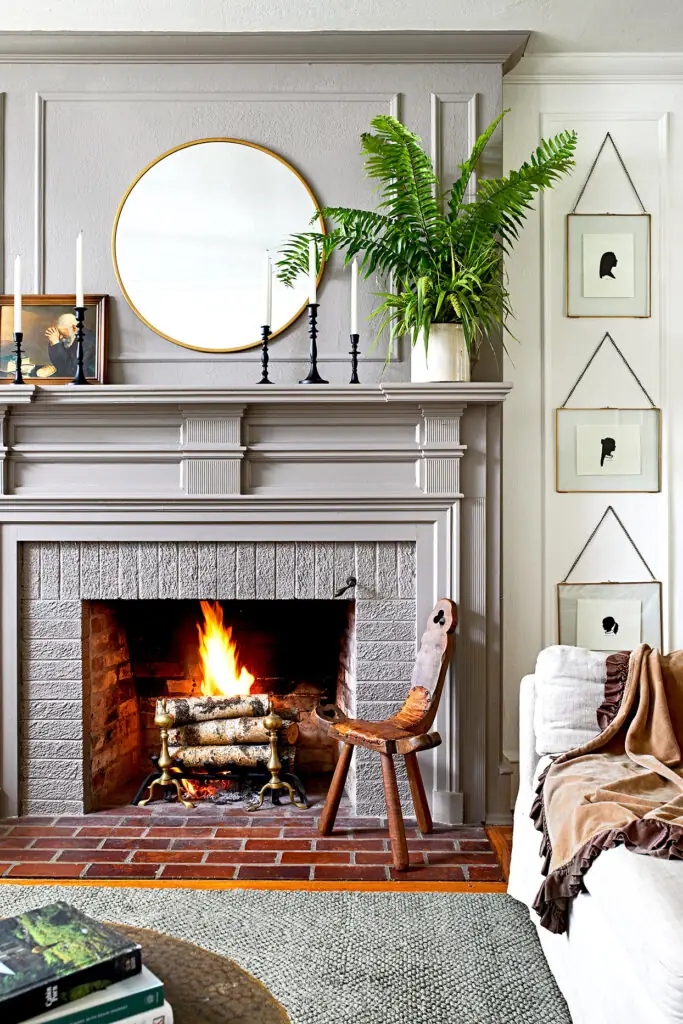 Candles are a significant element to make the place look more traditional and classic. Even if you do not light them, candles are a simple way to dress up your fireplace. You can look for them in thrift stores or online sites. Many places represent candles in numerous designs, so you can find something which fits your interior design. Also, there's no need to match the outlines of the candlesticks; mismatched looks fantastic as long as the metal remains the same.
Conclusion
The fireplace is usually the center of the room, which must be accented with style. It is the perfect eye-level position and shows your style, whether it's modern or traditional. Whether you're seeking to maintain your farmhouse design style or create a more modern, minimalist aesthetic, this list of ideas will be the first step of your journey on how to decorate a mantel.