31 Ideas for Covered Patios That Will Make You Fall in Love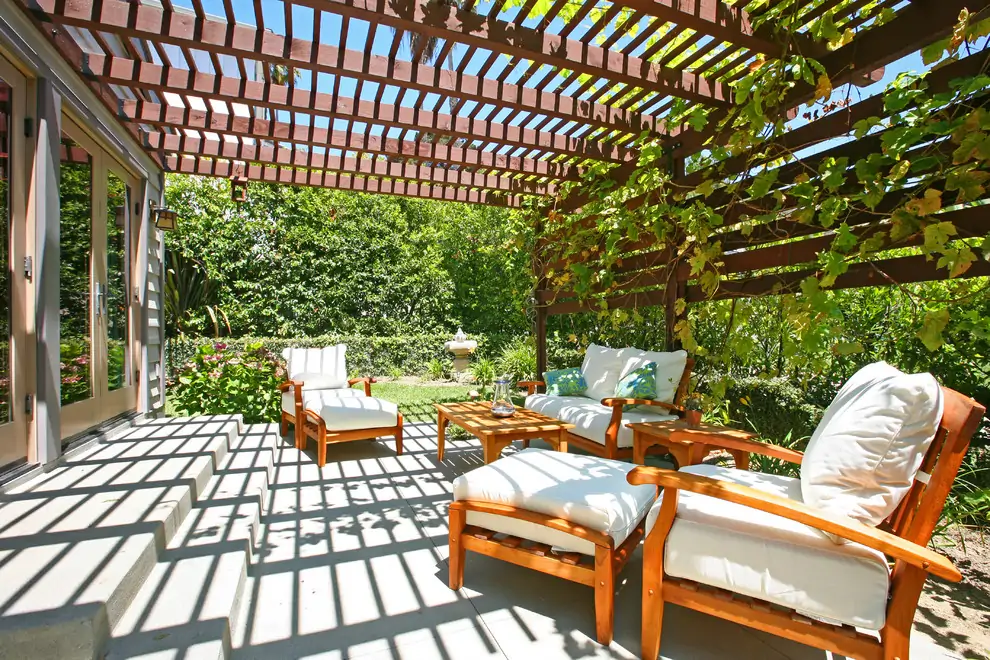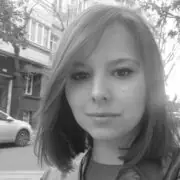 Whether you're just starting to plan to build a patio or already have one, one of the best ways to improve it is to research some ideas for covered patios and put a roof above: a cover will protect you from the sun, the rain, or even snow, letting you enjoy this space in any season. Think how much more time you can spend in the fresh air that way while staying in your own backyard. So, if you ask us: "Is a covered patio worth it?", our answer is a resounding yes!
To start planning, you should consider the climate, your budget, the available space, and the style you'd like to showcase. There are many types of covered patios: the ones under a home roof extension or standalone ones, pergolas, gazebos, made of glass, wood, fabric, or metal — there's a variation for everyone.
Of course, even if you've already made some key decisions about the way your patio should look, there are still so many ways to do it! So we gathered some covered patio roof ideas to inspire you or help you narrow your choice even more. In other words, we got you covered!
1. Back to Basics: A Classic Pergola
If you're able to grow some vines or other climbing plants, one of the obvious options for covering patios is building a pergola. There are variations for every style and budget — and even the seemingly plain ones, like this one: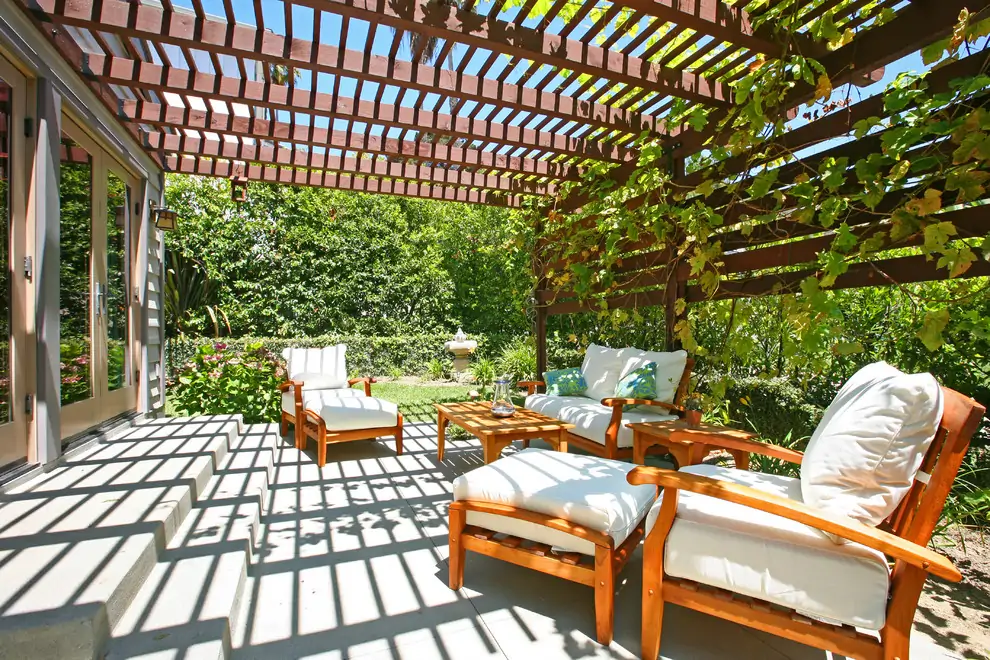 Elegant and exciting, it will look amazing in bloom. Throw in some simple furniture, add some lights, and you're all set!
2. Plants Are All Around: A Living Roof
This is another pergola example: here, the roof is more a part of the decor than a real cover from the elements — but it looks amazing.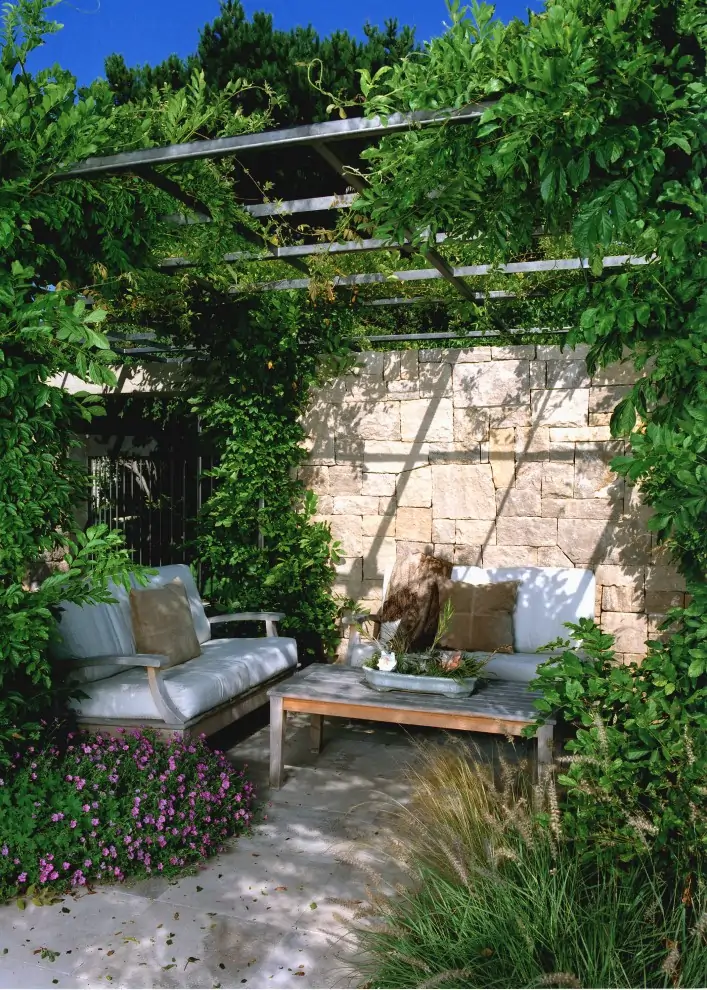 This is one of those covered patio ideas that can be done on a budget, especially if you have a green thumb: use an existing structure like a fence or a wall, plant some greens and get some chairs, that's it.
3. Oh, It's One of Those Covered Patios With a Fireplace: Rustic Luxury
Of course, you don't have to restrain yourself: if you can fit in both a dining table and a lounge area under one roof — why not do it? There can even be a fireplace!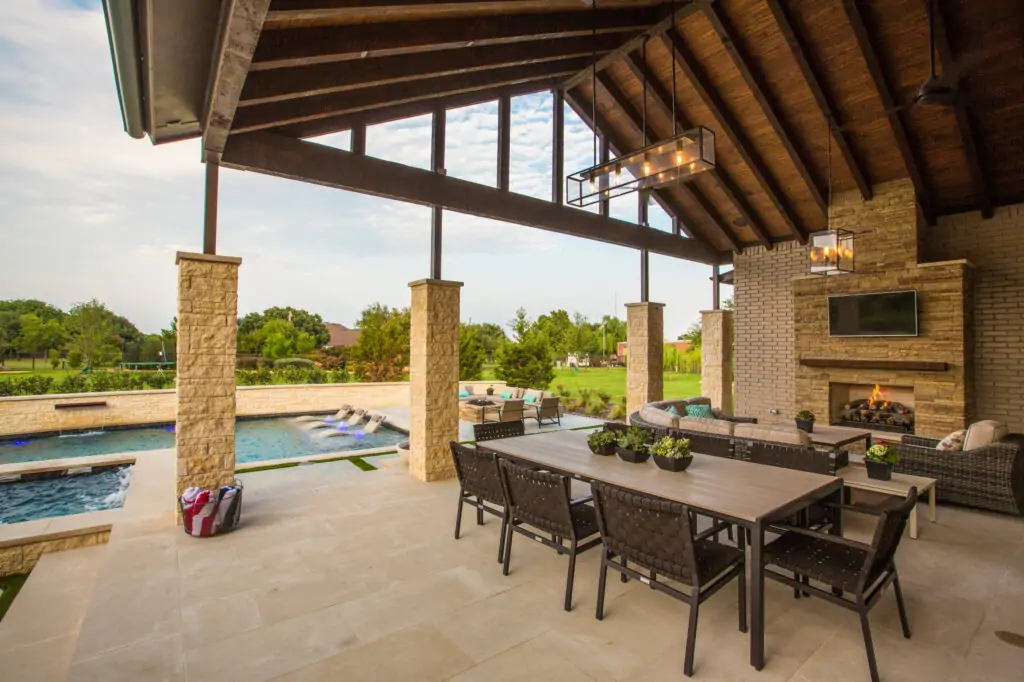 For those folks who are not pressed for space, here's something bolder: this ranch-style patio, covered with a classic A-shaped roof, is sure to inspire.
4. Gazebos Need Some Attention, Too: Standing Alone
There are no rules about where patios have to be situated within a backyard. A gazebo counts too!
This one beckons you with its soft lighting, a rustic fireplace, and clean lines, complete with the paved concrete path towards it. It looks perfectly good either for a family party or a romantic dinner. Especially with such elegant patio flooring.
5. A Covered Patio Design Inspired by Summer: The Beach Will Come to You
For something less conventional, you can try putting together a gazebo with a cabana vibe. The design team made this one of bamboo and a thatched roof to serve as an inspiration for those who'd like to transport a piece of a beach right into their home.
And there you can add any furniture you can imagine and not worry about the conventions.
6. Under the Same Roof: Breaking the Fourth Wall
A freestanding gazebo can be beautiful, but still, often you see covered patios attached to a house: they fit more neatly into the backyard, and often they just look great incorporated into the house. Consider this example: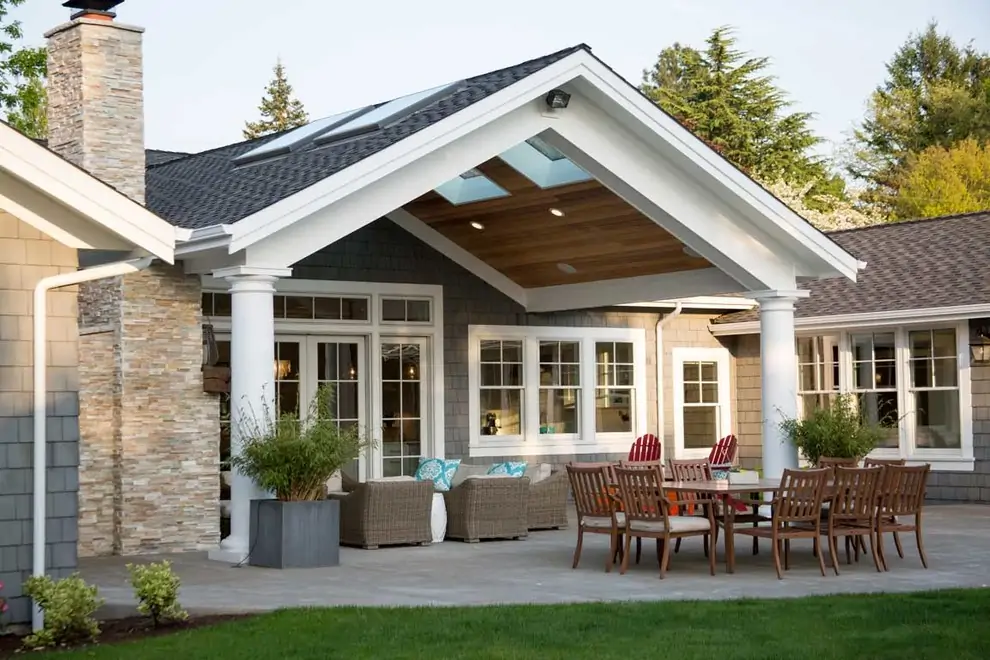 No need to look high and low for covered patio roof ideas — making a seamless extension for your existing roof works great.
7. Transforming the Far Corners of the Yard: Walk Through — or Walk To
Even a narrow passage can be turned into a lounge area. Take inspiration from covered patios' designs like this one, in which the space that could easily be forgotten and abandoned has been turned into a cozy hangout.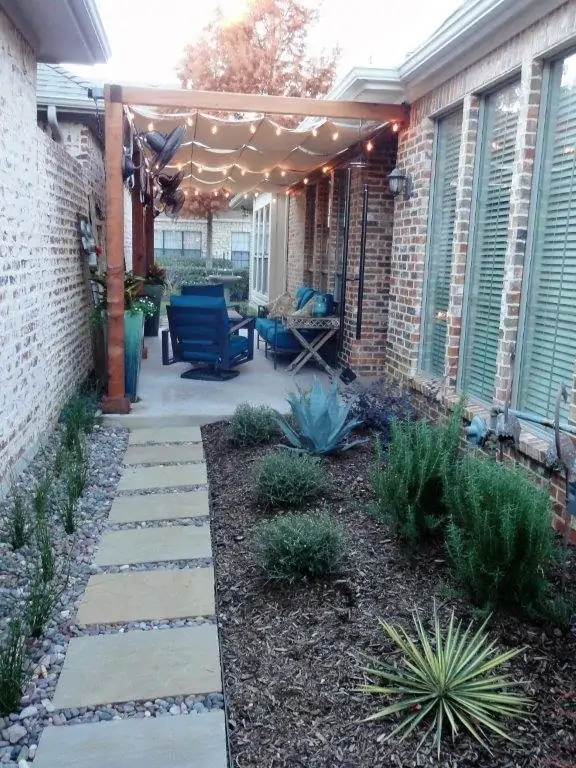 There are many ideas for your patio pavement. Yet this concrete paving is clean and practical — the same as the sun cover above, while the comfortable furniture and lighting create quite a homey feel.
8. Small Outdoor Covered Patio Idea: Come Sit at the Window
Yet another one of many small backyard covered patio ideas: even if you do have a lot of space in your backyard, you can put just a little bit of it under the roof and leave the rest.
Here, the architect team chose to extend the cover only above the bar (look at this pass-through window — convenient and pretty), although this concrete backyard goes well beyond it.
9. Not a Cloud in Sight: Sunbrella Corporation
If you're living in a place where the sun is more of a concern than the rain or snow, try to bring some vacation vibe into your backyard with a cloth roof.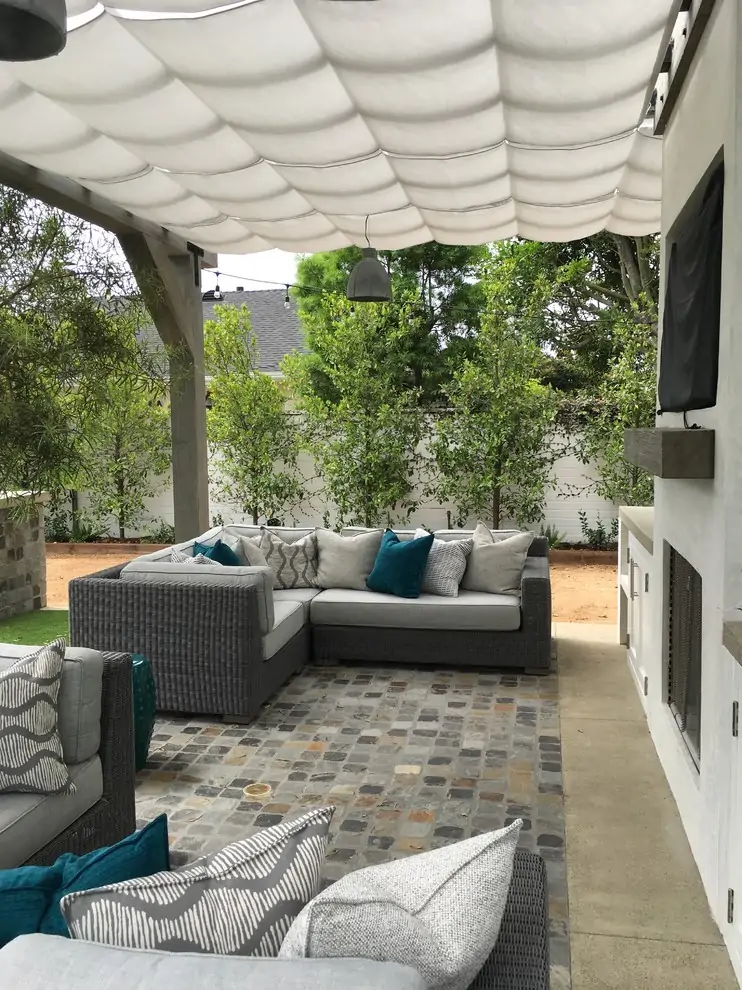 This kind of thick cloth awning would protect you from the direct sunlight, allowing you to chill outside anytime — maybe with some friends for a midday brunch.
10. Bring the Parasols: A Shady Shack
You can opt for a classic umbrella too. Here, those are a part of the whole ensemble featuring a gazebo with a bar: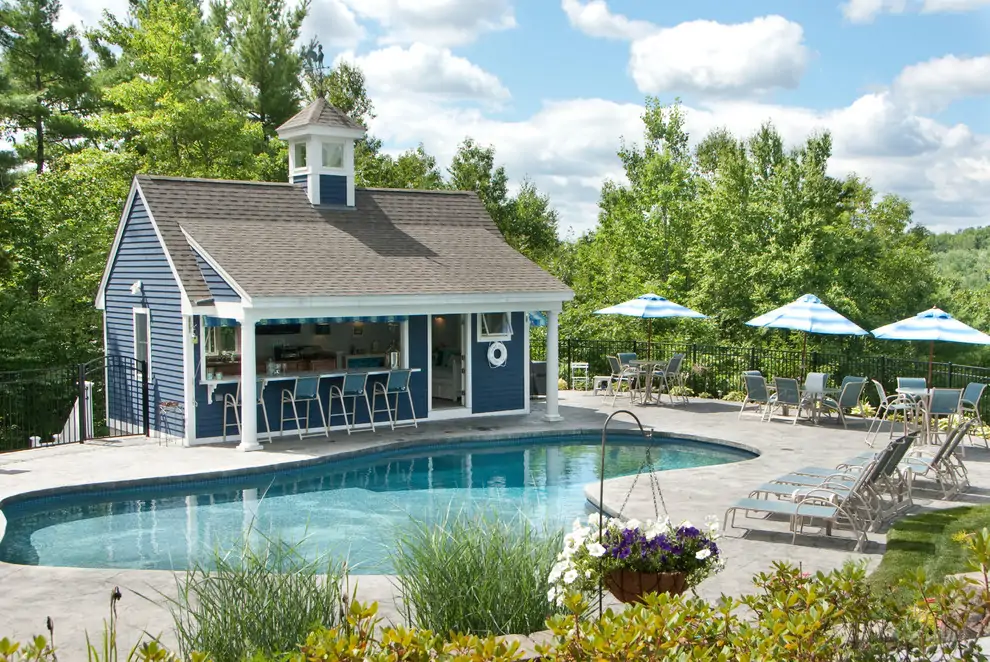 But even if your backyard can fit just a few chairs, there are still ideas for small patios. You can throw an umbrella above and be done; it can probably be counted among the easiest-to-make DIY covered patios.
11. A Real Roof: Some Ideas for a Rainy Day
Those from the areas with less predictable weather deserve to spend time outside too! While a sunbrella cover will probably look out of place there, there are a lot of patio cover ideas for rain too.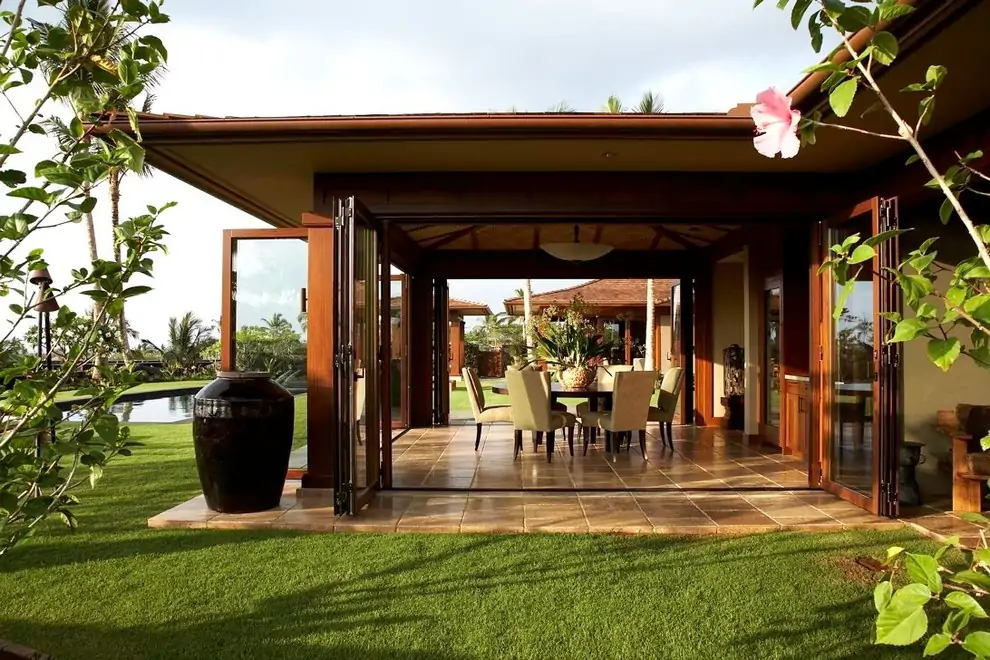 This sturdy roof extension is wide enough to be sure that no drops will reach the seating area.
12. Thinking Bigger: Double the Space, Double the Fun
There's a lot to be said for the efficient use of space: this modern patio roof doubles as the balcony floor.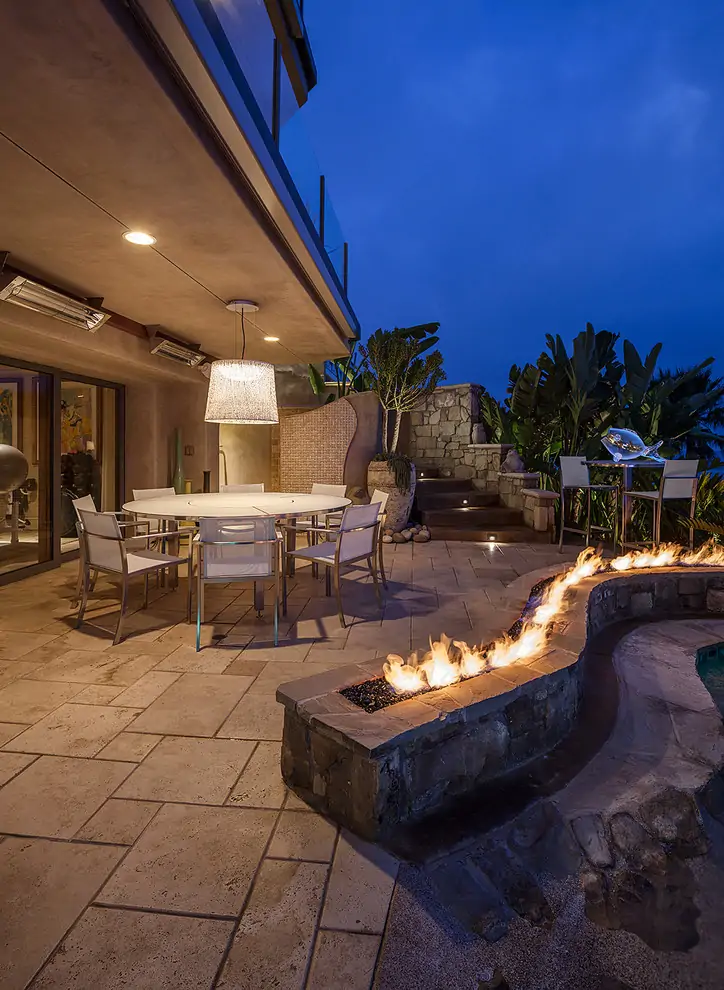 If your house already has a balcony on one of the upper floors — consider putting some furniture and hanging the lighting to transform the space. And if you don't have either a balcony or any patios yet — why not think about it?
13. Hiding Under: A Secret Corner
This project is like a continuation of the previous idea, but with a twist. Instead of just a balcony, here a whole part of the upper floor serves as a roof for the seating lounge.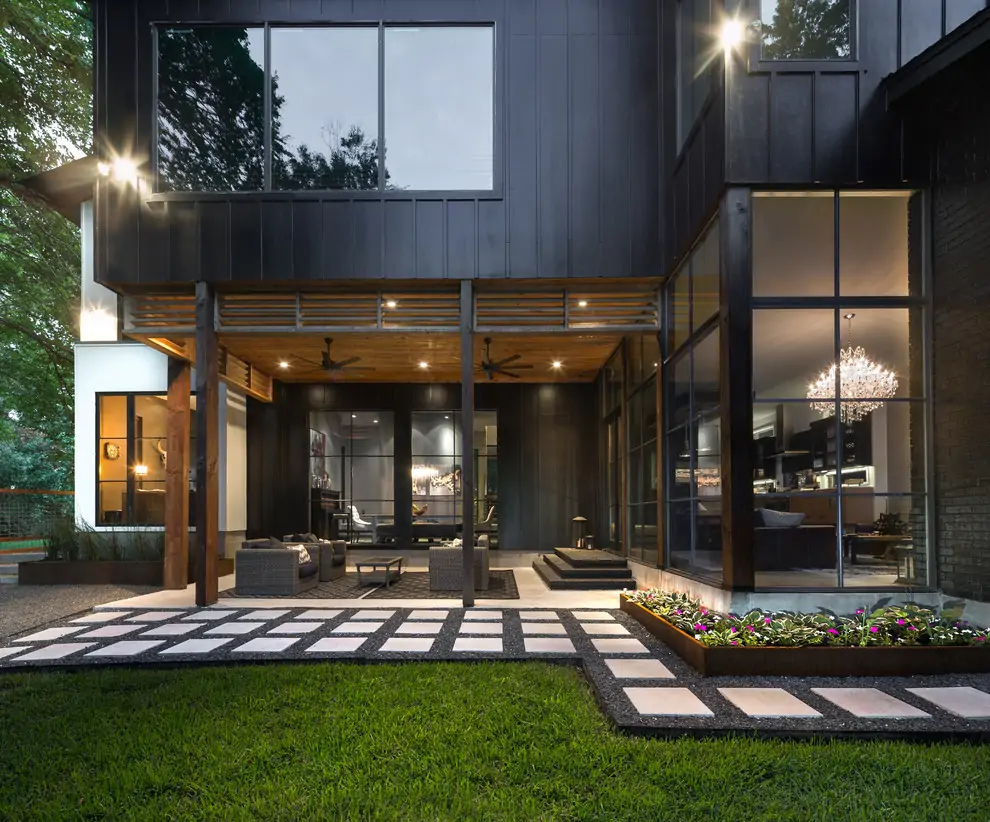 As a result, the space looks cozy and private while drawing the eye with its contemporary design.
14. More Than Just a Roof: A Mountain King Residence
A variation for those who have truly monumental plans for their backyard — and it doesn't necessarily require a lot of square footage.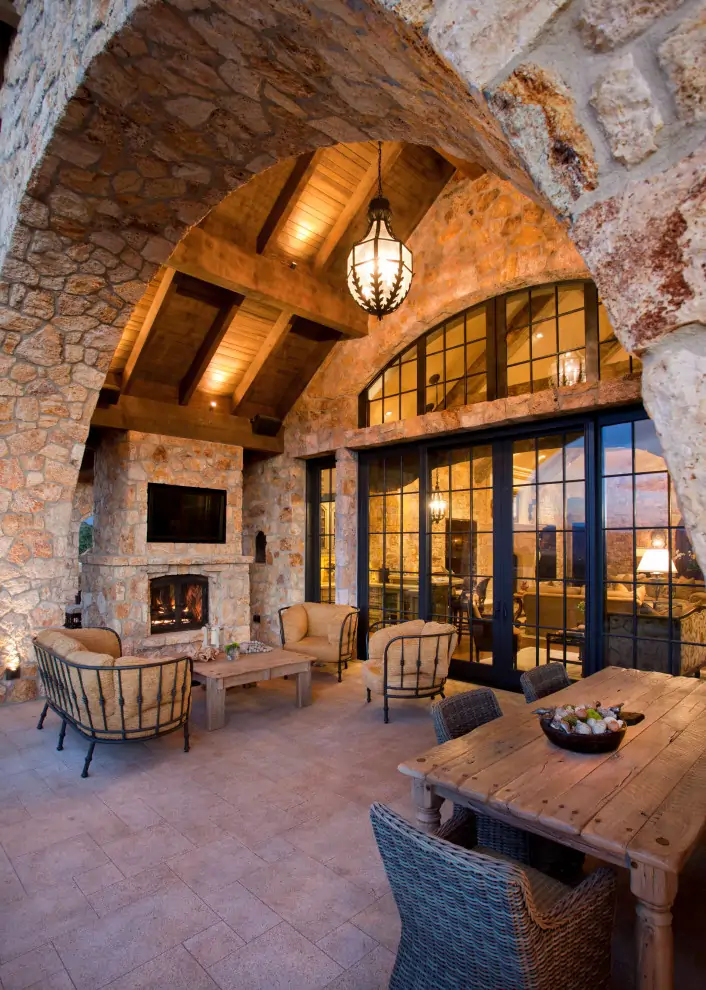 The result is reminiscent of a castle or a cave straight out of a fairy tale. This impression is completed by some heavy wooden tables, a fireplace, and the appropriate lighting.
15. Style Tips: Devil is in the Details
If you really want to show off — you can do it with the details, not necessarily the walls or a roof.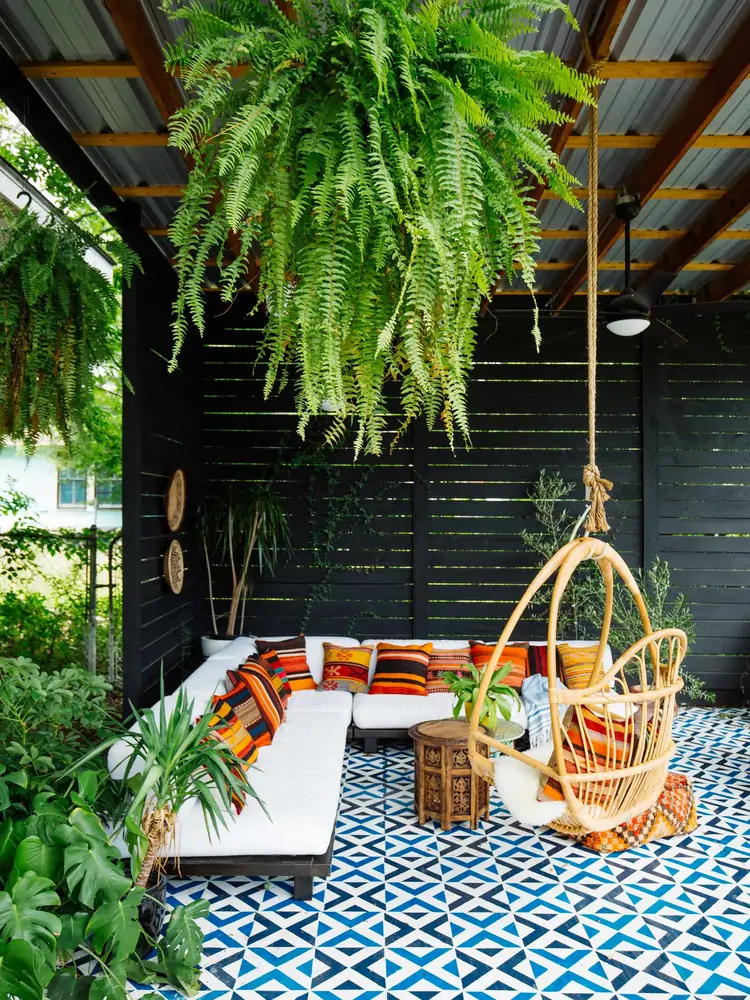 This space features stained wood for its walls and cover, which look clean and strict, but it more than makes up for that with the elaborate floor tiling, bright pillows, and luscious plants. A cozy swinging seat is a nice finishing touch.
16. Something Out of the Ordinary: Swinging From the Chandelier
Yet another example of the way the details can make the whole space shine.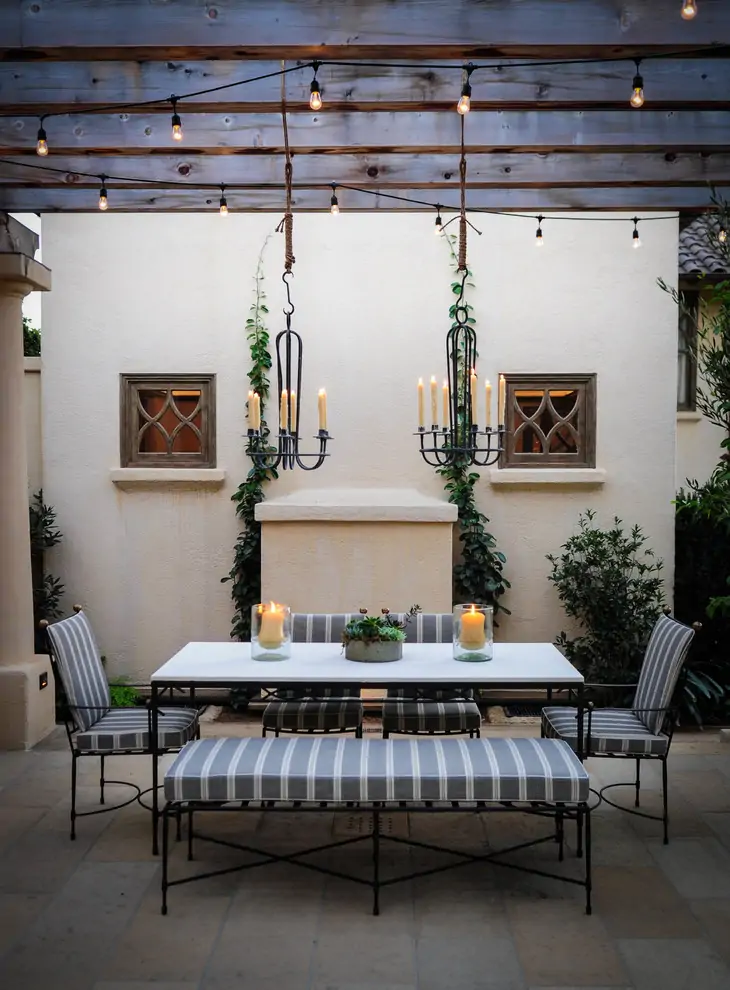 Most of the décor in this seating area is simple but tasteful — and then those chandeliers make a bold statement. This juxtaposition certainly creates an impression and proves an adage again: often, less is more.
17. Designing a Covered Kitchen in Your Backyard: Blue Steel
This contemporary covered patio with an outdoor kitchen is all steel and gray paint — very stylish in the way that everything matches everything else.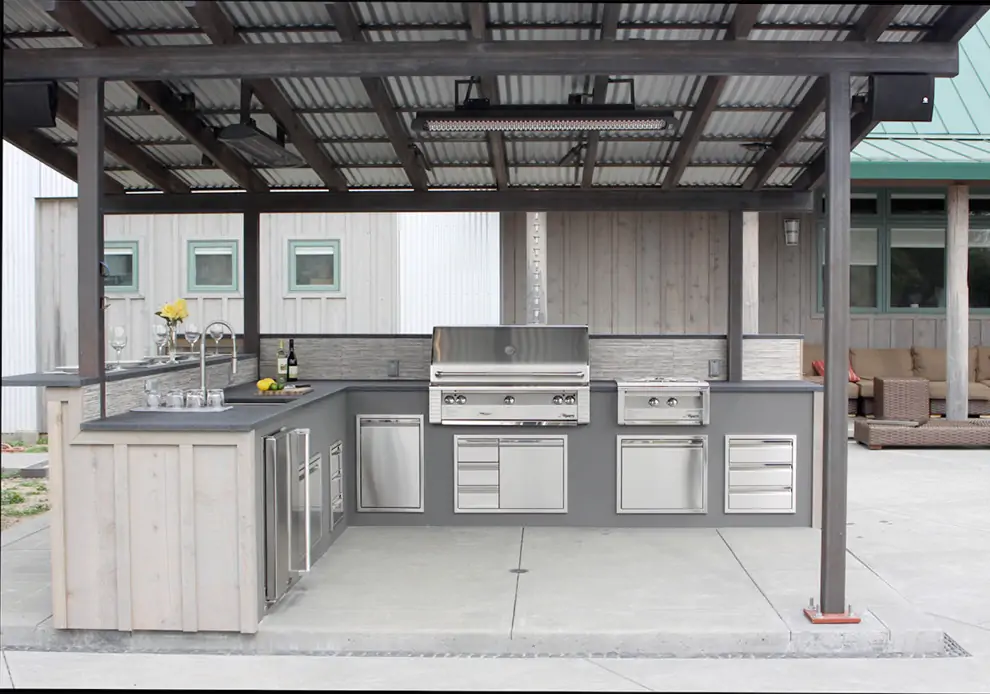 The shiny metal plays off the calm grays, keeping the whole thing balanced. The design, which is a part of a larger ensemble, is complete with the corrugated metal roof on top of the pergola frame.
18. The Starry Night: One of the Glass Covered Patios Ideas
Some people prefer glass-enclosed patios, turning the backyard into one more room in the house.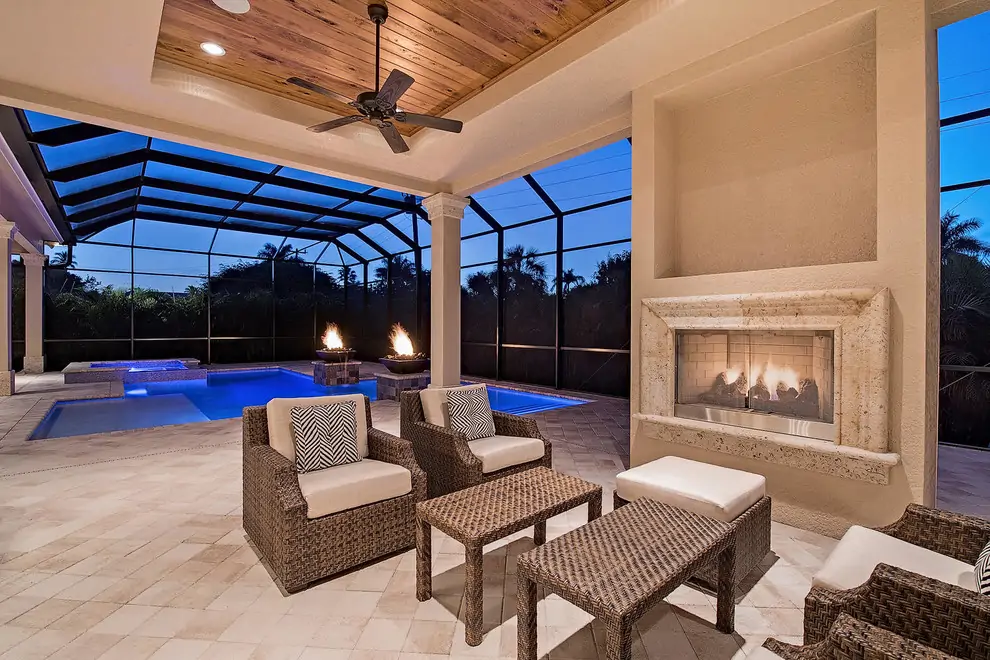 Imagine going for a night swim in this pool or lounging beside it within the space combining a luxurious interior with the elegant walls, looking at the stars from the privacy of your home. What can be better?
19. Nobody Look: Behind the Shades
There are ways for hiding covered backyard patios from prying eyes further than just putting yours behind a fence. One of them is hanging some drapes to create a more intimate atmosphere — and when open, those curtains are still an element of decor.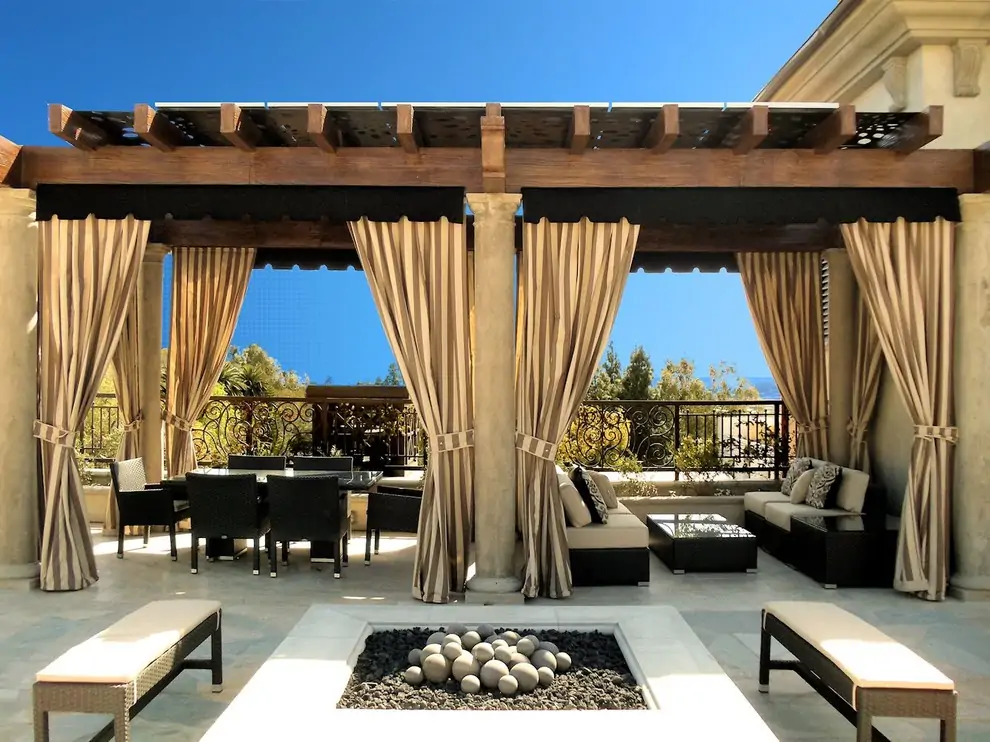 Note that they don't have to be as luxurious as in this project: you can use more of a DIY style.
20. How to Add Some House Space: Not-So-Secret Windows
This enclosed patio with windows looks almost like a greenhouse, but mostly, a design like this is another way to create extra room for your home.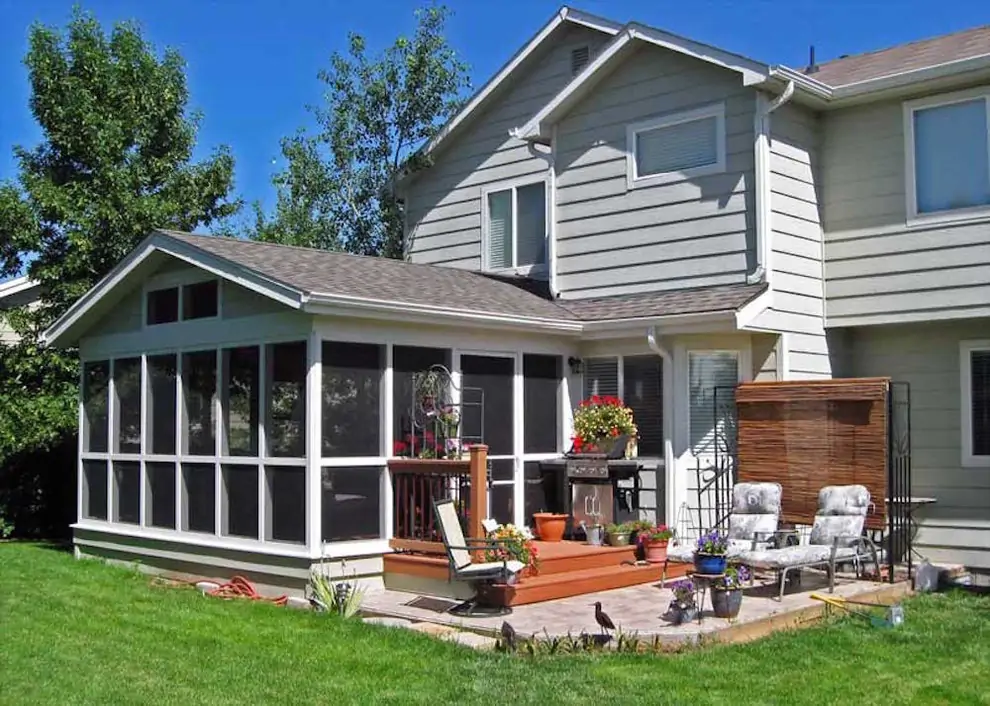 The illusion of extra space is completed by the way the designer team chose to extend the roof creating a seamless cover.
21. Another One of the Roof Ideas: Like Driving a Convertible
You can add versatility to the covered patios with a retractable roof. There are many materials and styles nowadays — something for everyone.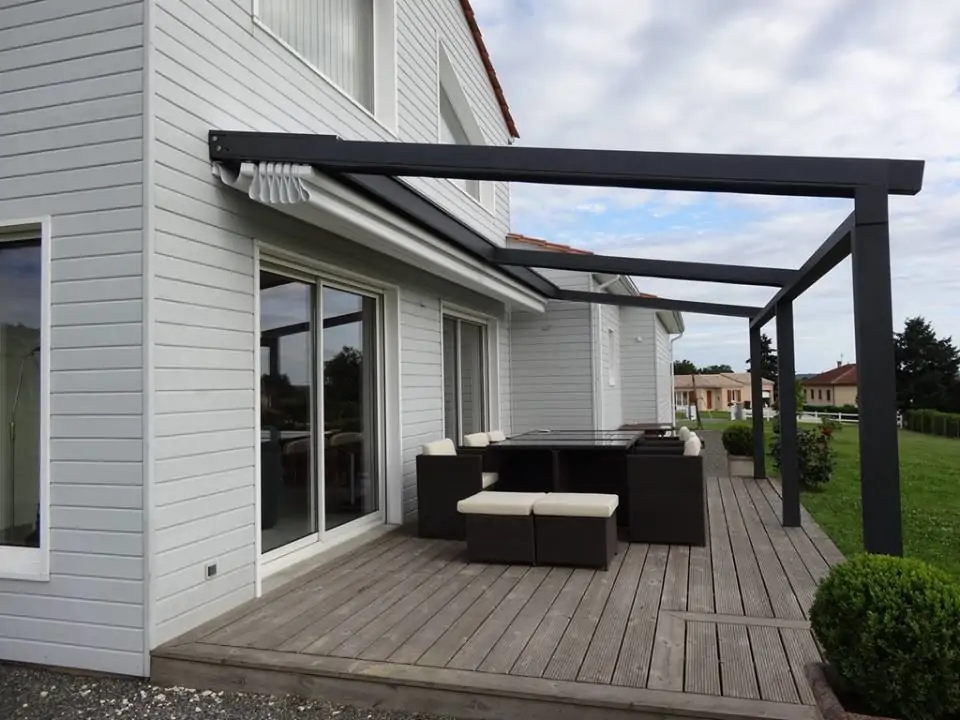 This seemingly simple but beautiful roof fits well with the style of the whole space while allowing people to enjoy as much or as little sunlight as they want.
22. Old-School Look: A Distant Memory
This patio in a Spanish Colonial style features multiple interesting details all fitting together. Natural materials such as stone and brick used for the floor and walls create a luxurious feel, and rattan furniture complements the light cover above the pergola.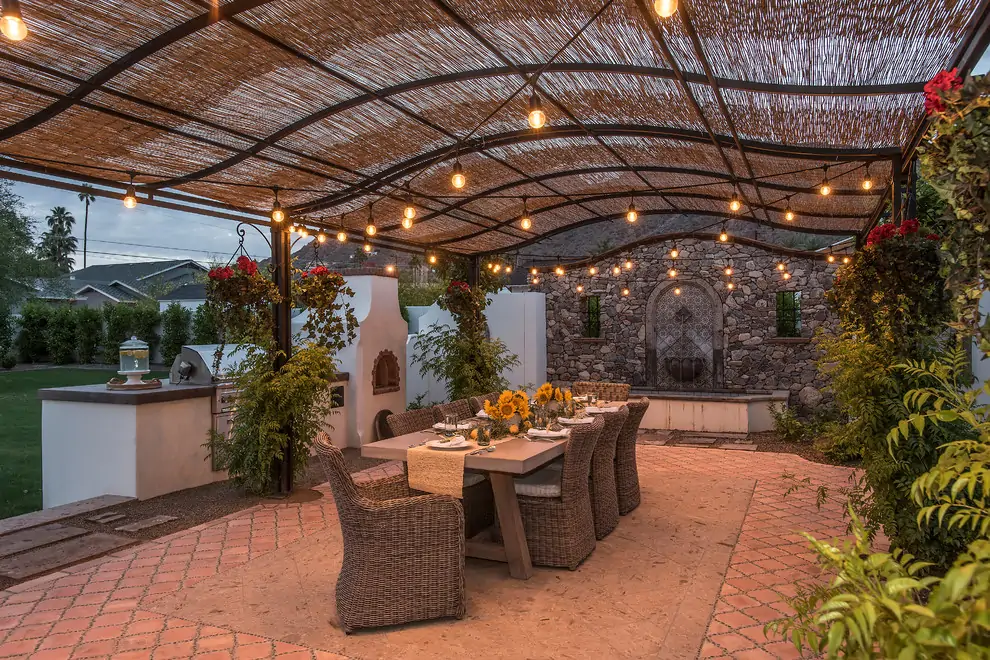 Note the pergola shape: this unusual roof is like a magnet for the eye.
23. Modern Solutions: Clean Lines
On the other hand, some designs draw attention with their amazing contemporary look, like this one.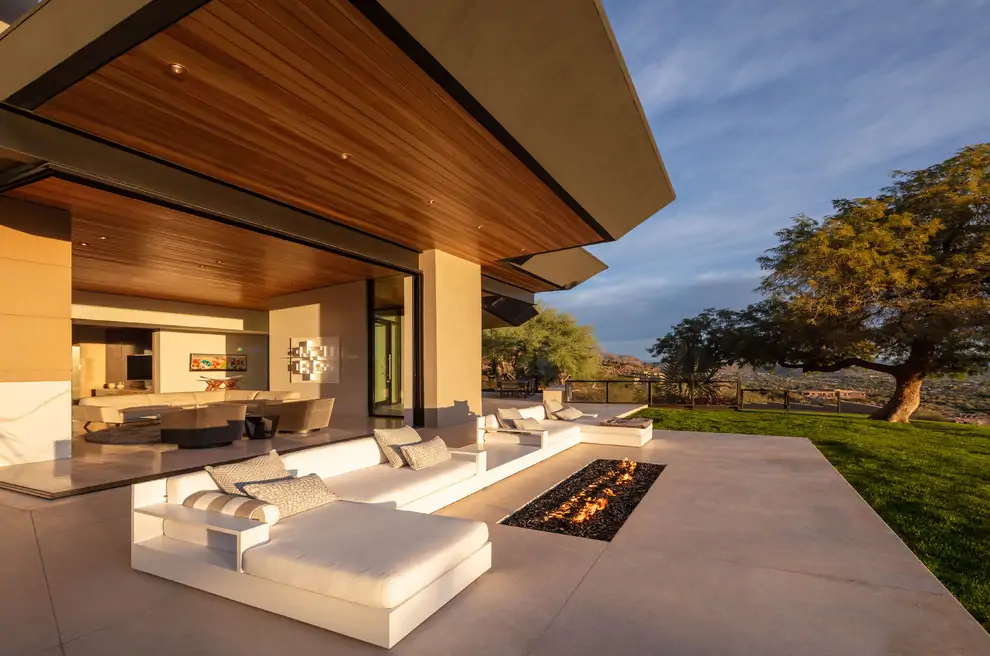 The design of this space has an elegance to it: a sleek roof extends above a concrete floor adorned with modern furniture. The fire pit doesn't look even one iota rustic or antique, either.
24. A Wall (Or Roof!) of Light: DIY or Not DIY
This backyard is made of two areas: the one covered with a pergola and an open space.
But if you don't have the opportunity to build a beautiful ensemble with multiple zones like here in the picture, you can still use some ideas shown here. To create a cozy feel for your backyard on a budget, hang the lights above a lounging or dining area and make it look like a roof.
25. Great Idea for a Small Space: A Cozy Corner
Not everybody needs to seat a huge dinner party in their backyard. This small backyard covered patio idea is perfect for an introvert who just likes to chill with a book outside the house, or for a small family: a couch will fit a few people if needed.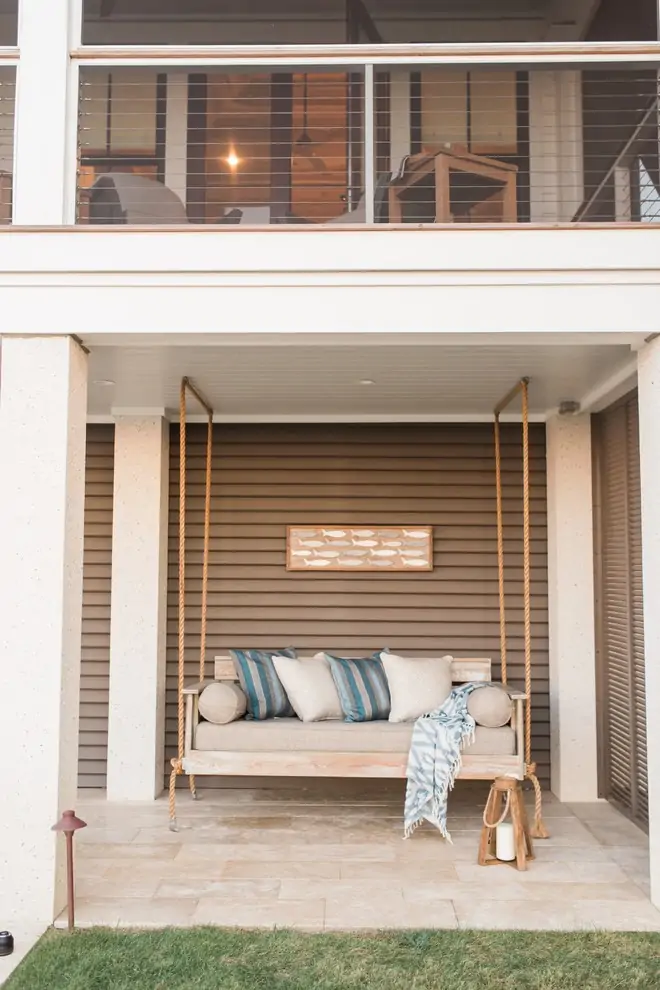 And, well — ideas like this one are perfectly suitable for a small backyard.
26. Glass Houses: Seeing Through
A way to create an "airy" feeling and visually enlarge the space both inside and outside is to put some glass between your house and your backyard.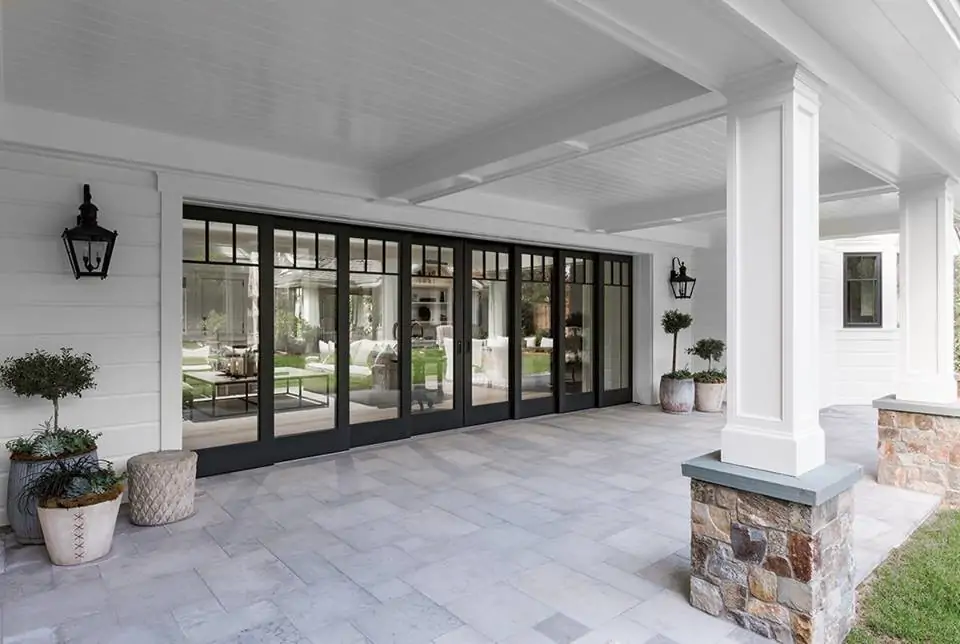 This solution visually joins the areas while keeping the boundary clear.
27. Hide and Seek: Something Around the Corner
By expertly mixing closed and open spaces, the designer created an air of mysteriousness — as if there are so many unexplored corners to look for secrets there.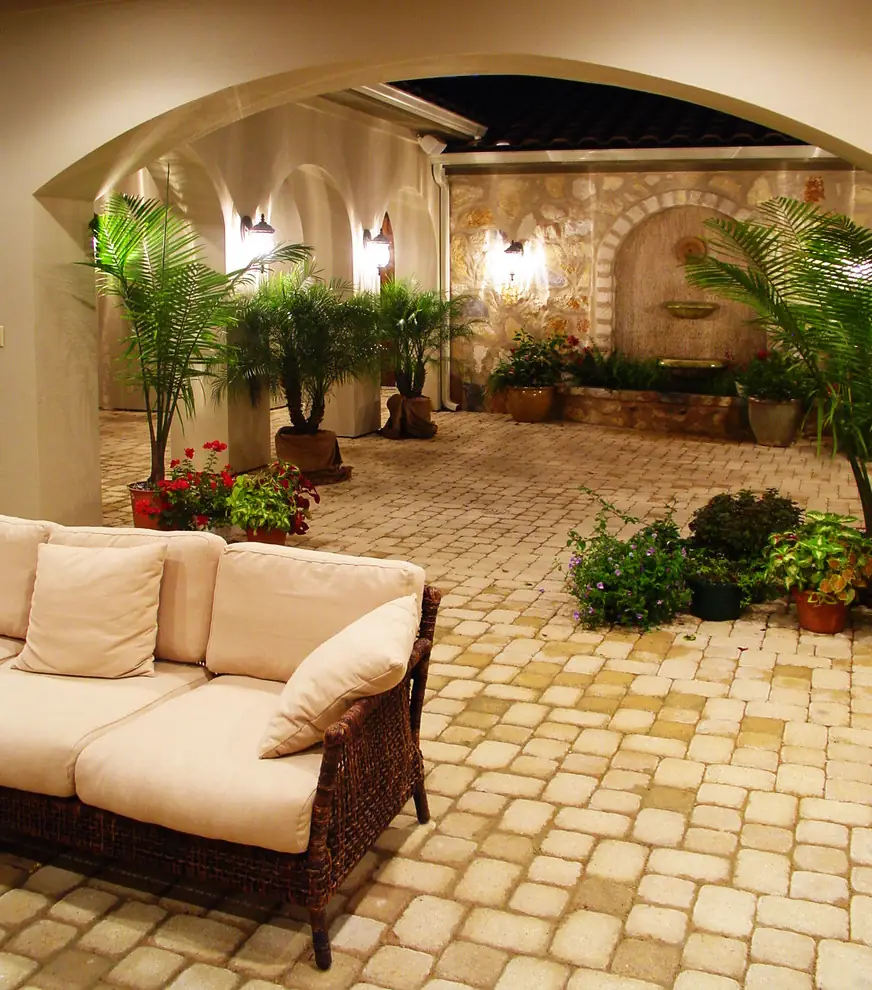 Potted plants and warm-colored furniture add coziness to the mix.
28. A Patio is Not Just for Sitting Around: Water Procedures
Here's an idea that's a little different: an outside shower!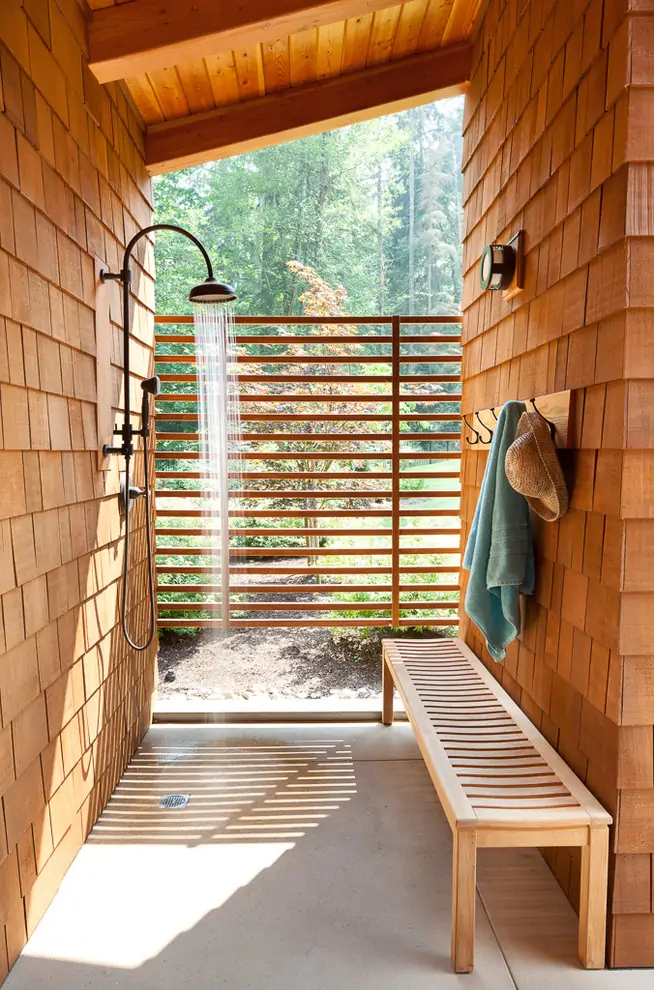 For those who don't have time to chill around a pool but would still like to splash around on a hot day, a cozy space with the concrete floors under a roof extension may prove to be a very welcome sight.
29. Swings: Not (Only) for Kids
If you're in the mood for something unique, here's an inspiration for you! This covered patio with an outdoor kitchen boasts hanging swings instead of ordinary chairs.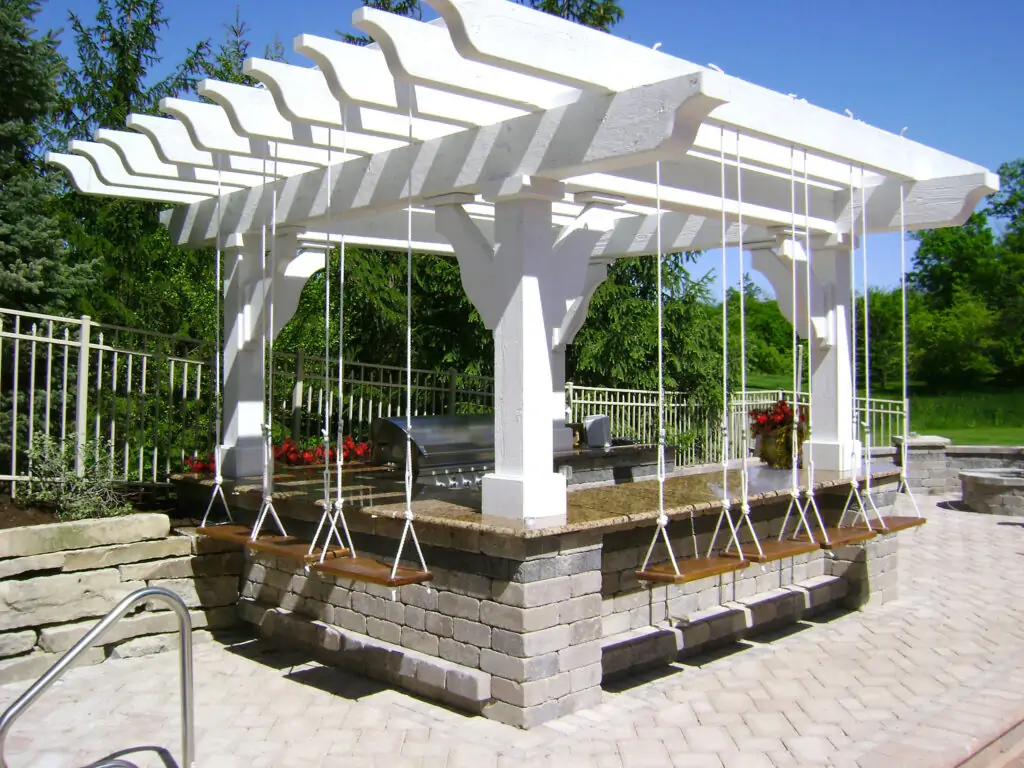 The bar running around the cooking area allows the host to see and talk to all the guests while serving food and drinks.
30. Combining the Styles: Shadowplay
You can be eclectic — mixing several different ideas is fun, especially if they end up looking like this gorgeous outside kitchen roof: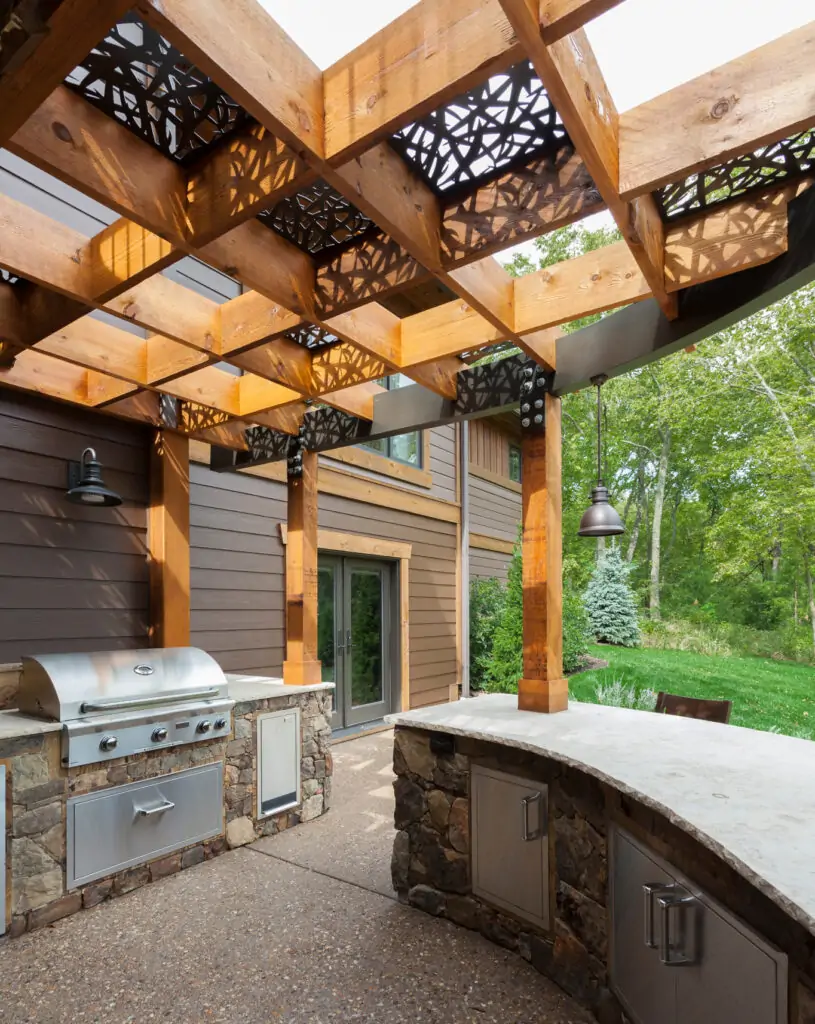 A pergola cover features an intricate lattice in some spaces. Not too many, so that the design isn't overwhelming, but enough so that it looks like a statement.
31. Having It All: Choosing NOT to Choose
"Overwhelming" can be its own aesthetic, though: sometimes, you don't have to choose between different ideas for covered patios, just throw them all into a melting pot and look what comes out — it may turn out to be quite nice, like this bohemian-style design with a mish-mash of colors and things.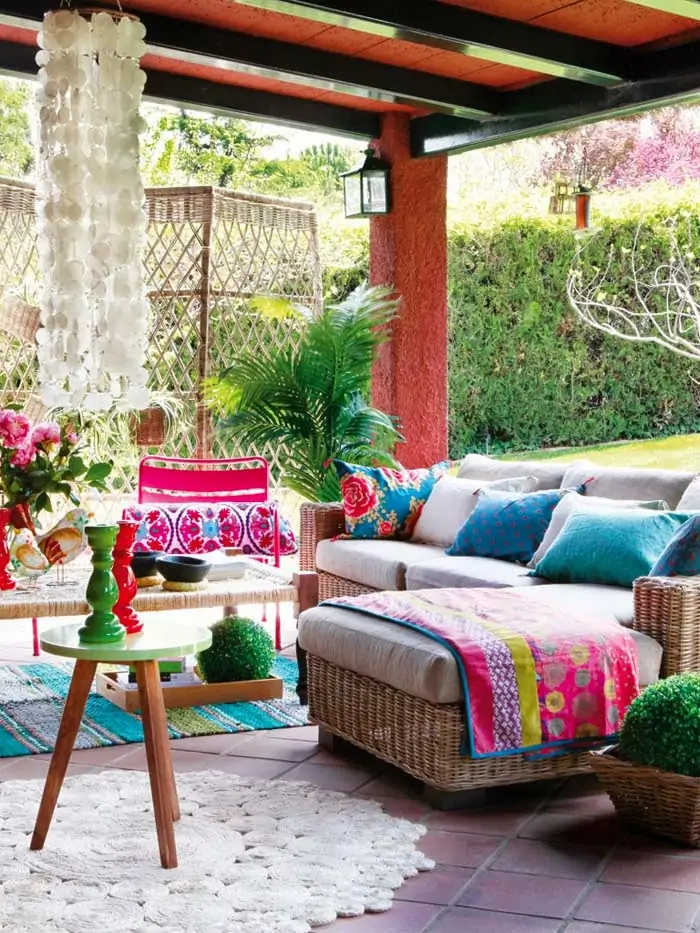 Hope you liked our ideas for covered patios. See you next time!